The Sacred Valley is an idyllic location for a honeymoon in Peru. It was part of the Incan empire and got its name from having some of the most fertile land in the region. The beautiful valley is located between Cusco and Machu Picchu and is a great stopover between the two places. We had just had our Andean wedding, a spiritual ceremony in the Peruvian mountains, and felt no better place to celebrate than in the Sacred Valley.
Disclosure: Some of the links below are affiliate links, meaning at no additional cost to you, we will earn a commission if you click through and make a purchase. Regardless, we only recommend products or services we have used or that we believe will add value to our readers.
Nestled within the mountains lies
Sol y Luna
, a luxury hotel that is part of the Relais & Chateau brand. We splurged on a premium villa with a private hot tub, since we were celebrating not only our wedding, but the completion of our tough five-day
Salkantay Trek to Machu Picchu
. We also found out Sol y Luna was featured in an episode of the TV show
The Bachelor
as a "fantasy suite" date. Ha!
Our Sol y Luna review covers why this is the perfect destination for your honeymoon in Peru.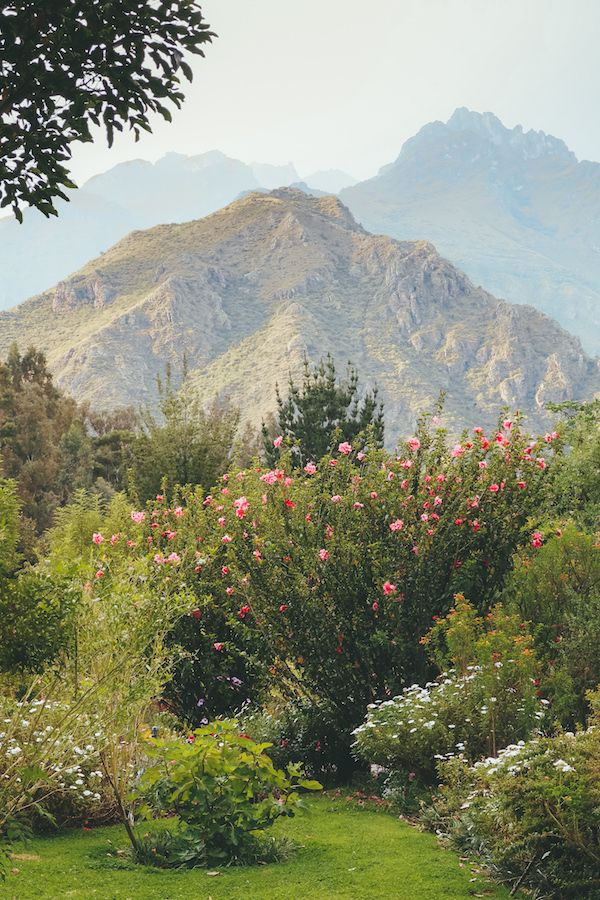 Sol y Luna Review: a blissful honeymoon in Peru
---
Setting 5/5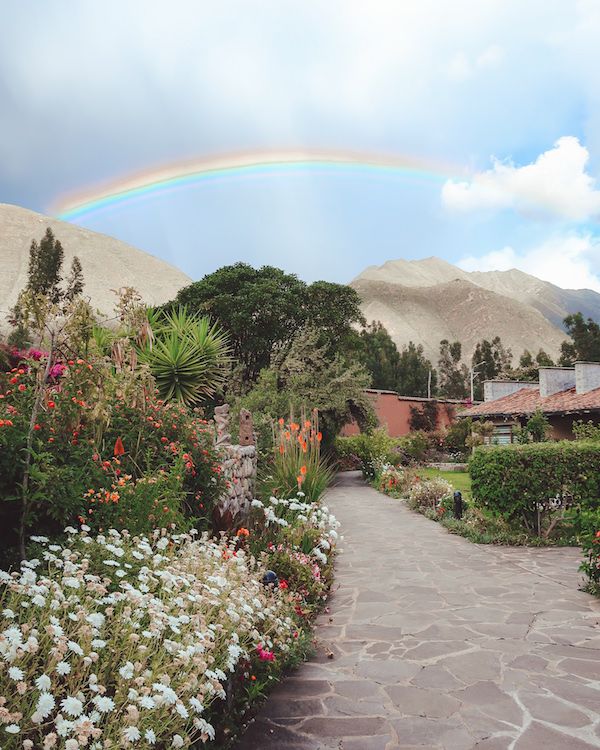 When you walk into Sol y Luna, it feels like you're walking into a garden paradise. Blooming flowers and fruit trees line the paths throughout the resort. Tucked within the oasis and surrounded by the mountains are the private villas and casitas. We heard bees buzzing and saw butterflies fluttering and hummingbirds zooming as we walked through the hotel grounds.
Style & Design: 5/5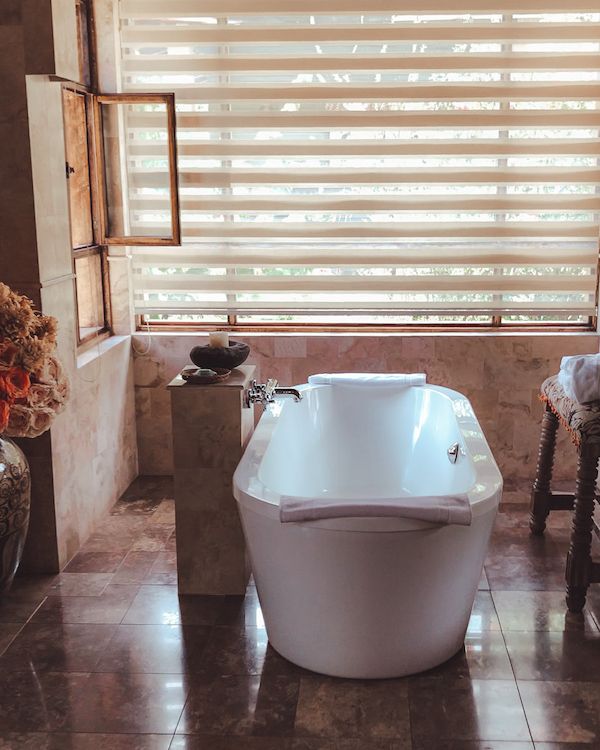 As we walked to our premium villa we first saw our front outdoor seating area highlighted with a centrepiece of fresh flowers floating in a huge carved stone bowl. We walked inside and couldn't believe how spacious the villa was! We walked into the foyer and saw a large bedroom to our left with a king sized bed, TV, wood-burning fireplace, garden terrace and joining door to the bathroom. The marble bathroom had a large double vanity area, bathrobes, rain shower and free standing bathtub (the #1 thing on my honeymoon wish list!).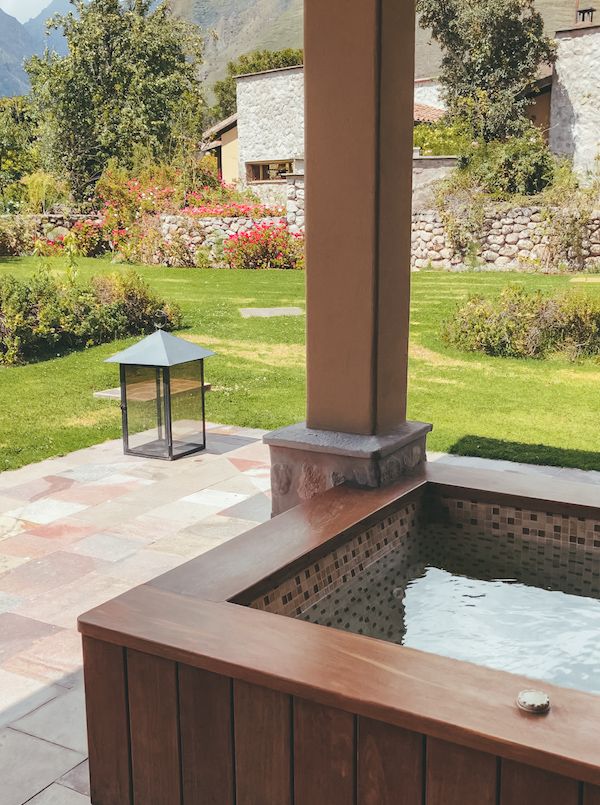 Outside of the bathroom was our own private hot tub with views of the mountains and garden. You can also enter the living room from private hot tub area, which has a couch, desk, dining table, large TV, and another fireplace! Although the villa was modern, it incorporated many colourful and authentic Andean pieces and art which gave it a welcoming and unique appeal. The only thing we wished for was a larger couch to lie fully in.
The Small Details: 5/5
What we loved about Sol y Luna were the small details that made our stay extra special. The bathroom amenities in the bathroom were L'Occitane, there was a bath bomb for the tub that was replenished every day, in floor heating, and a Bose sound system for each room.
Where they hit the mark was with an unexpected and beautifully wrapped honeymoon gift that showed up in our villa. A beautiful picture book of Andean culture and a blank card set with gorgeous colourful Andean designs on each. They were such tasteful gifts and we really appreciated it!
Food & Cocktails: 5/5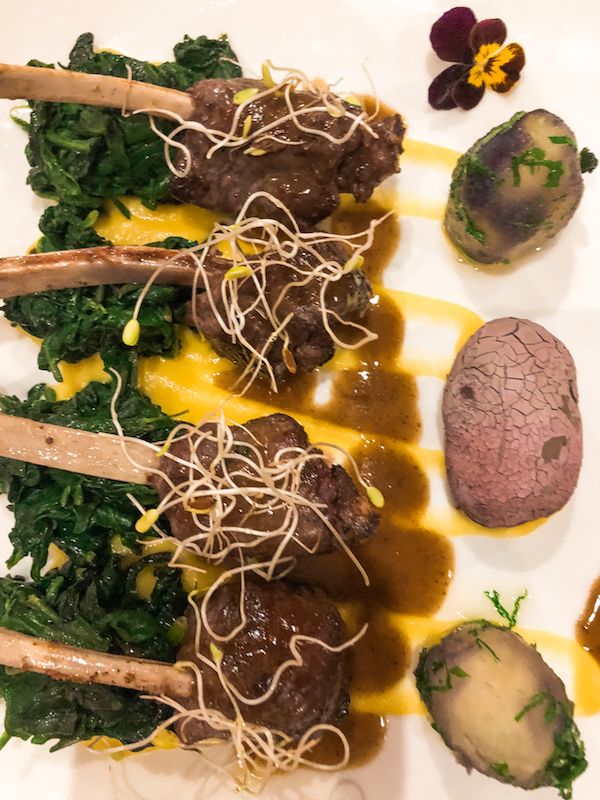 Every meal we had was superb. The breakfast buffet had a lot of options and we loved sitting outside.
There are two restaurants at the hotel: Wayra and Killa Wasi. Killa Wasi is the upscale gourmet restaurant, whereas Wayra is the slightly more casual restaurant. They both have delicious local Peruvian inspired cuisine. There is also the Wayra Cellar, which is a private dining experience that includes a wine pairing.
We ate at Killa Wassi two nights, Wayra one night, and booked a private 7-course dinner in the Wayra Cellar the last night. We were able to pay a supplement fee on top of our package for the Wayra Cellar and highly recommend it. Our knowledgable server explained each dish and their unique Peruvian flairs. It was a very romantic setting!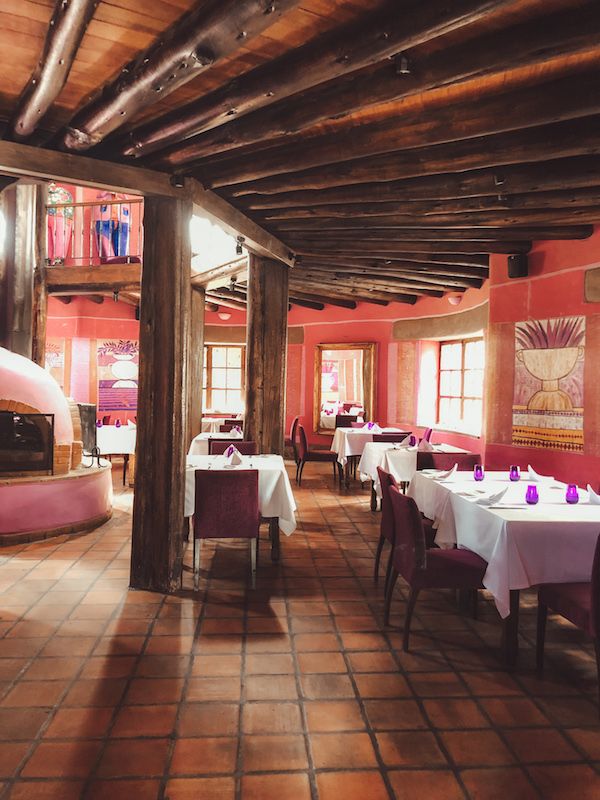 Cocktails were well made. I enjoyed drinking Pisco sours at dinner time and pina coladas by the pool.
For lunch we ordered the clubhouse sandwich to our room four days in a row. Can you believe it? It's the best clubhouse sandwich we've ever had in our lives! One day we spiced it up and accompanied our club sandwich with an ice cold bottle of Prosecco by the pool.  
Spa: 2/5
The only negative of the hotel was the spa services. The setting of the spa is nice, but one of the two massage therapists was very undertrained. Ari and I both had the same reaction to the massage therapist. We had that "I just want my massage to be over" feeling. There were only two staff available there during our four days, so we were stuck with the one therapist. We didn't complain however, since everything else at the hotel was excellent.
Amenities: 5/5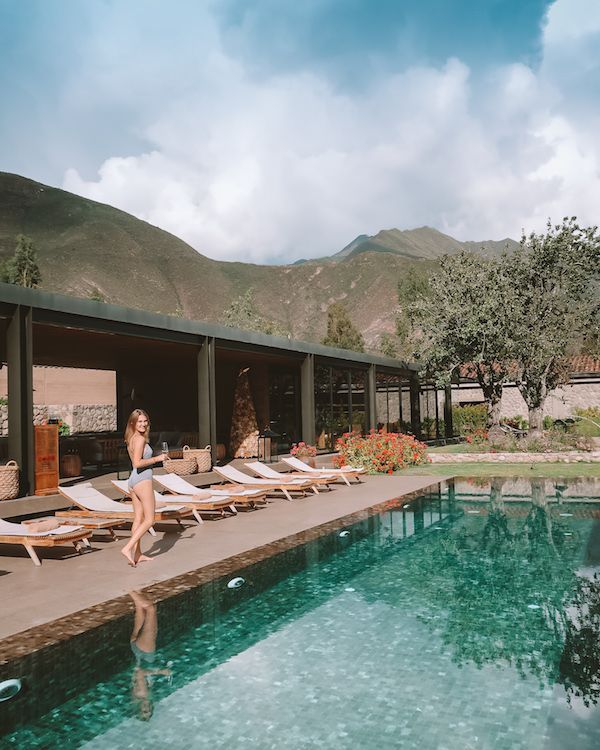 The amenities were excellent. We enjoyed hanging out in the pool lounge area which had big comfy couches, a pool, suntanning beds, jacuzzi, Finnish sauna and a gym. We played cards in the lounge area and always accompanied our game with a nice cocktail. The lounge area quietly played appropriate, cool and upbeat music.
Service: 5/5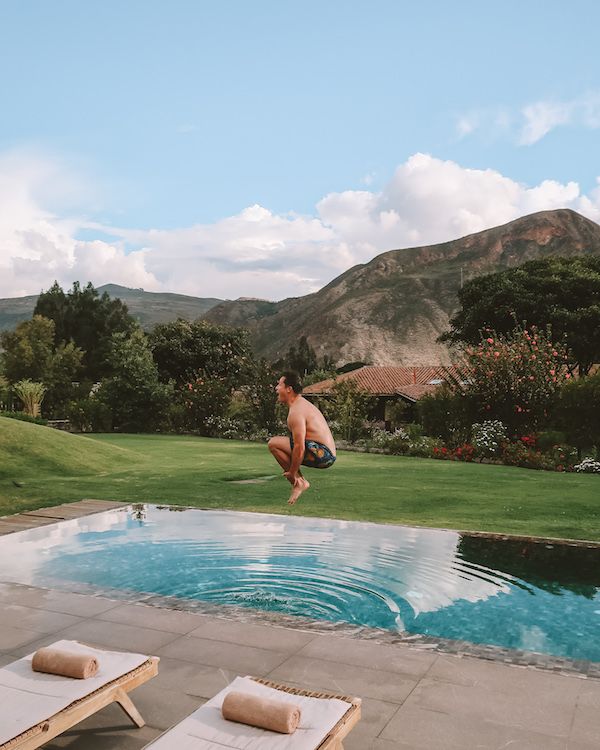 If the honeymoon gift didn't say enough about the service here...
The staff was friendly and always happy to help or get us anything we needed. The manager would come say hello at dinner or breakfast to check in on our stay and you can call staff to start your fire every night or heat up your hot tub for you. We also ordered room service and there were never any errors. Dinner and breakfast service was excellent and servers were attentive.
Philanthropy: 5/5
Sol y Luna was built to support and finance an education project for local children in need. The owners eventually started their own school in 2009 that currently enrols 185 children!
Spa and Relaxation Package Overview
The Spa & Relaxation package included a daily 55-minute massage per person, breakfast, and a 3-course dinner at your choice of the two restaurants (excluding drinks). There is a set dinner menu when you get this package, but you can pick from the full menu and pay for any overages above a calculated meal allowance. We had no overages when picking from the full menu because we were typically too full to get dessert. The portions are huge! The administration of the after dinner bills and calculations were effortless and all taken care of efficiently without weird rules or caveats.
If you're looking for the perfect place for your honeymoon in Peru, here you have it!
You can also get married or renew your vows in Peru. See our article on what it's like to have a spiritual Andean wedding in the Peruvian Mountains.
---
Looking for more travel inspiration? Check out our list of 20 Dreamy Relaxation Travel Ideas