The 5-Day Salkantay Trek is one of the most rewarding experiences we've ever had but is no easy feat. You reach altitudes of 4600m and hike long days with some strenuous downhill sections. The hike was named the Top Alternate Route to Machu Picchu by National Geographic and is less crowded than the Inca Trail. The views along the way are stunning and the landscape changes as you go so you always have something to look at. We saw snowcapped mountains, waterfalls, glaciers, wildlife, a cloud forest and Inca ruins! We don't recommend this hike for people with bad knees, since there are steep descents up to 1900 meters.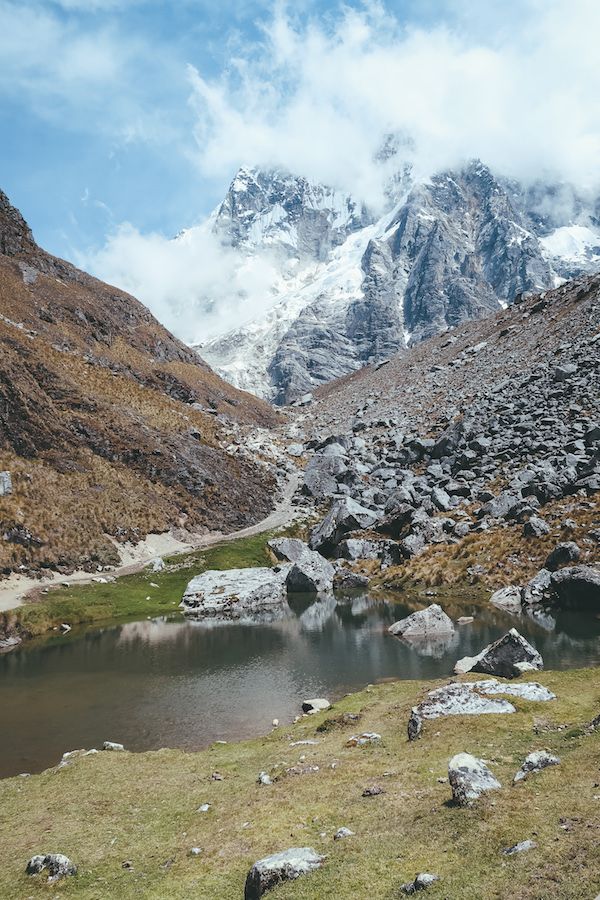 We chose to do our tour with Salkantay Trekking as they are one of the leading tour operators (5 stars on TripAdvisor) and their focus is on treks to Machu Picchu only. Everything was well organized and our meals were outstanding and rich. We were expecting plain food on our trek and couldn't believe our eyes when we saw the variety of plates that came from our cook.
We were there in the rainy season in December, but luckily didn't have any rain when we were hiking!
Pre-hike Planning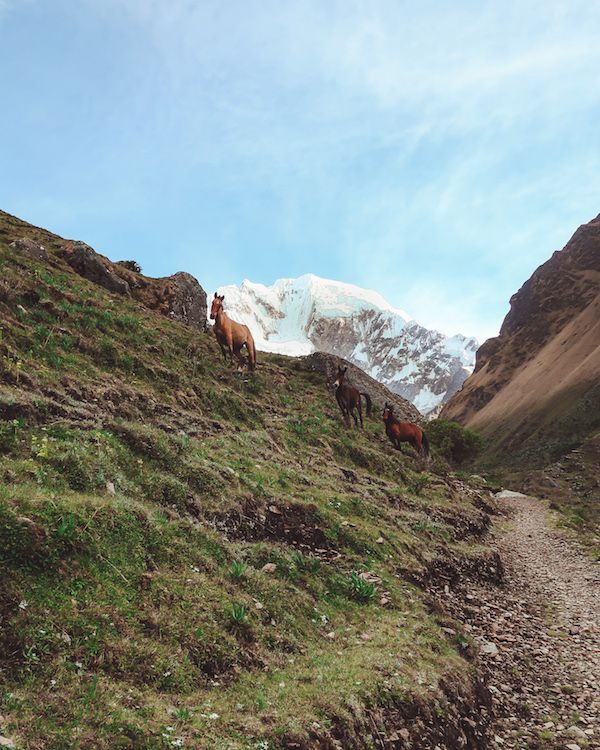 Altitude sickness
The trek reaches high altitudes of 4,600m and altitude sickness can happen to anyone, so come prepared. We went to our travel doctor back home and purchased altitude pills (Diamox), which are cheap to buy and can prevent or reduce symptoms of altitude sickness.
Make sure you give yourself time to acclimatize. We spent 3 nights beforehand in Cusco and are very glad we did. During the first two days in Cusco we felt fatigued from the altitude and our feet and hands tingled a lot. The city is a beautiful stop to rest and shop for Andean products, like cozy Llama sweaters and blankets. We stayed at El Balcon, which is great value and has a zen garden to hang out in and enjoy the free fresh herbal teas.
What clothes/accessories you should bring
Clothes: waterproof outer shell jacket, light down puff jacket, merino wool base layer (long sleeved shirt and tights). These layers will keep you warm at night and help with wind on the pass.
Two t-shirts, long hiking pants, shorts, two medium cushioning socks and one light cushioning sock, underwear, warm hat, mitts, hiking boots, and sandals.
Accessories: head lamp, waterproof dry bags for clothes/camera, power bank, cheap $2 poncho to cover yourself and backpack incase it pours, hair elastics, toiletries, bandaids, playing cards, book, numbing cream for knees/sore parts of your body and 1L water bottle, camera.
How It Works: Salkantay Trekking provides all food, snacks, one toilet paper roll per person, sleeping bags, tents/accommodation. We rented hiking poles from them and would say that they were necessary especially for all of the downhill sections.
When you get to camp, they feed you and do the dishes. The only work you have to do is unroll your sleeping bag, brush your teeth and change clothes before bed. You are woken up with Coca tea in the mornings, eat breakfast, fill your water bottle, pack your things, and off you go!  
Tip: Bring some 1 Peso coins to use the bathrooms that are scattered along the route.
Day 1: Humantay Glacier - 4km distance, 300m ascent, 300m descent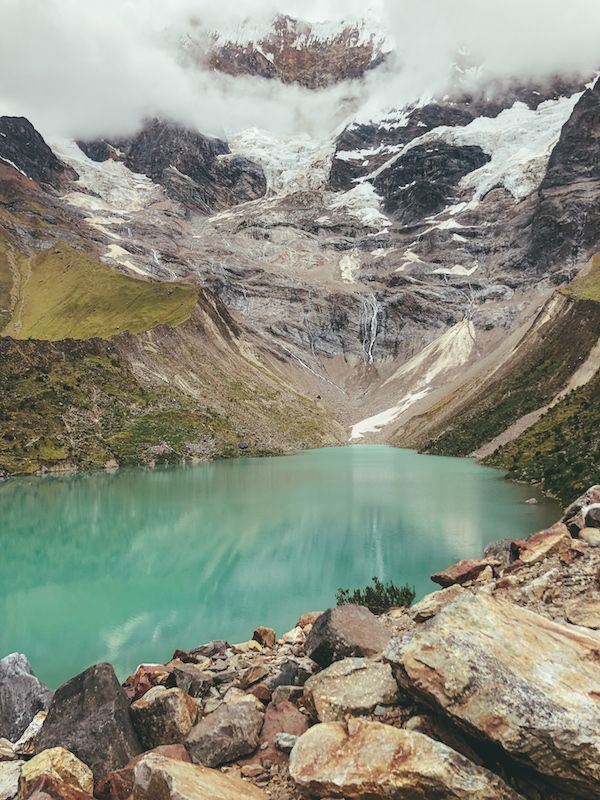 Our first day was the easiest with a 2-hour car ride and 4km round trip hike up to the Humantay glacier. The climb was 300 meters and a good starting point to prepare yourself for the the next days challenge. The glacial lake was stunning and some people take a day trip just to visit this sight.
We stayed overnight in the Salkantay Sky Camp which felt luxurious! We couldn't believe this place was included in the price. The glass domes had electricity and sit in front of Salkantay Mountain. The glass makes for great star gazing.
Day 2: Hike up to Salkantay pass and down to Chaullay - 22km distance, 850m ascent, 1900m descent.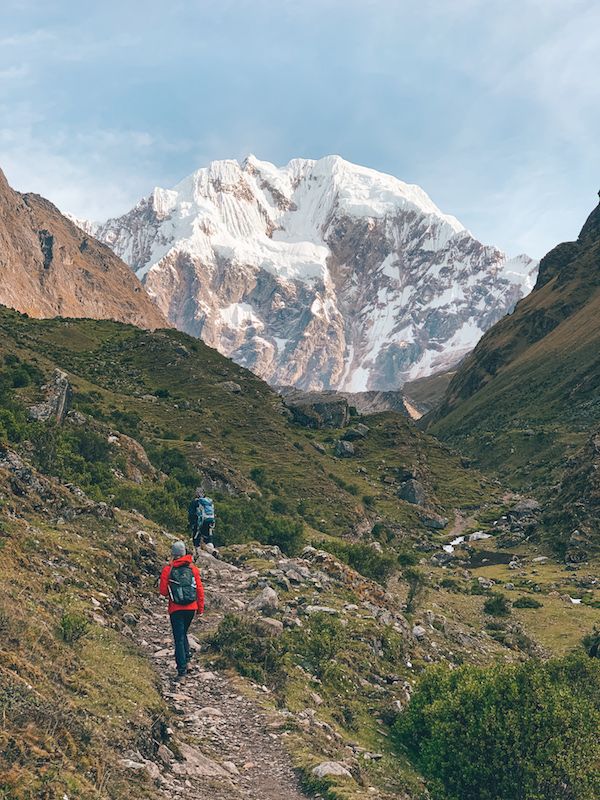 The next day was one of the most challenging. We ascended 850m to Salkantay Pass up to an altitude of 4600m. It was tough, but we both felt the last 12km decent of the hike was harder as it was a 1900m descent.
At the top of the pass we had some time and found a glacial lake off the main trail. While admiring the view our guide showed us the Andean tradition of making an offering to the Pachamama or Mother Earth. We had each carried a rock from the bottom of the pass to the top and placed three coca leaves on it with our thumbs. We then took a moment to give thanks for our beautiful surroundings and placed the offering under a large rock. We loved learning about Andean culture and traditions.
Read: Our Andean Wedding in the Peruvian Mountains to Machu Picchu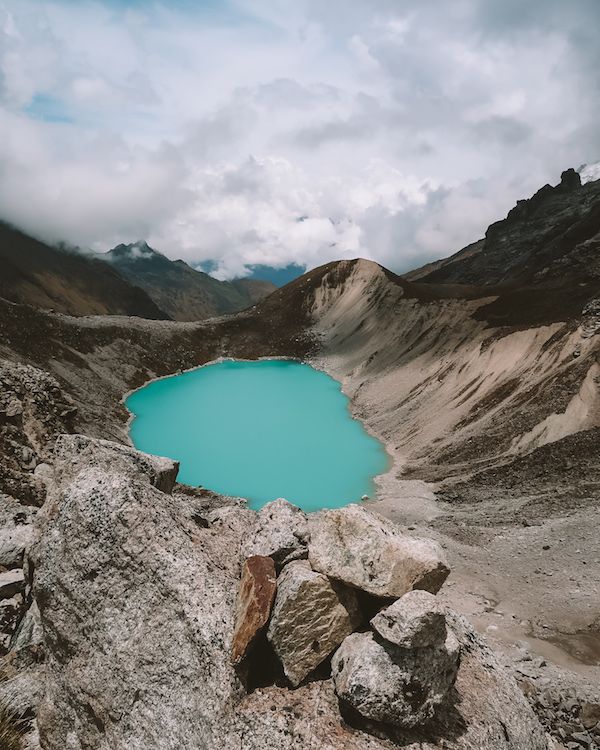 During the decent, the vegetation started to change and we could see the jungle ahead. Our legs felt broken by the end of the 22km day and I was so happy to have the numbing cream for my knee. I think it saved me for the next day. We stayed in Andean Huts which were cozy and fell asleep fast. They have showers and wifi at the camp for a fee. You can also find a place to charge your camera batteries.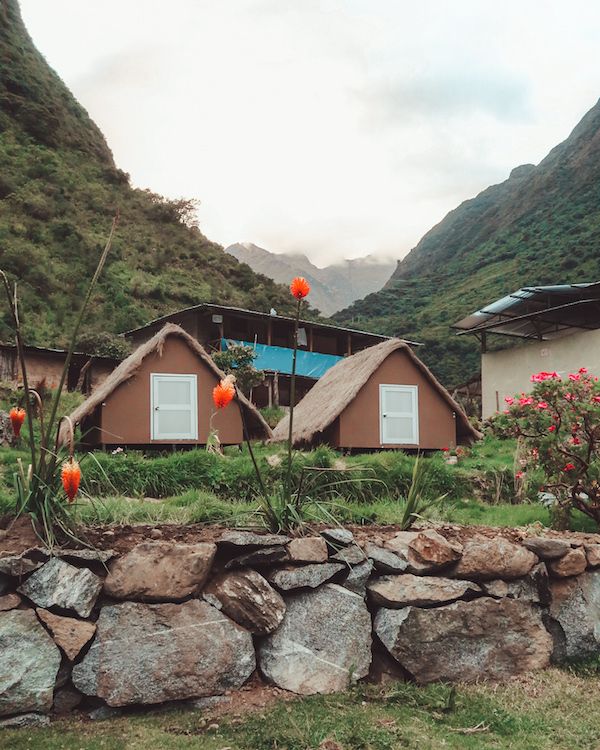 Day 3: Through the Jungle to the Jungle Domes - 12km-18km distance depending on if bridge is out from flooding, minimal ascending and descending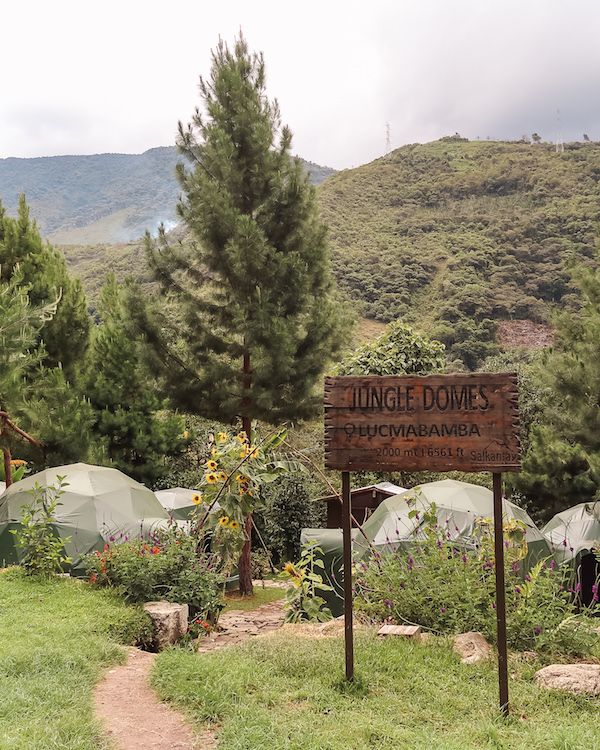 Day 3 was an easier day (phew!) walking through the jungle with minimal ascending and descending. There were also some fun activities along the way. We played with puppies and kittens at one of the rest stops and visited a coffee plantation. The bridge was out due to flooding when we were there, so our 18km day turned into a 12km day. A van took us to the coffee plantation. From there we drove to the Jungle Domes, which are similar to the Sky Camp domes except they are made of vinyl plastic.
We had a choice that evening to visit some hot springs which are an hour drive away. We were reluctant, but decided to go anyway and were so happy we did! The site was well managed with three large hot spring pools next to a mountain in the jungle. It felt so good on our sore muscles. We highly recommend it!
Day 4: Hiking with views of Machu Picchu across the mountain range to Aguas Calientes - 22km distance, 850m ascent, 1000m descent.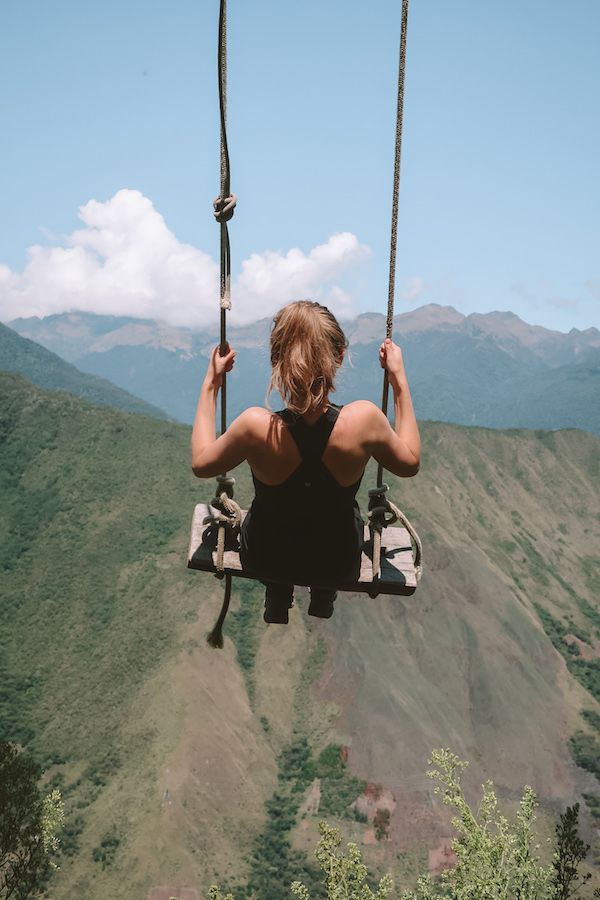 Back on the grind! Although Day 2 was at a higher altitude, Day 4 felt the hardest since it was later on in our trek.
We first started our climb up 850 meters and took a break at a rest stop with a wooden swing over the mountain. It was 2 Peruvian Pesos ($0.60 USD) per person to use it and was so much fun! There are two swings there so you can swing at the same time.
We finished the climb up the mountain to see gorgeous views and our first sneak peak of Machu Picchu across the mountain range. At the top of the mountain there were also a small amount of Inca ruins to discover.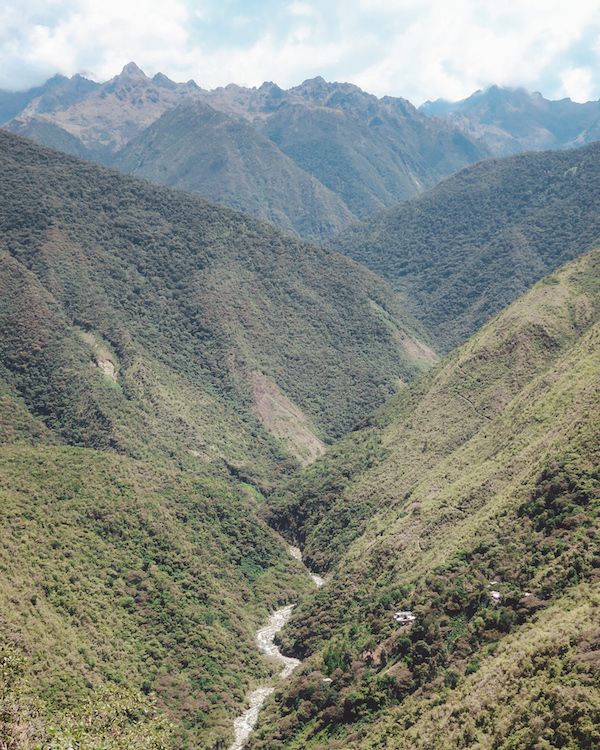 Next was a steep 1000 descent down the mountain to our lunch spot where we had a satisfying meal made by a local family.
We continued to walk for another hour until we arrived at the train station. We had the option of either taking the train (which would cost us each an extra $30 USD each) or walk along the tracks the rest of the way. For some reason I thought there were only 6-8km left and we decided to save our money. Turns out we had 12km left and our legs were on fire!! Save yourself, take the train! The trail was flat and there wasn't much to see along the way making it feel very long.
We made it to our hotel in Aguas Calientes, the main hub for taking tours to Machu Picchu. It was filled with restaurants, hotels, and spas. Our guide gave us the option to hike up to Machu Picchu the next day which is a 650m ascent or take the bus for $12 USD each way. After our mistake with the train, we gladly said, "yes, we will take the bus!" We bought our bus tickets that night to avoid lineups the next morning.
Day 5: Machu Picchu! Either by Bus or by hiking (650m ascent, 650 descent)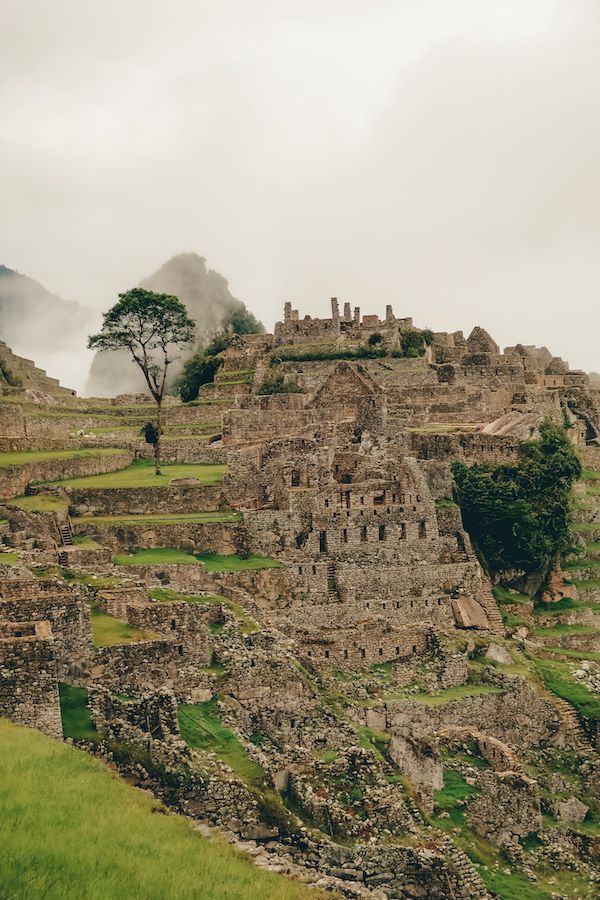 We woke up at 4:30 AM to avoid the massive lineup for the bus and to be the first in line for Machu Picchu's 6:00 AM opening time. When we arrived through the gates at Machu Picchu, it was complete covered by fog. When the first cloud cleared we were astonished by the mysterious Incan treasure that appeared in front of us.
The site is well preserved since it was hidden at 2430m altitude between two peaks. We loved learning about the strong influence astronomy had over the civilization and scratched our heads thinking about how they constructed it out of huge mountain boulders.
There are three hikes you can take once at Machu Picchu. The first is a free hike to Sun Gate that offers classic picturesque views of Machu Picchu. The other two, Machu Picchu Mountain and Huayna mountain, are not free and you have to reserve in advance since there's limited spots per day.
Note: There are no bathrooms inside Machu Picchu so go before you enter! your ticket offers no re-entry.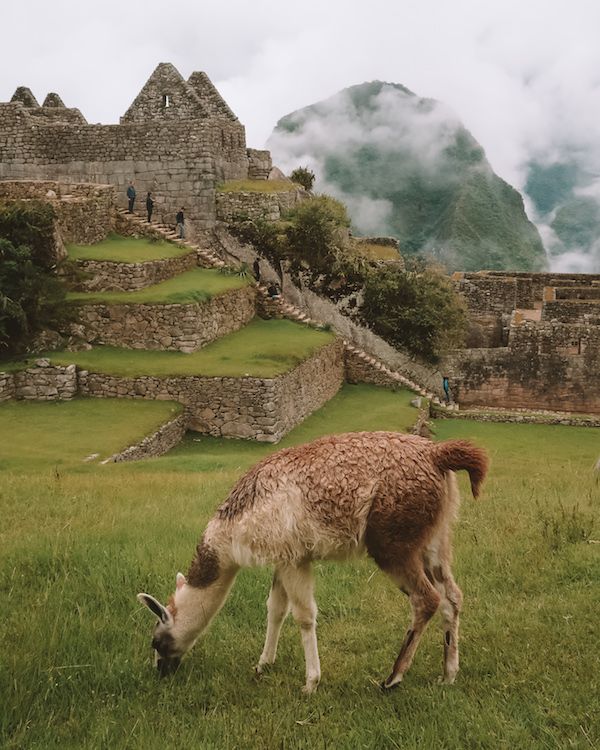 It felt great to cross off our third New 7 Wonders of the World especially after that challenging hike!
We said bye to our guide and took our sore muscles straight to the spa in Aguas Calientes before our train too us back to Cusco. We chose Otto's Salon Spa and Boutique, which is good value and has nice views of the river. The massage felt oh so good after 71 km of hiking!
Check out what it was like: