With a vibrant city exuding old-world charm and fresh cultural vibes, it's no wonder Lisbon is one of Europe's hottest capitals to visit right now. If you're an architecture buff, history nut, music lover, or food and wine enthusiast, there is a lot the city has to offer.
We list 10 unique things to do in Lisbon from noteworthy places to shop and eat to the best sunset viewpoints overlooking the city.
Overview: Unique things to do in Lisbon
---
Disclosure: Some of the links below are affiliate links, meaning at no additional cost to you, we will earn a commission if you click through and make a purchase. We only recommend products or services we have used or that we believe will add value to our readers. Thank you for supporting us!
10 Unique things to do in Lisbon
1. Shop the Lisbon flea market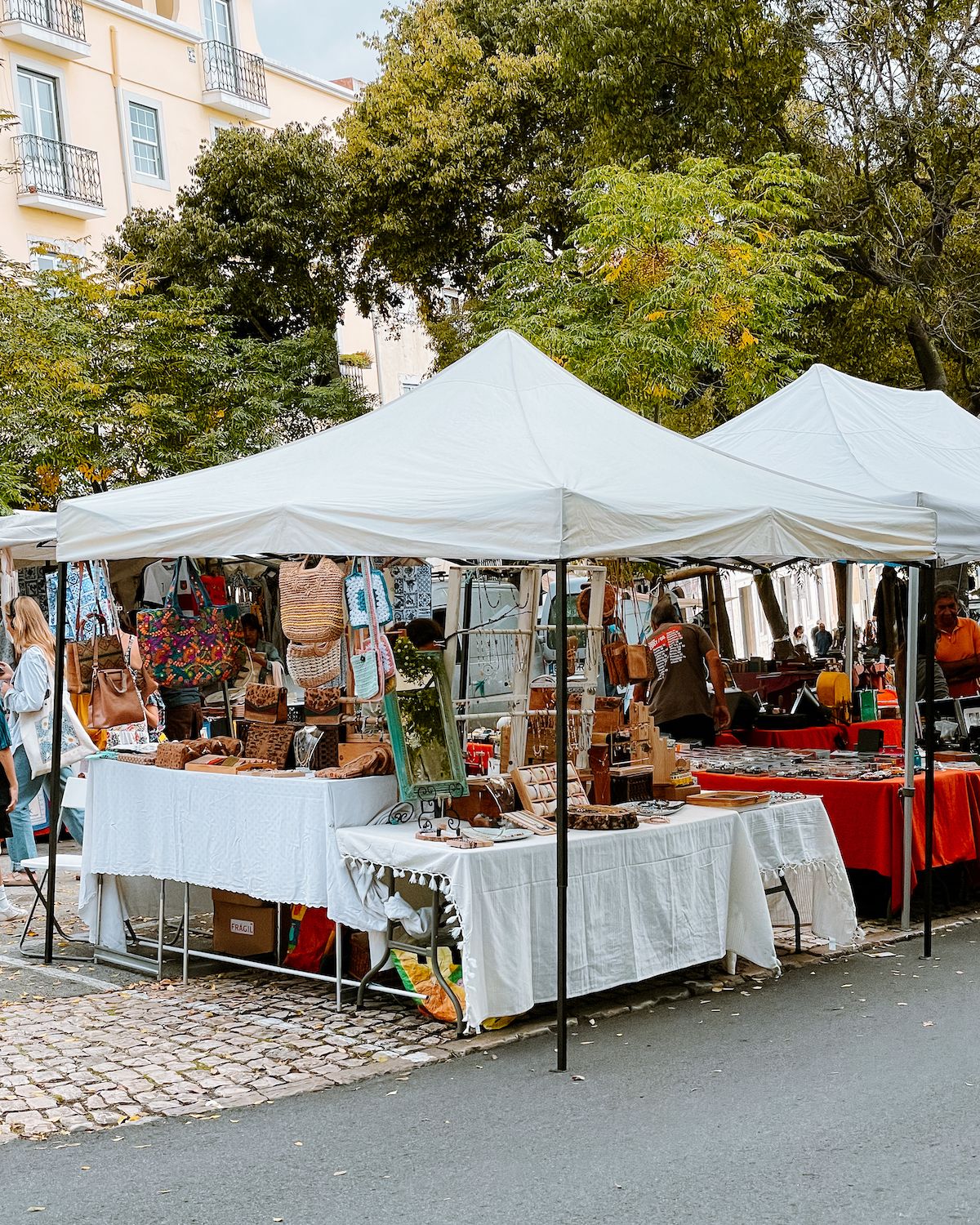 Make sure your stay in Lisbon includes a Tuesday or Saturday so you don't miss the Feira da Ladra street market. Tons of stalls set up selling new and vintage items in Lisbon's oldest neighbourhood, Almafa. You never know whats special pieces you'll find at a flea market! There are also some awesome boutiques on the side of the market selling leather products, ceramics, jewelry and clothing.
Don't miss shops 110 and 112 on Campo De Santa Clara street selling Portuguese ceramics and housewares. Down this street towards the park is where we found the best boutiques selling leather backpacks/purses, ceramics, jewelry and clothes.
2. Snack on a bifana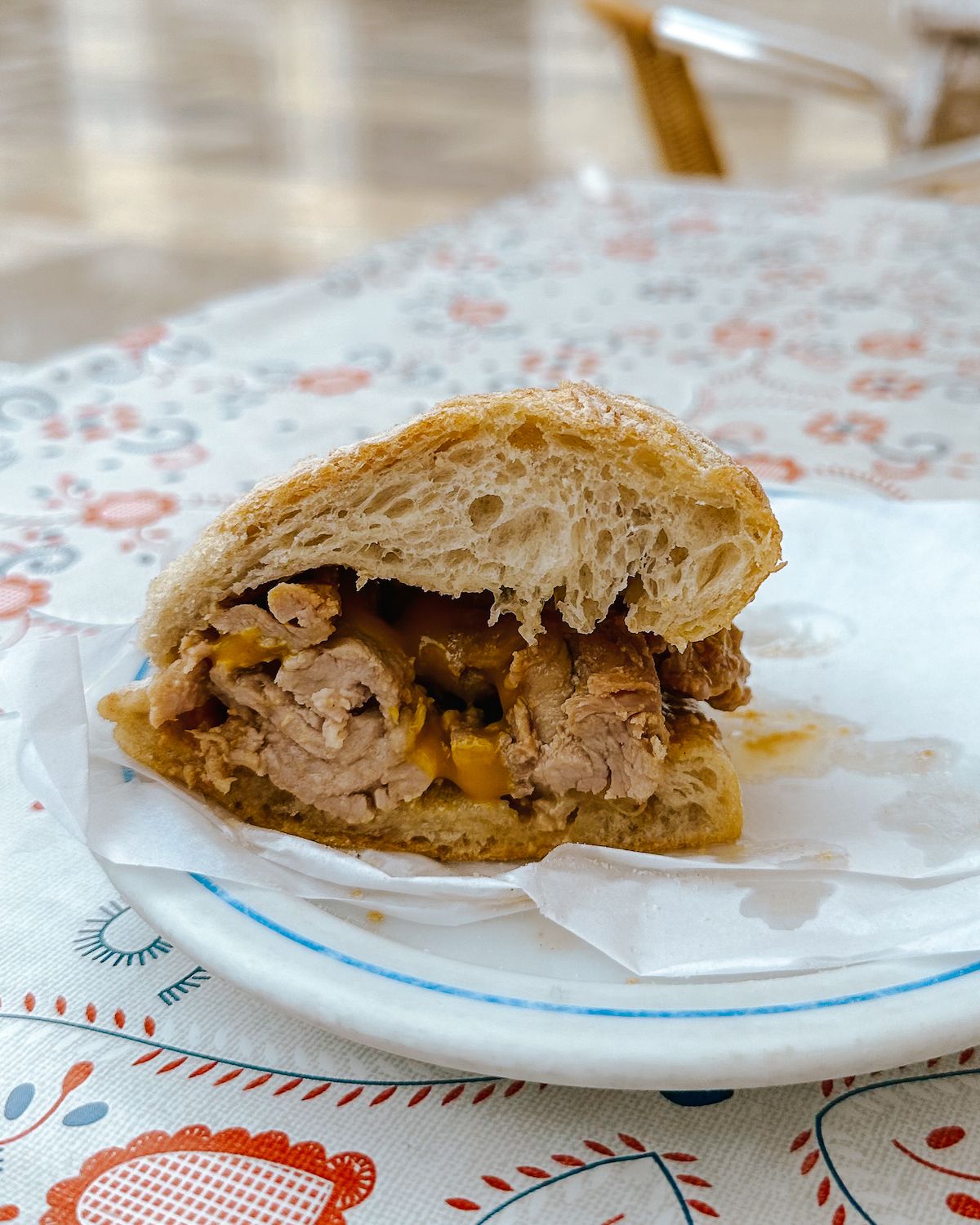 For one of the best value bites out there, stop in at the take out window of As Bifanas do Afonso (a local favourite) for a 2.50 € bifana. The traditional Portuguese sandwich is made with sliced pork marinated in a white wine and garlic sauce. Don't forget to add mustard! This salty snack pairs perfectly with a Coca-Cola.
3. Shop in a 19th century palace turned concept shopping centre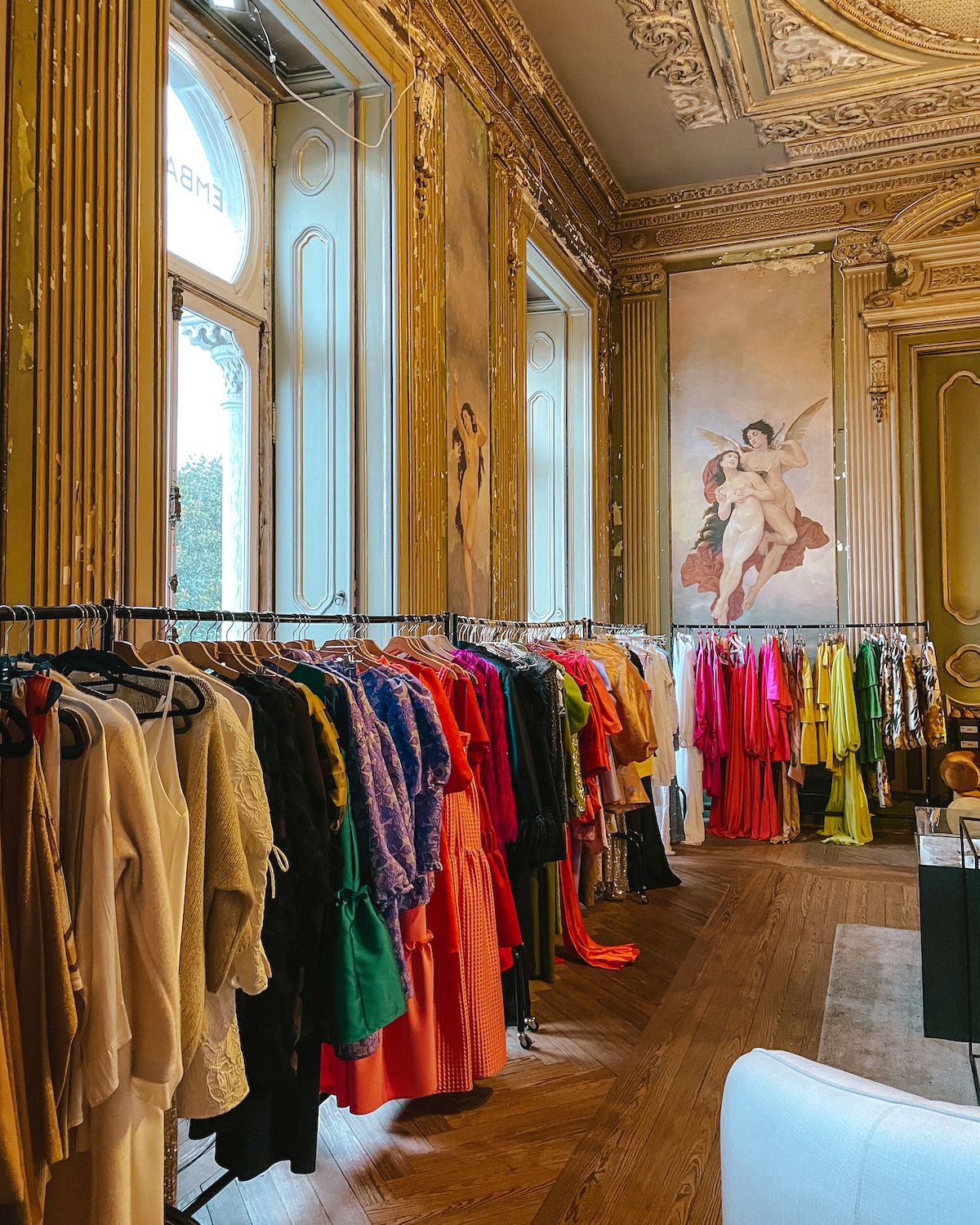 Shop contemporary Portuguese brands at Embaixada, an elegant 19th century Neo-Moorish palace turned concept shopping centre. Located in the fashionable Prince Real neighbourhood, the historic building has many unique boutiques located up the first three floors.
Don't miss these shops:
Latitid - for swimwear and beachwear
Hirundo - for sustainable handmade sneakers
FV Concept Store - might be the most glamorous clothing store we've ever seen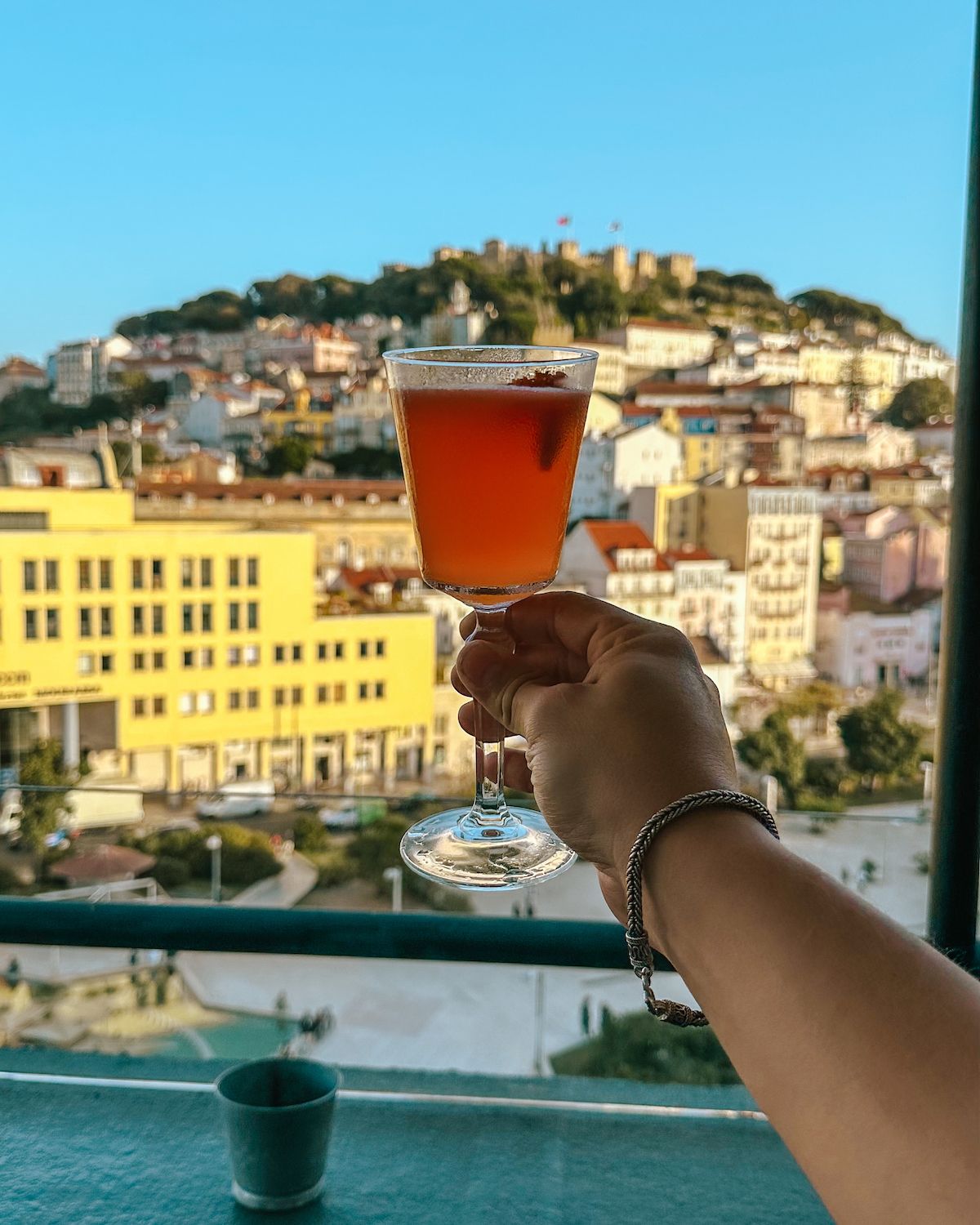 Drink aperitivos at TOPO MARTIM MONIZ for unobstructed views of the city. The rooftop bar is a hidden gem that may take some time finding, but it's worth it to watch the sunset glow over hillside buildings and St. George Caste.
Once you're inside the nondescript shopping mall, take the elevator up to the 6th floor to access the staircase that takes you up to the bar. Get there before 6pm to grab one of the few tables. It's a non-touristy thing to do in Lisbon for panoramic views of the city.
5. Dine at the one of the world's best restaurants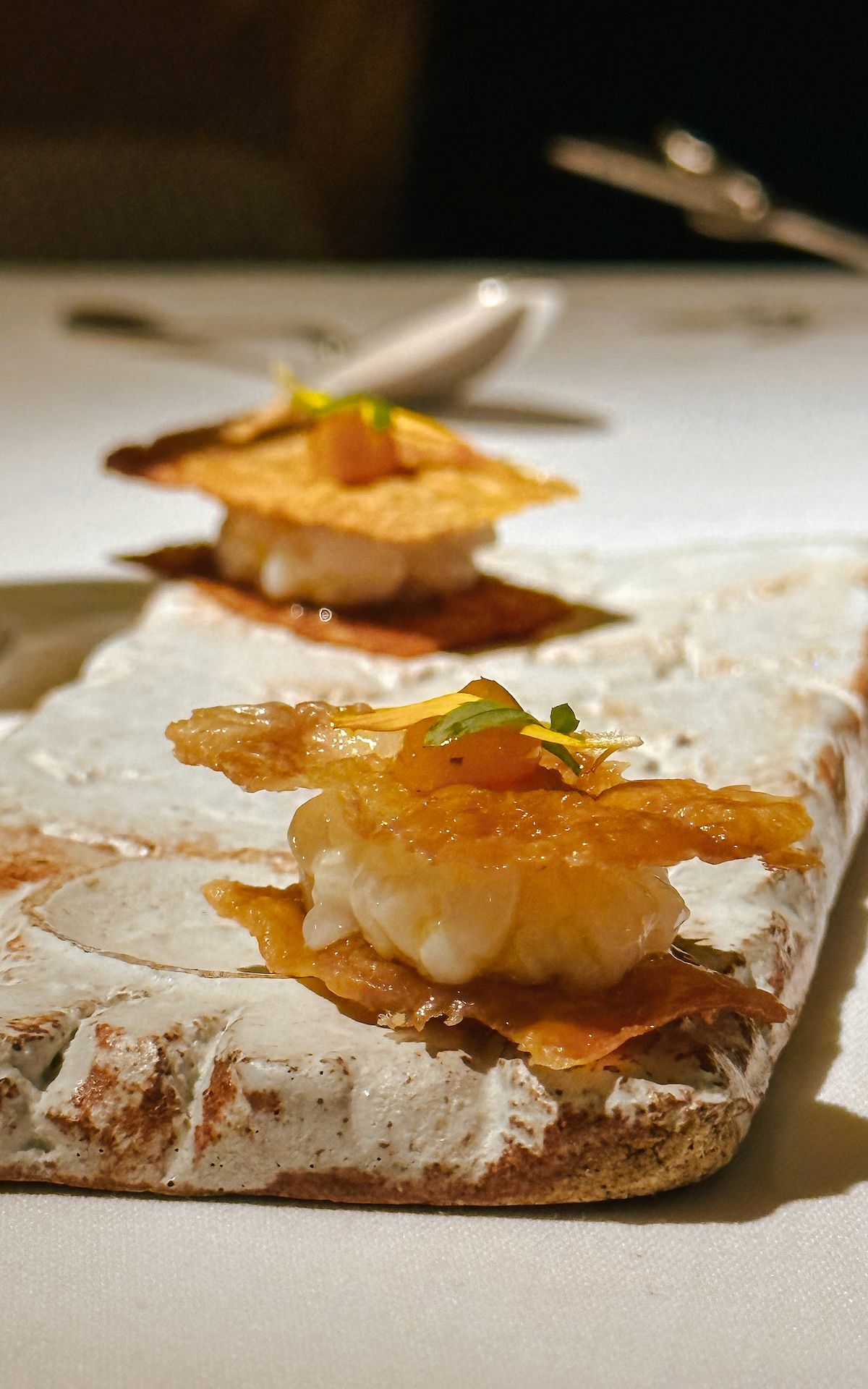 With 41 restaurants listed the Michelin guide, Lisbon is a foodie destination for both traditional and contemporary cuisine. One of these restaurants also took a coveted spot in the list of the World's 50 Best Restaurants, and that restaurant is Belcanto.
Dining at Belcanto is the priciest thing to do on this list by far, but eating at the restaurant helmed by José Avillez, a founder of Portuguese gastronomy, won't leave you disappointed. It was truly one of the best meals of our life.
6. Shop in the alternative LxFactory for Portuguese brands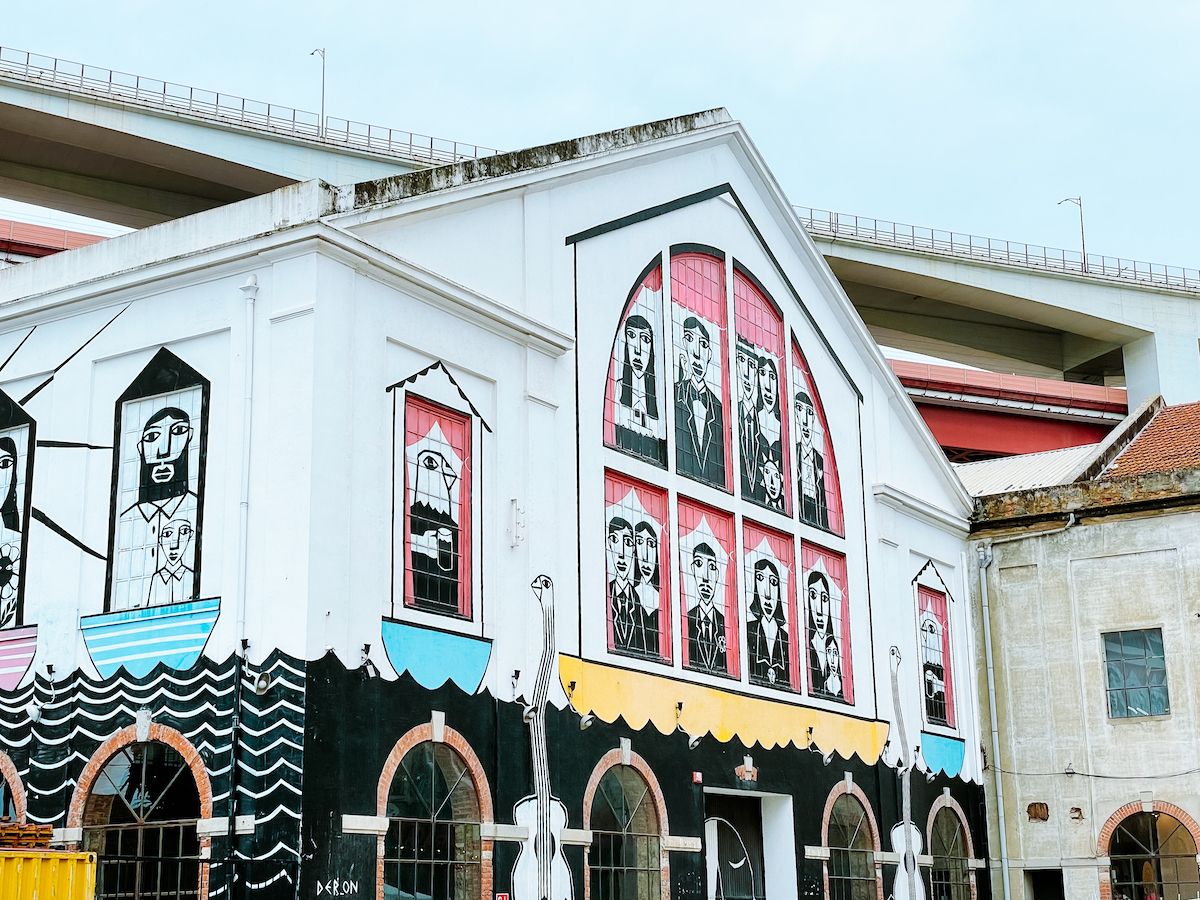 You can easily spend most of your day at LxFactory. The abandoned 19th century production plant has transformed into a creative space with Portuguese-branded boutiques, concept stores, restaurants and studios. It's one of the best alternative things to do in Lisbon.
Take your time wandering around the complex and don't miss the small studio shops located up the stairs. There is so much to see here!
These were our favourite shops at LxFactory:
Bergue & Co - this award winning jewelry company was our favourite place we visited. The unisex brand sells rings, necklaces and bracelets with an artistic design we haven't seen elsewhere.
Pura Cal - your one stop shop for classic Portuguese tableware and home decor brands. Their artistic tableware is perfect for outdoor entertaining. I had my eye on salad plates shaped like cabbage leaves from Bordallo Pinheiro.
Ler Devagar - a three-story bookstore and artist enclave with towering walls stacked with books, a record section dedicated to jazz and a quirky cafe-bar.
Dream Catchers - colourful, responsibly made clothing. We loved their matching sets made from Indian fabrics.
Amazingstore - socially and environmentally made items like sunglasses, backpacks, watches and other accessories.
7. Drink Port wine as old as your grandma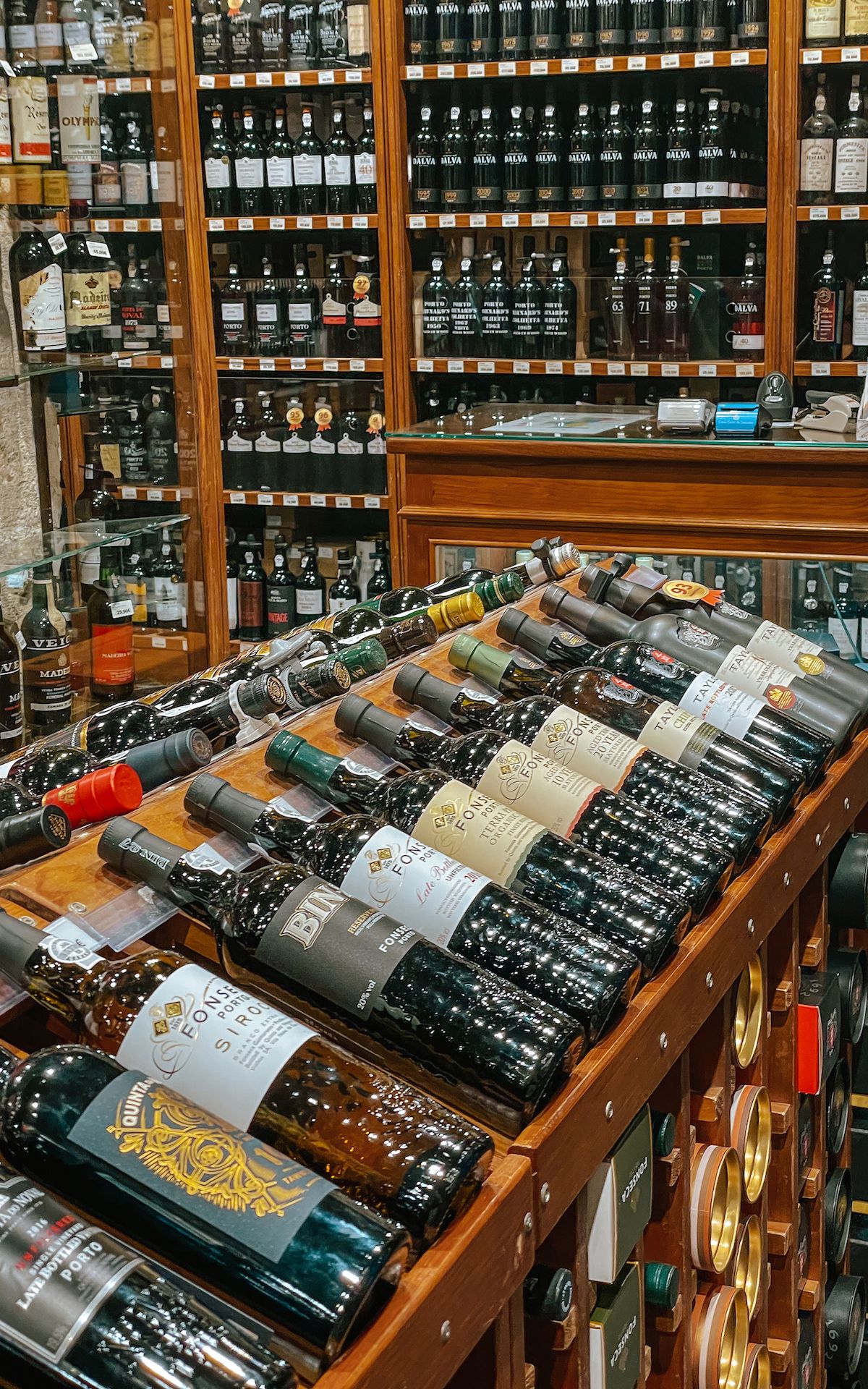 Port is a Portuguese fortified wine from the Duoro Valley of northern Portgual. It's sweet, yet complex and delicate, and has a fascinating history. There are different styles of Port to discover like ruby, white and tawny.
The range of years you can taste and buy Port from is incredible. Even Grandma can find something older than she is! At Garrafeira Nacional, a liquor store specializing in Port, you can taste (for a fee) extremely old Port without having to splurge on an entire bottle. It's quite the experience to taste a piece of history like that.
If you're a wine enthusiast and want to learn more about Port wine and Lisbon's history
, Viator offers a highly rated
private tour with premium Port wine and tapas tasting.
We like how there is free cancellation up to 24 hours in advance
8. Sip espresso at the Miradouro das Portas do Sol Viewpoint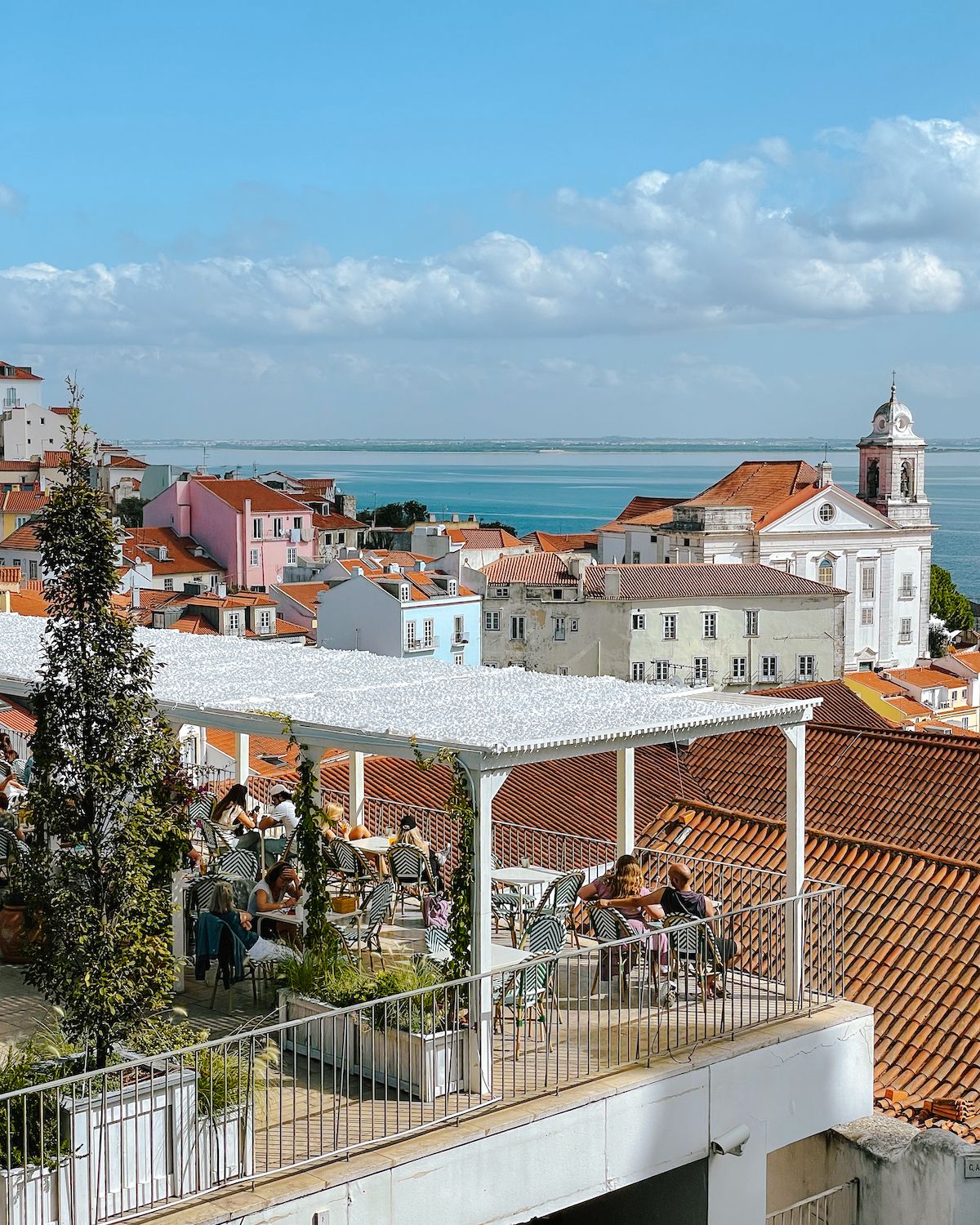 Saunter through Lisbon's oldest and prettiest neighbourhood, Alfama to one of the best viewpoints in the city. From the Miradouro das Portas do Sol viewpoint, you will see a mosaic of red-roofed buildings and the Tagus River.
Drink an espresso overlooking the charming city at Quiosque Portas Do Sol or below at Terrasse Alfama. They both have seating along railing for unobstructed views.
When we arrived, Quiosque Portas Do Sol was packed with no tables along the railing, however we noticed that the fancier looking Terrasse Alfama below had tables available. We assumed it would be super expensive and that they would require you to buy food, but to our surprise they didn't! We were happy we asked. It was 1.50 € for an espresso or 4 € for a cappuccino and we had an excellent choice of seating. You can also buy drinks here. Beer starts at 2.50 € and glasses of wine, 4.50 €.
9. Drink cocktails at one of the World's 50 Best Bars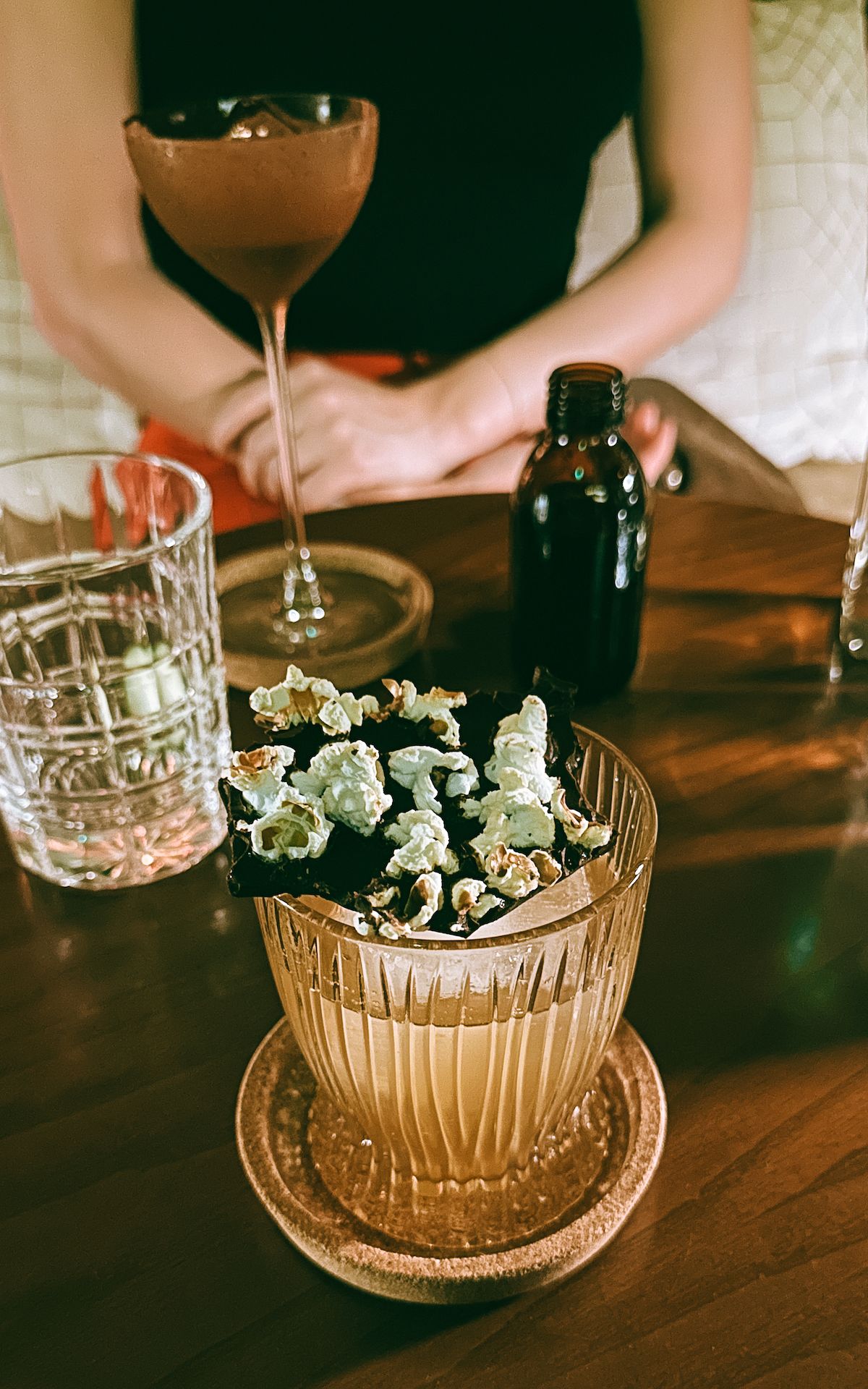 Lisbon also has a World's Best Bar! Red Frog is a prohibition-style bar hidden within another bar, called Monkey Mash. When the host rings the buzzer at what looks like wall, a secret door opens into the intimate space. It feels like you've been invited to an exclusive party with state-of-the-art cocktails. It's a tricky one to get reservations for, so reserve online far in advance! Must try cocktail: American Gangster.
10. Buy Portuguese sardines in a tin labelled with your birth year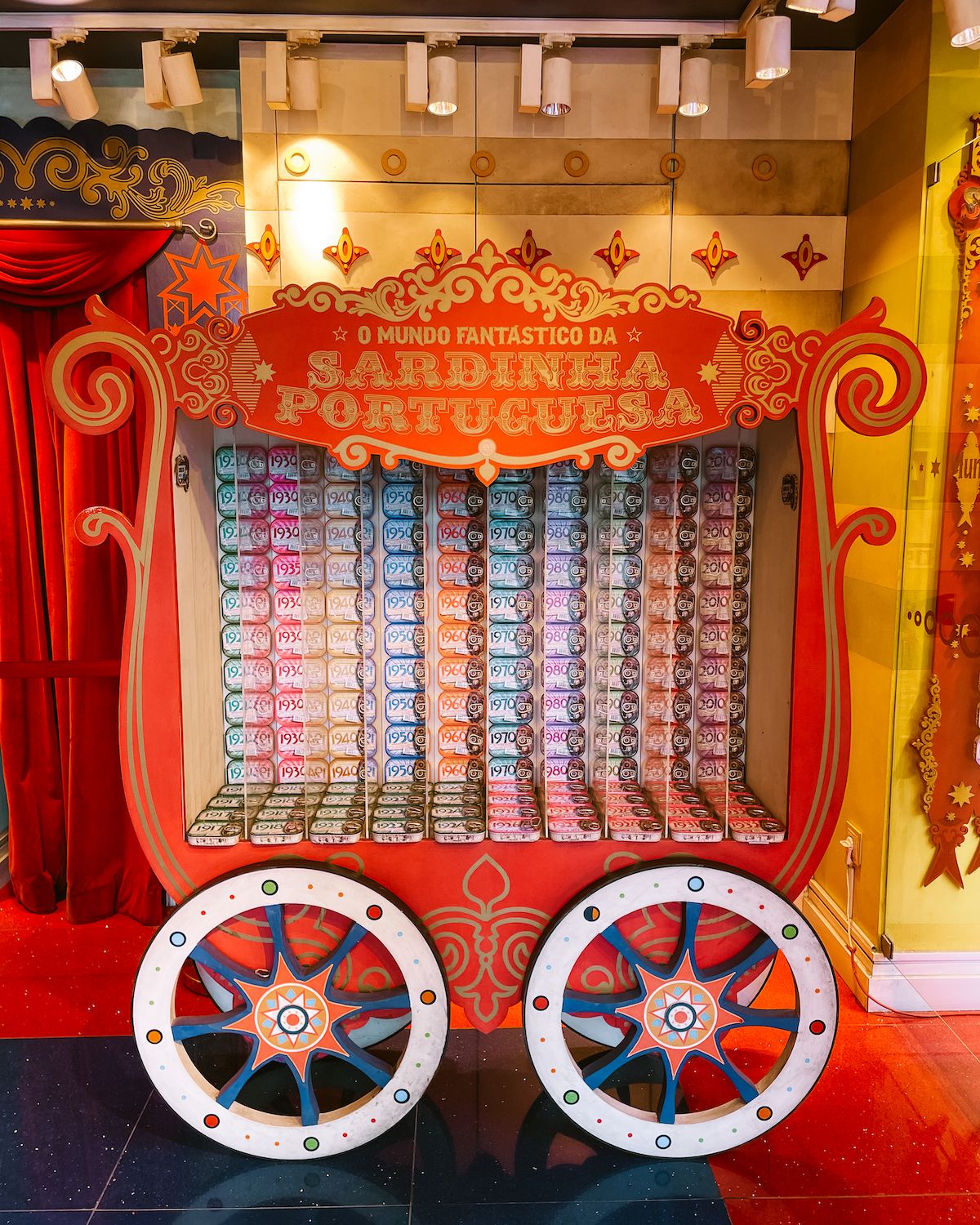 Buy sardines in a whimsical, circus-themed sardine shop? It might feel like an unusual thing to do in Lisbon, but picking out a tin from the colourful walls of Mundo Fantástico da Sardinha Portuguesa is a fun way to try Portuguese sardines. The tiny fish is a national icon of Portugal after all. Don't worry, the tins with birth years on them have nothing to do with how old the sardines are!
If you're up for it, the swordfish in oil is also an excellent choice.
We hope you enjoyed these unique things to do in Lisbon!
Bonus: Our top hotel picks in Lisbon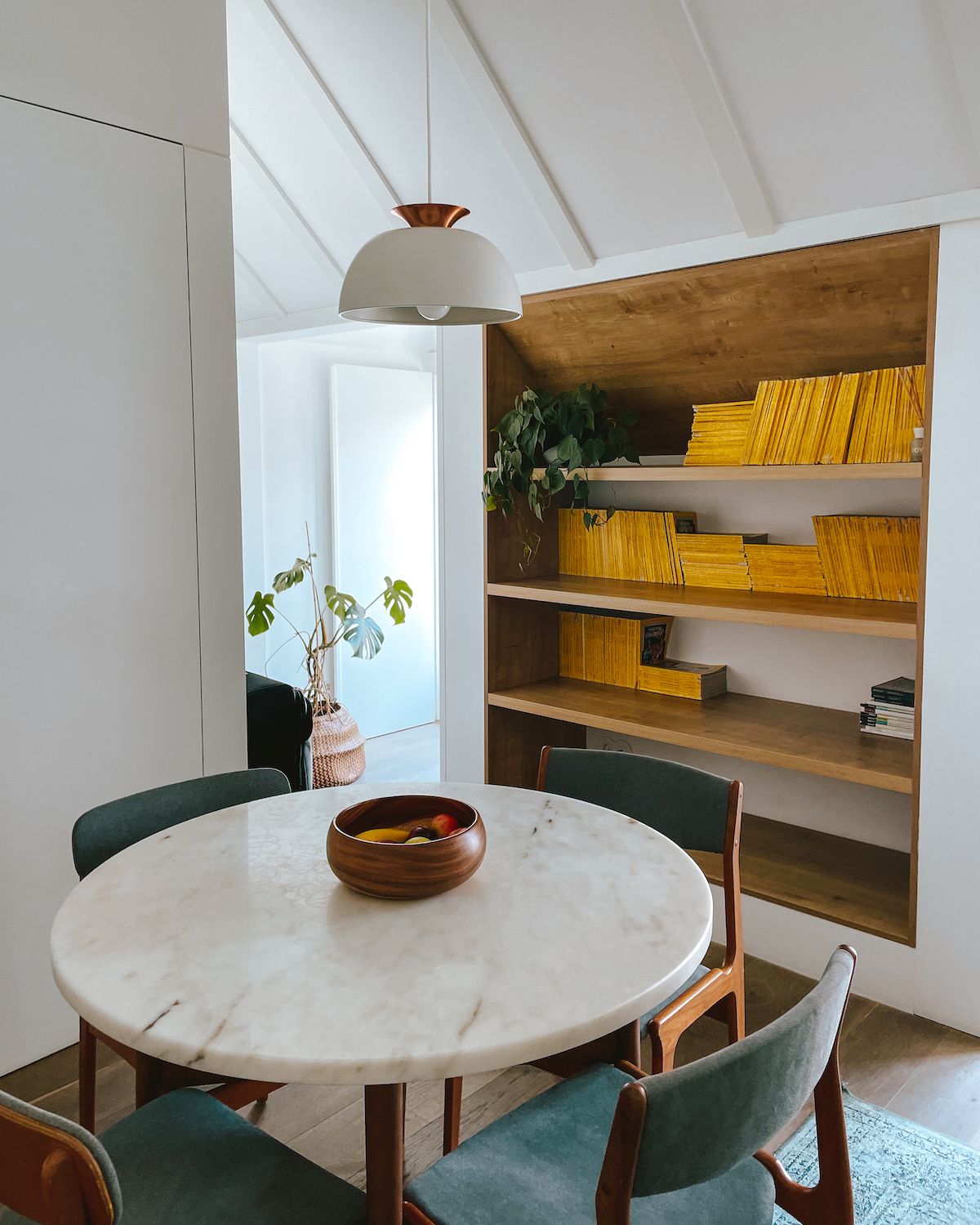 Best for value: Le Consulat ($$): We stayed in their budget double room, which was surprisingly spacious and a great value. The former Brazilian consulate has nice touches with its stylish furnishings and artworks.
Best for a local's feel: Lisboans Apartments ($$$). The former factory turned design-forward hotel sits on a quiet street close to all the action. The apartment-style suites have kitchenettes and include a fresh breakfast delivered daily to your fridge.
Best for luxury with a fun twist: The Ivens Autograph Collection ($$$$). Recently opened, this maximalist tropical-themed hotel has received a lot of praise and recently made Conde Nast's 2022 Hot List of new hotels.
Browse more stays in Lisbon.
---
Starting planning your trip to Lisbon
---
Save and pin these unique things to do in Lisbon for later: