The Seychelles' third populous island has some of the most spectacular beaches in the country - and the world! Their pristine beauty and granite boulders sculpted over millions of years make them unique to anywhere else. After spending a couple days on this laidback island, you'll feel the tropical glow.
We list our Top 5 beaches in La Digue, each for a unique reason.
Planning a trip to La Digue? Don't miss our 3 Day La Digue Itinerary and list of 12 fun things to do on the island.
Overview: 5 Best Beaches in La Digue, Seychelles
---
Disclosure: Some of the links below are affiliate links, meaning at no additional cost to you, we will earn a commission if you click through and make a purchase. We only recommend products or services we have used or that we believe will add value to our readers. Thank you for supporting us!
5 Unique Beaches on La Digue you have to see
1. Anse Source d'Argent
Best for seeing the famous granite boulders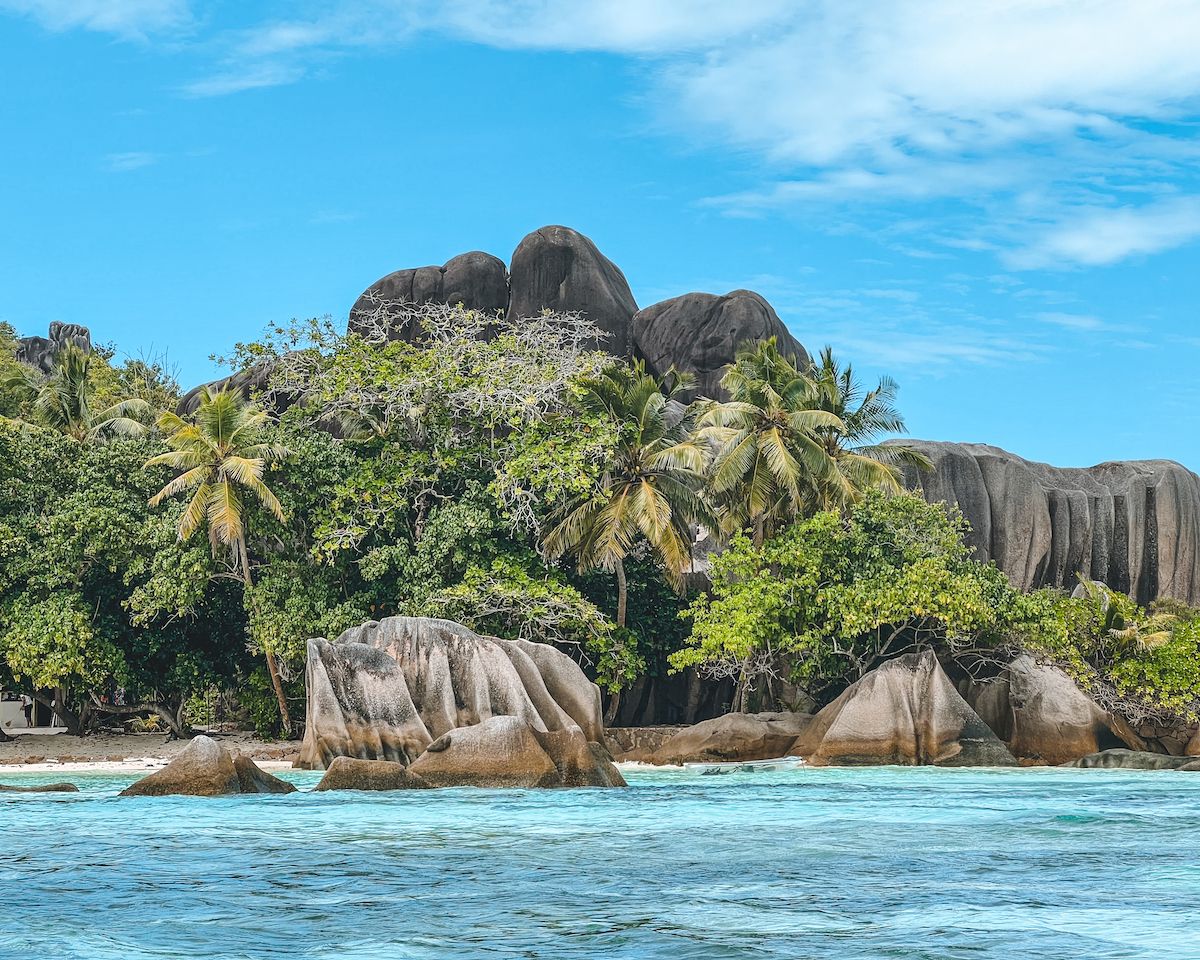 Walk through L'Union Estate, a former coconut and vanilla plantation, to reach this picture-perfect beach that is arguably the most famous in all of Seychelles. If you've seen pictures of Instagram influencers paddling clear kayaks with giant boulders in the background, chances are it's Anse Source d'Argent. We weren't sure if this spot would feel too touristy, however it still felt pristine and wild even with its popularity. It does help that the Seychelle's isn't the easiest country to get to given its remote location.
This beach is for you if you want to see the idyllic view of Seychelle's large granite boulders with white sand and crystal-clear turquoise waters. It may not be as remote as other beaches, since it's the most popular beach on La Digue, however its access is easy compared to other beaches that require hiking.
Tips for Anse Source d'Argent
🌴 Walk the whole strip to find your own version of beach paradise - some spots have better shade, better swimming, less wind, and natural coves.
🚣‍♀️ The best way to see the beach is by renting clear kayaks and getting out onto the water. There are two kiosks on the beach you can rent from: La Digue Transparent Kayaks & SUP and Crystal Water Kayaks.
🥥 There is a beach bar at the very end of the beach (bring cash!). Also look out for coconut vendors that set up a small stand with coconuts until they sell out.
🎟️ It costs 150 SCR to visit the beach, since you have to access it through the private estate. If you purchase your ticket after 4:30pm, your pass is valid the next day.
🚲 Rent bikes from your hotel so you can easily cycle through the plantation to the start of the beach
2. Anse Cocos
Best for the beach bar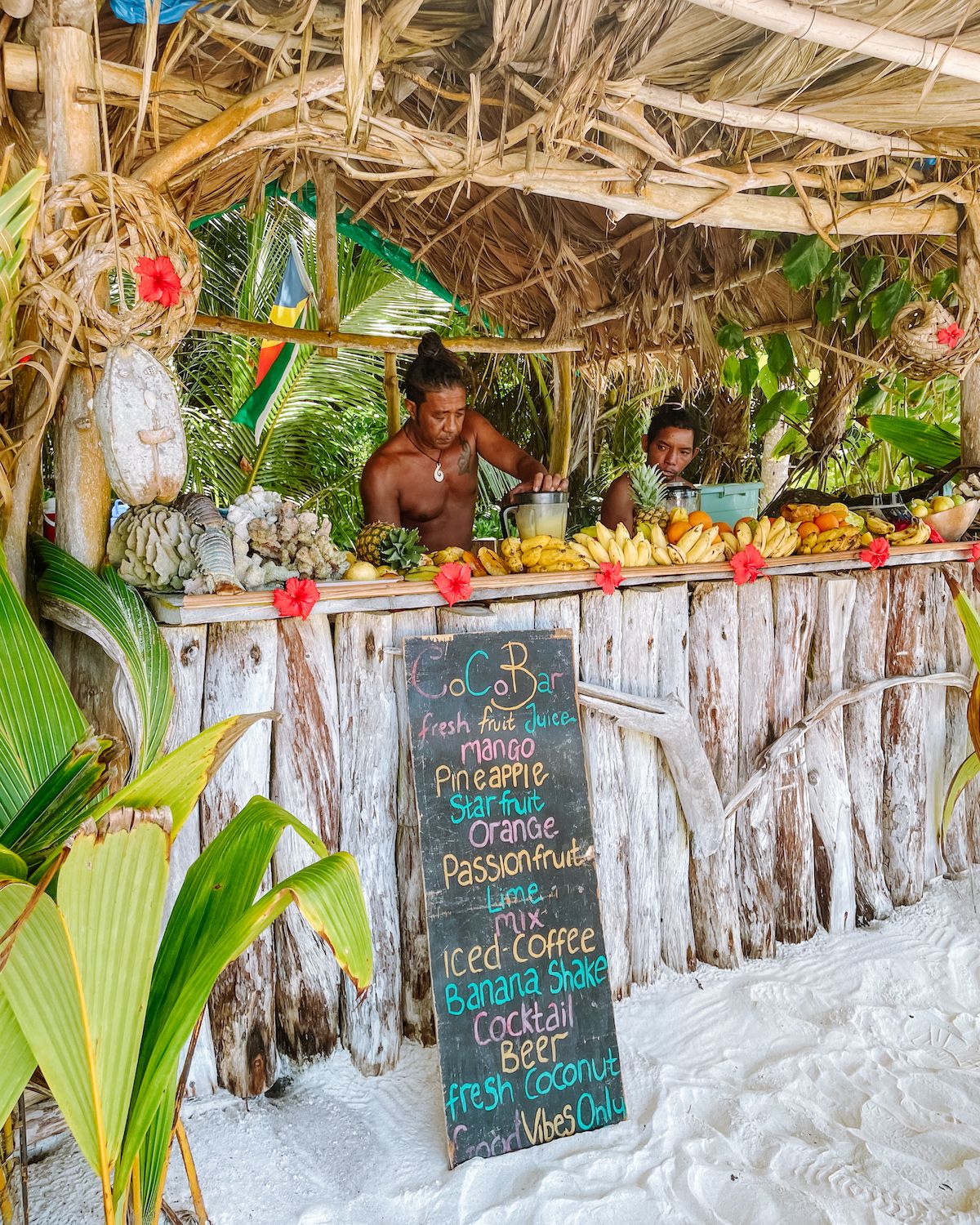 Anse Cocos is personally our favourite beach on La Digue. It's remote, but accessible by hiking, and best of all, it has that dreamy tropical beach bar vibe. The beach shack called Cocos Bar is managed by a local on the island who sells fresh fruit juices, fruit platters, beer, and fruity cocktails made with local Takamaka Rum. Order a fruity drink and choose a lounger, picnic table or wooden stump to sit on. The white sand here is soft like flour and there is a natural swimming hole tucked away behind the rocks at the very end of the beach.
Tips for Anse Cocos
🥾 Anse Cocos is only accessible by hiking 45 minutes from Point Granse Anse. The hike is beautiful, taking you on a well-marked trail through the jungle and past two other beaches: Grand Anse Beach and Petit Anse Beach.
🏝️ Give yourself enough time so you can beach hop and visit Grand Anse Beach and Petit Anse Beach on your way back. They are also gorgeous beaches.
👙 Anse Cocos is only safe for swimming during certain times of the year due to currents (ask your hotel to be sure). However, if you walk to the very end of the beach you can swim in a natural swimming pool that is protected by granite boulders even when the sea is rough.
🍹 Bring cash for the beach bar
3. Anse Marron
Best for a natural swimming hole in a remote location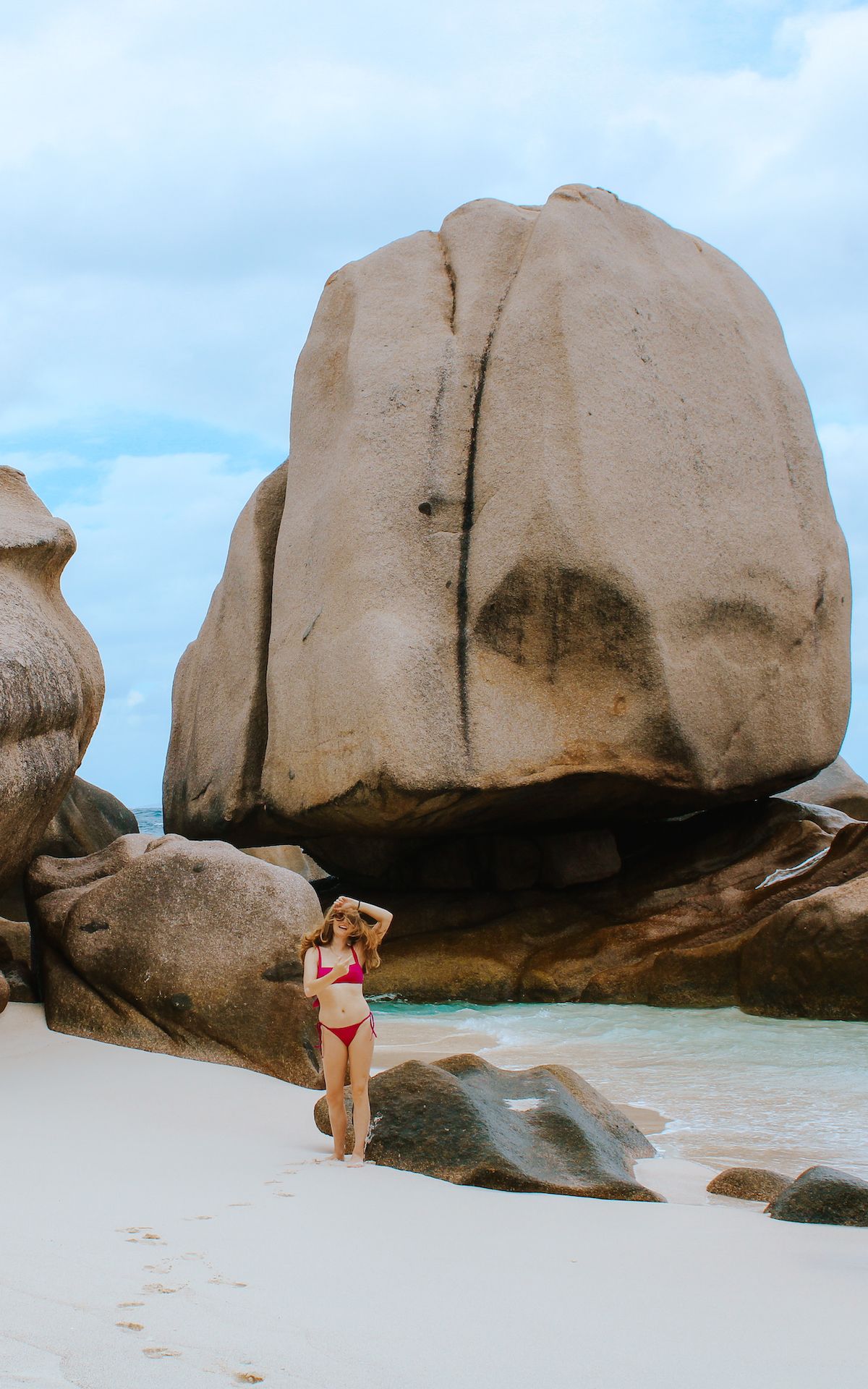 It's no easy feat getting to Anse Marron, but that is what makes it feel so wild and remote. This beach is enclosed by granite boulders, forming a natural swimming pool that is protected from the rough sea behind it. The hike takes you through the jungle, along a rocky coastline, over boulders, through coves, and through waist to knee-deep water.  
Tips for hiking to Anse Marron
🤠 Do not do this hike without a guide - it's unsafe without one. It's very difficult figuring out where to go, what boulders to climb over and how to time the tide. Leave it in the hands of a local guide to keep it fun and exciting!
🏖️ Your tour includes over an hour of downtime at Anse Marron and a fruit platter
🎒 Don't forget sneakers, water shoes, 2L of water, high SPF sunscreen (there is no shade at the beach), a towel, small backpack, sunglasses, a hat, and a swimsuit.
🌊 The hike also takes you past Anse Peirrot (the next beach on our list!) and finishes at Anse Source d'Argent. If you relax on Anse Source d'Argent until 4:30pm and purchase your entrance pass after this time, it will be valid for the next day.
🥾
Viator offers a highly-rated tour to Anse Marron.
We like how they have free cancelation up to 24 hours in advance.
4. Anse Peirrot
Best "castaway" looking beach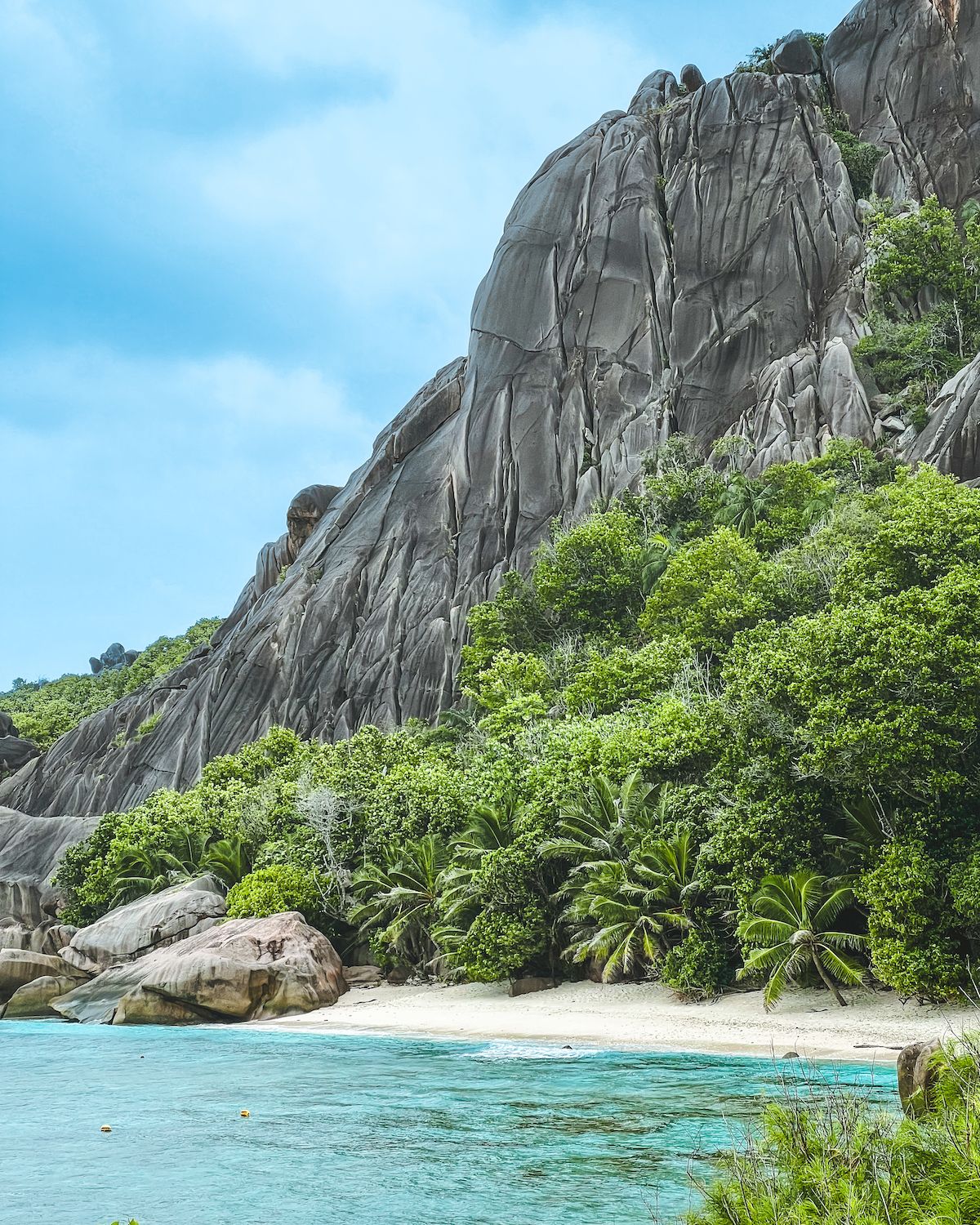 Accessible by water only, Anse Pierrot Beach looks like a tropical fantasy you only see in movies. In fact it's been used as a filming location for shipwreck movies like Robinson Crusoe.
There are two ways to get to Anse Pierrot Beach:
🚣‍♀️ Go on a kayaking tour from Anse Source d'Argent. This is the option that includes time at the beach.
🥾 Take a
guided hiking tour to Anse Marron
, which passes Anse Pierrot on the way to the end of the hike at Anse Source d'Argent. This is the part of the hike where you walk through knee to waist-deep water.
5. Anse Reunion
Best for a sunset dinner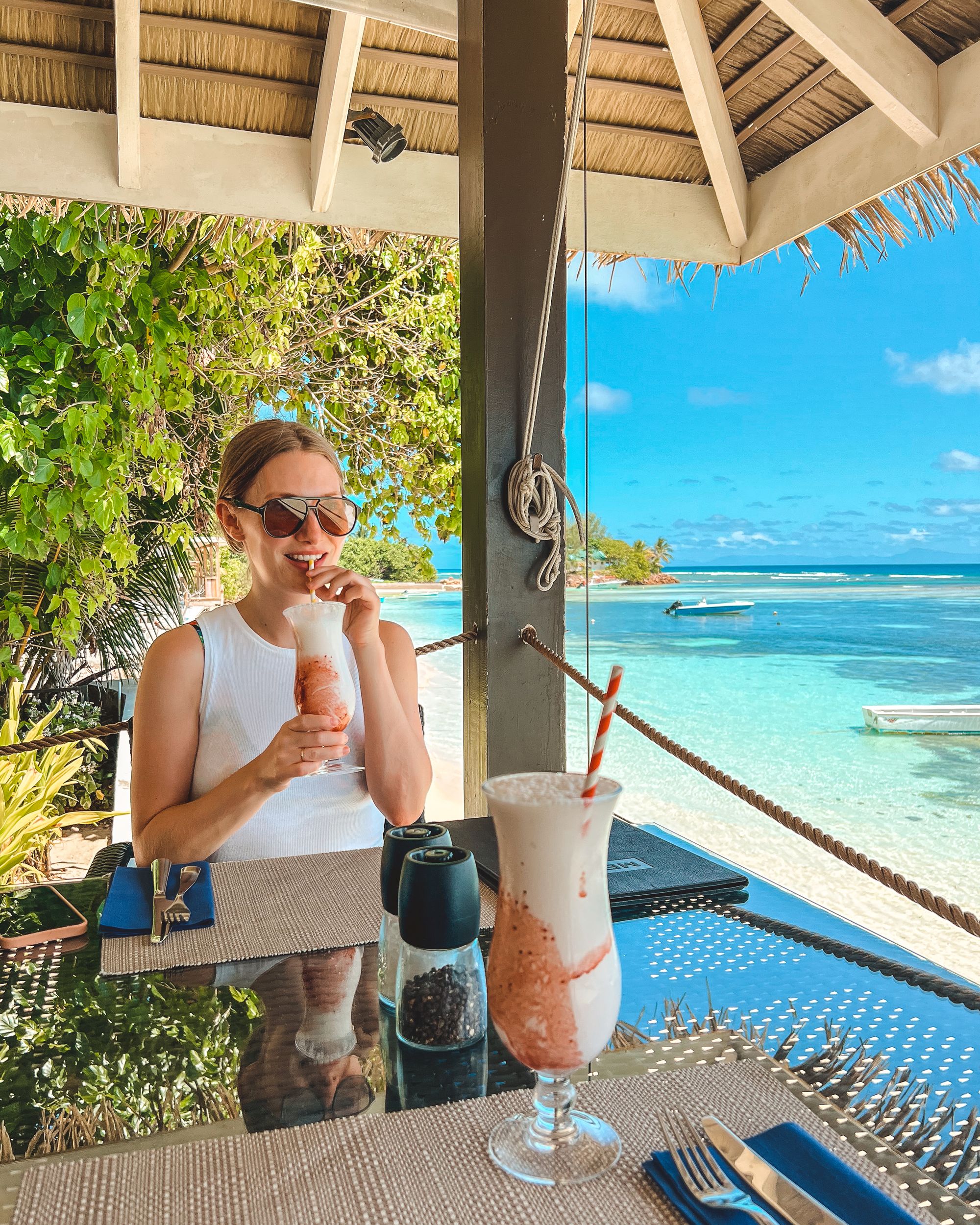 While there are better beaches for swimming,
this particular beach has the best restaurant on the island for a sunset dinner.
Dine on the waterfront at
Le Nautique
for stunning views over the calm ocean. Reservations are recommended.
Bonus: Our top hotel pick on La Digue
We stayed at Le Nautique Waterfront Hotel, and can easily say it's one of our favourite hotels in the world.
Its location is perfect, situated right on the oceanfront facing sunset. It's also close to the centre of town and walking distance to Source d'Argent Beach. The service, restaurant, beach bar and rooms are top notch.
La Digue Packing List
Don't forget to pack these items for your trip to La Digue:
Clothing

Water shoes are a must because of sharp coral in some areas and sea urchins. It's also essential to bring for your hike to Anse Marron.
Bathing suits - Ysé is my favourite swimwear brand
Sunglasses
Beachwear - white halter top, sarong, beach dress etc.

Other Essentials
Get started on booking your trip to the Seychelles
🌃 Book your accommodation: Booking.com is our go-to for finding places to stay. Sort by top reviewed.
🤠 Browse tours with local guides: through GetYourGuide or Viator
🛫 Book your flight: use Skyscanner to compare flights across different airlines (we recommend booking direct with the airline however).
---
Combine La Digue with Mahe Island - see our 5 Day Seychelles Itinerary
---
Save and pin these incredible beaches on La Digue for later: