Rarely when you visit a foreign place, do you you immediately feel at home - one that you know you will come back to again and again. This is how I felt when I first touched down on the tiny island of La Digue. Located in the middle of the Indian Ocean off the coast of East Africa, the colourful island looked like an animation too perfect to be true.
La Digue is not only known for it's insanely beautiful beaches, but for its kind and welcoming locals that are proud of their home. Here you will feel immersed in the local island life, not just a bystander peering inside.
We can easily say that La Digue has the nicest beaches we've ever seen in our lives. Not only do they look pristine and feel wild, they have a unique appeal with their backdrop of granite boulders that have been sculpted over millions of years. The giant rocks look smooth from afar, but they are actually textured.  
La Digue is a great spot to travel as a couple, with a friend or with family. I had my annual "sisters trip" here and we had so much fun!
Our 3 day La Digue itinerary takes you to the most spectacular beaches, to sunset dinner spots, and on fun excursions you don't want to miss.
Outline: La Digue Itinerary
Day 1: Check into your hotel, beach hop from Grande Anse Beach to Anse Cocos Beach, and enjoy a sunset dinner at Le Nautique's waterfront restaurant.

Day 2 : Hike to La Digue's most remote beaches, eat authentic local dishes at Rey & Josh Cafe Takeaway and satisfy your sweet tooth at Glorious Bakery & Snacks.

Day 3: Kayak and swim at the famous Anse Source D'Argent Beach, and eat fresh seafood at a beachside restaurant.
Disclosure: Some of the links below are affiliate links, meaning at no additional cost to you, we will earn a commission if you click through and make a purchase. We only recommend products or services we have used or that we believe will add value to our readers. Thank you for supporting us!
Best time to visit La Digue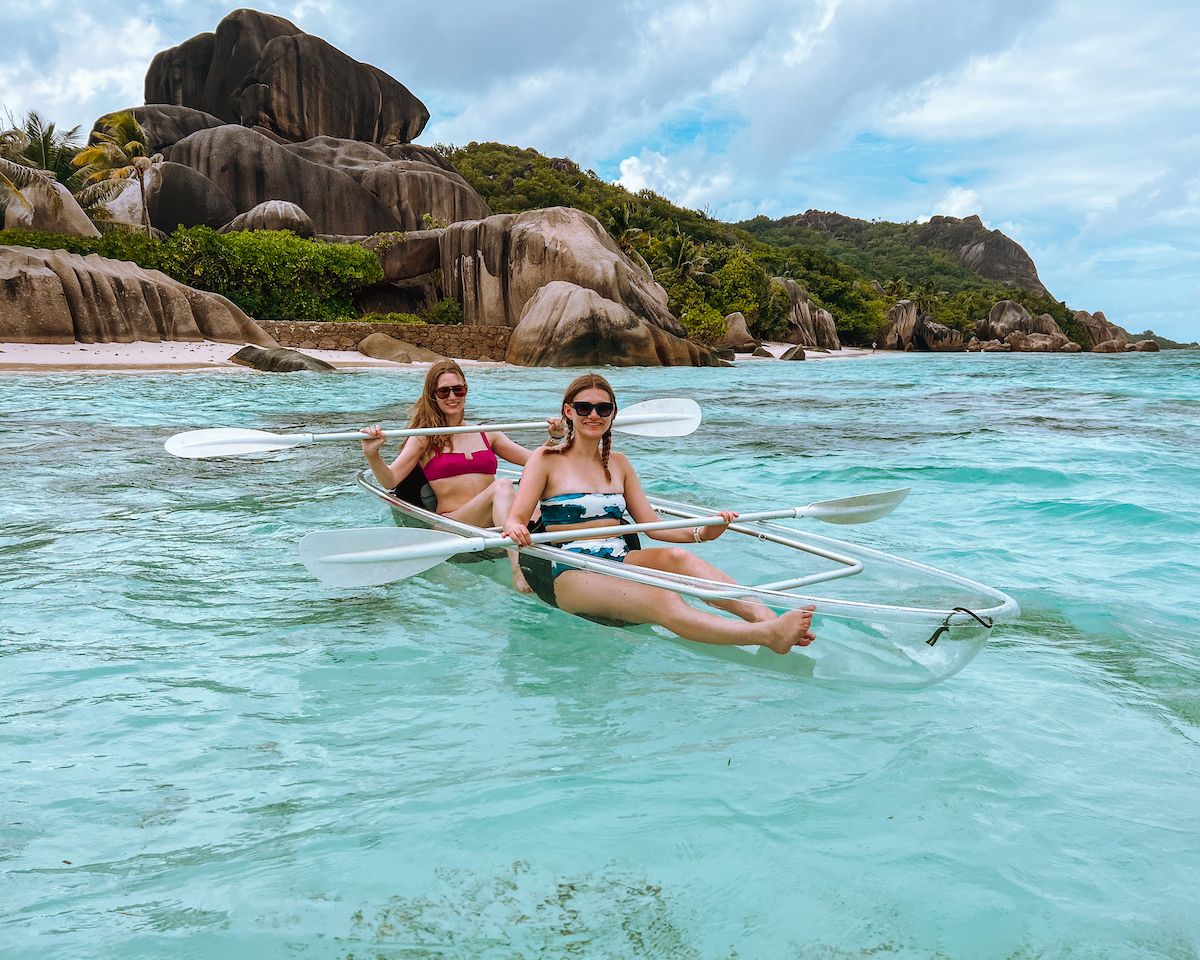 The best time to visit La Digue is from October-November and April-May for a few reasons:
The waters are calm with good visibility during this time of year
You will avoid the wettest months of December and January
You will have a smoother ferry ride from Mahe to La Digue. A local told us that they personally avoid ferry travel all together starting the end of June because the seas are so rough!
The beaches on the eastern side of La Digue are not safe for swimming during winter months (June-September)
We were there at the very end of May when the sea was starting to get rough, which made kayaking difficult.
How to get from Mahe to La Digue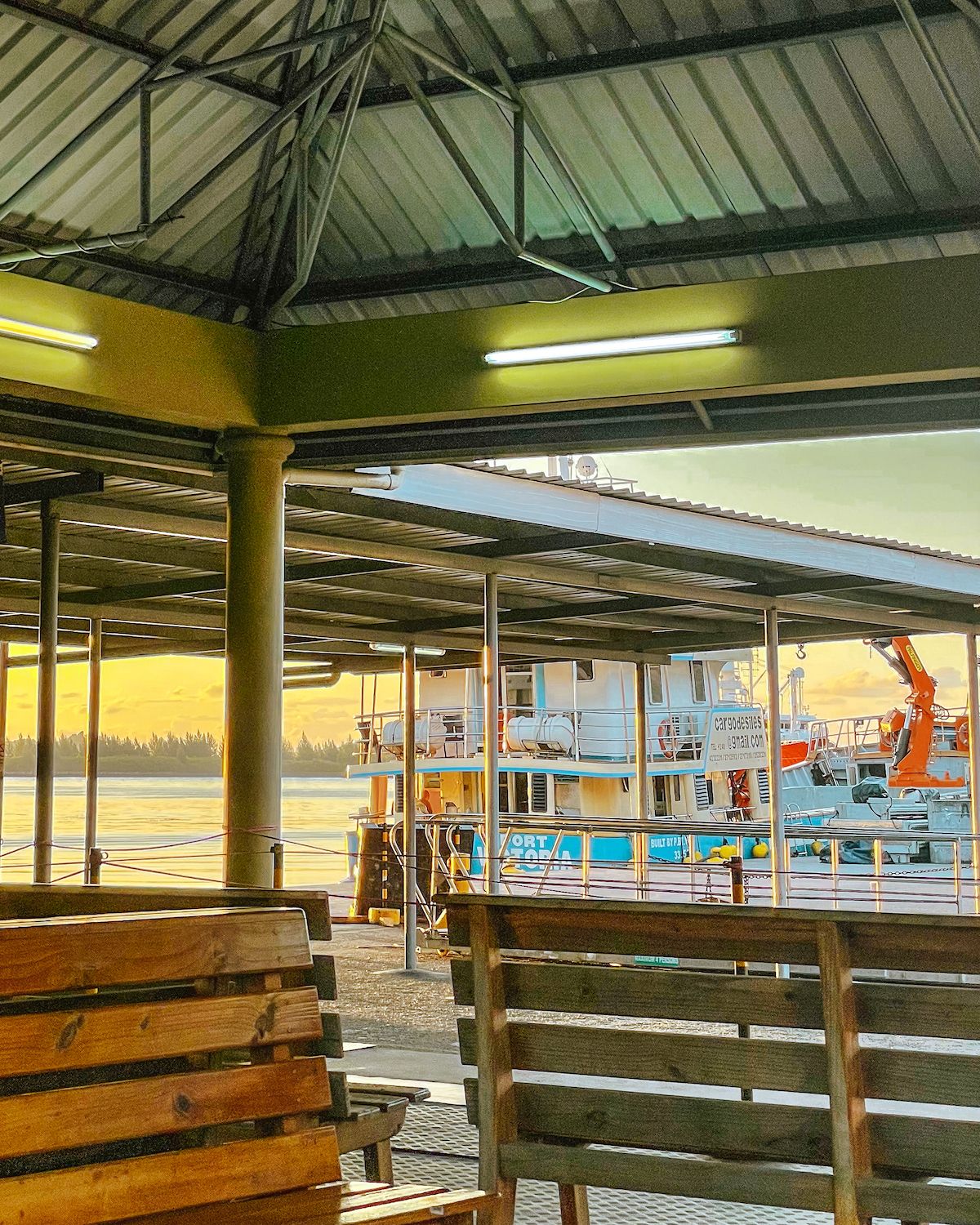 Mahe is the Seychelle's largest, most populous island, and where you fly into the international airport. From Mahe, you have a few options to get to La Digue.
By Ferry
We were not prepared for the ferry ride from Mahe to La Digue. Our hotel recommended we purchase tickets on the top deck, which we thought was to see the view, but little did we know it was to help with boat sickness. Coming into the month of June, we were entering one of the roughest months to travel between the islands.
The sea didn't look scary with large waves, it was just verrry choppy. After about 5 minutes into the 1.25 hour trip, I knew I was in trouble for boat sickness. I made sure to look outside at the water the whole time so I didn't hurl. About 20 minutes in, I heard someone heave behind me. To my luck, it was the guy directly behind me, who proceeded to throw up into a clear plastic bag about 15 times in the next hour. I wondered why he didn't use the nontransparent vomit bags provided on the boat, and felt bad for the person directly behind him.
Learning our lesson, we bought anti-nausea medication similar to Gravol at the pharmacy in La Digue, and were completely fine for our ride back to Mahe.
Cat Cocos offers a direct 1.25 hour ferry from Mahe to La Digue as well as a 1.75 hour ferry that makes a stop in Praslin.
Here are 8 ferry tips for a successful trip:
Buy your ticket in advance, ferry times can sell out especially in high season.
Spend the extra for the upper deck seat outside. The lower deck may be air conditioned, but apparently the puking rate is a lot higher.
Even if you buy your tickets online, you need to arrive more than 30 minutes in advance or your tickets could be released.
If you have a suitcase, make sure you check it in at the ticket office.
Take non-drowsy anti-nausea medication, like Gravol, beforehand
Avoid traveling during the rough winter months starting June if you can
Arrive early so you can line up and grab a seat close to the front along the side of the boat. If you arrive late, you'll be stuck in the middle! Your ticket reserves certain sections of the boat, not seats.
Do not take pictures or videos while the ferry is moving, you will regret it!
By plane & fast ferry
To signficantly shorten the ferry ride, you could also fly 20 minutes from Mahe to Praslin on
Air Seychelles
and take a
15 minute fast ferry
from Praslin to La Digue.
By helicopter
The most convenient, but expensive way is to take a 17 minute helicopter ride from Mahe to La Digue. For 4 people it costs 1,045 €.
Where to stay in La Digue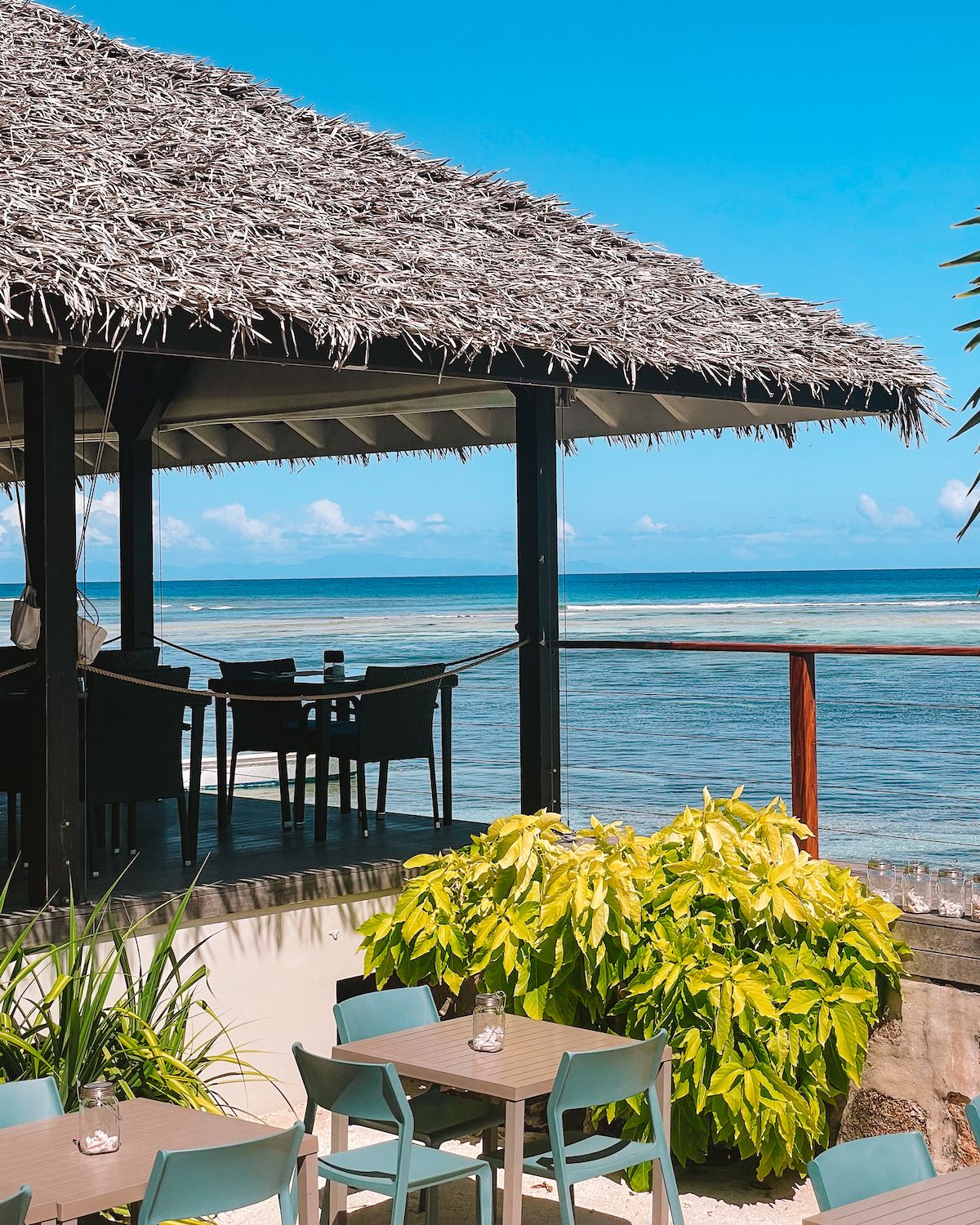 We stayed at Le Nautique Waterfront Hotel, and can easily say it's one of the best hotels we've ever stayed at.
Situated right on the water facing sunset, the boutique hotel feels like a home away from home with an excellent restaurant overlooking the sea and the cutest beach bar that makes delicious rum cocktails. The service here is top notch, with the staff going above and beyond telling you about the best things to do on the island and helping book excursions. They even found a pair of water shoes for me to borrow! They offer daily bike rentals for 100 SCR (~$7 USD), which is the best way to get around the island.
We made it part of our routine each night to watch the sunset on pool loungers with a fruity rum cocktail.
🛏️
Browse more stays on La Digue Island
Getting Around La Digue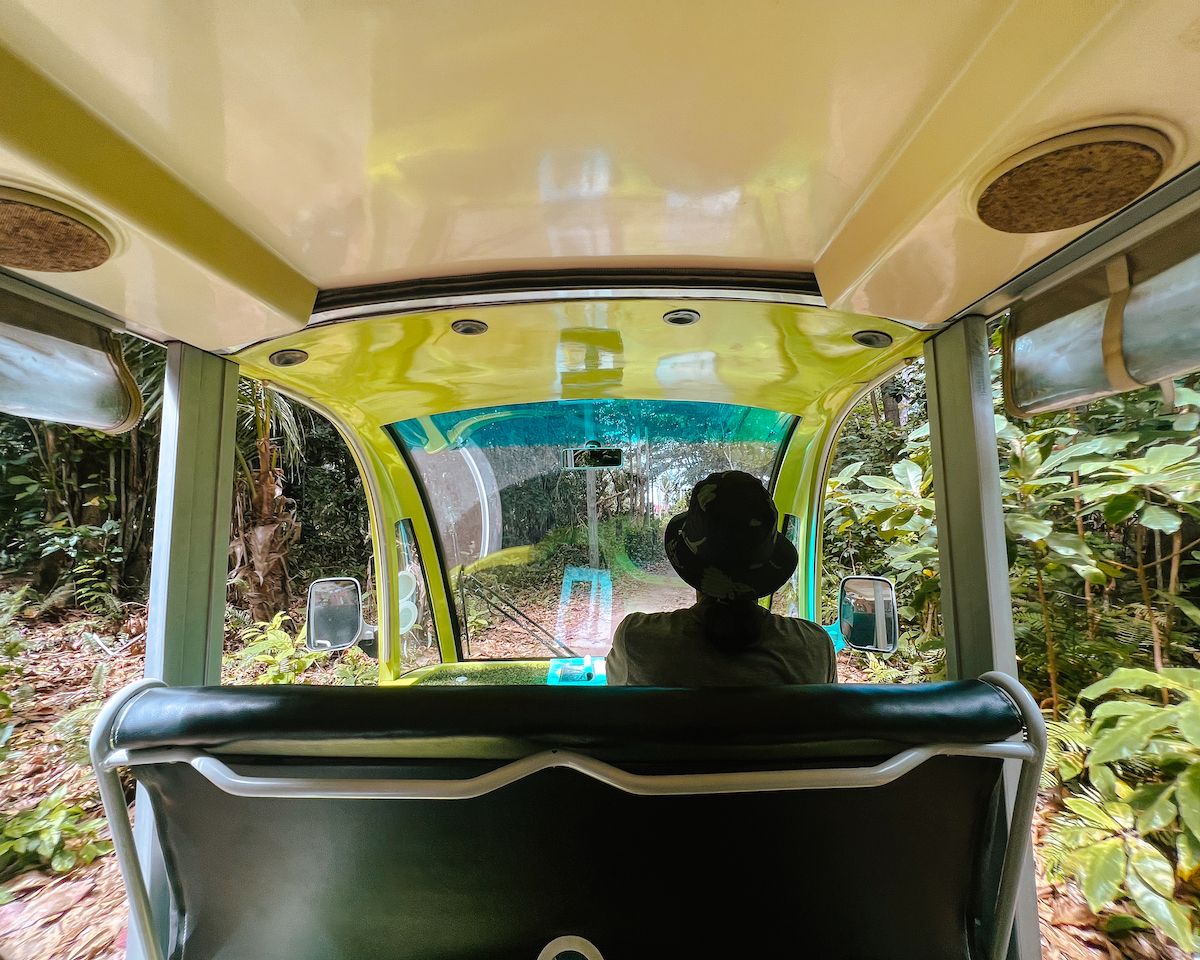 The main mode of transport in La Digue is by bicycle. Buggies are used as taxis and a few larger vehicles are used for commercial and emergency purposes.
Bike rentals go for 100 SCR (~$7 USD) per day and e-bikes for around 500 SCR ($35 USD). To cross from the western to the eastern side of the island by buggie, it cost us 500 SCR (~$35 USD) roundtrip.
3 Day La Digue Itinerary
Day 1
Check into your hotel, beach hop from Grande Anse Beach to Anse Cocos Beach, and enjoy a sunset dinner at Le Nautique's waterfront restaurant.
Check into your hotel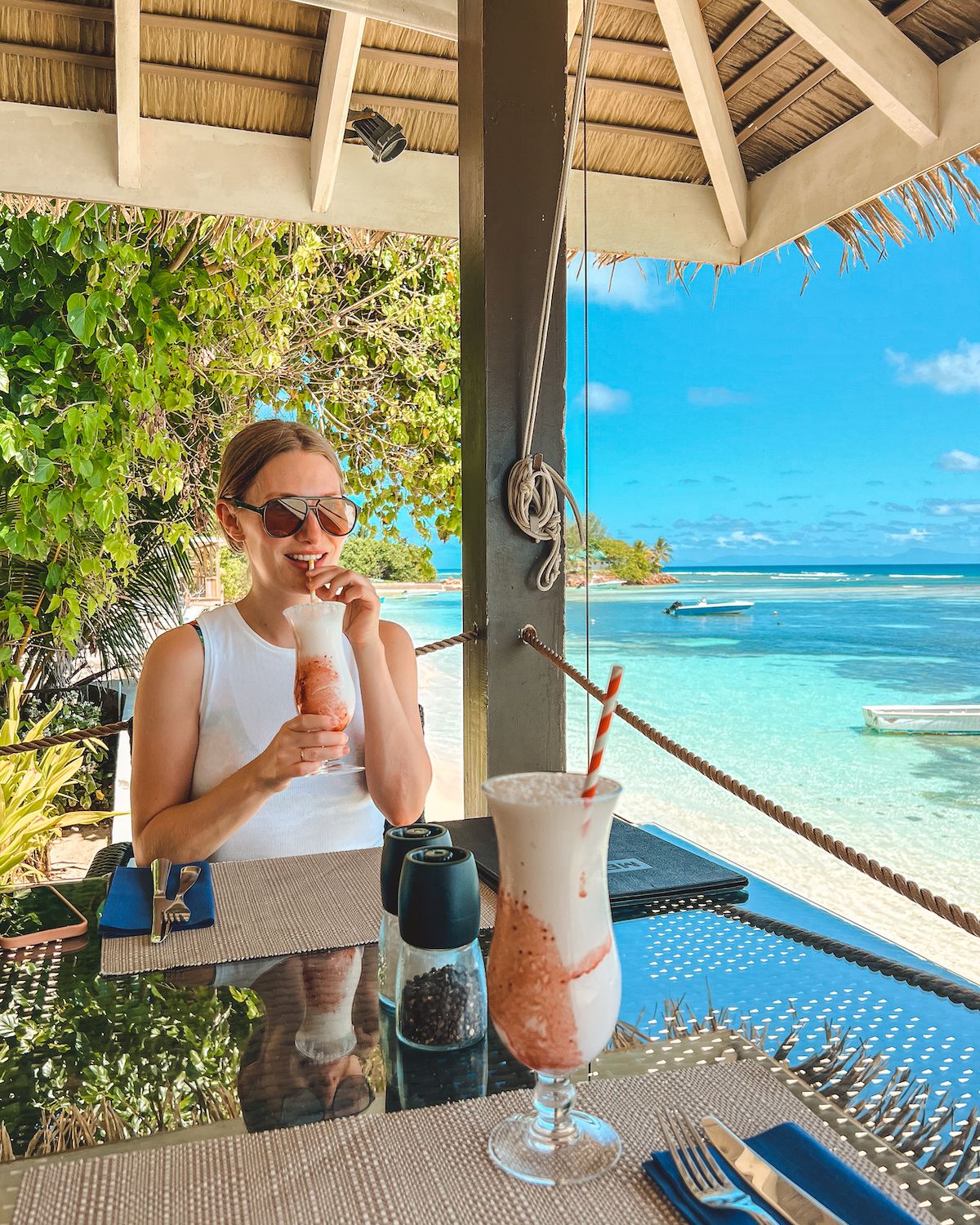 Take an early departure time to La Digue, so you have the full day to explore. Most stays are walking distance from the ferry terminal, however if you are lugging suitcases you may want to organize pick up with your hotel.
Le Nautique Waterfront Hotel
offered free pick up and drop off by buggie. On our ride to the hotel, we immediately felt immersed into the local island life. As we drove through neighbourhoods, we saw colourful Creole-style homes, a field with kids playing soccer and teenage girls practicing their dance moves to bassy beats in their front yard.
If you can't check into your room yet, drop off your luggage and change into your beach clothes. Eat lunch at your hotel or at Le Nautique's waterfront restaurant, before heading to the gorgeous beaches for the day.
Beach hop from Grande Anse Beach to Anse Cocos Beach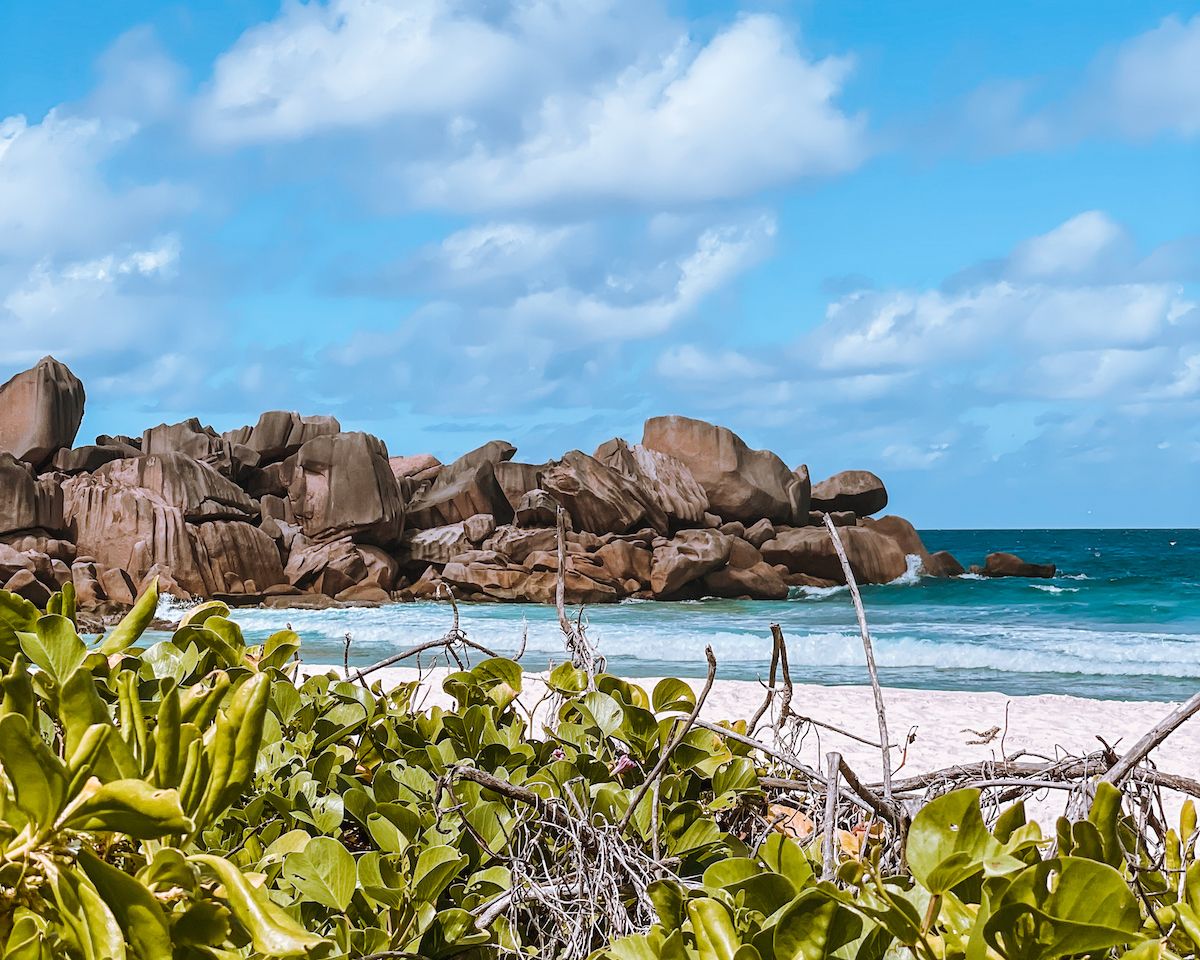 Beach hopping from Grand Anse Beach to Cocos Anse Beach is a great way to get acquainted to the island. It was our favourite activity we did. These beaches have pristine white sand, turquoise waters and the large granite boulders.
Starting at Point Grand Anse, the 45 minute hike takes you through the jungle, past Grand Anse Beach, Petit Anse Beach, and lastly to Cocos Anse Beach. We recommend walking all the way to Cocos Anse Beach and beach hopping backwards.
Cocos Anse Beach was our favourite of the three. It's less crowded since farther away, has an excellent beach bar, and even an enclosed natural pool, providing shelter from the waves.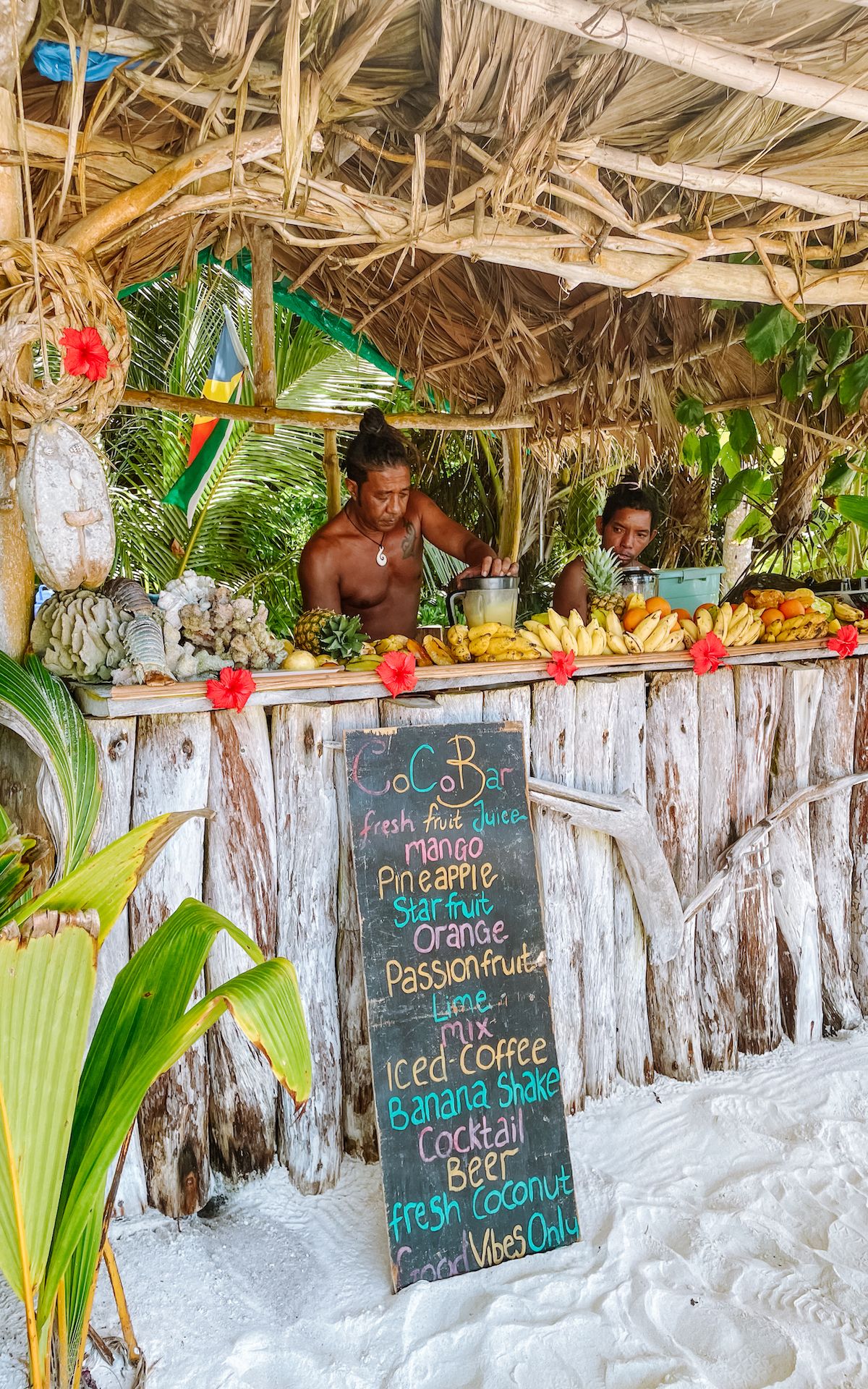 Cocos Bar was our favourite beach bar on La Digue. They sell fresh fruit juices, fruit platters and fruity cocktails made with local rum. Bring cash! The beach bar has a cute set up with a few loungers, wooden stump seats, picnic tables and a swing. To reach the natural swimming pool, walk all the way to the other side of the beach from Cocos Bar.
To get to the starting point of the hike, you will either need to bike, organize a buggie driver (500 SCR roundtrip), or rent e-bikes (around 500 SCR per day.) We organized a buggie and were very happy with our choice! We just let the driver know what time we wanted to be picked back up. 5 hours was perfect for us. Many people bike over, but it didn't look enjoyable since there is a big hill and traffic on the small road.
Enjoy a sunset dinner at Le Nautique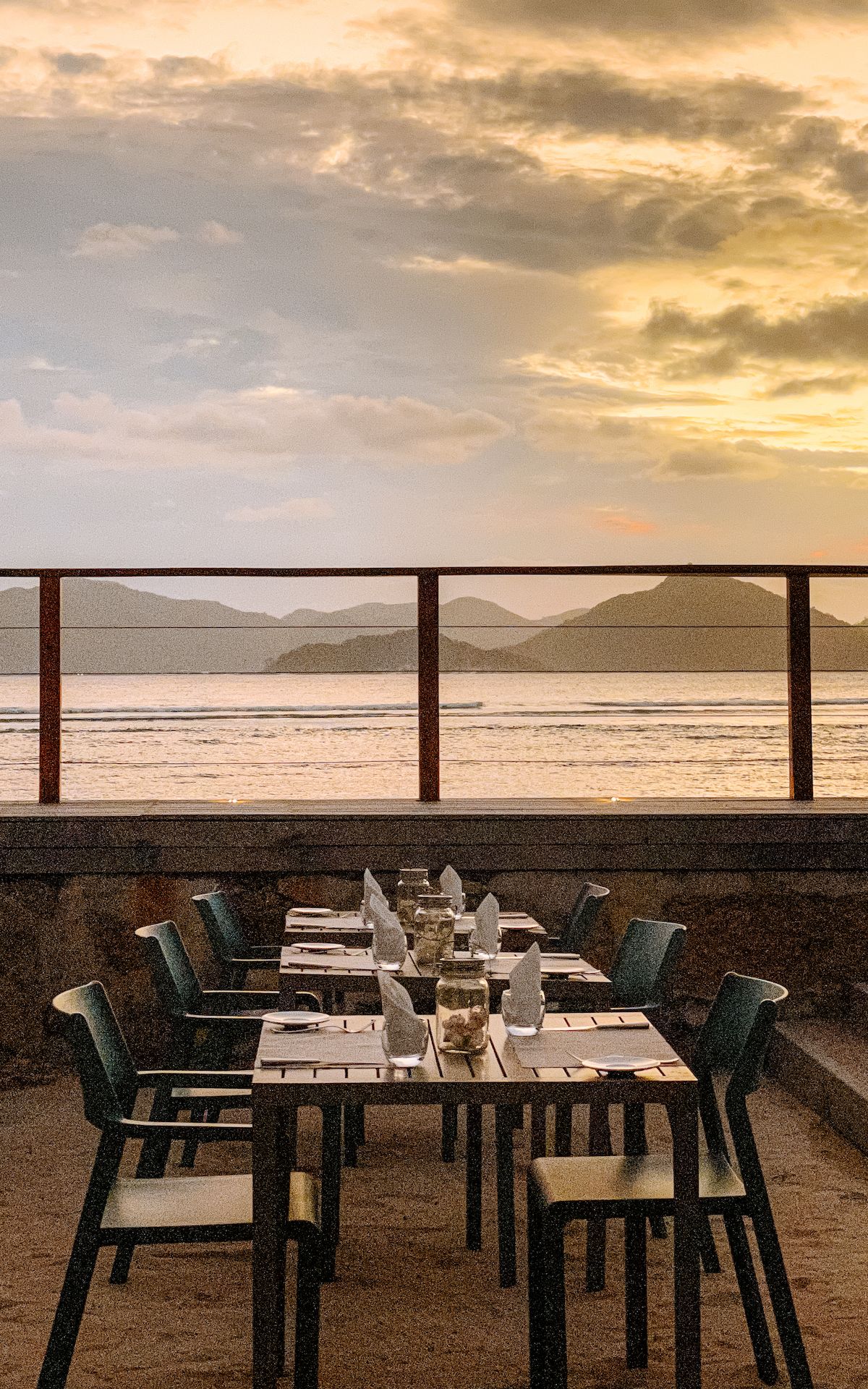 Enjoy a sunset dinner in a romantic setting at
Le Nautique
.
It's one of the best restaurants on the island and the views are perfect.
I ordered their crab cooked in a Creole curry. Reservations are recommended.
Day 2
Hike to La Digue's most remote beaches, eat authentic local dishes at Rey & Josh Cafe Takeaway and satisfy your sweet tooth at Glorious Bakery & Snacks.
Go on a guided hike to Anse Marron and Anse Pierrot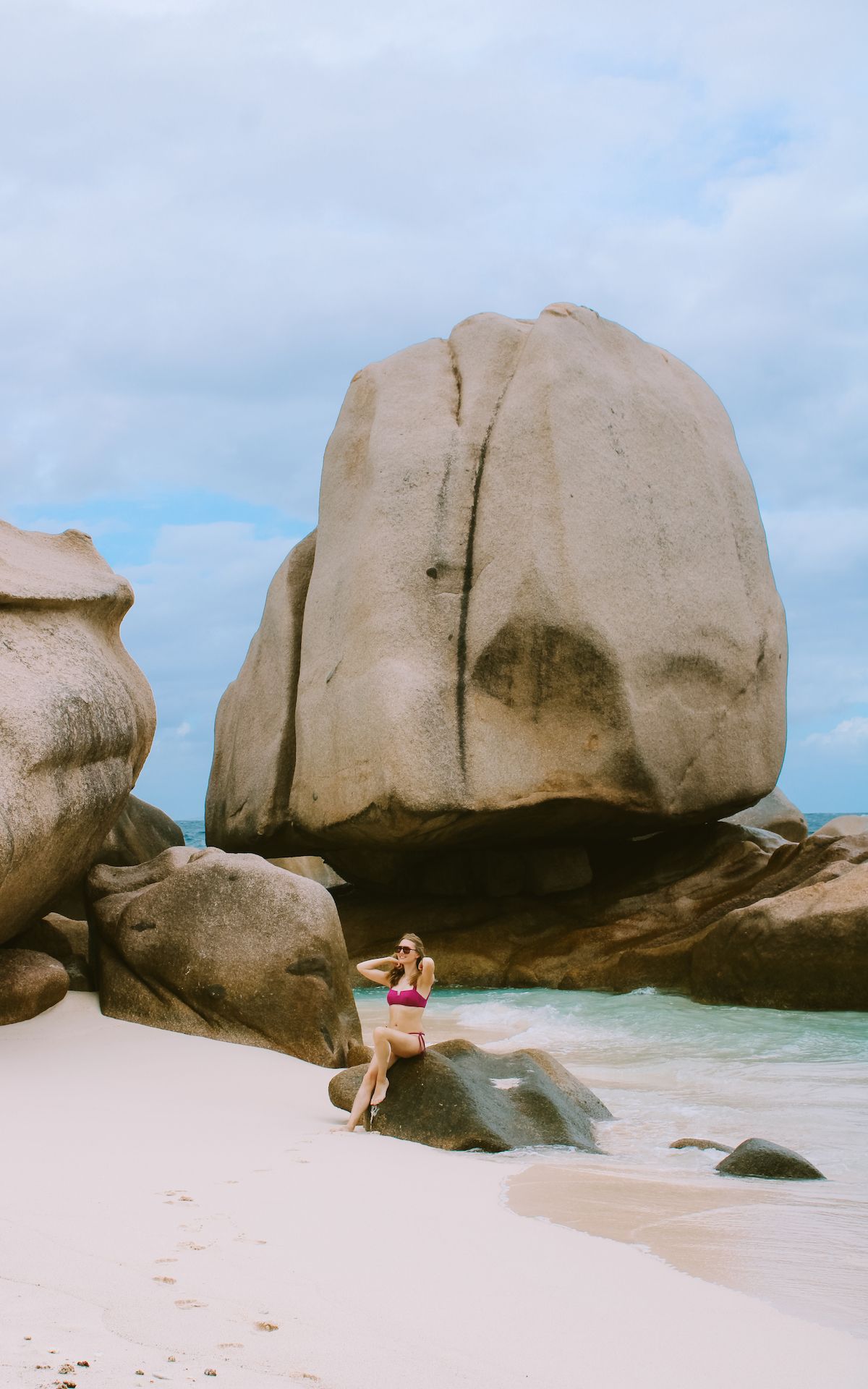 Today is a more challenging hike to see some of the most remote and beautiful beaches on La Digue.
Do not do this hike without a guide - it's very difficult to figure out where to go and what boulders to climb over. I'm usually skeptical when I read that a guide is needed, but trust me it really is. It would have been unsafe without one. They know what boulders to cross, and part of the hike is through waist deep water, so timing the tide is important. Overall it was a very fun hike and we loved leaving it in the hands of a local!
After a quick ride in the back of a black pick-up truck, our hike started at the Anse Songe Nature Trail. First we walked through the jungle where we saw native plants and birds, before hiking along the coastline over granite boulders to our first beach, Anse Marron.  This natural swimming hole is protected by a barrier of large granite boulders, so you can go for a swim even when the ocean is rough. We hung out at the beach for 1.5 hours and snacked on a fresh fruit plate that was provided.
The last half of our hike was easier. A section was through knee to waist-deep water to Anse Pierrot Beach (where Robinson Crusoe was filmed), and we finished at Anse Source d'Argent, the most famous beach on La Digue.
Since Anse Source d'Argent is part of the L'Union Estate, a vanilla plantation, there is an entrance fee of 150 SCR that you will have to pay before you leave. If you relax on the beach until 4:30pm and purchase your entrance pass after this time, it will be valid for the next day. Don't miss seeing the giant tortoises, cows, goats and bunnies at the estate.
Viator offers a highly-rated tour to Anse Marron.
We like how they have free cancelation up to 24 hours in advance.
Eat authentic local dishes at Rey & Josh Cafe Takeaway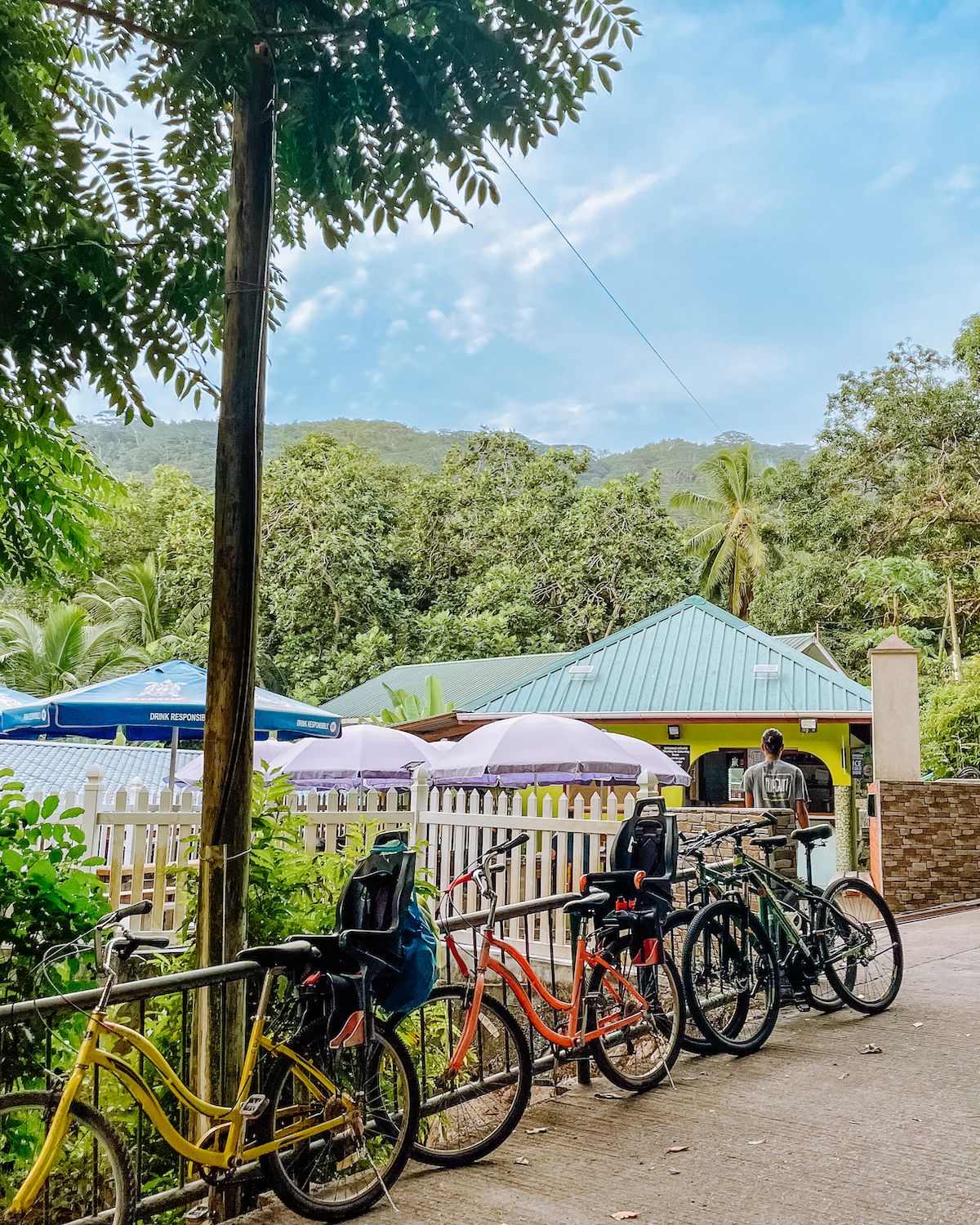 Rey & Josh Cafe Takeaway is the spot to go for authentic local dishes at a great price. It was the best curry my sister had during her trip to the Seychelles.
The restaurant is located off the beaten path up a quiet street that's pretty to bike down. Order one of their specials of the day, find a seat at a picnic table and enjoy!
Satisfy your sweet tooth at Glorious Bakery & Snacks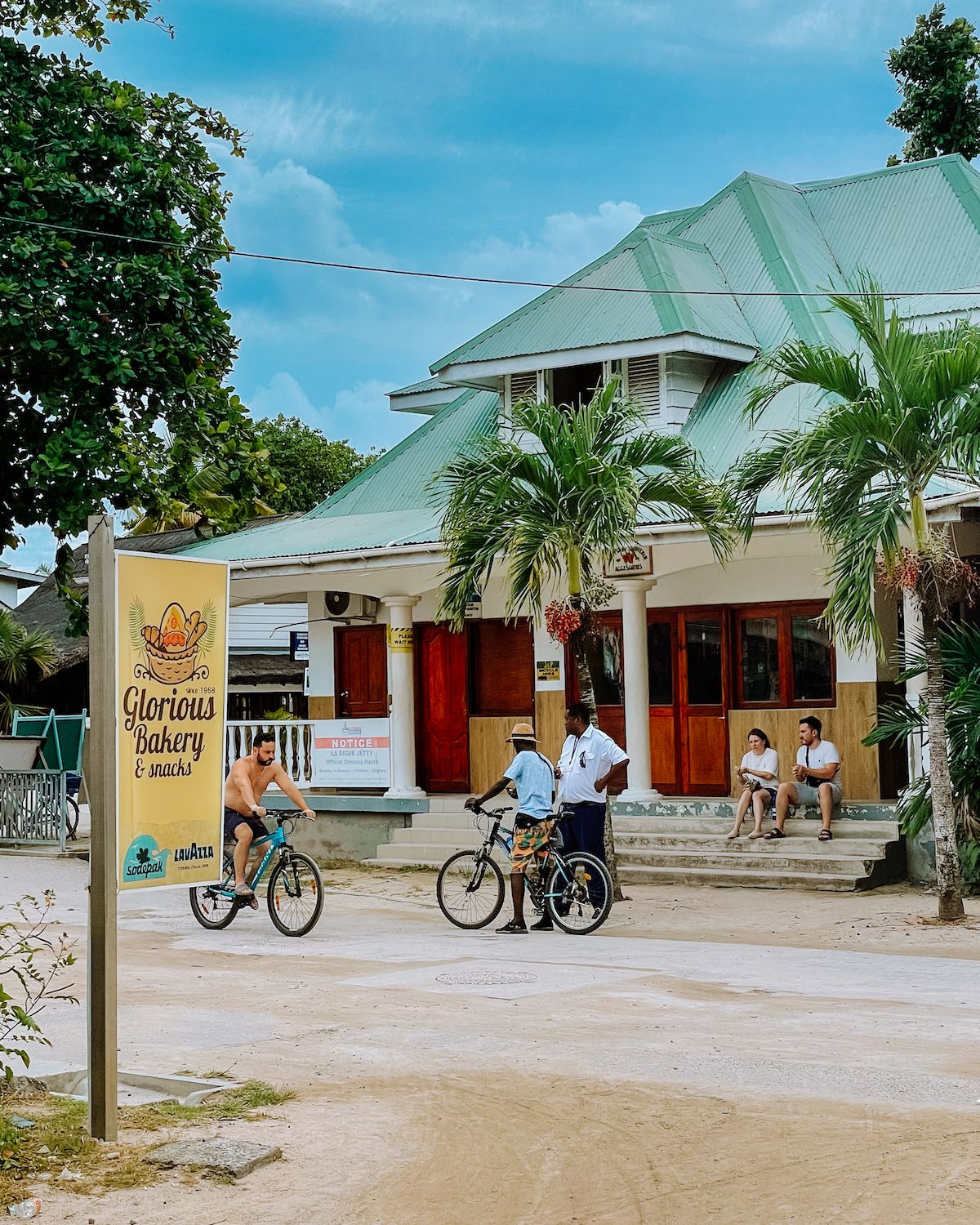 Tucked away in the centre of town, Glorious Bakery & Snacks is where to go if you have a sweet tooth. We couldn't help ourselves and bought a slice of banana cream cake, a chocolate muffin and two scoops of chocolate chip mint ice cream!
Day 3
Kayak and swim at the famous Anse Source D'Argent Beach, and eat fresh seafood at a beachside restaurant.
Kayak and swim at the famous Anse Source D'Argent Beach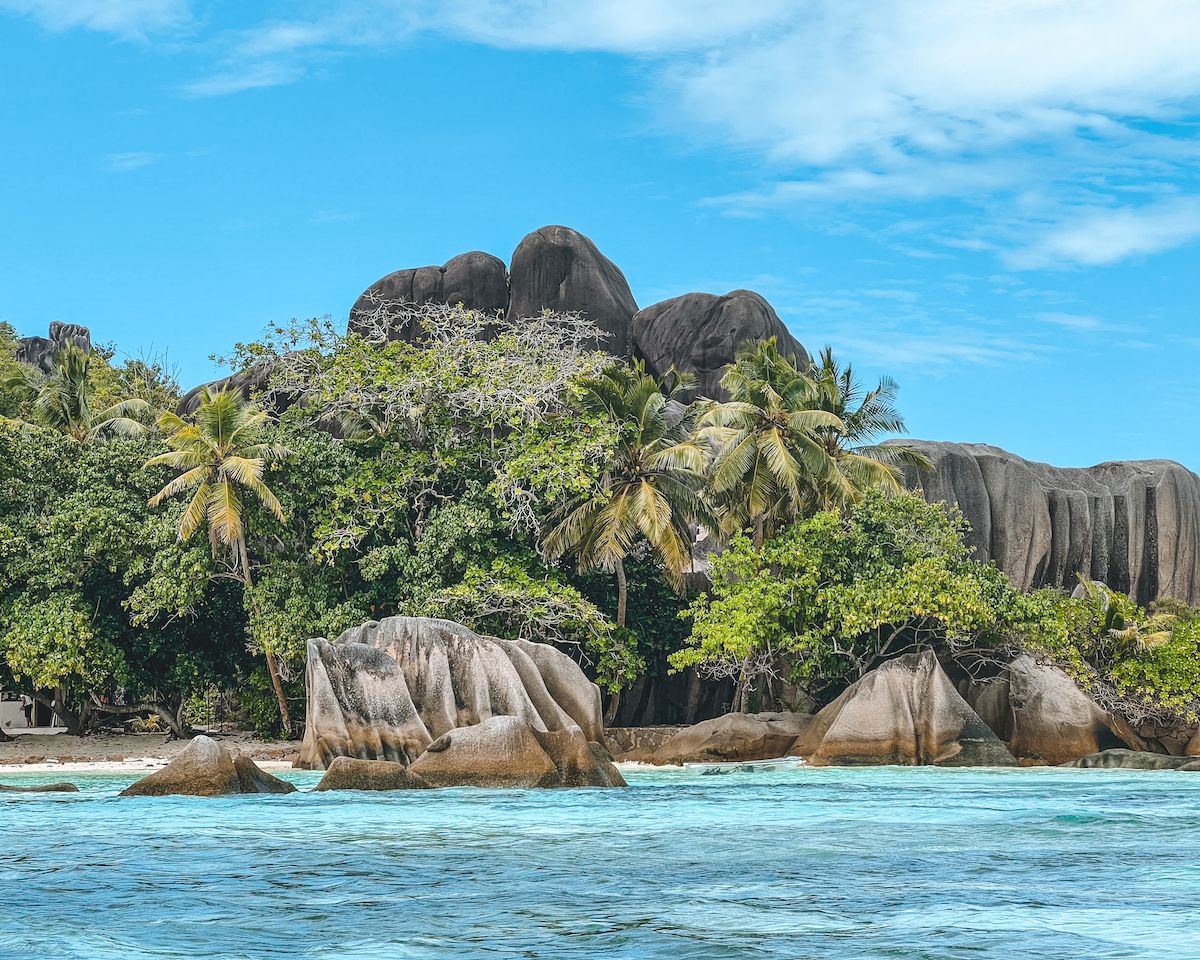 Take a leisurely bike ride to Anse Source D'Argent Beach and don't forget your day pass your bought the day before! Anse Source D'Argent is arguably the most famous beach in the Seychelles, especially thanks to all the clear kayak pictures allover Instagram. It truly looks like a tropical beach you would wash up onto in a castaway movie - in fact it was the backdrop for the movie Cast Away!
Although it's so well known, it still feels pristine and wild. Its combination of soft, white sand, turquoise water sheltered from the reef, and granite boulders sculpted over millions of years, create a setting that almost feels prehistoric in time.
Make sure you walk the whole strip to find your own version of beach paradise - some spots have better swimming, better shade, less wind, and natural coves.
The best way to see the beach is by renting clear kayaks and getting out onto the water. There are two kiosks on the beach you can rent from: Crystal Water Kayaks and La Digue Transparent Kayaks & SUP .
We booked the Rental & Chill tour with La Digue Transparent Kayaks & SUP. The price was 300 SCR per person and included a 1 hour kayak rental, a 15 minute photo session and fresh coconuts. We recommend Whatsapping them in advance to reserve your kayak and to get insight on the best time to come for the tide.
Eat fresh seafood at a beachside restaurant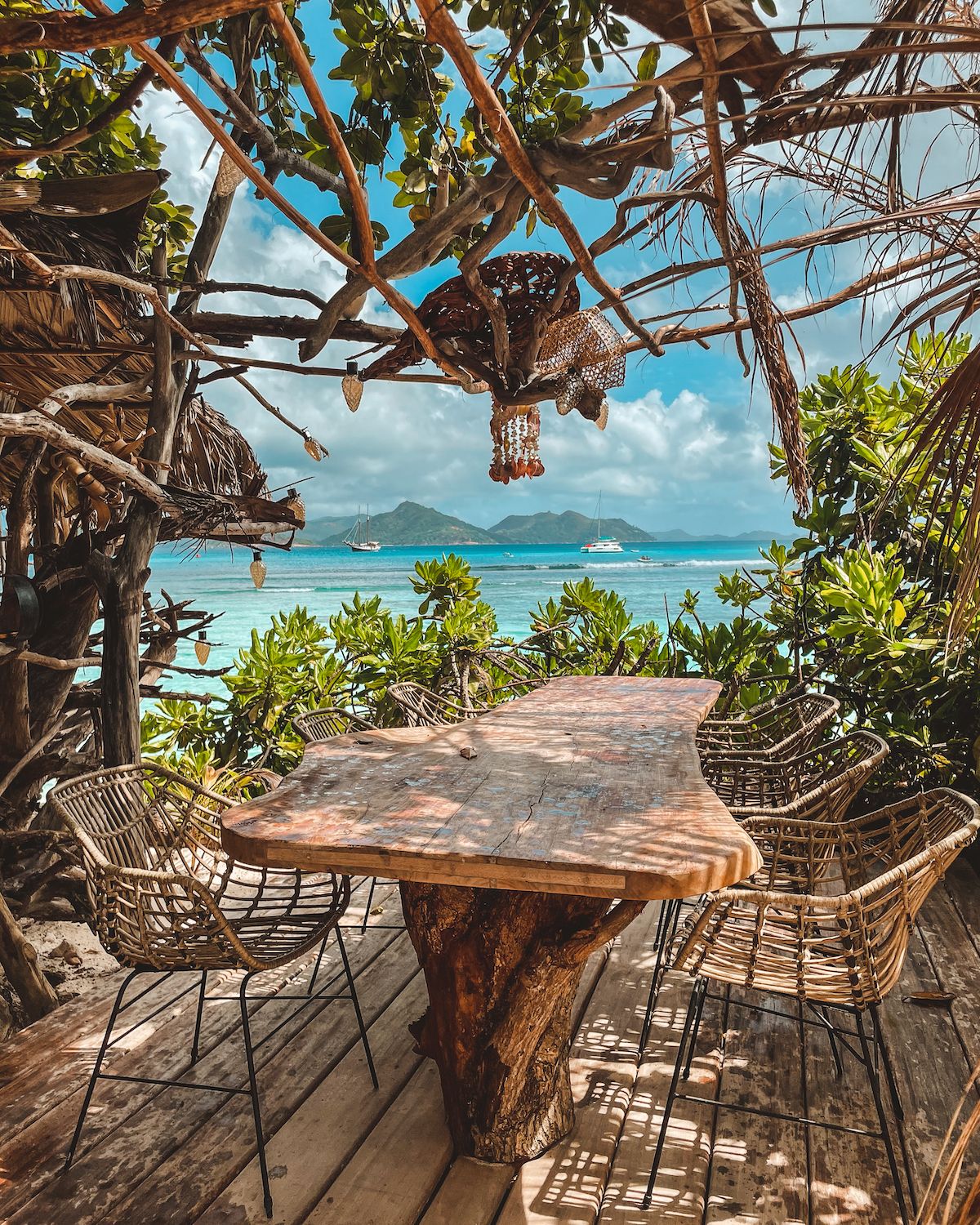 Natural Bar Grill & Drinks had the coolest setting we saw on the island, with its ship-wrecked decor, straw umbrellas and custom wooden tables and seats. Order a smoothie or refreshing rum cocktail and choose your fish or meat of choice that is BBQ'd on a charcoal grill. It's a great spot to watch the sunset in a fun atmosphere.
Budget tips for La Digue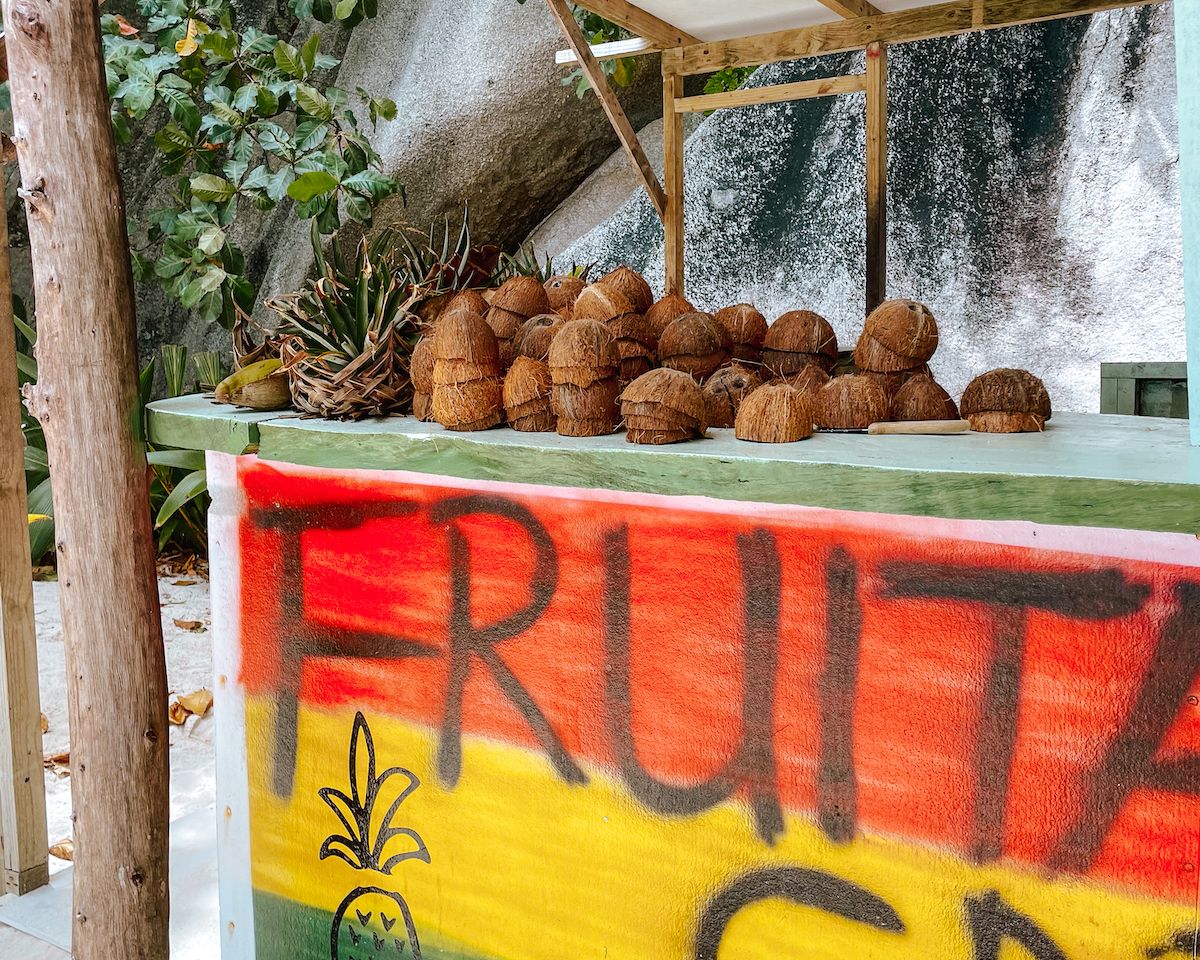 The Seychelles in general is expensive. We began to understand why as we learned that 80% of consumed goods are imported to the island. Bottles of gin at the grocery store sold for 750 SCR ($53 USD) for example!
Be prepared to pay a lot at restaurants for average food. It was normal to see mains for 300-450 SCR and cocktails for 180-220 SCR. At the beach bars, fresh fruit juices were typically 100 SCR, fresh coconuts 75 SCR, and cocktails around 150 SCR.
Here are tips to save on the budget:
Go to takeaway restaurants - mains are typically around 100 SCR and you can get authentic, good quality meals.
Rent bikes to get around - they are typucally 100 SCR for a day rental.
Buy snacks and alcohol at the grocery mart - we saw locals bring Bacardi Breezers and beers to the beach.
Bring a reusable water bottle - if you purchase a large 4L water jug at the grocery store, you can refill your water bottle each day. A pack of smaller water bottles is expensive.
La Digue Packing List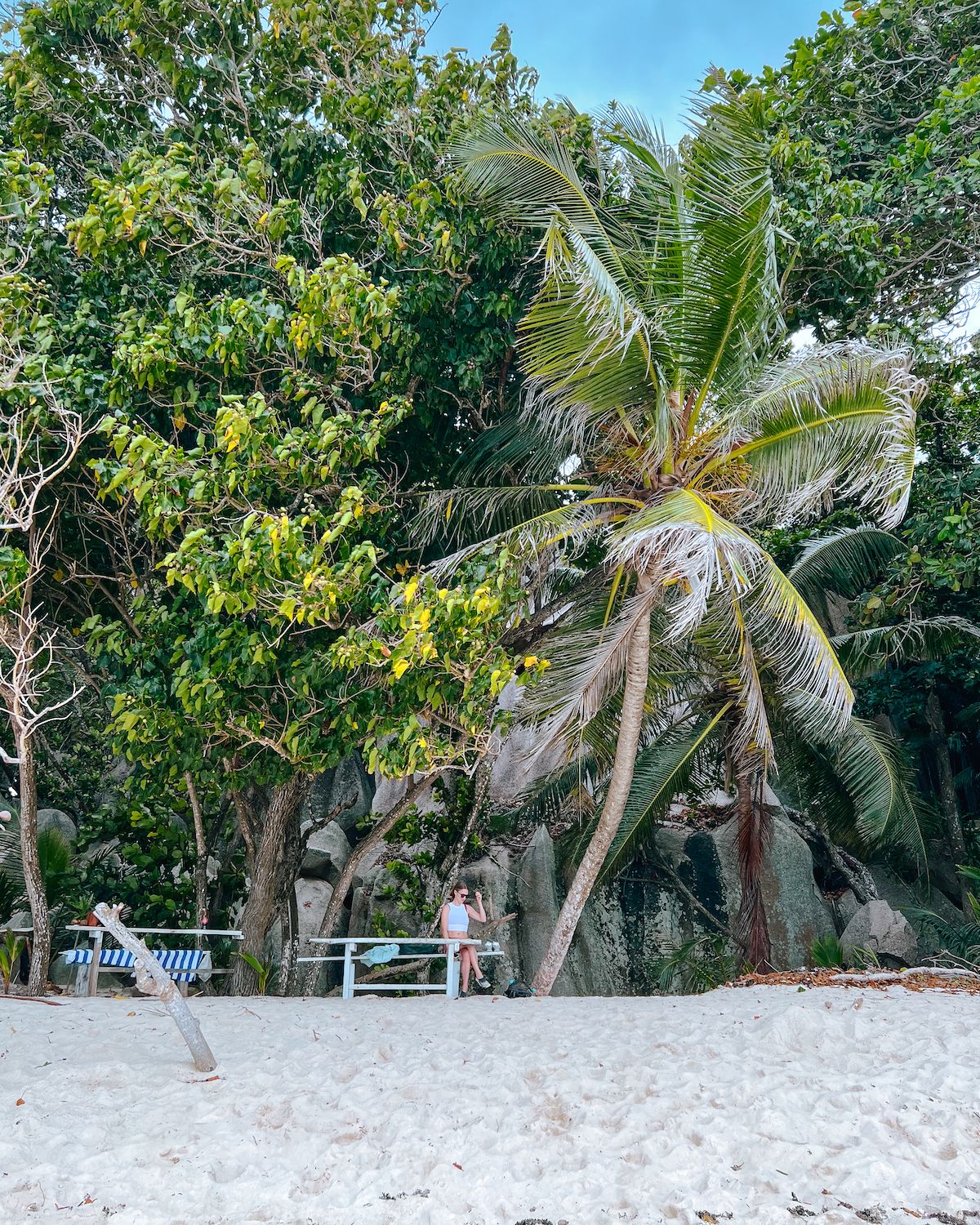 Don't forget to pack these items for your trip to La Digue:
Clothing

Water shoes are a must because of sharp coral in some areas and sea urchins. It's also essential to bring for your hike to Anse Marron.
Bathing suits - Ysé is my favourite swimwear brand
Sunglasses
Beachwear - white halter top, sarong, beach dress etc.

Other Essentials
Don't miss our other Seychelles travel guides:
Combine La Digue with Mahe Island in our Seychelles 5 Day Itinerary
---
Get started on booking your trip to the Seychelles
🌃 Book your accommodation: Booking.com is our go-to for finding places to stay. Sort by top reviewed.
🤠 Browse tours with local guides: through GetYourGuide or Viator
🛫 Book your flight: use Skyscanner to compare flights across different airlines (we recommend booking direct with the airline however).
---
Save and pin this La Digue Itinerary for later: