You won't regret taking the journey from the main island of Mahe to the laidback island of La Digue. Its relaxed atmosphere and tranquil beauty make it a peaceful escape, but also one that can be filled with adventure. We list the 12 top things to do in La Digue, from the best place to eat for sunset to the most alluring beaches to visit.
Overview: What to do in La Digue, Seychelles
---
Disclosure: Some of the links below are affiliate links, meaning at no additional cost to you, we will earn a commission if you click through and make a purchase. We only recommend products or services we have used or that we believe will add value to our readers. Thank you for supporting us!
12 Fun Things to Do in La Digue, Seychelles
1. Beach hop from Grand Anse Beach to Anse Cocos Beach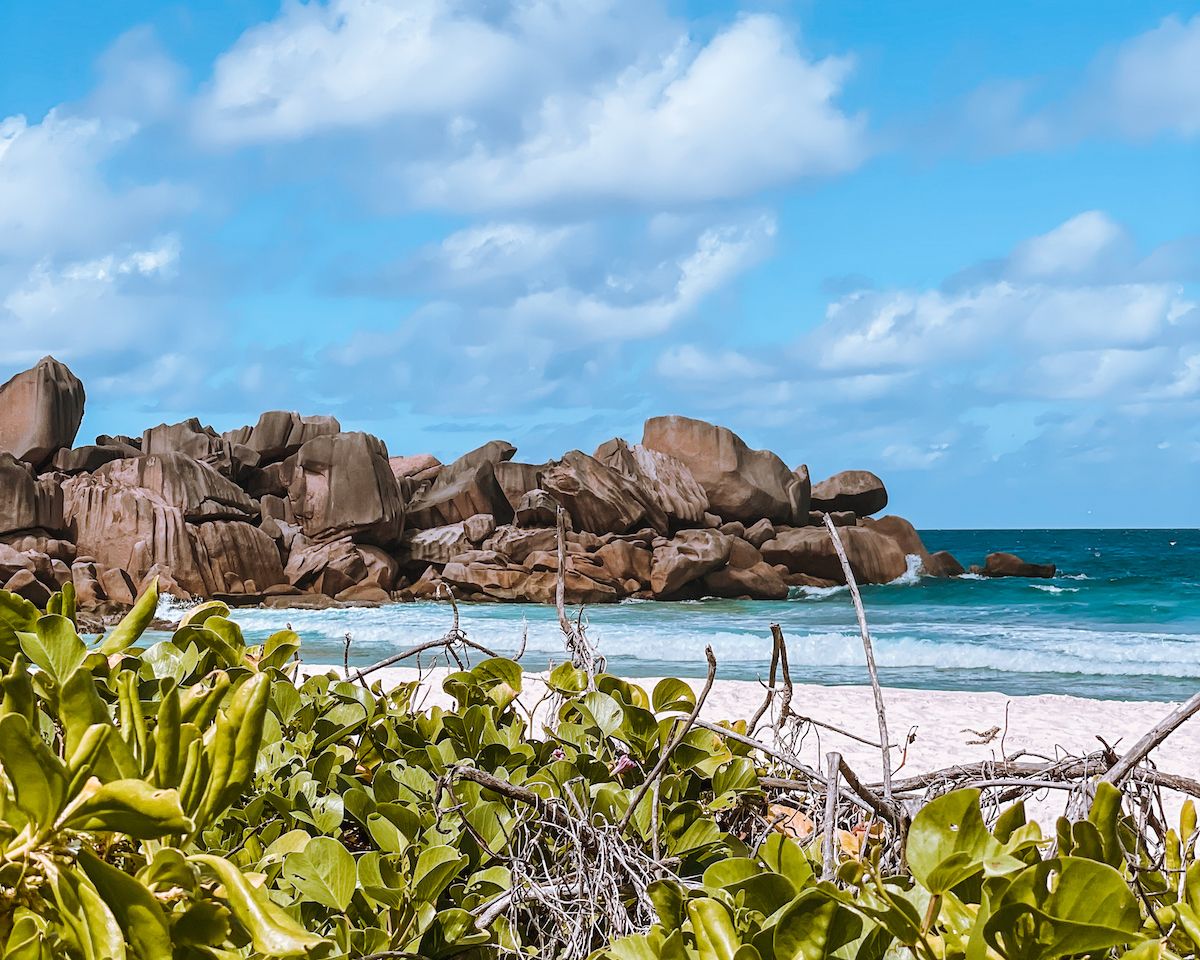 Take a scenic 45 minute hike through the jungle past two beaches to reach Anse Cocos, a secluded beach on the Eastern side of the island. Since it's off the beaten path, you won't see as many people here as other beaches on La Digue. Anse Cocos Beach is personally our favourite beach on La Digue.
The starting point of the hike is at Point Grand Anse. We recommend walking all the way to Cocos Anse Beach, and beach hopping backwards to Petit Anse Beach and Grand Anse Beach.
To get to the starting point of the hike, you will either need to bike, organize a buggie driver (500 SCR roundtrip), or rent e-bikes (around 500 SCR per day.) Many people bike over, but it didn't look enjoyable since there is a big hill and traffic.
2. Sip fruity drinks at Cocos Beach Bar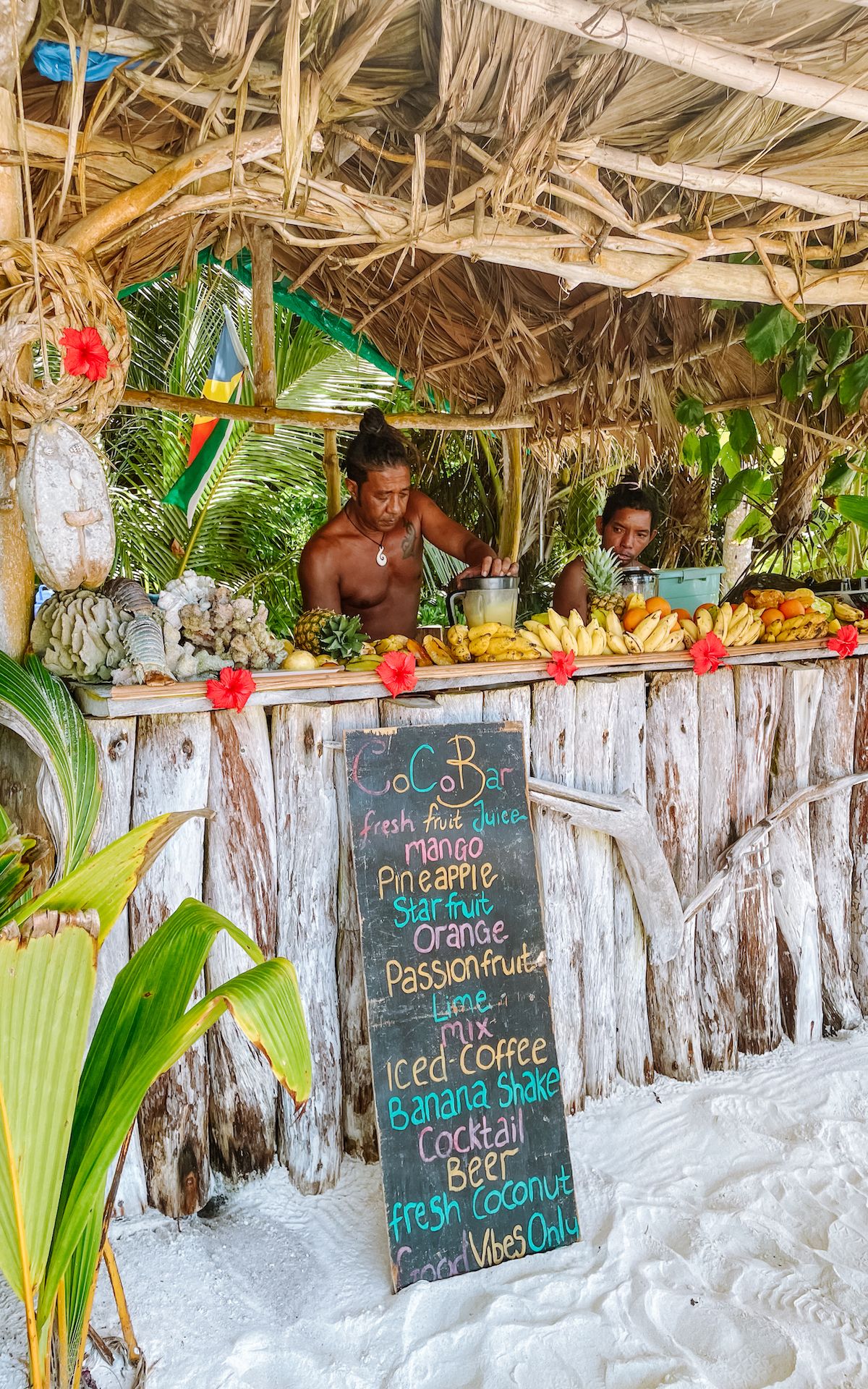 One of the best parts about Anse Cocos Beach is the locally run beach bar, Cocos Bar. You can enjoy refreshing drinks such as fresh mango or pineapple juice, as well as fruity cocktails made with local Takamaka rum. Park yourself in the shade under the palms on one of their loungers, picnic tables or stumps.
3. Walk to the end of Anse Cocos Beach to dip in the natural pool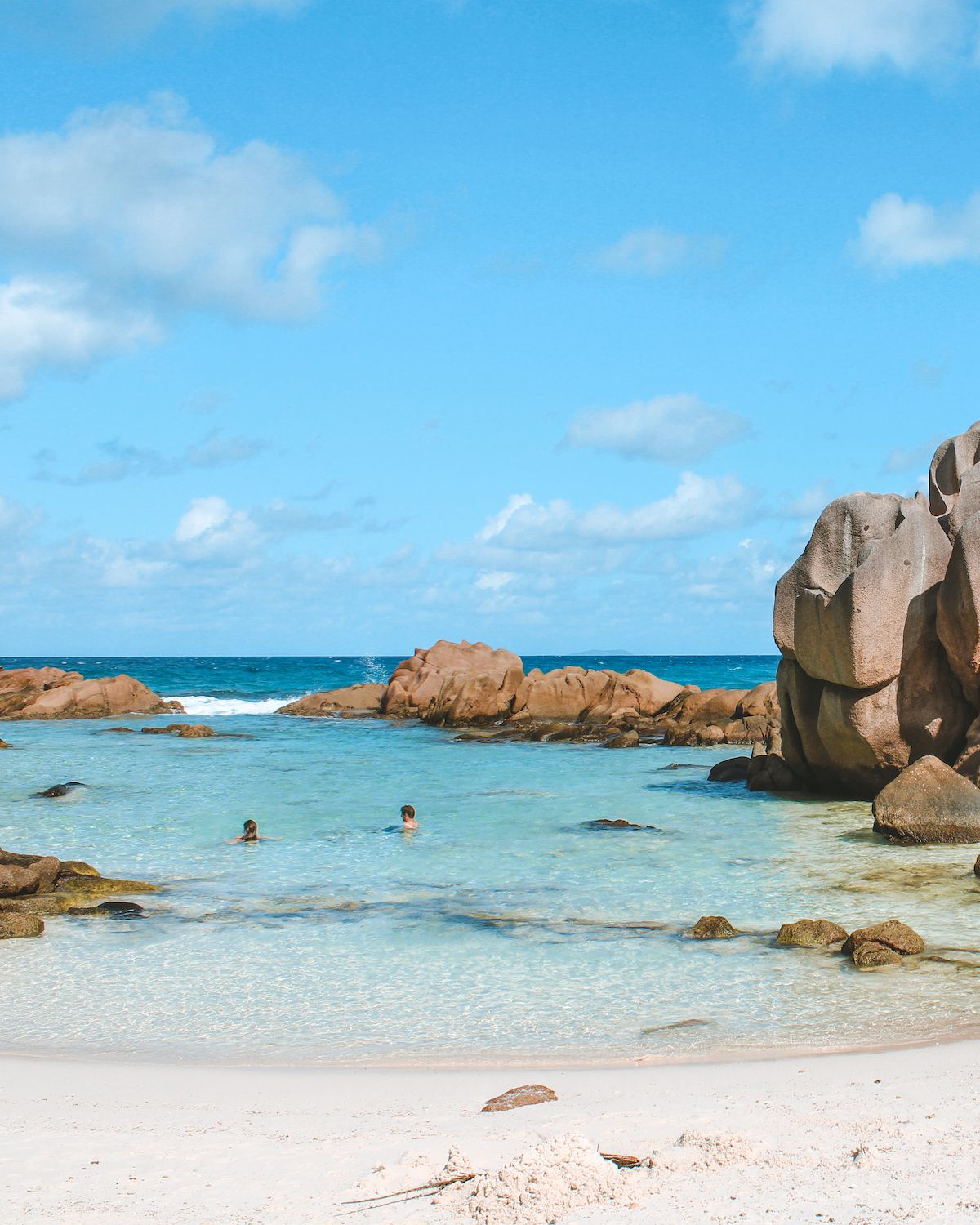 At the very end of Anse Cocos Beach you will find a natural pool tucked behind sculpted granite boulders. Since the natural pool is sheltered by the rocks, you can swim in it even when the ocean is rough. It's perfect for cooling off!
4. Explore the island and town centre on bikes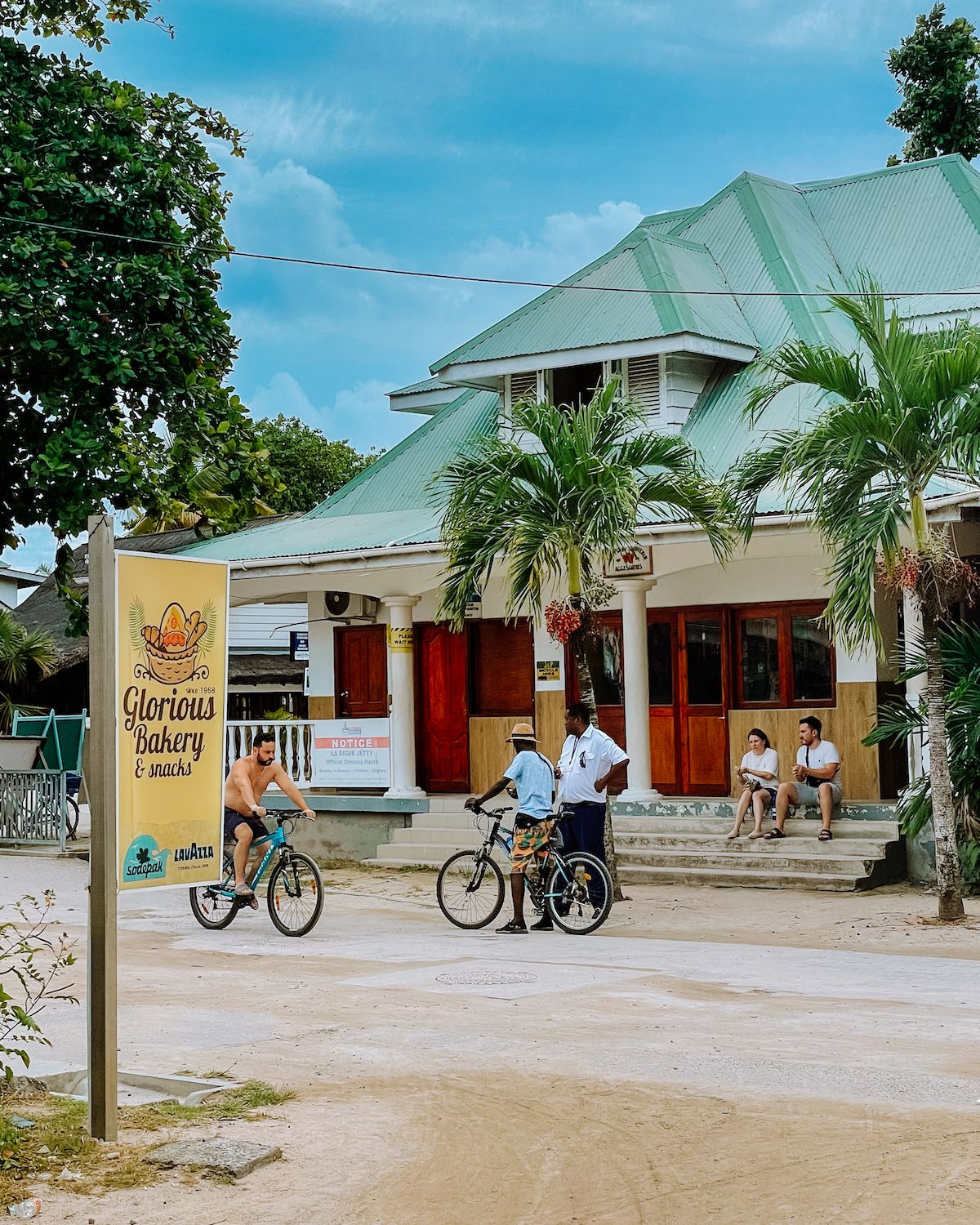 La Digue is best explored by bicycle - in fact it's the main mode of transportation on the island. Buggies are used as taxis and just a few larger vehicles are used for commercial and emergency purposes.
Rent a bike from your hotel or a local shop (100 SCR is the typical daily rate) and take time biking through neighbourhoods to see colourful Creole-style houses and to observe the local life.
In the centre of town, don't miss Glorious Bakery & Snacks for some sweet treats or ice cream!
5. Eat authentic local dishes at Rey & Josh Cafe Takeaway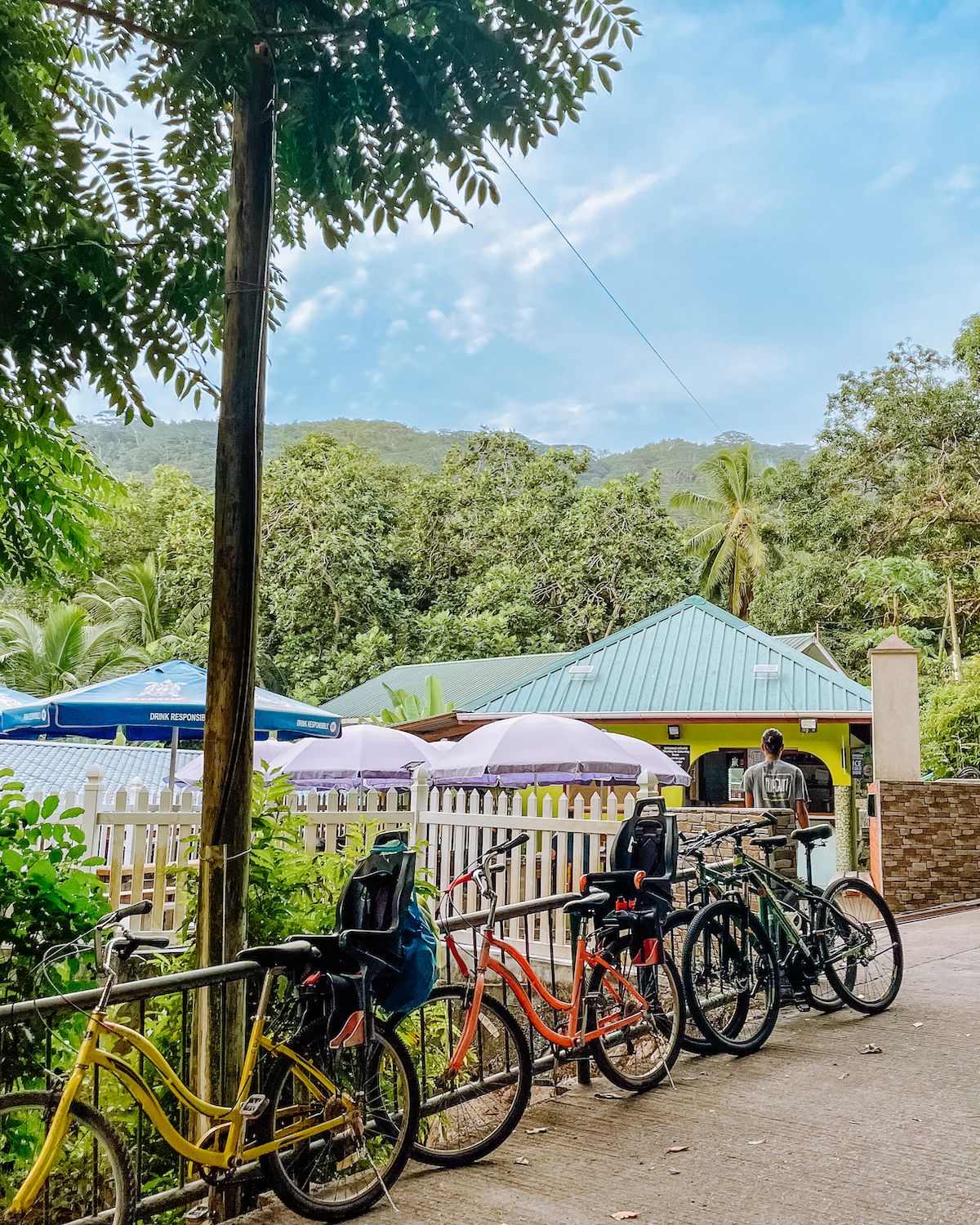 This eatery located town a quiet street is one of the best spots to eat on the island. Rey & Josh Cafe Takeaway serves up authentic local dishes at excellent prices. Choose your dish from the blackboard, grab a seat at a picnic table and enjoy! It was the best curry my sister had in all of Seychelles.
6. Kayak at Anse Source d'Argent to see the famous granite boulders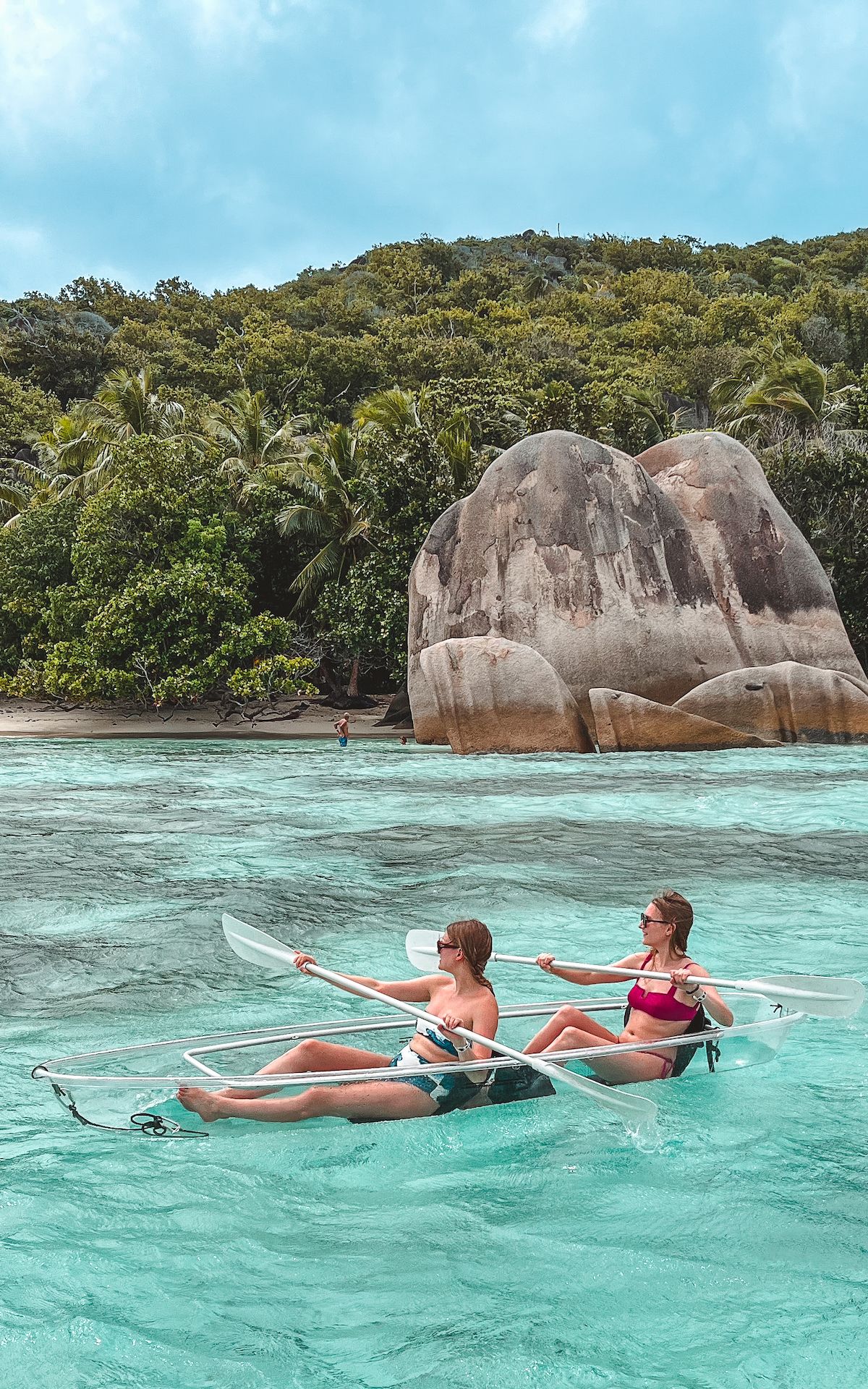 Rent a clear kayak to paddle along Seychelle's most iconic beach, Anse Source d'Argent. If you haven't seen it on Instagram, you may have seen it as a backdrop in movies, like Cast Away.  The placement of the peculiar granite boulders along the coastline with crystal-clear water, palm trees and white sand is captivating.
The best way to see this marvellous view is by renting kayaks. There are two vendors on the beach: Crystal Water Kayaks and La Digue Transparent Kayaks & SUP.
We booked the Rental & Chill tour with La Digue Transparent Kayaks & SUP. The price was 300 SCR per person and included a 1 hour kayak rental, a 15 minute photo session and fresh coconuts. Whatsapp them in advance to reserve your kayak and ask the best time to come for the tide.
7. Kayak to the secluded Anse Peirrot beach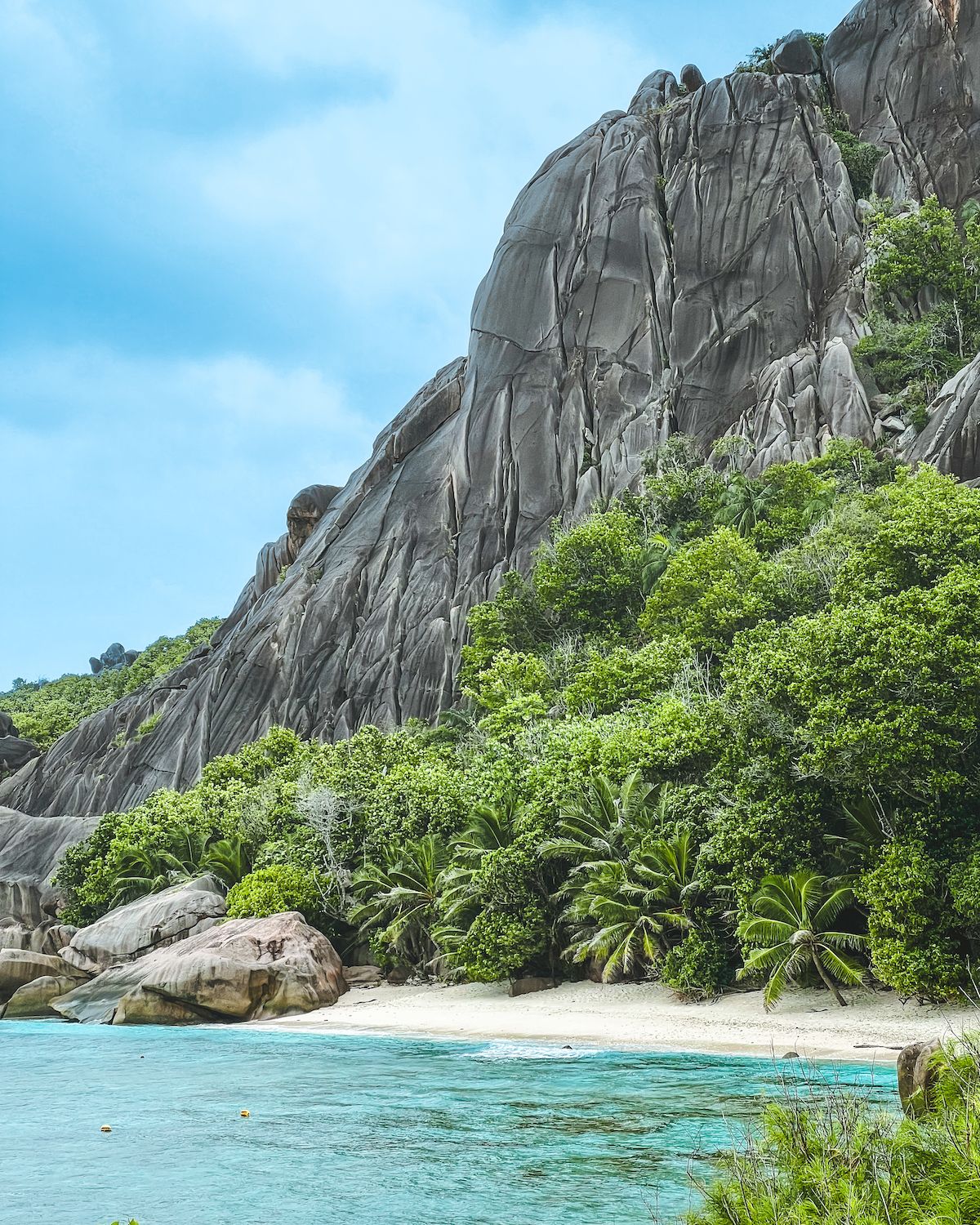 If you're looking for a beach quieter than Anse Source d'Argent, go on a kayaking tour from there to Anse Peirrot Beach. We personally think it's the most "castaway" looking of the bunch.
The paddle from Anse Source d'Argent to Anse Peirrot is about 30 minutes. Both Crystal Water Kayaks and La Digue Transparent Kayaks & SUP offer this tour.
8. Enjoy a sunset dinner at Le Nautique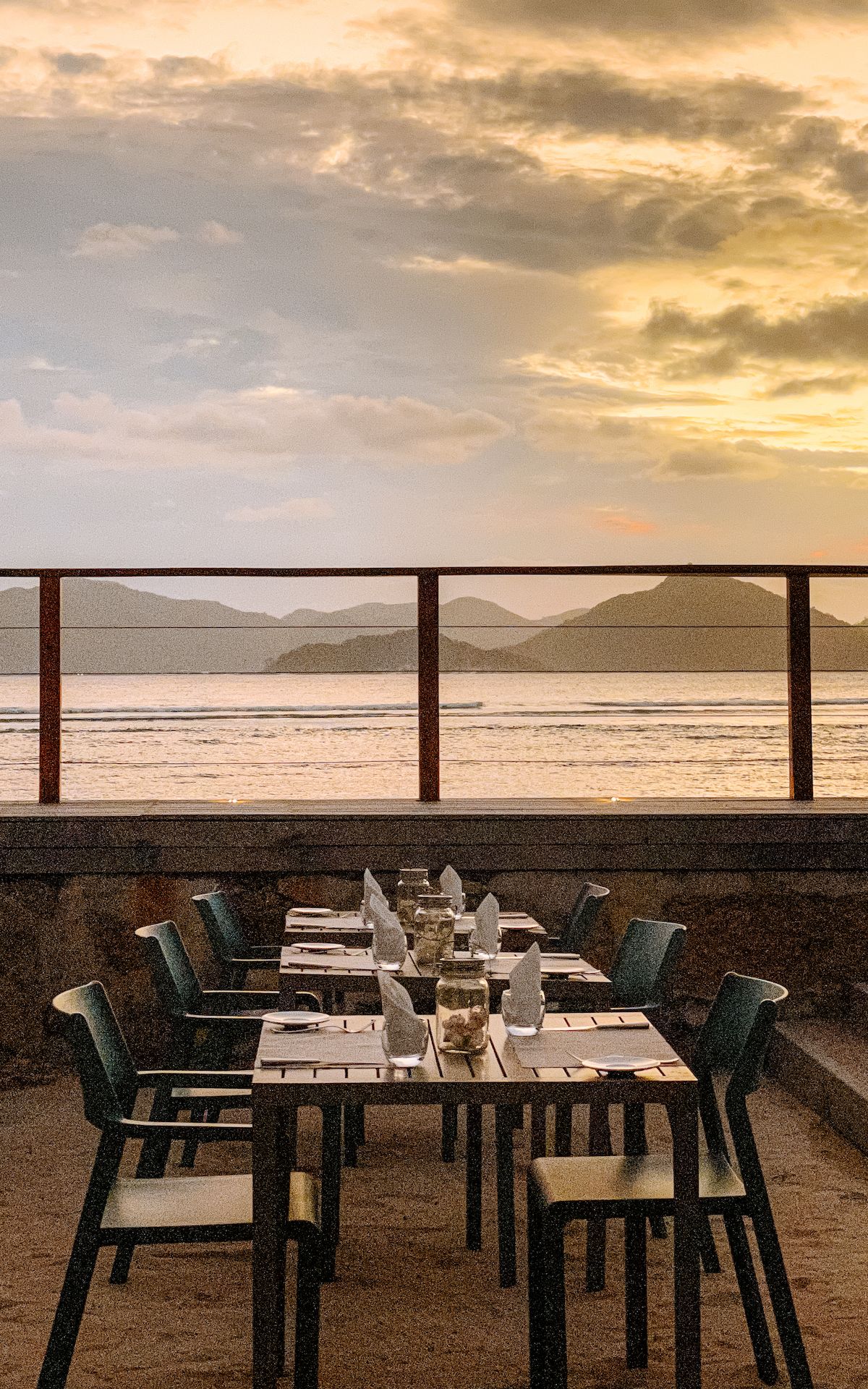 The restaurant at Le Nautique Waterfront Hotel is one of the best on the island, offering a romantic setting with its sunset view over Anse Reunion.
Order one of their fresh seafood dishes, like the crab in Creole curry, and watch the view change as the sun sets. There was one point where we couldn't believe our eyes with how purple the sky was! Reserve your table in advance.
9. Get a taste for adventure on a hike to Anse Marron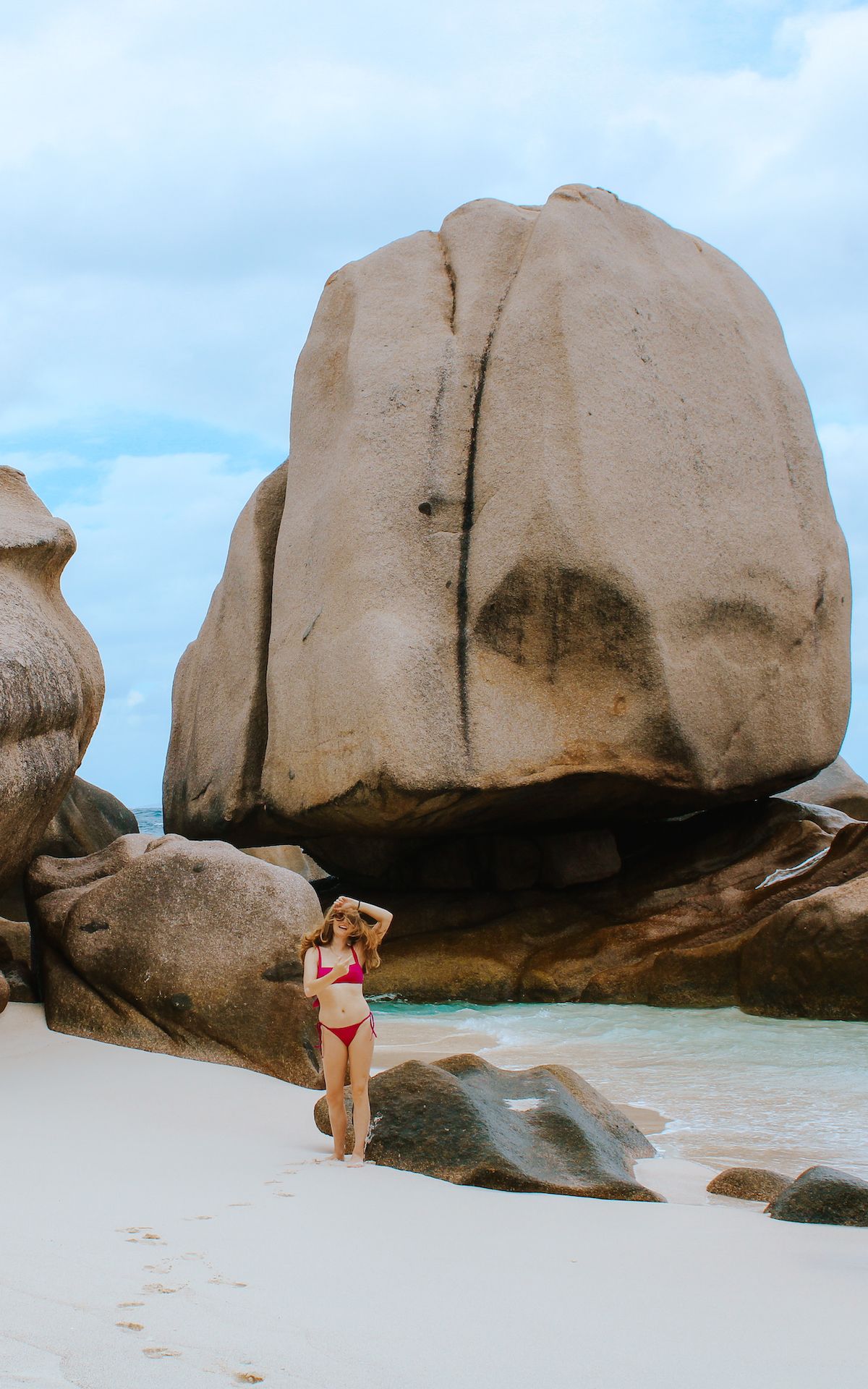 If you're looking for a fun excursion on the island, the hike to Anse Marron is the one to do! As one of the most secluded beaches on La Digue, it's one of the most alluring to visit. Its drawing feature is its natural pool enclosed by large granite boulders that provides a nice place to swim, away from the rough waves behind it.
Your journey to get there includes hiking through the jungle, along the rocky coastline, over boulders, and through coves. Afterwards, part of your hike takes you through knee to waist-deep water past Anse Perriot, to the finishing point at Anse Source d'Argent.
Do not do this hike without a guide - it's difficult to figure out where to go, what boulders to climb over and how to time the tide. It would be unsafe to go without one. Leave it in the hands of a local so you can be in the moment and enjoy the experience!
Viator offers a highly-rated tour to Anse Marron.
We like how they have free cancelation up to 24 hours in advance.
10. Eat lunch at the "shipwrecked" Natural Bar Grill & Drinks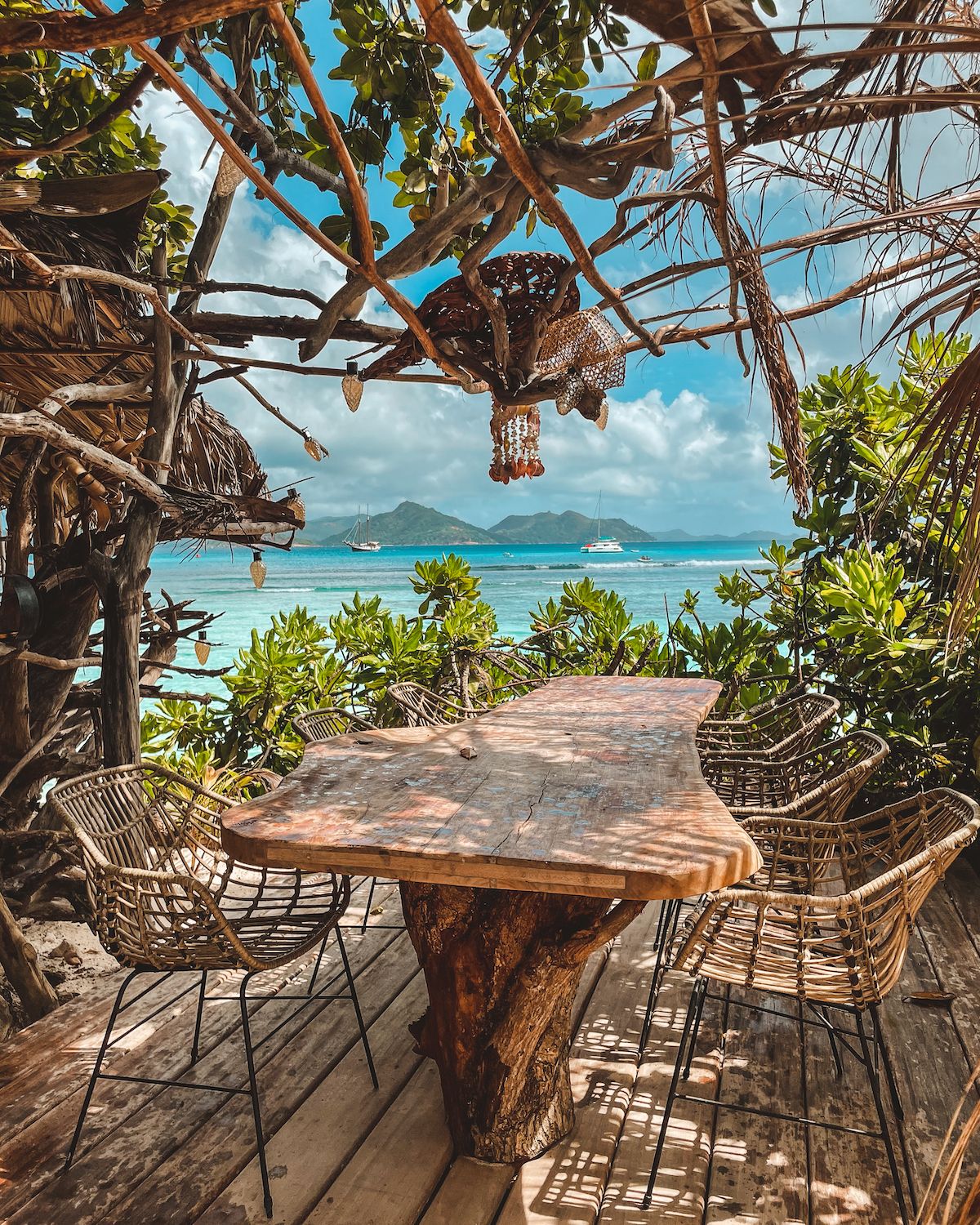 Order fresh seafood cooked on a charcoal grill, and choose one of the wooden tables in the sand of the shipwreck-themed restaurant. We enjoyed the atmosphere while drinking our banana smoothies overlooking the ocean.
11. Drink a fresh coconut and lounge on the beach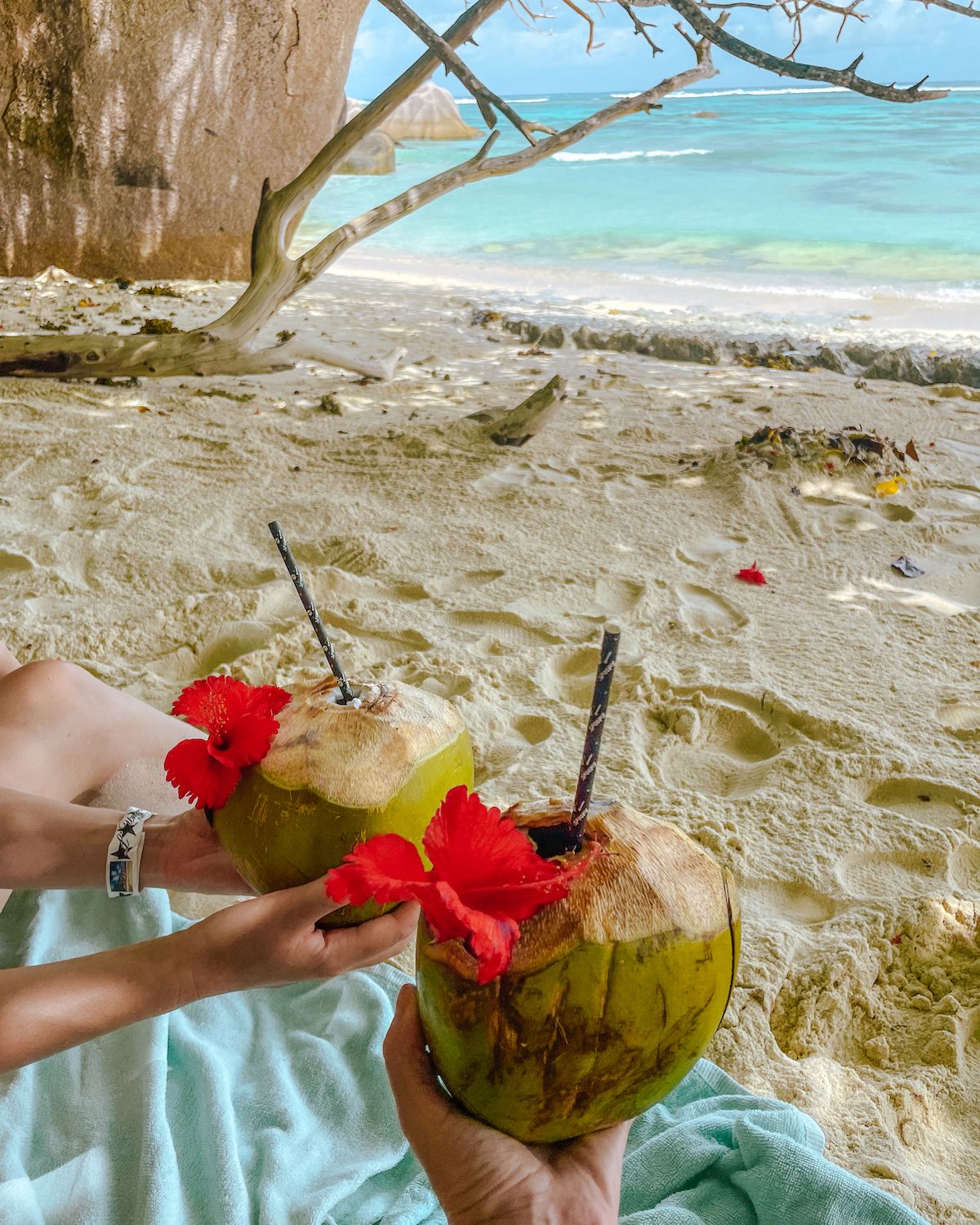 At most beaches you will find vendors selling fresh coconuts. Lookout for their small stand they set up sporadically. We paid 75 SCR for a coconut on Anse Source D'Argent. Bring cash! They are thirst quenching in the sun.
12. Stay at a beachfront hotel with a sunset view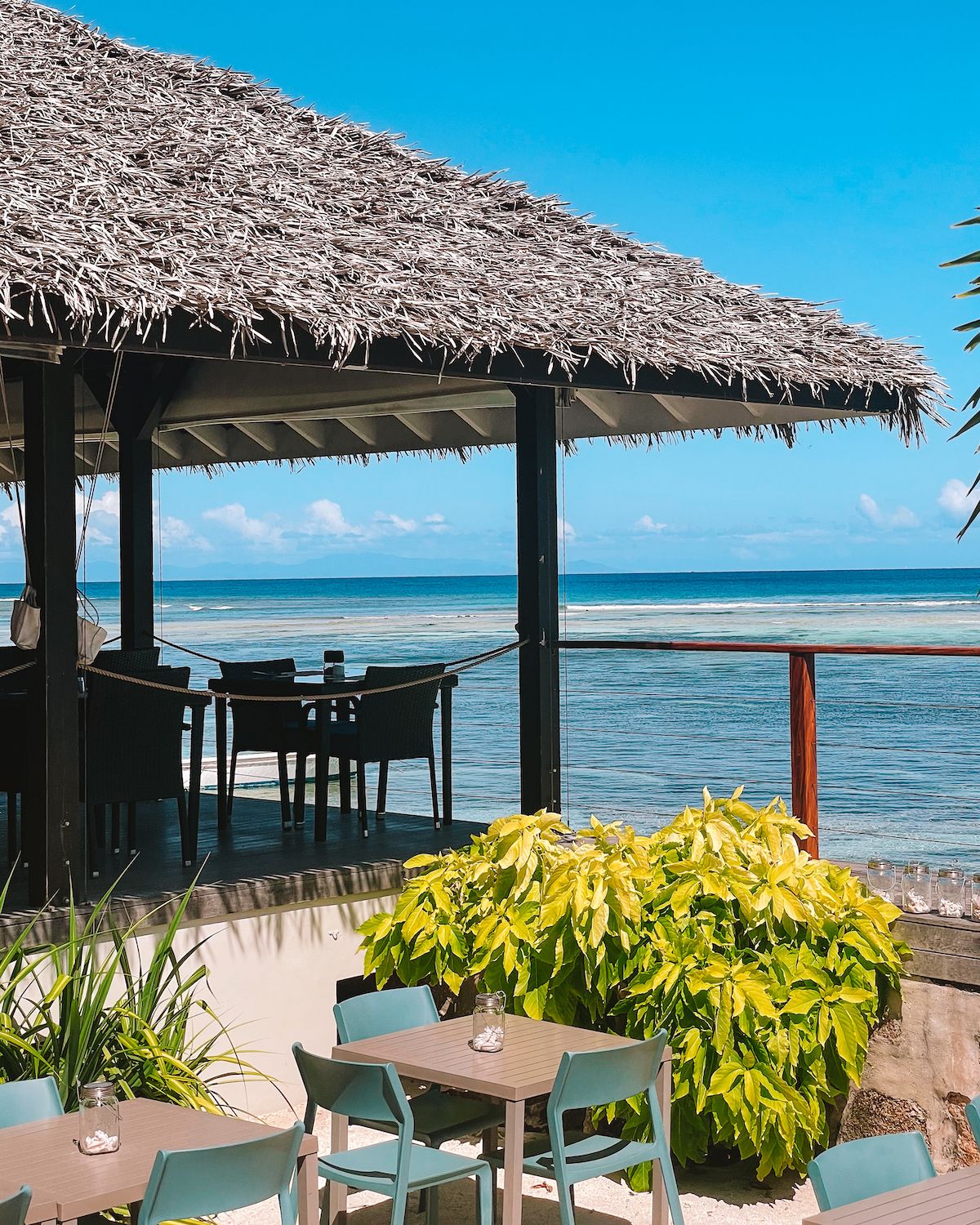 We stayed at Le Nautique Waterfront Hotel, and can easily say it's one of the best place's we've ever stayed!
It checks off all the boxes with its oceanfront and sunset facing location, boutique-feel, excellent service and top-notch amenities, restaurant and beach bar.
La Digue Packing List
Don't forget to pack these items for your trip to La Digue:
Clothing

Water shoes are a must because of sharp coral in some areas and sea urchins. It's also essential to bring for your hike to Anse Marron.
Bathing suits - Ysé is my favourite swimwear brand
Sunglasses
Beachwear - white halter top, sarong, beach dress etc.

Other Essentials
Don't miss our other La Digue travel guides:
Get started on booking your trip to La Digue
🌃 Book your accommodation: Booking.com is our go-to for finding places to stay. Sort by top reviewed.
🤠 Browse tours with local guides: through GetYourGuide or Viator
🛫 Book your flight: use Skyscanner to compare flights across different airlines (we recommend booking direct with the airline however).
---
Save and pin these unique things to do in La Digue for later: