This itinerary was created for those who are short on time, but want to see the highlights of the Seychelles. During your 5 days in Seychelles, you will first unwind on the laidback island of La Digue, and next, venture off to Mahe, to explore the vibrant and most populous island.
This 5 Day Seychelles itinerary is for you if you want a mix of relaxation, adventure, and a taste of the local island life. We include our top accommodation picks that won't break the bank, as well as the best spots to eat.
Note: we did not visit Praslin, the second most populous island, so it's excluded from this itinerary.
Overview: 5 Days in Seychelles
Days 1-3: La Digue - unwind on the laidback island famous for its wild beaches and granite boulders shaped over millions of years

Days 4-5: Mahe - explore the Seychelles' largest island and swim and snorkel at its best beaches
Disclosure: Some of the links below are affiliate links, meaning at no additional cost to you, we will earn a commission if you click through and make a purchase. We only recommend products or services we have used or that we believe will add value to our readers. Thank you for supporting us!
Best time to travel to Seychelles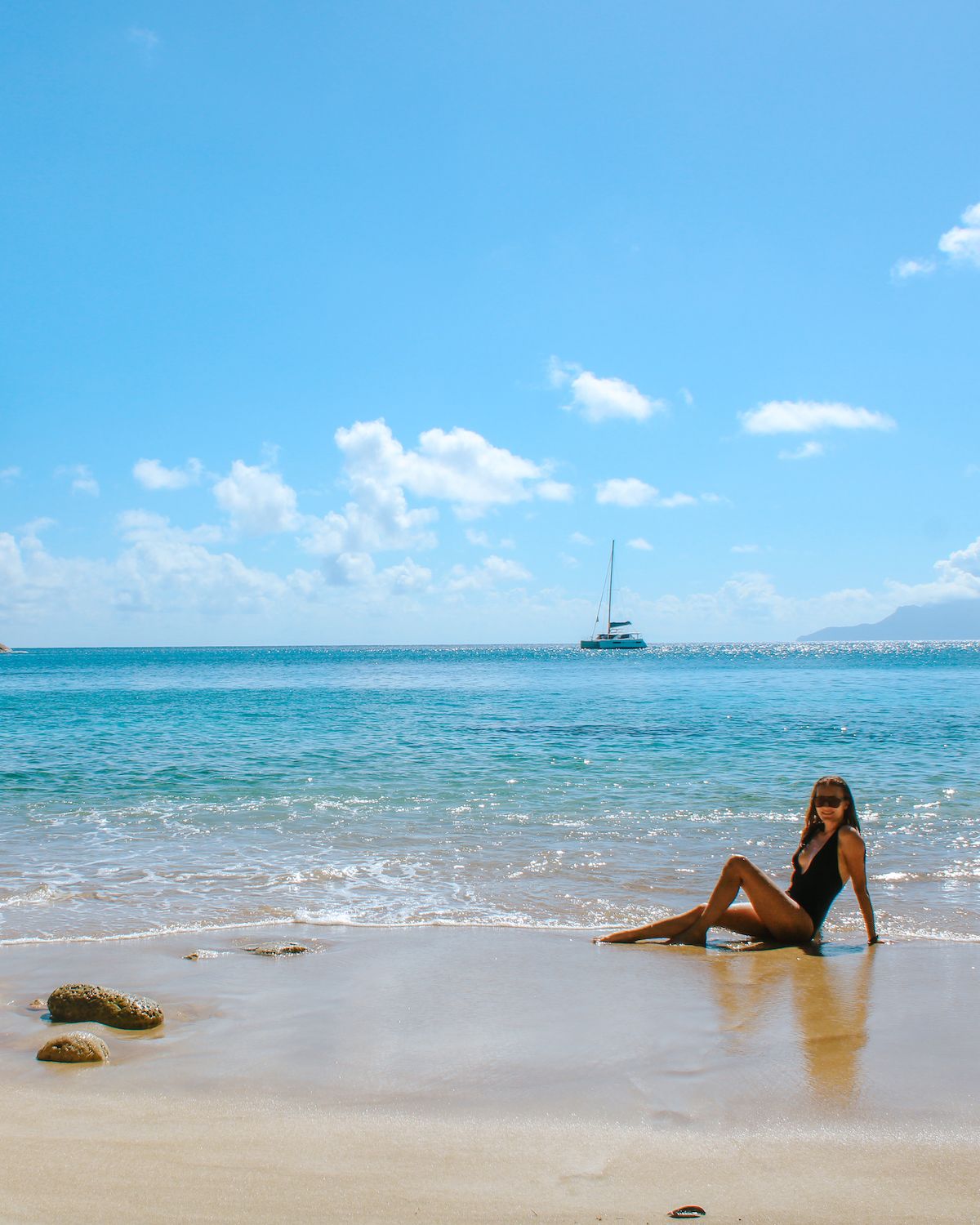 Due to changing trade winds, there are sides of the island that are calmer than others year round.
From May - September, the southeast trade winds blow, meaning that on the southern and eastern parts of the island, you will get choppy waves and some beaches with seaweed washed up ashore.  
From November to March, the northwest trade winds blow, meaning the northern and western beaches on the island have rougher waves and some with seaweed washed up ashore.
The best time to travel to Seychelles is from October - November and April to May for a few reasons:
These are calmer periods between the changing trade winds, with many beaches having good visibility
You will avoid the rainiest months of December and January
Starting June, the ferry ride from Mahe and La Digue is quite rough - boat sickness alert! A local told us that they personally avoid ferry travel all together starting the end of June for this reason.
Driving in Seychelles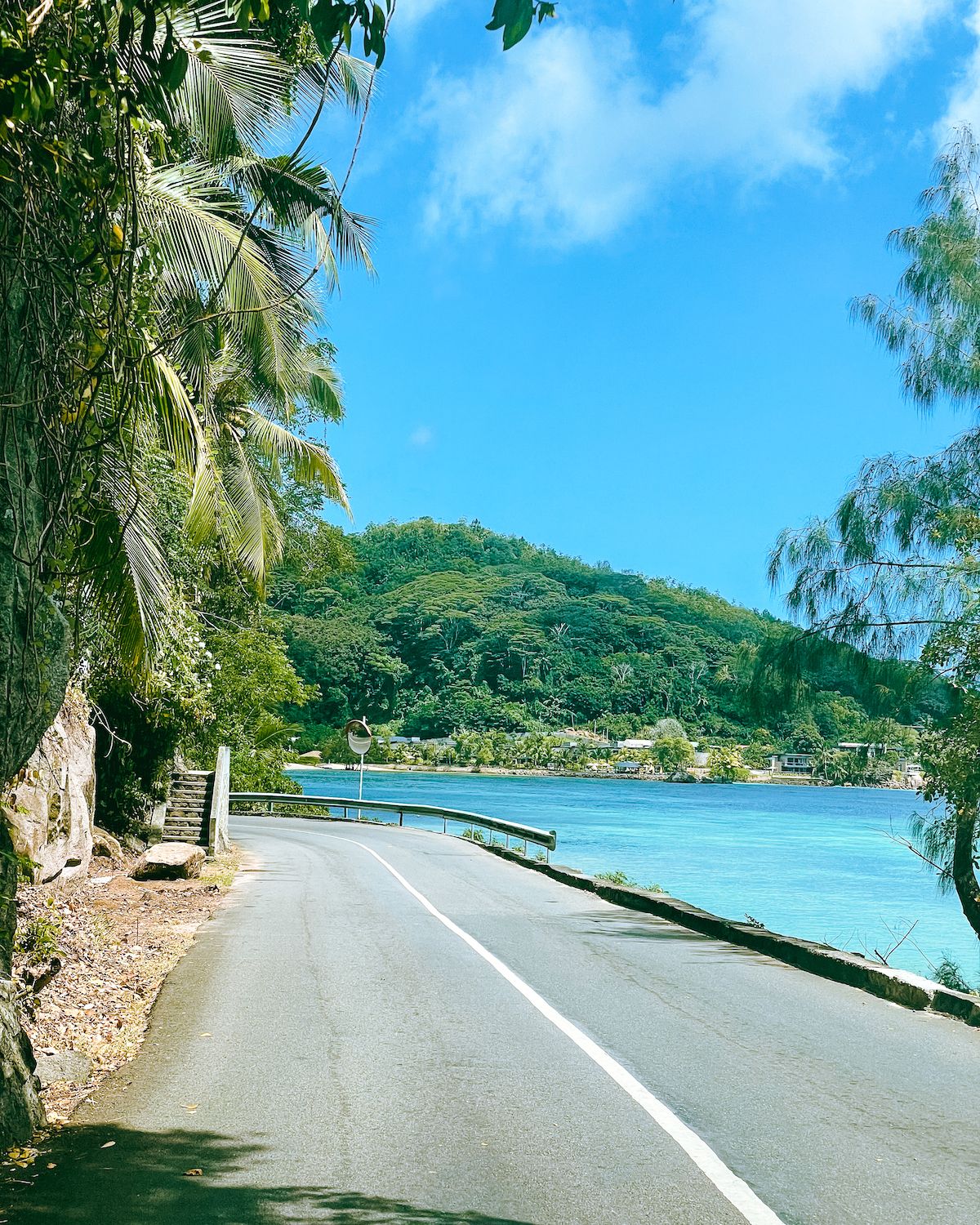 La Digue is almost an unmotorized place, with just a few buggies and motorized vehicles used for commercial and emergency purposes. You won't need to worry about renting a car here - just rent bikes! They are around 100 SCR (~$7 USD) a day.
On Mahe however, the best way to explore the island is by renting a car. We highly recommend it. It really makes for an adventure.
Driving tips and things to know:
Driving is on the lefthand side - we recommend renting an automatic car, not a manual, if you are used to driving on the righthand side.
The ring road is the most developed and easiest to drive on
Some of the roads over the mountain from the East to West side of the island are windy. Just take it slow and easy!
Driving can be stressful at times, but we found it easier compared to other islands, like St. Lucia.
Look out for the large blue busses that seem like they love to drive as fast as they can by you. When you see one coming your way, just slow down as much as possible until they pass you for your own peace of mind. This is what a local told us to do.
🚗
Compare car rental rates across different companies
Why is Seychelles so expensive?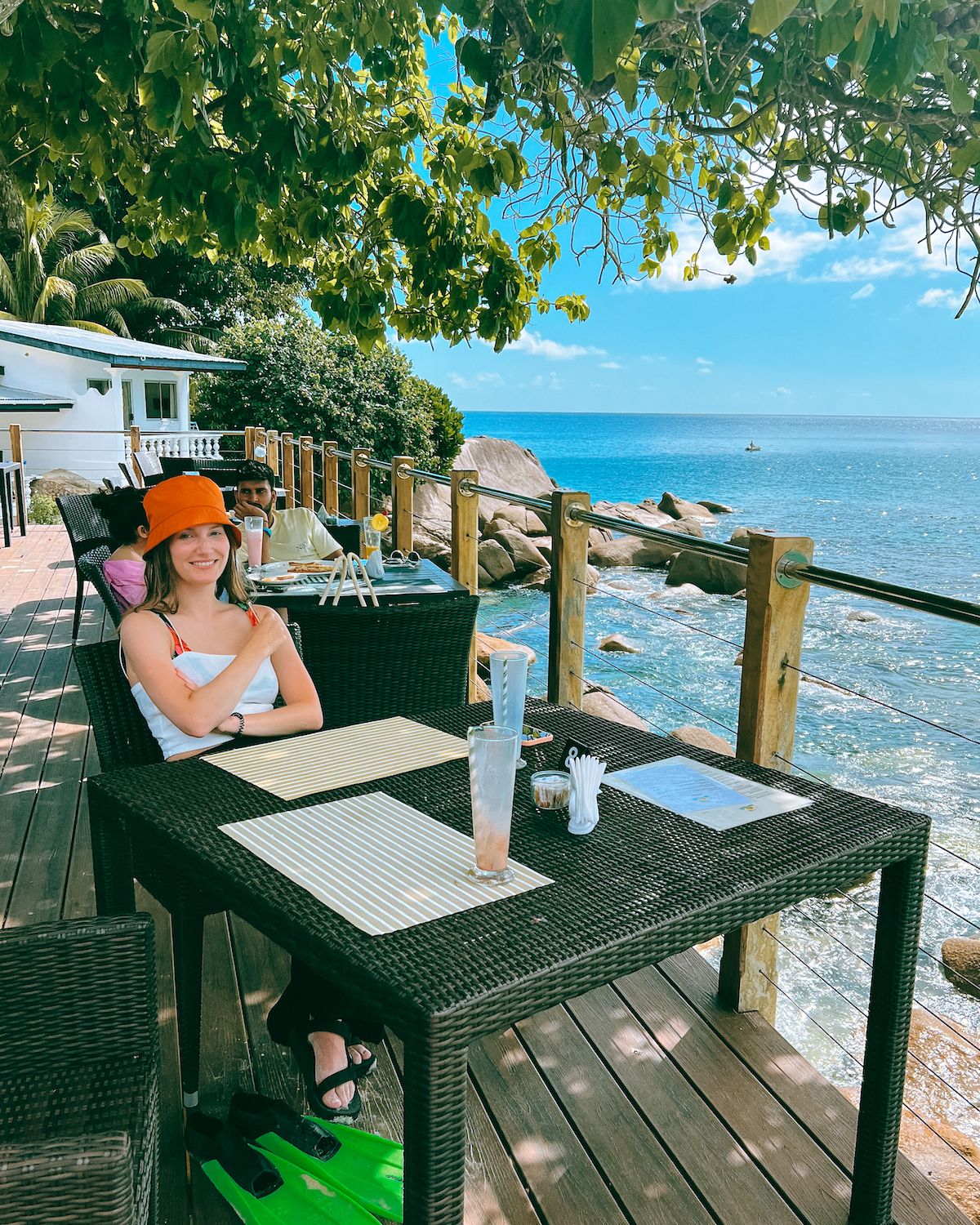 We scratched our heads when we saw that main courses with average food (like spaghetti bolognese) typically ranged from 300-450 SCR (~$21-$32 USD) and cocktails for 180-220 SCR (~$13-$16 USD). Why was it so expensive? We soon learned why, when we discovered that 80% of consumed goods are imported to the island! Buying a bottle of hard liquor at the grocery store will set you back about 750 SCR ($53 USD) for example.
At beach bars, fresh fruit juices were typically 100 SCR (~ $7 USD), fresh coconuts 75 SCR (~$5.50 USD), and cocktails around 150 SCR (~$11 USD).
6 Seychelles budgeting tips
For well-priced, quality meals, go to a takeaway restaurant. There are plenty on Mahe and La Digue. Main courses are around 100 SCR (~$7 USD).
Rent a car on Mahe instead of hiring a private driver or doing a tour to get around.
Rent bikes to get around La Digue, rather than using taxis (buggies).
Buy snacks and alcohol at the grocery store - we saw locals bring beers and Bacardi Breezers to the beach.
Bring a reusable water bottle and fill it up each day with a large 4L water jug from the grocery mart. Buying smaller water bottles each day adds up fast.
Don't be scared off by the prices of hotels - there are many apartment-style accommodations available for a great value.
Seychelles Itinerary 5 Days
Days 1-3: La Digue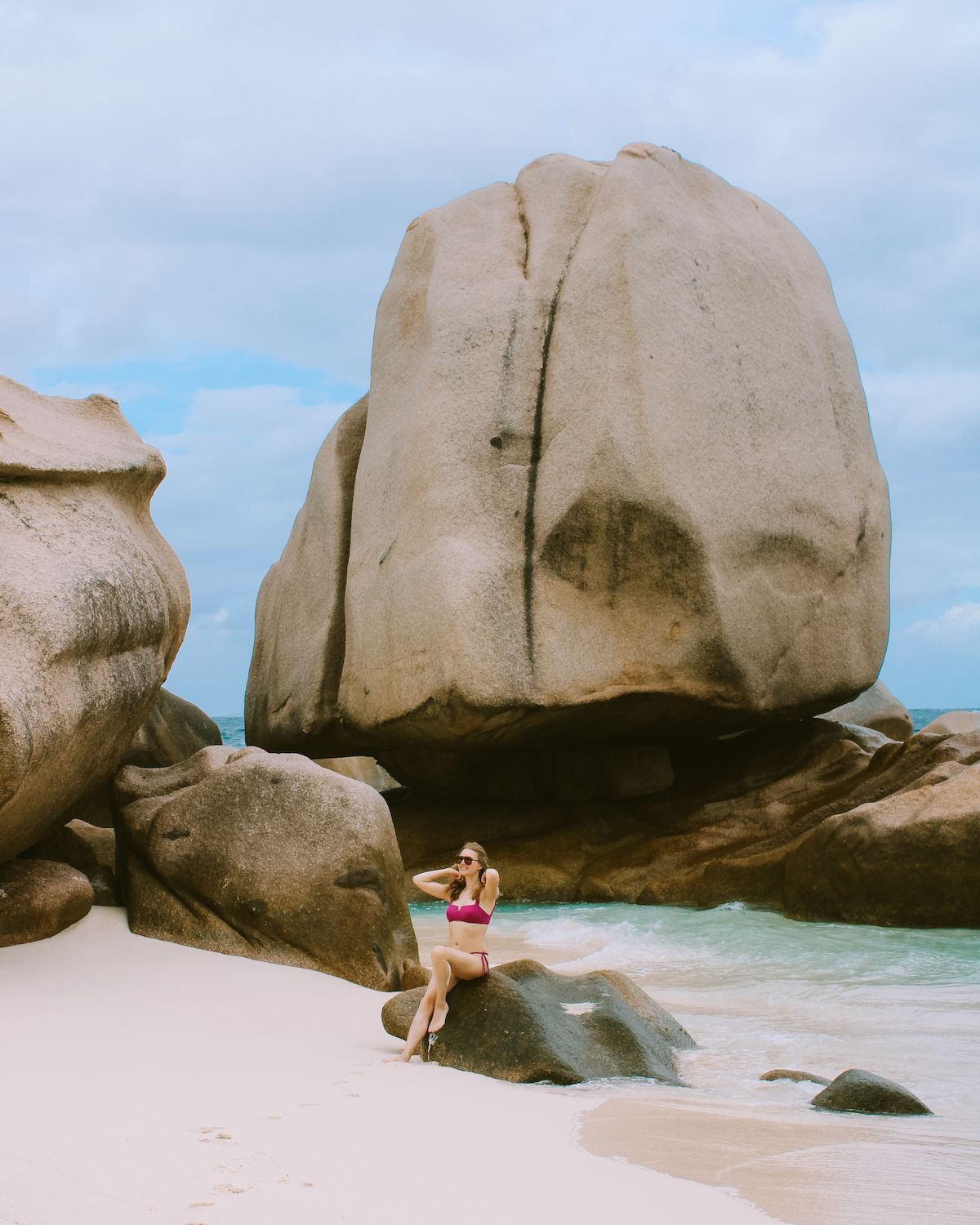 Although La Digue is a lot smaller than Mahe, we recommend staying here for 3 of your 5 days in the Seychelles. We personally preferred La Digue to Mahe, with its laidback atmosphere that allows you to easily relax. It's also a breeze to get around.
La Digue is where you will find the famous beaches you see allover Instagram with large granite boulders. It's not only known for its tranquil beaches, but for its welcoming locals that are proud of their home. Here, you will feel immersed in the local island life.
Getting from Mahe Airport to La Digue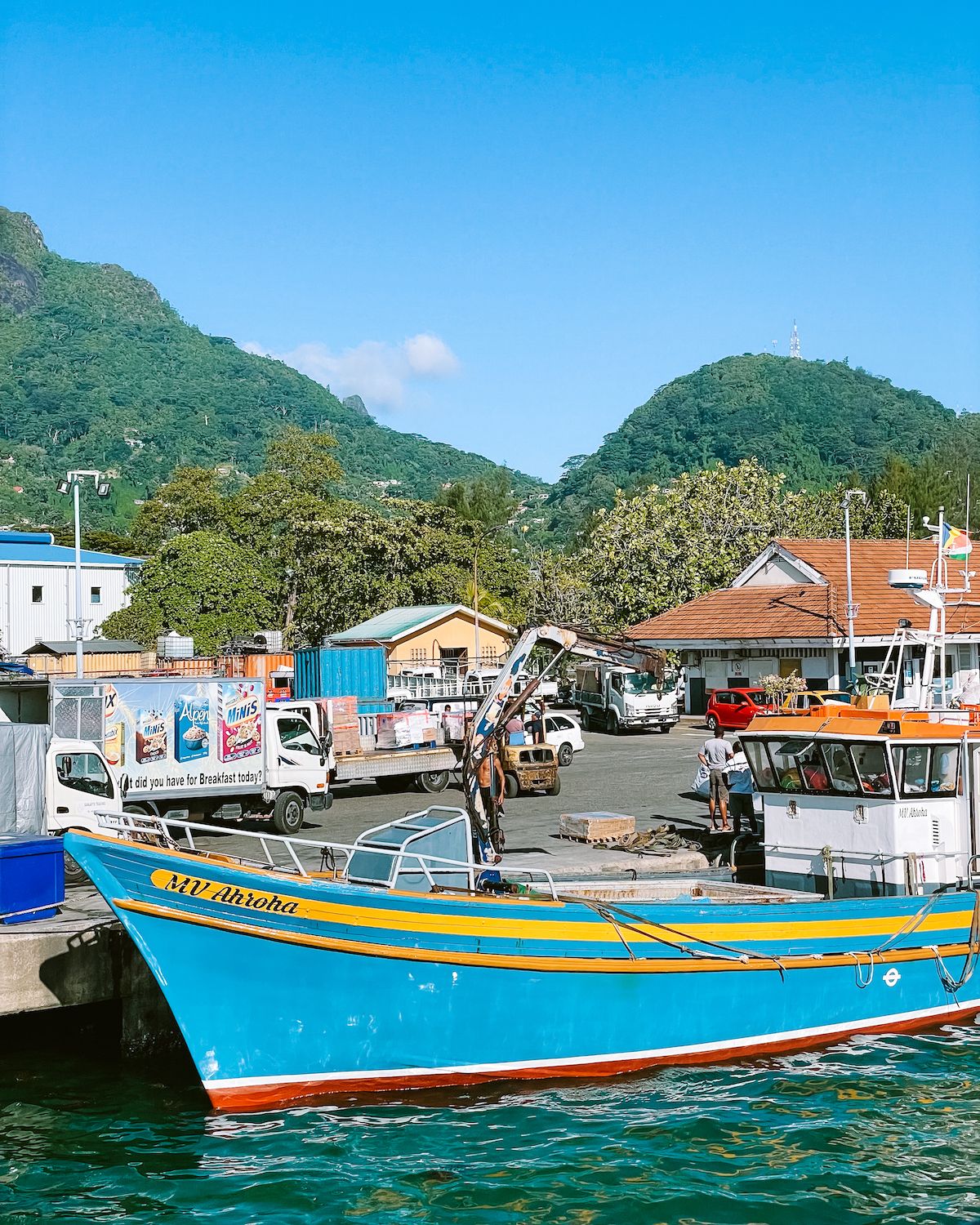 When you fly into the Seychelles, you arrive on the island of Mahe. To get from Mahe to La Digue you have a few options:
By Ferry
Cat Cocos offers a direct 1.25 hour ferry from Mahe to La Digue as well as a 1.75 hour ferry that makes a stop in Praslin.
We organized transfer from the airport to ferry terminal through our hotel. It was 500 SCR one way. You can also book transfers through
Viator
.
Here are 8 ferry tips for a successful trip:
Buy your ticket in advance, ferry times can sell out especially in high season.
Even if you buy your tickets online, you need to arrive more than 30 minutes in advance or your tickets could be released.
Spend the extra for the upper deck seat outside. The lower deck may be air conditioned, but people tend to get more seasick.
Check your suitcase in at the ticket office
Take non-drowsy anti-nausea medication, like Gravol, beforehand. We had a few pukers on the top deck (they provide vomit bags on the boat).
Avoid traveling during the rough winter months starting June
Arrive early so you can line up and grab a seat close to the front along the side of the boat. Late arrivers will be stuck in the middle. Your ticket reserves certain sections of the boat, but not seats.
Don't take videos or pictures while the ferry is moving, you will regret it!
By plane & fast ferry
To signficantly shorten the ferry ride, you can fly 20 minutes from Mahe to Praslin on
Air Seychelles
and take a
15 minute fast ferry
from Praslin to La Digue.
By helicopter
The most convenient, but expensive way is to take a 17 minute helicopter ride from Mahe to La Digue. For 4 people it costs 1,045 €.
Where to stay on La Digue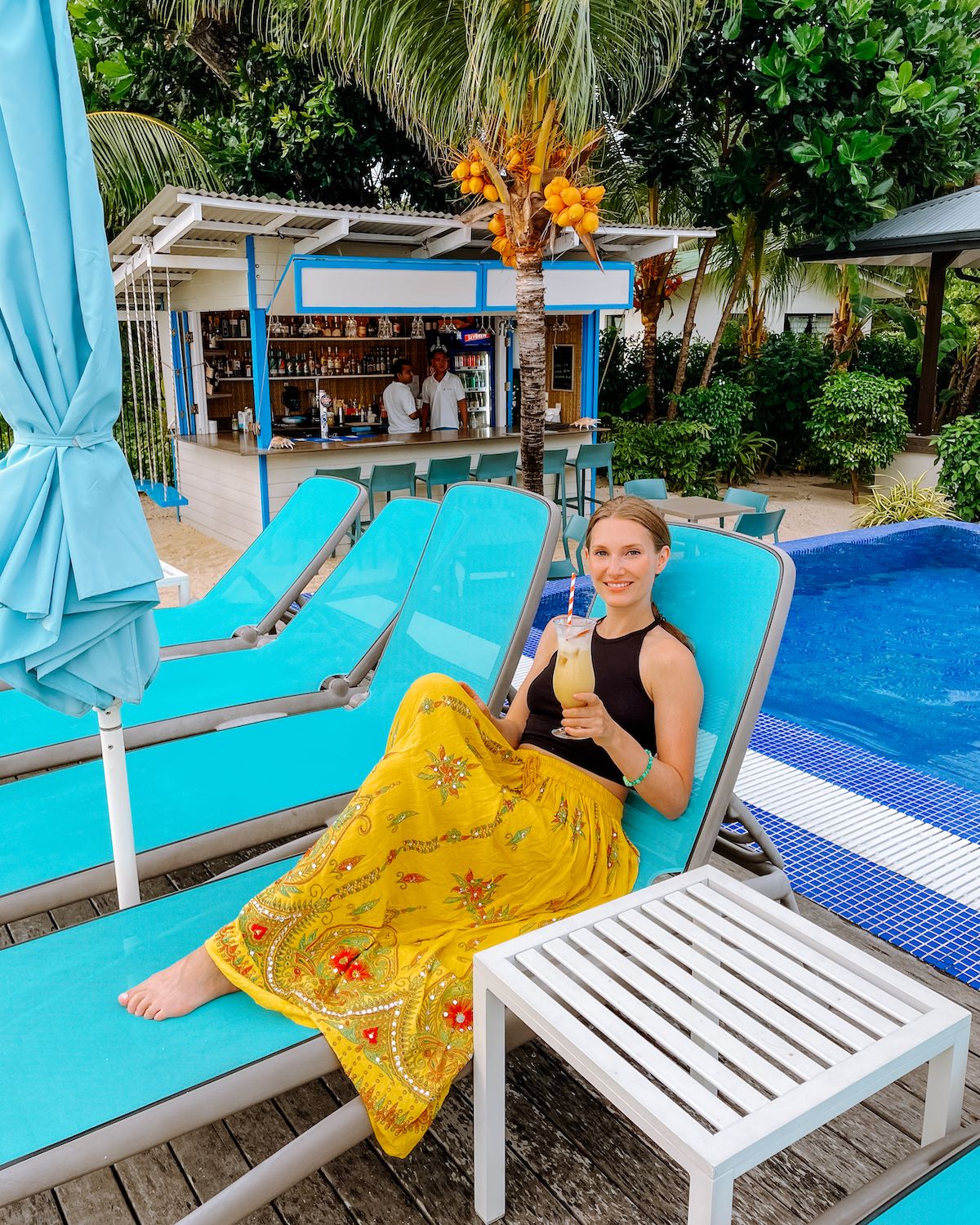 We stayed at
Le Nautique Waterfront Hotel
and highly recommend it.
It's one of the top hotels we've ever stayed at.
Situated on Anse Reunion beach, you have sunset views overlooking the ocean from their restaurant, pool and beach bar. You can also book a room with an ocean view if you desire. The staff goes above and beyond, giving island tips and helping book excursions. They offer bike rentals for 100 SCR (~$7 USD) a day, which makes it simple to get around the island. 🛏️
Browse more stays on La Digue Island
What to do on La Digue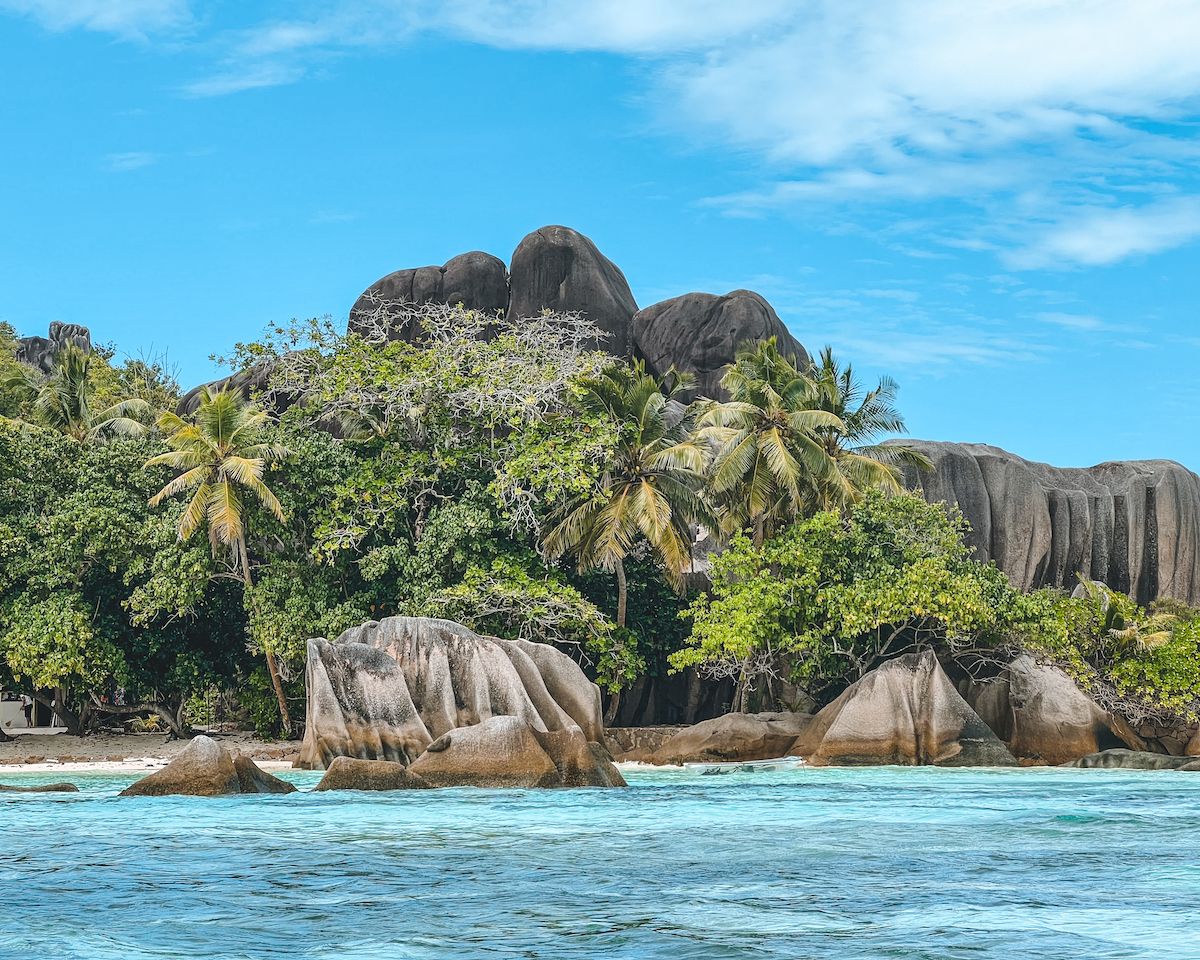 See our comprehensive 3-day La Digue itinerary, which includes where to eat and the best things to do on the island.
Here are the highlights:
🏖🍹️ Beach hop on the wild Eastern coast to the island's best beach bar, and cool off in a natural pool at Anse Cocos Beach.
🌅 Enjoy a romantic dinner at Le Nautique Restaurant with sunset views over Anse Reunion Beach.
🚲 Rent bikes to explore the island and observe the local island life
🥾  Hike to La Digue's most remote and alluring beaches, Anse Marron and Anse Peirrot.
‍🚣🏻‍♂️  Rent clear kayaks at Anse Source d'Argent to see picture-perfect views of the famous granite boulders.
🥥🌴 Relax at the beach and hydrate with a fresh coconut.
🦀 Eat fresh seafood at a shipwreck-themed restaurant.
Read the full 3 day itinerary here.
Days 4-5: Mahe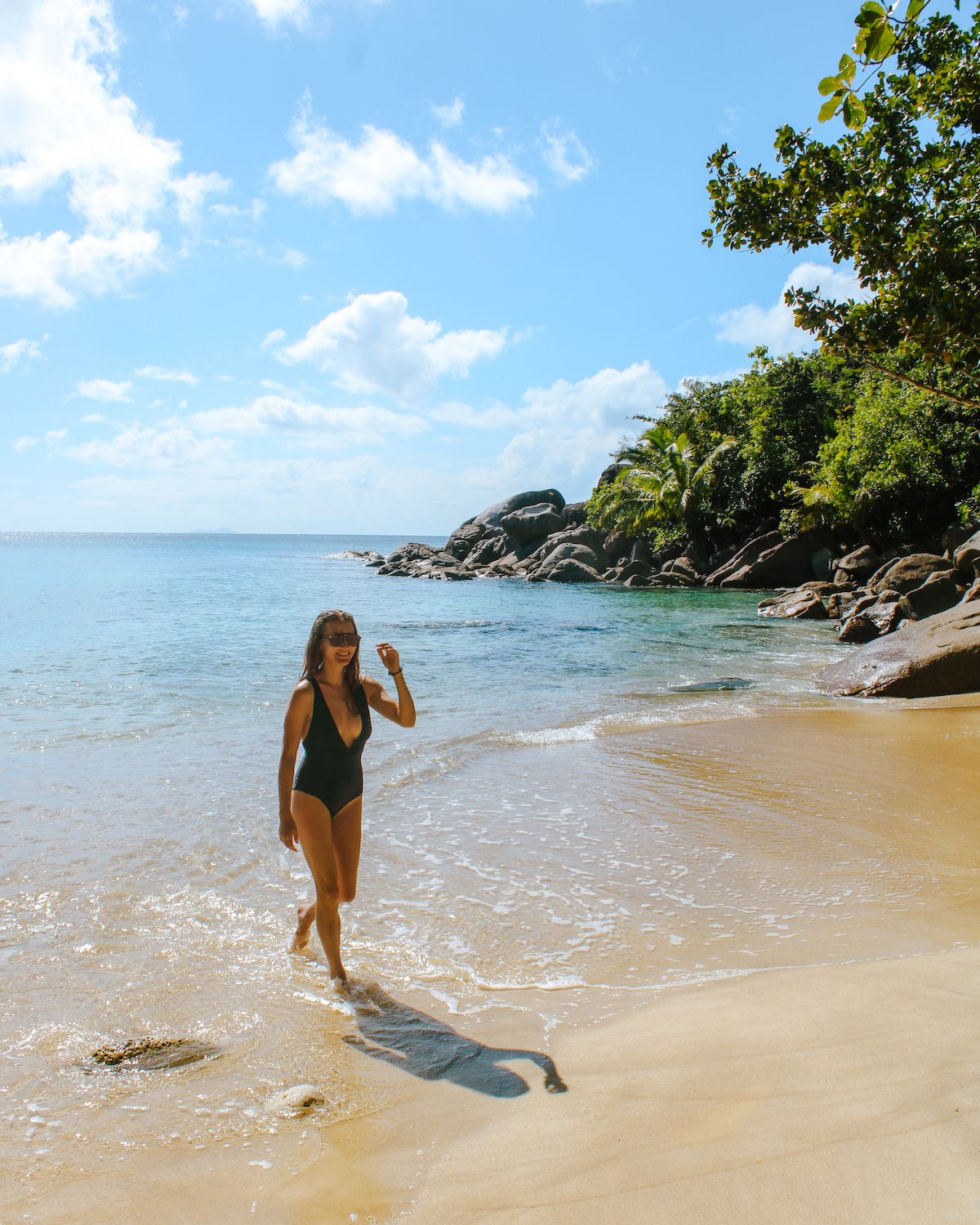 For your last two days, take your transport of choice back to the island of Mahe. This sets you up nicely to catch your flight back home. Mahe is the Seychelles' largest and most developed island. It's more fast pace than La Digue, but with its size, you can set off on an adventure to explore its many landscapes. While we felt the beaches on La Digue were more unique, we preferred Mahe's beaches for swimming and snorkelling.
Where to stay in Mahe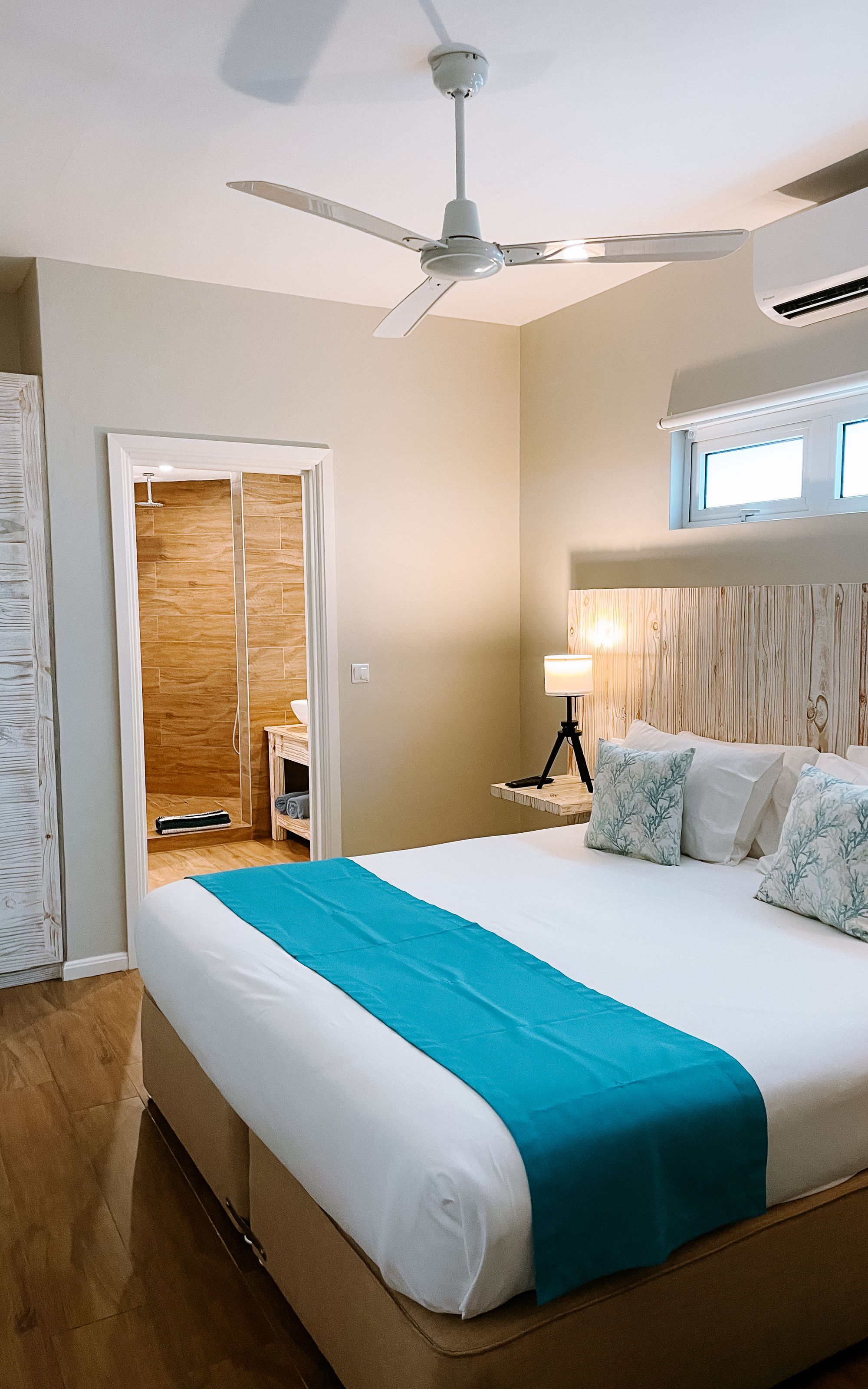 Mahe has a lot of apartment-style accommodations for a good value compared to the expensive hotels on the island. We enjoyed our apartment's spaciousness and the option to cook food in our full kitchen.
We stayed at Le Nautique Waterfront Hotel's sister property,
Le Nautique Beachfront Apartments
. It's situated on Anse Royale Beach, one of the nicest in Mahe, and is just a 7 minute walk from town. The location is excellent for travelling around the island. The only negative thing we found was that it had some road noise when you were outside, but we didn't hear it from inside our apartment.
As with the Le Nautique brand, the staff are extremely helpful, providing a map with beaches that are safe for swimming and even free snorkelling gear, paddle boards and kayaks you can use. They also offer delivery service with Perry's Grill, so you can get dinner delivered right to your room if needed. Another bonus is that if you have a late flight and want to go to the beach that day, they have a shower and change room you can access after checking out of your room.
🛏️
Browse more apartment stays on Mahe Island
Day 4
Pick up your rental car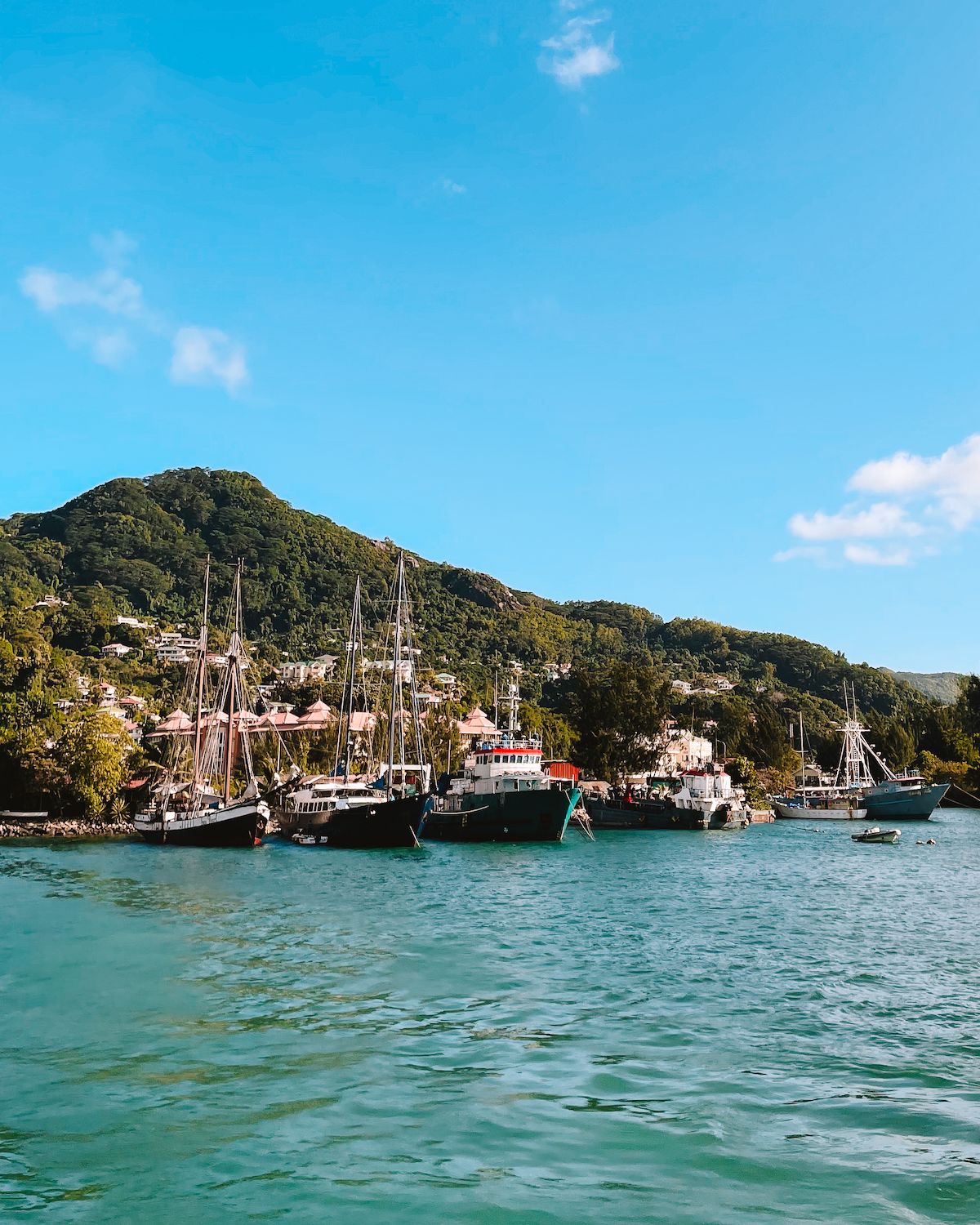 Take an early morning departure from La Digue to Mahe, so you have the full day to explore. Once you pick up your rental car at the Seychelles International Airport, set off to your hotel to drop off your bags.  
🚙
Compare car rental rates across different companies
Relax and snorkel at the beach for the day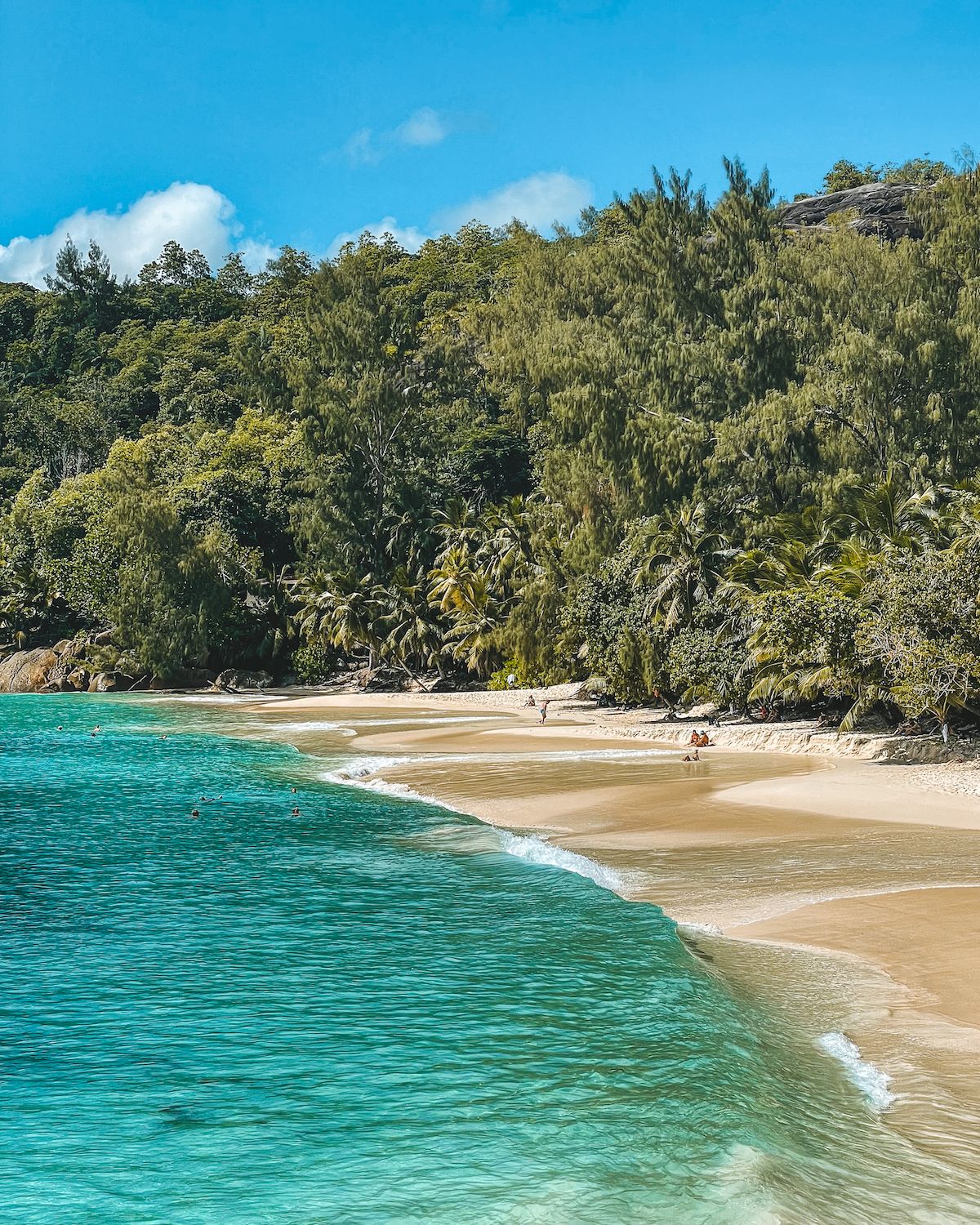 Mahe has plenty of tranquil beaches to choose from for swimming and snorkelling. What beach you choose, will depend on the time of year you travel due to the changing trade winds. It's best to ask your hotel what beaches are best for snorkelling/swimming at the time of year you're there.
We were there at the very end of May/start of June, so the water on the Eastern and Southern side was choppy. Once we crossed to the Western side of the island we were met with calm beaches excellent for swimming and snorkelling.
🥔 ✨ Our favourite beach on Mahe: Anse Soleil
Our favourite beach for snorkelling and swimming was Anse Soleil. The palms provided shady spots and it didn't feel "resorty". We loved eating lunch at The Deck, a restaurant overlooking the beach that is part of the Beachcomber Hotel. Parking is free on the side of the road at the top of the hill. Don't forget your snorkelling gear!
🥔💨 Burnt potato: Petit Anse
We feel kind of bad giving this beach a "burnt potato" because it's gorgeous, however it's the beach that the
Four Seasons Resort
uses, so you have to walk about 13 minutes (downhill with uphill on the way back) from their parking lot and wear a black bracelet that means you're not able to dine at any of their establishments or use any of their facilities. We would have rather visited a wilder beach, than have to see resort villas perched along the hillside, especially when you can't use any of the facilities. The lack of shady spots made it difficult to relax at the beach there. There is also security on the beach that watches you, but a bonus is that your stuff feels safer on the beach if you go for a swim. We would have rather spent more time at Anse Soleil next door, taking breaks for banana milkshakes at The Deck!
Top tip: if you're travelling to Mahe during the northwest trade winds, your hotel will likely recommend different beaches located on the eastern side of the island. Fairyland Beach and Anse Parnel beside the Surfers Beach Restaurant are excellent for swimming and snorkelling during this time.
Enjoy a sunset dinner at Del Place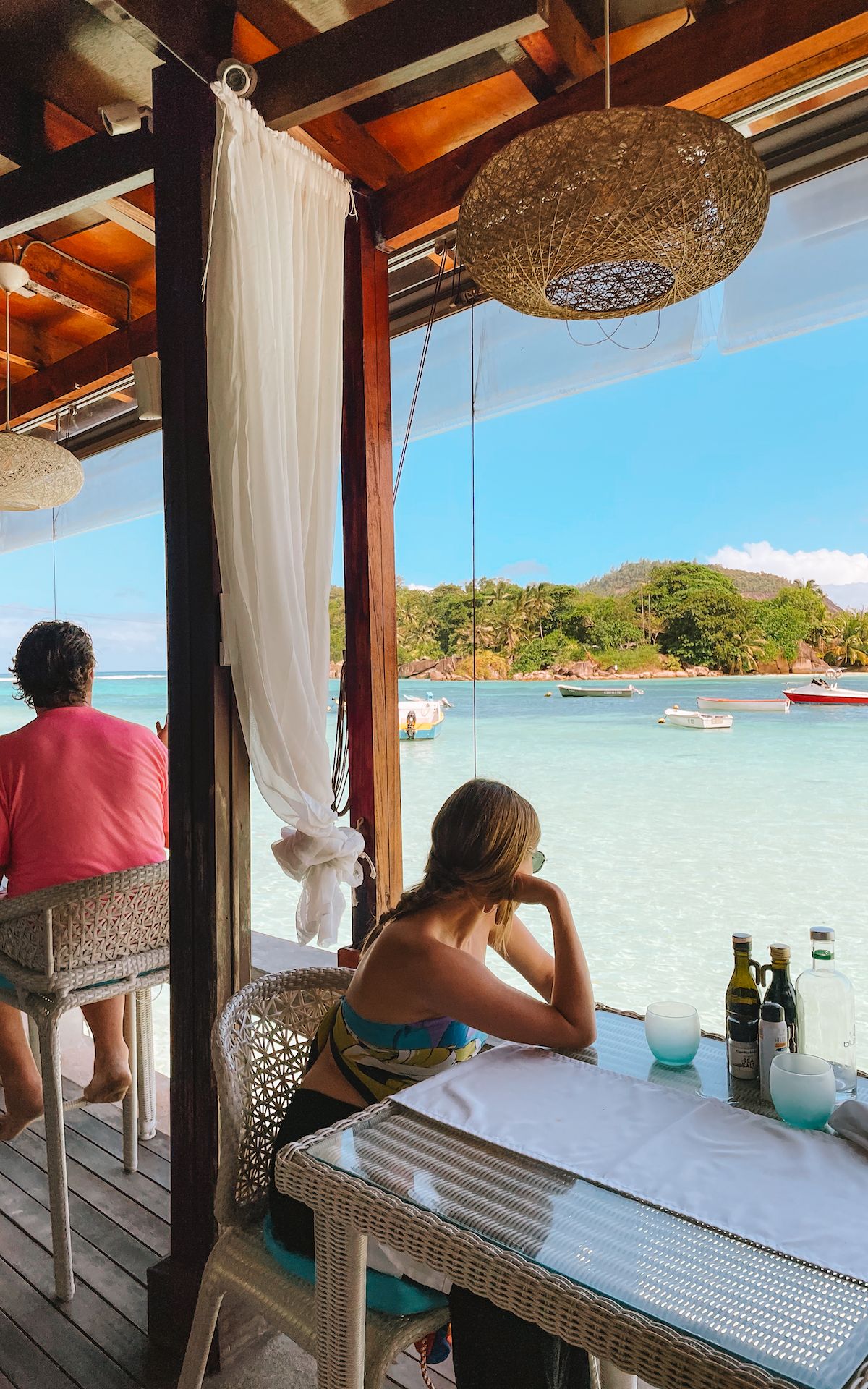 After your relaxing beach day, drive to Del Place, one of the best seafood restaurants in Mahe with sunset views overlooking the harbour. Located in Port Glaud, the chic establishment is proudly run by a 100% Seychellois team. We loved the shrimp sizzler that is flambéed in front of you. If you're traveling with your partner, it's the perfect setting for a romantic dinner.
Day 5
Hike to the secluded Anse Major Beach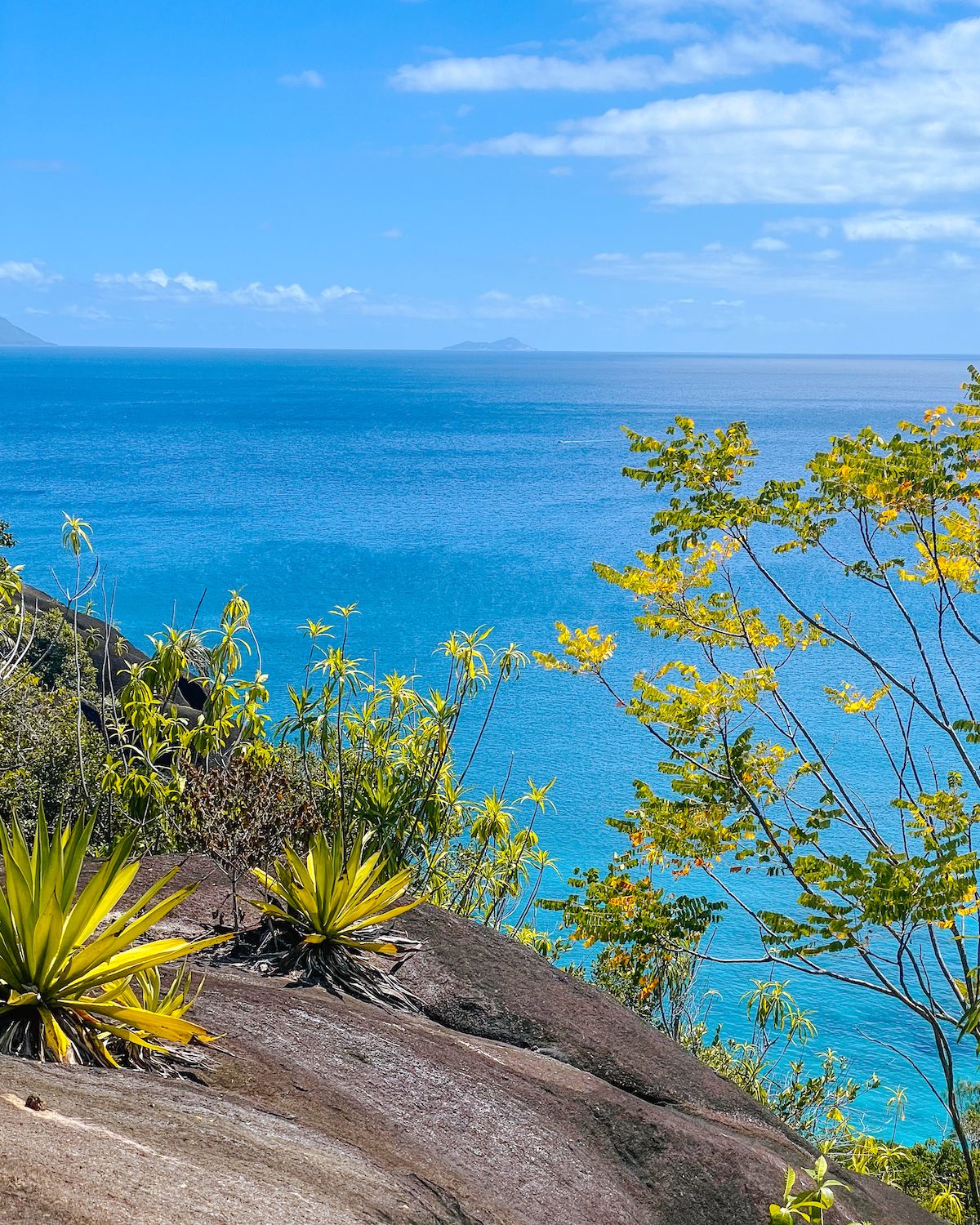 Today you will be exploring the northern end of Mahe, where one of its most alluring and secluded beaches is located. Only accessible by hiking or by water, it feels like an untouched tropical dream. The scenic 6 km roundtrip hike takes under an hour each way, and has a couple panoramic views.
Make sure you eat a big breakfast before you leave, and stop in at the grocery store along the way for some snacks and water to bring to the beach. There is a beach bar at Anse Major, however it was closed when we were there, so we're not sure how reliable it is.
This beach is also excellent for swimming and snorkelling, so if you're travelling there when the trade winds are in the southeast, bring snorkelling gear!
If you don't want to hike, there are taxi boats that offer rides to Anse Major.
Top tip: this is a secret hikers only know about - just a couple minutes north from the main beach you will find a smaller beach that feels even more private.
Have a late lunch at Rockpool Restaurant and drive around northern tip of island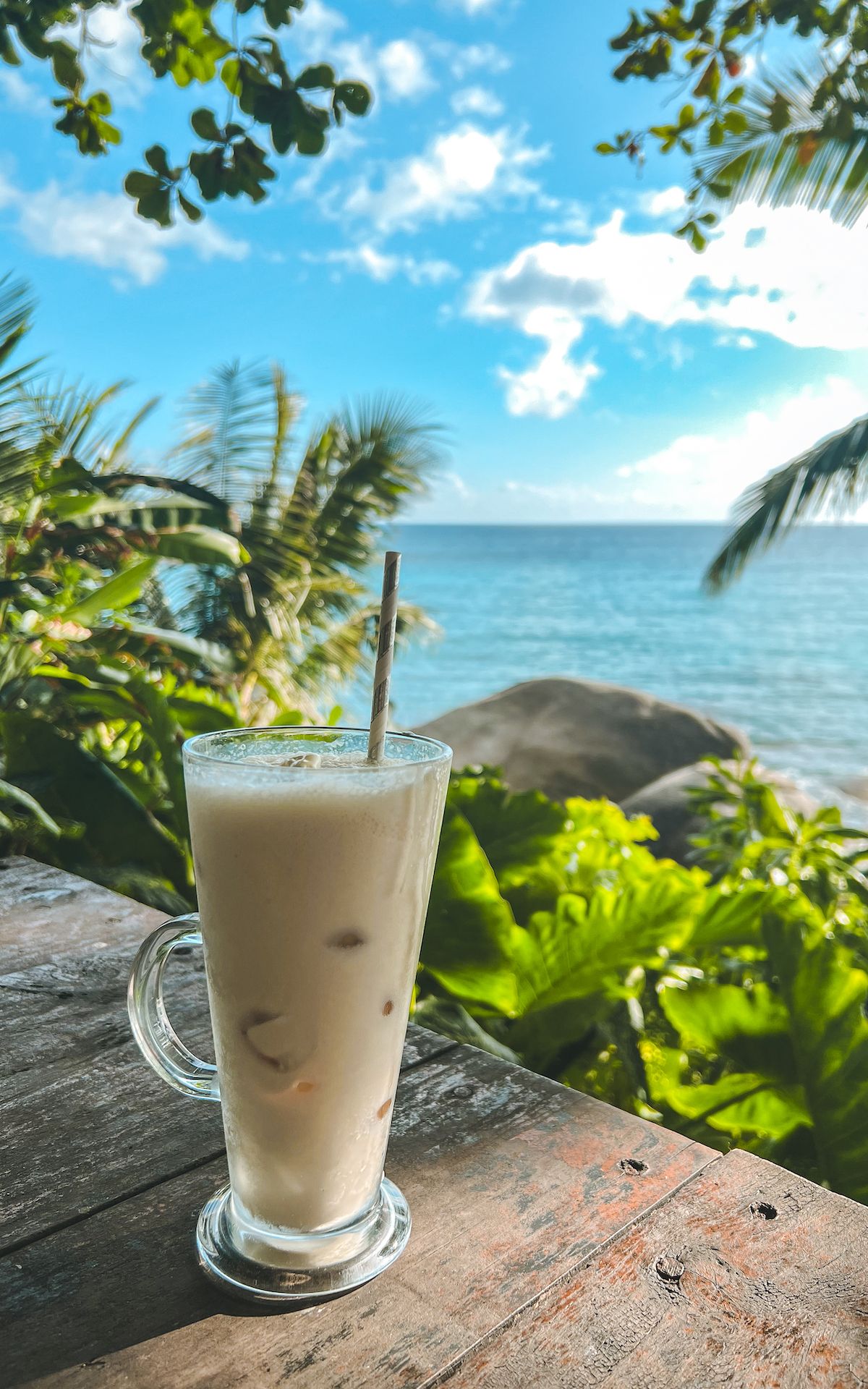 After your day at Anse Major, drive over to the laidback northern tip of Mahe to eat a late lunch at Rockpool. The calming restaurant with a golden Buddha statue as its centrepiece is perched over a cove. Grab a table overlooking the ocean and order one of their Mediterranean plates. Don't miss the chic shop inside that has a well-curated selection of local products.
We enjoyed driving the whole northern tip rather than backtracking down to our stay in Anse Royale. It felt relaxed on this part of the island.
Have sunset drinks at Anse Royale Beach or try local rum at the Takamaka Rum Distillery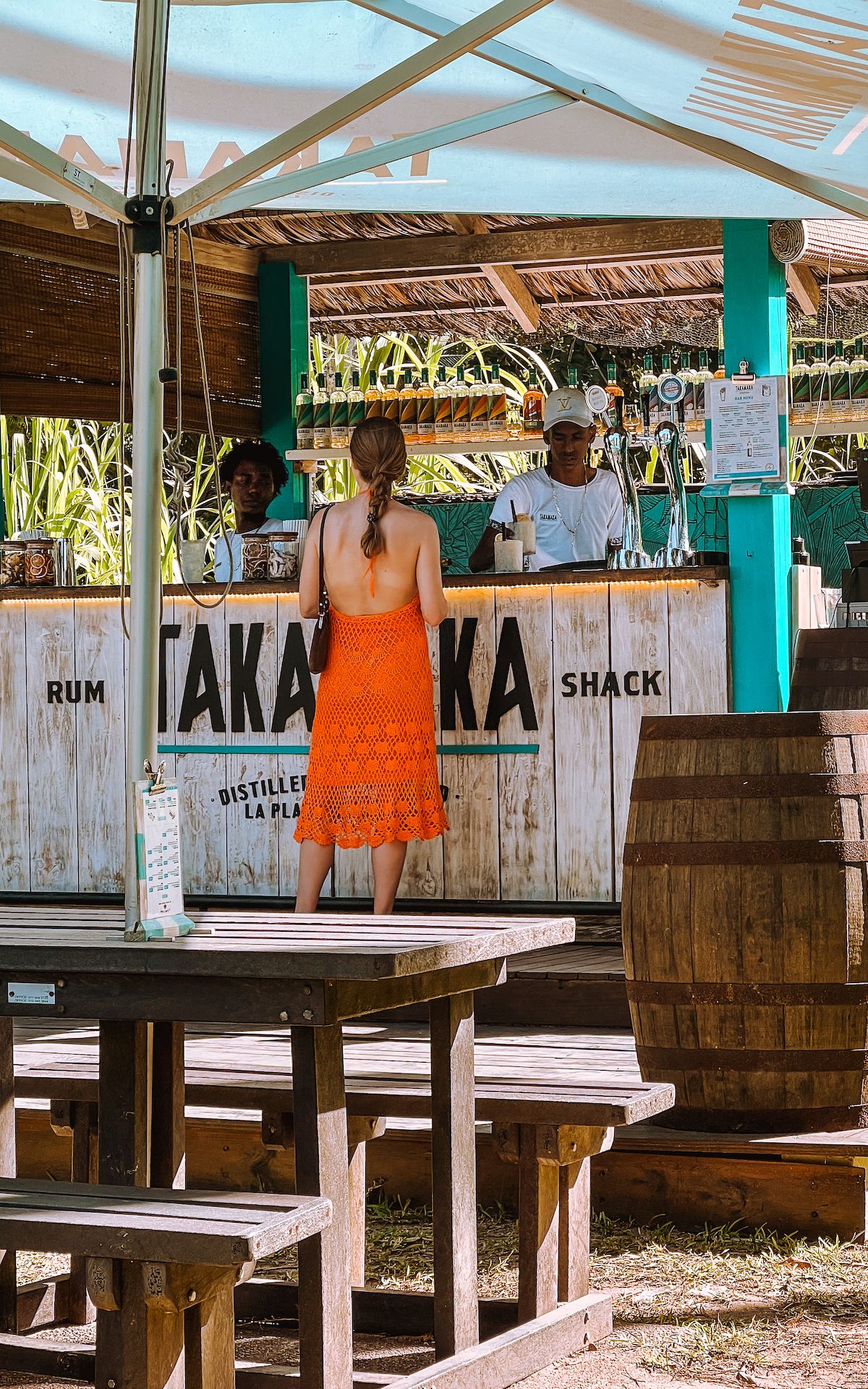 If it's Friday, don't miss the Takamaka Rum Distillery which is open late until 10 PM with live music. Other days of the week it's only open until 4:30 PM. If you're like me, and don't like to do tastings of hard liquor, instead try one of their fruity cocktails at the Takamaka Rum Shack. They had the best prices for cocktails we saw on the island at 150 SCR, and offered a good selection of non-alcoholic drinks and food as well.
Their banana daiquiri is the best rum cocktail I've ever had. I tried to recreate it at home and it's just not the same.
If it's not a Friday, order fruity cocktails made with local Takamaka Rum at Kafe Kreol Restaurant overlooking Anse Royale Beach. Pick a table in the sand for the best view and ambience. Their cocktail prices are on par with other restaurants, however their prices for food were some of the most expensive we saw on the island, so be careful with what you order. Their spaghetti bolognese was 450 SCR (~32 USD)! They have decent pizza here made in a proper pizza oven, ranging from 250-400 SCR per pie.
We hope you enjoyed this 5 Day Seychelles itinerary!
Travel Day Tip: beached out and looking for a nice way to spend downtime before your flight? Check out Eden Holistic Spa on Eden Island. The top-notch spa is the perfect way to relax before your flight and it's very well priced. Our massages were excellent! It's also located only 10 minutes away from the airport.
What to pack for Seychelles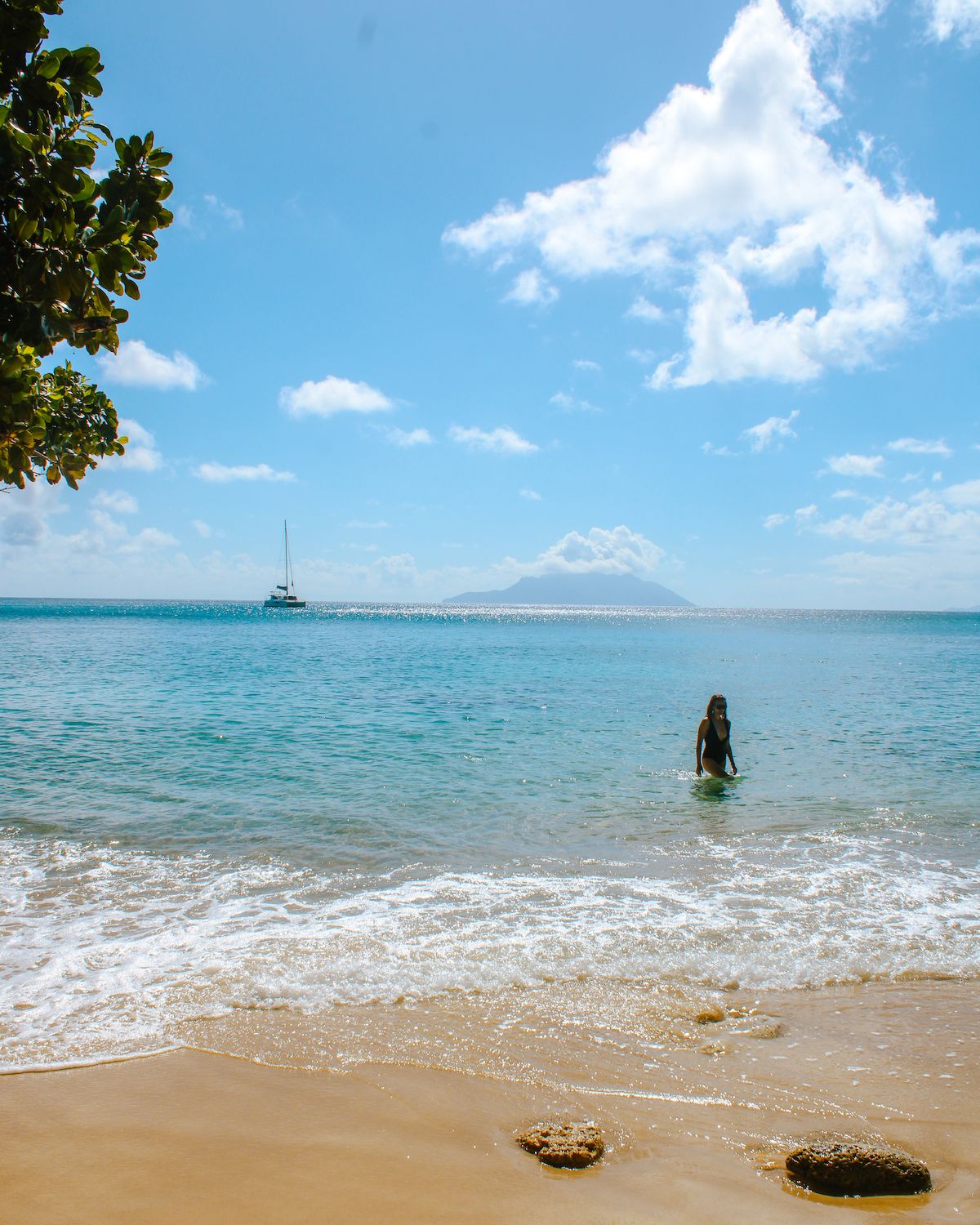 Clothing

Water shoes are a must because of sharp coral in some areas and sea urchins. It's also essential to bring for your hike to Anse Marron.
Bathing suits - Ysé is my favourite swimwear brand
Sunglasses
Beachwear - white halter top, sarong, beach dress etc.

Other Essentials
Get started on booking your trip to the Seychelles
---
Don't miss our other Seychelles guides:
---
Save and pin this Seychelles 5 Day Itinerary for later: