Salt Spring Island, BC is known for its sustainable farming and locally grown food. Every Tuesday you will find locals sourcing the freshest produce at the farmers market. Organic and locally grown ingredients combined with the island's creative flair make for some delicious eateries. We list the 16 best restaurants on Salt Spring Island, each for a unique reason. You will find most restaurants in Ganges, since it's the main hub of Salt Spring.
Planning a trip to the island? Check out the best accommodation on Salt Spring Island for a weekend getaway and our list of 10 fun things to do on the island.
Top Restaurants on Salt Spring Island
---
Best Restaurants in Salt Spring Island
1. Best for a date night: House Piccolo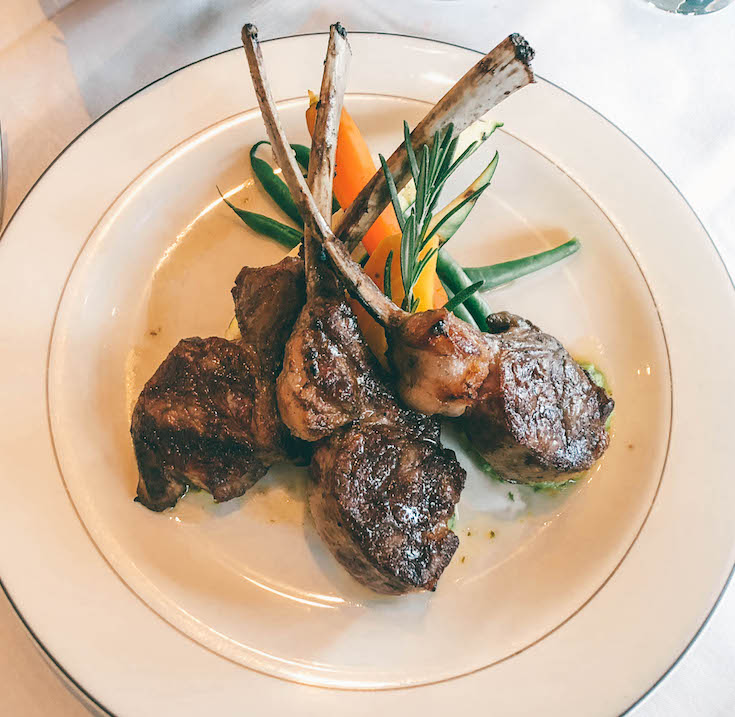 House Piccolo is a quaint and upscale restaurant in Ganges serving West Coast-Finnish cuisine. It's located in a heritage building and has a cozy atmosphere making it ideal for a date night. The must try item on the menu is the lamb rib chops. There is something special about the lamb on West Coast and you have taste it to know what I'm talking about!
Must try: lamb rib chops & salmon chowder
2. Best for the setting: Tree House Cafe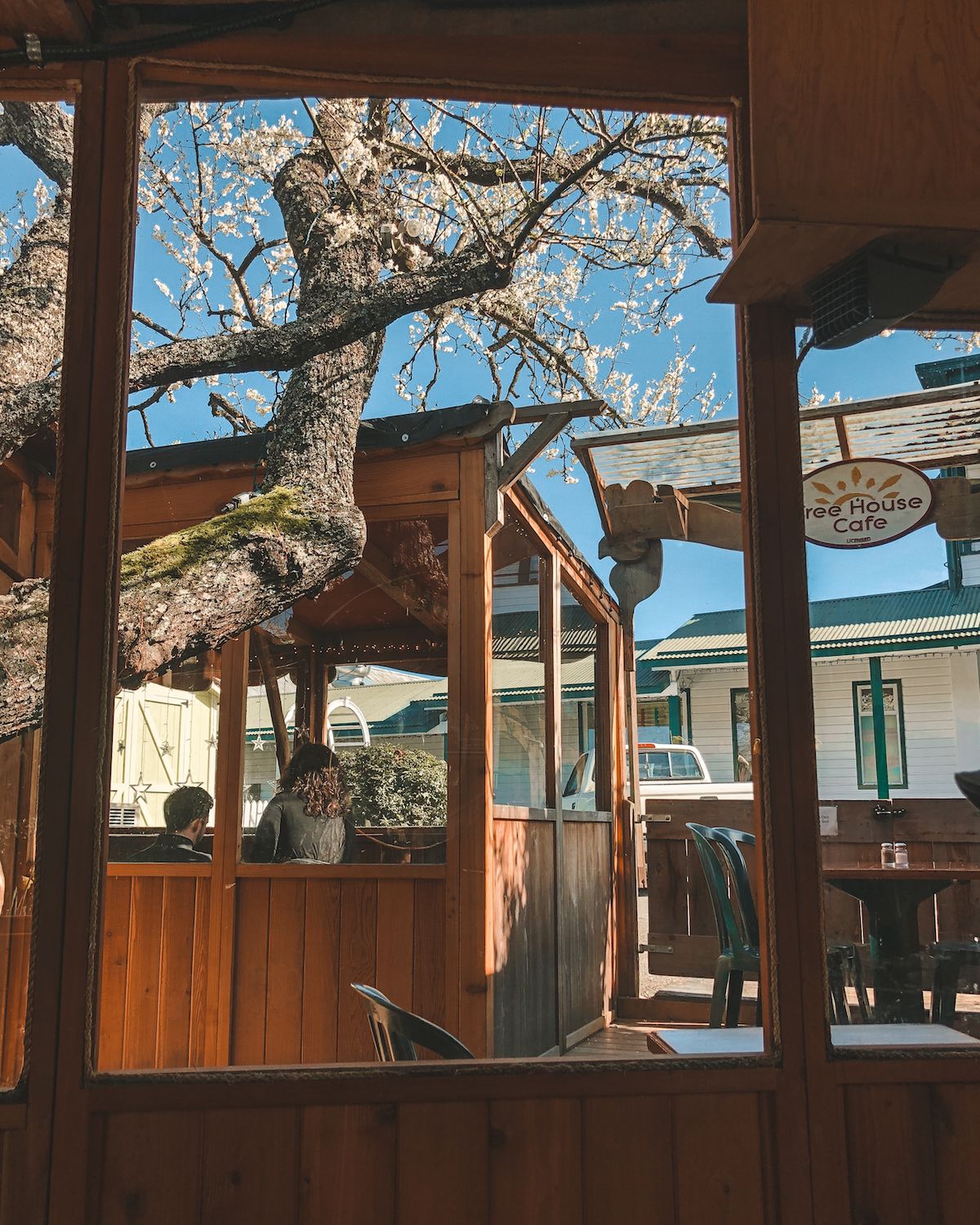 Located in a wooden heritage cottage with a large plum tree as the centrepiece, Tree House Cafe is a fun place to grab some lunch. It gets busy in summer, but the wait is worth it to dine in the tree house.
Must try: Grilled halloumi gyro wrapped in fresh warm naan bread
3. Best for the harbour front view: Beachside Cafe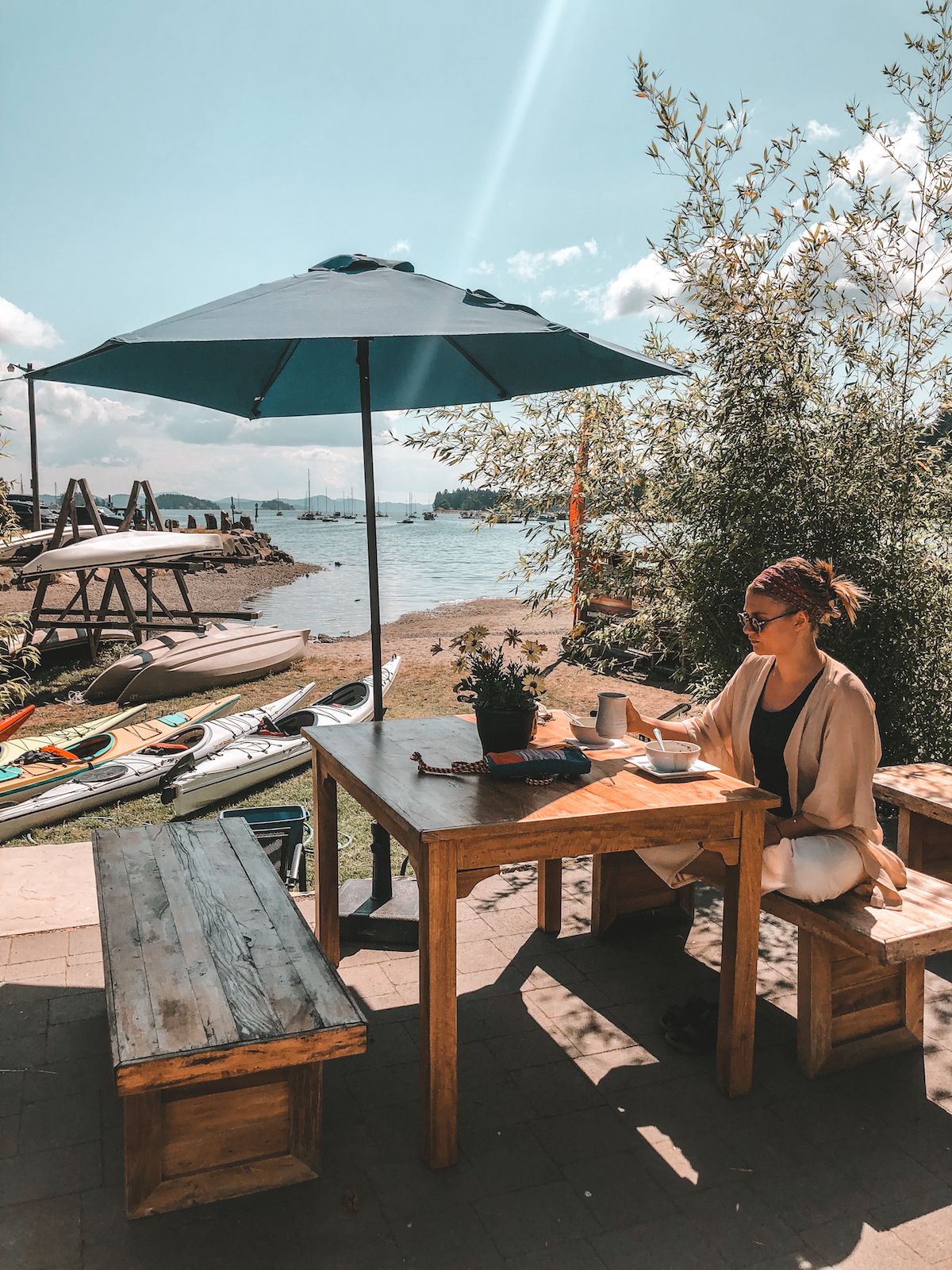 Skip the tourist heavy Oyster Catcher and go to the relaxed Beachside Cafe. In the back you will find picnic tables overlooking the Ganges waterfront. The cafe has excellent smoothie bowls topped with fresh fruit that is refreshing for a hot summer's day. On Saturdays they feature live music.
Must try: smoothie bowls
4. Best for the picnic: Salt Spring Vineyards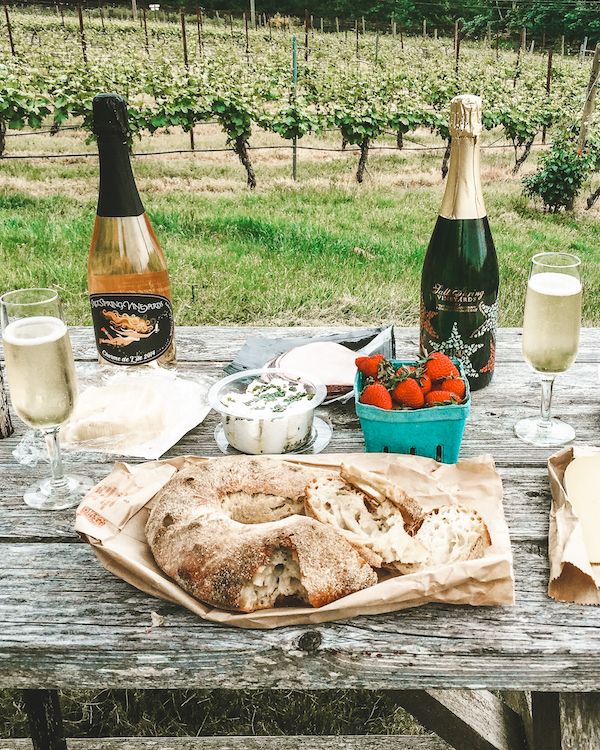 Have a wine tasting and pick out your favourite bottle to enjoy on one of the picnic tables along the vineyard. Salt Spring Vineyards sells picnic items like cheese and meats, so you can have yourself a delicious picnic.
Must try: Grab some Salt Spring Island Goat Cheese and pair it with their champagne style Karma wine.
5. Best for cheap eats: any of the food trucks!
Have a food crawl and try out the delicious food trucks in Ganges. You will find tacos, poutine, falafels and other comfort foods.
6. Best for fine dining: Hastings House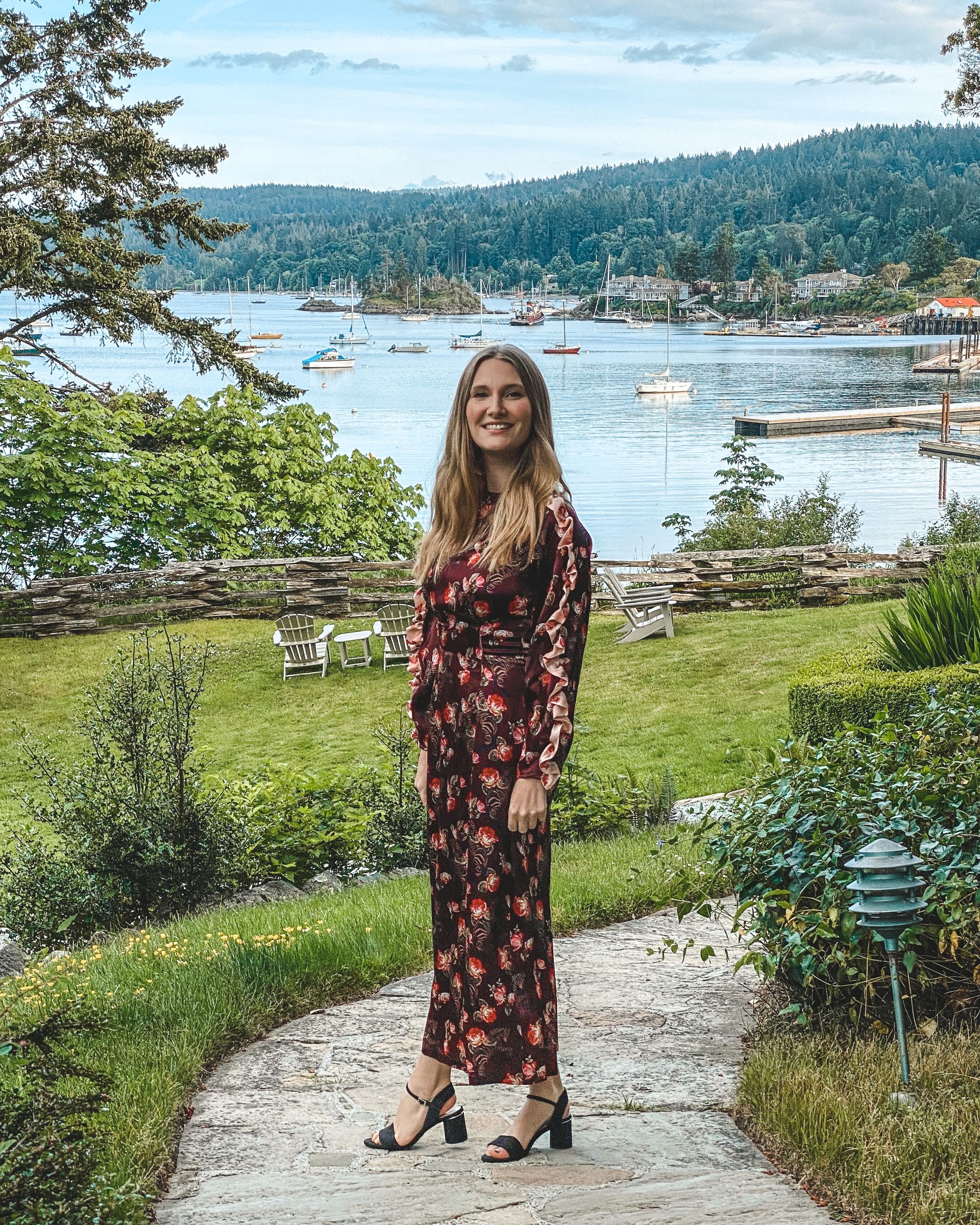 Hastings House is a country house hotel with a charming dining room. It's part of the Relais & Châteaux brand, which is a collection of gourmet restaurants and luxury boutique hotels from around the world. At the restaurant you can either order al la carte or choose the three course Chef's Menu.
7. Best for Italian: Auntie Pestos
Auntie Pestos is a small and cozy restaurant serving Italian cuisine. You will usually hear jazz music playing, which provides a relaxed ambience. Their pasta is homemade and they are proud to support local producers.
Must try: seafood dill alfredo
8. Best for sushi: Express Sushi 2 Go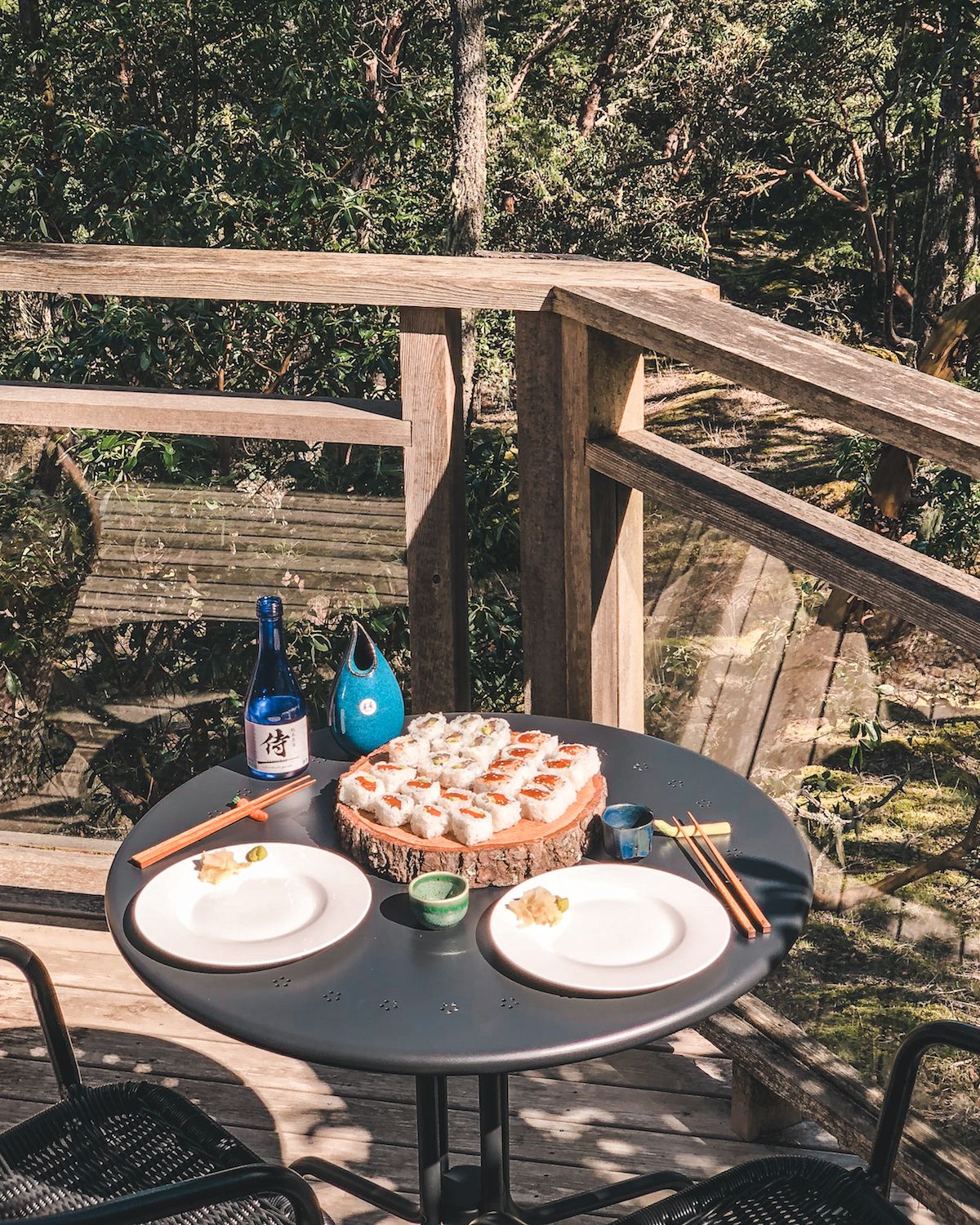 This takeout restaurant serves delicious and fresh sushi on par with the best sushi joints in Vancouver. Bring takeaway back to your Airbnb and enjoy it with some island views. Don't forget to pick up some sake from the liquor store!
Must try: spicy salmon roll
9. Best for sandwiches: Buzzy's Luncheonette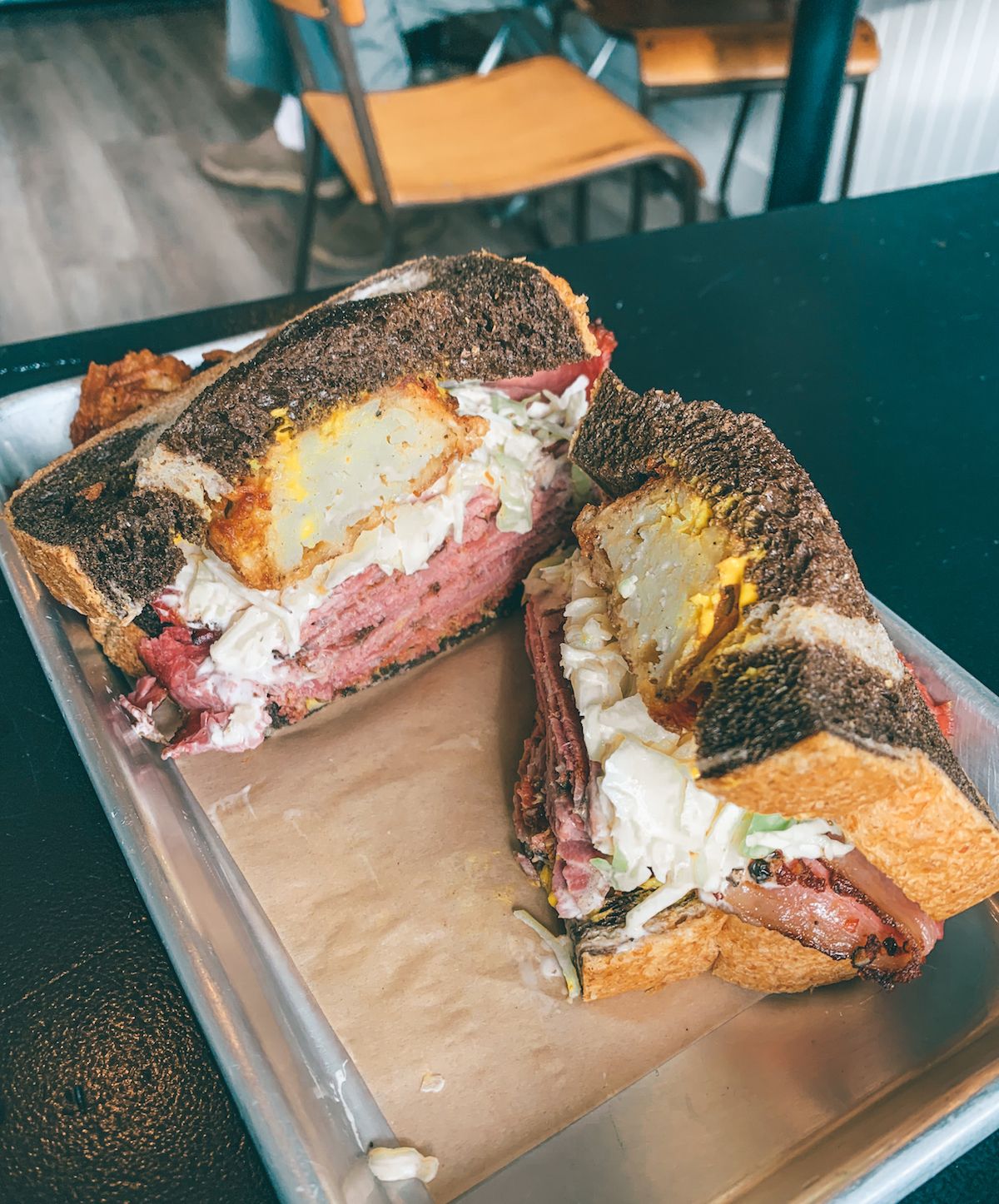 This Jewish deli serves up delicious Montreal smoked meat sandwiches on fresh marble rye. The sandwiches are mouthwatering and one of a kind! You can either take away or grab one of the few tables inside or outside. It's a convenient place to stop for lunch after browsing the Saturday Market. Just make sure to get there before they run out of meat!
Must try: The Hungry Jew or the Rabinowitz
10. Best for comfort food: Salt Spring Inn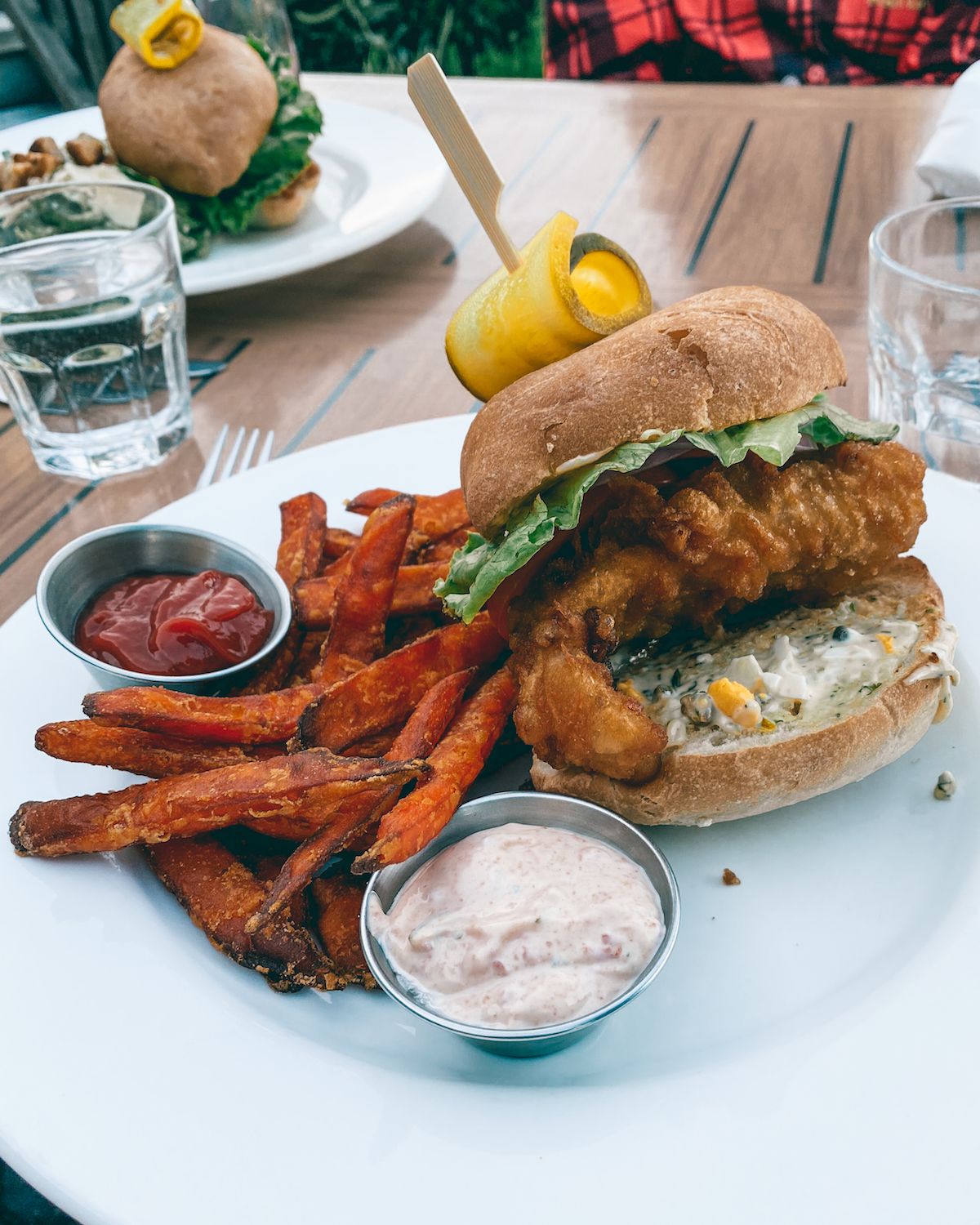 Salt Spring Inn is your go-to-joint for your favourite comfort foods. There are so many tasty options including poutine, onion rings, burgers, chicken wings, caesar salad, chicken fingers, nachos and fried chicken! The dining room is located inside the cozy hotel built in the 1930s. There is ample patio space, so on a sunny day you can people watch down the main street of Ganges.
Must try: crispy cod burger (ask for extra tartar sauce!)
11. Best for coffee: Switch Board Cafe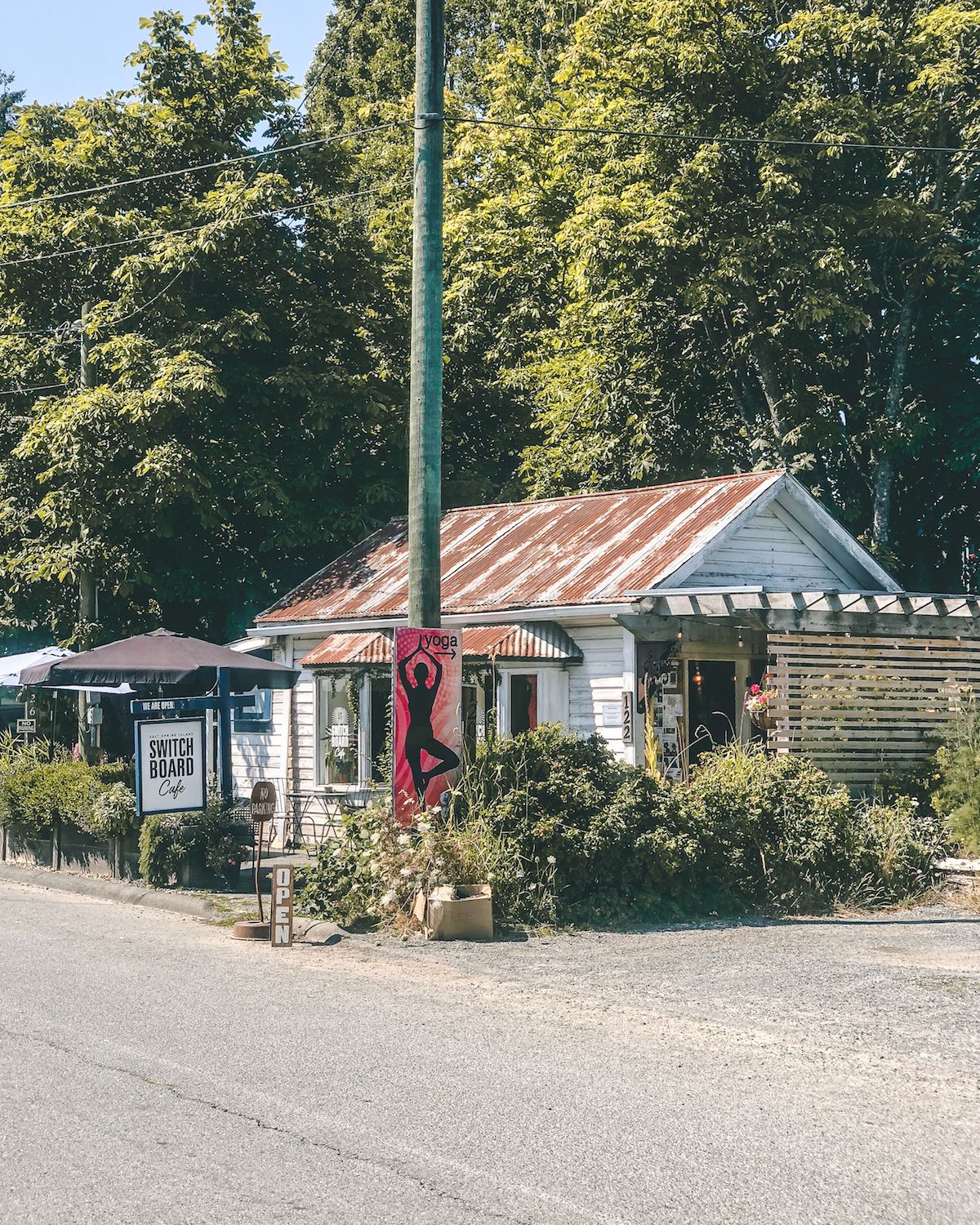 Tucked away on a side street in Ganges, Switchboard Cafe is a quirky spot serving coffee from 49th Parallel and tasty baked goods. It's a lovely place to start your morning on their outside patio.
12. Best for breakfast: Barb's Buns, Dagwoods Diner or Salt Spring Inn
Barb's Buns is the best spot if you're looking for a quick bite. They have delicious fresh baked goods and sizeable breakfast sandwiches. Try one of their sourdough cheese twists, the perfect salty hangover treat.  
Dagwoods Diner is the best spot if you're looking for a classic greasy spoon diner. It's great value and a favourite with locals. We usually go for their breakfast special or eggs Benedict.
Salt Spring Inn is the best spot if you're looking for a country style breakfast including buttermilk pancakes or buttermilk waffles. On Sundays they serve breakfast until 2pm and have extra options like a traditional eggs Benedict or a crab cake bennie. If you're up for it, you can start off your Sunday with a mimosa!
13. Best for daytime drinks: Salt Spring Wild Cider House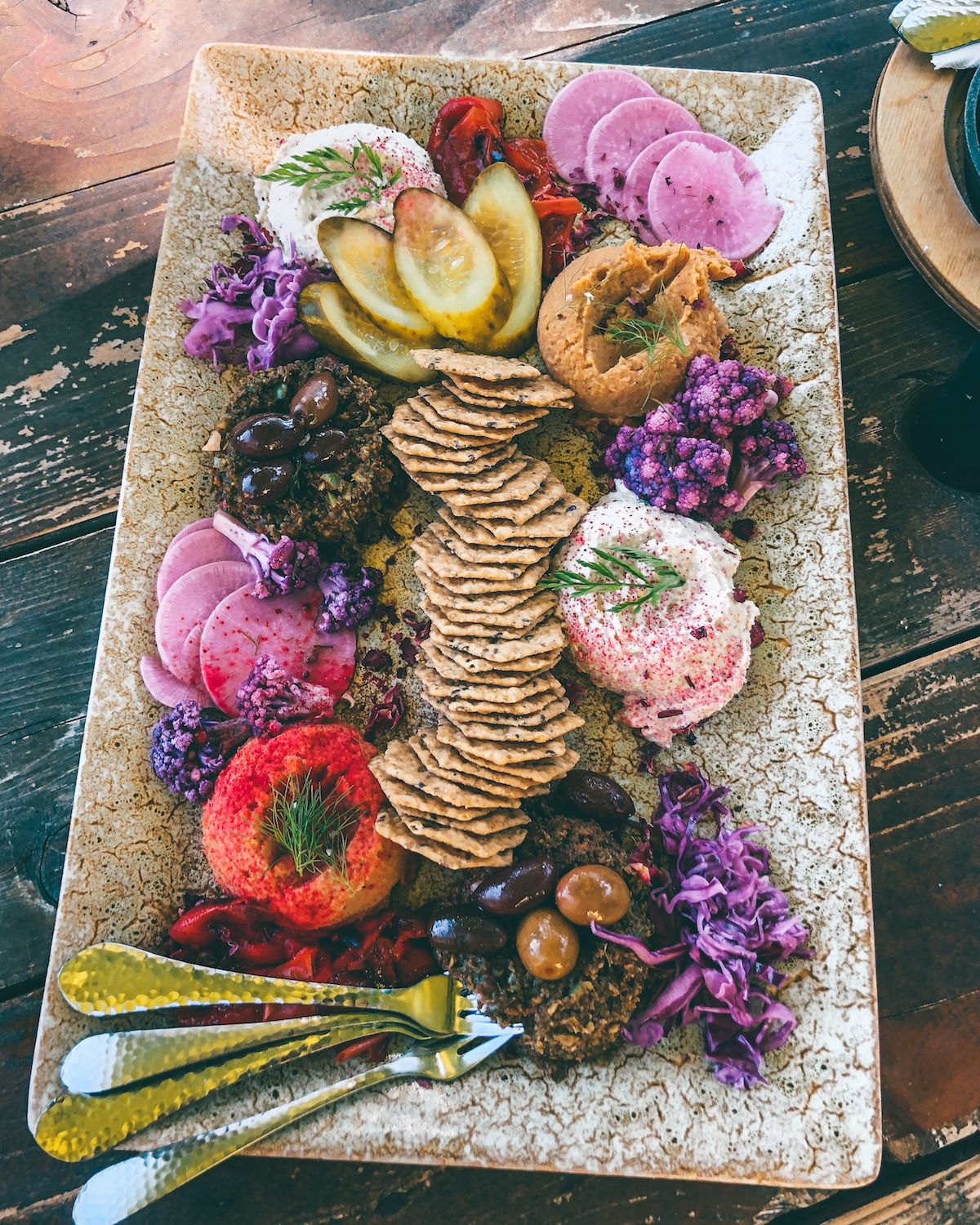 Salt Spring Wild Cider House is not only our favourite place to drink cider, but also one of our favourite spots for lunch. A huge outdoor space with many picnic tables overlook the farm, making it a great spot for a sunny day. The items on the menu are perfect for sharing and light enough you won't have to lie down from a food coma after.
We recommend trying a flight of ciders. There are up to 10 to try! Our favourites are the bitter orange-rosemary, farmhouse scrumpy, plum and elder flower/elderberry.
Too cold to sit outside? Salt Spring Wild Cider has an indoor dining room and new offerings on their menu. For small plates, they are featuring roast aubergine with whipped feta and pan-friend scallops. For larger plates, try their cider braised lamb shank, chicken Marbella, or pan-seared wild coho (North Pacific salmon) with chimichurri. Yum! The tunes are also great in the dining room.
Must try: mezze platter & jerk chicken
14. Best for evening drinks: Moby's Pub
Moby's Pub is the locals bar where you can listen to live music, have a few cold beverages and order some bar bites. Currently kitchen hours are until 9 PM from Tuesday-Sunday and bar hours are until 10 PM.
15. Best for food made-from-scratch: Rock Salt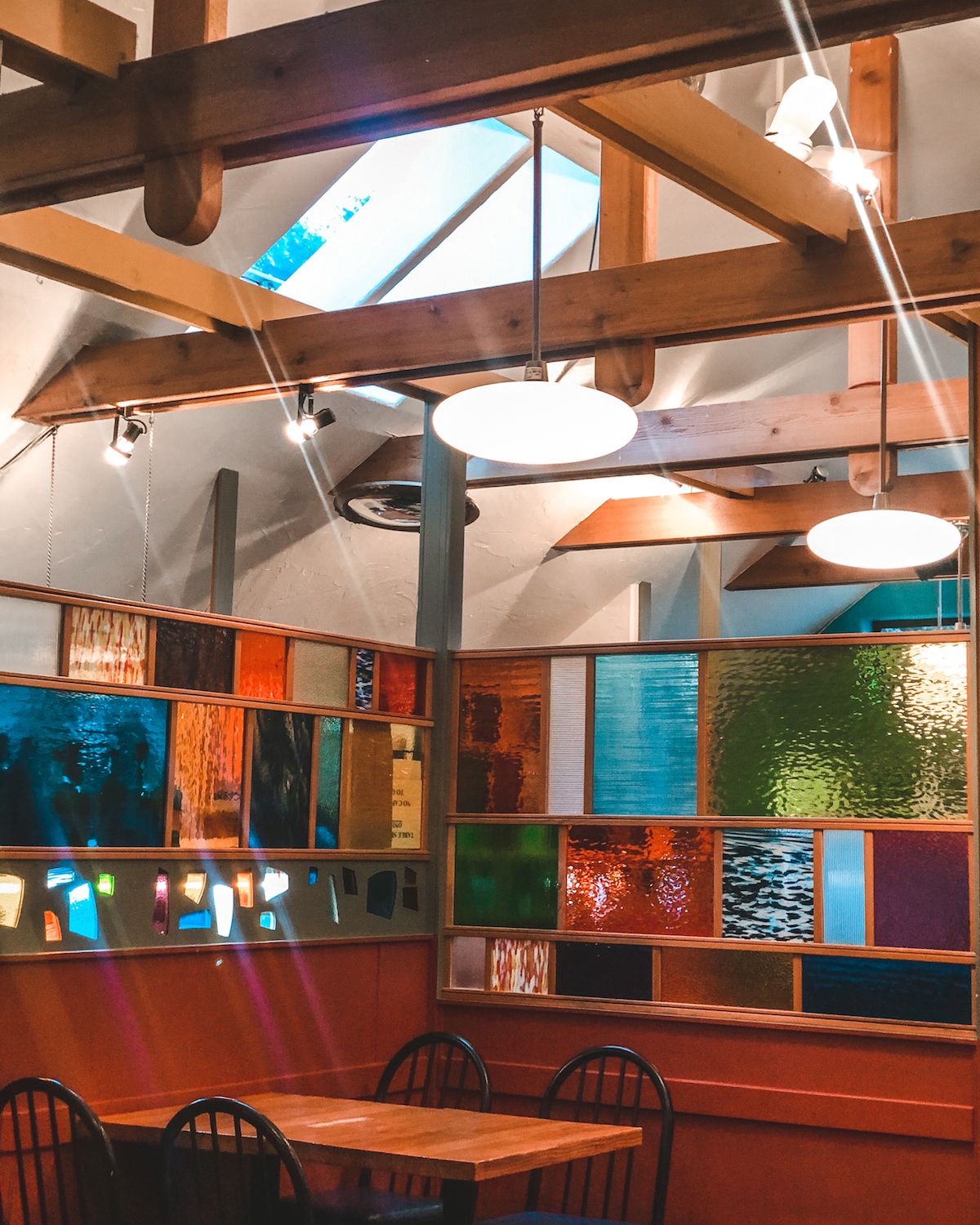 Down south in the quaint village of Fulford Harbour you will find Rock Salt. Their delicious food is all made from scratch and focusses on local ingredients. They have a dining room with 180° ocean views and a cafe where you can order food to go. This is great if you need to catch the ferry nearby. The best quick treat to grab is their cheese bun stuffed with different daily ingredients, such as pulled pork or mushrooms.
Must try: Cider braised pulled pork burger served on a potato bun
16. Best for Mexican: Dos Amores Tortilleria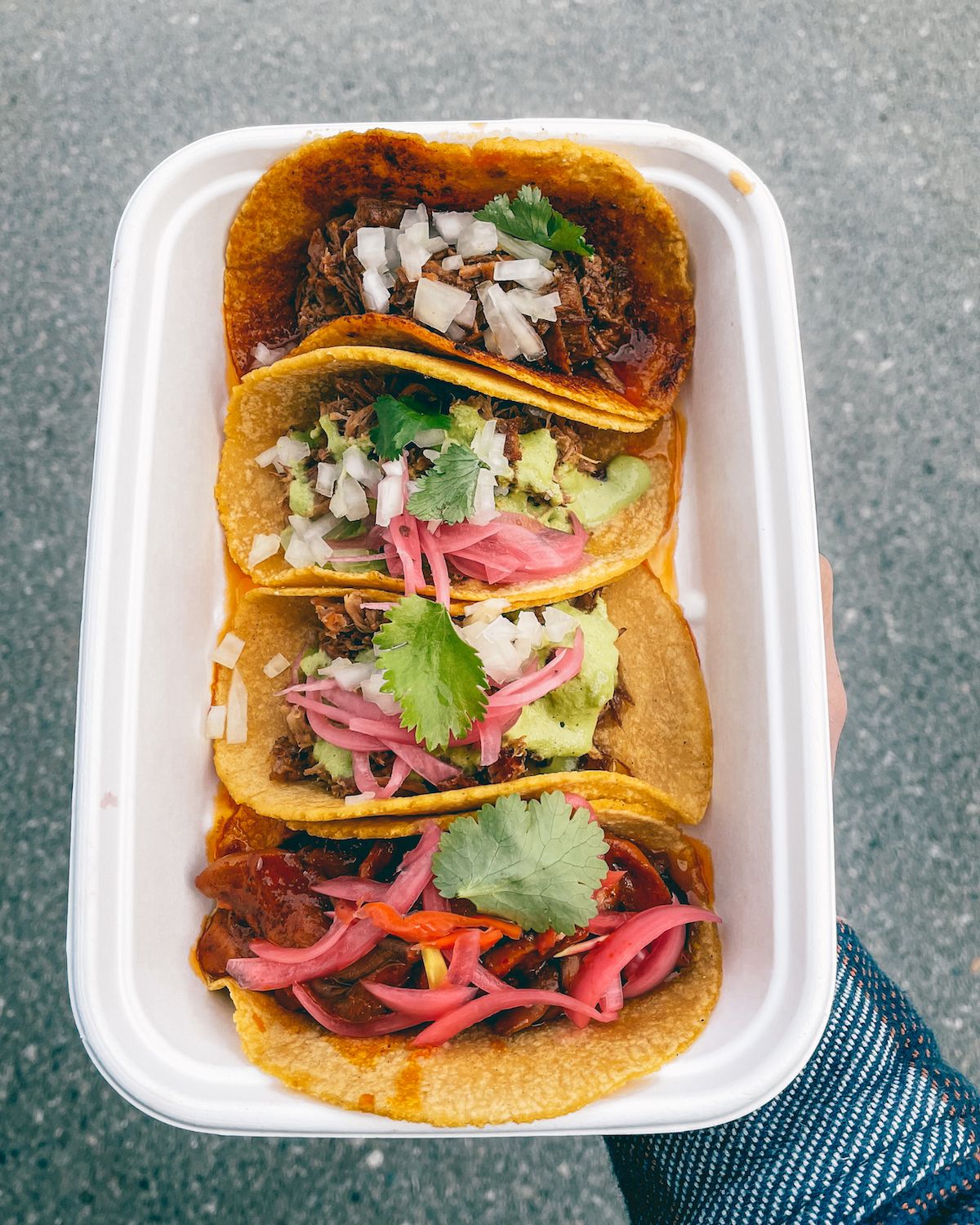 The newly opened Dos Amores Tortilleria produces fresh corn tortillas and serves mouthwatering Mexican food through their takeout window. The head chef was born and raised in Mexico, so it's a real treat trying authentic Mexican dishes like Chilaquiles, fried tortillas simmered in a delicious sauce containing salsa roja, crema, feta, onion and cilantro with pinto beans.
Must try: Deb's Carnitas (Pork) Taco and Mushroom Pibil Taco
Planning a trip to the island? Don't miss our list of the top 10 things to do in Salt Spring Island or the best Airbnbs and hotels for a weekend getaway.
Save and pin these Salt Spring Island restaurants for later: