The food on Hornby Island is fresh. Chef's give special importance to sourcing ingredients from local farms and create dishes based on the island's growing seasons. The community's creative flare and focus on craft make Hornby Island a unique destination for the food enthusiast. We list 6 Hornby Island restaurants you don't want to miss!
Planning a trip to the island? Don't miss our list of 23 fun things to do on Hornby Island
Overview: 6 Hornby Island restaurants you have to try
6 Unique Restaurants on Hornby Island BC
Disclosure: Some of the links below are affiliate links, meaning at no additional cost to you, we will earn a commission if you click through and make a purchase. We only recommend products or services we have used or that we believe will add value to our readers. Thank you for supporting us!
1. Best for the setting
The Table at Isla de Lerena Vineyards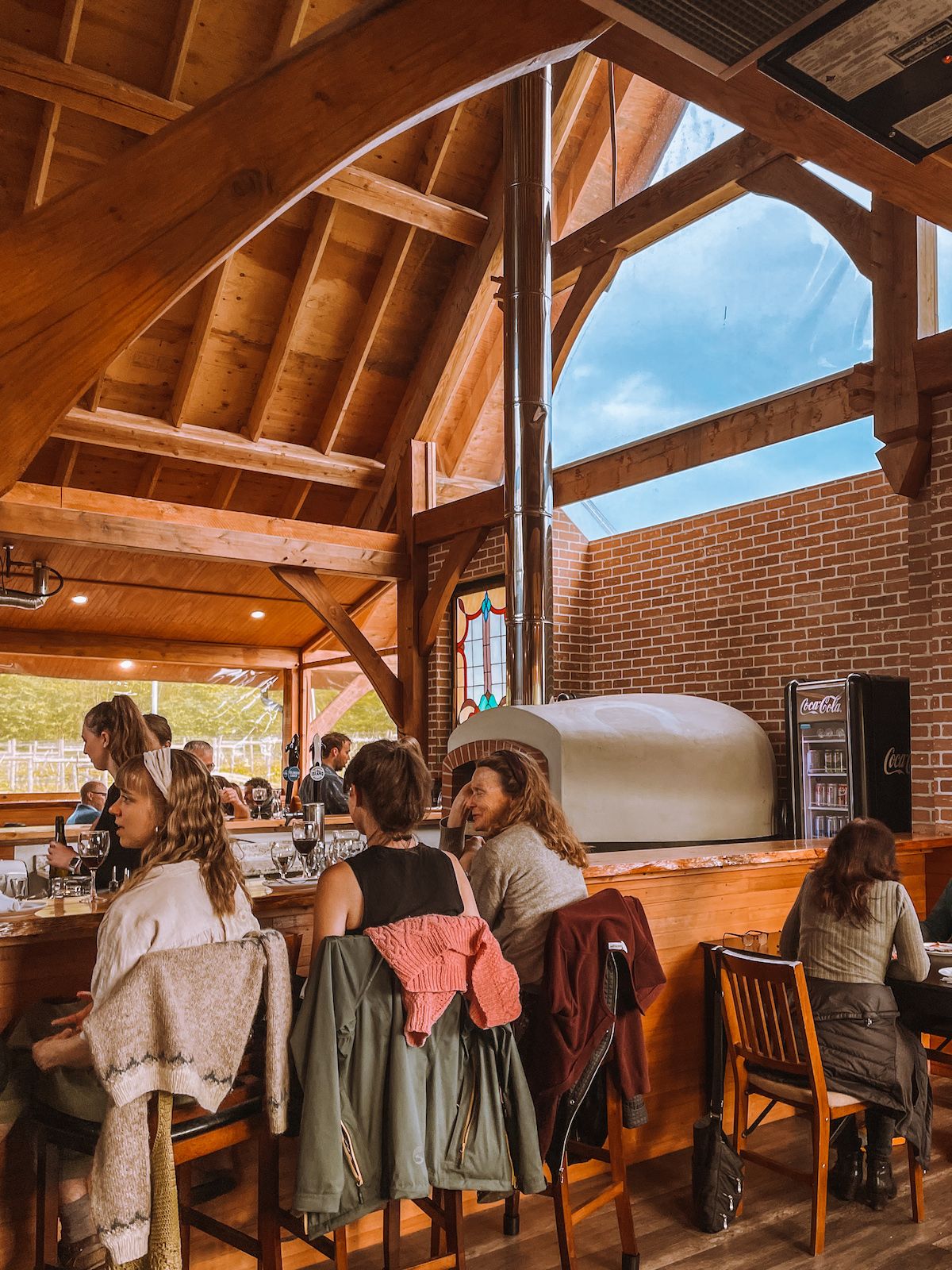 Dine on the vineyard at Isla de Lerena's new restaurant, The Table. Even on a grey day, sun spills into the dining room from the large open gable ends of the timber frame building. The focal point here is the authentic Neapolitan pizza oven and surrounding bar. Charming servers and a buzzing atmosphere make a perfect setting for a lively date or outing with friends.
Drop by for a wine tasting beforehand (tasting room closes at 5pm) and enjoy a glass of wine at a picnic table along the vineyard while you wait for your dinner reservation. The winery features live music during summertime from 5:30pm - 7:30pm.
We highly recommend making your dinner reservation online in advance.
Dining room hours: Tuesday - Saturday from 5pm - 8pm.
2. Best for comfort food:
Hornby Island Bakery & Pizzeria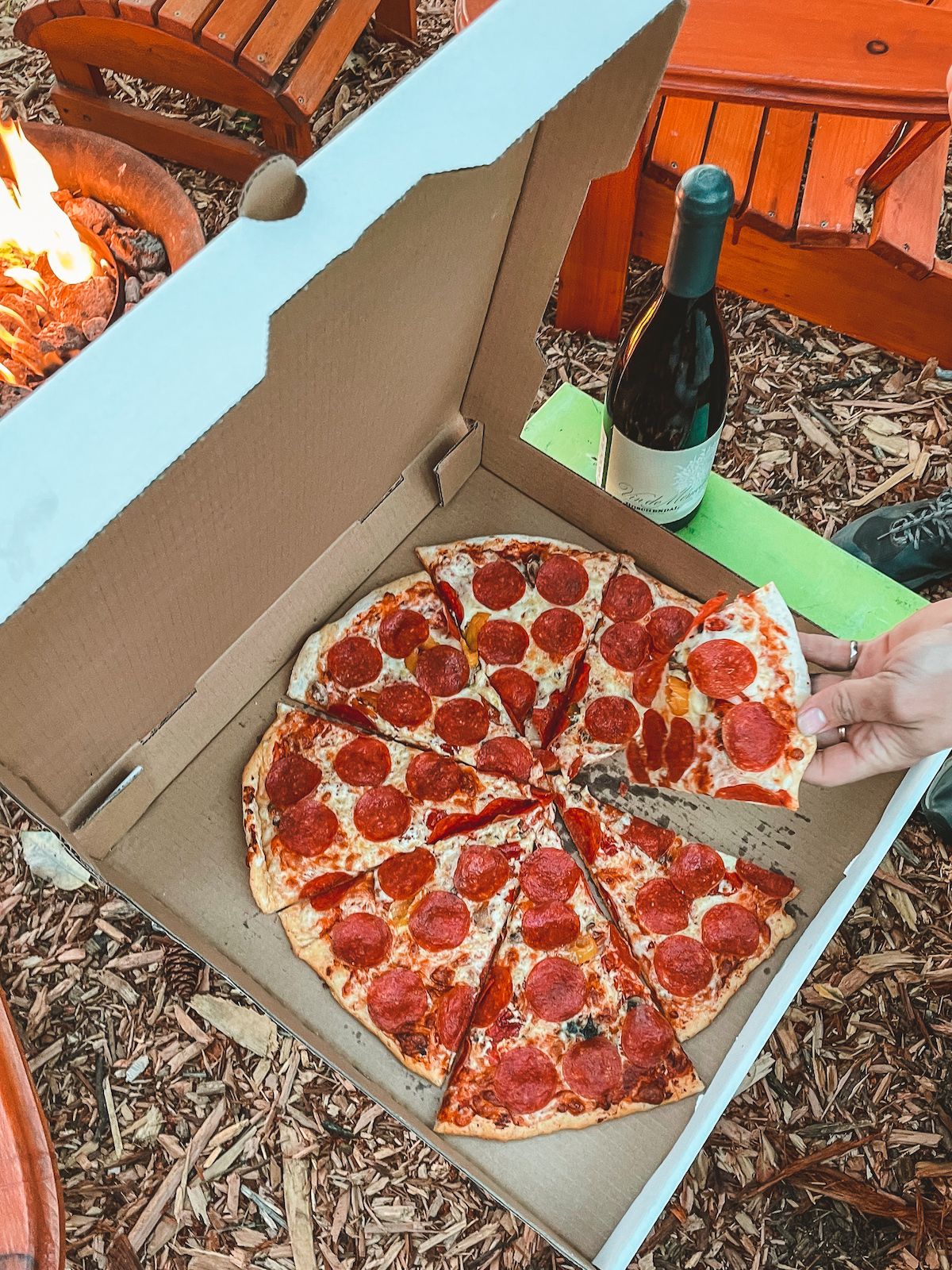 We pulled up to Hornby Island Bakery & Pizzeria hoping we could get our hands on a pie before they closed. Although they were closing up, Jon, the gregarious owner, happily fired up the oven to make sure we didn't head to our campsite hungry!
As he pointed to old photos on the wall, we learned that the family-owned pizza joint has been around since the 1970s. It all started when his parents and their friends purchased 80 acres of land collectively on Hornby Island. To help pay the property taxes, his parents took their traveling pizza cart around BC to music festivals and craft fairs. The family recipe has been a Hornby Island staple throughout the decades and in fact, it was Jon's daughter that made us our pizza.
The pizzas themselves are just as special as their history, with the dough and sauce made-from-scratch. We ordered the Betty Special, with thinly sliced pepperoni, mushrooms, onions and banana peppers. The banana peppers were cleverly placed underneath the cheese to add the perfect "zing" on your tongue.
We took our pizza back to our fire pit at Fossil Beach Farm to watch the sunset. It was a magical evening!
On Fridays, don't miss their live jazz night on their big lawn.
Hours: 12pm - 8pm
3. Best for oceanfront dining:
The Breeze Restaurant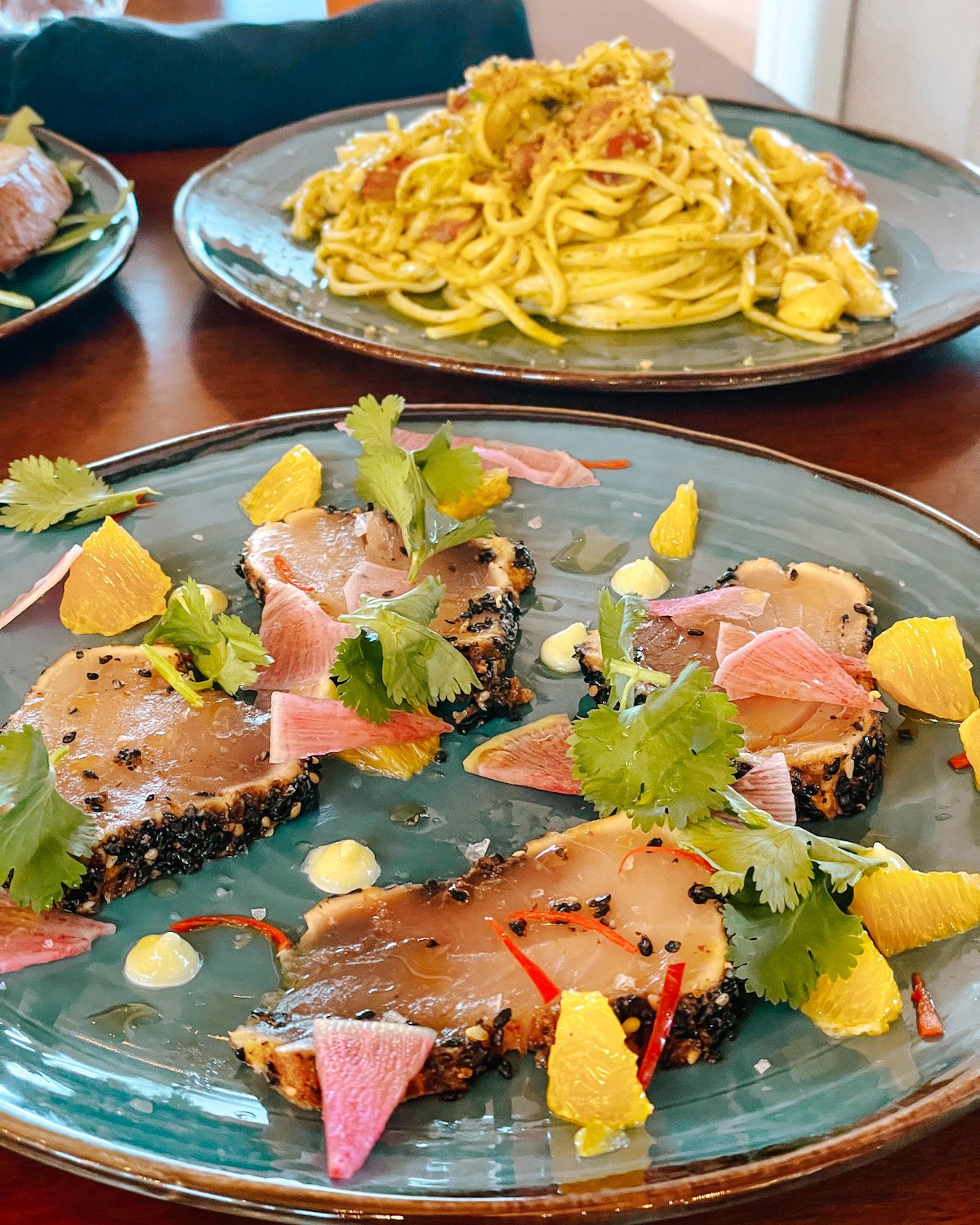 Sit on the wrap-around patio of The Breeze Restaurant to take in oceanfront views and eat fresh West Coast cuisine.
Make sure to try their delicious and creative hand-crafted cocktails, you won't regret it! The Breeze Restaurant is part of
Sea Breeze Lodge
, the only hotel-like accommodation on the island.
During summer season (June 27 - August 30) the restaurant is open daily. Don't miss their Happy Hour (3-5 pm) for al-la-carte bites and refreshing cocktails, and their dinner buffet seating (6:30-8:30 pm) for themed nightly menus.
Outside of their summertime season you may find difficulty in getting a reservation since they host many weddings and events. Reserve online in advance to avoid disappointment.
4. Best for baked goods:
Hummingbird Bread Co.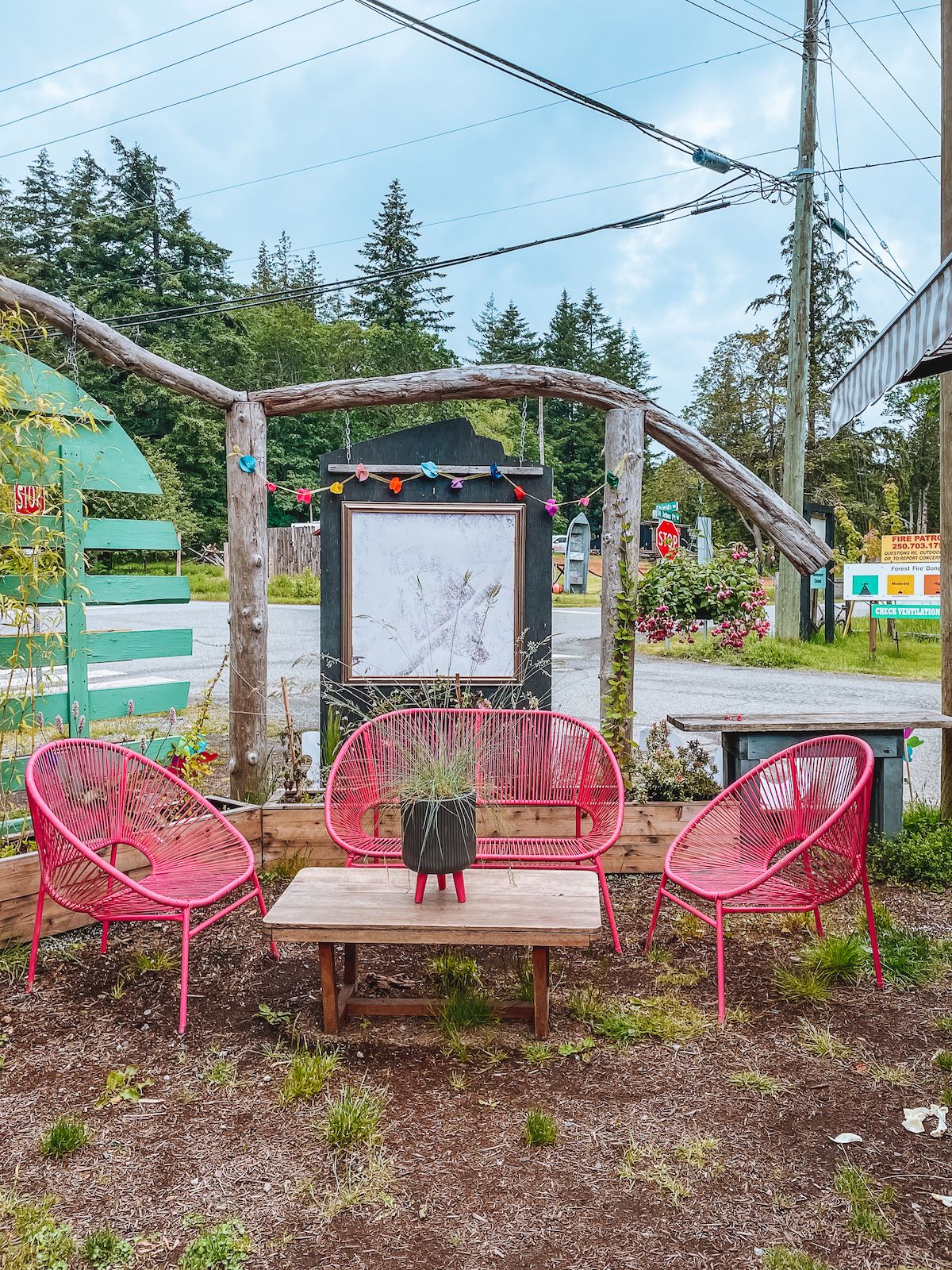 Starting off your morning with a pastry from Hummingbird Bread Co. is always a delightful experience. You are greeted with a big smile and an enthusiastic explanation of the day's creations that sure gets your taste buds going.
Located in the Ringside Market, sweet and savoury baked goods, including a three-day wild fermented sourdough are served from a cute food trailer. With a varied and changing menu there is always something to satisfy your morning craving.
We loved their ham and Swiss cheese brioche. Afterwards, grab a coffee at Lix next door and browse Ringside Market.
Hours: typically Thursdays - Sundays (10 am - 2pm), but hours can vary. Check their Instagram for updates.
5. Best for brunch:
Forage Farm & Kitchen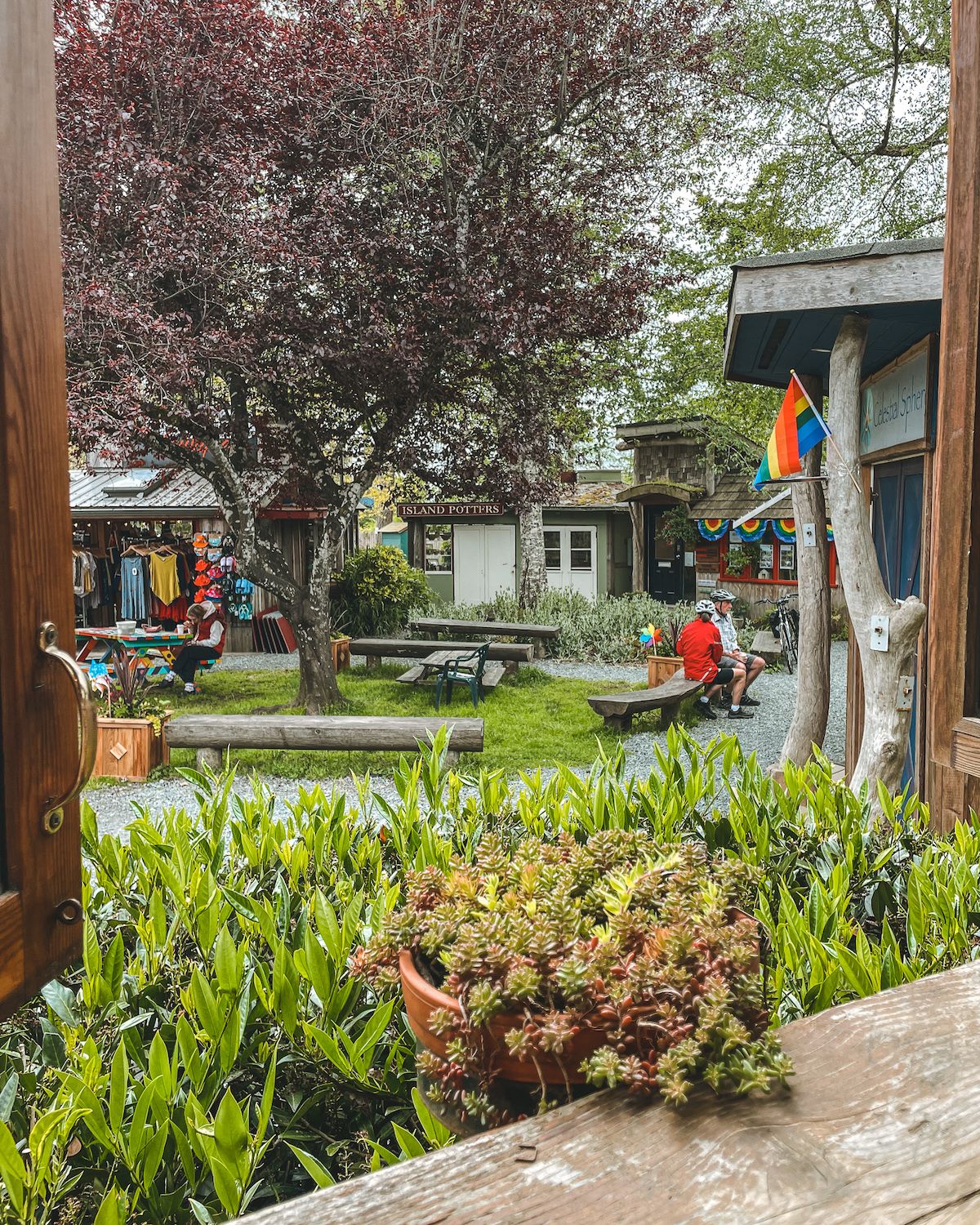 Fuel up with a fresh brunch at Forage as you feel the summer breeze flow in from the open windows. The farm-to-table restaurant uses fresh ingredients daily from its family-run farm and creates its menu based on what's in season.
Hours: vary throughout the year. During summertime they typically open daily for brunch from 10:30 am-3:30 pm. Check their Instagram for updates.  
6. Best for a quick bite
Sizzle Food Truck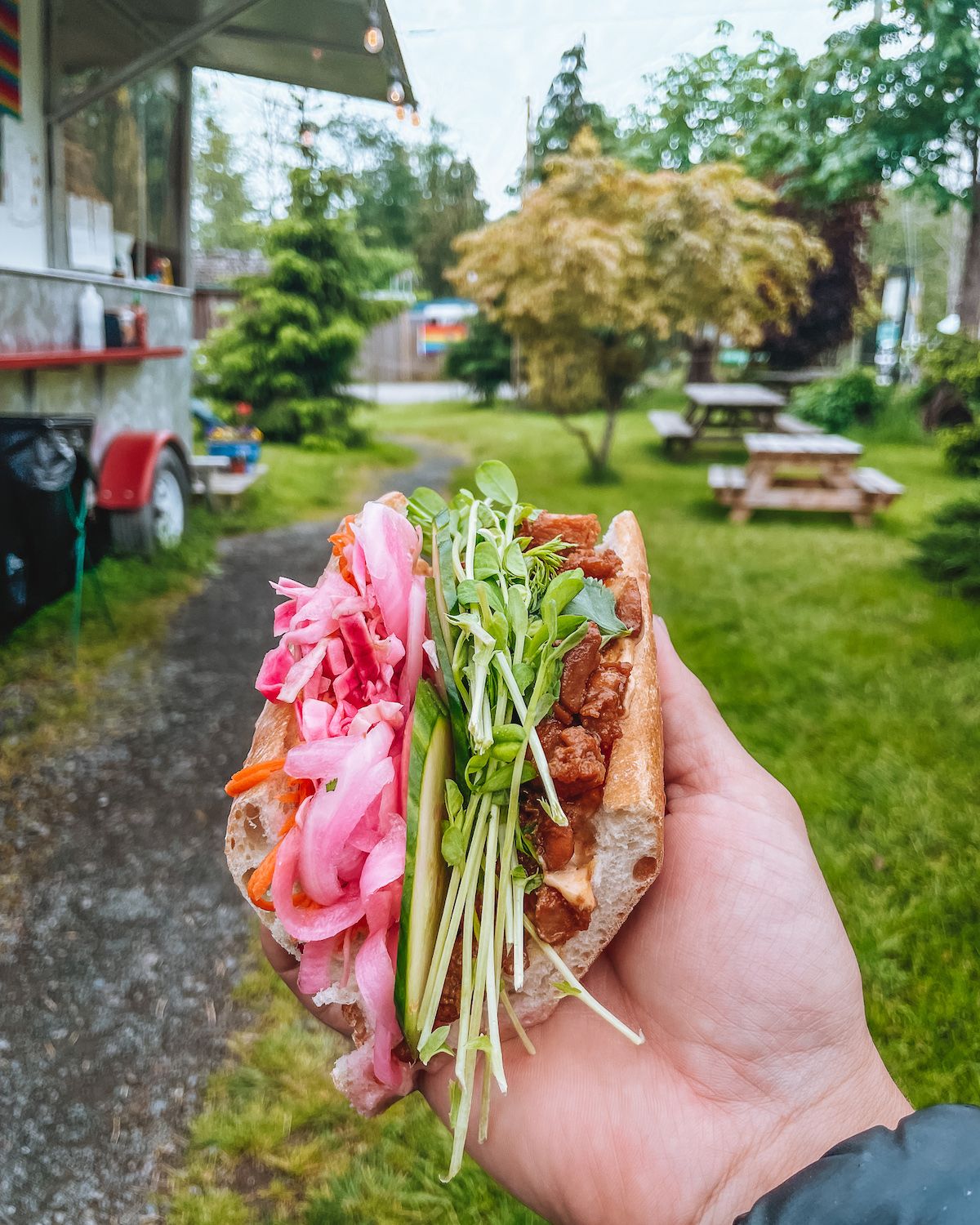 If you're looking for a quick bite, make a stop at the Sizzle food truck for some East-Asian delights. The Vietnamese sandwich was satisfying with the perfect proportion of grilled chicken, pickled veggies and sriracha mayo on a freshly baked bun. We made the big mistake of just sharing one!
Sizzle serves their lunch menu after 11:30am. Check out their Facebook for updates.
---
Don't miss our review of glamping on Hornby Island at Fossil Beach Farm
---
Start planning your trip to Hornby Island
---
Want to explore more of the Gulf Islands? See our restaurant guides for Galiano Island, Salt Spring Island and Pender Island.
---
Save and pin the restaurants on Hornby Island for later: