Although Gabriola Island has a big art scene, its food scene is quite small with a limited amount of restaurants. There are, however, some special spots on the island that have their own twist and focus on supporting local.
We list the 7 best restaurants on Gabriola Island, Canada, each for a unique reason. Ari spent a month at a log home building course on the island and these are his top picks.
Planning a trip to the island? Don't miss our list of 14 fun things to do on Gabriola.
Overview: Gabriola Island Restaurants
7 Best Restaurants on Gabriola Island ⤵
Disclosure: Some of the links below are affiliate links, meaning at no additional cost to you, we will earn a commission if you click through and make a purchase. We only recommend products or services we have used or that we believe will add value to our readers. Thank you for supporting us!
7 Unique Restaurants on Gabriola Island
1. Best for coffee: Mad Rona's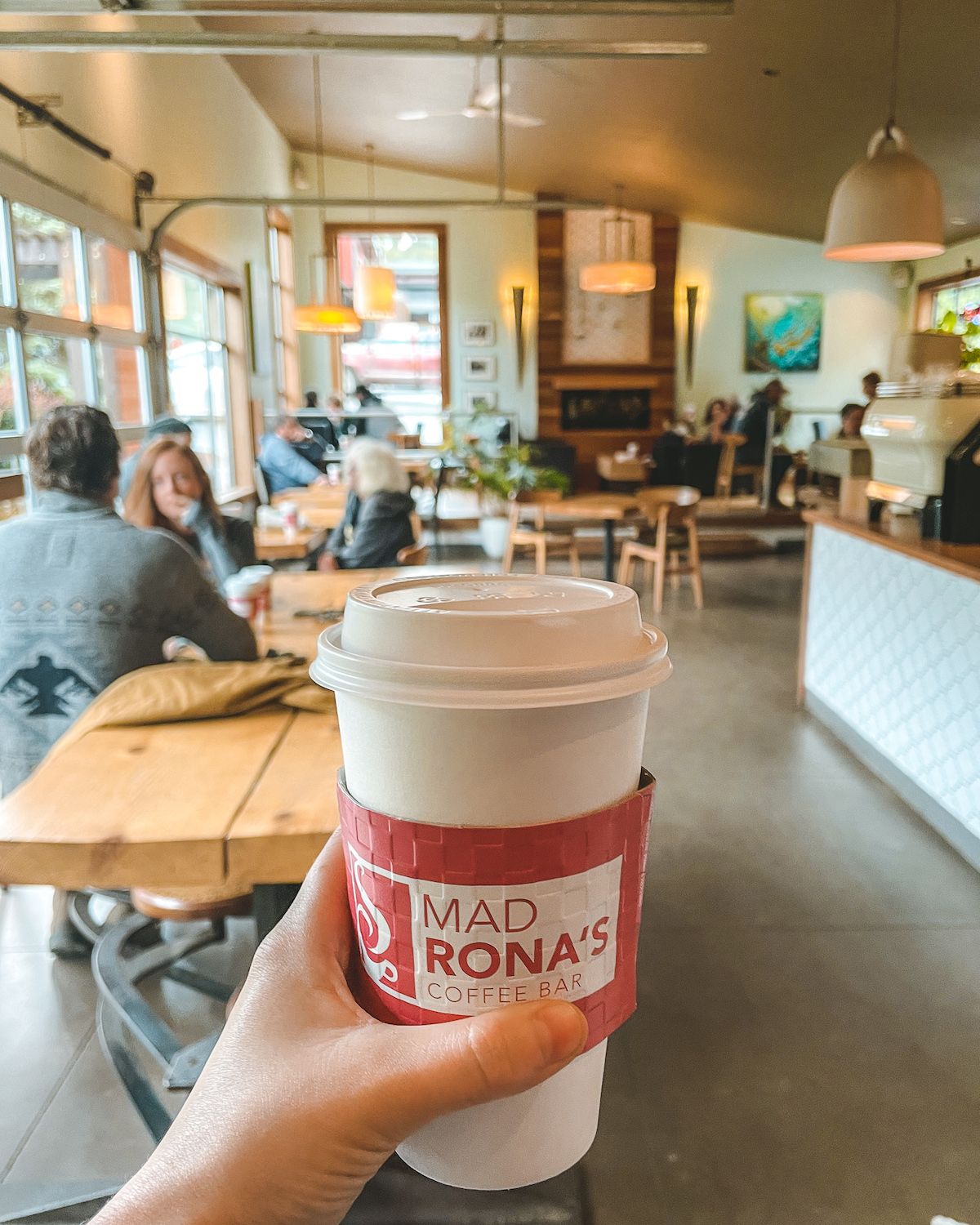 Kickstart your island exploration with a boost of coffee at Mad Rona's. This charming cafe is known for its friendly service and strong coffee, which they source from Drumroaster Coffee, a local small-batch roaster on Vancouver Island. Whether you prefer an espresso, iced coffee, or latte, you're in for a treat.
If you're feeling hungry, Mad Rona's also offers a tasty selection of breakfast sandwiches and burritos that can be heated up to satisfy your morning cravings.
2. Best for dinner: Woodfire Restaurant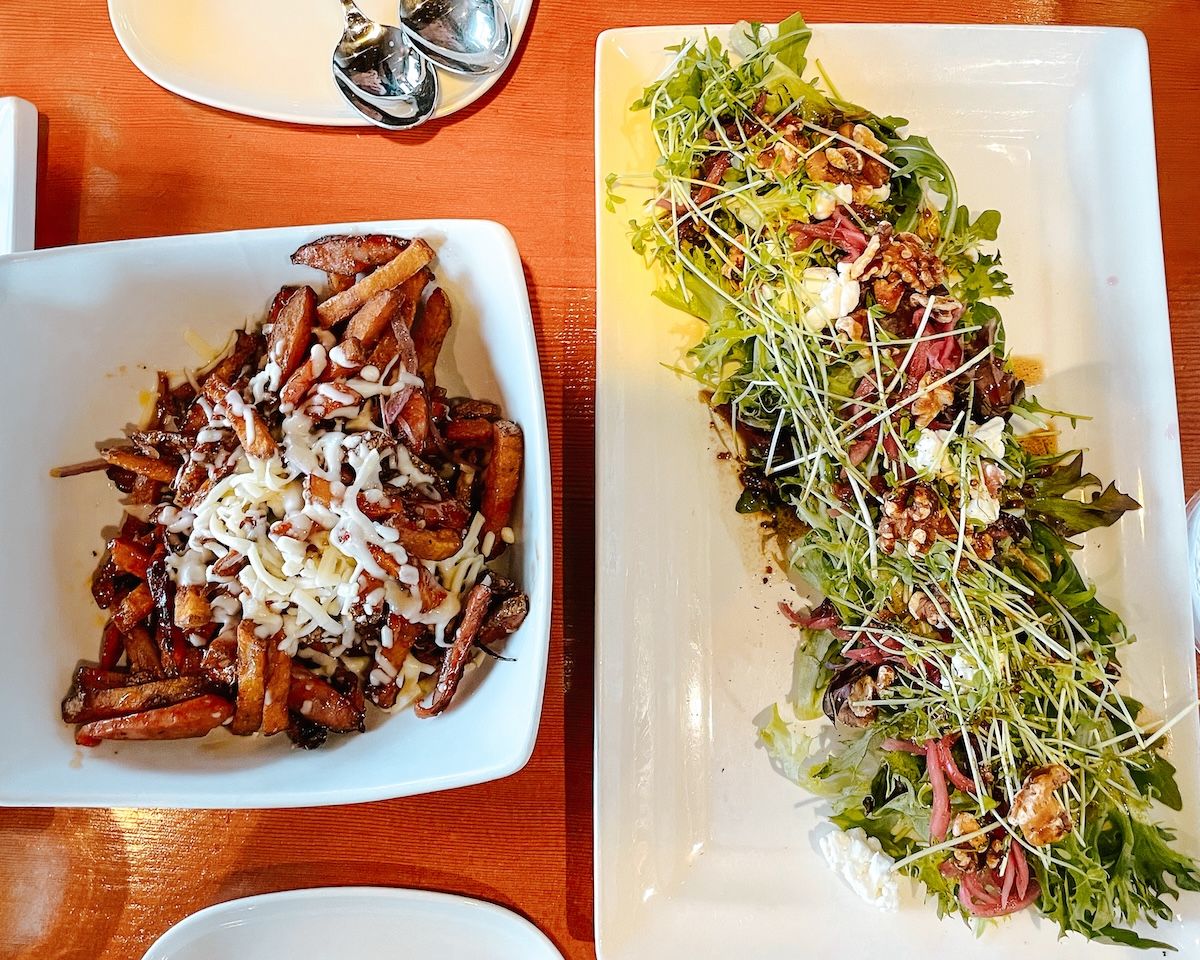 For elevated comfort food in a buzzy space, dine at Woodfire Restaurant. The happening restaurant plays loungy deep house music and serves up West Coast and Mediterranean dishes with a twist. It's also a great place to hang out with friends since you can order cocktail jugs. Reservations are recommended (call to make your reso).
Must try: Gertie fries (skinny fries with chorizo, red onions, mozza and sweet chilli)
3. Best for a unique setting: Ravenskill Orchards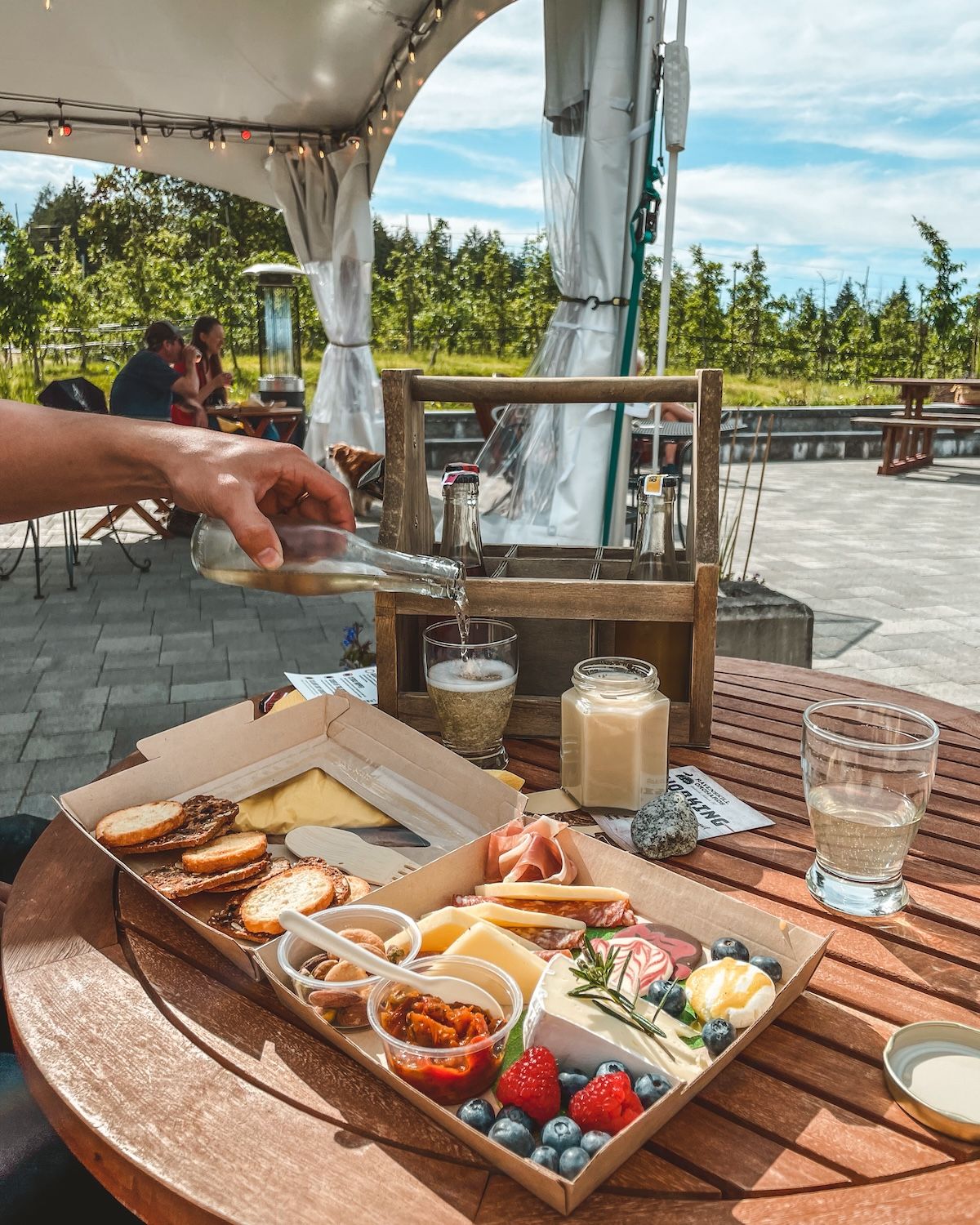 Although Ravenskill Orchards isn't necessarily a restaurant, it's a great place to taste ciders and charcuterie bites. With their outdoor patio set up along the farm-style cider house and orchard, it's a serene setting to unwind. Our favourite ciders we tried were the Citrus Hopped Cider and Groovin' Granny.
4. Best for ocean views: Surf Lodge Restaurant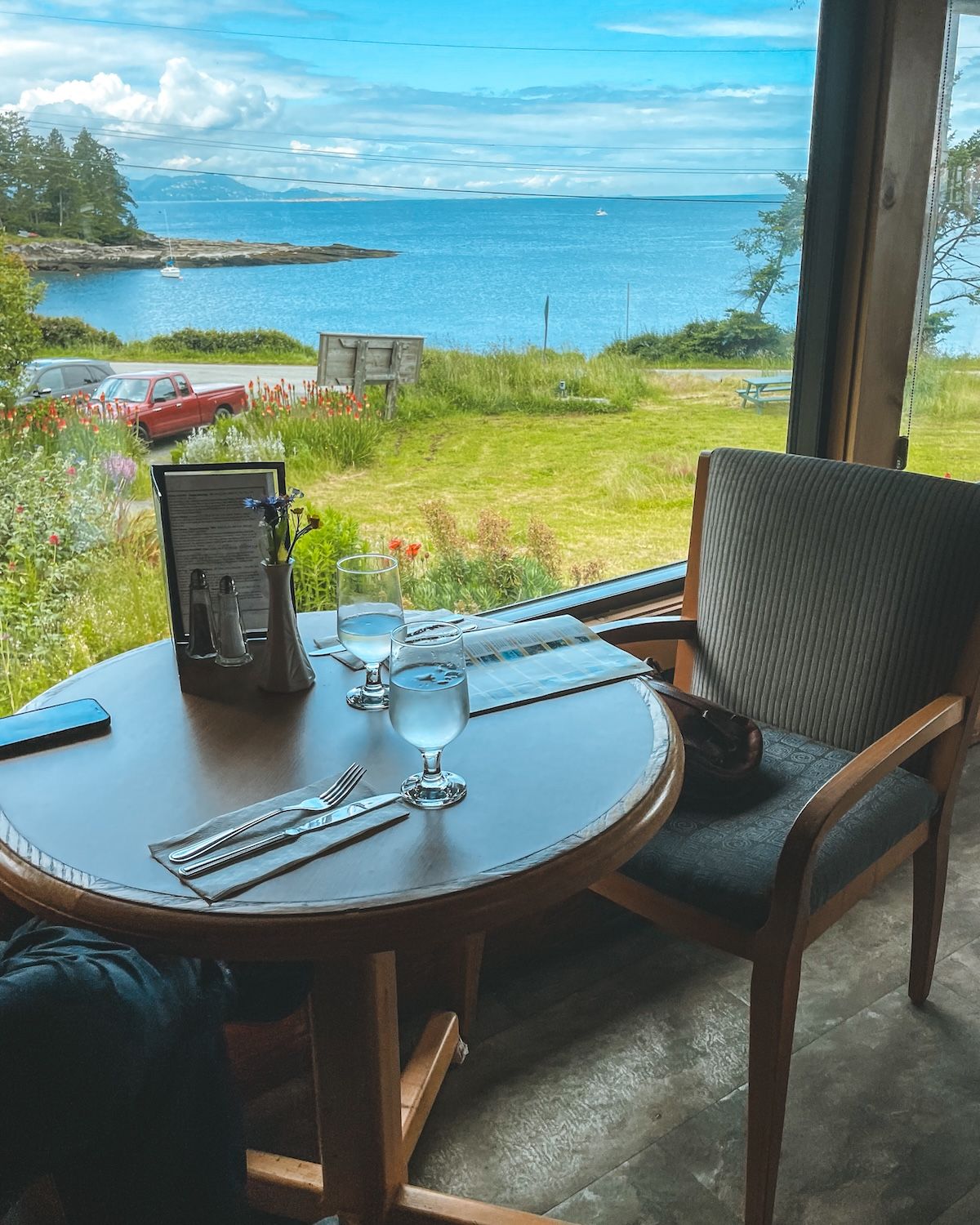 Enjoy the ocean views while you eat in the dining room of the historic Surf Lodge.
The lodge has been hosting guests since 1940 and is a unique space to explore with its funky furnishings and exposed beams crafted from reclaimed beach logs.
5. Best for comfort food & drinks: The Surf Pub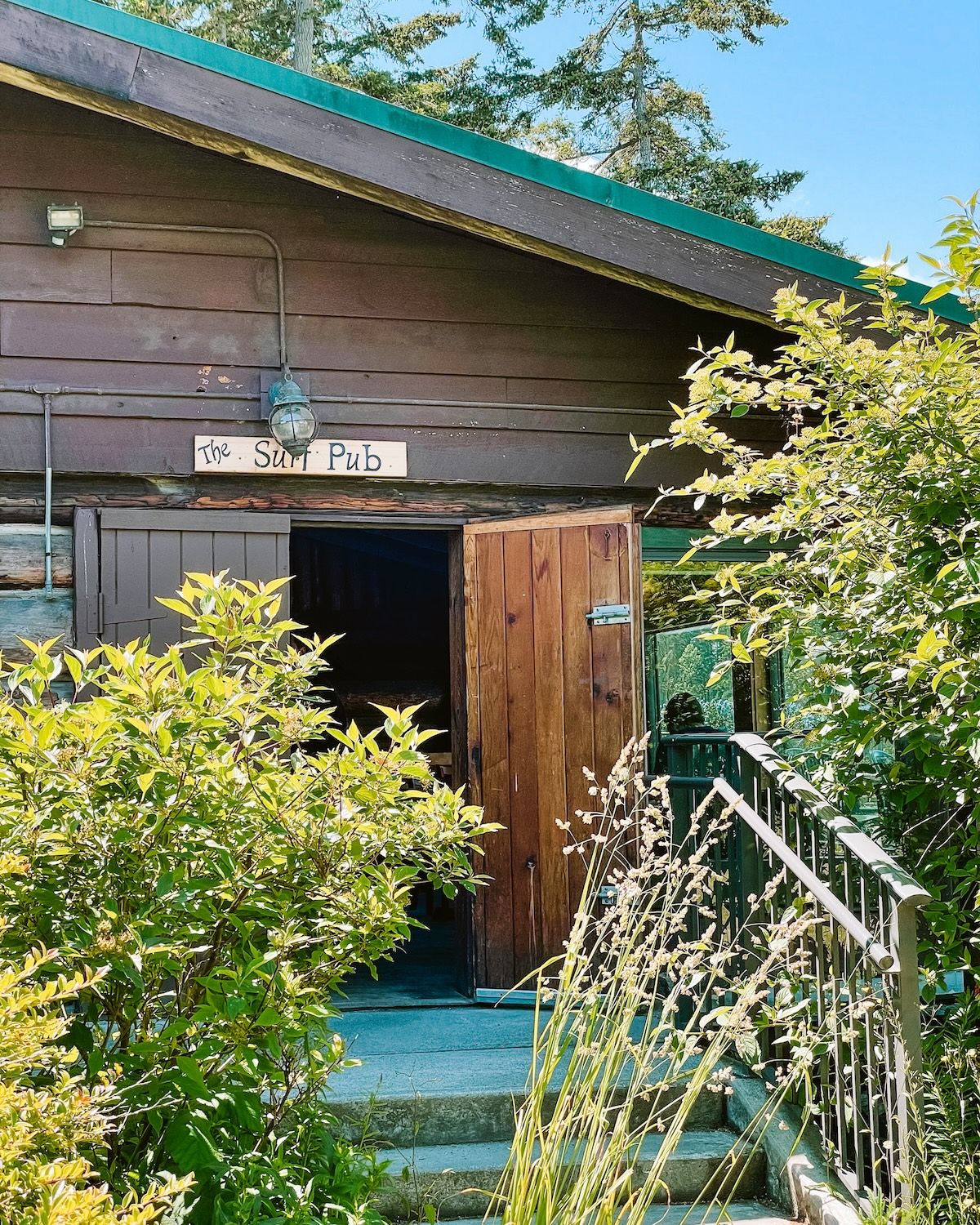 Located just next door to the Surf Lodge, The Surf Pub is the best pub on Gabriola Island for food and drinks. The cozy log cabin is a favourite with locals and offers tasty classics with their new chef on board.
Must try: Chicken wings tossed in blue cheese hot sauce, and if you're up for a burger, try the "dirty hippy" with two house made veggie patties, bacon and cheese!
6. Best for a farm-to-table lunch: Ground Up Cafe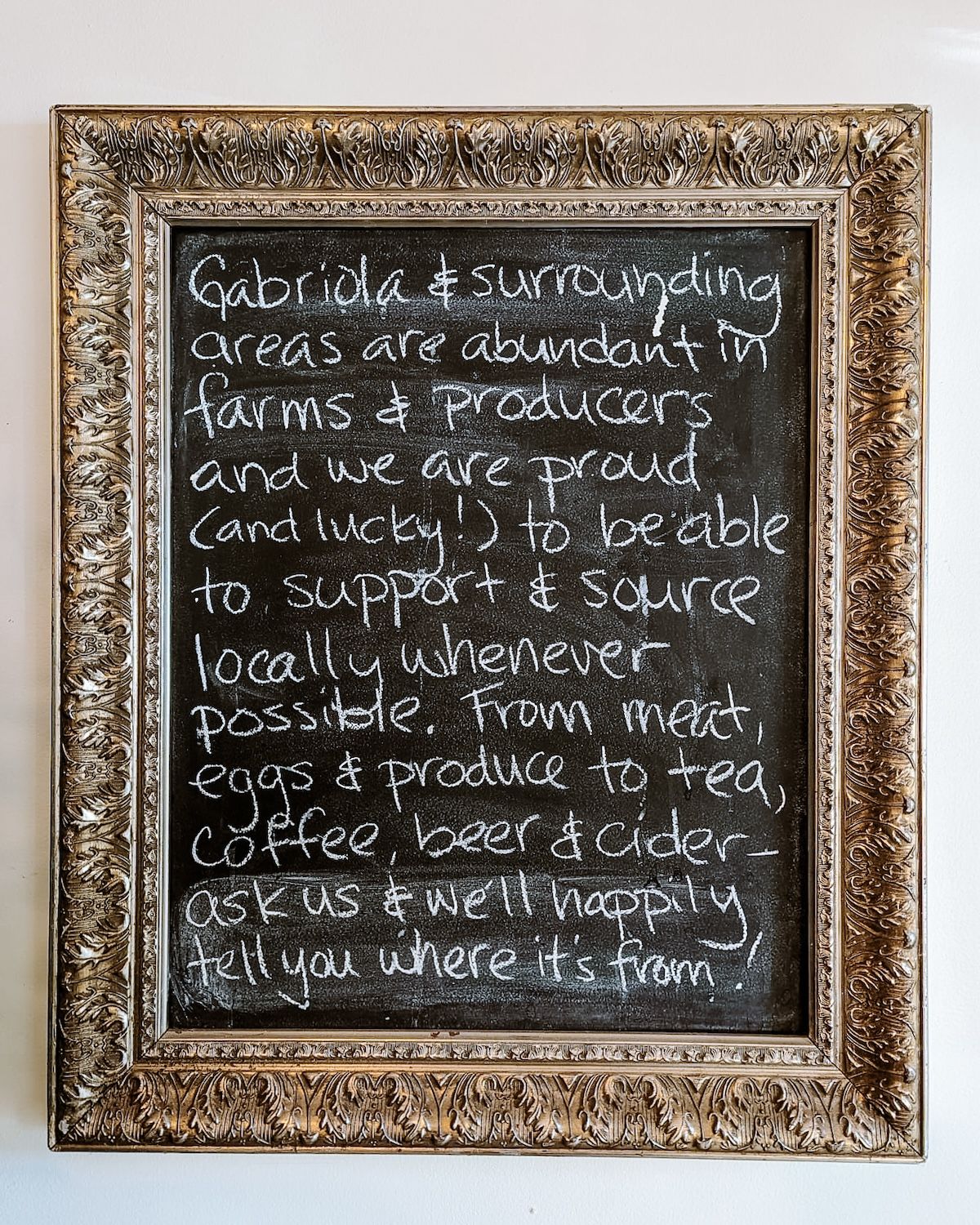 Now over a year old, Ground Up Cafe is Gabriola Island's newest restaurant offering breakfast and lunch. They proudly source ingredients for their dishes from local farms and producers.
Sit on their outside patio and enjoy their fresh items, like their special of the day, local roast beef sandwich, miso rice bowl or pulled chicken burrito.
7. Best for a picnic: The Fire Truck Grill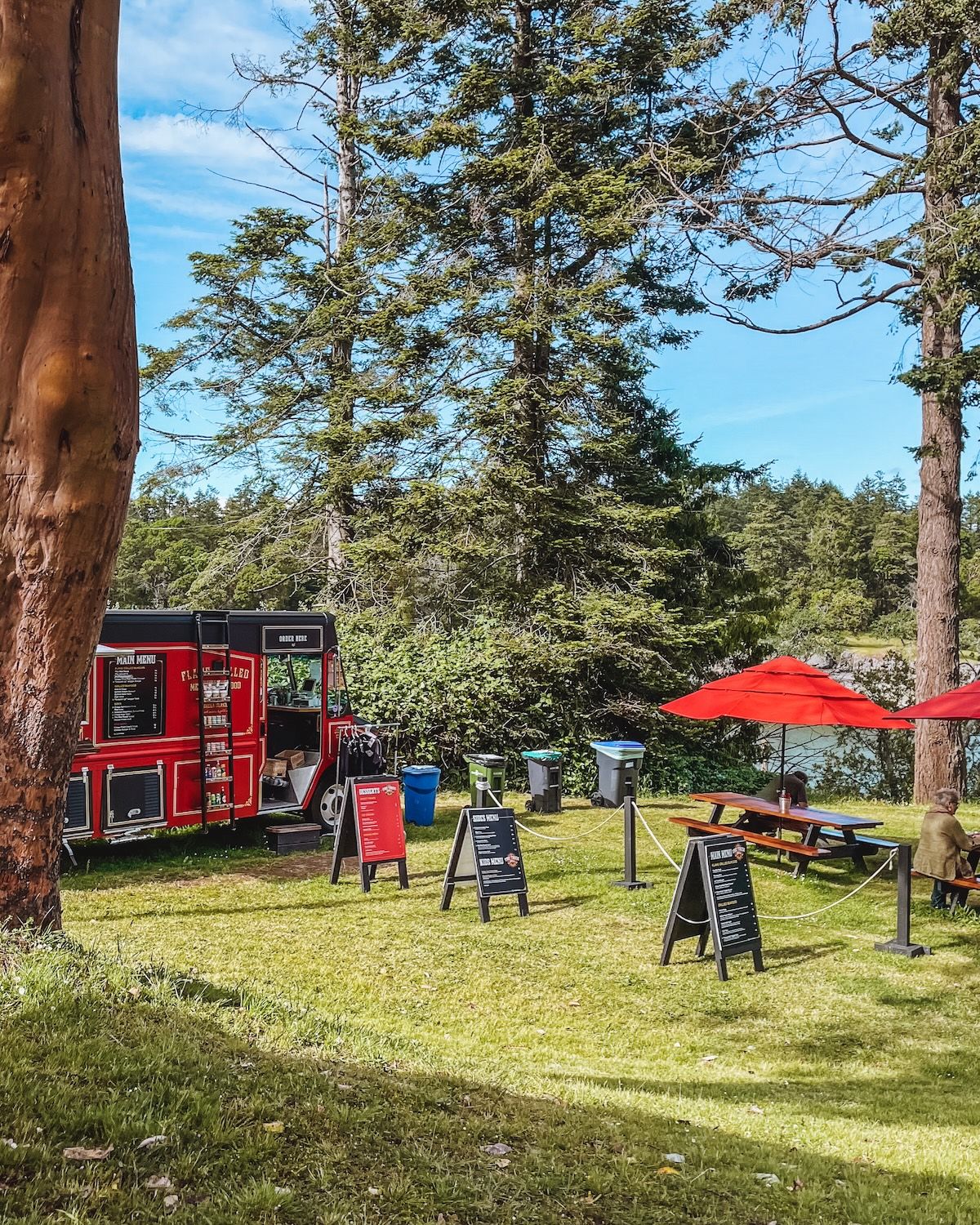 Parked at Page's Inn on Silva Bay, the Fire Truck Grill is an extension of Woodside Restaurant and serves classics from their grill, like beef, lamb, ahi tuna and jerk chicken burgers. From their picnic tables, you have views of Silva Bay. Check out their summer hours to see when they're open.
✔️ Top Tip: visit the food truck on a Sunday when the artisan market is on. They are located in the same lot.
We hope you enjoyed these restaurants on Gabriola Island!
---
Get started on booking your trip to Gabriola Island
🌃 Accommodation: Booking.com and VRBO are our go-to for finding places to stay. Sort by top reviewed.
⛴ Book your ferry: BC Ferries or Hullo
🚗 Car rental: see Rentalcars.com to compare car rental prices across different companies.
---
Combine Gabriola Island with a road trip through Vancouver Island. See our Vancouver Island itinerary.
Want to explore more of the Gulf Islands in British Columbia? Check out our other island travel guides:
---
Pin and save these Gabriola Island restaurants for later: