After exploring many of BC's Southern Gulf Islands, we felt it was time to explore the less-travelled islands of the north. Hornby Island always piqued our interest. It may be famed for its sandy beaches and warm-ocean swimming, however, what intrigued us was its remote location and the counterculture of artists and intellectuals that arrived in the late 1960s/early 1970s.
You won't get a cookie cutter island experience here. The island has developed a unique identity over time and it is still filled with creatives that contribute to its bohemian character.
We cover 23 fun things to do on Hornby Island, the best time to visit, how to get there and 5 things to do know before you go.  
Overview: What to do on Hornby Island
Disclosure: Some of the links below are affiliate links, meaning at no additional cost to you, we will earn a commission if you click through and make a purchase. We only recommend products or services we have used or that we believe will add value to our readers. Thank you for supporting us!
Best time to visit Hornby Island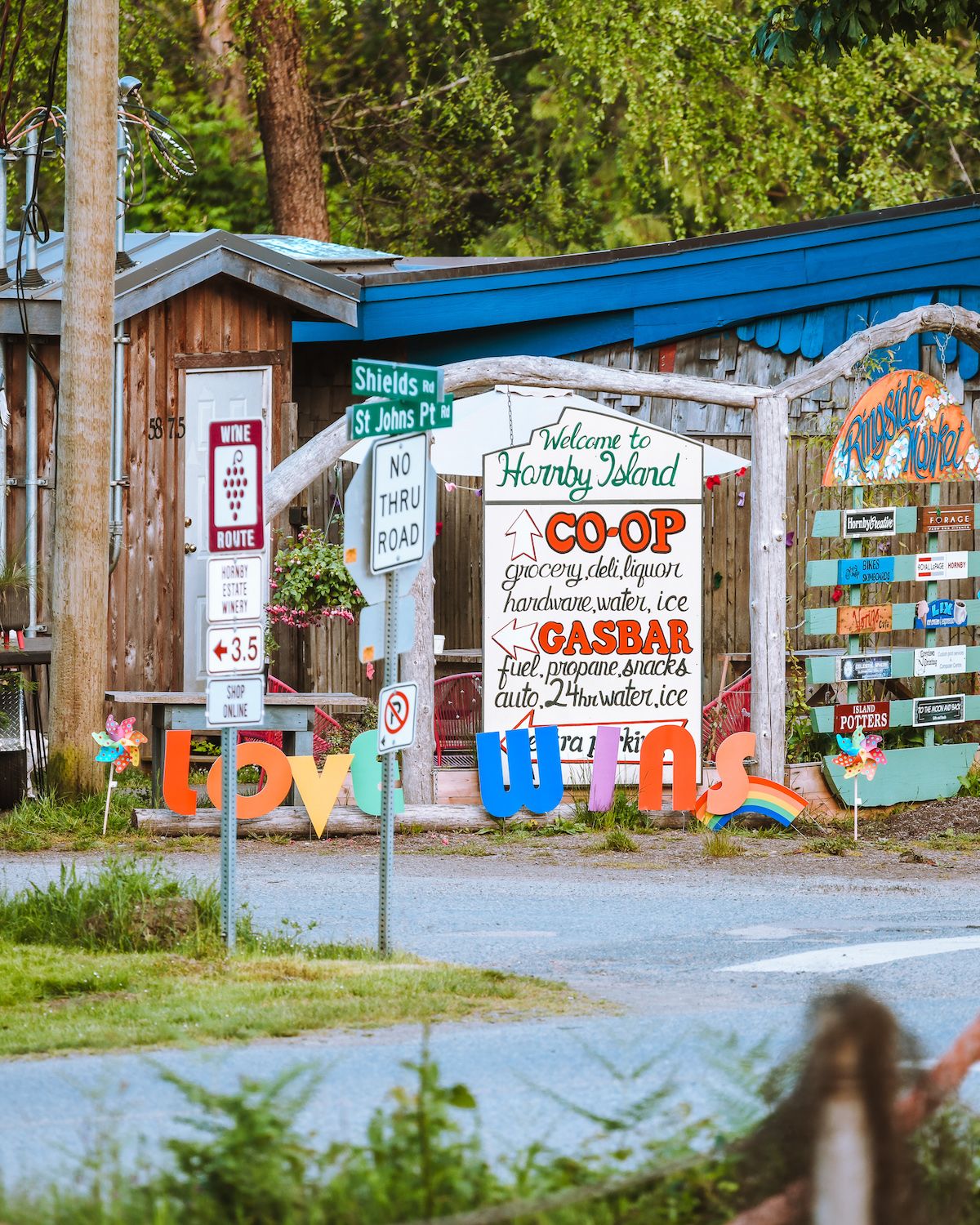 Planning which time to visit Hornby Island is essential since the island doesn't officially "come alive" until its short summer season. If you are excited to visit the artisan market, attend live music events, dine at restaurants and visit spots like studios and wineries, you will need to plan accordingly.
Best time to visit Hornby Island:
May Long Weekend to end of June - on weekends
July/August - Wednesdays-Sundays
September - on weekends
These months see the warmest weather and least amount of rain. July/August is when the island really opens up with the Artisan Market running on both Saturdays and Wednesdays.
We visited in June and learned that most studios aren't set up for visits until July, however, you can see lots of these artisans at the market on Saturday. Some restaurants and wineries are also only open during weekends in the "shoulder season" (May/June and September).
There is a handy tourist map you can get at the ferry terminal that lists cool spots, but the times aren't always accurate. For example, it said Hornby Island Winery was open in June, however it was actually set to open in July.
Google's hours are also inaccurate - check the business's social media pages instead.
How to get to Hornby Island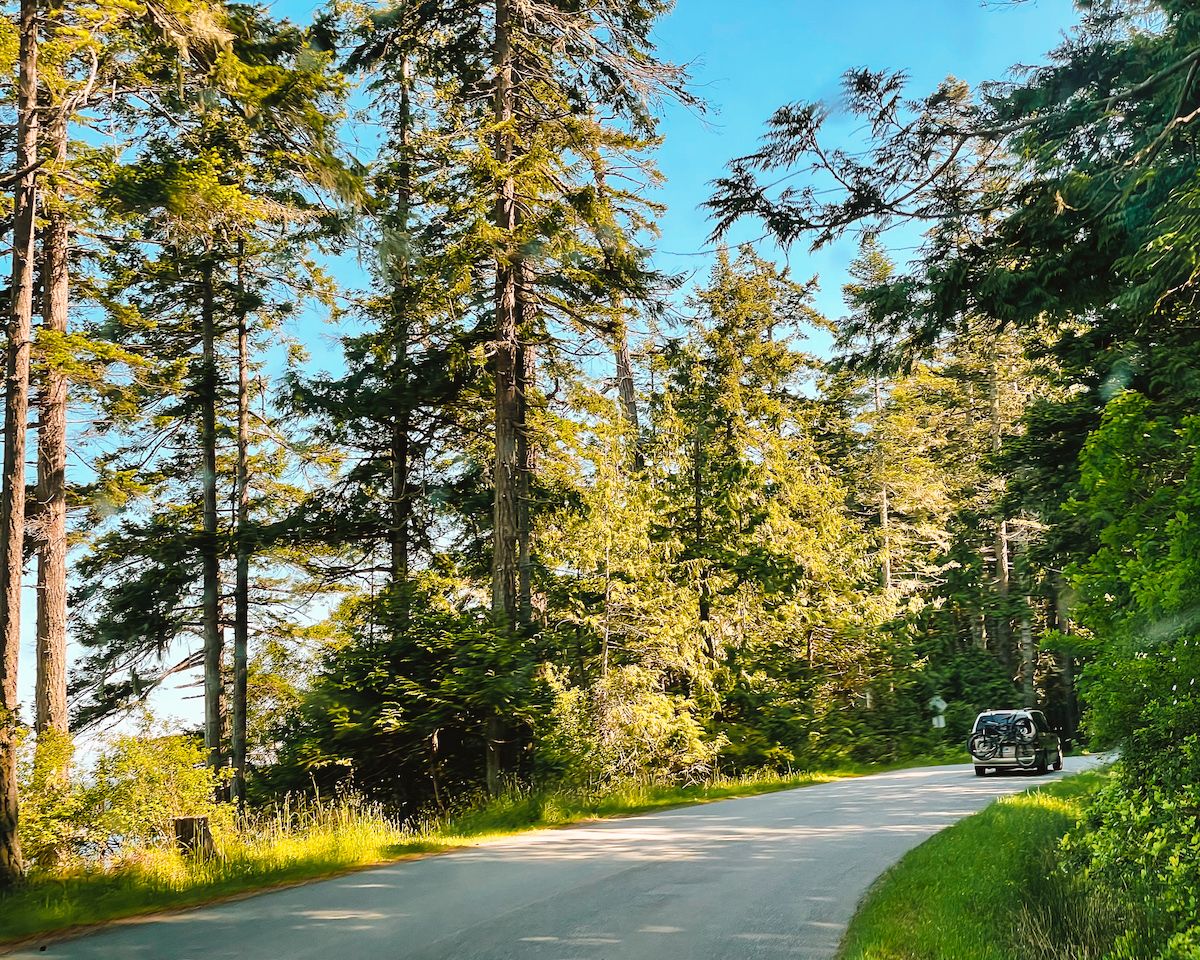 Driving to Hornby Island is an enjoyable experience. As you head north of Parksville on Vancouver Island, the highway gets quiet with luscious trees and blue mountains leading the way. From Vancouver Island, two short cable ferries and a drive across Denman Island will get you to Hornby Island.
How to get to Hornby Island from Vancouver Island
Take Highway 19 north to Buckley Bay.
From Buckley Bay, take the 10-minute ferry to Denman Island. The route is first-come first-served. When you buy your ticket, say you're going to Hornby Island. The round trip price is $43.20 for a vehicle and $18.60 per adult.
Once you arrive on Denman Island, it's a 15-minute drive to Gravelly Bay to take your last ferry. The meandering road takes you along the ocean with trees arched above you on both sides.
The ferry from Gravelly Bay to Hornby Island takes about 10 minutes and is first come-first served.
Note: the times posted on the schedule aren't accurate as the ferry runs on "shuttle mode", making as many trips as possible to get people across. We left at 10:45 am instead of 11:00 am for example.
How to get to Hornby Island from Vancouver
From Vancouver, take the 1 hour 40 minute ferry from Horseshoe Bay to Departure Bay in Nanaimo. Ferry reservations are highly recommended for this route, especially during summer months.
Once you arrive at Departure Bay in Nanaimo, follow steps #1-4 above!
🚗 Don't have a car? Easily compare car rental rates with Rentalcars.com
23 Best Things to do in Hornby Island
1. Discover Hornby Island's unique architecture and creative touches along the tiny island roads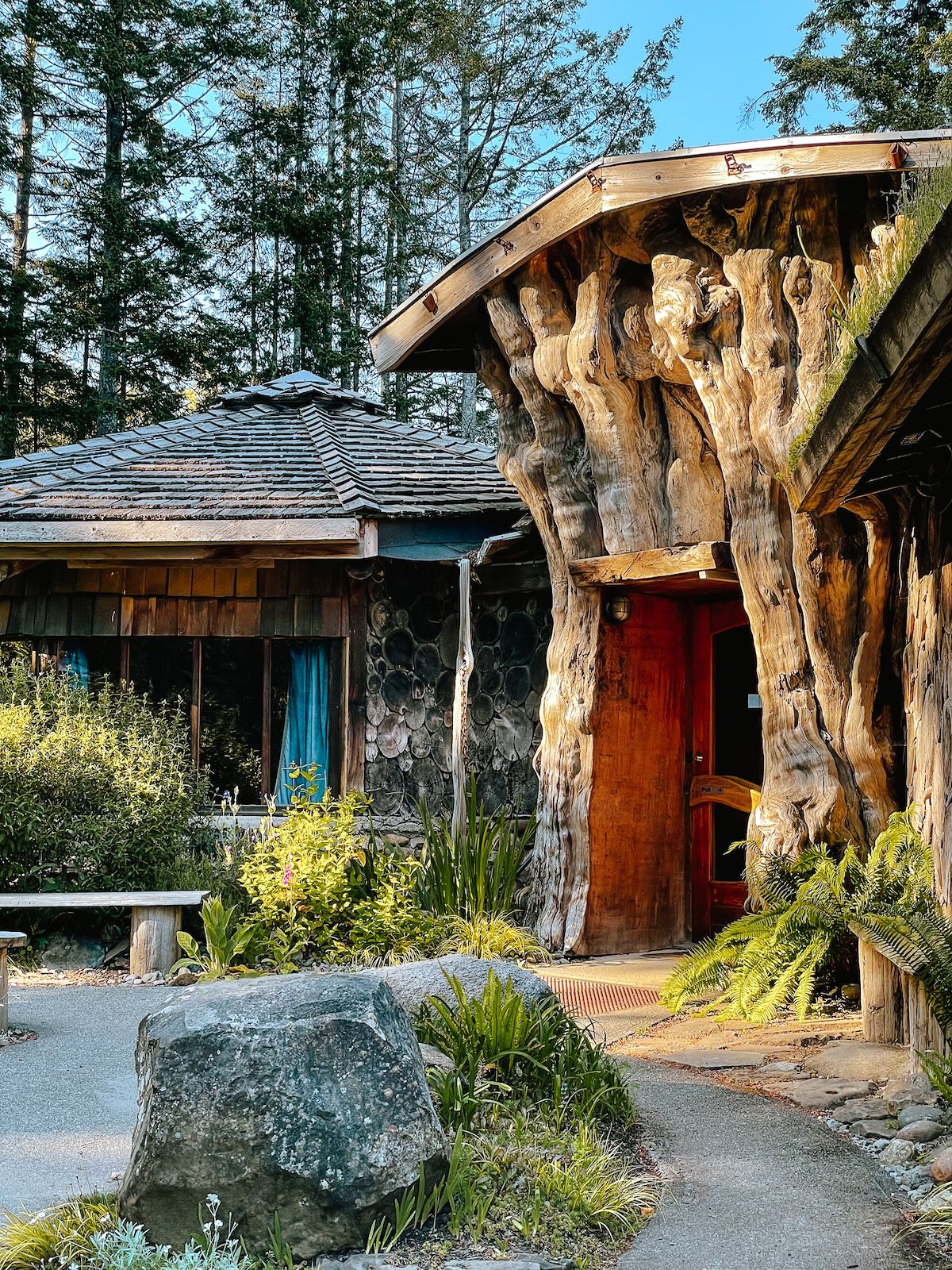 When we arrived on Hornby Island, we felt like Dorothy awaking in the colourful Land of Oz. Every house is unique and stamped with each person's imagination and architectural style. Many structures have curved roof lines, like seeing different types of mushrooms in the forest.
Even the cemetery is a sight to be seen. Each gravesite is its own creation with regular headstones replaced with unique symbolic items, like a mushroom statue, bicycle, rack of antlers and even a chainsaw.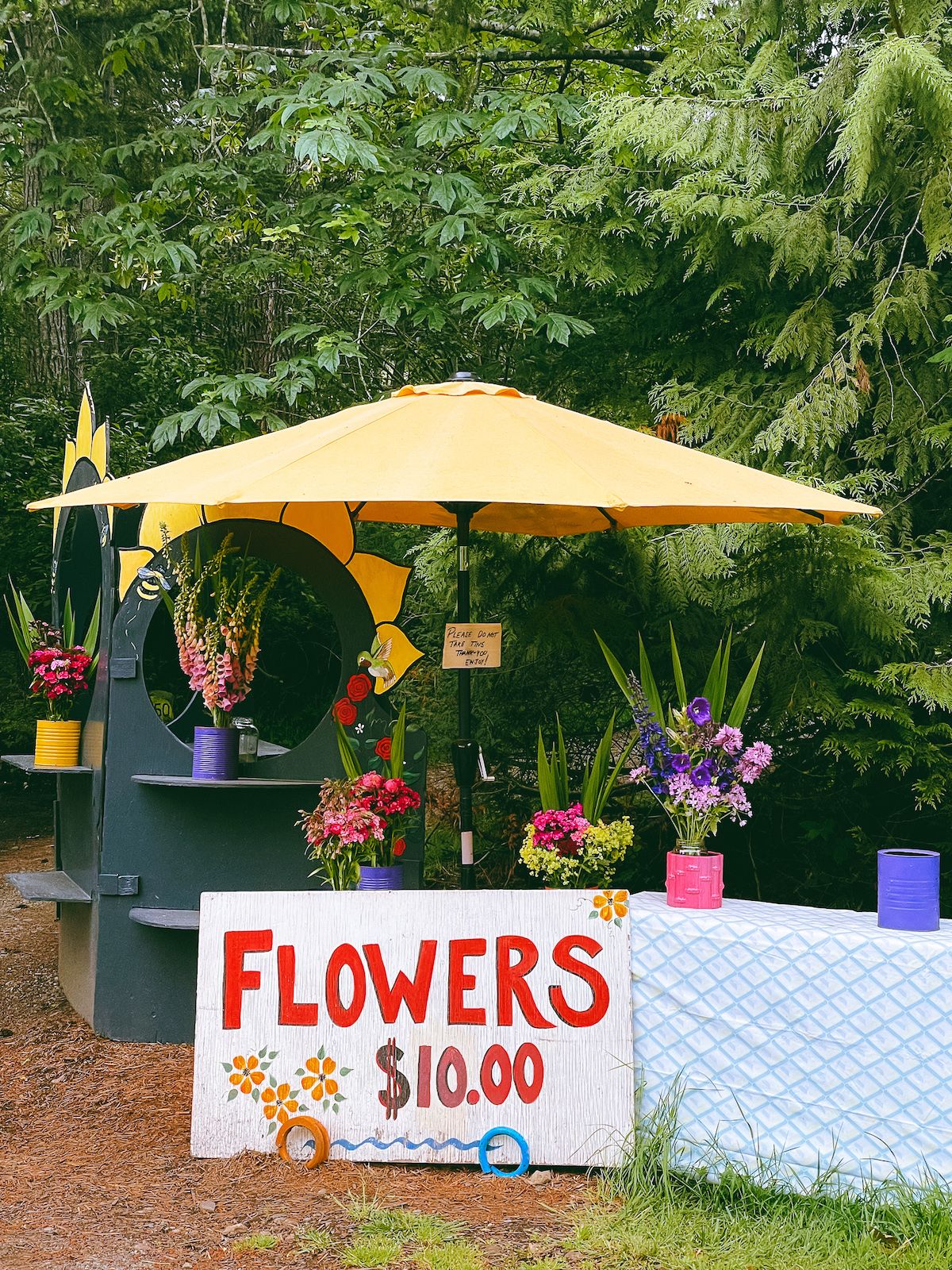 Hornby Island's creative touches are best discovered as you drive down the tiny island roads. Get the tunes blasting on the local radio (96.5) and get exploring. Don't miss the Community Hall that looks like a huge magic mushroom and check out the farm stands for goodies and baked treats.
2. Grab a breakfast pastry from Hummingbird Bread Co.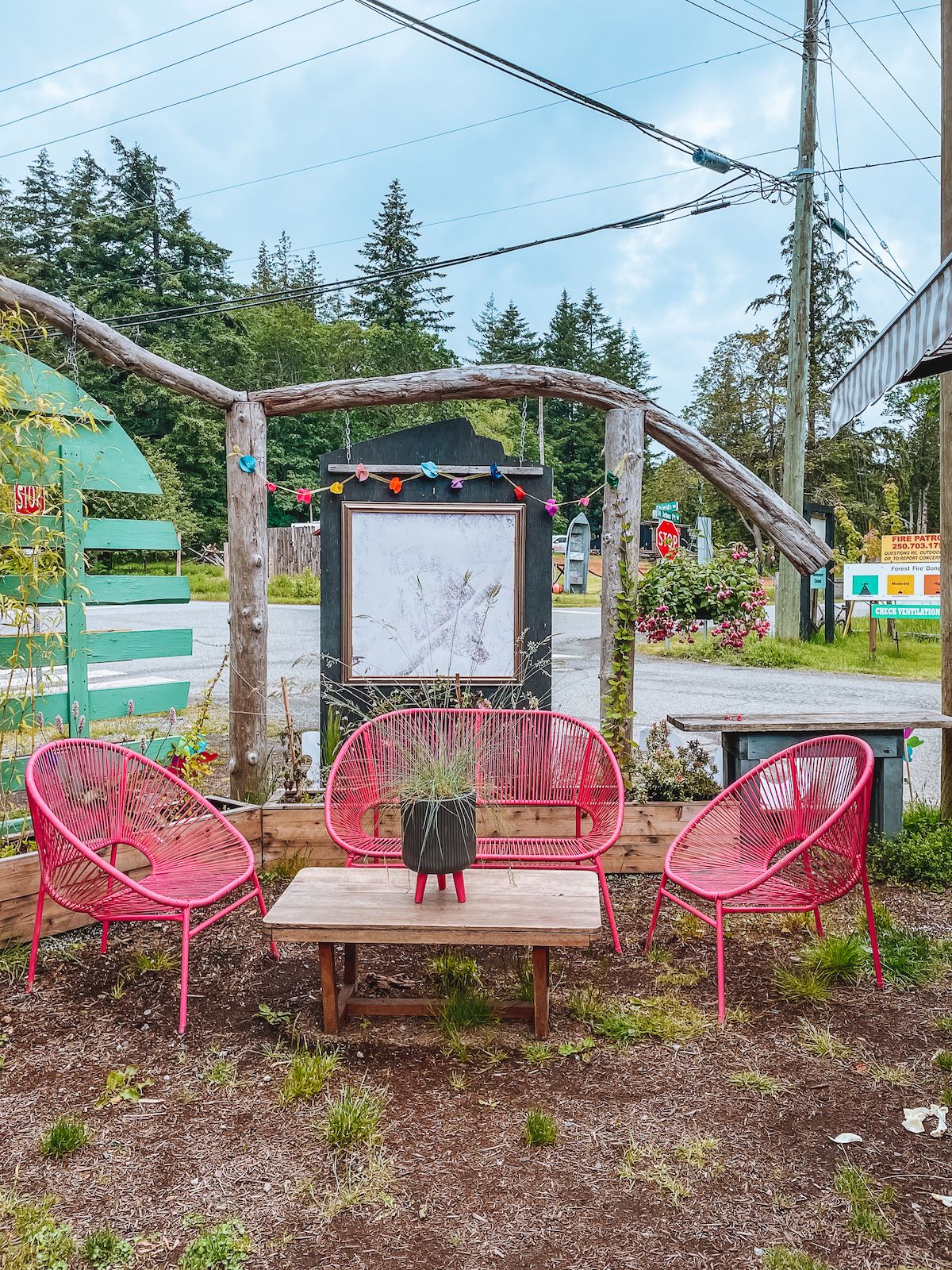 Start off your morning with a delightful pastry from the cute food cart at Hummingbird Bread Co. Their daily creations of sweet and savoury baked goods are sure to get your taste buds going. We loved their ham and Swiss cheese brioche. Afterwards, pop into Lix next door for a coffee.
3. Shop at Ringside Market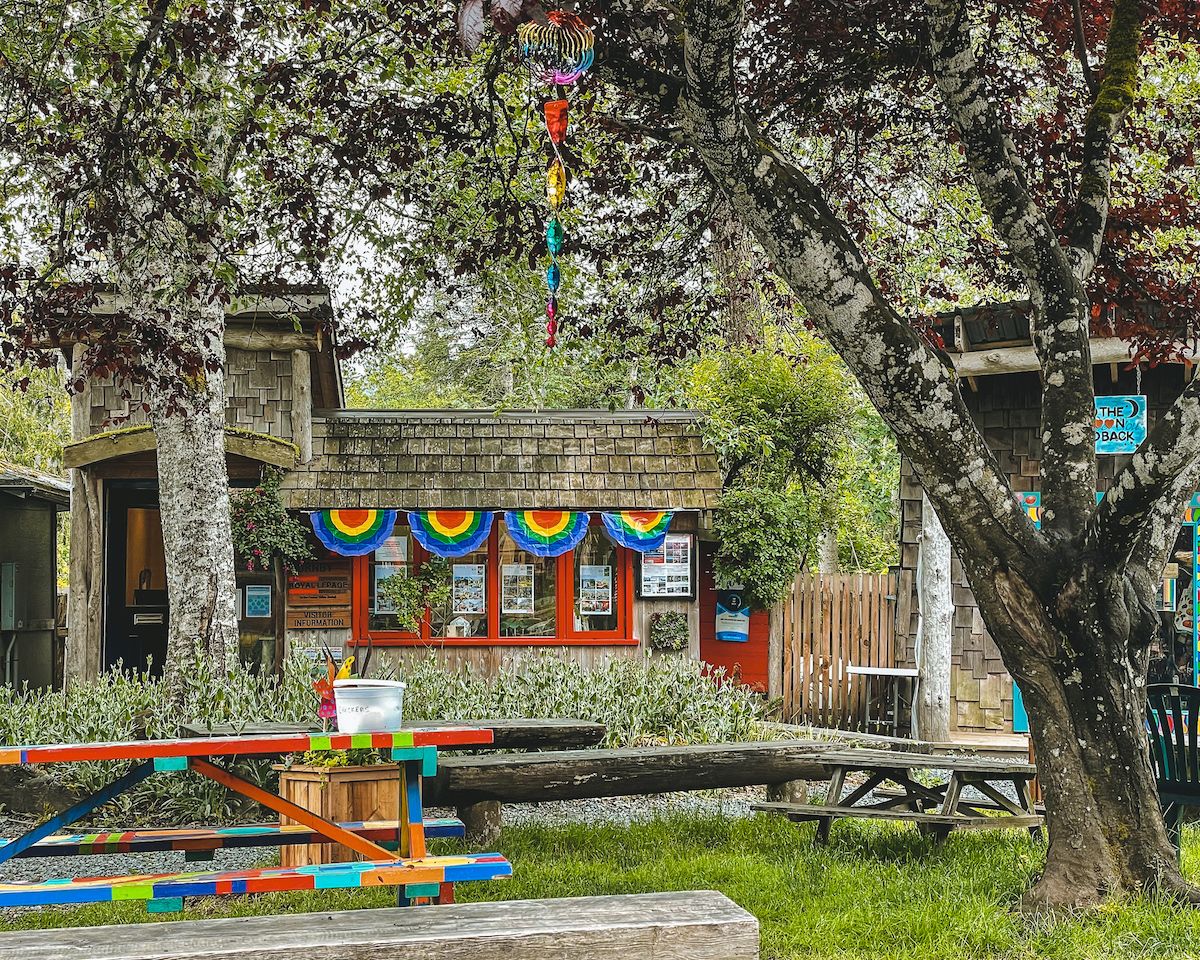 Ringside Market is the centre square of the island, where locals and tourists gather to shop and eat. Tiny wooden shops encircle the common area with picnic tables, benches and a large cherry plum tree as the centrepiece. This is where you will also find the island's grocery store (Co-op) and gas station.
Browse the cute boutiques for some unique items:
Hornby Creative - our favourite store with a great selection of local artisanal products, including housewares, clothing, art and jewelry. We bought an Ocean Plasket -  a pretty basket made from reclaimed marine rope and fishing line.
Island Potters - sells pottery from a variety of local artisans
Celestial Sphere - sells aromatherapy oils and bohemian-style jewelry and clothing
4. Have a picnic at Grassy Point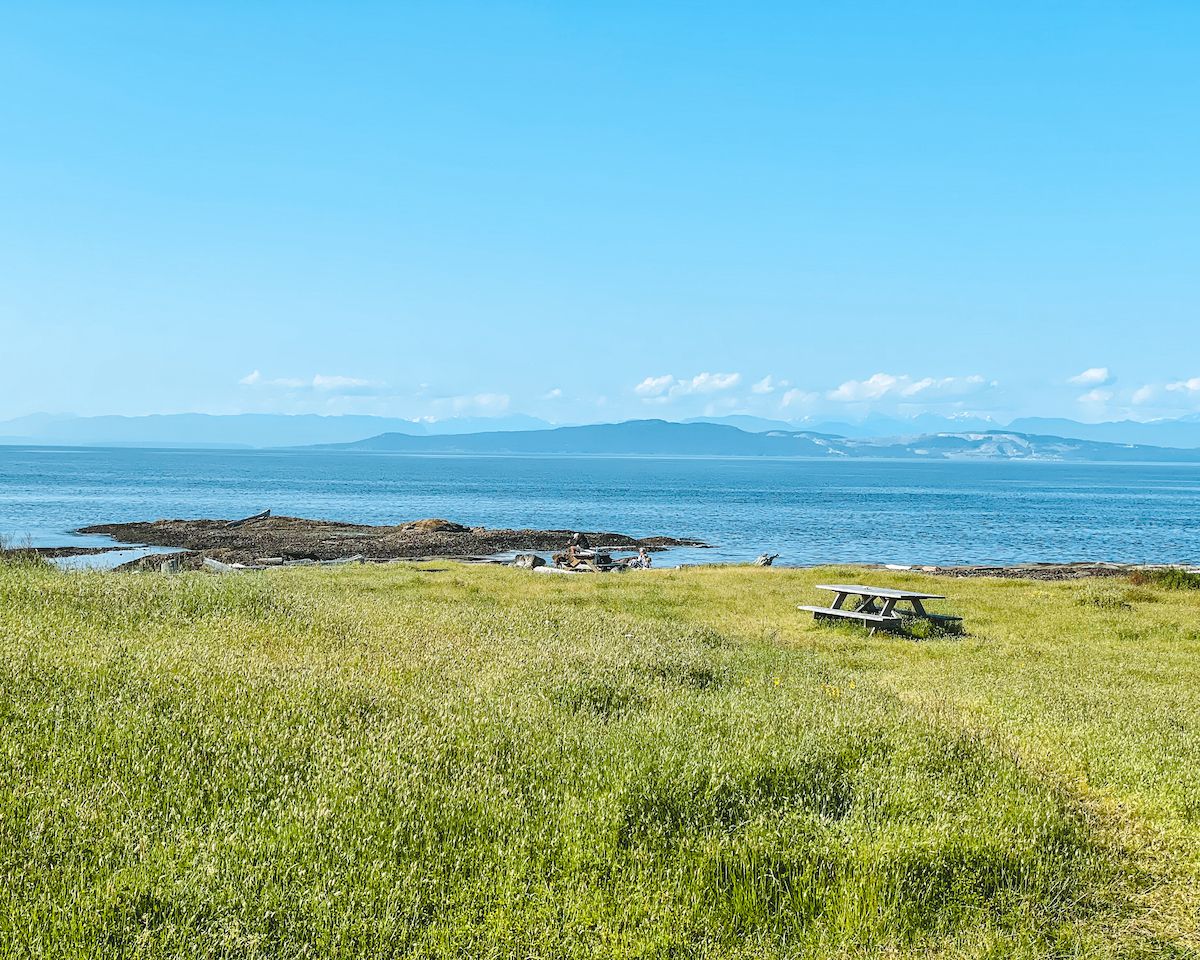 Grassy Point is a favourite spot with locals to have a picnic. Go during golden hour to see the long grasses, ocean and mountains beautifully light up. It's a gorgeous spot.  
5. See water tanks turned art installations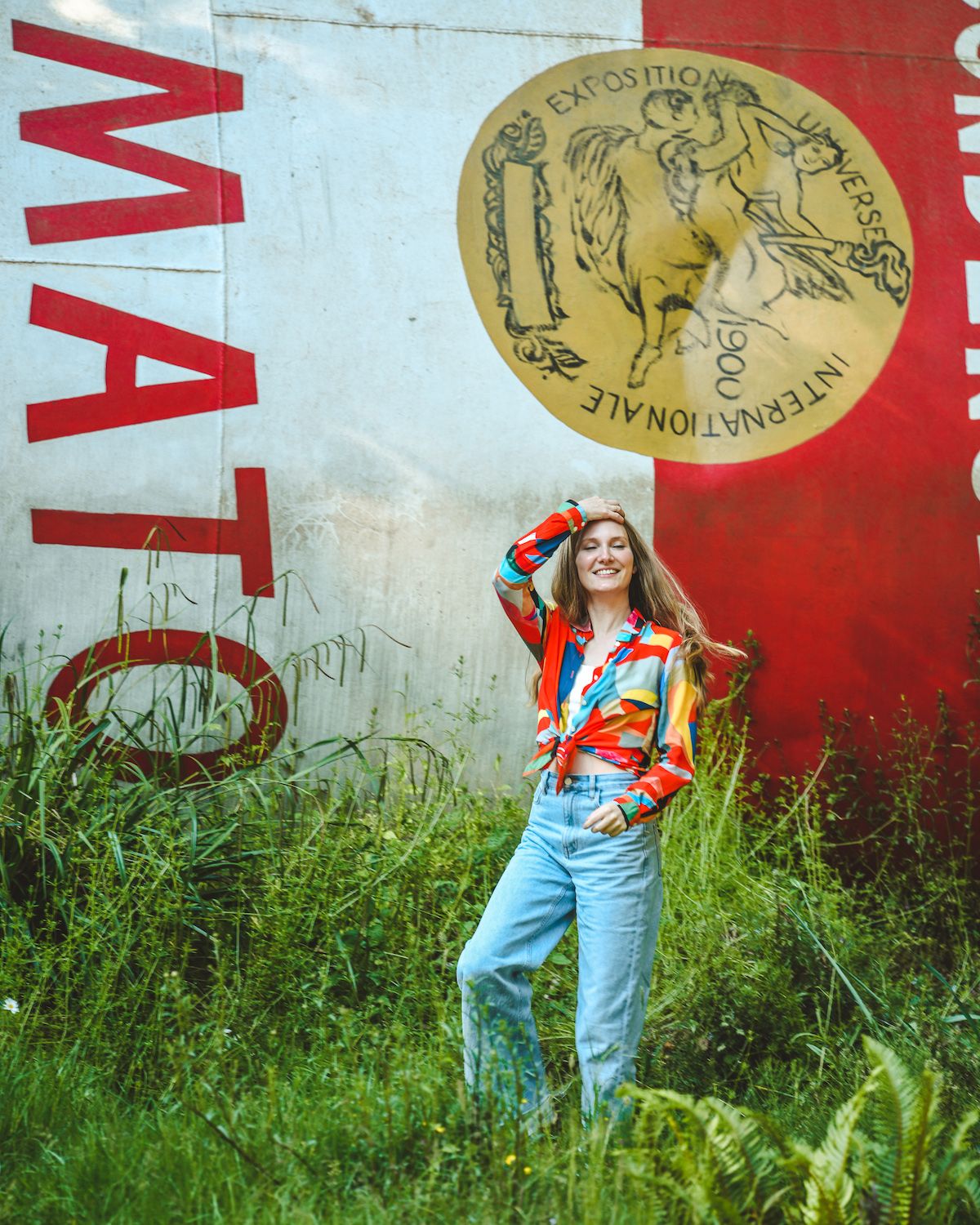 Hornby Island's water tanks turned art installations are a prime example of the creative touches you'll find throughout the island. Why not make eyesores into eye-pleasing art? Our favourite was the Andy Warhol-inspired giant tomato soup can.
We found three water tanks on the island:
6. Sunbathe on Hornby Island's famous beaches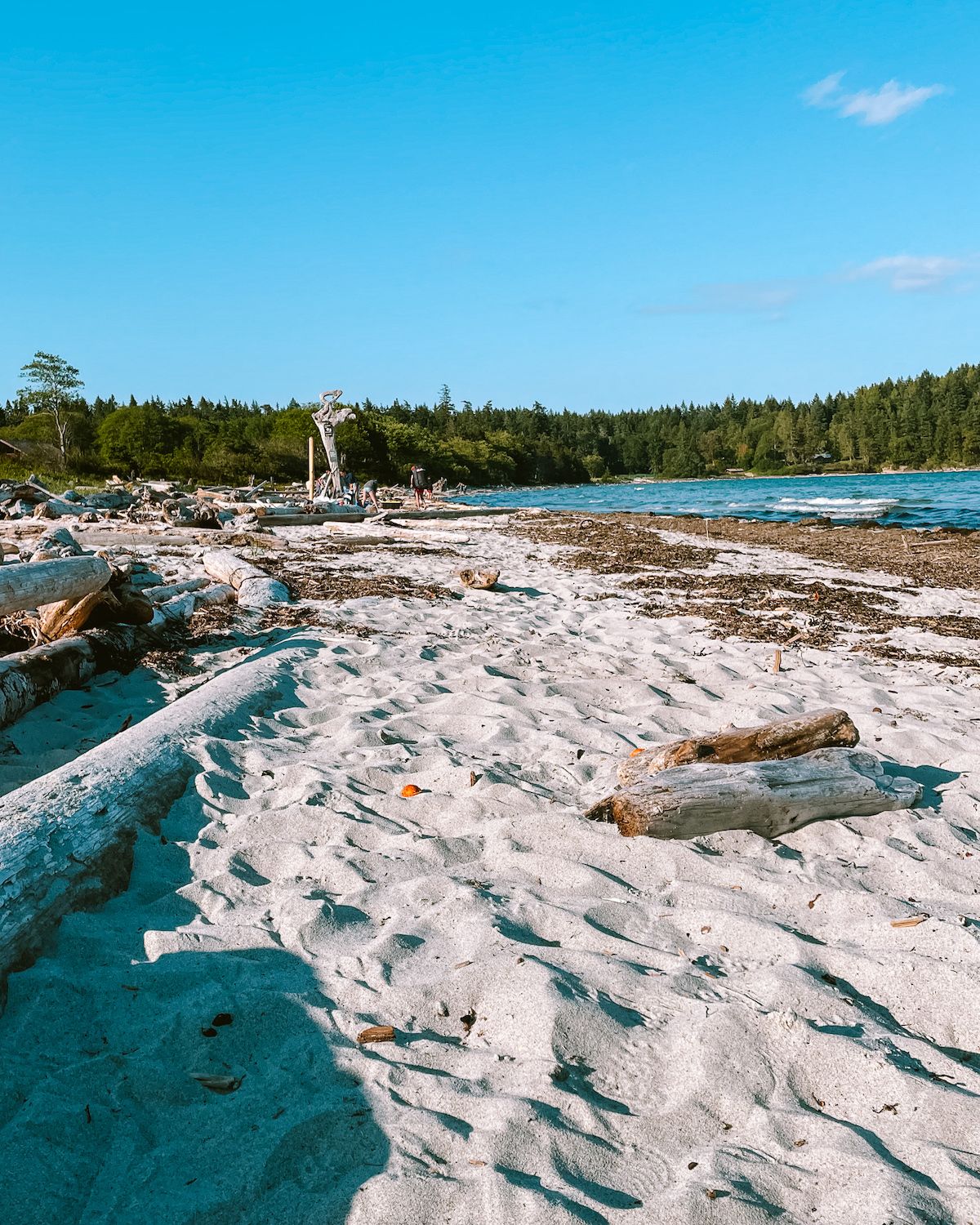 Hornby Island is famed for having some of the best beaches in British Columbia. Big Tribune Bay Beach is the most known for its soft white sand that doesn't stick to your feet and warm ocean water. This crescent-shaped beach can get very busy and is popular with families.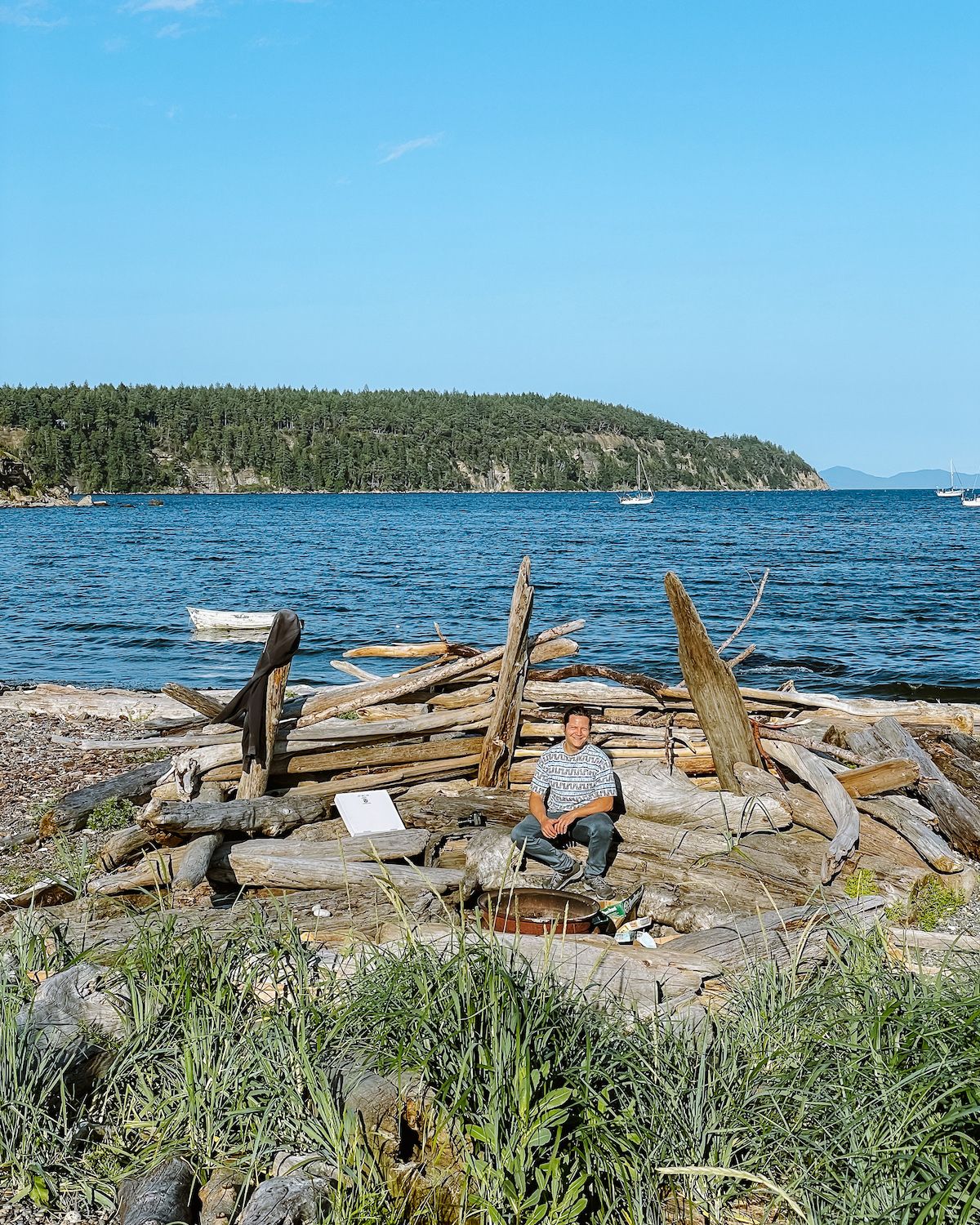 If you're looking for a quieter, laidback beach, check out Little Tribune Bay Beach. The clothing-optional beach doesn't have nice sand like its next door neighbour, however, there are cool seating areas made from driftwood along the shore. We saw a younger crowd here, with locals hanging among friends sharing after-work drinks.  
7. Go glamping at Fossil Beach Farm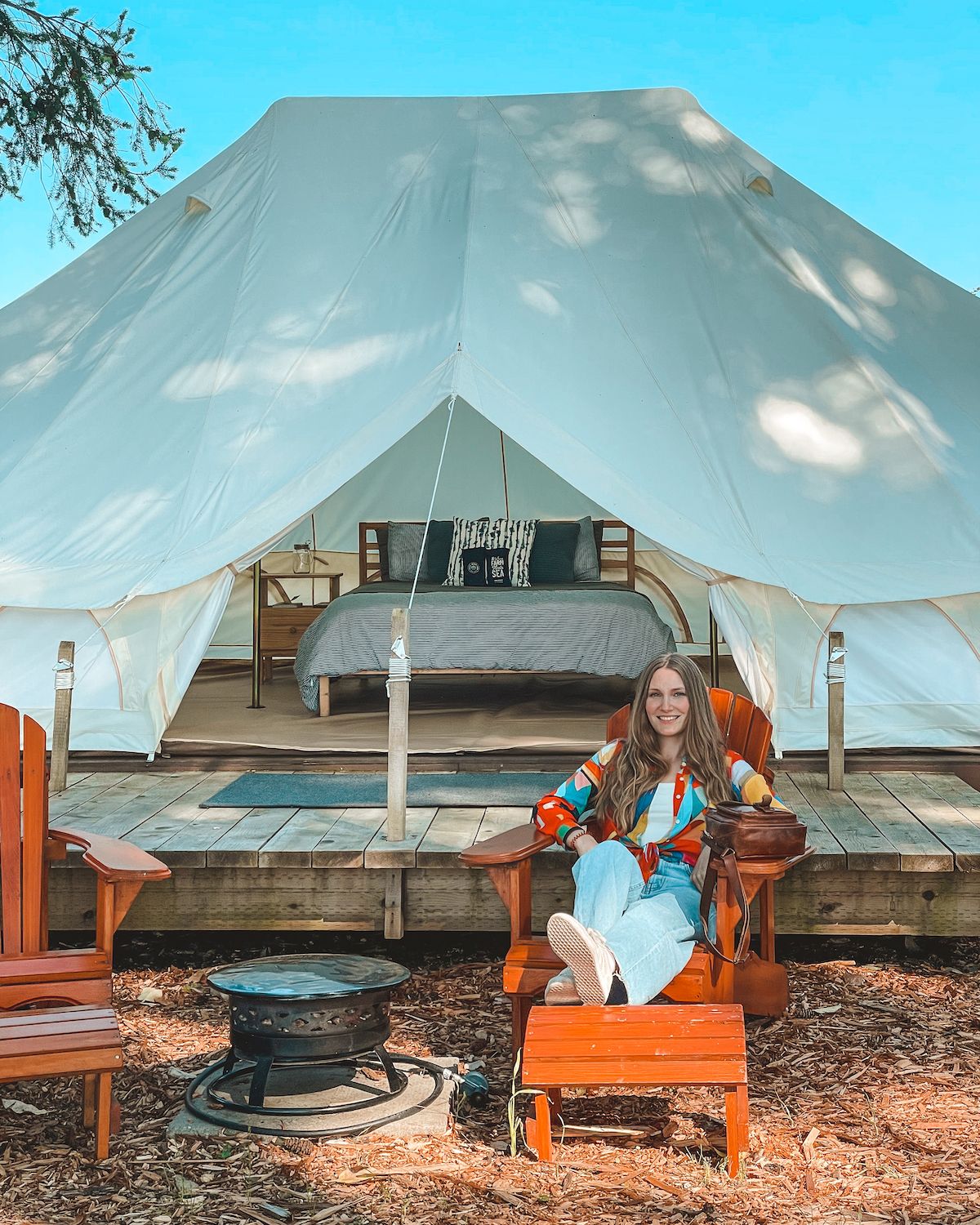 Glamping at Fossil Beach Farm is one of the best travel experiences we've had not just on Hornby Island, but in Canada.
The 100 year-old farm and cidery offers camping in luxury tents along Fossil Beach. The spacious tents are outfitted with a comfy queen sized bed, dresser and seating area.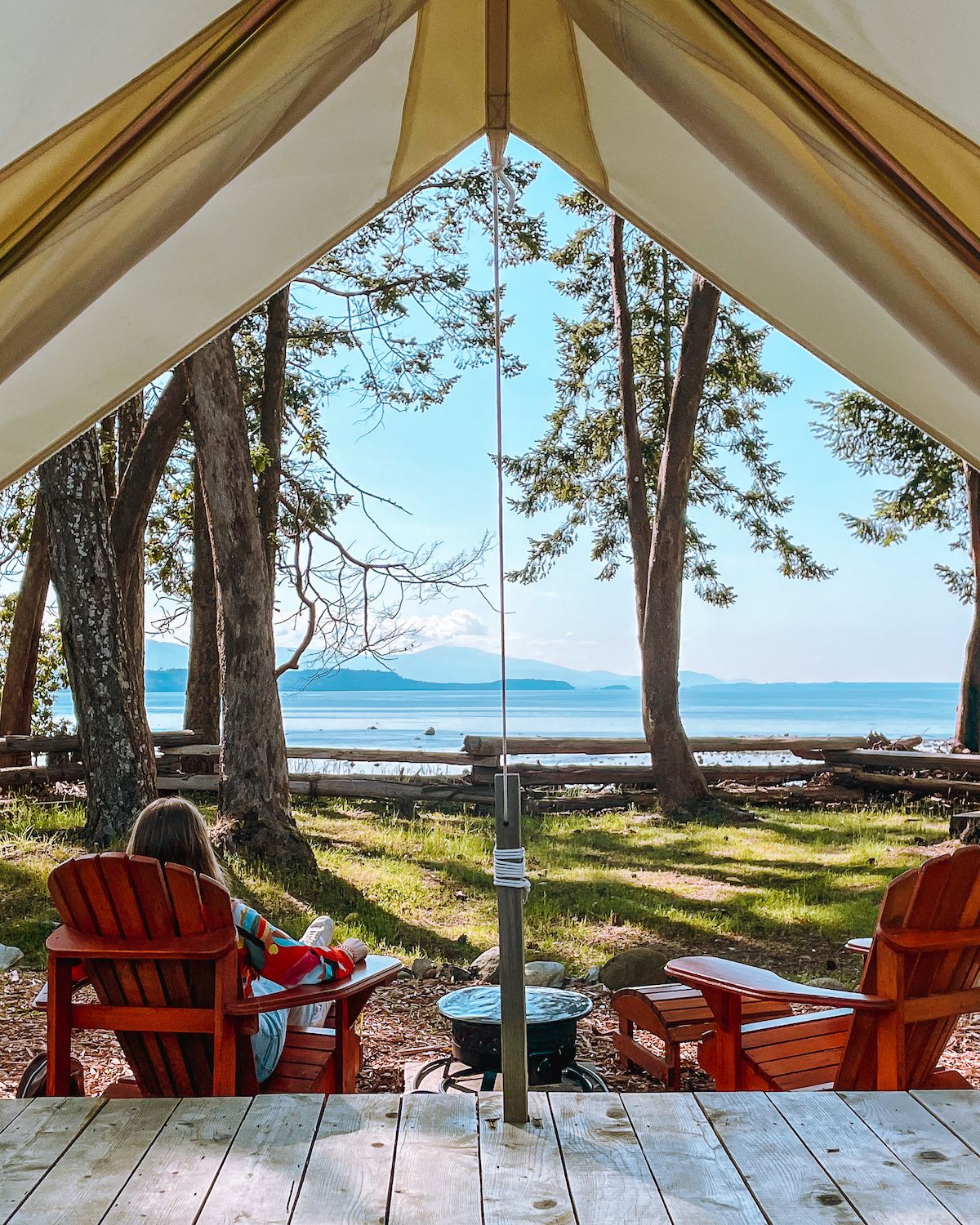 Outside of the tent is where the magic happens with your private fire pit and cottage chairs overlooking the ocean. It's a fantastic place to sit to watch the sunset with a glass of farm-crafted cider. Keep an eye out for the seals that like to play and splash about.
See our full review of glamping at Fossil Beach Farm.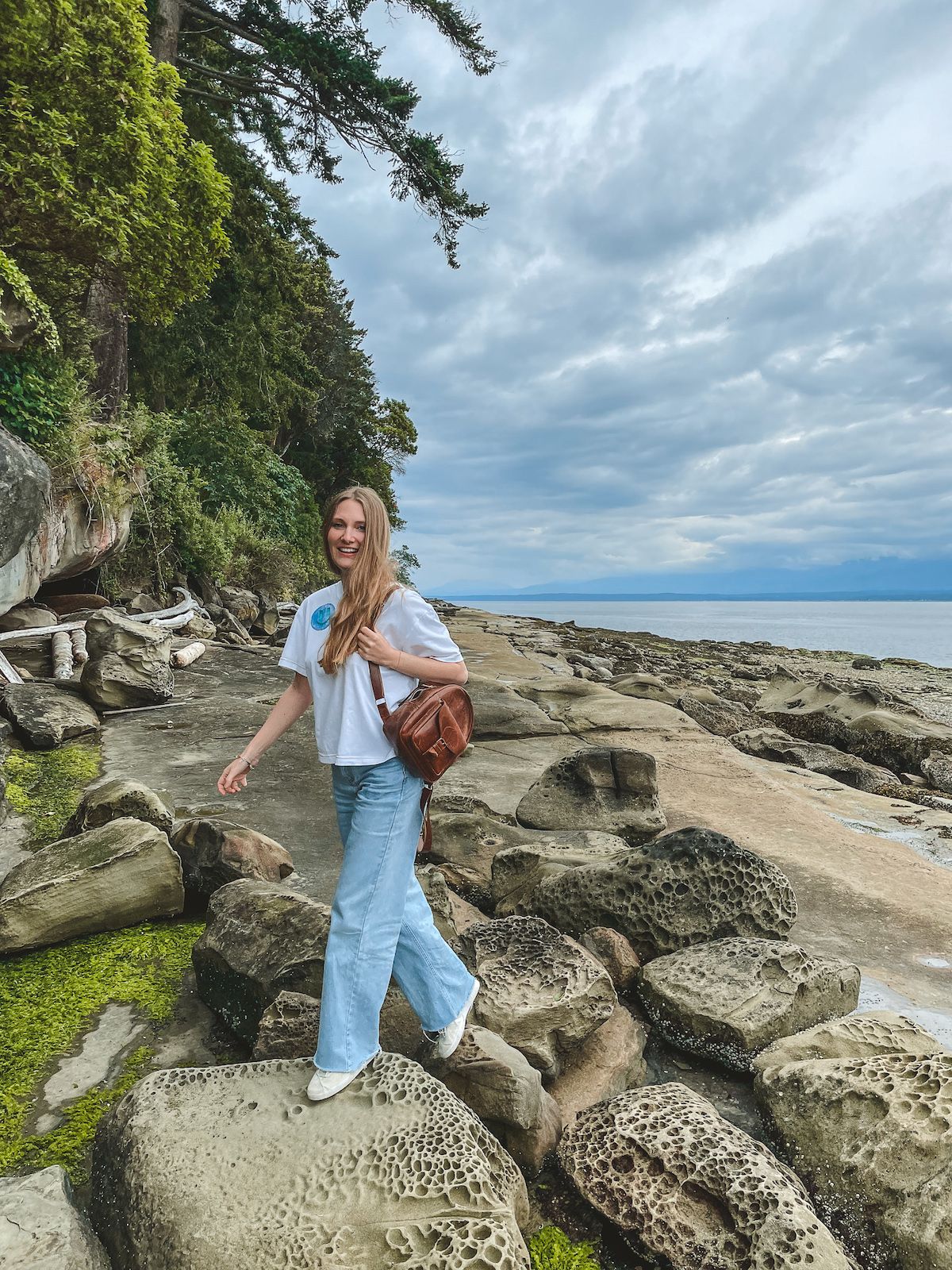 Venture out at low tide to find a hidden beach just south of Ford's Cove Store. You will find cool rock formations that look like fossilized spider webs and some small carved out caves on the side of the shore.
9. Eat top-notch pizza from Hornby Island Bakery & Pizzeria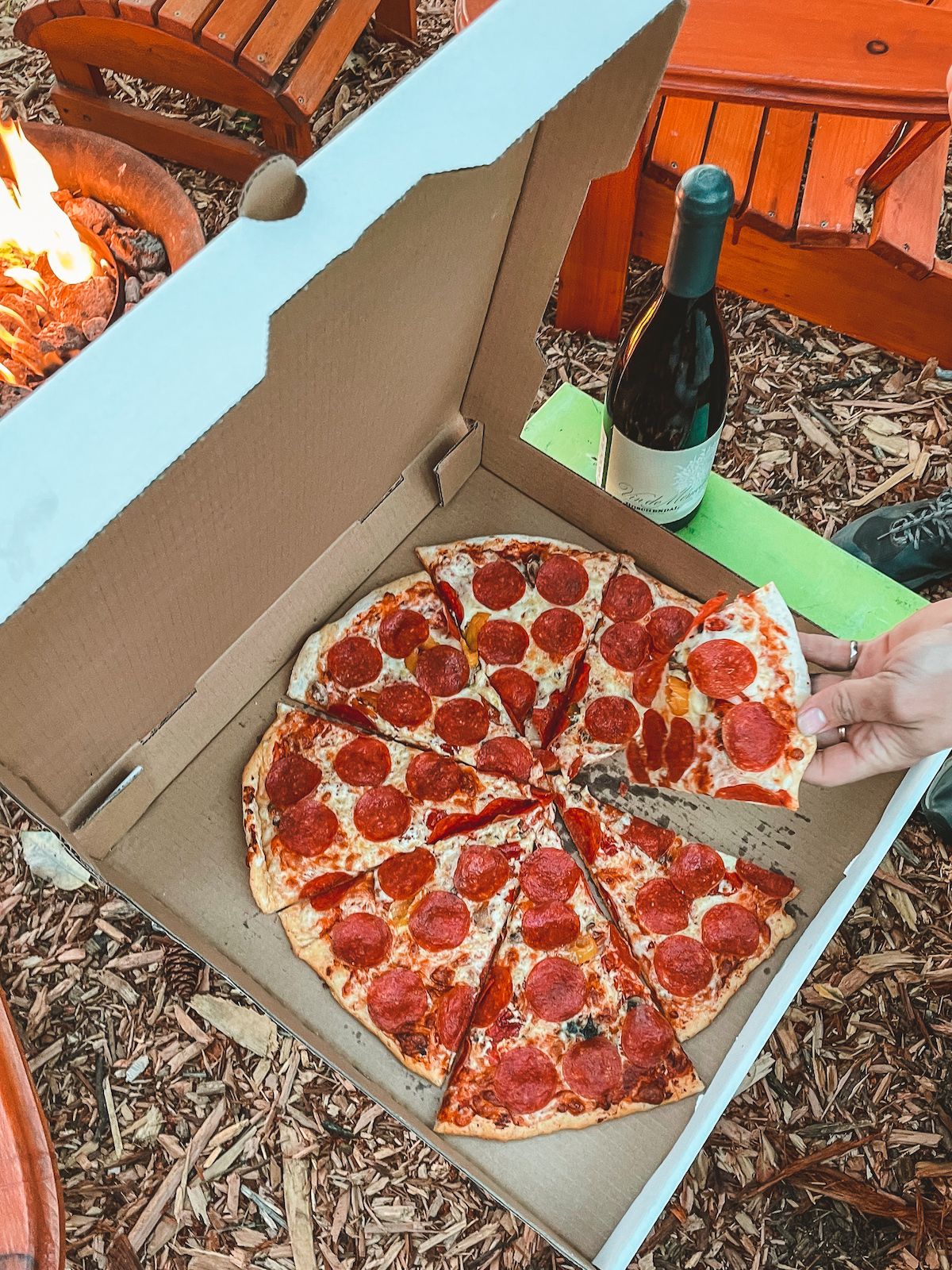 The pizzas from Hornby Island Bakery & Pizzeria are just as special as their history, and chatting with owner Jon makes the experience even better with his infectious laugh.
The family-owned pizza joint has been around since the 1970s and all started when Jon's parents and their friends purchased 80 acres of land collectively on Hornby Island. To help pay the property taxes, his parents took their traveling pizza cart around BC to music festivals and craft fairs. The family recipe has been a Hornby Island staple throughout the decades - in fact, it was Jon's daughter that made us our pie!
We took our pizza back to our fire pit to watch the sunset. It was a wonderful evening!
On Fridays, don't miss their live jazz night on their big lawn.
Hours: 12pm - 8pm
10. Go for a cider tasting at Fossil Beach Farm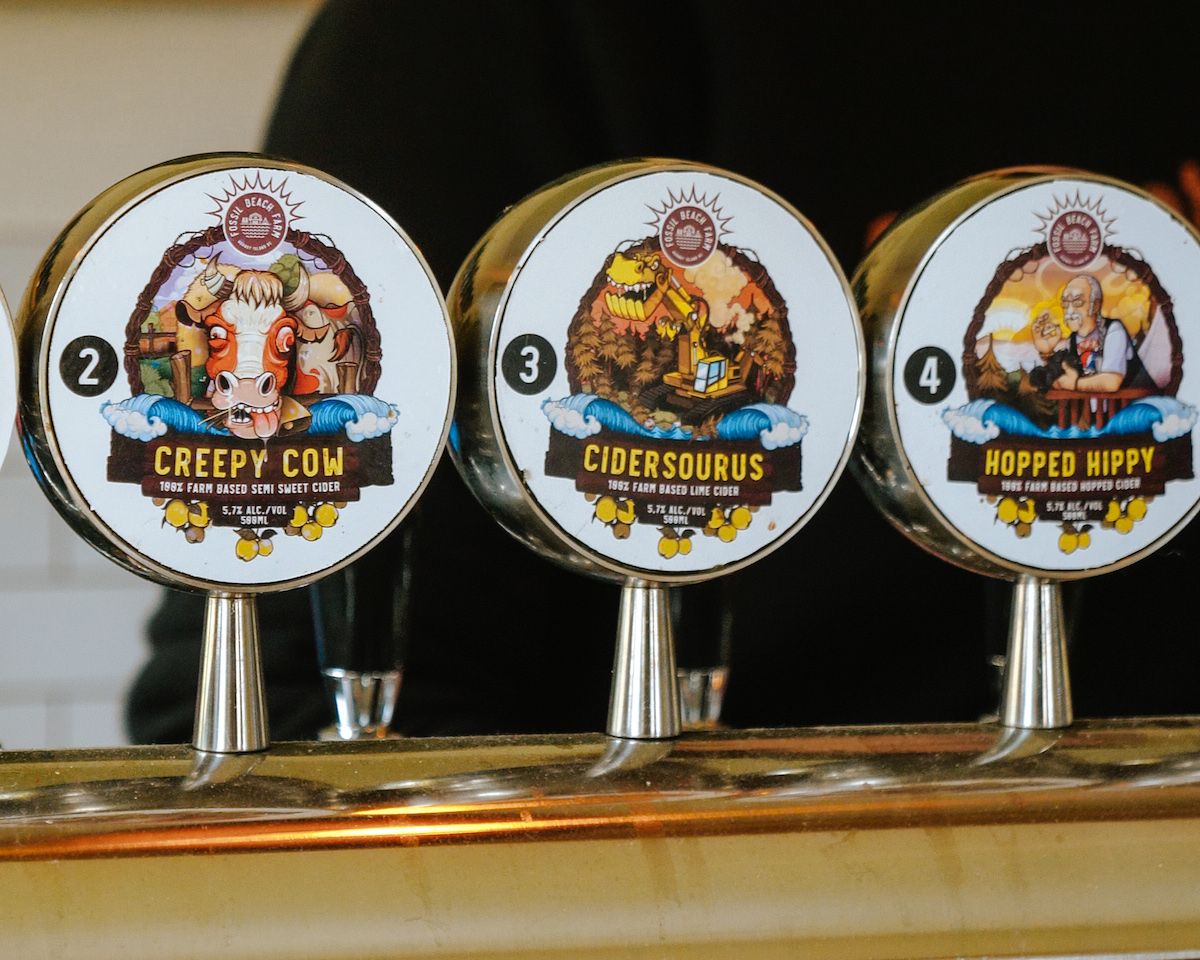 Visit Fossil Beach Farm's tasting room and try a flight of their handcrafted ciders. They are made from a blend of apples from their own orchard and other orchards in BC. Some ciders are unique, like their cider infused with blackberries from the farm and their carbonated margarita-style cider.
We tasted 6 ciders at the picnic table and enjoyed comparing them with the tasting notes they gave us.
Cidery hours: May - June: Sat & Sun 1-5pm | July-Sept: Wed - Sun 1-5pm
11. Hunt for Fossils on Fossil Beach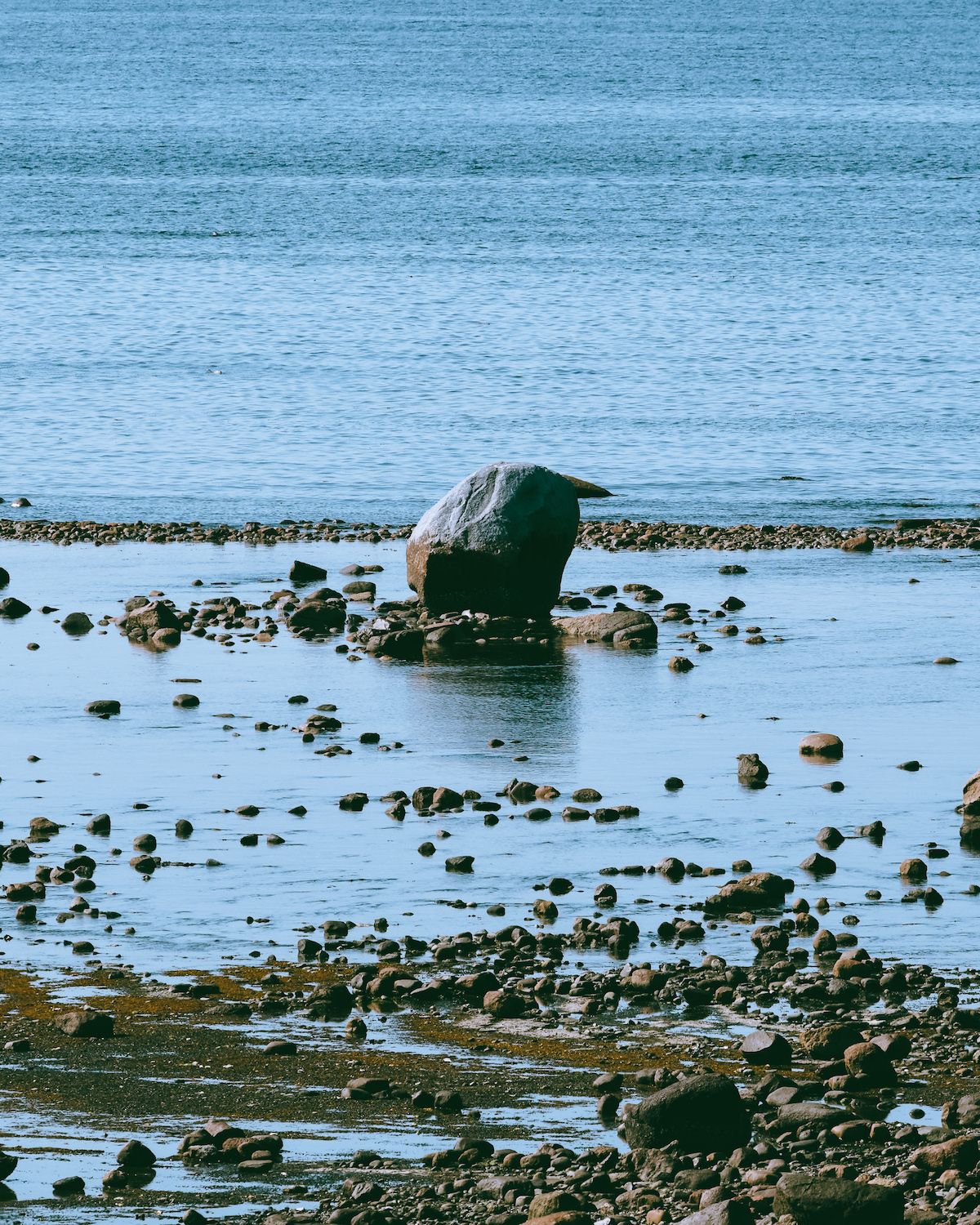 We got a local tip that a favourite activity among islanders is hunting for fossils at Fossil Beach during low tide.
They find them by breaking rocks open with a hammer. Fossil Beach can easily be accessed from
Fossil Beach Farm
. After a cider tasting on the farm, go for a scenic beach walk.
Note: Fossil Beach Farm recommends keeping anything you find, including fossils, on the beach for others to enjoy as well.
12. Eat farm-to-fork brunch at Forage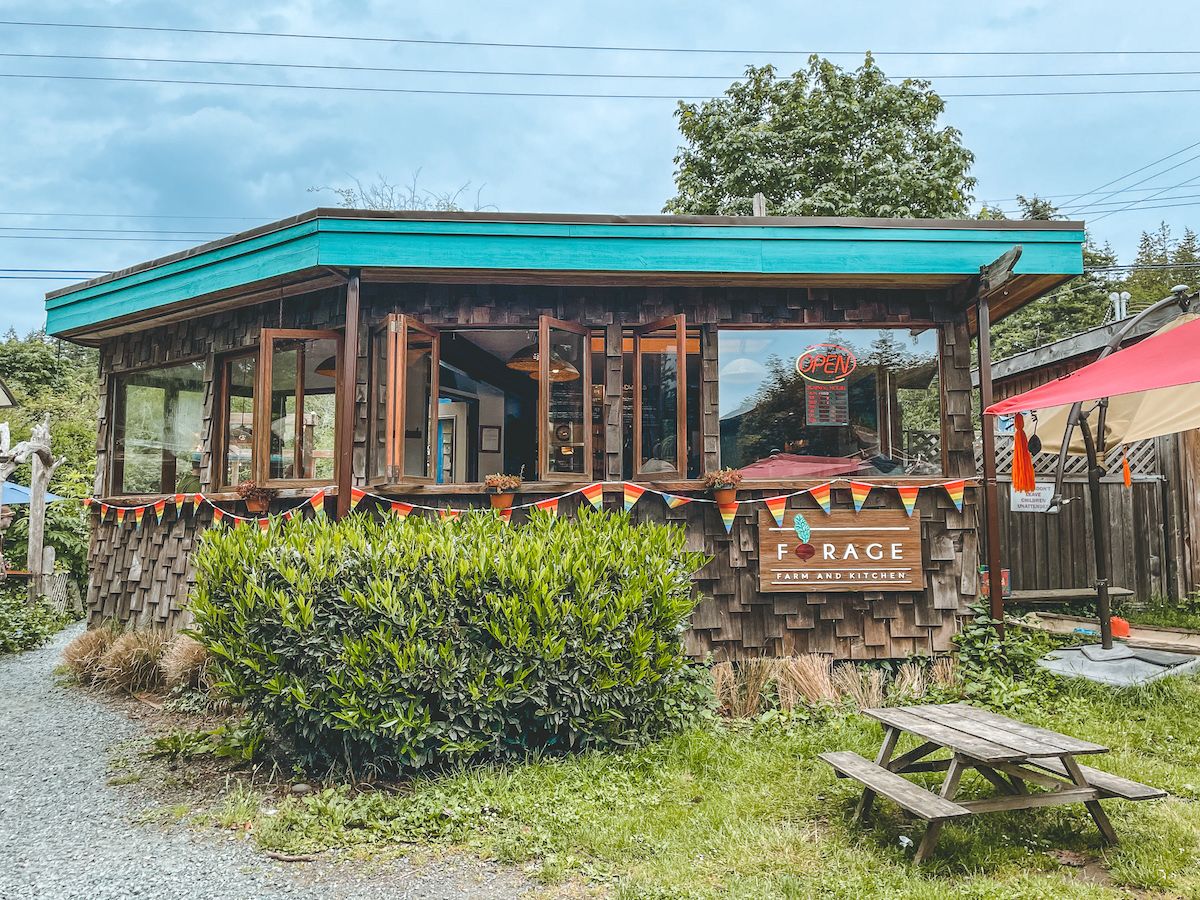 Take a seat by the windows opening up onto the plaza of Ringside Market and enjoy a farm-to-fork brunch. Forage uses fresh ingredients daily from its family-run farm and creates its menu based on what's in season.
Don't miss our list of 6 Hornby Island Restaurants you don't want to miss.
13. Try local wines at a winery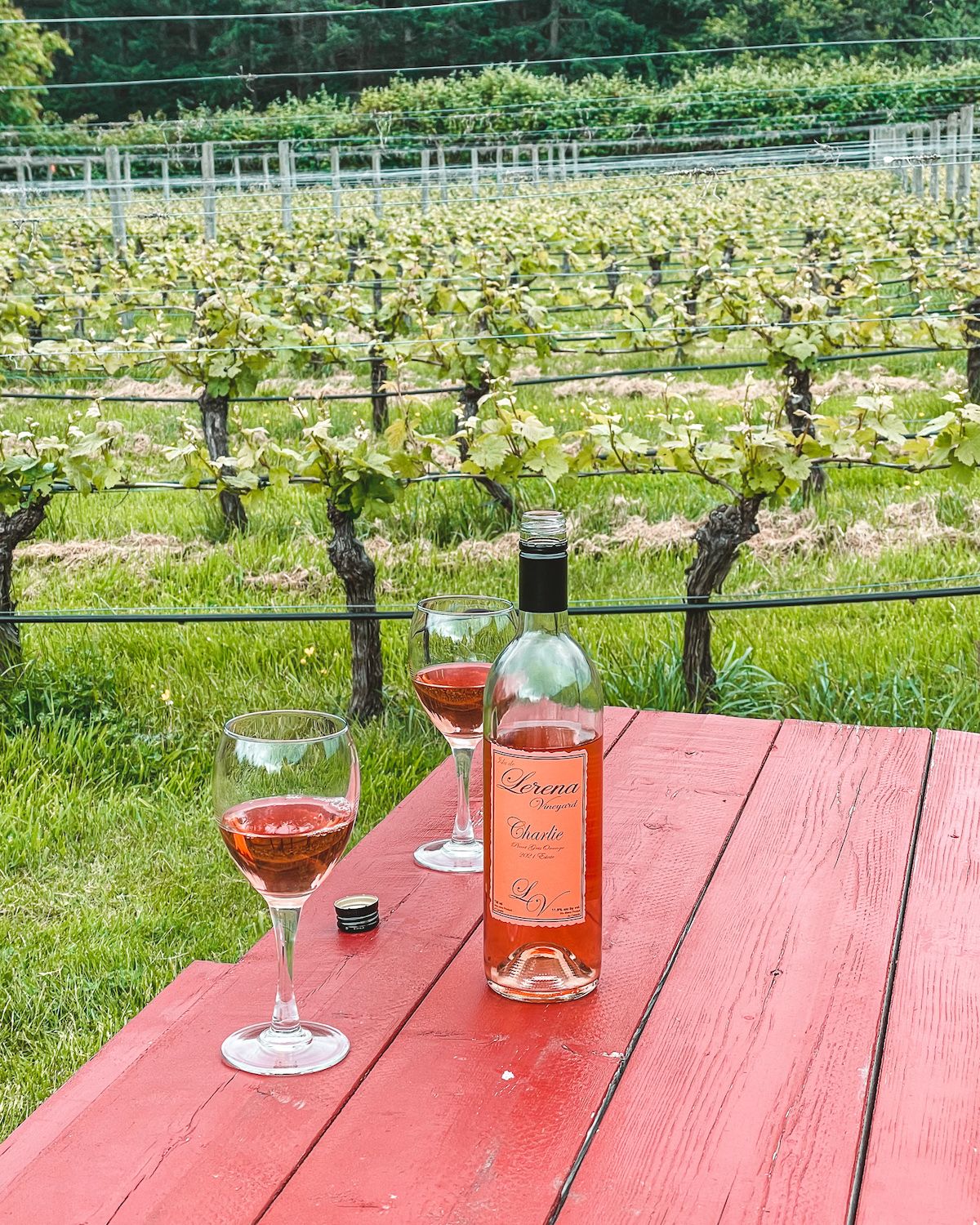 There are two wineries on the island that offer wine tastings, Isla de Lerena Vineyard and Hornby Island Winery. Unfortunately for us, Hornby Island Winery wasn't open until July, but we were happily able to check out Isla de Lerena Vineyard.
Isla de Lerena was Hornby Island's previous name by Spanish explorers who discovered the island in 1791. Stop in for a tasting in the tasting room and have a glass of your favourite outside on their picnic tables overlooking the vineyard. Their Turan wine (a Hungarian grape variety) was a unique treat to try.
14. Dine on the vineyard at The Table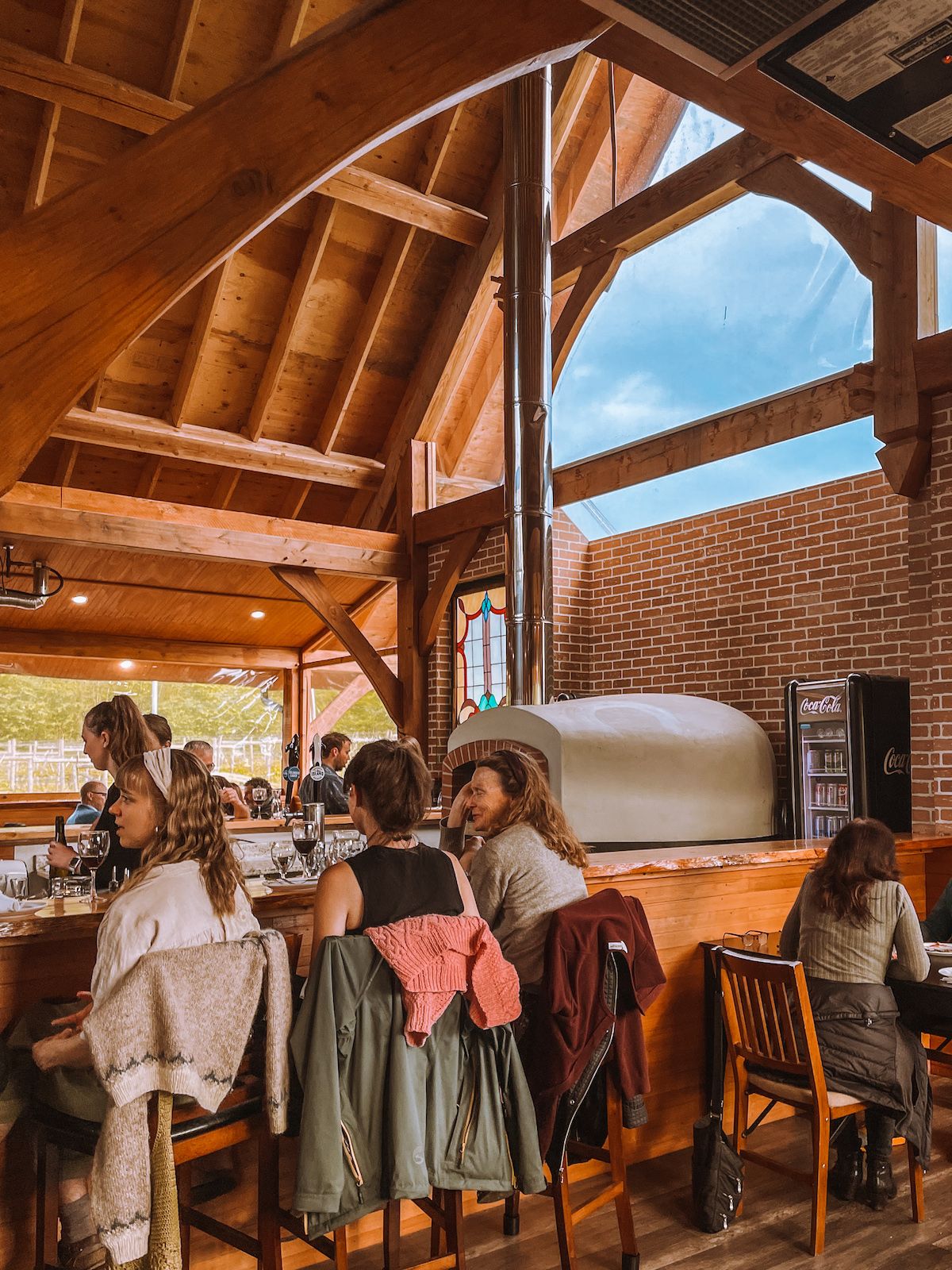 After your wine tasting at Isla de Lerena, dine on the vineyard at their new restaurant, The Table (open 5pm - 8pm). The focal point of the sun-filled dining room is their authentic Neapolitan pizza oven. Friendly servers and a buzzing atmosphere create a fun setting for a date night or outing with friends. The winery features live music during summertime from 5:30pm - 7:30pm.
15. Have a mead tasting at Middle Mountain Mead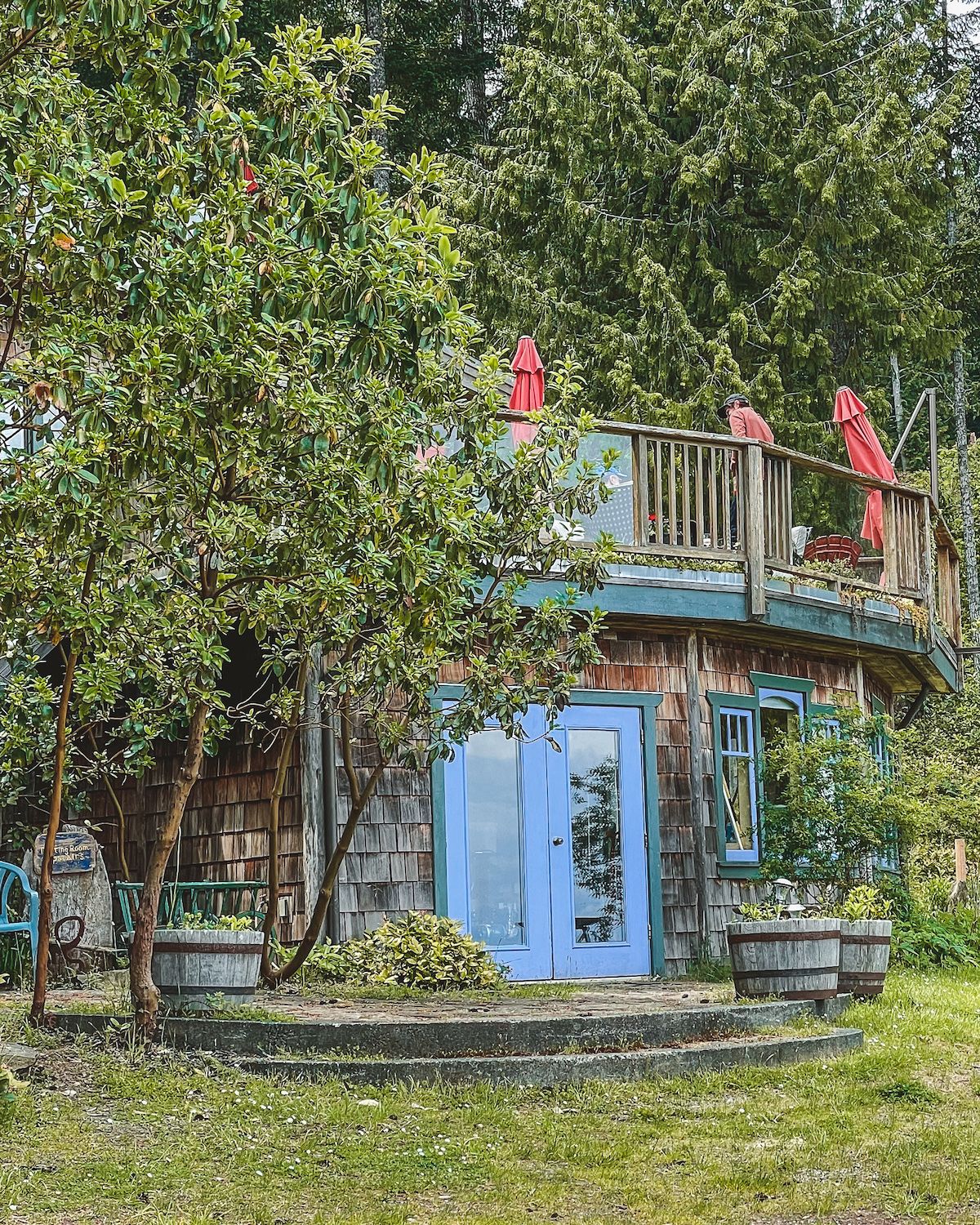 Middle Mountain Mead was an unexpected oasis. After driving up a gravel road and walking up a grassy path, we were excited to see the beautiful honey winery come into view. If you're unfamiliar with mead, it's similar to wine or cider, but fermented with honey. Creative variations can be made with different spices and fruits.
We walked past the grassy picnic area and up the stairs to the tasting room with two stories of outdoor seating. Once we ordered our mead tasting inside, our friendly server told us to sit wherever we liked. We found the perfect spot at the top with an ocean view.
The mead-maker placed vintage tasting glasses on our table and explained each of the five meads we tried. The 20% ABV liqueurs stood out for us, since you can mix them with sparkling water to make a refreshing cocktail. Our favourite was their lavender citrus liqueur - perfect for summer!
The $5 tasting fee is waived with a bottle purchase and starting July they serve charcuterie bites for summer.
16. Visit the Artisan Market and artist studios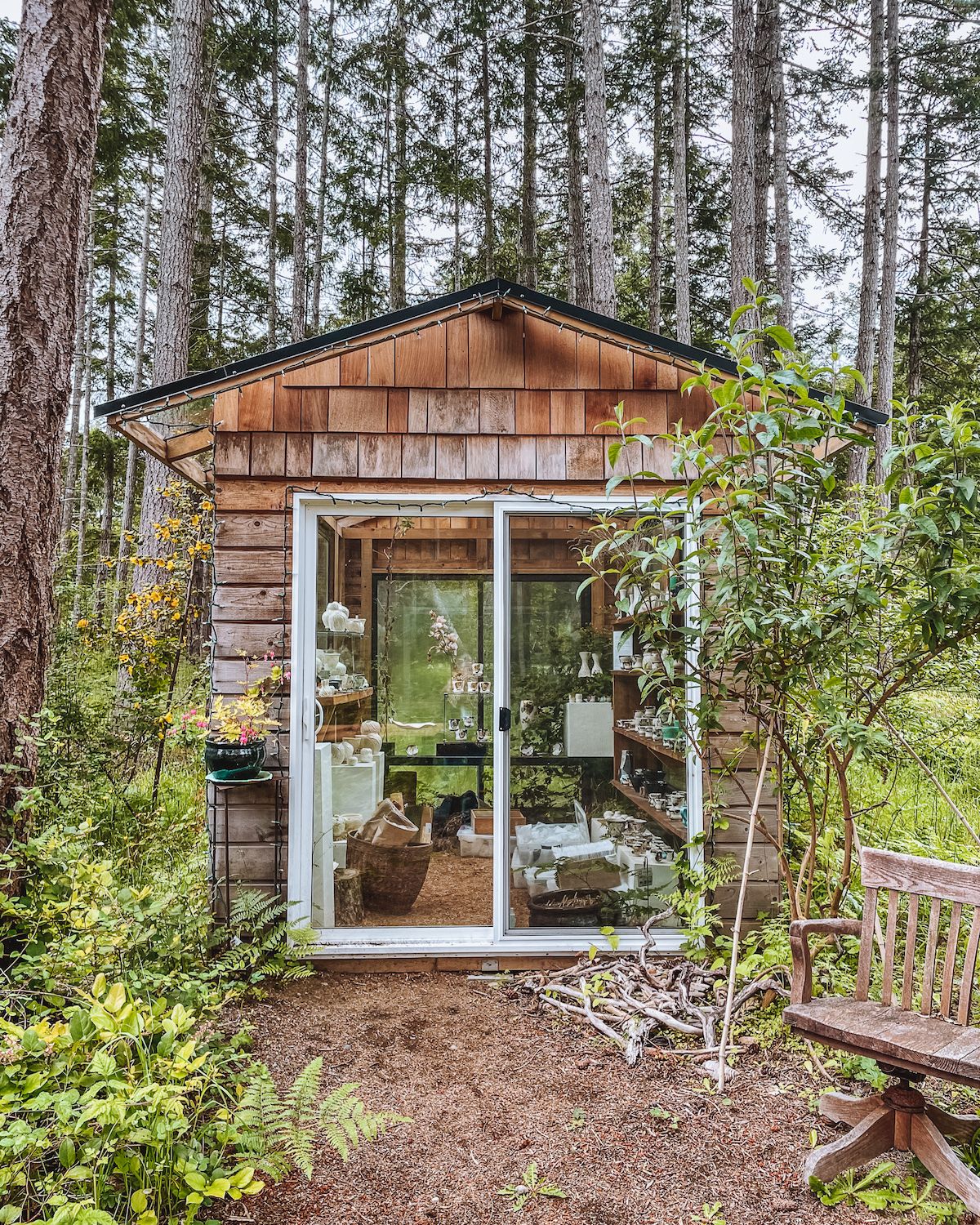 Hornby Island is quite the creative community with its diversity of painters, musicians, photographers and artisans. Get a peek into the life of an artist by visiting one of the many studios on the island. Just use this handy Hornby Island Arts Map to see where all the studios are on the island.
The arts map lists the location, pictures of their work, email, phone number and hours (although the hours aren't always accurate). Call ahead to see if they are open to avoid disappointment!
If visiting artist studios is at the top of your list we highly recommend visiting in July/August. We were visiting in June and only 2 of 12 artists we called were accepting visitors at the time since they were priming up for the July/August season. We were lucky to see the studios of Cindy Anderson, who makes beautiful porcelain bowls, and Rachelle Chinnery, who makes unique ceramics in her tranquil garden space.
17. Dine with ocean views at The Breeze Restaurant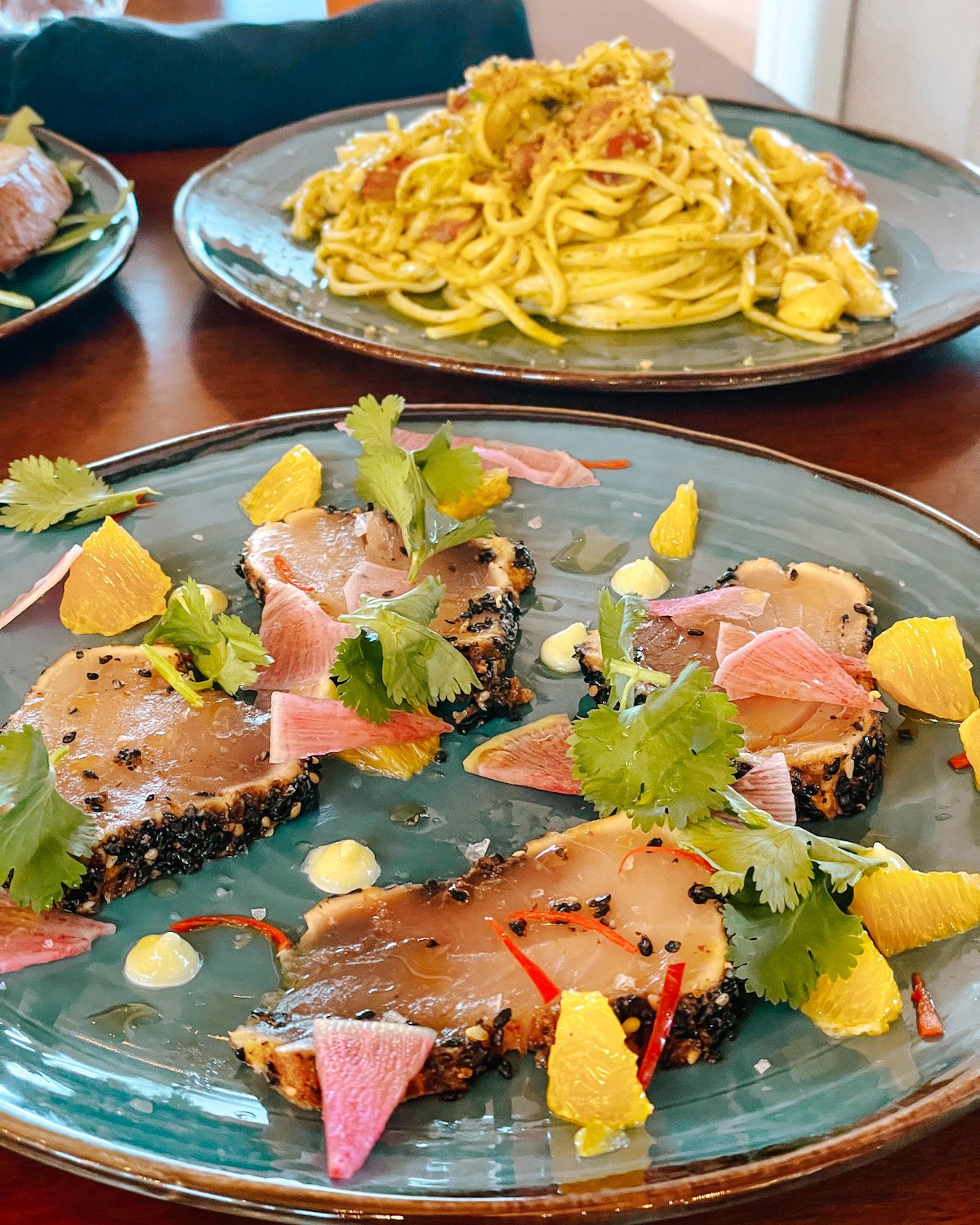 Take in oceanfront views at The Breeze Restaurant on the wrap-around patio.
Their fish tacos and fresh ahi tuna pair well with their creative hand-crafted cocktails. The Breeze Restaurant is part of
Sea Breeze Lodge
, the only hotel-like accommodation on the island.
18. Shop the pretty boutique at the nursery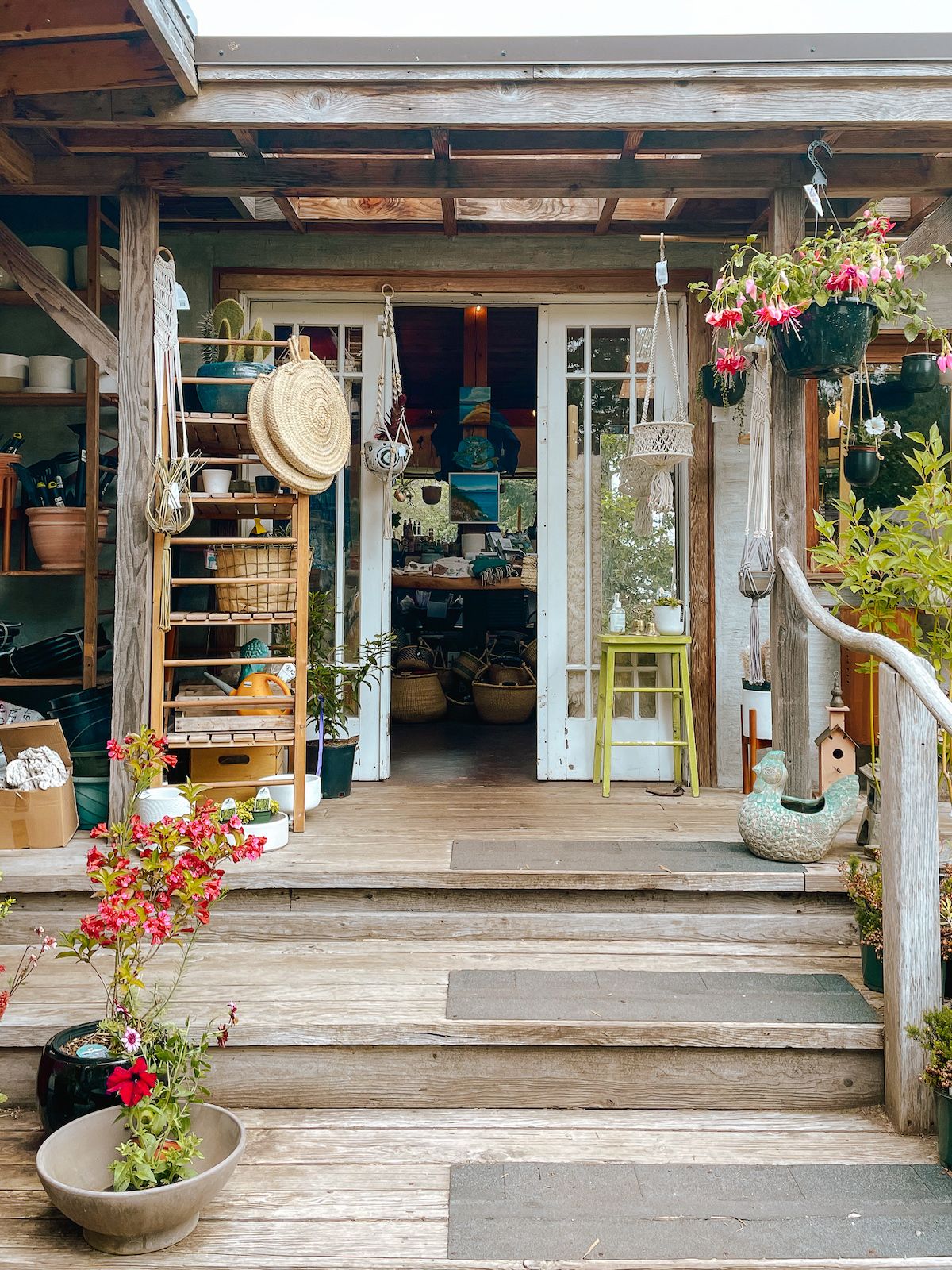 Tucked away in the nursery is a cute boutique store called Baird&Co. They have a great selection of plants, housewares, art and handcrafted products from local artisans. We were told that during summertime a juice bar opens on site.
19. Devour a Vietnamese sandwich at the Sizzle food truck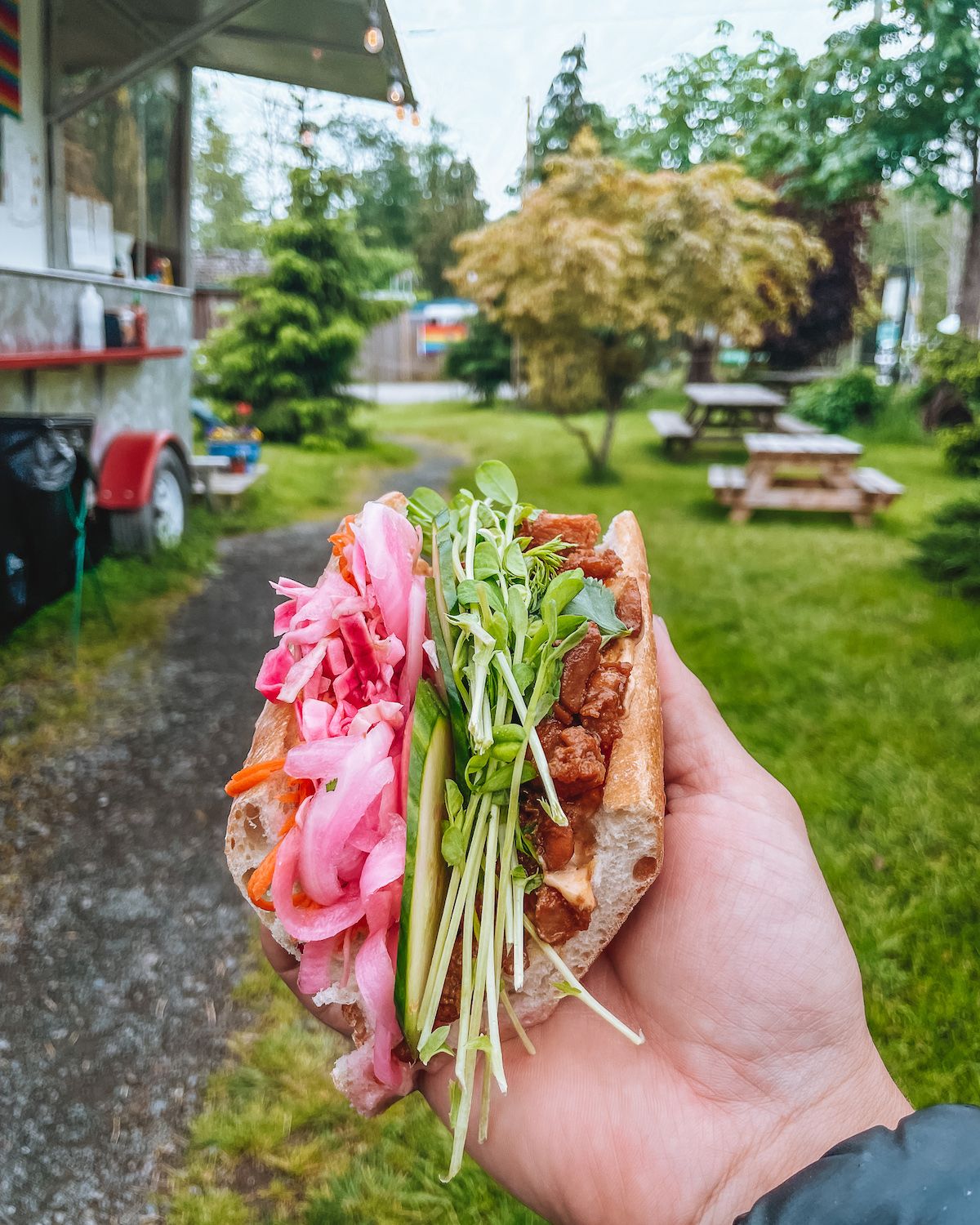 Satisfy your hunger with some tasty East-Asian bites at the Sizzle Food truck. The Vietnamese sandwich is the perfect proportion of grilled chicken, pickled veggies and sriracha mayo on a freshly baked bun. We made the mistake of just sharing one!
20. Walk along Sandpiper Beach - a geological wonder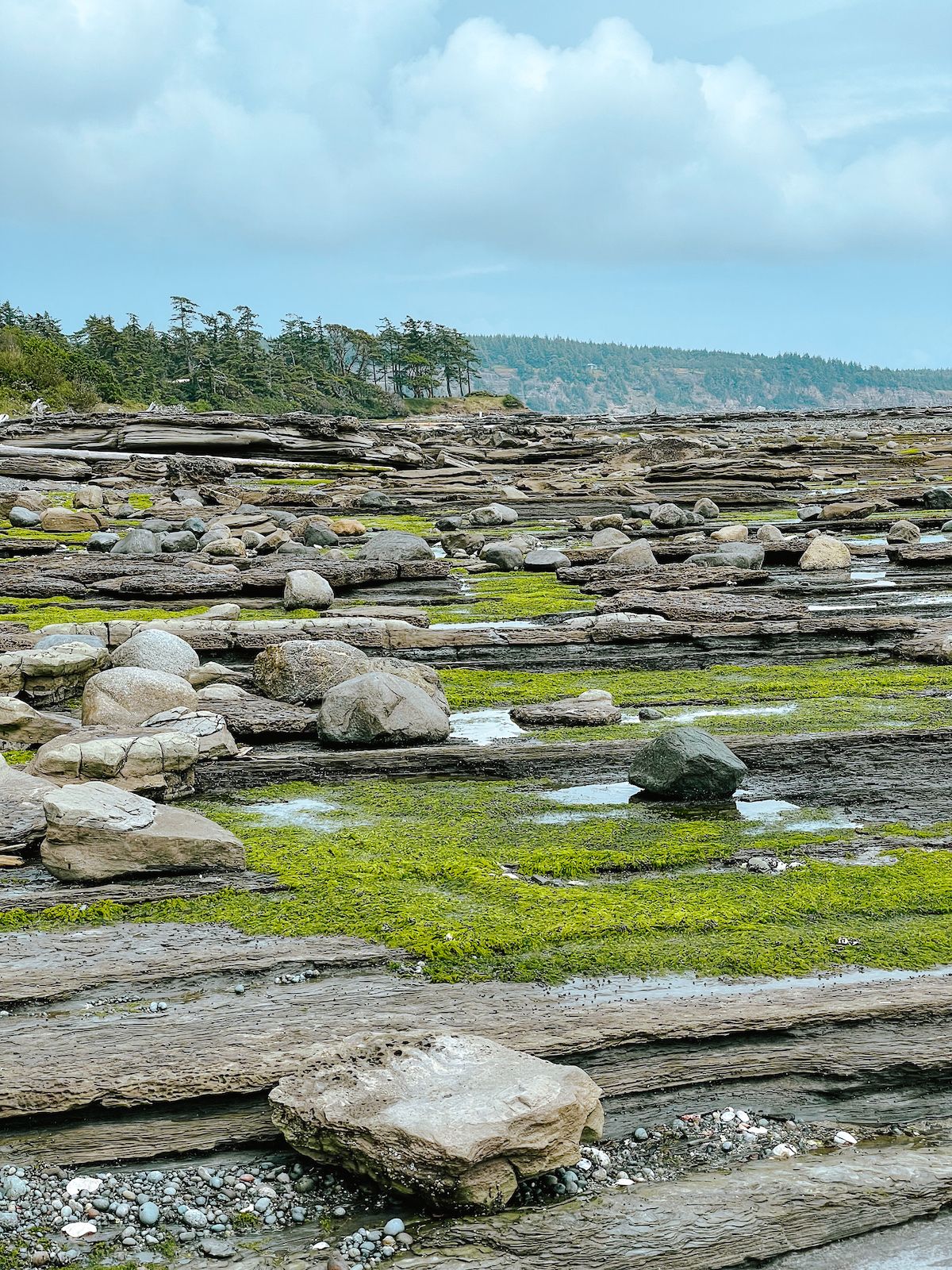 Sandpiper Beach was one of the most impressive beaches we saw on Hornby Island. At low tide, the shore looks like a geological wonder with its layers of flat-topped shale, honeycomb weathered sandstone and bright green seaweed. Drive to the Sandpiper Beach Community Park and take a walk along this striking beach.
21. Go on a serene hike through Helliwell Provincial Park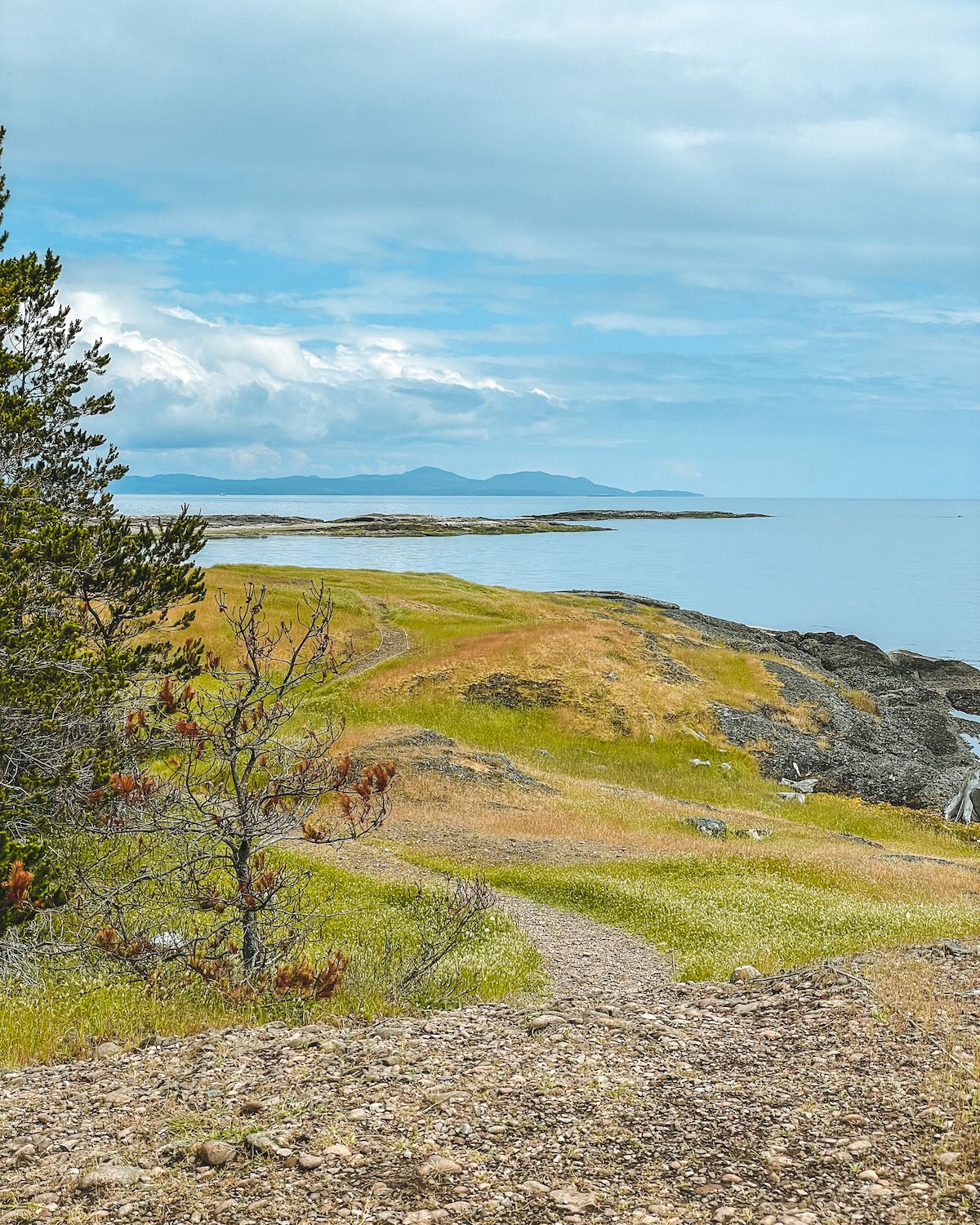 Hiking through Helliwell Provincial Park is a must do on Hornby Island. The former farm was donated by John Helliwell in 1966 and is one of the most scenic areas of the island.
The easy 3.5km loop first takes you through a forest with old-growth Douglas firs until you reach the rocky headland with long grasses, wildflowers and spectacular views of the ocean and mountains. The setting looks like one from a fairytale. Walking along the cliffside trail, you can easily scan for wildlife, like eagles, seals and otters
22. Go stand up paddle boarding during golden hour at Fossil Beach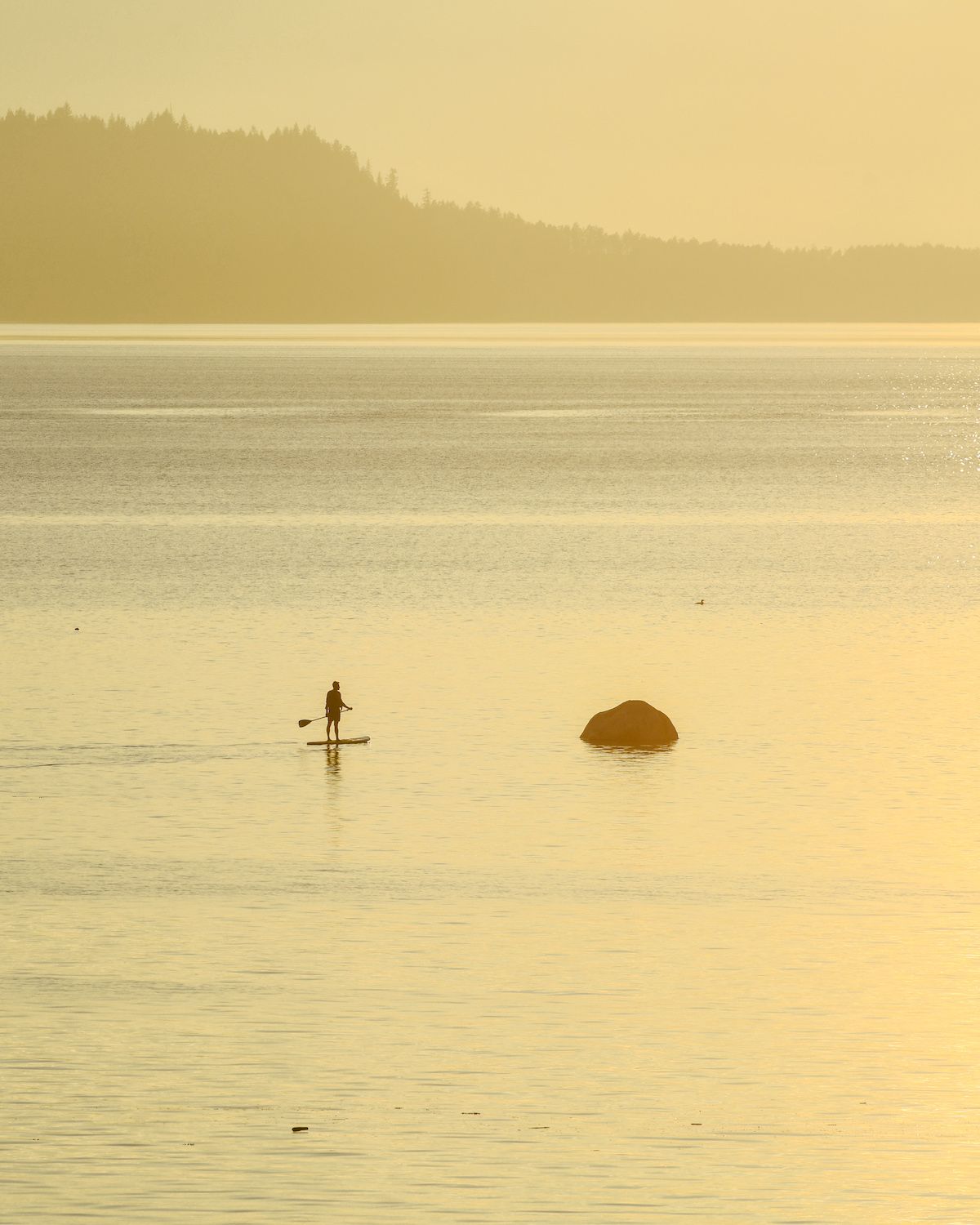 Take a delightful paddle at Fossil Beach during golden hour when the seals are out. This is one of the best places to see the sunset on the island. If you're staying at Fossil Beach Farm, SUP boards are included in your stay.
23. Eat BBQ bites and listen to live music at Sunday Sessions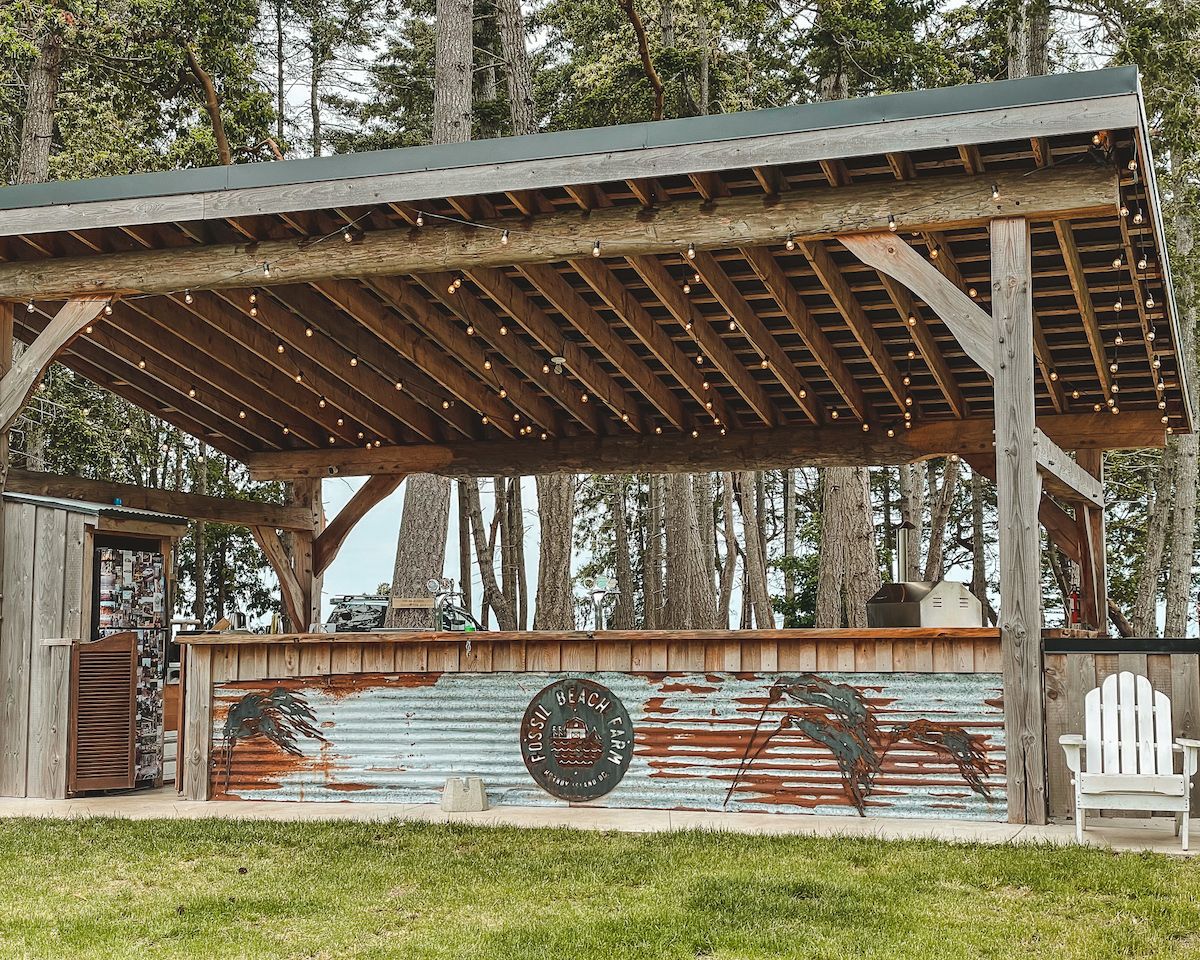 On Sundays, Fossil Beach Farm hosts their "Sunday Sessions" with live music and juicy BBQ bites. Get your hands on a chargrilled burger and listen to some tunes.  
See their event page to see who's playing.
5 Things to Know Before Visiting Hornby Island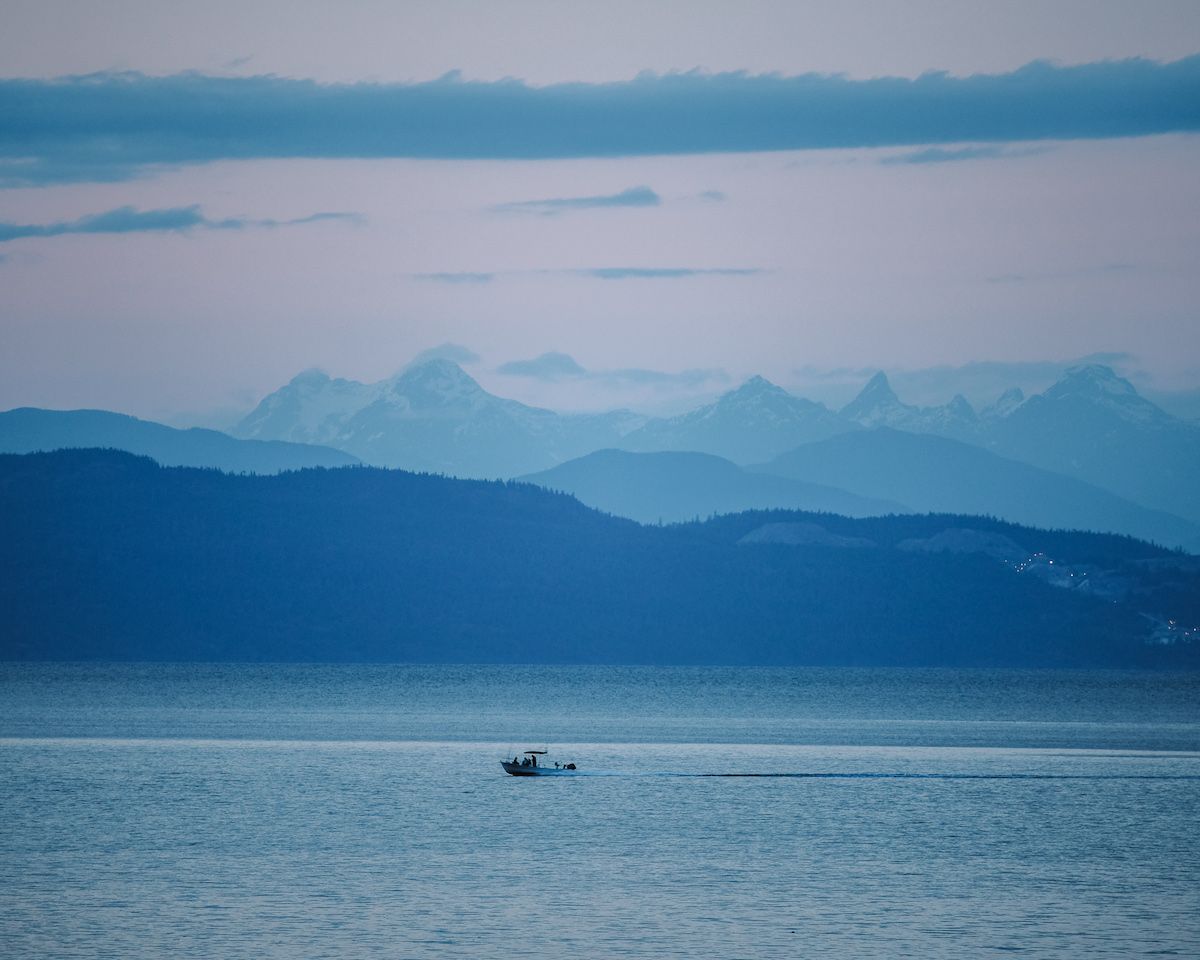 Here is a summary of our best tips, so you can explore the island with breeze!
1. Restaurant and boutique store hours on Google are not accurate
Look at their social media pages for updated hours.
2. Eateries and grocery stores close early on the island
Familiarize yourself with closing times - you don't want to go hungry for dinner! The latest convenience/grocery store that is open is Ford's Cove Store. Hours: July/August: 7:30 am-9:30 pm; September - June: 8am - 8pm.
3. The island doesn't officially "come alive" until July/August months.
If you are excited to visit spots like studios and wineries, you will need to plan accordingly. If you travel outside of July/August, ensure it's on a weekend so you don't miss the artisan market and live music events. Some restaurants are also only open on weekends.
4. Make dinner reservations in advance
Since there aren't many restaurants, make your reservation online in advance to avoid disappointment - especially for The Breeze at Sea Breeze Lodge and The Table at Isla de Lerena Vineyard.
5. The Hornby Island tourism map times aren't always accurate
You can't fully trust the Hornby Island tourism map for accurate hours. For example, Hornby Island Winery actually opened July 1 this year, not June like the map said. Social media pages are the way to go for updated hours.
We hope you enjoyed these fun things to do on Hornby Island!
---
Start planning your trip to Hornby Island
---
Combine Hornby Island with a road trip through Vancouver Island. See our Vancouver Island itinerary.
Want to explore more of the Gulf Islands? Check out our other island travel guides:
---
Save and pin these fun things to do in Hornby Island for later: