To the east of Madagascar, you'll find a small island with incredibly diverse landscapes that showcase some of Mother Nature's best work. That island is Reunion, an overseas region of France that most people have never heard of! The largest proportion of islanders are of mixed descent (African, European, and South Asian) and the languages spoken are French, French Creole and Tamil.
If you're looking for an island adventure, rather than an island vacation to relax and swim at the beach, Reunion Island will have what you're looking for. You can see one of the most active volcanoes in the world, hike to isolated towns inside craters of dormant volcanoes, swim with whales and dolphins, fly in a helicopter to see magnificent gorges and waterfalls.. and the list goes on!
Our guide includes the 10 best things to do in Reunion Island, the best time to visit and the best way to get around the island.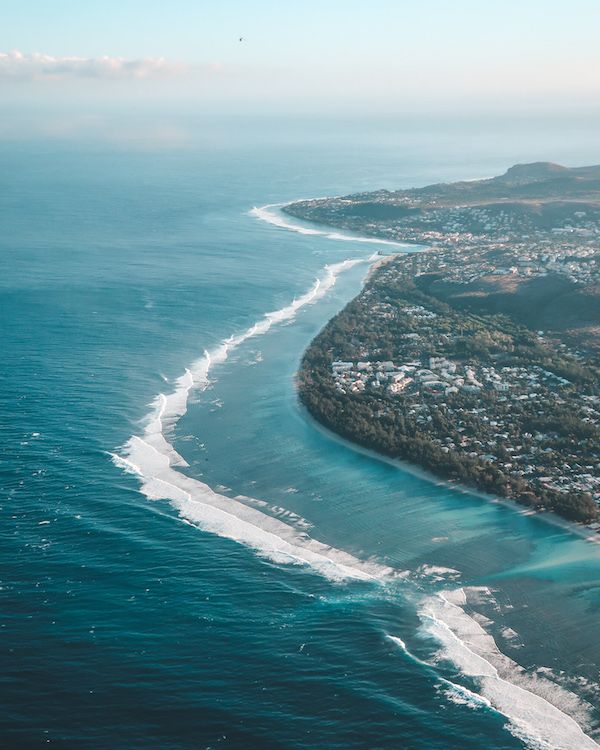 Disclosure: Some of the links below are affiliate links, meaning at no additional cost to you, we will earn a commission if you click through and make a purchase. Regardless, we only recommend products or services we have used or that we believe will add value to our readers.
Best Time to Visit Reunion Island
The best time to visit Reunion Island is during its dry season from May - October. The best time for whale watching is from June - October.  Avoid travelling in December and January, since it's cyclone season!
Best Way to Get Around Reunion Island
The best way to get around Reunion Island is by renting a car. Half of the fun is exploring the island by driving the windy roads and discovering the incredible landscapes. Reunionese people drive on the right-hand side of the road, like North America and Europe.
Is driving in Reunion Island scary? We drove around the island for five days and didn't have any issues. Roads on Reunion Island are paved and well maintained. The windy roads that take you up into the mountains, however, have a storm drain on one side, so it took a couple days to feel comfortable with the deep gutter.
Top Things to do in Reunion Island
1. Drive the Route du Volcan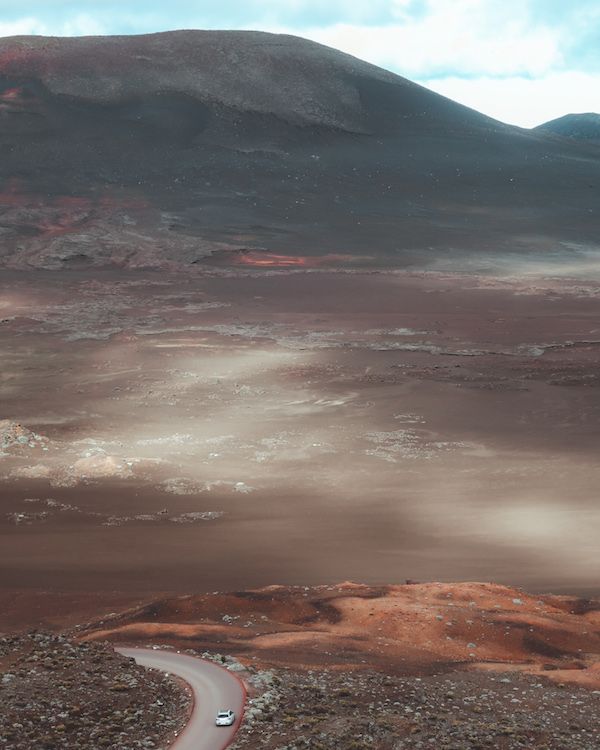 Take the scenic drive up the Route Du Volcan to see natural wonders and the active shield volcano, Piton de la Fournaise.
Route Du Volcan, also known as highway RF5/RF6, first takes you up a mountain through forests with beautiful panoramic views of the countryside and quaint villages. Once you get to the top at 2,260m altitude, it feels like you've landed on the moon. The green landscape suddenly disappears and turns into a vast plain of volcanic reddy-brown rocks known as Plaine de Sables.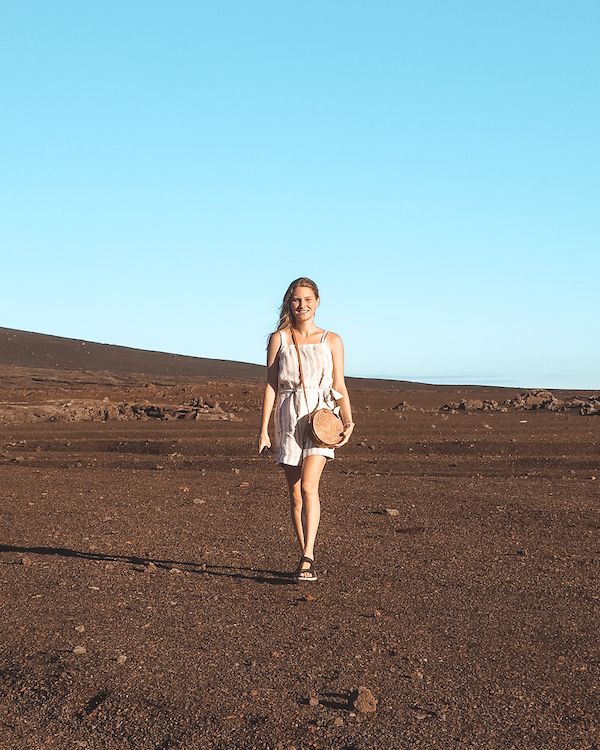 Don't stop here! Keep driving until you reach the end of the paved road and then continue onto the gravel road. The gravel road will lead you to a large caldera called Enclos Fouqué, which was created by violent volcanic explosions and collapses. The walls of the caldera are between 100m-400m high and inside you will see the active volcano, Piton de la Fournaise, and small craters such as Formica Leo.
Since Piton de la Fournaise is a shield volcano, it doesn't look like much more than a barren mountain, but it is one of the most active volcanoes in the world!
Time your drive so that you can watch the sunset on the way back down Route du Volcan. It was amazing.
2. Hike to the rim of an active volcano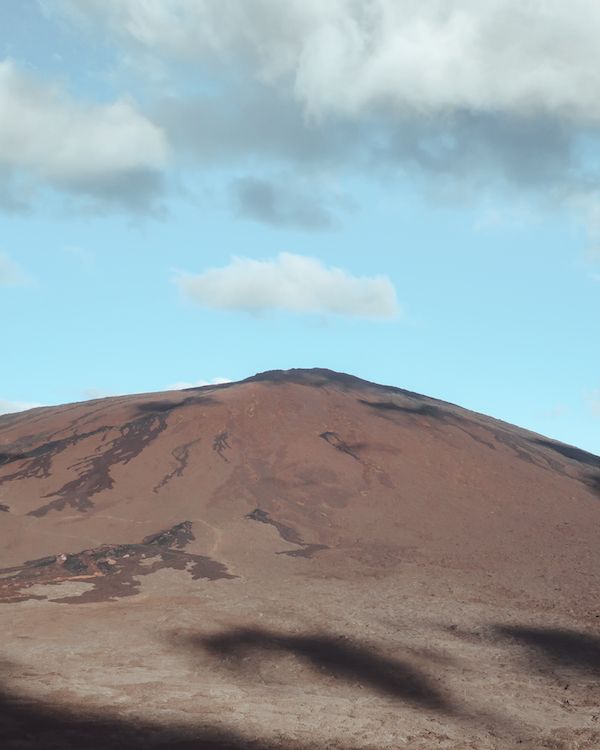 From the car park at Enclos Fouqué, you can hike down the caldera and up to the rim of Piton de la Fournaise. Hiking is permitted where there aren't eruptions happening.
The round-trip hike is 11.6km long and should take around 5 hours. You will first descend down the wall of the caldera from 2,352m to 2,213 meters before starting your 273m ascent to the top of the volcano. The total elevation gain there and back is 516m.
The altitude is high, so it make take you longer than normal to hike this distance. Don't forget to bring water!
3. Stay at an Airbnb and live like the islanders do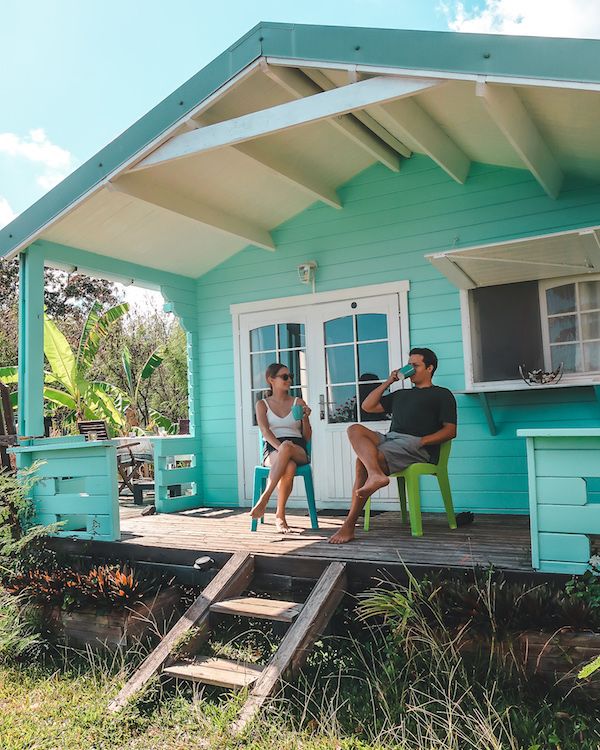 We loved staying in an Airbnb on the island and felt like we were living the islander way of life. We enjoyed buying groceries from local grocery stores and making dinner at home. Having dinner outside on our patio for sunset was a highlight! If you can, try to get a place with a sunset and sea view
The Airbnb we stayed at was a cute and colourful bungalow located in the quiet neighbourhood of Plateau-Caillou.
We found the location to be a convenient starting point for our adventures on the island. Our airbnb had sunset and sea views.
The only issue we had was that noise could carry up the hill, so you could hear traffic. This is apparently common on the island though.
4. Have French Raclette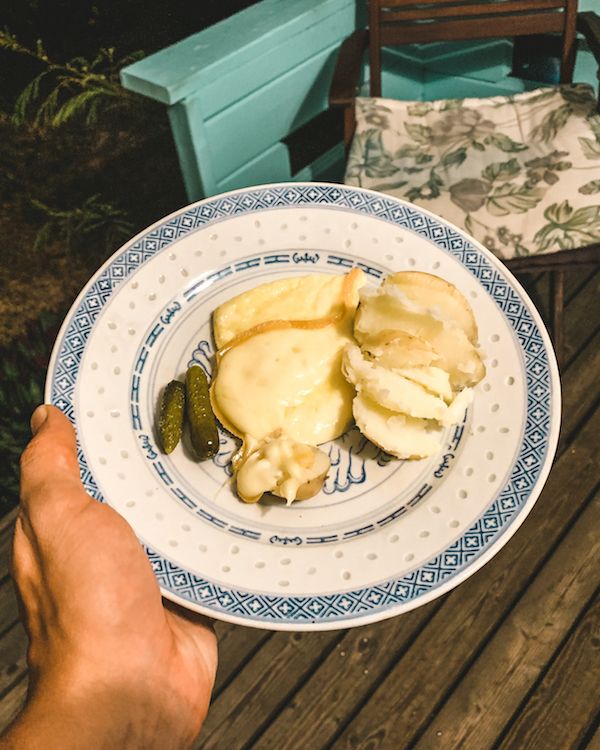 Have you ever heard of the deliciously cheesy goodness of raclette? It is a popular Swiss and French dish, where Alpine cheese is melted onto small potatoes.
Raclette is one of our all-time favourite meals, so we couldn't believe our eyes when we saw it at the supermarket. Raclette cheese... found on the small island of Reunion... beside the country of Madagascar. We just couldn't believe it!  We found out it is a tradition for islanders to have raclette dinner parties during wintertime.
We didn't have a raclette machine, but were determined to have some of this bubbling cheese in our mouths. To make it on the stovetop, just heat a pan on medium heat and put the cheese in. Wait until it is bubbly before scrapping it on your plate of boiled potatoes.
Make sure you grab some Maille pickles and pickled onions to have on the side. And don't forget the French wine!
5. Drive the scenic coast from Saint Gille to l'Étang-Salé les Bains and have a picnic on the beach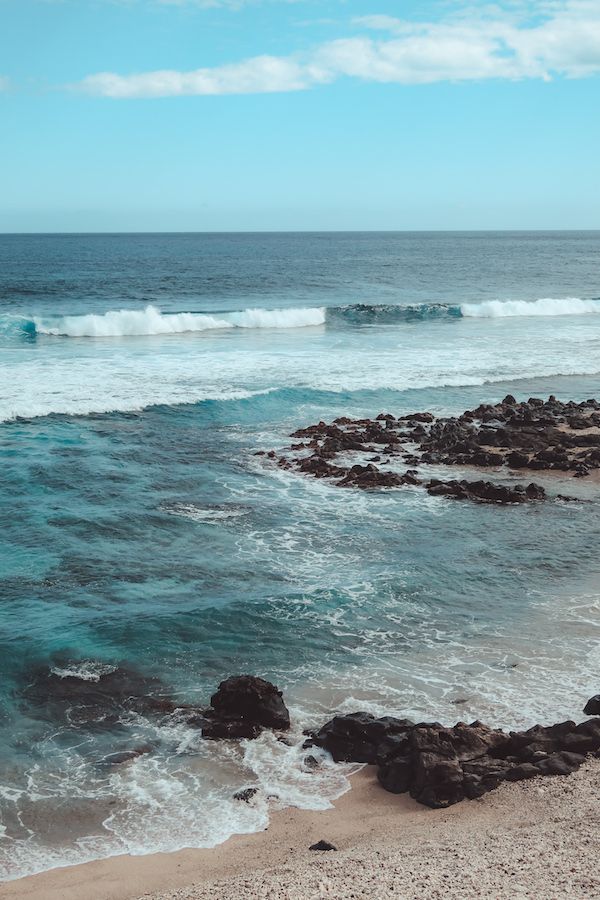 Grab your picnic essentials and picnic blanket and start your scenic road trip along the coastline from Saint Gille to l'Étang-Salé les Bains. There are a great selection of meats and cheeses at grocery stores due to the French influence on the island.
From Saint Gille, take highway N1A along the coastline until the highway ends at l'Étang-Salé les Bains. The driving time is 30 minutes one way.
A couple beach options that are popular along the way are Plage de l'Hermitage, Plage de la Saline or Plage de L'Étang-Salé. You may be enticed to swim at the beach, but beware that Reunion is known to have the most dangerous beaches in the world for shark attacks. 16% of the world's fatal shark attacks from 2011-2016 came from the island! Two more fatal shark attacks have happened in 2019.
Although it's unsafe to swim in the water, the wild beaches are beautiful to lounge at and have a picnic.
Once you're in L'Étang-Salé make sure to stop at the delicious ice cream shop coming up next on our list.
6. Eat delicious vanilla ice cream from Délices et Douceurs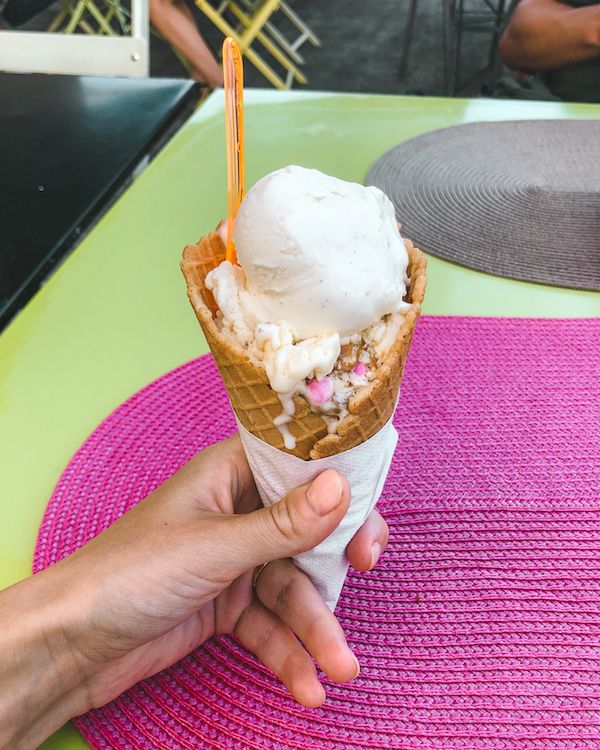 Eat homemade artisanal ice-cream at this cute ice cream shop. The cafe has unique flavours of ice cream to chose from, but our standout flavour was vanilla. Reunion Island is known for producing bourbon vanilla, so you can imagine how good their vanilla ice cream is!
7. Hike down the rim of a dormant volcano to the village of La Nouvelle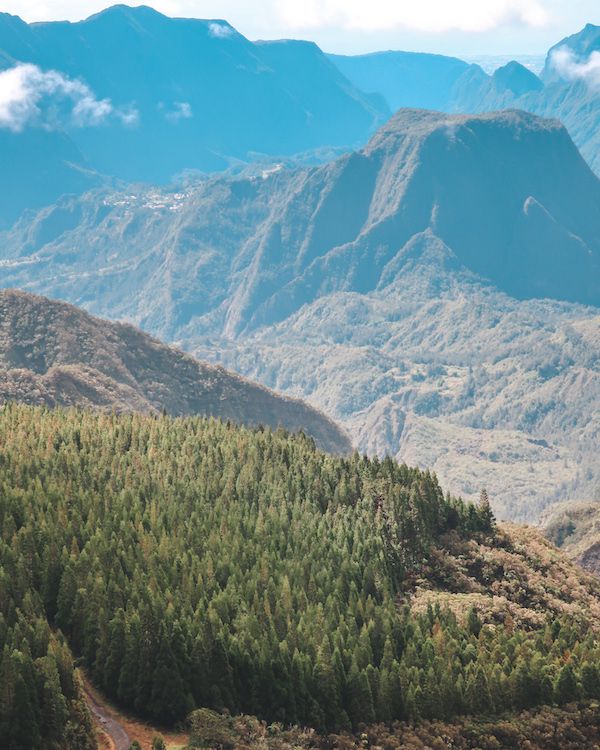 Hiking in Reunion is a dream, with its diverse landscape of mountains, volcanoes, craters, forests, valleys, gorges, and waterfalls. What makes it so special is that in this extreme landscape, you will find villages that are completely isolated. The only way you can access them is by foot or helicopter!
We wanted to visit one of these villages and decided to do a hike to La Nouvelle. The village is located inside a large caldera called Mafate, which was created by the collapse of the dormant volcano, Piton des Neiges. How cool is that?!
To access the hike, you will need to drive to Col des Bœufs where you will find the car park. Enjoy the beautiful winding roads and mountain views along the way.
The roundtrip hike from the car park is 11.1km with a 695 meter ascent and descent.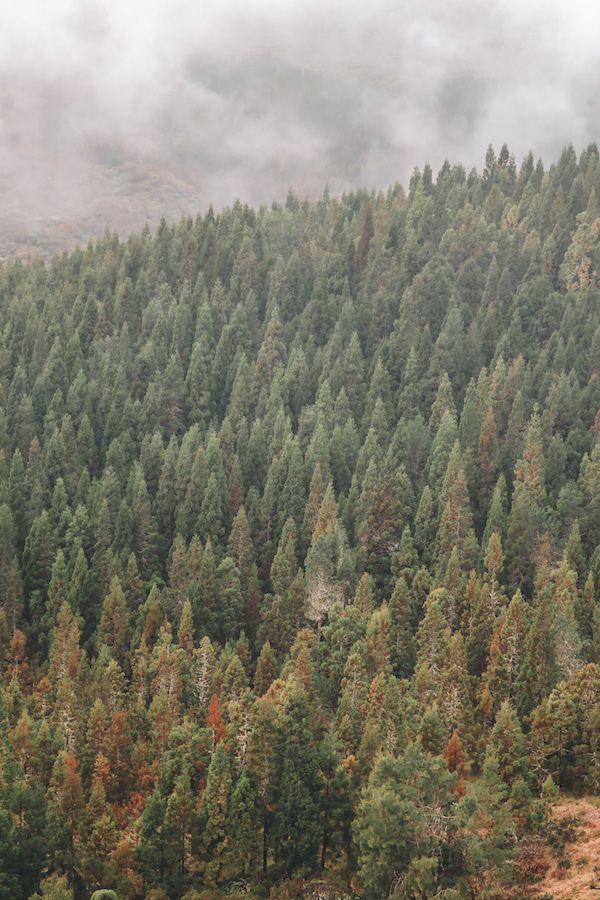 You first ascend 107m from the car park up a gravel path. Look behind you over the cliff to see marvellous views of coniferous trees down in the valley below. Once you get to the top you will have panoramic views of large caldera, Mafate.
Next, you descend down into the caldera towards the village of La Nouvelle. The hike is easy to intermediate, with some steep sections.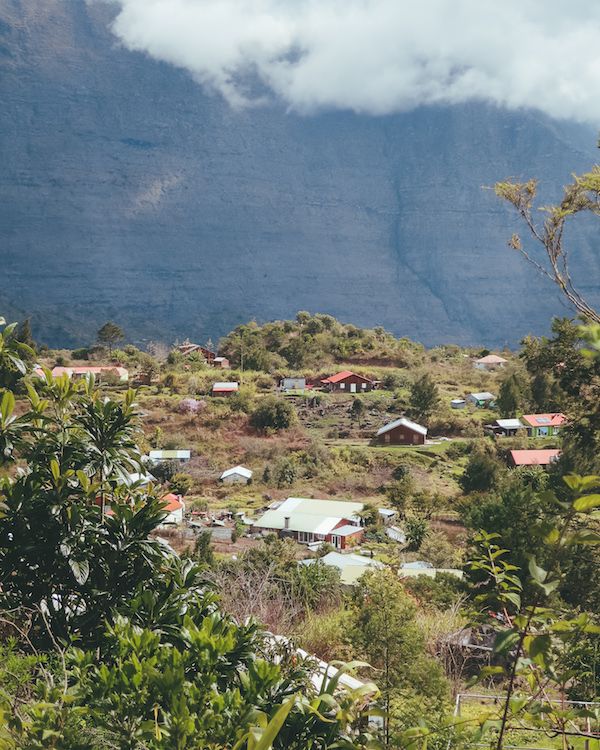 Once you reach the town, you will see a couple cafes serving sandwiches and drinks and a couple outdoor bars. Don't arrive too late like we did and miss out on all the sandwiches! They only make a certain amount each day. Our stomachs were rumbling. Pack a picnic just in case.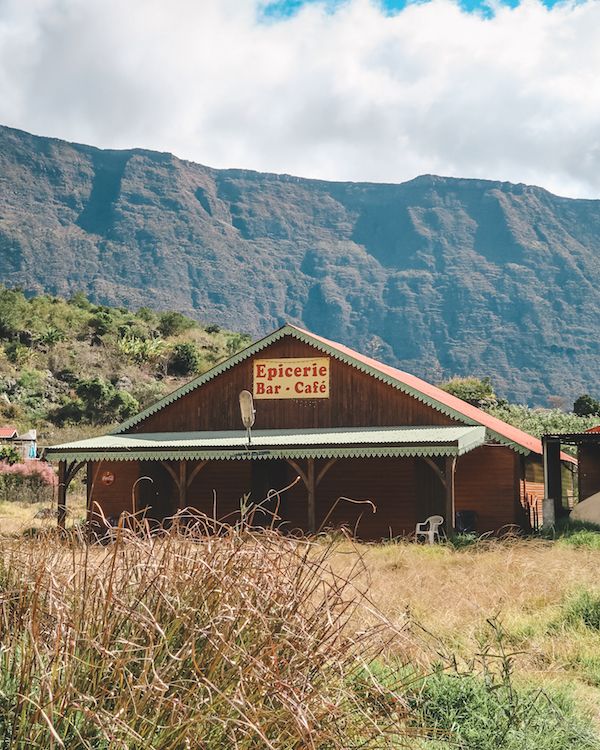 La Nouvelle is a very cute village that we wish we had more time at. If we did it again, we would have stayed one night in a guesthouse, to get to know the local way of life. It's incredible how isolated they are! The bars looked like so much fun. One of the locals offered Ari a shot of Reunion rum and he took it before for our hike back up!
8. Go on a helicopter tour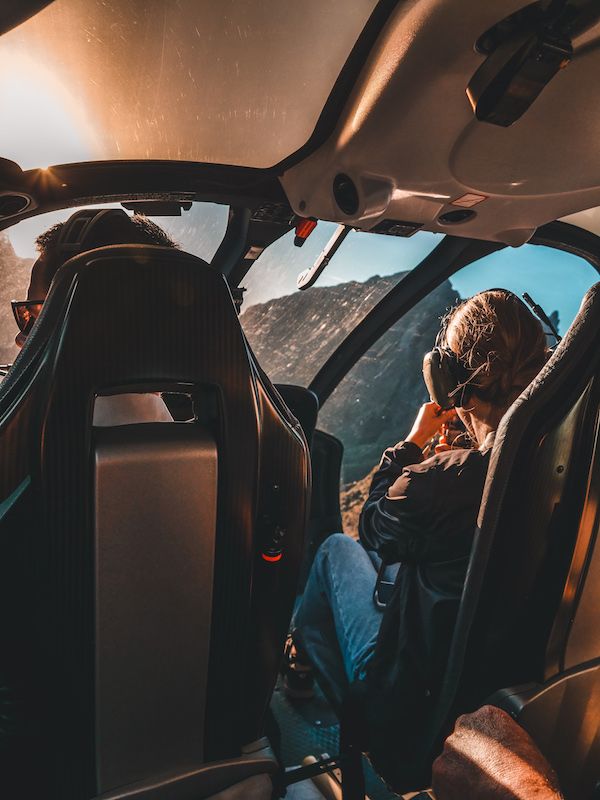 We have gone on helicopter tours in incredible places like the Grand Canyon and the Swiss Alps, but our helicopter tour in Reunion Island stood out among the rest. It was a very dynamic flying experience, because you fly through the diverse landscape rather than over it.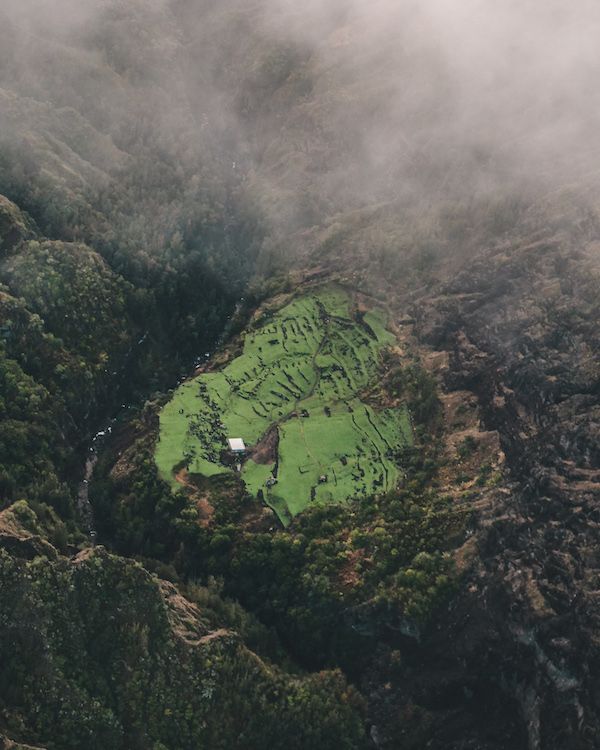 We flew through canyons, beside huge waterfalls, up volcanic ridges, over isolated villages and over the sea. There were so many untouched places that we wished we could be dropped off at.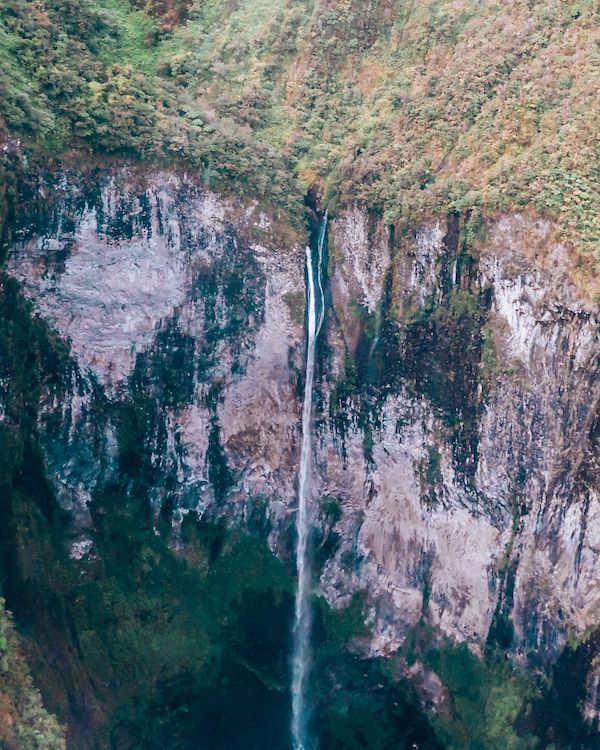 We chose the tour company, Corail Helicopters becuase they have great reviews on Tripadvisor and were founded in 2004. Our pilot was excellent and we felt comfortable and safe during the flight.
Helicopter tours in Reunion aren't cheap, but the experience you get to have is worth the money. Corail Helicopters offers three different packages:
'2 Cirques' (179 € - 210 €): is 25 minutes and takes you to the dormant volcano of Piton des Neiges, the caldera of Mafate, over luscious green mountains and to waterfalls.
'Island Tour' (280 €): is 45 minutes and includes the spots in '2 Cirques', the Trou de Fer, which is a deep canyon with six large waterfalls that flow into the gorge, a view of the active volcano, Piton de la Fournaise, and a fly over the blue lagoon.
'Excellence' (299 €-320 €): is 55-minutes and includes all of the places mentioned above plus additional waterfalls and more time at the volcano and craters.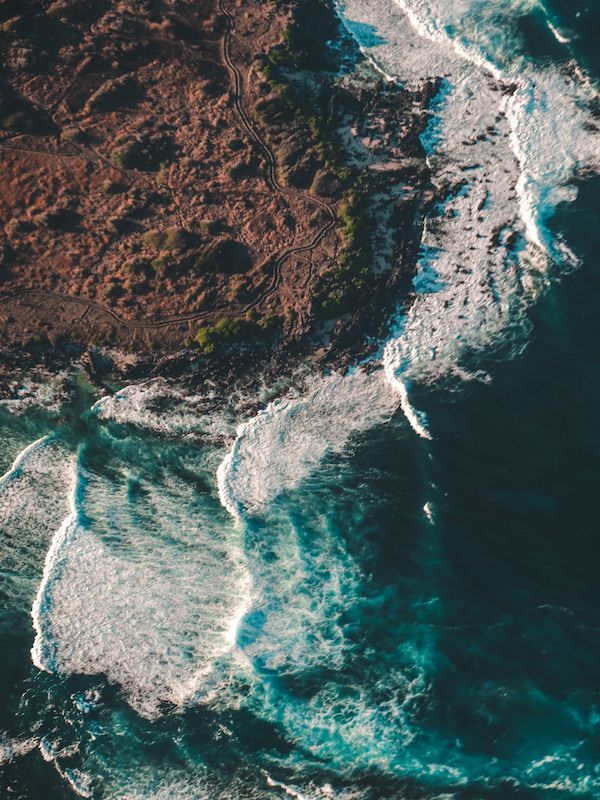 Sadly, due to weather we weren't able to fly over the active volcano of Piton de la Fournaise, but it was still the best helicopter ride we've ever been on. We can't imagine what it would have been like to see the active volcano from above as well!
9. Go snorkelling with dolphins & whales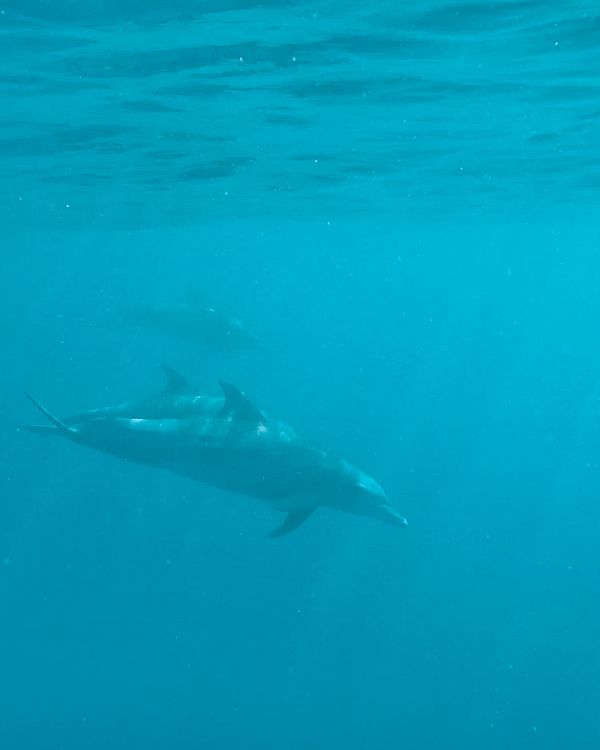 We had a childhood dream come true swimming with wild dolphins, and 11 of them at that! The tour company we chose, Duo Ocean, exemplifies how sustainable marine life tours should be done. Our boat kept a reasonable distance from the dolphins and we slowly got in the water waiting for them to approach us rather than chasing after them. Luckily for us they were a playful bunch!
You might be thinking, "swim in the most dangerous shark capital in the world? Are you crazy?!" The tour company has only ever encountered one shark far down below in a group setting. Sharks observe quite a while before approaching humans and each swimming session is short. Attacks in Reunion Island have historically been because of no visibility, isolation, and no mask. The guides are certified divers with over 10 years of diving experience and watch over the group. We never felt unsafe!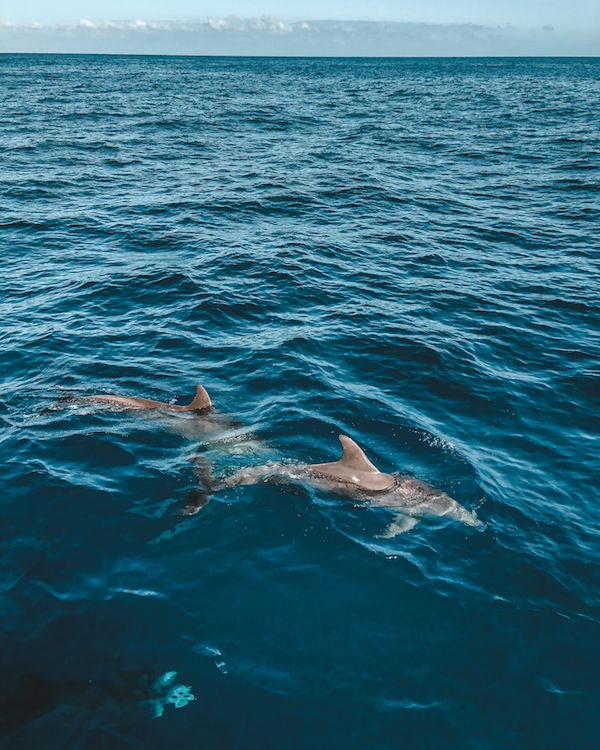 We almost had the opportunity to swim with a mother humpback whale and her baby, but unfortunately a rented tourist boat aggressively boated over to them as fast as possible and scared them off.
Our tour was very well organized and they thoroughly explained the procedure for snorkelling in a group with the dolphins and whales. They definitely deserve their 5-star rating on TripAdvisor!
The tour costs between 60 €-90 €, depending on the size of boat you book. Make sure you reserve in advance, since it's a popular tour!
10. Try Reunion Island's local wine, beer and spirits: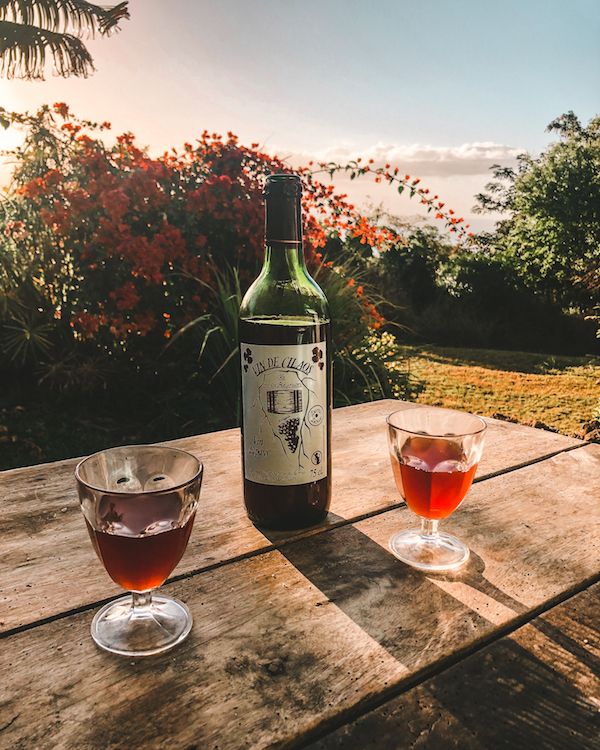 Have a beer, wine and rum tasting, Reunion style! Look out for the following:
Bourbon beer: the major producer of beer on the island with an extinct dodo bird on the front. Refreshing!
Vin de Cilaos wine: a sweet wine to have as dessert.
Rhum Charrette: a delicious rum when infused with fruits or ginger.
Enjoy this island full of adventure!
Pin and save this guide to Reunion Island for later: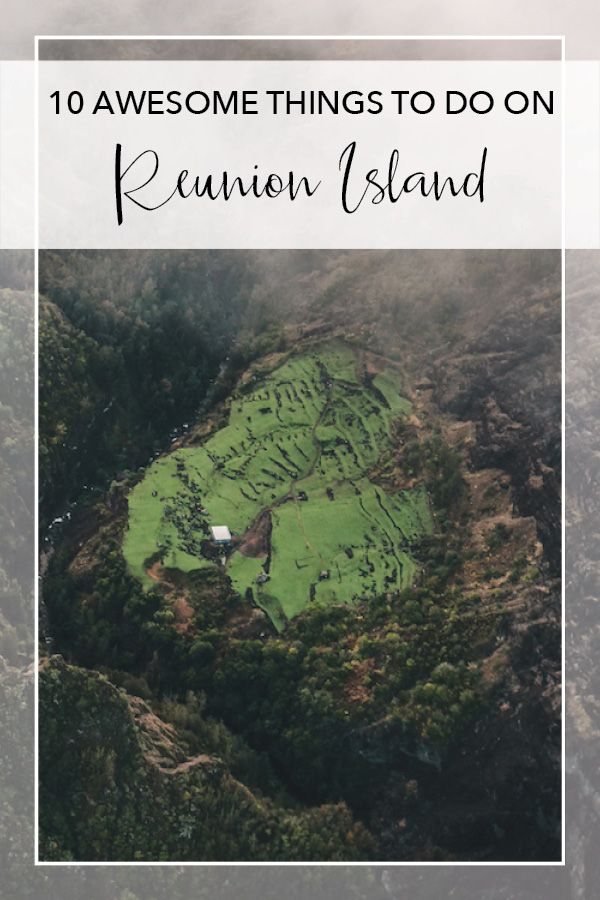 ---
Looking for more travel inspiration? Check out our list of fun adventure ideas for your next trip.
You may also like: