Morocco is a country filled with special moments, like stepping into a new souk in the Medina, finding cats curled up in the funniest places, sipping mint tea on a rooftop and watching the sunset while hearing the call to prayer. These are just a couple memories we experienced during our trip.
With the country's ancient history, striking beauty, artisan culture and food scene, be prepared to leave with new perspectives and a different state of mind. The country is a real paradigm shifter.
Our 7 Day Morocco itinerary includes a mix of scenic places and cultural experiences. Your one week in Morocco starts with a road trip into the Atlas Mountains and continues to the bohemian coastal city of Essaouira. Your final stop is Marrakech, to experience its vibrant culture and ancient Medina.
Overview: 7 Days in Morocco
Days 1-2: High Atlas Mountains - See one of Northern Africa's most unique landscapes and discover the Berber way of life

Days 3-4: Essaouira - visit Morocco's free-spirited coastal city with a shabby-chic appeal

Days 5-7: Marrakech - discover the ancient city's vibrant culture, food scene, architecture and craftsmanship
Disclosure: Some of the links below are affiliate links, meaning at no additional cost to you, we will earn a commission if you click through and make a purchase. We only recommend products or services we have used or that we believe will add value to our readers. Thank you for supporting us!
Best time of year to visit Morocco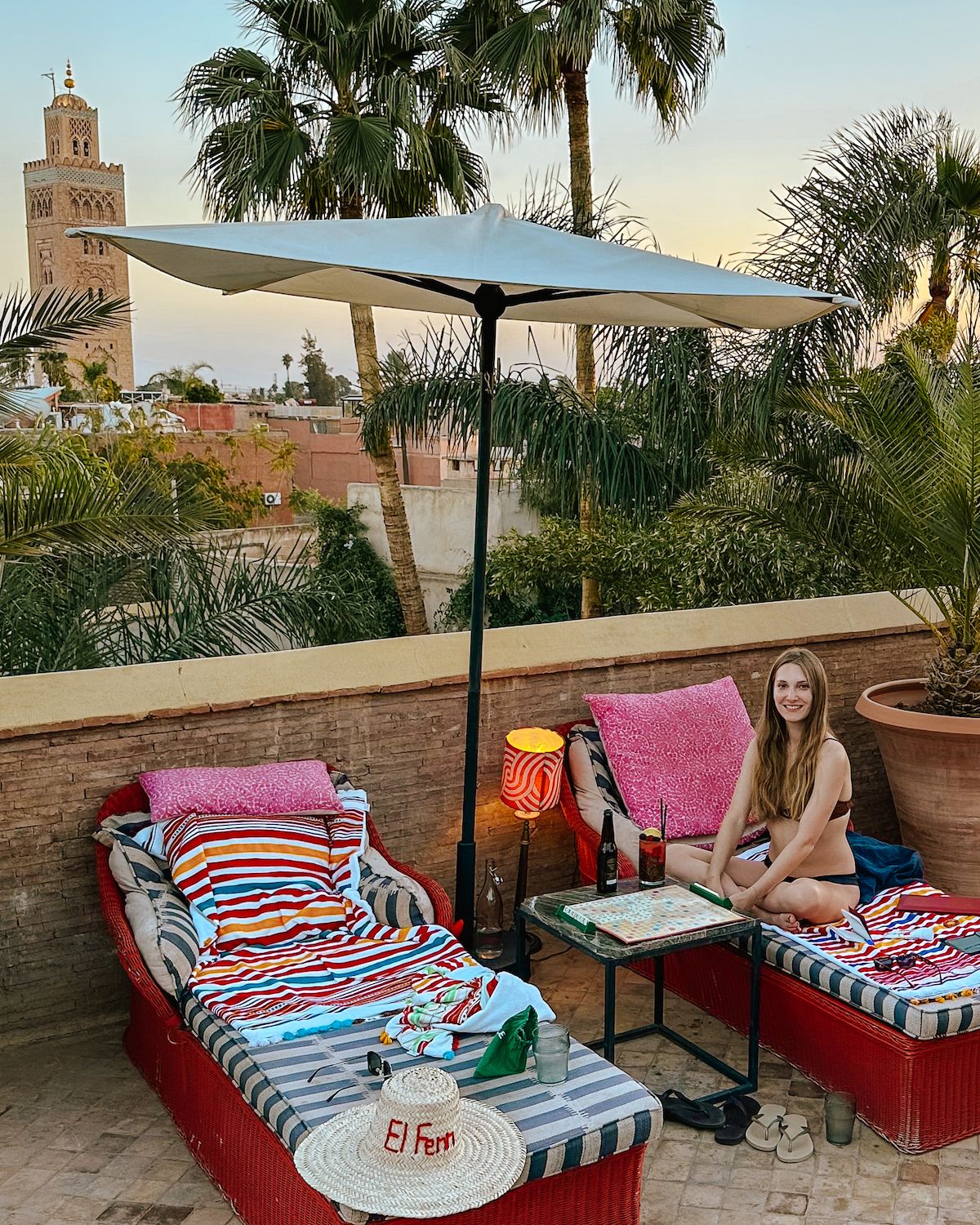 For this itinerary, the best time to visit Morocco is from October-November for a few reasons:
You will avoid snow in the High Atlas Mountains, so you can easily explore quiet mountain roads and Berber villages.
You will avoid the scorching hot summer months where temperatures average highs around 37°C in Marrakech.
You will avoid high winds in Essaouira (the windsurfing capital of Morocco)
We love the cold, so even in October the heat was hard for us in Marrakech. However, we heard that the year we went was an unusually hot for autumn. We hope this isn't a continuing pattern with climate change!
Our Top 5 tips for driving in Morocco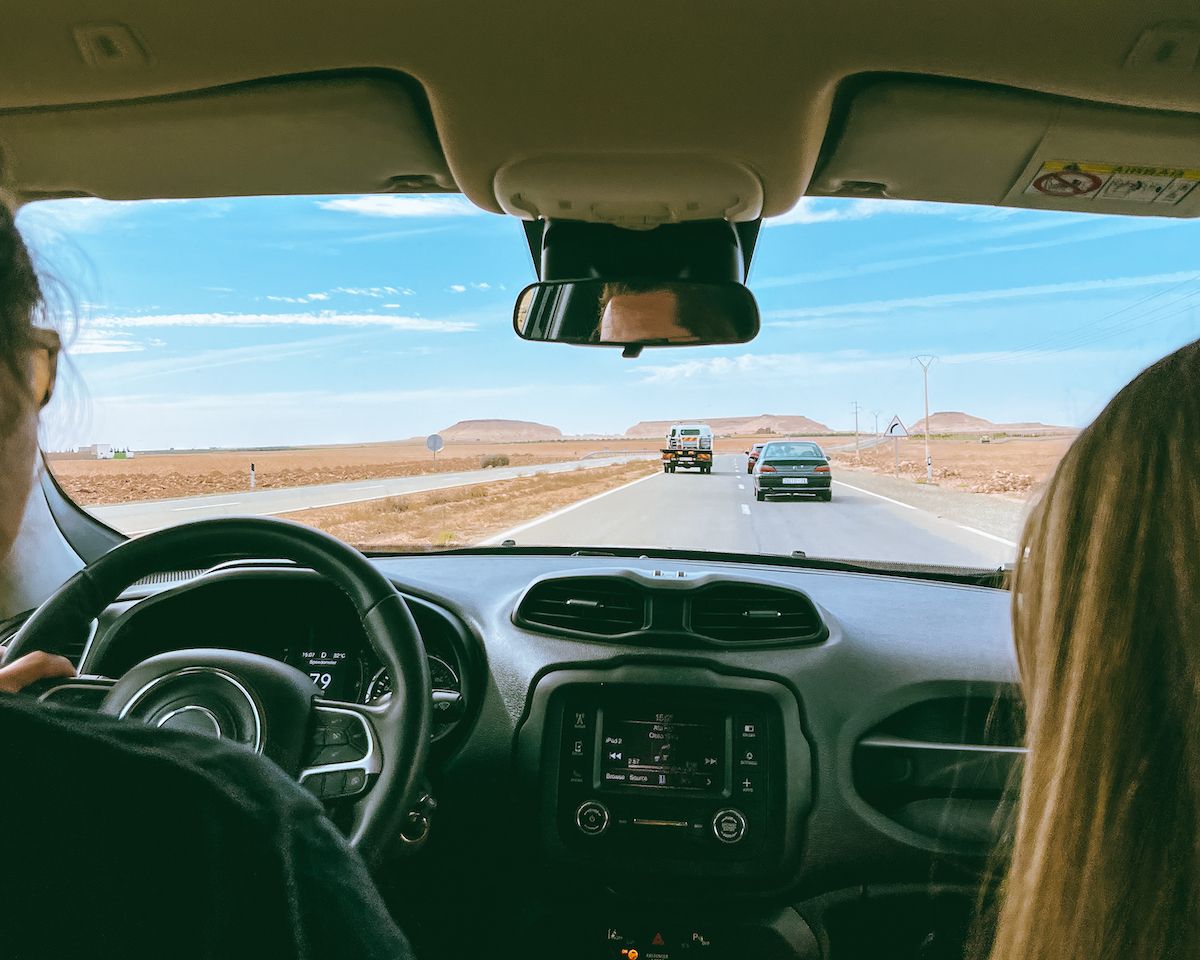 Driving in Morocco is an excellent way to explore the country on your own time without a guide. Just keep these tips in mind:
1. Let your car rental company know if you're running late - you will be fine if they have your flight number, but if you're not arriving by flight, make sure you update them on your arrival time. We were in Marrakech beforehand and they almost gave our car rental away after arriving 30 minutes late! It was the last 4x4 they had.
2. Don't drive into the centre of Marrakech - it's busy, hectic and will be a stressful time. The streets in the Medina are very narrow and riads typically do not provide parking.
3. Don't speed, not even 5 km over! There are check stops and cameras along the highways, and the police are notorious for pulling over tourists and taking "bribes" instead of giving you an official ticket. Speed limits change a lot in areas where you won't expect it, from 100 km/h to 60 km/hr.
4. You can get out of paying the official speeding ticket fine - after being extremely cautious, we couldn't believe it when we were called over at a police check just moments after picking up an espresso on the side of the road. When we turned out from the espresso joint, we didn't realize we were going 10 km-15 km over the speed limit since we were in the outskirts of town. Once we were pulled over, the police officer told us we were speeding and asked for our passports and registration. After some chatting, the police officer asked "do you want the paper"? Ari said "I don't know, do I"? The officer said "you don't, the paper means you're getting charged the whole 300 dh". He then took just 100 dh, and off we went.
5. Be careful when driving through towns - there is a lot of movement with motorbikes and people walking around. Also, always doublecheck your shoulder/blind spots for motorbikes.
🚙
Compare car rental rates from Marrakech Airport.
7 Day Morocco Itinerary
Your itinerary starts in the High Atlas Mountains, then to the coastal city of Essaouira, and lastly to the ancient city of Marrakech.
We made the mistake of visiting Marrakech first, before exploring the Atlas Mountains and Essaouira. The shopping in Marrakech is like nowhere we've been and we sure paid for it when we had to lug heavy pottery and an extra suitcase around to our next destinations. Trust us, the shopping is crazy! It's not uncommon for people to end up buying another bag to carry all of their new treasures home.
Essaouira also has excellent shopping and we found it to be a bit cheaper than Marrakech. In the High Atlas Mountains the shopping wasn't very good, and items were quoted a lot higher than in the cities.
Days 1-2: High Atlas Mountains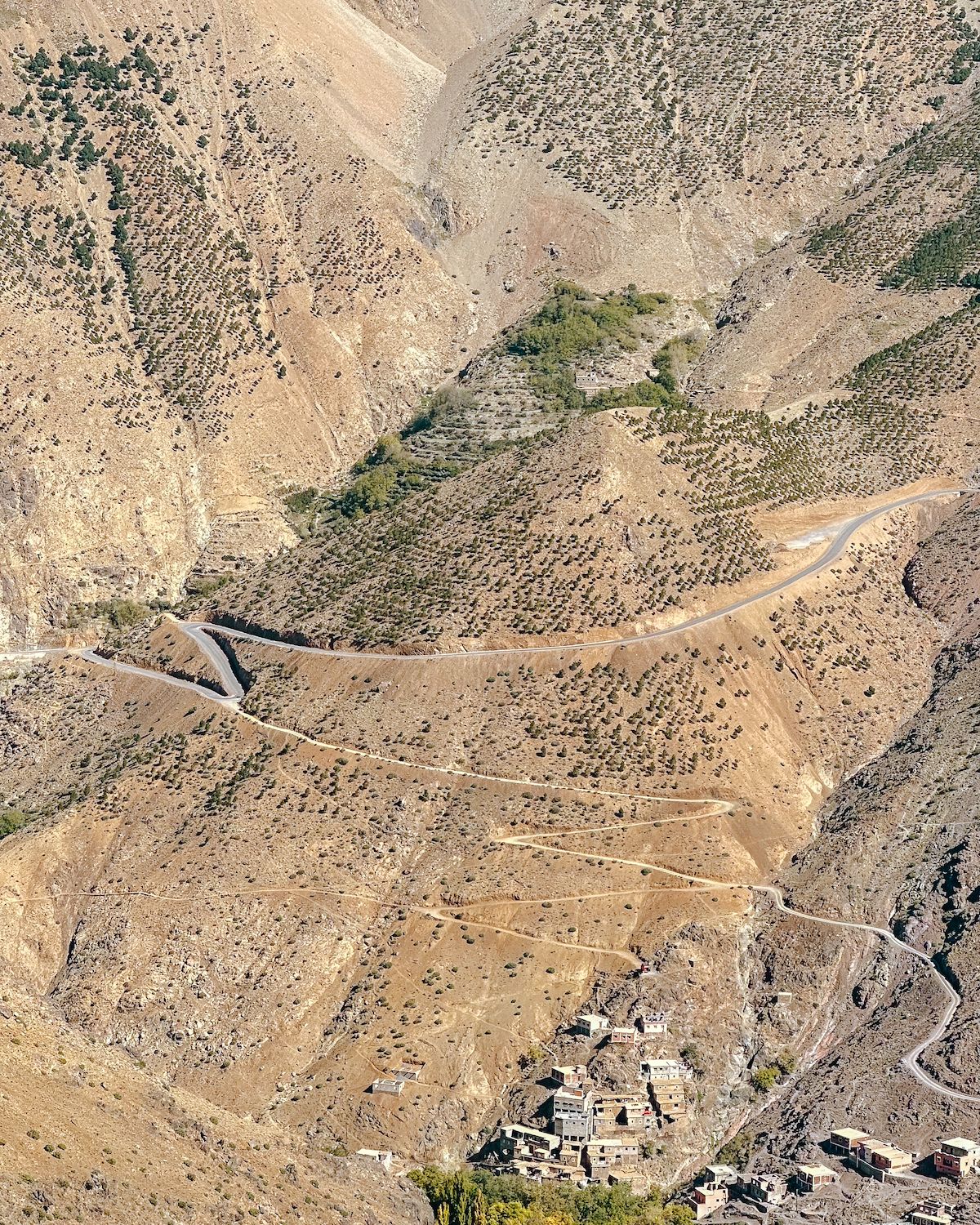 The Atlas Mountains are one of the most unique landscapes in Northern Africa. Usually when you think of this continent, you don't think of cold weather and snowcapped peaks.
The Atlas Mountains are where you will discover Berber culture, an indigenous group from Northern Africa renown for their craftsmanship. For Berber people, making textiles, pottery and crafts by hand with natural materials is a spiritual experience. They live in harmony with the land.
Day 1
Drive into the Atlas Mountains, enjoy a leisurely lunch at Kasbah Tamadot and stay in an authentic Berber lodge with astounding views.
Drive into the Atlas Mountains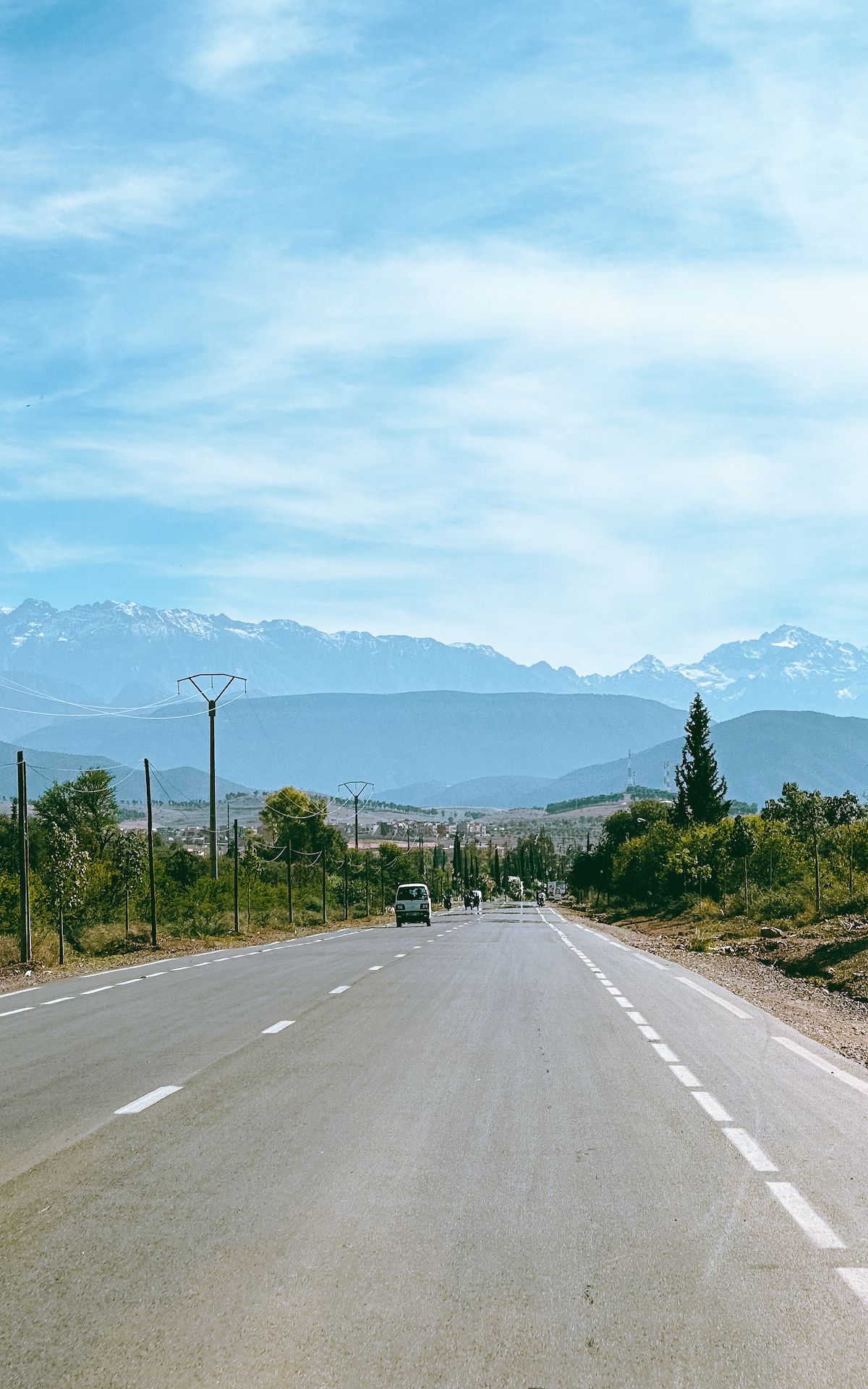 Pick up your rental car at the Marrakech Airport and head out into the mountains! Located about an hour from the airport, the drive goes by fast and you skip busy parts of the city.
As you roll into the foothills of the Atlas Mountains the scenery starts to change, with red rocks, pine trees and ochre-coloured villages perched on the mountainside. Once you start ascending, the roads start to get narrower. We rented a Jeep Renegade and were happy with our choice. It wasn't too big and we felt confident with its 4x4 capability, although we didn't need to actually use it.
🚙
Compare car rental rates from Marrakech Airport.
Stop for a long lunch at Kasbah Tamadot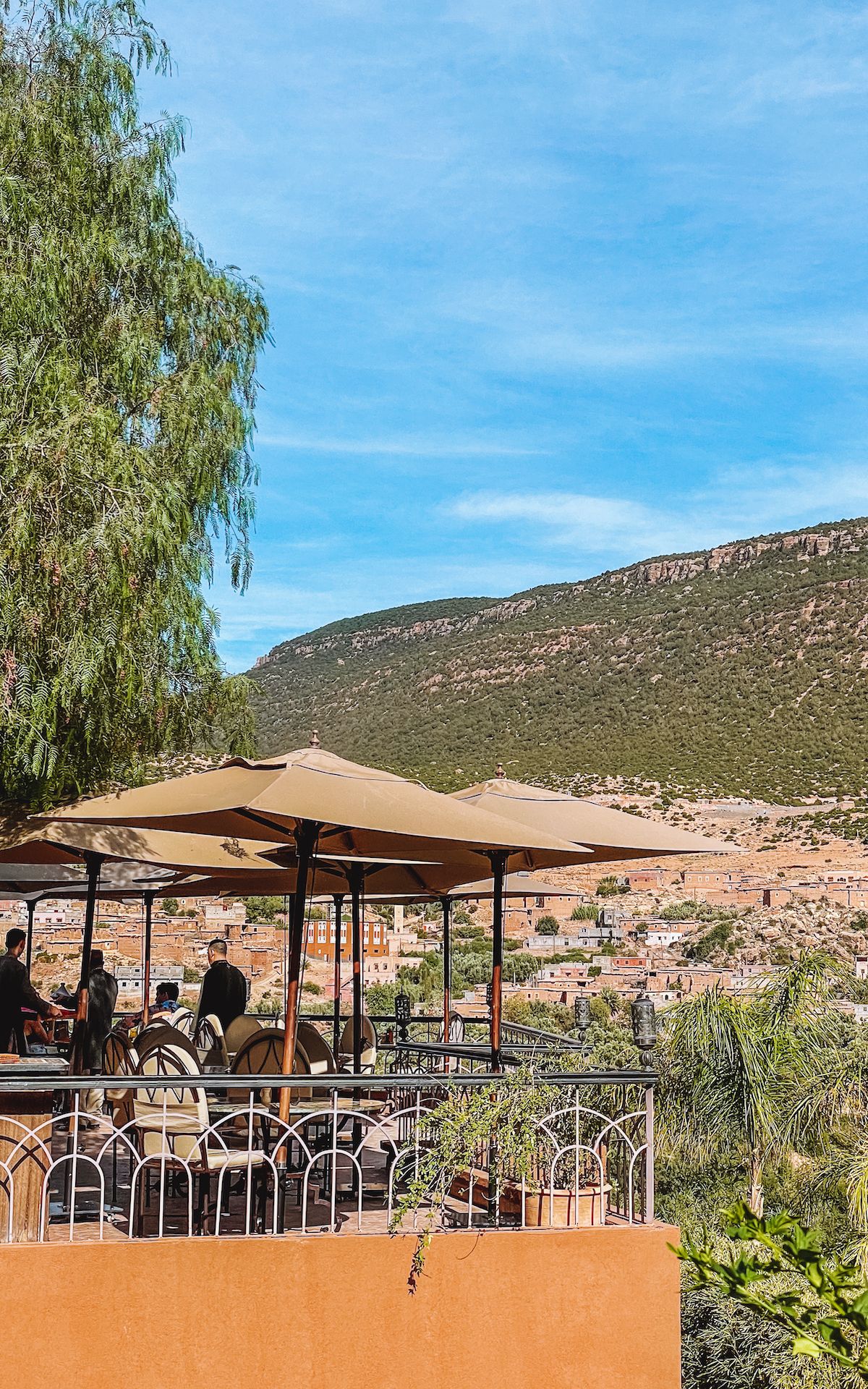 After an hour of driving, stop in for a leisurely lunch at Kasbah Tamadot, a luxurious Kasbah with a tranquil setting, owned by Richard Branson.
Traditionally, a Kasbah was a fortress built by tribal groups to protect their leaders.
Although staying here will set you back about $600 USD a night, you don't need to be a hotel guest to dine here for lunch. Sitting on the outdoor terrace, you have spectacular views of the mountains and the Berber village of Tansrat across the valley.
Note: The pool and chairs are for hotel guests only
Don't miss: the boutique store located inside Kasbah Tamadot and the Eve Branson Foundation artisanal shop next door, which supports local Berber communities.
Stay at an authentic Berber lodge with mountain views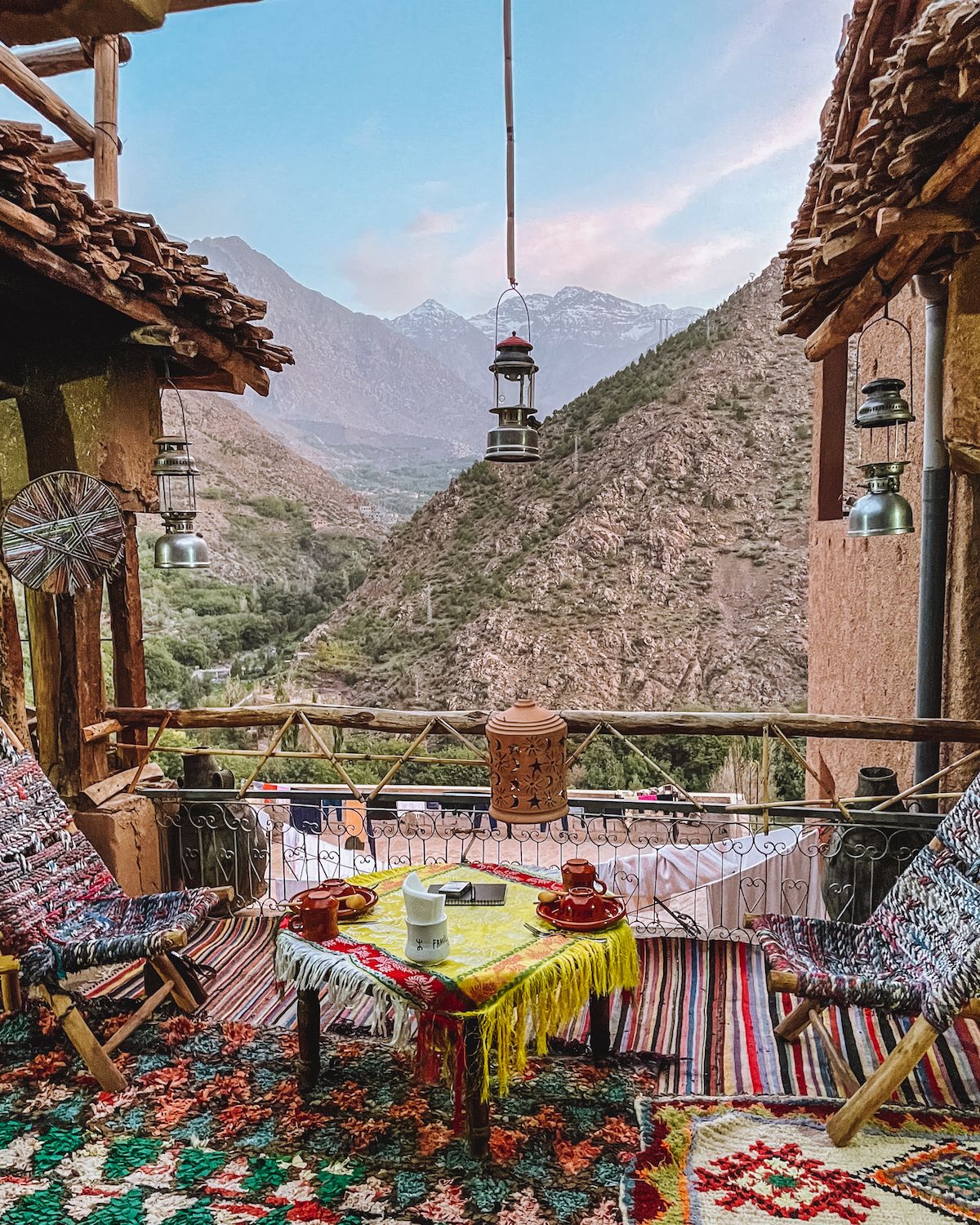 After lunch, continue driving towards the village of Imlil, known as the hub for hiking Morocco's tallest mountain, Mount Toubkal. There are plenty of Berber lodges around this area to stay in.
Staying in an authentic Berber lodge is one of the most authentic cultural experiences you can have in Morocco. The accommodation is basic, but you receive insight into the life of a Berber family. Living in such a remote area, Berber people rely on natural elements, like the sun to dry laundry and dishes, cold mountain water to cool sodas and fire to cook their food.
We stayed at Berber Family Lodge, located in the tiny village of Aguer Sioual, a few minutes away from Imlil.
We had spectacular views, the food was delicious and we were happy to be away from the main tourist trail. The only caveat is that the lodge is tricky to get to. It's located down a single lane road along the river (only about a 30 second drive though) and is a 5 minute walk up some stairs into the village, so keep that in mind with your bags.
The value at
Berber Family Lodge
was outstanding. We booked their Superior Double Room for 38 USD for a night, which had a private bathroom, air conditioning, and included breakfast for two. Dinner cost 100 dh per person.
Hearing the river below as we played Scrabble and sipped mint tea on the rooftop was magical!
🛌
Browse more stays around Imlil
Day 2:
Drive to the highest village in Morocco and sip tea above 2000m in the mountains
Drive to the highest village in Morocco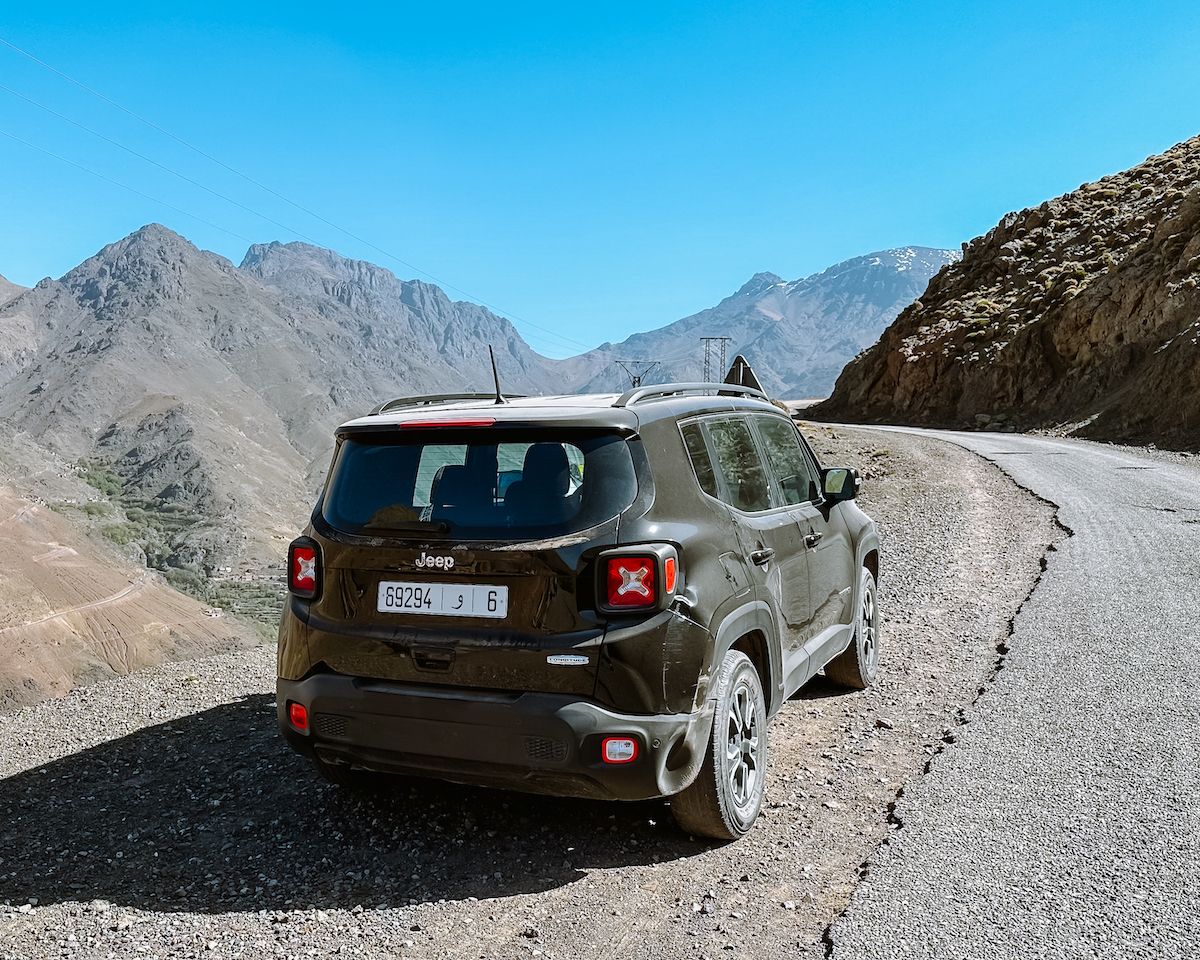 We didn't have much of a plan the day we set out to explore the Atlas Mountains. Rather than hiking, we chose to explore lesser-travelled mountain roads by car to see what we could find.
We found an off-the-beaten track route that we are very excited to share. What made it so special was that we only saw one vehicle on the road the whole three hours we were exploring.
We saw panoramic vistas with villages in the distance, Berber people washing and drying rugs at a mountain spring, goats crossing the road, a few hikers, cute roadside cafes and lastly, the highest village in Morocco, Tacheddirt. We had no idea it was the highest village in Morocco until a friendly local serving us tea at his roadside cafe told us.
The route:
As you drive through Imlil, stay left and take the road to Tamatert to start your journey. The best part about the drive is that you can do it in a loop. Google Maps says you can't, but you actually can! Most of the drive is paved, except for a small section through one of the villages
We recommend driving the loop counterclockwise. We drove it both ways and preferred the scenery driving that way.
Sip tea above 2000m in the Atlas Mountains at a roadside cafe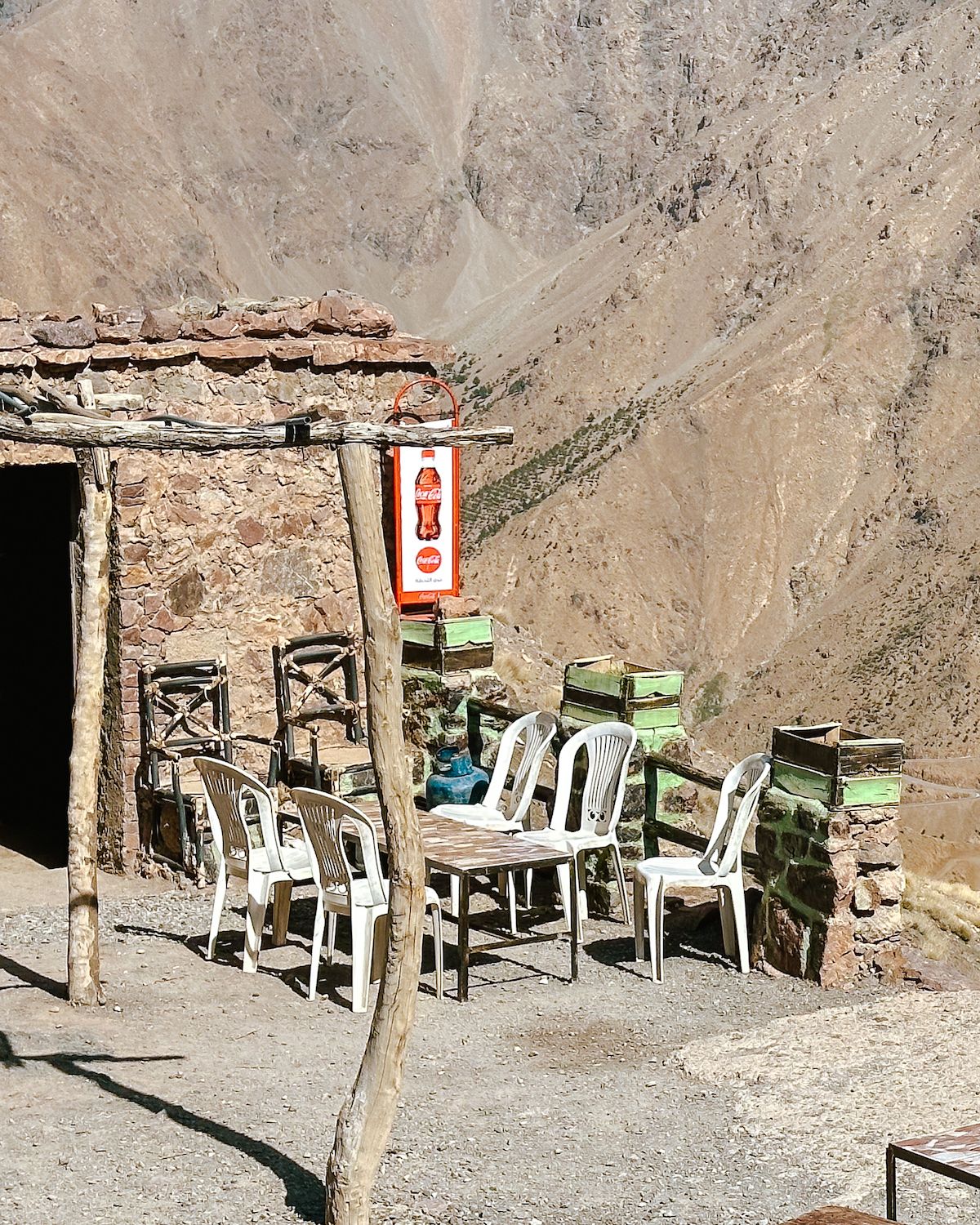 Take your time driving and stop at cafes along the route to soak in your surroundings. It's so peaceful and quiet.
Each cafe served Berber tea and soda. Berber tea is typically made with fresh mint and thyme. It tasted a lot stronger than what we had in Marrakech and cost 20 dh for 2 teas (~$2 USD).
See our map above for four cafe locations:
Cafe #1: had the highest vista
Cafe #2:  located at the intersection before you start the loop
Cafe #3: located at a mountain spring where they cool your Coca-Cola under running water. The fall air smelled crisp as we watched Berber women herd sheep across the mountains from our table in the grass.  
Cafe #4: their rooftop has views of apple, walnut and cherry trees growing in a terraced valley.
Once you get back to your lodge, take this time to unwind with a card or board game. We always bring Scrabble with us!
Days 3-4: Essaouira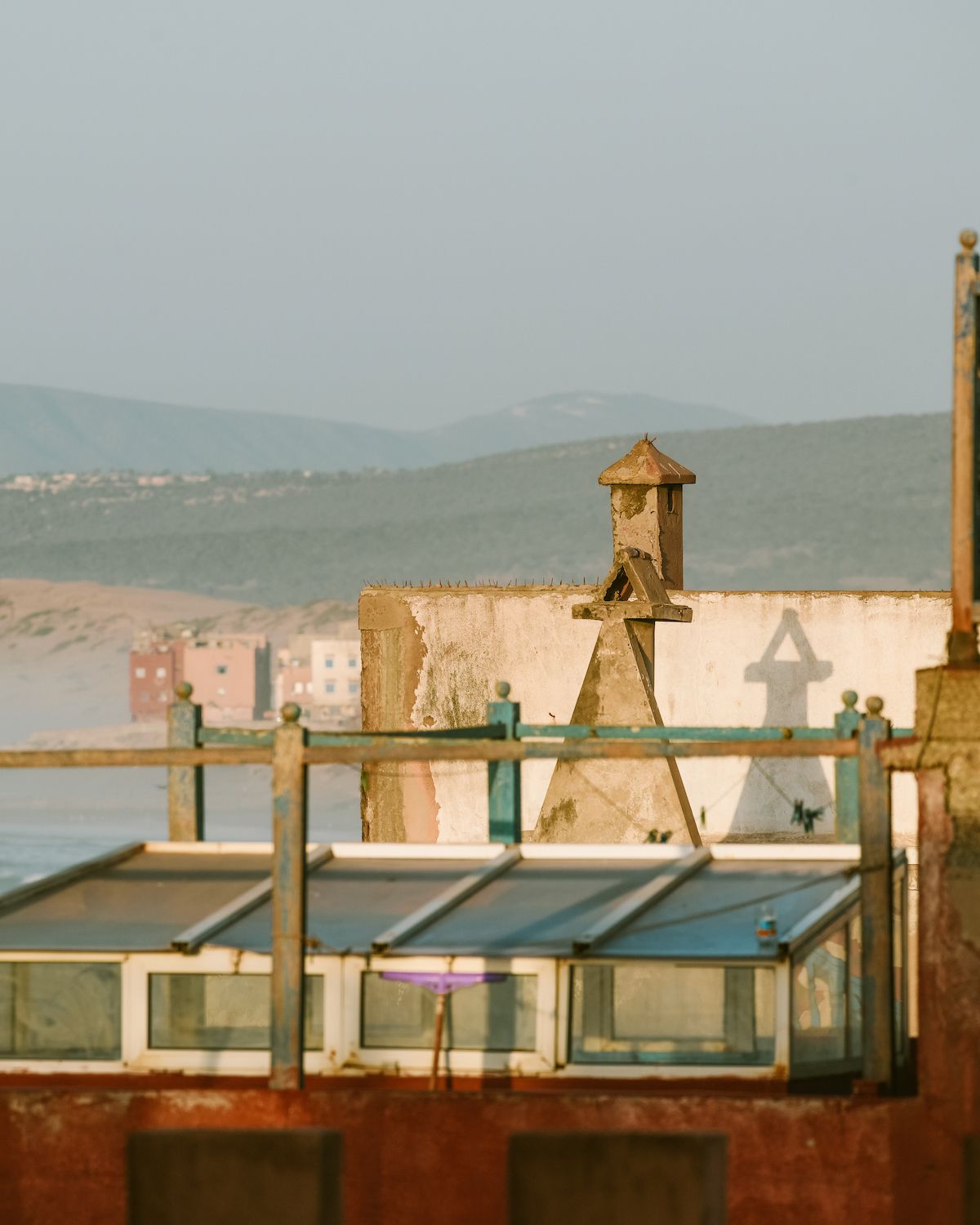 Your next couple days are spent in Essaouira, Morocco's free-spirited city on the Atlantic Coast. Once a thriving port city in Africa, it was outperformed by neighbouring cities and eventually changed into a bohemian enclave attracting artists and artisans.
The laidback city came on the tourist map during the hippie movement in the late 60s/early 70s, when famous musicians like Jimi Hendrix and Cat Stevens visited. Today, the blue and white city is known to be the most liberal in the country.
Day 3
Visit an authentic Berber Market on the way to Essaouira, walk along the harbour, dine at a top restaurant and stroll through the night market.
Visit an authentic Berber Market on your way to Essaouira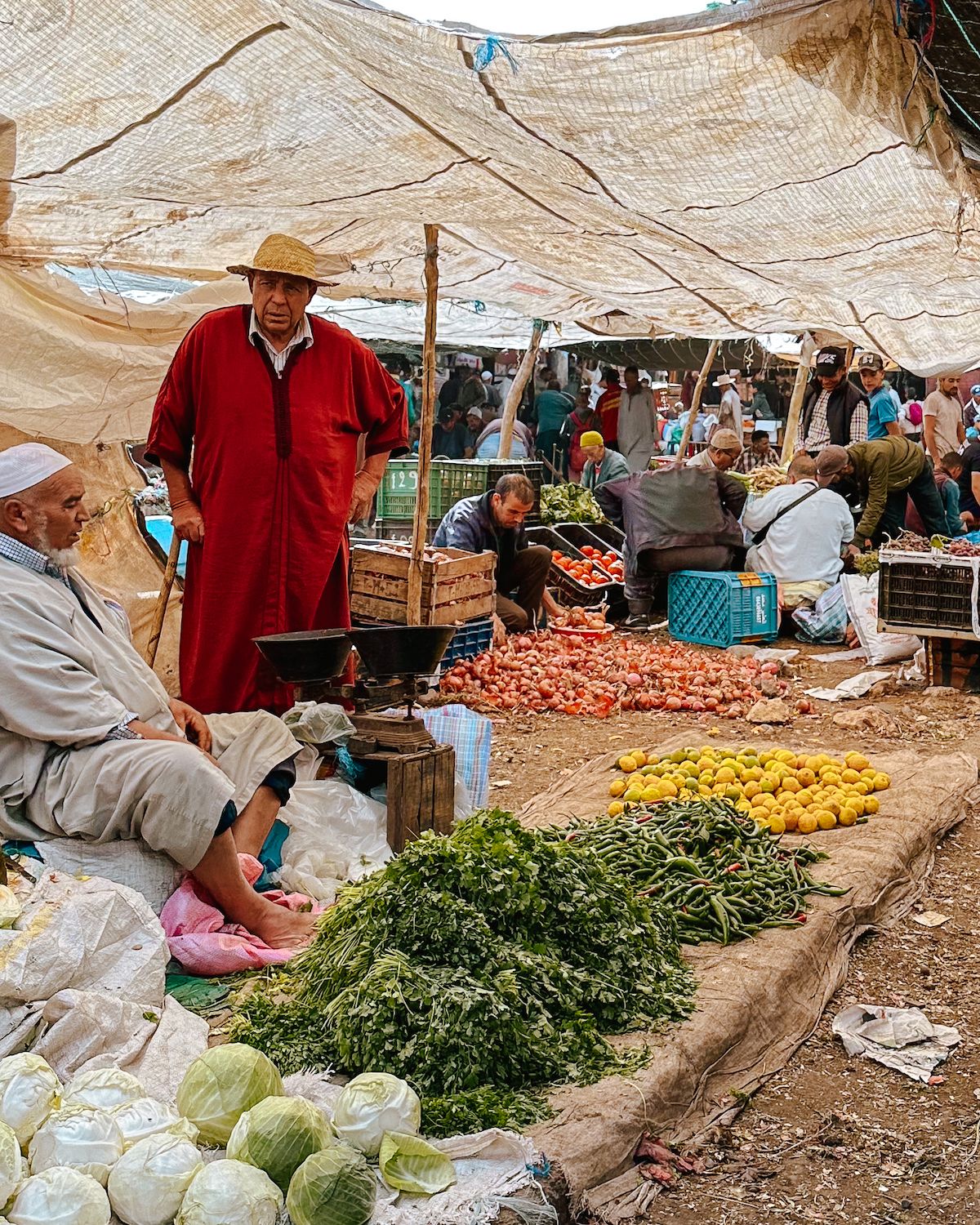 Road trip day! Most of your time will be spent getting to Essaouira. From Imlil, the drive is 3 hours and 50 minutes and goes by fast when you make a couple fun stops along the way.
On your way back down the mountain, take time to visit an authentic Berber market. Certain villages have their own "market day". We went to the market in Asni, which is one of the biggest in the area. Ask the lodge you're staying at what markets are happening that day.
Berber markets are not catered towards tourists, so be prepared to see both live and dead animals, as well as produce, spices, nuts, basic housewares and clothing.
One of our best experiences was eating skewers at the berber market in Asni. As you walk through the market you will notice stalls in a line selling grilled kebabs. Pick the meat of your choice (we saw beef, chicken and fish) and grab a seat. We chose chicken skewers, which were 2 dh each (~$0.50 USD). For 6 skewers, bread and two teas, it came to 15 dh (~$4 USD). They are cooked right in front of you on a charcoal grill.
Stop for a roadside espresso and look out for the goat trees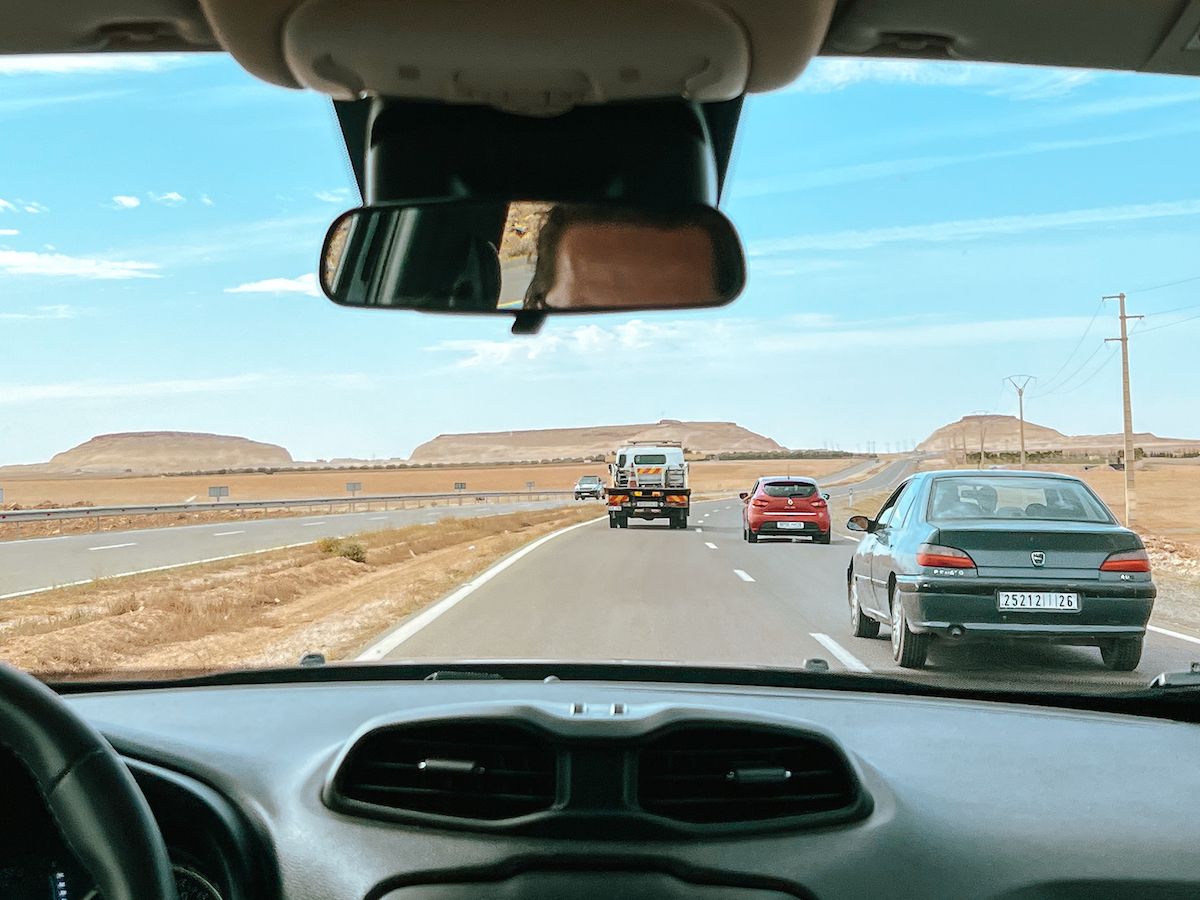 Once you're on highway N8, you will see vans on the side of the road selling espresso out the back. Stop in for a pick me up and to stretch your legs! They are open for business when the umbrella is open at the back. We stopped at one near the little town of Lamzoudia.
We were surprised to see they use proper espresso machines and grinders. I even got a nos-nos (coffee with steamed milk)! It cost us 20 dh (~$2 USD) total for 1 espresso and 2 espressos with steamed milk.
As you get closer to Essaouira, look out for Argan trees with goats standing on their branches. Farmers encourage them to eat the fruit of the tree, so they spit out the seeds used to produce Argan oil.
You can tell some of the trees are set up for tourists where the goats may be exploited. If you stop to take pictures, you will likely be asked to tip.
Check into your riad in Essaouira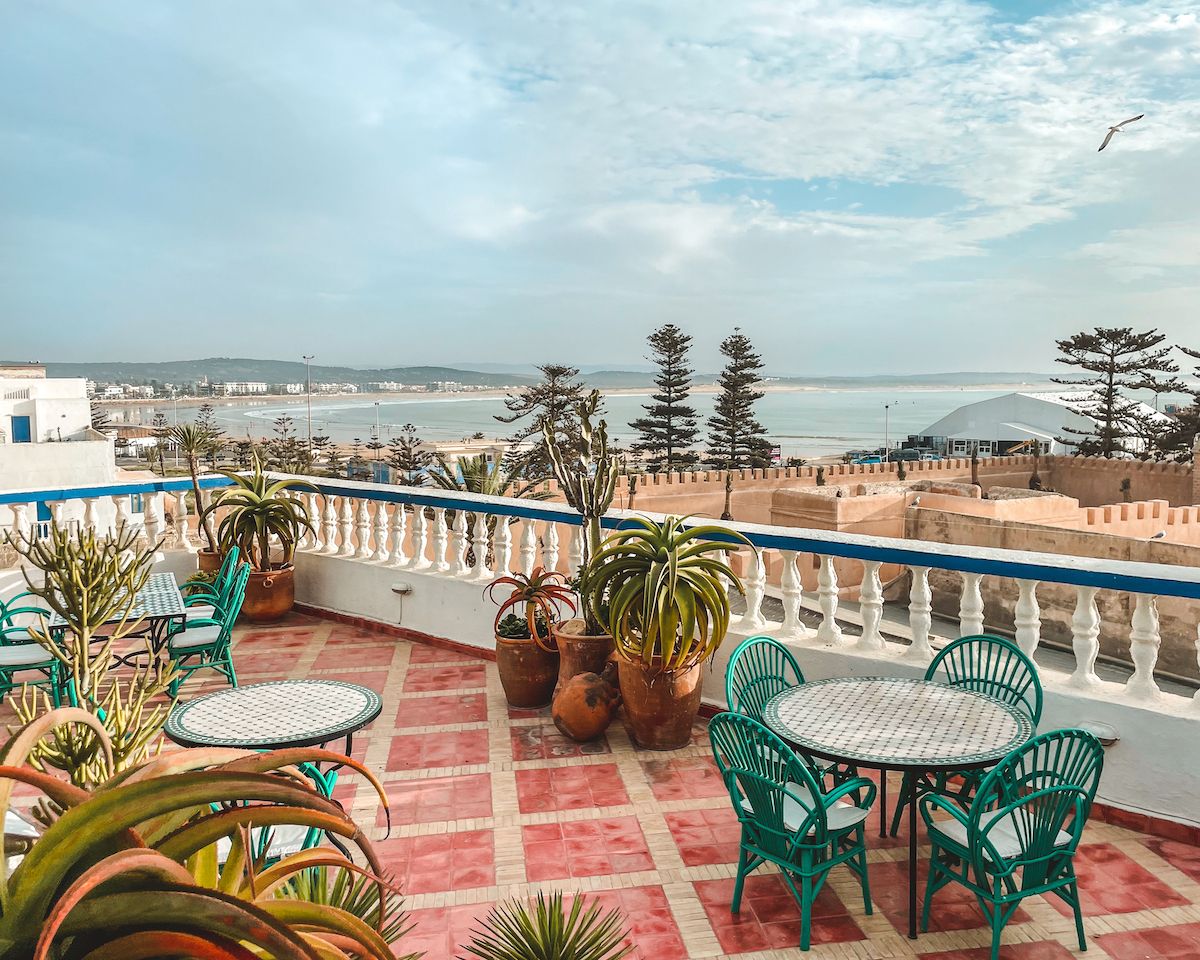 The moment we descended the plateau and saw our first glimpse of Essaouira, it took our breath away! The port city has a mysterious feel to it.
Where to park in Essaouira
Park your car in the lot adjacent to the fishing harbour here. Although the reviews aren't the best, we had no problems. We told them how long we were staying, negotiated our rate, and paid as we entered. From there, it's easy to walk into the Medina. You will see locals carrying wooden carts around the parking lot who can carry your bags and show you to your accommodation for a small fee. We paid 20 dh to our stay at Villa Maroc. On your way out, someone may ask to wash your windows, it's worth it. Our windows were filthy after parking in the seagull pooping danger zone.
Where to stay in Essaouira
We highly recommend staying within the old city walls around the Kasbah district. This car-free zone is where you will find the best shopping, restaurants, galleries, night market and fishing port.
We stayed at two riads during our time in Essaouira and loved them both. They are both within walking distance to all the sights and include breakfast with an assortment of crepes, baked goods, scrambled eggs, fruits, yogurt, fresh squeezed orange juice and coffee or tea served to you at your table.
Best for beachy Essaouira vibes: Villa Maroc
This hotel
is a combination of four authentic riads from the 18th century, offering bohemian-chic rooms - many of them with ocean views. The biggest draw is the rooftop patio overlooking the harbour where you are served breakfast each morning. Situated within the action, expect to hear some street noise.
Best for a quiet stay in the Medina: Riad Dar Maya
Riad Dar Maya
has more of a modern feel than Villa Maroc, with its Moroccan minimalist decor, large spa-like bathrooms and air conditioning. If you're looking for a quiet stay in the heart of the Medina, this is a great choice.
🛌
Browse more stays in Essaouira
Walk along the historic harbour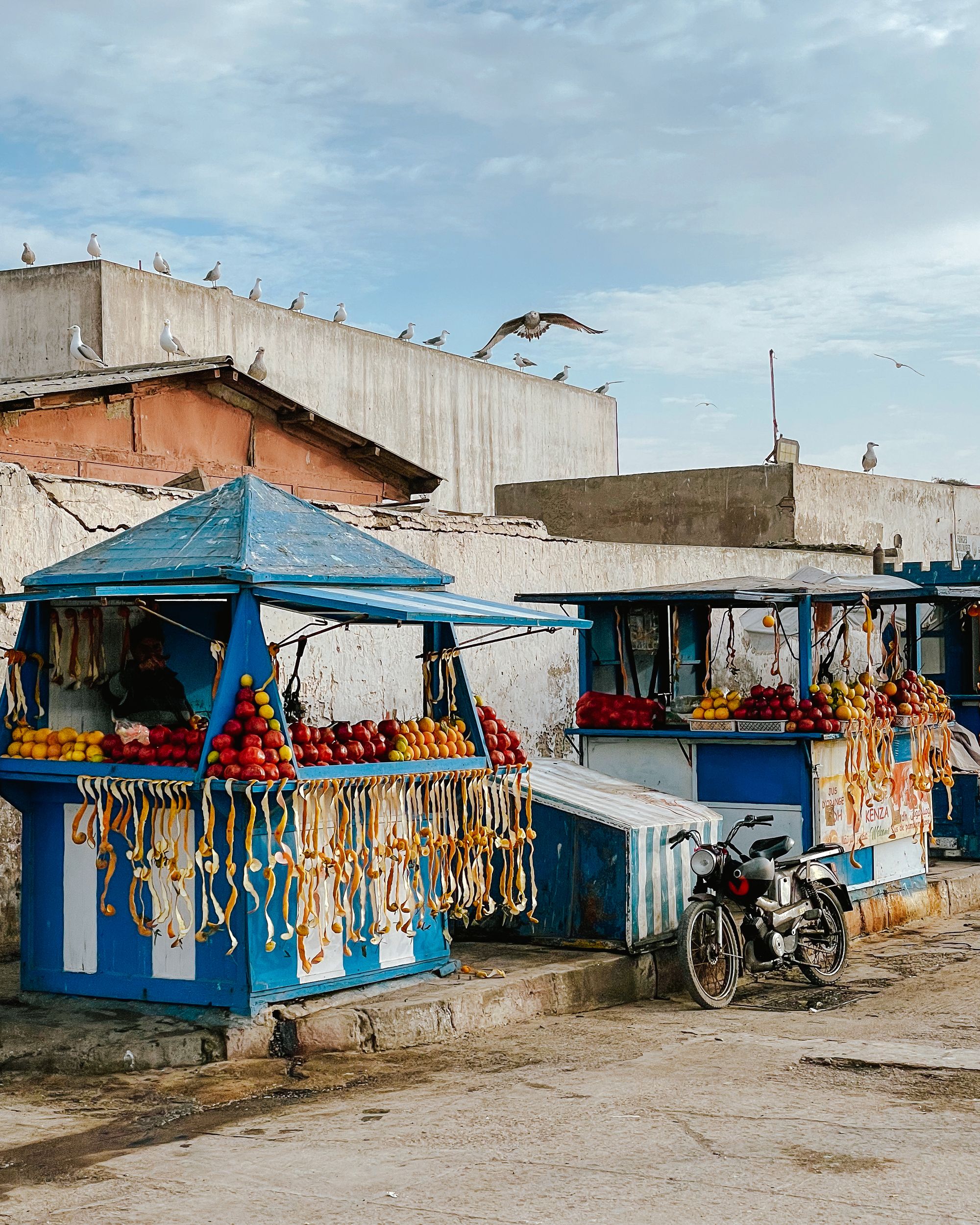 Once you've settled in, take your first walk out to the fishing port where fisherman sell their catch of the day, seagulls flock and a countless number of blue boats dock. Built in the late 18th century, it was one of the most important ports between Africa and Europe before Casablanca and Agadir stole its limelight. You can feel the history as you walk along the salty, worn out harbour in faded colours.
Have an aperitif at Caravane Cafe and dine at Umia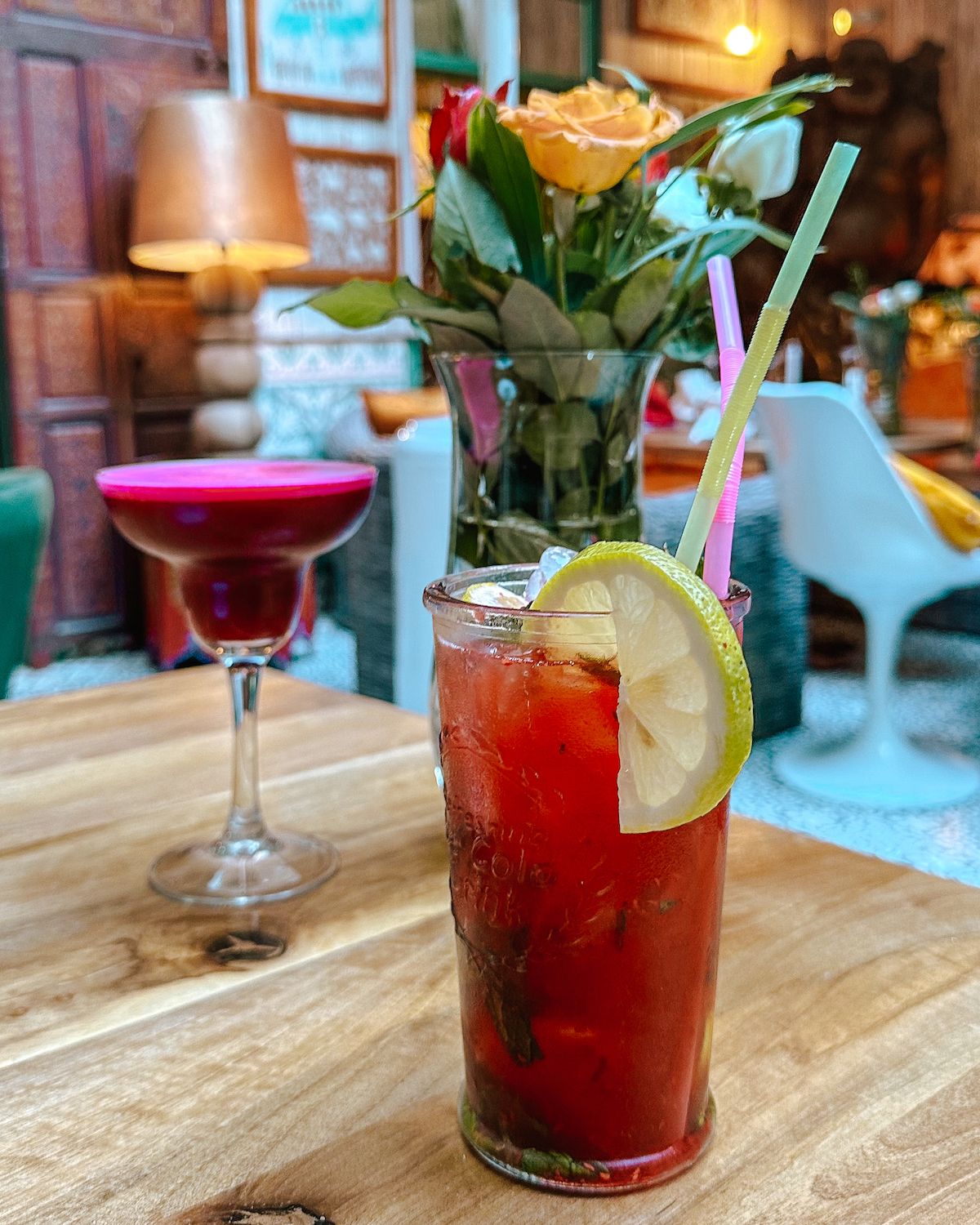 After your walk along the port, take the main pedestrian street, Avenue Oqba Ibn Nafiaa towards your next stop, Caravane Cafe. The quirky restaurant is tucked away on a quiet side street and offers fruity cocktails that make an excellent aperitif before dinner. Choose one of their colourful cocktails, like their strawberry, ginger or mango mojito and take in the eclectic decor. We came at 5 PM before dinner started, so were able to just get drinks.
After your pre-dinner drink, walk to a quieter area of the old city to dine at Umia, a sophisticated space located right next to the historic wall. The husband and wife duo host you in their contemporary dining room with midcentury modern furnishings and upbeat-lounge music playing.
There were five of us who dined at Umia, and every dish was superb. So much so, we came back a second time! They also have an excellent curation of Moroccan wines to pair with your meal. If you see their beef wellington on the menu, go for it!
Walk through the night market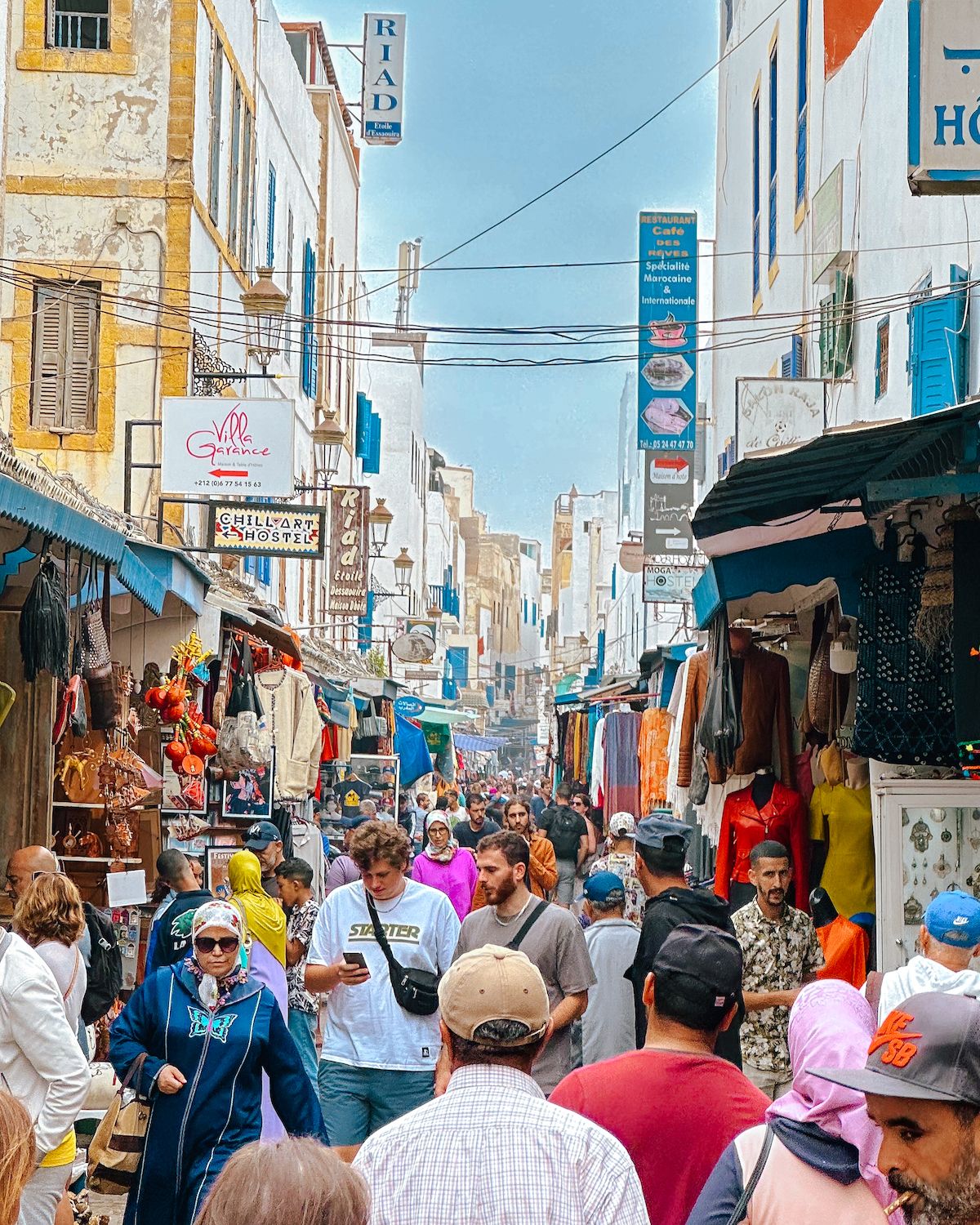 After dinner, make your way back to the main pedestrian street, Avenue Oqba Ibn Nafiaa and walk down it in a northeast direction until you reach the arched gate at the end. By night, the street transforms into a lively market with food stalls and vendors set up along the strip.
The walking route
Day 4
Wander through the Medina to find artisan shops and unique eateries, and listen to live music at D'Jazy
Wander through small streets and alleyways in the Medina to find unique artisan shops: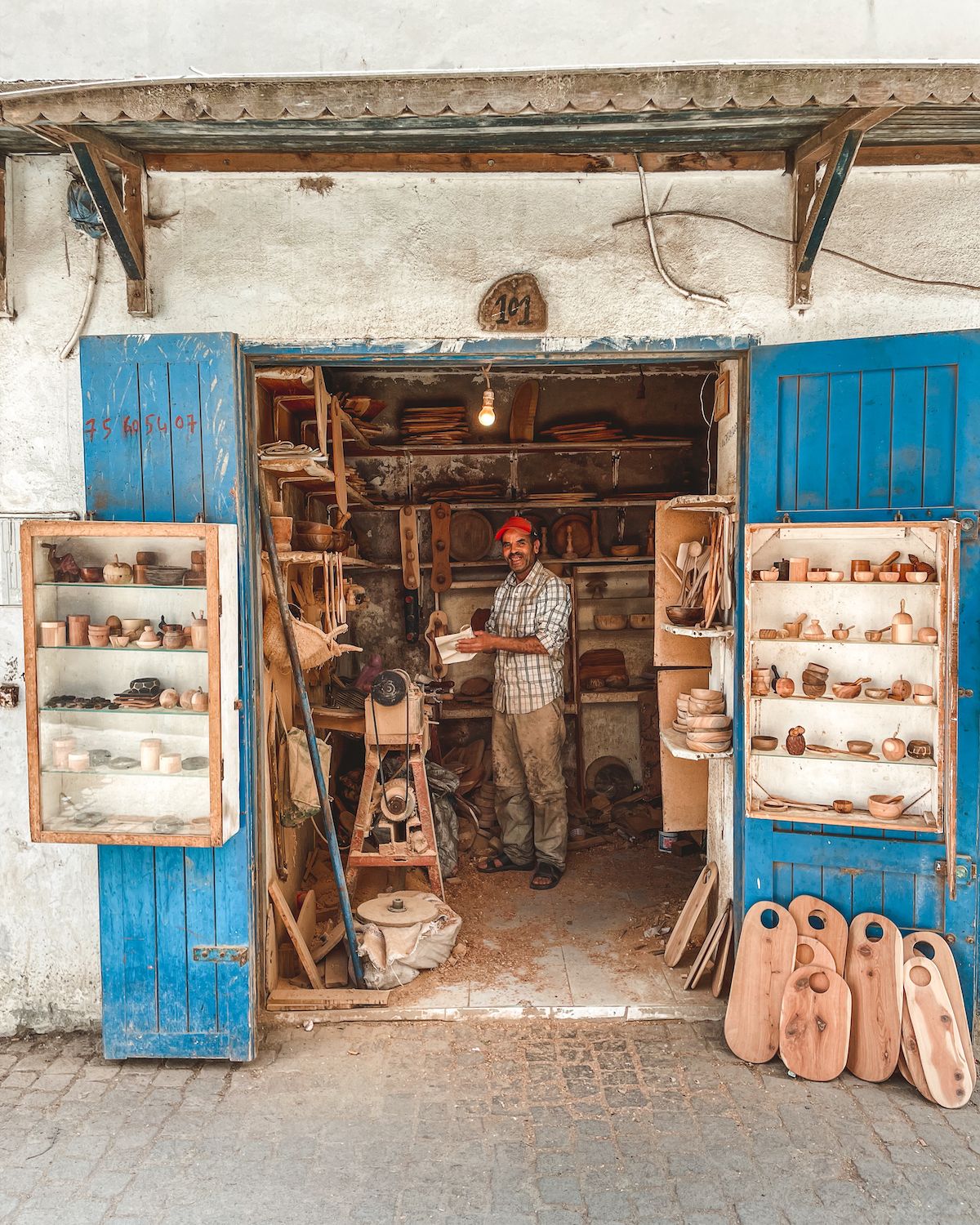 The best thing to do in Essaouira is get lost in the maze-like streets inside the old city walls. Plan to just walk around for the whole day. Cats rule the streets here, even more so than Marrakech, with cats sleeping in the cutest areas, like inside a plant pot.
There is much to see and so many shops with artisans selling items like shoes, leather products, clothing, handblown glass, rugs and pottery. We found many gems!
Some of our favourite shops:
Koulchi concept store - the multi-level space sells Moroccan housewares. Since their items have set prices, it was nice to see what items were going for before setting off to shops without prices where you barter. At the top floor of the space you can order tea or a fresh fruit juice and sip it on the rooftop.  
"Wordworker's Alley" - ok, we made this name up, but there is this cute little alleyway where woodcarvers make and sell wood products. We bought stylish candle sticks and little wooden bowls and spoons made out of thuja and olive trees. Perfect for a charcuterie board! See the street here.
I bought a matching linen set here. Next door to the right, you can get your pants hemmed for just 20 dh (~$2 USD).
Coute Bougie - for premium handmade, natural Moroccan scents and candles. We bought cumin oil and dates oil for our oil lamp. They smell lovely and bring us back to Morocco whenever we light them.
Gallery Kasbah: a multi-level riad showcasing a collection of antiques and art by Morocco's most celebrated artists.
minimal: an excellent curation of contemporary Moroccan-made pieces for the home. This shop is run by the same team as Umia.
100% bio argan oil: you will see many shops down Avenue Oqba Ibn Nafiaa with ladies grinding argan nuts at the front. Essaouira is THE place to go for argan oil since it's produced in this region. I picked up an oil and serum for my hair.
Take a lunch break at Mandala Society and people watch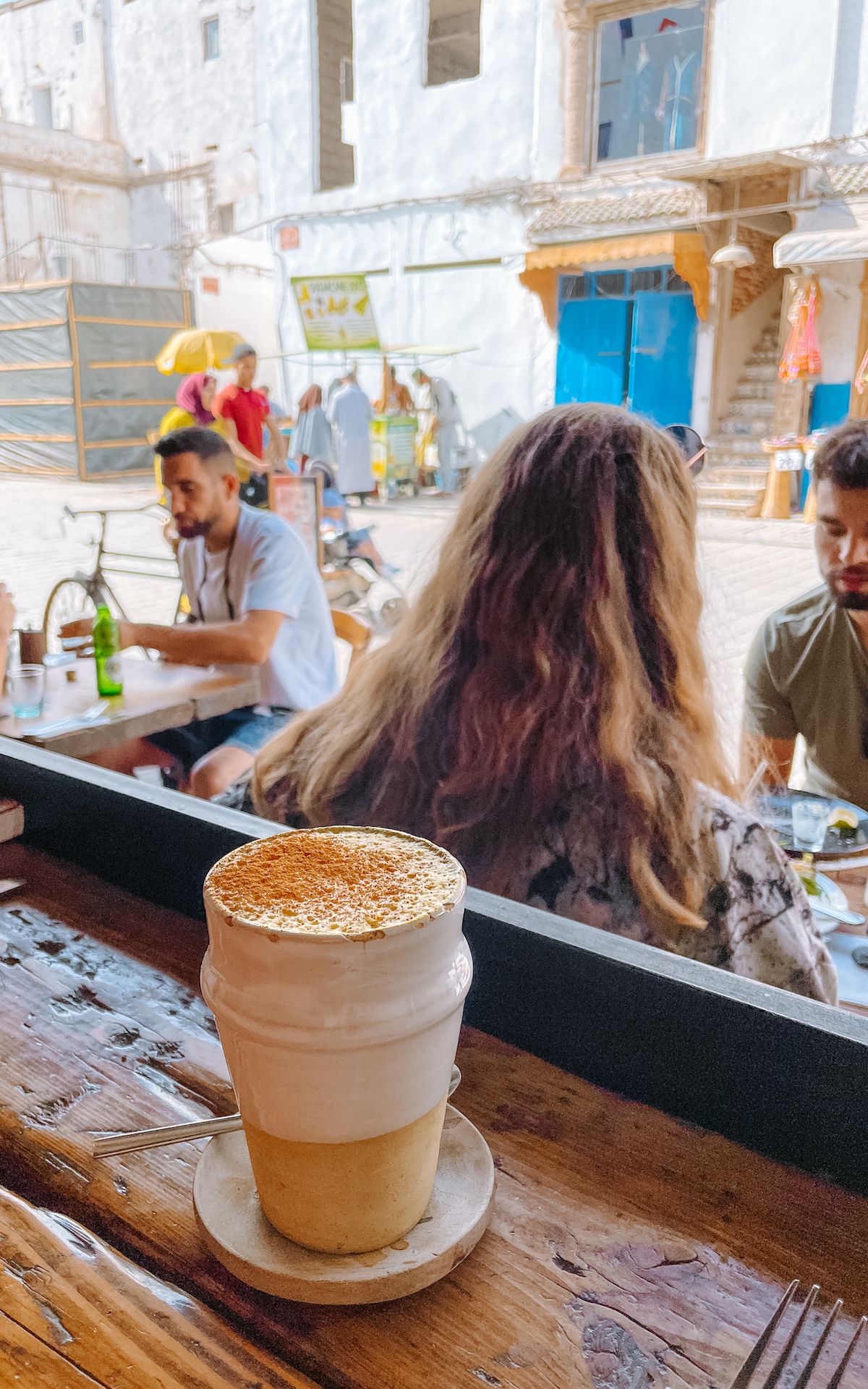 Mandala Society offers fresh, locally sourced choices for lunch, like bagels, Buddha bowls, salads and smoothies. They also have vegan options. Sit idly at the wooden bar looking out onto the busy pedestrian street and watch the people pass by.
Buy Moroccan spices from a spice shop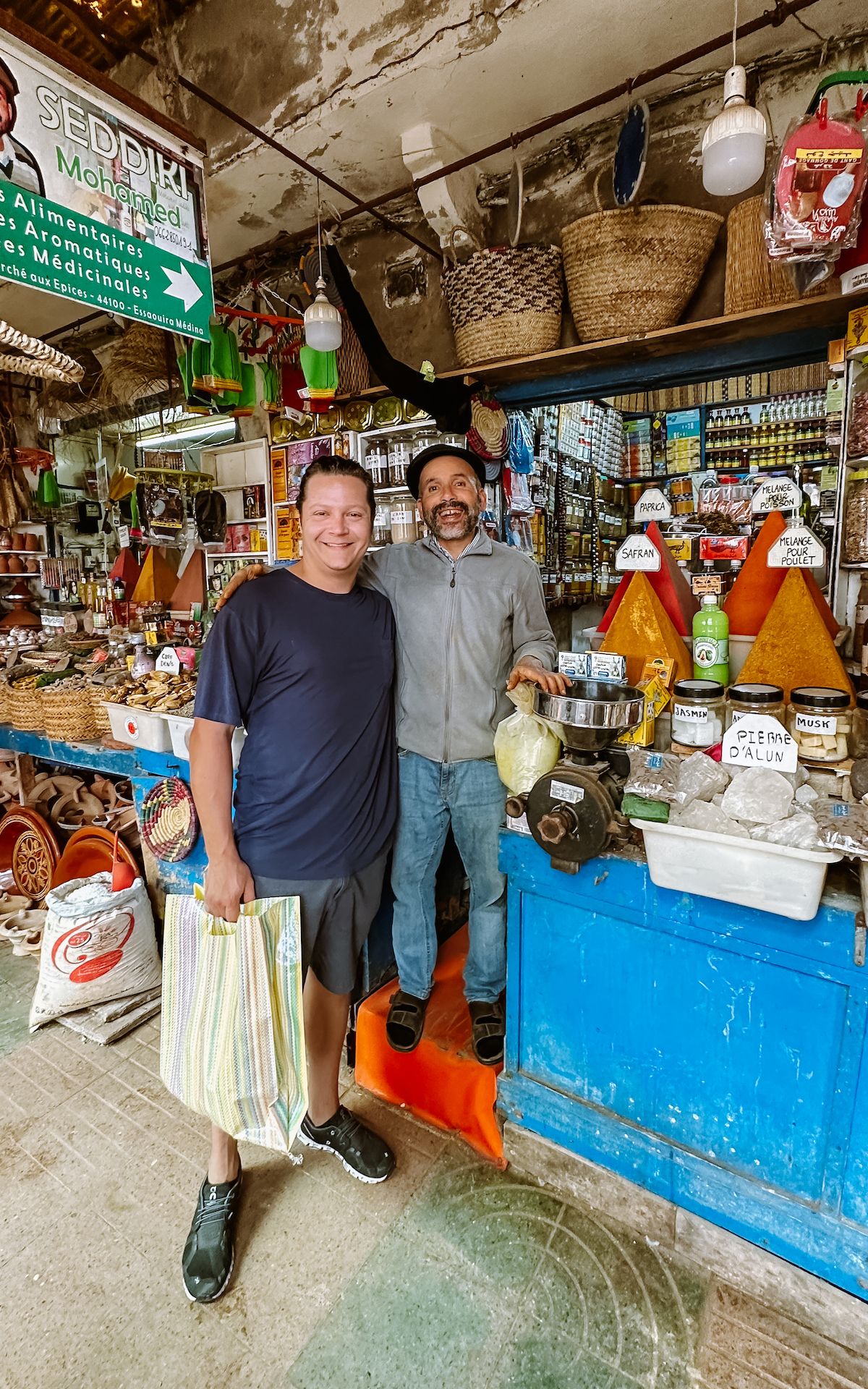 Visit a local spice shop and bring back spices to make your favourite Moroccan dishes. The quality of spices in Morocco are so much higher than what we can get back home (in Canada).
We visited the Seddiki N203 Mohamed spice shop in Marche aux Poisson based on a recommendation we received, and the friendly shop owner mixed some spices for us. We asked for Kefta (a savoury Moroccan dish with meatballs in a spiced tomato sauce), and he scooped multiple spices into the bag to make a mix. We also got Melange pour poulet (chicken mix), cous cous mix, white pepper and paprika. It was 20-30 dh for 100g of spices, depending on the type.
Have a pick-me-up at a quirky coffee shop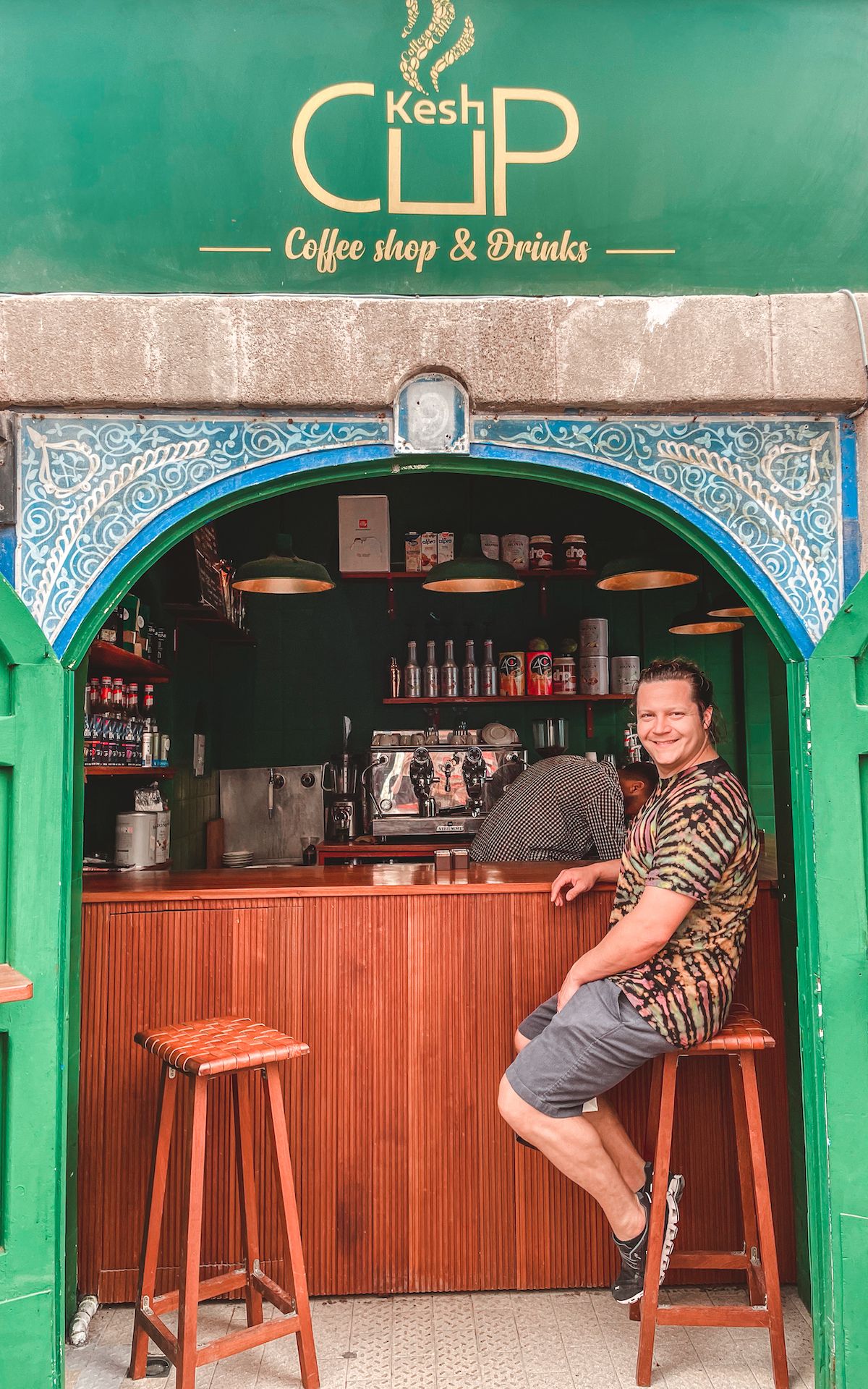 For a cozy hangout: Cafe L'Esprit - we loved this cute hole-in-the-wall spot! Habibi Funk played in the intimate space as we sipped our nos-nos and espresso. Our barista was very friendly and enjoyable to be around. They also sell the best Argan oil here for cooking.
For a quick espresso: Kesh Cup - a tiny coffee shop where you sip espresso at the bar top.  
Dine at another top restaurant and listen to live music at D'Jazy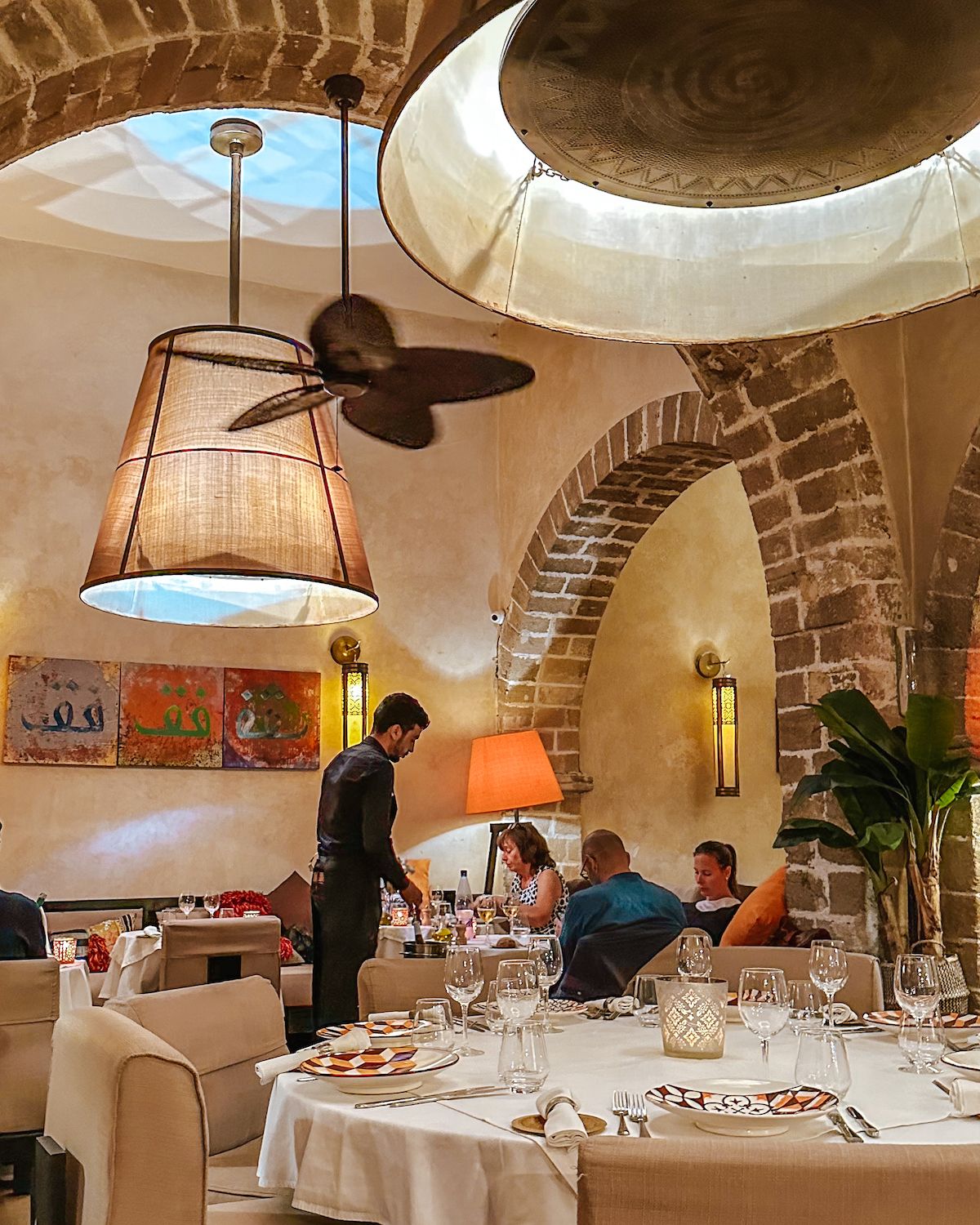 For your last night in Essaouira, choose from one of these top dining spots:
For traditional Moroccan cuisine: Restaurant Adwak -  go early to snag a table and a corner one if you're lucky. The intimate space has about 8-10 tables and doesn't take reservations. It's the spot to go for authentic tagine, couscous and kefta.
For an upscale setting: La Table by Madada - the historic trader's warehouse has transformed into an elegant space serving fresh seafood dishes. It was fantastic!
Afterwards, head over to D'Jazy, a jazz-fusion bar with excellent live music. You can tell the owners and staff are very passionate about music. When we were there, we listened to electronic-acoustic fusion. At one point, the bartender went up to sing and he had an incredible voice! Some nights they have big shows and use their main stage. If you're a music lover, skip Taros Bar and come here instead.
Days 5-7 Marrakech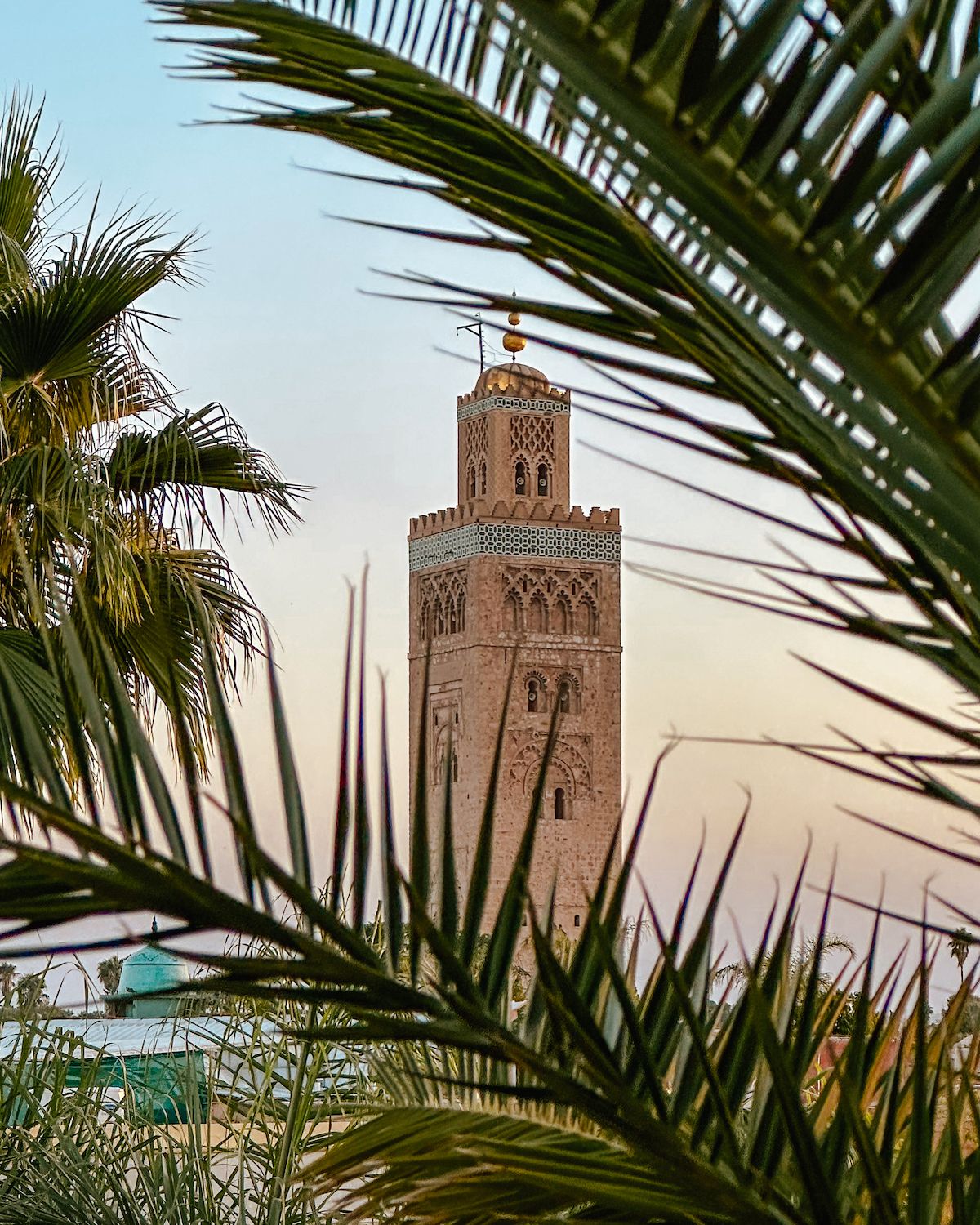 Your last three days take you to Marrakech, one of our favourite cities in the world. Dating back to the Berber Empire, the ancient city is a sensory overload in all the right ways, with new shapes, colours, tastes, smells and sounds to discover. Walking through the Medina is an experience you will never forget.
Distinguished guests have fallen in love with the city, from Winston Churchill to Yves Saint Laurent, who famously said "Marrakech taught me color". It has also inspired famous musicians like, Crosby Still & Nash in their catchy song, "Marrakech Express".
Once you're there, you will understand the allure!
Getting from the Marrakech Airport to the Medina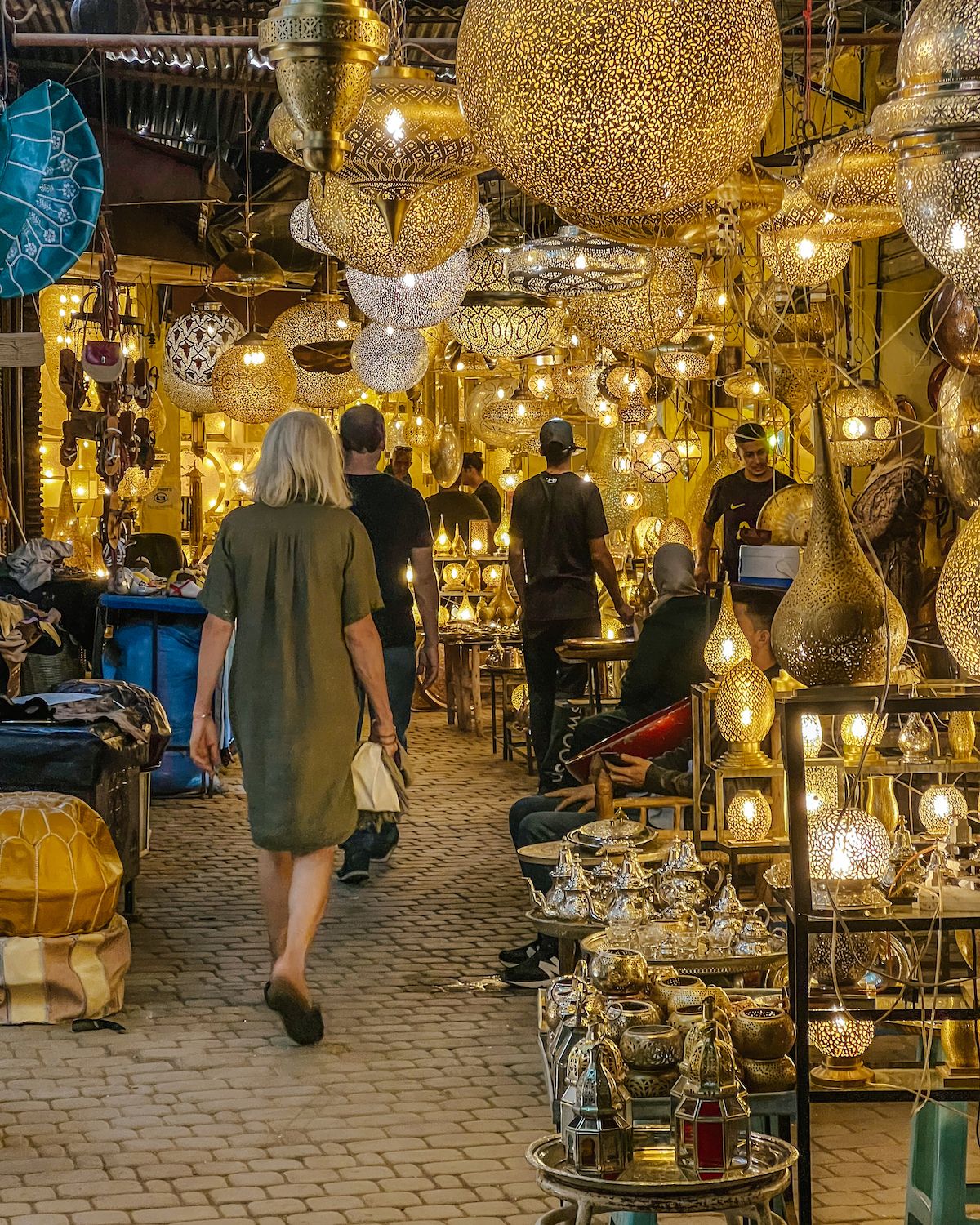 The historic city walls of Marrakech are only about a 10-15 minute taxi away from the airport. Drop off your car rental at the airport and choose from one of these options to get to your accommodation:
Cheapest way: by bus
The L19 bus leaves every 20 minutes and takes around 15 minutes to get to the Medina. The price is 30dh (~2.85 USD) per person.
Most convenient for timing, but stressful: taxi
Taxis are an absolute pain in Marrakech. Taxi drivers will use different tactics to increase the price like, "it's a big taxi", or "the price is higher because of your bags". On their pricing card, it's only supposed to be 100 dh ($9.50 USD) for large taxis to/from the airport, but no matter how much we negotiated, the cheapest price we could get was 200 dh (~$19 USD). Some drivers were even quoting us 300 dh! If you don't know what time you will get to Marrakech however, this is a good option. Just be prepared to negotiate.
Best value: private transfer through GetYourGuide or Viator.
It's easy to book private transfer through Viator or GetYourGuide - and it's surprisingly cheap!
Your driver typically waits for you in the arrivals section with your name on a sign, but you could ask them to meet you at the car rental parking lot instead. We like how you can cancel up to 24 hours in advance. If you know around what time you will be arriving at the airport from Essaouira, this is a good option.
Best deal we found: Private Taxi Airport Transfer through Viator
from $10.71 USD per group (up to 4 people). Has good reviews and operated through reputable company,
Menara Trip - Day Trip
.
Where to stay in Marrakech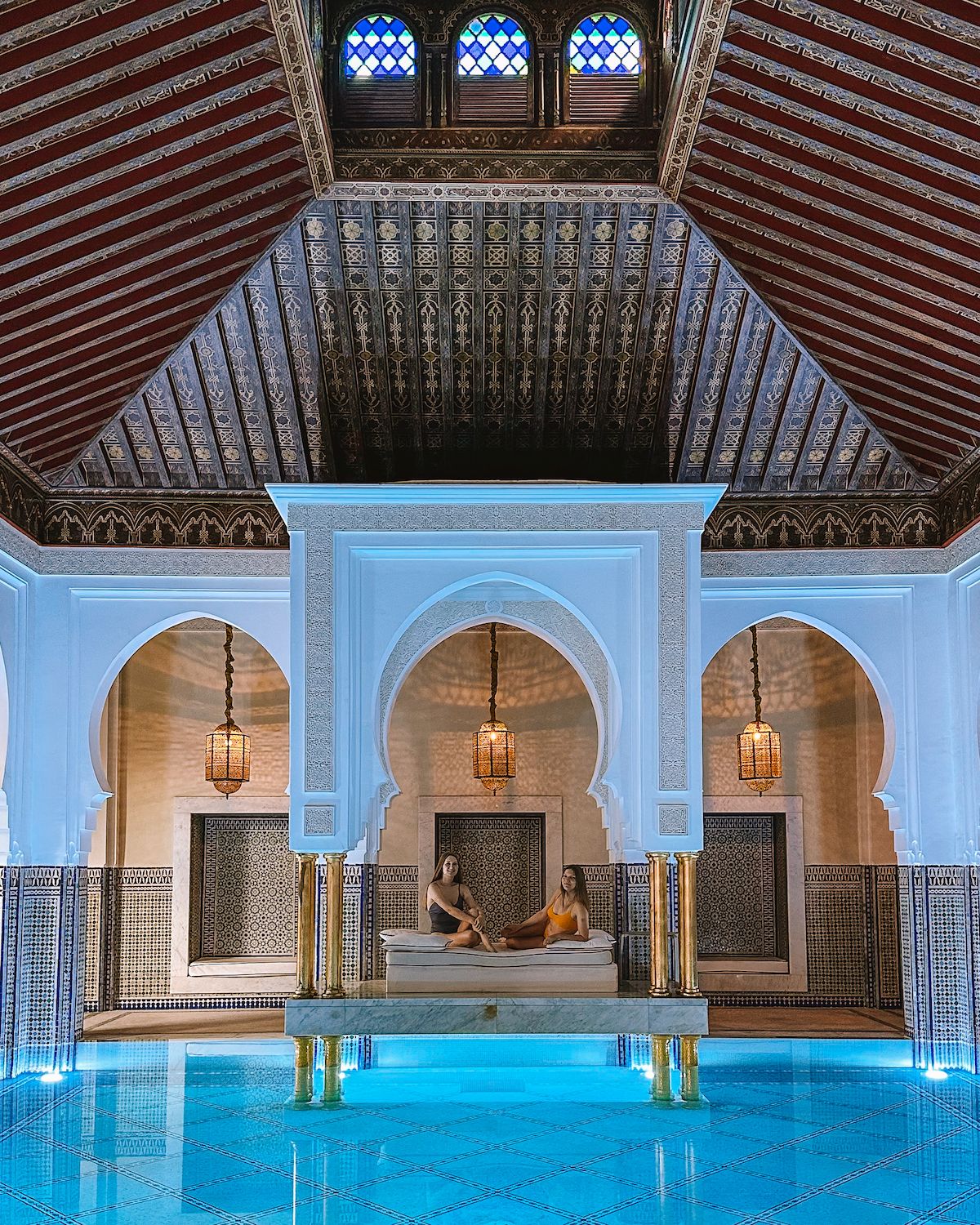 For an authentic Moroccan experience, stay in a riad, a traditional 2+ story house or palace with an enclosed garden. The intimate hideout feels like a home away from home with its rooftop space for lounging and rooms lining the courtyard. When we checked in we were brought to the rooftop and served fresh mint tea and dates.
Our top riad picks:
If you're looking for something fancier, the ultimate stay for timeless luxury is La Mamounia.
The hotel is a symbol of Moroccan architecture and craftsmanship and has been frequented by famous guests over the last 90 years, from Nelson Mandela to Elton John. Recently, the hit Netflix series Inventing Anna, has brought it even further into the limelight, from the nail-biting episode where infamous Anna Delvey stays at the hotel.
What to do in Marrakech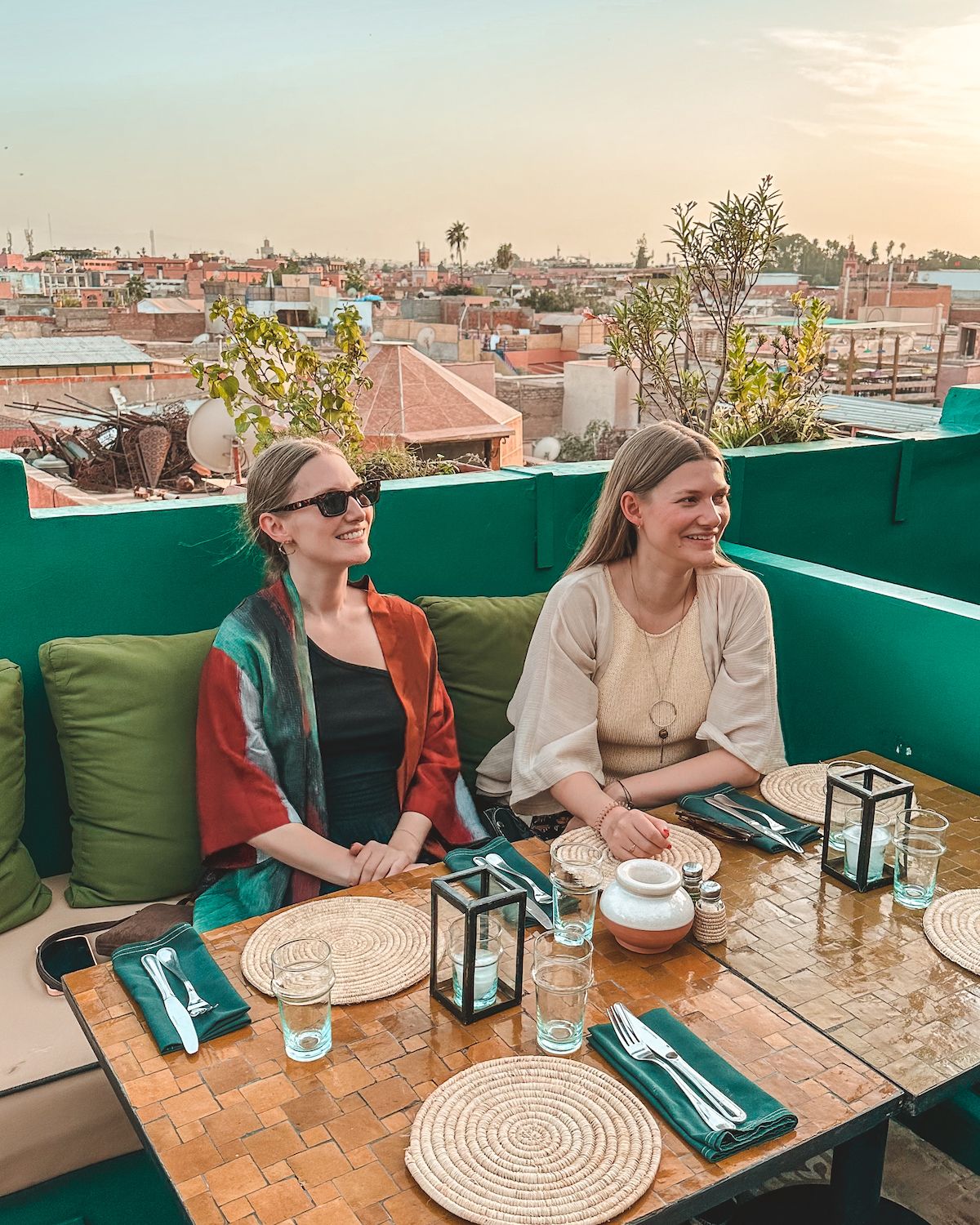 See our comprehensive 3 day Marrakech itinerary, which includes where to eat, where to shop and unique activities you don't want to miss.
Here are the highlights:
🛍️ Wander the souks in the Medina and take quieter side streets to find artisan shops.
🥗 Eat lunch at Le Jardin Restaurant, a hidden garden tucked away in the Medina, and Dar Moha, for poolside Moroccan-dim sum bites.
🥘 Take a street food tour to discover the best of Moroccan cuisine
🍴Dine at L'mida for the best sunset views over the Medina, and Le Bistro Arabe, for live jazz and innovative Moroccan dishes.
🍸 Sip cocktails at the funky El Fenn rooftop bar and at La Mamounia's new rooftop bar, Le Club.
🌗 Watch Jemaa el-Fna square transform from day to night
🧖‍ Experience the hammam, a Middle Eastern steam bath where you are exfoliated and cleansed on a warm stone.
🌿🌼 Stroll through Jardin Majorelle for one-of-a-kind colours.
☕✨ Tour Dar El Bacha Palace and drink coffee in its glamorous coffee house.
Read the full 3 day itinerary here.
For more fun things to do, see our post on 18 unique things to do in Marrakech.
6 Things to Avoid in Morocco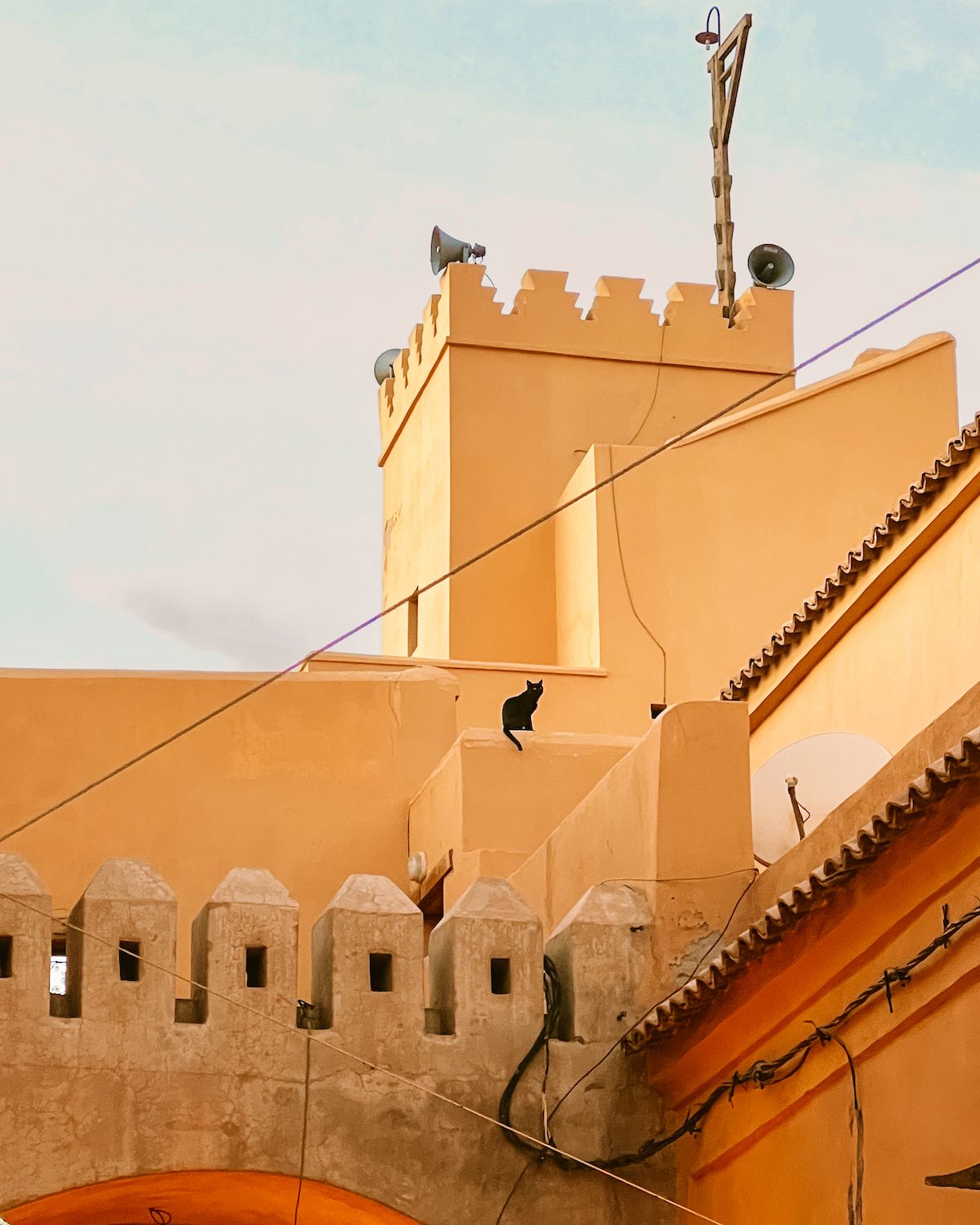 Avoid carrying large bills only - this will make negotiating taxis and paying for goods difficult. Always have a 10 dh, 20dh and 50dh on you. If you pay with a large bill like a 100 dh or 200 dh, merchants and taxi drivers will sometimes say they don't have the exact change so the price goes up.
Avoid paying more than 50dh for a taxi in Marrakech (excluding the airport) - carry exact change to make 30 dh - 50 dh. If you give a 100 dh bill, good luck getting your change back!
Avoid paying full price in the souks - you can always barter. This even goes for most items with set prices. Our best advice is to pay what something is worth to you.
Avoid not making a reservation for popular restaurants - especially during high season.
Avoid scams in the Medina - avoid getting henna tattoos (if it's fake henna you could get permanent scarring), avoid allowing the "nice guy" in the souks to give you directions (it's a scheme where they get aggressive if you don't tip them enough at the end), and don't support the snake charmers (it's well documented that these people treat the snakes very poorly).
Avoid not saving your shopping for Essaouira and Marrakech - we found the High Atlas Mountains to be subpar in comparison and a lot more expensive.
Enjoy your exciting 7 days in Morocco!
---
Check out our other Morocco Itineraries:
---
Get started on booking your trip to Morocco
---
Save and pin this 7 days in Morocco itinerary for later: