Our 2 day Singapore itinerary takes you to the most fabulous spots in the city. From swimming in a celestial surfboard-shaped pool to drinking cocktails in an art-deco bar, you're sure to indulge yourself in these jaw-dropping locations.
Singapore is the perfect city to plan an extended layover. The gorgeous Jewel Changi Airport is a major hub in Asia and a sight in itself. It was named the best airport in the world by Skytrax and features the world's largest indoor waterfall named the Rain Vortex. Marvel at the lush garden interior and browse the myriad of shops.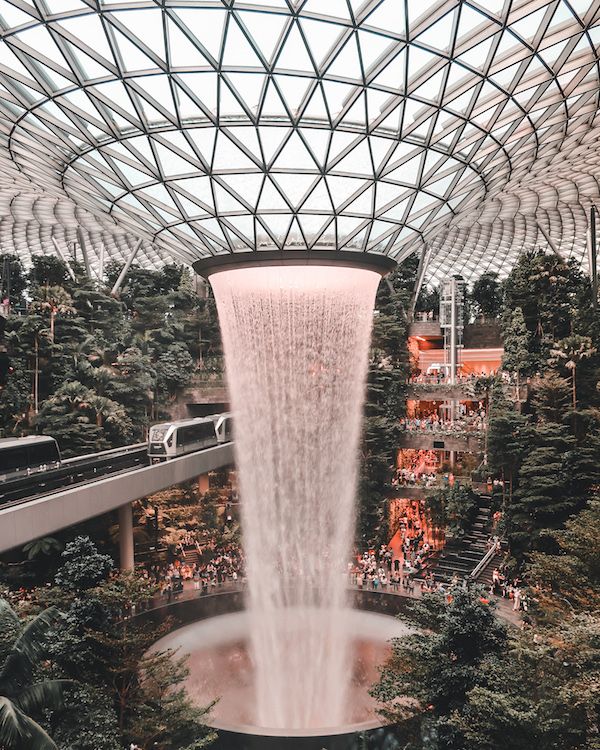 Singapore is a great introduction to Asia for the Westerner. The majority of locals know how to speak English and the city is very clean and easy to get around. Singapore offers many unique experiences and you will find an incredible variety of cuisine inspired from the melding of many ethnicities in one place.
Your 2 days in Singapore will focus on extravagant once-in-a-lifetime experiences rather than museums or typical tourist attractions.
Overview: Two Days in Singapore
Day 1: Lunch at a hawkers market, walk in Gardens by the Bay, eat at one of Asia's Top 50 restaurants, drink the original Singapore Sling at the Raffles

Day 2: Fabulous pool day at the Marina Bay Sands, private dinner with a view, cocktails at an Art Deco style bar, finish your night at an extravagent casino
Disclosure: Some of the links below are affiliate links, meaning at no additional cost to you, we will earn a commission if you click through and make a purchase. We only recommend products or services we have used or that we believe will add value to our readers. Thank you for supporting us!
Best Place to Stay in Singapore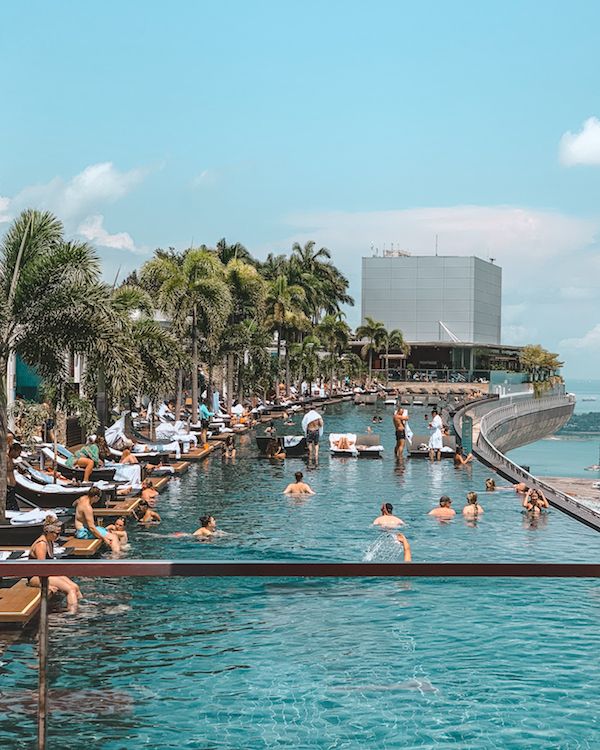 Singapore has many luxury hotels, but
when looking for the ultimate unique experience, nothing beats the Marina Bay Sands
. We first found out about this impressive hotel on the TV show "Amazing Hotels: Life Beyond the Lobby" and couldn't believe it cost 5.5 billion USD to build.
What makes in so unique? It has the world's largest rooftop infinity pool holding 1.5 million litres of water and sits atop three towers on the 57th floor. Clever engineering keeps the water from spilling over, allowing the towers to move up to 20 inches side to side.
There are over 2500 hotel rooms, 80 restaurants and bars, and a 12,000 sqm sky park on the roof with 250 trees and a 360 degree view of the skyline. You could spend a whole week in the place! Although the hotel is huge, the customer service and order of operations are excellent.  It's so fabulous, it was used as a setting in the movie "Crazy Rich Asians".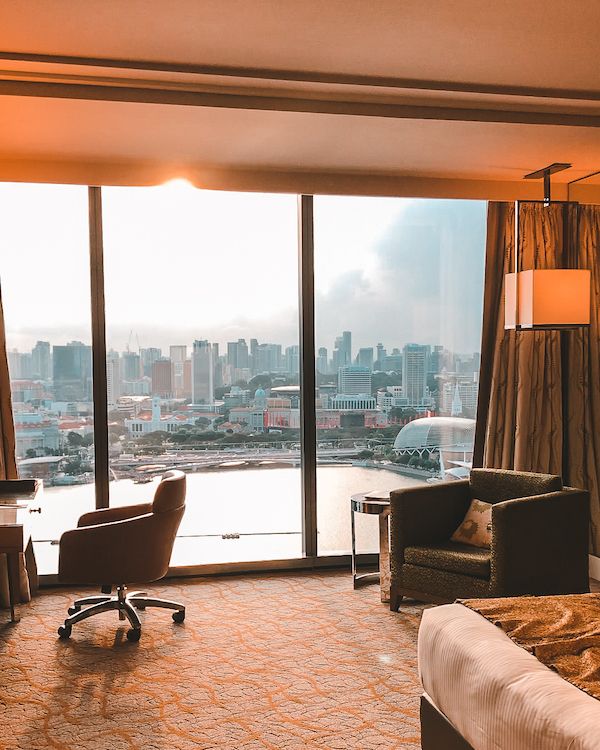 When selecting your room, you have three views to choose from: City View, Garden View and Harbour View. Would you prefer to see the Singapore city skyline, the Gardens by the Bay, or the ocean with anchored boats? It's worth it to spend extra on a higher room so you can ensure your view won't be blocked by nearby buildings.
We chose the city view and we very happy with our choice. Lucky for us we were there during the Singapore National Day celebration rehearsal. We were able to see fighter jets fly over the city and fireworks from our room!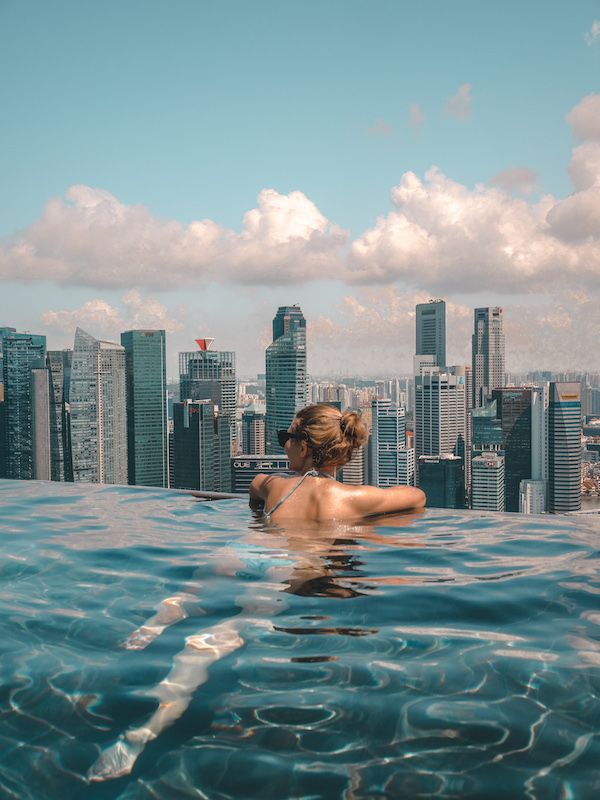 Is Marina Bay Sands Worth It?
The biggest perk of staying at Marina Bay Sands is that you have exclusive access to their iconic rooftop pool.
They have a strict policy with access only being available to guests with a key card. You beep your key to enter the gate and it tracks when you enter and leave.
This exclusivity means the pool is not rammed with people and you are able to grab a beach chair and get quick poolside service. Being able to swim to the edge of the infinity pool and view the city skyline made staying there worth it for us!
Marina Bay Sands Cost
The price of the hotel isn't cheap and costs around 500-600 SGD ($350-$420 USD) per night for 2 people. We saved up for this experience and it was worth the splurge. With any room you stay in, you feel like a real VIP in this hotel.
Address: 10 Bayfront Avenue Hotel Towers, 1 2, 3
2 Day Singapore Itinerary
Day 1
Eat delicious & authentic dishes at a Hawker Centre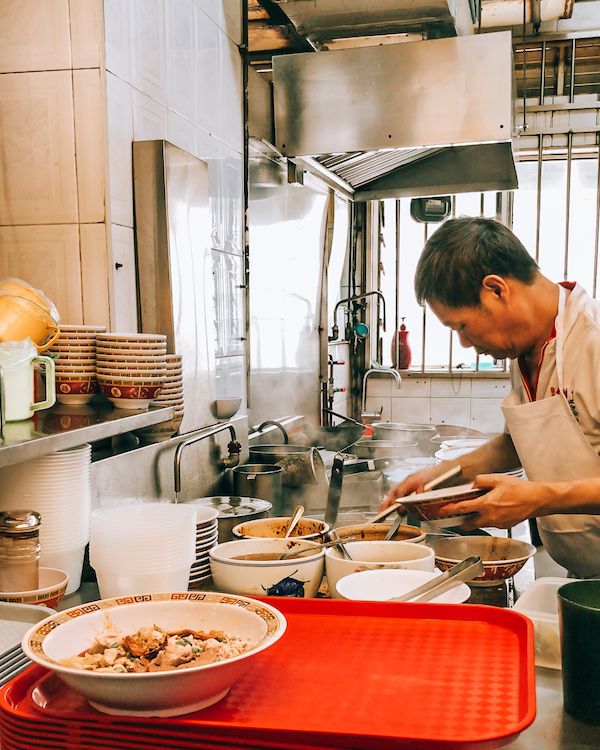 A hawker centre is an open-air food market with tons on food stalls serving authentic and inexpensive dishes.  It's rare to find food stalls with such high quality dishes that people are willing to wait hours in a line up. Some of the dishes are so good that they are recognized by Michelin.
There are many hawker markets in Singapore to choose from. Some of the most popular spots are below:
Chinatown Complex (335 Smith St): the largest hawkers centre
Tekka Centre (665 Buffalo Rd): located in the heart of Little India where you'll find South Asian cuisine
Tiong Bahru Centre  (30 Seng Poh Rd): newly renovated, clean and spacious
Old Airport Road Centre (51 Old Airport Rd): one of the oldest hawkers centre and built on the runway of an old airport
Maxwell Road Centre (1 Kadayanallur St): variety of famous food stalls
When you visit a hawker's market, you'll see some stalls with barely a line up and some with 2-hour long lineups. Those are most likely ones listed in the Michelin guide. The question is, is it worth the wait? In our opinion, it depends. We think it's worth the long wait only if it's a unique dish that's hard to find at other stalls.
We waited for a very long time for a chicken and rice dish and because we didn't really like it, it would have been better to go in a quicker line up at one of the numerous other chicken and rice stalls. Since most of the dishes are new to our palette, we would have been just as satisfied at the less popular places. We would have also had more time to try other plates.
There is however, a food stall called Hill Street Tai Hwa Pork Noodle that was unique from the others and it was worth the hour-long line up. The food stall is located in a small hawkers centre called Crawford Lane. The pork noodle dish was extremely satisfying and contained fresh homemade noodles, slices of tender pork and a perfectly savoury sauce and soup. It was rich and addictive right until the end of the bowl... then we realized we should have gotten the larger one. The hawker stall has even earned itself a Michelin star!
Walk the Gardens by the Bay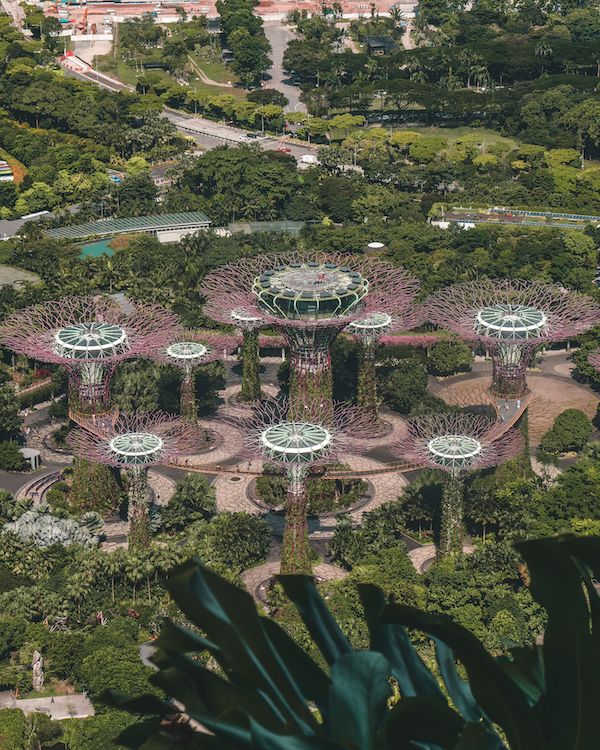 Singapore is one the highest density cities in the world, yet it is also the greenest city in Asia. Gardens by the Bay is a spectacular green space worth seeing with "super trees". Not only are the solar-powered trees beautiful, they collect rainwater to use in gardens and are 25-50 meters tall! They look like something of another planet.
Eat at one of Asia's Top 50 Restaurants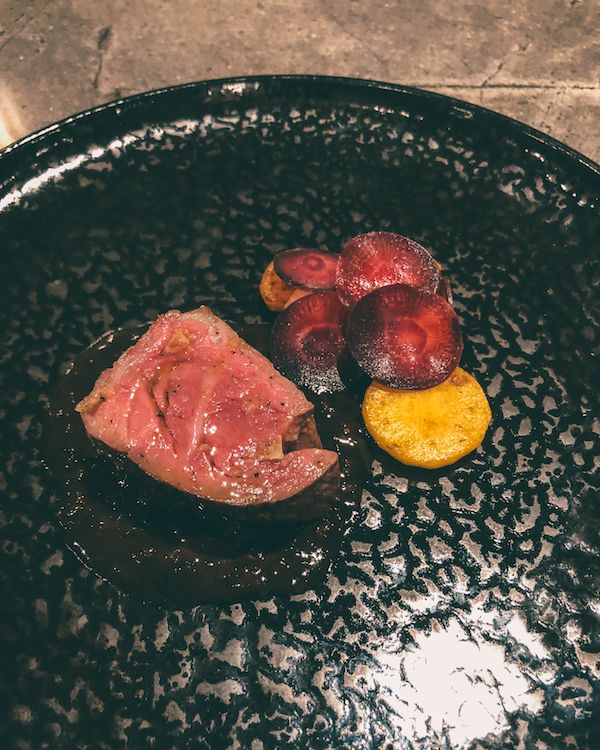 Not only is Singapore a champion of authentic and cheap eats, it also has a fabulous fine-dining scene. The culinary city has 2 three-star, 5 two-star, and 27 one-star Michelin restaurants! There are tons of incredible restaurants to choose from.
Best Fine Dining in Singapore:
Currently sitting at the #1 spot in the 2020 Top 50 Asia Restaurants list sits Odette. If you're not up for French-Asian cuisine, try grill-focussed Burnt Ends (ranked #5), Les Amis for contemporary French, (#11),  Jaan by Kirk Westaway for British cuisine (#21), Zén for Nordic kaiseki (#28), or botanical-forward Corner House (#42).
These restaurants aren't cheap, but they are sure to offer standout dishes, impressive flavours, unique combinations and impeccable service. It's the ultimate indulgence!
Drink a Singapore Sling at the Raffles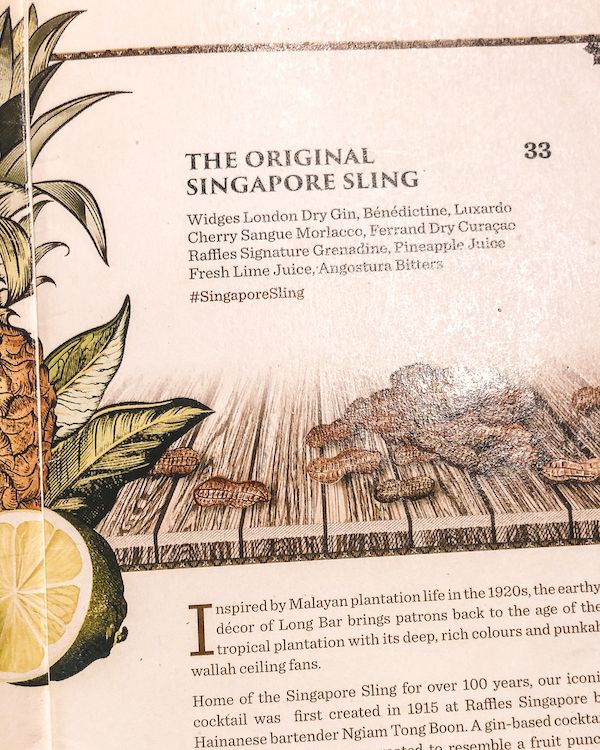 Have you ever heard of a Singapore Sling? It is Ari's favourite cocktail and he had no idea it was created at the Raffles hotel in 1915. We were ecstatic to try the original cocktail at Long Bar and boy did it exceed our expectations. The bartenders expertly combine and shake 8 cocktail ingredients to make a fruity, refreshing and not too sweet libation. Careful! Three of these go down easy on hot Singaporean days.
There is also a great story behind how the cocktail was created. Back in 1915, women could not drink alcohol in public due to etiquette reasons. To get around this issue, bartender Ngiam Tong Boon created the pink coloured cocktail and disguised it as non-alcoholic fruit punch. Clever!
Address: #02-01, Raffles Arcade, 328 North Bridge Rd
If you want to try making one at home, check out this recipe:
---
Raffles Style Singapore Sling Recipe
1 1/2 oz London Dry Gin
1/2 oz Luxardo Cherry Liqueur Sangue Morlacco
1/4 oz DOM Bénédictine
1/4 oz Cointreau or Ferrand Dry Curacao
1/2 oz lime juice
1/3 oz Grenadine
4 oz Pineapple Juice
Angostura Bitters
* Shake and serve over ice.
---
Day 2
Have a relaxing pool day at the Marina Bay Sands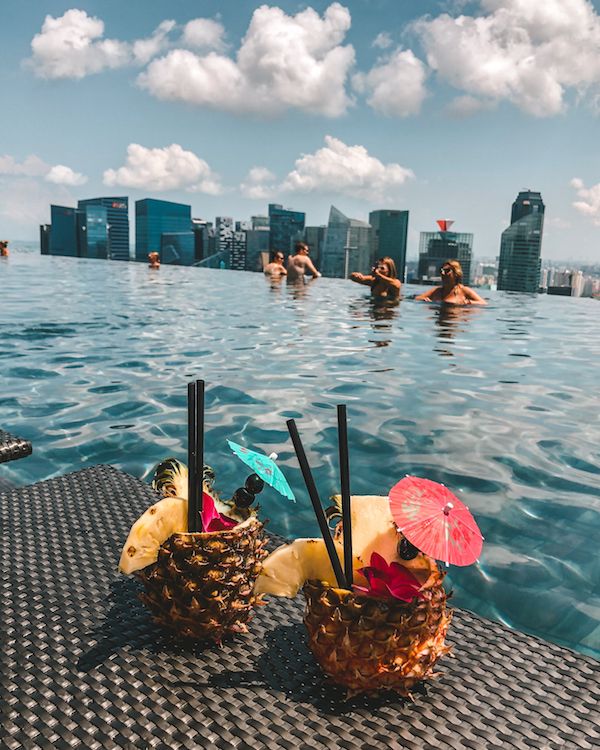 Take the elevator up to the 57th floor and grab a sun lounger by the celestial infinity pool. Today will be about relaxing, swimming and taking in Singapore's beautiful city skyline.
It was hot in the sun, so we enjoyed taking a dip in the pool right beside our pool chairs. It felt like we were swimming on top of the world!  You can order food and drinks on the Sky Deck. Our favourite was the refreshing pina colada.
Enjoy a private dinner in your room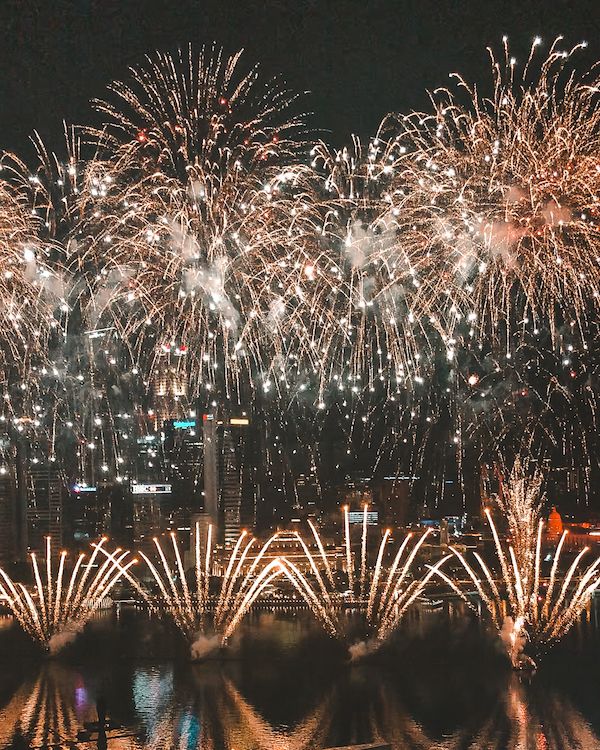 With a view so awesome from your room, why not have a private dinner? We set up the table and chairs in front of the window and called room service (yum!). It was the perfect ambience after our day at the pool and we luckily got a fireworks show! After dinner we were energized and ready to go out for a night on the town.
Drink cocktails in a glamorous art deco style bar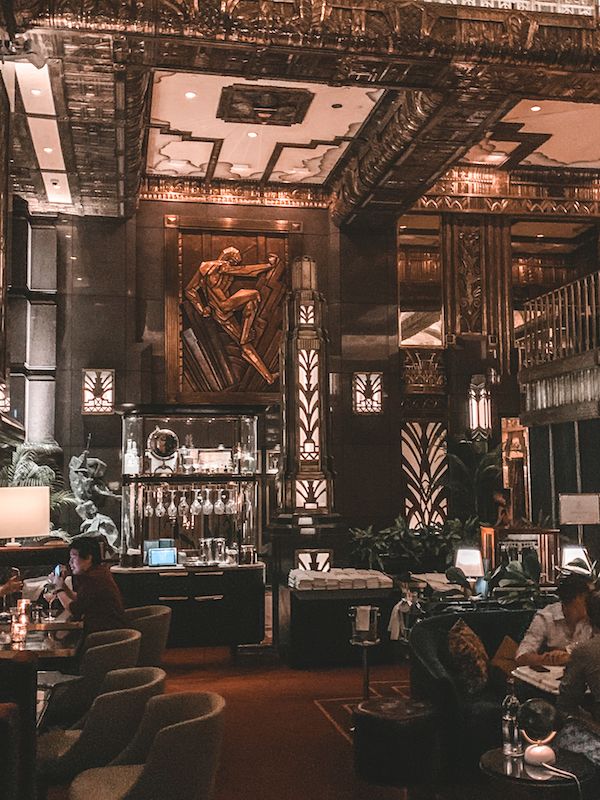 Hangout in an Art Deco paradise at Atlas. When you walk inside you will be stunned by the immense interior scene. Art Deco is a visual arts style originating in the 1920s. At its peak it represented glamour, luxury and technological progress. Atlas has spared no expense or attention to detail in creating an awe inspiring venue that is true to the era.
Atlas placed #8 in the World's 50 Best Bars list in 2019 and is a hot spot, so you'll need to make reservations in advance for a table.
Other than its interior, the bar is known for its fine gin with over 1,000 varieties. Grab one of their refreshing G&T concoctions or their French 75 cocktail with a twist.
Address: 600 North Bridge Rd
Finish your night at the extravagant Marina Bay Sands Casino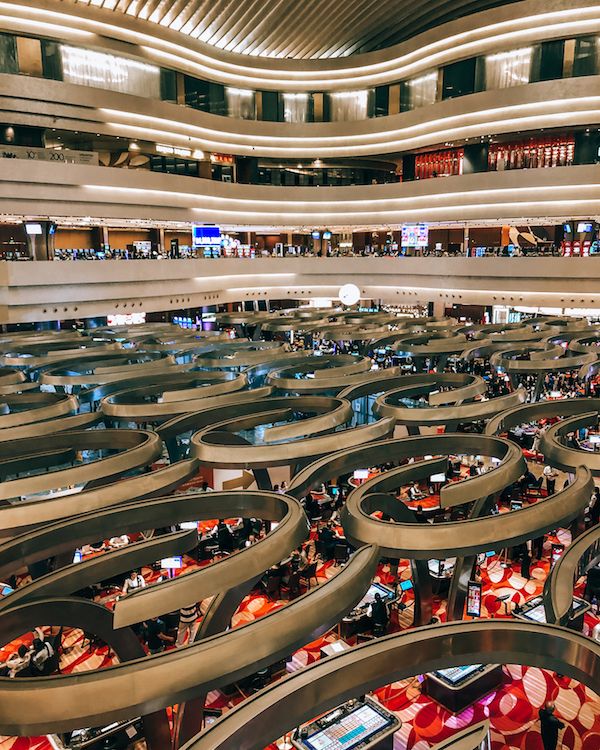 You don't want to miss the massive and futuristic looking Marina Bay Sands Casino. We aren't big gamblers, but after a few cocktails at Atlas we were up for pressing our luck. We had so much fun playing blackjack, roulette, and rolling the dice in craps. You'll find over 1500 slots and 600 table games in the atrium-like building. Unlike casinos in the USA, you can't purchase alcohol here. This was probably a good thing for us and our winnings!
If you're not up for gambling it's worth it to have a peek at the architecture and a quick walk around to people watch. The casino also has one of the largest Swarovski crystal chandeliers in the world.
Enjoy your 2 days in Singapore!
You should also consider Bangkok for a fabulous getaway. Check out our Luxury Weekend Itinerary in Bangkok.
Pin this 2 day Singapore itinerary to save for later: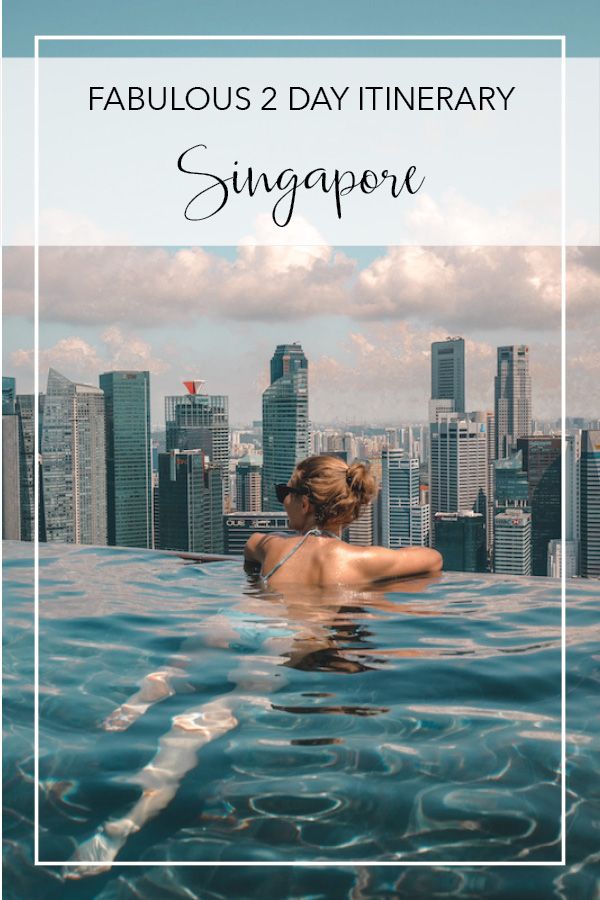 ---
Looking for more travel inspiration? Check out our list of 20 Dreamy Relaxation Travel Ideas
Love food? Don't miss our list of Unique Culinary Experiences Around the World.