Our 6 Day Morocco itinerary takes you to two cities with two different cultural appeals. Where Marrakech is a bustling heritage centre with a blend of both traditional Moroccan and contemporary elements, Essaouira is a laidback coastal city with an arts and music scene influenced from the hippie movement. Visiting both cities allows you to see both a traditional and free-spirited side of Morocco.
Your 6 days in Morocco include a mix of unique sights and exciting cultural experiences.
Overview: 6 Days in Morocco
Days 1-3: Marrakech - discover the ancient city's vibrant culture, architecture, craftsmanship and food scene.

Days 4-5: Essaouira - visit Morocco's bohemian city on the Atlantic coast

Day 6: Marrakech/Fly home - take an evening flight to give yourself ample time to get to the airport
Disclosure: Some of the links below are affiliate links, meaning at no additional cost to you, we will earn a commission if you click through and make a purchase. We only recommend products or services we have used or that we believe will add value to our readers. Thank you for supporting us!
Best time to go to Morocco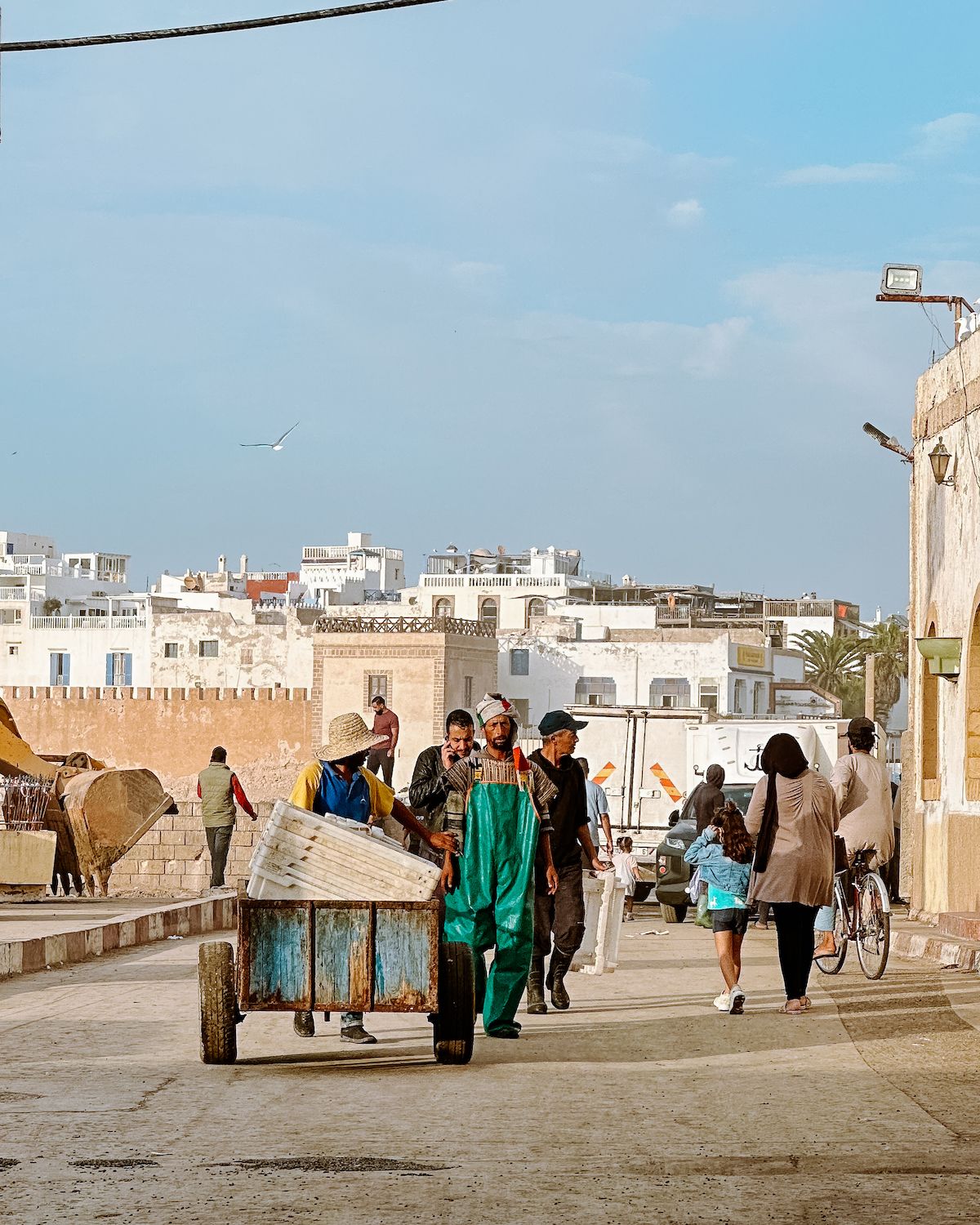 For this itinerary to Marrakech and Essaouira, the best time to go is from October - November for a couple reasons:
Essaouria is known as the windsurfing capital of Morocco, meaning that strong winds rip through the city some months. October and November are two of the calmest months for wind.
You will avoid the extreme summer heat in Marrakech when highs average 37°C
You will avoid Essaouira's coolest winter months, when highs drop below 20°C.
For more helpful tips, don't miss our list of 6 things to avoid in Morocco.
6 Day Marrakech Itinerary
Days 1-3: Marrakech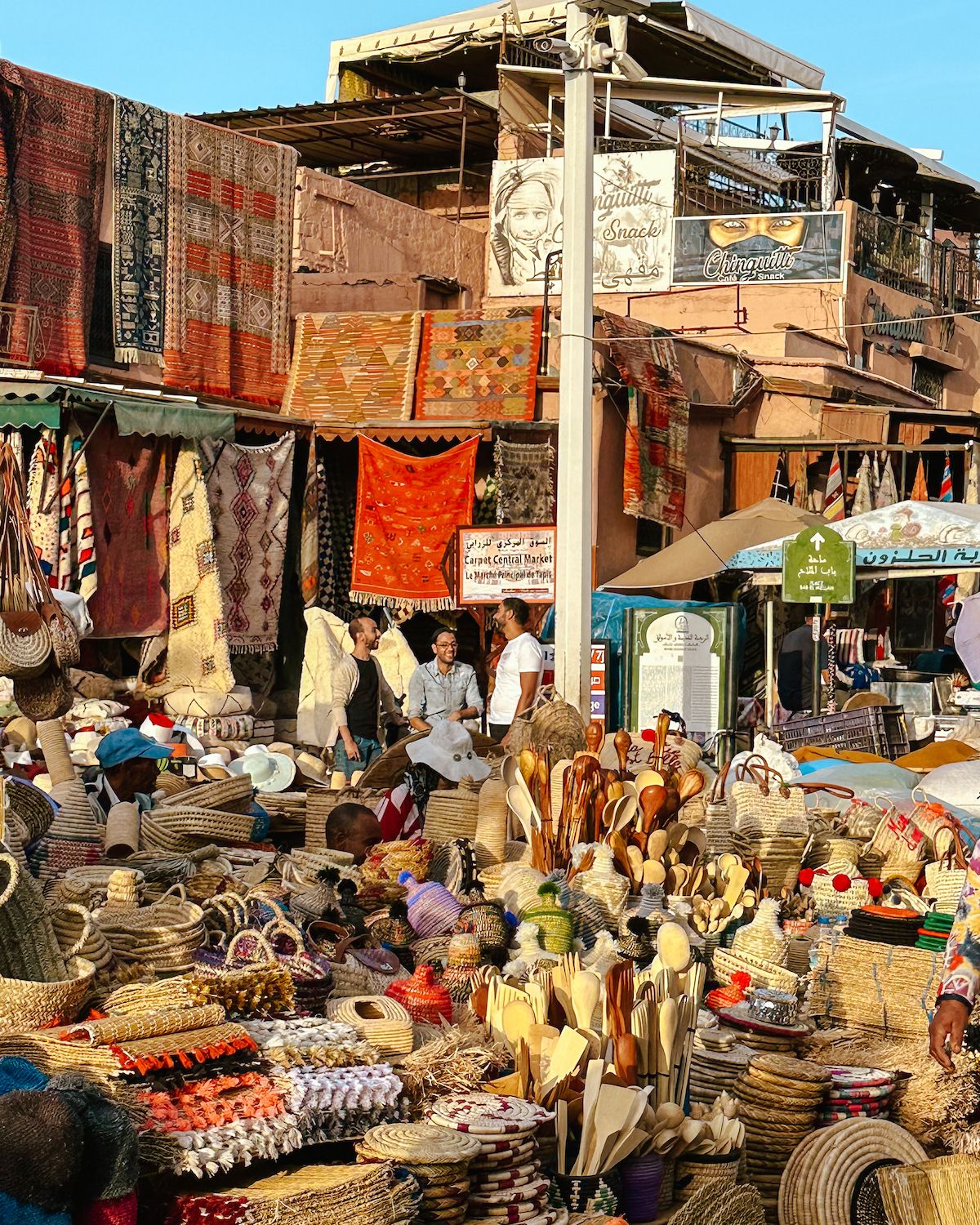 Your first three days take you to Marrakech, a city dating back to the Berber Empire that has developed into one of the richest cultural centres in the world. The ancient Medina is a mecca for shoppers, with souks and skilled artisans selling crafts and textiles throughout the labyrinth of streets.
Marrakech is known to cast a love spell on those who visit, with many prominent figures and famous musicians drawing inspiration from the city. With the city's warm hospitality, food scene, fashionable hangouts, and mesmerizing architecture and design, there is so much experience!
Getting from the airport to Marrakech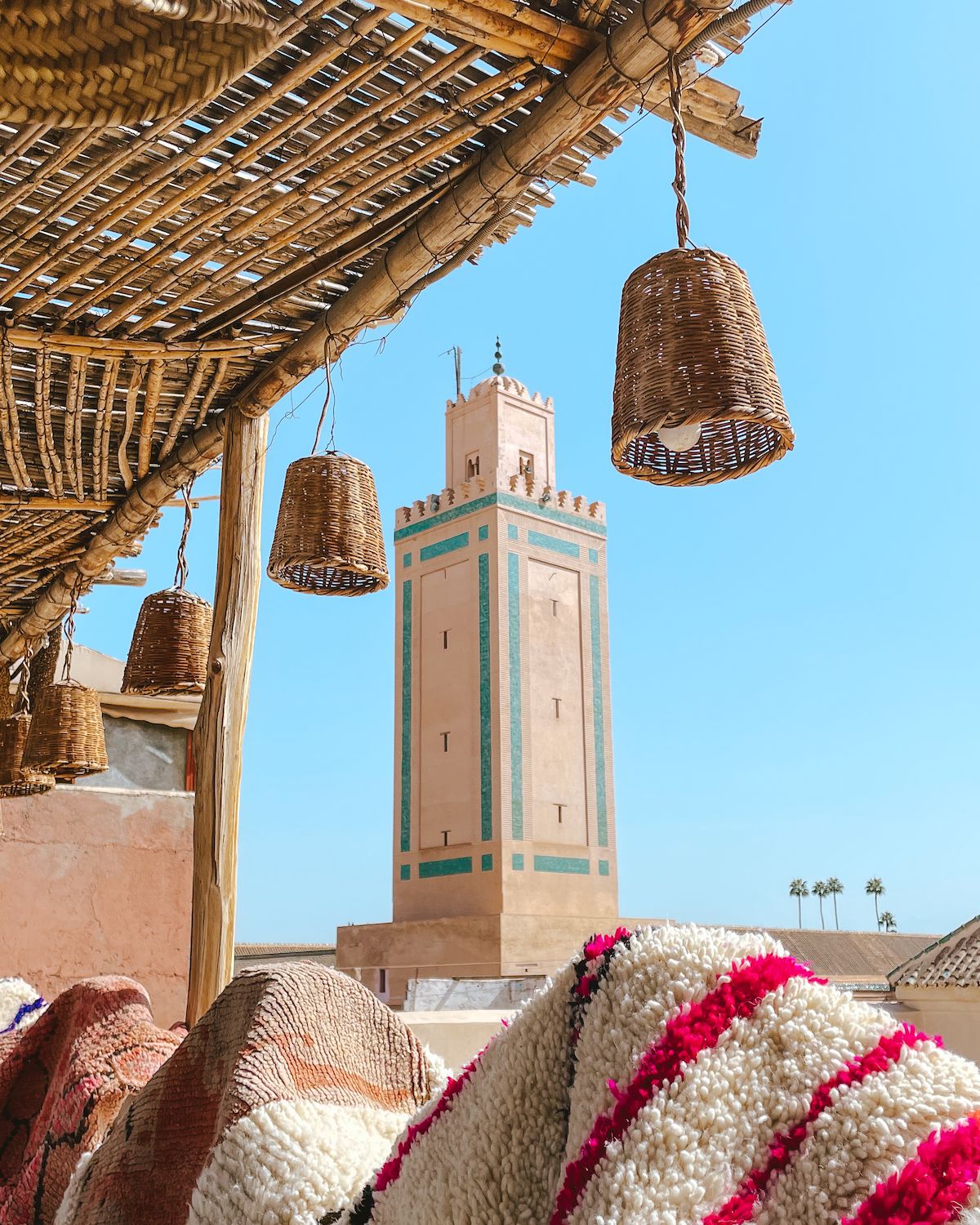 Outside of the airport it's easy to find a taxi for the 10-15 minute drive to the Medina, however negotiating your rate beforehand is a headache. The price is supposed to be 100 dh for the trip in a big taxi, however taxi drivers will use any excuse to increase the price. We could not get it below 2oo dh, with some taxi drivers even quoting us 300 dh.
The most convenient way:
To avoid the stress, we recommend organizing a driver through your riad if it's a fair price. Or, book a private transfer through
Viator
or
GetYourGuide
. It's easy and surprisingly cheap! Your driver will be waiting for you in the arrivals section with your name on a sign and you can cancel up to 24 hours in advance.
Best deal we found: Private Taxi Airport Transfer through Viator from $10.71 USD per group
(up to 4 people). Has good reviews and operated through reputable company,
Menara Trip - Day Trip
.
The cheapest way:
The L19 bus leaves the airport every 20 minutes and takes about 15 minutes to get to the Medina. The price is 30 dh (~$2.85 USD) per person.
Where to stay in Marrakech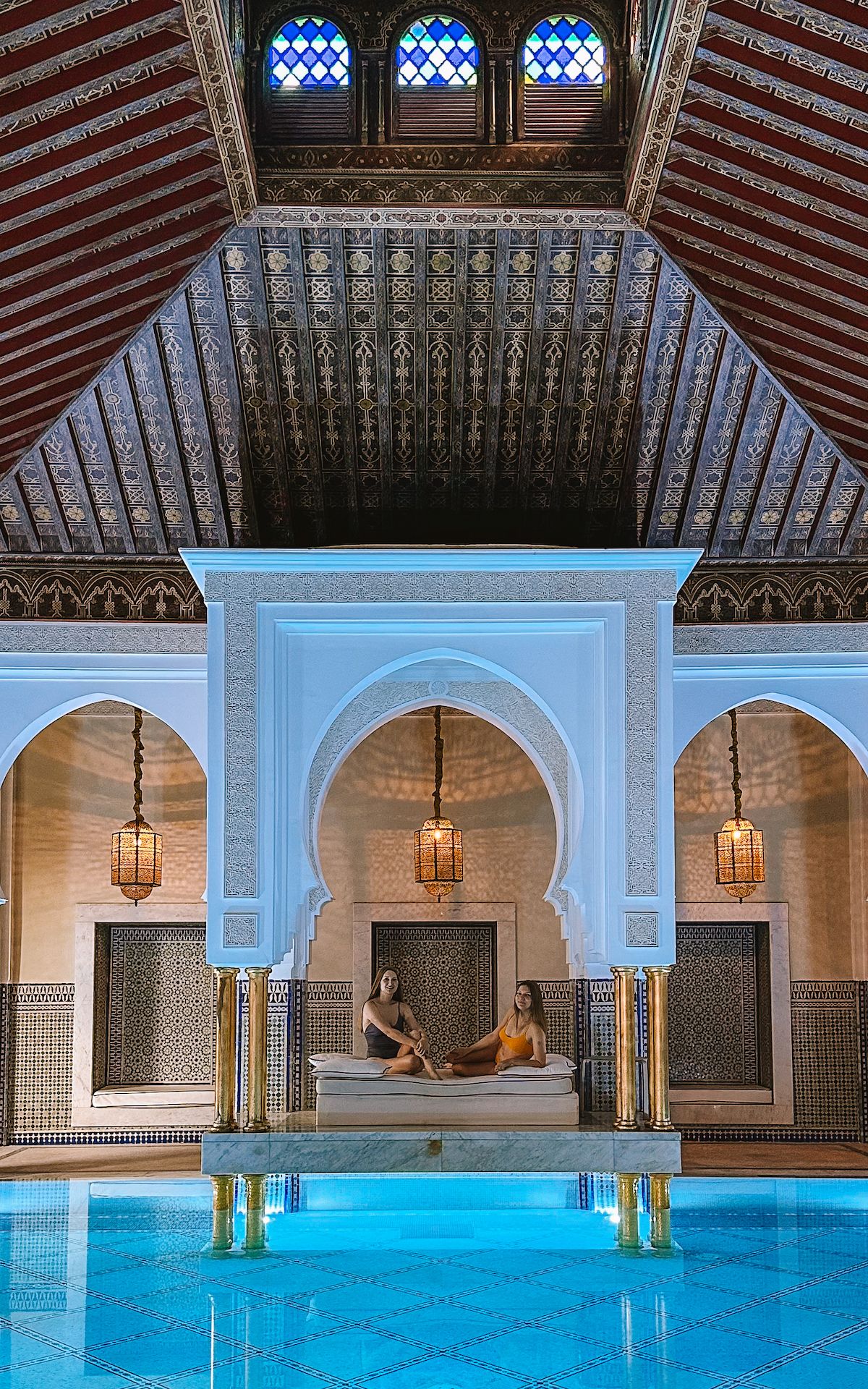 For an authentic cultural experience, stay in a riad, a traditional 2+ story house or palace with an enclosed garden. The intimate hideaway makes you feel at home with its sense of calm, warm hospitality, and rooftop space for lounging.
Most riads come with Moroccan breakfast served in either the courtyard or on the rooftop. The colourful platter typically comes with an assortment of Morrocan breads, pastries, scrabbled eggs, yogurt, fruits, fresh squeezed orange juice and coffee or tea.
Our top riad picks:
If you're looking for something lavish, the ultimate stay for timeless luxury is La Mamounia.
The hotel is a symbol of Moroccan architecture and craftsmanship and has been frequented by famous guests over the last 90 years, from Winston Churchill to Charlie Chaplin.
What to do in Marrakech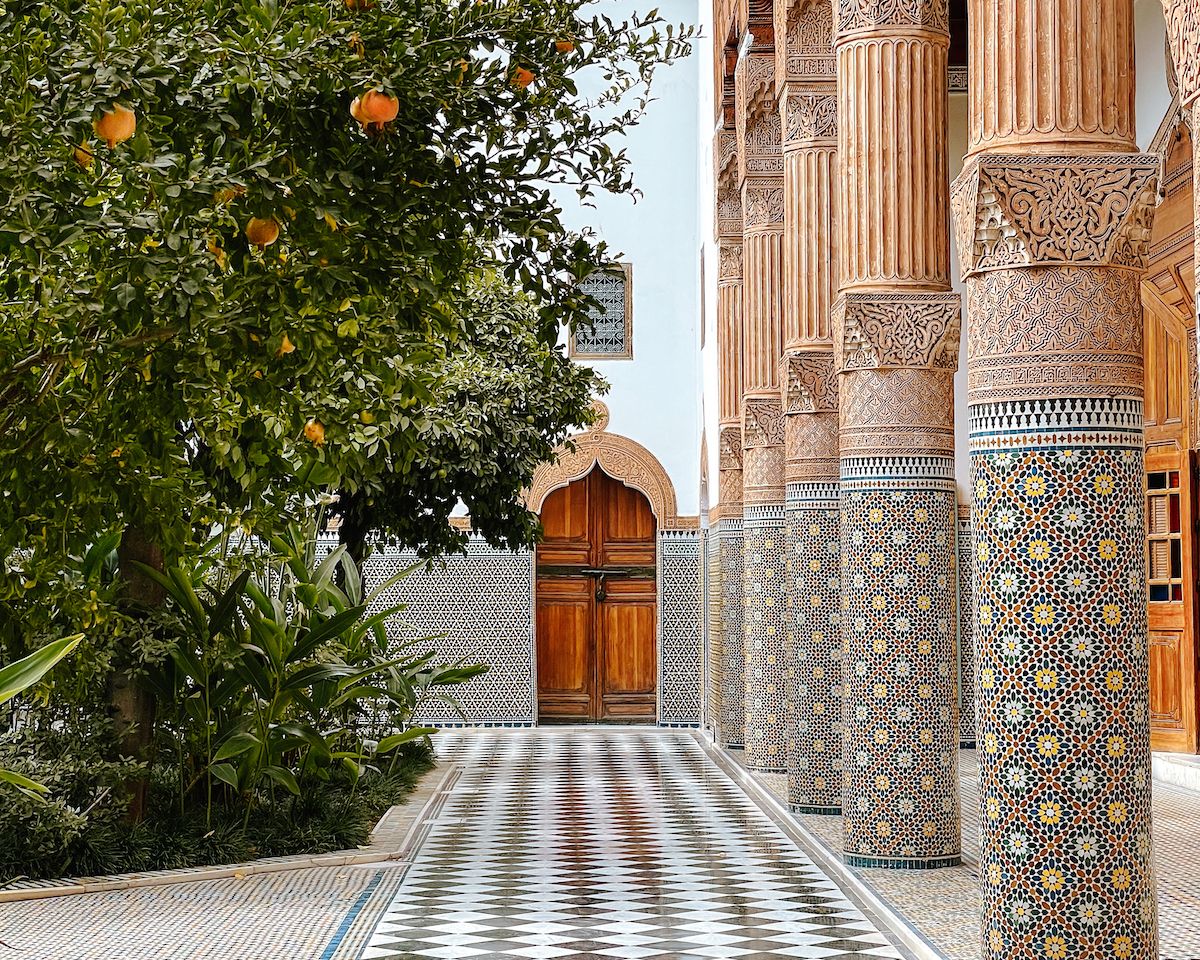 See our comprehensive 3 day Marrakech itinerary, which includes where to shop, where to eat, and unique activities you don't want to miss.
Here are the highlights:
🛍️ Meander through the souks in the Medina and take quieter side streets to find artisan shops.
🥗 Enjoy lunch at tucked away spots in the Medina - in the shady garden of Le Jardin Restaurant, and poolside at fashion designer Balmain's former riad, Dar Moha.
🥘 Take a street food tour to discover the best of Moroccan cuisine
🍴Dine at L'mida, the highest rooftop restaurant in the Medina, and Le Bistro Arabe, for live jazz and innovative Moroccan dishes by a Moroccan celebrity chef.
🍸 Drink cocktails at El Fenn's funky rooftop bar and at La Mamounia's exquisite new rooftop bar, Le Club.
🌿🌼 Stroll through Jardin Majorelle for one-of-a-kind colours.
☕✨ Tour Dar El Bacha Palace and sip coffee in its glamorous coffee house.
🌗 Watch Jemaa el-Fna square transform from day to night
🧖‍ Experience the hammam, a Middle Eastern steam bath where you are cleansed on a warm stone.
Read the full 3 day itinerary here.
For more fun things to do, see our post on 18 unique things to do in Marrakech.
Days 4-5: Essaouira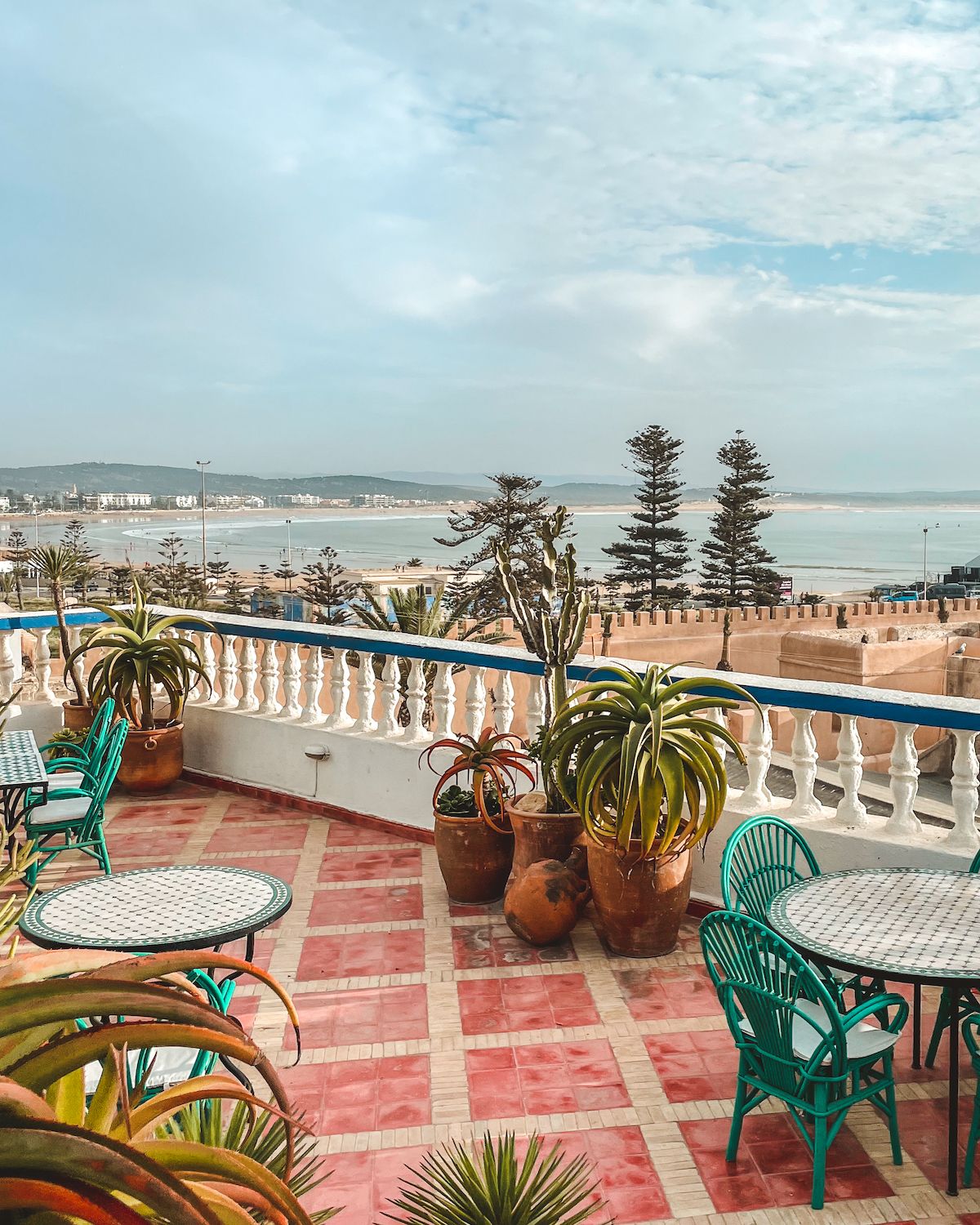 Your next destination is Essaouira, a coastal city with a free-spirited aura. The bohemian city is known to be the most liberal in Morocco, and turned into an artist enclave once its thriving port was overshadowed by other Moroccan cities.
The blue and white city came on the tourist trail during the hippie movement in the late 60s/70s when famous musicians like Jimi Hendrix visited. It was seen as a counterculture destination, attracting creatives to discover its local arts scene. Today you will find artisan shops, galleries and music venues inside the UNESCO Medina and restaurants serving fresh seafood from the Atlantic.
Getting from Marrakech to Essaouria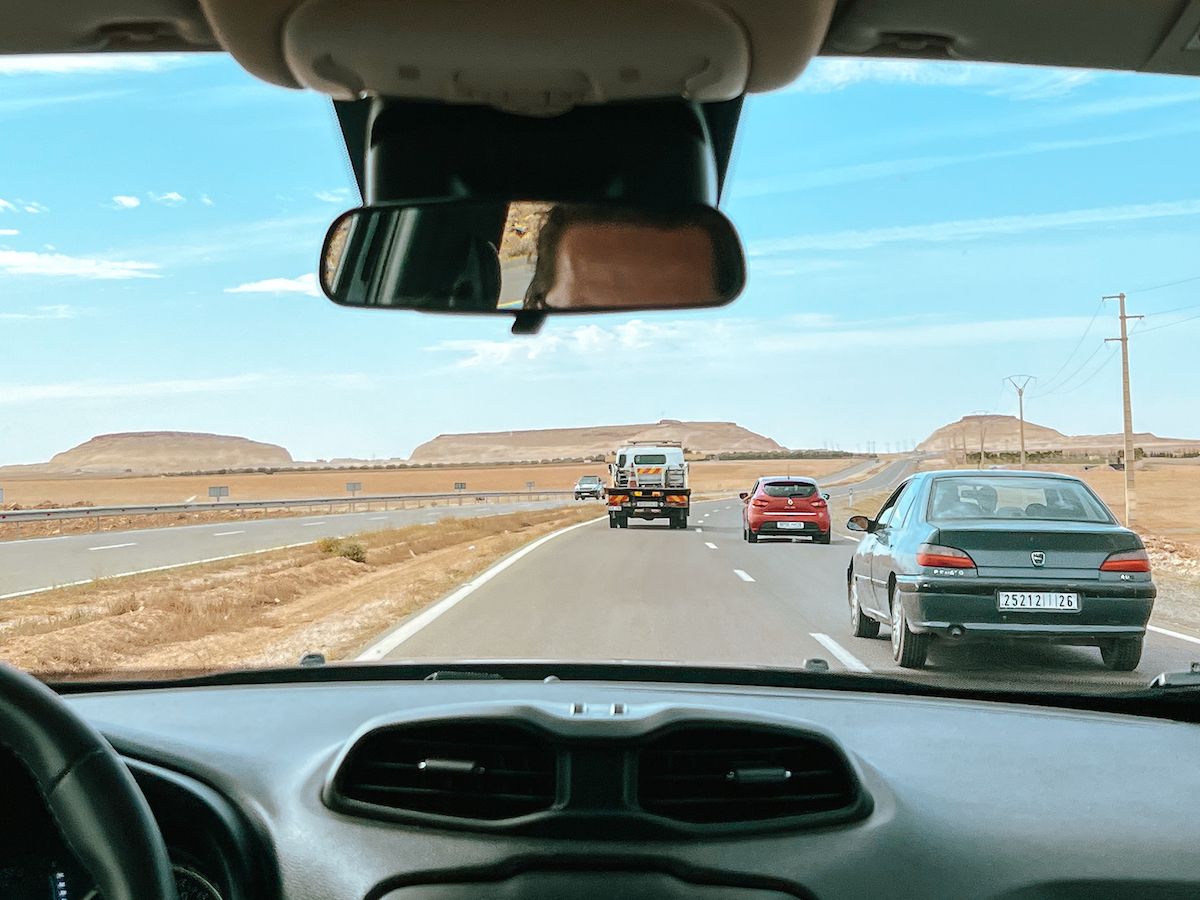 Option 1: Take a Supratours Bus
Book an air conditioned bus through 12Go.
We recommend booking with Supratours, since their bus station is close to the Medina in Essaouira. The journey is 3 hours and one way tickets start at $12 USD.
Option 2: Hire a private driver through your accomodation in Essaouira
Your riad can arrange a taxi to take you from Marrakech to Essaouira.
Riad Dar Maya
, quoted us 800 dh (~$80 USD) per way in a nice car with a driver that speaks both English and French. The drive takes about 2.5 hours.
Option 3: Rent a car
If the driving conditions in a country are reasonable, we will pick renting a car over a bus or private driver any day! We love exploring on our own time, playing our own tunes and having the temperature just how we like it. See our top 5 driving tips for Morocco.
🚙
Compare car rental rates from Marrakech Airport.
Interesting things to look out for on the road
Stop at one of the espresso vans on the side of the road. If the umbrella is open, that means they're ready for business! They have proper espresso machines out the back and can even make a nos-nos (espresso with steamed milk).
Another peculiar sight along the way are the "goat trees", where goats stand in the branches of argan trees to eat the fruit. Farmers find this helpful since they spit out the nuts used to make argan oil. However, you can tell some of the trees are set up for tourists where the goats may be exploited. If you stop to take pictures, you will likely be asked to tip.
Where to park in Essaouira
Park your car in the lot beside the fishing harbour here. Although the reviews aren't the best, we had no issues. We told them how long we were staying, negotiated our rate, and paid as we entered. From there, it's easy to walk into the Medina. You can hire a local with a wooden cart to carry your bags and show you to your hotel. We paid 20 dh to our stay at Villa Maroc.
On your way out, if a local asks to wash you windows, go for it! You will be happy that seagull poop is gone.
Where to stay in Essaouira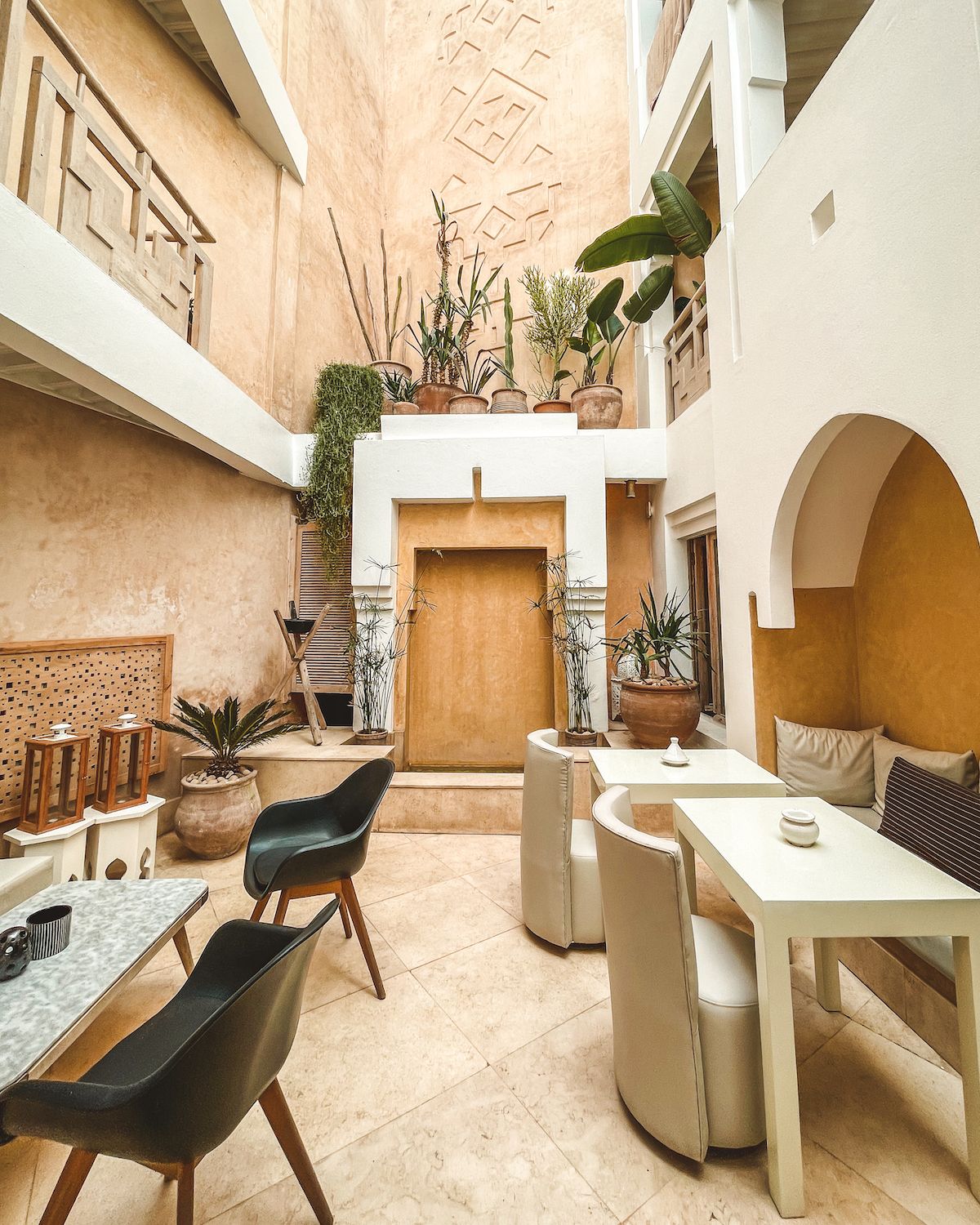 Where to stay in Essaouira
We highly recommend staying within the old city walls around the Kasbah district. This car-free zone is where you will find the best shopping, restaurants, galleries, fishing port and night market.
We stayed at two riads, both in walking distance to all the sights in the Medina. We loved them both!
Best for bohemian vibes: Villa Maroc
Villa Maroc
is a combination of four authentic riads from the 18th century, offering bohemian-chic rooms, many of them with ocean views. The biggest draw is their rooftop patio overlooking the harbour where you are served breakfast each morning. Situated within the action, expect to hear some street noise.
Best for a quiet stay in the Medina: Riad Dar Maya
Riad Dar Maya
has more of a modern feel than Villa Maroc, with its Moroccan minimalist decor, air conditioning and large spa-like bathrooms. If you're looking for a quiet stay in the heart of the Medina, this is a great choice.
🛌
Browse more stays in Essaouira
What to do in Essaouira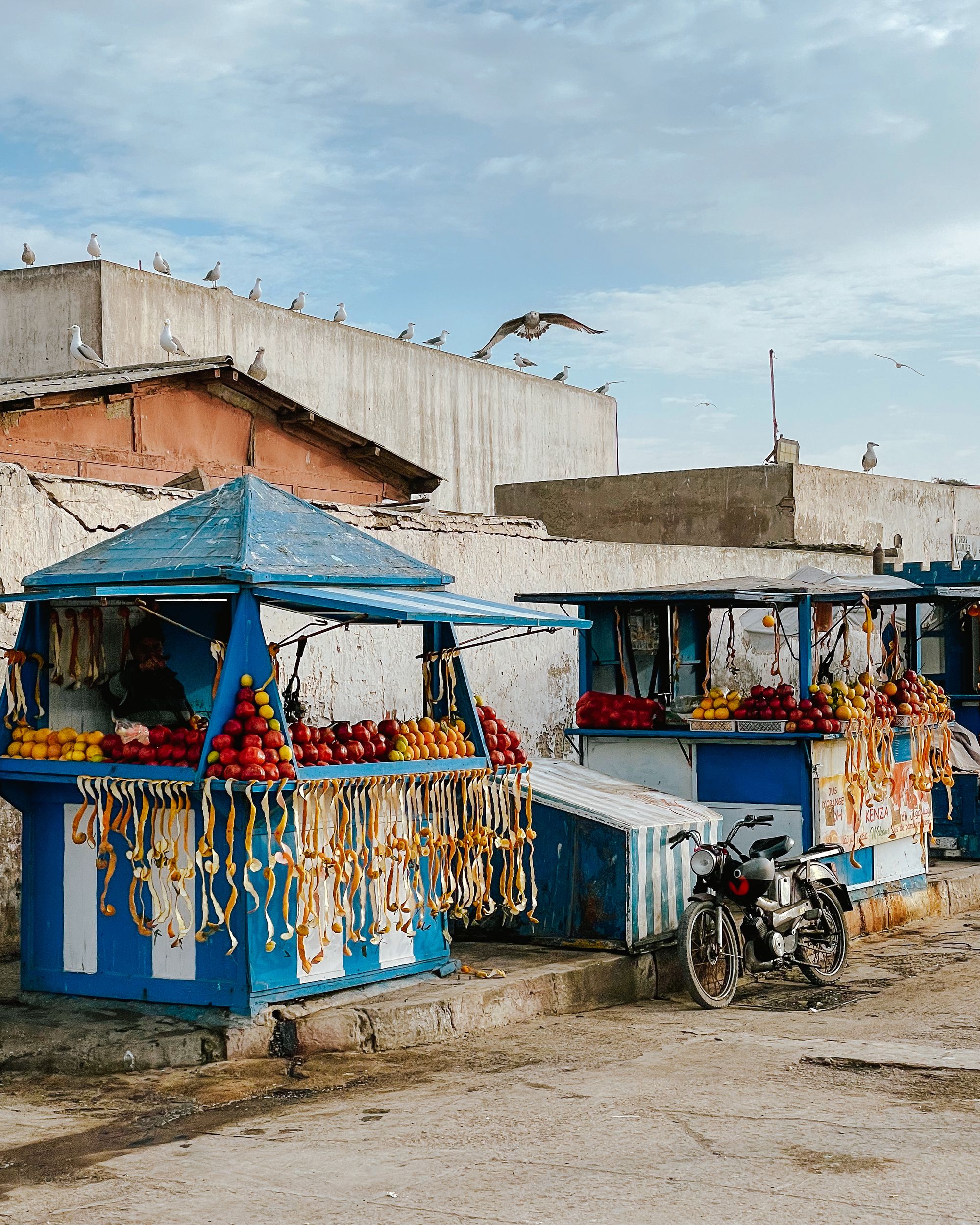 Wander through the small streets and alleyways in the Medina
Essaouira is best explored by taking your time walking through the network of small streets in the Medina. Inside the old city walls there are so many unique shops to discover with artisans selling items like leather products, shoes, handblown glass, rugs, pottery, clothing, and wood products.
Some of our favourite shops we discovered:
Koulchi Concept Store - a multi-level space selling Moroccan housewares. We recommend making this one of your first stops, so you can compare their set prices to what is quoted to you at shops where you barter. On the top floor, order a glass of fresh fruit juice to savour on the rooftop.
"Wordworker's Alley" - our made up name for this cute alleyway where woodcarvers make and sell wood products. We bought little wooden bowls and spoons made out of olive and thuja trees - perfect for a charcuterie board!
minimal: an excellent curation of contemporary Moroccan-made pieces for the home.
Coute Bougie - for premium, handmade Moroccan scents and candles. Made with natural ingredients, we love lighting our dates oil in our oil lamp back at home.
I bought a matching linen set here. Next door to the right, you can get your pants hemmed for just 20 dh (~$2 USD).
Gallery Kasbah: a multi-level riad showcasing a collection of artworks by Morocco's most celebrated artists.
100% bio argan oil:  Essaouira is THE place to go for argan oil since it's produced in the region. Walk down Avenue Oqba Ibn Nafiaa and pick a shop with ladies grinding argan nuts at the front. I picked up a serum and oil for my hair.
Stroll through the historic fishing port
Walk along the faded salty harbour as you watch fisherman sell their catch of the day, seagulls flock to find their next meal, and a mass of blue boats bob at the dock. The late 18th century port was one of the most important ports between Africa and Europe, until it was overshadowed by Casablanca and Agadir.
Buy Moroccan spices from a spice shop
Make your favourite Moroccan dishes at home. We visited Mohamed Seddiki's spice shop (N203) in Marche aux Poisson based on a recommendation we received, and excitedly watched him scoop spices into a bag when we asked for a Kefta mix. Just tell him what dishes you want to make at home (chicken tagine, cous cous etc.), and he will mix away!  It was 20-30 dh for 100g of spices, depending on the type.
Walk through the Night Market
Ave Oqba Ibn Nafiaa and Ave Mohamed Zerktounie combine as the main pedestrian street in the Medina. By night, the street transforms into a lively market with food stalls and vendors set up along the strip. Walk down the whole street to see how it transforms from day to night.
Where to eat and drink in Essaouira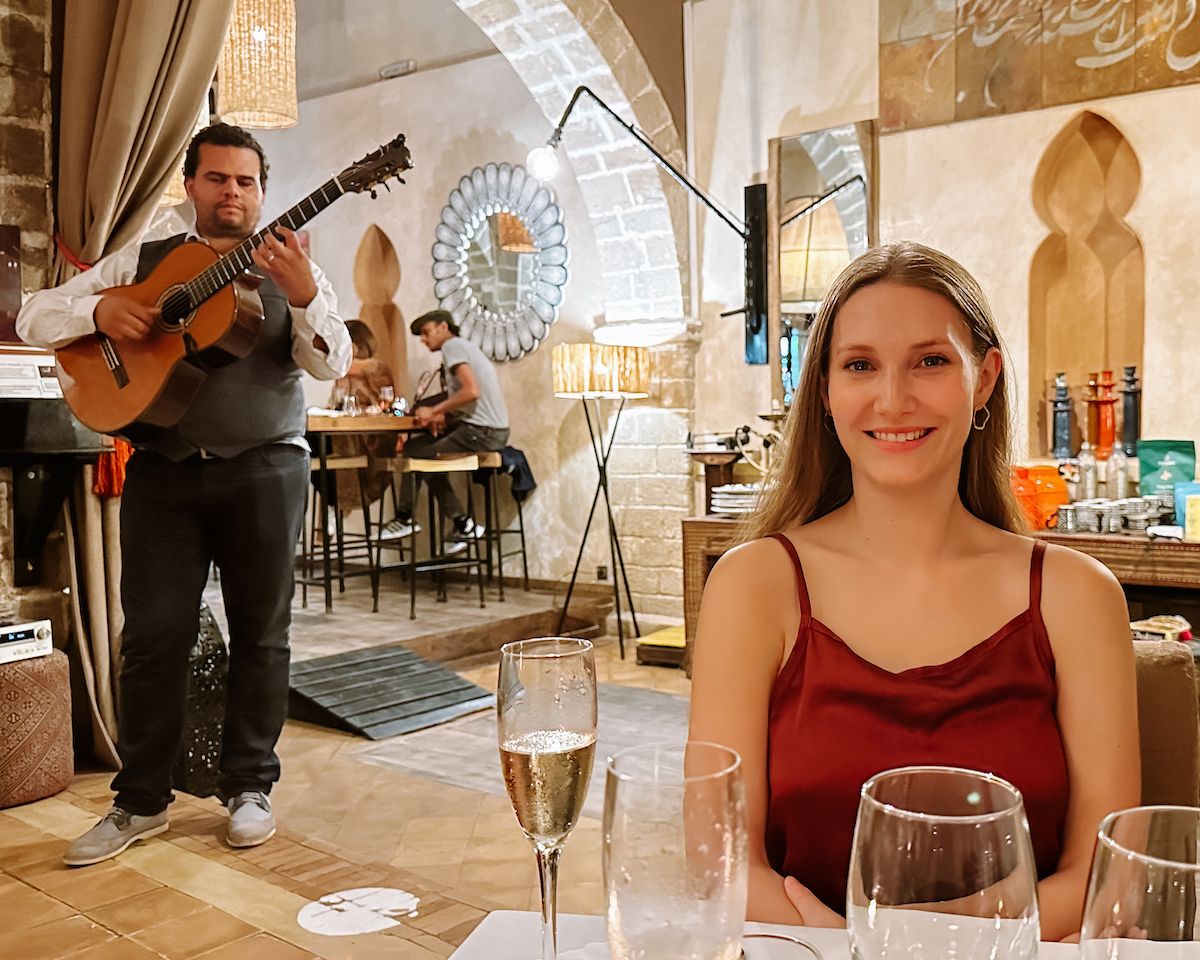 For lunch:
Best for healthy options: Mandala Society - offers fresh, locally-sourced dishes, like smoked-salmon bagels, Buddha bowls, and smoothies. Sit idly at their wooden bar overlooking a busy pedestrian street to people watch.
For an afternoon pick-me-up:
Best for a cozy hangout: Cafe L'Esprit - this cute hole-in-the-wall spot played Habibi Funk as we sipped our nos-nos (espresso with steamed milk) and espresso. The friendly barista made it an enjoyable experience.
Best for a quick espresso: Kesh Cup - a tiny coffee shop where you sip espresso at their bar top.
For dinner:
Best overall: Umia - located right next to the historic wall, the husband and wife duo host you in their intimate space with midcenuty modern furnishings and sophisticated lounge music playing. Their fusion cuisine and Moroccan wine offerings are top-notch, so much so we came back a second time.
Best for seafood: La Table by Madada - an upscale space serving fresh seafood dishes in a historic trader's warehouse.
Best for traditional Moroccan: Restaurant Adwak - If you're after authentic tagine, couscous or kefta, go early to snag a table at this intiate spot that doesn't take reservations.
For drinks:
Best for an aperitif: Caravane Cafe - for fruity cocktails in an eclectic space. Go around 5 PM before their dinner menu starts.
Best for live music: D'Jazy - a jazz fusion bar with excellent live music and a passionate staff. Some nights they feature big shows on their main stage.
Day 6: Drive back to Marrakech/Fly Home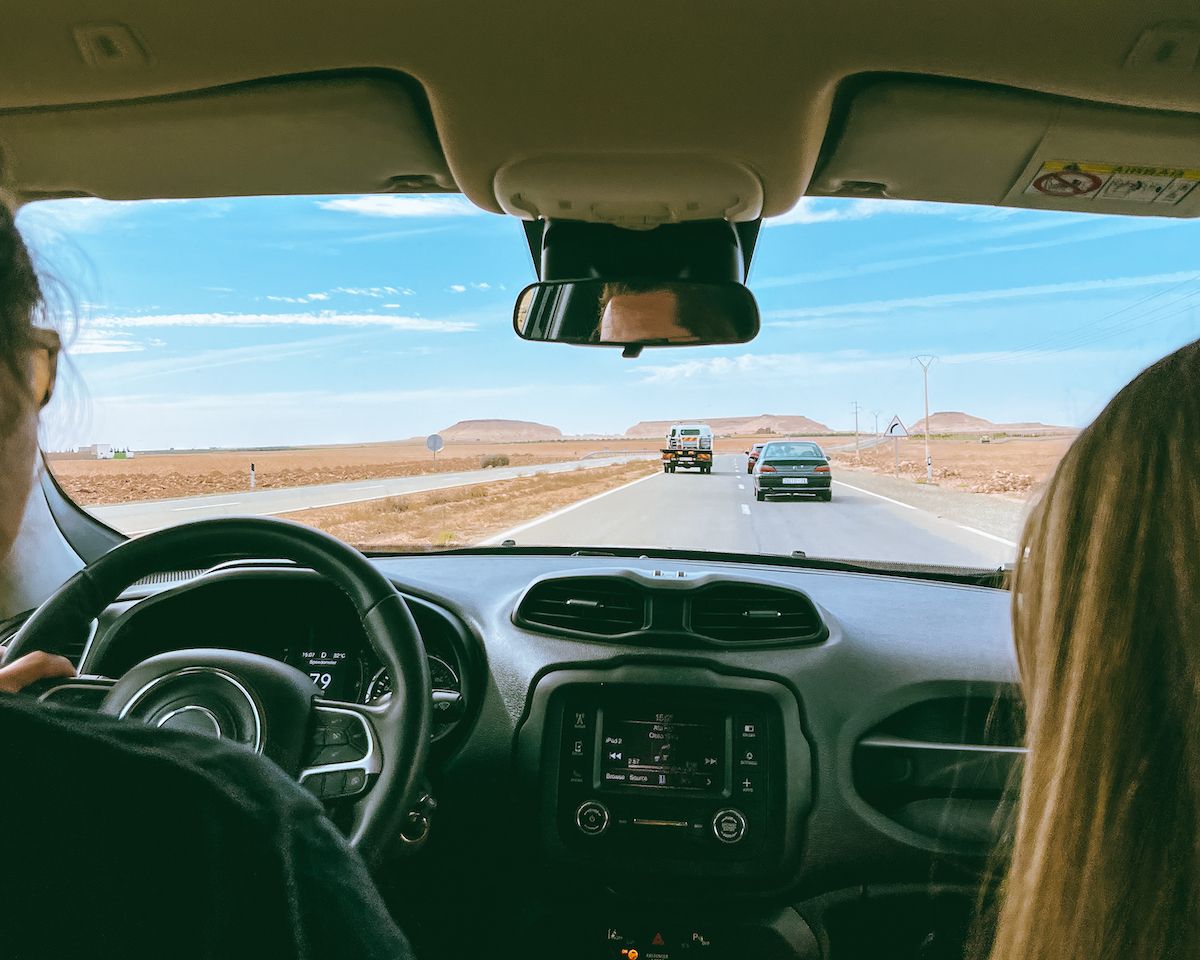 Take an evening flight to give yourself ample time to get back to the Marrakech Airport.
Enjoy your 6 days in Morocco!
---
Check out our other Morocco Itineraries:
---
Get started on booking your trip to Morocco
---
Save and pin this 6 days in Morocco itinerary for later: