Our 5 day Morocco itinerary brings you to two contrasting places. First, to the Atlas Mountains, a peaceful and ruggedly beautiful region where indigenous Berber people live in harmony with the land, and next, to Marrakech, a rich cultural centre with a bustling atmosphere that beautifully combines traditional and contemporary design.
Your 5 days in Morocco will be filled with fun cultural experiences and impressive natural sights.
Overview: 5 Day Morocco Itinerary
Days 1-2: Atlas Mountains - Visit one of Northern Africa's most striking landscapes and discover Berber culture

Option 1: For relaxation

Option 2: For adventure

Days 3-5: Marrakech - discover the vibrant culture of the ancient Medina
Disclosure: Some of the links below are affiliate links, meaning at no additional cost to you, we will earn a commission if you click through and make a purchase. We only recommend products or services we have used or that we believe will add value to our readers. Thank you for supporting us!
Best time to visit Morocco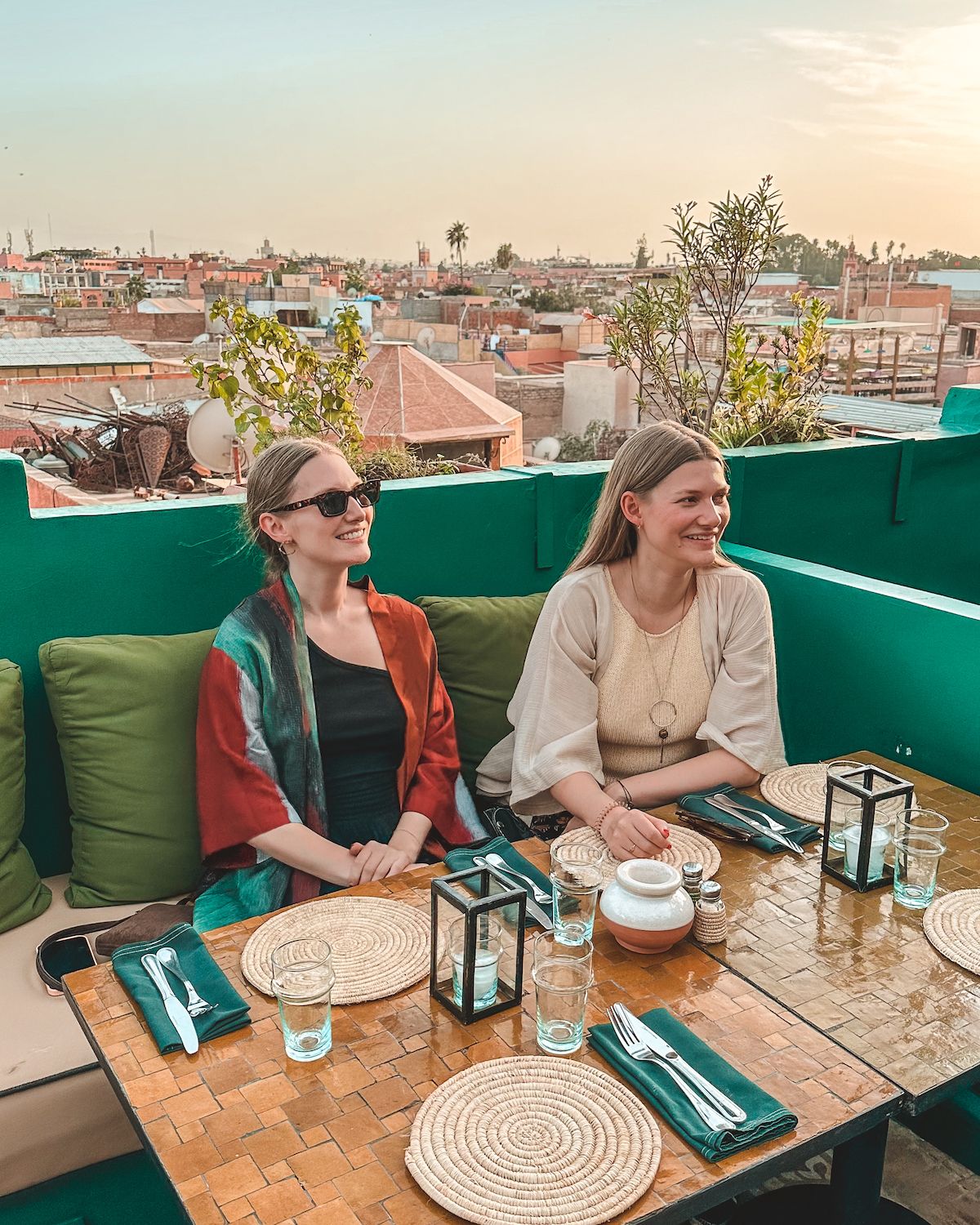 For this itinerary to Marrakech and the Atlas Mountains, we recommend visiting from October-November or March-April. You will avoid the sweltering summer heat in Marrakech when highs average 37 °C and also the coolest and snowiest months in the Atlas Mountains.
If you pick the second "Adventure" option in the Atlas Mountains however, we recommend traveling in October-November before the snow falls.
For more helpful tips, don't miss our list of 6 things to avoid in Morocco.
5 Days in Morocco
Your itinerary starts in the Atlas Mountains and finishes in Marrakech. There is a reason we put Marrakech last, and that's because the shopping there is insanely good. It's not uncommon for people to buy another bag to carry their new treasures home. Rather than lugging additional bags and awkward pieces of pottery with you into the mountains, head there first instead!
Days 1-2: Atlas Mountains
With its sweeping valleys and snowcapped peaks, the Atlas Mountains have one of the most impressive landscapes in Northern Africa. Here, you will discover Berber culture, an indigenous group that lives in harmony with the land. Berber people are renown for their craftsmanship, making textiles, pottery and crafts by hand with natural materials.
Depending on what style of travel you're looking for, we present two options: the first provides relaxation and reflection in the natural surroundings, and the other, a sense of adventure and discovery.
Option 1: For relaxation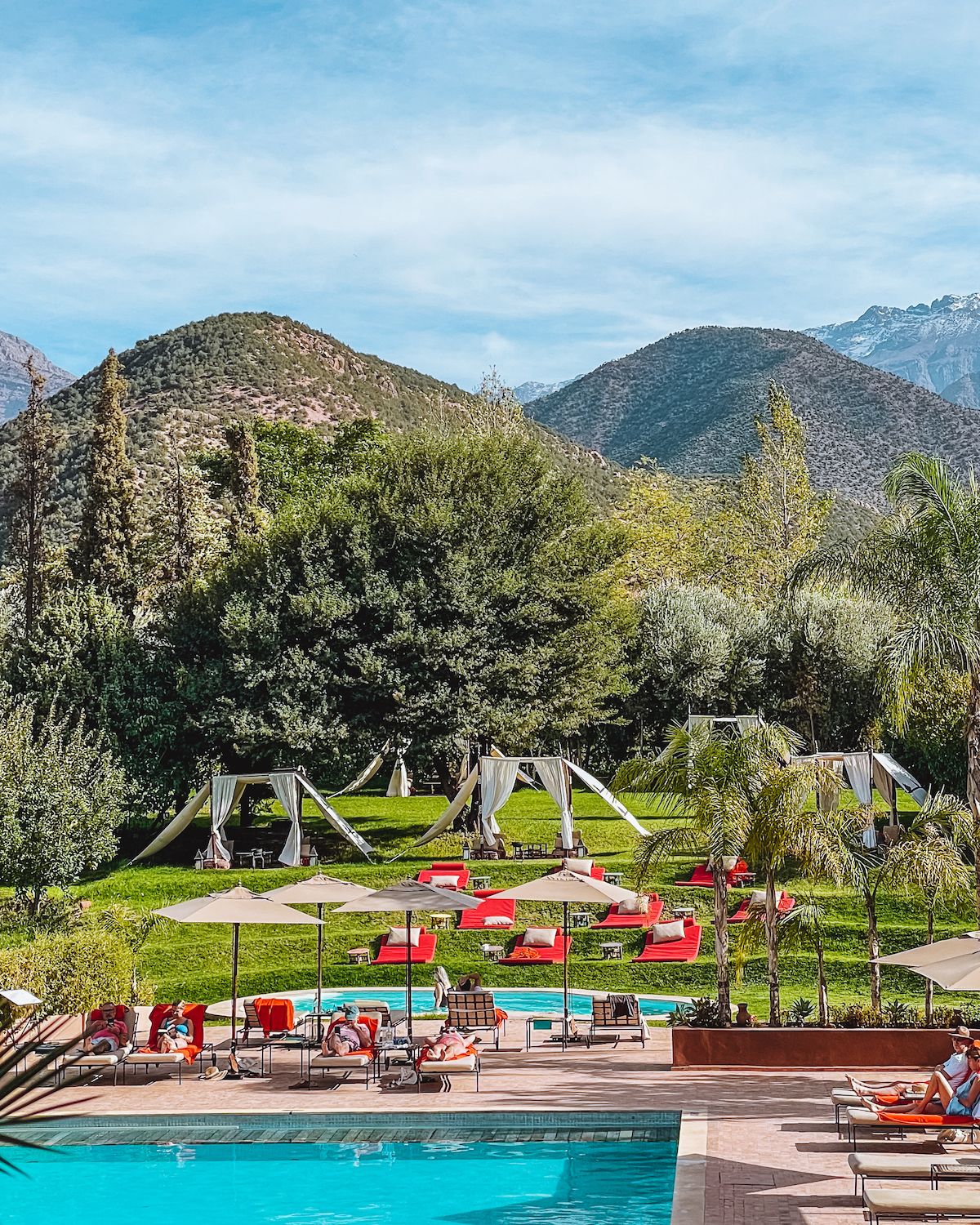 Stay in a kasbah with mesmerizing views of the Atlas Mountains
Traditionally a fortress built by tribal groups to protect their leader, many kasbahs today have been converted into hotels providing a luxurious escape for travellers. Kasbahs stand out for their geometric design and towering walls made from the rammed earth. Soak in the natural surroundings and allow Morocco's warm hospitality to guide your first couple days.
There are a few gems in the Atlas Mountains that provide outstanding views of the region:
Best for proximity to Marrakech: Kasbah Angour ($$): Located just 40 minutes away from the Marrakech Airport, the peaceful kasbah feels like a garden oasis with a rugged outline of the Atlas Mountains in the distance.
Best for the view: Kasbah Bab Ourika ($$): Perched on a hilltop, this kasbah has 360 degree views of the Atlas Mountains and Ourika Valley. The drive takes an hour from the Marrakech Airport.
Best for luxury: Kasbah Tamadot ($$$$): For the ultimate luxurious escape, this award-winning kasbah owned by Richard Branson offers exemplary service, top amenities and a pristine setting. Unwind with a massage in the spa, order a smoothie at the outdoor pool, sip tea with local berber, Mohamed, or read in the cozy library room. The drive is an hour from the Marrakech Airport.
Top tip: You can visit Kasbah Tamadot for lunch as a non-hotel guest on their outdoor terrace.  
Visit an authentic Berber market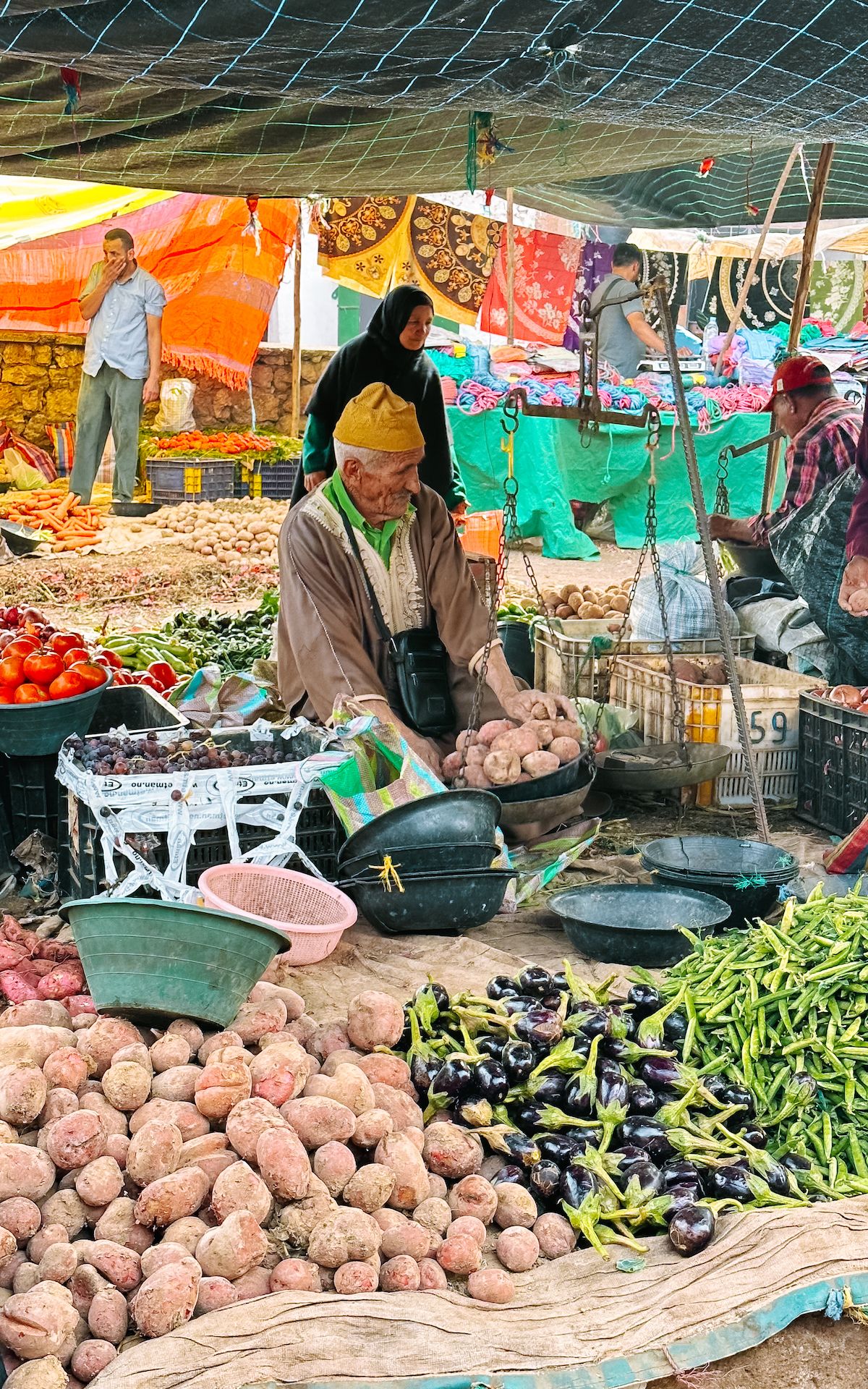 Take a break from lounging at your kasbah, and organize a visit to a Berber market. Certain Berber villages have their own "market day", where locals gather to socialize, eat, and buy and sell produce, spices, nuts, clothing, basic housewares, and both, live and dead animals. The market is not catered to tourists, so it's an authentic way to observe the life of a Berber.
Our favourite experience was eating grilled skewers at the Berber market in Asni. We chose the meat of our choice from the line of kebab stalls and grabbed a seat. For 6 chicken skewers, bread and two teas, it came to 15 dh (~$4 USD). They are cooked right in front of you on a charcoal grill.
Option 2: For adventure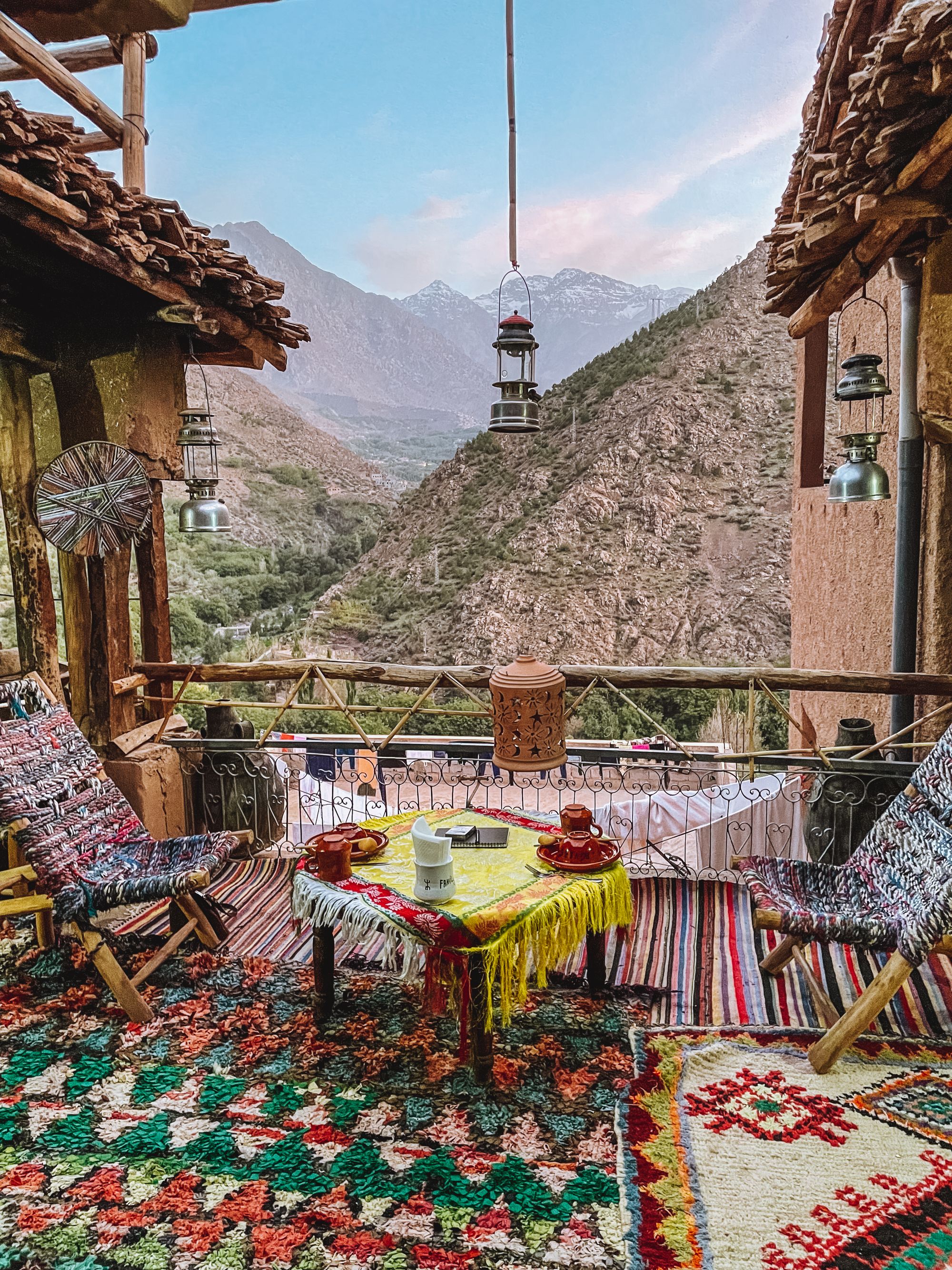 For this option, you will need to rent a car from the Marrakech Airport. During your two days in the Atlas mountains, you will stay in an authentic Berber lodge and drive to the highest village in Morocco as you explore quiet mountain roads.
Stay at an authentic Berber lodge
Staying in a Berber lodge is one of the most authentic cultural experiences you can have in the country. The accommodation is basic, but you receive insight into the life of a Berber family. Living in such a remote area, Berber people rely on their natural surroundings, like the sun to dry laundry and dishes, fire to cook their food and cold mountain water to cool sodas.
Choose a berber lodge to stay in near Imil, the hub for hiking Morocco's tallest mountain, Mount Toubkal.
We stayed off the main tourist trail at Berber Family Lodge,
located in the tiny village of Aguer Sioual, just a few minutes away from Imlil. The views, food and friendly hosts made it a wonderful experience. The only caveat is that the lodge is tricky to get to. It's located down a single lane road along the river (only about a 30 second drive though) and is a 5 minute walk up some stairs into the village.
The value at
Berber Family Lodge
is fantastic. We booked their Superior Double Room for 38 USD for a night, which had a private bathroom and included breakfast for two. Dinner cost 100 dh per person. Bring cash for your dinners!
🛌
Browse more stays around Imlil
Drive to the highest village in Morocco
Rather than hiking, we explored lesser-travelled roads by car. We are excited to share an off-the-beaten-track route that brings you to Tacheddirt, the highest village in Morocco. What made this route so special was that we only saw one vehicle on the road in the three hours we explored! The scenic loop is paved, except for one small section through a village.
We saw tiny Berber villages with roadside cafes, Berber people herding sheep and washing rugs at a mountain spring, goats crossing the road, a couple hikers, and panoramic vistas along the way.
As you drive through Imlil, stay left and take the road to Tamatert to start your journey. Google Maps says you can't do it in a loop, but you actually can! We recommend driving the loop counterclockwise. We drove it both ways and preferred the scenery driving that way.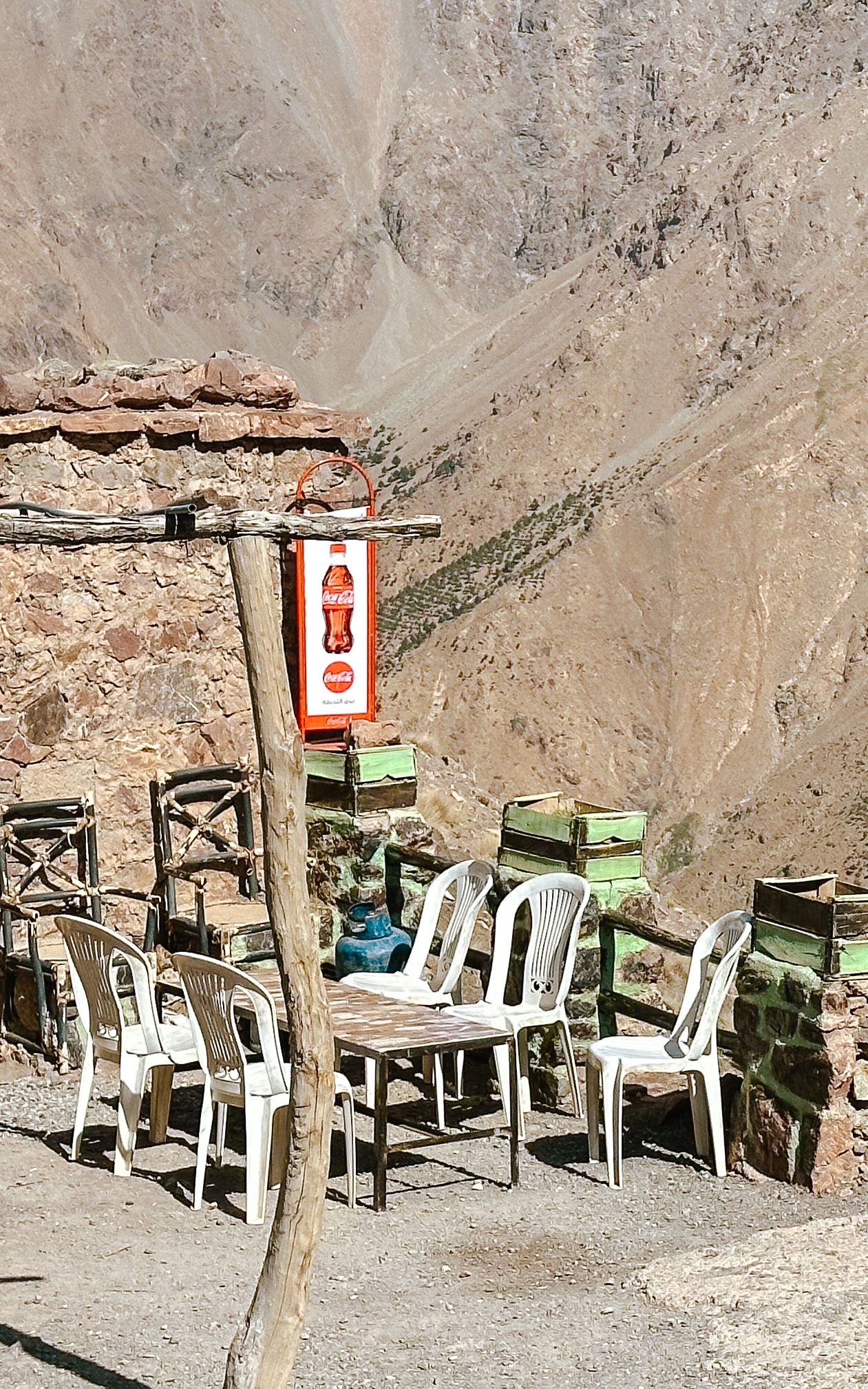 Drink tea above 2000m elevation at these roadside cafes along the way:
Sipping Berber tea at these cafes in the mountains were some of most peaceful moments we had. You may notice that in the High Atlas there is more thyme in the tea than in the city - every location has it's own blend! We took our time driving and stopped at every cafe we found. Each one had its own special appeal and view.
See our map above for four cafe locations:
Cafe #1: had the highest vista
Cafe #2:  located at the intersection before you start the loop
Cafe #3: located at a mountain spring where they cool your Coca-Cola under running water. The autumn air smelled crisp as we sat at our table in the grass.
Cafe #4: their rooftop has views of apple, cherry, and walnut trees growing in a terraced valley.
Once you get back to your lodge, take this time to unwind with a card or board game. We loved playing Scrabble on the rooftop terrace and hearing the river rushing below us.
On your way back to Marrakech, spend the morning at an authentic Berber market, mentioned in Option 1 above.
Days 3-5: Marrakech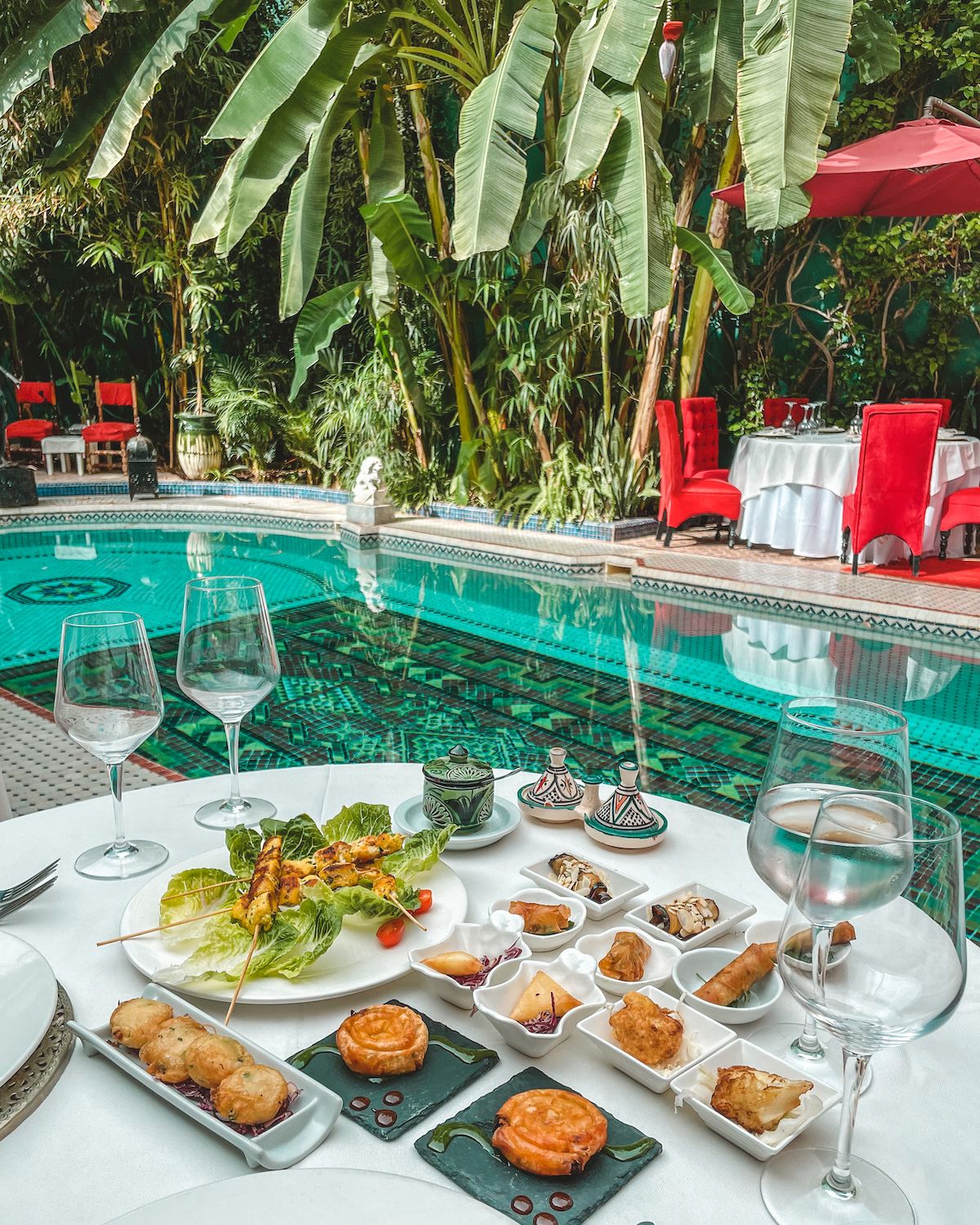 Dating back to the Berber Empire, Marrakech has developed into one of the richest cultural centres in the world. The ancient Medina is a mecca for shoppers, with skilled artisans selling crafts and textiles throughout the bustling souks.
The rose-coloured city tends to cast a love spell on travellers, with its diverse food scene, warm hospitality, exquisite architecture and design, chic boutiques and fashionable hangouts.  
Getting to Marrakech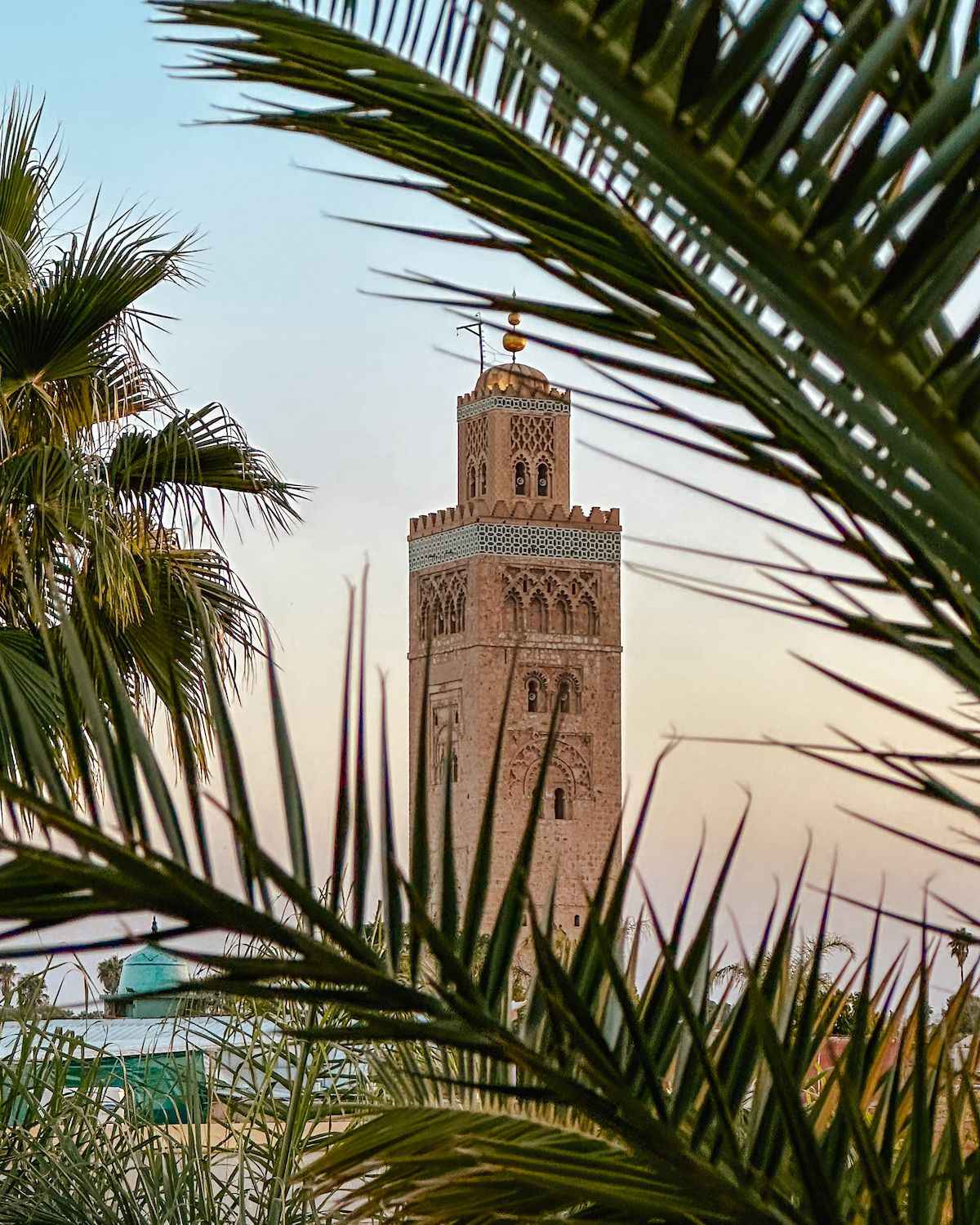 If you chose Option 1, hire a driver through your kasbah to bring you back to Marrakech. For those who chose Option 2, drop your rental car off at the airport and take one of these transportation options below to the Medina of Marrakech.
Getting to the Medina from the Marrakech Airport
By bus: this is the cheapest option, costing 30 dh (~$2.85 USD) per person. The L19 bus leaves every 20 minutes and takes around 15 minutes to get to the Medina.
By taxi: although taxis are a big nuissance with taxi drivers using any tactic they can to increase the price, this is a convenient option if you don't know what time you'll be dropping your car off at the airport. The price should be 100 dh, but expect to pay about 200 dh ($19 USD) and be prepared to negotiate.
Private driver: It's easy to book private transfer through Viator or GetYourGuide - and it's surprisingly cheap! Your driver typically waits for you in the arrivals section with your name on a sign, but you could ask them to meet you at the car rental parking lot instead. Best deal we found: Private Taxi Airport Transfer through Viator from $10.71 USD per group (up to 4 people). Has good reviews and operated through reputable company, Menara Trip - Day Trip.
Where to stay in Marrakech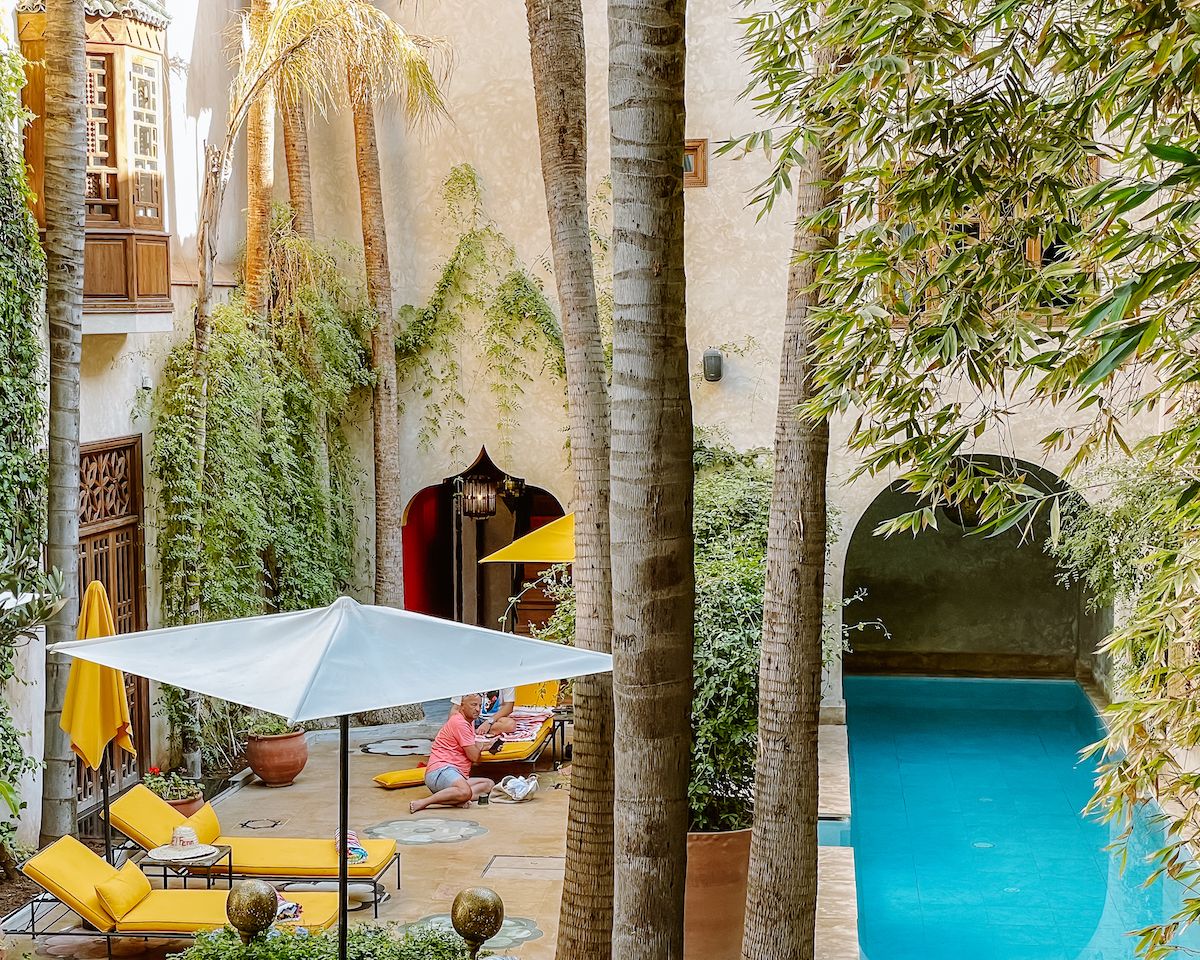 Stay in a riad, a traditional 2+ story house or palace with an enclosed garden. The intimate hideaway makes you feel at home with its warm hospitality, serene courtyard and rooftop space for lounging and eating breakfast.
Our top riad picks:
If you're looking for something opulent, the ultimate stay for timeless luxury is La Mamounia.
The hotel is a symbol of Moroccan architecture and craftsmanship and has been visited by famous guests over the last 90 years, from Nelson Mandela to Elton John. If you saw the hit Netflix series, Inventing Anna, you may also recognize the hotel.
What to do in Marrakech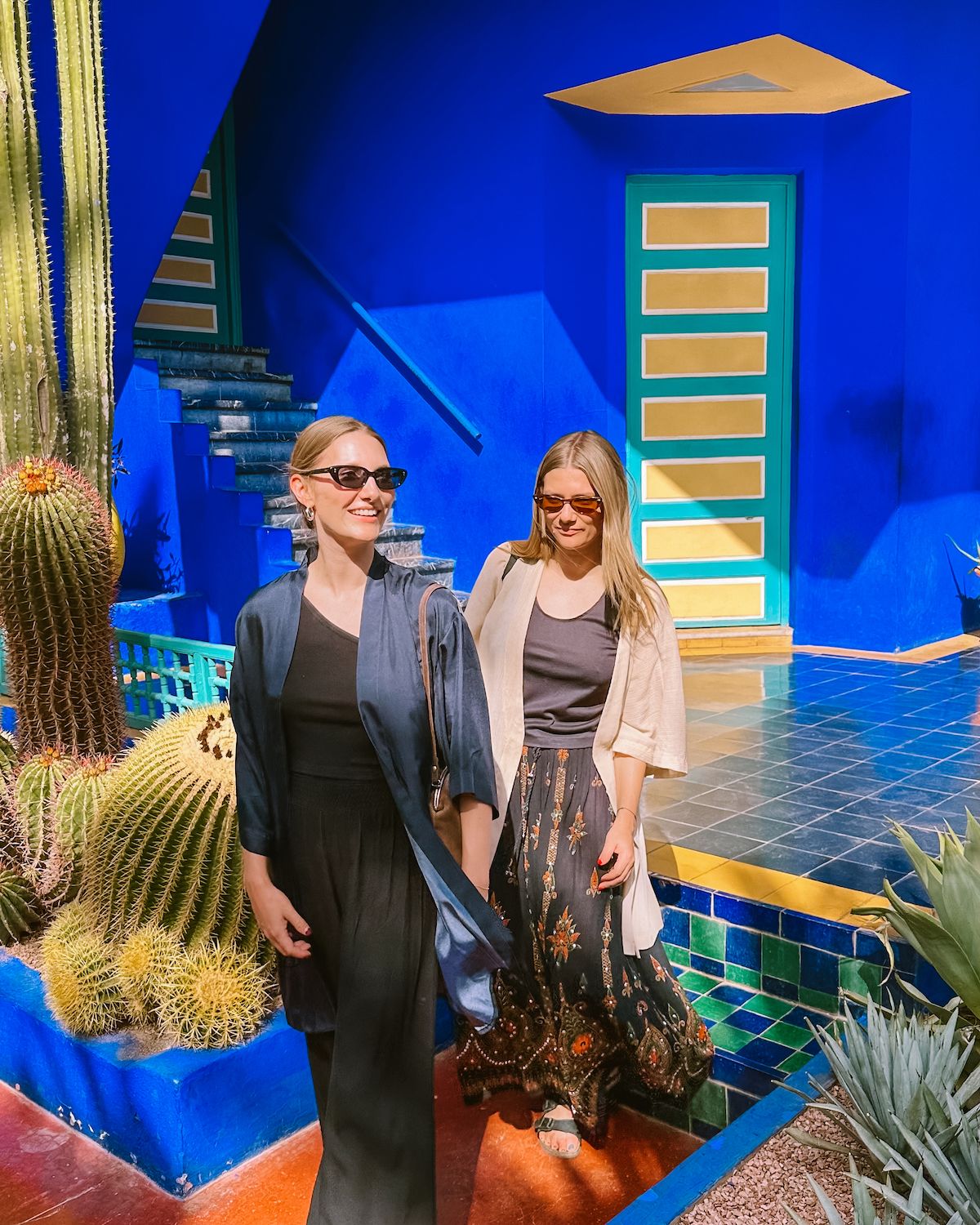 See our complete 3 day Marrakech itinerary, which includes where to eat, where to shop and fun activities you don't want to miss.
Here are the highlights:
🛍️ Get lost in the Medina and wander through souks and quieter side streets to find artisan shops.
☕✨ Sip coffee in the decadent coffee house at Dar El Bacha Palace.
🧖‍ Experience the hammam, a Middle Eastern steam bath where you are cleansed on a warm stone.
🌿🌼 Stroll through Jardin Majorelle for one-of-a-kind colours.
🥗 Enjoy lunch at a tucked away restaurant in the Medina - eat fresh veggie dishes in the garden of Le Jardin Restaurant, and Moroccan-dim sum poolside at Dar Moha.
🥘 Taste local delicacies from street vendors on a street food tour.
🍴Hear the call to prayer during sunset at L'mida, the highest rooftop restaurant in the Medina.
🎶 Listen to live jazz at Le Bistro Arabe and taste its innovative Moroccan dishes by a Moroccan celebrity chef.
🍸 Drink cocktails at El Fenn's funky rooftop bar and at La Mamounia's new avant-garde rooftop bar, Le Club.
🌗 Watch Jemaa el-Fna square transform from day to night
Read the full 3 day itinerary here.
For more fun things to do, see our post on 18 unique things to do in Marrakech.
Enjoy your 5 days in Morocco!
---
Get started on booking your trip to Morocco
---
Don't miss our other Morocco guides:
---
Save and pin this 5 day Morocco itinerary for later