From Yves Saint Laurent and Winston Churchill to us two groovy potatoes, there is a reason why people have fallen in love with the magic that is Marrakech. Its history, architecture, colours, craftsmanship, cuisine and hospitality make it feel like a fascinating dream you don't want to leave.
We list 18 unique things to do in Marrakech, from standout places to shop and eat to some of the best sights and sunset viewpoints in the city.
Overview: Unique things to do in Marrakech
---
Disclosure: Some of the links below are affiliate links, meaning at no additional cost to you, we will earn a commission if you click through and make a purchase. We only recommend products or services we have used or that we believe will add value to our readers. Thank you for supporting us!
18 Unique things to do in Marrakech
1. Discover Marrakech's street food scene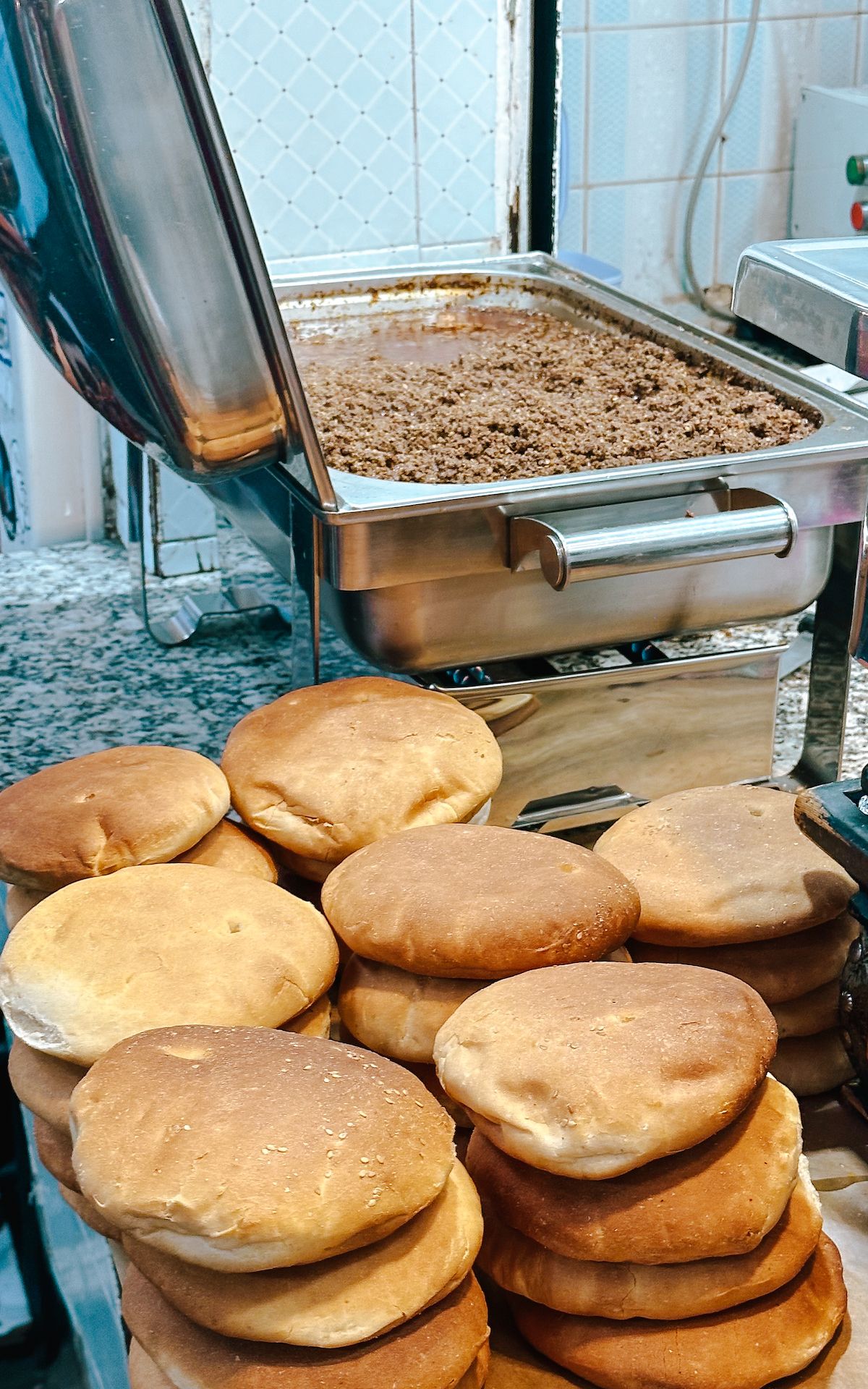 Rather than eating at restaurants, Moroccans typically eat meals at home or snack on street food. Tasting local delicacies from street vendors is the culinary secret to eating some of the best of Moroccan cuisine.
It can be overwhelming knowing what's safe to eat or what vendors to go to. We recommend hiring a local guide to take you around the Medina on a street food tour. A local's knowledge is the best way to discovering side streets and tucked away food spots you wouldn't find yourself.
Viator
and
GetYourGuide
both offer street food night tours. We like how you can cancel up to 24 hours in advance.
Check out these food tours:
2. Get lost in the Medina and explore side streets off the main souks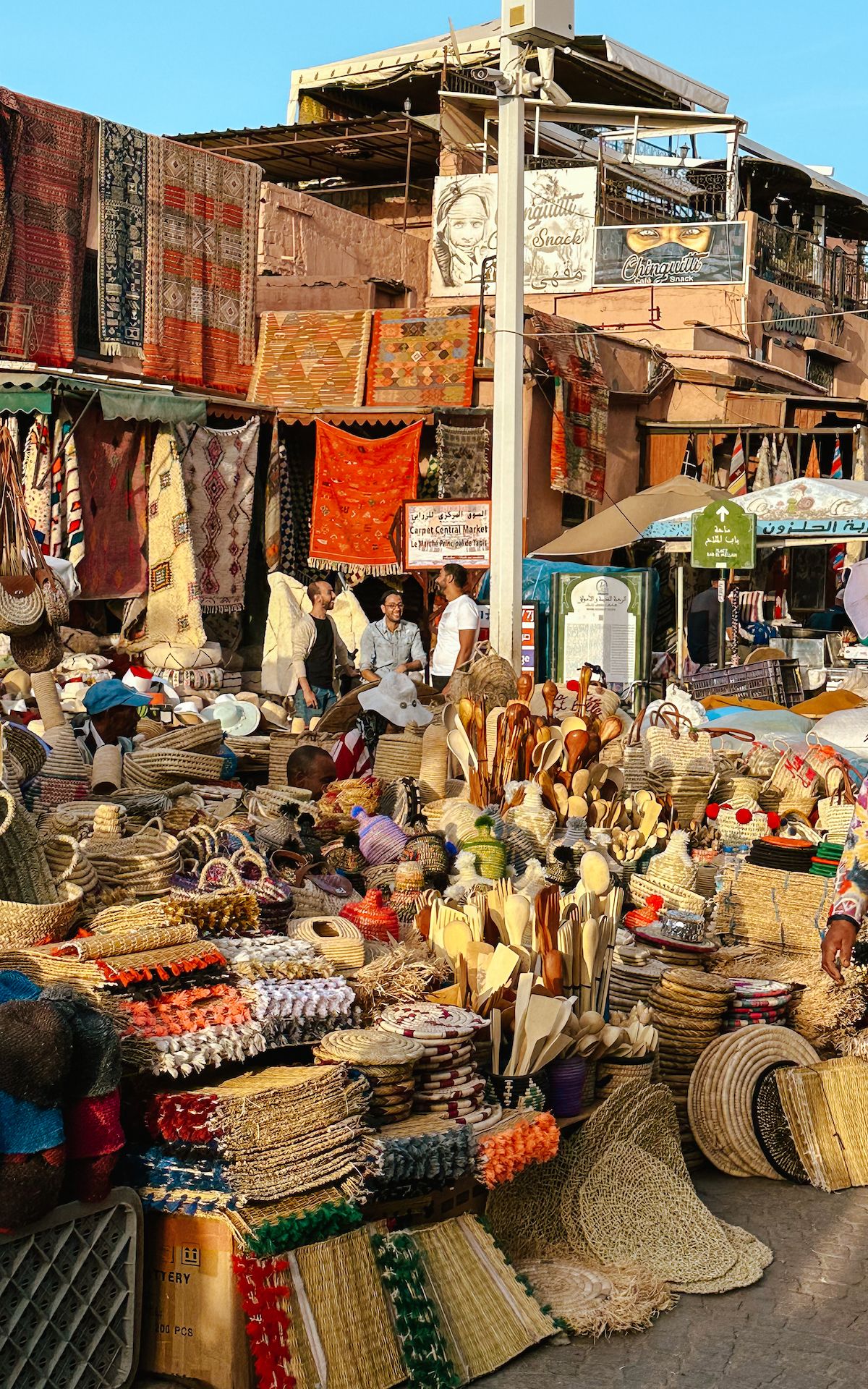 The ancient Medina is a UNESCO World Heritage Site filled to the brim with tiny shops, souks, cafes, rooftop restaurants, riads and hammams. We loved wandering through the souks and taking quieter side streets to find artisanal shops. The variety and calibre of products blew us away!
As you walk through the souks you will notice different sections and specialties like pottery, lighting, leather products, spices, woodworks and carpets. You can barter almost anything in the souks, even items with set prices. Our best advice is to pay what something is worth to you and to compare prices at other shops.
3. Eat lunch at a tucked away restaurant in the Medina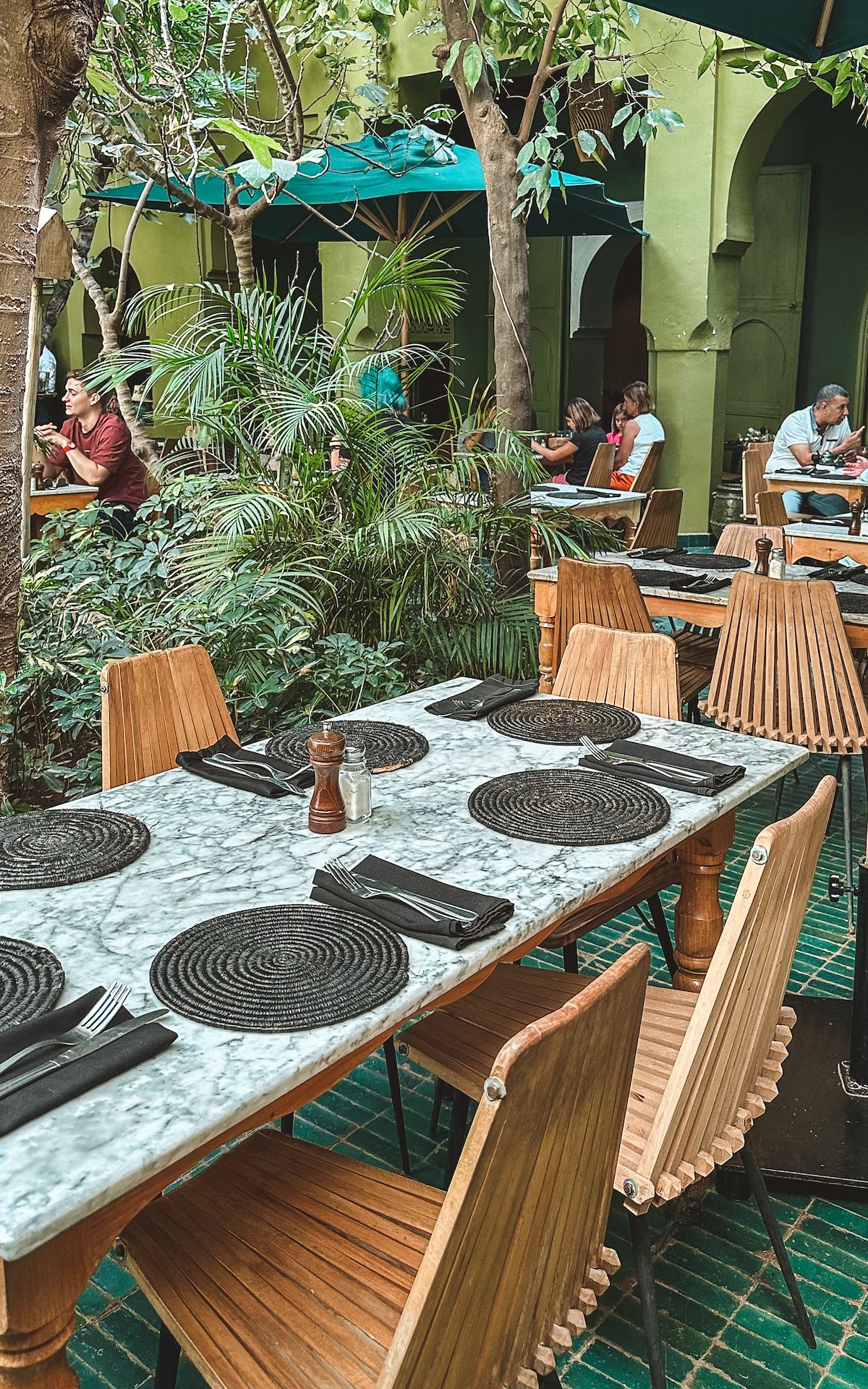 Take a break from the crowded souks at Le Jardin Restaurant, a 1960s riad and hidden garden offering fresh veggie dishes, local specialties and fruit juices. Our favourite dish was their roasted carrot salad. The restaurant is popular, so make a reservation in advance or plan to get there before 12:30 pm for lunch.
Also, don't miss the celebrity-loved Norya Ayron boutique located just up the stairs. The Marrakech label sells dresses in unique colours and prints that are a modern take on the abaya.
Looking for more lunch spots in the Medina? Try the rooftop restaurants, Nomad or Café Des Épices, which have views overlooking the souks.
4. Drink coffee in the glamorous Dar El Bacha Palace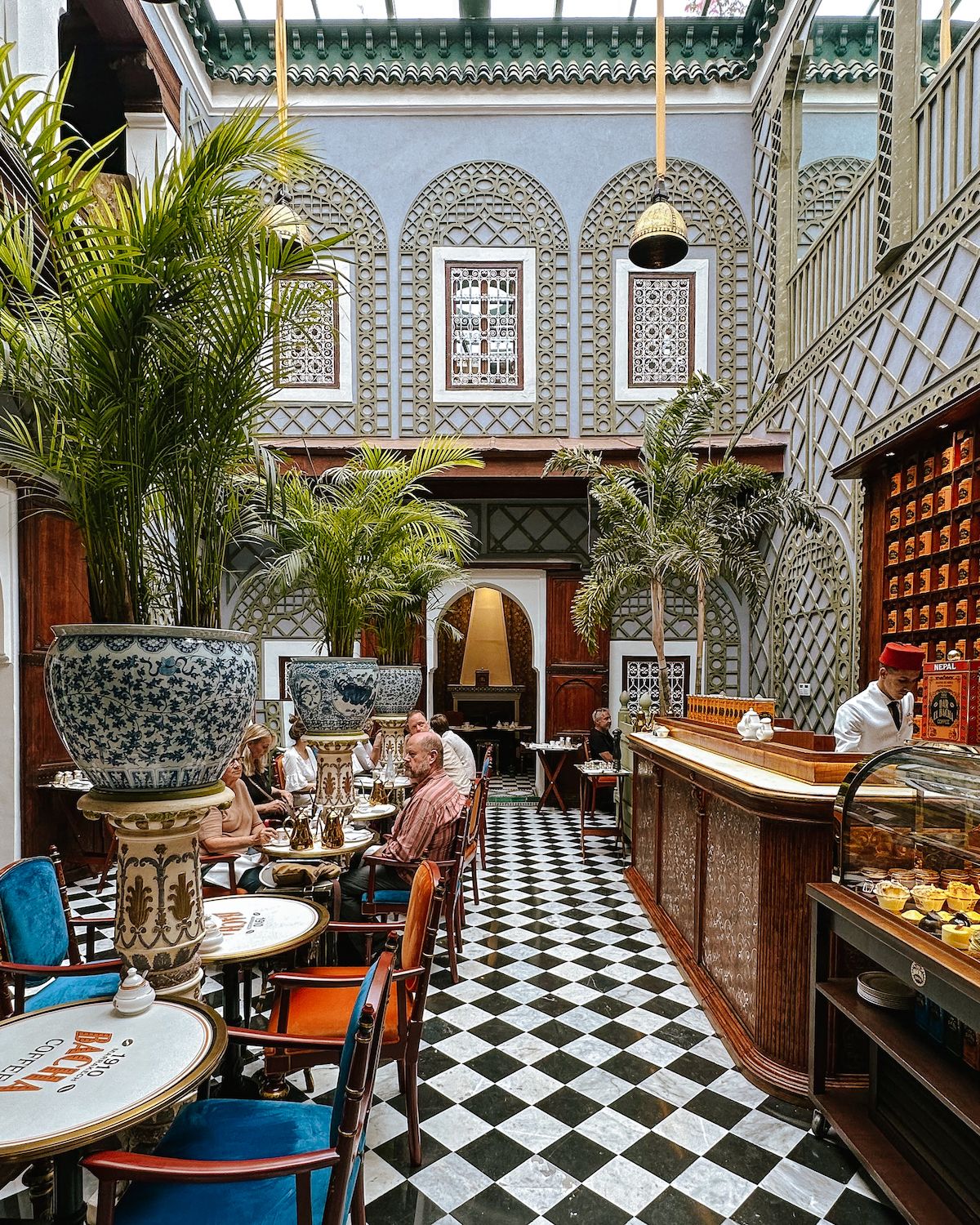 Enjoy a glamourous brunch in the coffee room of Dar El Bacha Palace. Built in 1910, the palace became a meeting place for the 20th century's most distinguished creatives and politicians, like Winston Churchill, Franklin Roosevelt, Charlie Chaplin and Joseph Maurice Ravel. Topics were discussed and ideas exchanged over pots of Arabica coffee.
The palace was closed for decades because of WWII and underwent an immense restoration to preserve its history. Re-opening in 2017 as a museum with a fabulous coffee room and boutique, it's one the most sought-after spots to visit in Marrakech, for those in the know.
The coffee room does not take reservations, however don't be thrown off when the attendant at the front entrance of the museum says it will take 1.5-2 hours to be seated (this happened to us on two occasions). We decided to tour the museum for 60 dh (it's stunning and worth it) and made sure to check into the cafe first to get our name on the list. We were given a buzzer and 35 minutes later it buzzed - not even close to a 1.5-2 hour wait!
The sun-filled courtyard of the cafe is beautiful with its black & white checkered floors, palms and signature orange coffee canisters lining the walls. Ask your server to recommend a coffee and don't forget to add Chantilly cream and to sprinkle on the vanilla beans that grind up fresh in a pepper mill.
Afterwards, browse their elegant boutique where you can buy your coffee of choice and their signature gold coffee pot.
5. Hear the call to prayer during sunset at a rooftop restaurant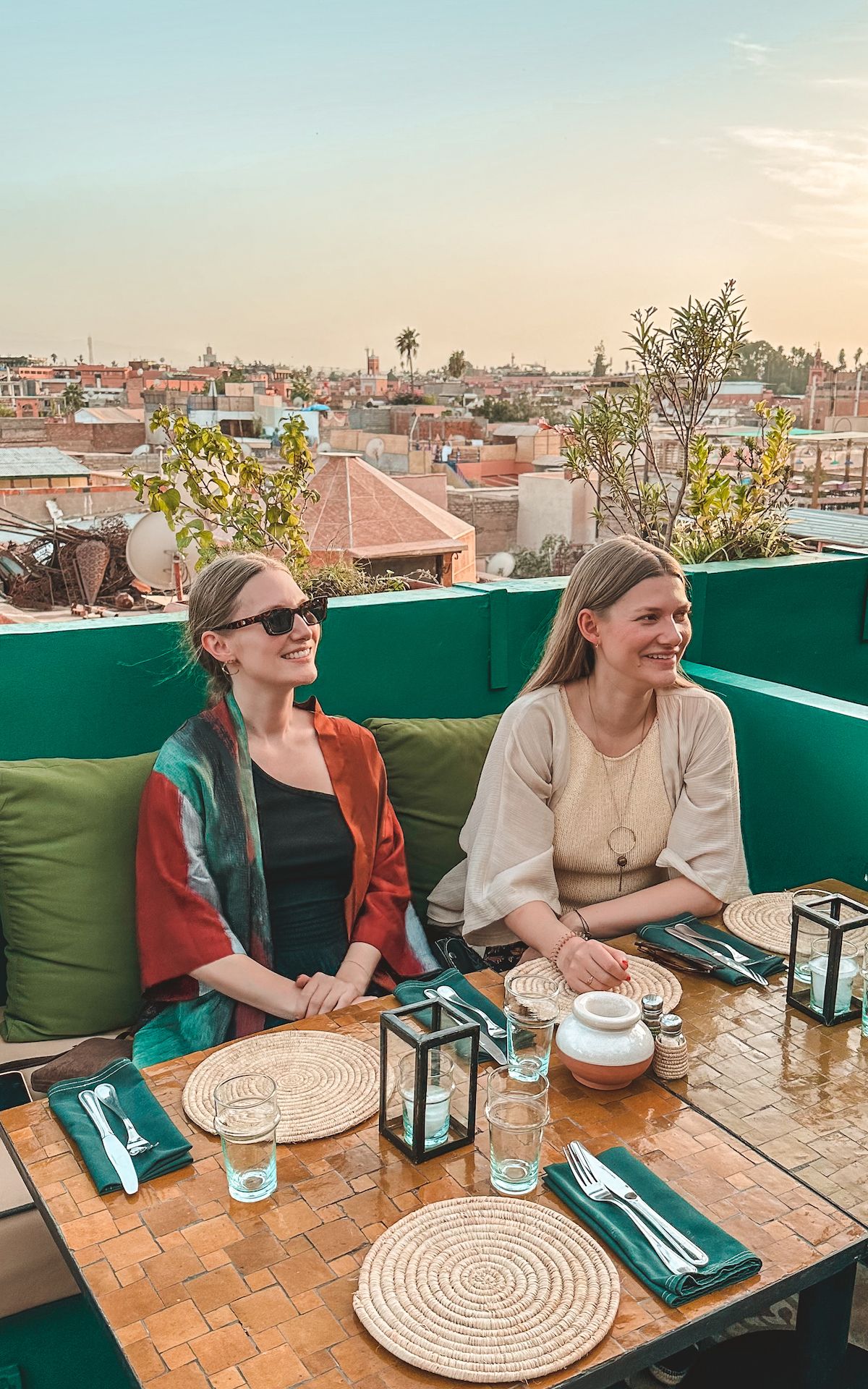 One of the most magical moments for us in Marrakech was hearing the call to prayer from the rooftop as we watched the sunset glow over the Medina.
Out of the three rooftop restaurants we ate at, L'mida, Nomad and Café Des Épices, L'mida topped our list for both the food and sunset view. Their contemporary-Moroccan dishes were created by Nargisse Benkabbou, a Moroccan chef and best-selling food writer based in London.
Must try: Buratta & taktouka mechouia paired with their mint-lemon juice
6. Watch Jemaa el-Fna square transform from day to night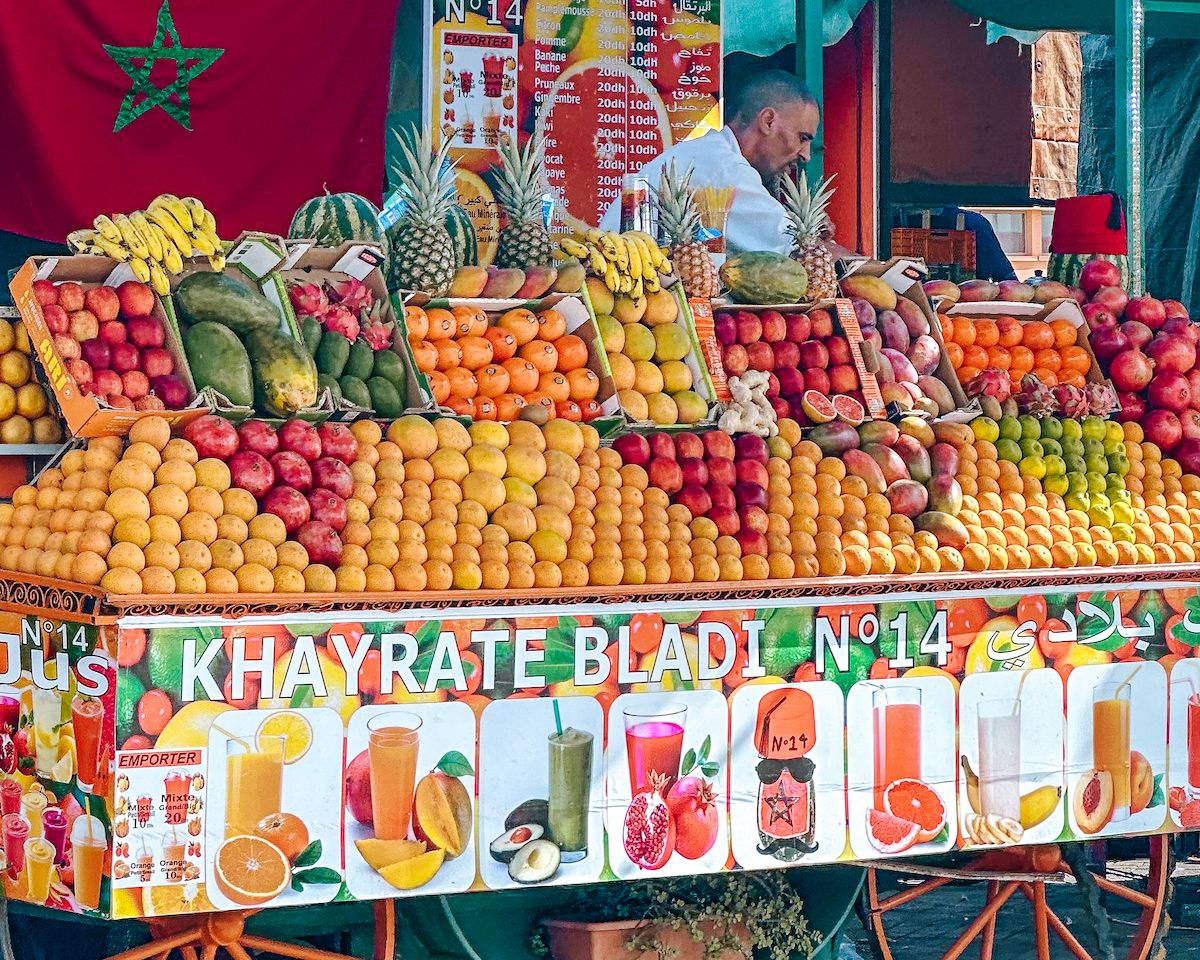 Jemaa el-Fna is one of the biggest markets in Africa, attracting thousands of tourists and locals a day. It's by far one of the most entrancing cultural experiences in Marrakech. How the square transforms from day to night is frenetic magic.
Take your first walk through the square during daytime when it's quieter and compare this with nighttime when the 11th century-market comes alive with an energy beyond compare. At nighttime, numerous food stalls set up and masses of people form circles around music entertainers and storytellers.
Before exploring the square, be aware of these
scams and treatment of animals
before posing for a photo.
7. Listen to live jazz at the sexy Le Bistro Arabe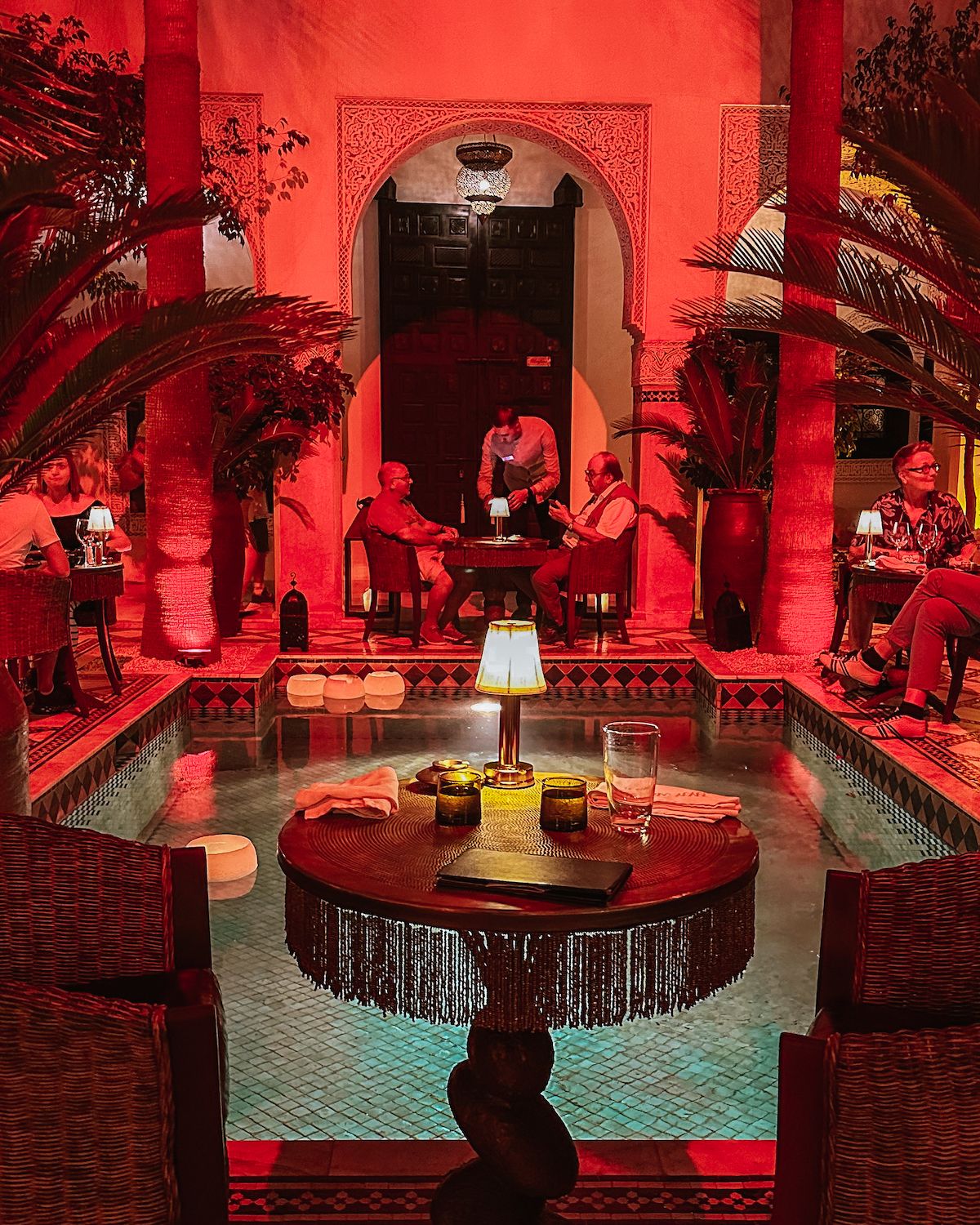 Le Bistro Arabe is one of Marrakech's hottest new restaurants. Its chic Orientalist-style interior, live jazz and mood lighting give it a sexy ambience. But what really sets it apart, are its innovative Moroccan dishes created by celebrity chef, Myriam Ettahri.
8. Explore Gueliz, Marrakech's "New Town"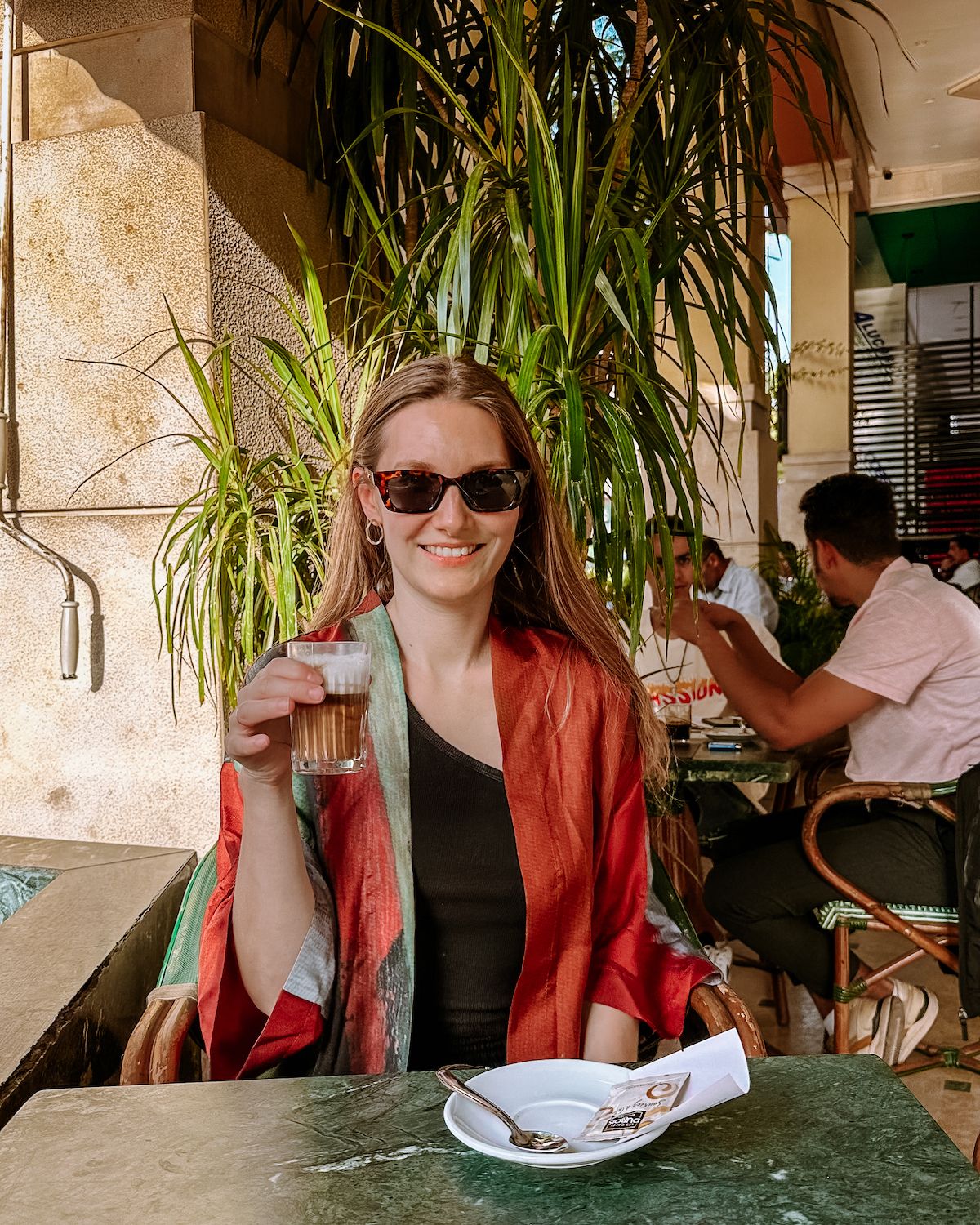 Although the Gueliz district is only a 5 minute drive from the Medina, it feels drastically different. Gueliz was created during French colonial rule in the early 1900s and today has shaped into an expat enclave with contemporary art galleries, French bistros, fashionable boutiques, hip restaurants and cocktail bars.
It's fascinating to see this "new city" contrasted with the ancient feel of the "old city". Although it has an expat community, it doesn't feel touristy like it can in the Medina.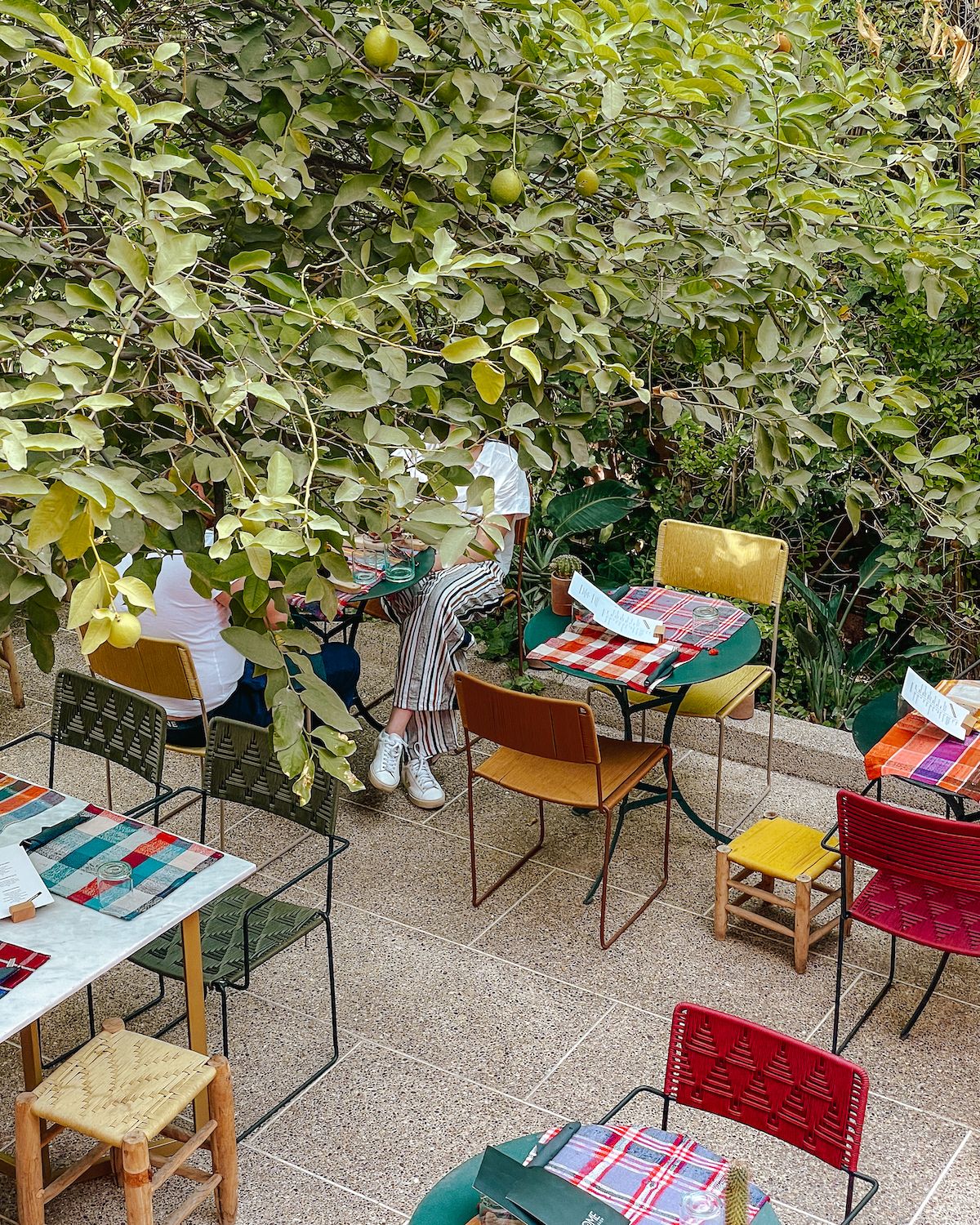 Check out these cool spots in Gueliz:
🛍️ Shopping: Norya Ayran for colourful dresses, SOME Slow Concept for handmade home products (don't miss the cafe in back garden of the 30s villa), Yahya Creation for the handmade lighting pieces (they are expensive but works of art).
🎨 For contemporary art: see what exhibitions are on in the Art-Deco villa of Comptoir des Mines Galerie.
✨ For a fabulous lunch: eat French cuisine at Grand Cafe de la Poste, a 1920s restaurant where locals and expats go "to see and be seen".
☕ For an afternoon pick me up: sip an espresso or nos-nos on the outdoor terrace of Les Negociants, a classic institution and landmark from 1936. It's a great people watching spot. Each coffee comes with a small bottle of water.
🍷 For Moroccan wine: Buy your favourite bottle at Barbe, try the Azayi
🍴For dinner: eat at +61, a contemporary restaurant placed in the Middle East & North Africa's Best 50 Restaurants list
🍸 For cocktails: drink creative cocktails at Barometre, a steam punk-style bar with a hip scene. Though, we recommend skipping this spot if you don't like cigarette smoke.
9. Try cuisine outside of Moroccan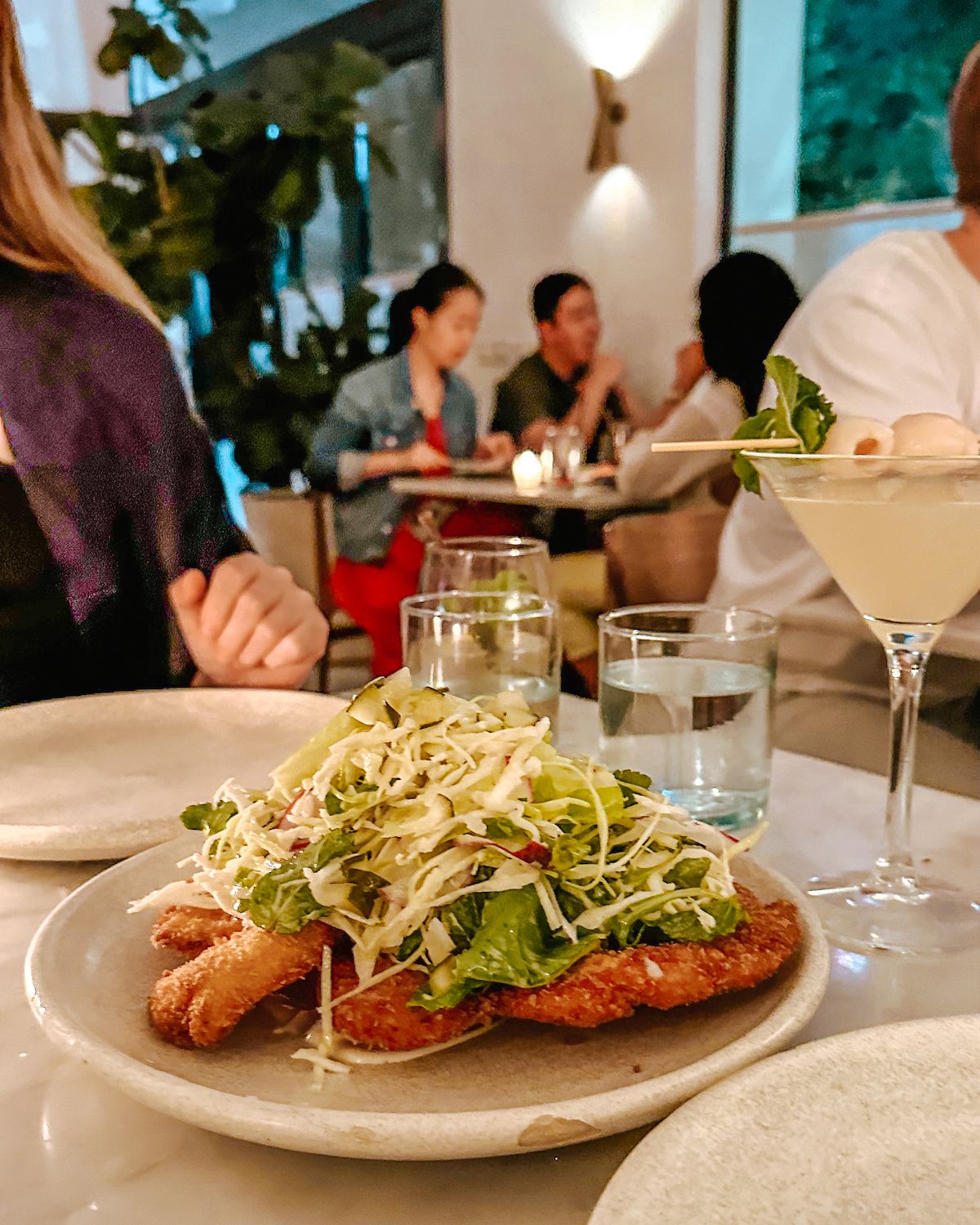 With Marrakech's French heritage as well as its influence from expats, there is a whole other culinary scene to discover besides Moroccan. After multiple days of eating Moroccan cuisine, you may want to switch it up at one of these top restaurants:
+61: after dining at this contemporary restaurant, we weren't surprised it's in the Middle East & North Africa's Best 50 Restaurants list. Australian head chef, Andrew Cibejhas, has created unique farm-to-table dishes influenced by Australia, the Mediterranean, Middle East and South Asia. It was the best service we had in Marrakech and every dish was a standout.
Nuranj: once you taste the Lebanese dishes at Naranj, you'll see why it's one of the most popular and highly rated restaurants in Marrakech. They serve mezzes, wood-fired grilled meats and other Lebanese flavours. When making a reservation, ask to sit on the rooftop. Must try: fatet batinjane, an eggplant and minced meat dish served with tomato, fried pita and a yogurt sauce.
Grand Cafe de la Poste: enjoy a fabulous lunch in the 1920s restaurant that serves French cuisine. It's one of those places locals and expats go to "see and be seen".  We dined on French onion soup and steak tartare on the shady patio, which was a nice respite from the heat.
10. See one-of-a-kind colours at Jardin Majorelle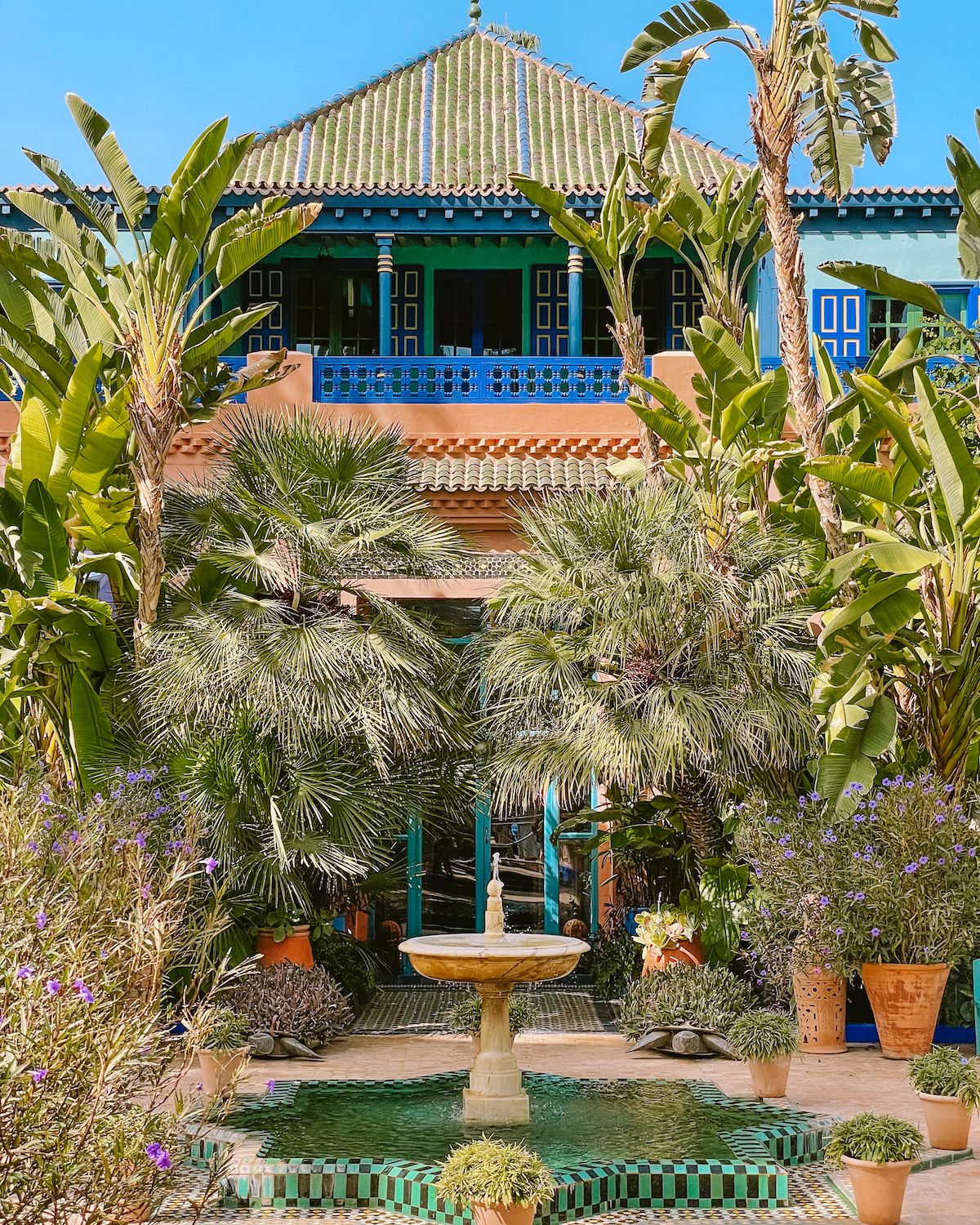 Take a stroll through Jardin Majorelle, an eye-popping garden created by French painter Jacques Majorelle in 1924, and purchased by fashion designer Yves Saint Laurent and his partner Pierre Berge in 1980 to preserve its beauty. The garden is famous for its patented Majorelle Blue colour.
Yves Saint Laurent fell in love with Marrakech in the 60s, so much so that he purchased a house there and drew inspiration from the city's colours for his collections. As he famously said, "before Marrakech, everything was black".
We highly recommend buying your tickets online in advance to skip a big line. Online tickets have to be purchased more than 24 hours in advance. You can buy separate tickets for Jardin Majorelle or the Yves Saint Laurent Museum, or buy a combined ticket.
11. Drink fresh-squeezed pomegranate juice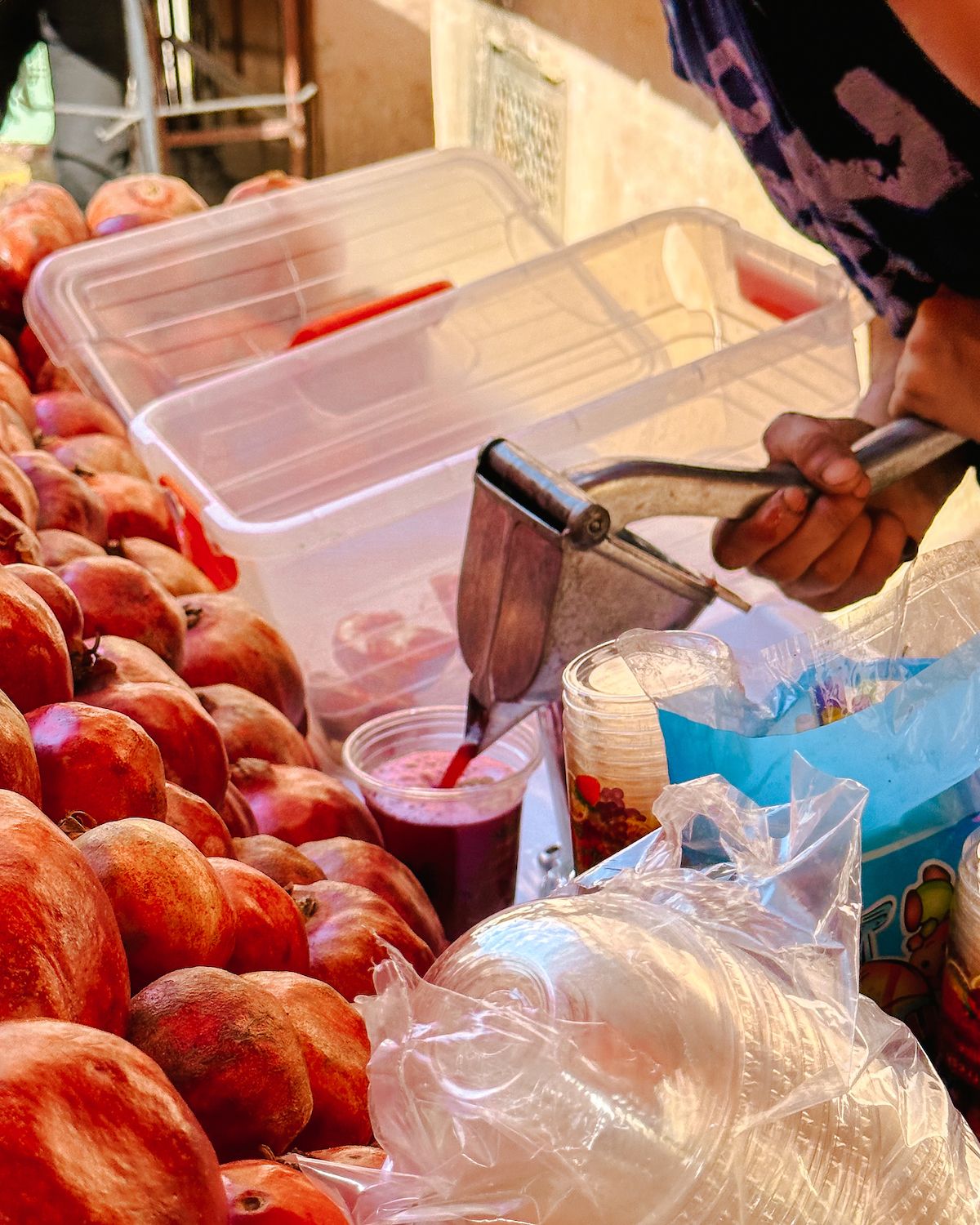 For a refreshing break in the Medina, find a pomegranate cart and order a cup of fresh-squeezed pomegranate juice. It tastes so much better than back at home. Share with a friend so you don't get an upset stomach. We paid 20 dh (~$1.90 USD) for a full cup.
12. Stay in a riad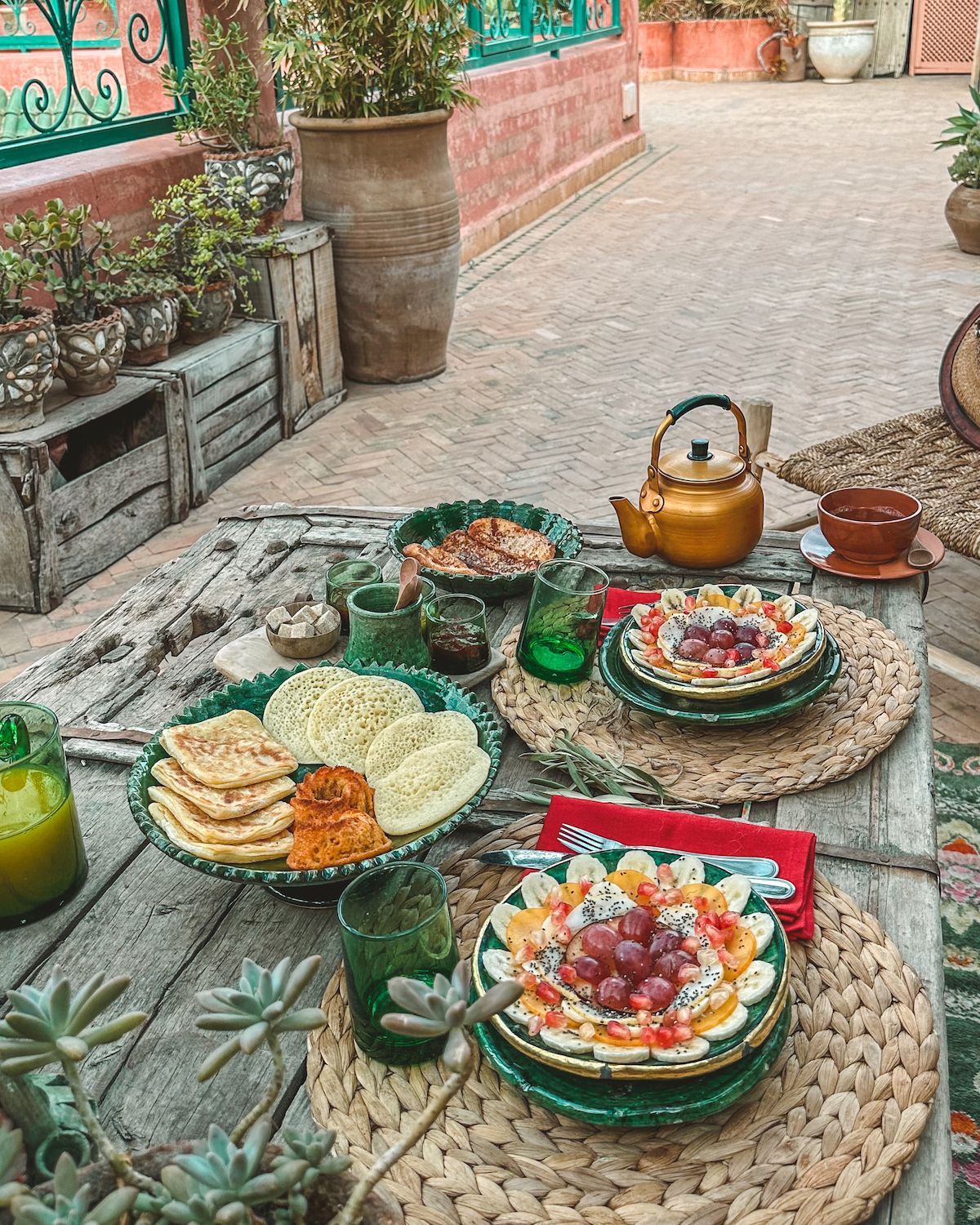 For an authentic Moroccan experience, stay in a riad that makes you feel at home. A riad is a traditional Moroccan house or palace with an enclosed garden. The intimate hideaway is typically 2+ stories tall with a rooftop space and rooms lining the courtyard.
Most riads come with Moroccan breakfast served in either the courtyard or on the rooftop. The colourful breakfast platter usually comes with an assortment of crepes, pastries, fresh fruits, scrabbled eggs, yogurt, fresh squeezed orange juice and tea or coffee.
Our top riad picks:
Browse more stays in Marrakech
13. Buy unique items from the Medina as a reminder of Marrakech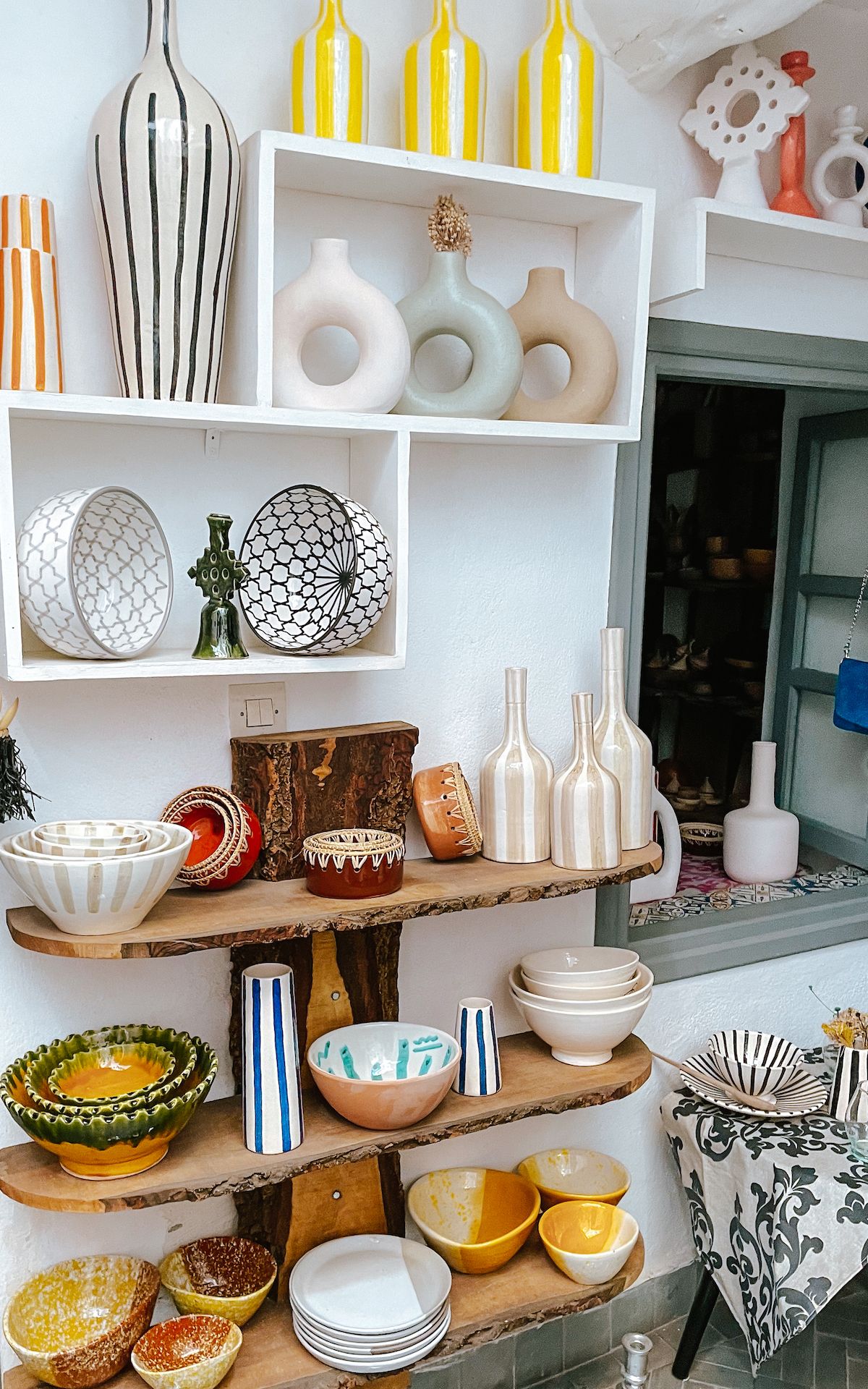 Every time we look at the items we bought, they bring us right back to Marrakech! Bring home some of these amazing items:
Moroccan rug - look for a shop that offers shipping with DHL
Moroccan poufs or pillowcases - poufs and pillowcases are easy to bring back with you, since you fill them up at home
Moroccan tea pot - make fresh mint tea back at home
Handmade green or yellow pottery from the village of Tamegroute
Handblown glass pitchers and water glasses in blue or green
A vase that catches your eye - there are so many colours and styles!
Oil lamp and scented oils - our favourite scent is dates
A mini tagine to put finishing salt or pepper in
Leather backpack or purse
Stylish Kaftan or Tunic
Something in the colour Majorelle Blue
14. Eat Moroccan-style dim sum at Dar Moha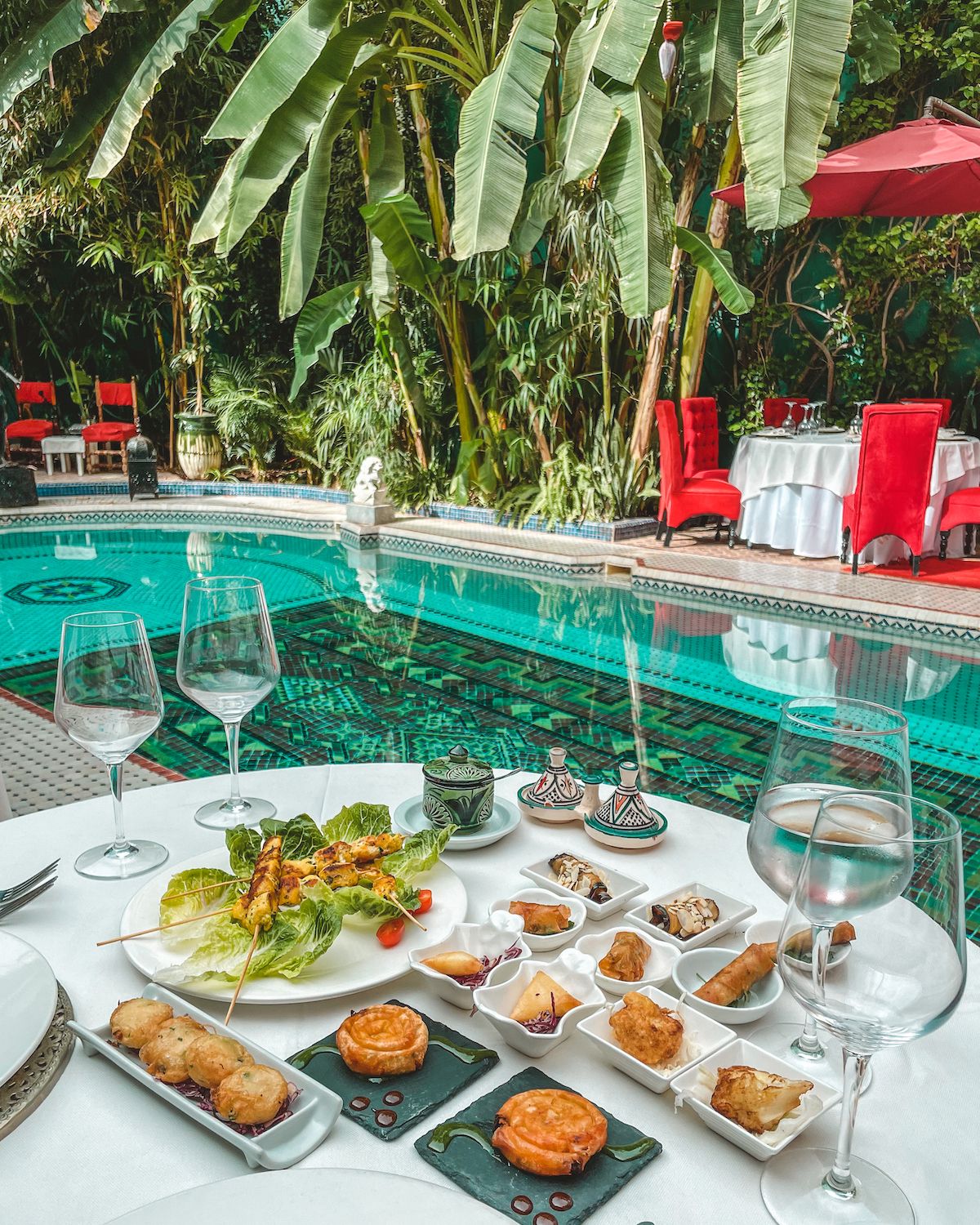 Eat Morrocan-style dim sum at Dar Moha, a gorgeous riad and restaurant with poolside seating. It feels like a hidden oasis in the middle of the Medina with its lush garden and traditional lute music playing in the background.
We recommend making a reservation here. We were able to get a walk-in table the second time we visited, but the first time it was full.
15. Experience the Hammam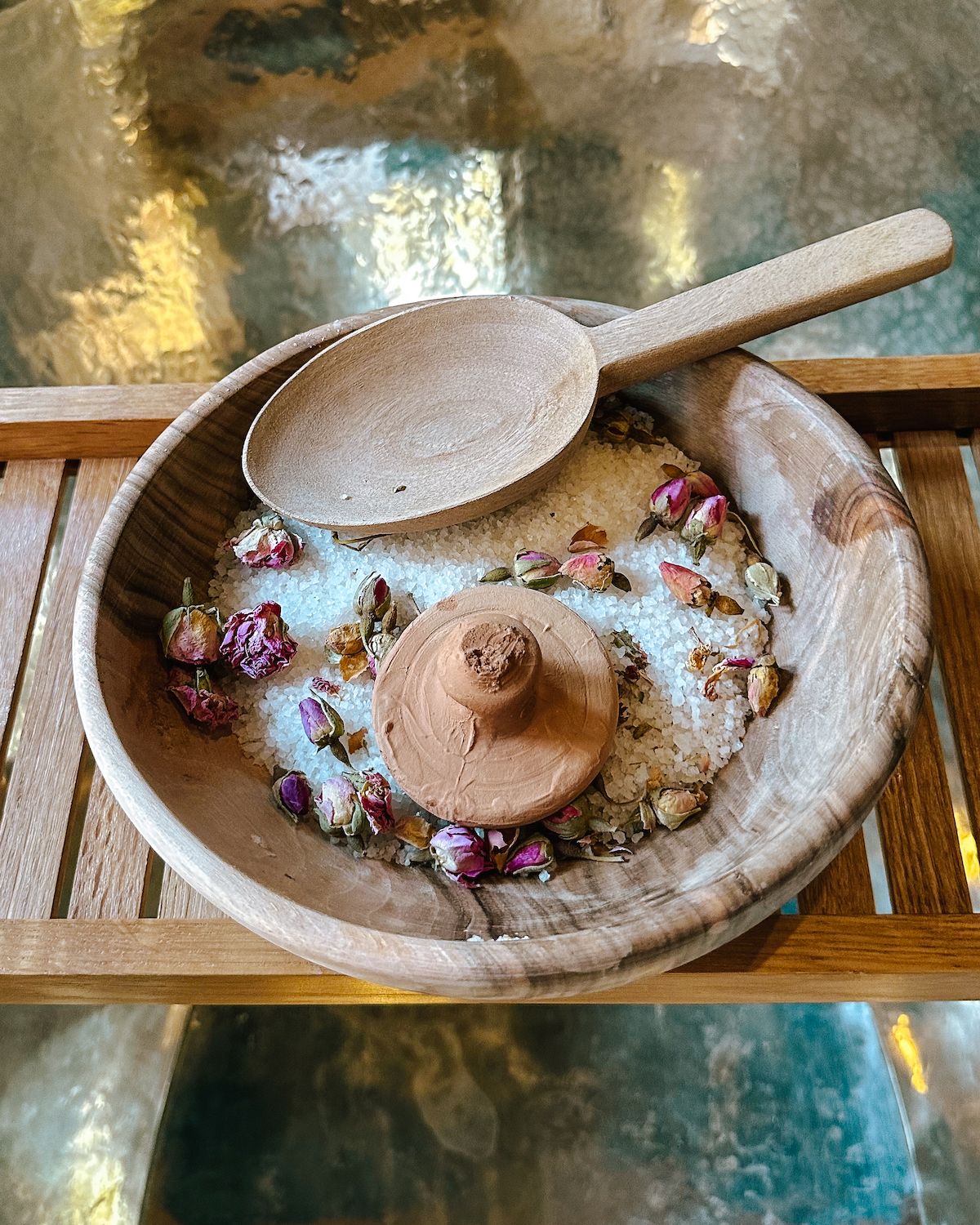 Experience the hammam, a Middle Eastern steam bath that's a fundamental part of Moroccan culture. In a hammam, you lie on a warm stone while your body is exfoliated with traditional black soap and deeply cleansed with a rhassoul clay mask. Follow your hammam treatment with a holistic massage or facial to turn it into a spa day.
We had a hammam and massage at Heritage Spa and Les Bains D'Orient. They are both excellent, well-priced spas that are tough to choose between.
16. Party at Le Club, La Mamounia's new rooftop bar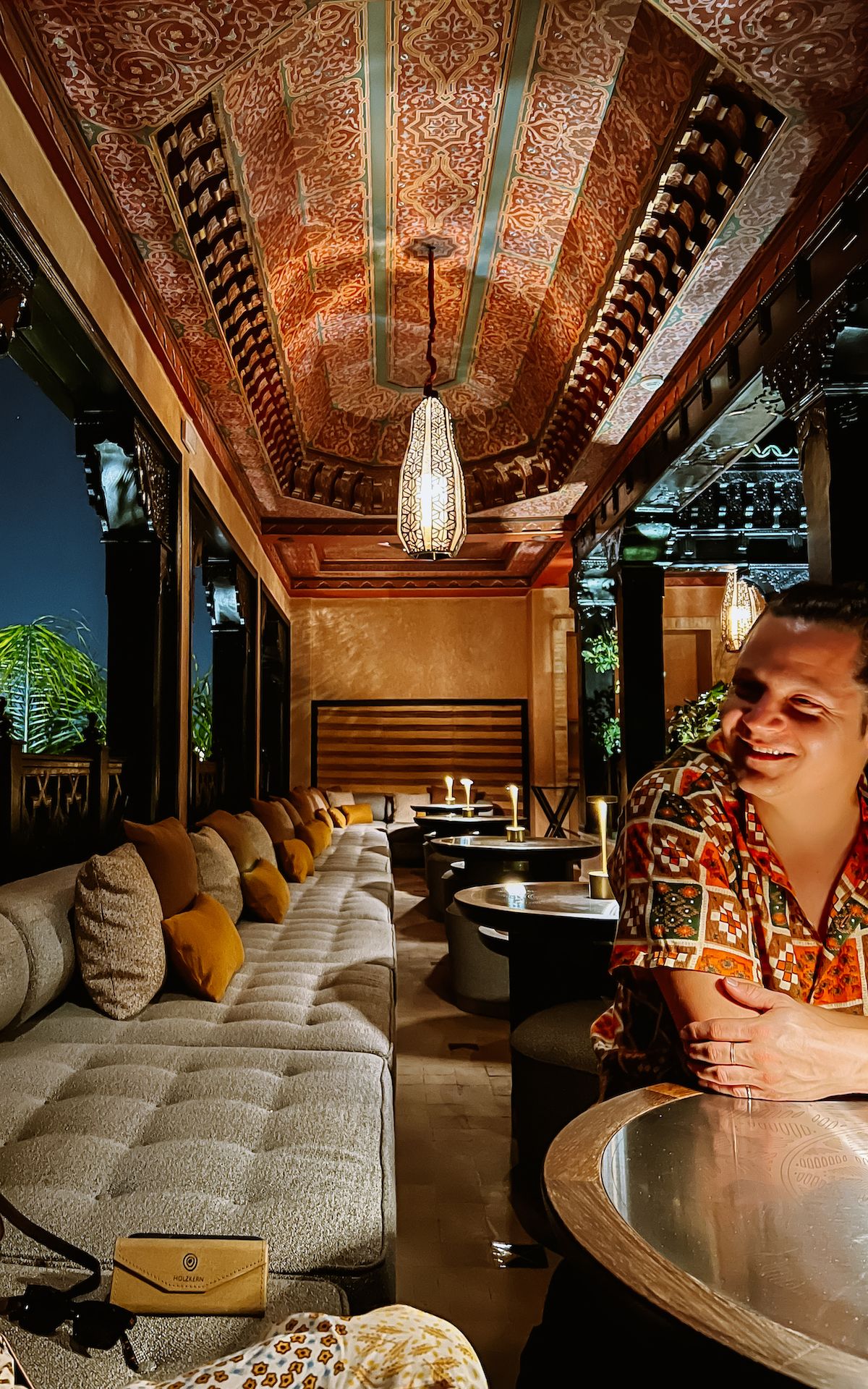 La Mamounia is Marrakech's most famous hotel
where a great deal of distinguished guests have stayed over the last 90 years, from Winston Churchill to Elton John. The architecture and design of the hotel is a symbol of Moroccan craftsmanship and a sight to see in itself.
You don't have to splurge on a stay here to experience the hotel. Rather than pay for an overpriced brunch at their garden restaurant, head to their new rooftop bar, Le Club, for well-crafted cocktails and groovy tunes by their new resident DJ.
Must try cocktail: Atlas Gold - a tasty vodka based infusion with saffron, orange blossom and ginger.
17. Learn how to make Moroccan cuisine in a cooking class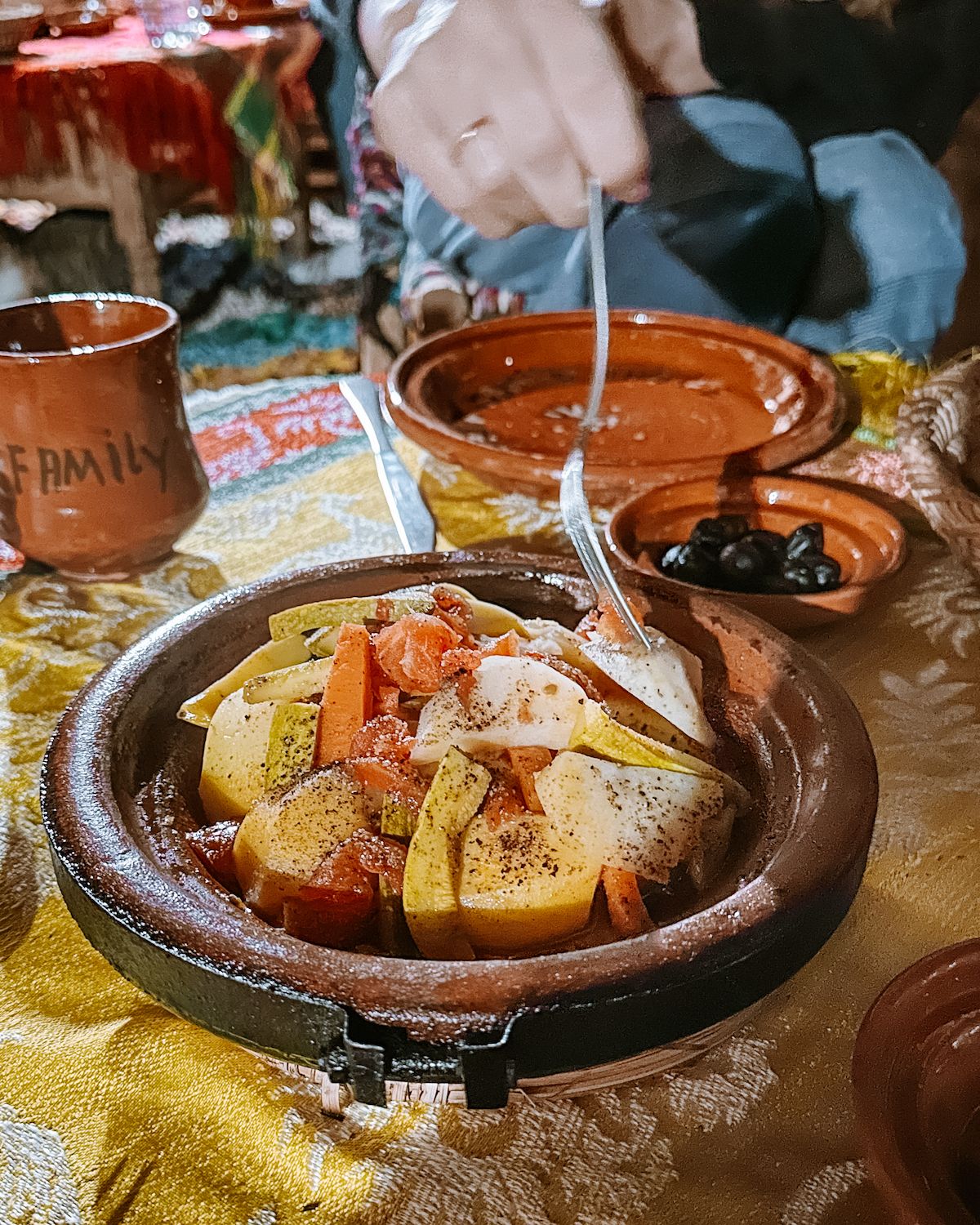 If you've fallen in love with the flavours of Morocco and want to try making some Moroccan dishes at home, the best way to do it is by attending a cooking class!
Both
Viator
and
GetYourGuide
offer highly rated cooking classes, where local chefs teach you how to make traditional dishes like tagine, pastilla and couscous.
Check out some of these top rated cooking classes:
After your class, don't forget to pick up a tagine pot and some spices in the Medina to bring home.
18. Try Moroccan wine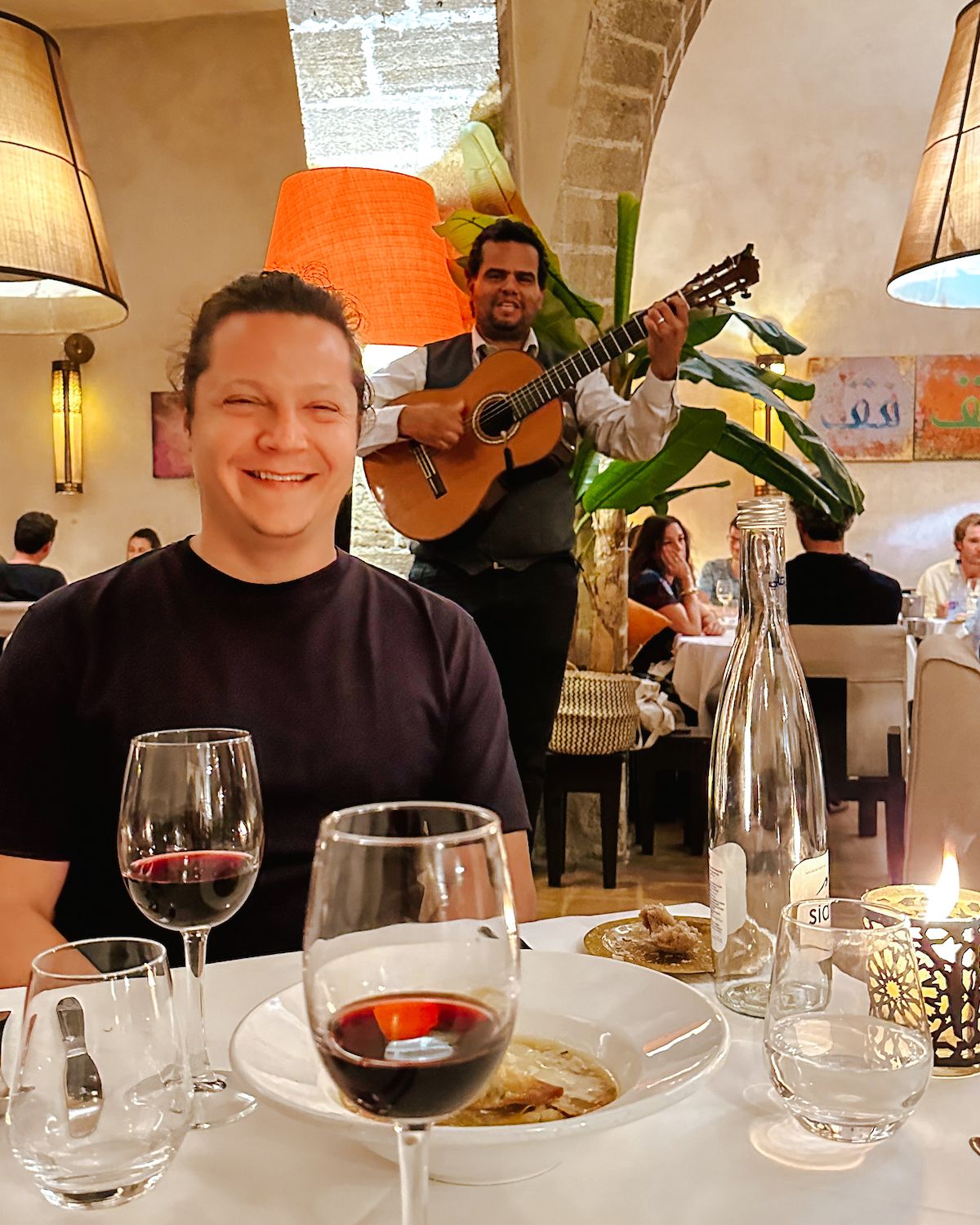 You may be surprised to hear that Morocco is the second largest wine producer in Africa, especially since it's a Muslim country and a vast majority of Moroccans don't drink. However, because of its wine growing history from the Phoenician to Roman times and revitalization of winemaking during French rule in the early 1900s, there is an excellent wine scene to discover.
If you're a red drinker you're in luck, because around 75% of wines produced in Morocco are red. Our favourite wines were made with the traditional red grape, Carrignan. Look out for Azayi - our most treasured bottle!
We hope you enjoyed these unique things to do in Marrakech!
---
Don't miss our other Marrakech guides:
Explore more of Morocco:
---
Start planning your trip to Morocco
---
Save and pin these unique things to do in Marrakech for later: