Marrakech is unlike anywhere we have travelled before. Walking around the rose-hued city we felt a childlike sense of wonder, taking in all the new shapes, colours, tastes, smells and sounds. From contemplating intricate architectural details to hearing the call to prayer while sipping mint tea on the rooftop, Marrakech was a sensory overload in all the right ways.
We spent over a week in the city and have picked what we think are the best spots for your 3 days in Marrakech.
Our 3 Day Marrakech itinerary also includes the best way to travel from the airport to the Medina, where to stay, what to wear and our top tips and things to avoid in Marrakech.
Overview: 3 Days in Marrakech
Day 1: Explore the ancient Medina, eat lunch in a hidden garden, see Jemaa el-Fna square transform from day to night, discover Moroccan street food & drink cocktails at a funky rooftop bar.

Day 2: Drink coffee in the glamorous El Bacha Palace, see one-of-a-kind colours at Jardin Majorelle, dine at L'mida for sunset views over the Medina & sip cocktails at La Mamounia's new rooftop bar.

Day 3: Unwind at the hammam, enjoy a poolside Moroccan-dim sum lunch, finish up shopping in the Medina, and dine & listen to live music at one of the city's hottest new restaurants.
Disclosure: Some of the links below are affiliate links, meaning at no additional cost to you, we will earn a commission if you click through and make a purchase. We only recommend products or services we have used or that we believe will add value to our readers. Thank you for supporting us!
How to get from Marrakech Airport to the Medina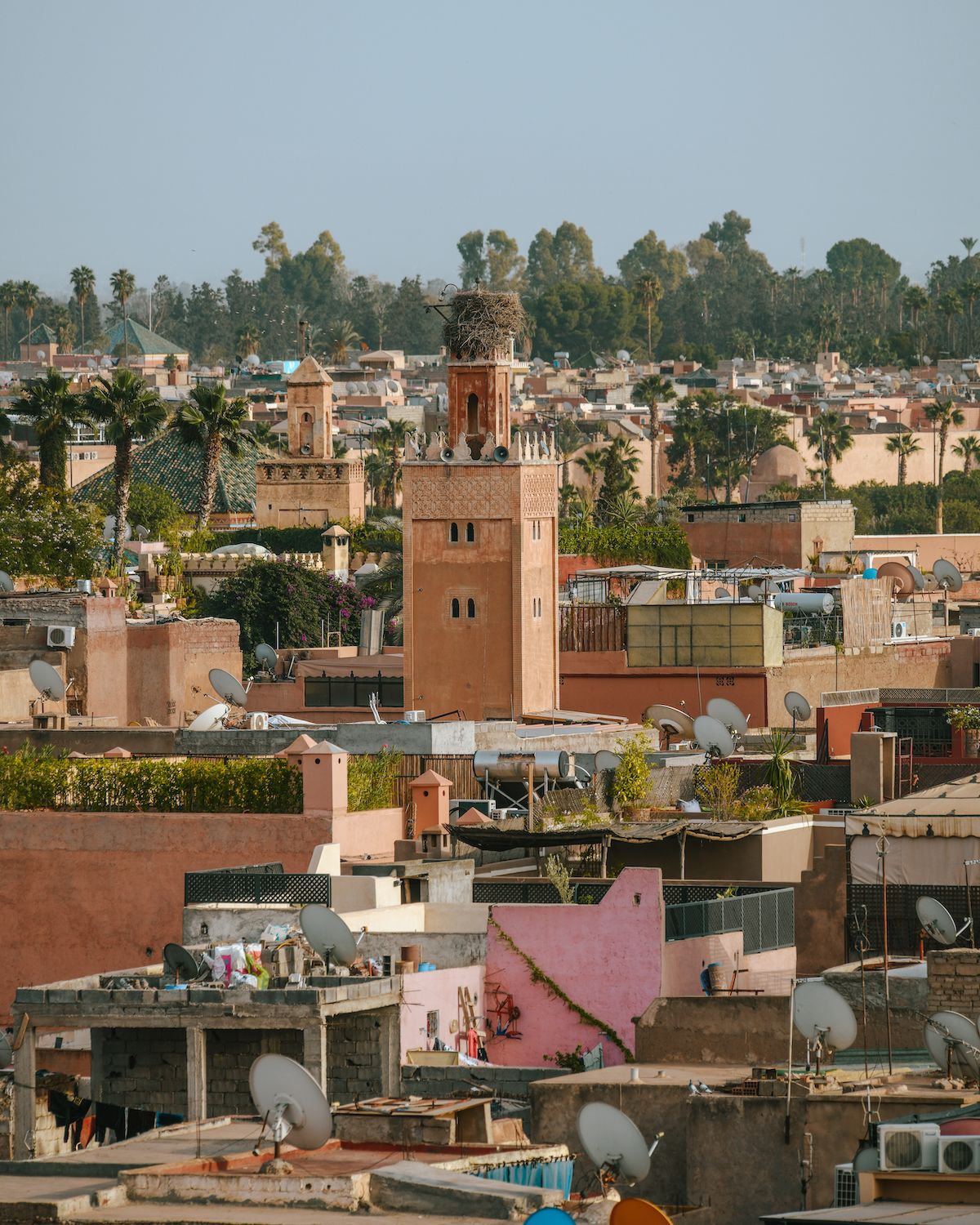 The historic city walls of Marrakech are only about a 10-15 minute taxi away from the airport. Outside of the airport it's easy to find a taxi, but make sure you negotiate your rate beforehand so you don't have any surprises. Or better yet, arrange a private transfer in advance.
Cheapest way: by Bus
The cheapest way is taking the L19 bus from the airport that goes to the Medina. The price is 30 dh (~$2.85 USD) per person and takes around 15 minutes. The bus leaves the airport every 20 minutes.
Most stressful way: by taxi
Taxis are an absolute nuisance in Marrakech. Taxi drivers will use different tactics to increase the price like, "it's a big taxi", or "the price is higher because of your bags". On their pricing card in the taxi, it's only supposed to be 100 dh ($9.50 USD) for large taxis to/from the airport, but no matter how much we negotiated, the cheapest price we were able to get to was 200 dh (~$19 USD). Some drivers were even quoting us 300 dh (~$28.50 USD).
Most convenient: private transfer through your riad/hotel
Most riads/hotels can arrange airport transfer for you. The quotes varied between 200 dh-600 dh depending on where we stayed. If they quote you a fair price, it's worth the convenience and they know exactly where your riad is.
Best value: private transfer through Viator or GetYourGuide
If your riad/hotel is quoting you too much,
it's easy to book private airport transfer through Viator or GetYourGuide - and it's surprisingly cheap!
Your driver will be waiting for you in the arrivals section with your name on a sign. We like how you can cancel up to 24 hours in advance.
Best deal we found: Private Taxi Airport Transfer through Viator
from $10.71 USD per group (up to 4 people). Has good reviews and operated through reputable company,
Menara Trip - Day Trip
.
Where to stay in Marrakech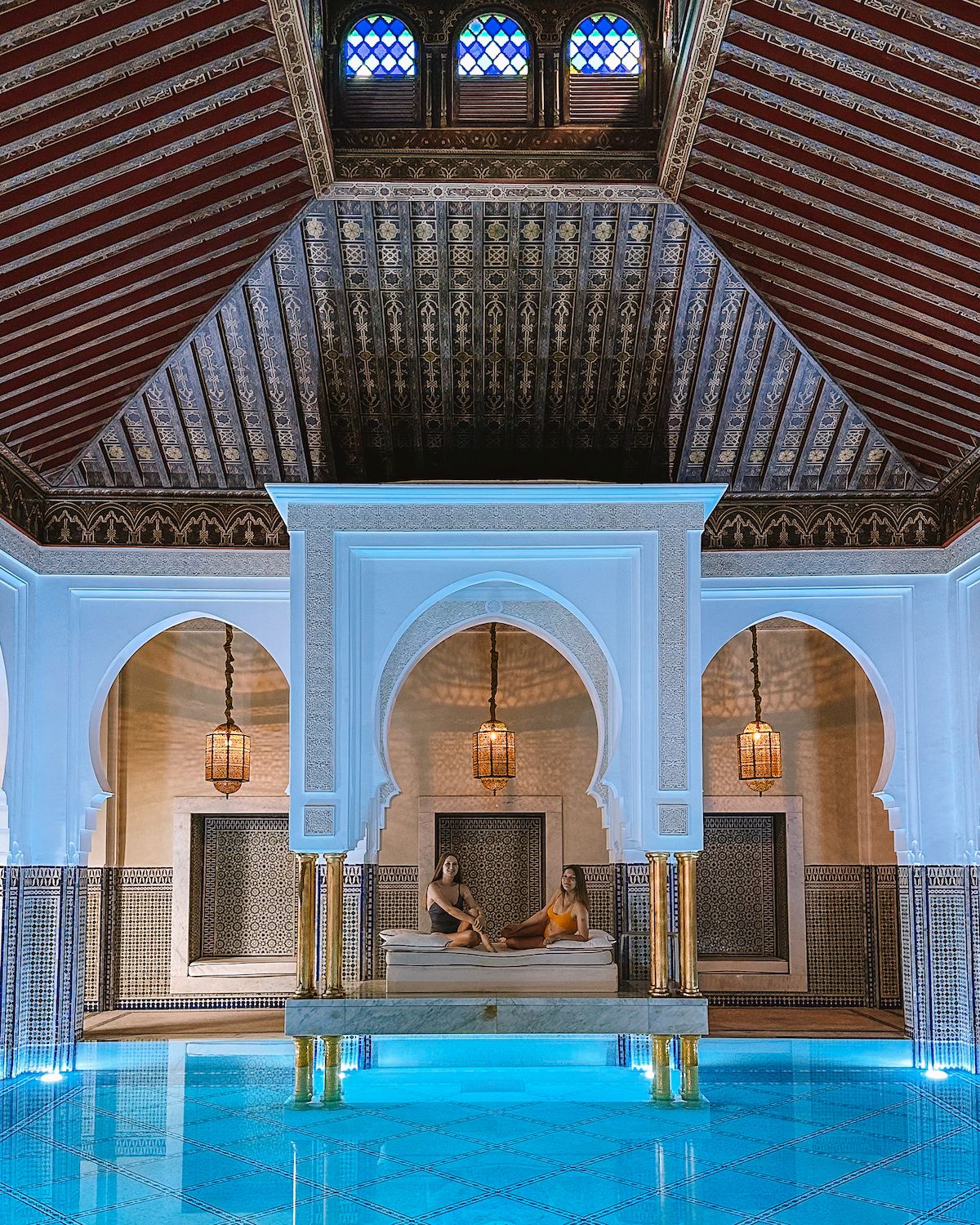 For an authentic Moroccan experience, we recommend staying in a riad, a traditional Moroccan house or palace with an enclosed garden. Riads are typically two or more stories tall with rooms lining the perimeter of the courtyard. Staying in a riad feels intimate and like a home away from home.
Make sure your accommodation is within walking distance to the main square (Jemaa el-Fna) of the Medina, since taxis can be a pain. We stayed at all three of these incredible places, each with a completely different vibe.
Authentic riad with an creative feel: Riad Jardin Secret ($$)
Tucked away on a side street in the heart of the Medina, this artist-owned Riad is a hidden gem. Offering artist residencies,
Riad Jardin Secret
is a meeting place for creatives, which shines through in its thoughtful details and furnishings, though you don't have to be an artist to stay here. Our time was exceptional, but the only downside was that they don't have air conditioning. In early November it was still too hot for us, so if you like it cool when you sleep we recommend only staying here during Marrakech's coldest months.
Happening riad with a funky-chic vibe: El Fenn ($$$)
When you arrive at
El Fenn
, it feels like you've been invited to one of the coolest riads in Marrakech. Owned by Vanessa Branson (Richard Branson's sister), the colourful furnishings, boho-luxe atmosphere and groovy tunes set a fun mood. After a day of walking through the souks, relaxing at El Fenn's rooftop pool and bar is an idyllic break.
Best for timeless luxury: La Mamounia ($$$$)
La Mamounia
is Marrakech's most famous hotel where a countless number of distinguished guests have stayed over the last 90 years, from Winston Churchill and Nelson Mandela to Elton John and Ray Charles. Recently, the hit Netflix series Inventing Anna, has brought it even further into the limelight, from the nail-biting episode where infamous Anna Delvey stays at the hotel. The design is perfection and the details make this place a sight to see in itself. Although it's more of a hotel than a traditional riad, La Mamounia is a gem of Marrakech and a symbol of Moroccan architecture and craftsmanship.
Browse more stays in Marrakech
3 Day Marrakech Itinerary
Day 1
Explore the maze-like Medina, eat lunch in a hidden garden, see Jemaa el-Fna transform from day to night, discover Moroccan street food & drink cocktails at a funky rooftop bar.
─ Daytime ─
Check into your riad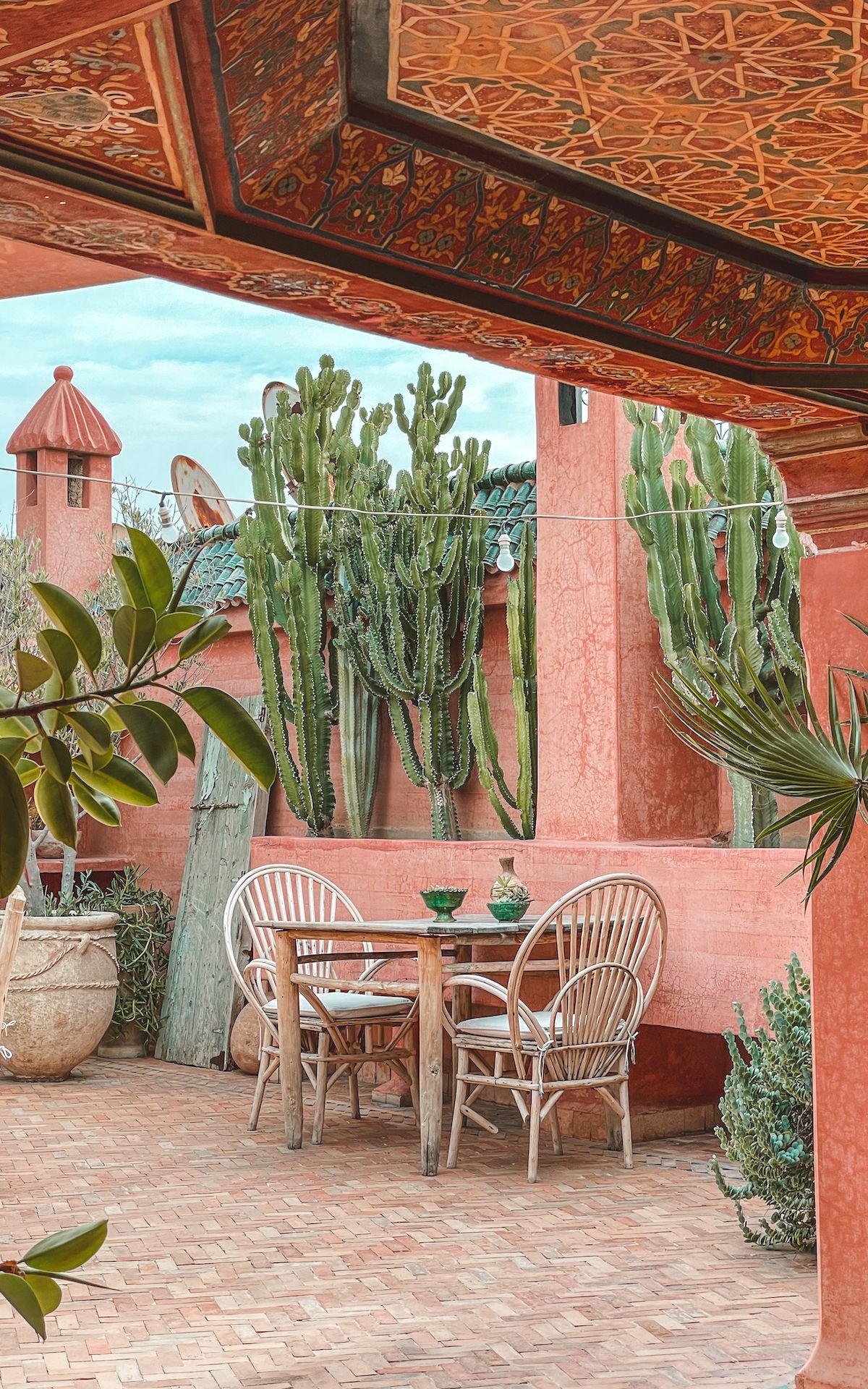 Welcome to the ancient city of Marrakech! Once you find the door of your riad in the labyrinth of streets, settle into your new oasis with a cup of Moroccan mint tea.
Each riad typically has its own style of check in. At Riad Jardin Secret we were brought to the rooftop and served fresh mint tea and dried fruit before checking into our room. At La Mamounia, fresh almond milk and dates were brought to us in the reception lounge, and after checking into our room, a bottle of cold Moroccan rosé arrived.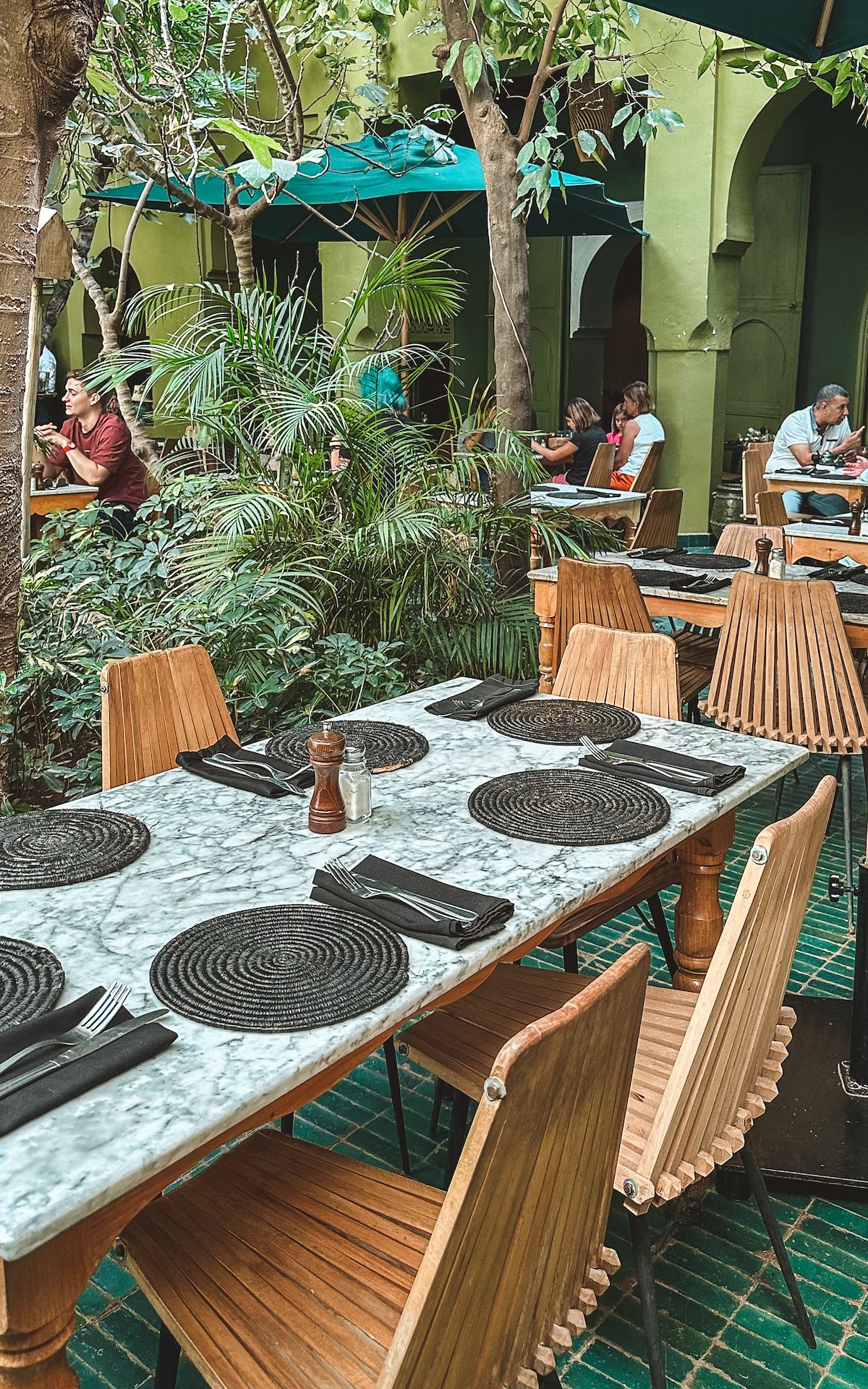 After freshening up in your riad, take your first steps out into the souks of the 11th century Medina. Our first excursion into the Medina was a bewildering experience with new sights, smells and sounds around every corner. With such an abundance of shops, people and unique architecture, we became eager to retreat from the chaos to let it all settle in.
Le Jardin Restaurant is the perfect escape for lunch. Tucked away in the Medina, the 1960s riad and hidden garden offers local specialities, contemporary veggie dishes and fresh juices. If you plan to get there after 12:30 pm we recommend making a reservation online.
Must try dish: roasted carrot salad.
Top tip: don't miss the Norya Ayron boutique up the stairs from the restaurant. The celebrity-loved Marrakech clothing label is known for its dresses that are a modern take on the traditional abaya. They come in fabulous colours and prints. I bought a dress and Ari bought a shirt that he loved wearing during his time in Morocco.
Get lost in the ancient Medina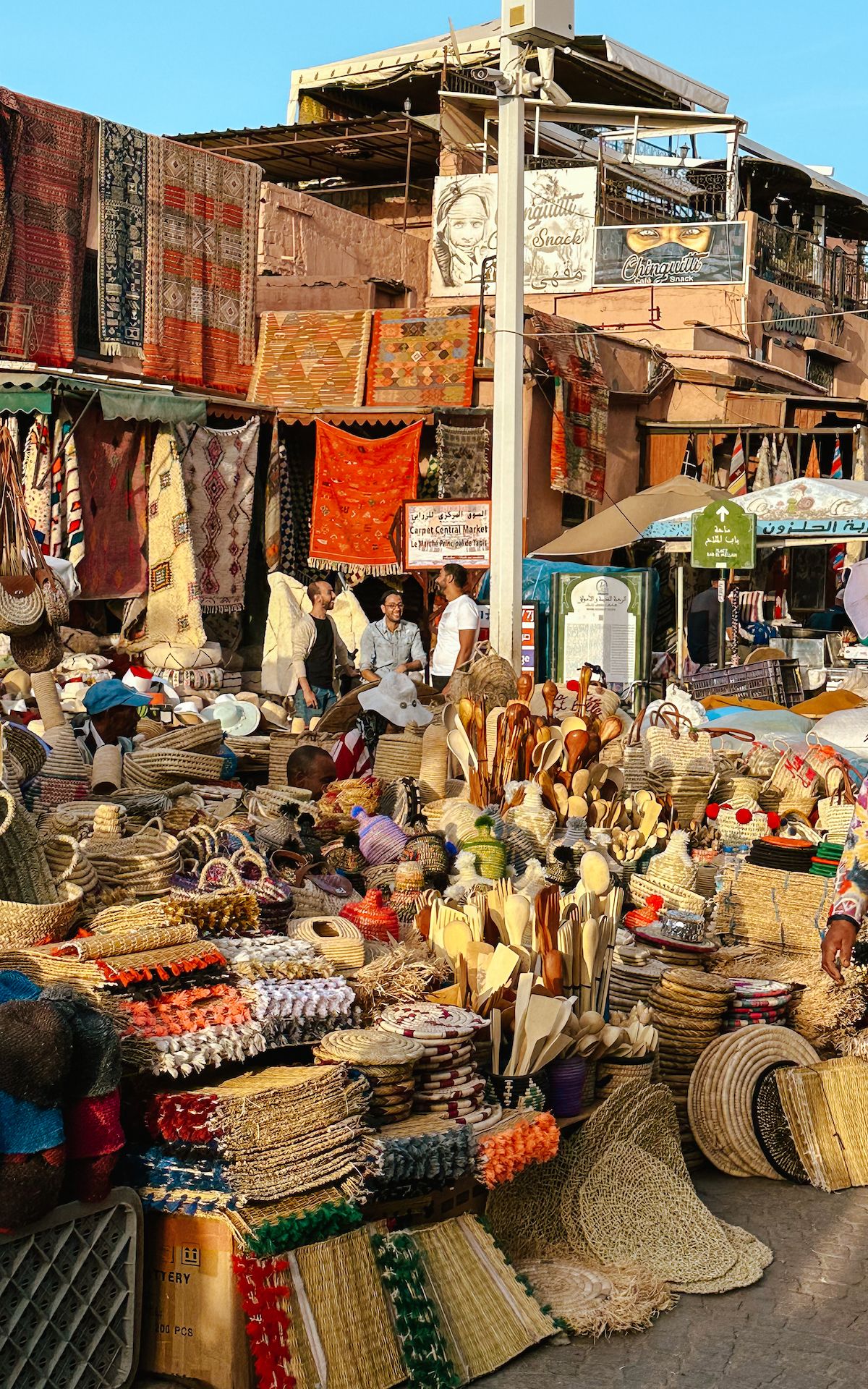 After filling up on fresh Moroccan food, head back out into the ancient Medina. The UNESCO World Heritage Site and cultural centre is filled to the brim with souks, tiny shops, riads, cafes, rooftop restaurants and hammams. We were blown away by the variety and calibre of products. It's incomparable to any other market we have seen in the Middle East.
As you walk through the Medina you will notice souks (a collection of vendors) with different specialties, like pottery, brass, woodworks, leather products, spices and carpets. We recommend losing your way through quieter alleyways between the main souks to find unique artisanal shops. Almost everything, including items with set prices on them can be bartered. Our best advice is to pay what something is worth to you and check similar products at other venders.
The Medina is a lively place all the way from day to night and should be explored in at least 2-3 days. Take your time walking through the maze, it's best enjoyed at a slow pace.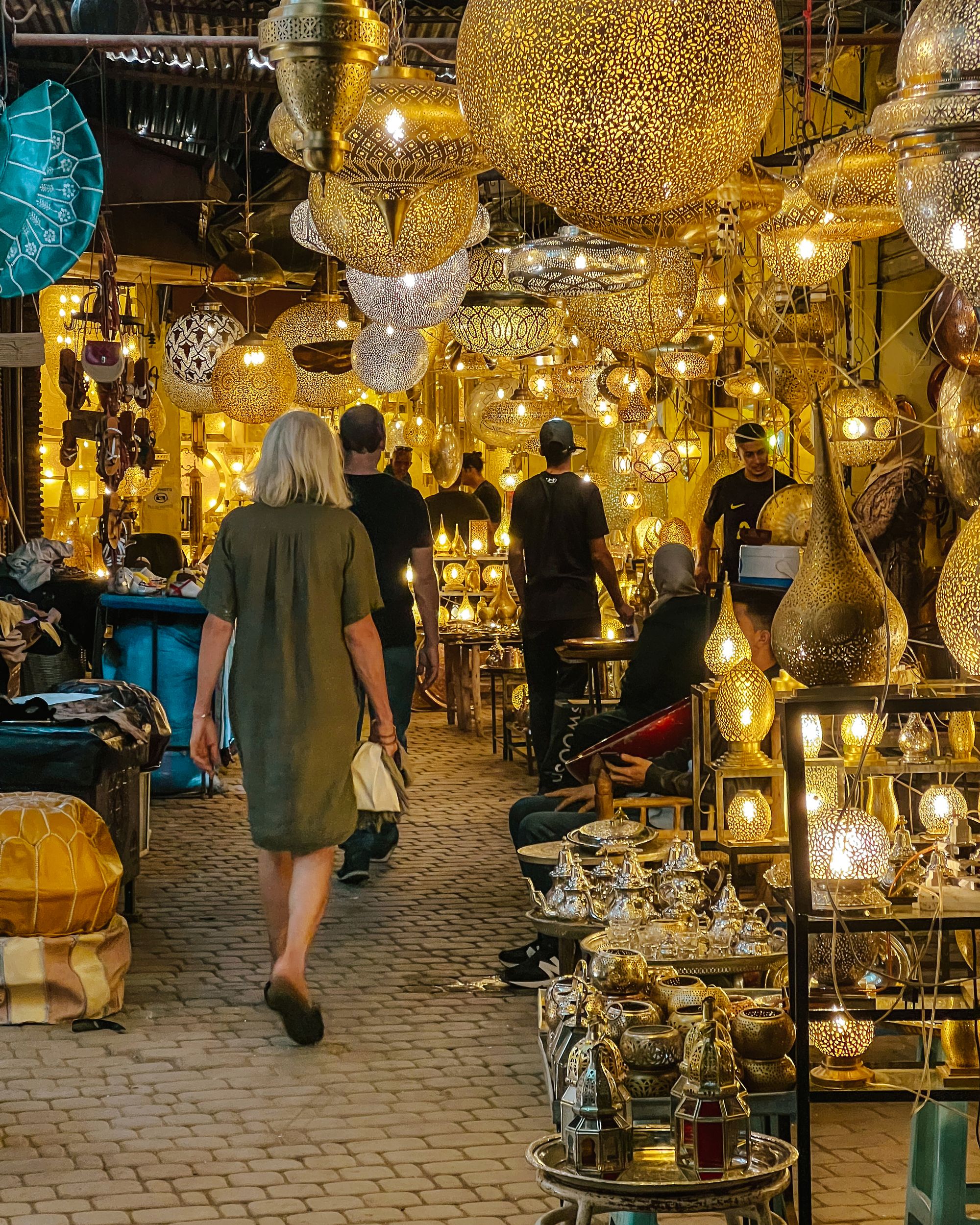 Our favourite shops in the Medina:
There are countless shops to discover, but here are a few of our favourites to get your started:
Medina Experiences: we happened to walk by this store on a quieter street of the Medina and it became one of our favourites. They have a good variety of items like vases, tableware, wall carvings, shoes etc.  The items had set prices on them, but were fair compared to similar products quoted to us in the Medina. Prices can be easily be negotiated if you buy more than one item. Make sure you walk to the top of the stairs to see a lovely view from the rooftop.
Les Nomades de Marrakech: this carpet palace has an incredible selection of top-quality rugs, both new and vintage. Even if you don't plan on buying a rug, walking inside to see their collection is worth it. We spent two hours here looking at rugs with some mint tea and bought two for our place back home - one made in the High-Atlas Mountains and one made in the Mid-Atlas Mountains.
MA CREATION: pottery, home decor and clothing shop with a unique selection of vases. It's not on Google Maps, see our location pin here.
Mustapha Blaoui: this three-story shop behind a large wooden door feels like Aladdin's cave of wonders. They sell good quality furniture from all around Africa and the prices are fair. We loved a set of green and white striped side tables made from camel bone which were quoted at 400 € each, compared to 2000 € we saw at a shop on the main strip!
Tamegroute Aloud Pottery: for green and yellow pottery handmade in the village of Tamegroute. It gets its interesting colours from manganese, silica and copper. The prices are fair and the shop owner is very nice. See location pin here.
Galeries Des Tanneurs - for exceptionally made leather shoes, bags and clothes, similar in quality to luxury European fashion houses. Ari bought a suede button up shirt that he cherishes.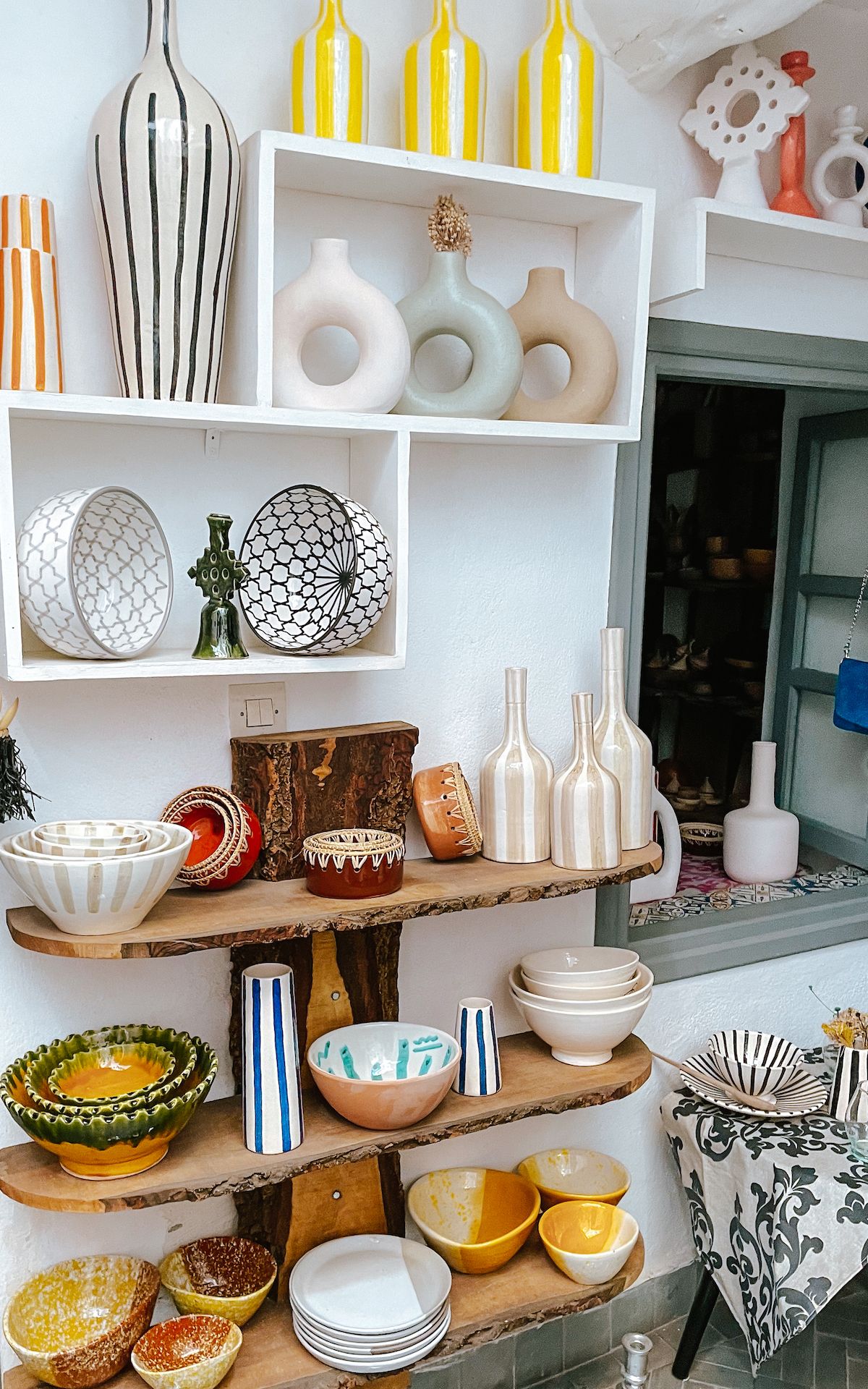 Some amazing items to bring home that will remind you of Marrakech:
Moroccan rug - look for a shop that offers shipping with DHL
Moroccan poufs or pillowcases - poufs and pillowcases are easy to bring back with you, since you fill them up at home
Handmade green or yellow pottery from the village of Tamegroute
Moroccan tea pot - make that fresh mint tea back at home
A vase that catches your eye - there are so many styles and colours!
Oil lamp and scented oils - whenever we light our dates-scented oil, we're brought back to Marrakech
Stylish Kaftan or Tunic
Leather backpack or purse
Something in the colour Majorelle Blue
A mini tagine to put finishing salt or pepper in
Recharge with fresh squeezed pomegranate juice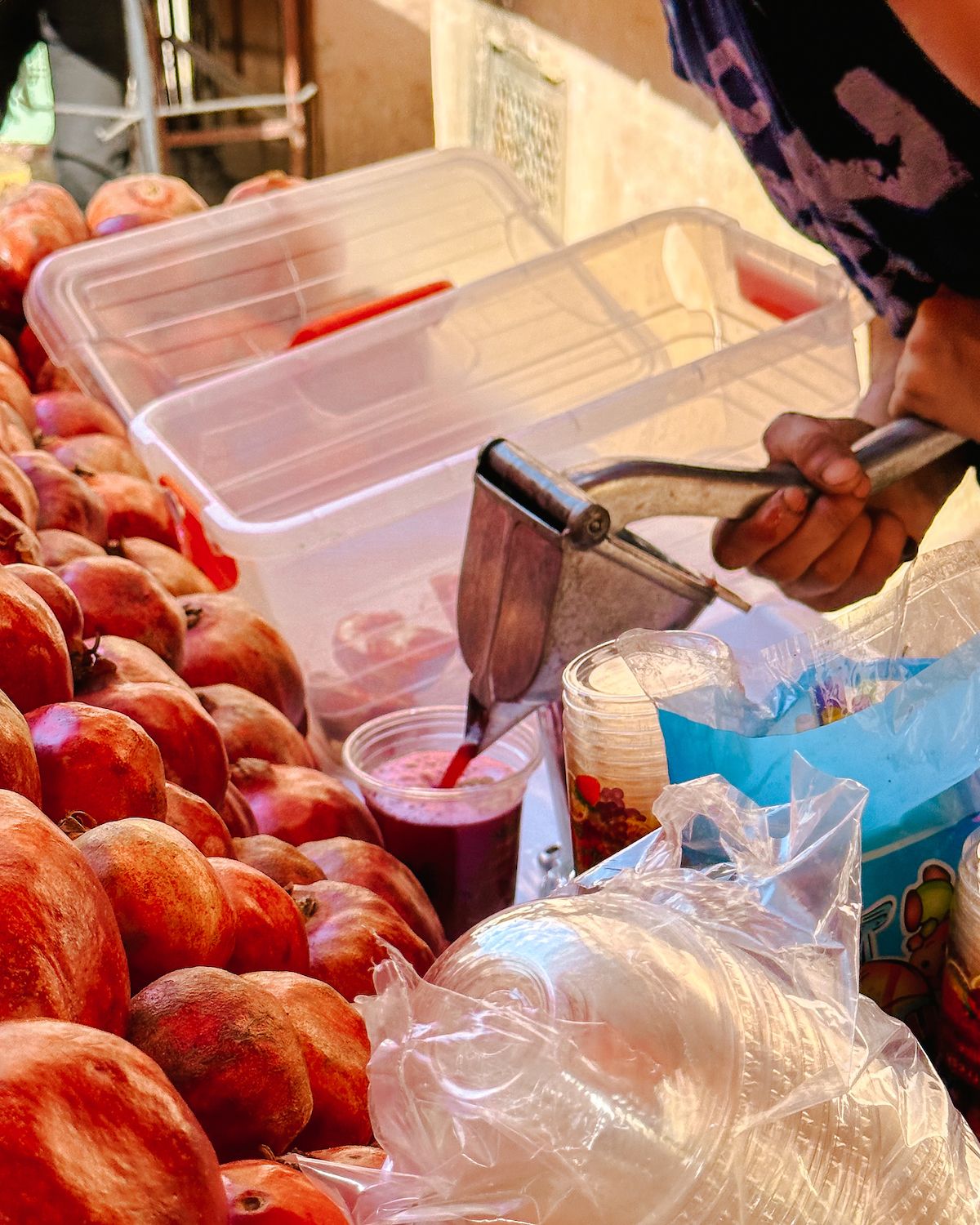 Find a cart selling fresh-squeezed pomegranate juice and take a break in the shade. We paid 20 dh for a whole cup of it and recommend sharing so your stomach doesn't get upset. The best carts will make your juice to order with cut pomegranates taken from a ice filled bucket.  
See Jemaa el-Fna square during daytime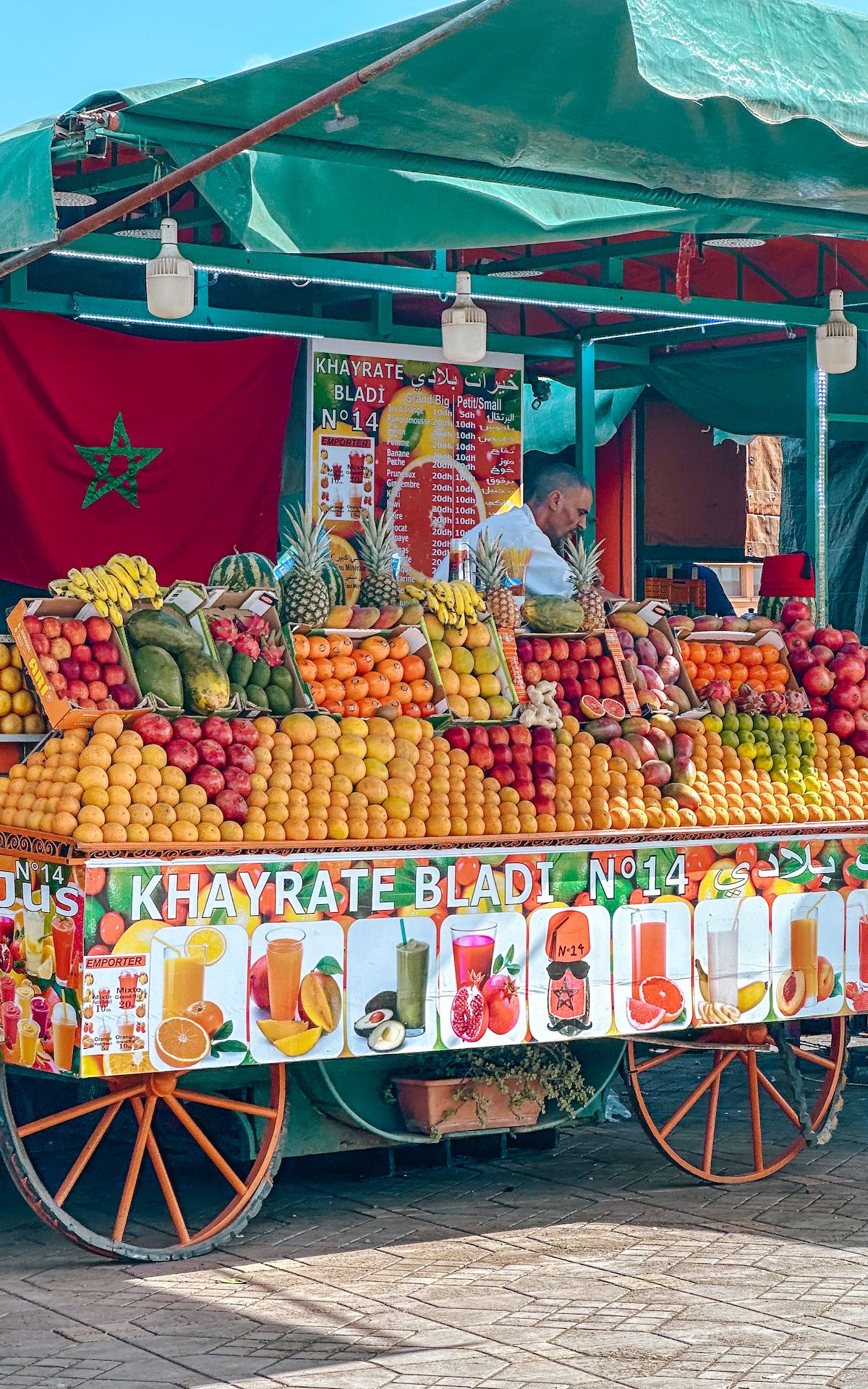 Set foot in the one of the biggest markets in Africa, Jemaa el-Fna. All of the tiny streets in the Medina lead to this central square that attracts thousands of tourists and locals a day. It's by far one of the most fascinating cultural experiences in Marrakech. How the square transforms from day to night is frenetic magic.
Take your first walk through the square during daytime when it's quieter. You will see snake charmers and vendors selling items like spices and fruit juices. Don't get too close to the snake charmers if you don't want them placing a snake on you for a picture. Be aware of these scams and the poor treatment of animals before posing for a photo.
─ Evening ─
Sip cocktails at the funky El Fenn rooftop bar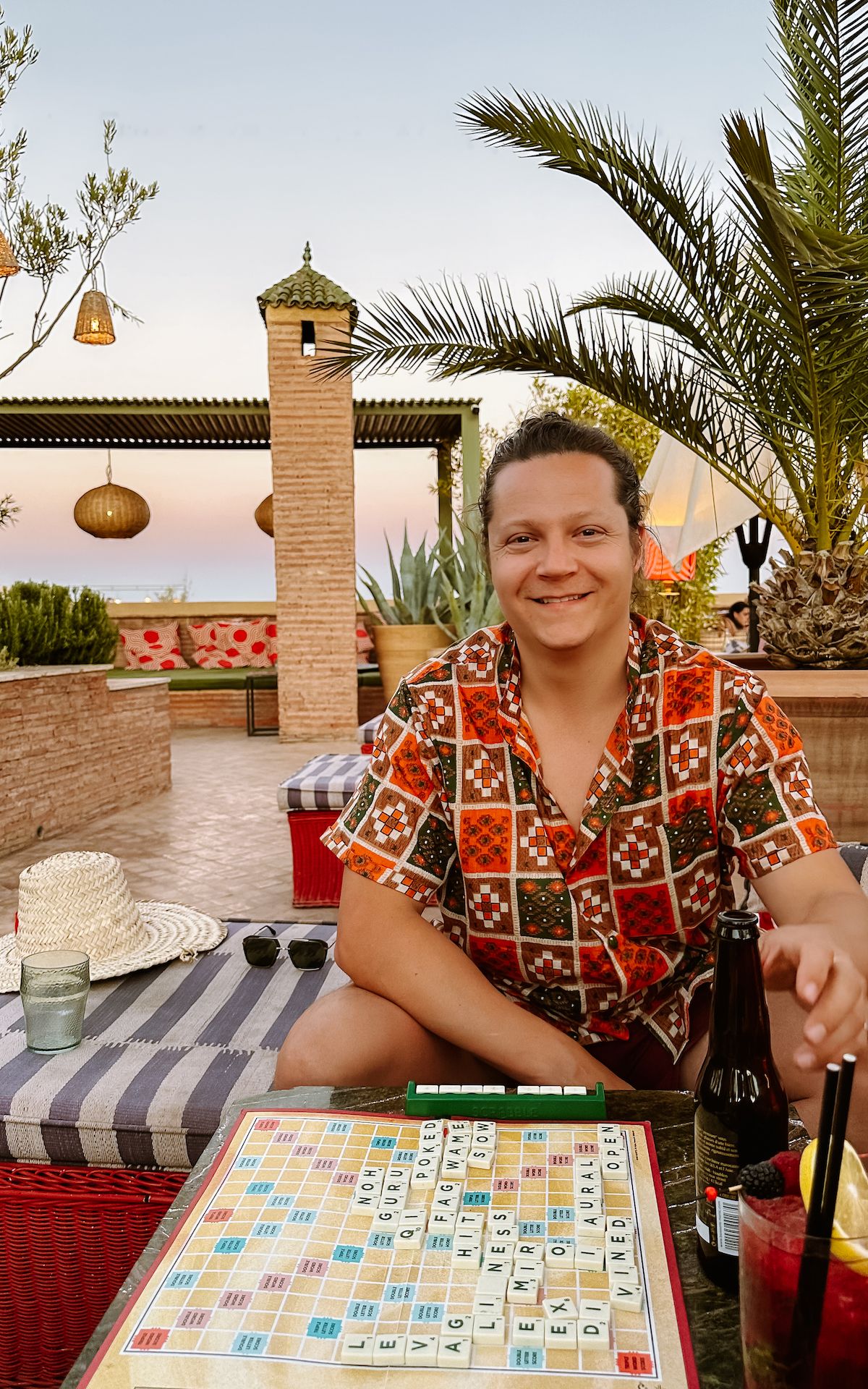 There are many rooftop restaurants in the Medina, however rooftop spots that serve alcohol can be hard to come by. Since Morocco is a Muslim country, the vast majority of Moroccans do not drink. However, alcohol consumption is allowed in licensed hotels, restaurants and bars.  
After being completely let down by the newly opened Kabana Bar, which felt like a giant LA hen-party lacking any Marrakech vibes, we went on a hunt for the best rooftop bar in the Medina.
We were thrilled to discover the rooftop bar at El Fenn, a design-forward riad with a boho-chic vibe. It had the exact atmosphere we were looking for, with its well-curated selection of energetic tunes, funky furnishings, signature cocktails and satisfying bar bites. The rooftop bar is a hidden gem in Marrakech that is also open to non-hotel guests.
After all of that shopping and walking around, take a well deserved break at the El Fenn Rooftop Bar with a refreshing cocktail, like their Red Fruit Basil Mojito. We munched on their popcorn chicken with harissa mayo and battered Moroccan style fish & chips - but you might want to refrain from eating with your street food tour coming up next!
Discover Morocco's street food scene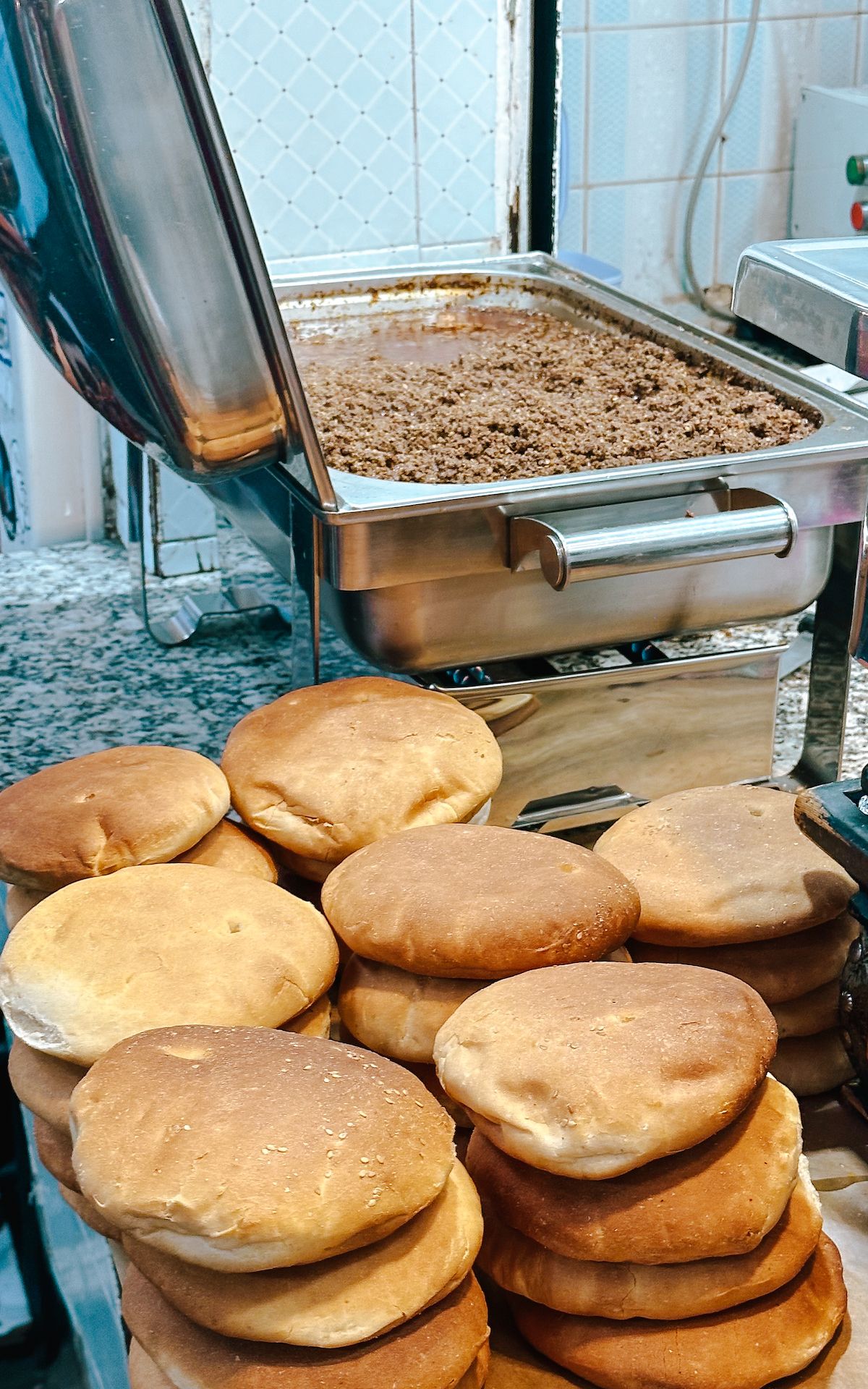 One of the best ways to discover local cuisine in Marrakech is by tasting the street food. Rather than eating at restaurants, Moroccans usually eat meals at home or snack on street food. Sampling local delicacies from vendors is the culinary secret to eating some of the best Moroccan cuisine. Ari was obsessed with these meat sandwiches served at boucheries (pic above). If you see locals lining up for them, don't miss out!
It can be overwhelming knowing what's safe to eat or what vendors to go to. We recommend hiring a guide to take you around the Medina on a street food tour. A local's knowledge is the best way to discovering side streets and hidden food spots you wouldn't find yourself.
Viator
and
GetYourGuide
both offer street food night tours. We like how you can cancel up to 24 hours in advance. Check out these highly rated street food tours:
Get ready for a sensory overload at the Jemaa el-Fna night market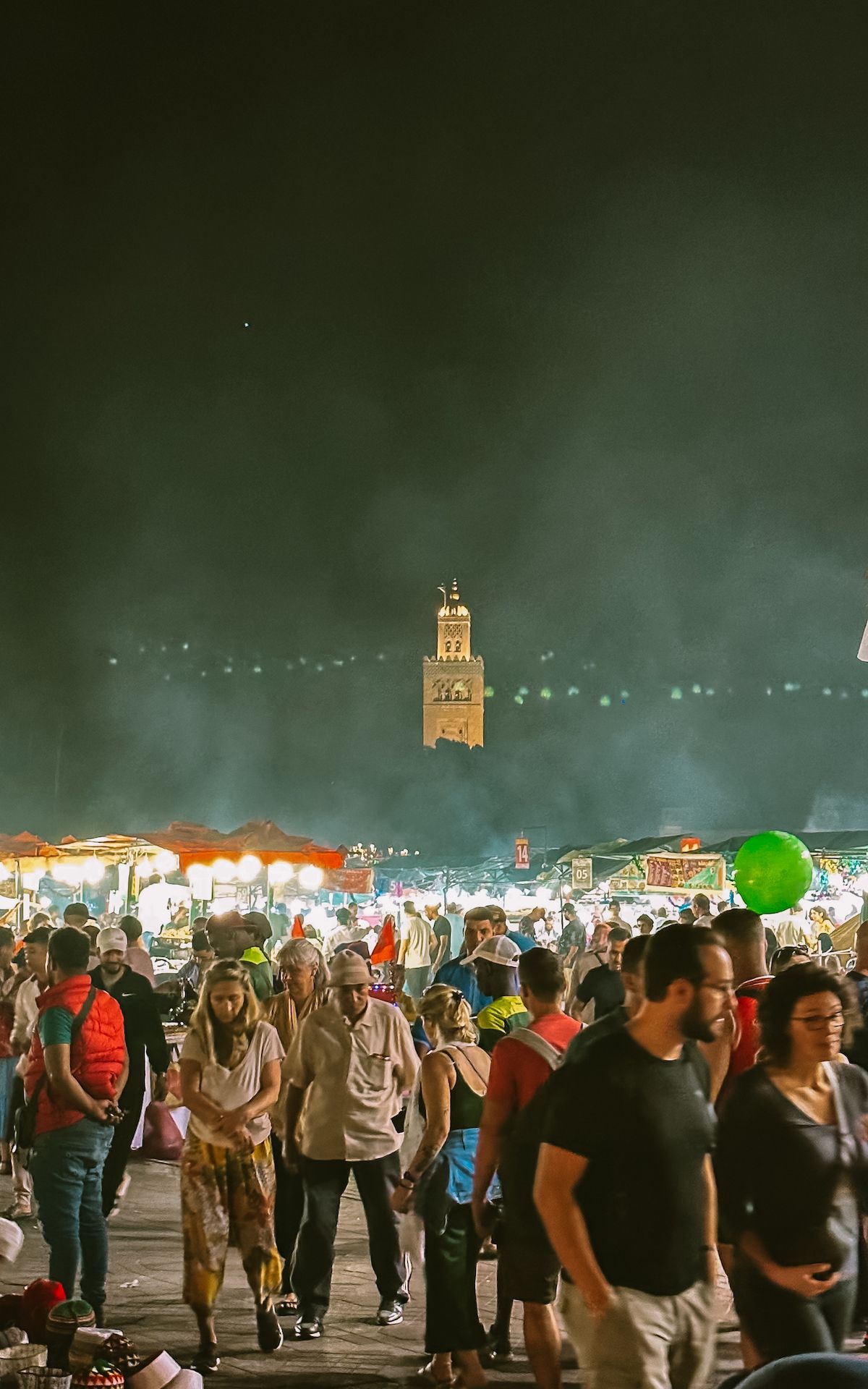 After your street tour, take time to walk around Jemaa el-Fna to experience it at night. Nighttime is when the market takes a life of its own with numerous food stalls and masses of people forming circles around music entertainers and storytellers. The energy you feel in the square is beyond compare - it's been around for centuries after all!
Be aware of the scams mentioned earlier in the post and also watch for pick pocketing. If you go to a circle to watch the entertainment for a while (especially if you start taking pictures or videos), be prepared to tip. This is a typical practice.
Day 2
Drink coffee in the glamorous El Bacha Palace, see one-of-a-kind colours at Jardin Majorelle, dine at L'mida for sunset views over the Medina & sip cocktails at La Mamounia's new rooftop bar.
─ Daytime ─
Tour Dar El Bacha Palace and drink coffee in its glamorous coffee house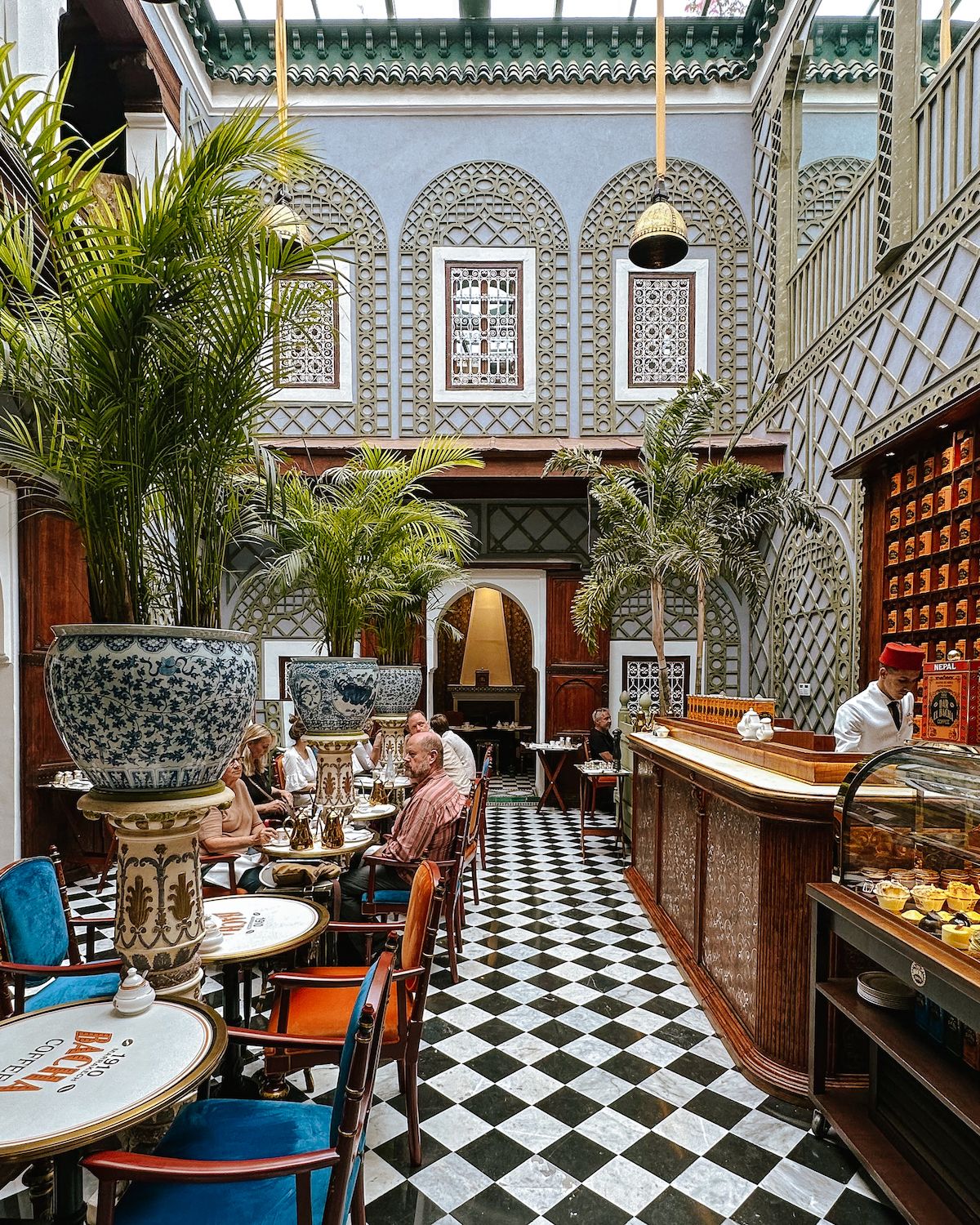 Dar El Bacha Palace has a fascinating and glamorous history. Built in 1910, the palace became a meeting place for the 20th century's most prominent creatives and politicians, like Winston Churchill, Charlie Chaplin, Joseph Maurice Ravel and Franklin Roosevelt. Discussion brewed alongside coffee as ideas were exchanged pot after pot.
The establishment was closed for decades because of WWII and underwent a massive restoration to preserve its history and intricate details in its design. Re-opening in 2017 as a museum with a fabulous coffee room and boutique, it's one the most desired spots to visit in Marrakech, for those in the know.
The coffee room does not take reservations and the grouchy front entrance attendant of the museum told us on two occasions it would take 1.5 hours-2 hours to be seated. We decided to tour the museum for 60 dh (it's gorgeous and worth it) but checked into the cafe first to get our name on the list. We were given a buzzer and 35 minutes later it buzzed - a far cry from a 1.5-2 hour wait! Out of curiosity we asked what the best time to get a table is and were told 10:00 AM.
The sun-filled courtyard of the cafe is gorgeous with its black & white checkered floors, palms and signature orange coffee canisters lining the walls. We asked our server to recommend a coffee based on our preferences and once it arrived in the gold coffee pot, we eagerly topped it off with Chantilly cream and cracked fresh vanilla beans from a pepper mill. You can also order food here.
See one-of-a-kind colours at Jardin Majorelle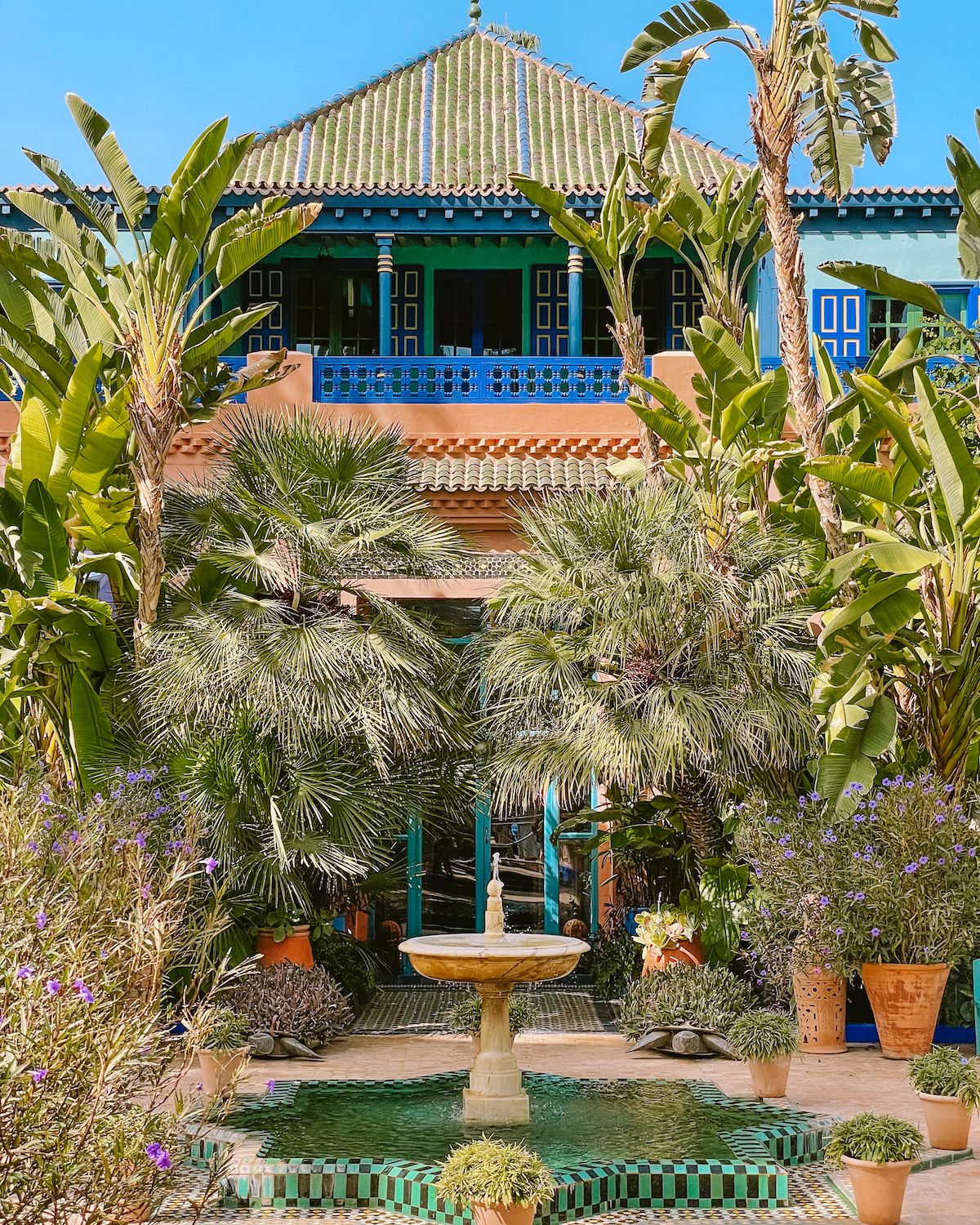 After your dazzling brunch, hail a taxi to Jardin Majorelle and the Yves Saint Laurent Museum. Jardin Majorelle was created by French painter Jacques Majorelle in 1924, and purchased by Yves Saint Laurent and his partner Pierre Berge in 1980 to preserve its beauty. The garden is famous known for its patented Majorelle Blue colour.
When Yves Saint Laurent visited Marrakech for the first time in the 60s with his partner, he immediately fell in love with the city and purchased a house in the Medina. The fashion designer drew inspiration from colours he saw in Marrakech, which influenced his collections over time.
We highly recommend buying your tickets online in advance because you will bypass a big line! Online tickets have to be purchased more than 24 hours in advance. You can buy separate tickets for Jardin Majorelle or the Yves Saint Laurent Museum, or buy a combined ticket.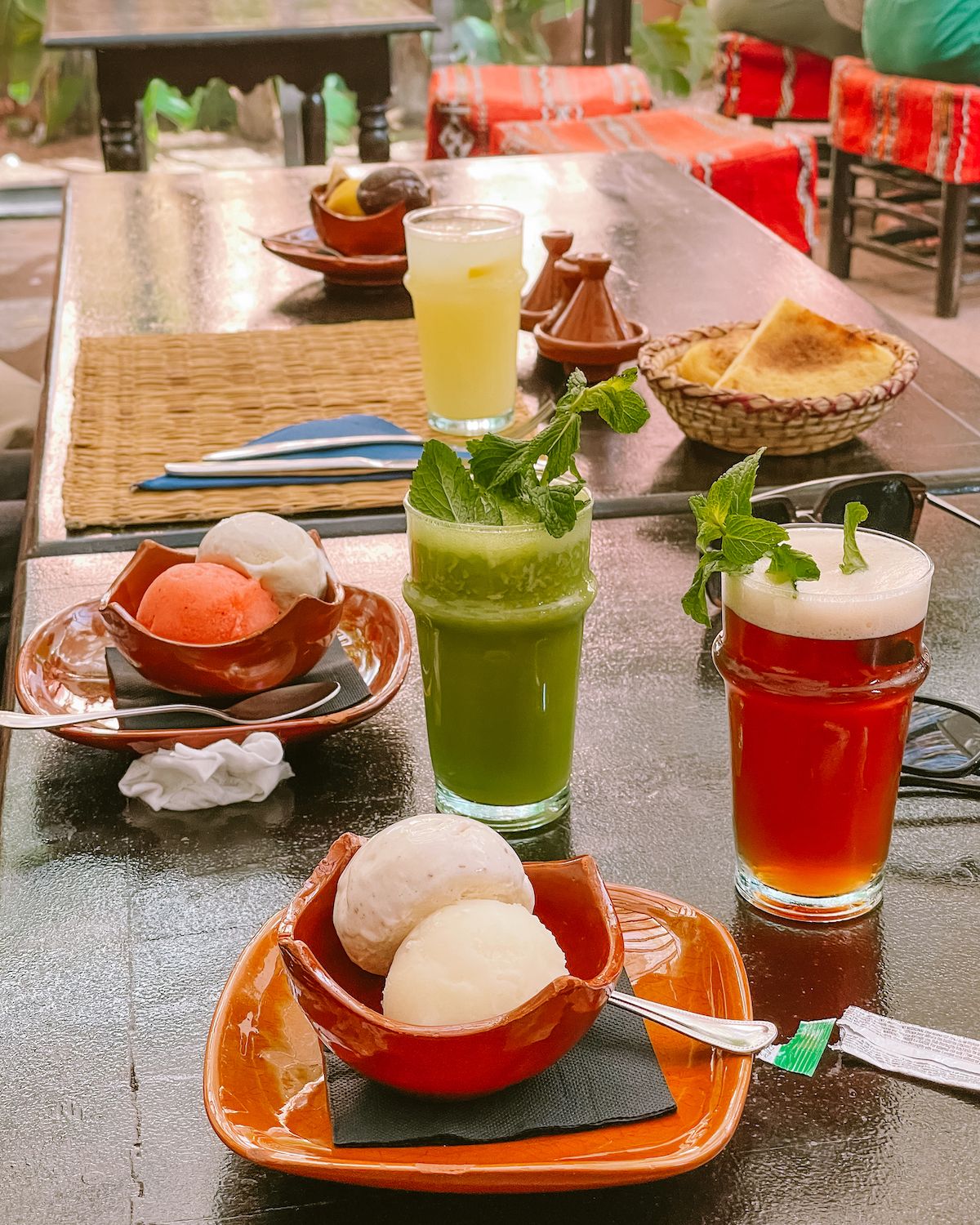 After walking through the gardens, cool down at the onsite cafe with a refreshing fruit juice or sorbet. South of Jardin Majorelle on Rue Yves St Laurent, you will find a taxi stand and also a string of boutique shops.
─ Evening ─
Dine at L'mida for sunset views over the Medina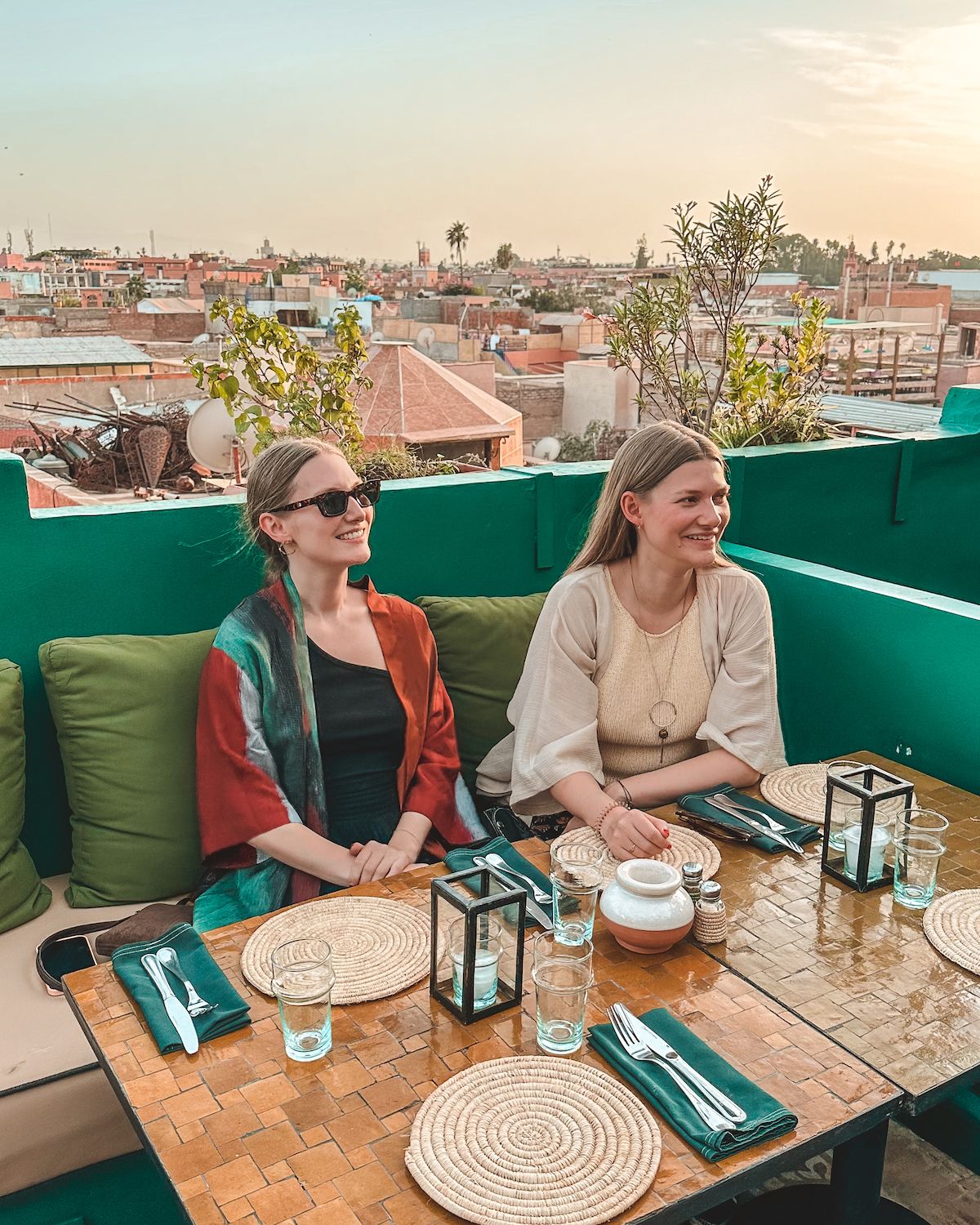 Eat at L'mida for some of the best rooftop views over the Medina. The food is also excellent, created by Moroccan chef Nargisse Benkabbou, a best-selling food writer based in London. Our only complaint was a mismatched music playlist that was a bit generic. The music elsewhere in Marrakech is on point!
Must try bites: Buratta & taktouka mechouia paired with their mint-lemon juice
We ate at three rooftop restaurants, Nomad, Café Des Épices and L'mida, and L'mida had the best food and view in our opinion.
Sip cocktails at La Mamounia's new rooftop bar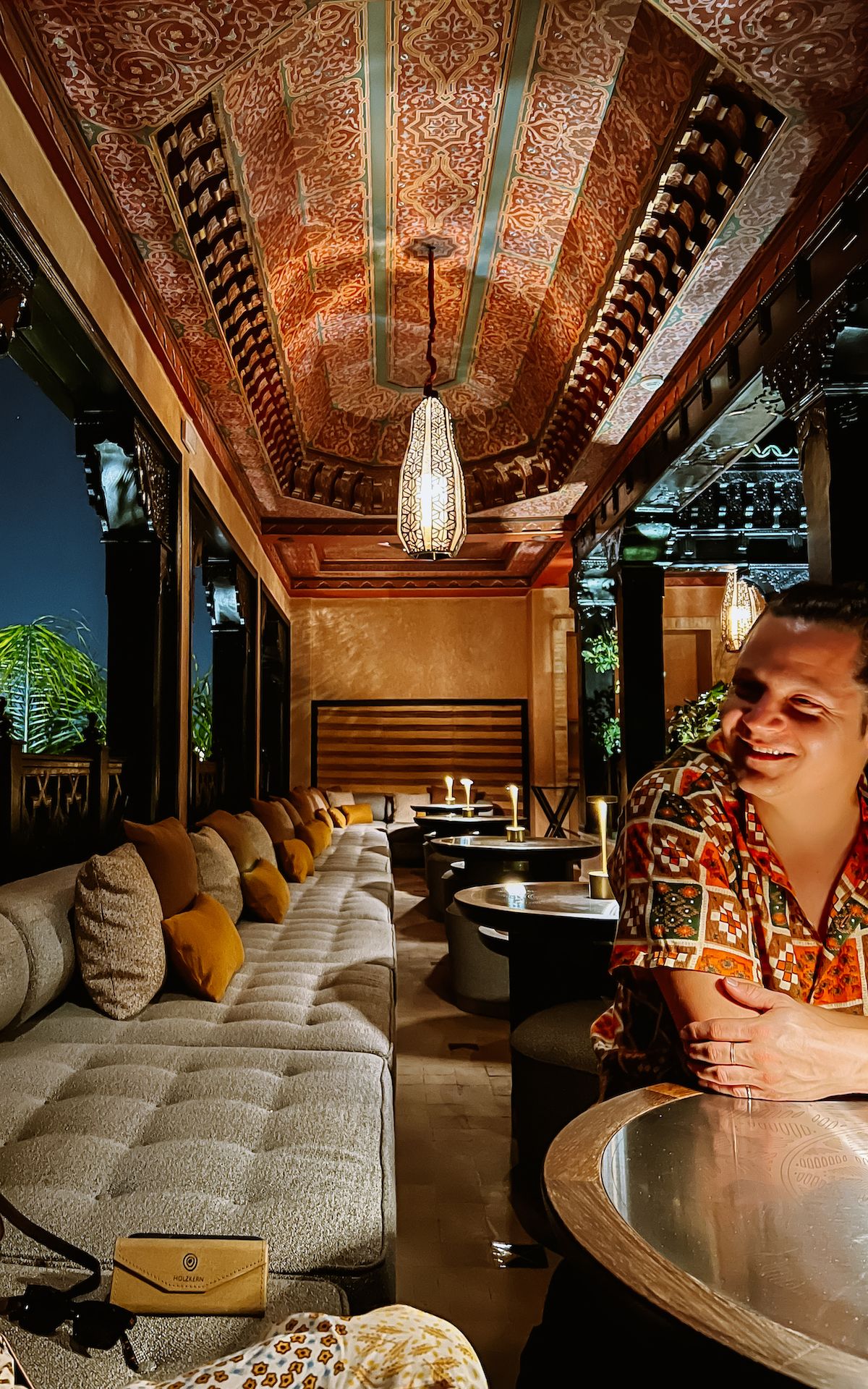 You don't have to splurge on a stay at La Mamounia to experience the hotel. After dinner, head to their bumpin' new rooftop bar, Le Club, for excellent cocktails and groovy tunes by a dedicated resident DJ.
Most non-hotel guests come to La Mamounia during the daytime for lunch in the garden (we found the food to be overpriced and nothing spectacular), but this nighttime spot is where it's at.
Must try cocktail: Atlas Gold - a delicious vodka based infusion with saffron, ginger and orange blossom. Another Atlas please!
Day 3
Unwind at the hammam, enjoy a poolside Moroccan-dim sum lunch, finish up shopping in the Medina, and dine & listen to live music at one of the city's hottest new restaurants.
─ Daytime ─
Start the morning with a leisurely breakfast in your riad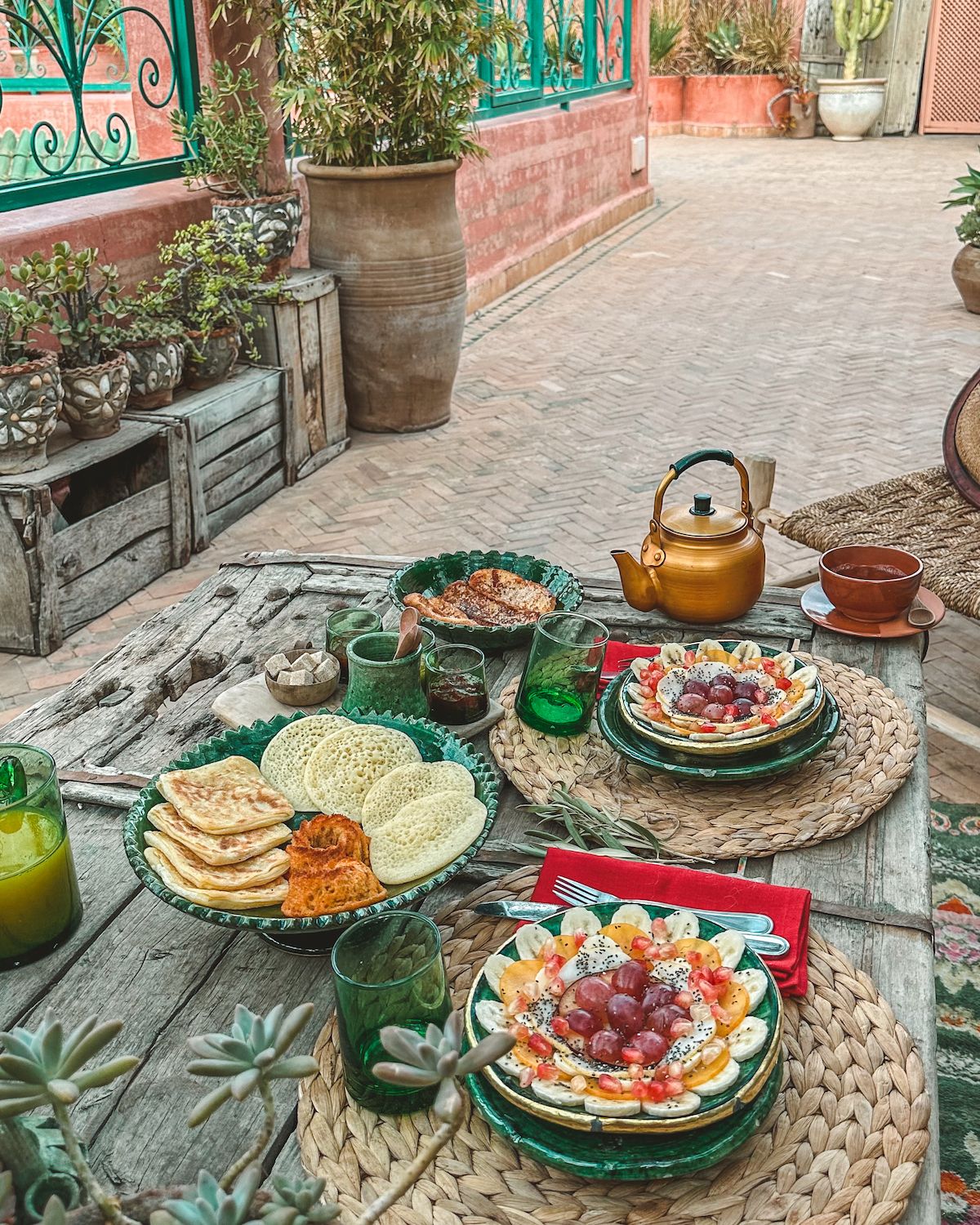 Fill up on breakfast in your riad before heading out for a spa day. Moroccan breakfasts are typically an assortment of crepes (Morrocan and French), fresh fruits, scrabbled eggs, pastries, yogurt, fresh squeezed orange juice and coffee or tea. You won't be leaving hungry from any breakfast in Morocco!
Unwind at the hammam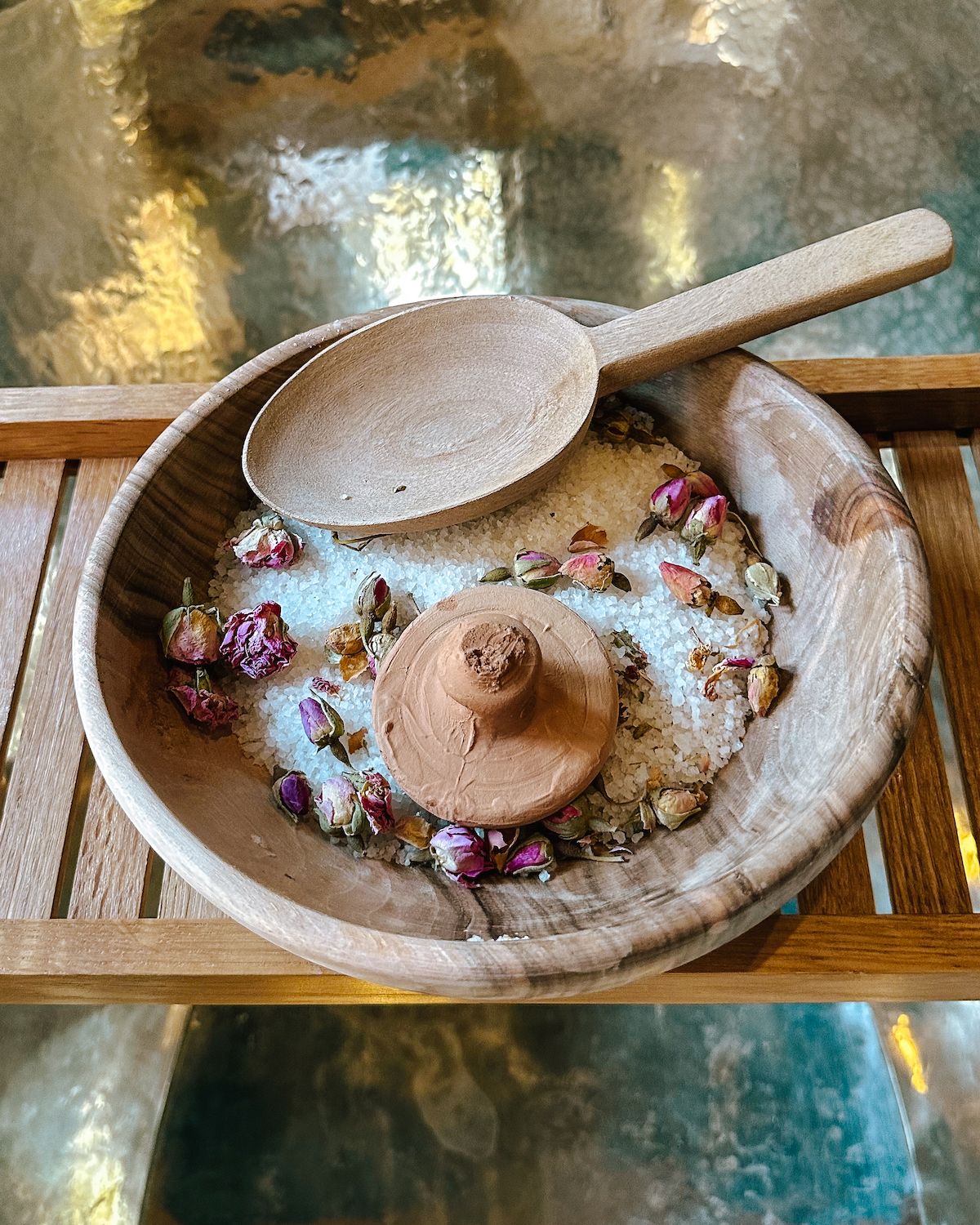 Your trip to Marrakech isn't complete without a visit to the hammam! The Middle Eastern steam bath is an integral part of Moroccan culture. During a hammam experience, your body is exfoliated using a traditional black soap and followed by a deep cleansing rhassoul clay mask. Some packages also include an argan oil hair treatment. Follow your hammam treatment with a holistic massage to release any remaining stress.
Book your spa treatments at Heritage Spa or Les Bains D'Orient. They are both professional well-priced spas that are tough to choose between. They are a 2 minute walk away from each other.
Enjoy a poolside lunch at Dar Moha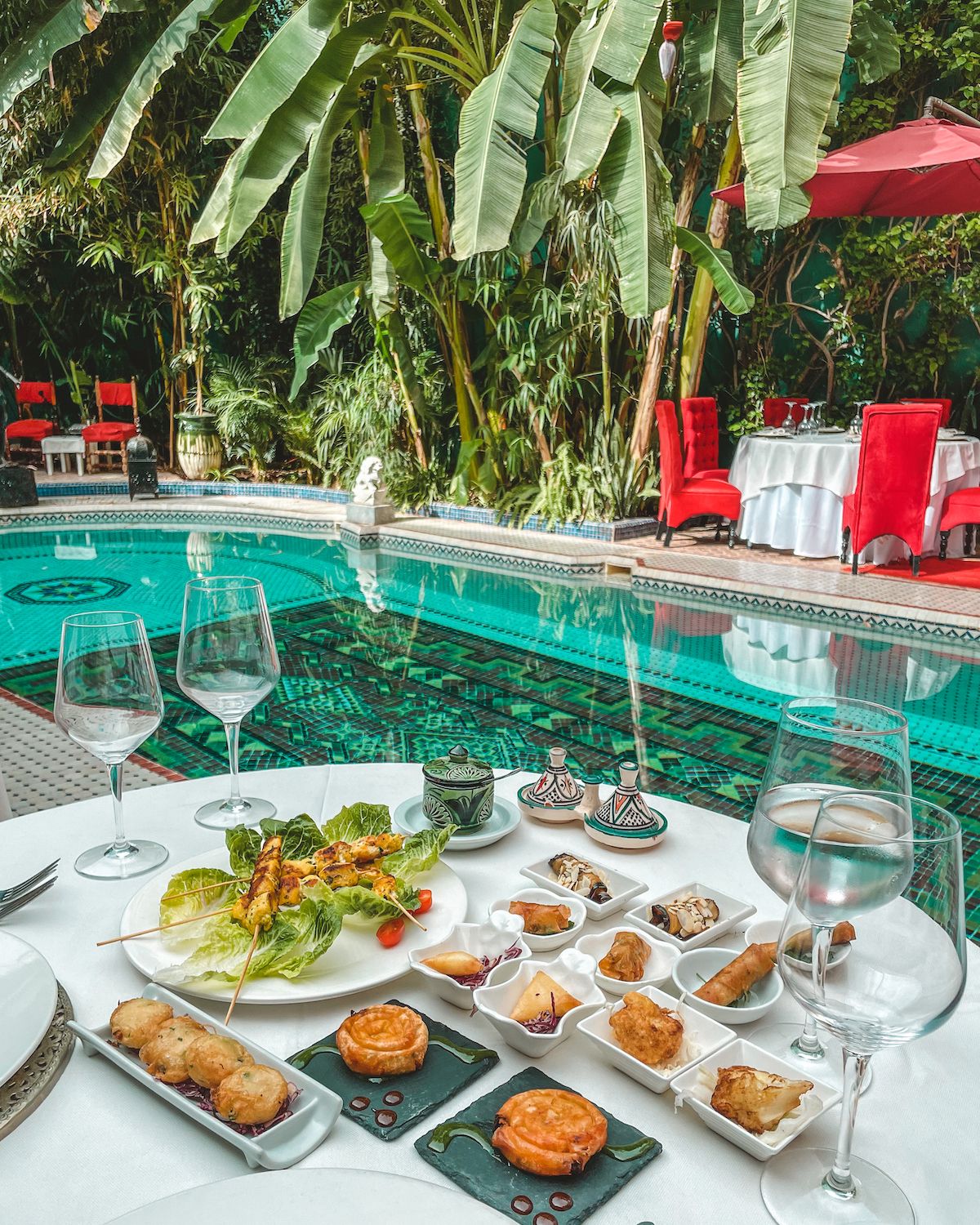 After your spa treatments, walk your stress-free body over to Dar Moha for a poolside lunch. The stunning courtyard of the riad feels like a hidden oasis with its lush garden and banana trees. We ate small bites, kind of like Moroccan-style dim sum, and enjoyed listening to a traditional lute play in the background.
We recommend making a reservation here. We were able to get a walk-in table the second time we visited, but the first time it was full.
Finish up shopping in the Medina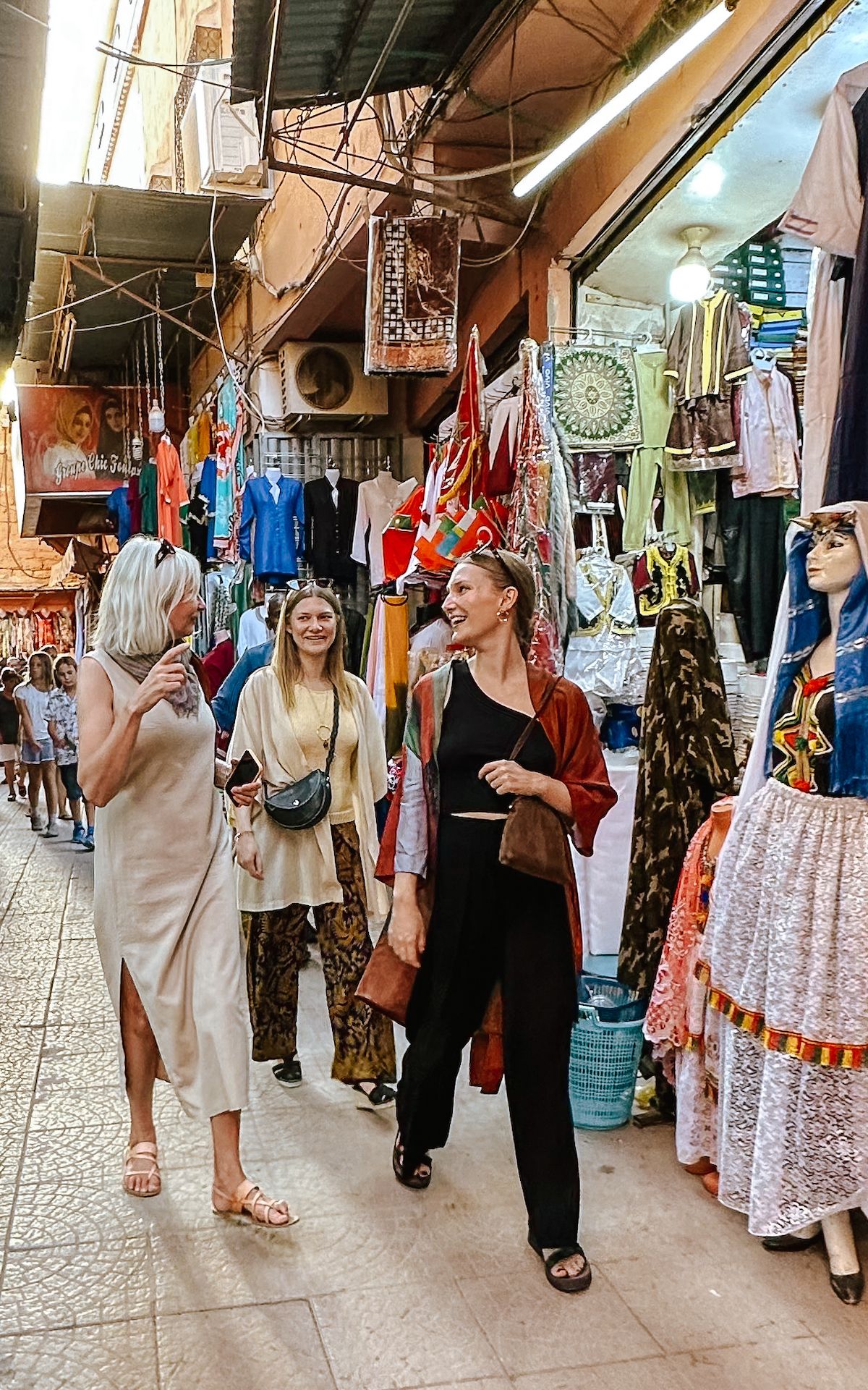 Walk through the Medina and get those last minute items you've been thinking about buying!
─ Evening ─
Dine at the buzzing Le Bistro Arabe for creative Moroccan dishes & live jazz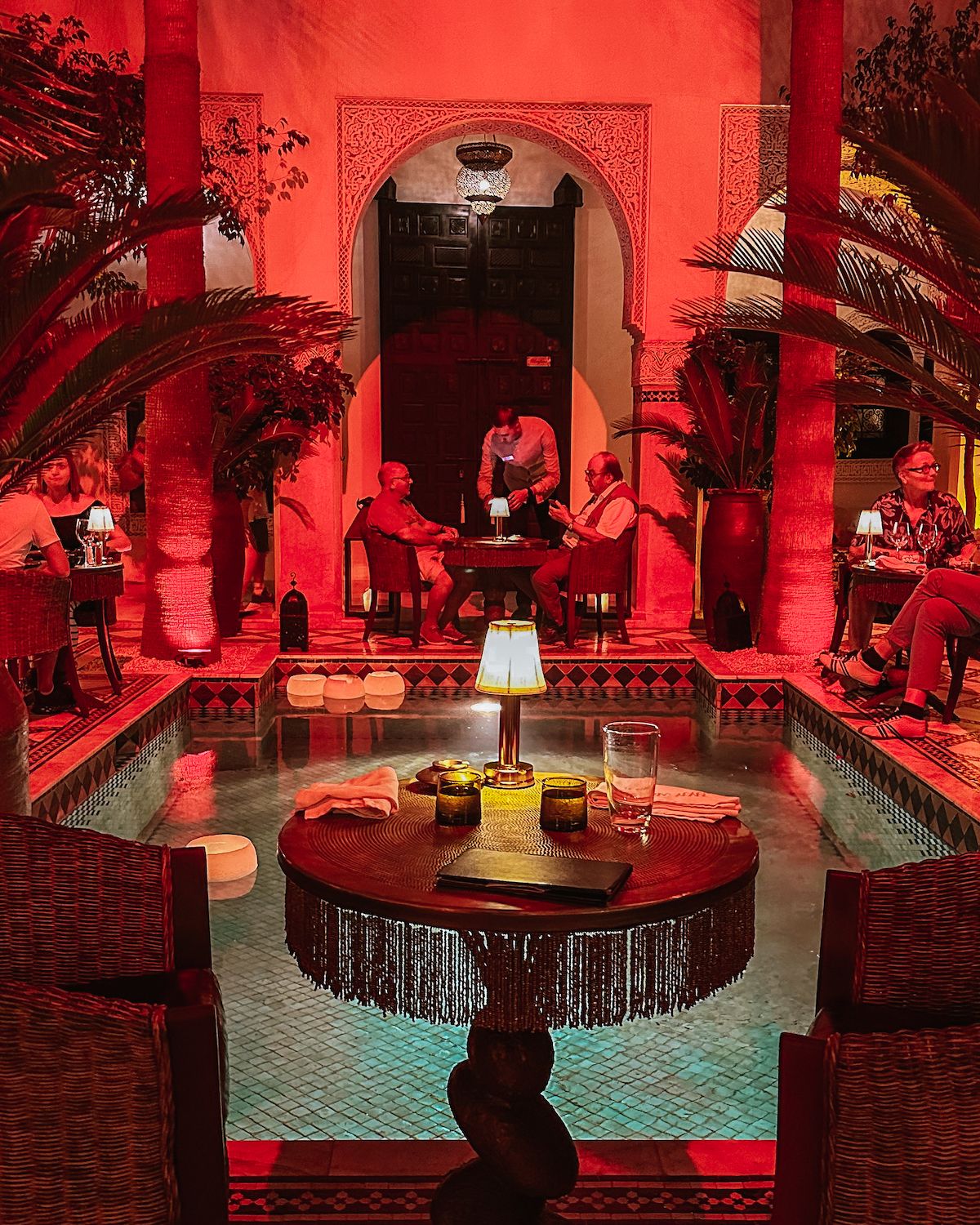 For your last evening in Marrakech, dine at Le Bistro Arabe, one of Marrakech's hottest new places to eat and listen to live jazz. The chic Orientalist-style interior and mood lighting give off a sexy vibe that is perfect for a date night.
What really sets this restaurant apart are its innovative Moroccan dishes created by celebrated Moroccan chef, Myriam Ettahri. Myriam went to university and cooking school in Canada and furthered her culinary career around the world before becoming a celebrity chef from a Moroccan reality TV show.
What to wear in Marrakech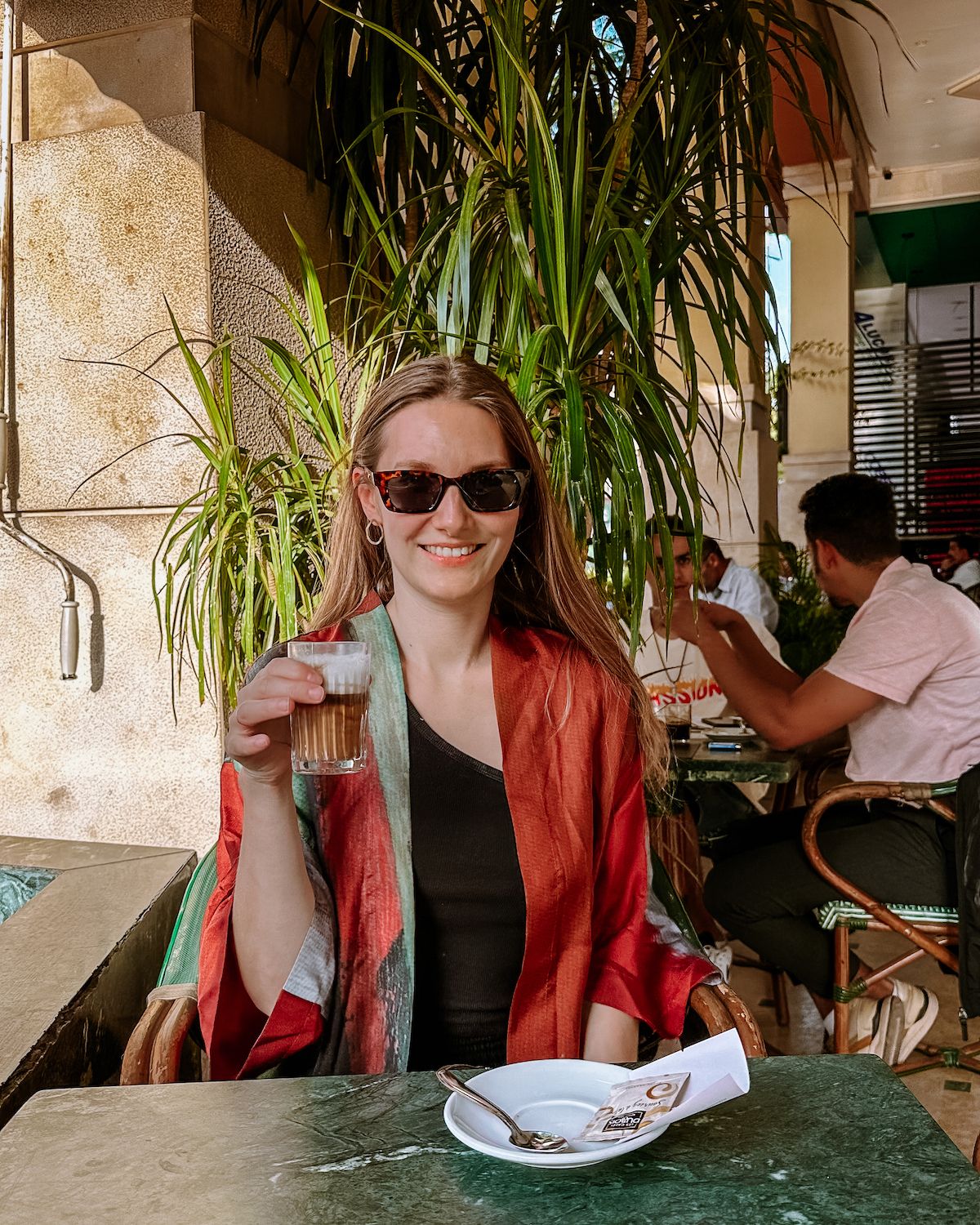 Packing outfits that are respectful of the local culture's modesty, while choosing pieces that don't boil you over from the sweltering sun can be challenging. Some online advice led us astray, with items we should have packed and items we definitely didn't need.
These are our best tips:
It was acceptable to show shoulders and knees in your hotel/riad and at restaurants/bars since they mostly cater to Western tourists. When walking out in the Medina, a shawl/scarf is handy to cover your shoulders.
Wear materials that keep you cool: linen, lightweight cotton, silk, tencel. Avoid polyester.
Blue Nude's kimono worked perfectly for me in the city. The silk kept me cool and it felt so stylish.
Once you're in Marrakech, check out these brands for colourful dresses: Topolina and Norya Ayron.
Leggings were wayyy tooo hot. Wear loose clothes!
We were given online advice not to bring sandals in the Medina, but were so happy we did. It's definitely not as dirty as stated. Running shoes are great too, but on hot days you will want those sandals. Tevas are great.
Men are expected to wear pants and shoes to dinner, no shorts and sandals!
Our 9 Top Tips and Things to Avoid in Marrakech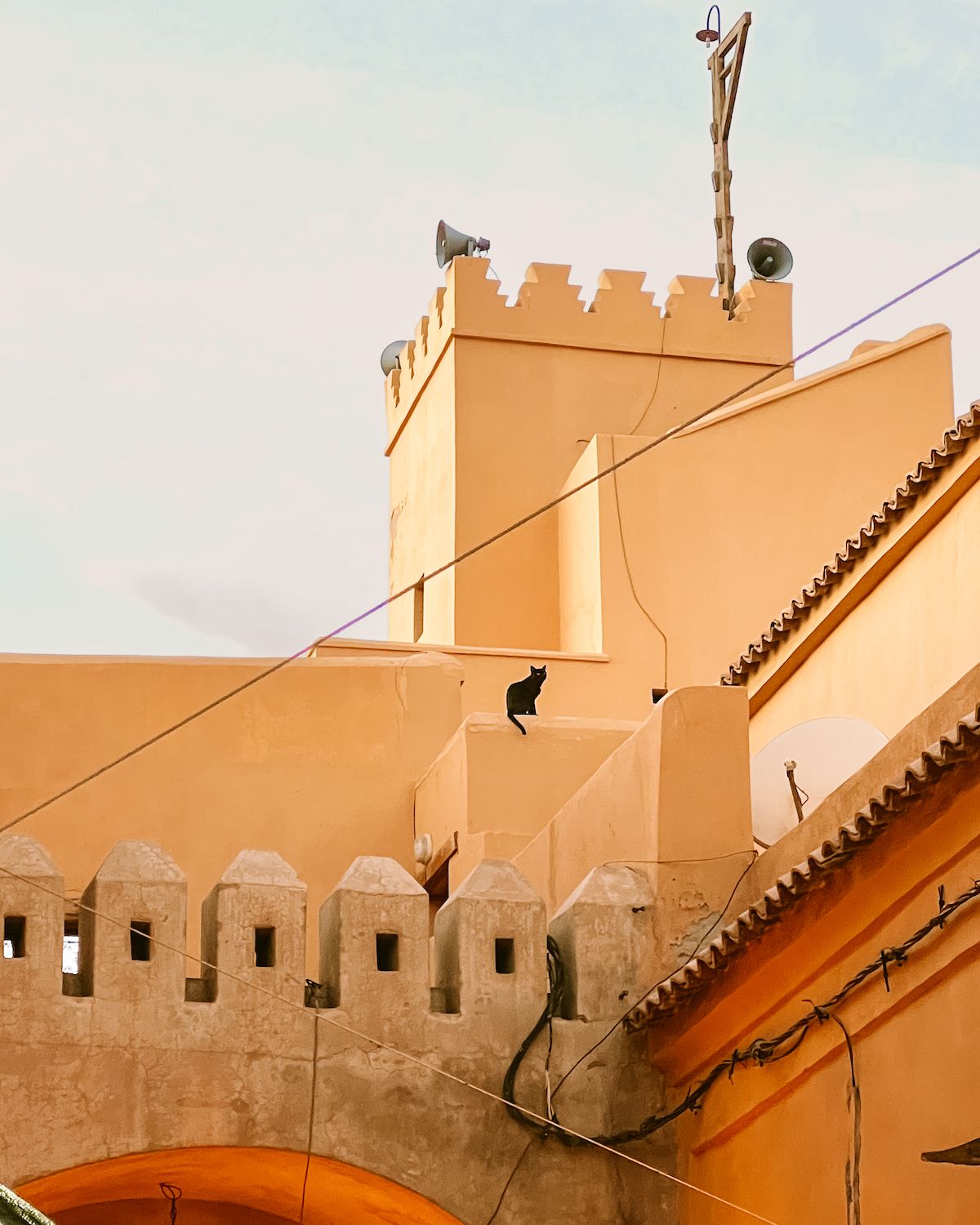 1. Always carry small bills
This will make negotiating taxis and paying for goods easier. Sometimes merchants/taxi drivers will say they don't have the exact change so the price goes up. Breaking larger bills often leads to higher prices, it's easier to do a deal with exact change.
2. Don't pay more than 50 dh for a taxi around the city
If you travel by taxi around the city (excluding the airport), carry exact change to make 30 dh - 50 dh. It shouldn't be more than this (including night time). If you give a 100dh it's very hard to get your change back. Taxi drivers will say whatever they can to increase the fare. Just give the exact change and leave the taxi.
3. In the souks, you can always barter, even with set prices.
Our best advice is to pay what something is worth to you and don't get too caught up on the price if it's a matter of a couple euros.
4. Make reservations for popular restaurants
Avoid disappointment by making reservations for popular restaurants in advance. Or, go around 12 pm for lunch or 7 pm for dinner if you don't have a reso.
5. Avoid getting a henna tattoo in the Medina
There are many scams associated with this, and if it's fake henna you could get permanent scarring.
6. Avoid the "nice guy" in the market giving you directions
Many times when finding a restaurant in the Medina, a local would ask us where we are going or if we needed help. This usually happened if I took out my phone to look up directions. I always ignored these people since I had a feeling it was a scam. About a week in, I started to wonder, are these people actually just trying to help? Am I being a jaded tourist?
One evening we were going to be late for one of our dinner reservations and didn't know what was the best path to take through the Medina. A local asked us where we were going and I thought to myself, I'm so curious, let's see what happens. I said "Nomad".  The man pointed down the street we should take. We said thanks and kept walking. About 20 seconds in, Ari took out his phone to see where to go next. The guy had followed us and said "here let me show you how to get there". At this point we didn't mind getting directions since we were late, and we were prepared to tip him.
Funny enough, since Ari had his phone out as the guy led us, we saw how he took us around all these small side streets that added extra time to the journey. This was his strategy to make it look like we really needed his help to find the restaurant.
Once we arrived at the restaurant, we tipped him 25 dh for the 6 minute walk (which is equivalent to about 5 coffees for locals and not a small tip). Since it was in change and not in bills, he aggressively acted offended and asked for more. We said no, walked away and he approached us again and said ok he would take the 25 dh. We handed it to him and as a last ditch effort he let it drop on the ground in front of everyone to make a scene and make us feel bad as he picked it up off the ground. Lesson learned, I'll go with "jaded tourist" next time and not press my chances!
When we got upstairs to the restaurant, we looked up this scam and saw this happens all the time with the "nice guy" becoming aggressive and saying it's not enough of a tip. We even overheard a group of women the night after talking about how it happened to them too.
If someone approaches you asking where you are going, don't make eye contact and just keep walking.
7. Don't be charmed by the snake charmers
It is well documented that these people treat the snakes very poorly, so avoid the temptation and don't let their iconic performance charm you into supporting them.
8. Try a nos-nos if you're a latte or cappuccino drinker
A nos-nos is half espresso, half steamed milk. Locals will probably giggle at your pronunciation of it.
9. Try Kefta Tagine and Pigeon Pastilla
These were two of our favourite Moroccan specialties. Served in a tagine, Kefta are meatballs seasoned with Moroccan spices in a spiced tomato sauce. Pigeon Pastilla is a sweet and savoury phyllo pastry made with pigeon and egg, and sprinkled with cinnamon and sugar.
We hope you enjoy your 3 days in Marrakech!
Combine Marrakech with a trip to the Atlas Mountain or Essaouira, or both!
---
More Marrakech guides:
---
Start planning your trip to Morocco
---
Save and pin this 3 day Marrakech itinerary for later