With sweltering temperatures during summertime, you'll want to be smart about what activities you do in Abu Dhabi. We list 11 fun things to do in Abu Dhabi in summer that won't break you into a sweat.
From refreshing places outdoors to unique activities inside, we cover what to do in Abu Dhabi in hot weather.
Overview: What to do in Abu Dhabi in Summer
Disclosure: Some of the links below are affiliate links, meaning at no additional cost to you, we will earn a commission if you click through and make a purchase. We only recommend products or services we have used or that we believe will add value to our readers. Thank you for supporting us!
Getting around Abu Dhabi in Summer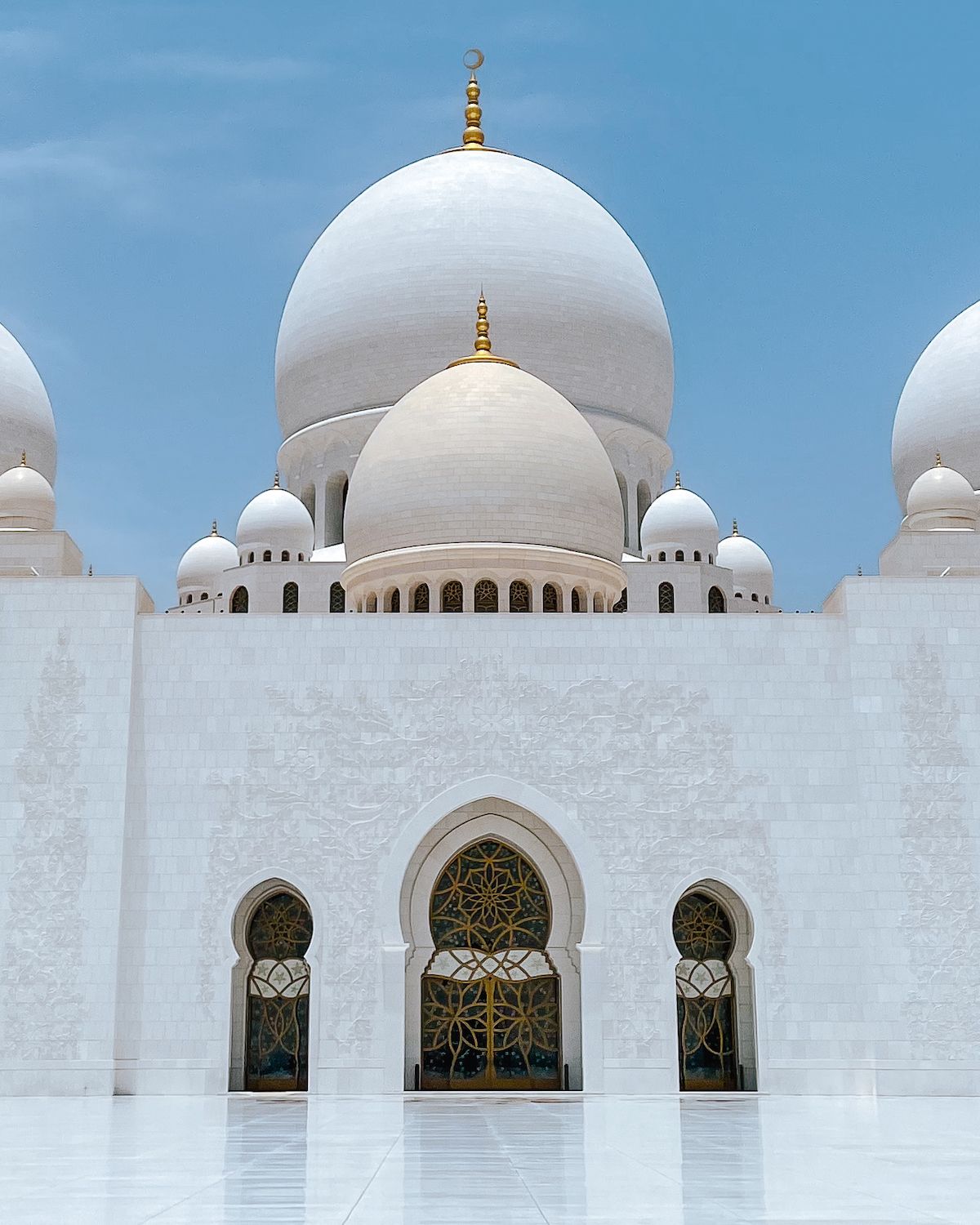 Taxis are your best bet for getting around Abu Dhabi since the city is spread out across different islands. This also means no blistering heat catching the bus.
Usually, we're cautious about taking taxis because we've been ripped off so many times, but in Abu Dhabi, all of our taxi drivers used the meter, even without us asking! Interestingly, Uber is a bit pricier than regular taxis in Abu Dhabi. Taxis are easy to find everywhere, but it's good to know Uber is an option if you need it.
✔️ Top tip: Carry some cash for taxi payments. Even though card payments are getting more common, our drivers still asked for cash.
Getting from Abu Dhabi Airport to your hotel
Taxis are easy to grab outside of the airport, but if you prefer having a friendly face waiting for you at the arrival gate, consider booking an airport transfer with
Welcome Pickups
. They partner with the best English-speaking local drivers.
Where to stay in Abu Dhabi in Summer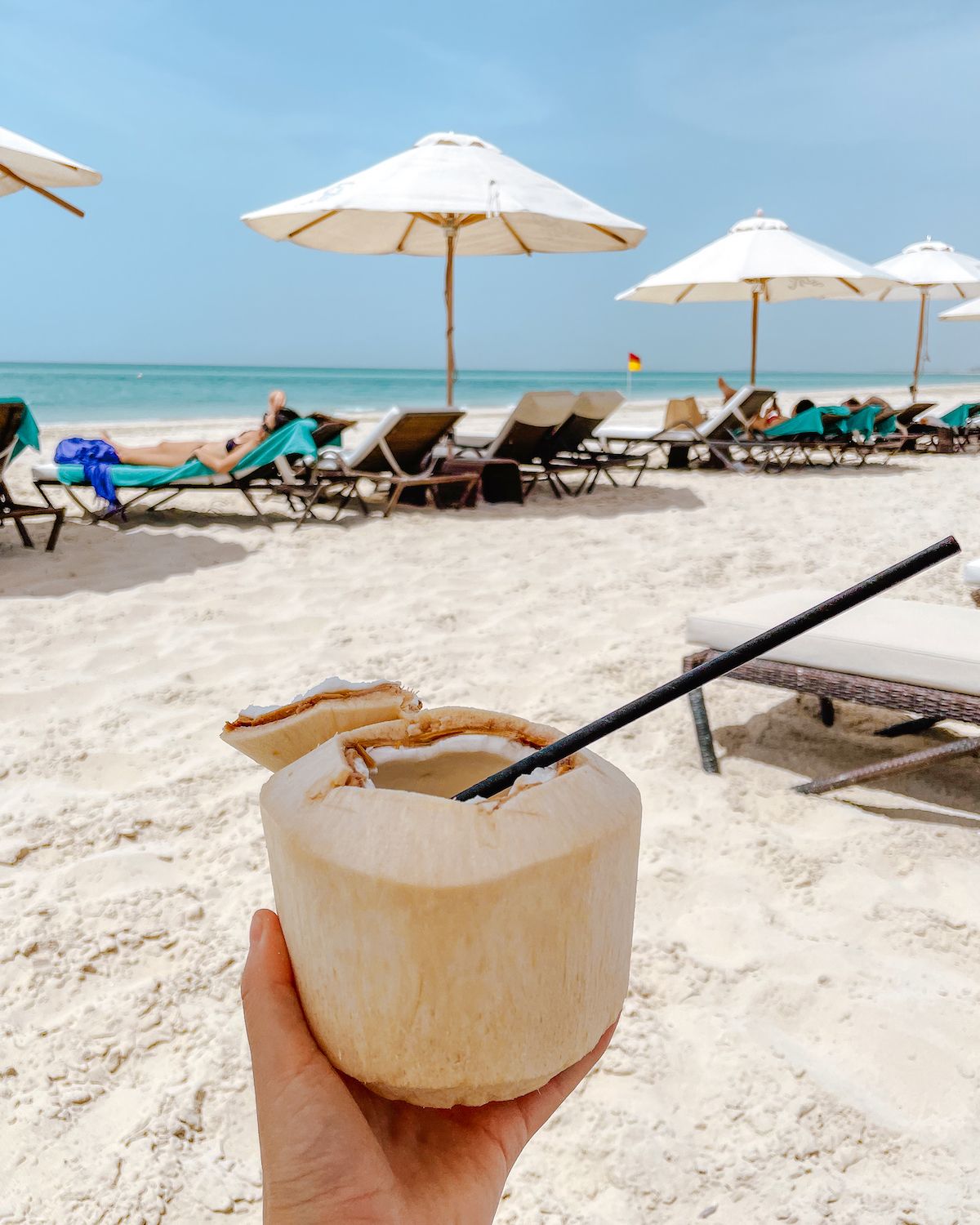 For your summer trip to Abu Dhabi, we recommend staying at a beachfront hotel on Saadiyat Island. Beat the heat and take a dip in the sea at their private white-sand beach.
Our top beachfront hotel picks on Saadiyat Island:
But, if those beachfront hotels are a bit too pricey, staying downtown near Corniche Beach is a great alternative. You'll be close to the action and you can still hit the public natural beaches on Saadiyat Island nearby. Plus, most hotels downtown have their own pools to keep you refreshed.
Our top hotel picks downtown Abu Dhabi with outdoor pools:
Check out more places to stay in Abu Dhabi for your summer visit
9 Best Things to Do in Abu Dhabi in Summer
1. Go for an early morning swim before it gets too hot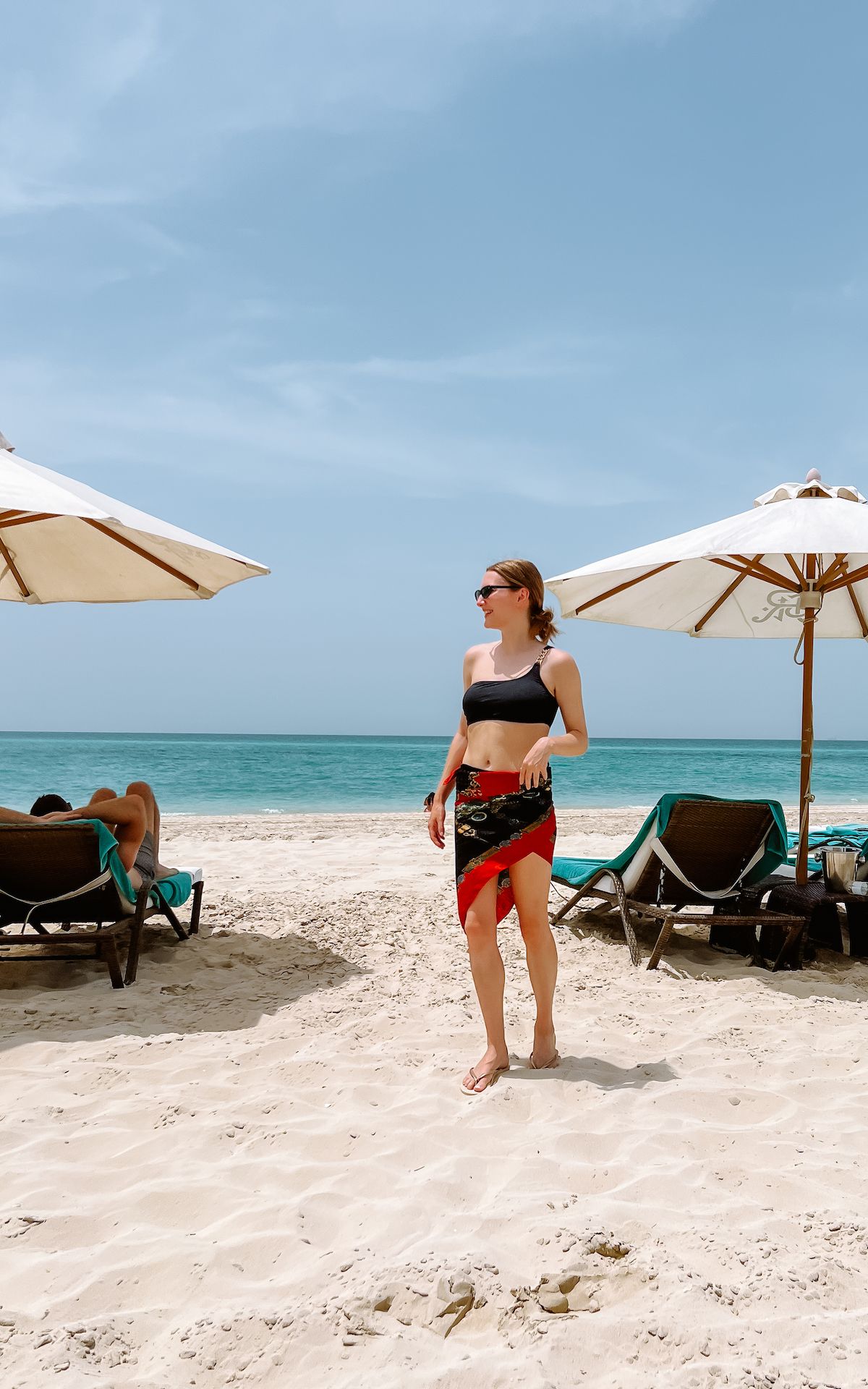 Temperatures typically soar over 40 degrees during the daytime in summer. Get up early and go for a morning swim when temperatures are cooler. Afterwards, sit under the shade of your beach umbrella and order a refreshing coconut or smoothie.
Saadiyat Island is home to Abu Dhabi's nicest natural beaches, with pristine white sand and expansive sea views. If you're not booked into a beachfront hotel on Saadiyat Island, no worries, there are public beaches available for an entrance fee.
Consider checking out Kai Beach or Soul Beach. Alternatively, Saadiyat Beach Club provides extra amenities like swimming pools and private cabanas for a more luxurious beach experience.
2. Walk through the impressive Presidential Palace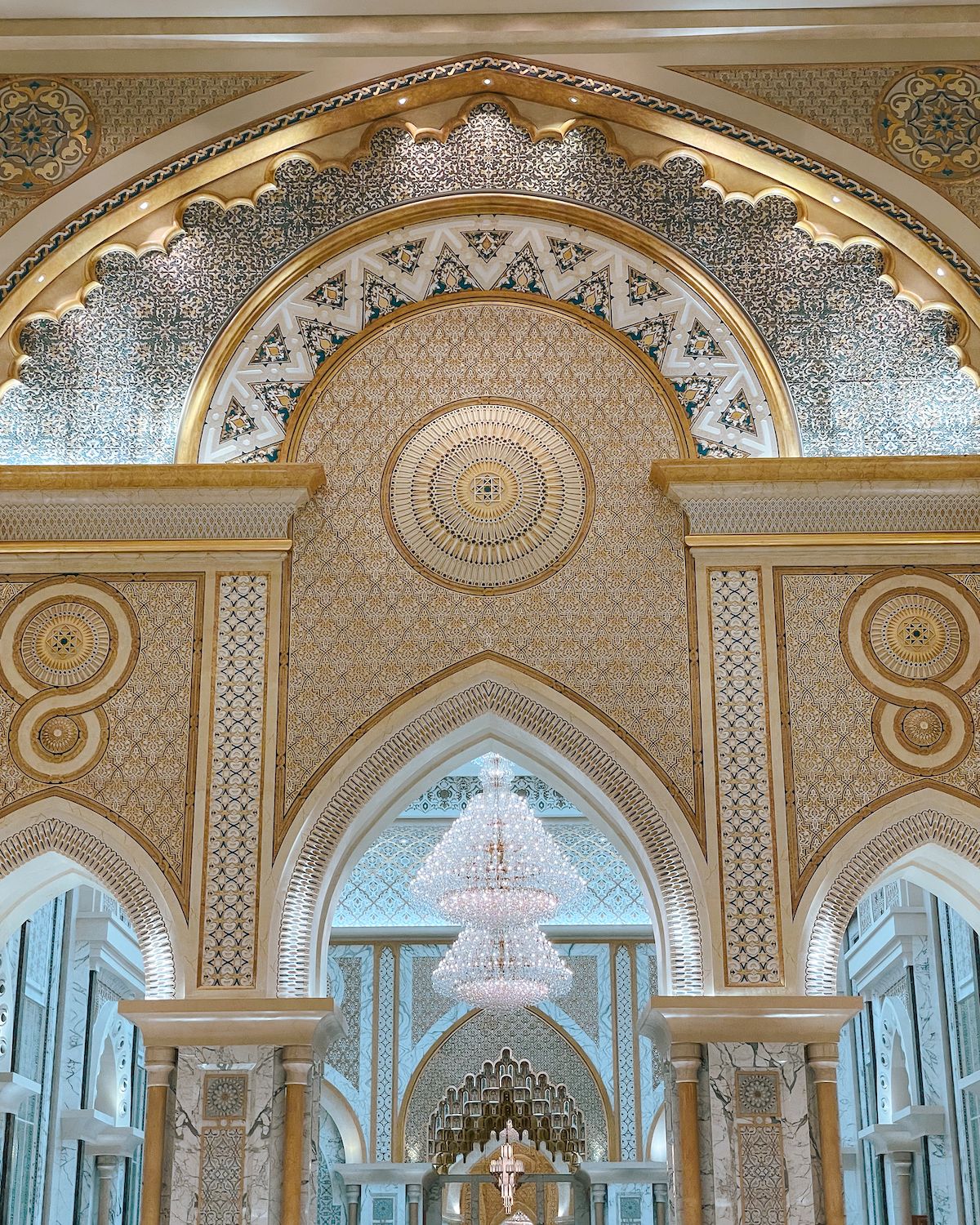 Exploring Qasr Al Watan in Abu Dhabi is a must for architecture and culture enthusiasts. It was one of our favourite activities we did in Abu Dhabi.
The best part is that it's the inside of the palace you really want to see here, where the sun isn't blazing.
Make a mad dash outside across the sun-blazing courtyard to the entrance of the Presidential Palace and feel immediate relief once the air conditioning hits. Inside, the grand rooms will captivate you with their high ceilings, ornate chandeliers and intricate geometric patterns.
What makes Qasr Al Watan so unique is that it's a working presidential palace. We had the opportunity to explore various spaces, such as the press room, the presidential banquet hall and the presidential meeting room. This immersive experience felt like a genuine cultural experience.
Visiting
Qasr Al Watan
is one of the best cheap things to do in Abu Dhabi in summer. Tickets are 65 AED (~ $17.75 USD) per person and include a roundtrip shuttle bus to the front courtyard.
3. Enjoy a tasty Lebanese lunch at Beruit Su Mer with sea views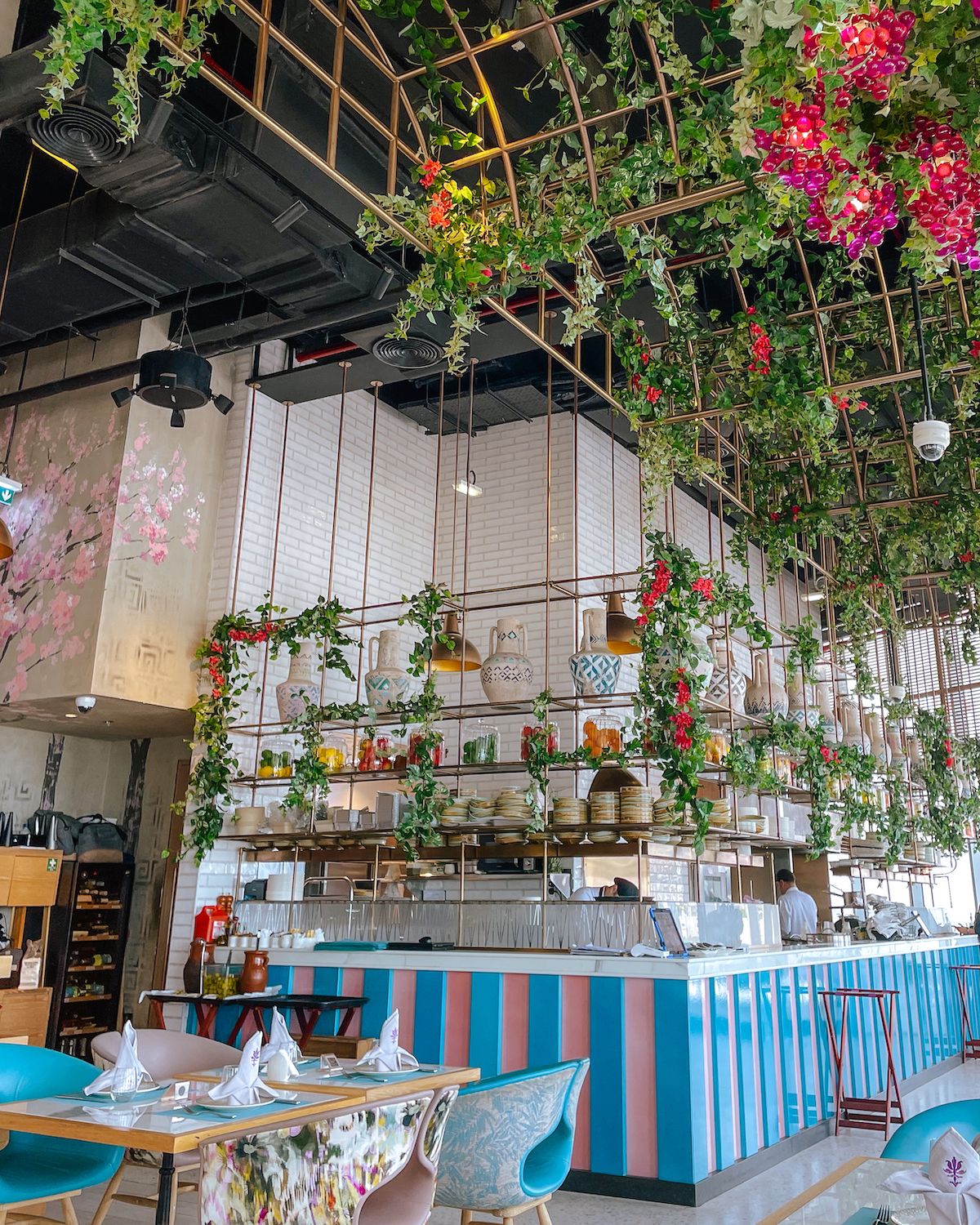 Eat an authentic Lebanese lunch at Beruit Su Mer on the sea. Through the windows you get sea views, but with a cold blast of air conditioning. Awarded a Bib Gourmand designation by the Michelin Guide, it promises top-notch food without high prices.
4. Walk through the Emirates Palace Mandarin Oriental at night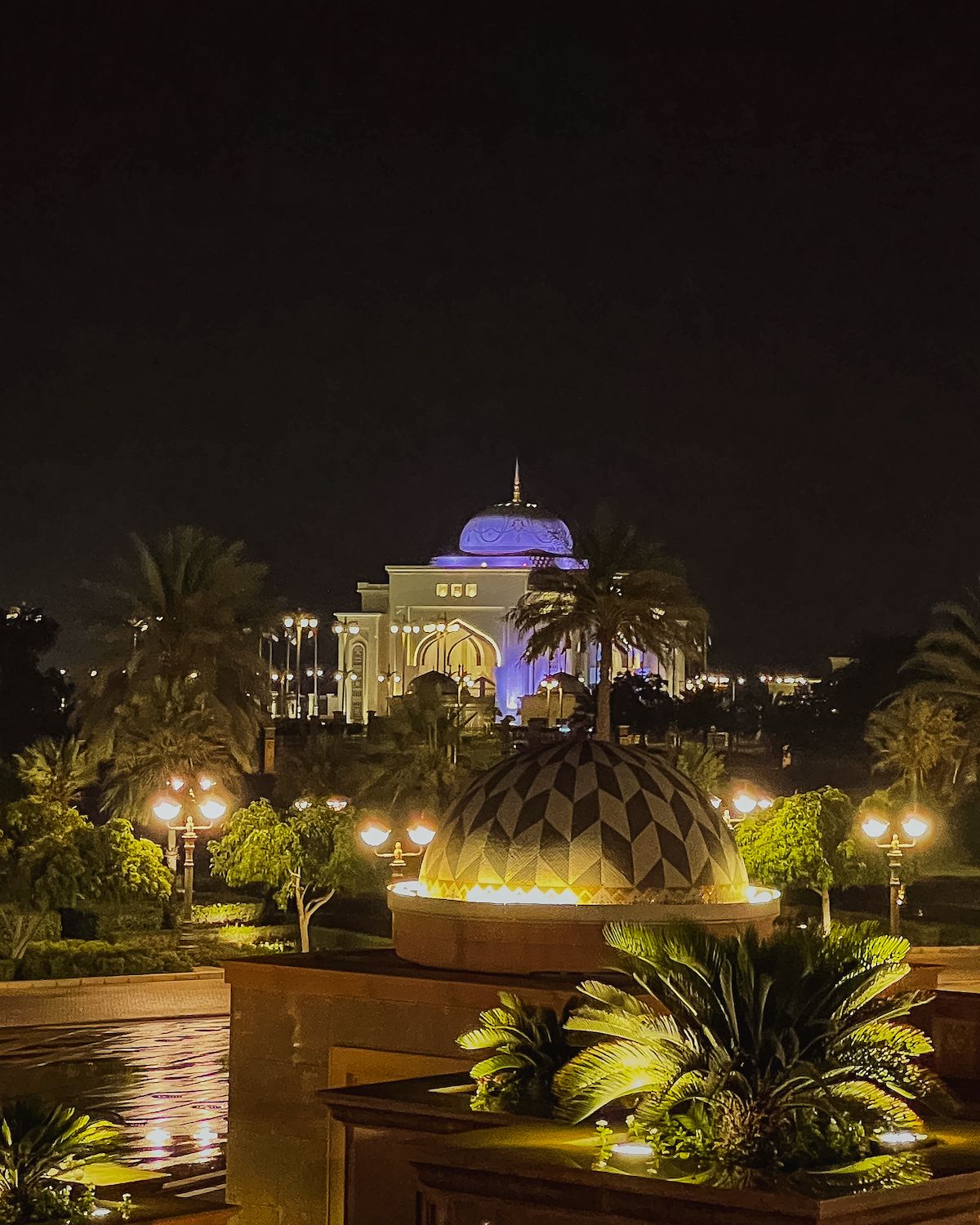 The Emirates Palace Mandarin Oriental is one of the most luxurious and alluring hotels in Abu Dhabi. When we arrived at night, it felt like stepping into a scene of an Arabian movie.
While en route to Hakkasan for dinner, we took a spontaneous walk through the Emirates Palace Mandarin Oriental and realized it's a must-see location. We even spotted a hotel guest dressed in exquisite attire that looked like royalty.
✔️ Top tip: After your visit, head back to the main street to see a fantastic view of the five Etihad Towers beautifully illuminated at night.
5. Try authentic Emirati cuisine
Try the UAE's traditional local cuisine called Emirati cuisine. We recommend making the trip to Meylas to try their authentic Emirati recipes. A fun fact: they started out as the country's first food truck. Their dishes are a great value and they serve generous portions.
✔️ Top tip: Meylas is just a 10-minute drive from the Sheikh Zayed Grand Mosque, so they are convenient activities to combine.
6. Watch the sunset at the beach on Saadiyat Island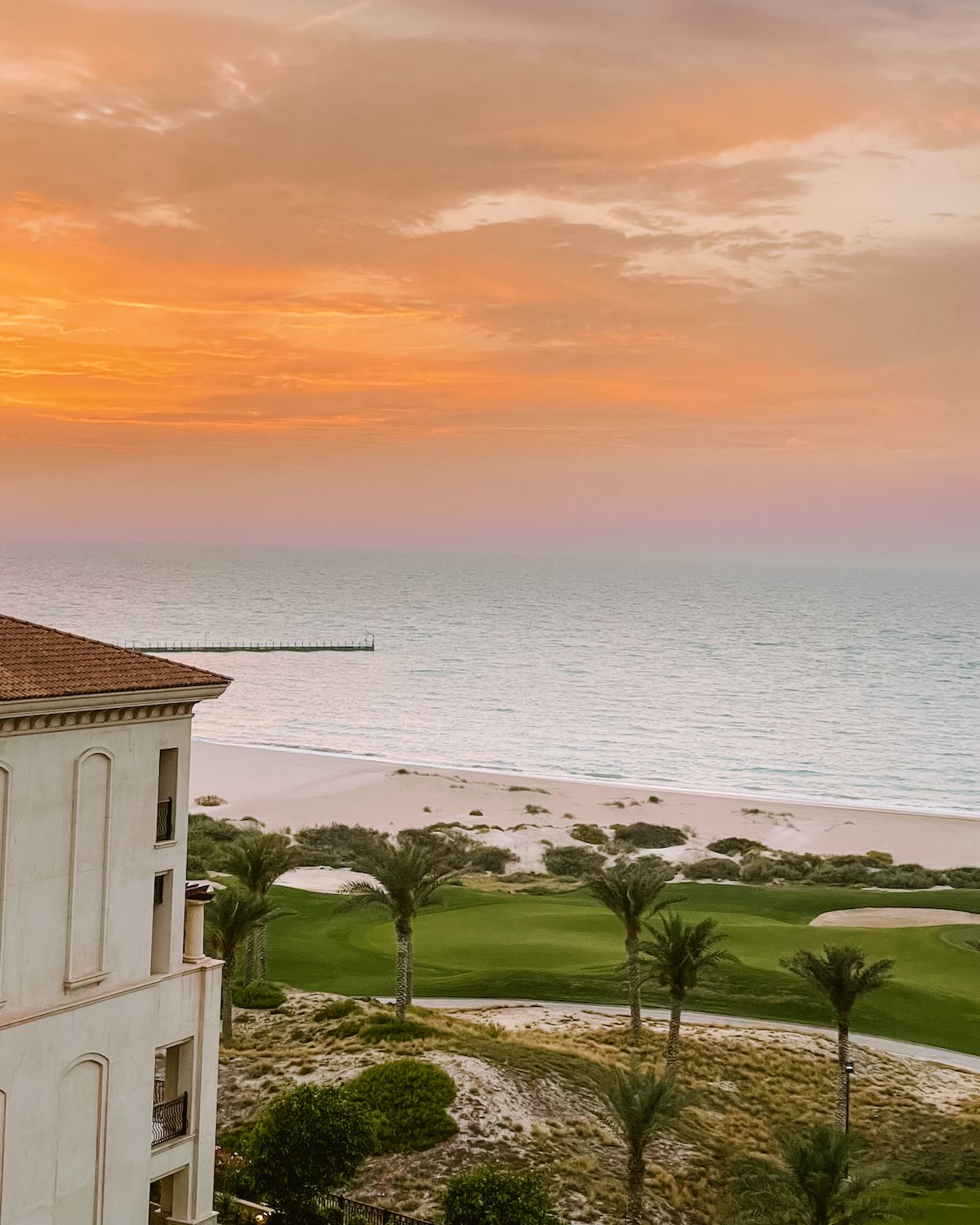 Watch the sunset on the beach on Saadiyat Island when it starts to take a dip in temperature. Whether you're lounging on the beach, sipping a refreshing drink at a beachfront bar, or strolling along the water's edge, you'll see the island's white-sand beaches come alive with warm hues of orange and pink and a tranquil glow over the sea.
7. Dress up and dine at a fabulous restaurant in the Michelin Guide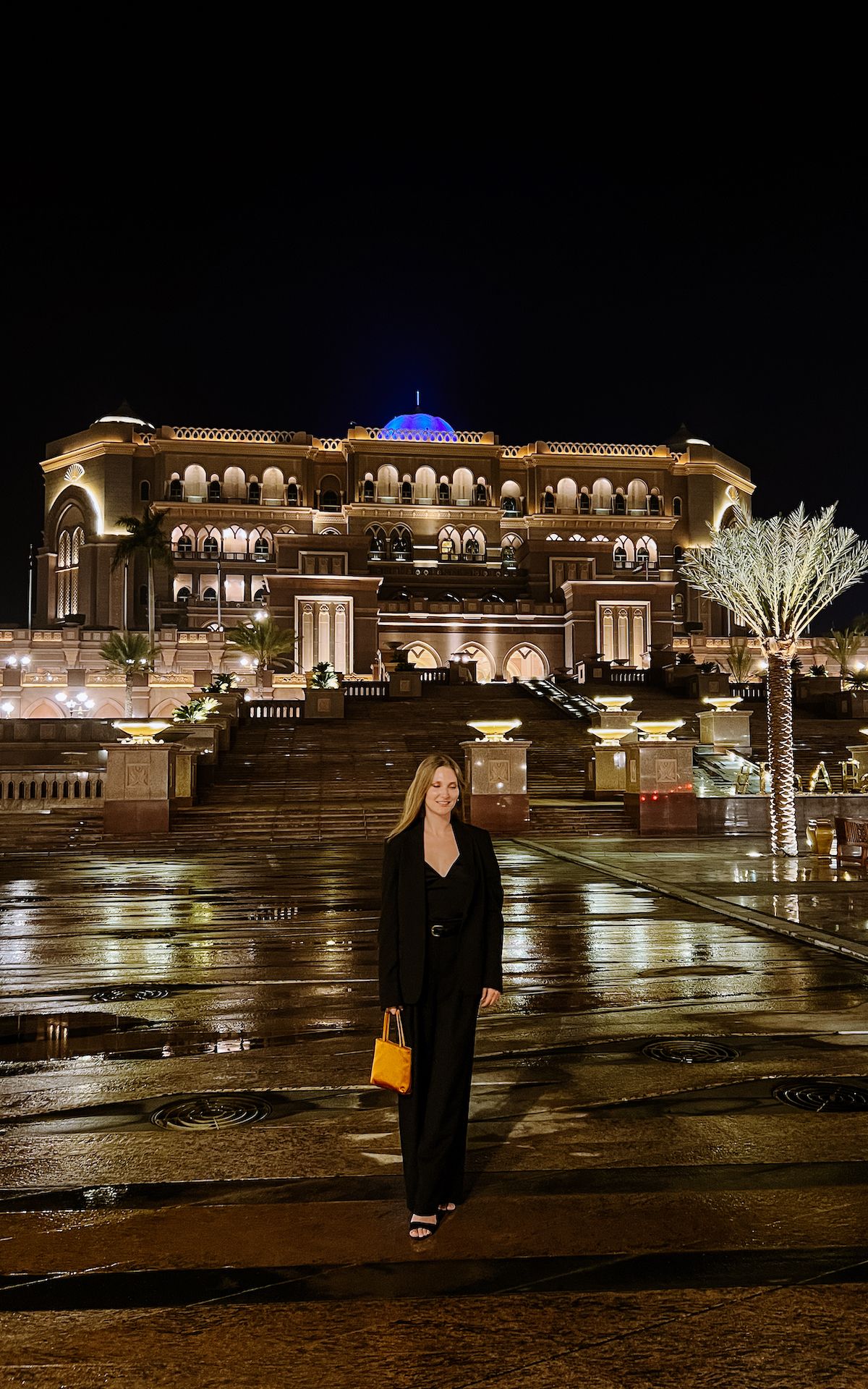 Abu Dhabi has a vibrant culinary scene, with a variety of top-notch restaurants featuring world-class chefs and a fusion of cultural flavours. Treat yourself to an exciting dining experience at one of the restaurants recognized in the Michelin Guide. Dressing up and dining out is a fun romantic thing to do in Abu Dhabi as a couple.
We had a blast at Hakkasan, a trendy spot known for its Chinese cuisine and seductive atmosphere. For more options, take a look at the Michelin Guide's list of restaurants. And don't worry, just because they're in the Michelin Guide doesn't mean they're expensive. You'll see a $ rating that gives you an idea of how pricey or budget-friendly each place is, ranging from $ to $$$$.
8. See contemporary and ancient art at the Louvre Abu Dhabi
Known as "France's largest art project abroad", the Louvre Abu Dhabi displays both contemporary and ancient art with a focus on stories of humanity. Built in 2017, the architecture of the building is a sight to see in itself. It looks like a UFO rising out of the water. It's a fun way to spend your time indoors - with air conditioning!
This is one of the best cheap things to do in Abu Dhabi considering you'll be there a few hours. You can easily buy your
tickets through GetYourGuide,
which have free cancellation up to 24 hours in advance.
You can also buy combined tickets for the Louvre Abu Dhabi and Qasr Al Watan and save.
9.Visit the Sheikh Zayed Grand Mosque in the morning or evening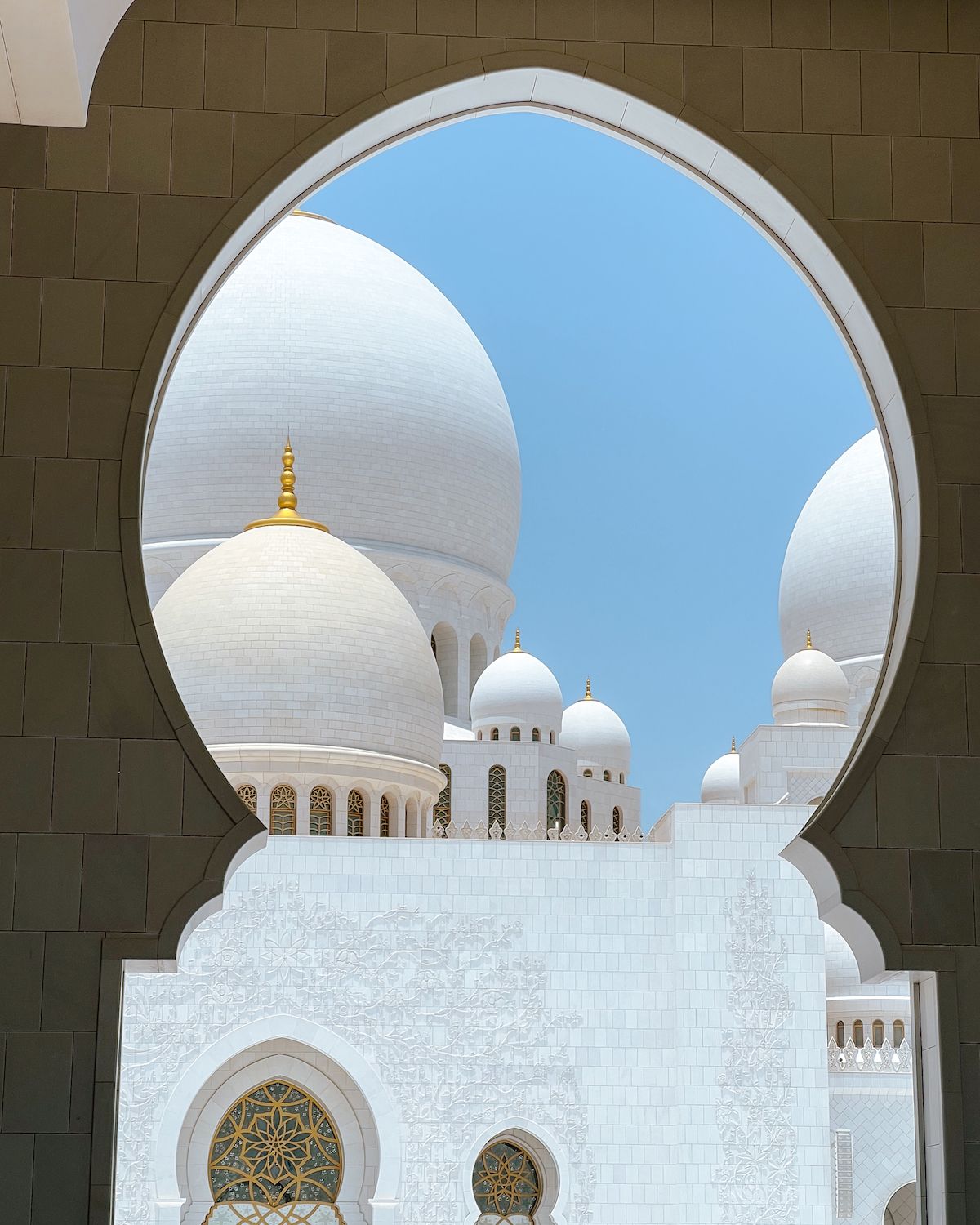 While the Presidential Palace is undeniably impressive on the inside, the Sheikh Zayed Grand Mosque takes the prize for its exterior, with immaculate white domes, elegant minarets and intricate Islamic design elements. We gasped when we first saw it from our taxi.
Visiting the Sheikh Zayed Grand Mosque is one of the best free activities to do in Abu Dhabi. Just make sure you don't visit in the middle of the day when the sun is scorching. Most of the tour is outside, so with the mosque's strict dress code, you'll be covered head to toe in clothes and sweat. We went at the end of May and can't imagine what it would be like during July or August. Instead, visit in the morning or evening.
✔️ Top tip: reserve your free ticket online in advance, so you're not rushed once you're there. Also, look at the official dress code guide instead of pressing your luck. They are strict!
10. Drink cocktails, listen to music and people-watch at Zuma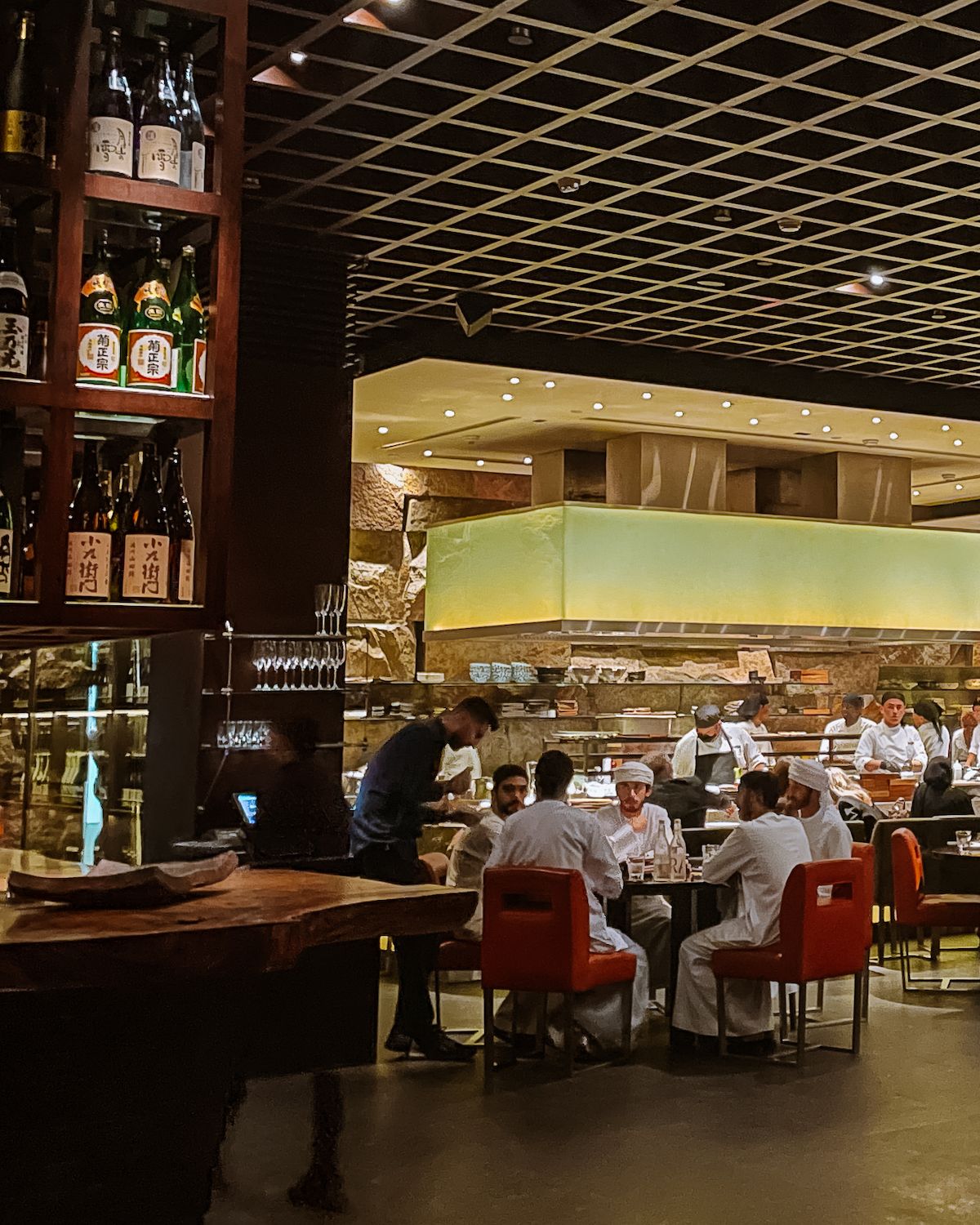 We didn't expect that Zuma, a popular global restaurant chain, would offer us such a unique cultural experience.
In Abu Dhabi, you'll notice the city's rich cultural diversity, with roughly 90% of the population being expats. That's why we were surprised when we descended in the glass elevator to Zuma and discovered round tables filled with Emiratis in white and black robes, all enjoying an evening out. The lively atmosphere and DJ playing Arabic-infused house music made it feel like we had been invited to an exclusive party.
However, Zuma's upscale dining experience comes with a hefty price tag. Even their basic items, like a $22 USD shrimp tempura roll made up of just five pieces, left us astonished. Instead, we recommend sitting at the bar to sip cocktails, soak in the atmosphere and people-watch. Zuma welcomes walk-ins for drinks and snacks at the bar.
11. Visit one of Abu Dhabi's exciting theme parks
Like Dubai, Abu Dhabi has some exciting theme parks of its own. They are a fun activity to do in Abu Dhabi with family.
Check out these theme parks in Abu Dhabi. GetYourGuide has an option where you can buy a ticket that includes access to 2/4 parks of your choosing.
Browse more fun activities in Abu Dhabi.
What to wear in Abu Dhabi in summer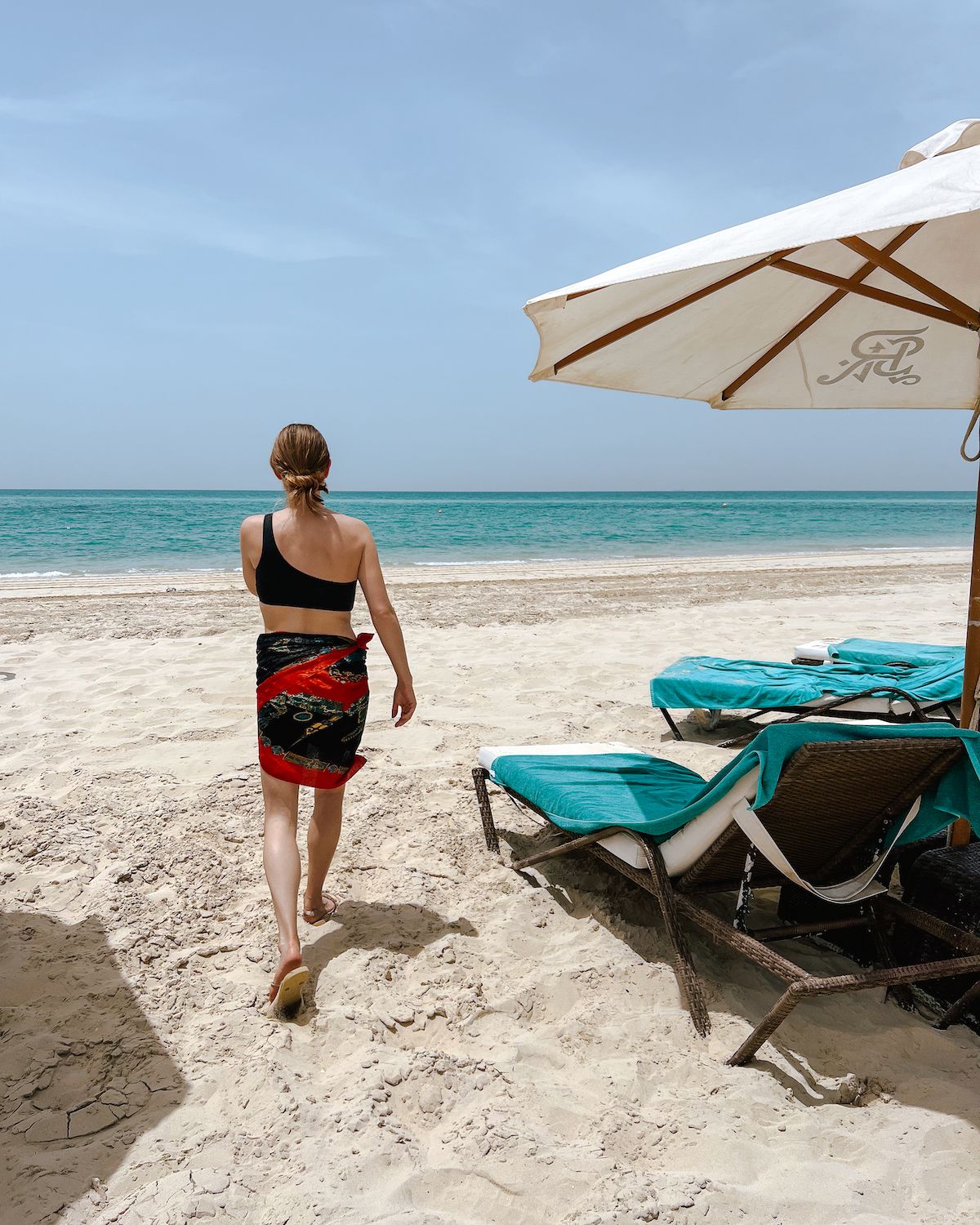 Abu Dhabi is more traditional than Dubai, so it's recommended to cover your shoulders and knees when outside your hotel. At our hotel and the beach however, we felt comfortable wearing beach attire and bikinis.
🧶 Wear materials that keep you cool: like linen, lightweight cotton, silk, and tencel. Avoid polyester. Leggings are wayy too hot. Wear loose clothes!
👘 My favourite item I bring everywhere with me to hot destinations is Blue Nude's silk kimonos - they keep me cool and feel so stylish.
👗 I also love these Marrakech brands for colourful flowy dresses: Norya Ayron and Topolina.
👡 Wear sandals like
Tevas
or
Birkenstocks
for daytime and dress shoes/heels for the evening.
We hope you enjoyed these fun things to do in Abu Dhabi in summer!
---
Don't miss our 1 Day Abu Dhabi itinerary and 2 Day Abu Dhabi itinerary.
Combine Abu Dhabi with the UAE's extravagant and entertaining city, Dubai. See our 2 Day Dubai itinerary.
---
Get started on booking your trip to Abu Dhabi
---
Extend your itinerary with a trip to the UAE's next door neighbour, Oman. This country has stunning natural sights and is the perfect destination for a road trip. See our 1 week Oman road trip itinerary.
---
Save and pin these things to do in Abu Dhabi in summer for later: