If you have just one day in Abu Dhabi, we cover the best things to do and see in the UAE's capital city.
Your Abu Dhabi 1 day itinerary will be filled with fun experiences, from the nicest white-sand beaches to distinctive dining spots and architectural sights you don't want to miss. We also cover the best area to stay for your one day in the traditional, yet luxurious city.
If you have more time to spare, don't miss our 2 day Abu Dhabi itinerary.
Outline: One Day in Abu Dhabi
Morning: Walk through the Presidential Palace

Daytime: Eat a delicious Lebanese lunch by the sea and swim and sunbathe on a natural white-sand beach.

Evening: Dress up and walk through the Emirates Palace Mandarin Oriental, treat yourself to a fabulous dinner, and sip cocktails and people-watch at a happening night spot.
Disclosure: Some of the links below are affiliate links, meaning at no additional cost to you, we will earn a commission if you click through and make a purchase. We only recommend products or services we have used or that we believe will add value to our readers. Thank you for supporting us!
Best time to go to Abu Dhabi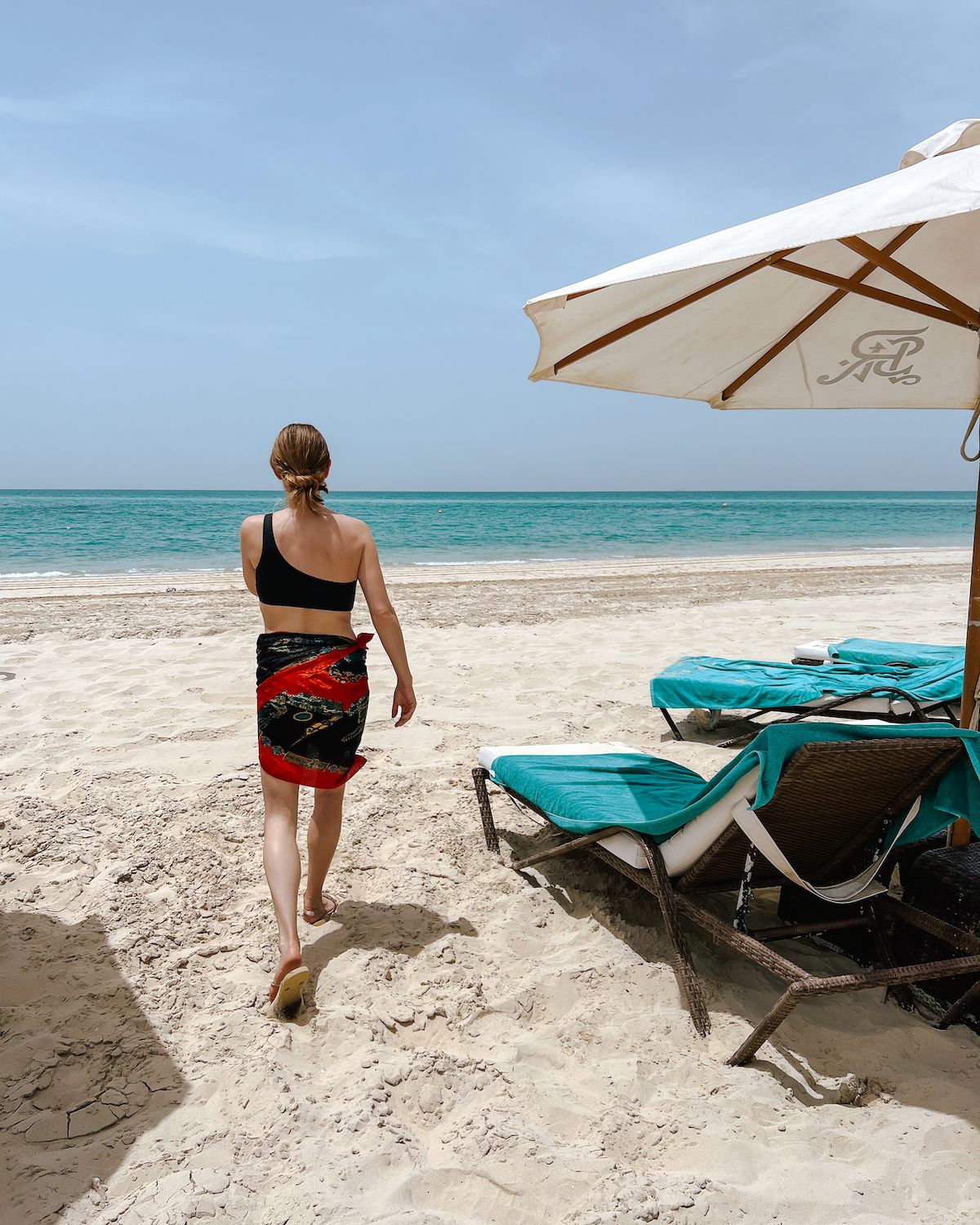 The best time to go to Abu Dhabi is from October to May. Starting June, the temperature shoots up to 40°C (140°F). When we went in late May, it was already pretty hot, so we can only guess how intense it gets in July and August. January is the coolest month in Abu Dhabi, but it's still nice, with highs of about 24°C (75°F).
What area to stay for your one day in Abu Dhabi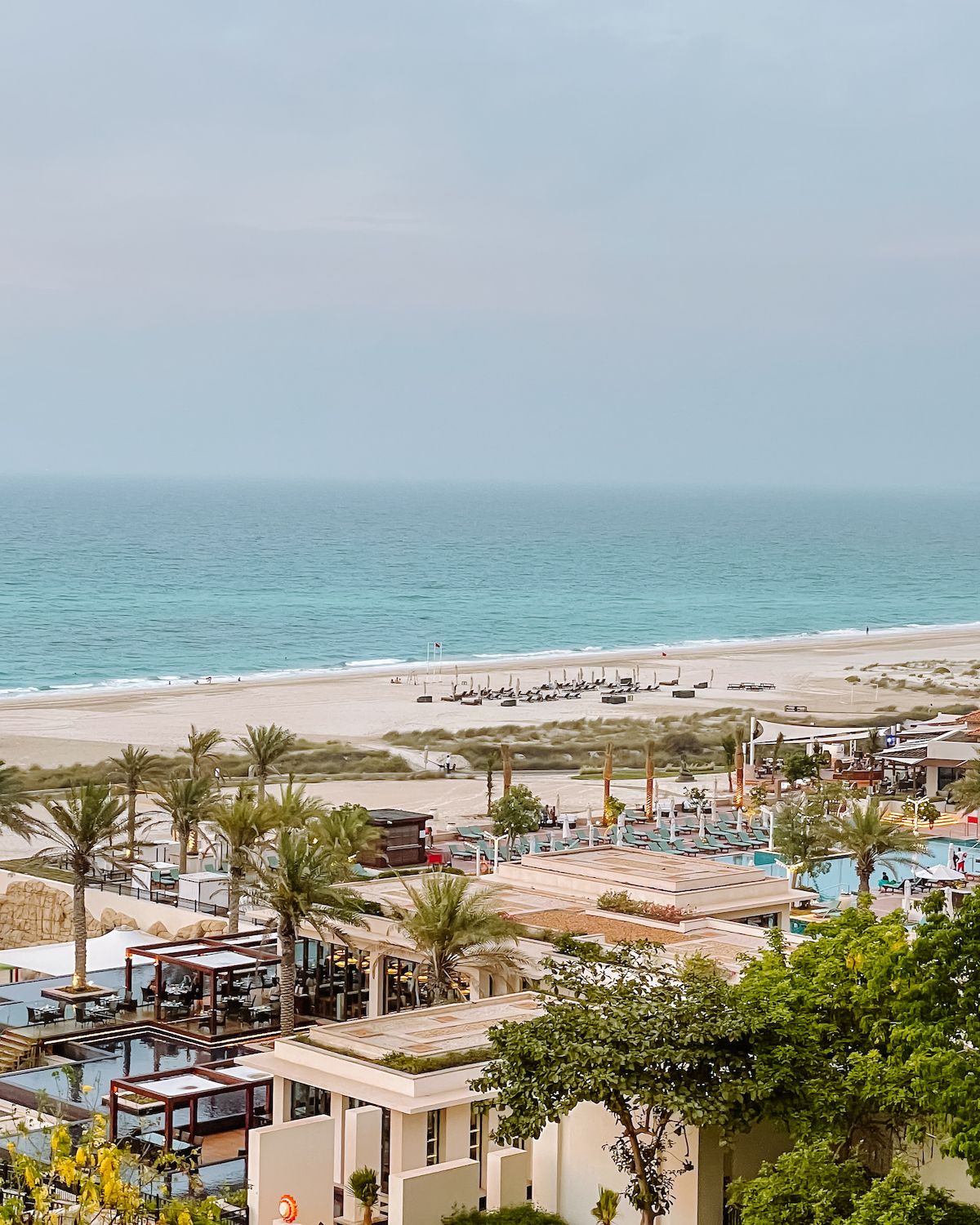 For your one day in Abu Dhabi, we recommend either staying on Saadiyat Island or downtown near Corniche Beach.
Saadiyat Island is home to some of the city's most stunning natural white-sand beaches that open up to the beautiful sea. Getting from Saadiyat Island to downtown is just a short 15-minute drive.
Our beachfront hotel picks on Saadiyat Island:
If the beachfront resorts on Saadiyat Island don't fit within your budget, we recommend staying downtown near Corniche Beach. You will be central to many sights and can still enjoy the public beaches on Saadiyat Island without booking a beachfront hotel.
Our top hotel picks downtown Abu Dhabi:
🛏️
Browse more stays in Abu Dhabi
One Day in Abu Dhabi
Abu Dhabi 1 Day Itinerary
Morning
Start your morning with a walk through the Presidential Palace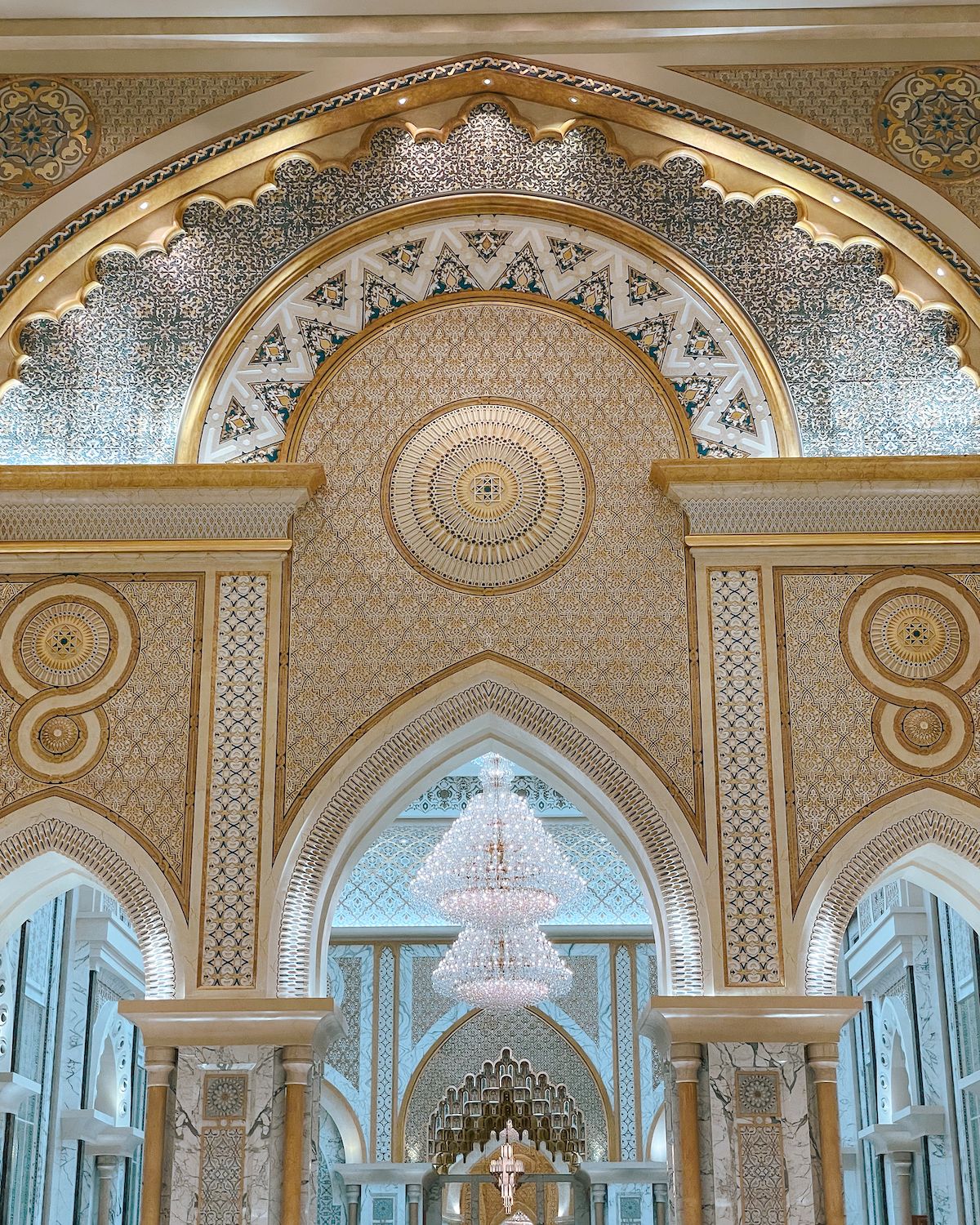 The one activity we highly recommend for experiencing a blend of architecture and culture in Abu Dhabi is walking through Qasr Al Watan.
Our visit turned out to be way more fun than we expected. At first, we thought we would just take a few photos of the outside, but it took an unexpected turn when we hopped on a shuttle leading us to the entrance of the magnificent building.
The real magic happens inside the palace. It's a showstopper with its spacious rooms, towering ceilings, grand chandeliers, intricate geometric patterns, and white granite and limestone. What makes Qasr Al Watan unique is that it's a functioning presidential palace. We got to see the press room, the presidential banquet hall where they host important guests, presidential meeting room and grand hall. It felt like a true cultural experience.
We chose touring the Presidential Palace over the Sheikh Zayed Grand Mosque for your day in Abu Dhabi because it's less crowded and you can dress more comfortably (the palace just recommends that you cover your knees and shoulders). The mosque is very strict. You will want to change out of those hot clothes quickly and it could take time out of your day if you need to make a trip back to your hotel. The mosque's exterior is stunning, but the palace's interior is a real highlight.
We do recommend making sure you drive past Sheikh Zayed Grand Mosque on your way to or from the airport, so you can see it from the outside. It's conveniently close by.
🕌
Browse more activities with local guides in Abu Dhabi.
Daytime
Eat a delicious Lebanese lunch at Beirut Su Mer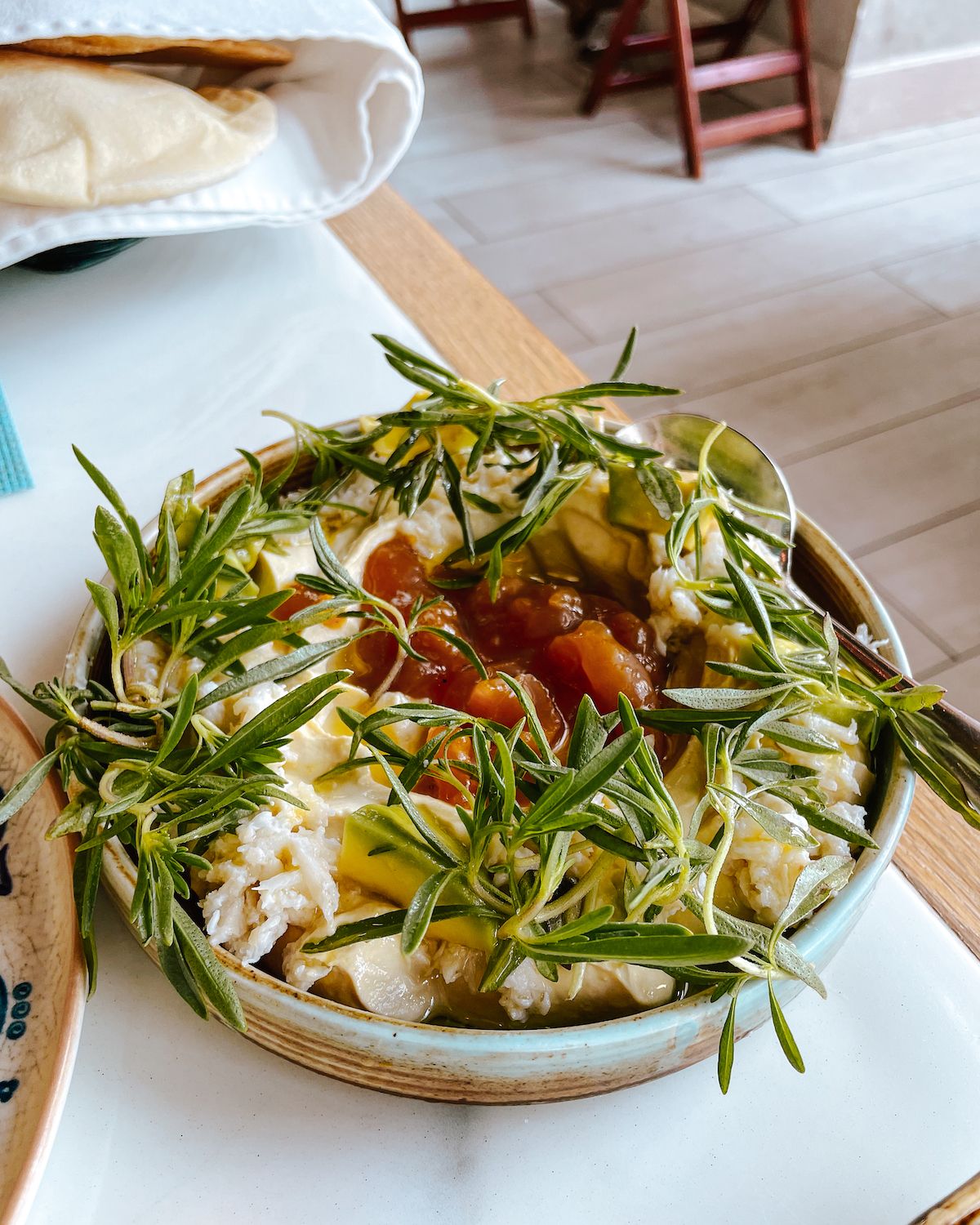 Don't miss the chance to taste some Middle Eastern flavours during your trip. One restaurant that really impressed us was Beirut Su Mer, serving up authentic Lebanese dishes right by the sea. It has a Bib Gourmand designation from the Michelin Guide, so you're in for excellent food without breaking the bank.
✔️
Top tip:
when you're crossing the bridge from downtown to Saadiyat Island, take a peek to your left, and you'll spot the
Louvre Abu Dhabi Museum
– it looks like a UFO rising out of the water!
Swim and sunbathe on Saadiyat Island's white-sand beaches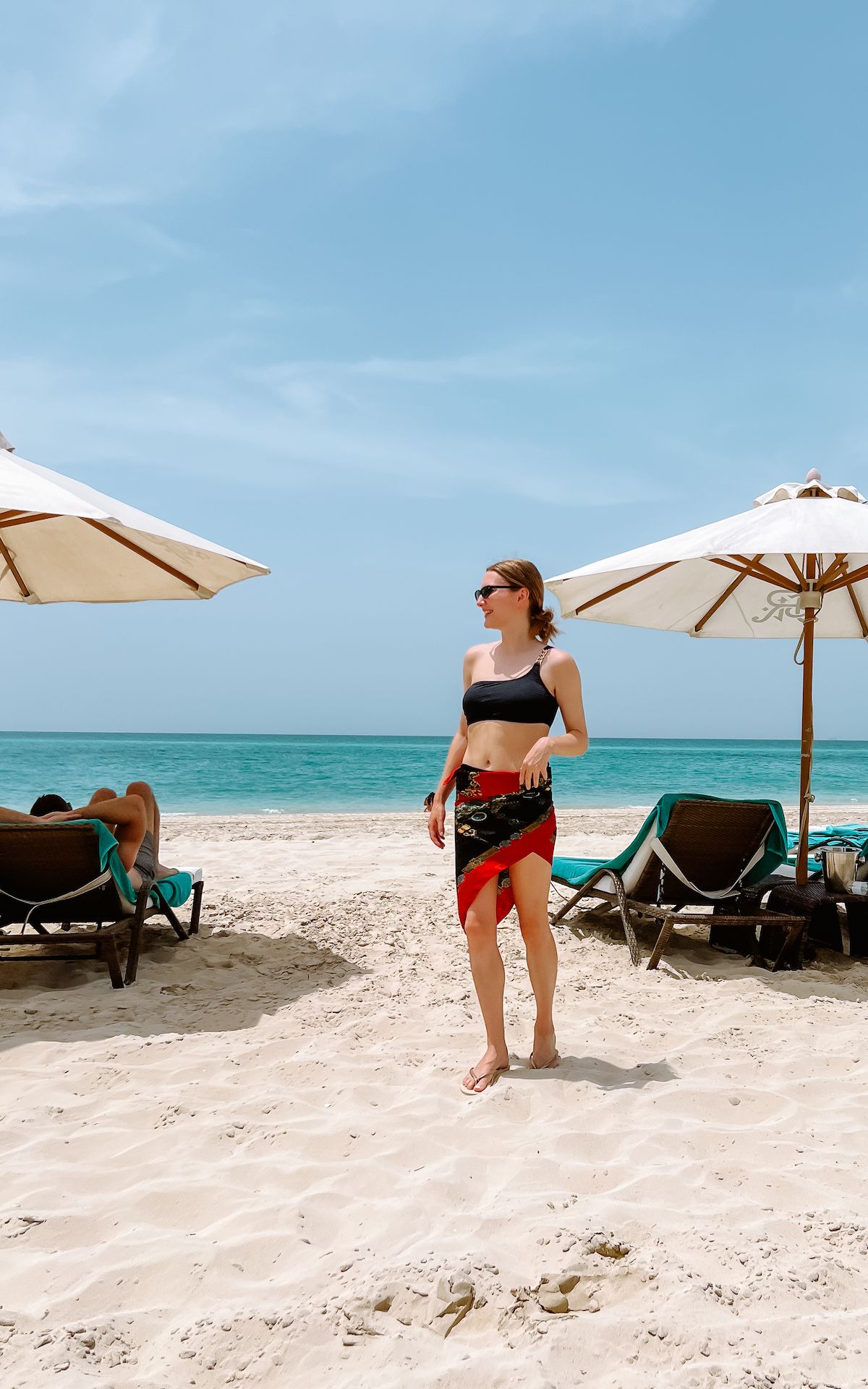 Saadiyat Island is home to Abu Dhabi's finest natural beaches with pristine white sands, turquoise waters and expansive sea views. The seawater is the warmest I've ever felt.
Comparing these beaches to Corniche Beach downtown, Corniche didn't feel as wild since there were buildings and islands across from it.
If you're staying at a beachfront resort on Saadiyat Island, you will have access to pool chairs, umbrellas and poolside service on their private beach. If you're not staying on Saadiyat Island, Soul Beach and Kai Beach are two public beaches you can choose from. Or, if you wish to have more amenities like outdoor pools and cabana chairs, check out Saadiyat Beach Club.
Evening
Dress up for an evening out and walk through the Emirates Palace Mandarin Oriental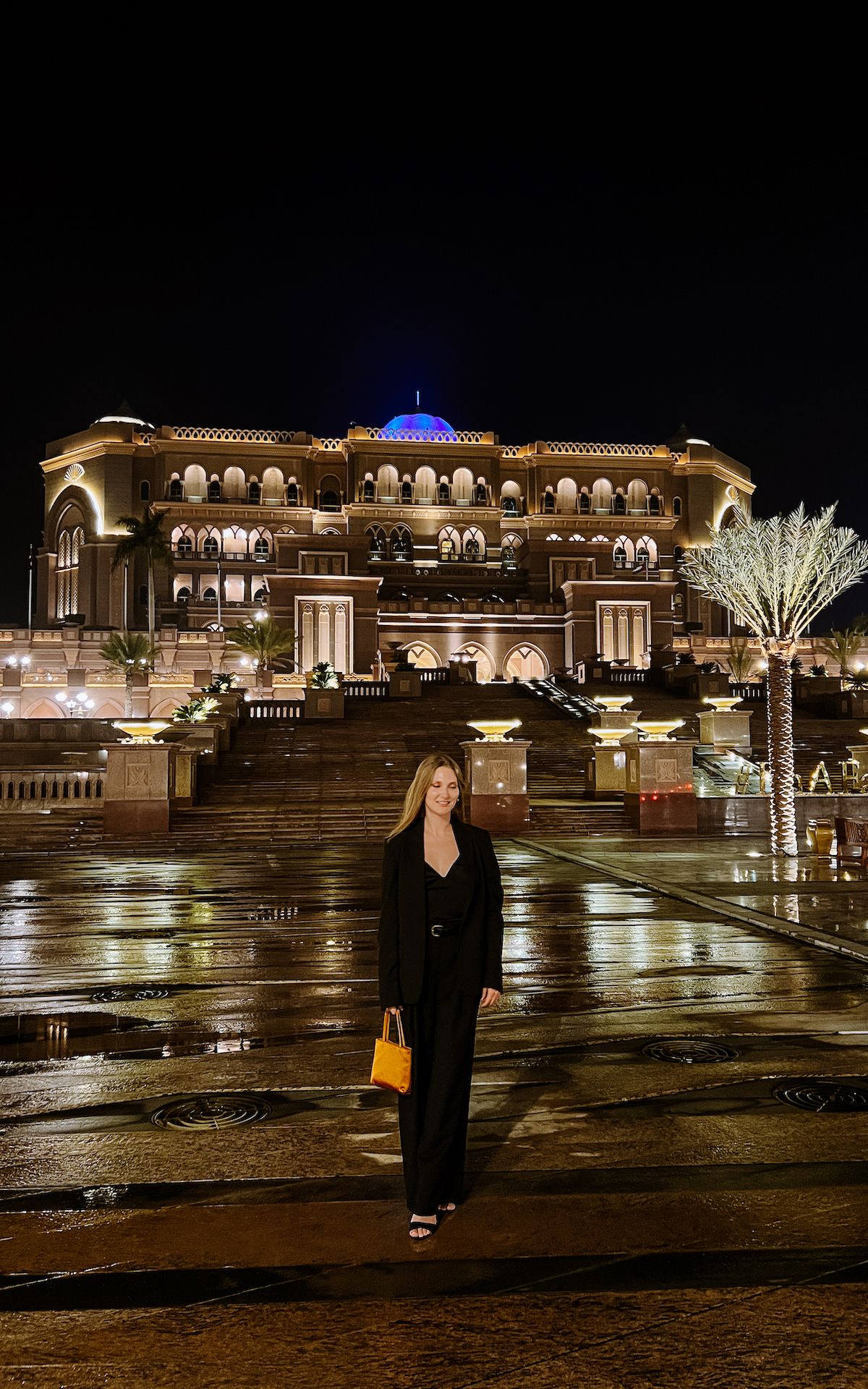 The Emirates Palace Mandarin Oriental stands out as one of the most opulent and captivating hotels in Abu Dhabi. Arriving at night, it felt like stepping into a scene of an Arabian movie.
As we headed towards Hakkasan for dinner, we spontaneously strolled through Emirates Palace and quickly realized it's a must-see. We even spotted a hotel guest who looked like royalty.
✔️ Top tip: Walk from Emirates Palace Mandarin Oriental back to the main street, and you'll be treated to a fantastic view of the five Etihad Towers illuminated at night.
Treat yourself to a fabulous restaurant in the Michelin Guide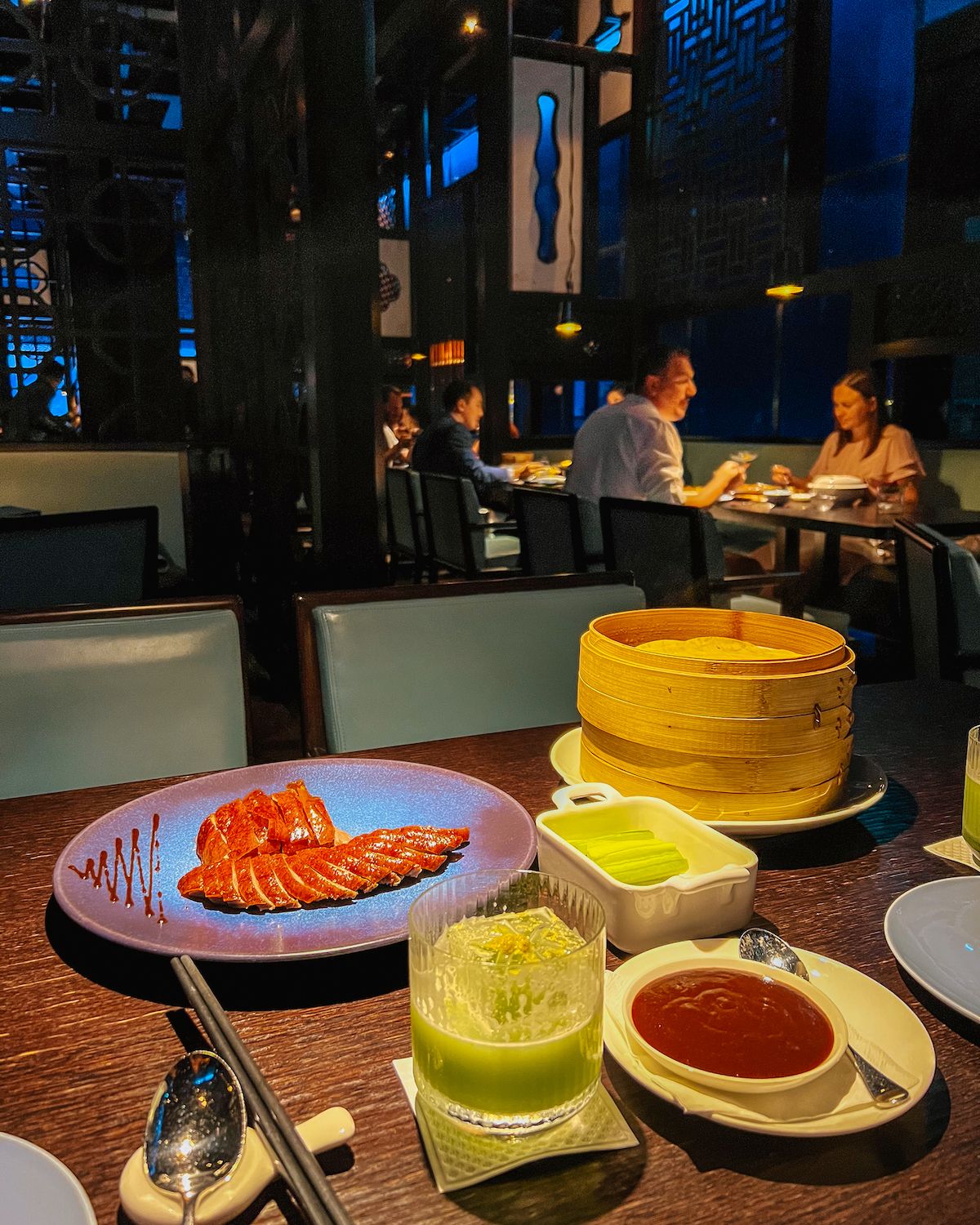 In Abu Dhabi, you'll find many top-notch restaurants with world-class chefs and a mix of cultural flavours. Treat yourself to a restaurant with amazing food and a unique atmosphere listed in the Michelin Guide.
We had a blast at Hakkasan, a trendy and atmospheric spot known for its Chinese cuisine. For more options, check out the Michelin Guide's list of restaurants in Abu Dhabi. Just because they are in the Michelin Guide doesn't mean they are necessarily expensive - take note of the $ classification ranging between $-$$$$ beside each restaurant.
Sip cocktails and people-watch at Zuma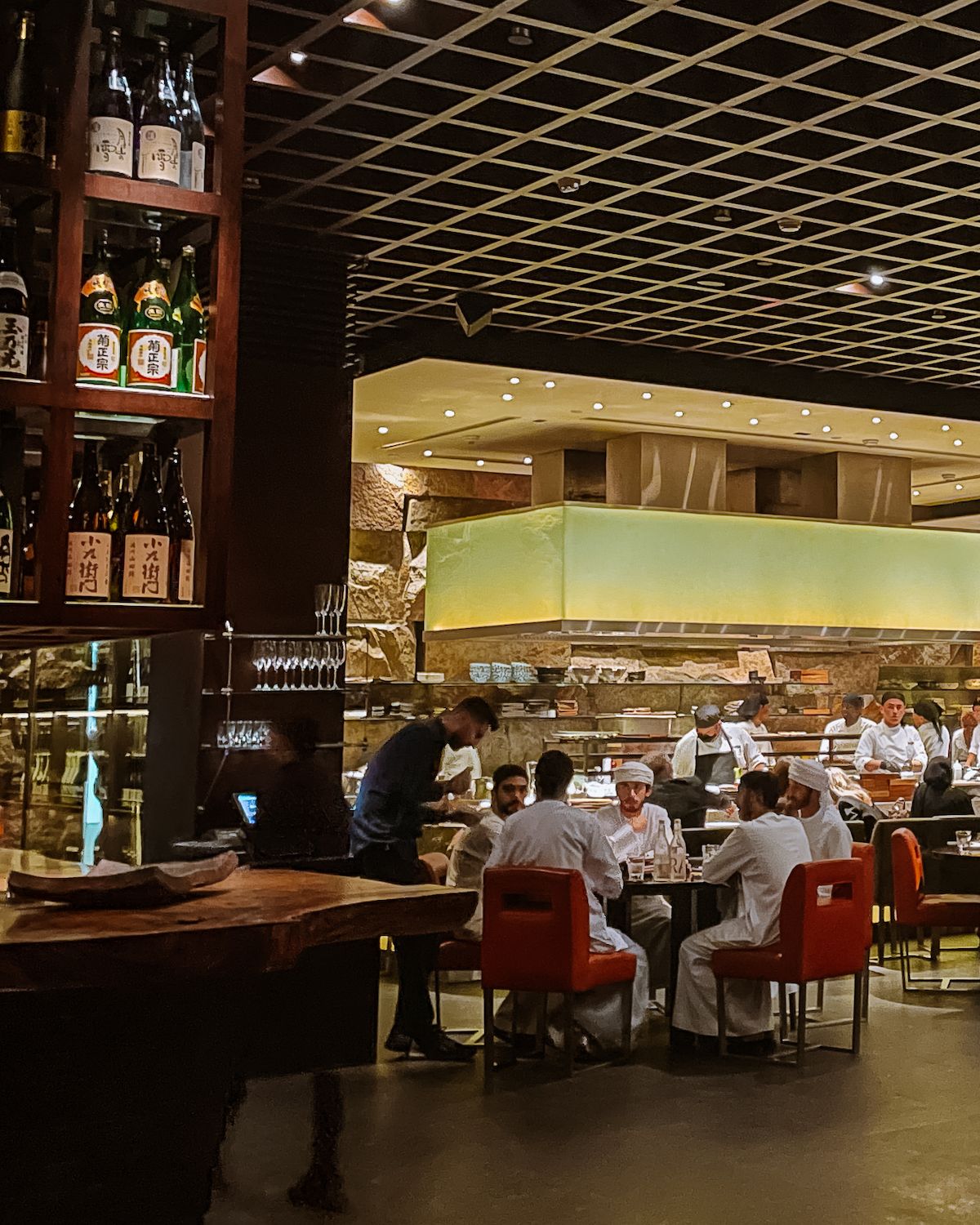 We didn't expect Zuma, a happening global restaurant chain, to surprise us as a cultural experience.
In Abu Dhabi, you'll notice its rich cultural diversity since around 90% of the population are expats. This is why we couldn't believe it when we took the glass elevator down to the restaurant and saw round tables filled with Emiratis in their white and black robes, all enjoying an evening out. With the Zuma's lively atmosphere and DJ playing Arabic-tinged house music, it felt like we were invited to an exclusive party.
However, Zuma's upscale dining comes with steep prices. Even basic items, like a $22 USD shrimp tempura roll with just 5 pieces, left us astonished. Instead of dining there, we recommend sitting at the bar to enjoy cocktails and people-watch. Zuma welcomes walk-ins for drinks and snacks at the bar.
Getting around Abu Dhabi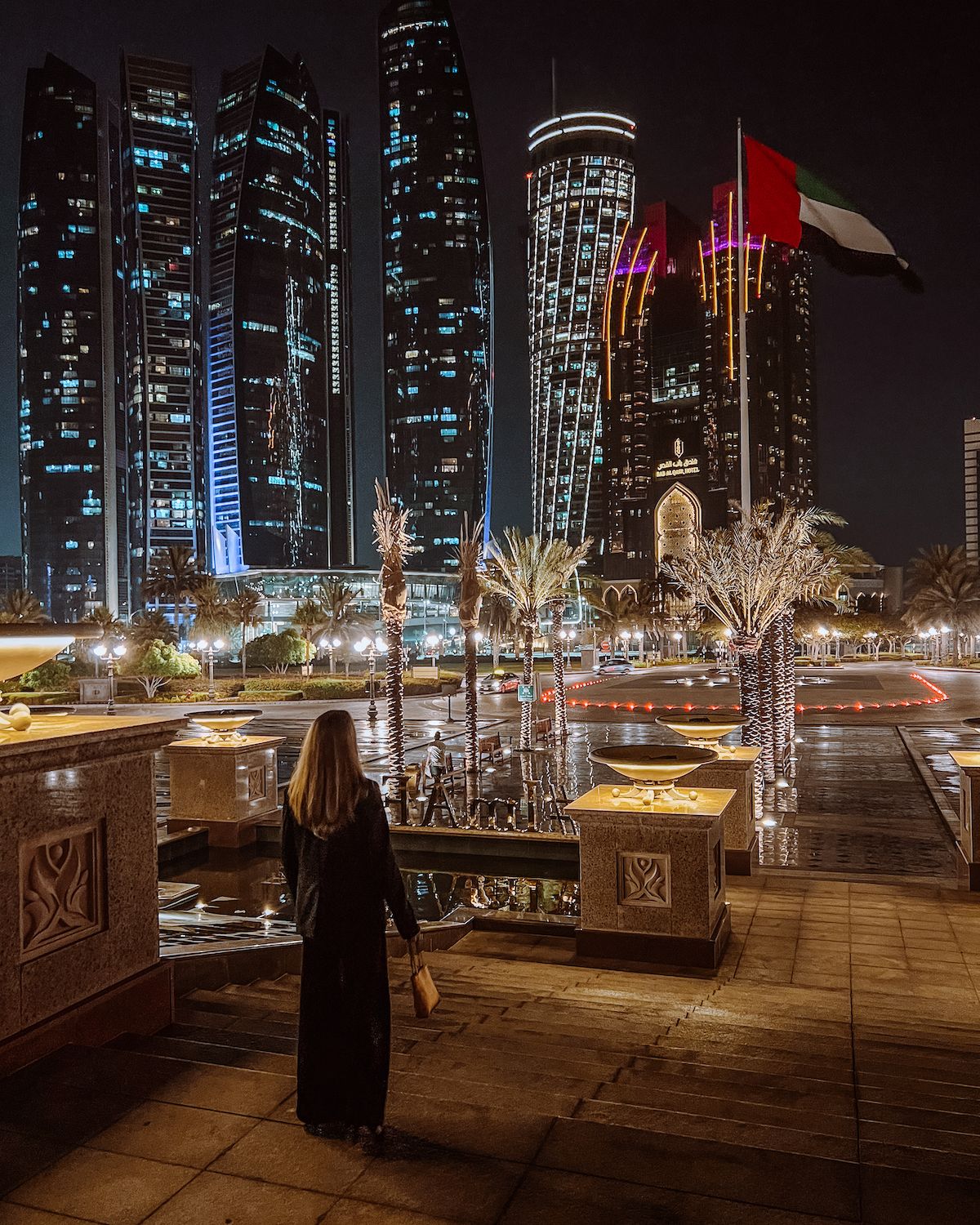 Taxis are the go-to way to get around Abu Dhabi. The city's pretty spread out across different islands, so make sure you have budget set aside for taxi fares. Usually we are wary about taking taxis because we've been ripped off so many times, but thankfully we had no issues at all. All of our taxi drivers used their meter, even without us asking!
Interestingly, Uber tends to be slightly pricier than the regular taxis in Abu Dhabi. While we found taxis readily available everywhere, it's comforting to know that Uber is an option if needed.
✔️ Top tip: Carry cash for taxi payments. Even though card payments are becoming more common for taxis in Abu Dhabi, our drivers still asked for cash.
Getting from the Abu Dhabi Airport to your hotel
You could either take a taxi or if you like the idea of having a friendly face waiting for you at the arrival gate, consider booking an airport transfer through
Welcome Pickups
. They collaborate with the best English-speaking local drivers.
Enjoy your 1 day in Abu Dhabi!
Travelling during summer? Check out our list of what to do in Abu Dhabi in summer.
Combine Abu Dhabi with a trip to its extravagant and entertaining neighbour, Dubai. See our 2 Day Dubai itinerary.
---
Get started on booking your trip to Abu Dhabi
---
Combine the UAE with a trip to Oman next door. This country has incredible natural sights and is the perfect destination for a road trip. See our 1 week Oman itinerary.
---
Save and pin this Abu Dhabi 1 Day Itinerary for later: