Oman is the perfect country to get started on your exploration of the Middle East. It's very safe for tourists and stays true to its historical roots by preserving its traditional architecture. This contrasts other countries like the UAE and Qatar that strive to create record-breaking modern buildings and colossal skyscrapers.
What also sets Oman apart is its beautiful and diverse landscape. All within your one week Oman itinerary you'll drive through mountains, sand dunes and along the Arabian sea. It's the ultimate adventure. Our guide includes a road trip map and scenic camping spots in Oman.
1 Week in Oman
Day 1: Settle into the capital city of Muscat
Day 2: Drive up the Hajar Mountain Range to Jebel Akhdar
Day 3: Stay at a luxury camp in the sand dunes
Day 4: Go wild camping in the dunes
Day 5: Swim in a wadi and camp along the Arabian Sea
Day 6: Take a refreshing dip in Bimma Sinkhole and shop at the Mutrah Souq in Muscat
Day 7: Walk through the magnificent Sultan Qaboos Grand Mosque
---
Disclosure: Some of the links below are affiliate links, meaning at no additional cost to you, we will earn a commission if you click through and make a purchase. Regardless, we only recommend products or services we have used or that we believe will add value to our readers. Thank you for supporting us!
Best time to visit Oman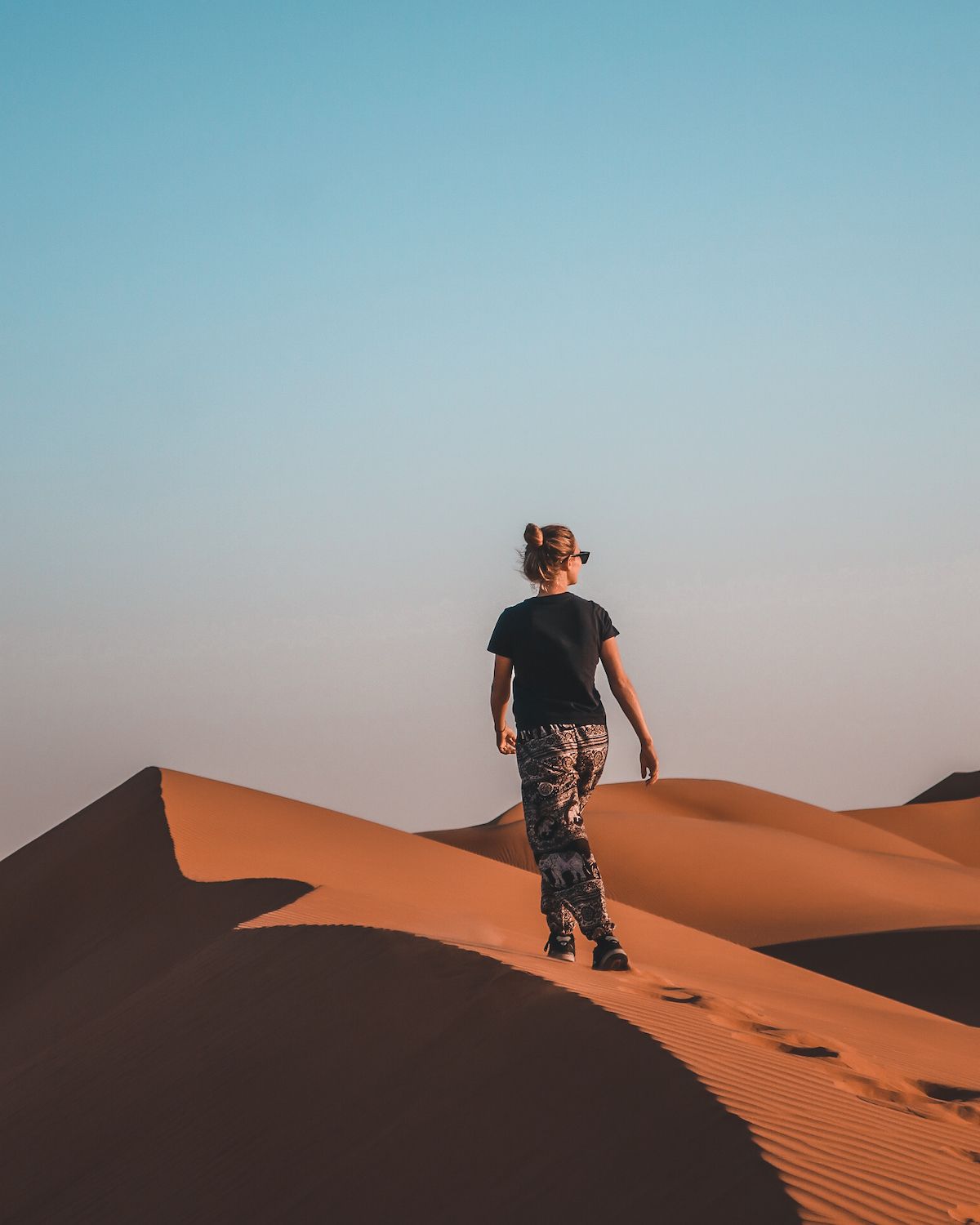 The best time to visit Oman is during the winter months from October to March. We camped during April and it was so hot in our tent we didn't make it through our last night by the sea. At midnight it was 33 degrees and monstrously humid!
Avoid travelling to Oman in its hottest months from June - August. You can have temperatures up to 46 °C, which is way too hot to enjoy the outdoors. You won't want to stay out for more than 5 minutes in the sun! Omanis usually go on vacation to escape the heat during this time and desert camps usually close.
Driving in Oman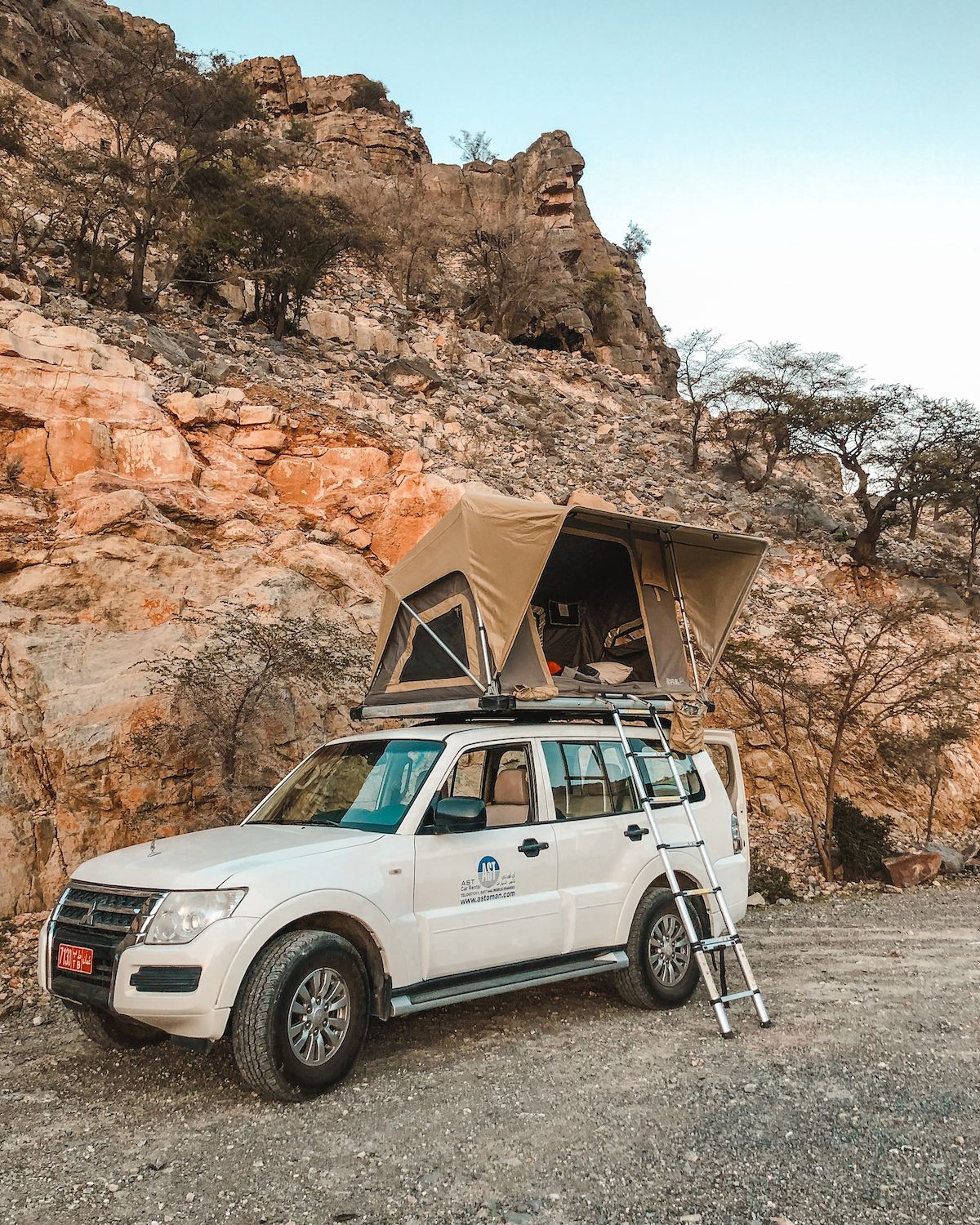 Most roads in Oman are top quality and people drive on the righthand side of the road. Traffic is minimal outside of Muscat and Omanis like to drive fast!
To experience the best landscapes Oman has to offer, you'll need a 4x4. To get to the top the mountains, there are checkpoints and you need a 4x4 to pass through. You also don't want to miss out on driving the sand roads along the dunes!
Make sure you pick a company that allows off-roading. Mainstream car rental companies like Avis do not include off-roading in their insurance policy.
We chose iDrive 4x4 since we could hire a 4x4 and a rooftop tent with all camping supplies in one bundle.
It worked out to about $150 USD per day for the car rental including insurance and all camping supplies like cooking utensils, stove, sleeping bags, mattresses, chairs, table etc. Gas was super cheap at about $0.46 USD per litre (this was in 2019).
Oman Road Trip Route
1 Week Oman Itinerary
Day 1: Settle into the capital city of Muscat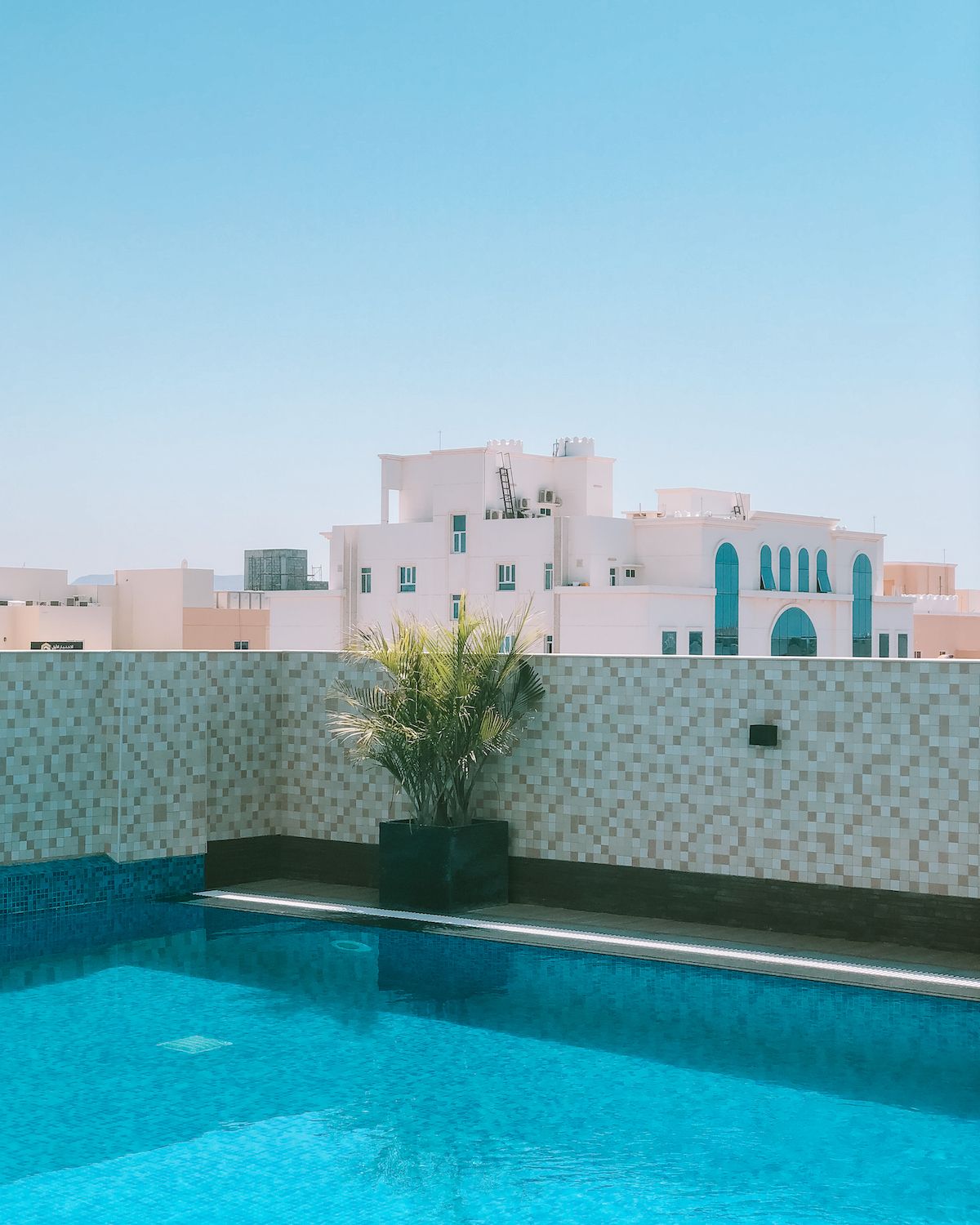 After your long flight, get settled in and have a good nights rest. Tomorrow your adventure on the road starts!
We stayed at
Centara
, a modern 4-star hotel with a rooftop pool not too far from the airport. Our room was quiet and spacious. A bonus was that our rental company brought the car to our hotel the next morning.
Browse more stays in Muscat
Day 2: Drive up the Hajar Mountain Range to Jebel Akhdar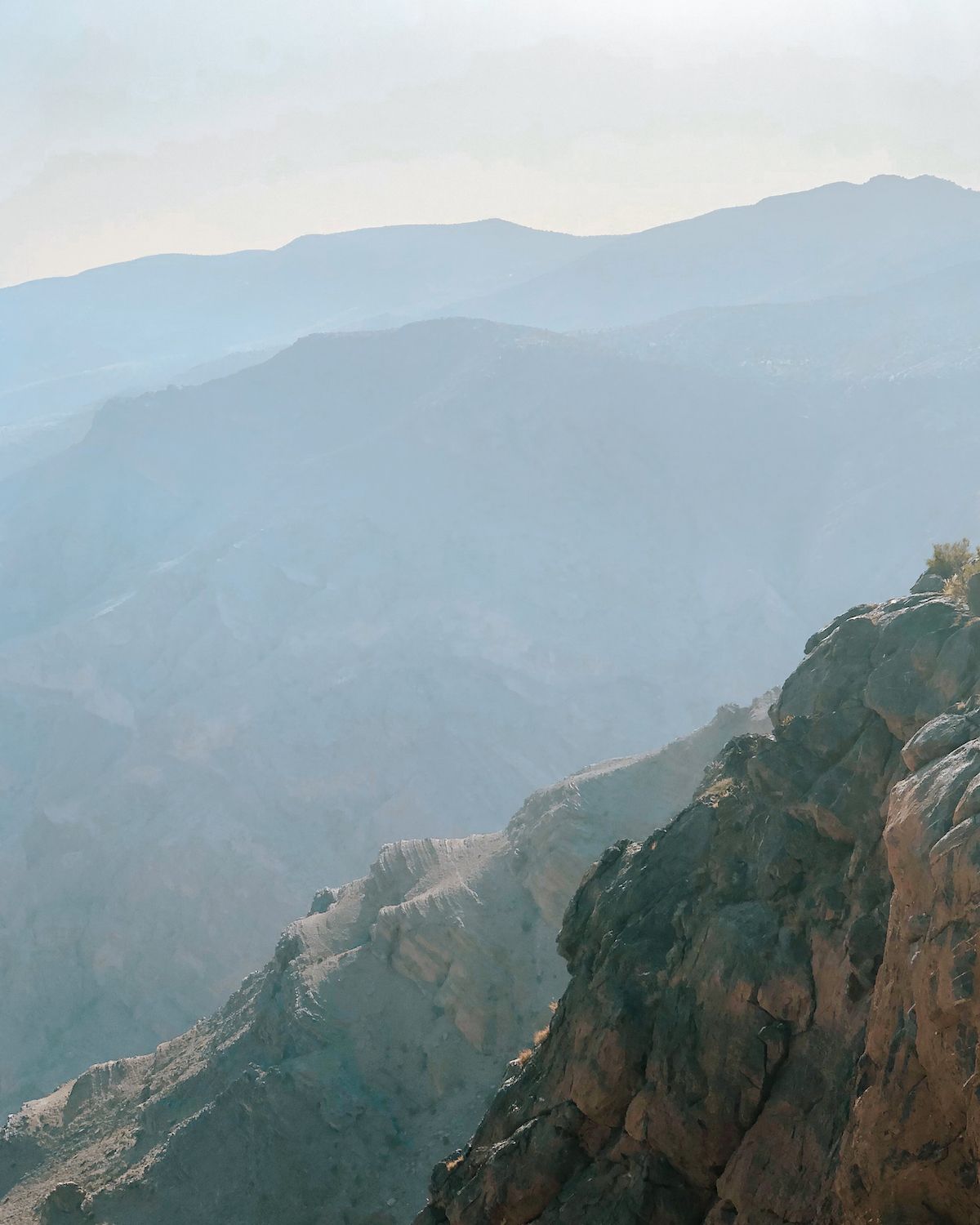 Driving up to Jebel Akhdar (Green Mountain) with the rugged mountain range in the background is breathtaking. You'll need a 4x4 to pass the checkpoint, but the road is easy to drive on thanks to the old road being replaced. We were surprised you even need a 4x4 to drive up to Jebel Akhdar.
Stop in at the town of Sayq to grab some groceries for dinner and campfire wood.
We made classic grilled cheeses that evening.
From there, drive towards the luxury hotel Alila Jabal Akhdar and stop in for lunch.
The architecture of the hotel is spectacular and it fits in well with the landscape. It's very expensive to stay at during the winter season, with rooms starting at around $600 USD per night. Lunch hours at the restaurant are from 12-3pm. Sadly we just missed lunch, but grabbed some fresh squeezed juice and admired the view.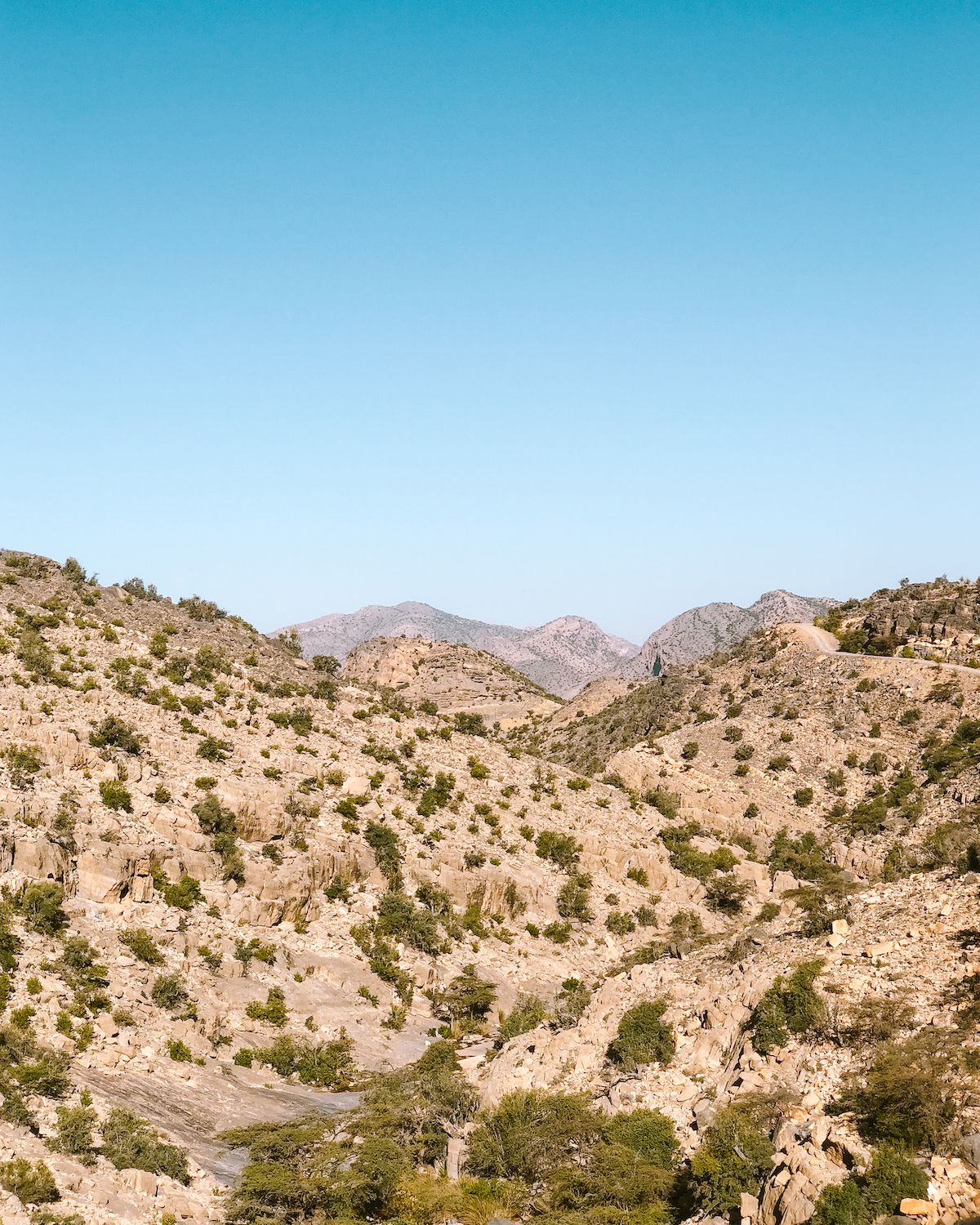 After lunch keep driving down the road. We found an amazing spot to camp about 10 minutes away overlooking a gorge. You'll likely see some friendly locals hanging out there during the day spending time down in the wadi (ravine). By sunset, we were the only ones there.
We watched the sunset and cooked our grilled cheeses over a campfire. It was the perfect evening!
Top Tip: In winter time it gets colder up in the mountain, so make sure you bring warm clothes!
Day 3: Stay at a luxury camp in the dunes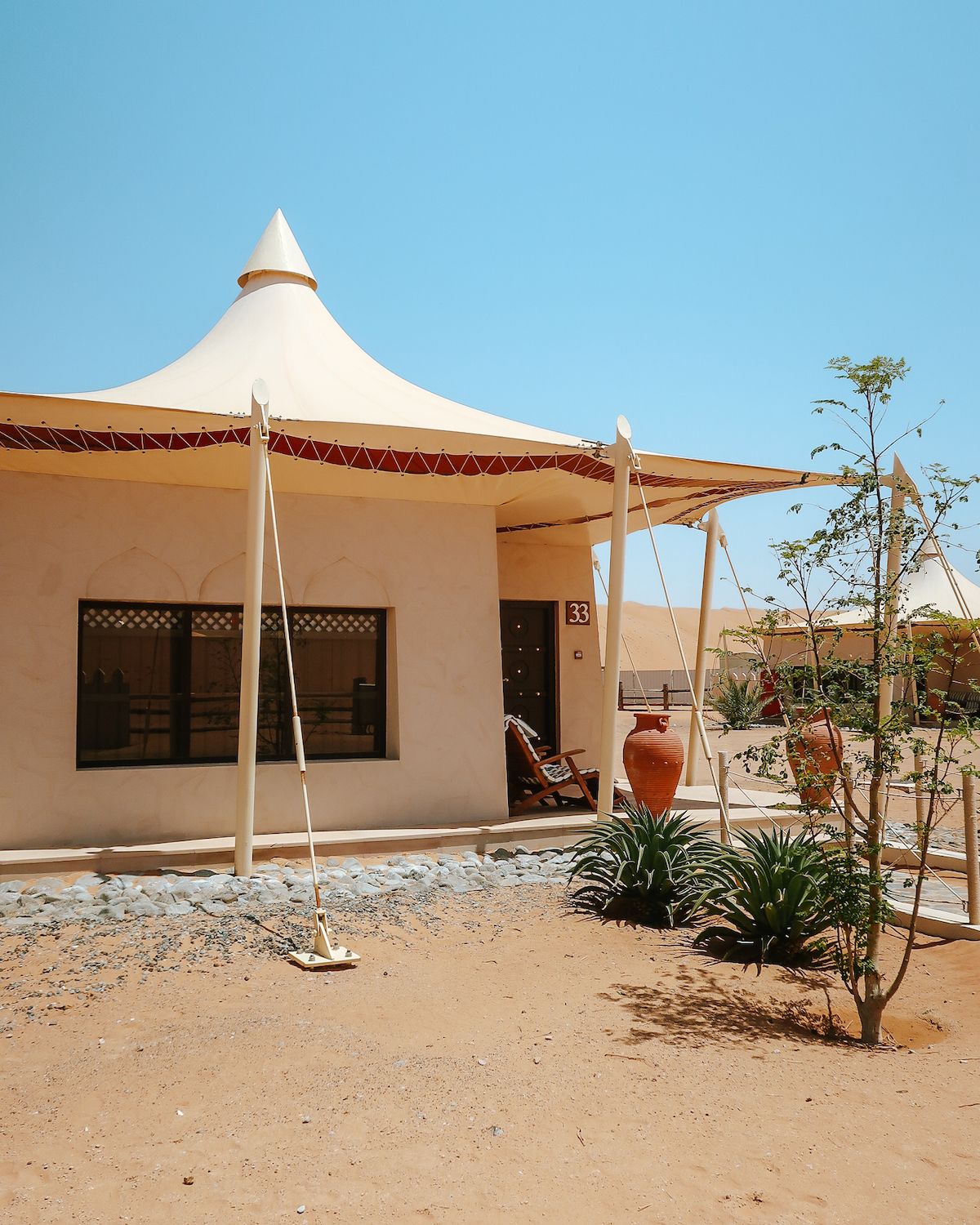 Today you'll drive back down the mountains and to your next landscape, the dunes! To warm up to this extreme environment, stay at a luxury camp in the desert. We chose
Desert Nights Camp
, which is a 2 km drive from the main highway on a sand road out into the middle of the dunes. We took our 4x4 at 100 km/hr on the dirt road to the desert camp and it was a blast.
The camp felt like an oasis in the hot desert and our luxurious tent felt like a sanctuary. Our stay included a breakfast and dinner buffet, a 4x4 drive up the steep dunes to view the sunset and a 5-minute camel ride (which was kind of lame since it happens just near the camp). If you want to properly ride a camel, we recommend booking a private camel riding tour through the resort.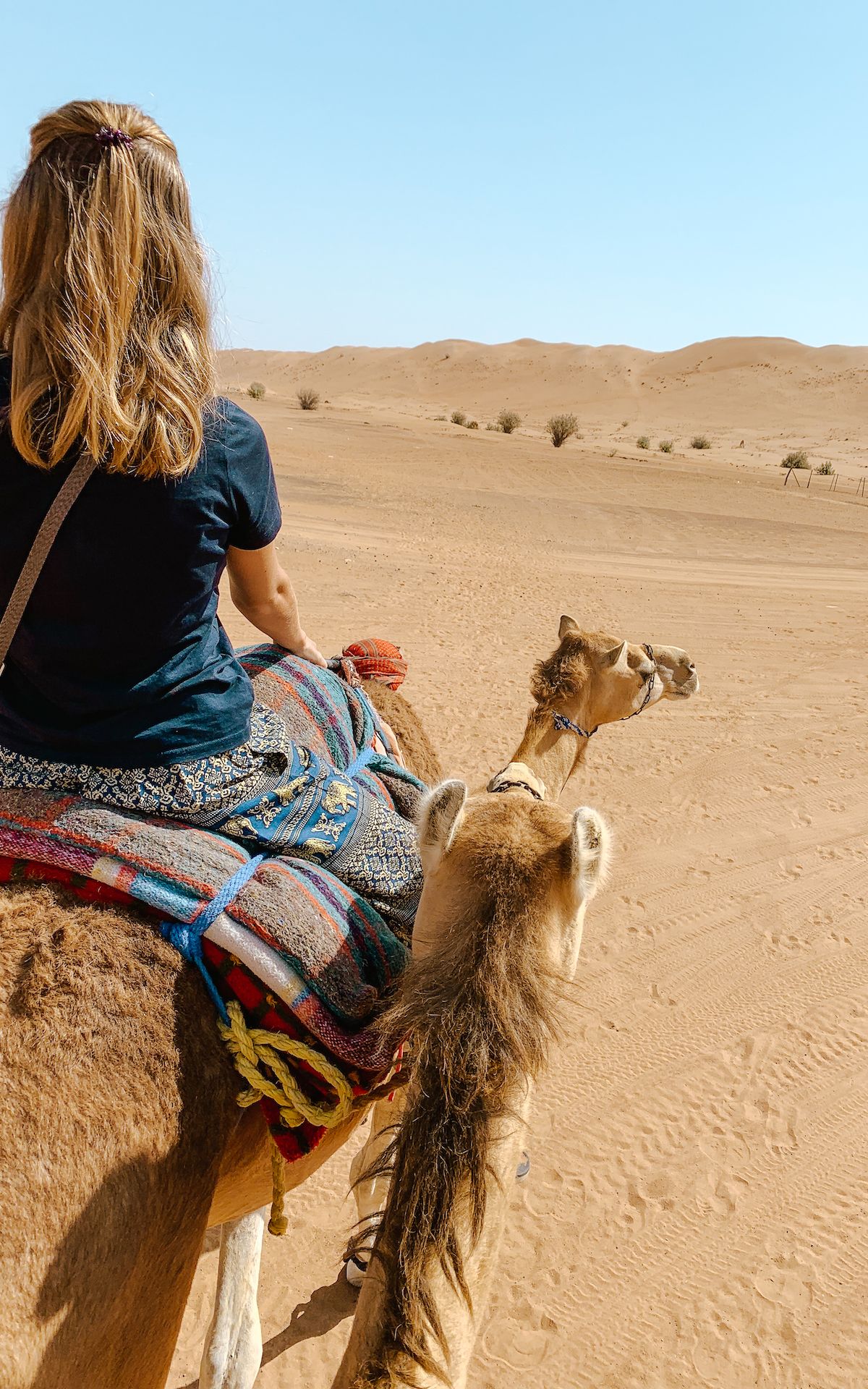 We chose to do a 45-minute dune bashing tour. An experienced driver, who's from a bedouin town located in the dunes, drove us straight up and down and even sideways through the dunes. It was exhilarating and scary at times, but so much fun! We were fortunate to have him show us the perfect spot to camp in the dunes the next night.
Day 4: Wild camping in the dunes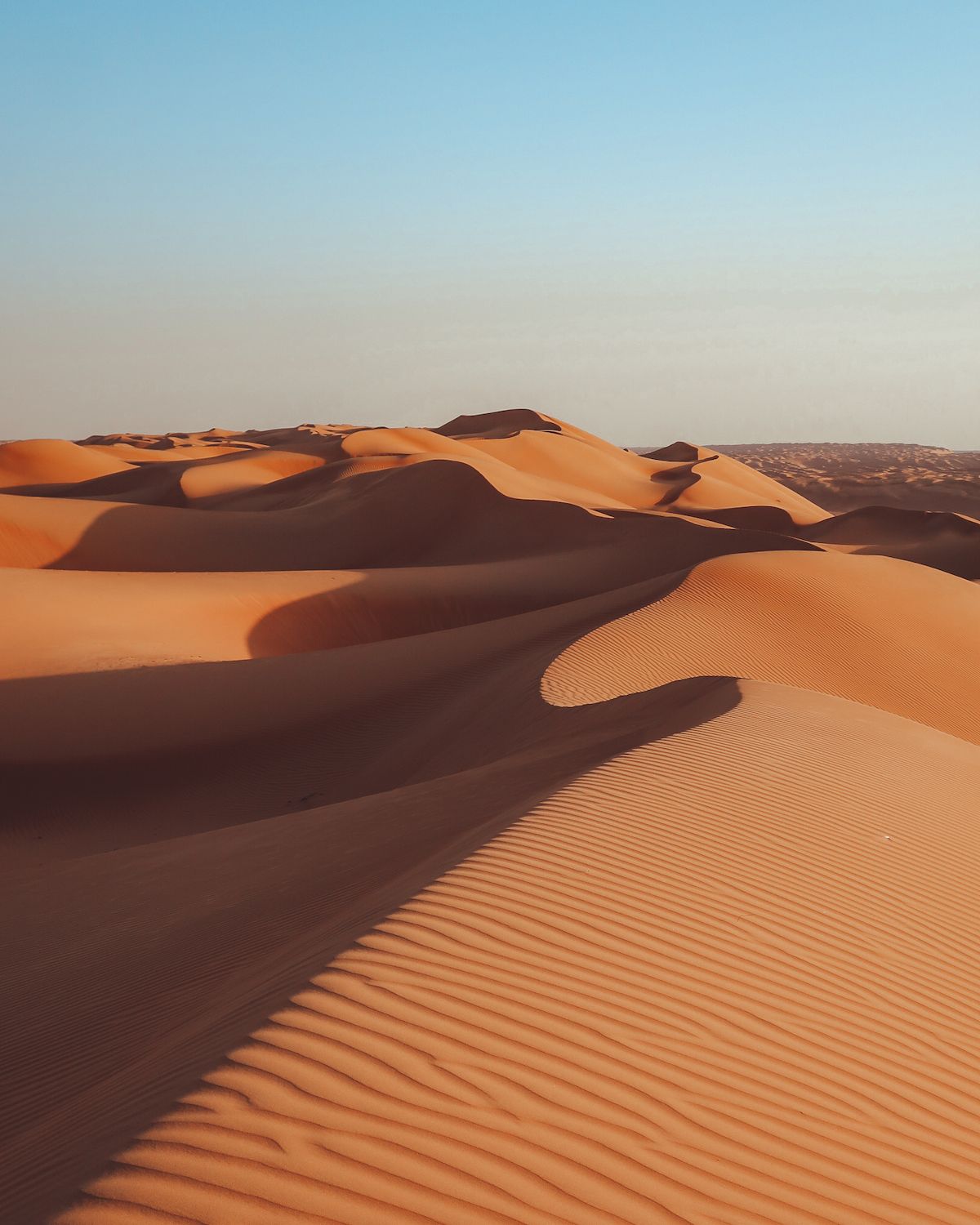 How to camp in the sand dunes
To successfully camp the night in the sand dunes in Oman, we were told to:
Drive out just before sunset when the weather isn't so hot
Don't camp near trees because scorpions and other creepy crawlers like to hang out around there
Camp high up where people driving and dune bashing will be able to easily see you.
If you get stuck don't panic. You can lower your tire pressure to 16psi and that should help to get out. We didn't have to lower our tire pressure and had no problems. The sand is more stable than it looks.
After checking out of our desert camp and grabbing lunch there, we went grocery shopping in the town nearby. Fried halloumi for dinner mmm! Make sure you buy lots of water. Next we found a cafe in town where we ordered some coffees and sat outside in the shade. We played a game of Scrabble, watched the world go by and waited for the temperature to go down before going back out into the dunes.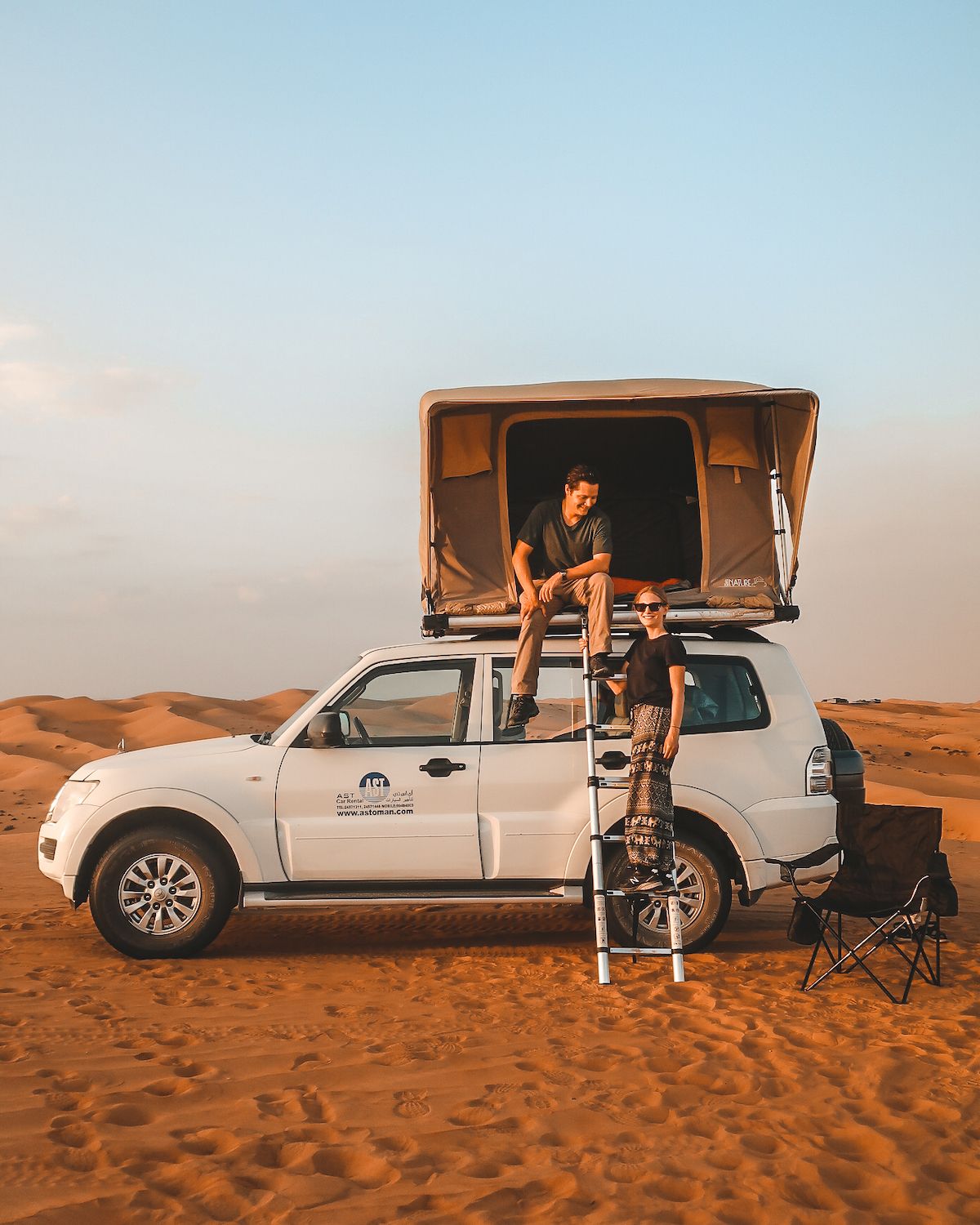 Back out into the dunes! We blasted music while driving fast down the sand road and found the camping spot our guide showed us. It had an expansive view of the area and there was surprisingly no wind. It started peacefully, but once the sun went down the winds got CRAZY! We planned to have a campfire, but our chairs almost blew away. We got so much sand in our eyes that we hid in our tent and watched the classic Aladdin Disney movie instead. The next morning we woke up with a layer of fine sand on our bodies.
Camping in the the dunes is not for the faint-hearted! If you're up for it, make sure you have dinner before the sun goes behind the dunes and prepare to take shelter from the wind or you'll end up with sand-scratched eyes. Ow!
To get to our camping spot in the dunes, drive south of Desert Nights Camp and follow tracks to get around. The camping spot is located here.
Day 5: Swim in a wadi and camp along the Arabian Sea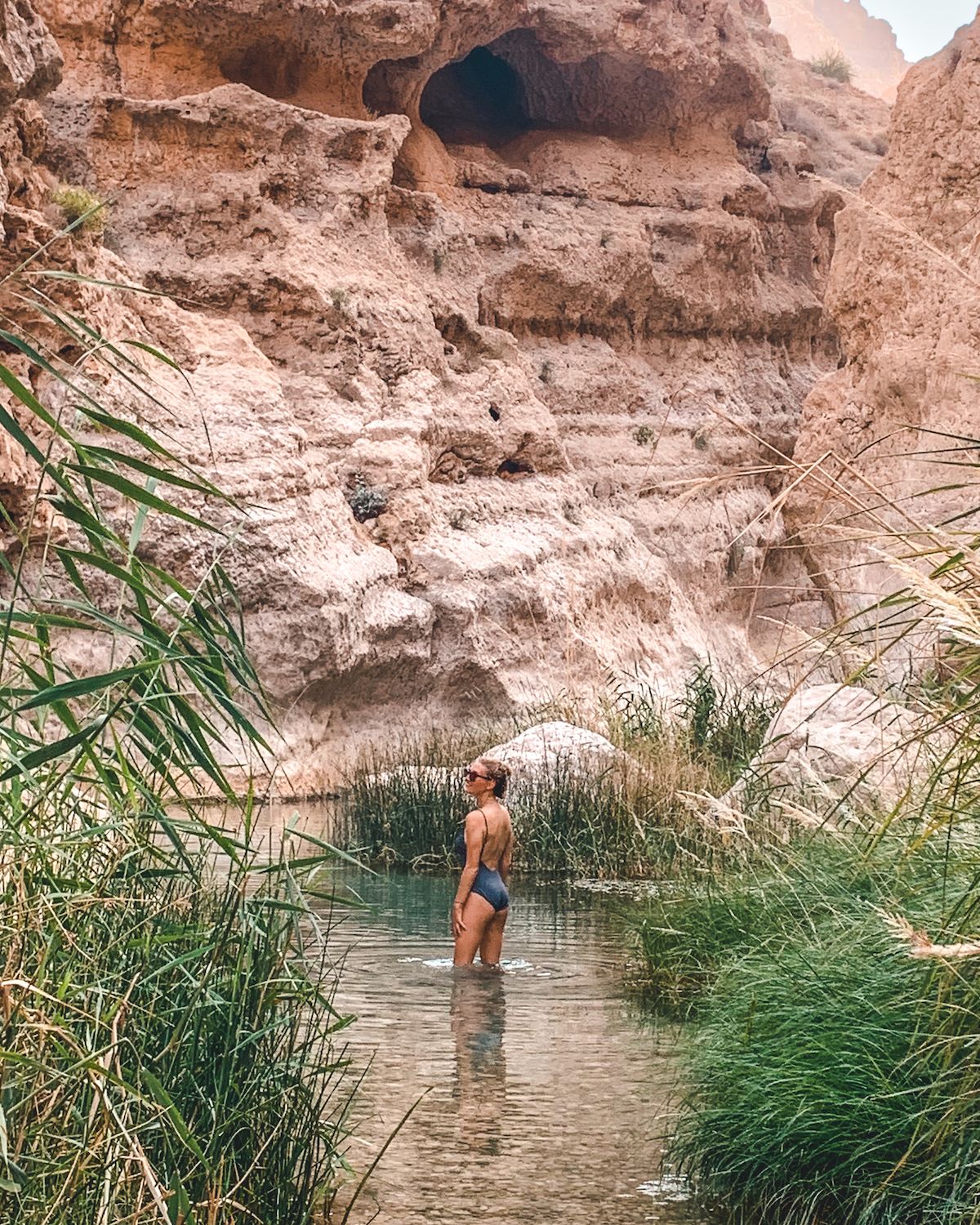 One of the best things to do in Oman is visit a wadi, an oasis in the desert where you can take a plunge into natural pools! At Wadi Shab, you take a 45-minute leisurely walk through a lush valley to reach the first of five consecutive pools. At the end of the fifth pool you will see a small crack in a cave that you can swim through revealing a beautiful hidden waterfall!
Some of the pools are shallow, so we recommend bringing water shoes or sandals to protect your feet from the small rocks at the bottom. Ari didn't and complained the whole time.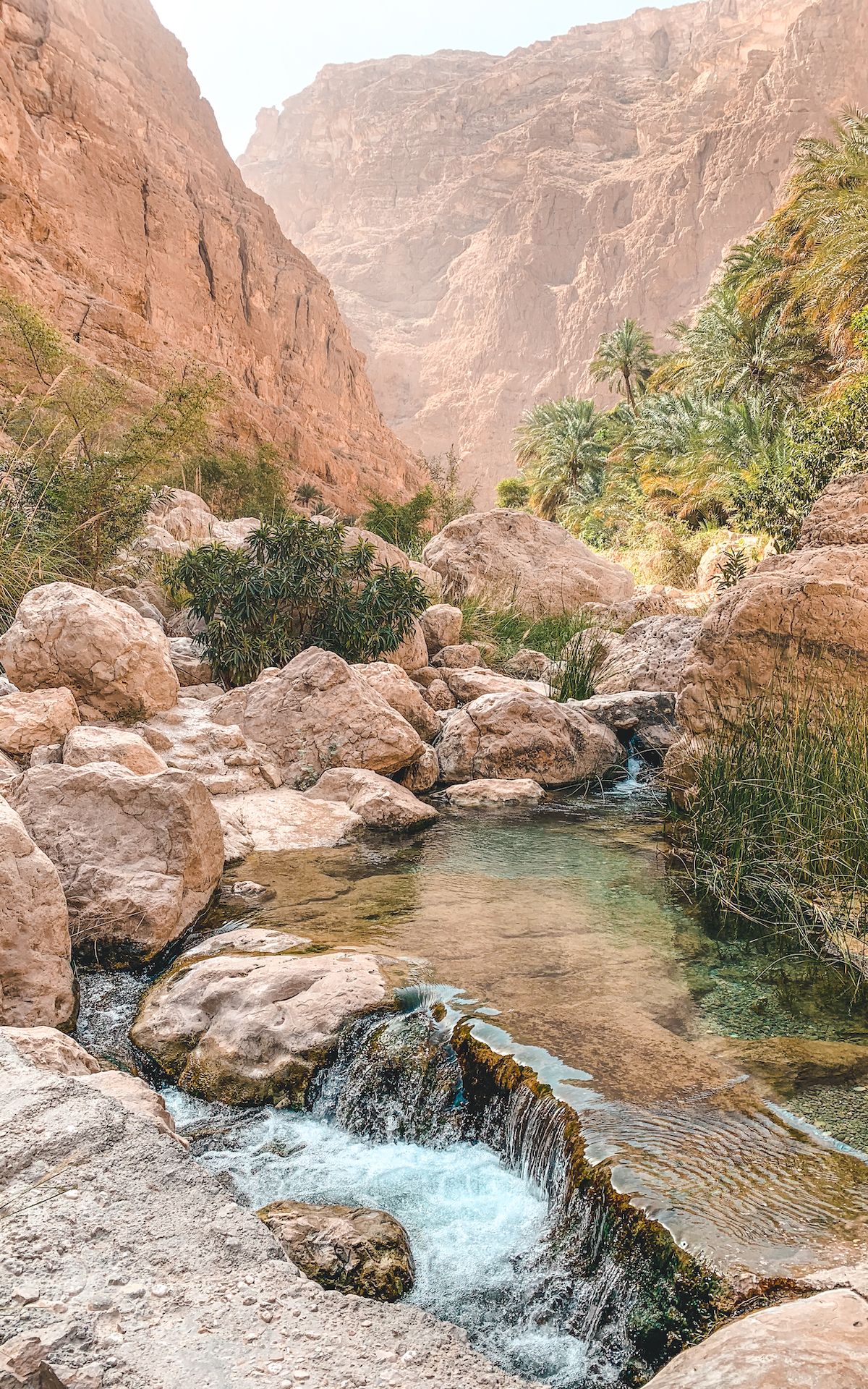 To get to Wadi Shab, search "Wadi Shab Parking" on Google Maps. Once you arrive at the parking lot, you'll see a wooden taxi boat you need to take to get across the water to start your walk. It only costs 1 OMR in cash per person roundtrip and takes 5-minutes to get across.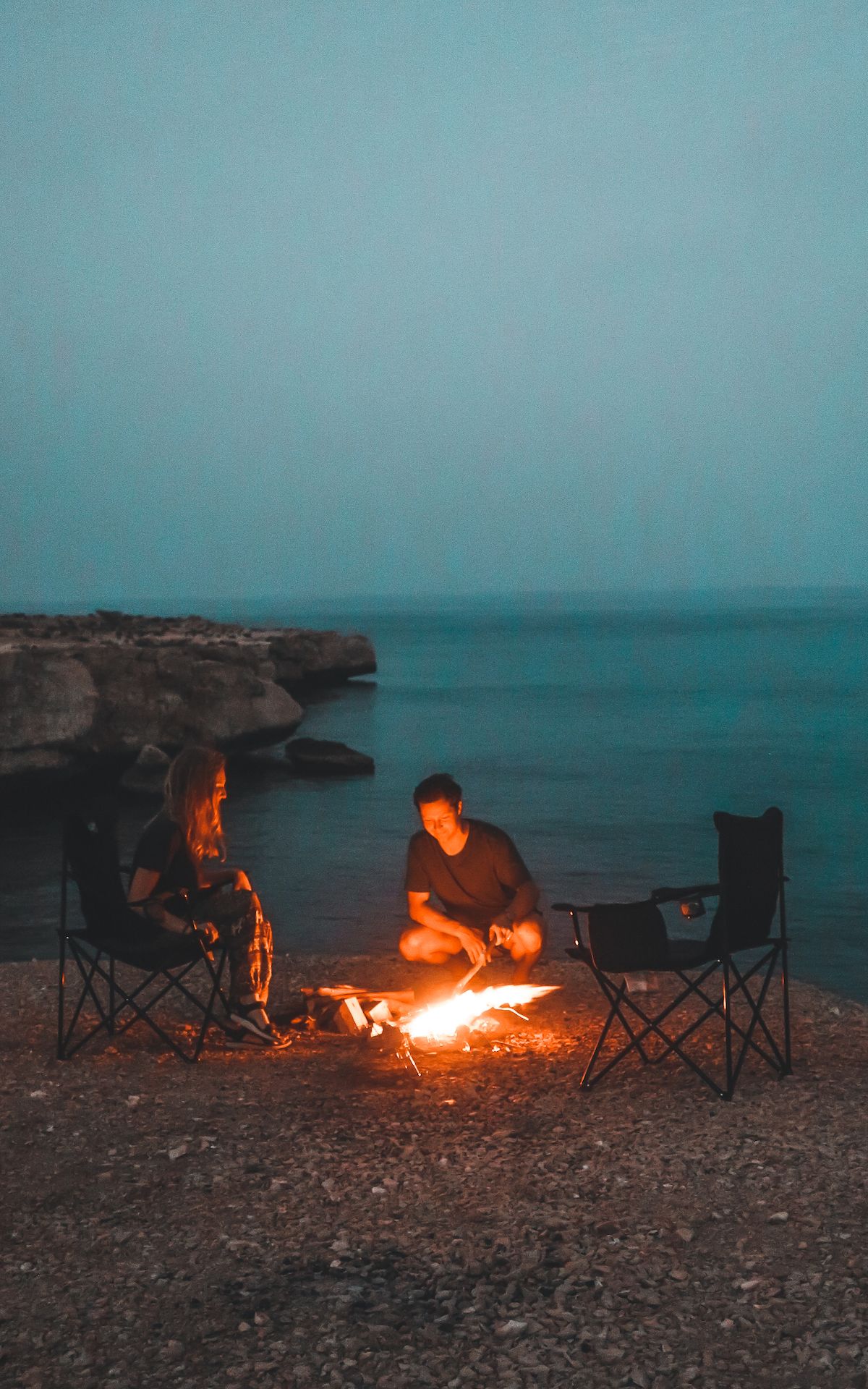 After taking a refreshing dip in the pools, drive over to White Sands Beach to find a spot to camp for the night along the Arabian Sea. The sea is stunning and there were only a couple people camping far away in the distance. It felt like it was just us and the sea! We enjoyed having a campfire and making hot dogs.
However, it was all fun and games until we realized how hot the humidity makes it on the sea. We were hoping for a sea breeze that never came. We lasted until midnight in the tent until we couldn't take the dripping sweat anymore. It was still 33 degrees outside. This is why it's important to travel to Oman during wintertime if you want to camp. April was way too hot!
Day 6: Visit Bimma Sinkhole and shop at the Mutrah Souq in Muscat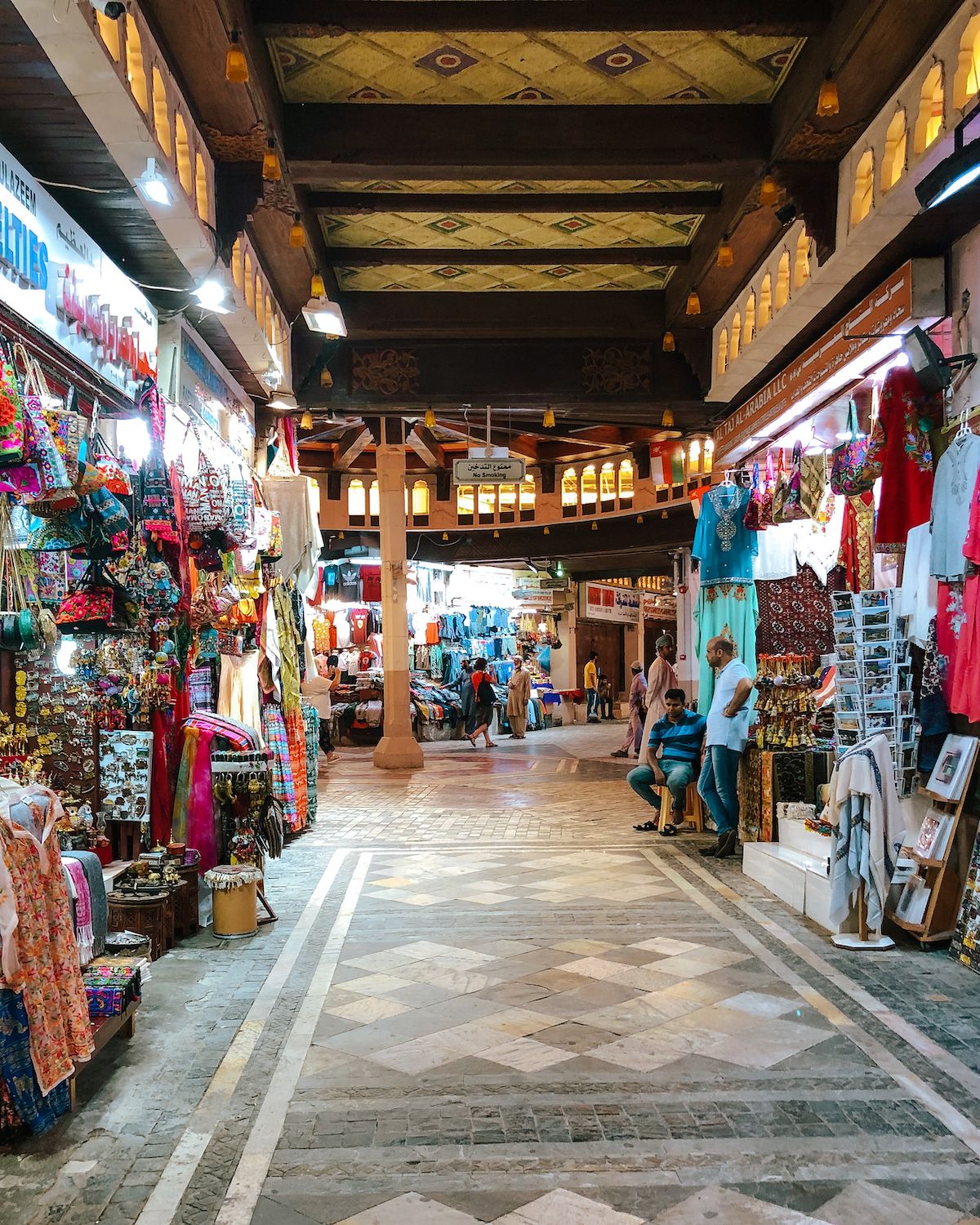 On your drive back to Muscat, stop by at Bimmah Sinkhole to take a refreshing dip. The crystal clear turquoise pool in the limestone is a sight to see.
In Muscat, we chose to stay at
Somerset Panorama Hotel
, which is closer to the centre. It's an apartment-style hotel, so we enjoyed having lots of space and washing our dirty camping clothes with our in-room washer! There is also a mall connected to the hotel with a movie theatre.
🛏️
Browse more stays in Muscat
That afternoon, check out the Mutrah souq, a traditional Arab market with tons of little shops. Tomorrow you'll be visiting the Sultan Qaboos Grand Mosque, so pick up some clothes to dress as the Omanis do for the occasion. Ari bought a traditional hat and white robe and I bought a long dress (make sure it covers the elbows) and scarf.
🤠
You could also hire a local guide to show you the highlights of the city.
Browse highly-rated tours in Muscat through
Viator
.
Day 7: Walk through the magnificent Sultan Qaboos Grand Mosque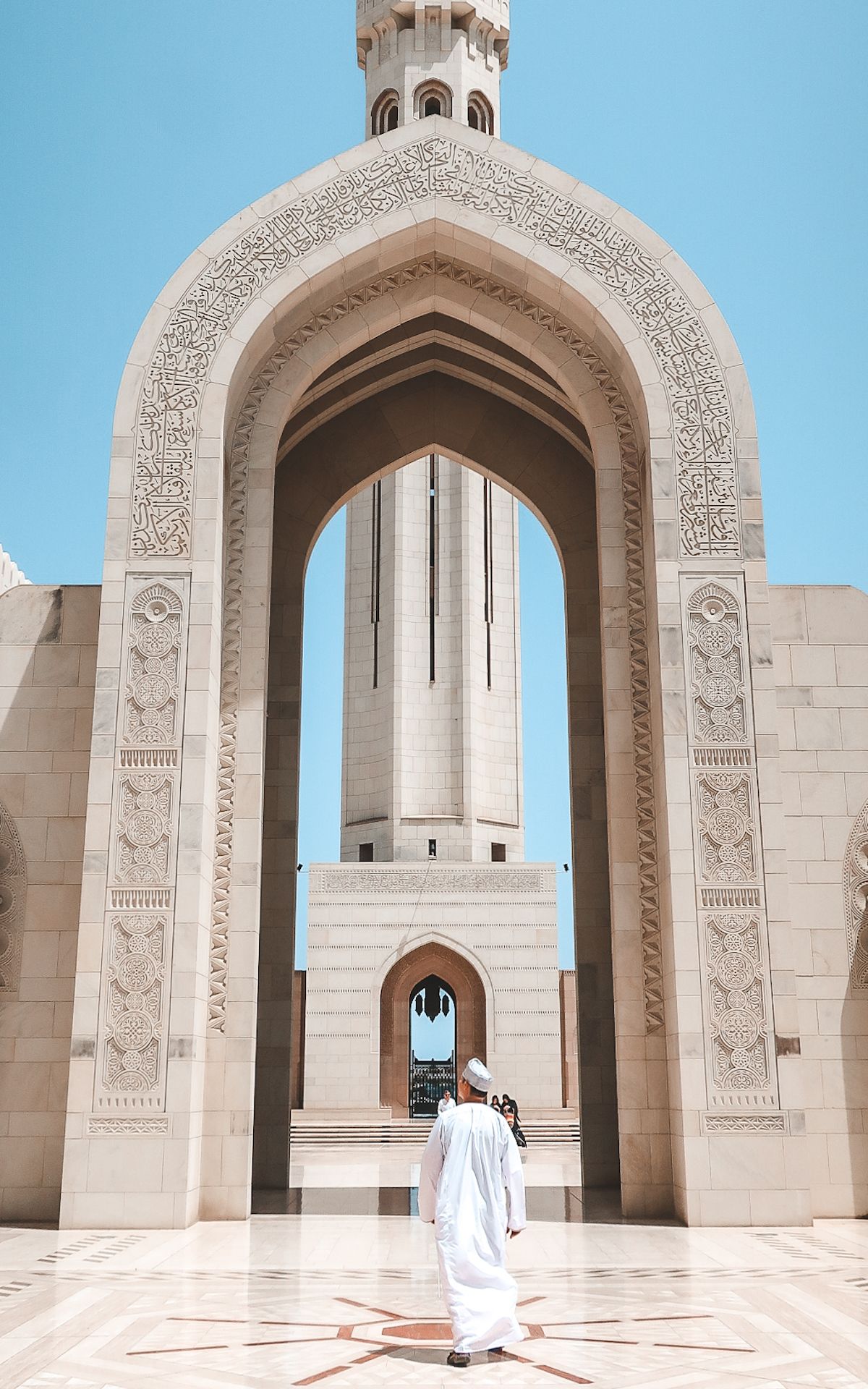 The architecture of the Sultan Qaboos Grand Mosque completely blew our minds. Walking through the mosque is one of our top recommended things to do in Oman. The mosque is open from 8:30 AM - 12PM for tourists, except on Fridays. We could tell the Omanis appreciated our efforts in the attire we wore.
When exiting we were invited into a small room to enjoy some coffee, dates and to chat about any questions we had about Islam. Although hesitant at first, we remembered we just spent 5 days intensely learning about Buddhism in Bhutan. It was a great experience to learn about another way of life.
If you have an evening flight, visiting the mosque is the perfect activity to do beforehand.
We hope you enjoy your adventurous 7 days in Oman!
---
Start planning your trip to Oman
---
Want to see more of the Middle East? Combine Oman with a trip to the UAE next door. See our fabulous 2 day Dubai itinerary, 2 day Abu Dhabi itinerary, and 1 Day Abu Dhabi itinerary.
You may also like:
Save and pin this 1 week Oman itinerary for later: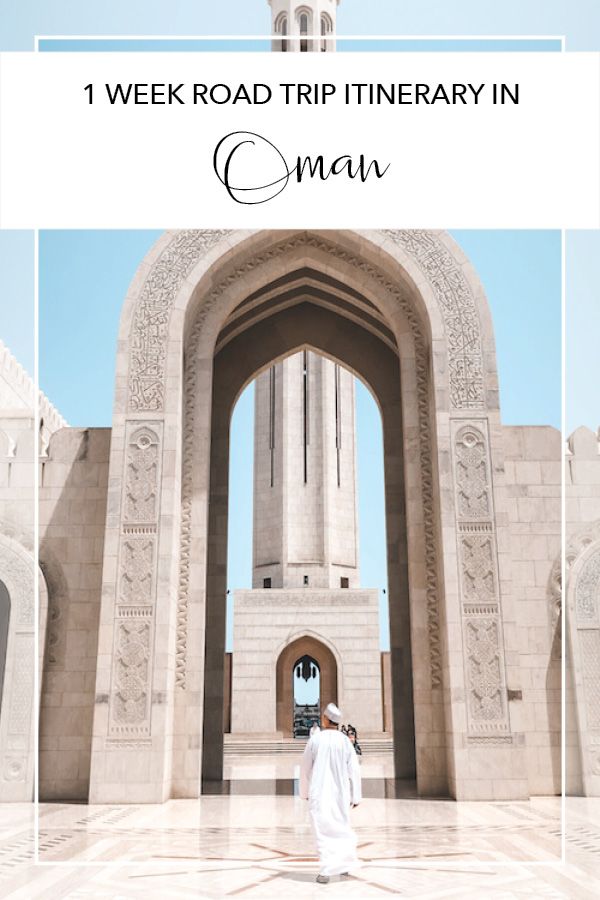 ---
Looking for more travel inspiration? Check out our list of Fun Adventure Ideas and list of Unique Cultural Travel Experiences to inspire your next trip.