While most visitors to the UAE visit Dubai, Abu Dhabi offers the traveller the perfect mix of fabulous experiences and impressive cultural landmarks. Where Dubai is over-the-top in a fun way, Abu Dhabi holds more of a cultural feel that brings it back to its roots. We found Abu Dhabi to be more peaceful and traditional than Dubai and it also has better beaches. It's still lavish, but more discreetly so.
Your 2 days in Abu Dhabi will be filled with fun experiences. Our 2 Day Abu Dhabi itinerary includes the best natural beaches to visit, what area to stay in, unique places to eat and stunning cultural sites you don't want to miss.
If you're looking for entertainment and over-the-top experiences however, Dubai may be a better choice for you. See our 2 Day Dubai Itinerary.
Overview: 2 Days in Abu Dhabi
Day 1:

→ Start your morning with a walk through the impressive Presidential Palace
→ Eat a delicious Lebanese lunch by the sea
→ Swim and sunbathe on a natural white sand beach
→ Treat yourself to a fabulous dinner

Day 2:

→ See the breathtaking Sheikh Zayed Grand Mosque
→ Try traditional Emirati cuisine
→ Relax and use your hotel amenities
→ Dress up and walk through the Emirates Palace Mandarin Oriental
→ Sip cocktails, listen to tunes and people-watch at a happening night spot
Disclosure: Some of the links below are affiliate links, meaning at no additional cost to you, we will earn a commission if you click through and make a purchase. We only recommend products or services we have used or that we believe will add value to our readers. Thank you for supporting us!
Best time to visit Abu Dhabi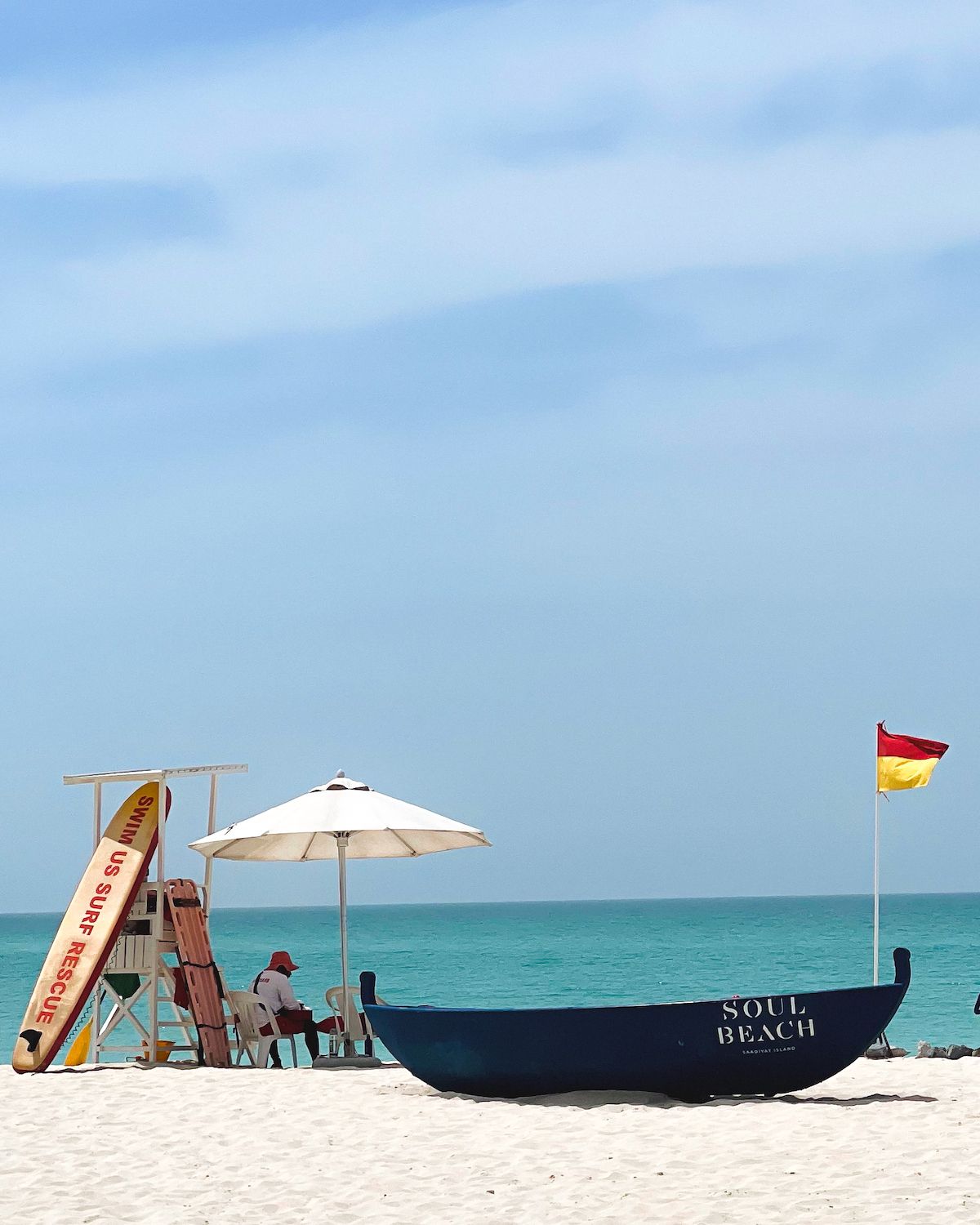 The best time to visit Abu Dhabi is between October - May. Starting June, highs start reaching 40°C (140°F). Eek! We visited at the end of May and felt like it was getting close to the max temperature we could handle. We can't imagine what it's like during the hottest months of July and August.
January is Abu Dhabi's coldest month, but highs still reach 24°C (75°F).
Is 2 days enough in Abu Dhabi?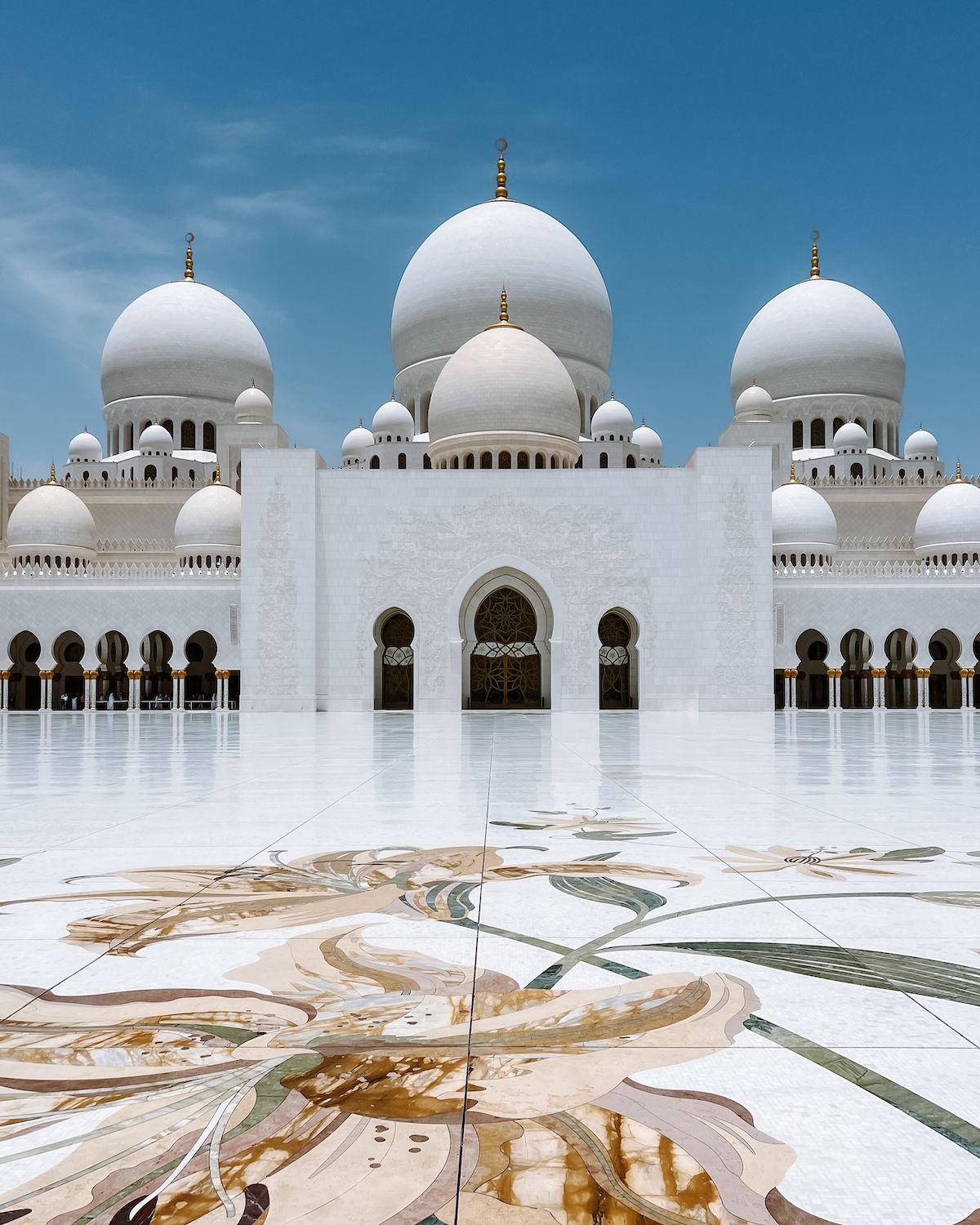 2 days in Abu Dhabi is enough if you wish to see a few highlights of the city.
In 2 days you will have time to see a couple of cultural sights, dine at unique restaurants and spend some downtime at the beach. If you wish to see big attractions like
Ferrari World
or
Yas Waterworld
, you will want to add another day.
How to get around Abu Dhabi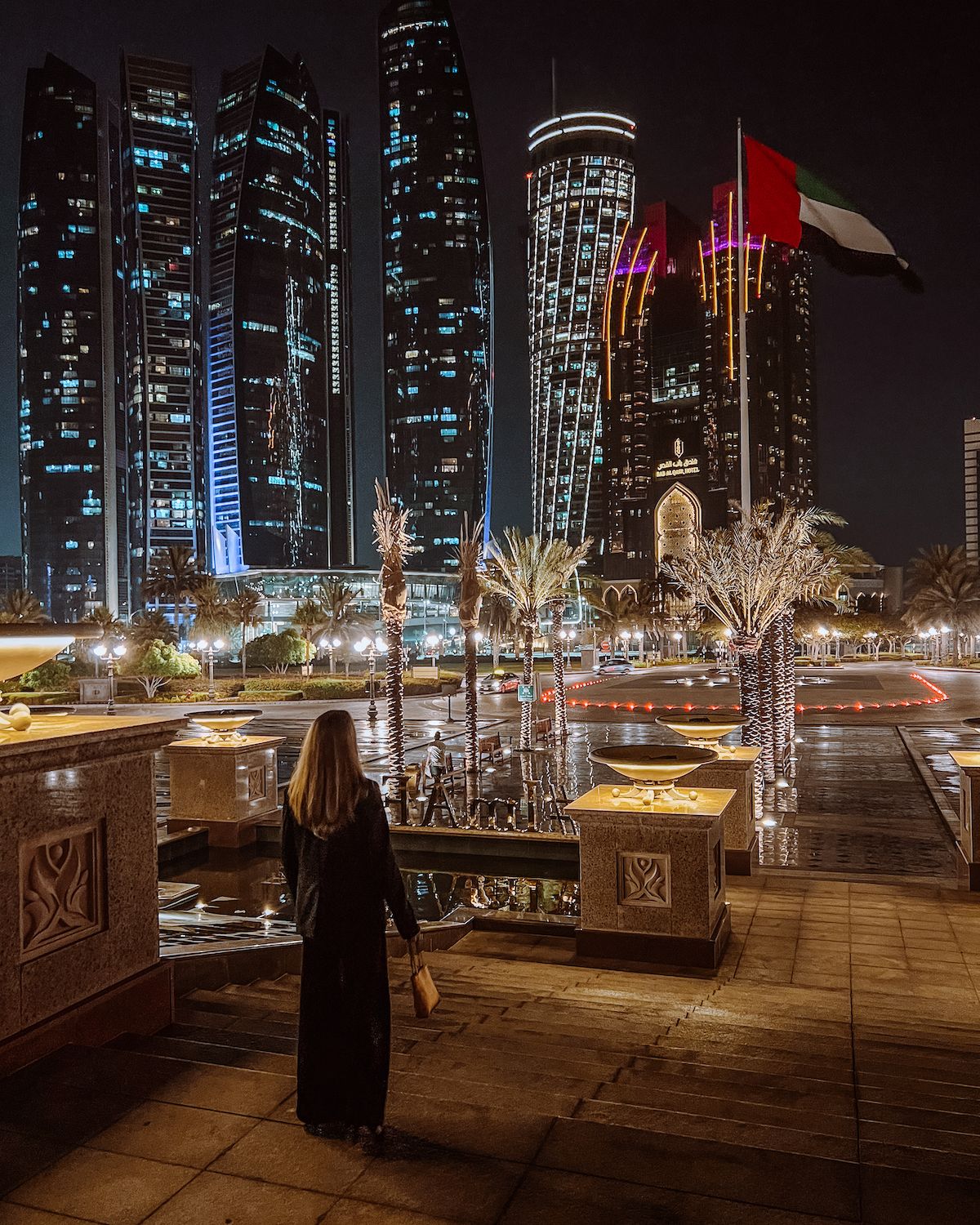 Taxis are the best way to get around Abu Dhabi. The city is quite sprawled out geographically over different islands, so you'll want to set aside budget for taxi costs. Our taxi drivers always used their meter.
Uber is actually slightly more expensive than taxis in Abu Dhabi. It was very easy to find taxis everywhere we went, but it's nice knowing you can call an Uber if needed.
✔️ Top tip: bring cash for the taxis. Although card payments are becoming more popular for taxis in Abu Dhabi, our drivers still asked us to pay cash.
If you like someone waiting for you at your arrival gate in the airport,
try booking your airport transfer through
Welcome Pickups
. They partner with the best English-speaking local drivers.
Best area to stay in Abu Dhabi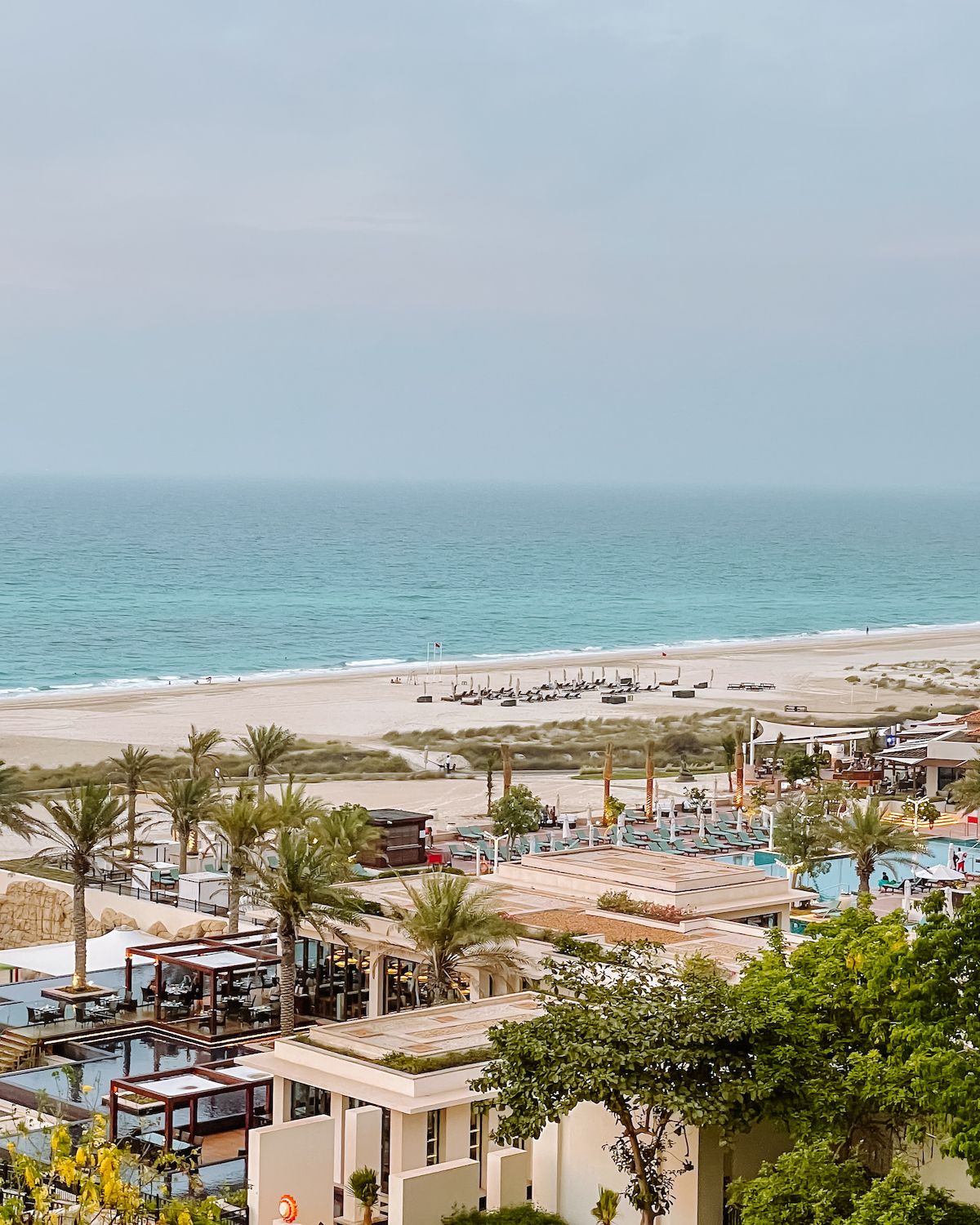 For your 2 days in Abu Dhabi, we recommend staying on Saadiyat Island. This island is home to the city's natural white-sand beaches facing the open sea. From Saadiyat Island, it's about a 15 minute drive to downtown.
Our top beachfront resort picks on Saadiyat Island:
Top budget tip: If Abu Dhabi's beachfront resorts are out of your price range, we recommend staying downtown around Corniche Beach. There are public beaches on Saadiyat Island, so you don't have to stay at a beachfront hotel to access them.
Check out
Conrad Abu Dhabi Etihad Towers
($$), the
Abu Dhabi EDITION
($$) and
Southern Sun
($) 🛏️
Browse more stays in Abu Dhabi
What to Do in Abu Dhabi in 2 Days
1. Swim on Saadiyat Island's pristine natural beaches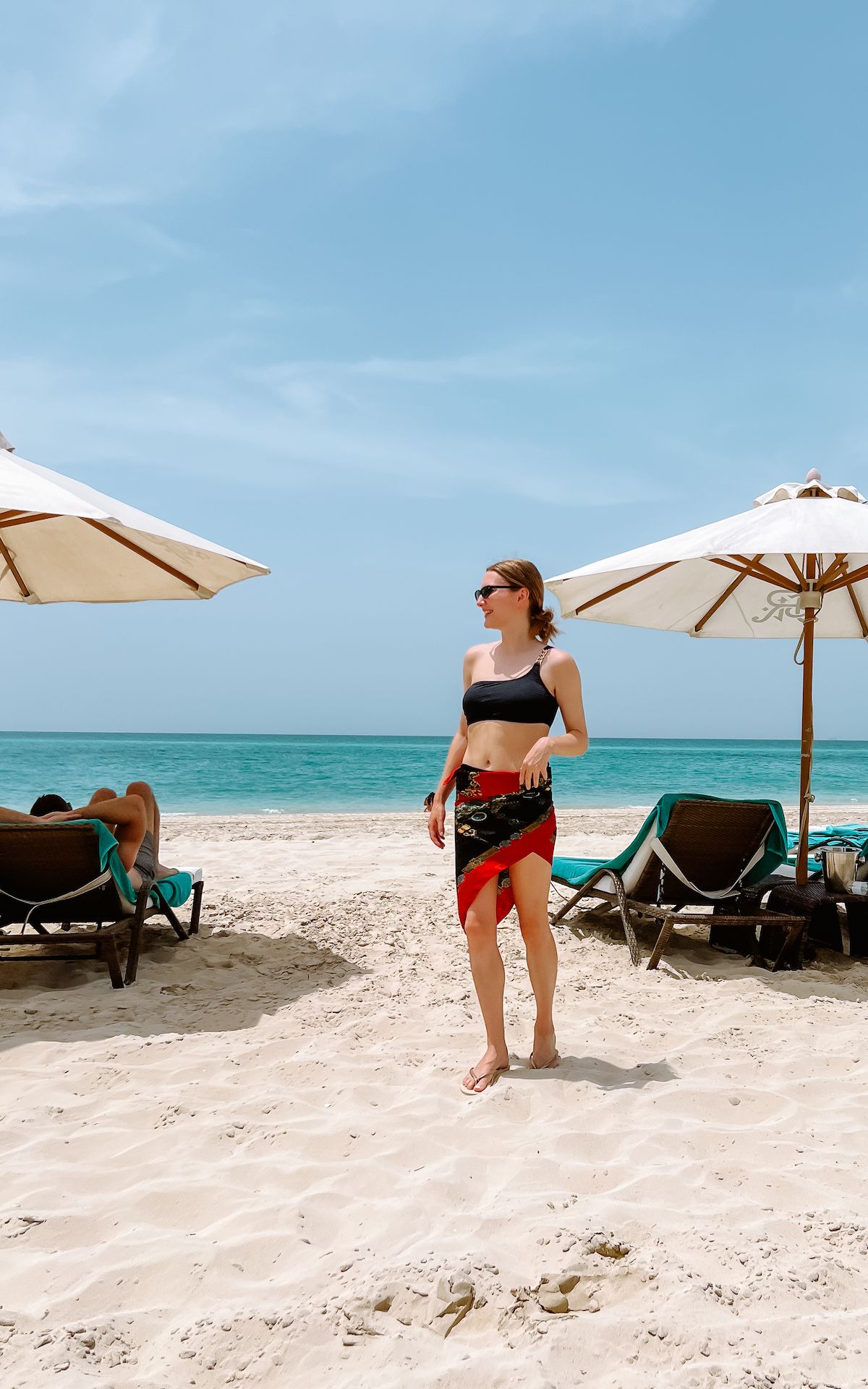 Saadiyat Island has the best beaches in Abu Dhabi. With its pristine white sand, turquoise water and far-reaching sea views, it doesn't get much better than this! It was the warmest sea water I've ever felt in my life.
When comparing Saadiyat Island's beaches to Corniche Beach downtown, Corniche Beach didn't feel as wild since you see buildings and islands across from it.
If you're not staying at a beachfront hotel on Saadiyat Island, there are public beaches you can access with entrance fees. Check out Kai Beach or Soul Beach. Saadiyat Beach Club is another option if you want access to more amenities like swimming pools and private cabanas.
2. Eat a delicious Lebanese lunch at Beirut Su Mer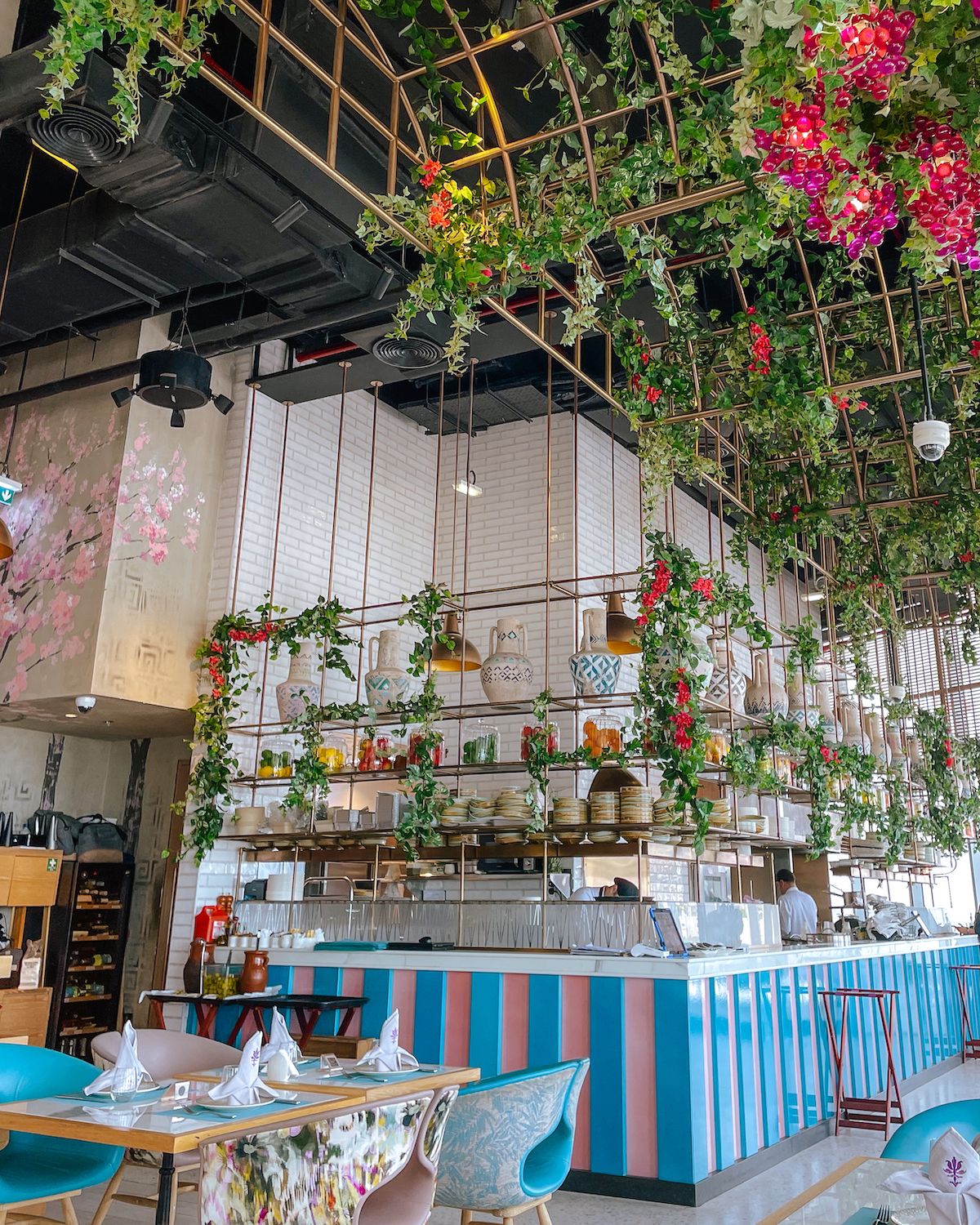 Don't miss out on eating delicious Middle Eastern flavours. One restaurant that stood out for us was Beirut Su Mer, serving authentic Lebanese dishes by the sea. With a Bib Gourmand designation from the Michelin Guide, you know you're getting excellent dishes for a good value. Make your reservation online through Google.
✔️
Top tip:
When you drive across the bridge from downtown to Saadiyat Island, look to your left to see the impressive
Louvre Abu Dhabi
museum that looks like a UFO coming out of the water.
3. Walk through Qasr Al Watan, the Presidential Palace of the UAE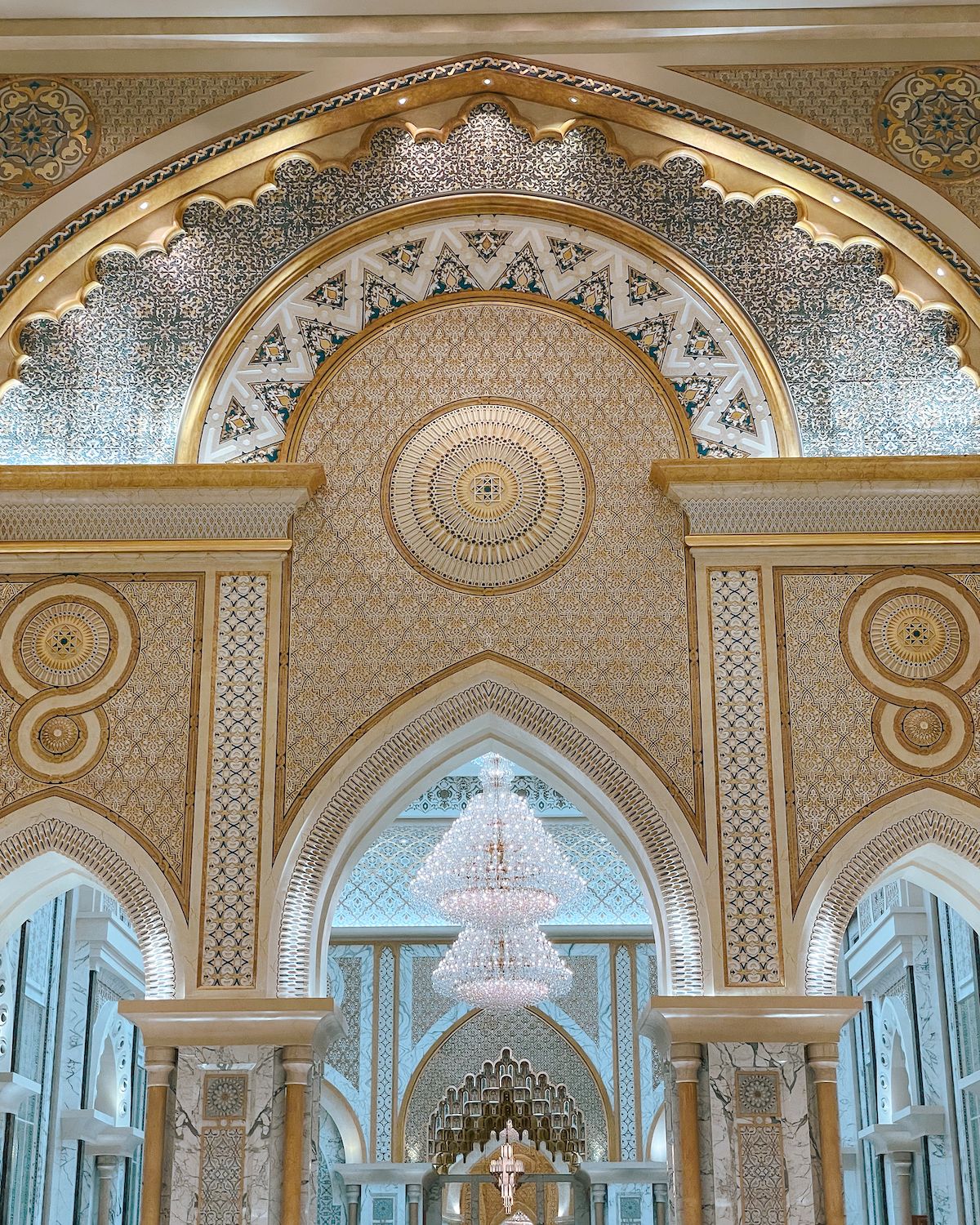 We weren't expecting to have as much fun as we did on our tour of the Presidential Palace.
We arrived thinking we were just going to take some pictures of the outside and before we knew it, we were on a shuttle through the grounds to the entrance of the magnificent building.
It's the inside of the palace that you really want to see here. Its grand spaces with high ceilings, giant chandeliers, exquisite marble and ornate details are spectacular. It was tough to pick just three photos for above!
We liked how we could walk through the palace at our own pace. The printed descriptions were enough to understand what was going on.
What made Qasr Al Watan so unique was that it's a real working presidential palace
- we saw the press room, the presidential banquet room where they host close nations, the presidential meeting room and the great hall. This made it feel like a true cultural experience.
4. Walk through the Emirates Palace Mandarin Oriental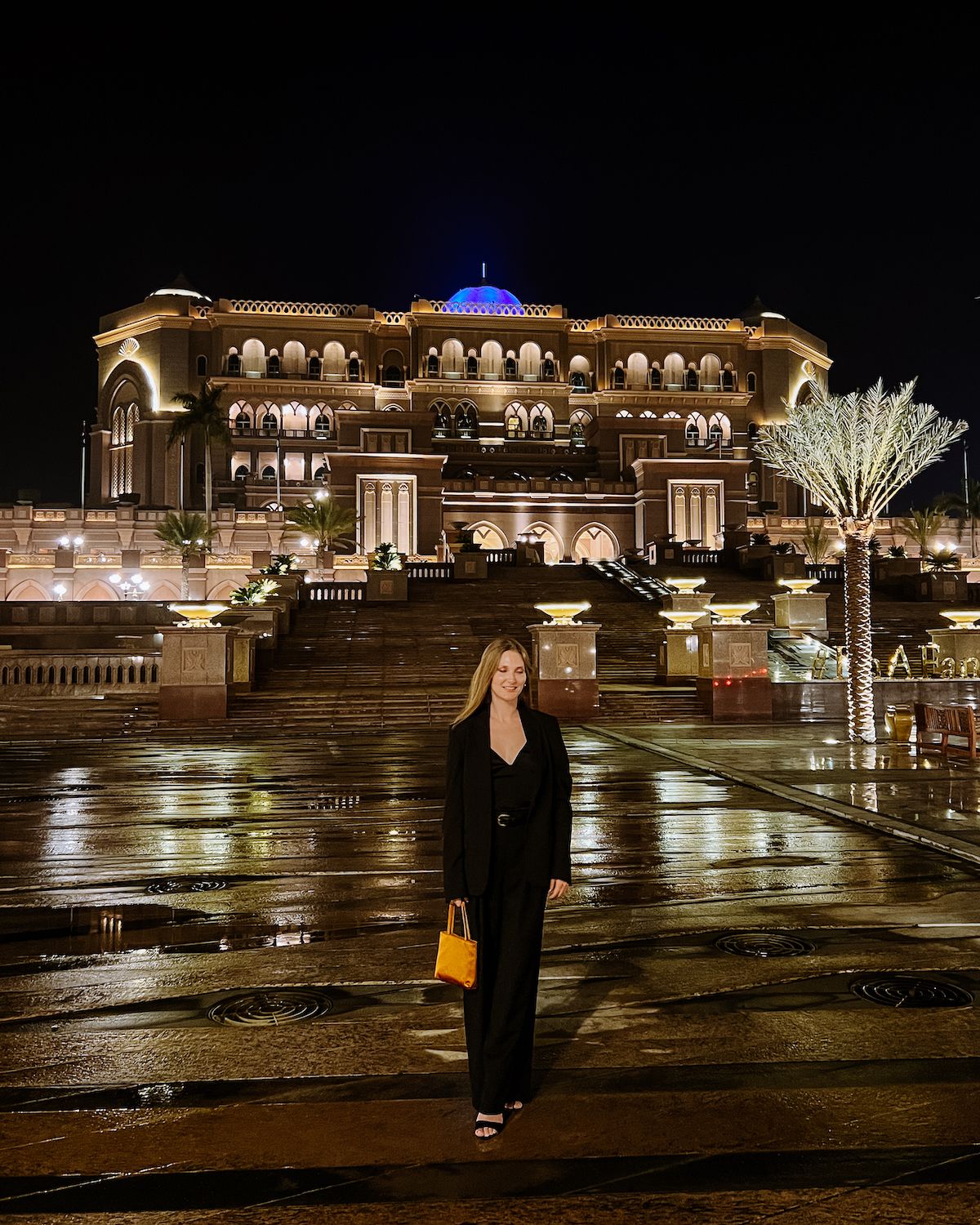 Another Arabian beauty, Emirates Palace Mandarin Oriental is one of the most alluring hotels you'll see in Abu Dhabi. Driving up to it at night, we felt like characters in an Abu Dhabi version of the Hitchcock film, The Man Who Knew Too Much.
We happened to walk through the Emirates Palace since we were dining at Hakkasan and realized that seeing this hotel is something you don't want to miss. We saw a hotel guest who seriously looked like a Queen.
✔️ Top tip: Afterwards, walk towards the main street from the Emirates Palace Mandarin Oriental to see a view of the five Etihad Towers lighting up at night.
5. Eat traditional Emirati cuisine
Try the UAE's traditional local fare called Emirati cuisine. Meylas may be a bit out of the way in an unassuming area, but it's worth it to try their authentic Emirati recipes that started out as one of the first food trucks in the country. It's great value and the portions are big.
✔️ Top tip: Meylas is only a 10-minute drive away from the Sheikh Zayed Grand Mosque, so they are nice activities to combine.
8. See the breathtaking Sheikh Zayed Grand Mosque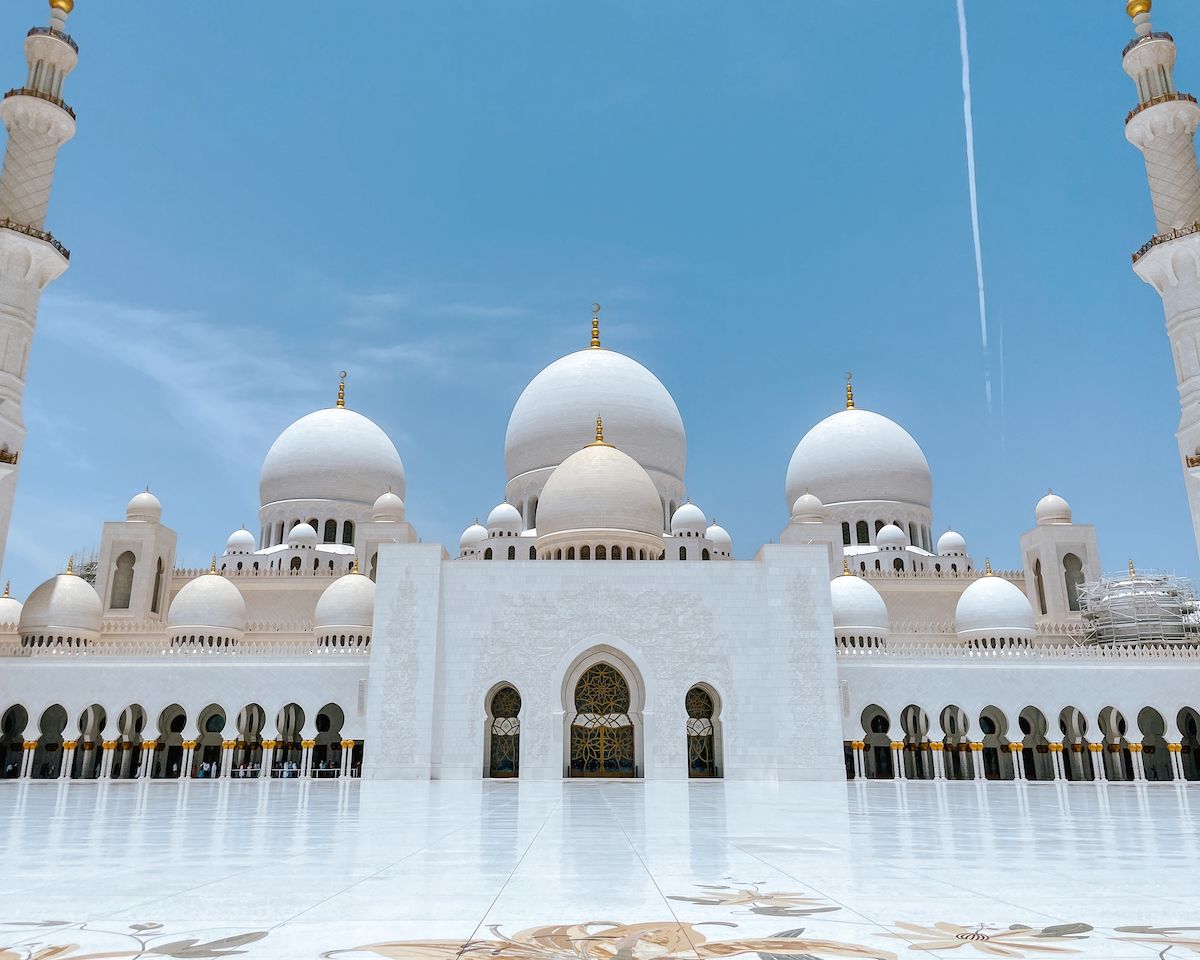 While the Presidential Palace is the most impressive from the inside, it's the Sheikh Zayed Grand Mosque that is the most impressive from the outside. It's a marvel of architectural grandeur with its pristine white domes, elegant minarets and intricate designs drawn from Islamic architectural styles. As we drove towards it in our taxi, we gasped when we saw it in the distance.
Visiting Sheikh Zayed Grand Mosque is one of the best free things to do in Abu Dhabi. Make sure you sign up for your free ticket online, so you're not rushing to do it when there.
It takes some time to walk from the underground mall through the checkpoints to the mosque. However, after you are done, there is a free shuttle that takes you back to the underground mall.
✔️ Top tip: they have a very strict dress code - see the official dress code guide before you go.
If you only have time for the Presidential Palace or the Sheikh Zayed Grand Mosque, we recommend the Presidential Palace. The mosque had bigger crowds and you're outside in the heat in long clothes for much of the time. Although the outside is spectacular of the mosque, the interior of the Presidential Palace blew us away. The dress code also isn't strict at the Presidential Palace. They just recommend that your knees and shoulders are covered.
6. Treat yourself to a fabulous restaurant in the Michelin Guide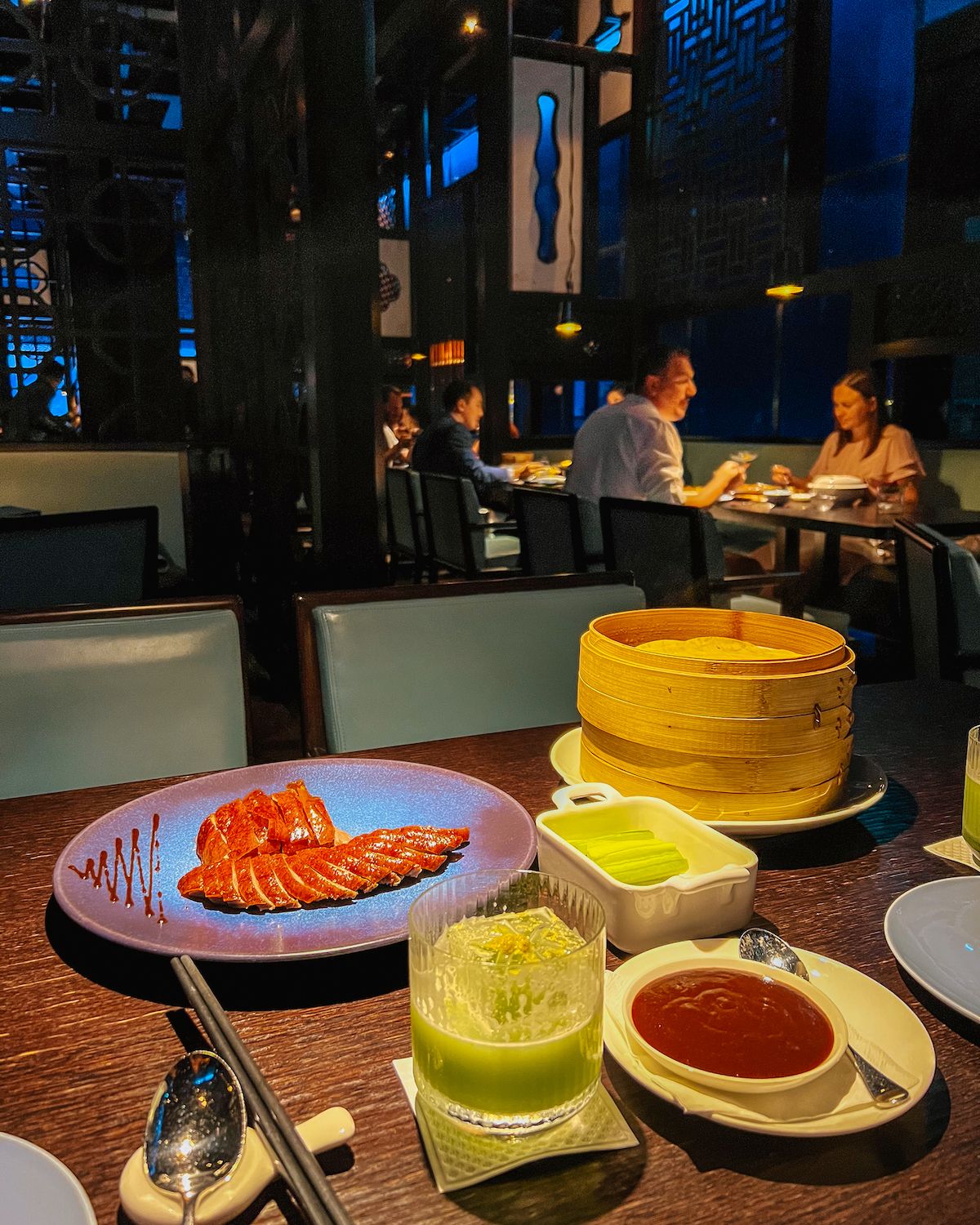 With world-top chefs and a mix of cultures, Abu Dhabi has many restaurants that have earned themselves a coveted spot in the Michelin Guide. Treat yourself to one of these fabulous restaurants that has incredible food and a unique interior and atmosphere.
We shared the Peking duck at Hakkasan, a sexy and atmospheric restaurant known for its Chinese cuisine.
See the list of restaurants in Abu Dhabi in the Michelin Guide.
Sip cocktails and people-watch at Zuma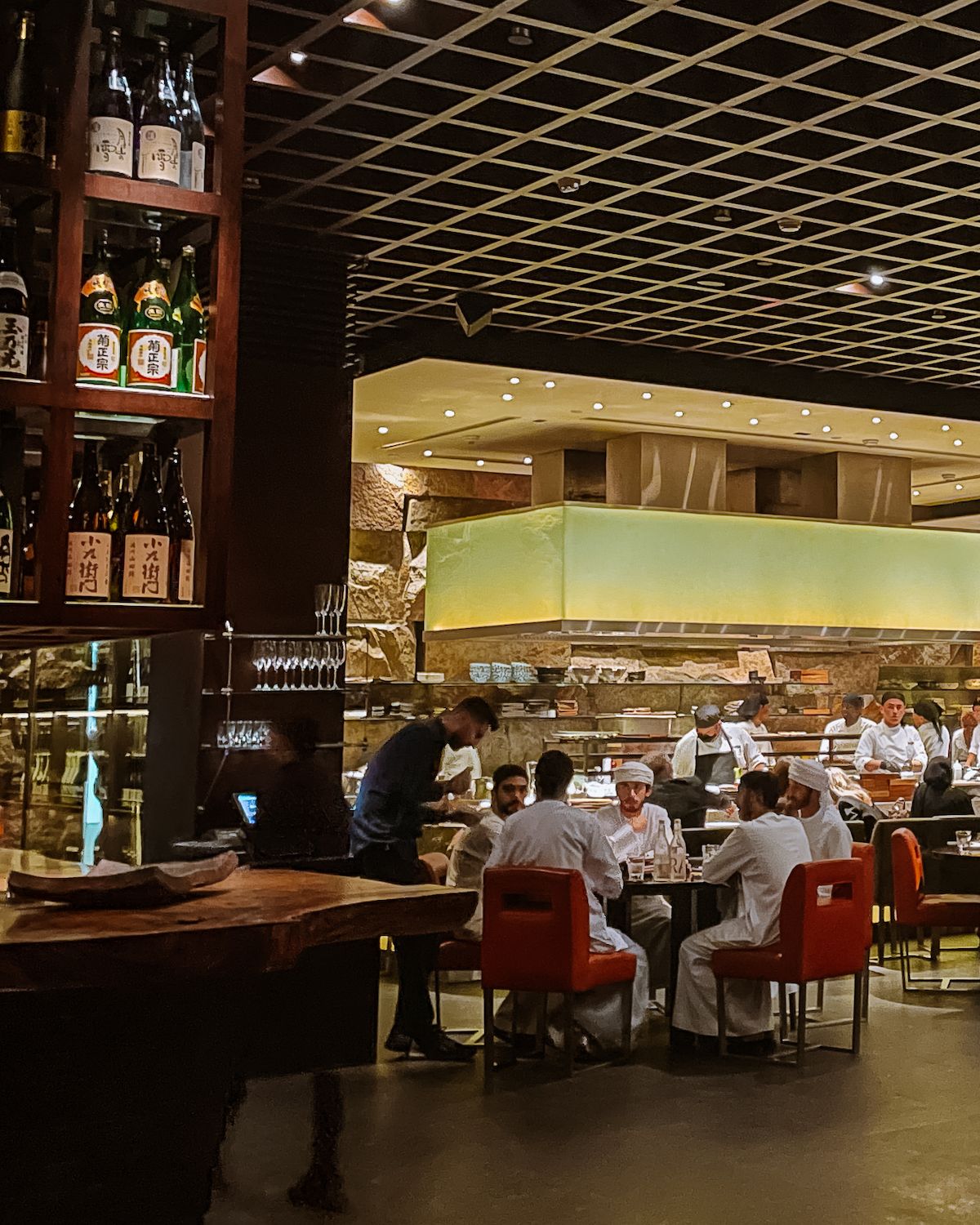 We were intrigued by Zuma since it's one of the hottest restaurant chains around the world. What we didn't expect, however, was that it was going to turn into the cultural experience it did.
One thing you'll notice in Abu Dhabi is that you see a lot of different cultures. This makes sense since about 90% of the country's population is made up of expats. Well, at Zuma, it was the most Emiratis we saw in one place. As we took the glass elevator down to the bottom floor, we saw round tables filled with men in white robes and women in black abayas, all enjoying an evening out. With a live DJ playing house music with an Arabic touch, the atmosphere felt as though we had been granted exclusive access to a party.
And unfortunately what comes with exclusive parties comes with break-the-bank prices. The Japanese izakaya-style restaurant serves high-quality dishes, but the prices are exorbitantly high. We ordered the cheapest things on the menu, one of them being a shrimp tempura roll for about $22 USD, and burst out laughing when it came and was only 5 pieces! It made it even more fascinating watching plate after plate come out for the guests around us knowing how expensive they were.
Instead, we recommend sitting at the bar and ordering a couple cocktails so you can enjoy the fun atmosphere and people-watch. Zuma takes walk-ins for drinks and snacks at the bar.
9. Make the most of your hotel amenities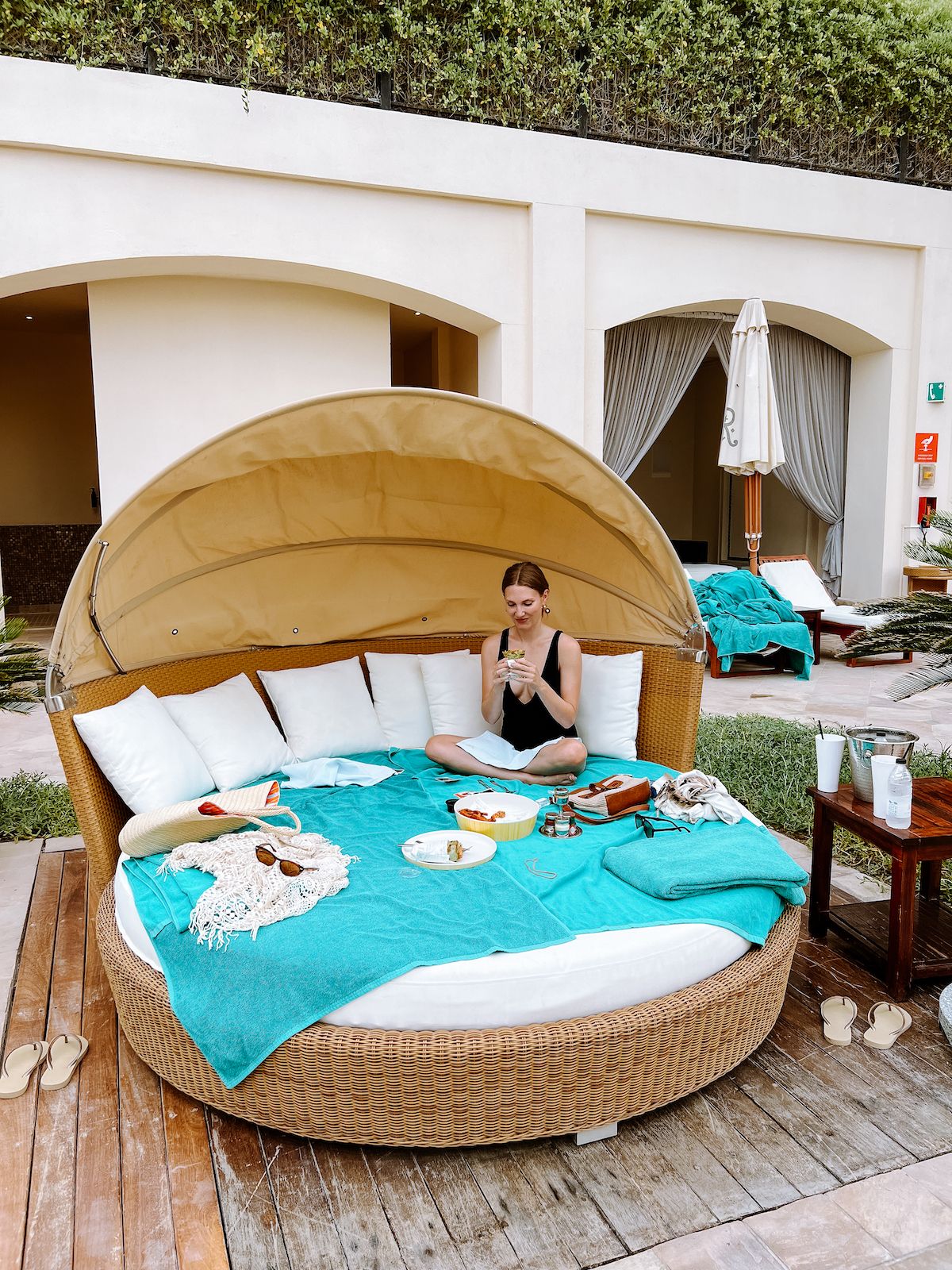 Abu Dhabi spares no expense when it comes to its hotel amenities. Make sure you carve out some time to utilize the facilities. We loved playing Scrabble and ordering pool snacks and pina coladas.
🛏️
Browse hotels in Abu Dhabi
Abu Dhabi 2 Day Itinerary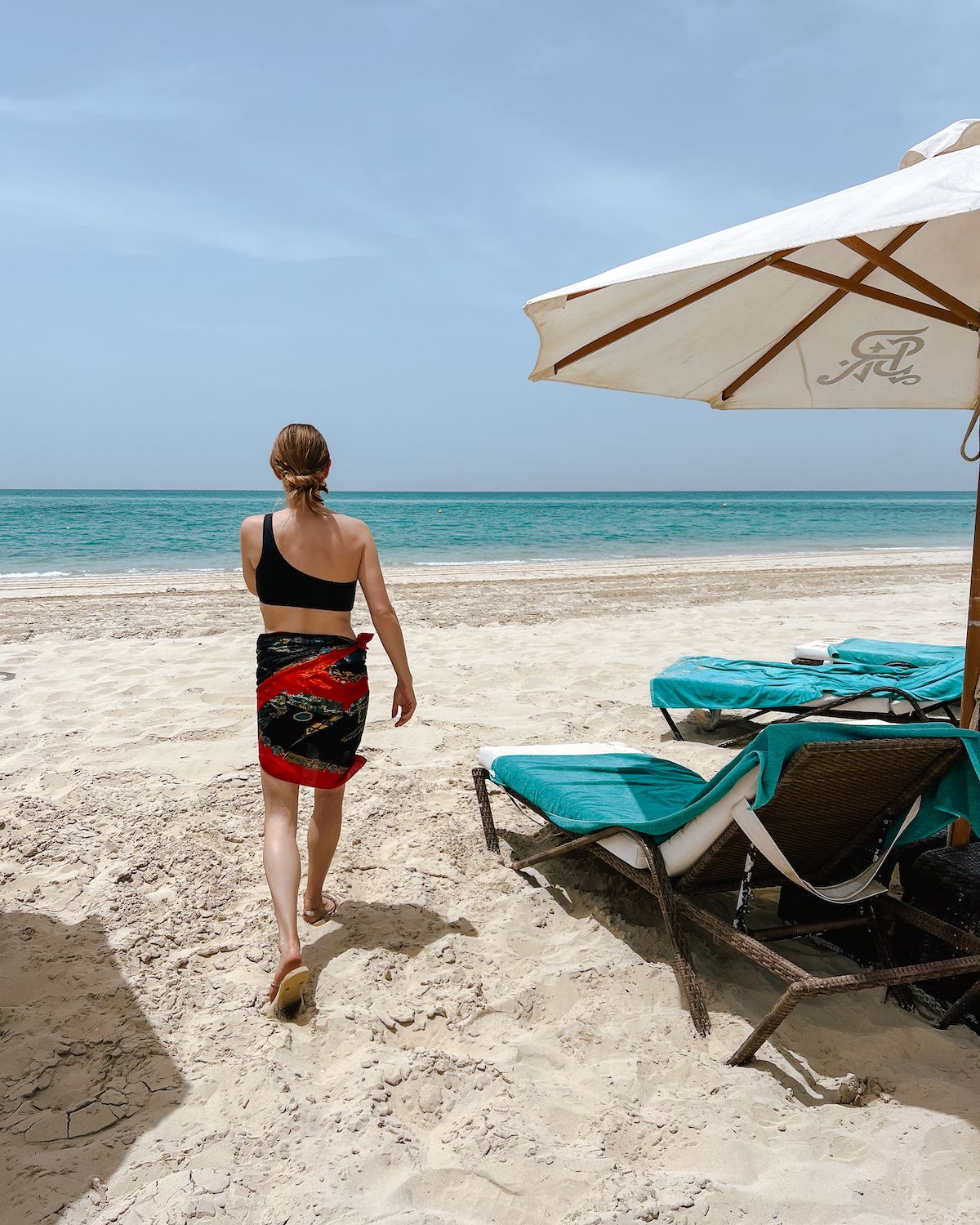 Day 1
Morning
→ Walk through the impressive Qasr Al Watan Presidential Palace
Daytime
→ Eat a delicious Lebanese lunch with sea views at Beruit Su Mer
→ Go for a swim and lounge at the beach on Saadiyat Island
Evening
→ Treat yourself to a fabulous restaurant in the Michelin Guide
Day 2
Morning
→ See the breathtaking Sheikh Zayed Grand Mosque
Daytime
→ Eat traditional Emirati cuisine at Meylas for lunch
→ Relax at your hotel and use the amenities. Order poolside bites for dinner and watch the sunset.
Evening
→ Dress up for an evening out and walk through the Emirates Palace Mandarin Oriental
→ Sip cocktails and people-watch at Zuma
Browse more activities with local guides in Abu Dhabi.
5 helpful tips for your trip to Abu Dhabi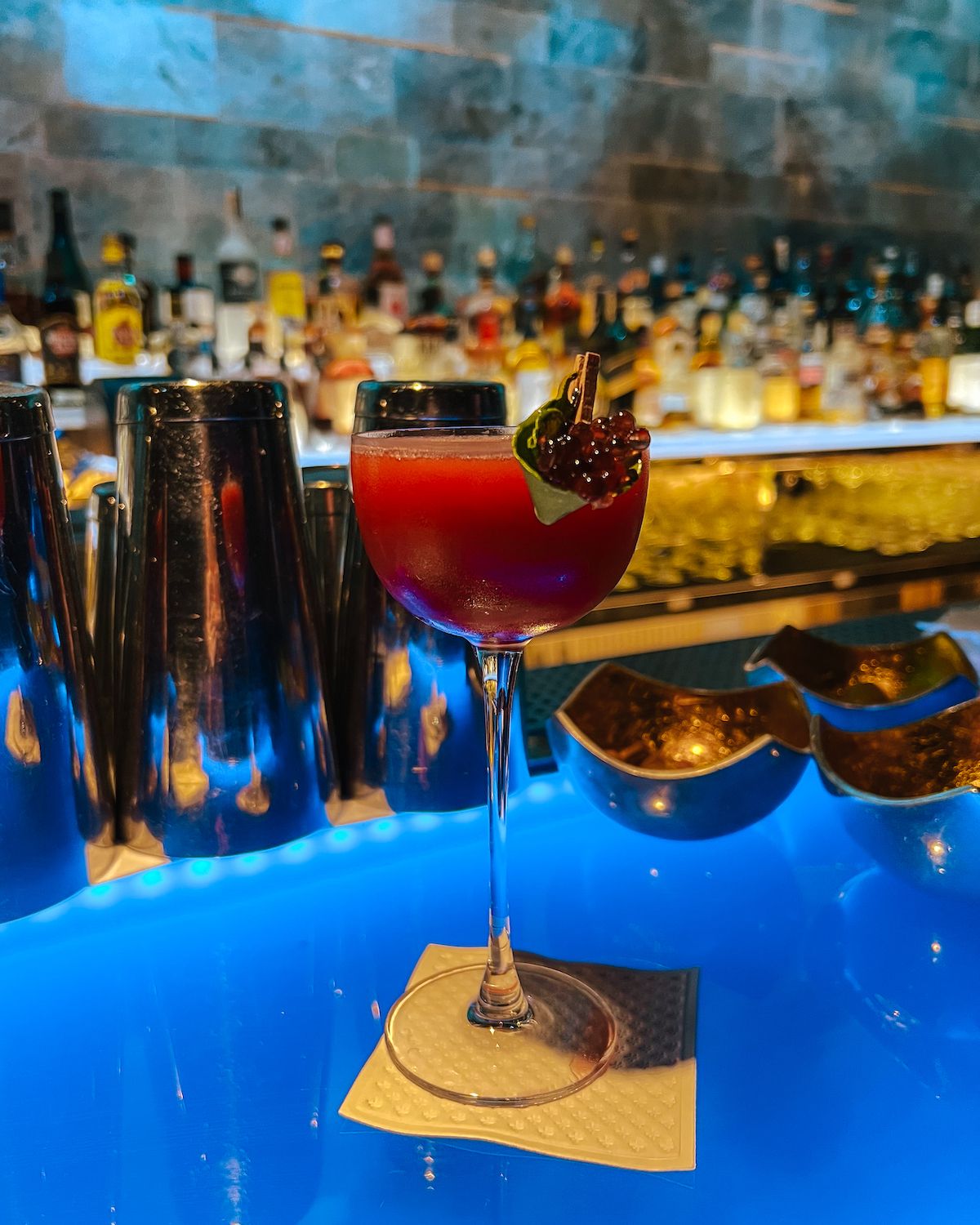 1. Some of the most impressive restaurants and best people-watching experiences are at very expensive restaurants. A budget hack is to visit the restaurant's bar instead and order a couple cocktails.
2. Take taxis since they are cheaper than Uber.
3. Bring cash for taxis.
4. Look at this official dress code guide before taking your chances trying to enter the Sheikh Zayed Grand Mosque.
5. If you're not staying at a beachfront hotel, visit one of the natural white-sand beaches on Saadiyat Island. Saadiyat Beach Club is also a great way to access amenities like outdoor pools and pool cabanas without spending high beach resort prices.
Enjoy your 2 days in Abu Dhabi!
Travelling during summer? Don't miss our list of the best things to do in Abu Dhabi in summer.
---
Get started on booking your trip to Abu Dhabi
---
Combine the UAE with a trip to its next door neighbour, Oman. This country has incredible natural sights and is the perfect destination for a road trip. See our 1 week Oman itinerary.
Have less time than expected? We have also have a guide on how to do Abu Dhabi in one day.
---
Save and pin this Abu Dhabi 2 Day itinerary for later: