Dubai has rapidly turned from a small fishing village to one of the most opulent cities in the world. The ambitious Middle Eastern city holds over 130 Guinness World Records - world's largest shopping mall, world's tallest building, world's highest infinity pool, world's tallest ferris wheel... the list goes on! It's bold, flashy and a lot of fun. It's hard to believe the futuristic city only had one skyscraper in 1991.
Since Dubai has a major international airport, it's easy to spend a couple days here on the way to your next location. It's the perfect destination for those seeking luxury, warm weather and a unique setting.
Your 2 days in Dubai will be filled with fun and fabulous things to do, from sunbathing at a sandy beach along the Persian Gulf to enjoying a leisurely afternoon tea in the highest lounge in the world.  
Disclosure: Some of the links below are affiliate links, meaning at no additional cost to you, we will earn a commission if you click through and make a purchase. We only recommend products or services we have used or that we believe will add value to our readers. Thank you for supporting us!
Best time to travel to Dubai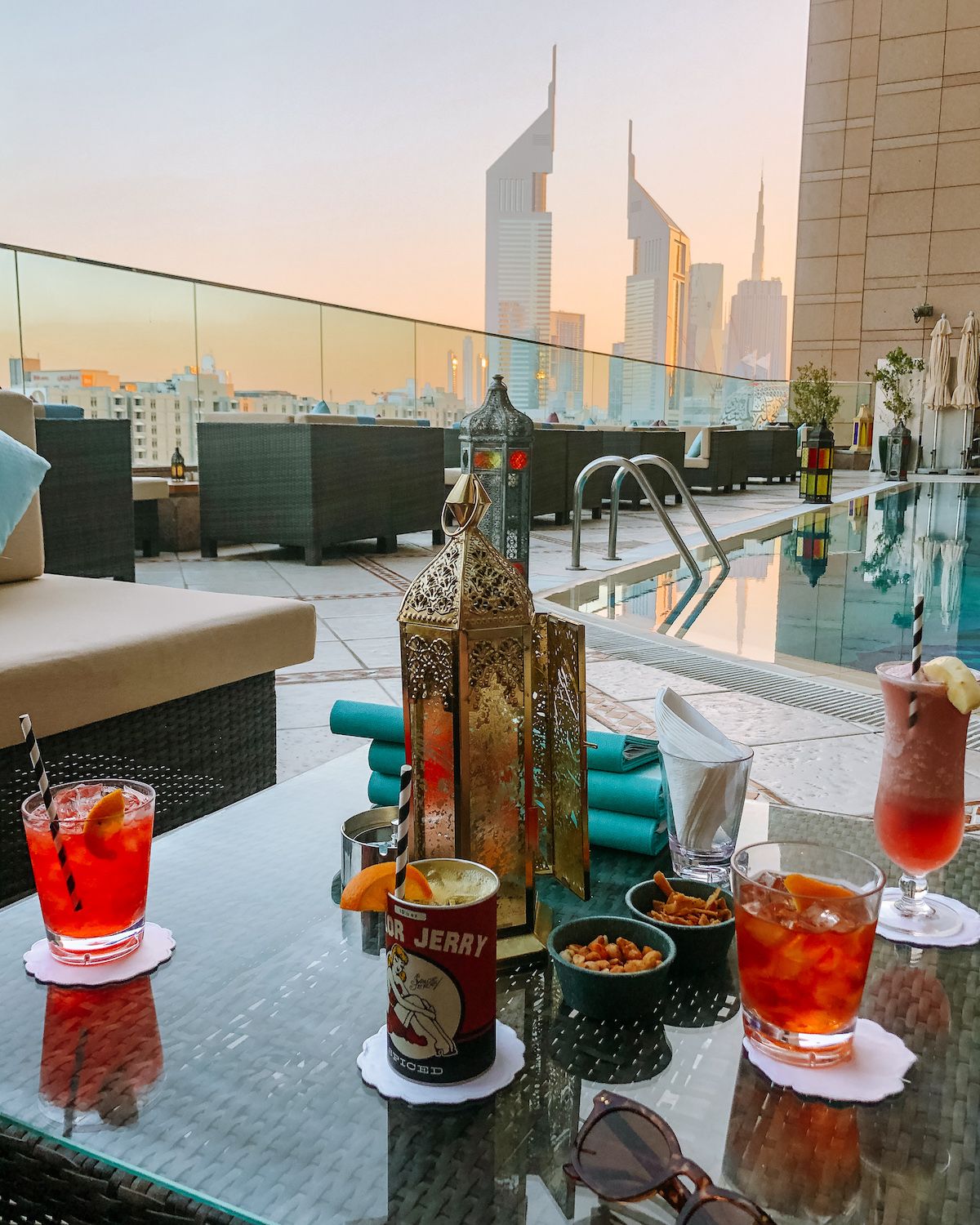 The best time to go to Dubai is between November - April when it's not too hot. The average temperature stays below 30°C during these months. Definitely avoid visiting during summertime from June-August when temperatures soar over 40°C!
Unique hotels in Dubai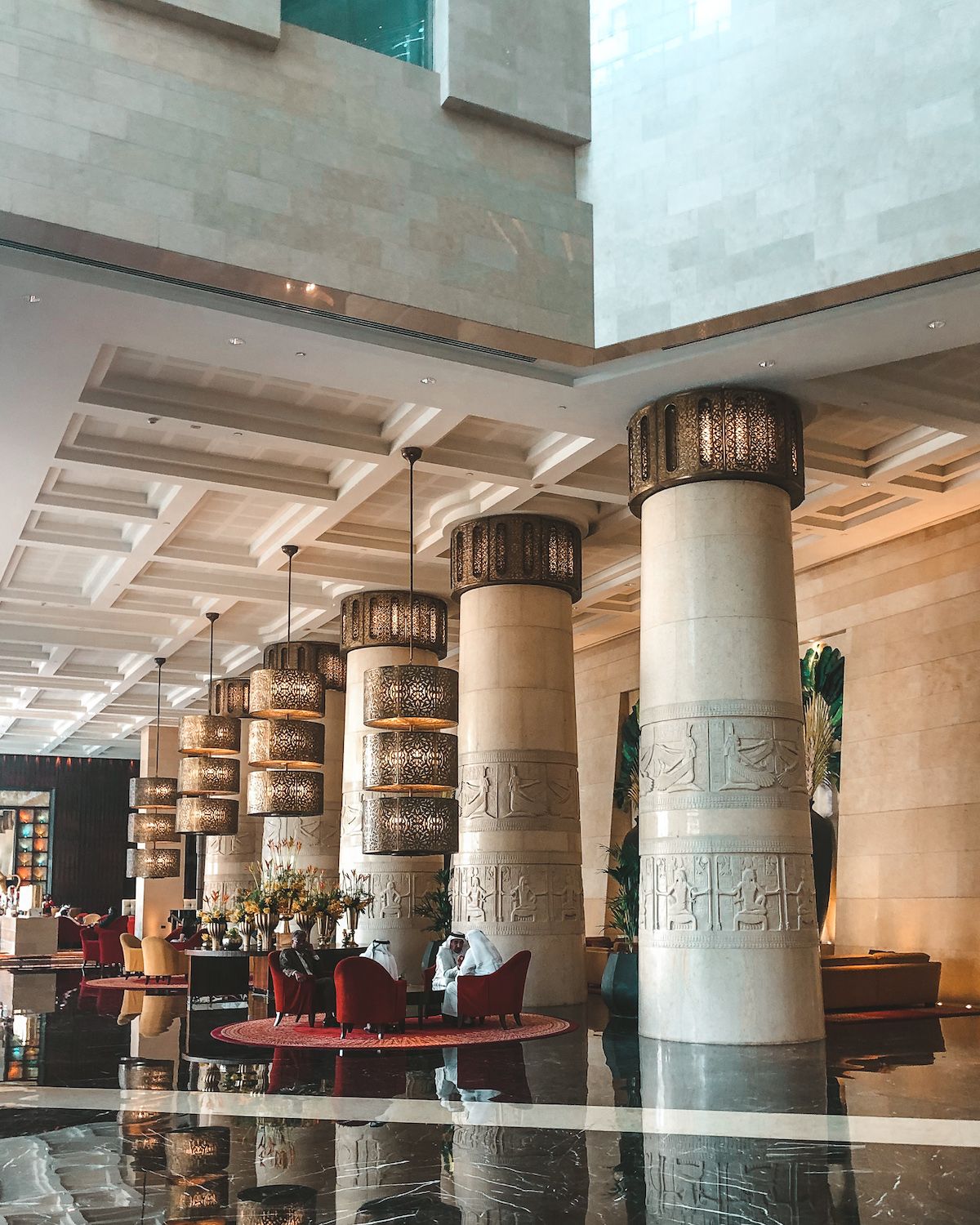 Dubai is filled with lavish hotels and grandiose resorts that aim to impress. In fact, it's home to some of the tallest 4-star and 5-star hotels in the world. When looking for a place to stay, consider the location and if you desire a city or beachfront experience. Since you are staying a short time in the city you won't want to spend a lot of your time driving to sights.
Our top hotel picks in Dubai: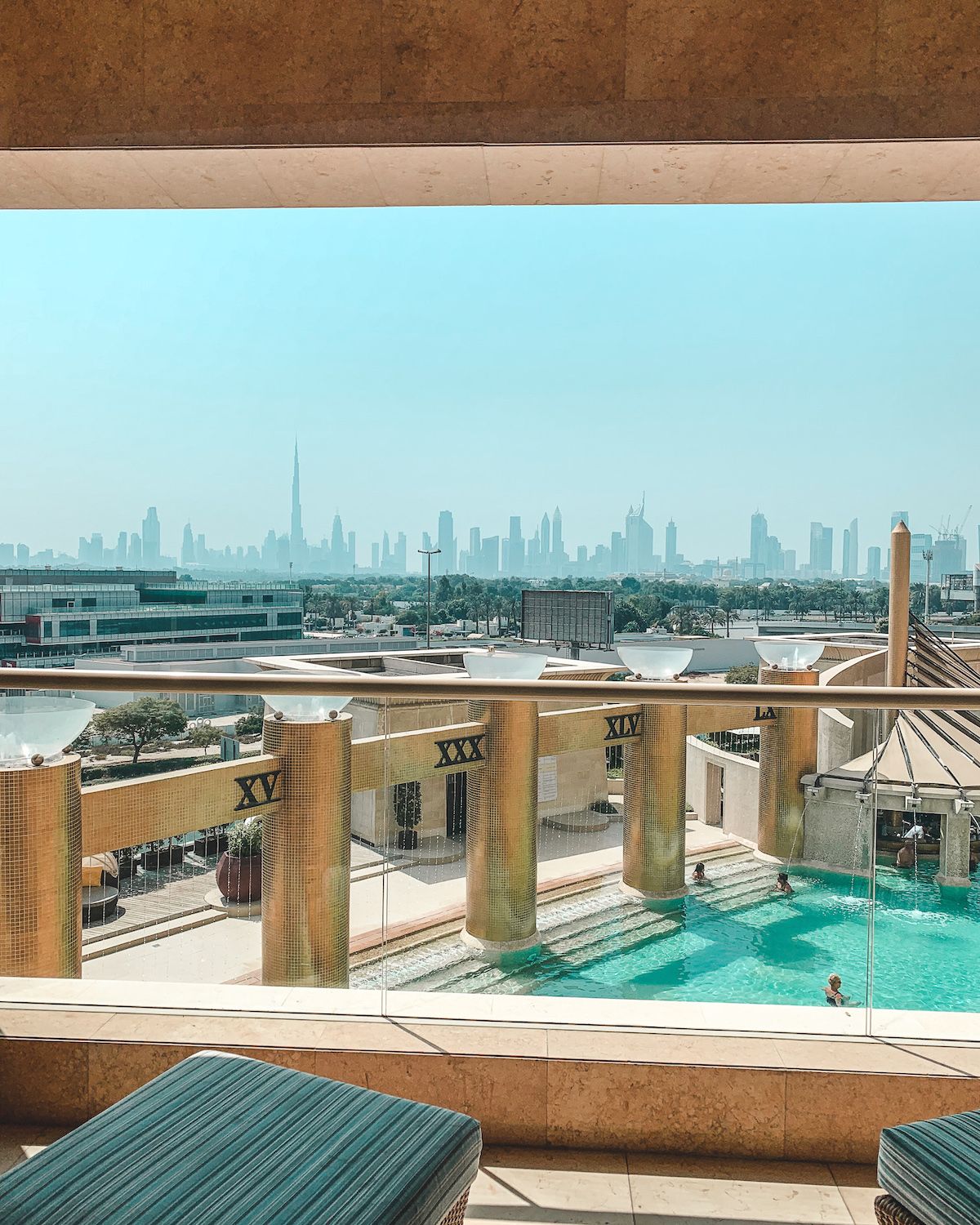 Best for Burj Khalifa views: Taj Dubai
If you're fascinated by Dubai's modern skyscrapers, stay at the Taj Dubai for one of the best panoramic views of the world's tallest building, The Burj Khalifa. It's only a 14 minute walk away.
See rates.
Stay in Dubai's iconic hotel shaped like an Egyptian pyramid. We stayed at the Raffles and were impressed by the hotel's spacious rooms, luxurious spa and attention to detail. The Burj Khalifa is a 10 minute drive away and beach a 15 minute drive.
See rates
.
Swim in the world's highest infinity pool at Address Beach Resort, a modern 77 story hotel overlooking a sandy beach and the
world's highest ferris wheel
. From the hotel you are walking distance to beach bars and buzzing restaurants. The luxury hotel opened in December 2020 and is an impressive addition to the city. If being on the beach is your top priority, this is the idyllic spot.
See rates
.
Top tip for budget travellers: you don't need to book a room to experience some of these extravagant hotels and resorts. Instead, purchase a pool day pass or spa treatment for access.
Fabulous things to do in Dubai in 2 days
Enjoy afternoon tea at the top of the world's tallest building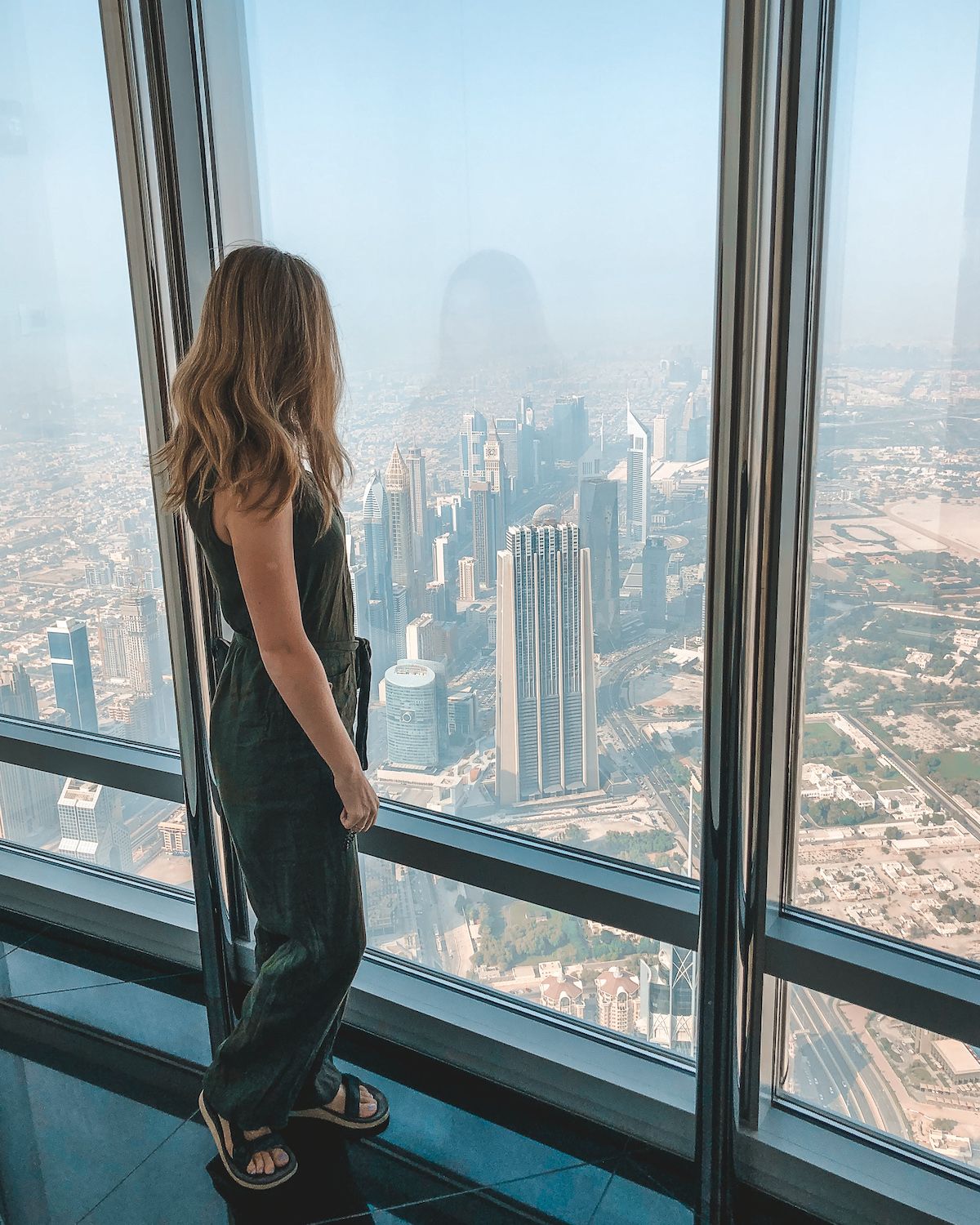 The Burj Khalifa is the world's tallest building at a whopping 828 meters. Designed by architect Adrian Smith, he took inspiration from a desert flower called the Spider Lily. There are different tiers of tickets you can get to view the skyline from the soaring skyscraper.
At the Top, Burj Khalifa (456 m elevation)
This ticket takes you to the observation decks at floor 124 & 125 and costs $45 USD per person.
You can easily purchase tickets with GetYourGuide.
We like how you can cancel up to 24 hours in advance for a full refund.
At the Top, Burj Khalifa SKY (555 m elevation) with line bypass
This ticket includes a personalized tour on floor 148 where the world's highest observation deck is. You also get to skip the elevator and security lines. The cost is $145 USD per person.
Buy your tickets
with GetYourGuide for free cancellation up to 24 hours in advance.
Fully-loaded experience 🥔✨: World's Highest Lounge VIP (585 m elevation)
We splurged and got a VIP ticket to the world's highest lounge, covering floors 152 to 154. Located at 585 m elevation, it's the height of a respectable mountain! When we arrived we got to skip the security and elevator lines and were immediately taken into the elevator.
We arrived to swanky lounge music playing in the background and couldn't believe how high we were. We walked around admiring the view and then sat in lounge chairs for our tea in the clouds.
It isn't cheap, but it's worth it. For $203.92 USD per person it includes your lift ticket, line bypass and afternoon tea with gourmet canapés. Make it extra fabulous and order a glass of champagne to start.
Purchase your VIP tickets for the World's Highest Lounge with GetYourGuide
for free cancellation up to 24 hours in advance.
Scared of heights? The elevator doesn't have windows in it, so if you're scared of heights, don't be nervous about the elevator ride! My sister has a fear of heights and she was fine.
Soak in the sun at the beach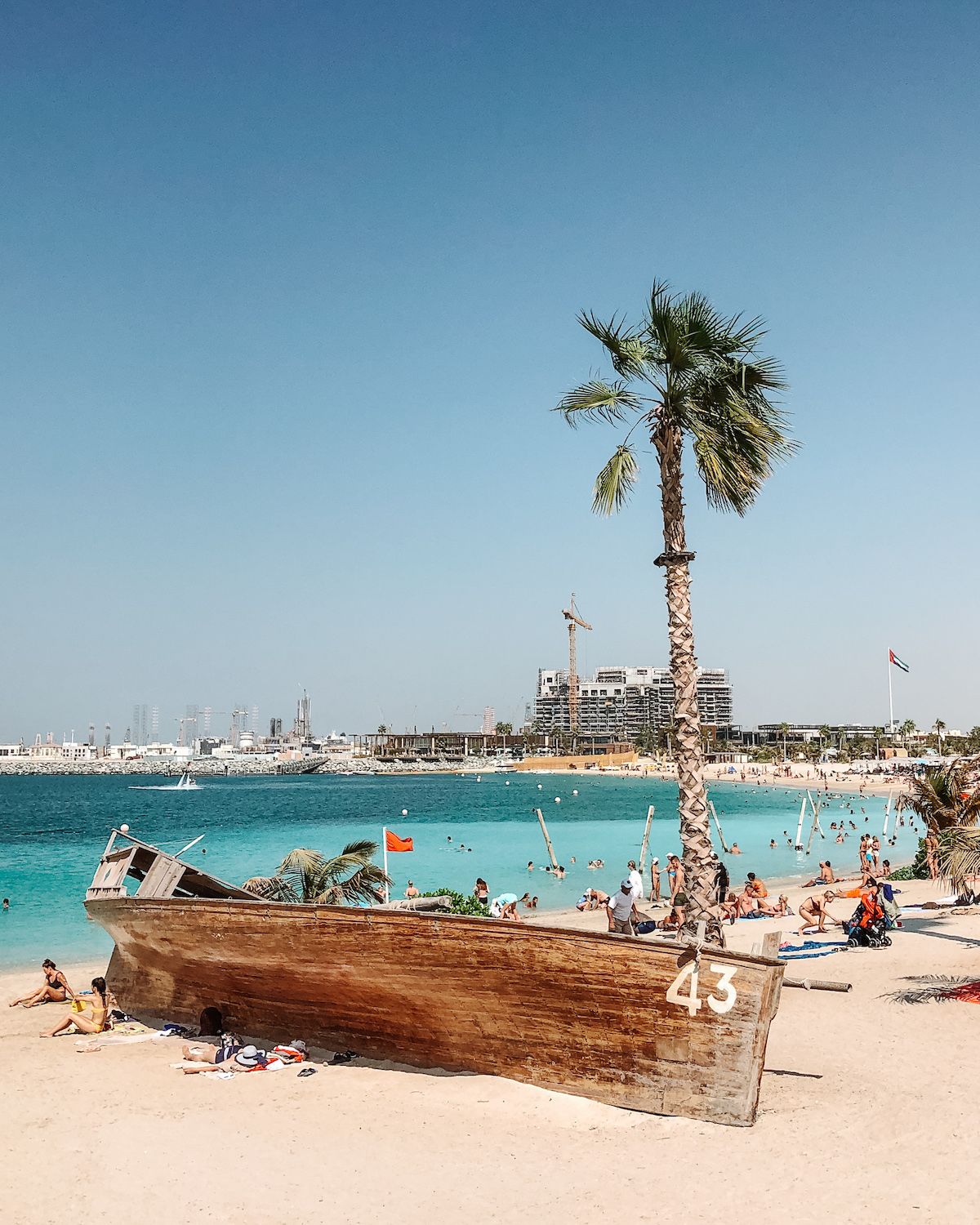 Sunbathe at one of Dubai's sandy white beaches along the Persian Gulf. The beaches are well developed with easy access to lounge chairs, cabanas and toilets and you will find many beach cafes and beach bars along the strip. On a hot day it's refreshing taking a dip into the sea.
We chose La Mer Beach, the newest developed beach in Dubai. Our taxi dropped us off at the open-air La Mer Beachside Shopping district and once we walked through it, we took a right towards the sandy beach lined with colourful lounge chairs, beach boutiques and food shacks.
The beach is free, however, if you want a chair and umbrella it will cost you. We were happy to rent a beach chair and umbrella for the shade and ordered smoothies from our friendly waiter.
Top travel tip: bikinis and swim trunks are accepted on the beach, but not on the boardwalks behind the sand.
Pamper yourself at the spa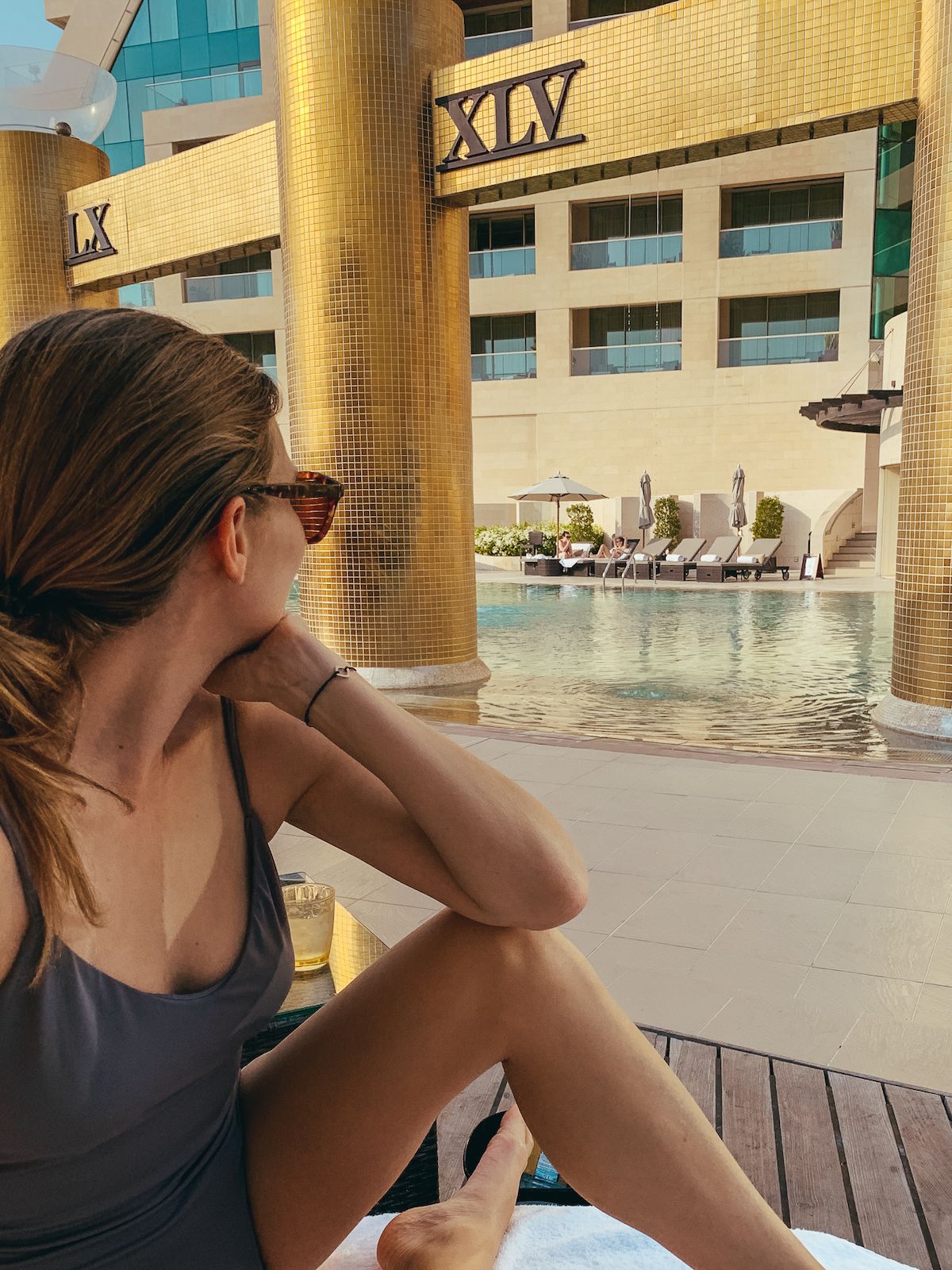 Don't forget to utilize your hotel's amenities! Dubai is one of the top spa destinations in the world after all. Pamper yourself with a wonderful massage and read your favourite magazine at the pool.
If you're staying at a hotel with a subpar pool or spa, book a spa treatment at the luxury hotel of your choice. We highly recommend The Raffles (they offer pool passes for non-hotel guests). Our Arabian Nights spa treatment was heavenly with its scents of Frankincense, Sandalwood and Rose. Afterwards we hung out beside the glamorous pool and ordered a poolside lunch.
Smoke shisha on a rooftop terrace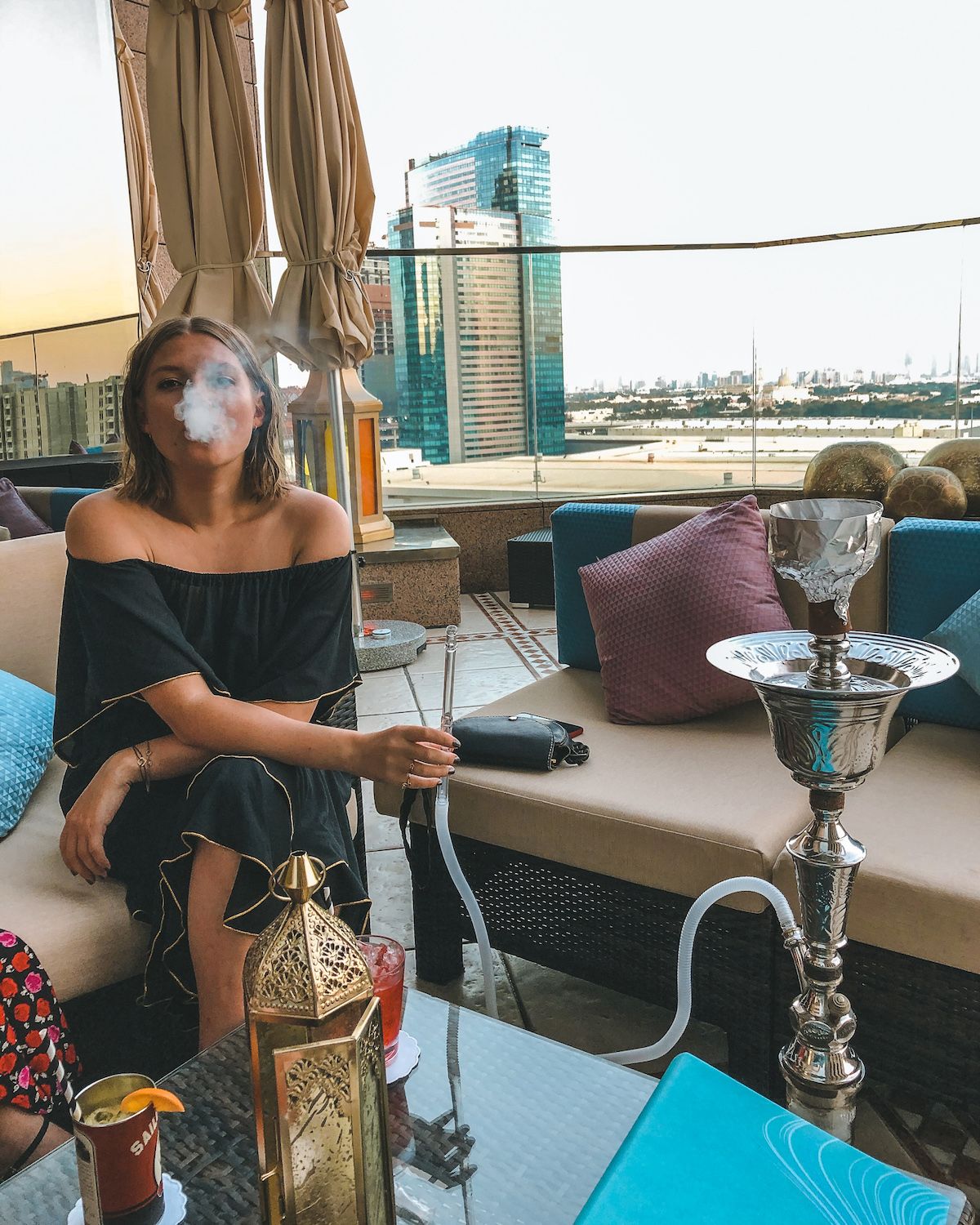 Smoking shisha with friends and family is a deep-rooted Arabic tradition that goes back centuries. The fruit flavoured tobacco is typically smoked at social gatherings with tea and boardgames involved. It's a relaxing atmosphere where every enjoy each other's company as a long tube from the hookah (water pipe) is passed along to each other to smoke from.
Fairmont Dubai has a swanky rooftop lounge called Dokuz where you can order shisha and mezze plates. You just pick out your flavour of tobacco and they set it all up for you. We recommend mixing a fruit flavour with mint (for example watermelon-mint), since the smoke will have a nice cooling effect from the mint, but a nice fruity flavour. I personally can't smoke cigarettes because they make me feel sick, however I felt completely fine from smoking shisha.
Eat delicious Middle Eastern cuisine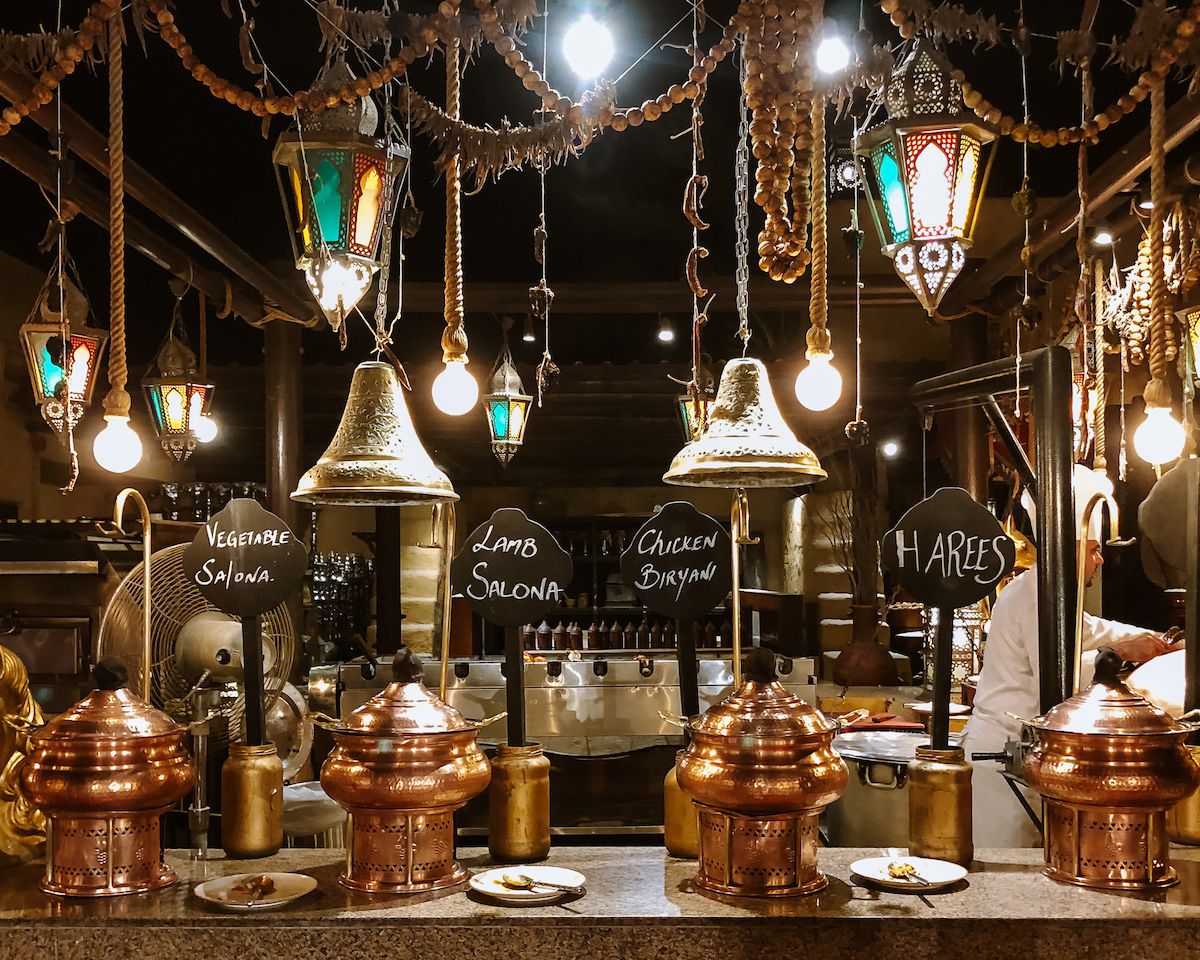 Dubai has an eclectic mix of restaurants serving cuisines from all over the world, such as Japanese and Mediterranean, however we took the opportunity to eat as much Middle Eastern food as we could! For authentic Arabic cuisine of the UAE (Emirati cuisine), try Arabian Tea House Cafe in the historical Al Fahidi neighbourhood.
We hope you enjoyed this fabulous 2 days in Dubai itinerary!
Want to see more of the Middle East? Combine Dubai with a trip to Oman next door. See our Oman road trip itinerary.
You may also like:
---
Start planning your trip to Dubai
🌃 Accommodation: Booking.com is our go-to for finding places to stay. Sort by top reviewed.
🛫 Book your flight: use Skyscanner to compare flights across different airlines (we recommend booking direct with the airline however).
🏥 Travel insurance: World Nomads. Already traveling? You can purchase insurance with World Nomads while you're abroad. A 48-hour waiting period just applies for coverage.
---
Save and pin this 2 Day Dubai itinerary for later: