To a foreigner, it's a challenge to navigate this city. Google maps is nearly useless, blog coverage is scant and Seoul is HUGE. We spent almost two weeks exploring and found some amazing, one of a kind spots. We list 13 alternative things to do in Seoul you don't want to miss.
13 Alternative Things to do in Seoul
1. Grab some soju and people watch outside of the convenience store (GS 25 or CU)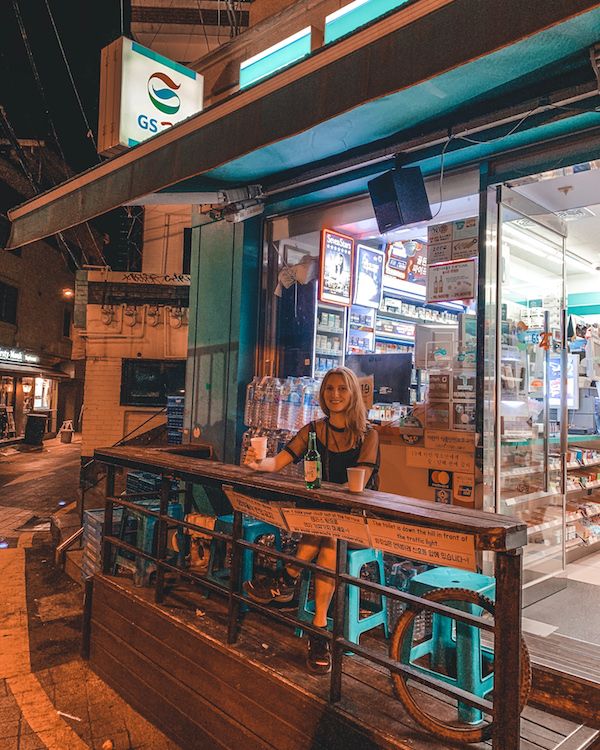 By far the most affordable and low key way to grab a drink is by picking up a green bottle (local term for soju alcohol) from the convenience store. Pay about ten cents for a cup, sit down on their lawn chairs and watch the world go by.
We discovered that the sausage-on-a-stick convenience stores sell make quite a nice pairing (they heat it up for you). Make sure to pay a bit extra for the more expensive ones and you have an instant snack to go along with your green bottle.
2. Drink delicious coffee in one of the numerous unique cafes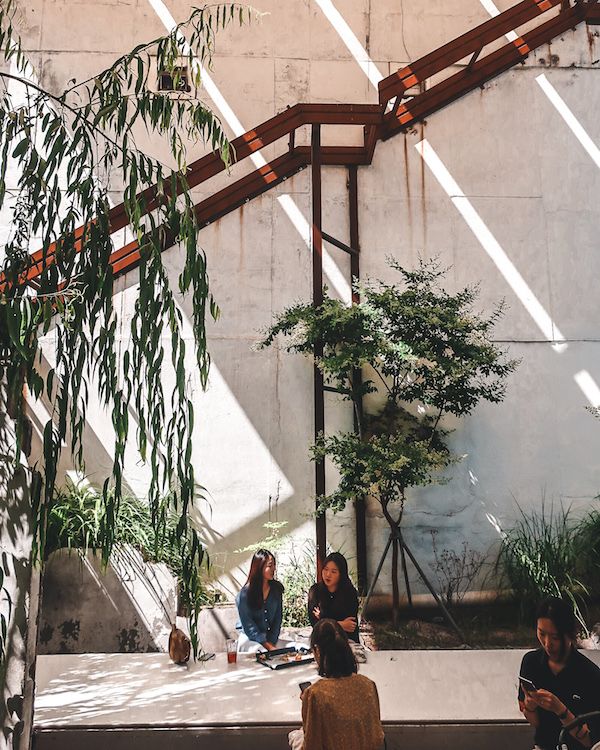 The coffee culture in Seoul is unlike any other city we have visited. Cool coffee shops abound and offer a place for young people to meet up, grab a drink and chat for hours on end. Coffee shops in Seoul are more like meeting places than the silent remote work refuges of North America. Because the customers are actually looking for a place to hang out, special attention is placed on the vibe, aesthetic and music.
Find the perfect spot in our list of unique cafes in Seoul you should visit.
3. Shazam amazing music at Vinyl Music Bar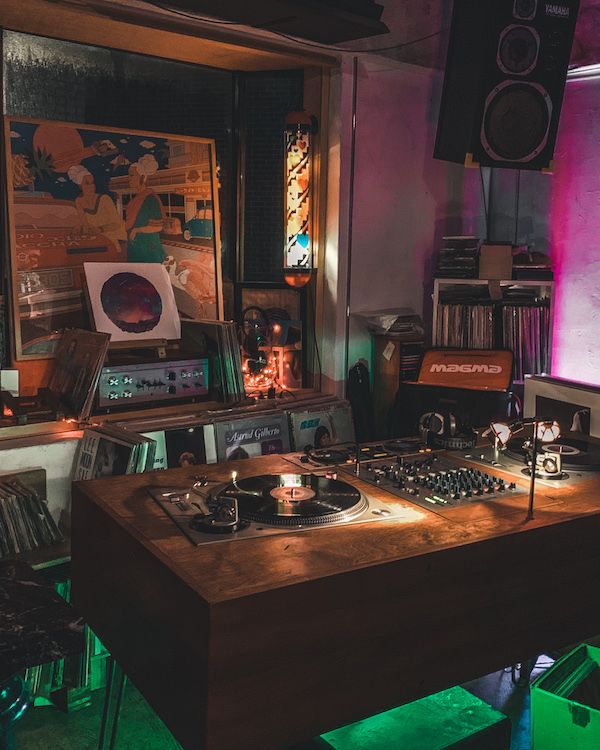 Vinyl Music Bar is a refuge from the more typical music venues in Seoul. Here you will hear music of all kinds, but mainly indie rock, jazz, electronic and pop.  The dimly lit, laid back venue is the perfect place to unwind and relax as new music fills your ears.
Address: 2F, 27 Tojeong-ro
4. Explore the alternative & creative neighbourhoods of Mullae-dong and Seongsu-dong.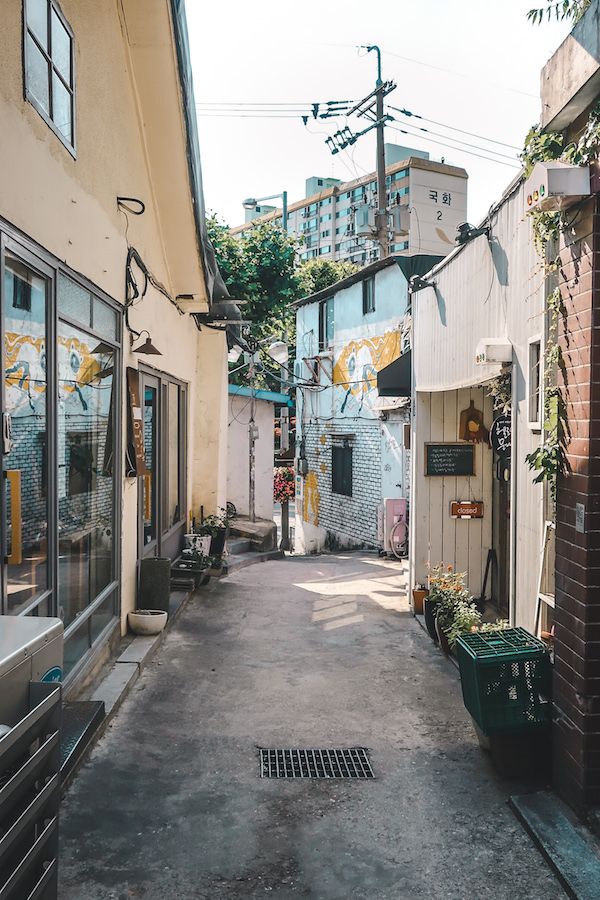 The perfect way to see a different side of Seoul is to explore an alternative neighbourhood. Mullae-dong was once the home of numerous small-scale steel mills in the 70s. Today, many artist spaces, cafes, and restaurants nestle in between workshops in this industrial area.
A good starting point to explore Mullae Art Village is at: 58-34 Mullae-dong 3-ga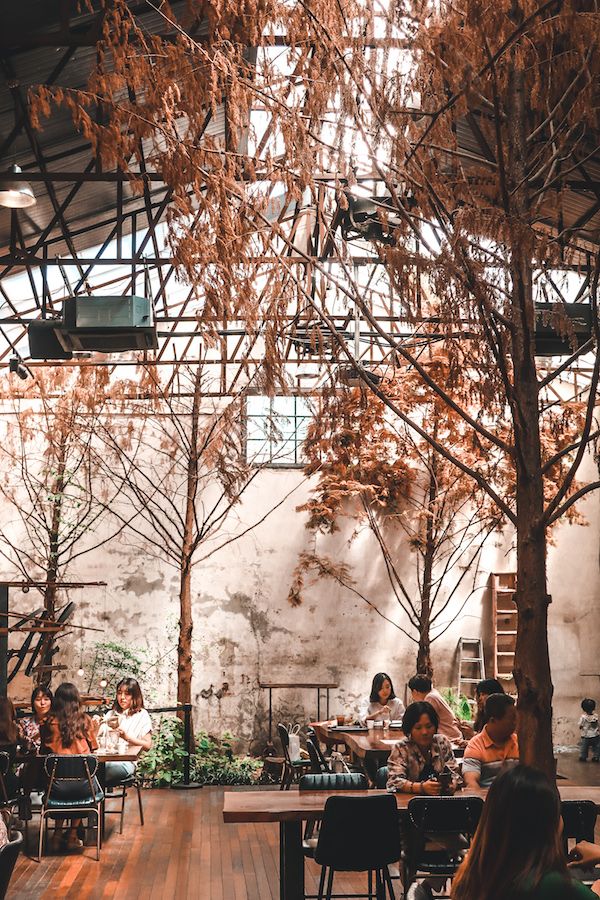 Another area filled with converted industrial spaces is Seongsu-dong. Here, the cafes and restaurants are more upscale than in Mullae-dong, but still retain a special vibe. Grab a pizza and admire the artworks in Daerim Changgo or brave the lineup and get a few pastries at Cafe Onion. They are delicious!
Address: Cafe Onion (8 Achasan-ro 9-gil); Daerim Changgo (78 Seongsui-ro)
See more cool neighbourhoods in our list of top 8 neighbourhoods in Seoul.
5. Go bowling in Gangnam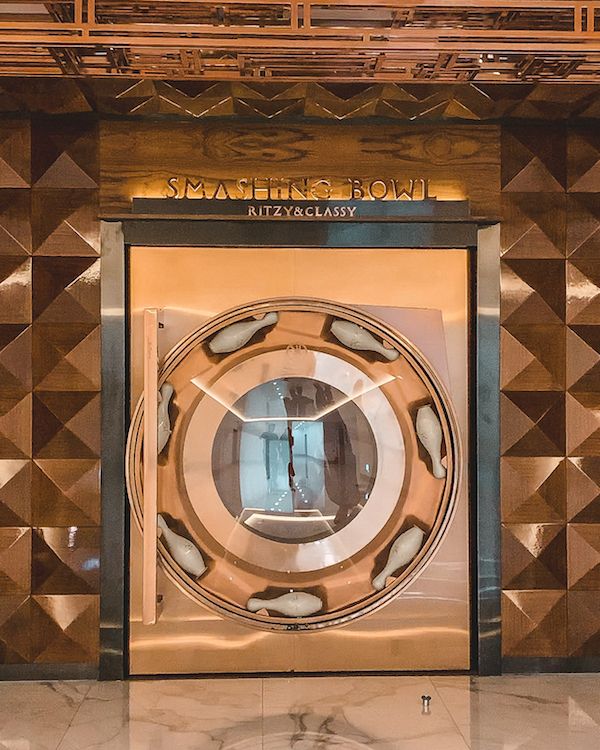 When you first hear 24h bowling alley, you may think of a grimy and poor quality hole in the wall. That is, until you step into Smashing Bowl, a ritzy and classy bowling alley like we have never seen before. We just love this place. It's a bit expensive as you are charged per person by number of games and there is a two drink minimum. So take your time and enjoy the game and the people watching!
Address: B2, 818 Seolleung-ro
6. Have a night out in an eclectic bar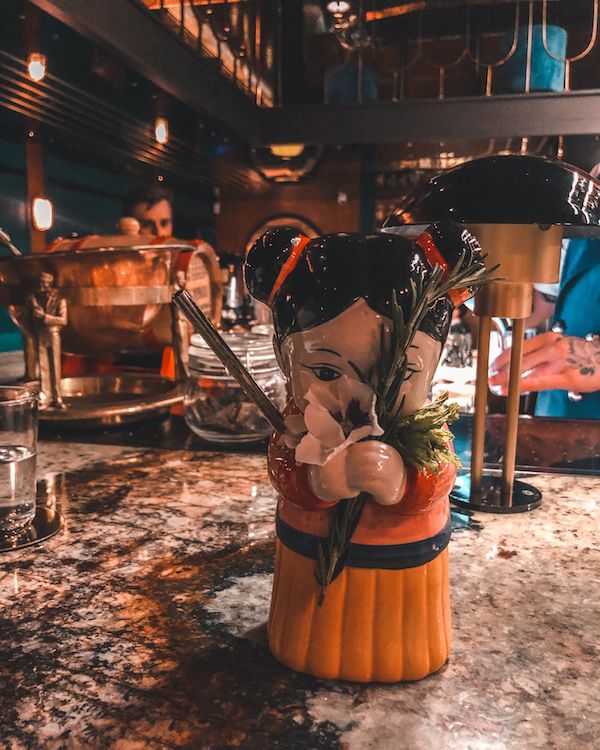 Our challenge in Seoul became finding awesome spots that did not play popular western music. From our experience, Western music seemed even more in vogue than K-Pop. We found an amazing set of eclectic bars that have identities all their own.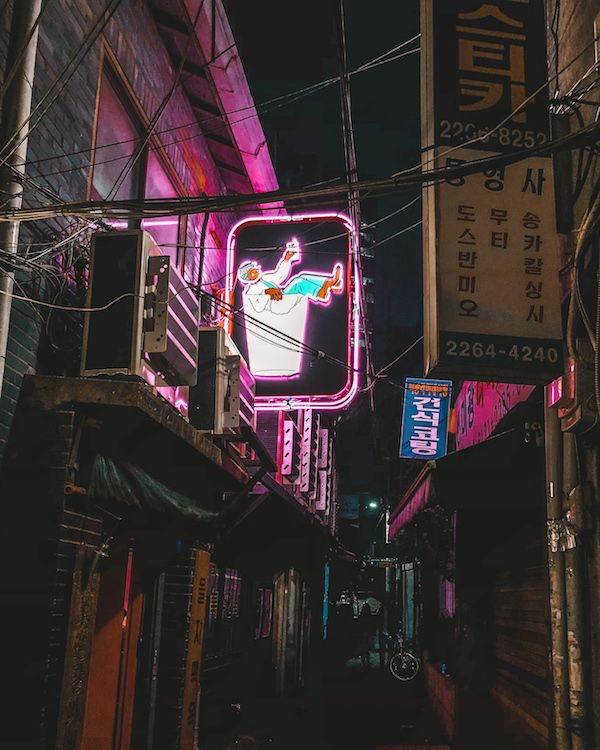 Best Bars in Seoul
Best for cocktails: Pussyfoot Saloon (7-8, Daesagwan-ro 31-gil). Grab a creative and delicious cocktail at one of the best cocktail bars in the world.
Best for craft beers & bites: Euljiro Brewing (48-16 Supyo-ro). Inside the graphic and neon space, order a pint of beer and fried chicken.
Best bar with artsy & creative types: Seendosi (31 Eulji-ro 11-gil). Located on the 5th floor, the technician school turned neon bar, is where the art crowd congregates. Don't miss the rooftop where smokers hangout in the church pews.
Best for music: Vinyl Music Bar (2F, 27 Tojeong-ro). Where you won't stop shazamming!
Best trendy bar: 232 Seoul (232 Itaewon-ro). Where you'll find a hip crowd and local DJs playing mostly hip hop & funk.
Don't forget to grab a Dawn 808 at the convenience store to help with that hangover!
7. Eat Korean BBQ and try Hanwoo 1++ beef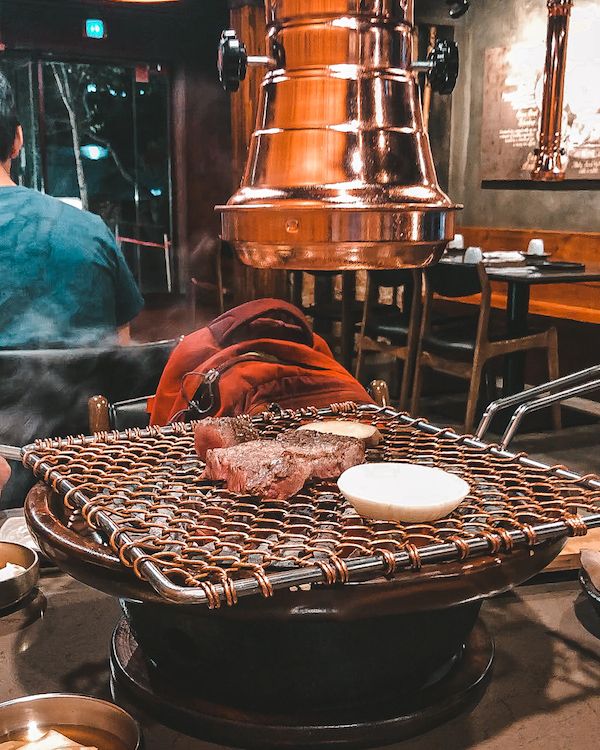 The classic, Korean Barbecue comes at its finest at Maple Tree House. Korea is known for a type of beef called Hanwoo 1++. It's outstanding and somewhat like Japanese Wagyu. We like to have a mix grill of pork and beef. For two people, three plates of meat is the perfect amount.
Things that set a better BBQ restaurant apart from the others are, grilling service, type of charcoal and quality of meat and sides. Maple Tree House had it all. Check out any one of their three locations.  
Address: Samcheong location (129-24 samcheong-dong); Itaewon location (Hamilton Hotel 2F, 116-1 Itaewon-ro 27ga-gil);  Gangnam location (BF1 Mokwha Milart, 113 Teheran-ro)
8. Go boutique shopping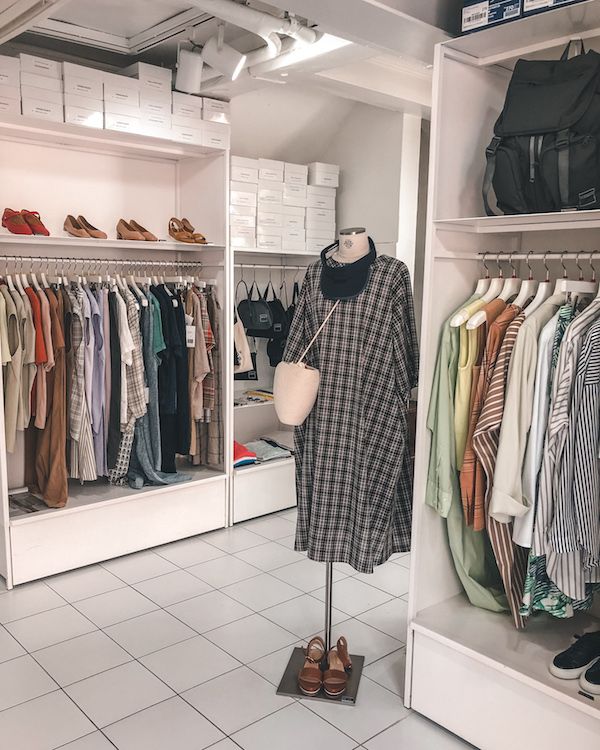 The young people of Seoul take fashion seriously and nearly everyone is well dressed in the capital. Interestingly, t-shirts are a big thing here and we have never seen such a big selection of them in the shops.
Top boutique with local designers: Slow Steady Club (17 Samcheong-ro 5-gil)
Best value: Around the Corner (532-5 Sinsa-dong)
9. Dive into a beauty regime with some Korean face masks
In Korea, beauty is a key component of good health and wellness. We have not seen another part of the world where beauty has been taken so seriously. It's no wonder Korean beauty products are world renowned. It is not uncommon to see a young woman doing makeup touchups on the train or wearing a single hair curler on her forehead at a cafe.
With some face masks at Innisfree starting at $1 USD, make sure to pick up a bunch! You will be happy you did. Their products focus on using high quality ingredients from Jeju Island. For high end facial products and facials don't miss Sulwhasoo's gorgeous flagship store.
10. Enjoy fine dining at a contemporary Korean restaurant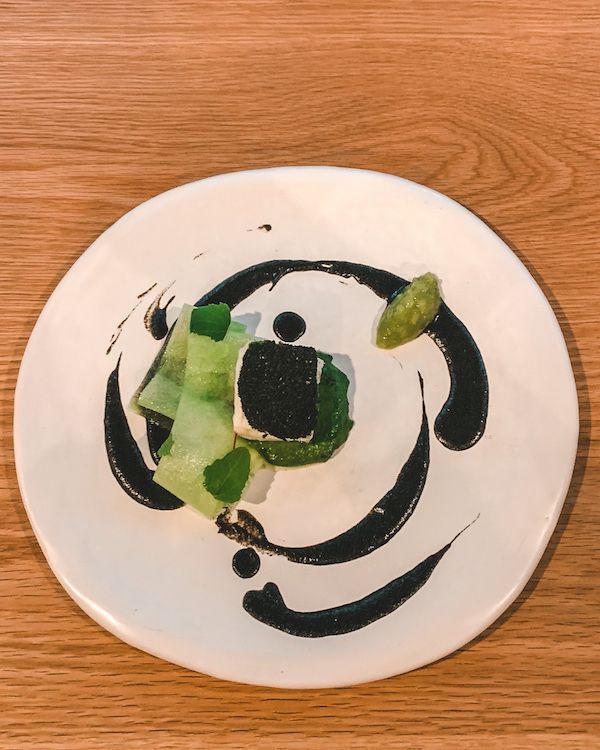 If there is one restaurant you should try in Seoul, it is Evett. Chef Joseph has worked around the world and is fusing traditional Korean concepts with contemporary cooking styles. We were so impressed by the techniques and even found that the squid noodle dish (yes the noodles are 100% squid) was totally unique and better than any squid dish we had in Japan.
Attention to detail can be found throughout the menu as well as with the Korean alcohol pairing. Prepare for a tasting experience that winds though many different types of soju that pair exceptionally with each dish. It is said that the sommelier (Dustin) can be found learning the secrets of fresh Korean ingredients while foraging in the countryside.
We are sure this establishment will receive a Michelin Star in its future. [Update: they received their first Michelin star and have been since overloaded with bookings! Make sure to make your reso in advance.]
11. Explore the maze like streets and 1920s houses in Ikseon-dong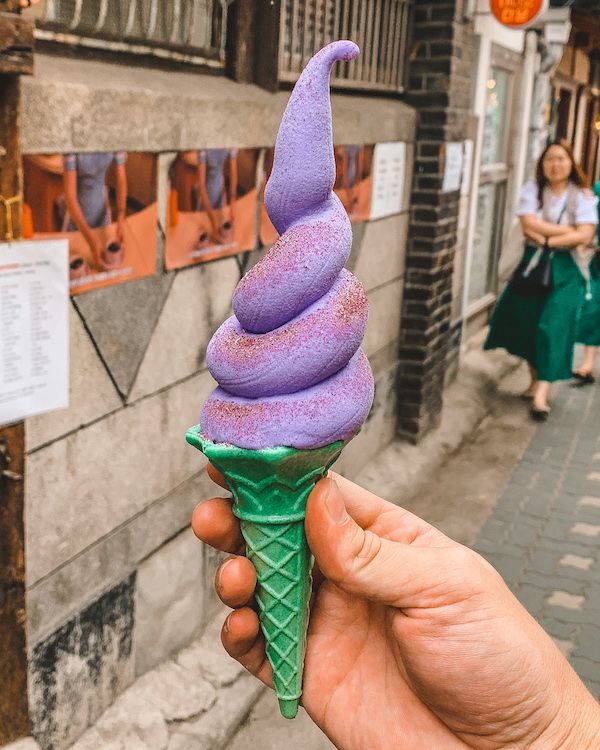 It's easy to get lost in the crowd here. Ikseon-dong has what seems to be an endless amount of restaurants and cafes nestled into beautifully restored hanoks (houses). A shining example of the blend between old and new can be enjoyed at Seoul Coffee (166-31 Ikseon-dong). For a beautiful quieter cafe off the beaten path, check out Minhwa Boutique (24 Samil-daero 26-gil).
Look out for the instagrammable and delicious purple ice cream!
12. Watch a movie in a private cinema at Uncle Videotown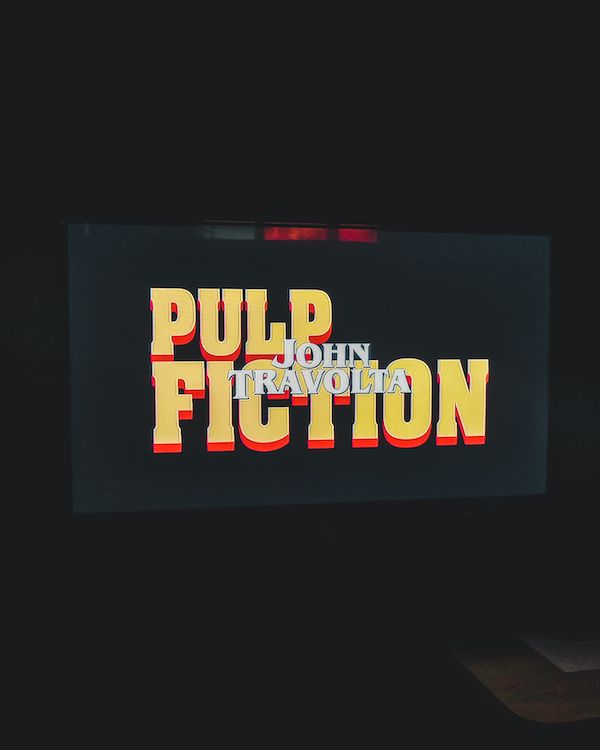 One of the coolest little spots we visited was Uncle Videotown in Ikseon-dong. Grab a corn dog (amazing), some drinks and pop your headphones in... you're now sitting privately in a two person seat in front of a nice TV. Your own little theatre for two.
We killed time between exploring Ikseon-dong and dinner by watching Pulp Fiction (in English) and enjoying our snacks.
Address: 33-10 Supyo-ro 28-gil
13. Try Korean cheese fondue called Dakgalbi
We love melted cheese in any way shape or form so when heard about Hongdae Dakgalbi we were excited. Prepare for a greasy pan filled with cheese, chicken, a few veggies. Make sure to ask for a double helping of cheese and dig in to this hot and tasty meal. It pairs very well with a fruity flavoured soju.
Address: 32 Hongik-ro 3-gil
We hope you enjoyed these alternative things to do in Seoul!
---
Looking for more travel inspiration? Check out our list of Unique Cultural Experiences to Inspire Your Next Trip
Love food? Don't miss our list of Unique Culinary Experiences Around the World.
---
Save and pin this Seoul travel guide for later: