The quirky and artistic island of Galiano is the perfect nature escape. Although remote, it can be reached by a direct one-hour ferry from Tsawwassen making it the ideal location to get away from the city for the weekend.
Galiano Island has many unique places to stay that provide an authentic west coast island experience. From charming boutique hotels to cozy Airbnbs, we list the best Galiano Island accommodation, each for a unique reason.
Disclosure: Some of the links below are affiliate links, meaning at no additional cost to you, we will earn a commission if you click through and make a purchase. We only recommend products or services we have used or that we believe will add value to our readers. Thank you for supporting us!
Best Accommodation on Galiano Island
---
Best hotel for rustic vibes: Bodega Ridge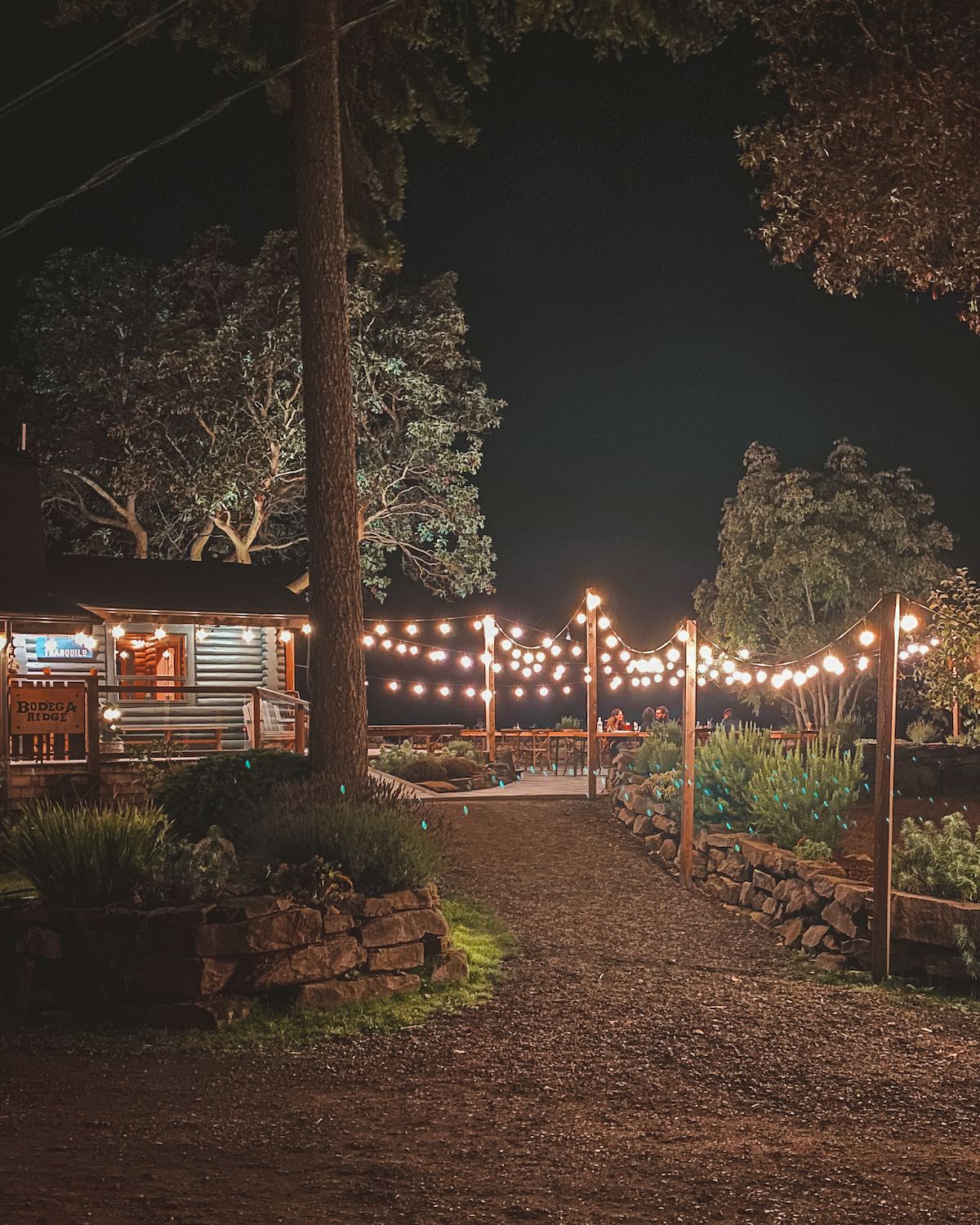 If you are looking for rustic island vibes,
Bodega Ridge
is the place to be. The boutique hotel has seven log cabins, situated on 22 acres and down on the water at Bodega Cove. The cabins are well designed with a cozy chic interior and cedar deck. It's a great place for groups or families as some of the cabins fit up to six people.
The onsite Baja-inspired restaurant called Tranquilo is delicious and a must try. The head chef came from Dirty Apron and Bao Bei, two prominent eateries in Vancouver. The setting feels magical with the fairy lights and outdoor wooden picnic tables. Don't miss out on their kombucha cocktails and fish tacos.
Hotel Drawbacks:
One thing you will want to consider when staying at Bodega Ridge is the location. It's a 27 minute drive away from the main centre and ferry terminal and a 20 minute drive away from Montague Harbour. This will make drives longer if you wish to explore some of the main sights. However, if you're looking for a remote experience, Bodega Ridge is a great choice.
Best hotel for ocean views: Oceanfront Inn & Spa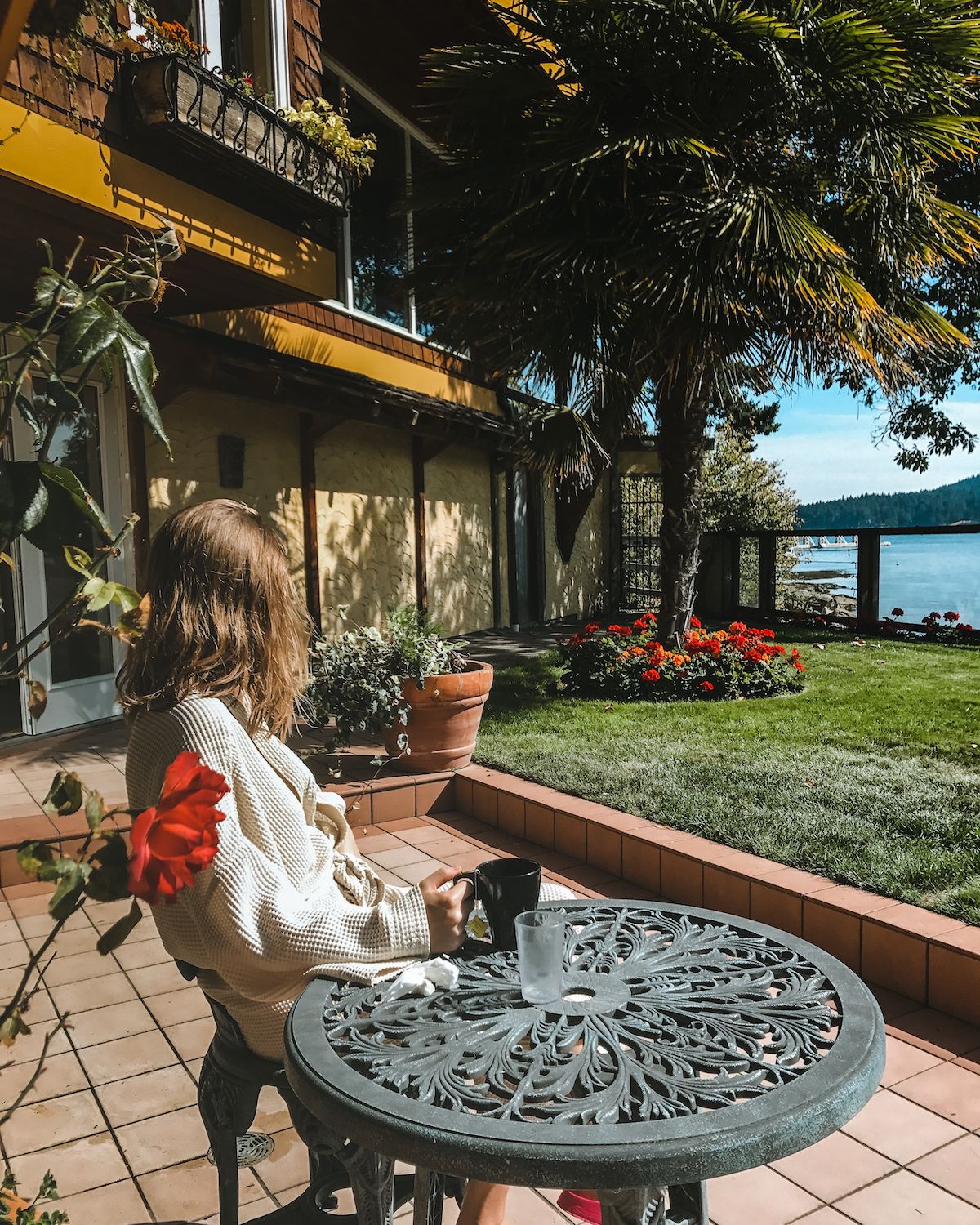 The
Oceanfront Inn & Spa
sits on the shore of Sturdies Bay and has serene ocean views. The boutique hotel is only a 5 minute walk from the ferry terminal, making it a great place to stay if you don't want to take a car on the ferry.
The hotel offers Smart Car rentals
, making exploring the island a breeze. The car rental rate is $45 CAD for four hours or $80 CAD for 8 hours.
The Madrona del Mar Spa is excellent with its skilled therapists and relaxing Mediterranean feel. After you're done getting your massage you can sit outside with a tea and enjoy peaceful views of the ocean and flowers around you.
Stop in at their oceanfront pizza patio, La Lena, for lunch. They serve unique pizzas such as a curry chicken pizza, roasted yam pizza and duck confit pizza. There is an onsite restaurant called Atrevida, however we found that there are better spots on the island.
Hotel Drawbacks:
The hotel is lacking with its service and attention to detail in the rooms. Part of this may be due to the ongoing pandemic, however the staff seemed almost absent. I called to get my spa robe and I couldn't get a hold of anyone for an hour. I even went down to the lobby and no one was there. Luckily, 5 minutes before my massage, I was able to get a hold of someone to get my robe in time.
The rooms have ocean views and a wood-burning fireplace, however they are missing key details for the price they charge. For example, there were two different coloured lightbulbs in each one of our bedside lamps, one being a warm colour and the other being a bright cool colour that you would see in an office. The rooms felt slightly unwelcoming with their cold features.
If you're looking for a more luxurious stay and attentive staff, we recommend Woodstone Manor which is coming up next on our list. If you're looking for a place close to the ferry with a great spa and ocean views, Oceanfront Inn is a good choice.
Best luxury hotel: Woodstone Manor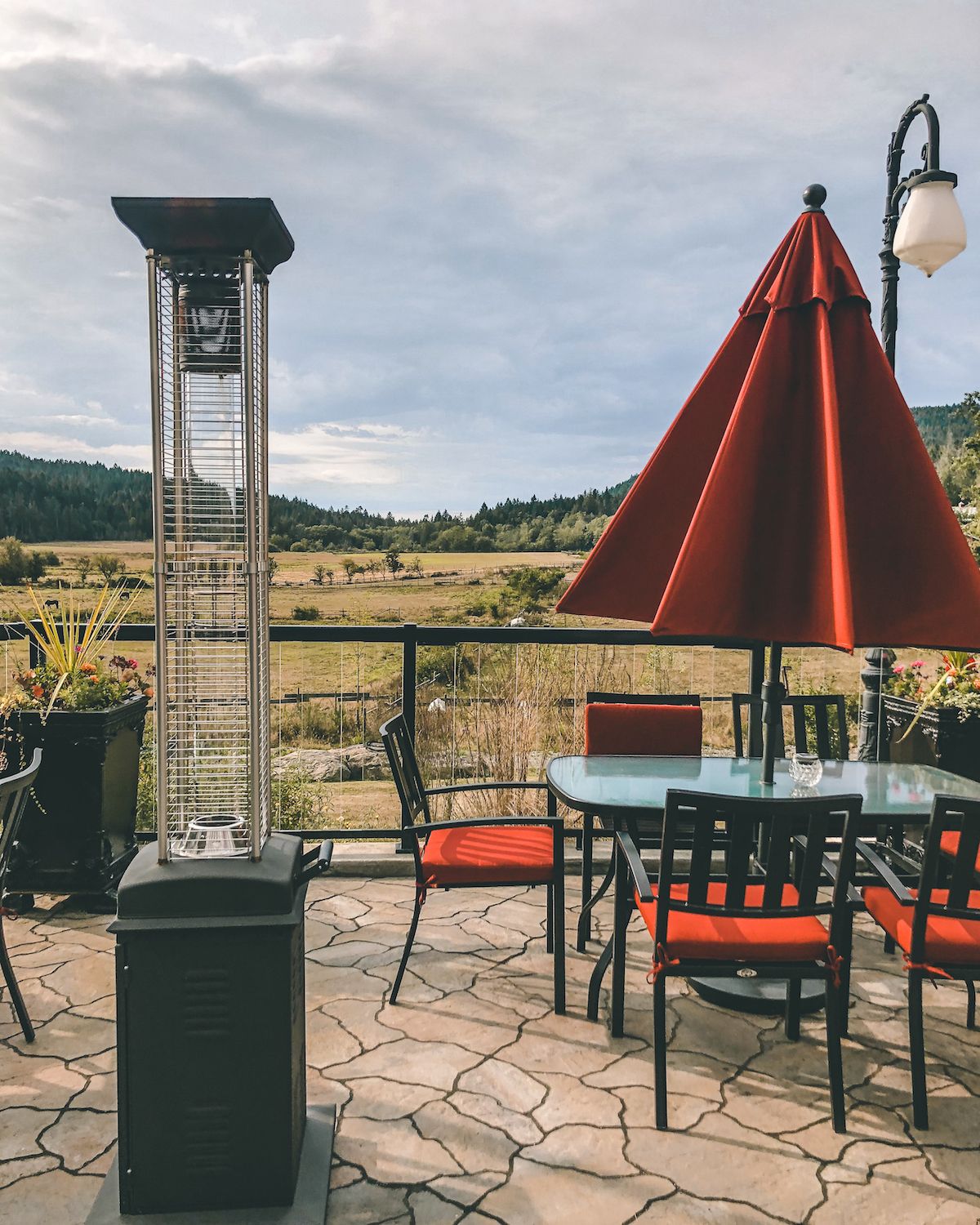 Woodstone Manor
is a newer boutique hotel on Galiano Island with forest and countryside views. The attention to detail and service is excellent. The rooms are warm and spacious with a heritage vibe. The beds are very comfortable and each room comes with spa robes and slippers.
Sitting on the terrace for breakfast is a delight as you have beautiful views of the farm next door, which is home to retired racehorses. The fine dining restaurant serves tasty European-inspired cuisine.
On the second floor there is a games room, which was our favourite room in the hotel. It's super cozy with the fireplace and big comfy couches and chairs. There is a stack of board games you can choose from.
The hotel is located a 5 minute drive away from the main centre and ferry terminal. It's also only a 10 minute walk away from the Hummingbird Pub. We had a few drinks at the locals pub and then walked back to the manor to play board games.
Hotel drawbacks:
If you are looking for west coast island vibes, you may not get it here as the decor has a colonial England type of feel. If you're looking for something that feels cozy luxe however, this is a great spot to pick.
If you are keen on having ocean views, note that the hotel sits on a wooded acreage with countryside views.
5 Best Airbnbs on Galiano Island to experience the islander way of life
To help with your accommodation decisions, we have rounded up some of the best Airbnbs on Galiano Island, each for a unique reason.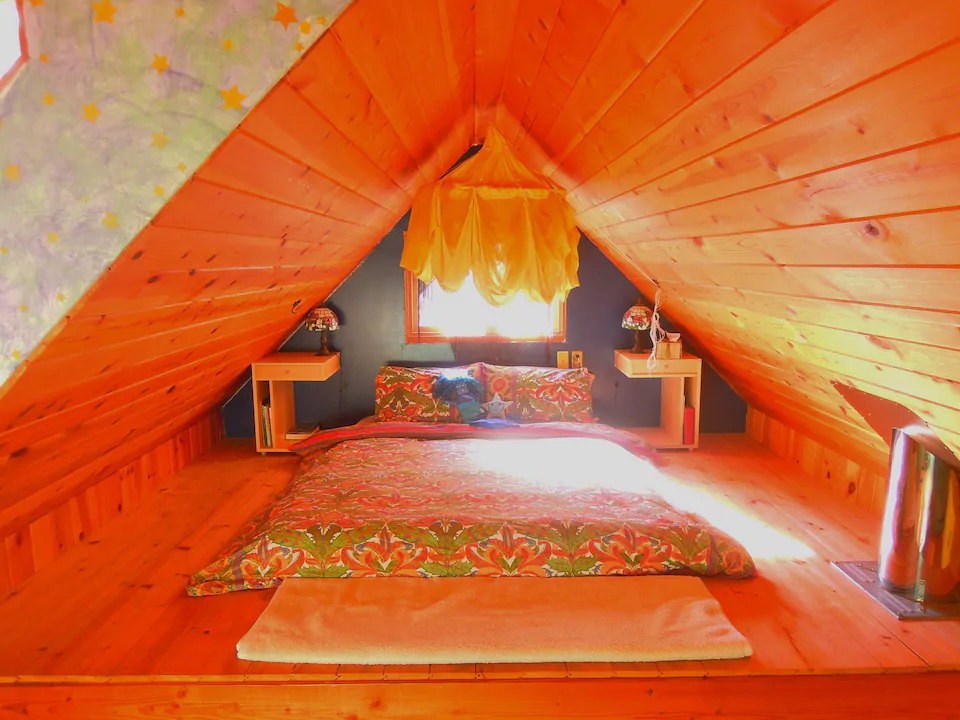 What makes this Airbnb special:
The Eagles Nest Retreat
is an intimate cabin located in Collinson Point Provincial Park. The cabin has a lot of character and includes access to an outdoor hot tub with gorgeous 180 degree views of the ocean. It's the perfect place to spend a romantic weekend. You can pick herbs from the garden and cook a romantic dinner, sit in the cottage chairs overlooking the ocean or relax in the hammock. The cabin also has great access to hiking. You can hike directly to The Top of the World, Active Pass, Bluff Park or Phillimore Point.
⭐ Airbnb Rating: 4.92 (300+ reviews)
Superhost: ✔️
Minimum stay: 3 night minimum
Check out rates for the Eagles Nest Retreat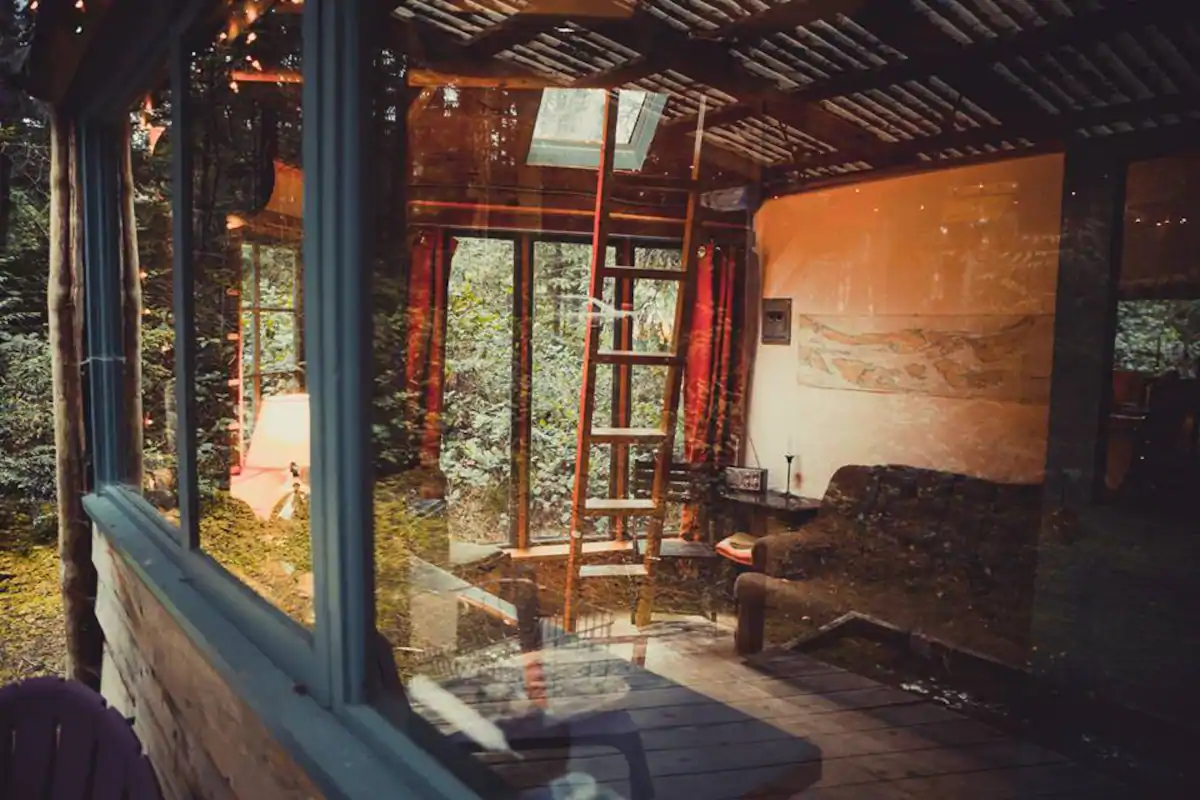 What makes this Airbnb special:
Rustic Cabin in the Woods
is a super cozy cabin nestled in the forest with a rustic island feel. It's the perfect spot for a seculded nature escape. The cabin is only 200 sq.ft., making it a great way to experience the
tiny house movement
. A wooden ladder leads you to a loft where you will find the bedroom. Play board games by the floor-to-ceiling window, have a campfire outside in the firepit or take a 20-minute walk to Retreat Cove, a hidden sandstone cave. Something important to note is that the shower and toilet are located outside of the cabin.
⭐ Airbnb Rating: 4.80 (350+ reviews)
Superhost: ✔️
Minimum stay: 2 night minimum
Check out rates for Rustic Cabin in the Woods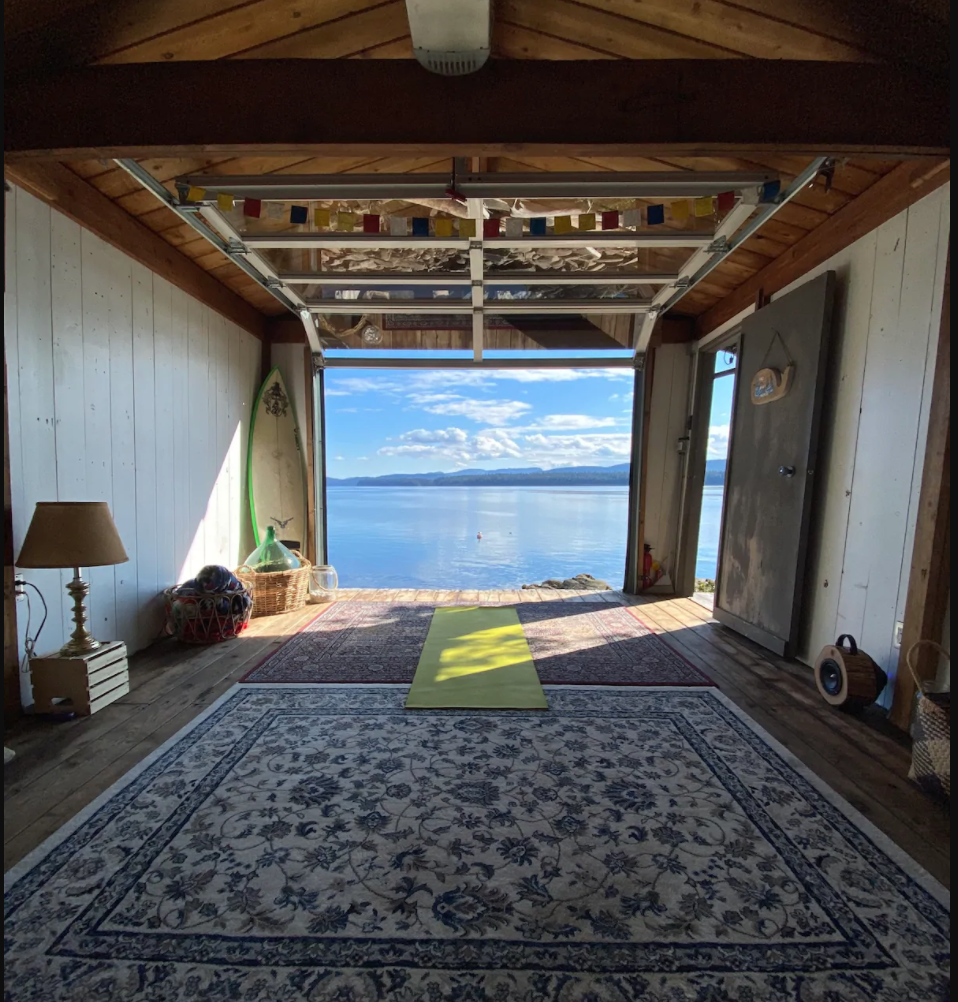 What makes this Airbnb special:
The
Waterfront Escape
is an extraordinary spot for a tranquil getaway with your friends. The house is perched on a cliff overlooking the ocean and can accommodate up to 6 people. With 200° of ocean views you will have marvellous sunsets. The detached boathouse is set up like a yoga studio and also has incredible sea views. Do yoga with your friends in the morning, suntan on the large infinity daybed, have dinner outside on the wooden table or cozy up by the fire in the living room at night time.
⭐ Airbnb Rating: N/A (newly listed!)
Superhost: X (recently joined September 2020)
Minimum stay: 3 night minimum
Check out rates for Waterfront Escape on Galiano Island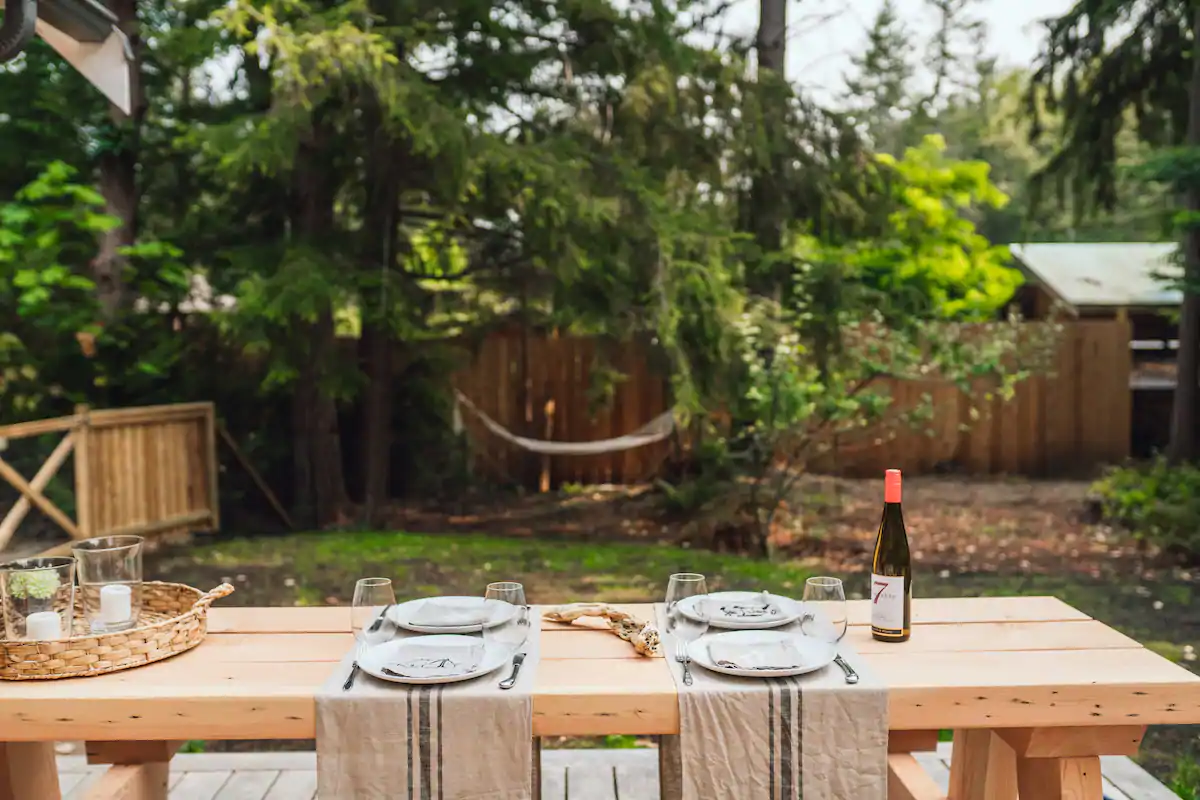 What makes this Airbnb special:
The Gatehouse
has a country-style setting with its acerage and fruit trees. It's a great spot for families with its beautiful outdoor space for meals and games. Outside you will find a large deck, cottage chairs, picnic table for dining and a BBQ. The house can accomodate up to six guests and is spacious with a fully equipped kitchen and large island. Montague Harbour and Sturdies Bay are under a 10 minute drive away and beaches are within walking distance for swimming.
⭐ Airbnb Rating: 5 (45+ reviews)
Superhost: ✔️
Check out rates for The Gatehouse
5. Best within walking distance to town & the ferry: Oceanfront Cottage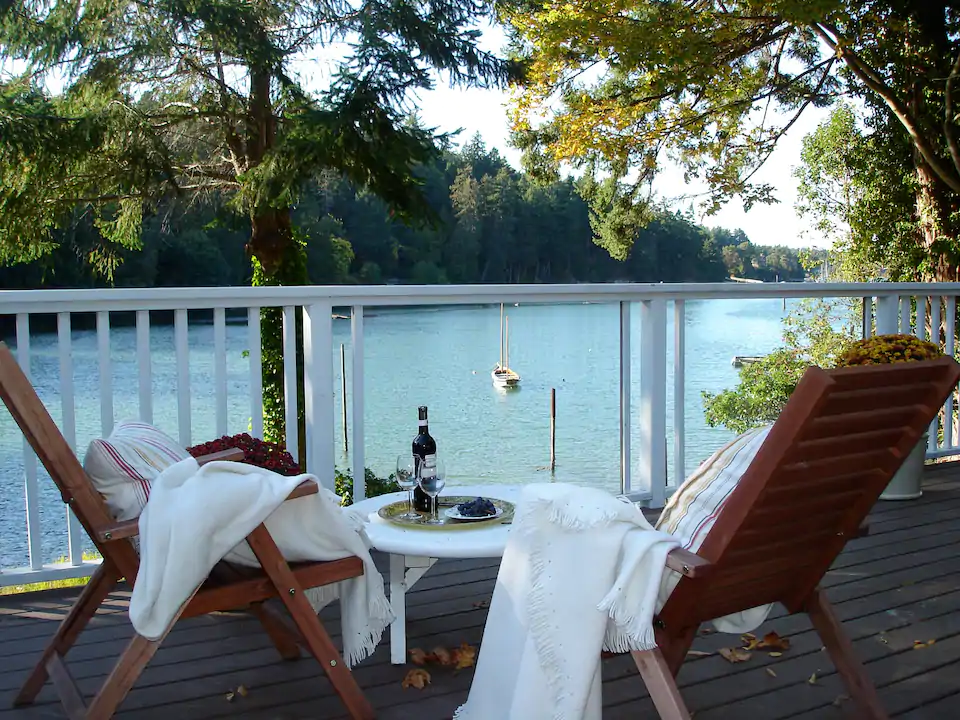 What makes this Airbnb special:
Although the
Oceanfront Cottage
is close to the main centre, it feels off the beaten path with its serene oceanfront views of Whaler Bay. Whaler Bay has calm water, making it ideal for water sports like kayaking or SUP boarding. The large 300 sq.ft. deck is a wonderful spot to have a glass of wine or barbecue and admire the views.
⭐ Airbnb Rating: 4.93 (+50)
Superhost: ✔️
Minimum stay: 2 night minimum
Check out rates for the Oceanfront Cottage
Planning a trip to the island? Make sure to check out our list of top 10 things to do on Galiano Island.  
You should also consider visiting the bohemian island of Salt Spring along the ferry route. See our guide on 10 fun things to do on Salt Spring Island as well as the best accommodation on the island.
Planning a trip around BC? See our full list of the top 17 getaways from Vancouver.