Tofino is one of the best travel destinations in Canada. The wild and remote "surf capital of Canada" has a lot to offer the traveler with its thriving food scene, boutique hotels with ocean views and gorgeous beaches that make you feel like you're on the edge of the world.
We list the 23 unique things to do in Tofino, as well as our top 6 picks for cozy B&Bs near the ocean.
Overview: What to do in Tofino BC
---
23 Unique Things to do in Tofino BC
Disclosure: Some of the links below are affiliate links, meaning at no additional cost to you, we will earn a commission if you click through and make a purchase. We only recommend products or services we have used or that we believe will add value to our readers. Thank you for supporting us!
1. Walk Long Beach at sunset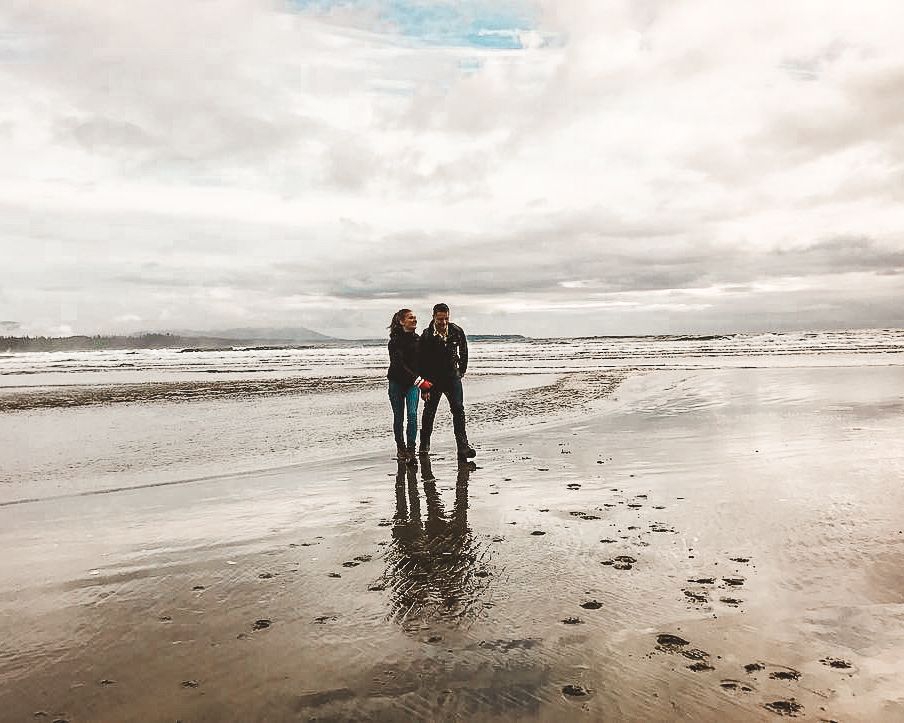 Long Beach is especially worth visiting since it represents the origin of surf culture in Tofino. In the 1960s before there was a paved highway, surfers would make the pilgrimage to this wild coast. Long Beach soon became home to the first surf school, which opened in 1968.
Walk along the west-facing beach for sunset to see beautiful colours light up the sky and water. Long Beach is over 16km long, making it the longest beach on Vancouver Island.
2. Eat the best fish taco in the world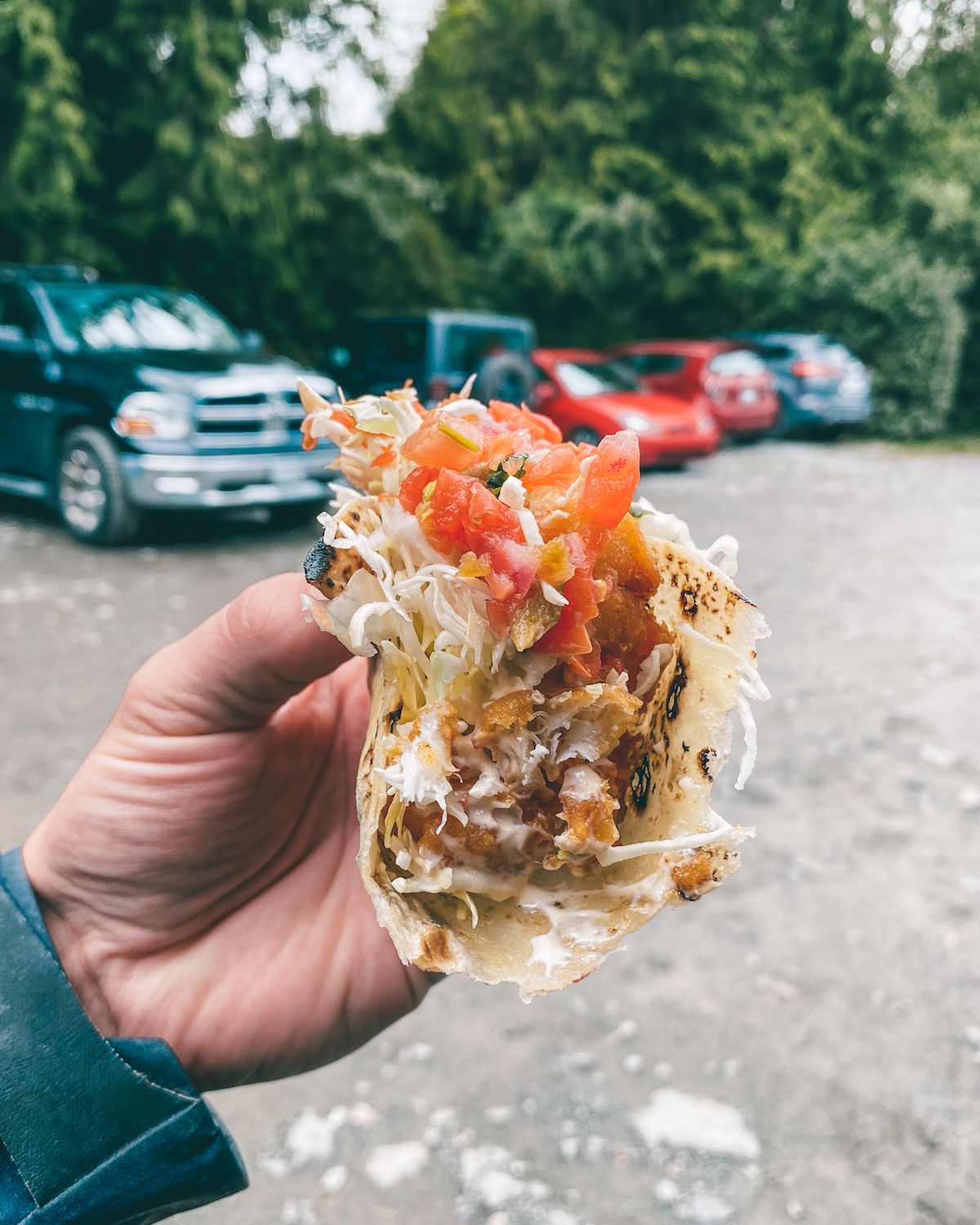 Tofino has an amazing culinary scene and some delectable bites you won't want to miss... like Tacofino's fish taco! We think it's hands down the best fish taco in the world. Let us know if you have any contenders 😉.
Tacofino started in a food truck in Tofino and has grown in popularity with food trucks and taco bars now located in Vancouver and Victoria. Stop by the original food truck in Tofino and grab yourself some mouthwatering tacos! Watch out for big lineups.
3. Stay at a boutique hotel with ocean views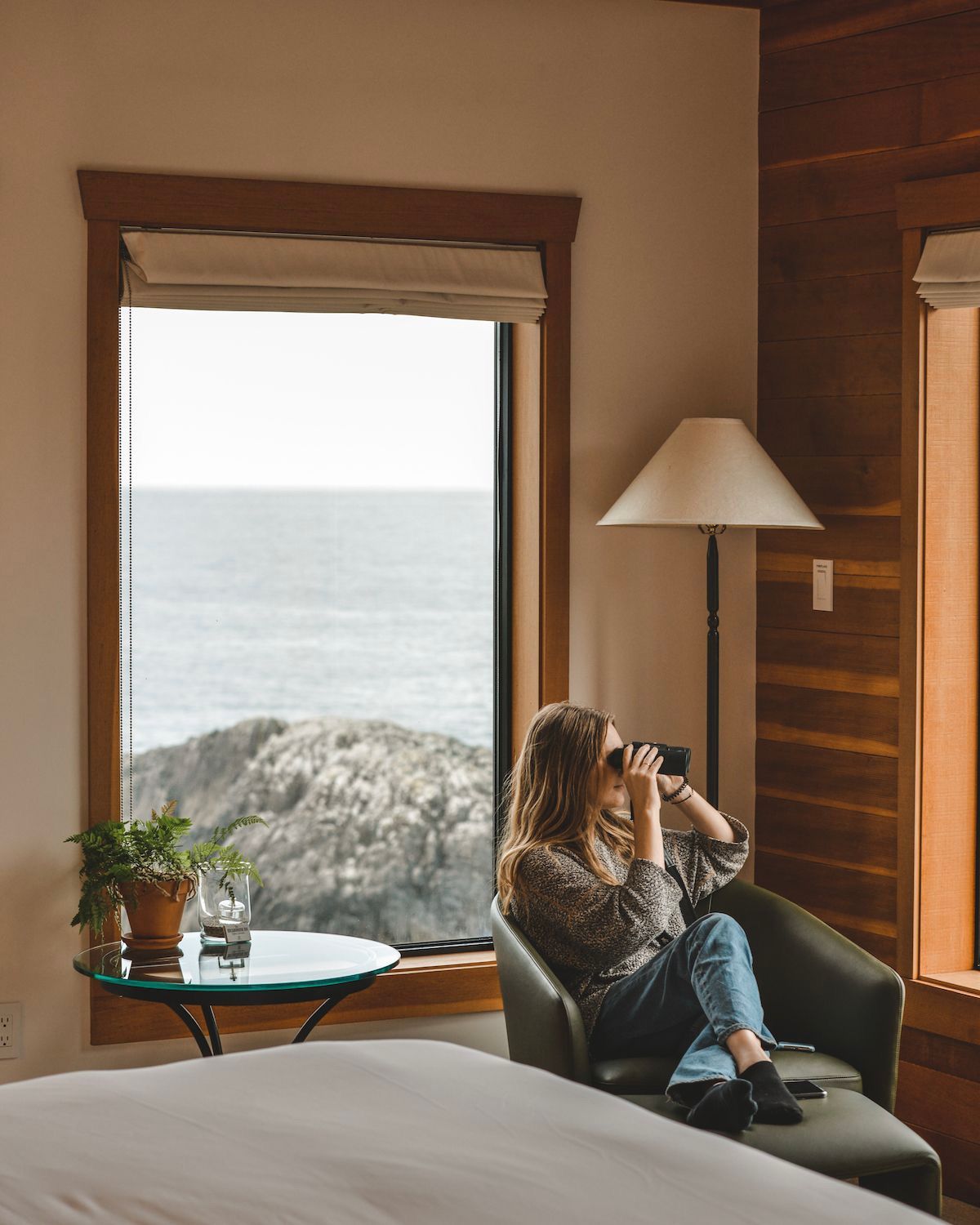 Tofino is known for its luxury lodges and boutique hotels along the coastline. Hotels can be quite expensive during tourist season in summer, but if you wait until fall or winter for storm watching, you can save a lot on the price.
Our top hotel pick in Tofino: Wickaninnish Inn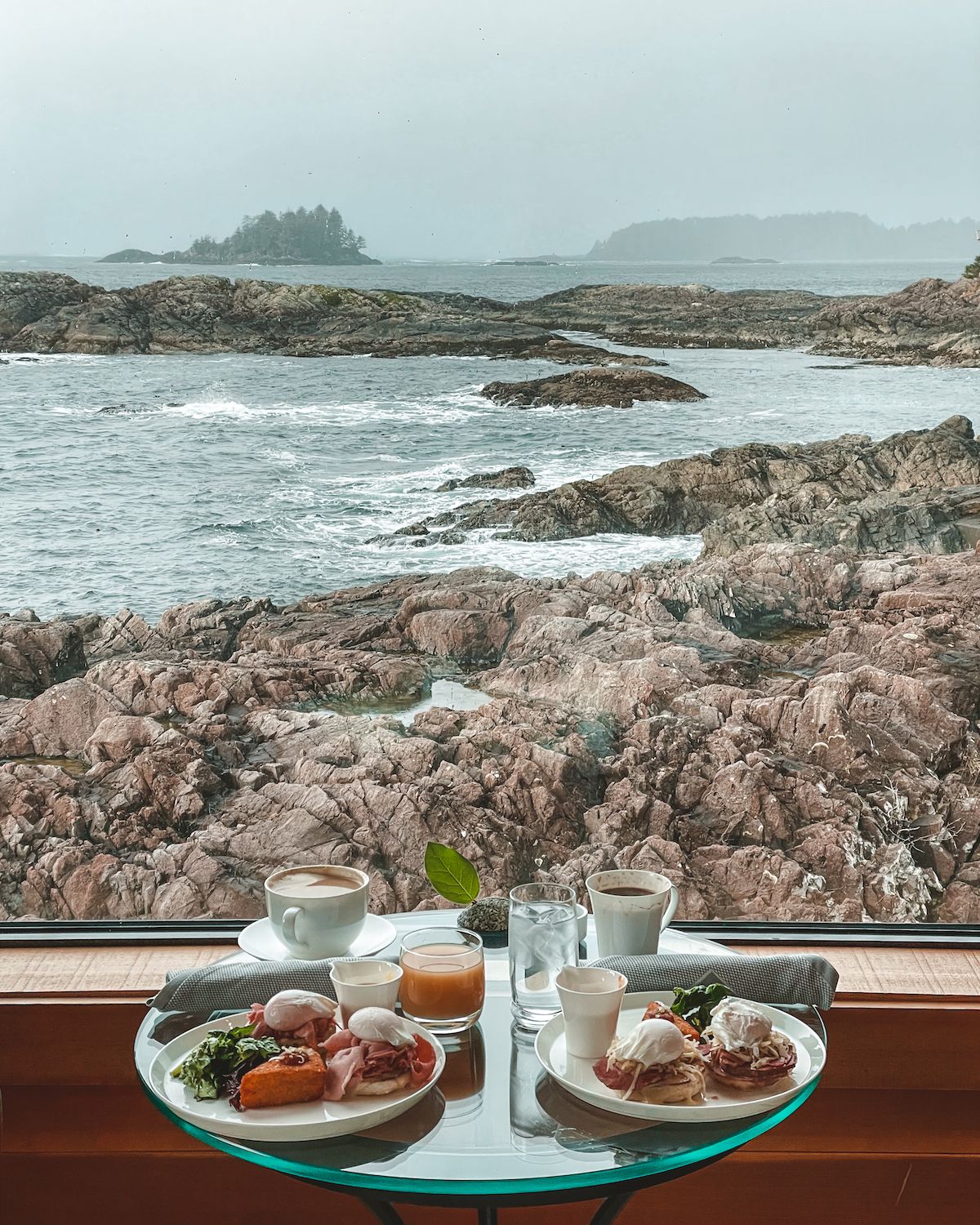 We highly recommend staying at the
Wickaninnish Inn
, one of the few boutique hotels that is situated right on the ocean.
It's not only our favourite hotel in BC, it's our favourite hotel in Canada!
The Wickaninnish Inn ticks off all the boxes for a luxurious stay in Tofino. The hotel is part of the Relais & Chateau luxury brand, which has a selection of first-class landmark hotels and restaurants from around the world. You are steps away from everything you need for the ultimate west coast experience. You can walk to Chesterman Beach next door, eat fresh seafood at their fine dining restaurant, pamper yourself at the spa with ocean views, or hang back in your suite by the fireplace. The food at the hotel is excellent. We loved ordering eggs benedict in the morning to our room.
Pointe Building vs. Beach Building
There are two buildings at the Wickaninnish Inn, the Pointe Building and the Beach Building. The Pointe Building is perched on a rocky cliff overlooking the ocean and gives incredible expansive views of the ocean. The Beach Building gives you views of Chesterman Beach and direct access to the beach from the ground level.
We preferred the Pointe Building as it felt more isolated than the Beach Building, which faces the public beach. The Pointe Building is the original building of the hotel and felt more luxurious. Although it's not right on Chesterman Beach, you can still walk to the beach in a few minutes.
Fun fact: from the Pointe Building, you can see the wooden stilted house where the movie 'Come to Daddy' was filmed.  
Honourable mention: Pacific Sands Beach Resort
Pacific Sands Beach Resort
is another stunning beachfront hotel with wild ocean views.
It sits right on Cox Bay Beach, a spectacular crescent-shaped beach enclosed by rugged cliffs.
The bay is fantastic for surfing and is also known to have some of the biggest waves during storm watching season.
In the morning grab a coffee and walk just a few steps from your hotel to the beach. If the weather is nice, visit the onsite surf shack where you can rent surfboards or book a surf lesson. If it's rainy outside, warm up by the fireplace or in your hot tub and admire the stormy views.
See rates for Pacific Sands Beach Resort
4. Have a beach bonfire under the moon and stars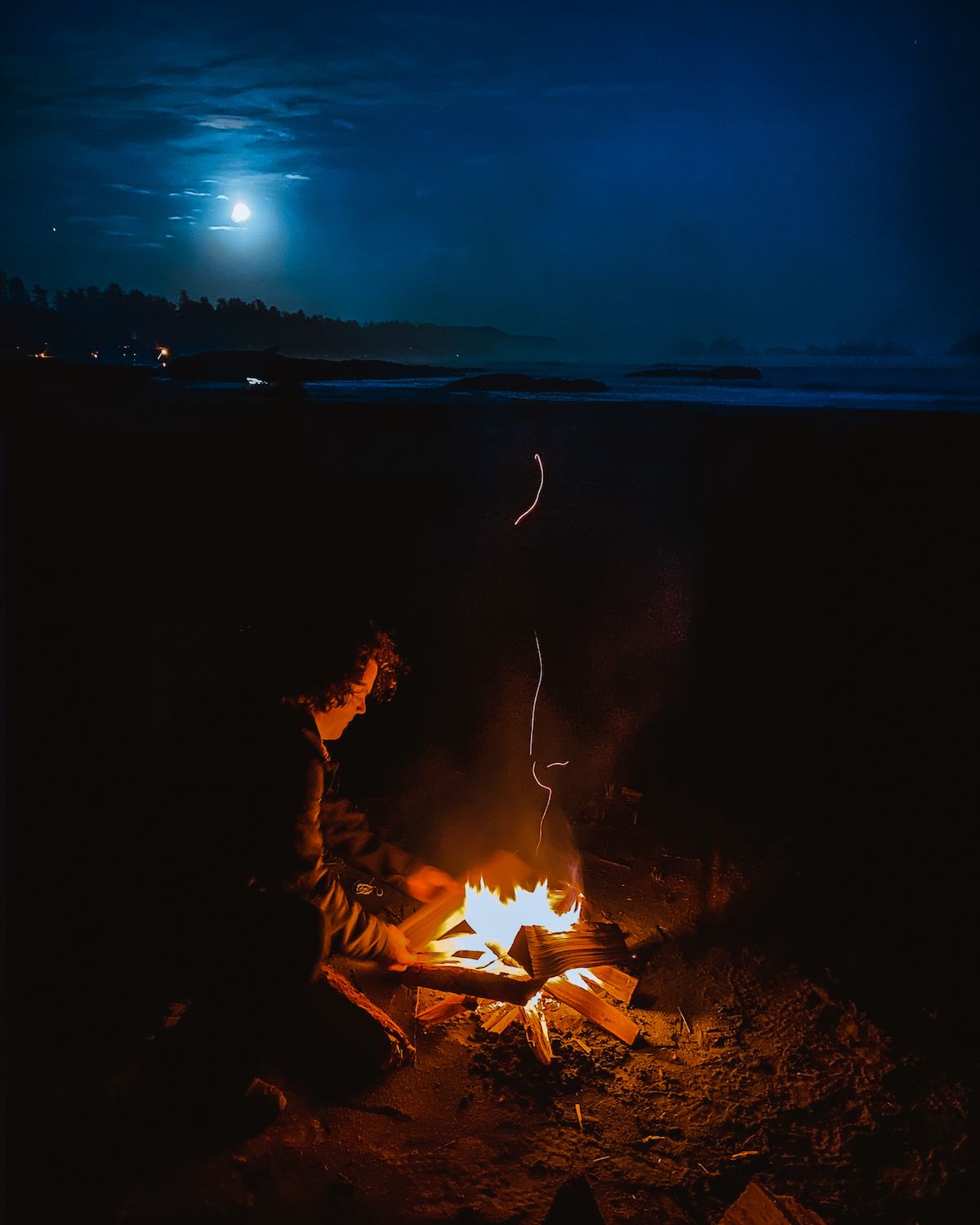 One of our favourite things about Tofino is that you can have bonfires on Mackenzie Beach and Chesterman Beach. It's so wild listening to the ocean waves under the moonlight! Campfires are permitted from 6 AM - 11 PM if there is no fire ban.
Where to get firewood in Tofino
The best place to get firewood is at the Bella Pacifica Campground at Mackenzie Beach. You can buy a bundle of wood there.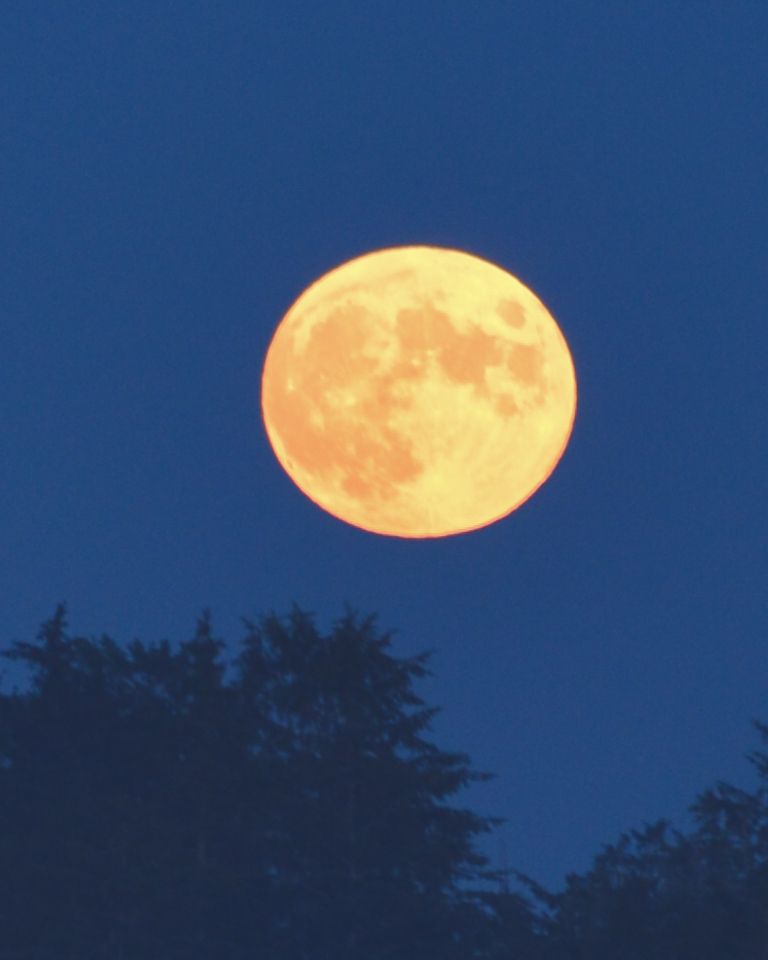 If you're not up for lighting a fire, going for a night walk on the beach under the moon and stars is also magical.
5. Eat fresh crab for dinner
While on the West Coast you must have a delicious fresh crab dinner, one of Tofino's specialties.
For a cozy spot located in town, check out The Schooner Restaurant, a seafood restaurant that started as an eatery in 1949. They have a crab leg and butter appetizer that is to die for!
For a unique experience, the Wickaninish Hotel has a a crab cookout during summer months, but it's only open to hotel guests. Three days a week, dinner is set up on a driftwood table located right on Chesterman Beach. Your feast includes fresh crab, salads, corn and baked bread. Afterwards s'mores are served over a beach bonfire. Something important to note is that if it's raining outside, they will have to cancel the cookout, but you can dine in their restaurant called The Pointe and order crab instead.
6. Go storm watching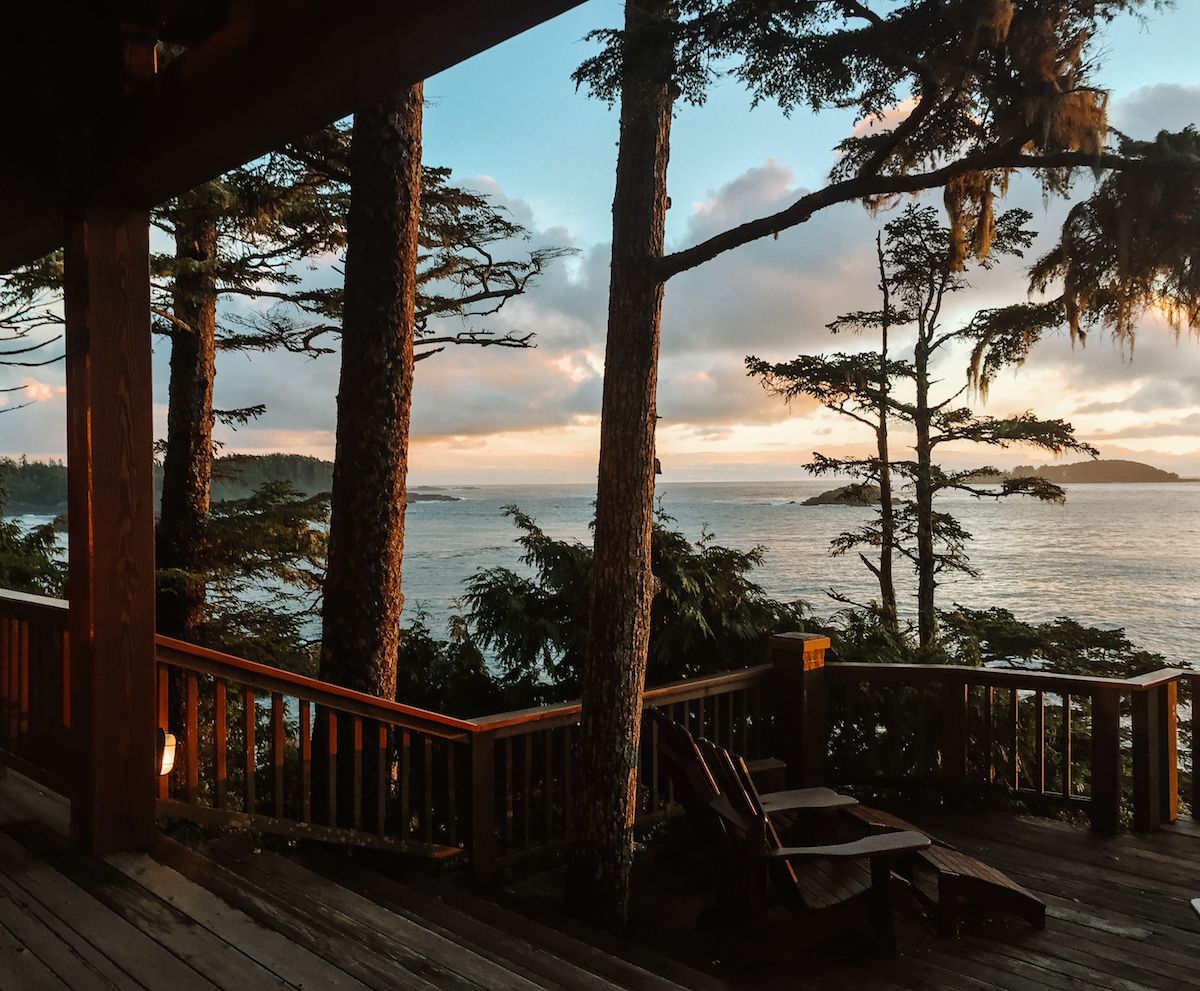 Tofino is a fun place to visit all year round, even when the weather is stormy! Winter storms create dramatic scenery on the wild coast. It feels cozy bundling up in your hotel room by the fire while watching large waves crash into the shore. Many oceanside resorts offer rain ponchos and rubber boots you can borrow to walk out on the stormy beach and take in the dramatic views.
Best time to storm watch in Tofino
The best time to storm watch in Tofino is in the off season from November - February.
7. Walk among giant old growth trees on Meares Island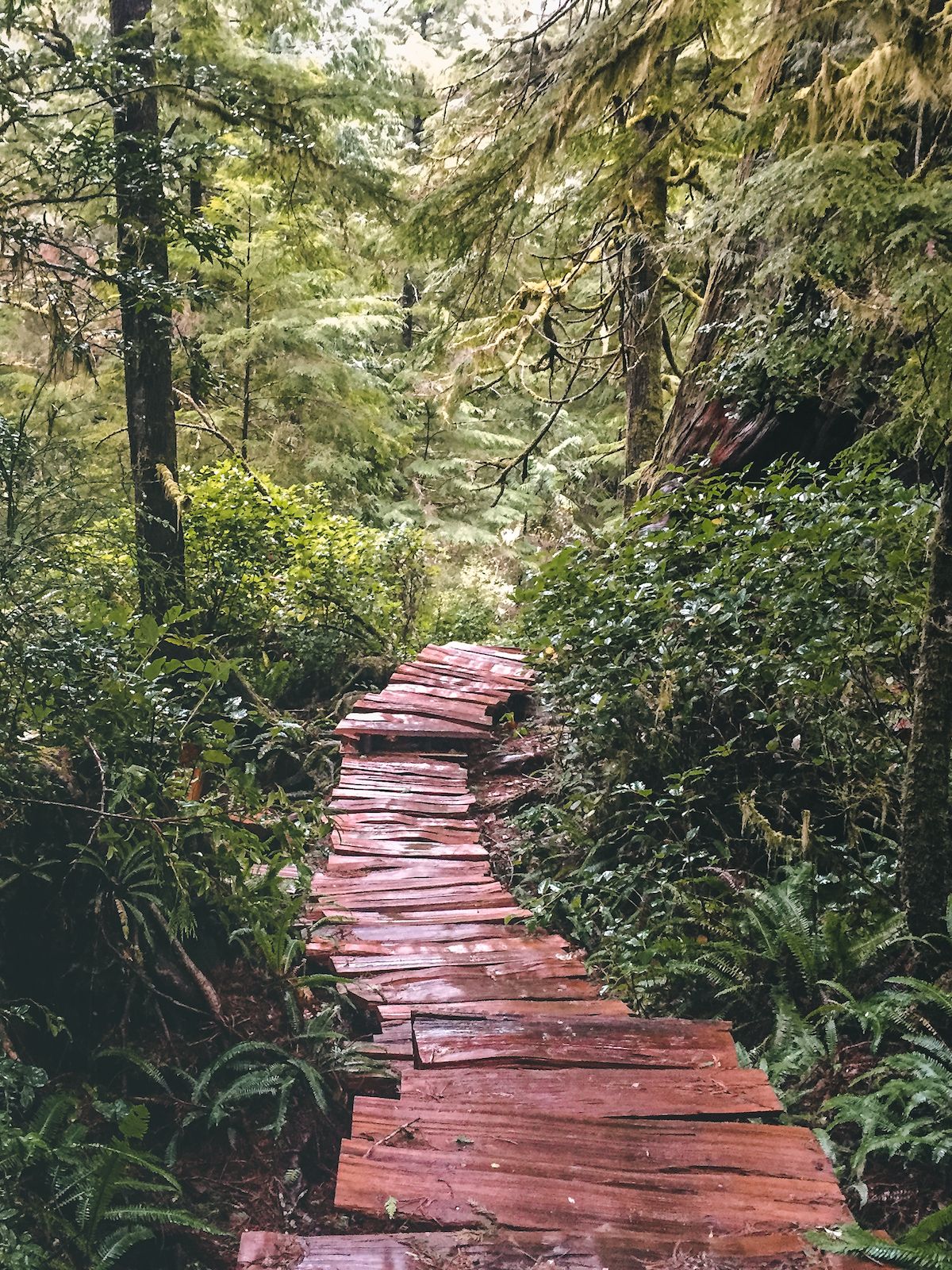 The trees on Meares Island will most likely be the biggest you've ever seen in your life. The Big Tree Trail is 3.2 km roundtrip and takes you through an old-growth forest to see some of the largest trees in BC. Some are more than 1000 years old!
If it's rainy, prepare to get soaked and muddy. It's recommended to hike the trail on dry days.
How to get to Meares Island
You will have to take a 10 minute water taxi to get to The Big Tree Trail. With Tofino Water Taxi the price is $35 CAD roundtrip per person and leaves from the town of Tofino. Once you're done your hike, you have to call them to pick you up and take you back.
8. Eat at the award winning restaurant, Wolf in the Fog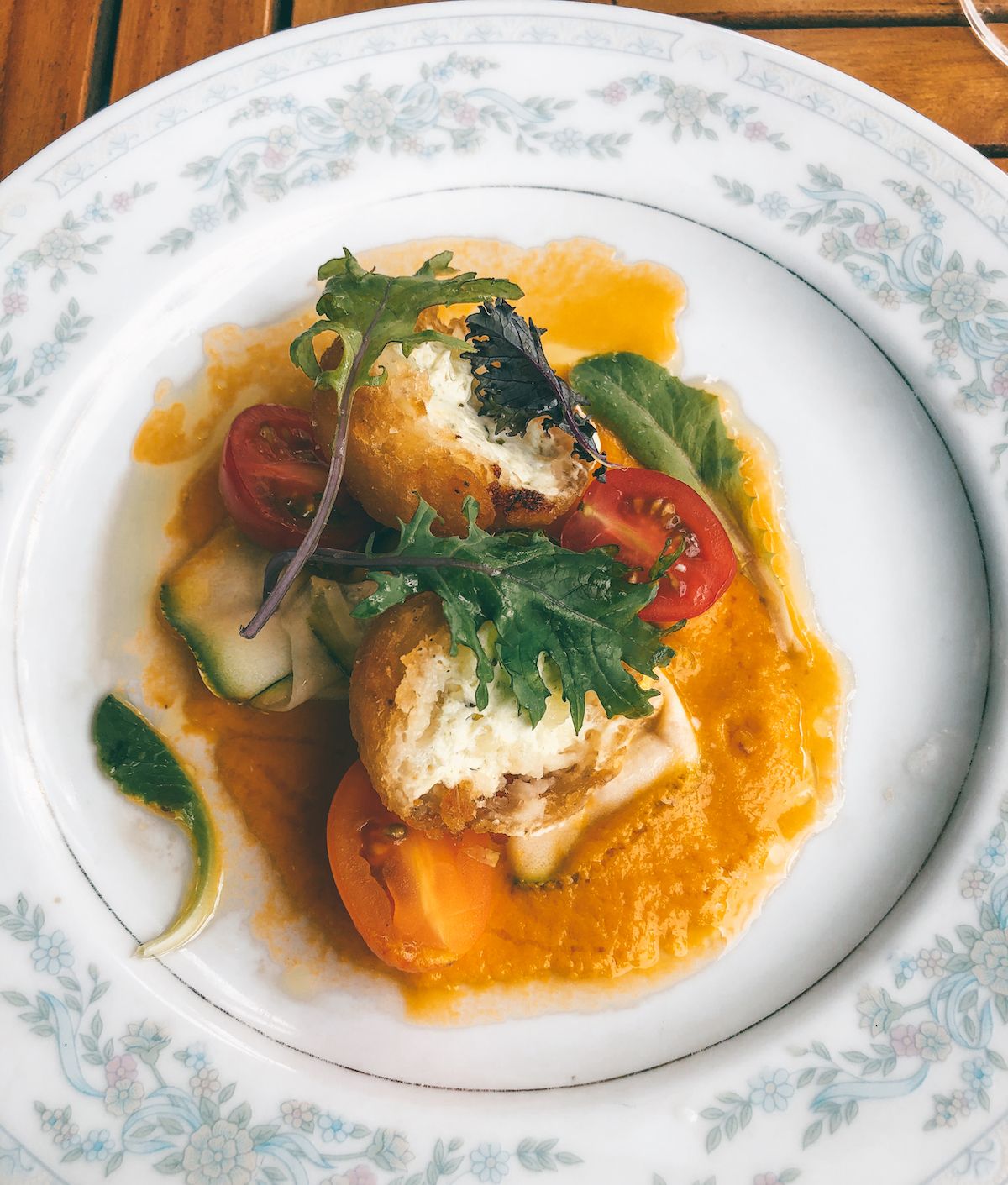 Wolf in the Fog was named Air Canada Enroute's #1 Best New Restaurant in Canada in 2014 and has continued to be one BC's top dining spots. Their cuisine is inspired by the coast and the surrounding forests. You will find fresh seafood dishes and veggie dishes harvested from seasonal ingredients. They also serve excellent cocktails and craft beer. Ensure to make a reservation far in advance as this restaurant books up fast, especially in summer.
9. Shop at the Saturday Market
Every Saturday from May Long Weekend to Thanksgiving, Tofino has a market with local vendors selling artisan products. The market is located in Tofino Village Green, a park located in the centre of town.
10. Go surfing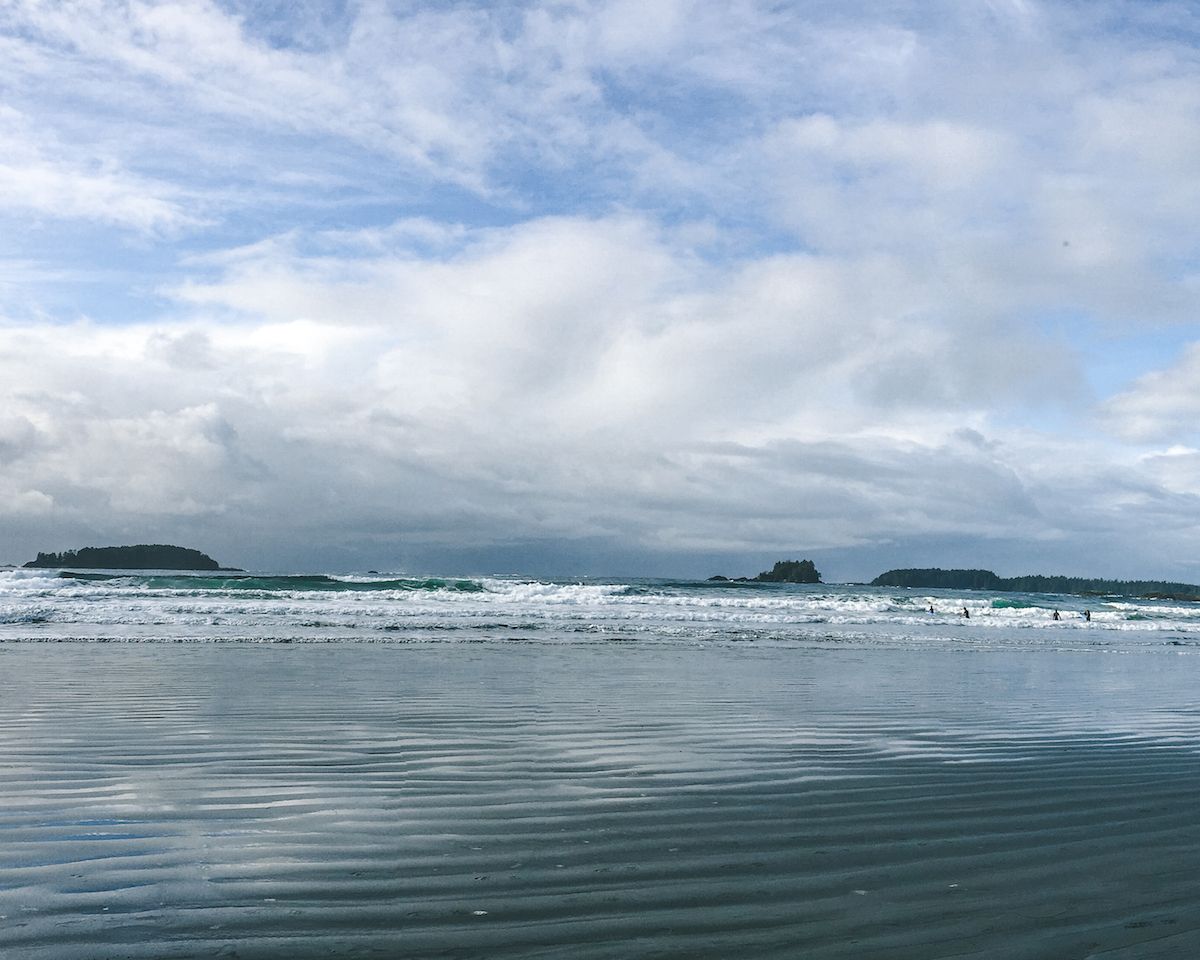 Usually people don't associate surfing with Canada, but surprisingly, Tofino is one of the best surf towns in North America. What makes it so unique is the landscape around you. Rather than surfing in the tropics,  you're instead surfing with coniferous forests and mountains around you.
Best time to surf Tofino
For beginner surfers, the best time to go is during May-August. The waves will be the smallest and the weather the warmest. North Chesterman Beach is a good spot for beginners as the waves are gentler.
For advanced surfers, the best season is from September - November when the waves are bigger, but the weather is still calm. Cox Beach is a good spot for advanced surfers, as it provides waves throughout the year and of all sizes.
See rates for beginner surf lessons or couples surf lessons through Airbnb Experiences.
11. Go 4x4ing up to Virgin Falls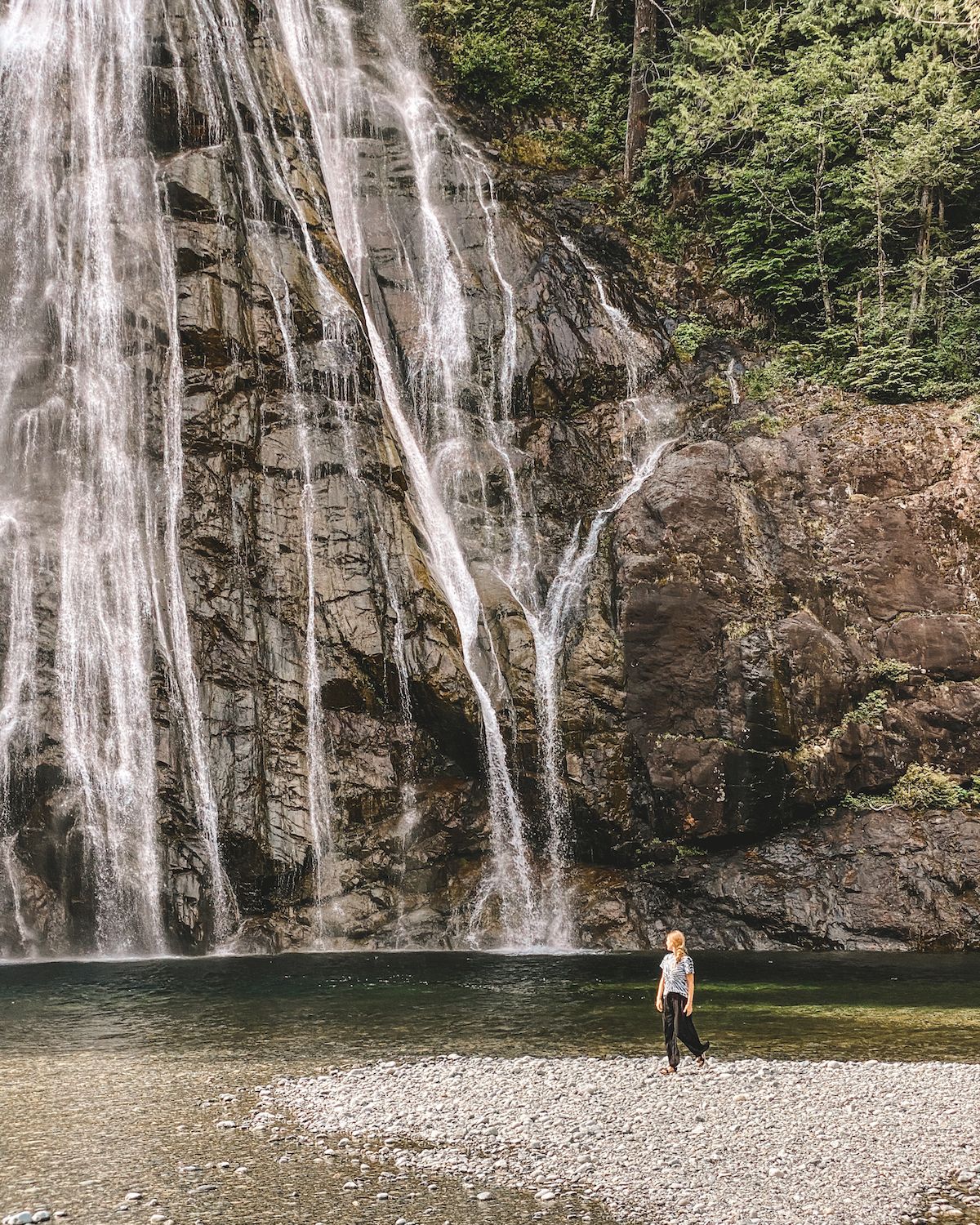 It's a lot of fun driving into the back country to explore the wilderness around Tofino. One of the best scenic spots is Virgin Falls, however you will need a 4x4 to get there. It takes about 1.5 hours of driving through forest roads to reach the magnificent waterfall. The roads aren't scary at all and honestly, you could do about 80% of it in a 2WD car. It's the last stretch that you need the 4x4.
Bring some flip flops as you will likely have to walk through the shallow creek to get to the falls. We were surprised to have the waterfall all to ourselves when we got there! Make sure to save another 1.5 hours to get back to Tofino. You can also camp in the area for free if you're up for it.
How to get to Virgin Falls from Tofino
Drive south towards Ucluelet on highway 4
Take a left on West Road and take it across the Kennedy River Bridge
Once across the bridge, turn left onto Deer Bay Road. From the Kennedy River Bridge it's 31 km to the falls.
Keep driving until you reach the end of the blocked road.
From the end of the road it's a 2 minute walk to the falls. Just follow the sound of the falls and you will find it.
Detailed instructions with a map are available here.
12. Dine with ocean views at The Pointe Restaurant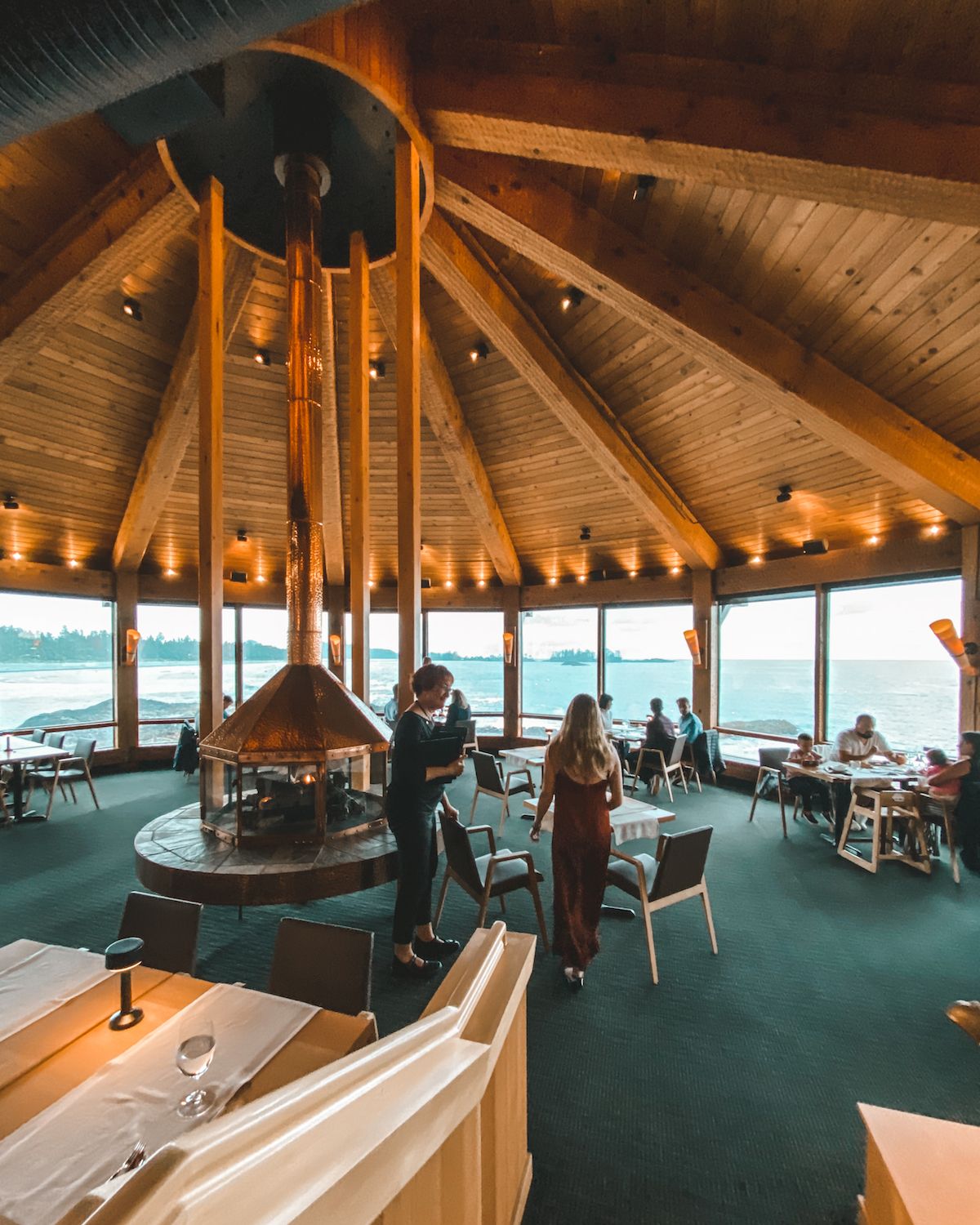 The food, the views and ambience at The Pointe make for a wonderful fine dining experience. From your table you have 240° views of the ocean and Chesterman Beach. Go before sunset so you can watch the surfers surf into sunset.
The Canadian west-coast inspired cuisine is delicious. We ate here twice and every dish was excellent. You can choose from the a-la-carte menu or the tasting menu. There is also a vegetarian tasting menu available.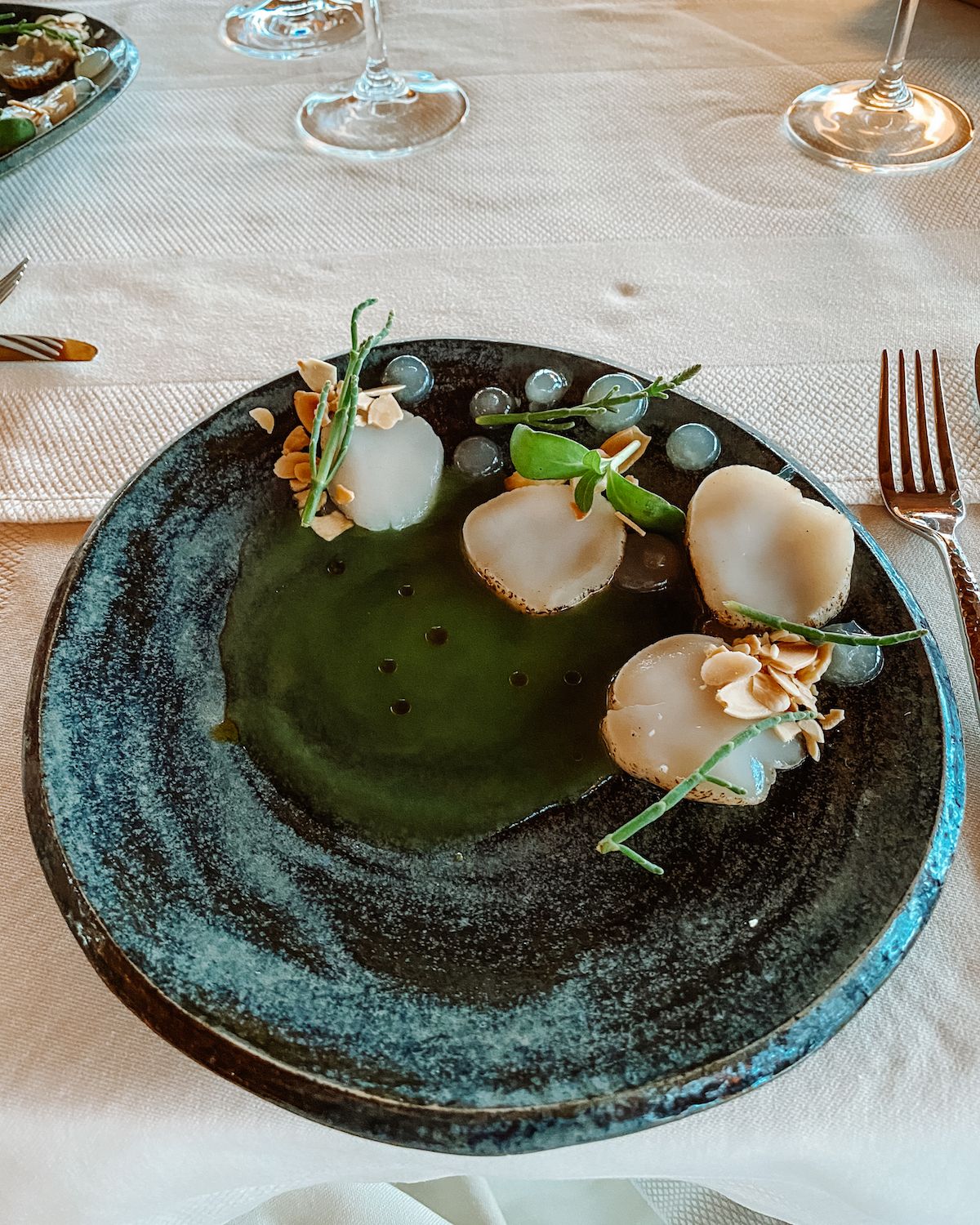 Our first night we chose the five-course tasting menu with wine pairing. Our favourite dishes were the spruce cured scallop, the morel mushrooms stuffed with foie gras and the charcoal roasted beef. It was such a treat!
13. Play board games
Go analog and play board games in your cozy cabin or hotel room by the fire. This is a fun activity to do if it's stormy outside. Set up a games table by the window to have a beautiful view of the nature surrounding you.
14. Visit First Nations art galleries & shops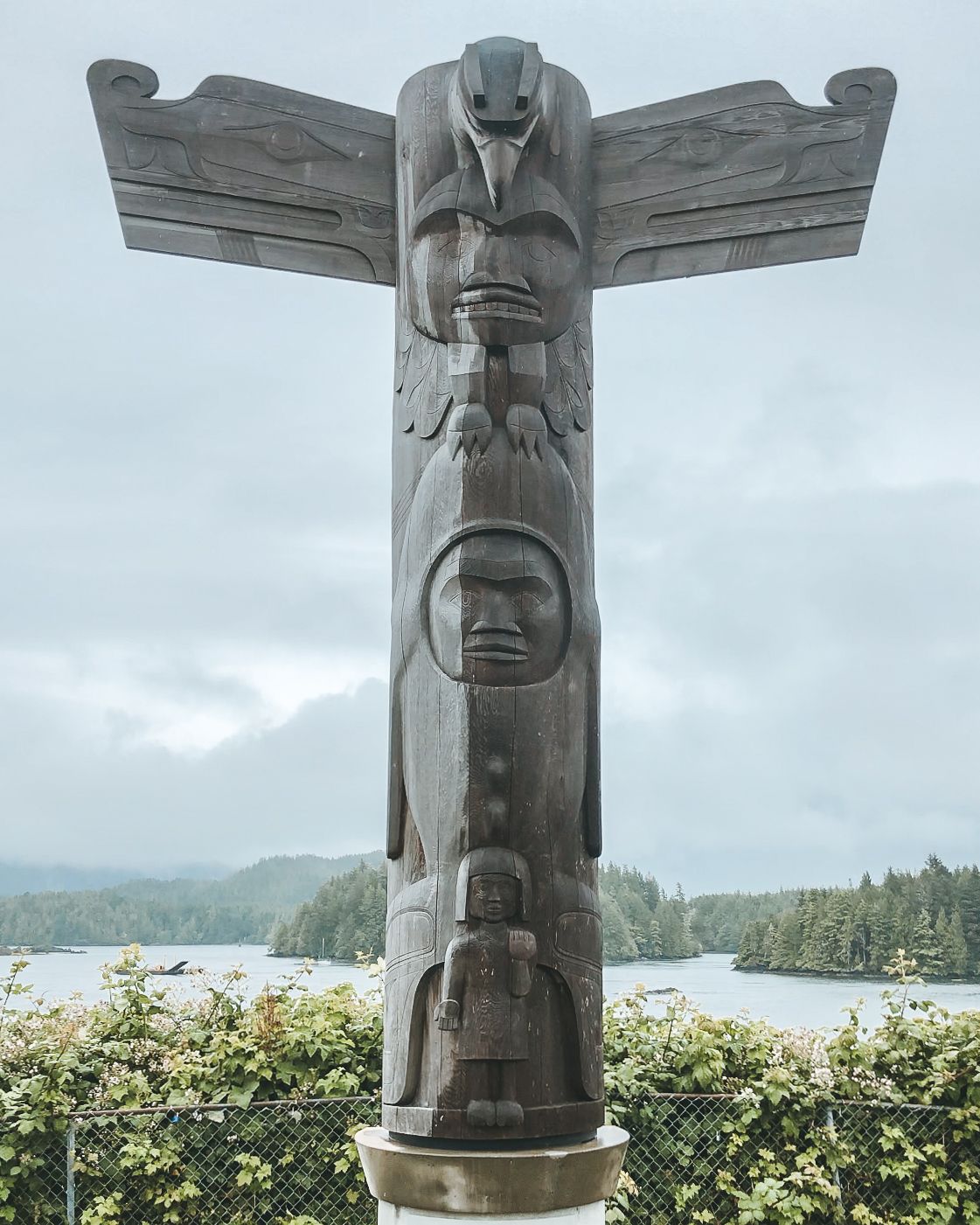 Tofino has a rich indigenous culture and is situated in the traditional territory of Tla-o-qui-aht First Nation. It has been home to the indigenous Nuu-chah-nulth peoples for over 5,000 years.  Nuu-chah-nulth means "all along the mountains and sea".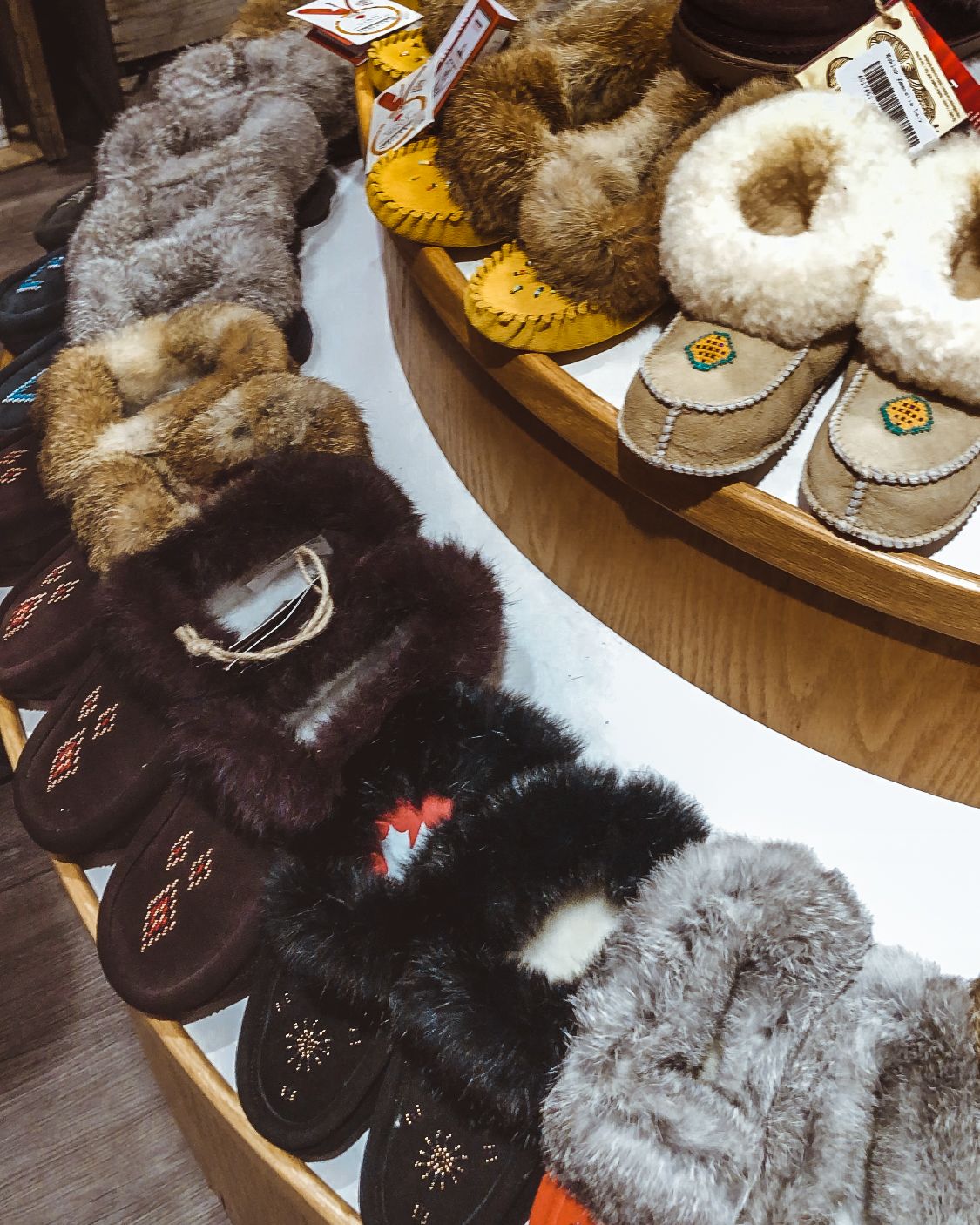 In the town of Tofino you will find First Nations art galleries and shops. House of Himwitsa is a great place to shop for wooden carvings, wall art, moccasins, masks and jewelry.
For First Nations paintings and original prints, make sure to check out the Roy Henry Vickers Gallery. He is a distinguished Canadian-First Nations artist known around the world for his prints. We loved his work so much we bought a painting.
15. Pamper yourself at the spa
Having a massage is one of the best ways to unwind and there is no better location that the mystical Tofino.
Best luxury spa in Tofino: Ancient Cedars Spa
If you really want to treat yourself, book the massage hut that opens up onto the ocean. As you're getting your massage you will hear sounds of the waves crashing into the rock. Our massages were excellent and almost put us to sleep.
The Ancient Cedars Spa is located at the Wickaninnish Inn. They accept non-hotel guests, but hotel guests get priority. During high season they offer to put non-hotel guests on a waiting list and then let them know a few days in advance if there is availability.  
Best value spa in Tofino: Sacred Stone Spa
Sacred Stone Spa is located in the town of Tofino. It doesn't have the bells and whistles the Ancient Cedars Spa has with the sounds of the waves crashing as you get your massage, but the treatments are excellent and spa therapists attentive and professional. The cozy boutique spa also offers RMT massages. Ari had one of the best massages of his life there!
16. Eat smoked salmon jerky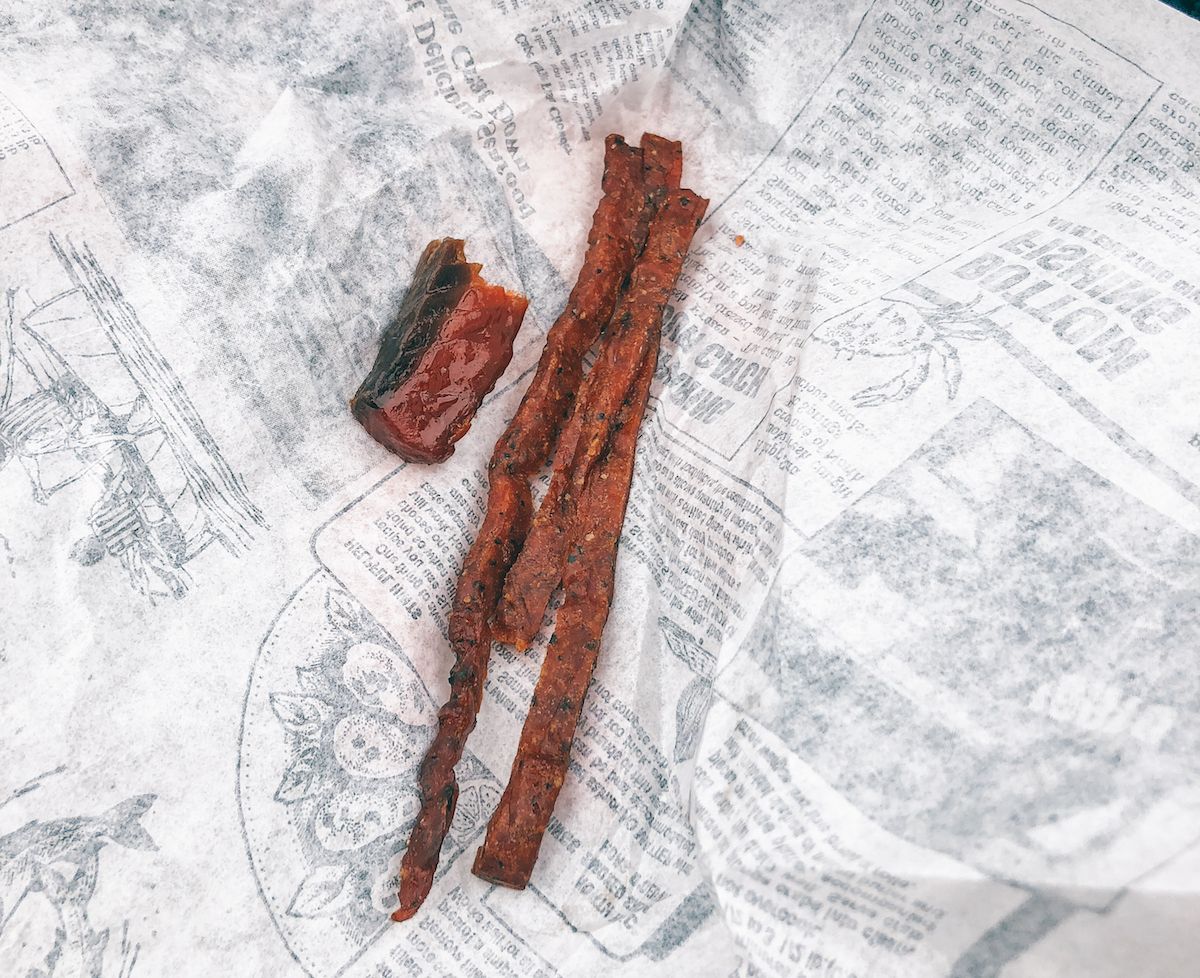 One of Tofino's specialities is smoked salmon. The Dockside Smoked Fish Store has a daily selection of different types of smoked salmon that are ready to eat. Three types of salmon are caught fresh right off the coast and they are either cold smoked or hot smoked. Our favourite type was the sockeye candied strips.
17. Have a charcuterie picnic on the beach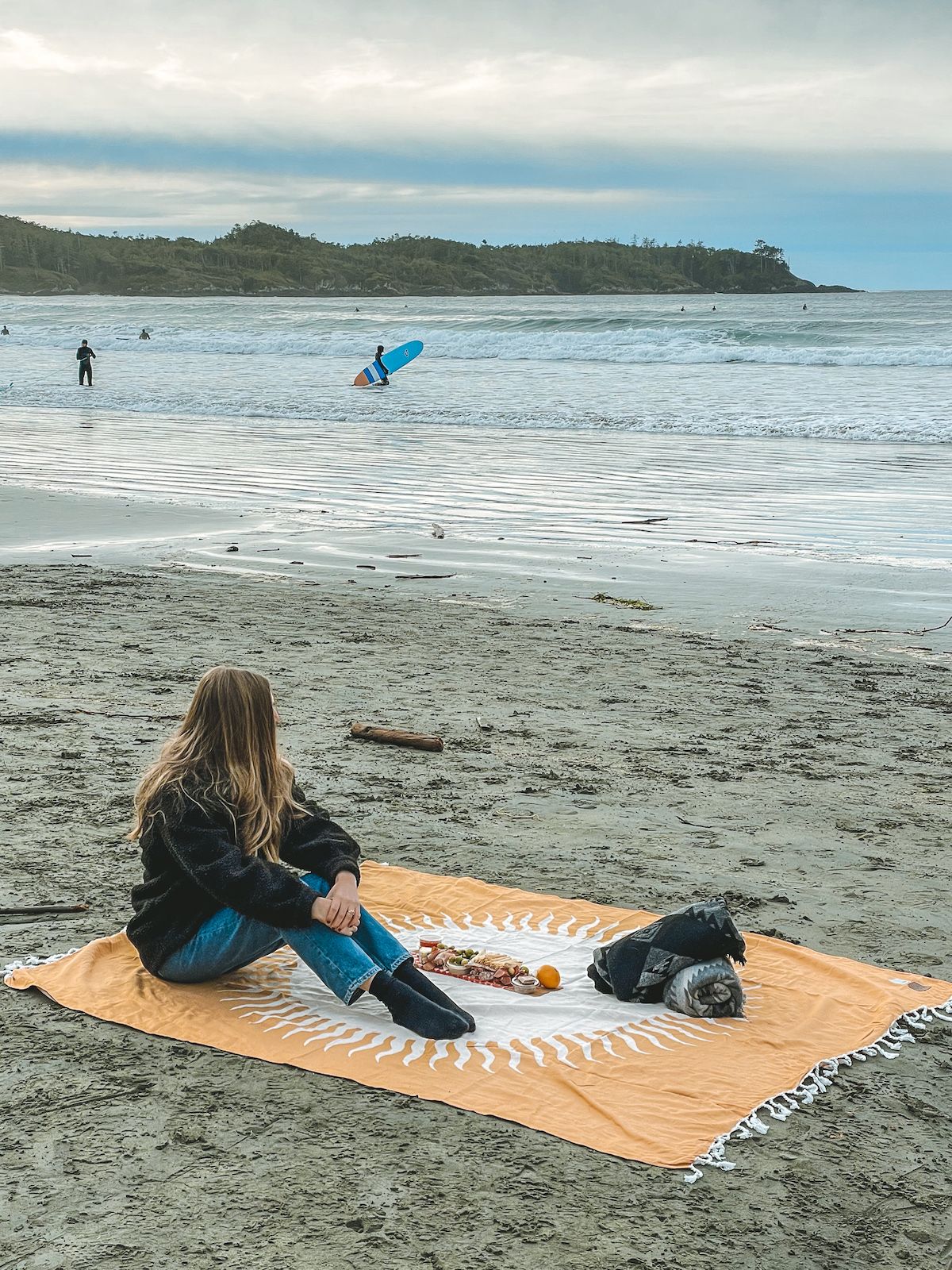 Grab your beach blanket and order a charcuterie board from Picnic Charcuterie to take with you to the beach. The charcuterie shop focuses on using local, high quality ingredients and makes many of their items in house. We loved watching surfers catch the waves at Cox Bay Beach while snacking away. Don't forget to bring a garbage bag to pack away your garbage after, leave no trace!
18. Grab a pint at Tofino Brewing Co.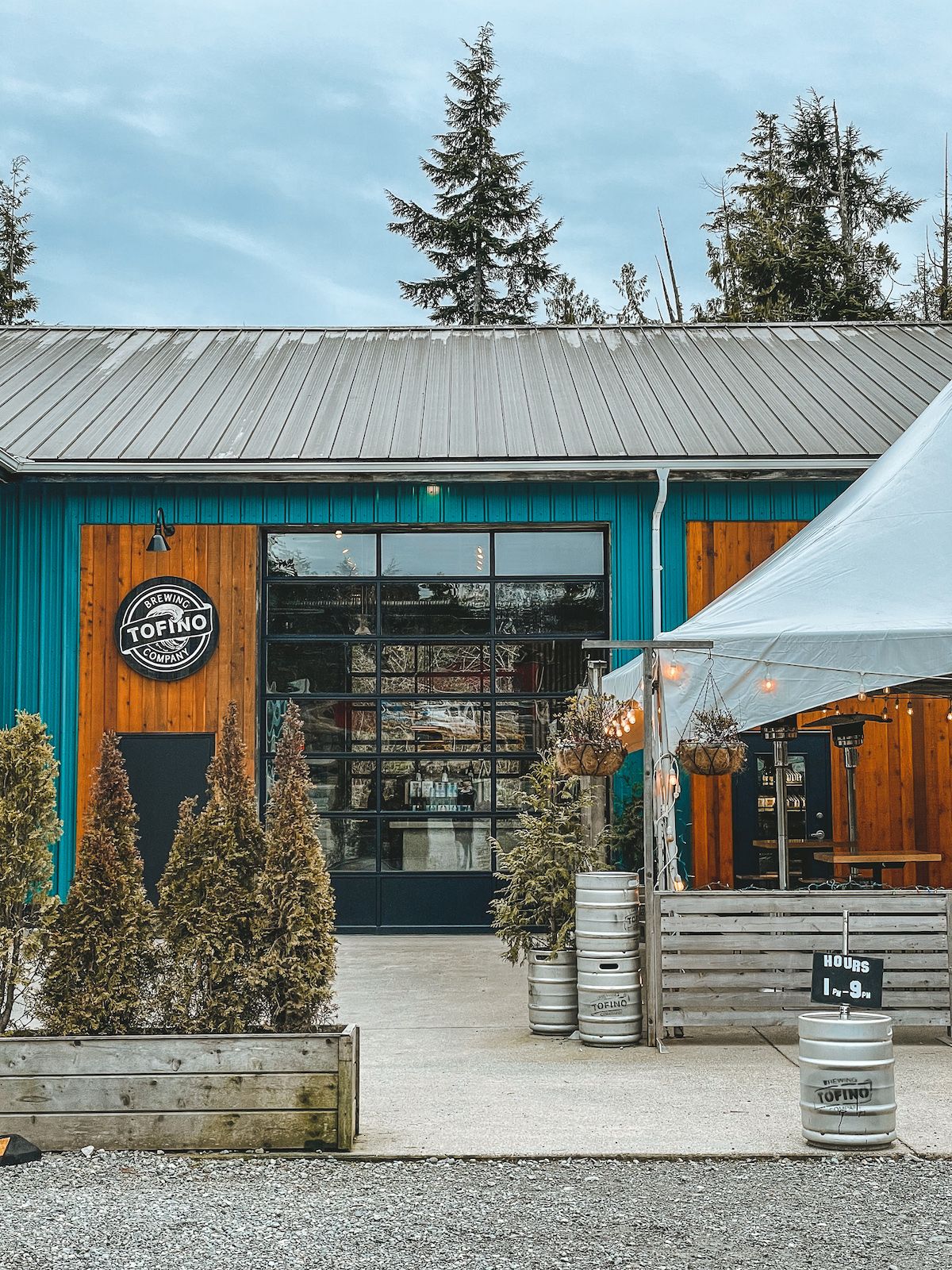 Hangout with some beers in the impressive two-story brewery known for its small batch, handcrafted beer. If you can't choose one, go for a flight. They have some interesting types, like their Spruce Tree Ale and Kelp Stout. If one of you isn't a beer drinker you will be happy to know they also have cider available.
19. Walk the Rainforest Trail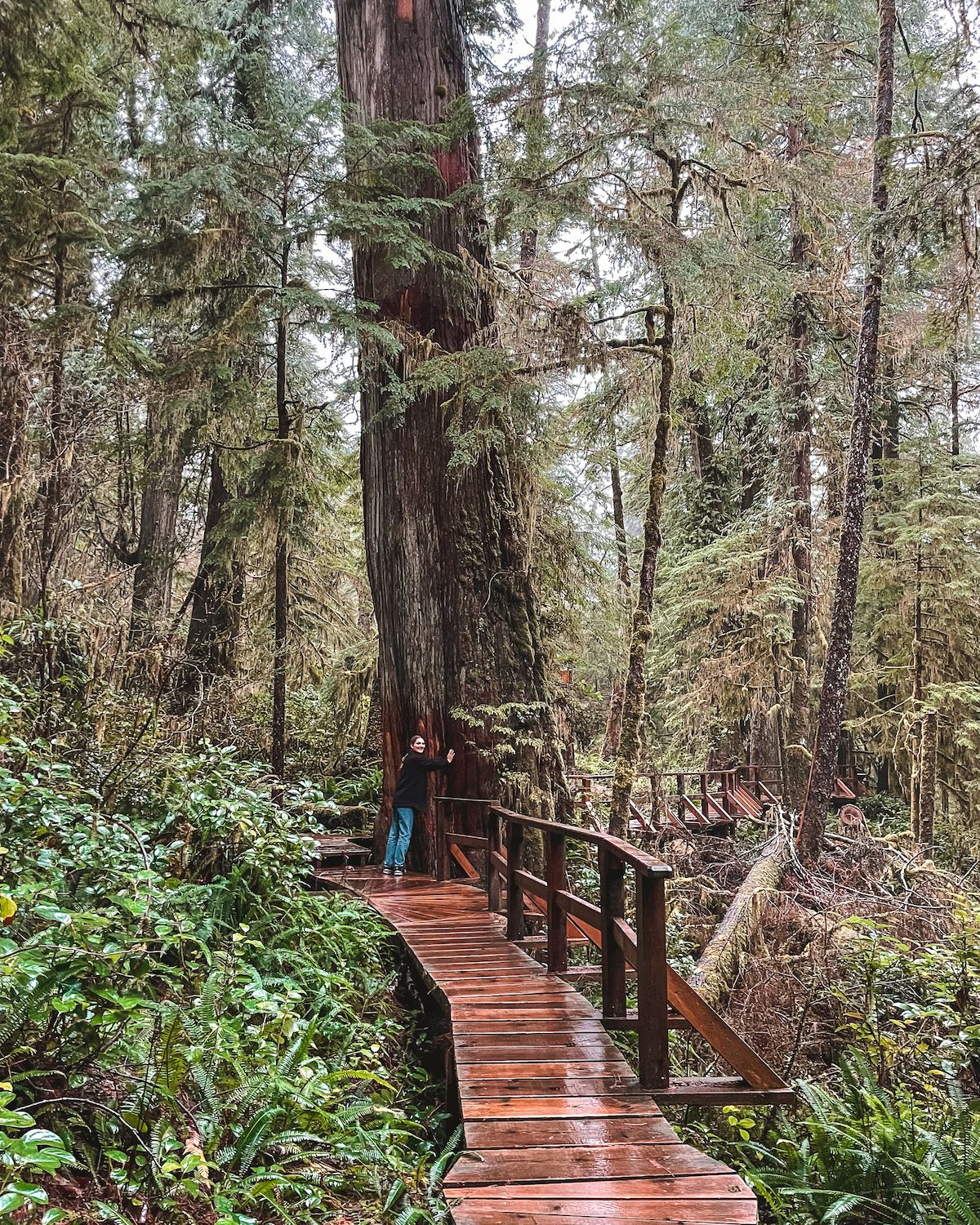 Breath in fresh oxygen-rich air as you walk along a boardwalk through the ancient forest. The Rainforest Trail has two 1 km loops (Loop A and Loop B), which are easily accessible from the Pacific Rim Highway. We did Loop A across the road from the parking lot and were impressed by the humongous red cedar trees.
20. Have a cocktail flight at Tofino Distillery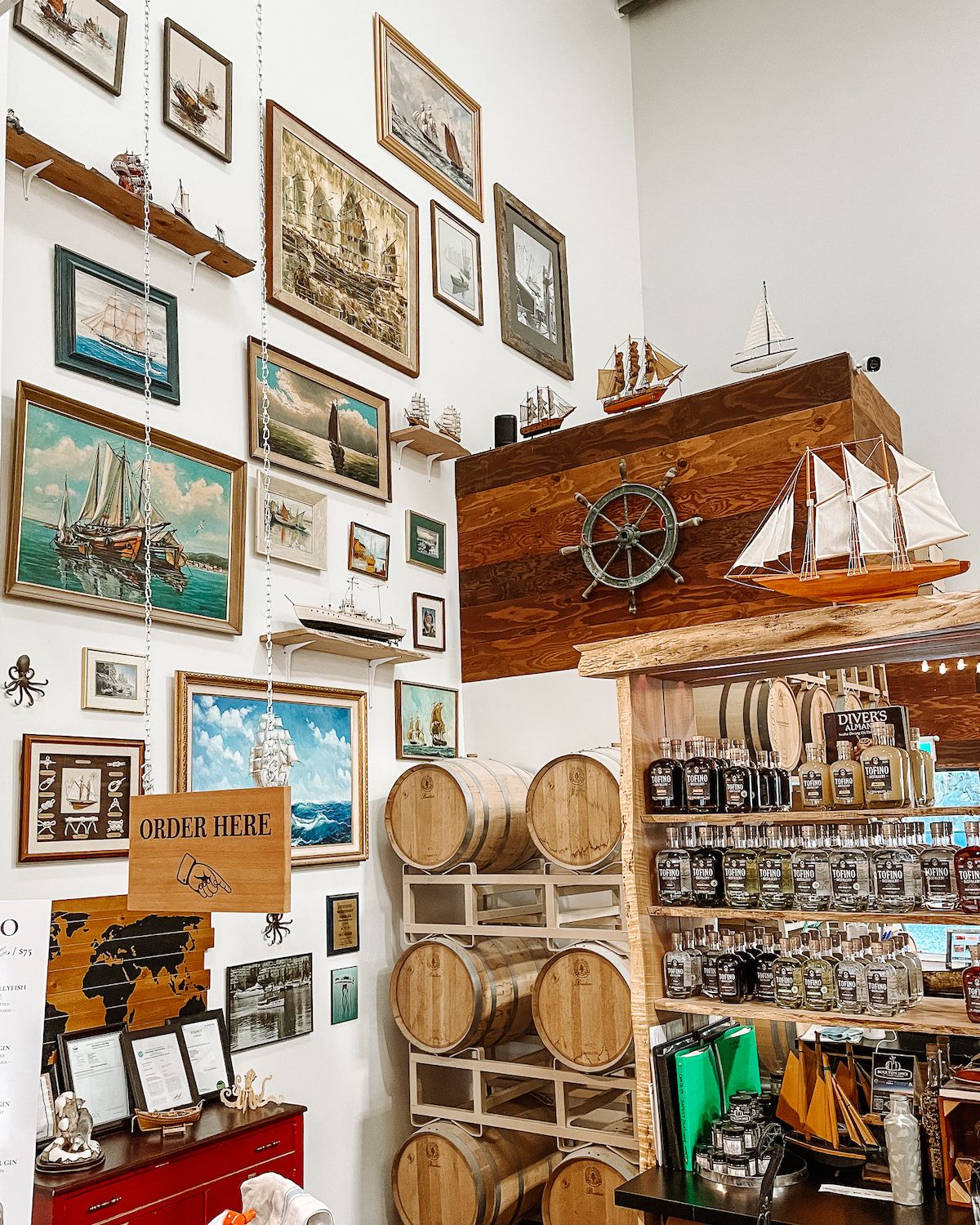 Just beside Tofino Brewing Co., you will find Tofino Distillery, a tasting room and distillery selling premium organic spirits. Usually I'm not a fan of visiting distilleries because I don't like drinking straight liquor, however here they offer mini-cocktail flights!
We were given a menu and picked out three mini cocktails to try.  I went for a "Bee Knees" with their Rose Hibiscus Gin, a "Tijuana Go Surfing" with their Jalapeno Vodka and a "Tofino Pegasus" with their Psychedelic Jellyfish Absinthe. It was a fun concept.
21. Shop Tofino's quirky boutique stores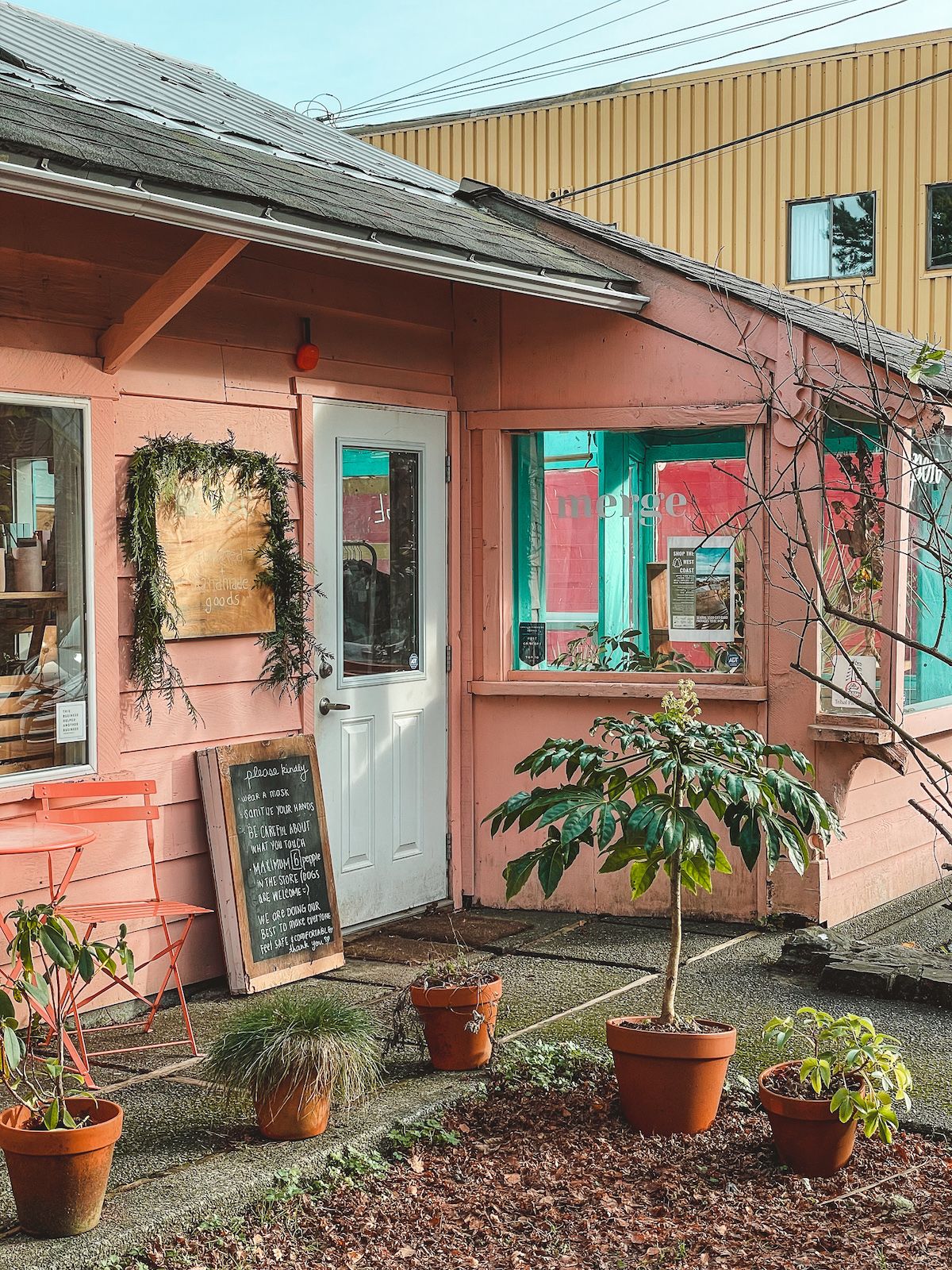 Tofino may be small, but it has many boutique stores worth checking out.
Our favourite shops in Tofino:
Merge - the super cute pink store carries an awesome selection of Canadian-made housewares and clothing.
The Factory Goods & Gallery - the studio carries a well-curated selection of handcrafted housewares, jewelry and prints.
Two Trees - a cute store selling local artisanal products.
Caravan - a beach shop selling items inspired by the Pacific Northwest.
22. Walk alongside the beachfront homes on Chesterman Beach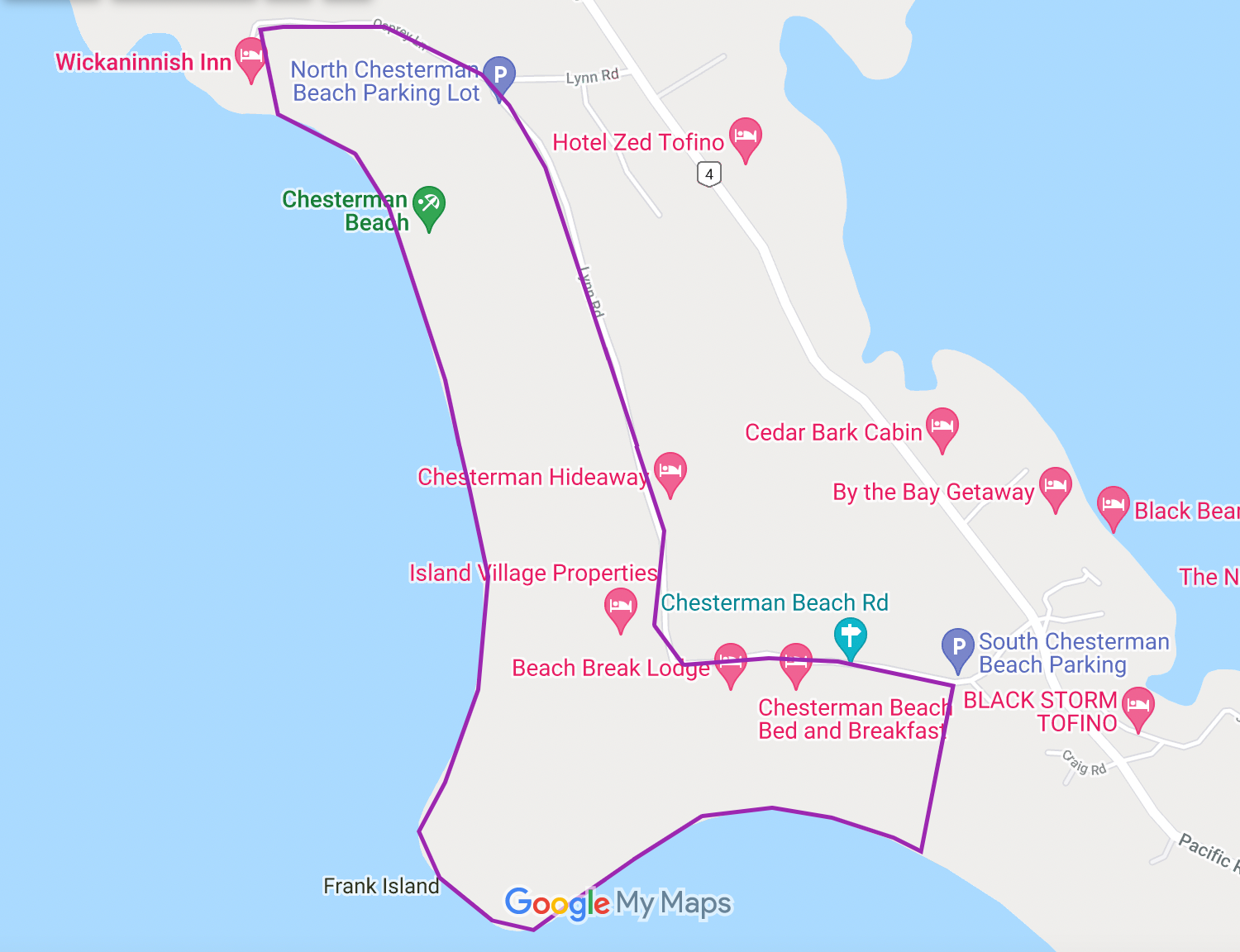 Some of Tofino's prime real estate is located along North and South Chesterman Beach. We had fun walking along the beach and pretending what house we would buy. Each one of them is so different and unique. You can do this walk as a loop by coming back on Chesterman Beach Rd/Lynn Rd.
Start your walk from the North Chesterman Beach Parking Lot and walk south down North Chesterman Beach and South Chesterman Beach. Once you reach South Chesterman Beach, there is a public trail you can take that brings you to Chesterman Beach Rd. This road continues onto Lynn Road, which takes you back to the parking lot.  
23. Stay in a cozy B&B near the ocean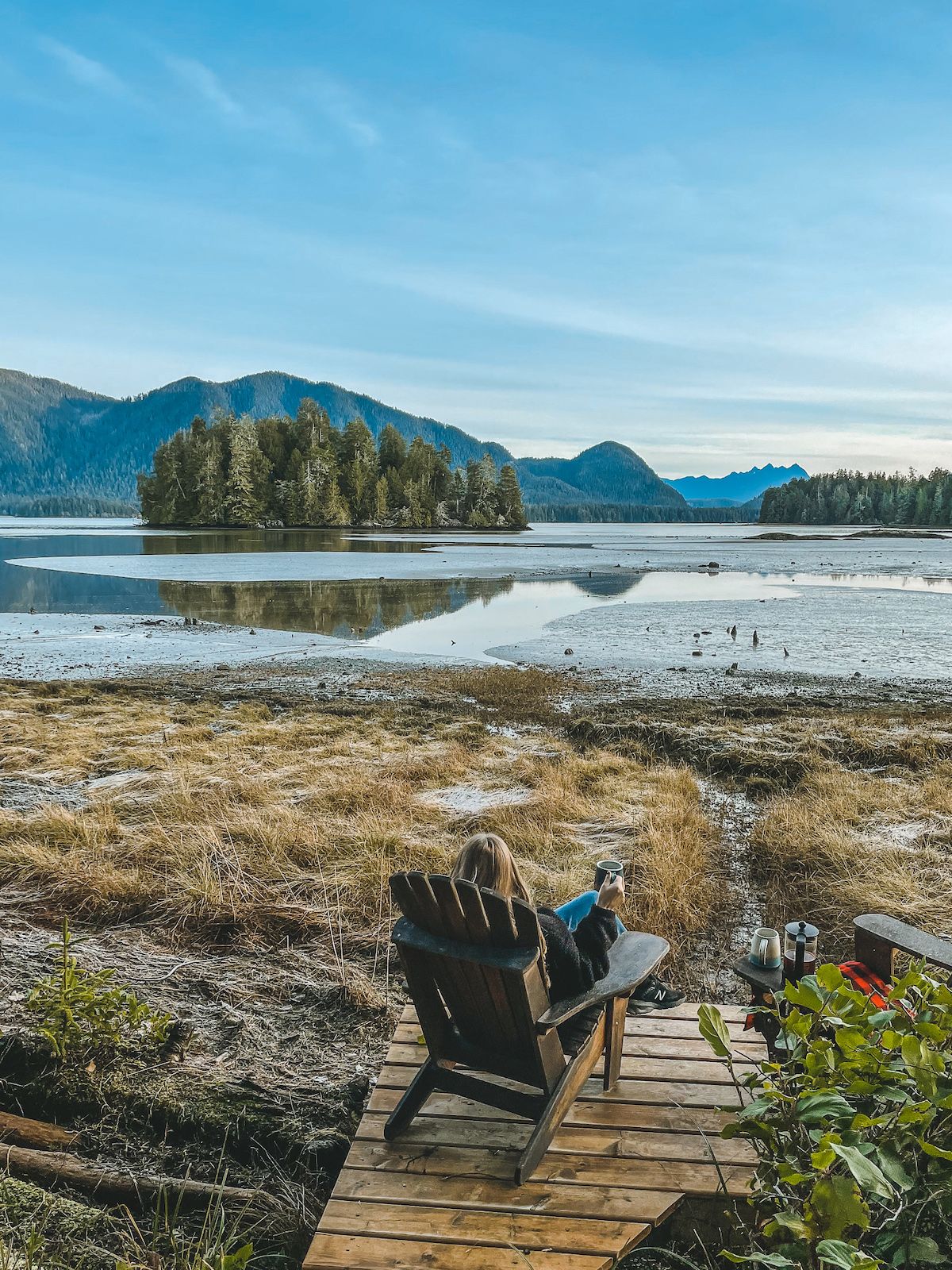 A fun and authentic way to stay in Tofino is by renting a cozy cottage close to the beach. This is a great activity to do year round to get out into nature. We have rounded up some of the best B&Bs in Tofino near the ocean.
Best B&Bs in Tofino near the ocean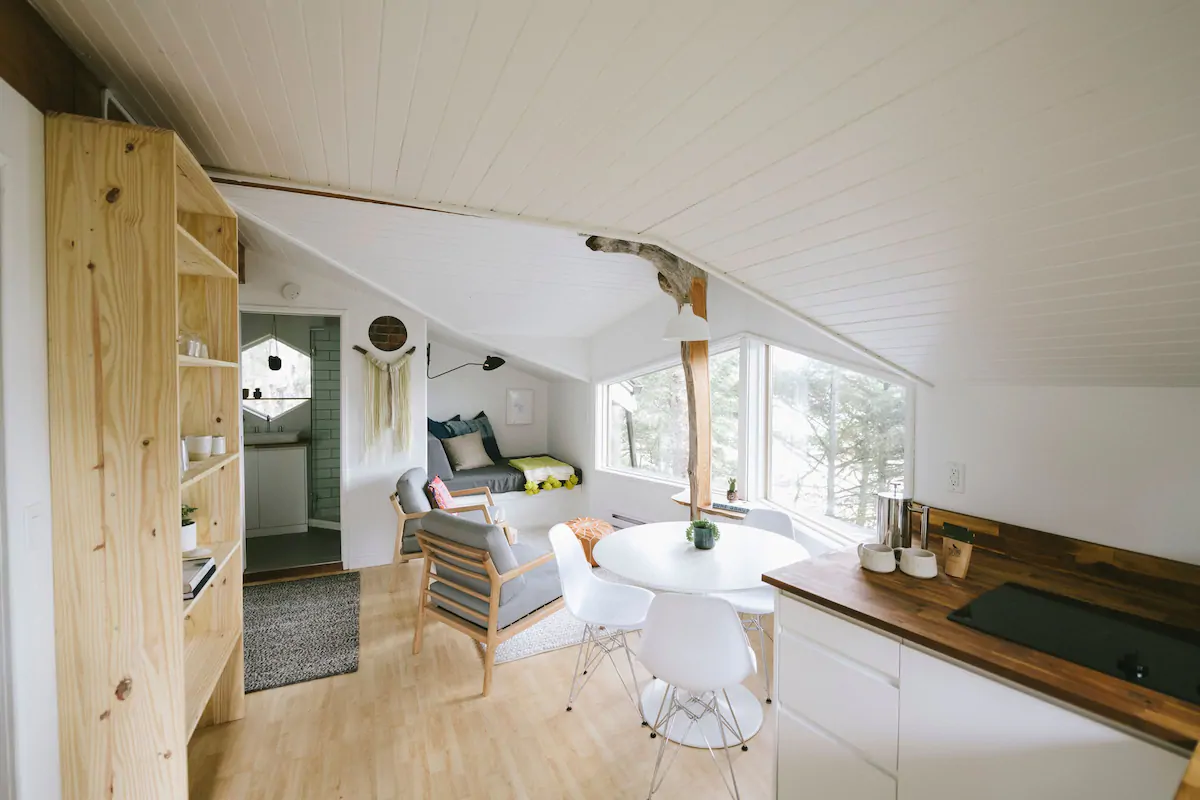 What makes this B&B special:
Smitolson's Surf Shack is an original 1970s surf cabin that has been beautifully renovated with an airy and bright decor. It's tucked away in old-growth trees and is only 10 steps to Chesterman Beach! The cabin has an outdoor shower making it handy to rinse off sand after surfing or swimming.
Check out rates for Smitolson's Surf Shack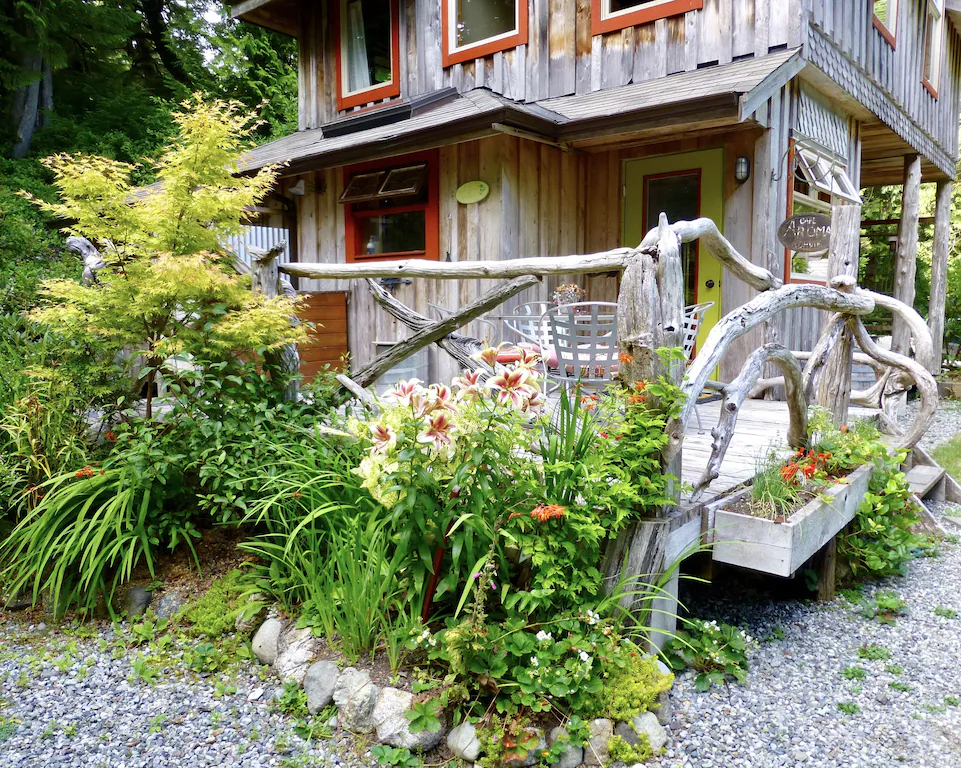 What makes this B&B special:
The
Cozy Creative Heron Cottage
is a quirky wooden cottage with charming furnishings and artistic touches. It's surrounded by tall cedars in the forest, giving it an authentic west coast feel. It's private, yet close to the walking path that takes you to restaurants, shops and beaches. Enjoy the outdoor seating area and firepit, or cozy up inside by the fireplace.
Minimum stay: 2 night minimum
Check out rates for the Cozy Creative Heron Cottage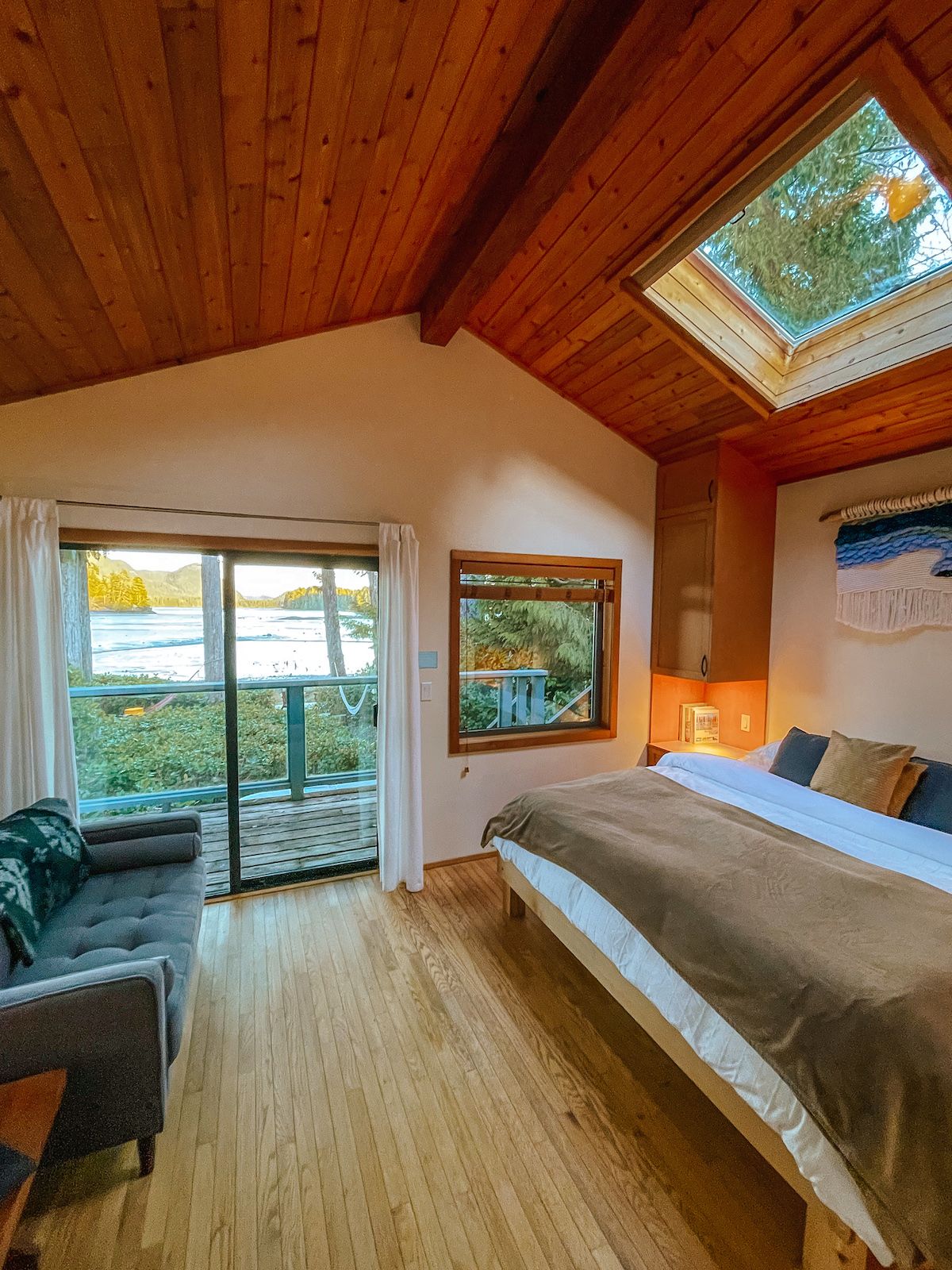 What makes this B&B special:
Cedarwood Cove Cabin
is located on the stunning Tofino inlet, which has calmer waters excellent for paddle boarding. The outside of the cabin has the perfect set up with a private outdoor hot tub, fire pit and a deck with cottage chairs and BBQ. Luxurious features are included in the cabin, such as a king sized bed and rainfall shower. A bonus is that your stay also includes surfboards, wetsuits, bikes, firewood and rain gear for storm watching!
Minimum stay: 3 night minimum
Check out rates for Cedarwood Cove Cabin
Best for glamping: WILDPOD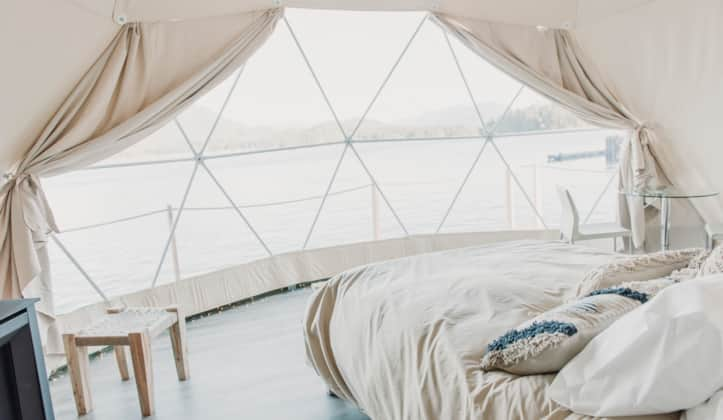 What makes this B&B special:
WILDPOD
is a newer experience in Tofino that opened in 2019. The six luxury domes are located walking distance from town and have views of the harbour and surrounding islands. The domes are close to the water's edge and have a bright and airy decor. It's a great spot to watch for marine life and admire the views. The geodesic domes have an ensuite bathroom, queen sized bed, kitchenette and propane fireplace.
Check out rates for the WILDPOD
Best for a weekend away with friends: Tofino Beach House
What makes this B&B special:
The
Tofino Beach House
is located directly on Chesterman Beach with 100 ft of ocean frontage. The beach house feels airy with its high ceilings and can easily accommodate up to 6 people with its 3 bedrooms and 3 bathrooms. The large deck is great to gather with your friends and sit on the cottage chairs overlooking the beach. There is also a private hot tub and a private fire pit located right on the beach.
Minimum stay: 2 night minimum
Check out rates for Tofino Beach House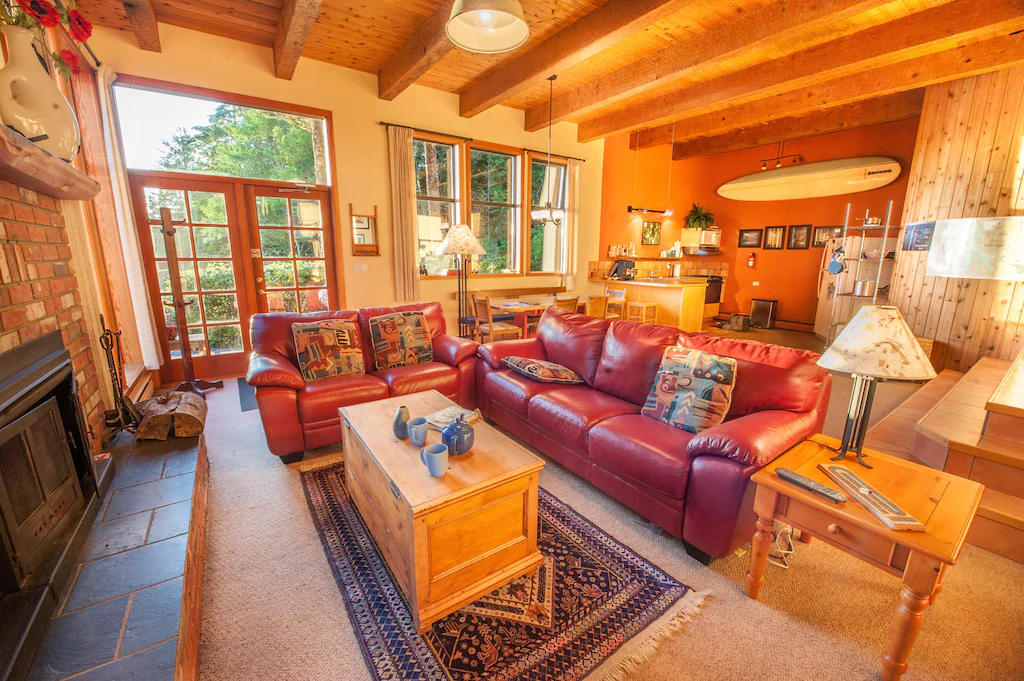 What makes this B&B special:
The
three-bedroom suite
is a great spot for families with its spacious living room, fully-equipped kitchen and stunning location. The wood fireplace and wooden beams make the space feel cozy and welcoming and its floor-to-ceiling windows give lots of light. Unwind with beautiful coastal views through your window or visit the private sandy beach that is just 20 steps away. Town is only 1 km away, making it easy to visit restaurants, cafes, galleries and shops.
Minimum stay: 3 night minimum
Check out rates for Beachfront Tofino for Families
---
Start planning your trip to Tofino
Planning a trip to Vancouver Island? Don't miss our 1 week Vancouver Island itinerary including Tofino.
You should also consider adding the charming town of Ucluelet to your itinerary. It's 20 minutes away from Tofino, but less touristy and more affordable. See our list of the top 8 things to do in Ucluelet, to see if this coastal town is right for you.
See our full list of the 17 best trips from Vancouver.
---
Looking for more travel inspiration? Check out our list of 20 Relaxation Travel Ideas to Clear Your Mind