Ucluelet is a charming town located on the west coast of Vancouver Island.  It's often overlooked by tourists, since the popular surf and luxury retreat town of Tofino is located just a 35 minute drive away. We love visiting Ucluelet, as it has an authentic west coast vibe and feels off the beaten path. It's worth adding this fishing village as a stop to your Vancouver Island itinerary. We list the 7 best things to do in Ucluelet that make it stand out.
What to do in Ucluelet
Top things to do in Ucluelet outline:
---
7 Best Things to do in Ucluelet
Disclosure: Some of the links below are affiliate links, meaning at no additional cost to you, we will earn a commission if you click through and make a purchase. We only recommend products or services we have used or that we believe will add value to our readers. Thank you for supporting us!
1. Start off your morning at a local's cafe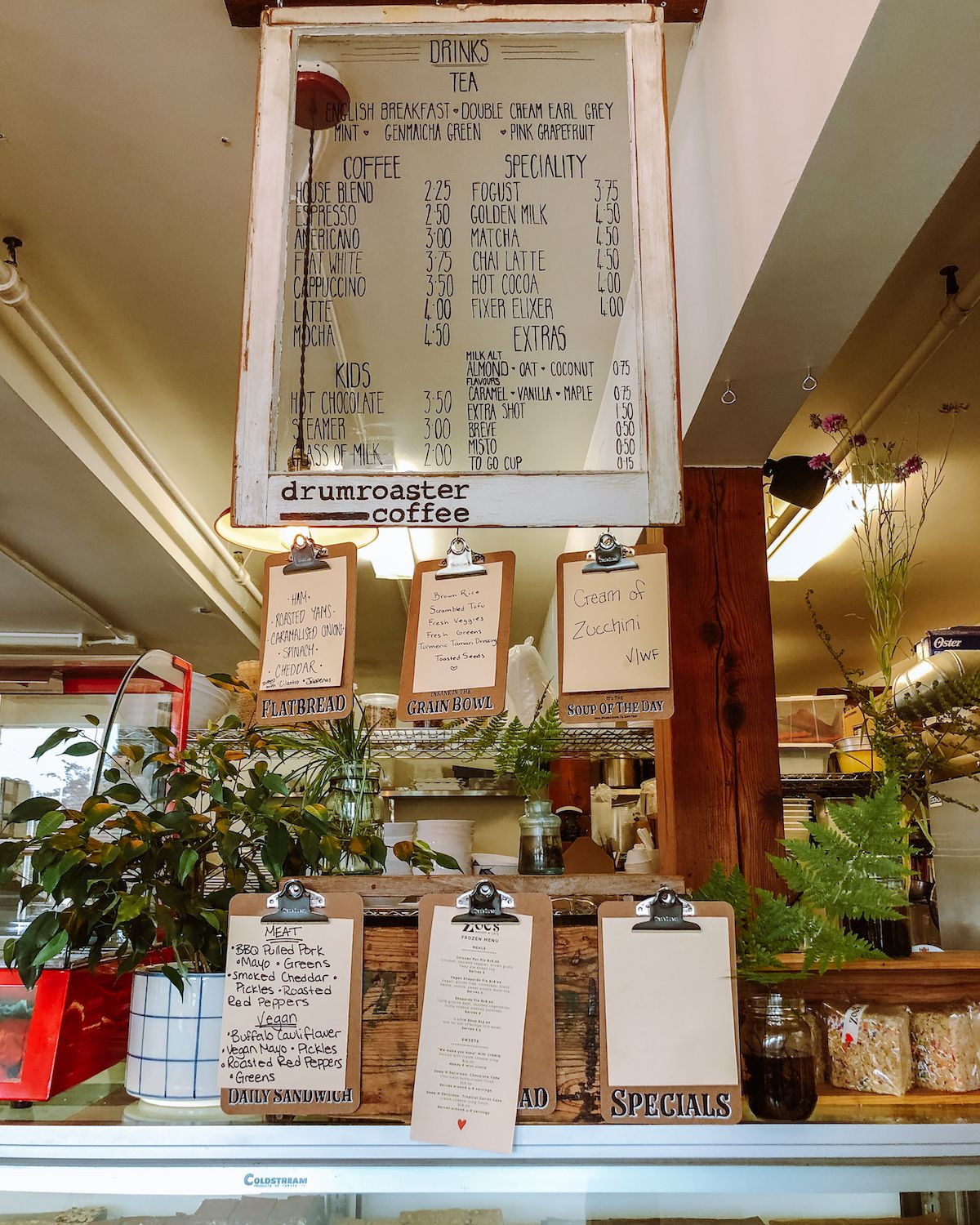 Ucluelet has a few quirky coffee shops to choose from. Grab a cup and hangout among the locals.
Best Coffee: The Foggy Bean
The Foggy Bean is a local sustainable coffee roaster with their roots in Ucluelet. They have a small coffee bar located in a repurposed historical church.
Best breakfast: Barkley's Cafe
Barkley's Cafe has delicious breakfast options, such as breakfast ciabattas and breakfast burritos. If you want to start your day off with a kick, they also have specialty coffees with Baileys or whiskey :o.
Best baked goods: Zoe's Bakery & Cafe
Zoe's Bakery and Cafe serves delicious baked goods, such as flatbreads, croissants and cinnamon buns. They also serve Drumroaster coffee, which comes from a family-owned coffee roaster located on Vancouver Island. The inside of the cafe feels bright and airy with lots of plants.
2. Eat lunch at Jiggers Fish & Chips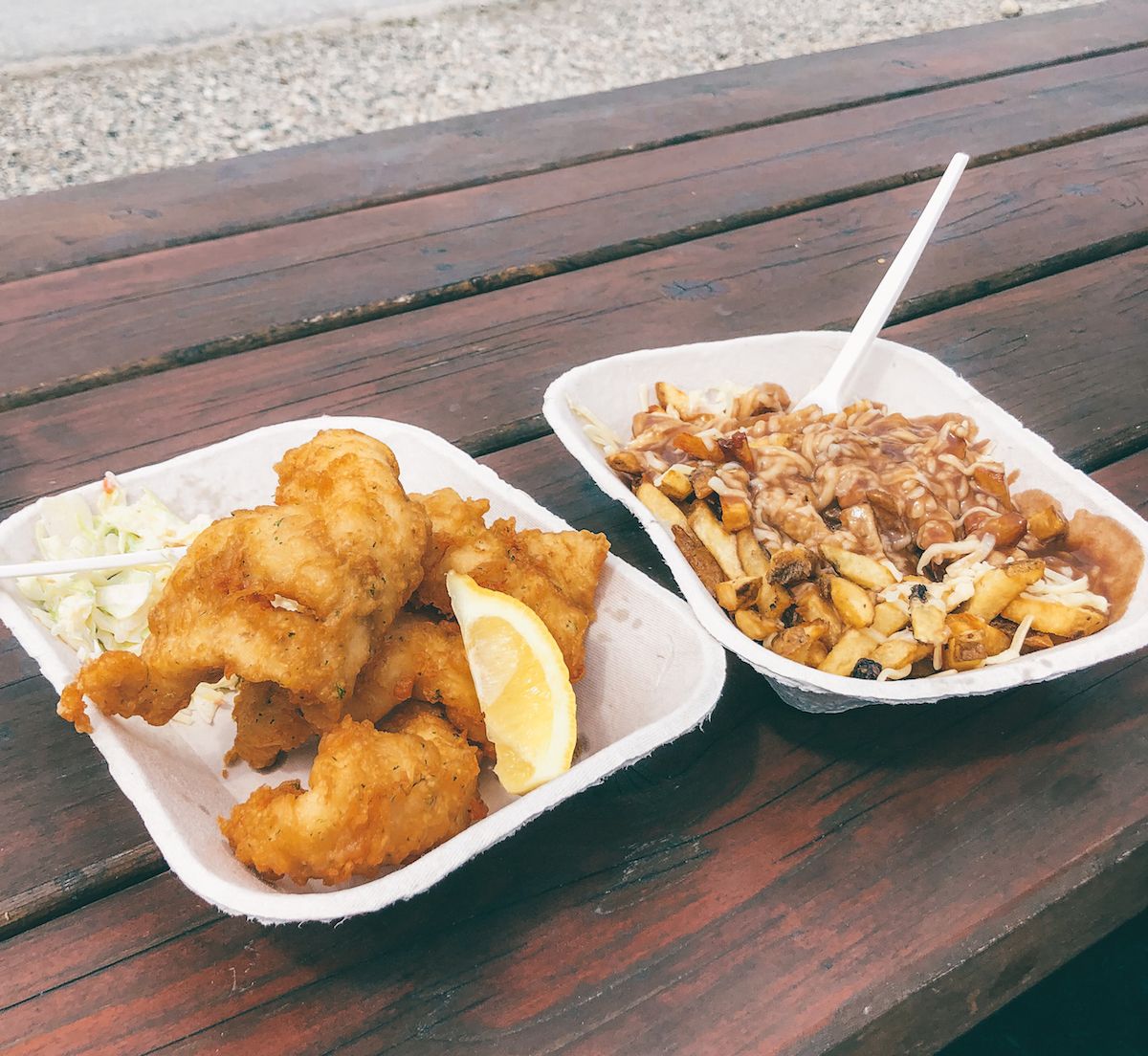 Save room for lunch and get Jigger's delicious fish and chips from their food truck. The fish was fresh and the batter not too greasy. It's also a great value with their generous portion sizes.
3. Visit Canada's first collect-and-release aquarium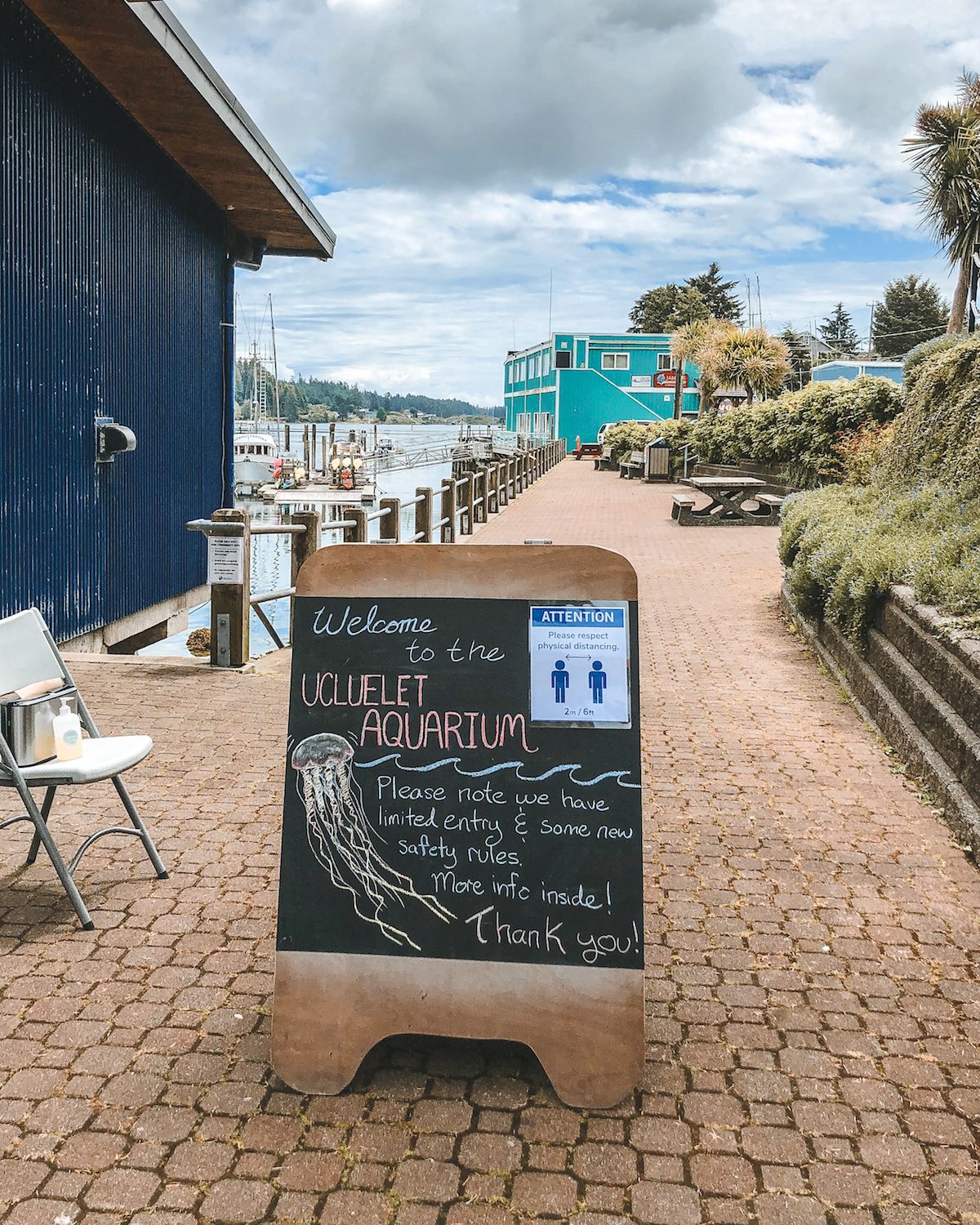 Ucluelet Aquarium is a fun place to visit and learn about local marine life. The non-for-profit aquarium aims to promote awareness of the biodiversity of local waters. Some of the fish and crustaceans are wacky and really cute. Wait until you see the heart crab!
4. Go boutique shopping
Ucluelet has a couple cute boutique shops. Don't miss The Den, a sustainable goods and refill shop, which carries housewares, holistic wellness products, vintage items and products from local artists.
Some other cute shops worth checking out are Gypsy Drifter for vintage and apothecary goods, and Reflecting Spirit Gallery for art pieces from local artists.
5. Walk the Wild Pacific Trail lighthouse loop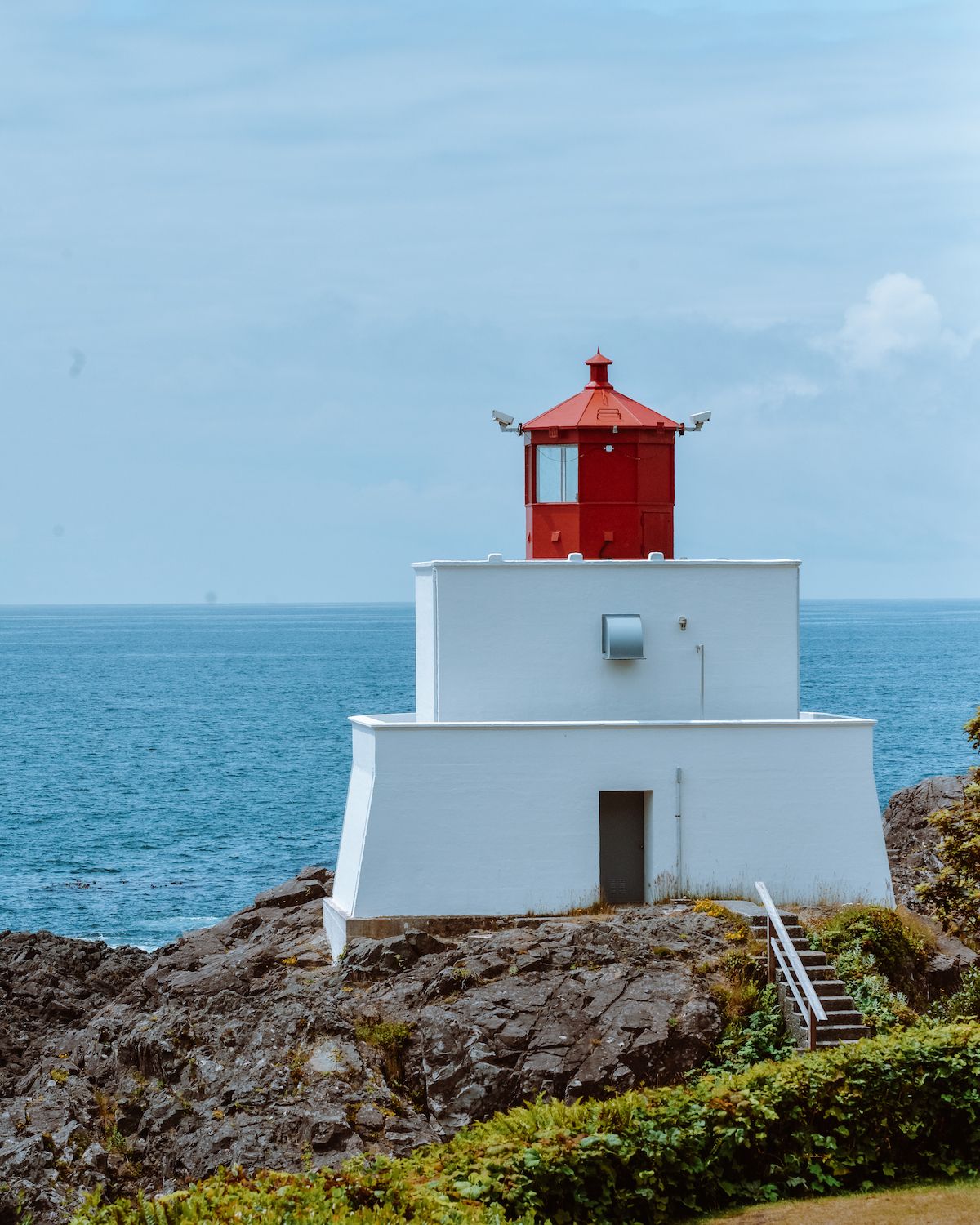 Around the Ucluelet peninsula, there is a 2.6km walking trail that gives stunning views of the rocky coastline, ocean, forest and lighthouse. The active lighthouse was built in 1915 and watches over Barkley Sound. Come at sunset to see gorgeous colours light up the sky and ocean. The loop should take you 30-45 minutes and is rated easy for difficulty.
6. Dine at the award winning Pluvio Restaurant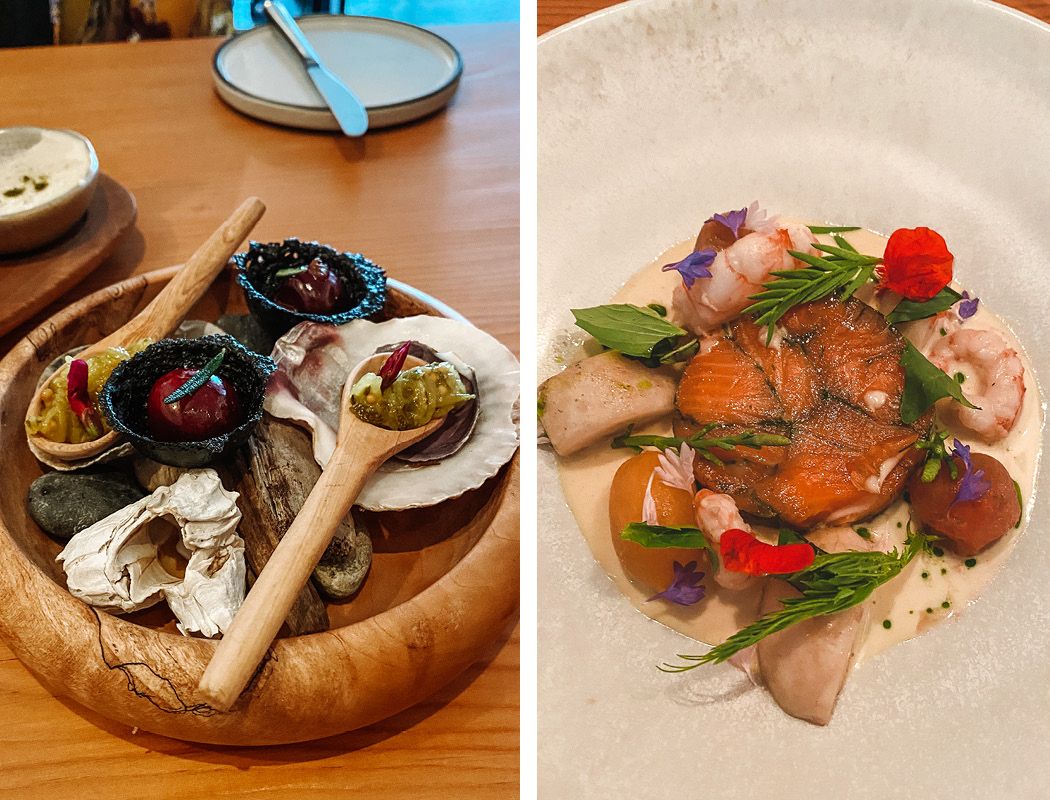 Pluvio Restaurant was named Canada's 4th Best New Restaurant by Air Canada enRoute Magazine in 2020. They focus on using natural ingredients from the region and their dishes change throughout the season. You can either choose from a three-course menu (with different options) for $78 or a five-course chef's tasting menu for $98. The chef's tasting menu also has an optional wine pairing for $48.
We chose the chef's tasting menu with wine pairing and it was amazing. Each one of our dishes was outstanding and beautifully presented. Our standout dishes were the steelhead with vadouvan butter & sidestripe shrimp and the beef short rib with hazelnut miso caramel. Absolutely delicious!
The restaurant also has a small boutique hotel with just four rooms
. This is convenient after eating a big meal! Each room has luxurious features, such as a king sized bed, rain shower, balcony, and furniture and art made from local artisans. It's located in the heart of Ucluelet making it easy to explore the town.
7. Stay in a cozy cabin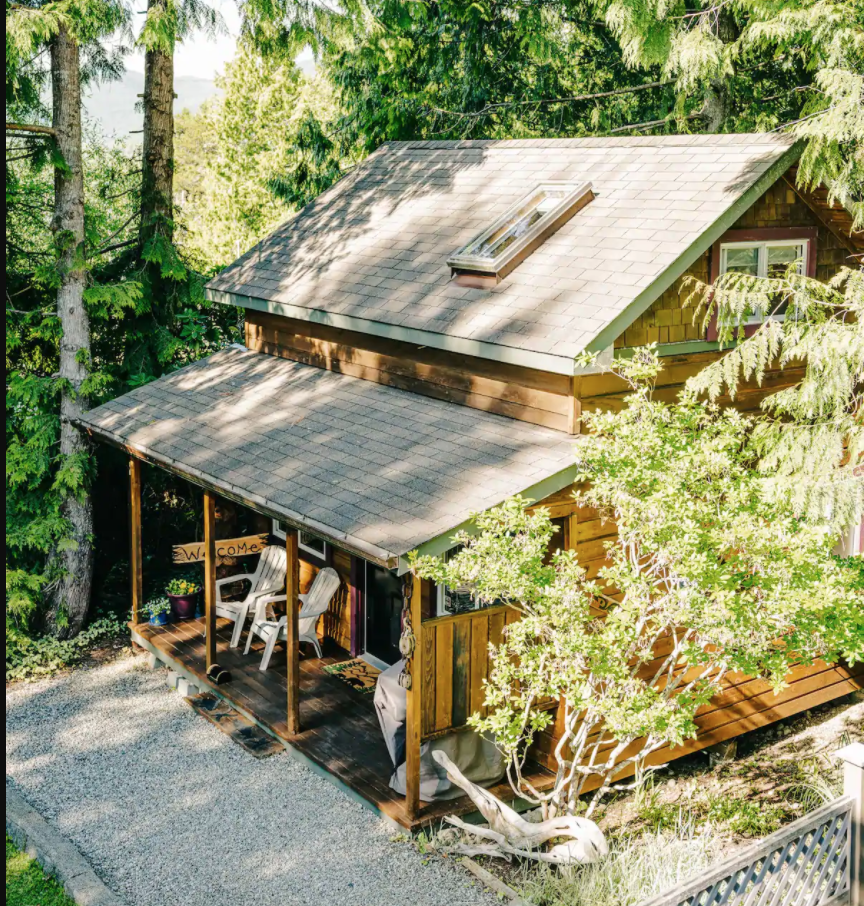 Experience the West Coast by the staying in a wooden cabin in the rainforest. This is fun to do at all times of the year, especially when it's stormy and you can bundle up by the fire or soak in the hot tub!
Our top cabin picks in Ucluelet:
Lazy Bear Cabin
: the interior of the cabin has a quintessential west coast feel, with its wooden accents, balcony overlooking the forest, artworks by local artists and fire pit. A bonus is the outdoor hot tub!
The Sapling Cabin at Evergreen Forest Cabins
: The Sapling Cabin has a quirky shape and is a great way to experience the
tiny house movement
. Although small, it features a loft with a king sized bed, a small outdoor hot tub and an outdoor rain shower. The cabin is nestled within hemlock trees and is walking distance to beach trails.
The Nest at The Cabins at Terrace Beach:
If you're looking for a larger modern cabin that it suitable for families or more than two people, The Nest is a lovely spot. The two-bedroom cabin is about 800 square feet and has three large skylights, vaulted ceilings, ocean and forest views and a fireplace. If you open the windows in the bedroom you can fall asleep to the sound of the waves.
We hope you enjoyed these fun things to do in Ucluelet!
---
Itinerary extension options
If you are also considering visiting Tofino, see our list of the top things to do in the surf town.
You should also consider visiting the two bohemian islands of Galiano and Salt Spring, located between Vancouver and Vancouver Island. Check out our travel guides here:
See our full list of the 17 best trips near Vancouver.
---