Vancouver Island is a magnificent island filled with majestic mountains, stunning Pacific Ocean beaches and wild coniferous forests. Other than natural sights, Vancouver Island also has a burgeoning Pacific-Northwest food scene and an amazing artisan culture. It's no wonder it was named the #2 top island in North America by the 2020 Readers' Choice Awards in Conde Nast Traveler Magazine.
Your Victoria to Tofino road trip will have a mix of relaxation and adventure and will touch on the best of the island's culinary scene, west-coast culture and nature.
Our 1 week Victoria to Tofino itinerary also includes our top hotel and B&B picks that add a unique experience to each area.
Outline: Victoria to Tofino Road Trip
---
Disclosure: Some of the links below are affiliate links, meaning at no additional cost to you, we will earn a commission if you click through and make a purchase. We only recommend products or services we have used or that we believe will add value to our readers. Thank you for supporting us!
Best time of year to visit Vancouver Island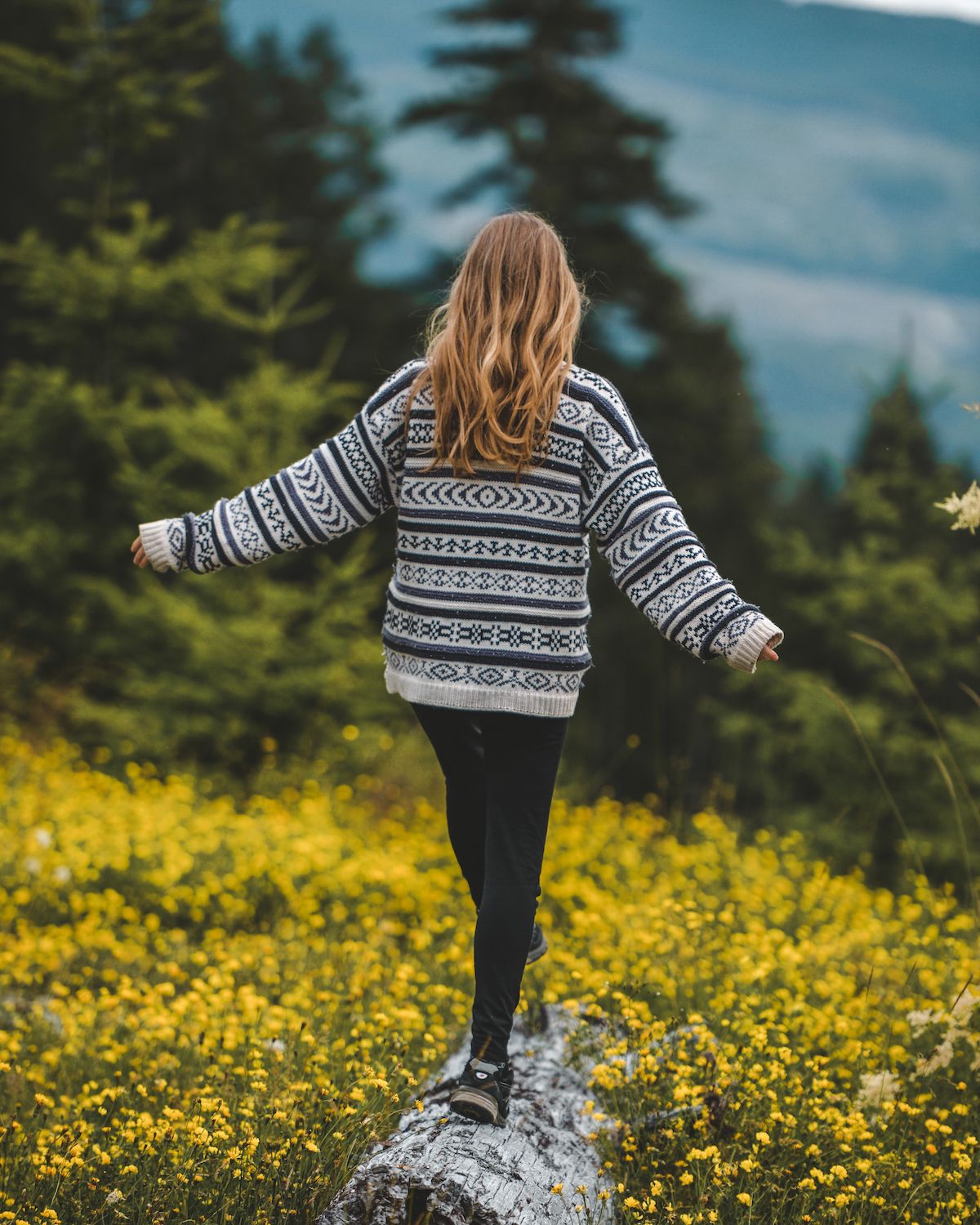 The best time of year to visit Vancouver Island is from March - May & October. There are a few reasons for this:
November - February has the most rainy days and monthly precipitation. Although storm watching can be fun in Tofino, Sutton Pass (HWY 4) can get snowy, slippery and wet. Note that winter tires are required to drive HWY 4 from October 1 - March 31.  
November - February has the least amount of daylight hours.
June - September is the tourist heavy season where you will see the highest prices for hotels.
Another thing to consider is forest fires. Some years the smoky haze can be so bad that it blocks out the blue skies and scenic nature around you, even in Tofino! This could happen sometime between July-September.
How to get to Vancouver Island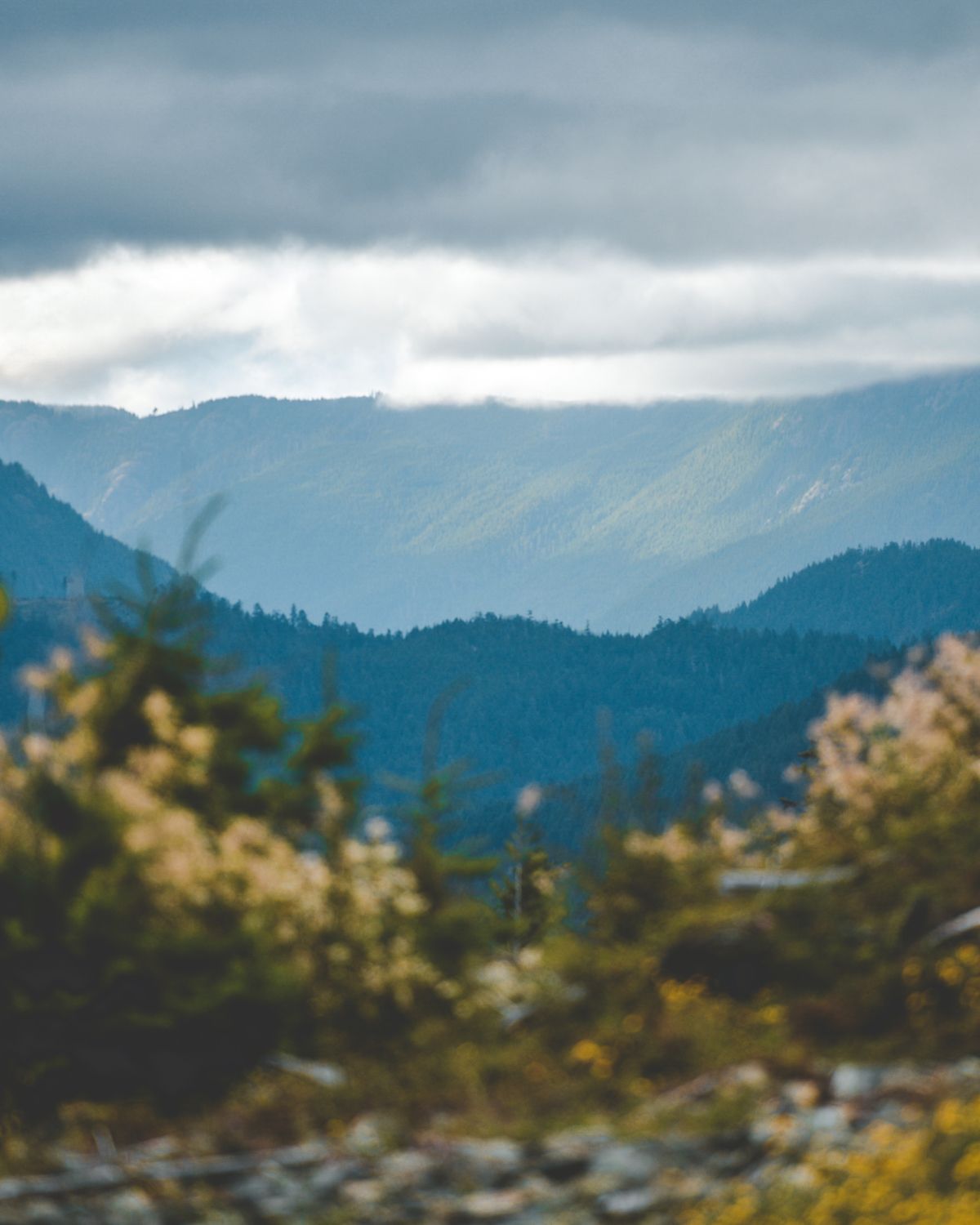 The best way to get to Vancouver Island is by ferry or float plane.
From Vancouver:
Option 1 (ferry): Drive about 45 minutes from Vancouver to the Tsawwassen Ferry Terminal and take the ferry to Swartz Bay. The ferry ride is 95 minutes. From Swartz Bay it's a 30 minute drive to downtown Victoria.
Option 2 (seaplane): Take a 30-35 minute float plane from Vancouver Harbour or YVR South to Victoria with Harbour Air. The float plane journey is beautiful and feels like you're on a sightseeing tour! From Victoria, rent a car for your Victoria t Tofino road trip.
From Seattle:
Option 1 (ferry): Drive 2.5 hours from Seattle to Port Angeles and take the Black Ball Ferry line to Victoria. The ferry ride is 90 minutes.
Note: this ferry route is currently on pause due the ongoing pandemic.
Option 2 (seaplane): Take a 45 minute float plane from Seattle to Victoria with Kenmore Air. From Victoria, rent a car for your road trip.
🚗 If you need to rent a car, you can easily compare car rental rates across different companies with
Rentalcars.com
.
1 Week Victoria to Tofino Road Trip
Days 1-2: Victoria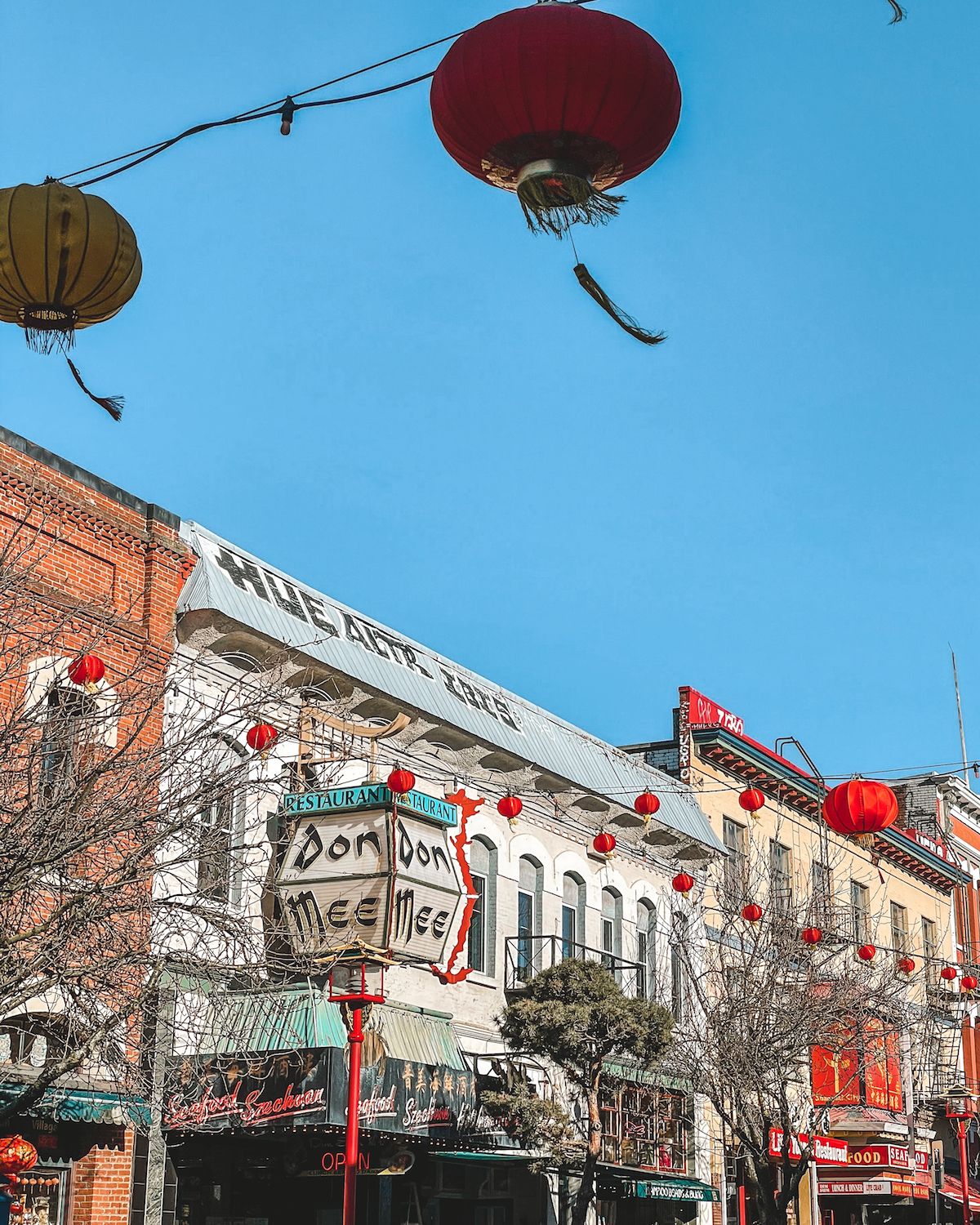 Experience the best of the city's food scene and discover gems in Canada's oldest China town
The charming capital of BC is a great place to kick off your Vancouver Island itinerary. The small city has a chilled-out vibe and tons of quirky boutique stores, restaurants and bars to discover within historic Victorian buildings.
Recommended tour:
A Taste of Victoria Food Tours
, which takes you on a 2-hour walking tour to see the top foodie spots. The tour includes 6-7 tastings along the route.
Fun things to do in Victoria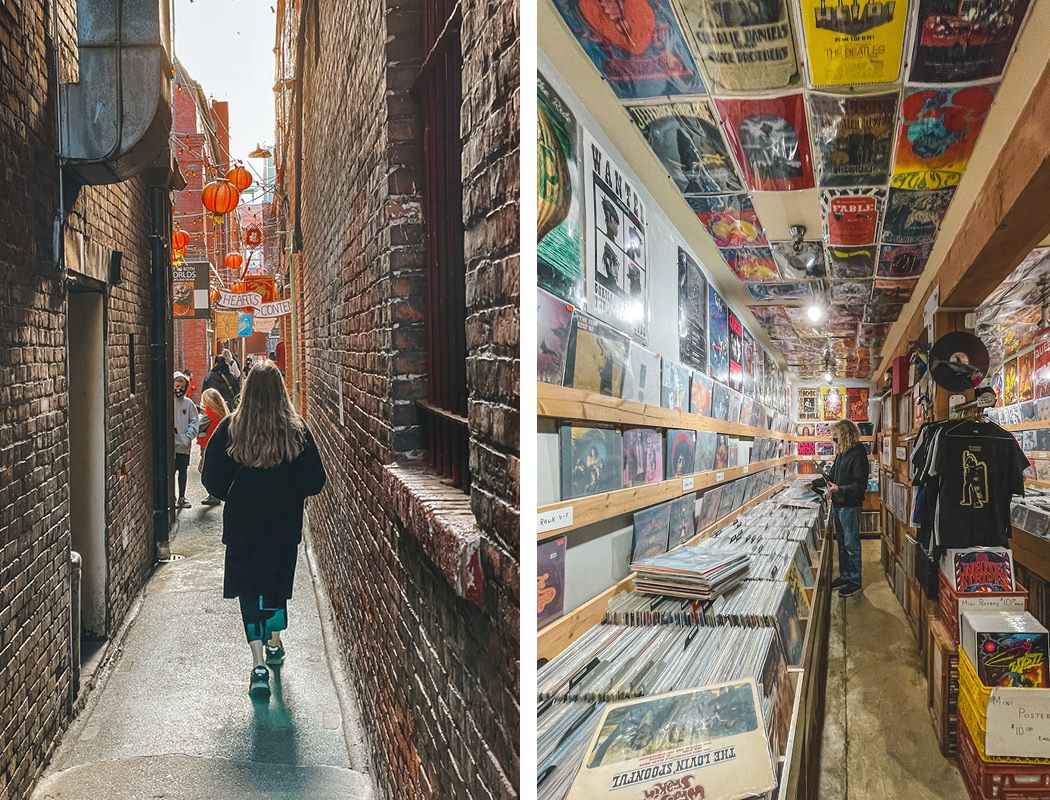 Here are some of our favourite things to do in Victoria:
Go for afternoon tea at The Fairmont Empress, a gorgeous chateau-style hotel built in 1908 that has been frequented by Queen Elizabeth II and the royal family over the years.
Explore Fernwood, a hip neighbourhood where locals hang out. Grab a house-roasted coffee at Little June and shop at CREAM Life + Style, a quirky boutique with an amazing curated selection of vintage and artisanal products.
Go antique and vintage shopping. Check out Collectors II for antiques and The Fabulous Find for authentic midcentury modern pieces that have been expertly restored.
Walk through Canada's oldest Chinatown. Once you enter the ornate paifang (traditional Chinese archway) on Fisgard Street you will see historic buildings and red hanging lanterns. Take the side alleyways to find hidden gems and shops tucked away.
Discover new music at The Turntable. This hole-in-the-wall record store has an amazing selection of music and rare vinyl. We picked up a few psychedelic rock records!
Listen to live jazz at Herman's Jazz Club, a cozy spot with a great locals vibe.
Top restaurants in Victoria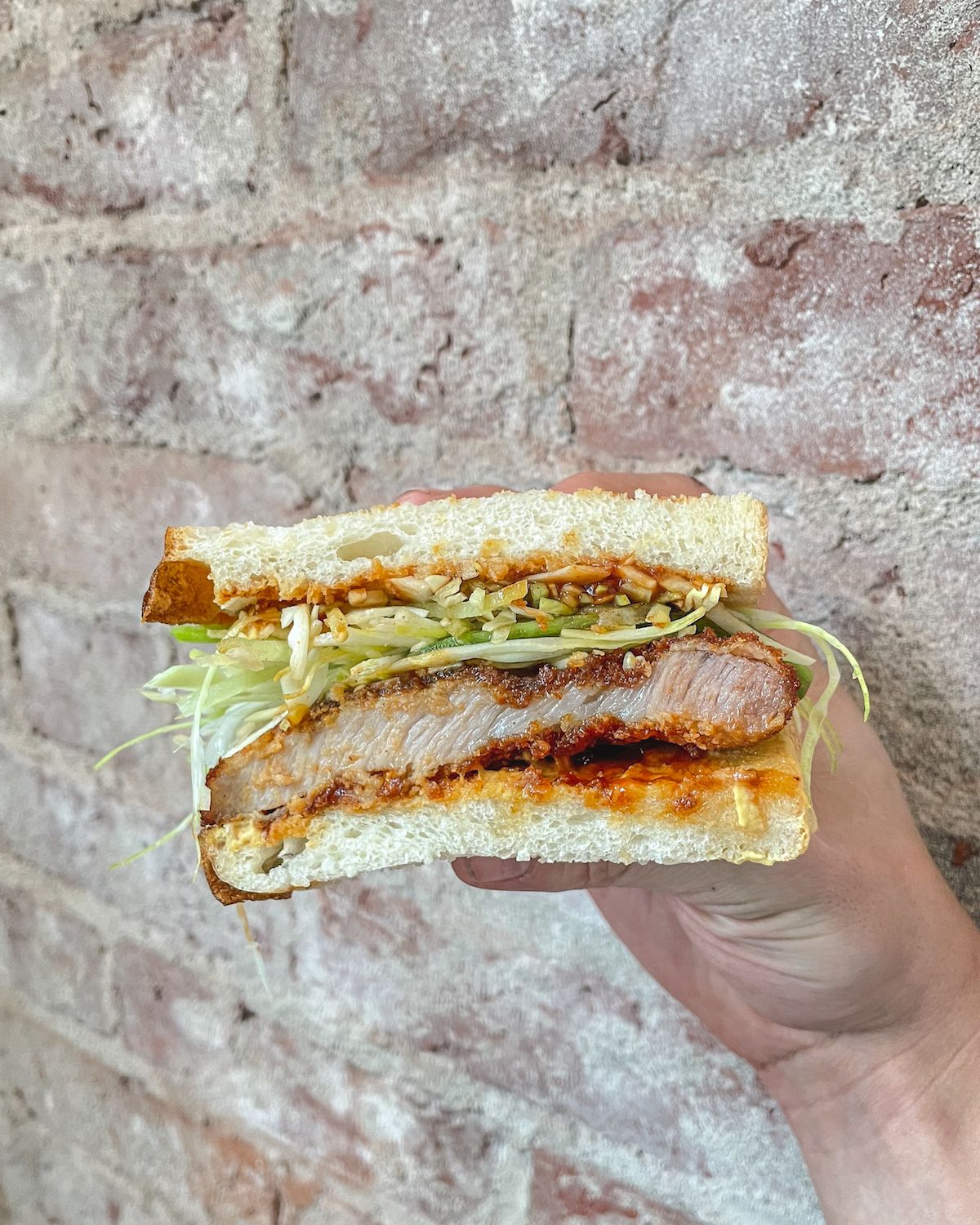 Best for innovative food: Nowhere A* Restaurant. A cool eatery located in the courtyard of a mini-mall known for its seafood and plant-based dishes. It was named the #5 best new restaurant in Canada by enRoute Magazine in 2020.
Best for a romantic evening: Courtney Room. A trendy spot serving Pacific-Northwest cuisine in an elegant setting. It was also recognized as one of the best new restaurants in Canada by enRoute Magazine in 2018. We splurged on the chef's tasting menu. Each dish was amazing!
Best for small bites & wine: stage. The cozy-chic restaurant/wine bar serves Pre-Nouvelle French cuisine and wine from small-scale producers.
Best for lunch: Part + Parcel. A hip cafe serving mouthwatering pork, chicken and vegetarian sandwiches and unique, healthy salads. The Pork Katsu sandwich (a Japanese specialty) is a must try.
Best for brunch: House of Boateng. Delicious and creative dishes with a West Africa, Caribbean and Pacific-Northwest flare. The Crab Benny and Jerkup Pork Belly were outstanding! The head chef was named Chef of the Year in 2020 by EAT magazine. Since the restaurant is located a bit farther away in the Langford area, save this spot for your drive out on Day 3.
Best cocktail bars in Victoria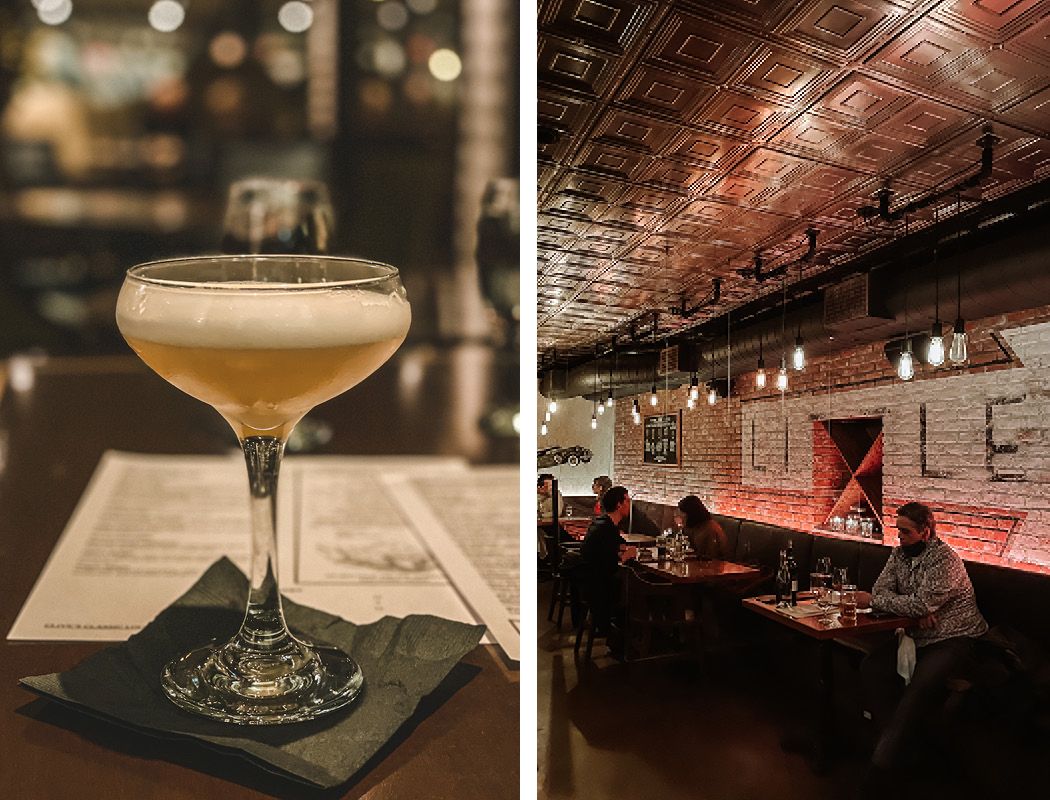 Victoria has a vibrant cocktail scene with talented mixologists. Two cocktail bars worth checking out are Little Jumbo and Clive's Classic Lounge. Both places have passionate bartenders that serve innovative and well-crafted cocktails.
Little Jumbo is a hip speakeasy located downtown. You must try their cocktail called the Disco Pumpkin! Usually I'll order different cocktails to try them out, but I had to order two of these. The spiced foam on the top was so delicious.
Clive's Classic Lounge is a spacious bar located inside the Chateau Victoria hotel. You can order a flight of their three cocktails on tap or try one of their unique creations, like the Deep Dark Woods which comes smoked under a cloche.
Unique accommodation in Victoria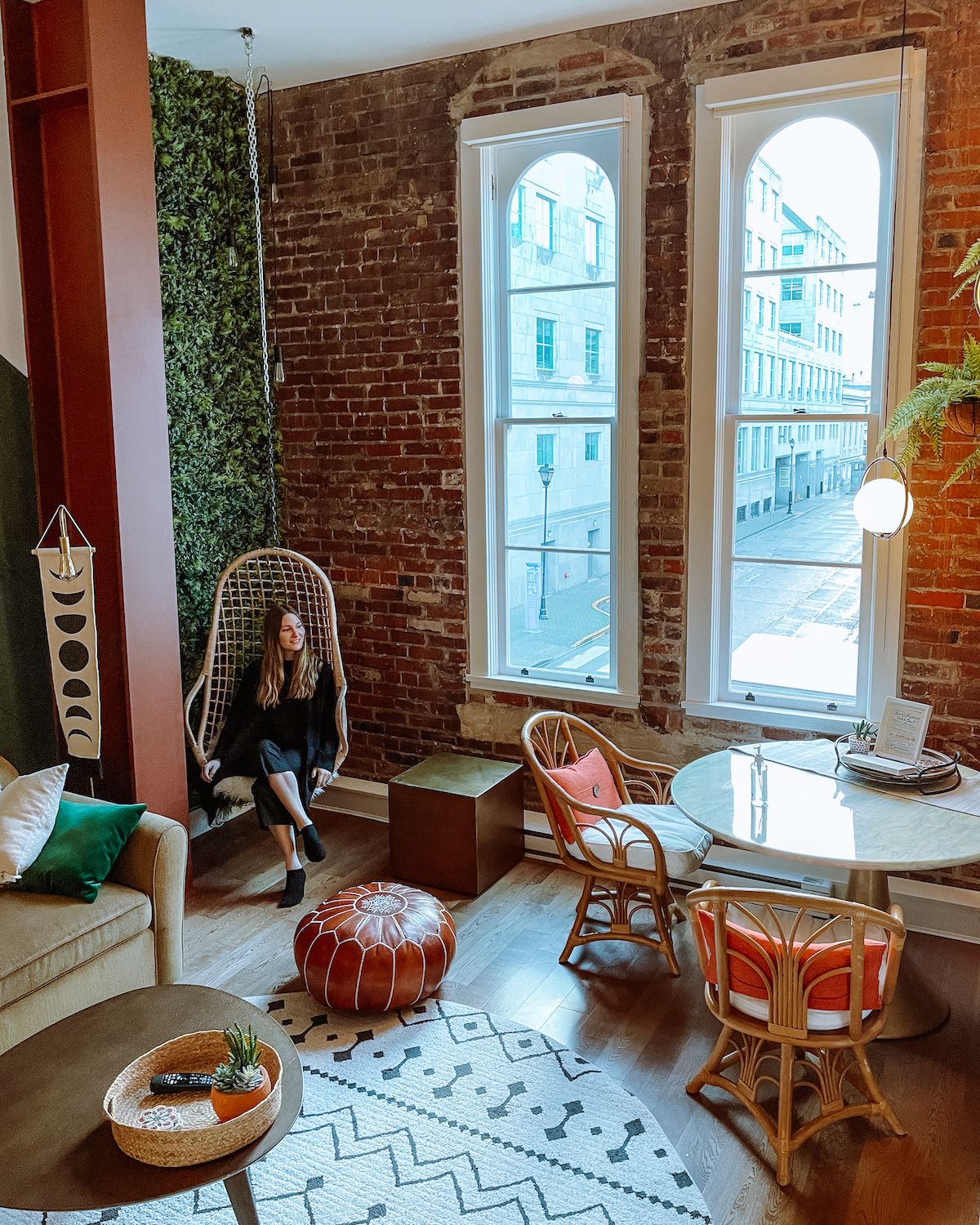 Here are some of our top picks for unique hotels and B&Bs in Victoria:
Days 3-5: Tofino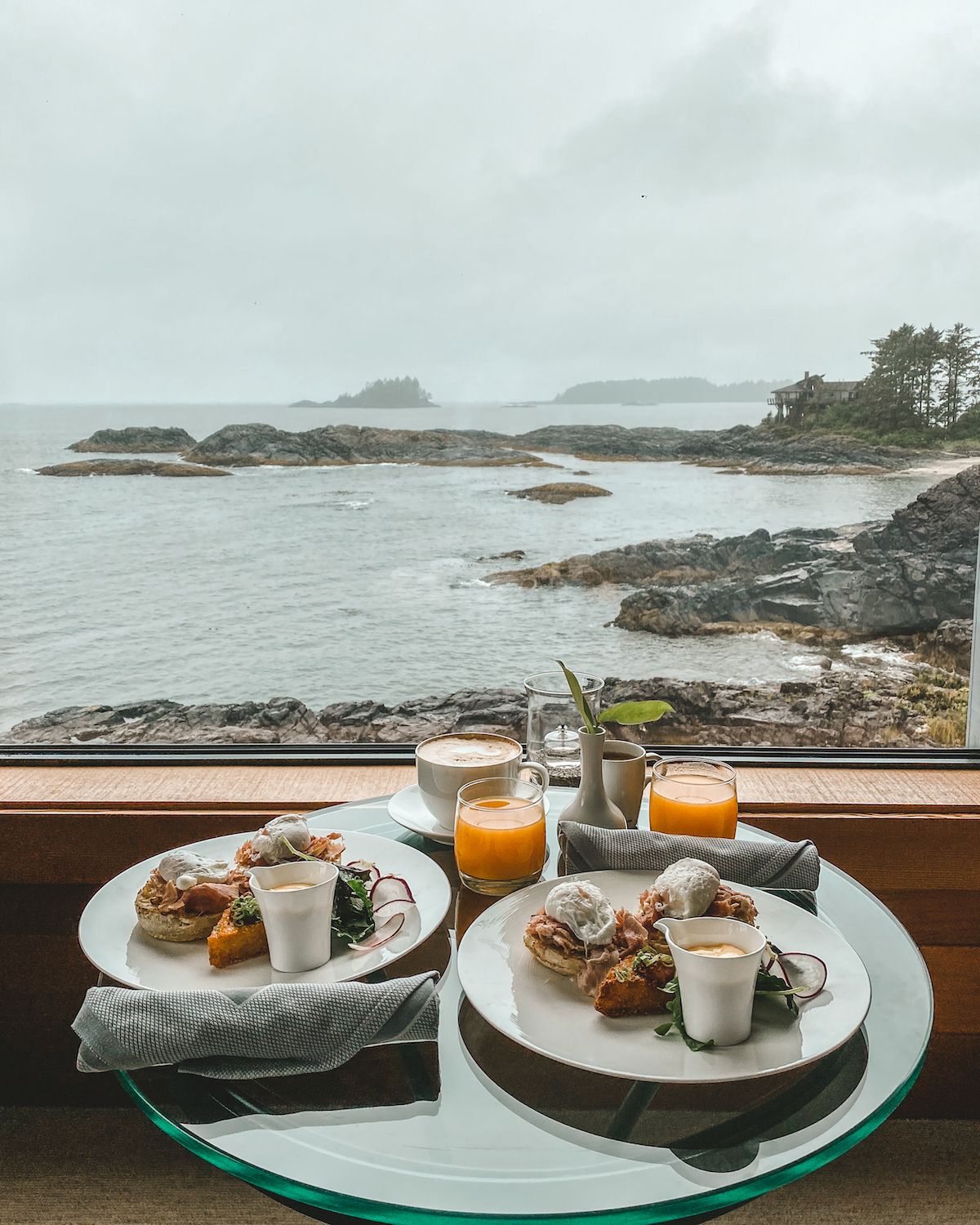 Spend time in Canada's surfing capital and unwind in nature at an oceanside retreat
Tofino is one of the most beautiful places in Canada with its wild Pacific Ocean beaches and surrounding mystical nature. The surf town provides a unique experience with its remote location yet all the luxuries you want at hand.
The drive from Victoria to Tofino:
Total distance: 4.5 hours
Must-do road trip stops: Breakfast at House of Boateng, ice cream in Cowichan Bay, shopping at Highway Antique Barn
Last stop: Tofino
Start your day with a delicious breakfast at House of Boateng, located outside of Victoria in Langford. Next, drive 35 minutes to the cute waterfront town of Cowichan Bay. Along Cowichan Bay Road you'll find charming shops like Udder Guy's Ice Cream and True Grain, a European bakery with yummy baked goods. It's a great spot to stretch your legs and walk the strip.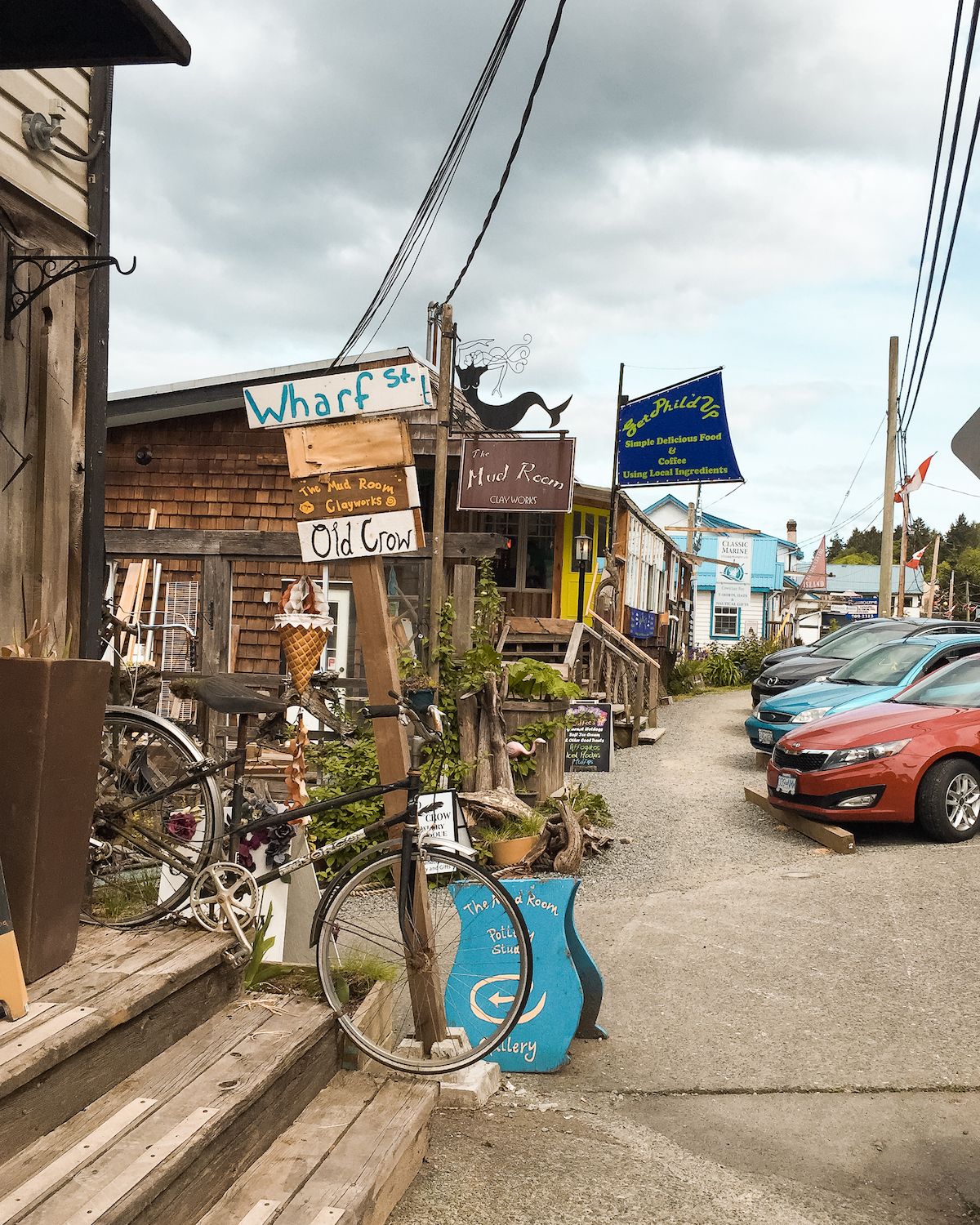 Another 22 minute drive towards Tofino, stop in at the Highway Antique Barn, a gem of a place selling tons of collectibles, vintage goodies and antique items. We found beautiful midcentury items and pottery up the stairs on the second floor for a great price.
From the Highway Antique Barn it's a 3.25 hour drive to Tofino. On the scenic Pacific Rim Highway (HWY 4) you will travel through the city of Port Alberni and over the mountains at Sutton Pass. Once you reach the coast, it's under a 30 minute drive northwest to Tofino.
Note that winter tires are required from October 1 - March 31 for HWY 4.
Fun things to do in Tofino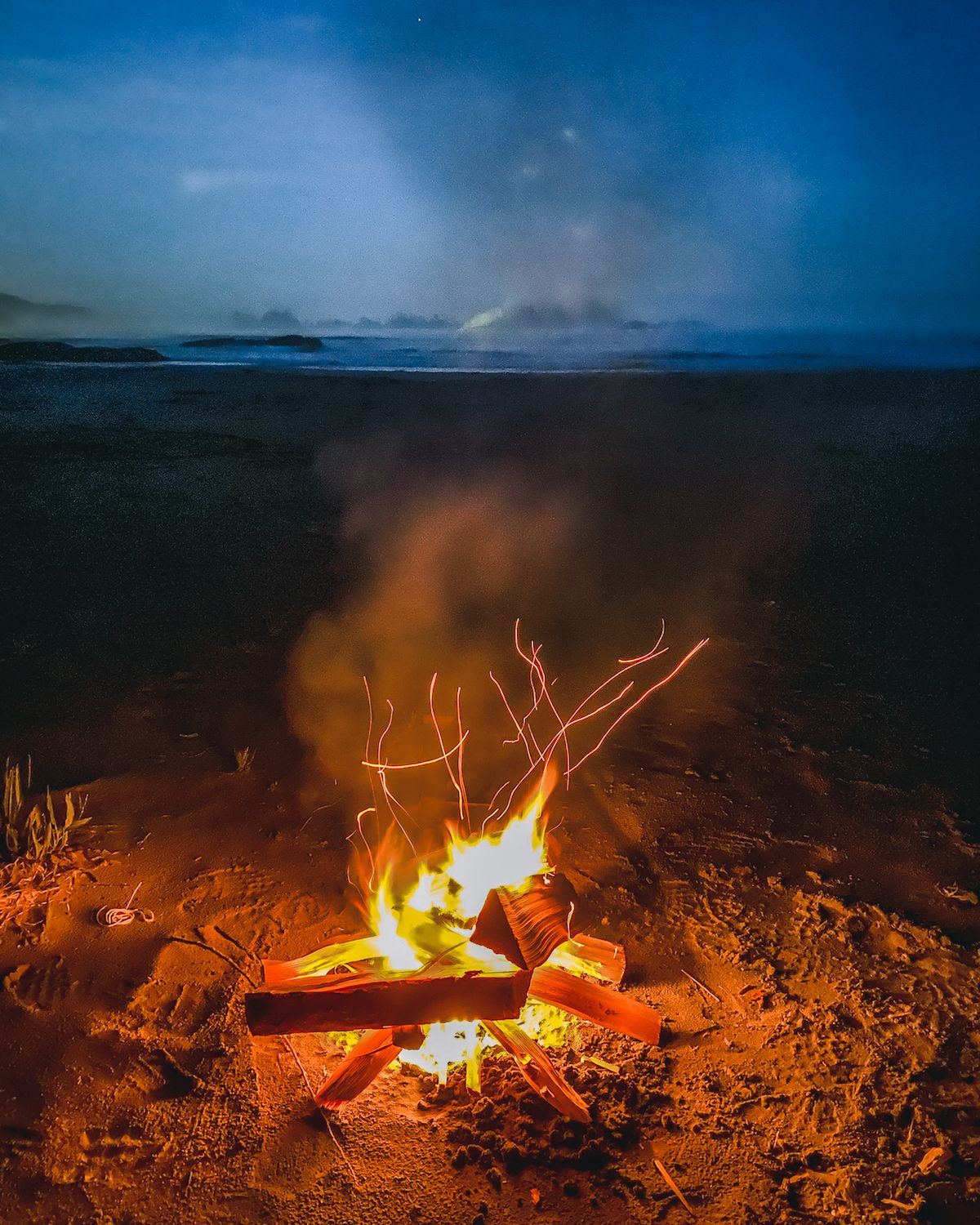 Here are some of our favourite things to do in Tofino:
Walk the iconic Long Beach, which was home to the first surf school in Tofino in 1968
Have a beach fire under the stars on Chesterman Beach
Pamper yourself at Ancient Cedars Spa
Watch surfers surf into sunset as you dine at The Pointe Restaurant
Explore the town of Tofino. Shop the Saturday Market and visit First Nations art galleries.
Go surfing! See rates for beginner surf lessons or couples surf lessons.
See our full list of 23 amazing things to do in Tofino.
Best places to eat in Tofino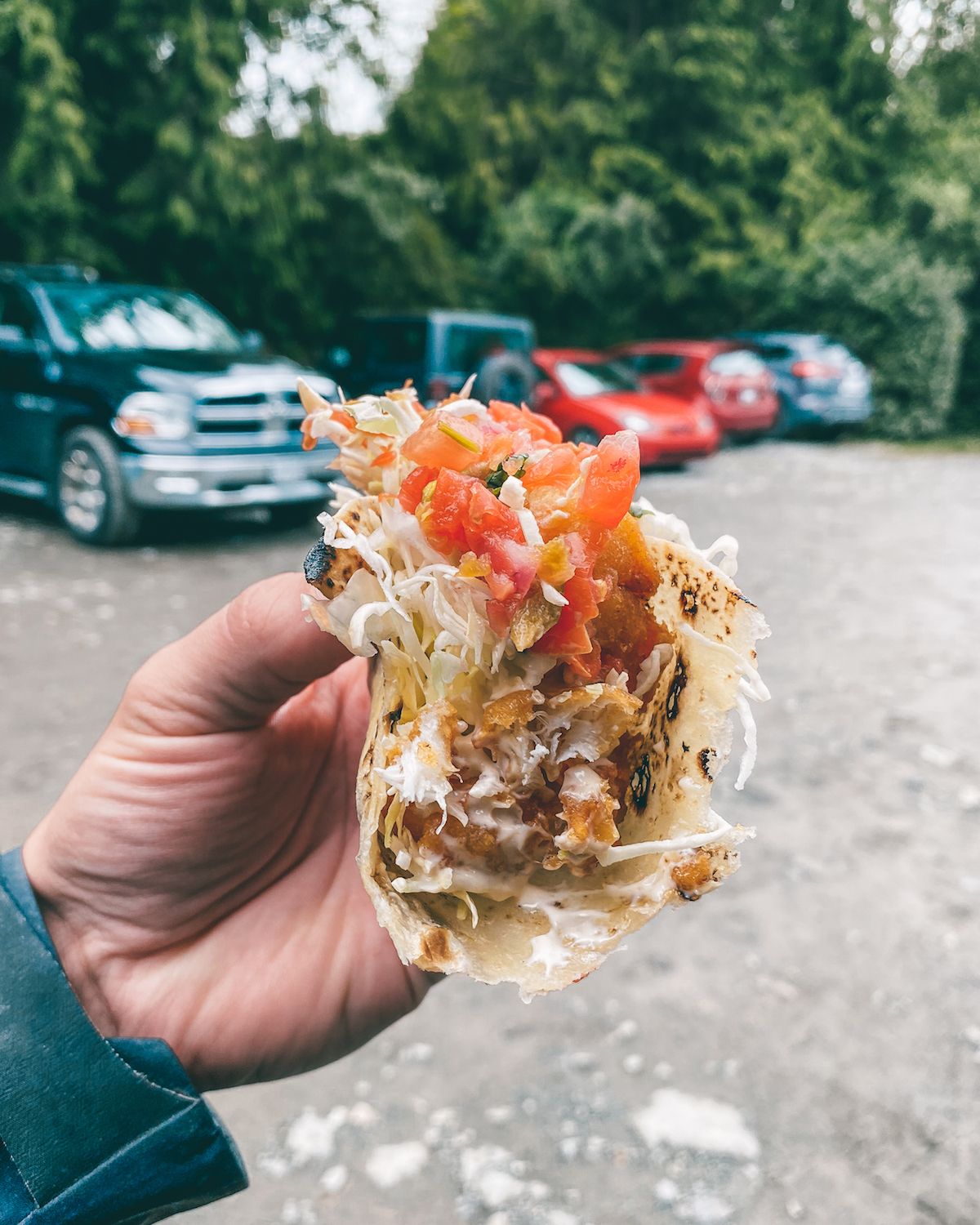 Best for fine dining: The Pointe Restaurant. Eat Canadian-west coast inspired cuisine with 240° views of the ocean and Chesterman Beach. The ambience here is great for a romantic evening.
Best for a hip atmosphere: Wolf in the Fog. Named Canada's best new restaurant in 2014 by enRoute Magazine, the trendy restaurant serves dishes inspired by the coast and surrounding forests.
Best cheap eats: Tacofino. Baja California fare at the food truck that started it all. You must try the crispy fish taco!
Best for seafood: Schooner's. A cozy spot located downtown Tofino, which opened in 1949. You must try their crab legs & butter appy ...mmm!
Unique places to stay in Tofino
One of the best things to do in Tofino is cozy up in your hotel room or B&B by the fire, play board games and enjoy the view from your window. Here are some of our top hotel and B&B picks.
Best luxury hotel: Wickaninnish Inn. The boutique hotel is part of the luxury hotel brand, Relais & Chateau, and offers amazing views of the ocean. Unwind at Ancient Cedars Spa or go for a romantic dinner at The Pointe, which offers sunset views of Chesterman Beach.
Best beachfront hotel: Pacific Sands Beach Resort. The hotel has wild ocean views and sits right on Cox Bay Beach, a spectacular crescent-shaped beach enclosed by rugged cliffs. The bay is fantastic for surfing and is also known to have some of the biggest waves during storm watching season.
Cutest B&B: Cozy Creative Heron Cottage. A quirky wooden cottage with charming furnishings and artistic touches. It's surrounded by tall cedar trees in the forest, giving it an authentic west coast feel. Enjoy the outdoor seating area and firepit, or cozy up inside by the fireplace.
See more of our top B&B picks in our Tofino post.
Day 6: Camping at Virgin Falls or Day Trip from Tofino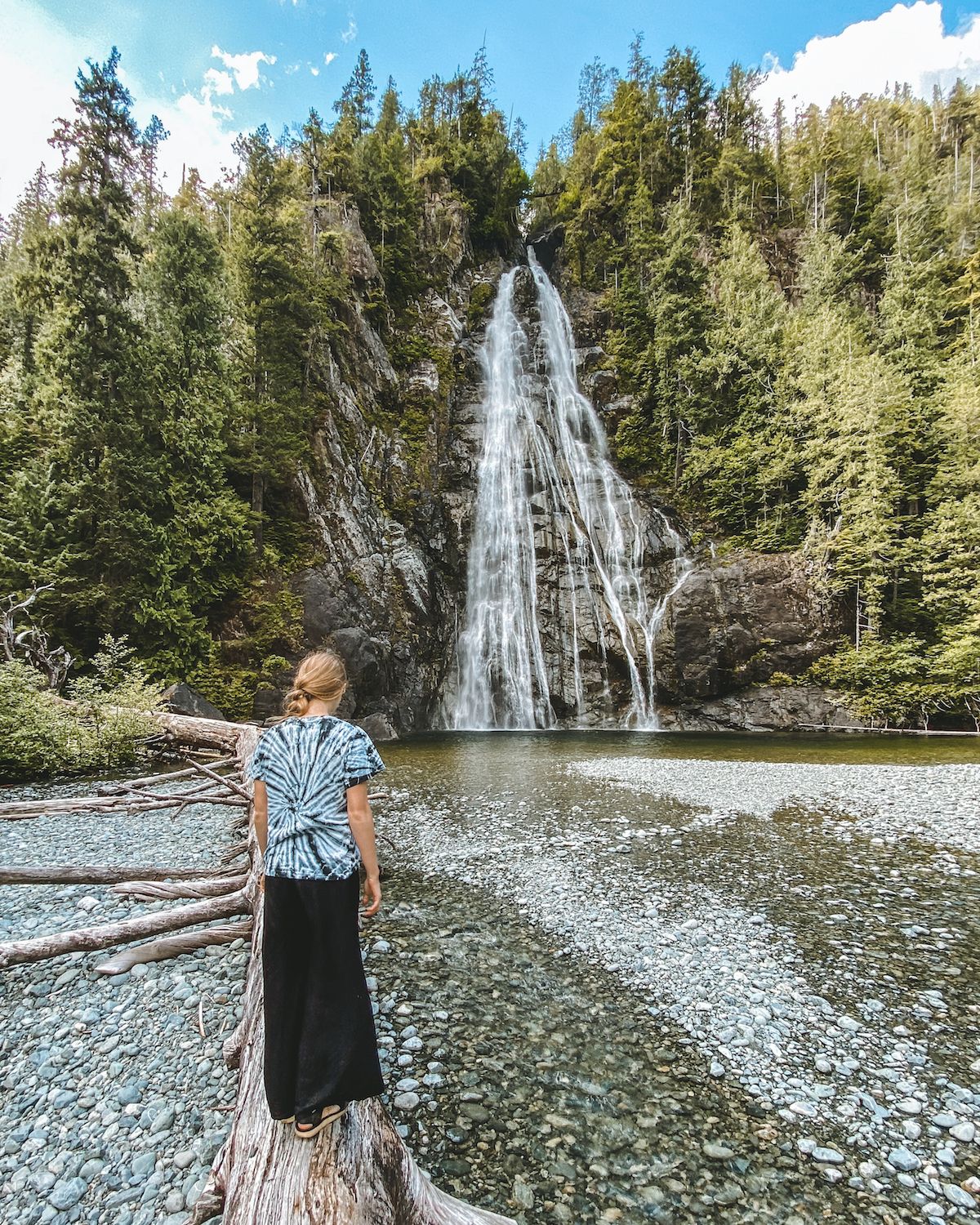 Embark on an adventure into Vancouver Island's rugged and stunning natural surroundings
Today is about discovering more of Vancouver Island's natural beauty. Depending on how much adventure you want, Option 1 requires a 4x4 vehicle and your choice of camping, whereas Option 2 provides different choices for a day trip out into the wilderness, but a comfortable night's stay back in Tofino.
Option 1: 4x4 to Virgin Falls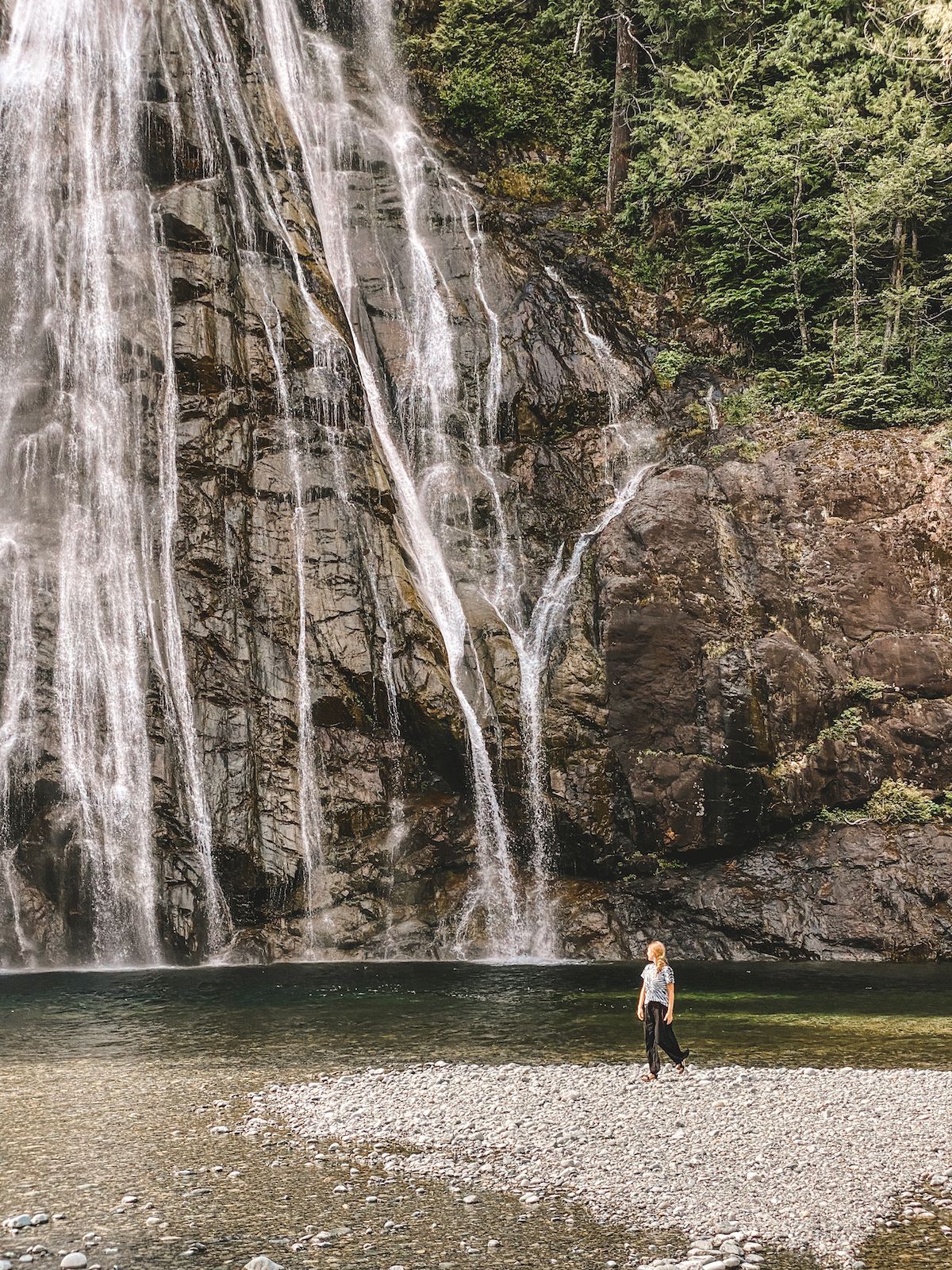 Virgin Falls is one of the best hidden gems on Vancouver Island and the best part is that you usually have the falls all to yourself! However you will need a 4x4 vehicle, so if you don't plan on taking one skip this section and go to Option 2.
It's a blast driving in the back country around Tofino. Although you need a 4x4, the roads aren't difficult to drive on. You don't actually need the 4x4 aspect of the car until the very last stretch of your drive where the road has been previously washed out. It's a lot more rugged with big rocks and potholes but there are good lines through it in late season. From Tofino it takes about 1.5 hours to get to Virgin Falls and you can camp there overnight for free.
See how to get to Virgin Falls in our post here.
Note: If for some reason you can't make it to Virgin Falls, there are some beautiful campsites along the way near the water and some up side roads that are very nice.
Option 2: Day trip from Tofino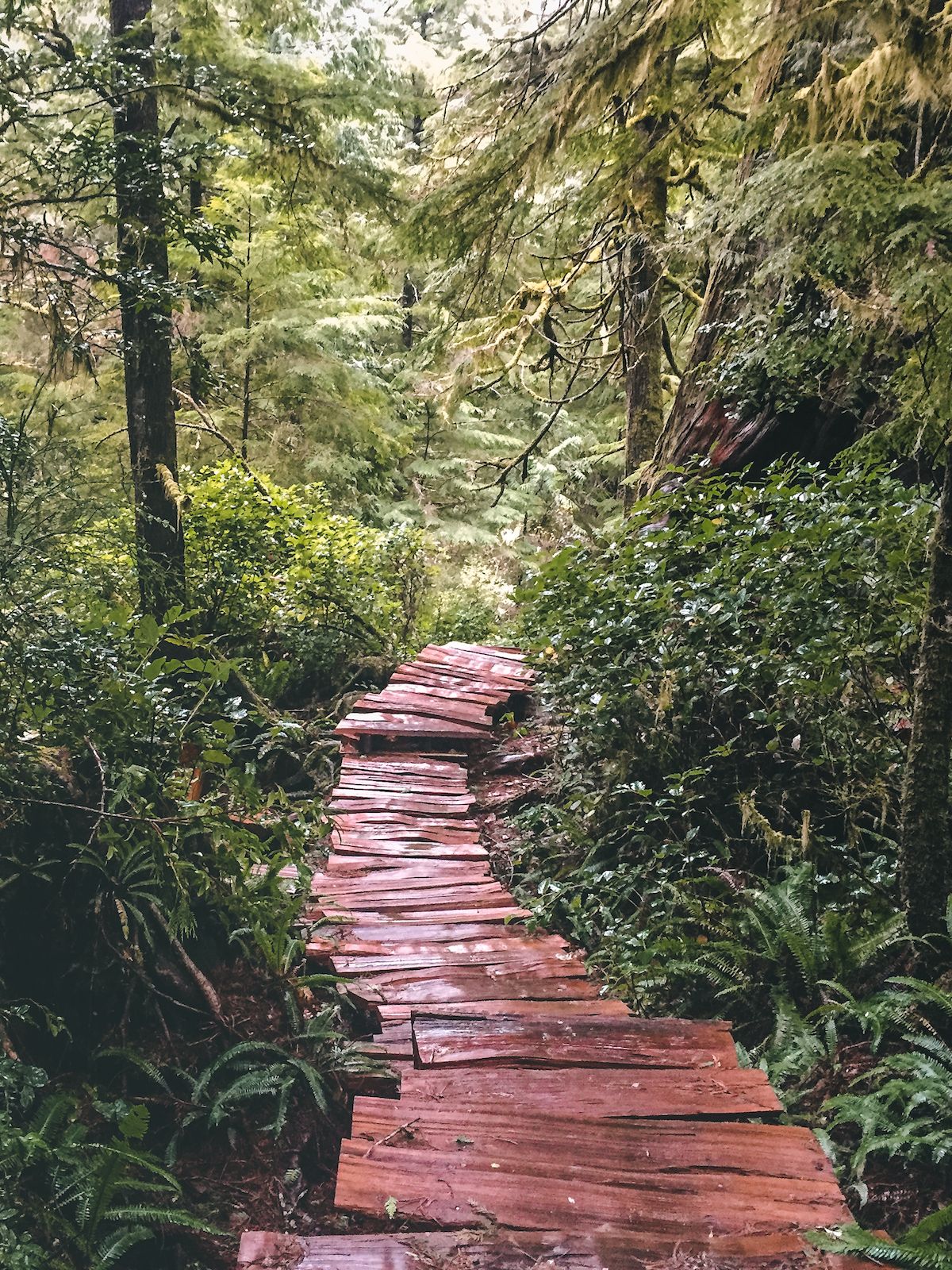 If you don't have a 4x4, there are many outdoor activities you can do as a day trip. Some of the activities below can be combined into a full day tour.
Bear watching tour
Whale watching tour
Hot springs tour
Sea kayaking
Saltwater fishing
Check out these highly rated tour guides: Adventure Tofino, Ocean Outfitters and Black Bear Kayaking for prices and more info.
Day 7: Ucluelet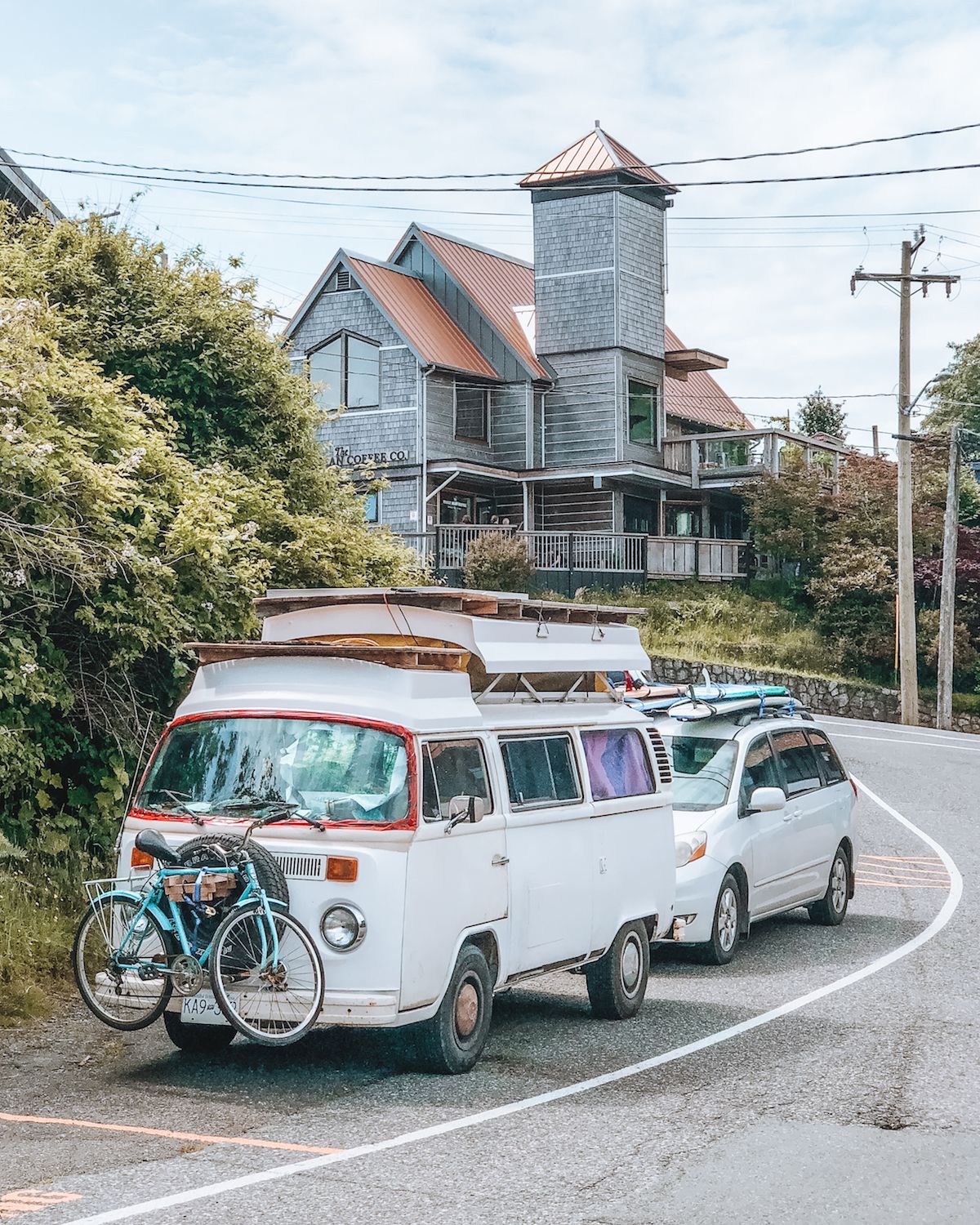 Explore the funky west-coast town with a great locals vibe
Today will be the shortest drive of your Vancouver Island itinerary. Just 35 minutes southeast from Tofino, you will find the quirky town of Ucluelet. This west coast town is often overlooked by tourists since Tofino is close by, but it has a charm of its own that is worth a stop.
You will find less tourists here, cheaper prices for hotels/Airbnbs, delicious places to eat and fun activities to do from walking the Wild Pacific Trail Lighthouse Loop to visiting Canada's first collect & release aquarium.
See our list of 8 fun things to do in Ucluelet.
Where to eat in Ucluelet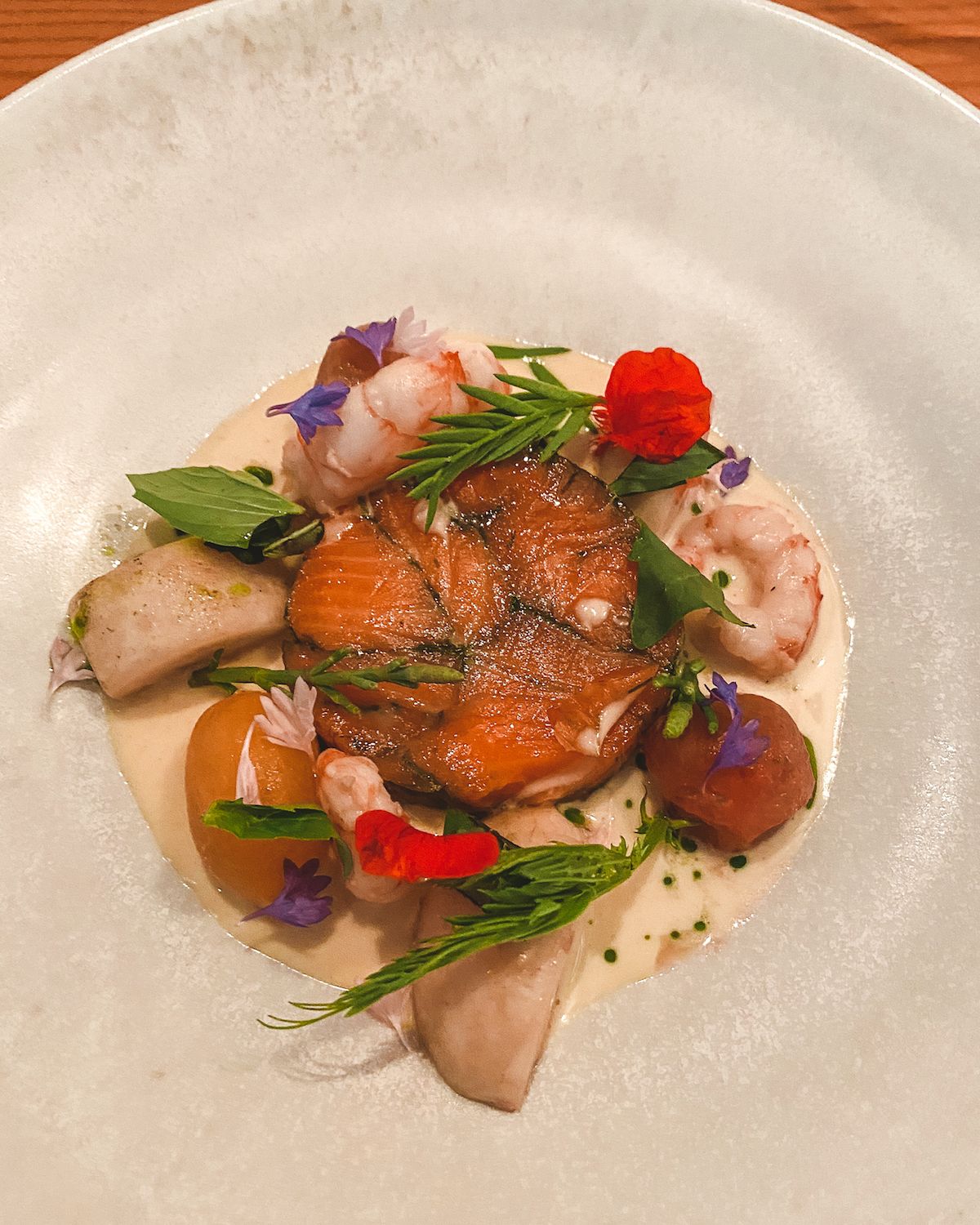 Best for breakfast: Barkley's Cafe. Start your day with a delicious breakfast ciabatta or breakfast burrito.
Best for lunch: Jigger's Fish & Chips. We think these may be the best fish & chips on Vancouver Island. So fresh and the batter is perfect.
Best for dinner: Pluvio Restaurant. Named the 4th best new restaurant by enRoute Magazine in 2020, Pluvio focusses on using local ingredients and their dishes are unique and beautifully presented. The chef was previously the head chef at the Wickaninnish Hotel in Tofino.
Where to stay in Ucluelet
Ucluelet has a selection of cozy cabins and cute hotels to stay in. Here are our top picks:
Best boutique hotel: Pluvio Restaurant + Rooms. Part of the award-winning Pluvio Restaurant, Pluvio Rooms has four charming and spacious rooms with a west-coast inspired decor. It's a great jumping-off point to explore the town.
Best cabin with ocean views: The Nest by The Cabins at Terrace Beach. The two-bedroom cabin is about 800 sq.ft. and has vaulted ceilings, three large skylights, a fireplace and ocean and forest views. If you open the windows in the bedroom you can fall asleep to the sound of the waves.
See more of our top cabin picks in our Ucluelet post.
The drive back home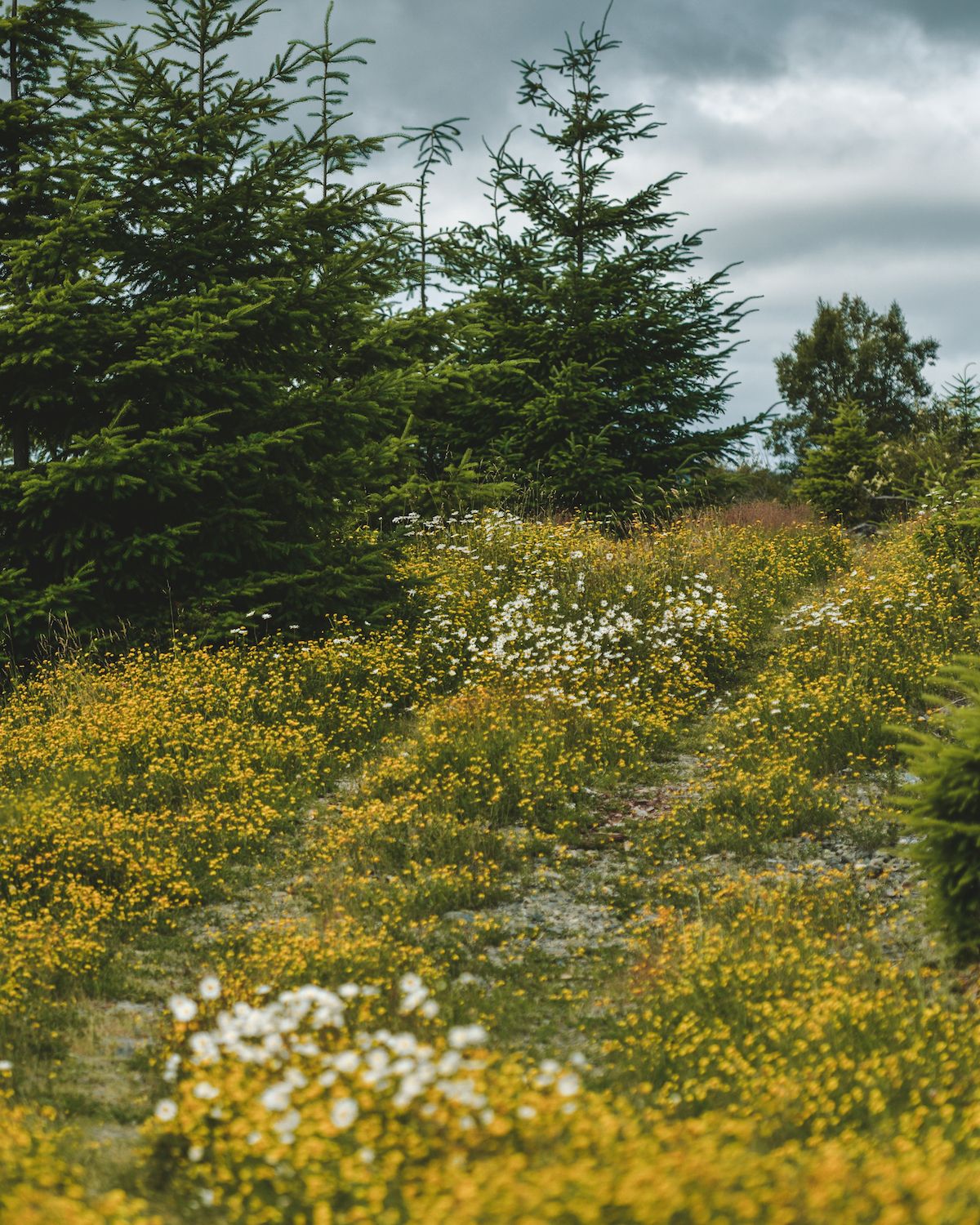 Back to Vancouver
Option 1 (ferry): Drive 2.5 hours from Ucluelet to the Departure Bay Ferry Terminal in Nanaimo. The ferry ride takes 1 hour and 40 minutes to Horseshoe Bay. From Horseshoe Bay it's a 25-50 minute drive to downtown Vancouver depending on traffic.
Option 2 (seaplane): Drive 2.5 hours from Ucluelet to Nanaimo and drop off your car rental. Take a 20 minute float plane from Nanaimo Harbour to Vancouver Harbour with Harbour Air.
Back to Seattle
Option 1 (ferry): Drive 2 hours 40 minutes from Ucluelet to Duke Point Ferry Terminal in Nanaimo. The ferry ride takes 2 hours to Tsawwassen Ferry Terminal. From Tsawwassen it's a 2.25 hour - 3 hour drive to Seattle plus border crossing.
Option 2 (seaplane): Drive 4 hours from Ucluelet to Victoria and drop off rental car. From Victoria Harbour take a 45 minute float plane to Seattle with Kenmore Air.
Enjoy your spectacular road trip from Victoria to Tofino!
---
Start planning your trip to Vancouver Island
---
Planning a west coast itinerary? Round out your trip by visiting the two free-spirited islands of Galiano and Salt Spring, located between Vancouver and Vancouver Island. Check out our travel guides here:
When you're back on the mainland, check out our full list of the 17 best getaways near Vancouver.
---
Looking for more travel inspiration? Check out our list of 30 fun adventure ideas for your next trip.