Discover two different sides of France. First, to the romantic city of Paris, where its artistic heritage, exquisite cuisine, high fashion, rich history and iconic landmarks create a vibrant mosaic. Then, venture to the serene countryside of Provence, where the pace slows, and hilltop villages, lavender fields, ancient vines, culinary treasures and lively local markets set the tone.
Our 7 Day Paris and Provence itinerary includes classic sights and tucked-away gems that capture the heart and soul of France. If you love food, wine, history, architecture, design, nature and local cultural experiences, you're in for a treat!
From the best viewpoints of the Eiffel Tower to the most beautiful villages in Provence to visit, we've got you covered.  
I recently travelled to France for a girl's trip, as well as a romantic getaway with Ari, and it's a great destination for both!
Outline: Paris and Provence Itinerary
Days 1-3: Paris - see a mix of classic sights and local gems in the "City of Love".

Days 4-7: Provence - escape to the serene countryside to discover hilltop villages, vibrant local markets and culinary treasures that capture the spirit of Provence
Disclosure: Some of the links below are affiliate links, meaning at no additional cost to you, we will earn a commission if you click through and make a purchase. We only recommend products or services we have used or that we believe will add value to our readers. Thank you for supporting us!
Best time to visit Paris and Provence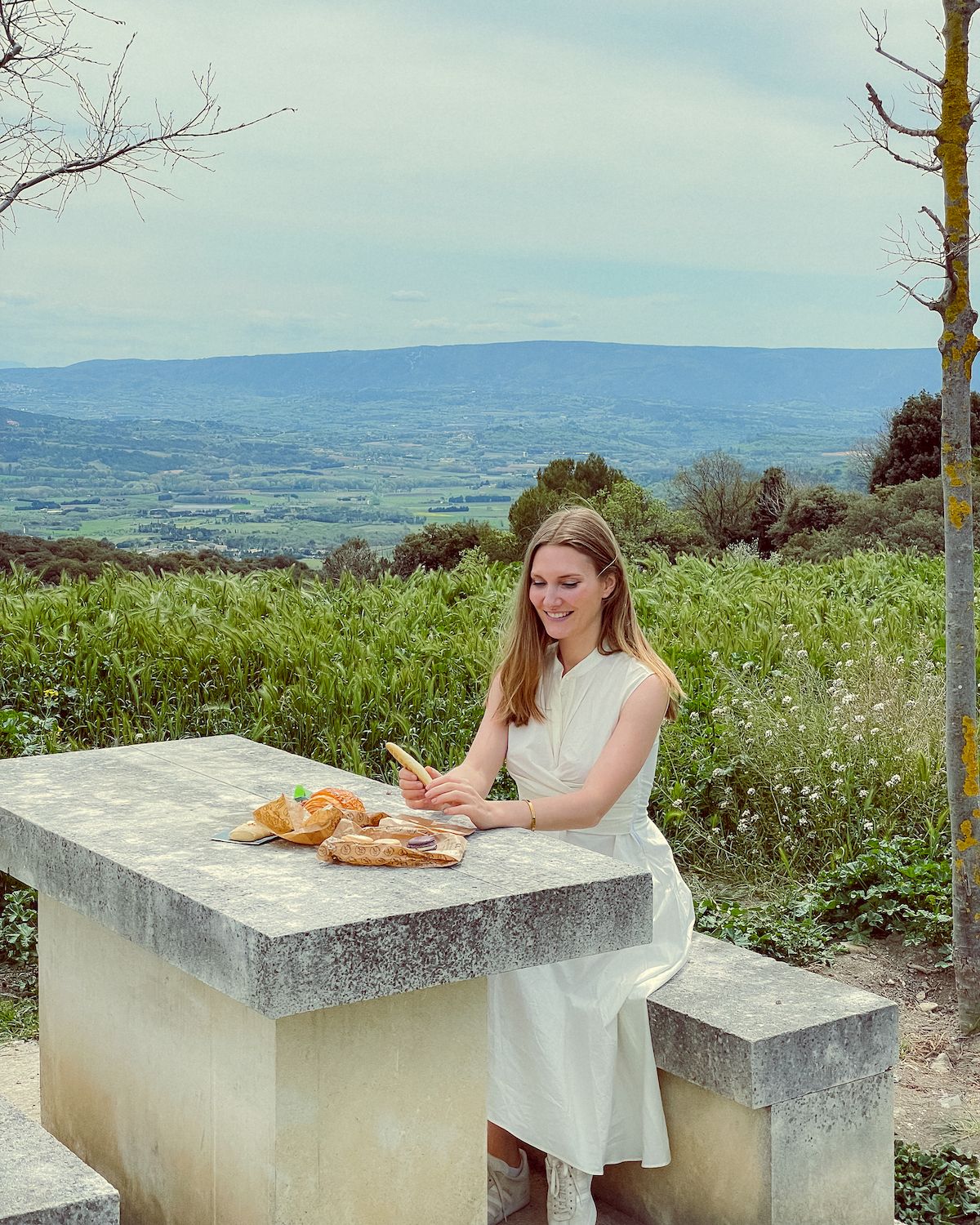 The best time to visit Paris and Provence is in May or September to escape the summer crowds, but still have pleasant weather.
However, if seeing lavender in bloom is a priority for you in Provence, the best time to visit is the beginning of July. It comes with a sacrifice though, as this is the busiest time of year in both places and it can get hot.
It's best to avoid November - March, as the weather gets chilly. In Provence, some markets, hotels, shops and restaurants may not be open.
1 Week Paris and Provence Itinerary
Days 1-3:  Paris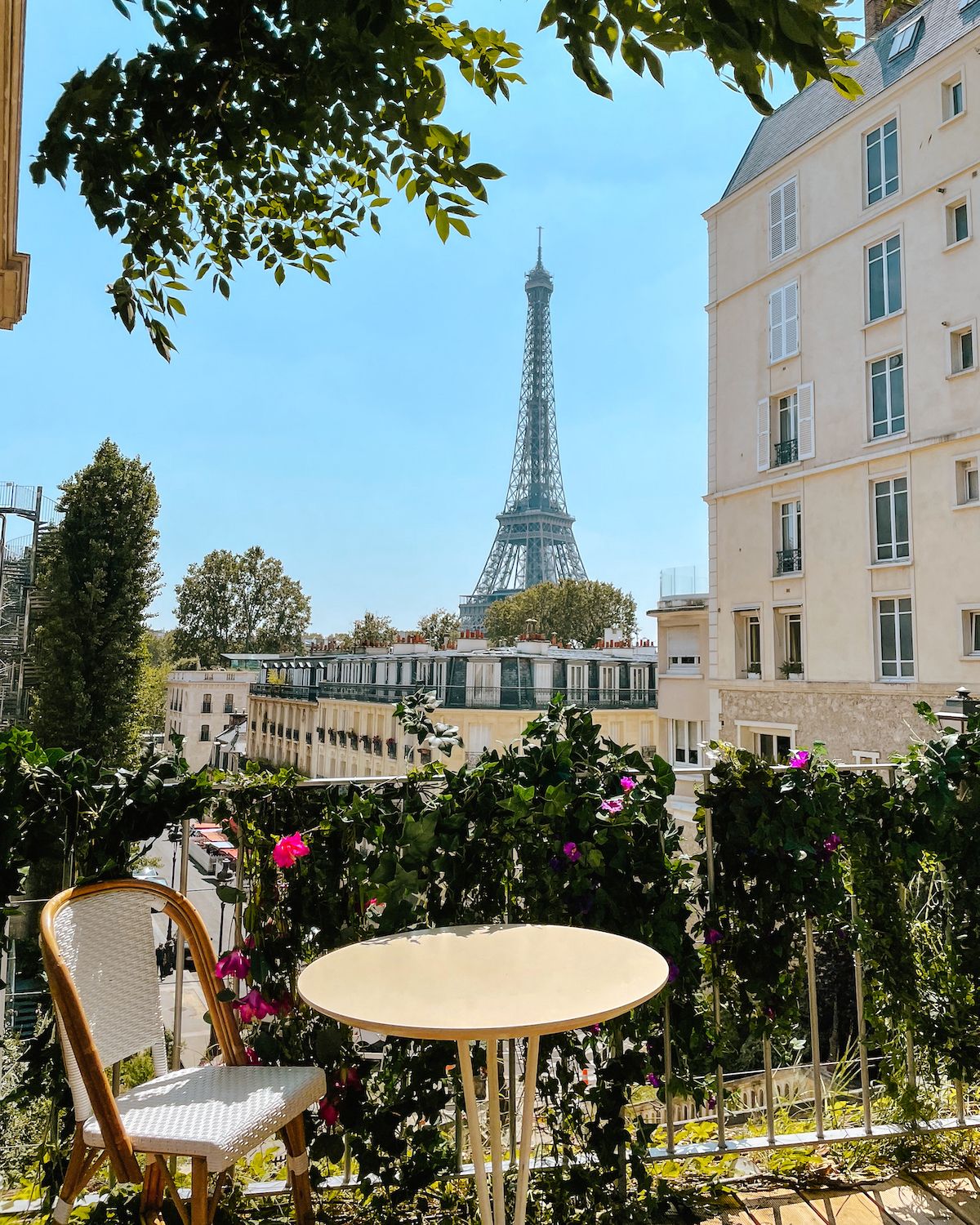 Where to Stay in Paris
The metro system is great in Paris and typically faster than Uber. When looking for a stay, make sure it's close walking distance to a metro station.
Our top hotel picks in Paris for design and value:
Day 1
Walk an elevated pathway through the city to Île Saint Louis and the Notre Dame, treat yourself to dinner with Eiffel Tower views and keep the night going at a true Paris institution.
Daytime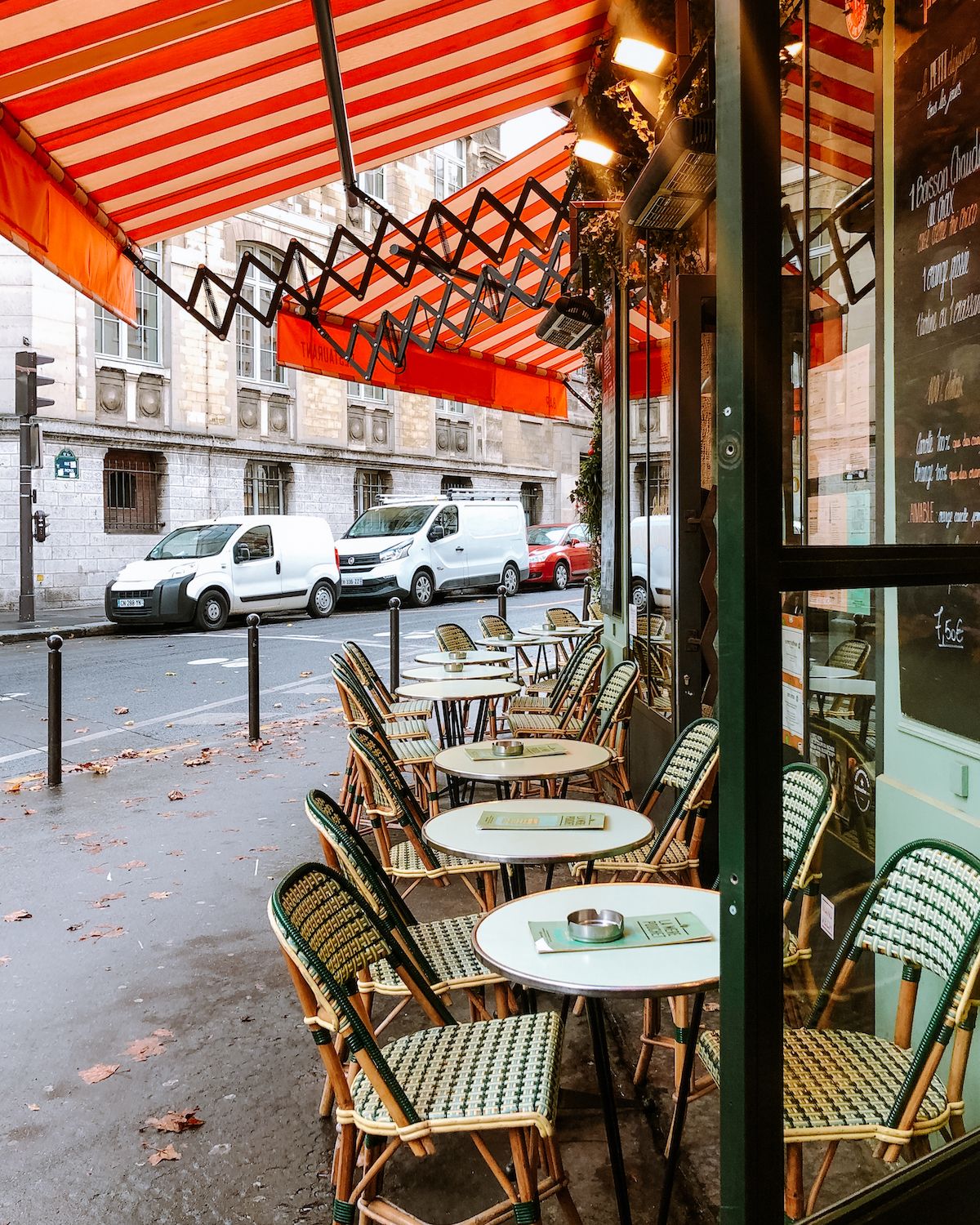 Start your morning with Parisian breakfast at a sidewalk cafe
Visit a local cafe near your hotel and start your morning with a freshly baked croissant, a glass of zesty orange juice, and coffee. Take a seat at one of the inviting outdoor tables and immerse yourself in the city's early morning energy.
Walk the Promenade Plantee through the city
Stroll along the Promenade Plantée, a 4.7 km elevated parkway that winds its way through the heart of the city. This hidden pathway is a local favourite, offering a tranquil escape from the bustling streets below. The shaded canopy of trees create a peaceful ambience that contrasts with the urban surroundings. You'll be in the company of Parisians leisurely walking or enjoying a jog. Start your journey from the metro entrance at Bel Air and end your walk at Bastille.
Explore the charming island of Île Saint Louis
After walking the Promenade Plantee, walk about 10 minutes to Île Saint Louis, a charming island on the Seine River filled with boutiques, cafes and restaurants. Stop in at Le Flore en l'Île, a traditional French bistro for some lunch and famous Berthillon ice cream. You may recognize the restaurant from the Netflix series, Emily in Paris!
Walk to the Notre-Dame, an icon of Paris
After your leisurely lunch, walk just 5 minutes to see the Notre-Dame, an iconic cathedral known for its Gothic architecture. Experts have been restoring it ever since a fire broke out in 2019, but it's set to reopen in December 2024 to visitors.
Evening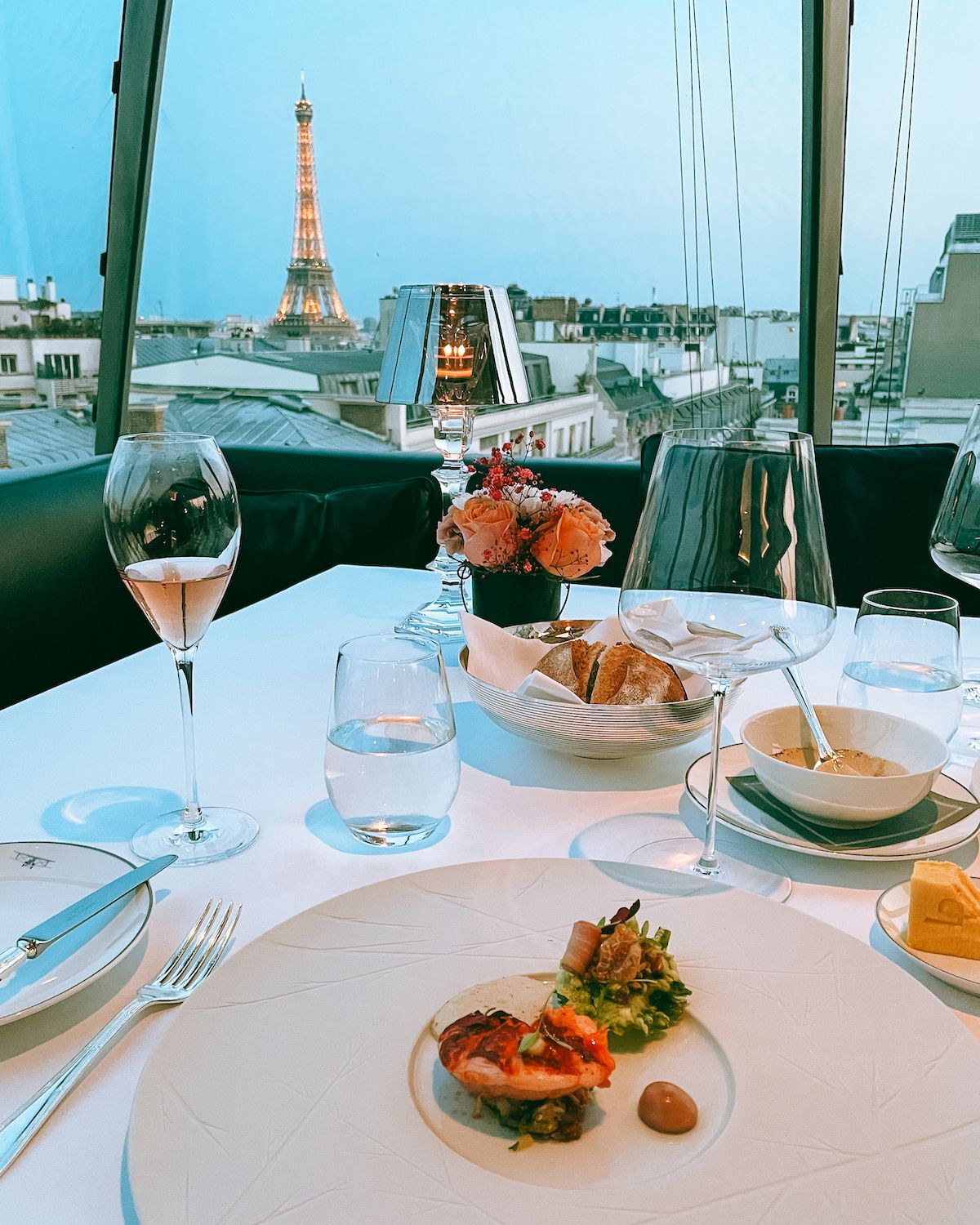 Treat yourself to dinner with views of the Eiffel Tower
Dress up for a romantic dinner with your partner, or, if you're travelling with a friend, celebrate a "friendiversary". Ari and I splurged on dinner at L'Oiseau Blanc for our 10th anniversary, and it was a 10/10 experience for both the food and the view!
Here are some Michelin-recognized restaurants with Eiffel Tower views to get you started:
Fully Loaded Experience 🥔✨: L'Oiseau Blanc ($$$$) - a two-Michelin star dining experience on the rooftop of the fabulous Peninsula Hotel.
Monsieur Bleu ($$$) - an elegant French restaurant with an Art Deco interior - its terrace looks out over the Eiffel Tower.
Au Bon Accueil ($$) - a French bistro where you can see the Eiffel Tower from their sidewalk tables
Eiffel 20 ($$) - a traditional restaurant where you can see the Eiffel Tower from their outdoor tables.
Have a night out at Harry's New York Bar, a Parisian institution
Dressed up and looking for a fun spot to go out? Look no further than Harry's New York Bar. Step into the intimate, yet lively piano bar downstairs for an evening of revelry. The layout of the basement bar makes for a sociable ambience, as the tables are close and face one another, encouraging lively conversations.
A true Parisian institution, Harry's New York Bar has a legacy spanning decades. It has witnessed the likes of Ernest Hemingway and George Gershwin, who is said to have composed "An American in Paris" in there.
Day 2
Enjoy a picnic with Eiffel Tower views and spend the rest of your day shopping and dining in the fashionable Le Marais district.
Daytime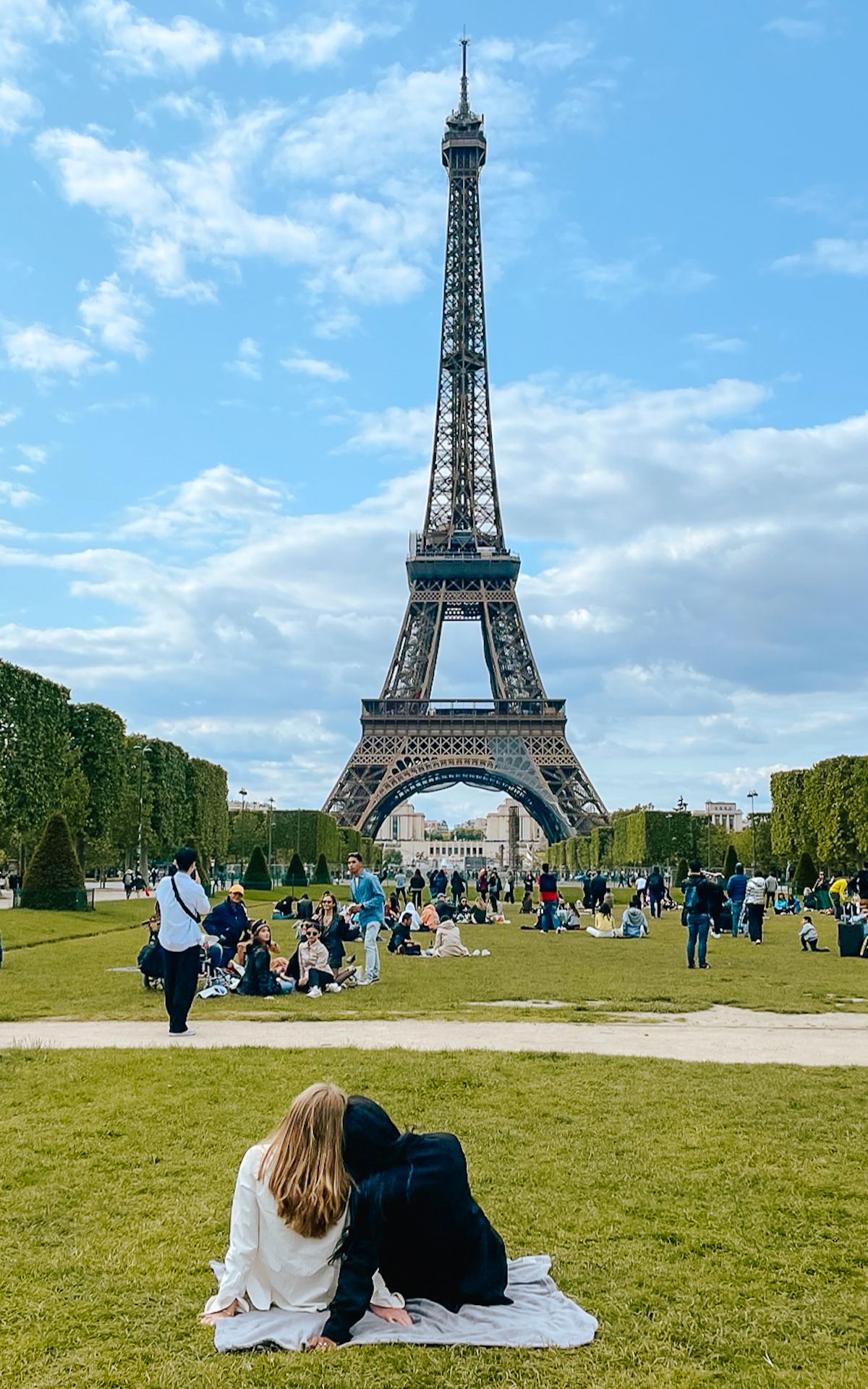 Enjoy a picnic at Champ de Mars
Gather picnic supplies and head over to Champs de Mars for one of the best views of the Eiffel Tower. Don't forget to bring a picnic blanket for the grass.
Shop in the fashionable Le Marais district
Le Marais is one of Paris's oldest neighbourhoods, with a treasure trove of boutiques, vintage shops and designer stores. The fashionable district has a buzzing atmosphere with stylish locals and visitors passing through. Start at Nuovo Vintage and work your way down Rue Vielle du Temple for plenty of shops.
Don't miss these shops:
Nuovo: for an excellent curation of vintage pieces - it was even featured in Vogue. I bought a long leather jacket there.
Ysé: my favourite swimsuit brand. I couldn't stop myself from taking home three swimsuits!
Diptyque: for Parisian candles and perfumes known for their exceptional quality. This brand is a favourite with Parisians and celebs.
Mariage Frères: a tea emporium with a tranquil tea salon. The French tea company was founded in Paris in 1854.
Evening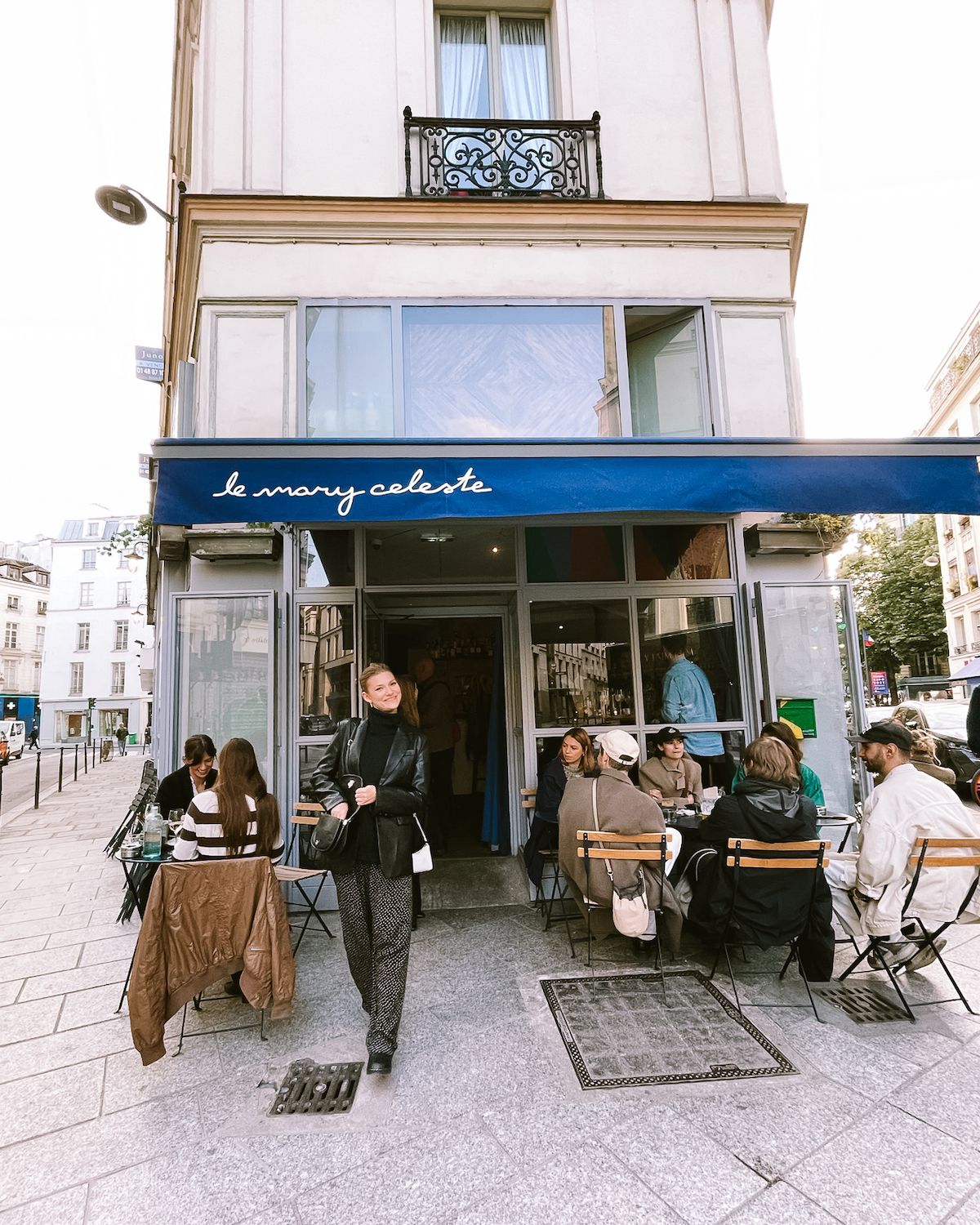 Dine at neighbourhood hot spot Le Mary Celeste
Le Mary Celeste's sleek, yet relaxed atmosphere makes it a hip setting for an evening out with friends or your partner. Situated at the intersection of a triangular street, the restaurant offers prime opportunities for people-watching in the heart of Le Marais. Distinguished by its innovative share plates, the menu emphasizes fresh seafood and produce, offering a nice change from the usual Parisian fare.
Drink cocktails at one of the world's best bars in Le Marais
After dinner, choose from one of two bars on the World's Best Bar's list. Little Red Door (#5) is known for its farm-to-glass approach, while Candelaria (#76), is a "secret bar" located down the stairs in the back of a taco shop.
Day 3
See the iconic view from Trocadero, dress up for a fabulous lunch at one of Paris's opulent hotels, explore the centre and spend the evening in Montmartre.
Daytime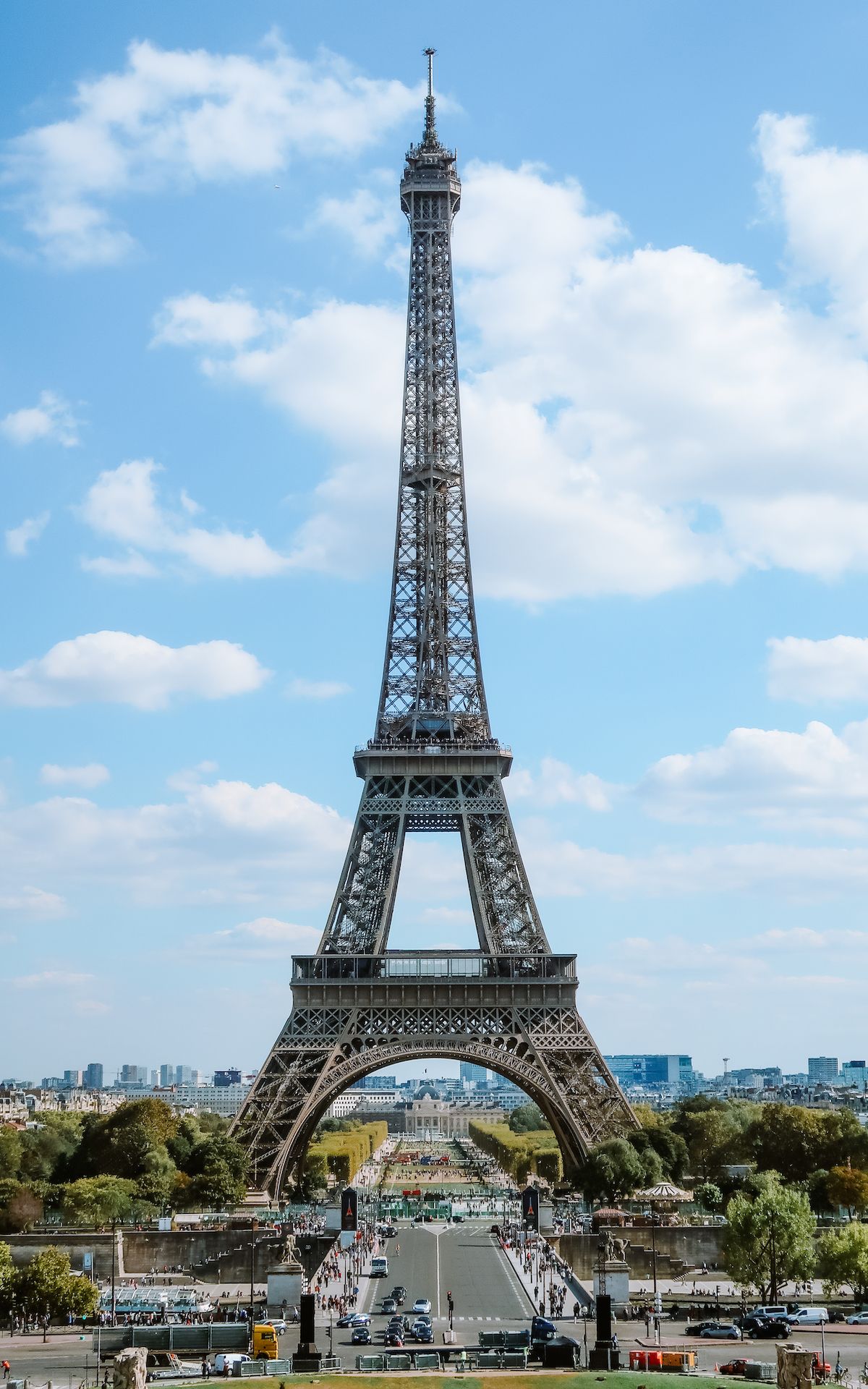 See the Eiffel Tower from Trocadero
Hop on the metro and get off at Trocadero for one of the clearest vantage points of the Eiffel Tower.
Dress up for lunch at one of Paris's glamourous hotels
Paris is home to many lavish hotels that often come up whenever you hear of celebrity sightings in the city, especially during Paris Fashion Week. You don't have to splurge over € 1,000 a night to experience their fabulousness, however. Instead, treat yourself to a glamorous lunch.
These were two fabulous lunches we enjoyed in Paris:
Afternoon tea in Le Lobby at The Peninsula Paris: our table was next to a guest wearing a head-to-toe Dior look for Paris Fashion Week. It was thrilling!
La Cour Jardin at Hotel Plaza Athénée: sit in the garden of the opulent hotel that opened in 1913, and dine on their seasonal, plant-based dishes.
Window shop at Place Vendome
Place Vendome is an iconic 17th-century square renowned for its haute couture and high-end jewelry boutiques. As you stroll along the square's elegant storefronts, you'll be dazzled by the displays of jewelry. The square attracts luxury shoppers from around the world, and it's not uncommon to hear about jewelry heists like you see in the movies. Just this month robbers escaped with € 15 million of jewelry!
Shop popular fashion boutiques in central Paris
Dedicate the remainder of your afternoon to shopping in the centre of Paris. Shop places like Gallerie Lafayette, an upscale French department store that's easy to spend hours in, Repetto for their ballet-inspired flats, and Polène, where you can find the latest "It" bag that's been making waves on social media.
Evening
Spend the evening in Montmartre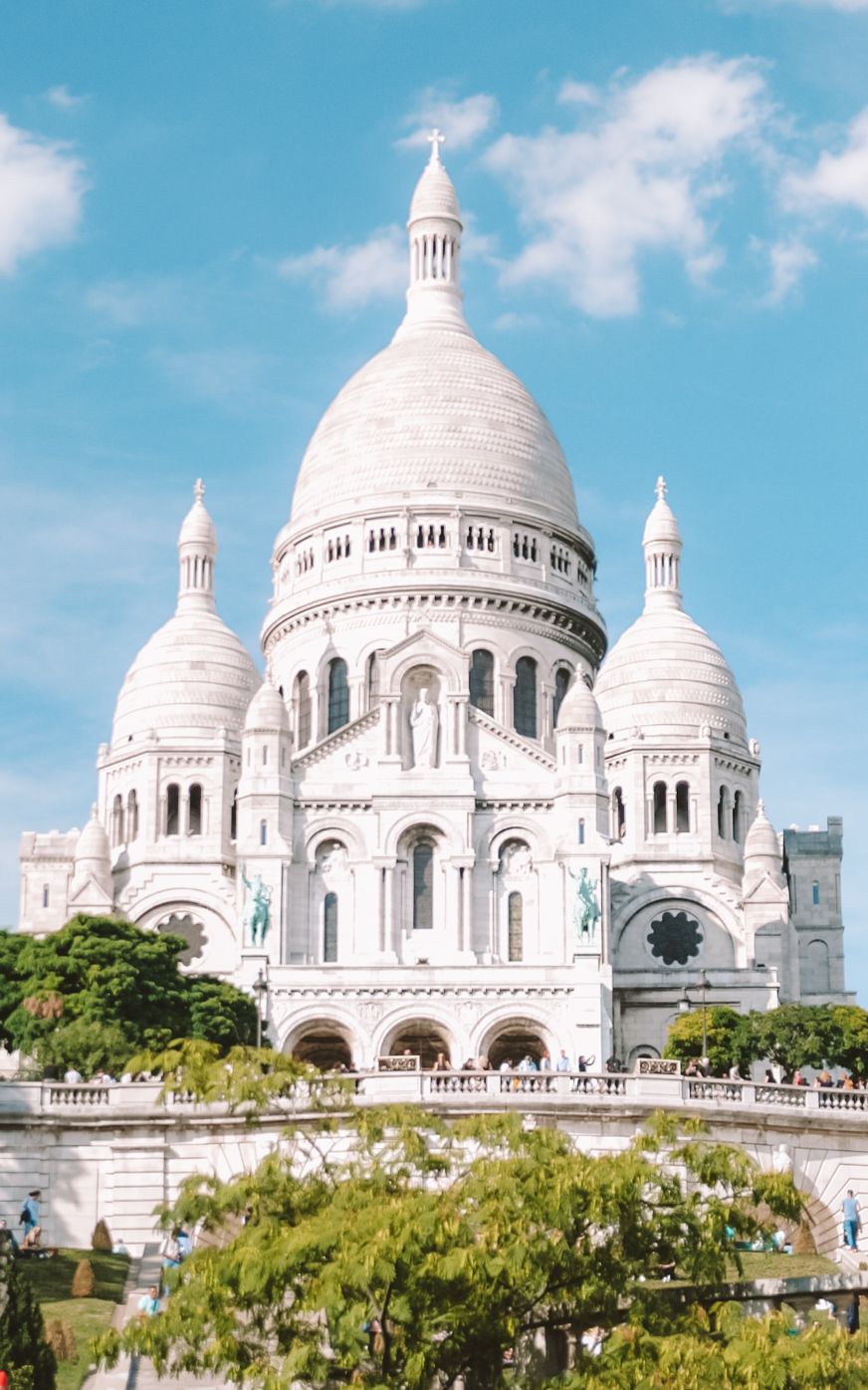 Montmartre adds a touch of artistic flair to your Parisian experience. This sprawling hill, once a haven for bohemian artists in the 19th and 20th centuries, is a fun setting to dine and drink Aperol Spritzes. It's where Picasso, Monet, and Vincent van Gogh once roamed the streets. Although it's very popular with tourists, the vibrant energy of people adds to the charm, especially when you find the perfect sidewalk table to watch from.
Days 4-7:  Provence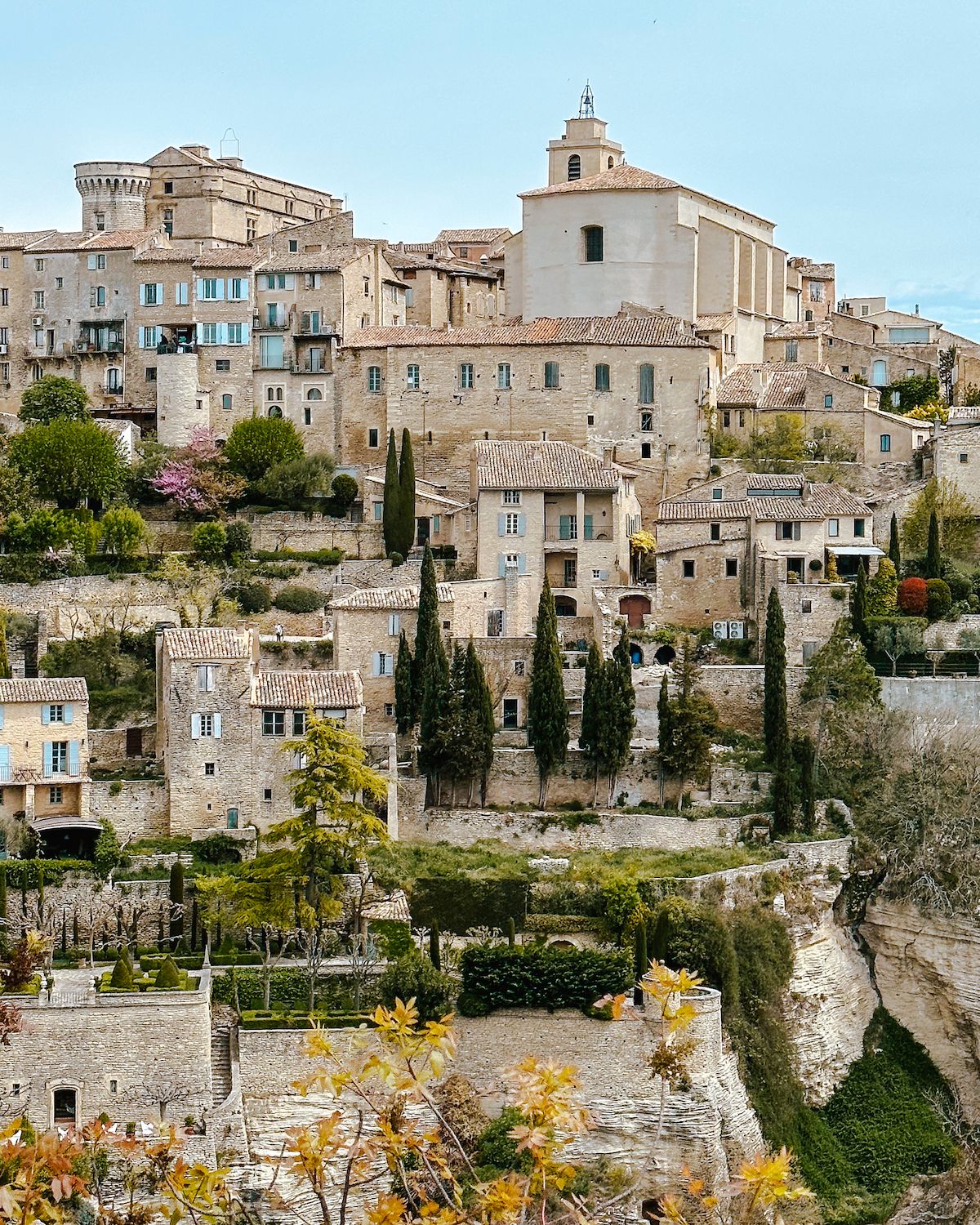 Spend your last 4 days in the Luberon region nestled within Provence. The Luberon stands out as a place of tranquillity, with charming hilltop villages, ancient vineyards, vibrant local markets and acclaimed restaurants scattered across the valley. For those seeking a serene escape, this region offers scenic sights, culinary treasures and immersive cultural experiences that capture the spirit of Provence.
How long does it take to get from Paris to Provence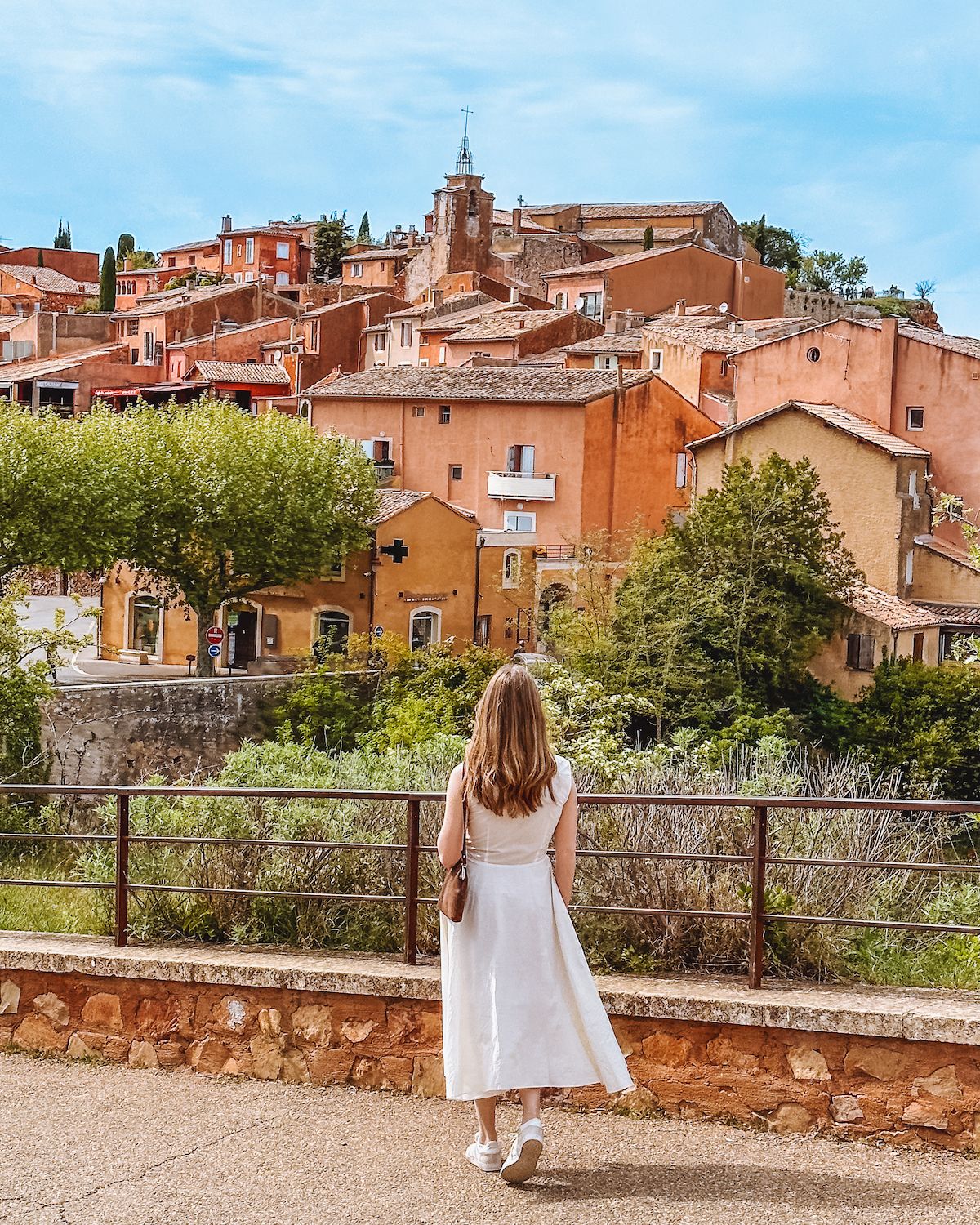 The best way to get from Paris to Provence is by either flight or train.
For this itinerary, take your transportation of choice to Marseille, where you will pick up your
rental car
and start your journey into the countryside of Provence.
By Train from Paris to Marseille
By train, it takes about 3.25 hours. The train leaves from Gare de Lyon station and arrives at Marseille St. Charles station. Although travel time is longer than flying, the train station is more central and you don't need to arrive 2 hours ahead as you do at the airport. It's recommended to arrive 30 minutes before your train departure. One-way train fares start from around € 17.
🚆Compare rates from Paris to Marseille on Trainline.
By Plane from Paris to Marseille
By plane, it takes 1 hour 25 minutes. Fly from ORY if you can, since it's the closest to the centre of Paris. Avoid the BVA airport, since it's very far from Paris. One-way flights are around € 50.
✈️ Compare flights on Skyscanner.
🚙
Reserve your rental car in Provence.
What to do in Provence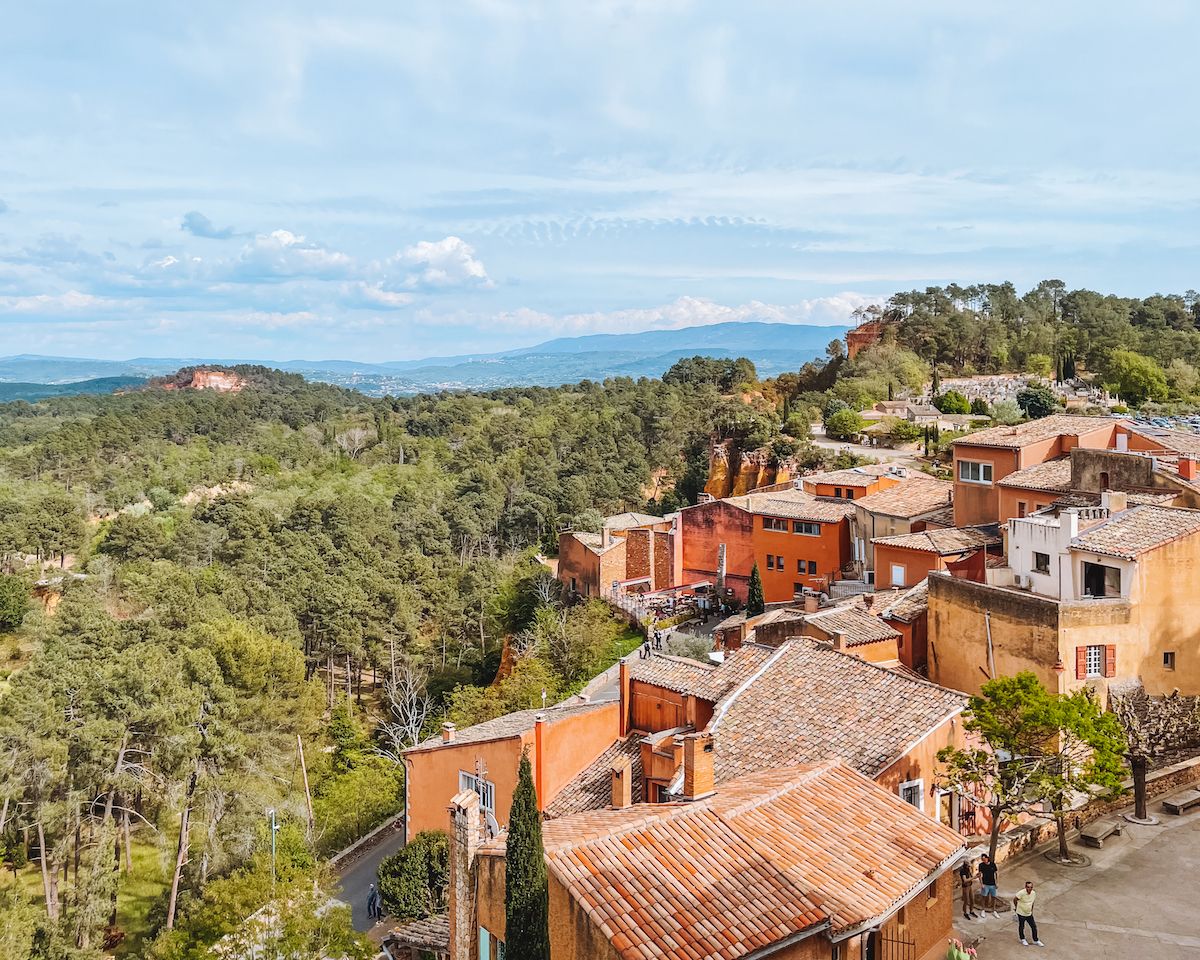 See our comprehensive 4 Day Provence itinerary, which includes where to stay, where to eat and unique places you don't want to miss.
Here are the highlights:
Day 1: Visit Chateau La Coste & spend the evening in the vibrant village of Lourmarin.
Day 2: Discover Lourmarin's creative culture and enjoy a picnic at a 15th-century castle.
Day 3: Explore the picturesque villages of Bonnieux, Menerbes and Roussillon.
Day 4: Drive the scenic countryside to Gordes and discover Goult and Saint-Saturnin-les-Apt's culinary scene.
Read the full 4 day itinerary here
We hope you enjoyed this Paris and Provence itinerary!
---
Get started on booking your trip to France
---
Don't miss our other France travel guides:
Want to check another country off your travel list near France? Don't miss our 1 Day Monaco itinerary.
---
Save and pin this Paris and Provence itinerary for later: