With its stunning landscapes, lavender fields, ancient vineyards, hilltop villages, and rich cultural heritage, Provence offers travellers an authentic way to experience the French way of life. The region's timeless traditions, emphasis on fresh cuisine, and celebration of art and culture make it a destination that captures the essence of France.
Your 4 days in Provence will take you on a road trip through the Luberon Valley to explore beautiful hilltop villages, vibrant local markets and scenic sights. Whether you're a history, nature, art, architecture, food or wine enthusiast, Provence has something to offer for everyone.
Our 4 Day Provence itinerary includes unique places and local hot spots you don't want to miss, from the best picnic spots to scenic restaurants serving outstanding Provencal cuisine.
Outline: 4 Days in Provence
Day 1: Visit Chateau La Coste & spend the evening in the vibrant village of Lourmarin

Day 2: Discover Lourmarin's creative culture and enjoy a picnic at a 15th-century castle

Day 3: Explore the picturesque villages of Bonnieux, Menerbes and Roussillon

Day 4: Drive the scenic countryside to Gordes and discover Goult and Saint-Saturnin-les-Apt's culinary scene
Disclosure: Some of the links below are affiliate links, meaning at no additional cost to you, we will earn a commission if you click through and make a purchase. We only recommend products or services we have used or that we believe will add value to our readers. Thank you for supporting us!
Best time to visit Provence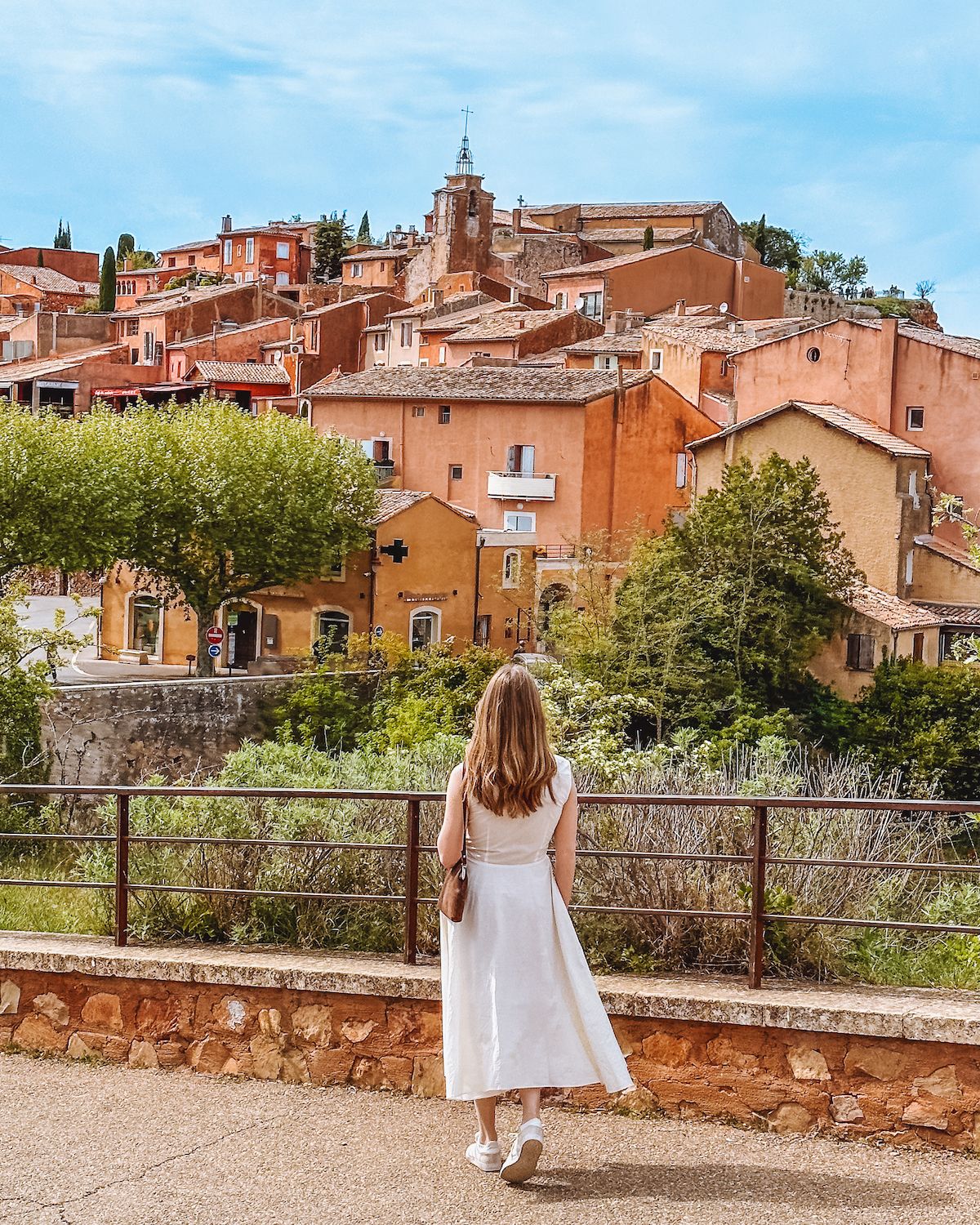 If seeing the lavender in bloom is important to you, the best time to visit is early July, however, this is also one of the busiest times of the year with tourists.
If it's not a priority to see purple lavender, we recommend traveling to Provence in May or September. The weather is pleasant, villages and markets are vibrant and everything is open, but you have fewer crowds than in June-August.
We don't recommend coming in off-season from November - March, as it's chilly and some places aren't open.
Driving in Provence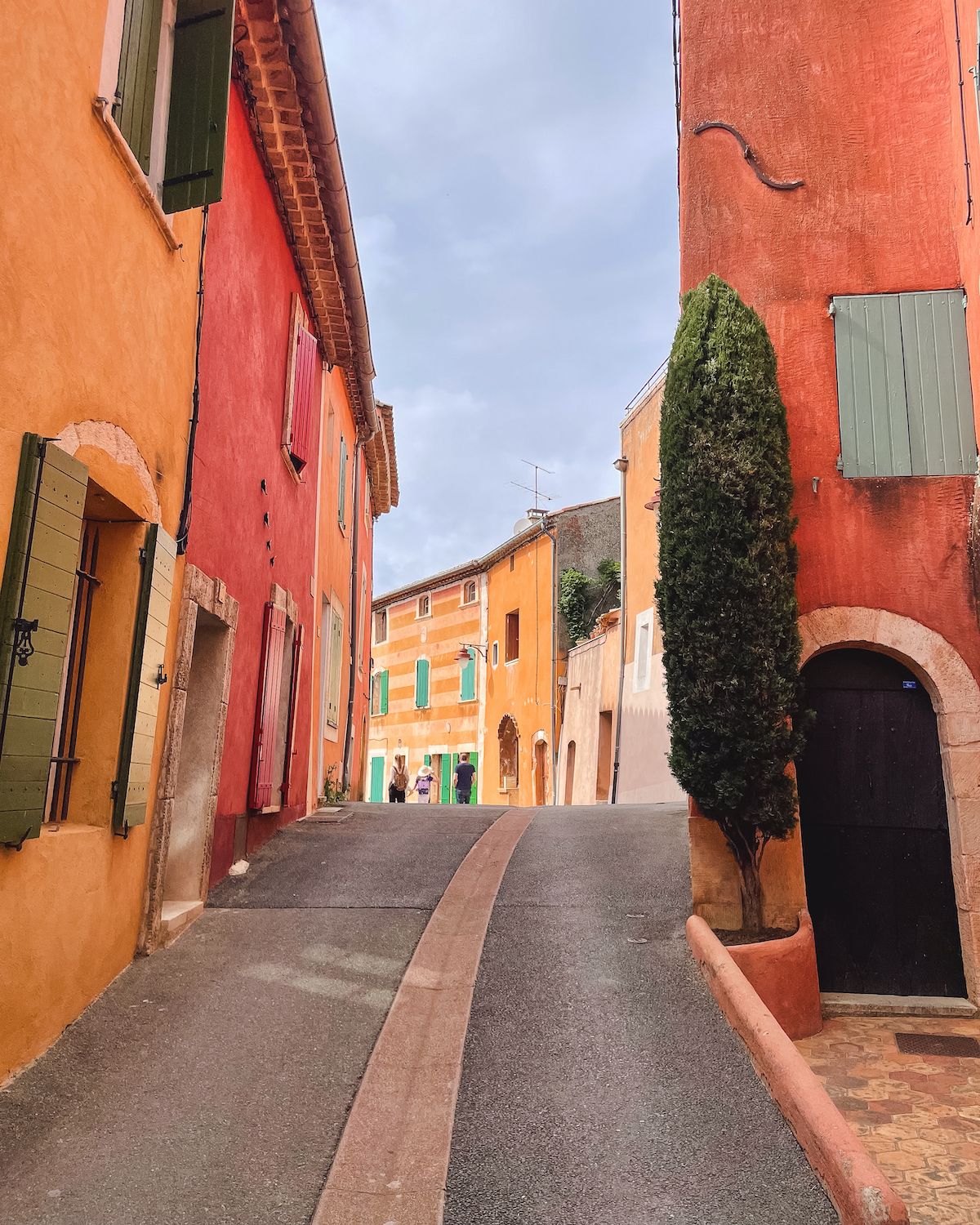 The best way to explore Provence is by car with its beautiful country roads taking you through the valley up to villages. It's easy to get around and most villages are straightforward with a main road going through them. There are a few smaller local roads that can get skinny, but other than that driving was a breeze!
🚙
Compare car rental rates across different companies
Provence 4 Day Itinerary
Days 1-2
Visit Chateau La Coste & the vibrant village of Lourmarin
Where to Stay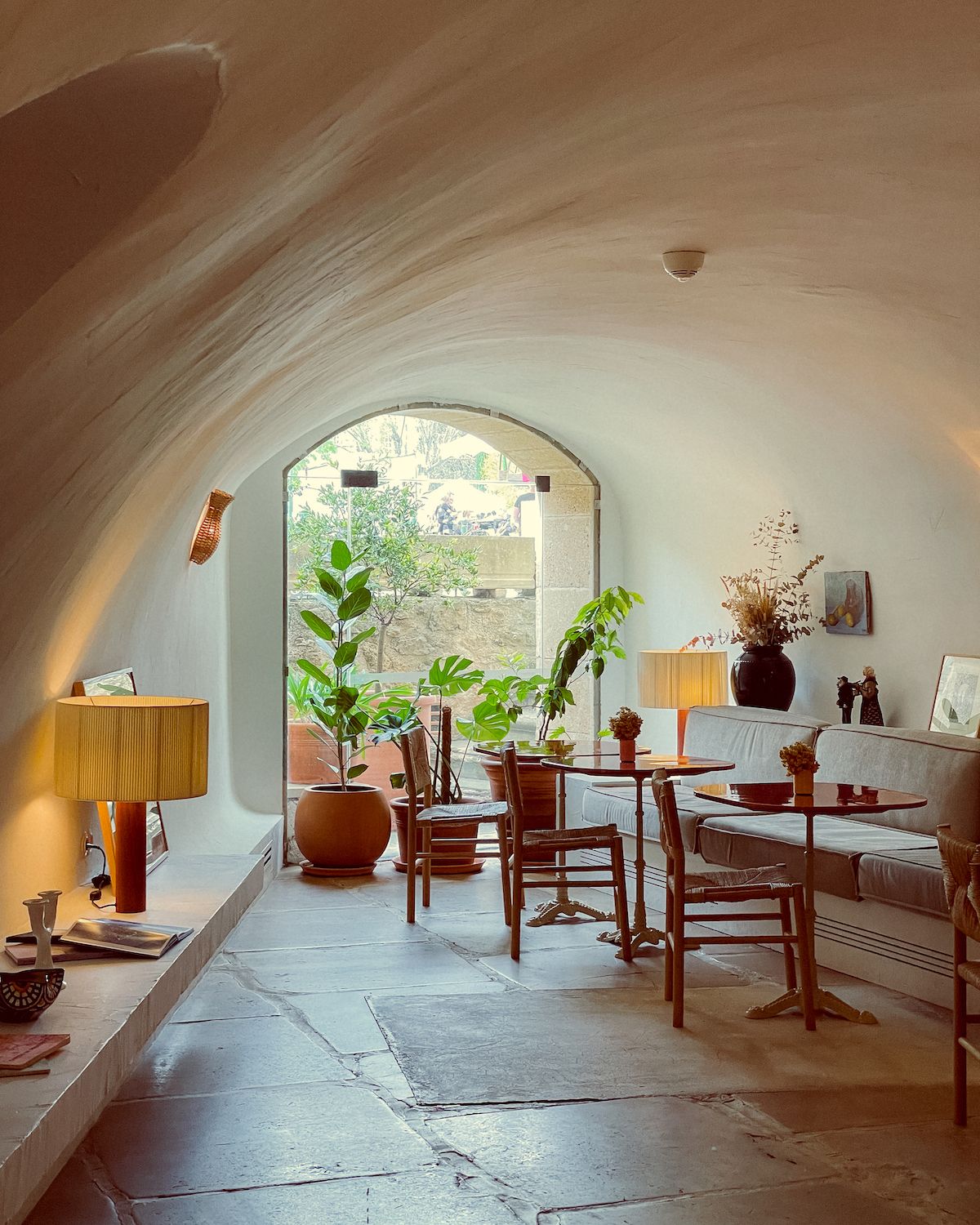 For your first two nights in Provence, stay in Lourmarin, the gateway of the Luberon. The village is known for its vibrant cultural scene, creative atmosphere and fashionable crowd. Located in the south of the Luberon region, it's a great starting-off point to explore Provence and is located under an hour's drive from the Marseille International Airport.
We stayed at Le Moulin, a stylish boutique hotel in a former 18th-century oil mill.
You can't beat its location, just next door to the Friday market and steps away from shops, restaurants and Chateau de Lourmarin.
🧳
Browse more stays in Lourmarin
Day 1
Spend the day at Chateau La Coste and the evening in Lourmarin
Daytime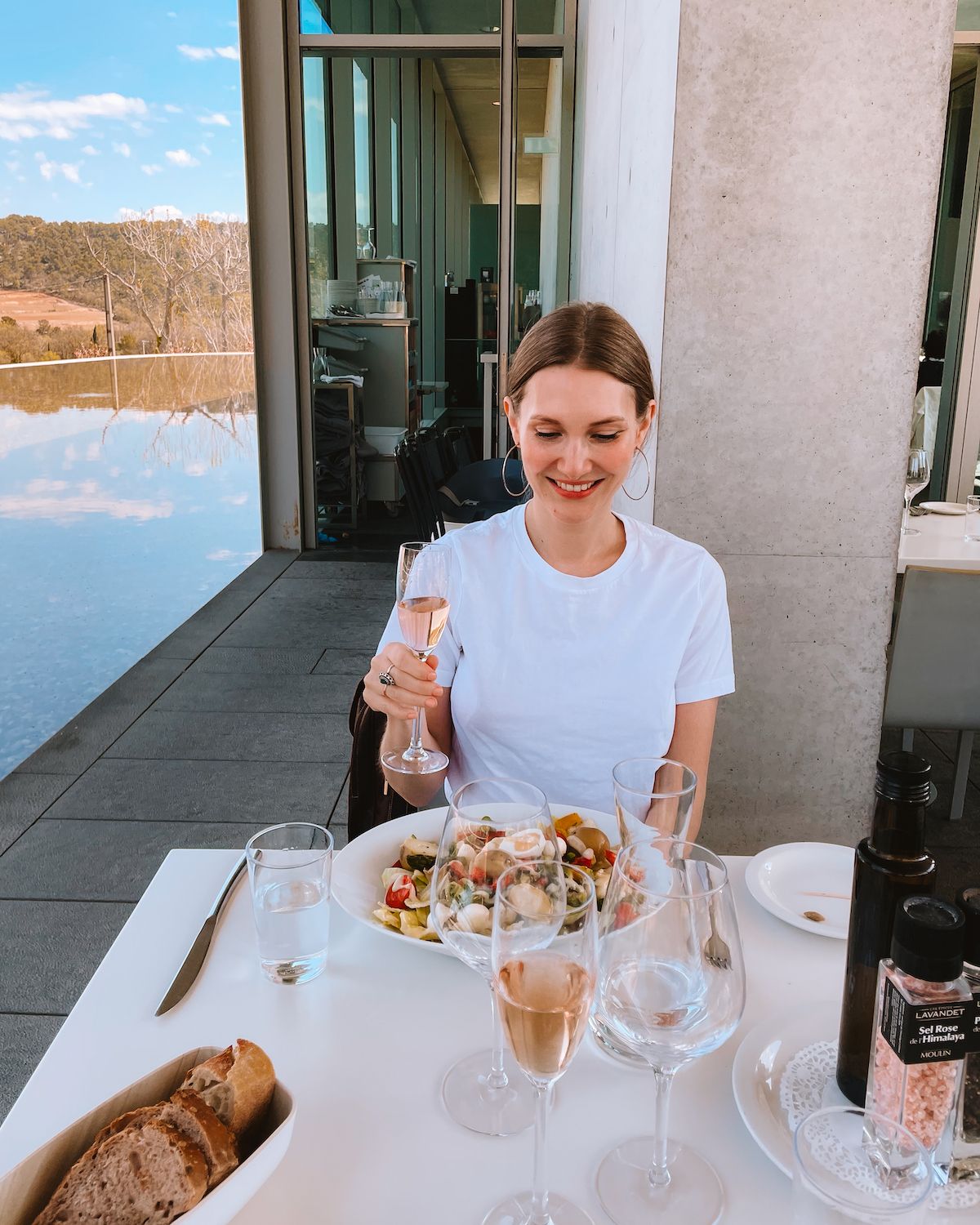 Pick up your rental car
Pick up your rental car at the Marseille International Airport, and drive about 30 minutes to your first stop, Chateau La Coste.
Compare car rental rates from the Marseille Airport
Experience Chateau La Coste's unique combination of contemporary art, nature and gastronomy
Chateau La Coste is a multi-faceted experience in art, nature and gastronomy. We luckily got this recommendation from a local architect, and it's one of the most unique places we've ever visited.
As you drive into the enchanting estate, you are greeted by huge sculptures set amidst the beautiful landscape. Peppered throughout the acreage you'll find 43 open-air art installations, by big names like Tadao Ando and Paul Matisse, that create a harmonious blend of nature and creativity. It should take you about 2.5 hours total to see everything by foot. The walking distance is 4 km and there are uphill sections, so bring runners.
First, eat lunch on the outdoor terrace of Restaurant de Tadao Ando before setting off to see the art installations. Next, go for a small hike to see the art. It costs 15 € per person to view the property and you're given a map that describes each artwork.
Afterwards, step into the tasting room for a free wine tasting of their fine rosés. They were some of our favourites we tried in Provence. We recommend buying a bottle to have with your picnic the next day.
Check into your hotel in Lourmarin
The drive to Lourmarin from Chateau La Coste is just 25 minutes. Settle into your hotel and get ready for an evening out in town.
Browse more stays in Lourmarin
Evening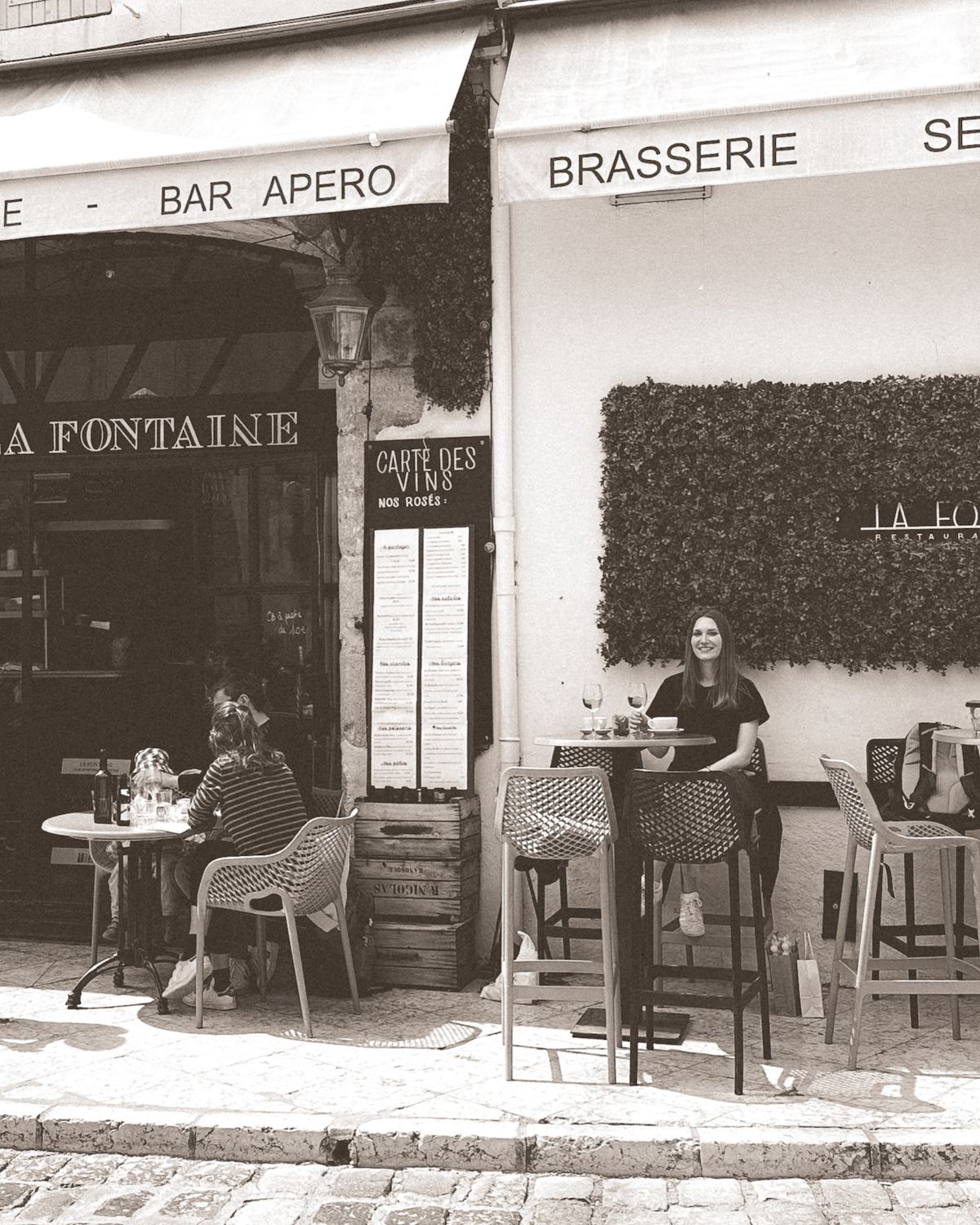 Dine, sip rosé and people watch in Lourmarin's old-centre square
Lourmarin has a rich history, with writers, artists and intellectuals, like Albert Camus, living here throughout history. We loved spending time in the old-centre square sipping rosé, sharing bites and watching locals and visitors pass by. Snag one of the sidewalk tables at Cafe Gaby or La Fontaine, and take in the village's cosmopolitan and artistic flair.
Day 2
Explore Lourmarin and have a picnic at a 15th century castle
Daytime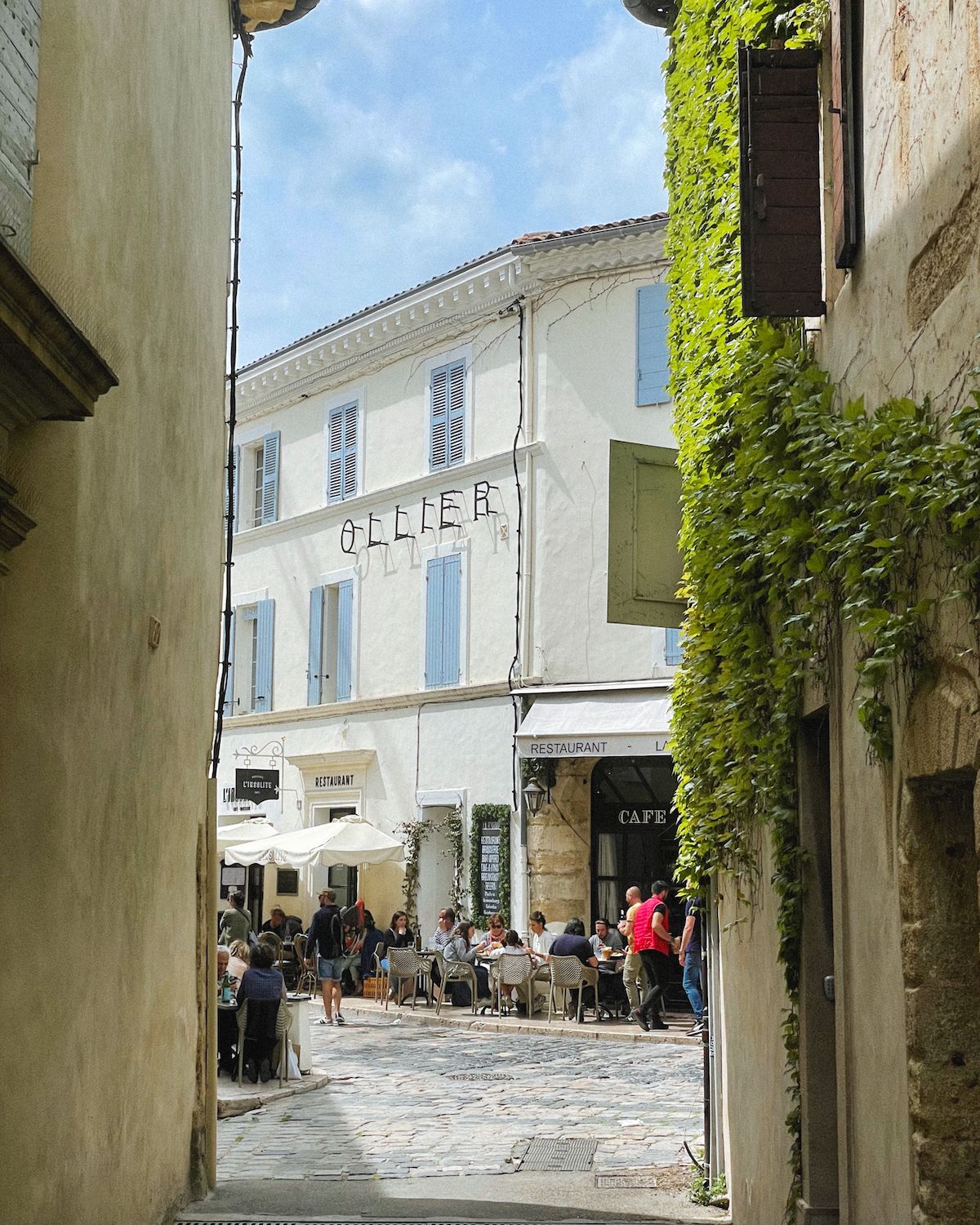 Explore Lourmarin and shop the boutiques
Although Lourmarin is small, there are many things to do. The best time to visit is on Fridays when the village comes alive with its bustling market and live music in the streets. If you can line up your stay to be there on a Friday, we highly recommend it! The market was excellent with over 150 vendors selling food, produce clothing, jewelry, housewares and accessories. I bought a knit sweater, a purse and two bracelets. Everything was so chic!
If you're not there when the market is on, start your morning with coffee overlooking the square before setting off to shop the boutiques. Our favourite shop was Mise En Scene.
Also, don't miss La Calade De Lourmarin, a tea shop with a peaceful garden space for sitting. We smelled four loose-leaf teas and chose one to have as iced-tea on their patio.
Afterwards, walk the quiet backstreets to see beautiful medieval buildings and cute cats walking about.
Have a picnic at Chateau de Lourmarin
Gather picnic ingredients from the market or artisanal shops and have a picnic at Chateau de Lourmarin, a historic 15th century castle overlooking the village. If you walk up the stairs at the back of the castle, you will find an excellent picnicking area in an olive tree grove. You don't need to pay a fee to visit this area.
We found shade under one of the olive trees and snacked on olive tapenade, fresh baguette, market strawberries, soft goat cheese and chorizo sticks.
Don't forget: a knife, board/plate and picnic blanket.
Taste wines of Provence at Domaine de Fontenille's tasting room
Domaine de Fontenille has a tasting room located in the centre square, and the best part is that it's free! We tried rosés and reds and learned more about the wines of Provence.
Evening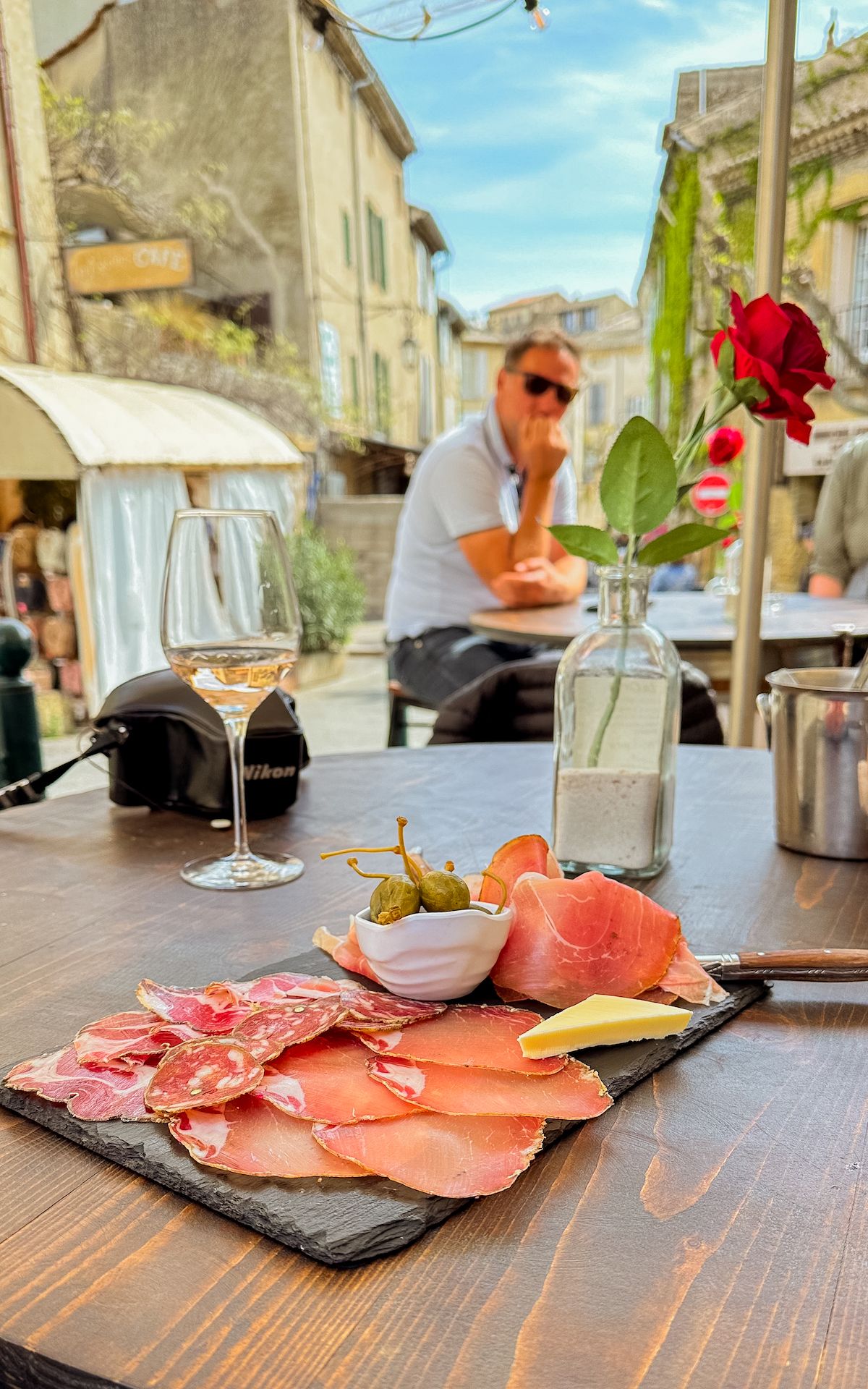 Taste more wines and eat tapas at Le Tonneau
Le Tonneau, situated just up the street from the main square, is one of the village's finest spots for tasting wines and charcuterie. Their wine-barrel tables on the raised patio set the stage for a fun evening.
Listen to music at La Maison Cafe
La Maison Cafe is the hip place to be where locals and travellers gather to listen to music, dance and drink cocktails. See what events are on when you visit. We went on a Saturday and they had a DJ who played a mix of disco and funk, followed by a group who played "electronic-jazz" with synth and drums. The music was great!
Must try cocktail: Caipirinha
See our list of 10 fun things to do in Lourmarin
Days 3-4
Explore the Luberon Valley and six beautiful villages that capture the charm of Provence
Where to stay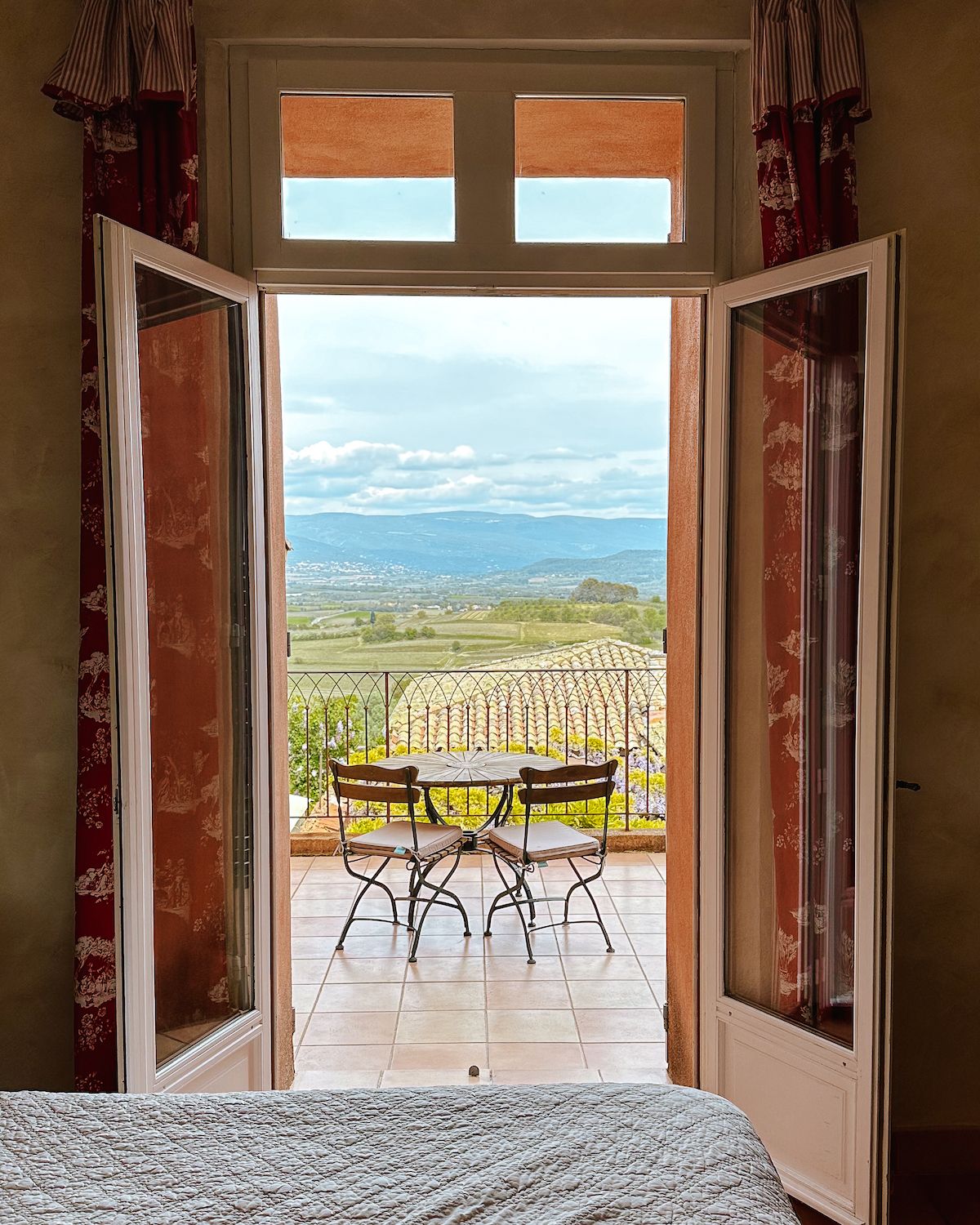 For your last two nights, we recommend staying in Roussillon, our favourite village in the Luberon. Not only is it beautiful with its ochre-coloured cliffs and historic buildings, it's also a great jumping-off point for day trips to the surrounding villages.  
Nestled in the heart of this enchanting village,
Le Clos de la Glycine surprised us with its incredible value.
The charming hotel offers rooms with valley views and its on-site restaurant, Restaurant David, is one of the best in the region. Rooms start at 125 € per night.
🧳
Browse more stays in Roussillon
Day 3
Explore Bonnieux, Menerbes and Roussillon
Daytime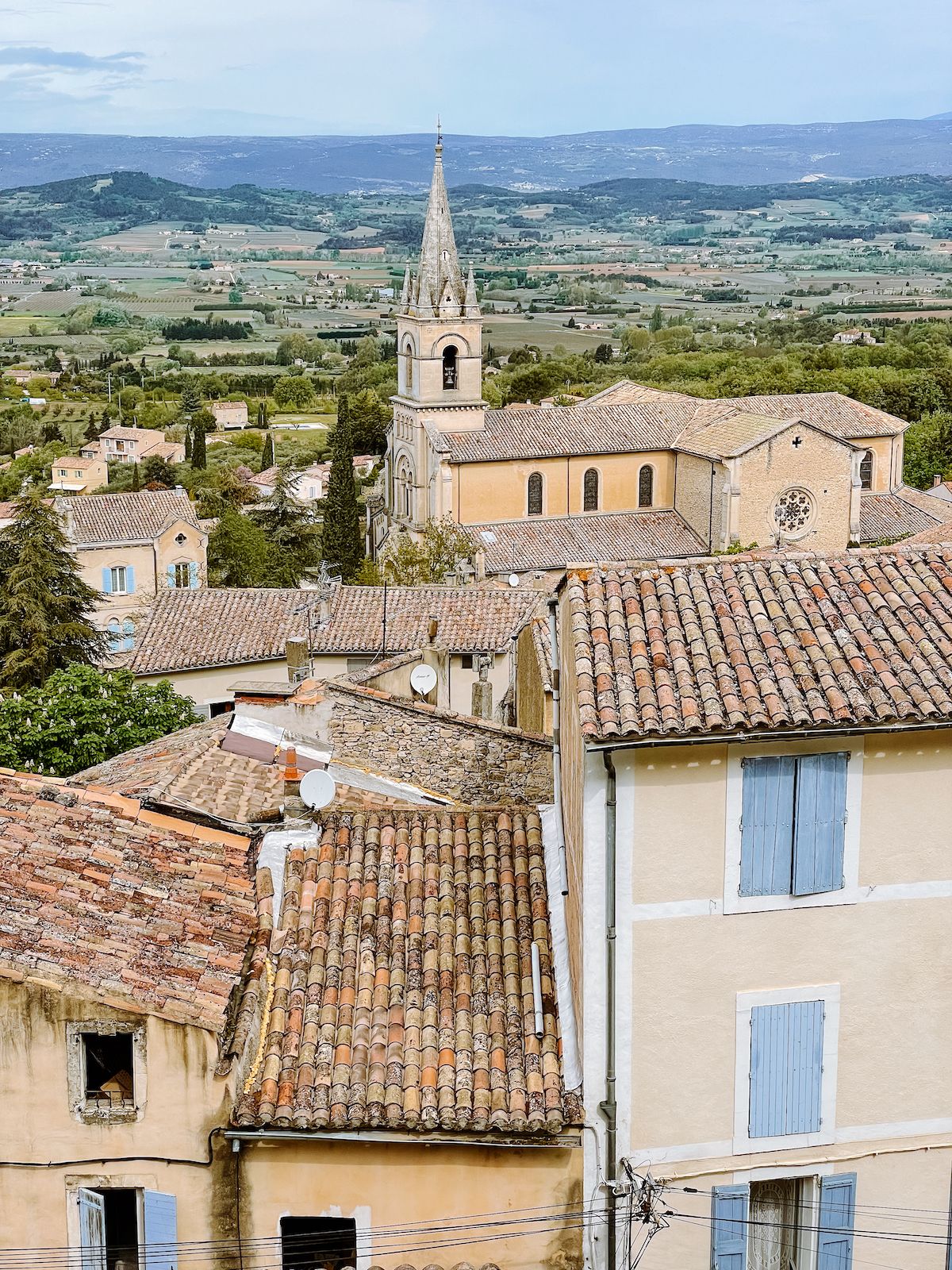 Drive the scenic route from Lourmarin to Bonnieux
The drive from Lourmarin to Bonnieux is one of the most beautiful in the region. Take the winding road through the gorge up to the hilltop village for panoramic views of the Luberon Valley. Pull over to the side of the road in Bonnieux to stretch your legs and take in the surroundings.
Enjoy a scenic lunch at Cafe Du Progress in Menerbes
Menerbes is a quiet hilltop village with eateries and galleries tucked away through the narrow cobblestone streets. Here is where you will find a local favourite for lunch, Cafe Du Progress. Make your reservation far in advance to ensure you get a table on the terrace overlooking the countryside. The farm-to-table cuisine matches the setting perfectly.
Walk through Menerbes
After lunch, take a stroll along the old stone houses. Stop in at Maison de la Truffe, and pop into the art gallery upstairs. Afterwards save room for freshly brewed iced-tea and pastries at Chez Auzet, which also has nice valley views.
Evening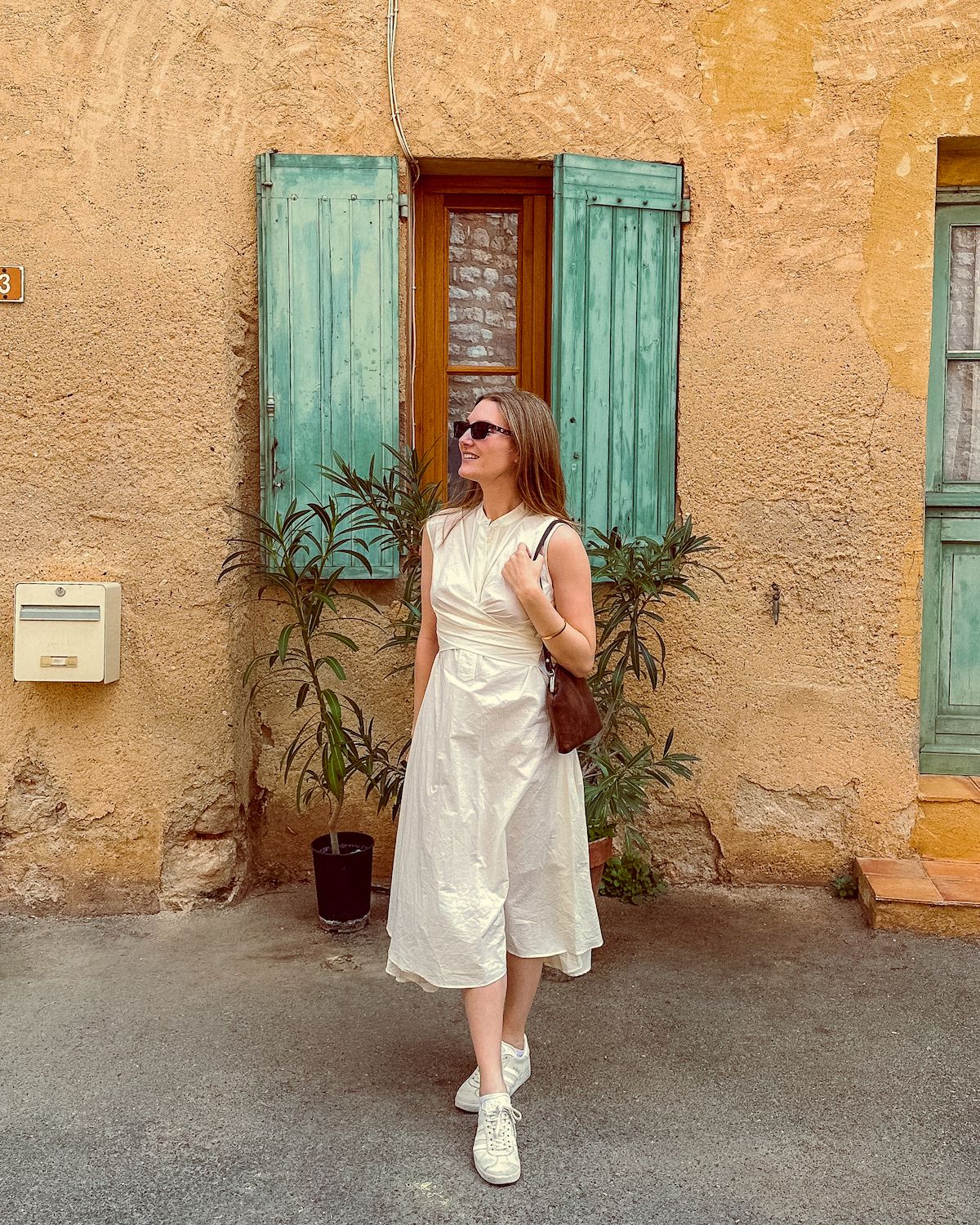 Explore Roussillon village
After checking into your stay in Roussillon, head out into the tiny streets to explore. We found Roussillon to be more bohemian and colourful than other villages, which we loved. These were our favourite boutiques in Roussillon:
Bals'Art - for organic balsamic reductions and macerations. They have tastings in the back.
Cricri - for well-priced local products and natural paints in unique ochre shades.
Maison Brémond 1830 - a gourmet grocer selling local products from Provence. Excellent if you're looking for gifts to bring back!
Dine at Restaurant David for breathtaking views of the ochre cliffs
Restaurant David was our favourite place we dined at in Provence. It had it all with its Michelin-recognized cuisine and outstanding views overlooking the ochre cliffs. Dine here at sunset, so you can see the rocks radiate and pop out like gems in the forest. We even saw a rainbow!
See our list of 9 unique things to do in Roussillon
Day 4
Day trip to Goult, Gordes, and Saint-Saturnin-les-Apt
Daytime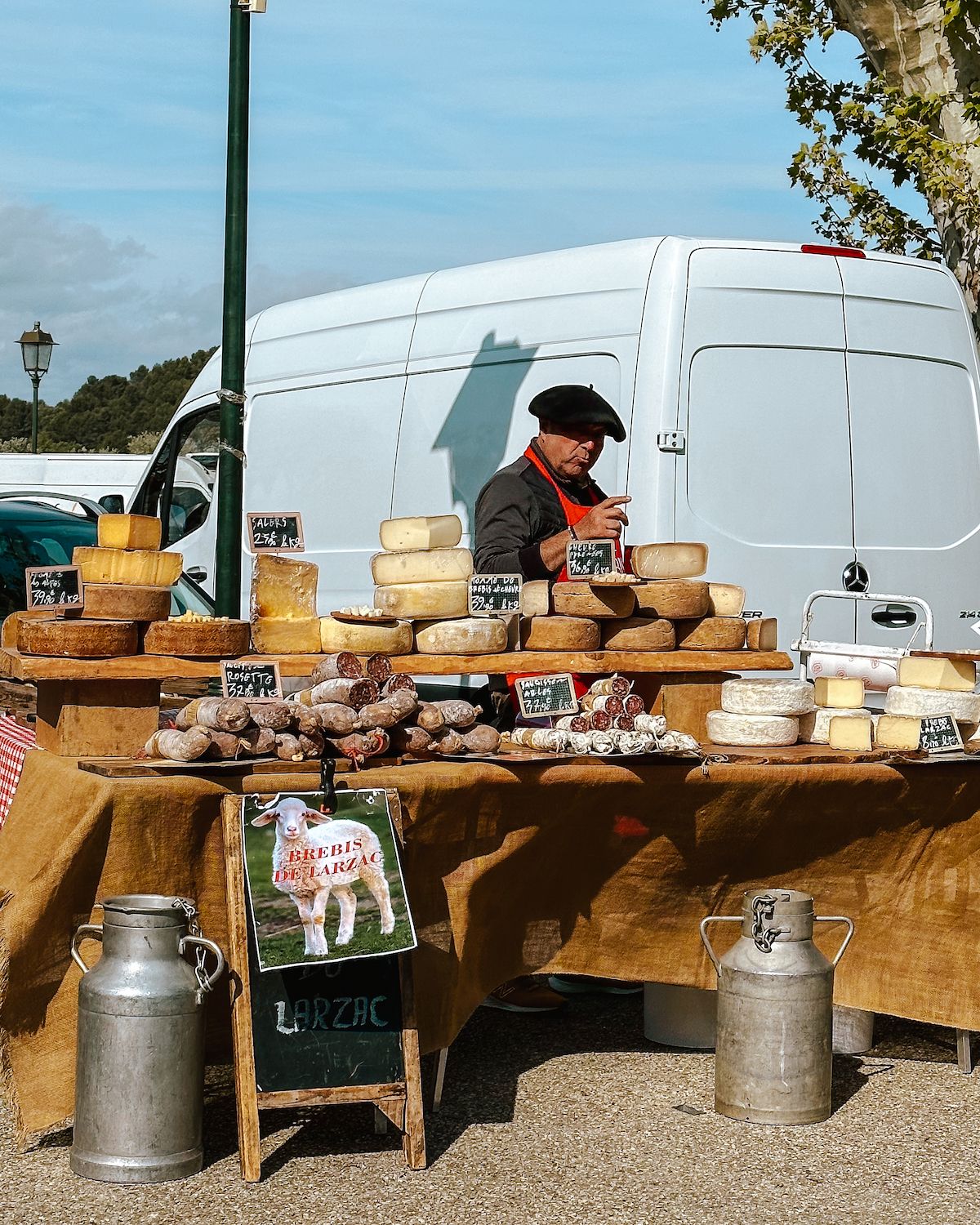 Visit a local market
Villages in the Luberon each have their own "market day". Depending on the day of the week, visit one of the local markets in the region:
Tuesdsay: Saint-Saturnin-les-Apt or Gordes
Thursday: Goult, Roussillon or Menerbes
Friday: Bonnieux or Lourmarin
Saturday: Apt
Sunday: Isle-sur-la-Sorgue
Markets in the Luberon typically get busy by 9 AM and vendors start closing up their stalls around lunchtime (~12:30 PM).
Top market tip: some stalls sell similar things, with some at better prices.
Enjoy a leisurely lunch at Le Carillon in Goult
After perusing the market, stop in for a gourmet lunch at Le Carillon, one of the best restaurants serving Provencal-style cuisine in the region. Reserve a spot on their outdoor terrace in the heart of the village and choose one of their set menus. Afterwards, walk off your lunch and explore the village. Goult was the one village we visited that we could see ourselves living in.
If you have time, also stop at the Edith Mezard boutique in the tiny village of Lumieres next door. I bought a stylish crochet purse and a serving plate with lemons on it. The whole store was très-chic!
Drive the scenic loop from Gordes to Abbaye Notre-Dame de Sénanque and a panoramic picnic spot
Gordes is considered the most picturesque village in the Luberon, and for that reason, it can get quite touristy and crowded. It's better to look at the village from afar, with its stone houses cascading down the hillside. Afterwards, keep driving towards Abbaye Notre-Dame de Senanque to see the lavender fields and loop around to Aire de pique-nique Route de Murs, for a lovely view and picnic spot.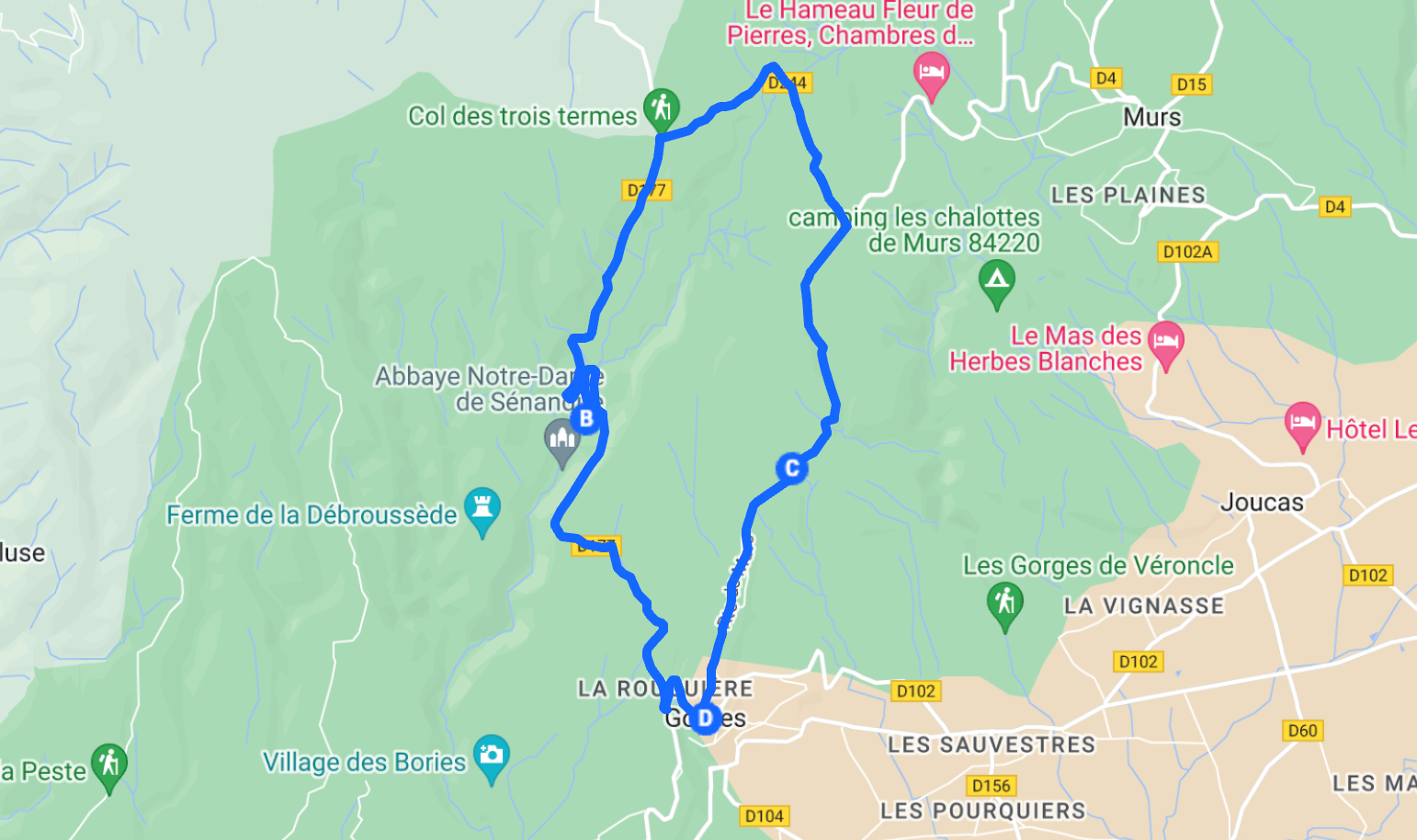 Top tip: before driving the loop, stop in at Lyse Bakery in Coustellet to grab treats for your picnic. You won't believe their selection. I still dream about their lavender macarons.
Evening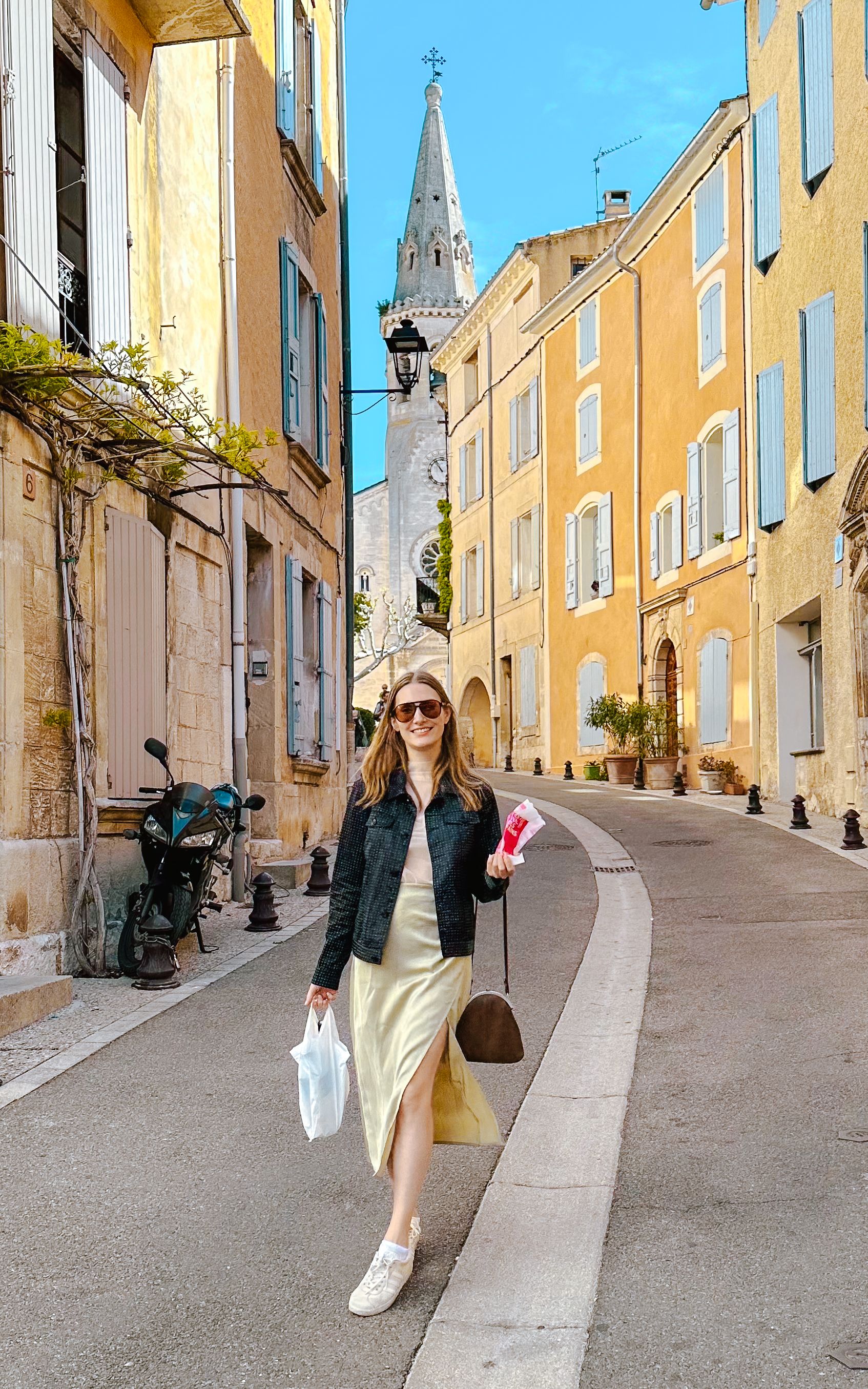 Explore Saint-Saturnin-les-Apt and dine at Le Saint Hubert
Saint-Saturnin-les-Apt is an off-the-beaten-path village with an authentic local vibe. Here, you'll find a laidback atmosphere and fewer tourists compared to other villages. As you stroll down the main strip, you'll witness the genuine daily life of locals reading newspapers and chatting over wine at charming sidewalk cafes.
Saint-Saturnin-les-Apt has gained international attention for its restaurant, Le Saint Hubert. Featured in Conde Nast, this establishment is a prime example of big city chefs moving to serene environments to embrace a laidback lifestyle and work with fresh, locally sourced ingredients.
Don't miss the chance to dine at Le Saint Hubert, where you can enjoy their three-course tasting menus for €48 while taking in the beautiful valley and mountain views from the dining room.
Enjoy your 4 days in Provence!
---
Get started on booking your trip to Provence
---
Combine Provence with a trip to Paris in our 7 Day Paris and Provence itinerary.
Don't miss our other Provence travel guides:
Combine Provence with a day trip to Monaco.
---
Save and pin this Provence 4 Day Itinerary for later: