Au Ferret! If you're looking for a beach town with a relaxed vibe yet all the luxuries you want at hand, Cap-Ferret is the place to be. It's situated on the tip of a peninsula on the west coast of France. With 50km of coastline, remote Atlantic beaches, fresh seafood and local wines, Cap-Ferret feels like true paradise. It's perfect for a weekend escape.
Our travel guide includes the 10 best things to do in Cap-Ferret, where to stay, the best time to visit and how to get to Cap-Ferret.
Disclosure: Some of the links below are affiliate links, meaning at no additional cost to you, we will earn a commission if you click through and make a purchase. We only recommend products or services we have used or that we believe will add value to our readers. Thank you for supporting us!
---
How to get to Cap-Ferret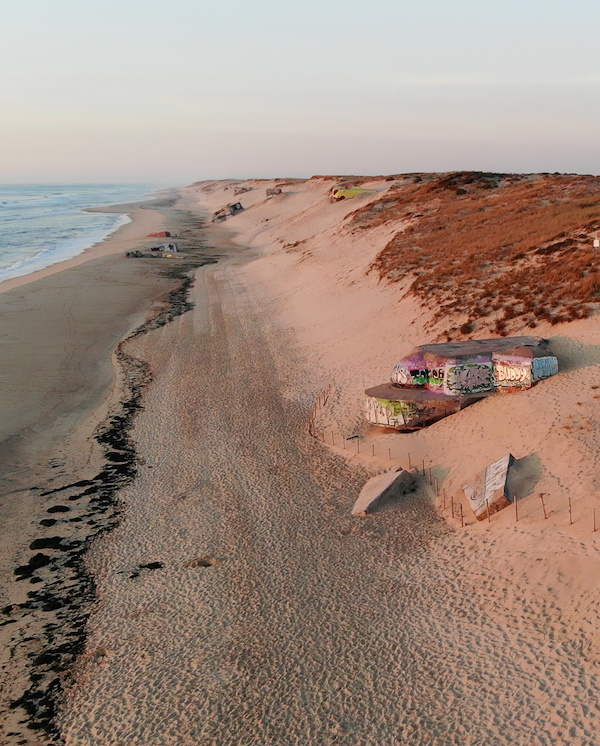 The best way to get to Cap-Ferret is by taking a flight or high-speed train to Bordeaux and renting a car for the one hour drive to the peninsula.
You can easily compare car rental rates across different companies with
Rentalcars.com
If you are departing from Paris, the high-speed train takes 2.25 hours to get to Bordeaux.
Trainline
is an easy way to check rates across different rail providers in Europe.
Best time to visit Cap-Ferret
The best time to visit Cap-Ferret is during beach weather! This is from June-September, when there is the least amount of rainfall and temperatures are around 24-27 °C.
Where to stay in Cap-Ferret
When looking for accommodation, choose a place that is close to Boulevard de la Plage. You will have close access to beaches, restaurants and shops. Don't book a place in Arcachon by mistake that is across the water! It also has a boulevard with the same name.
We stayed at
Cote Sable
, a luxury boutique hotel located beside the beach and in the centre of the action. The hotel has a chic modern décor and large patio out front where you can eat breakfast or have aperitifs and some drinks and people watch. Right we when we arrived we dropped our bags, put on our robes and sat outside on our private terrace. Clarins products line the sink in your bathroom from the Clarins spa located in the hotel.
Another option is to stay at a guesthouse or apartment.
Villa Blanche
is good value and in an excellent location.
10 Best Things to do in Cap-Ferret
1. Walk the Atlantic coastline and go for a swim in the baïne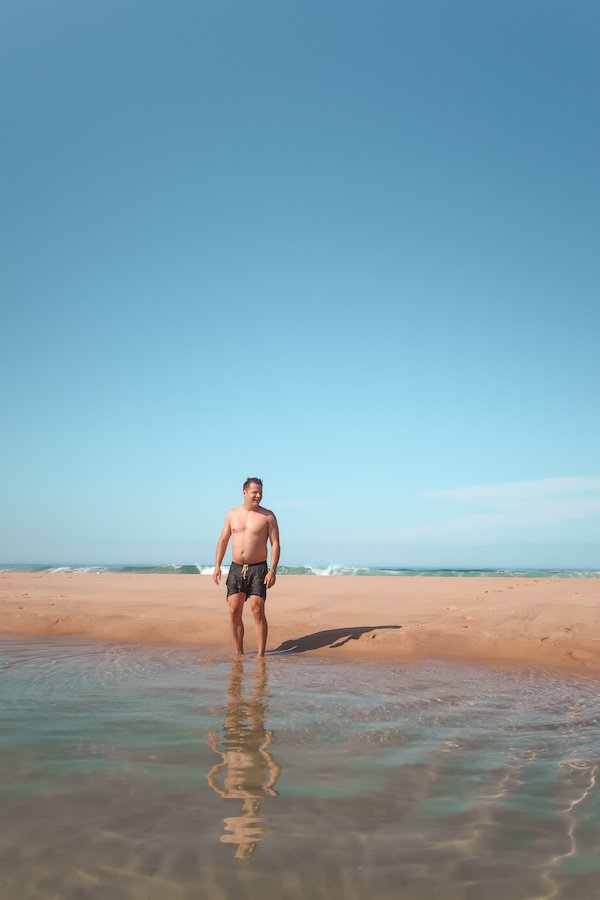 One of the best things to do is walk the peninsula. Start at the western side and work your way down towards to the tip. Make sure you go at low tide! That way you can easily walk the grandiose sand beaches and swim in the baïnes. A baïne is a tidal pool hundreds of meters in length created by the tide and waves from the ocean. It's a nice calm contrast to the wild ocean that runs parallel. We first swam in the baïne to warm us up to jumping into the Atlantic!
2. Eat fresh oysters and drink French white wine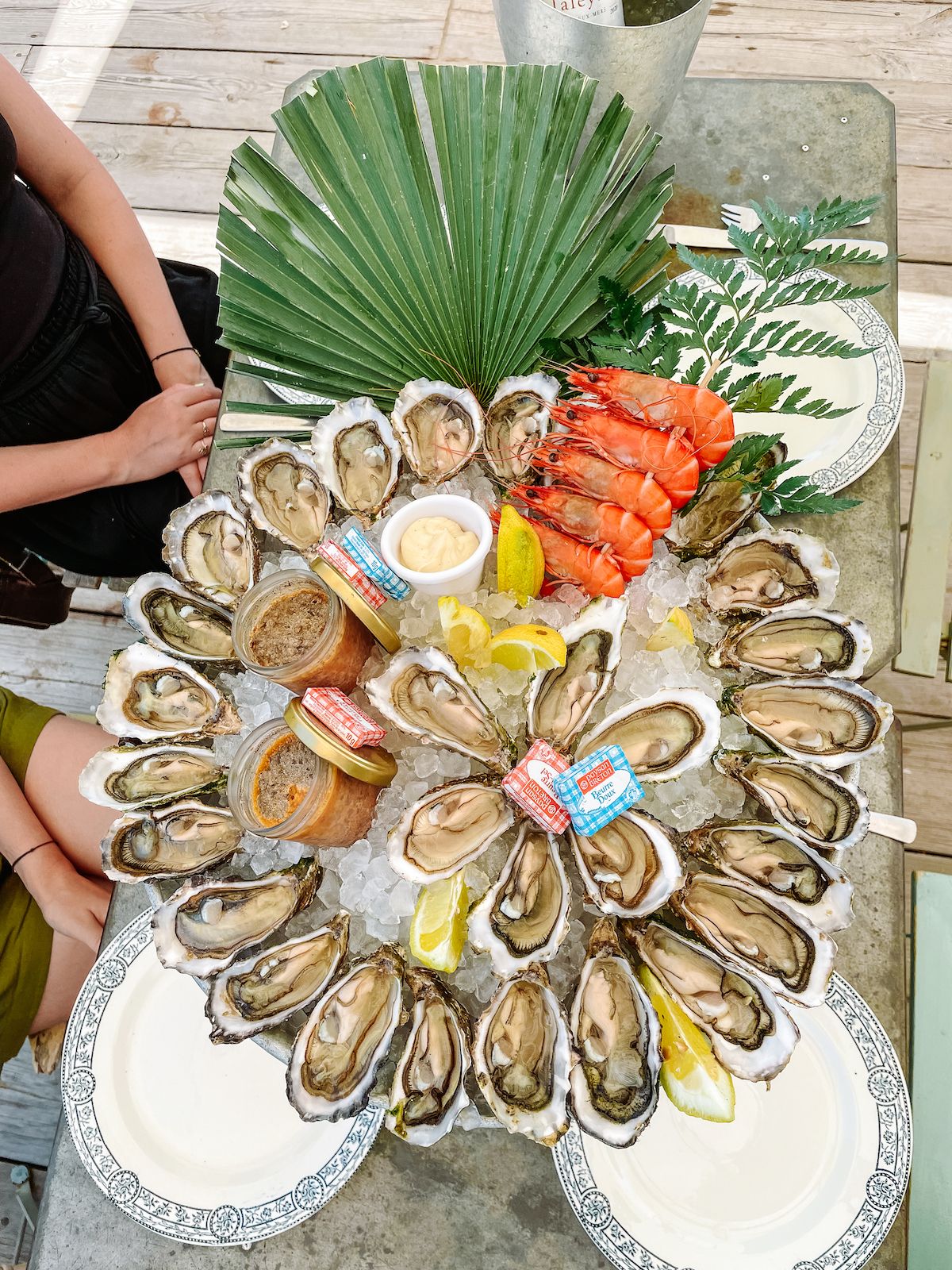 Once you are done your beach walk, satisfy your hunger and quench your thirst with some fresh seafood and cold dry white wine. Cap-Ferret is known as the oyster capital of France and its oysters are considered some of best in the world. We highly recommend eating at Chez Boulon for lunch. We sat on the patio and the seafood was oh so fresh.
3. Have a champagne picnic on the beach and watch the sunset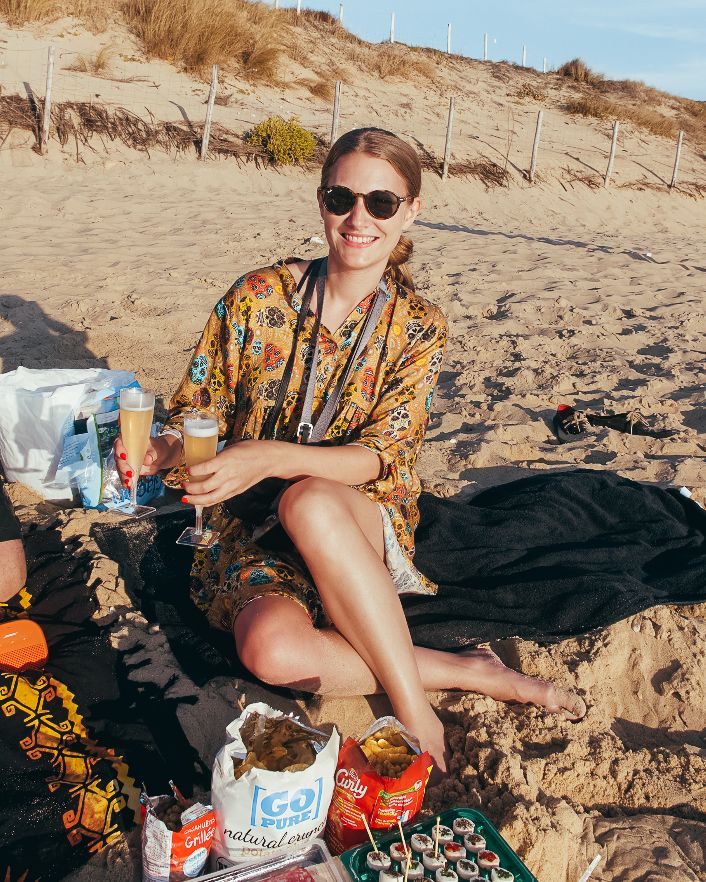 The Atlantic ocean is wild and beautiful at sunset. There is no better place for a beach picnic. First stop in at the grocery store to get appies to accompany your champagne. There are wooden produce crates in front of the grocery store you can grab to use as your picnic table. Next, walk to the western side of the peninsula to find a remote spot to have your picnic. Don't forget a blanket and garbage bag!
We sat on the beach for hours while drinking champagne, eating cheese, crackers, and meats. The sunset over the vast Atlantic was picture perfect. There are many old eroding and graffitied WWII Bunkers alongside the beach you can sit in front of.
Top tip: To cool your champagne quickly, fill up a good quality plastic shopping bag with salt water from the sea. Then dump a bag or two of ice inside before submerging your champagne to cool. Dig a small pit for it in the sand to keep it upright. Salt lowers the freezing point of water, in effect, chilling your bubbly faster!
4. Keep the party going at Bar Le Tchanque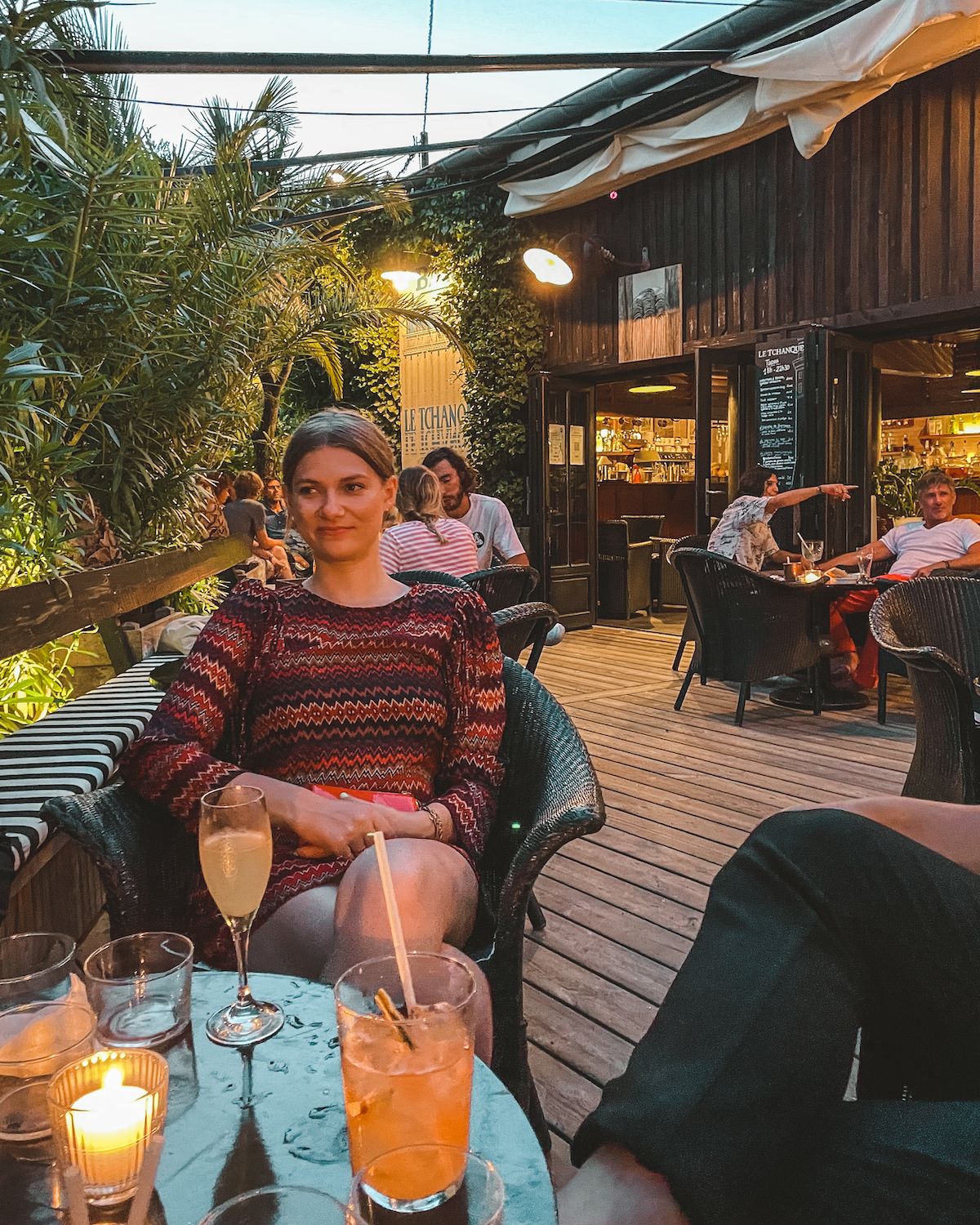 After your champagne picnic, stop in at Bar Le Tchanque, a cocktail bar that was once frequented by Ernest Hemingway. It has a fun atmosphere and is a great spot to drink cocktails, eat small bites and listen to some tunes.
5. Shop the Cap Ferret Market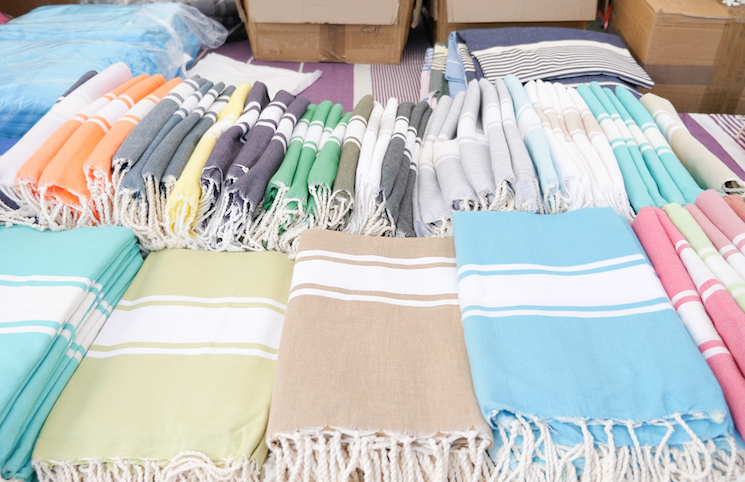 This isn't a flea market, it's a Ferret market. Loads of vendors pack a parking lot selling fashionable products, such as colourful beach blankets, beautifully patterned dresses, linen shirts, housewares, and local food and wine. I couldn't resist taking away two colourful dresses (priced at 35 Euros each), and a colourful beach blanket. Ari got a nice white linen shirt that will also serve well in Italy.
The market is open everyday from 8 AM - 1 PM from mid-June to mid-September. In the off season it is only open on Wednesdays and Saturdays.
6. Bike to the quaint town of L'Herbe for lunch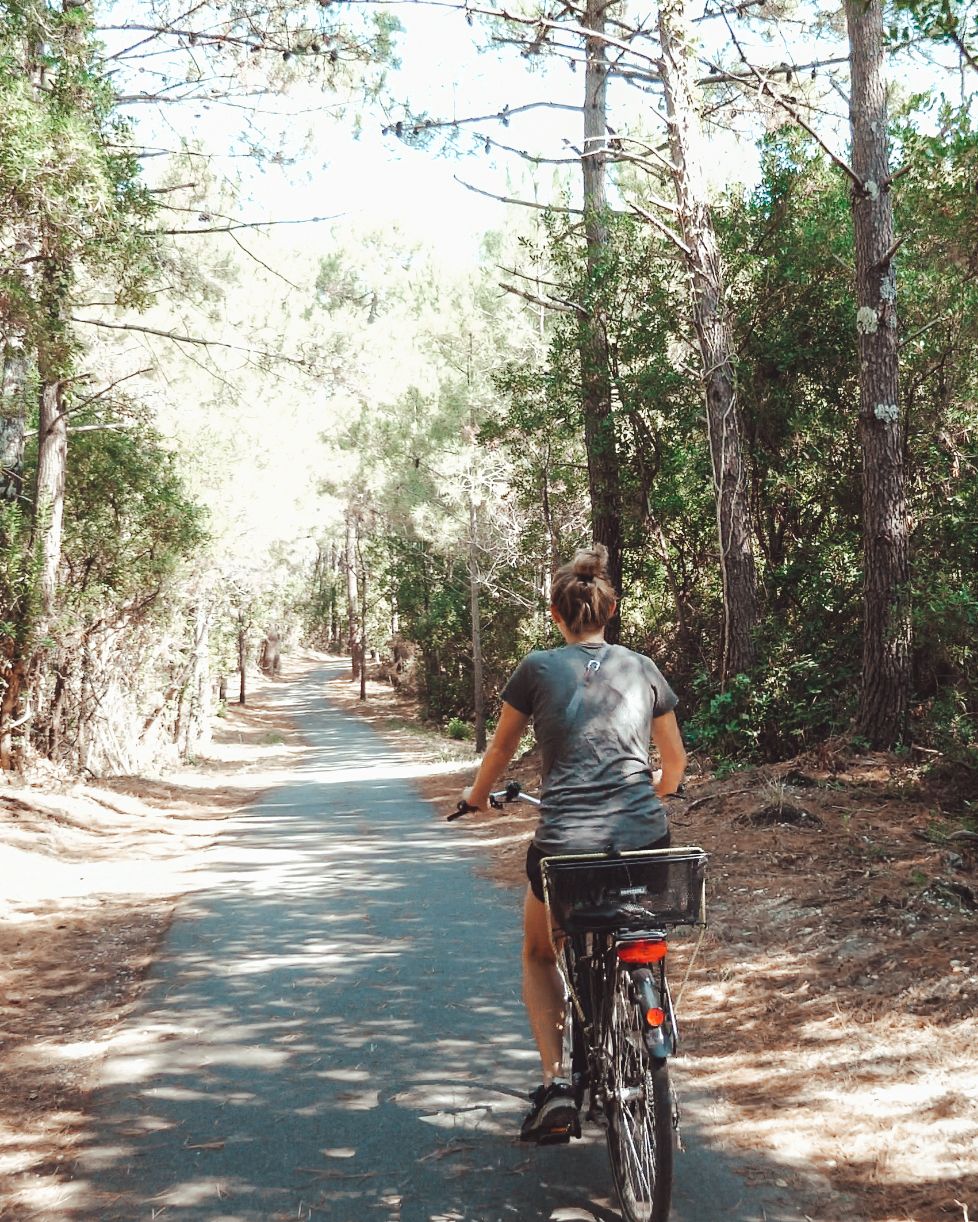 Cap-Ferret has a network of bike trails stretching over 100 km! Rent some bikes and explore the forested peninsula.
We biked to the quaint town of L'Herbe to eat lunch. The beautiful fishing village is filled with colourful historic houses and seaside restaurants. Enjoy some more ocean fresh shrimp, oysters, and cold dry white wine.
7. Dine at the seafood restaurant L'Escale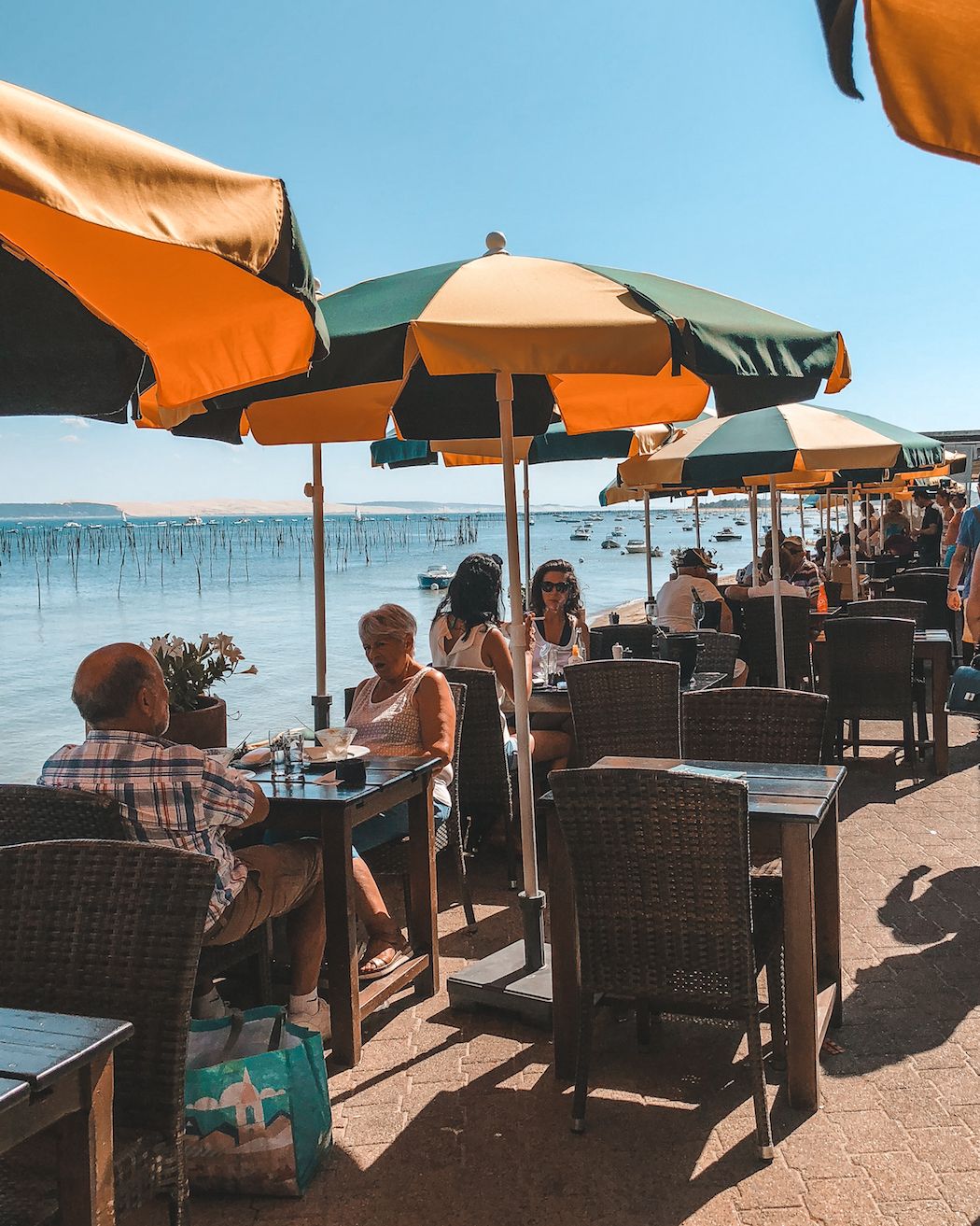 Take a stroll down to the lagoon side of the peninsula and eat a wonderful dinner at the 50-year old seafood restaurant L'Escale. The setting is romantic along the ocean.
8. Treat yourself to a Clarins spa treatment at Cote Sable
Unwind at Spa by Clarins at the Cote Sable boutique hotel. Destress in the hammam, take a soak in the jacuzzi and relax with a massage or facial.
9. Go Surfing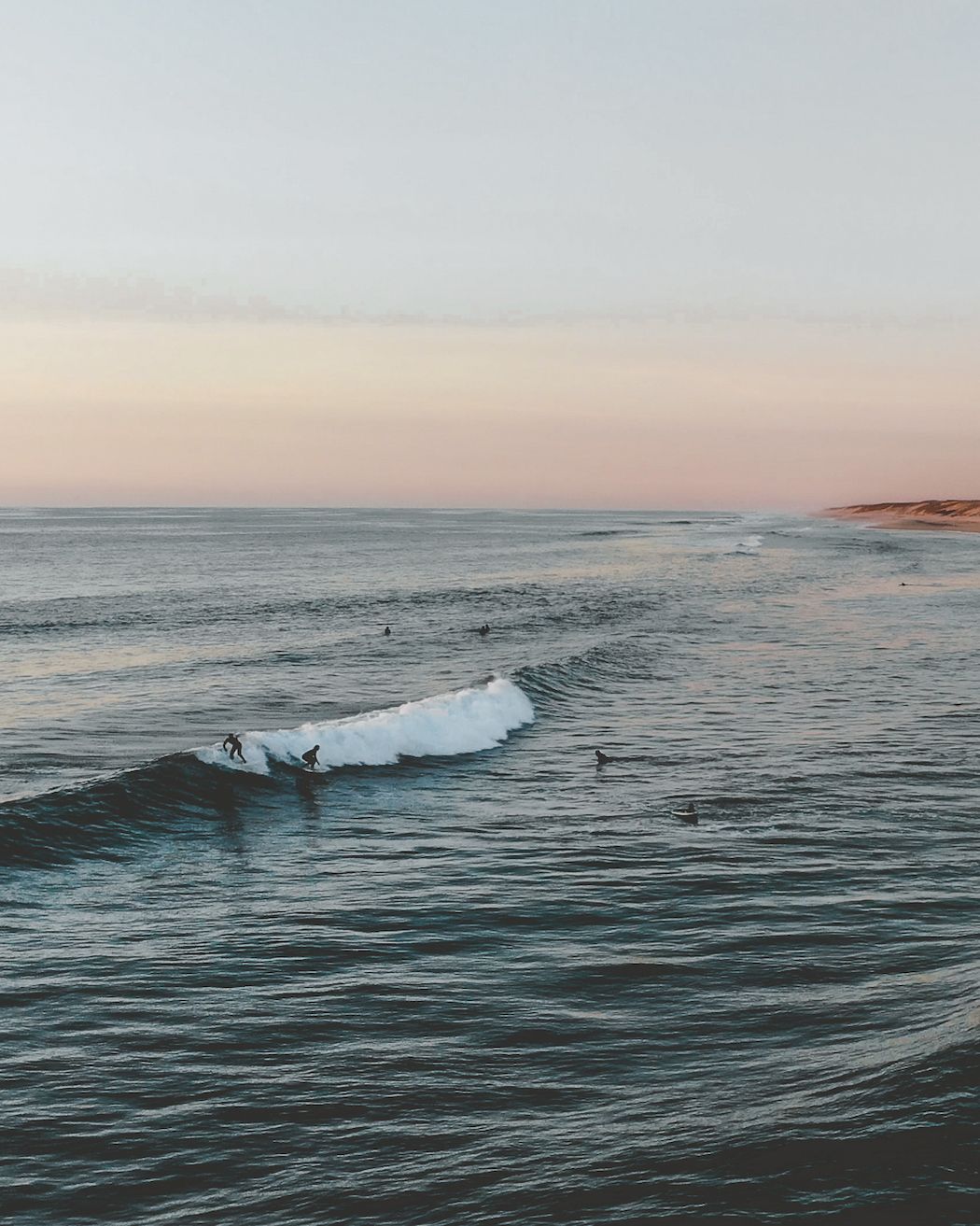 Cap-Ferret is popular with surfers. Grab a rental or take a surf lesson at the Tutti Fruti Surf School. Popular surf spots are l'Horizon and La Pointe.
10. Have a refreshing Bali bowl on a hot summer's day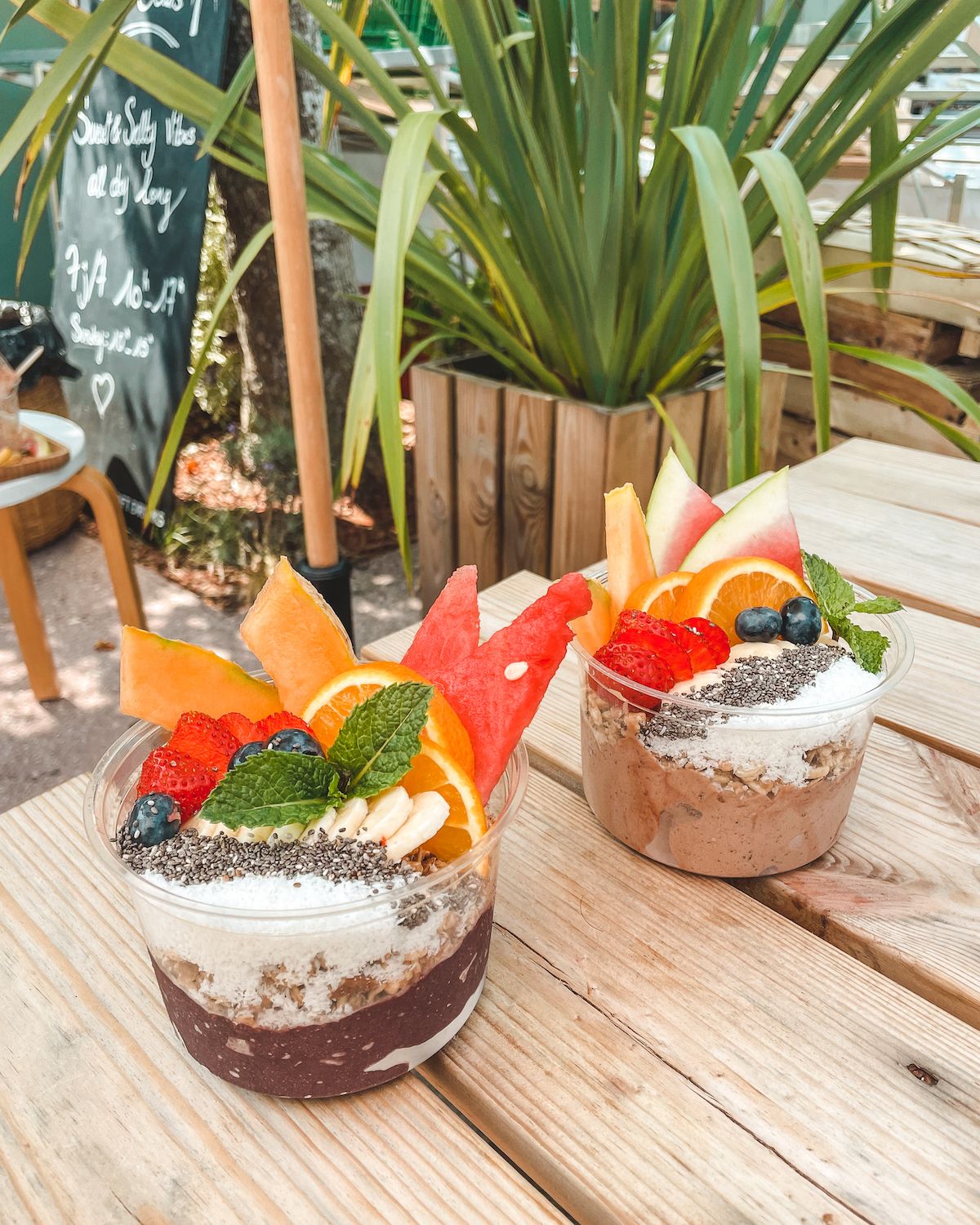 It can get really hot during summertime in Cap-Ferret. Cool off with a delicious smoothie bowl for lunch from Bali Bowls. The vegan cafe is proudly plastic free. Their açai bowl was delicious! It was topped with fresh fruit, coconut flakes and chia seeds.
---
Start planning your trip to France
---
Don't miss our other France travel guides:
---
Check Out Our Cap Ferret Video!
---
You might also like:
Looking for more travel inspiration? Check out our list of 20 Relaxing Travel Ideas to Clear Your Mind
Are you a food lover? Don't miss our list of Outstanding Gastronomic Experiences Around the World.