Zermatt is one of the most magical places to visit during wintertime. The idyllic mountain town is nestled in the Swiss Alps at 1,600m elevation and is known for its world-class skiing, chic boutique hotels, lively apres-ski scene and gourmet restaurants. With its picture-perfect views of the Matterhorn, the car-free village has a charm like no other.
We list the 17 top things to do in Zermatt in winter, including fun outdoor activities, unique ways to relax, the hottest restaurants to eat at and the best spots for apres-ski.  Our winter travel guide includes both, things to do for skiers and things to do for non-skiers.
Thinking of visiting Zermatt in summer instead? Don't miss our list of fun things to do in Zermatt in Summer.
What to do in Zermatt in winter
Disclosure: Some of the links below are affiliate links, meaning at no additional cost to you, we will earn a commission if you click through and make a purchase. We only recommend products or services we have used or that we believe will add value to our readers. Thank you for supporting us!
Best way to get to Zermatt in winter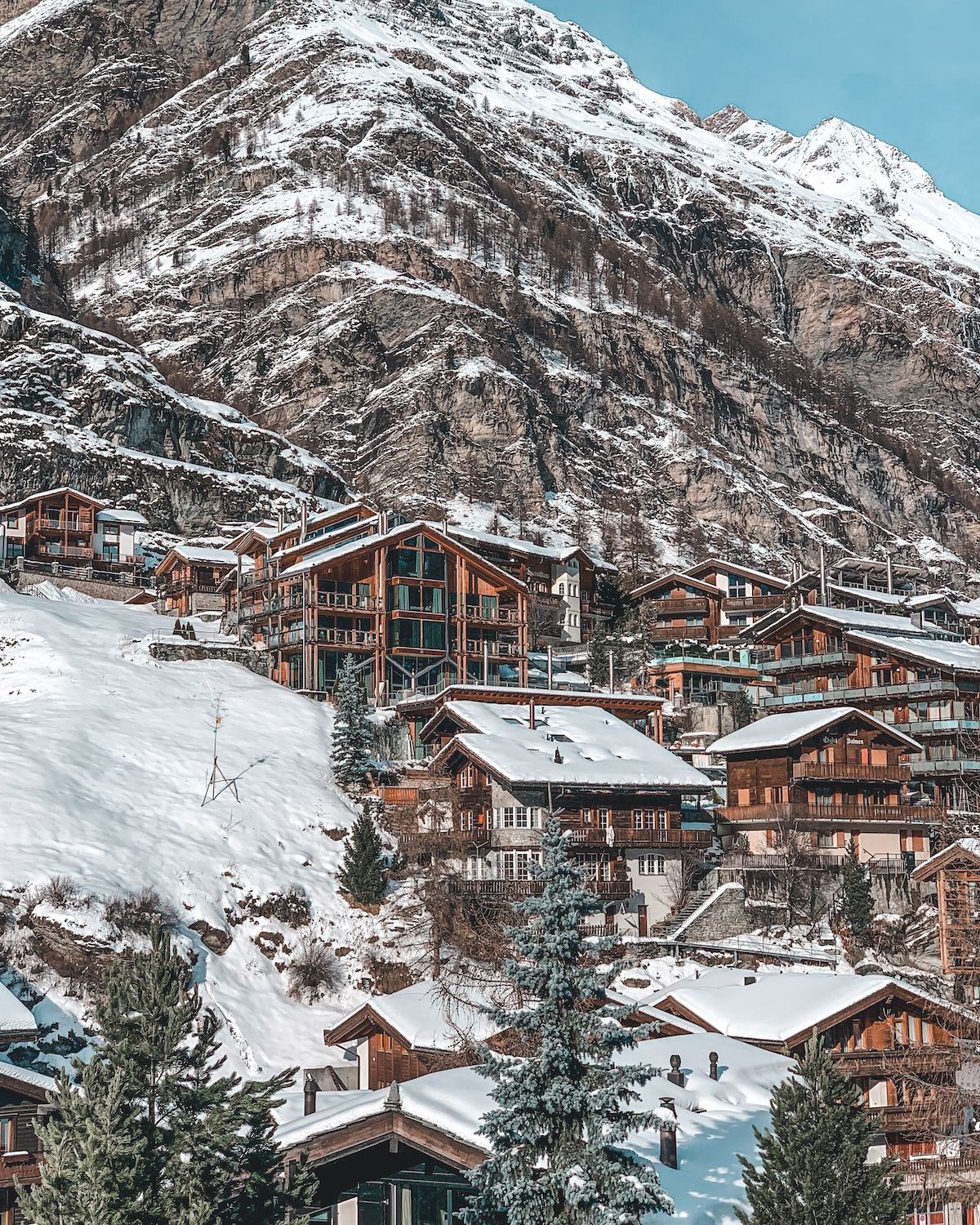 The best way to get to Zermatt in winter is by train. The train system in Switzerland is fast and simple and you won't have to worry about snow or slippery conditions with a rental car.
From the Zurich Airport, it takes 3.5 hours to get to Zermatt by train. If you take the train with direction to Brig, you will only need to switch trains once in Visp. If you take the train with direction to Bern, you will have to switch trains twice: once in Bern and once in Visp.
🚆 You can easily buy your
train tickets from the Zurich Airport to Zermatt
online.
From the Geneva Airport, it takes just under 4 hours to get to Zermatt by train. You will need to switch trains at Visp to get to Zermatt.
🚆 You can easily buy your
train tickets from the Geneva Airport to Zermatt
online.
Best time to visit Zermatt for skiing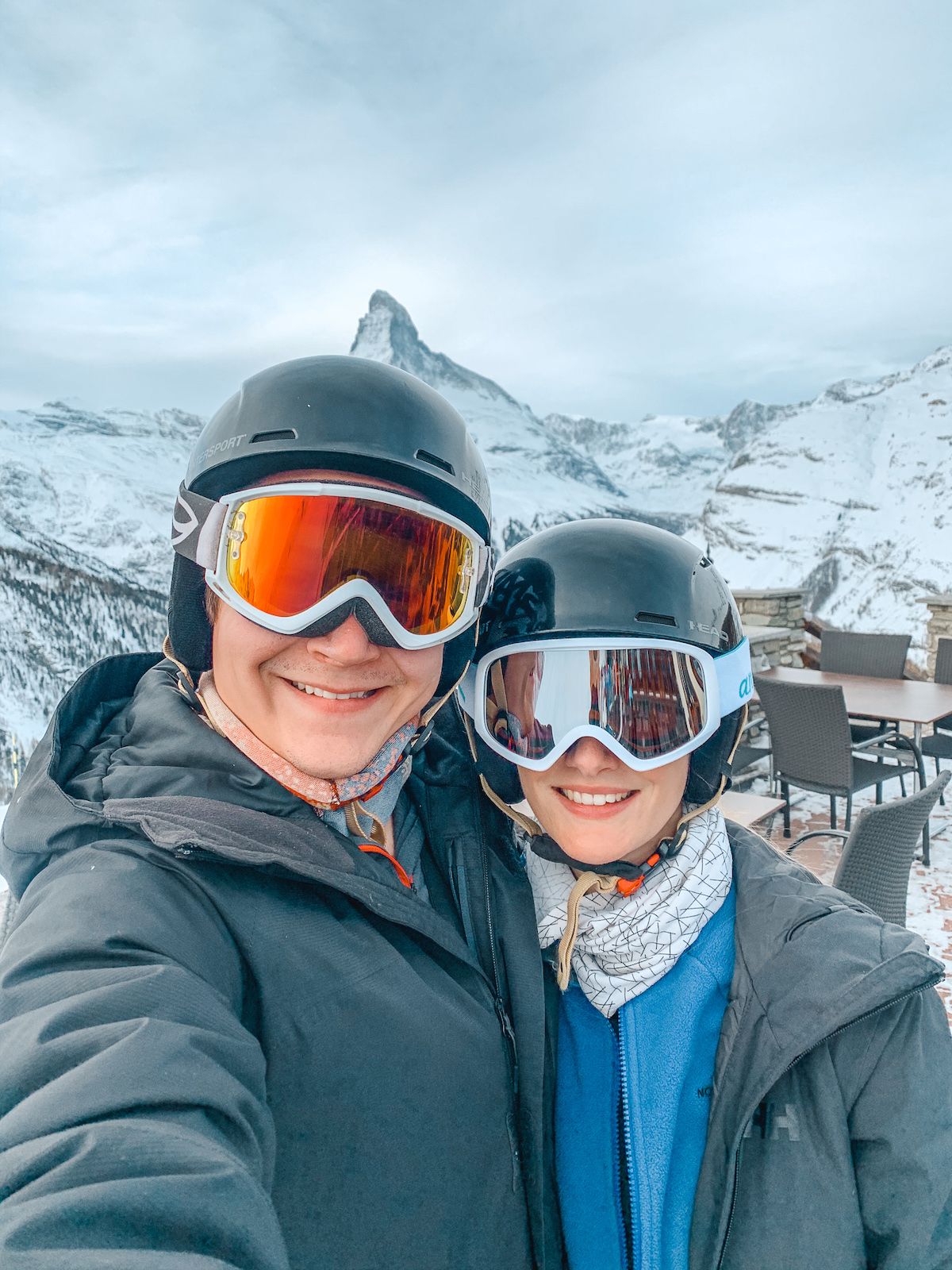 The best time to visit Zermatt for skiing is between the end of November to mid-April. We recommend avoiding travel to Zermatt during Christmas holidays/New Years, since accommodation prices sky rocket and ski hills are packed with families who are on Christmas break.
Where to stay in Zermatt in Winter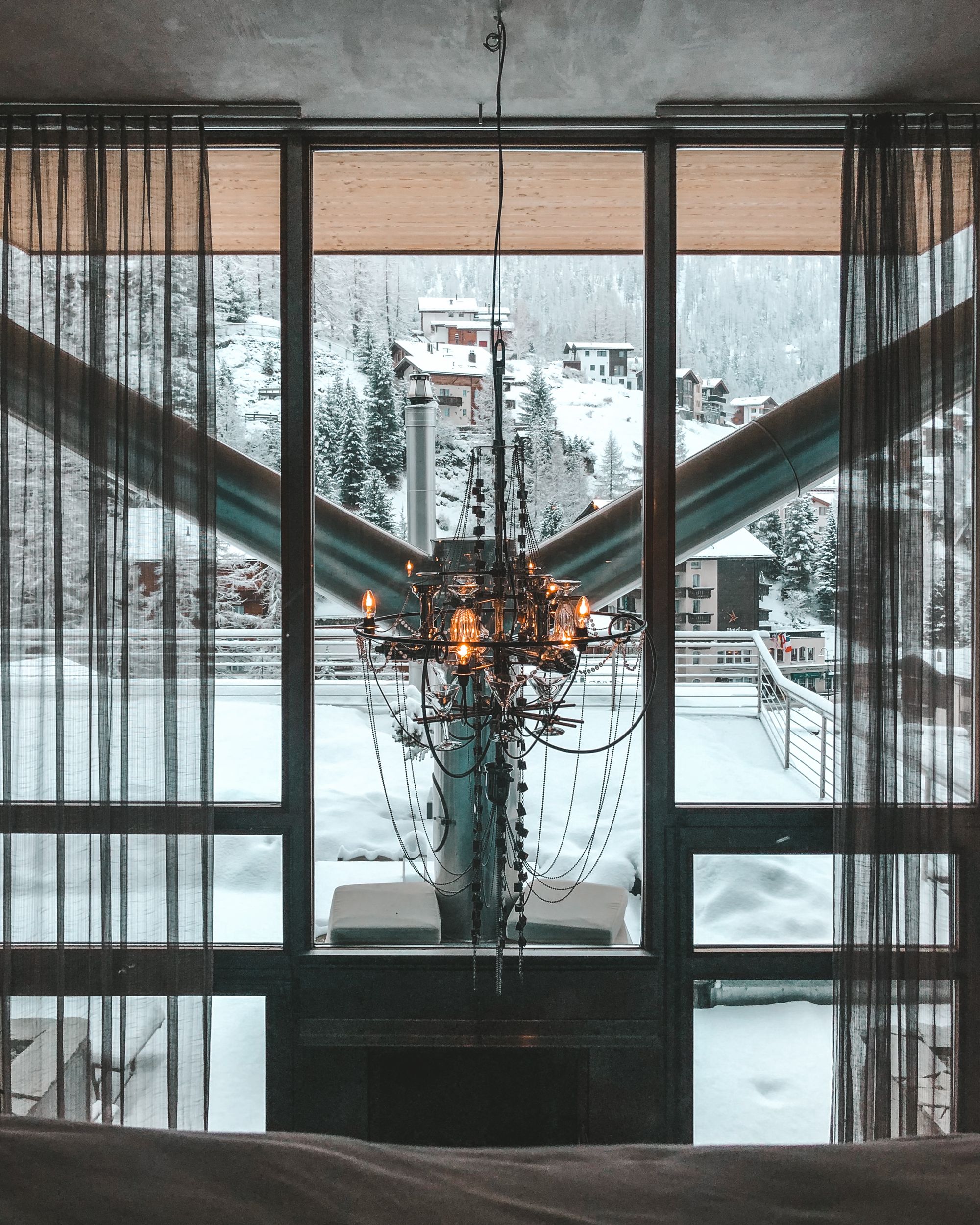 When looking for a place to stay in Zermatt, we recommend choosing one that has:
a view of the Matterhorn
easy access to ski lifts
a nice spa to relax at during your downtime
walking distance to Zermatt's centre (there are some located up on the mountainsides that aren't easy to get around from)
You don't necessarily need your hotel right next door to a ski lift, just ensure it's a close to an e-bus stop. The electric shuttle is free if you have a rail ticket or ski pass and takes you between ski lifts Matterhorn Glacier Paradise, Gornergrat and Sunnegga.
Our top boutique hotel picks: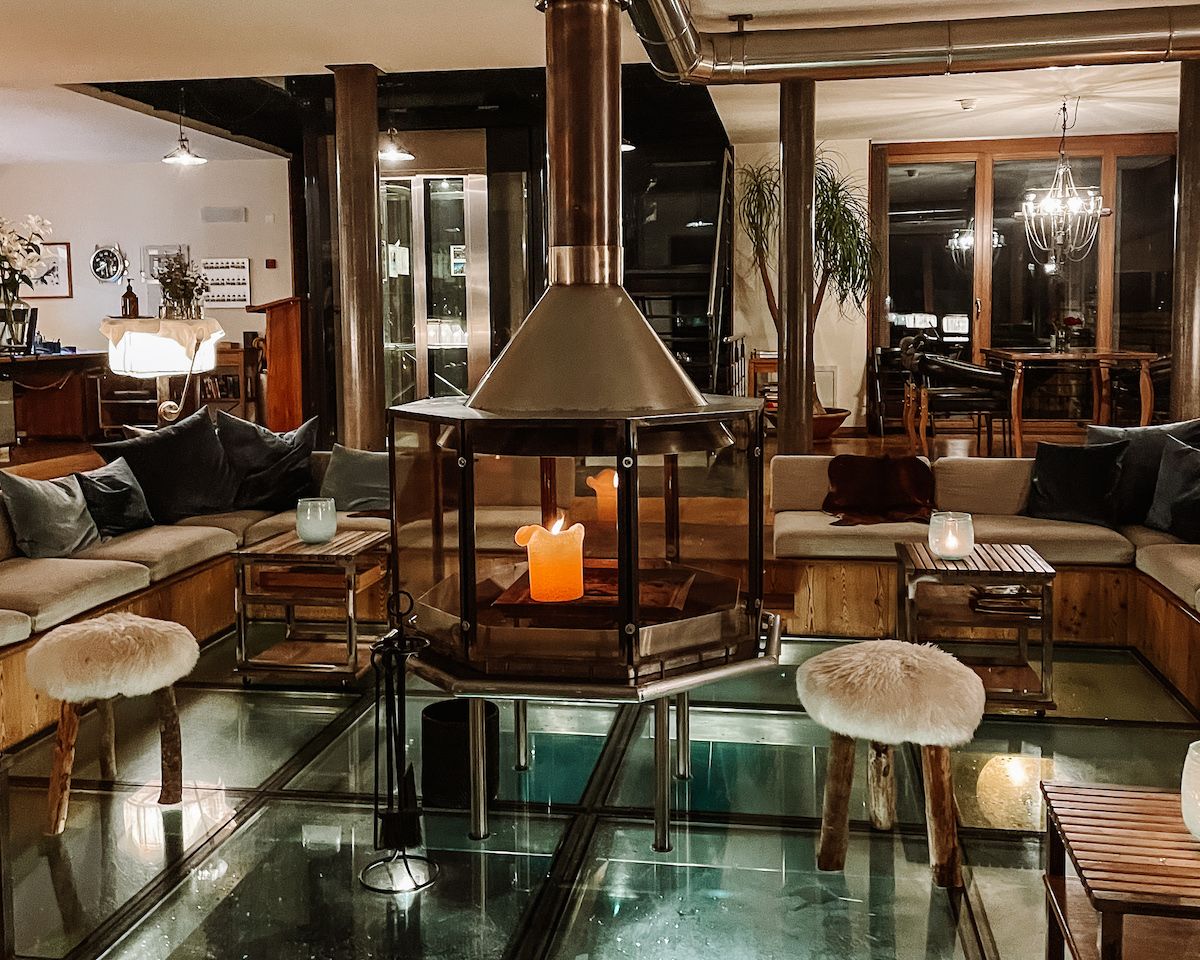 Best accommodation overall: Hotel Coeurs Des Alpes
The chic boutique hotel has one of the best views of the Matterhorn and is only a 2 minute walk from the e-bus stop and a 3 minute walk to the lift that takes you to Matterhorn Glacier Paradise. The centre of Zermatt is a 7 minute walk away. During your downtime, relax at their luxurious spa which includes a hammam, two saunas, indoor pool and outdoor hot tub with Matterhorn views.
Best accommodation near lift to Matterhorn Glacier Paradise: Focus Matterhorn
The stylish hotel has an unobstructed view of the Matterhorn and the lift to reach Matterhorn Glacier Paradise is only 20 m away. After a day of skiing, unwind in their lavish spa which includes a caldarium, indoor pool, Finnish sauna and outdoor jacuzzi.
Best accommodation near lift to Sunnegga: Cervo Mountain Resort
The high-end hotel is located next door to the Sunnegga lift and has a fabulous spa inspired by Bhutanese hot stone baths, Japanese onsens and European saunas. Their award-winning Italian restaurant, Madre Nostra, is recognized by Gault & Millau with 14 points.
Browse more stays in Zermatt
17 Top Things to do in Winter in Zermatt
1. Ski at Sunnegga Paradise for stellar Matterhorn views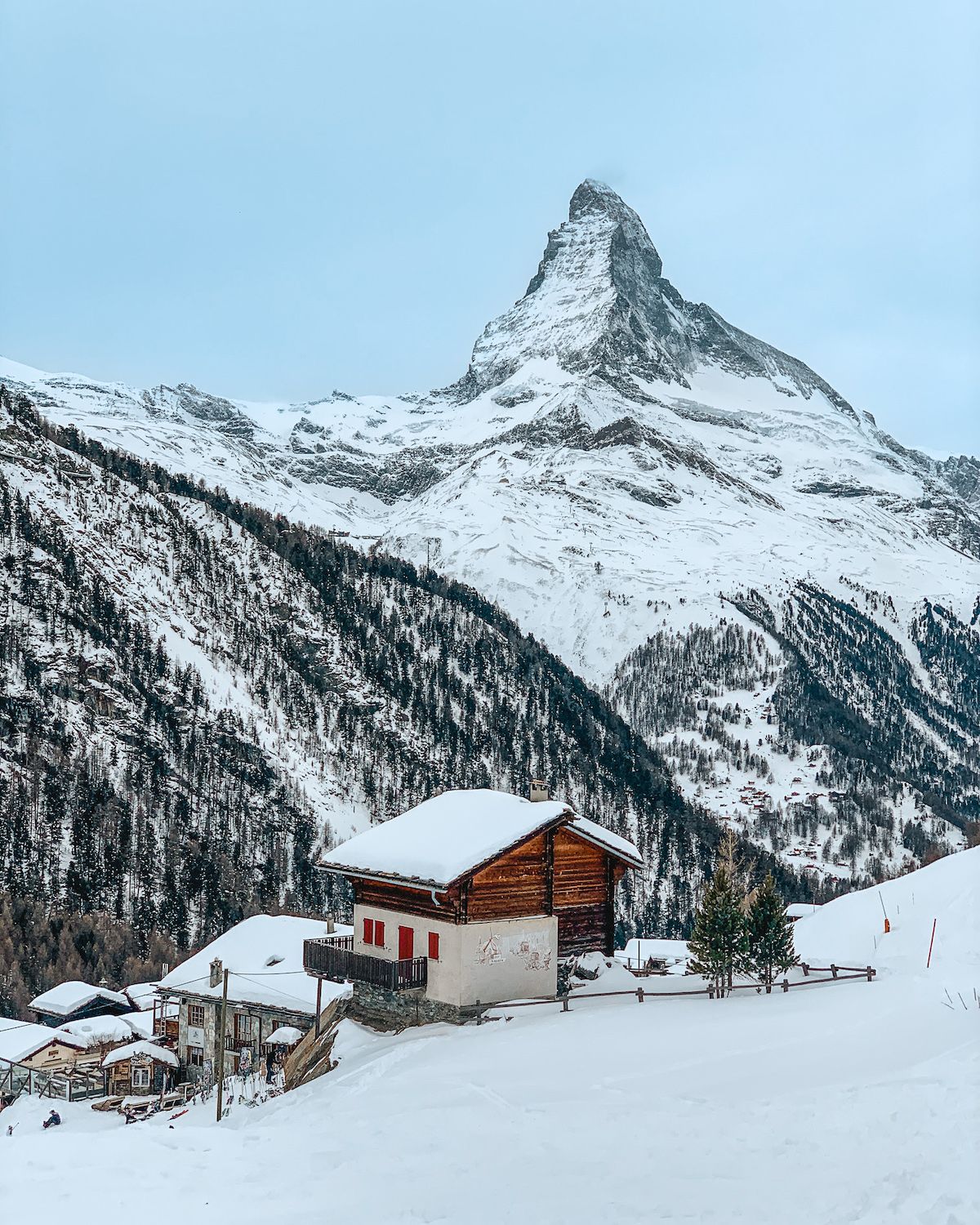 Sunnegga Paradise is the area where you have those picture-perfect views of the Matterhorn as you ski. If you're a family, it's a great place to ski since kids can learn at Wolli Park.
To get to Sunnegga Paradise, take the funicular from the Zermatt valley station to Sunnegga. From Sunnegga you can also access the ski runs at Blauherd and Rothorn, which are higher up the mountain.
2. Ski to Chez Vrony for lunch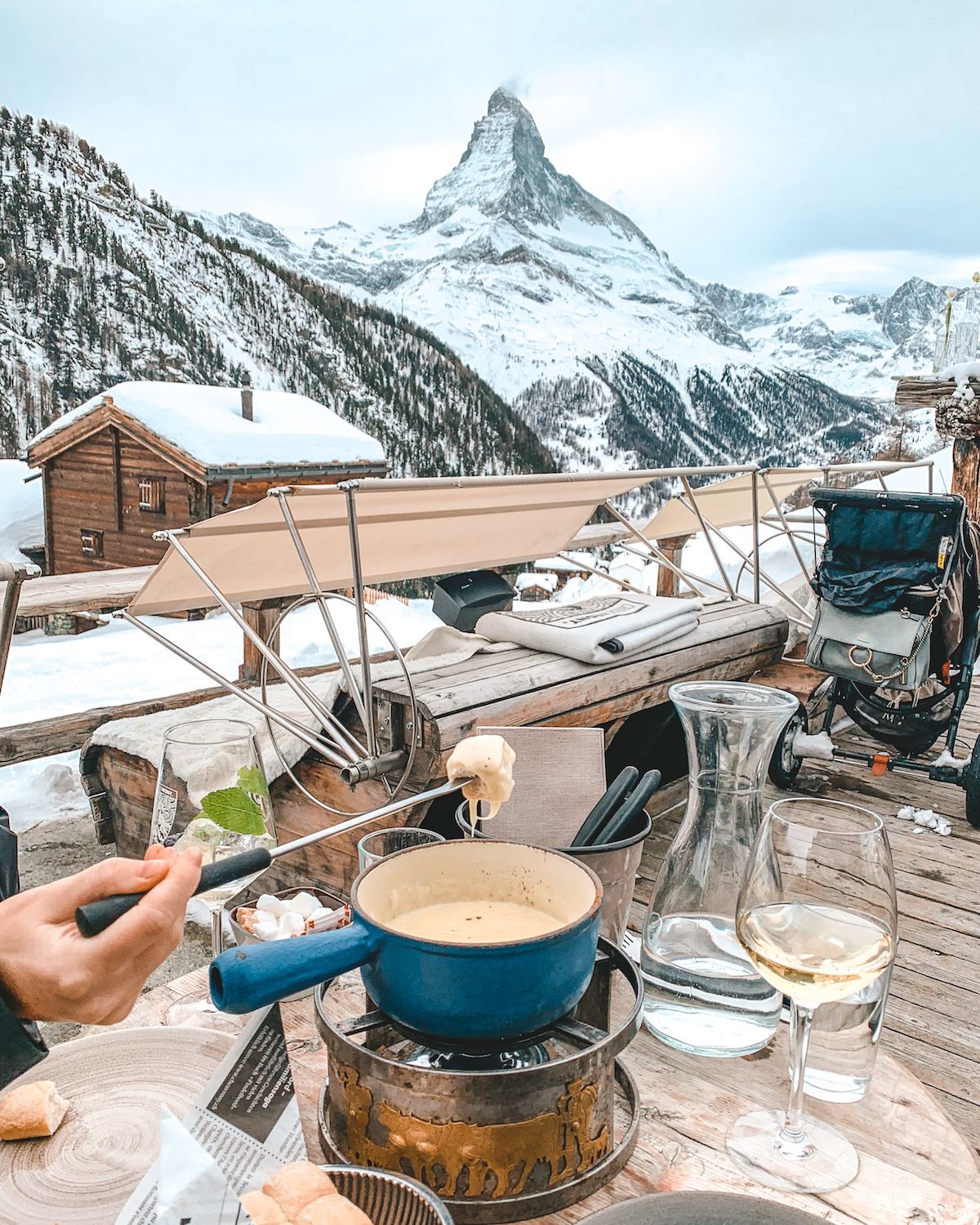 Chez Vrony is one of the chicest restaurants tucked away in the Swiss Alps. With its cool atmosphere and delicious food, it's no wonder it's listed in the Michelin guide. On the way down the slopes, take off your skis and warm up with some cheese fondue on their outdoor patio overlooking the Matterhorn.
To get to Chez Vrony with skis: take Sunnegga - Findeln (Slope 6)
3. Get a ski lesson from a pro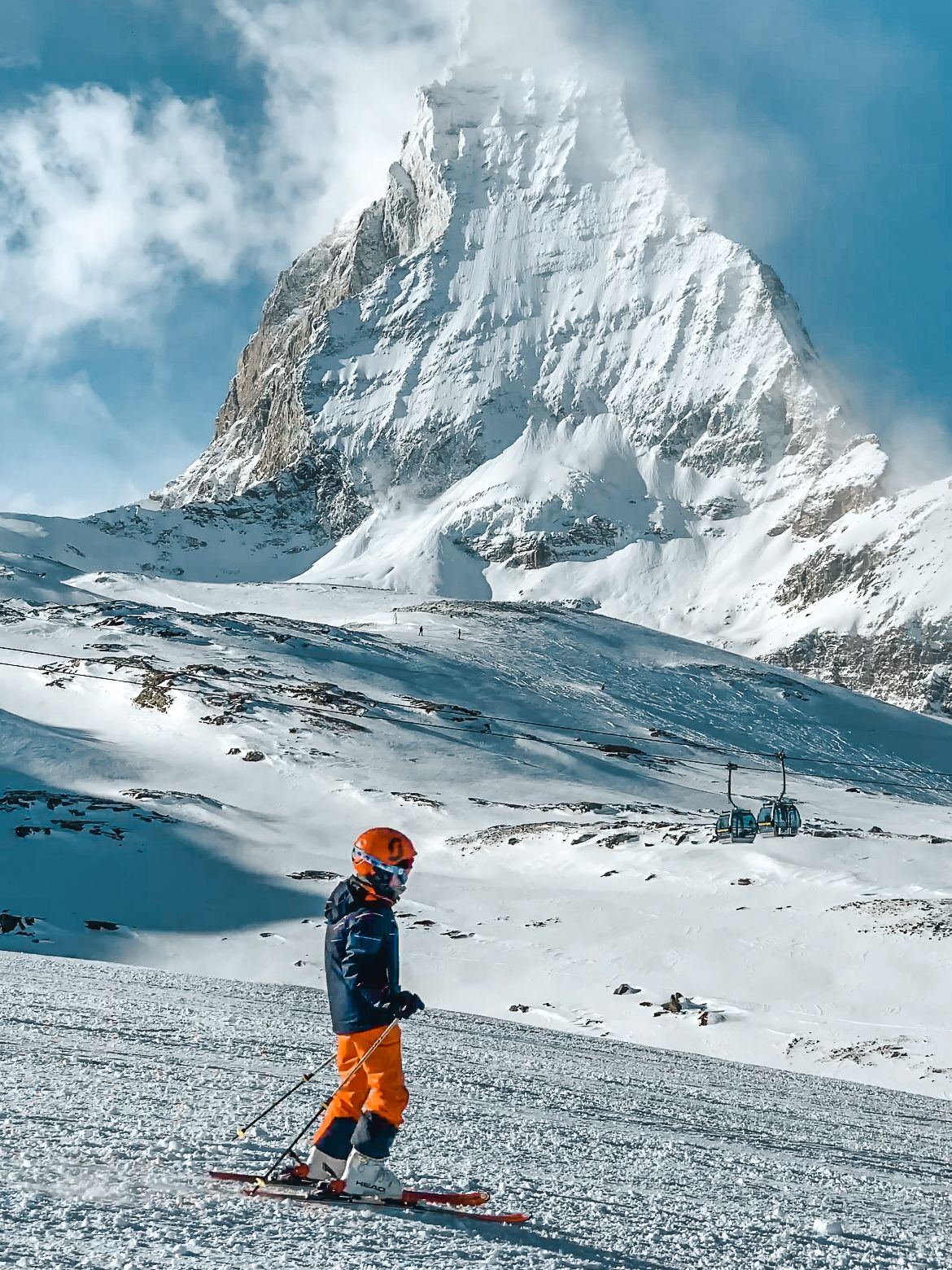 If you've never skied before, Zermatt is a wonderful place to learn! I had only skied a few times before so I decided to get a private ski lesson.
We started at the bunny hill in Sunnegga called Wolli Park and once I gained enough confidence I tried out some of the easy ski runs. It was nice having someone to guide me and give feedback. You don't want to pick up bad habits when you're just starting out! It was also nice not having to worry about what ski runs were suitable for me.
You can easily book a private ski lesson with Evolution Ski School through Viator.
We like how you can cancel up to 24 hours in advance for a full refund.
4. Pamper yourself at the spa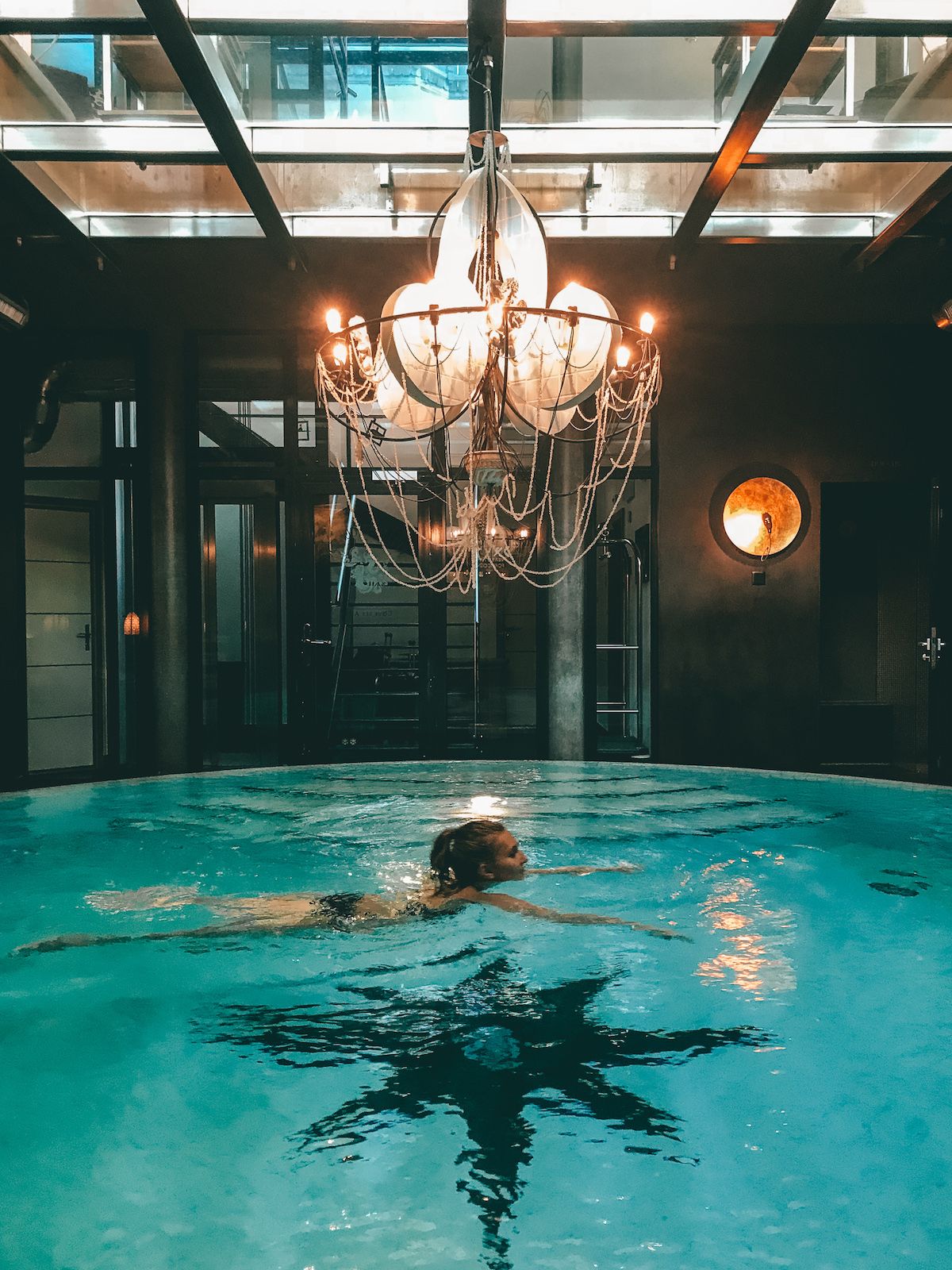 After a day of skiing or snowboarding, treat your sore muscles with a day of relaxation. We loved utilizing the spa in our hotel and booked a 60-minute relaxation massage.
If the hotel you're staying at doesn't have a good spa, there are hotels that offer spa passes to non-hotel guests. Coeur Des Alpes offers a spa pass for CHF 50 and Cervo Mountain Resort offers a pass to their Mountain Ashram Spa for CHF 85.
5. Take the cog railway up to Gornergrat at 3,100 m elevation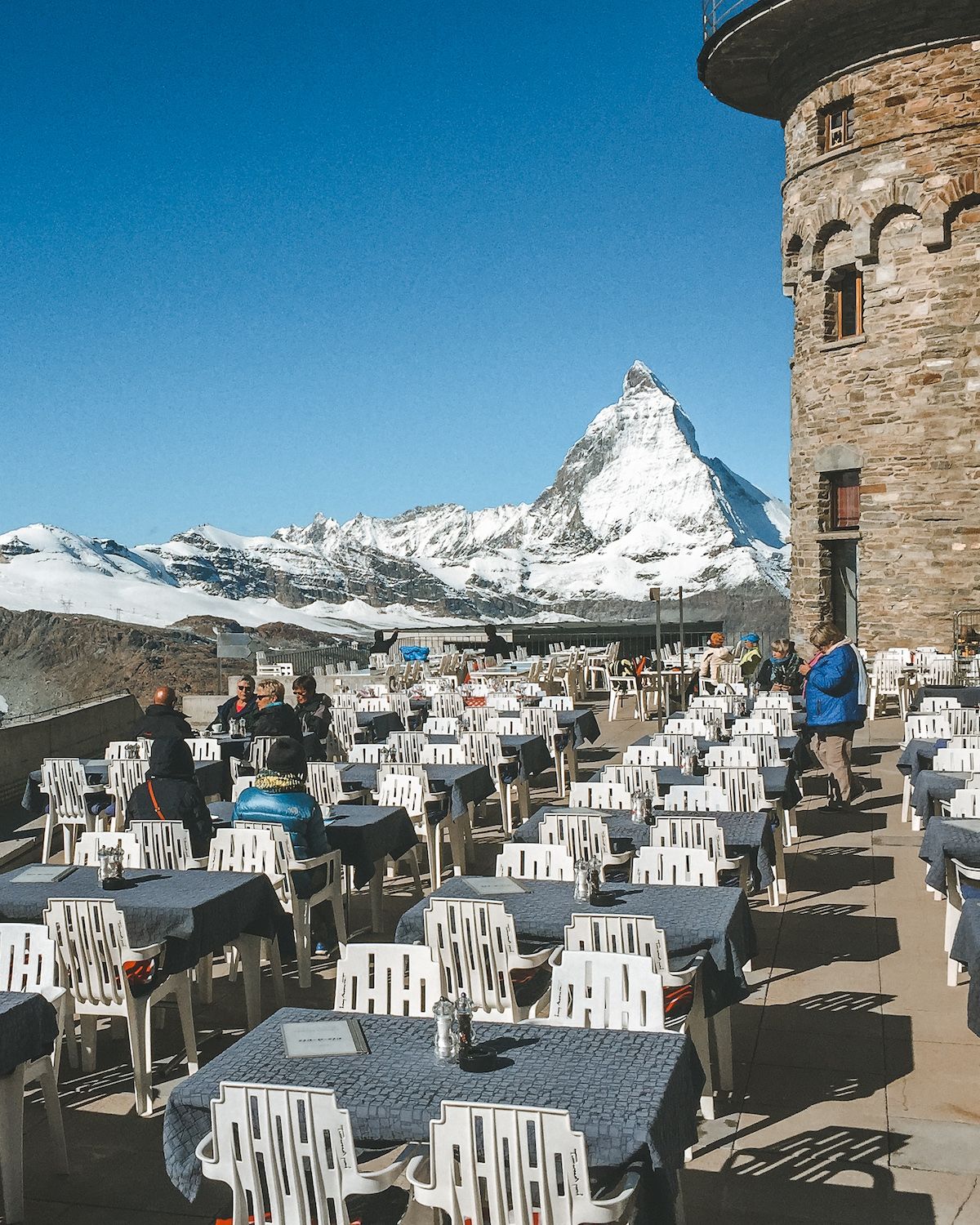 One of the best things to do in Zermatt for non skiers is take the cog railway up to the summit of Gornergrat. Standing at the top at 3,100 m elevation, you are surrounded by snow covered peaks and have breathtaking views of the Matterhorn. Make sure you're dressed in warm winter attire so you can take your time and drink coffee on the restaurant terrace.
The Gornergrat bahn leaves from Zermatt and is about a 30 minute journey. Tickets are a bit pricey, but it's especially worth it if you don't plan on doing any skiing in Zermatt.
Top Travel Tip: We recommend only travelling up to Gornergrat if it's a clear day. In the mountains, your best bet for clear skies is in the morning before the clouds rise from the valleys below.
You can easily purchase tickets for the cog railway to Gornergrat with GetYourGuide.
We like how you can cancel up to 24 hours before for a full refund.
6. Snowshoe through the Alps for panoramic views
If you're not a skier but want to get out in the snow, snowshoeing is a great option. There are two beautiful panoramic snowshoe trails with views of the Matterhorn you can take from the Gornergrat Bahn.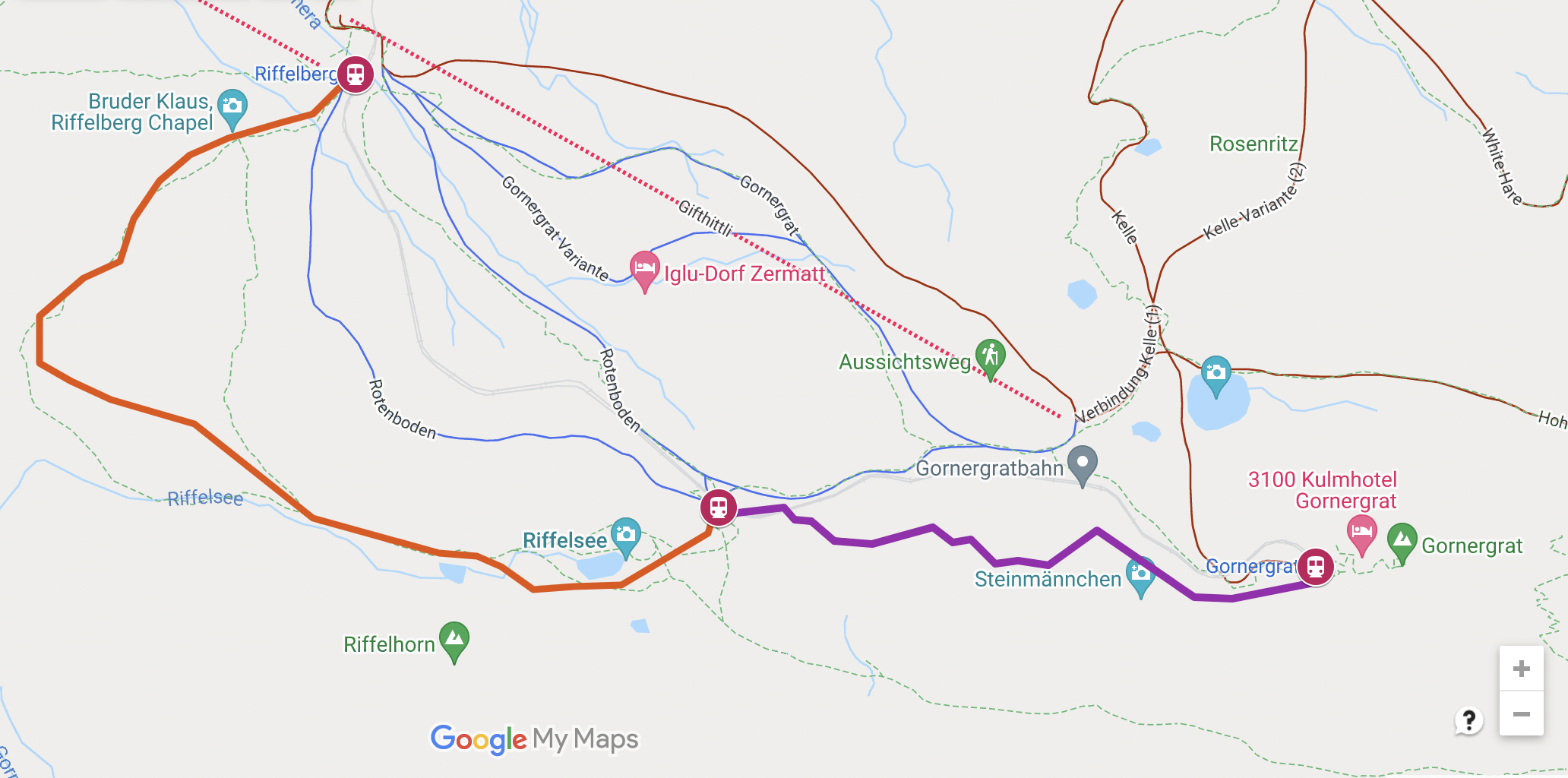 Challenge Trail
The Challenge Trail starts at Gornergrat and ends in Rotenboden. The hike is 1.7 km and rated as easy, which is kind of funny because it's called the Challenge Trail. Give yourself an hour to do the hike. See the full trail map here.
Panorama Trail
The Panorama Trail starts at Rotenboden and ends in Riffelberg. The hike is 2.5km and rated as a medium difficulty. Give yourself 1.5 hours. See the full trail map here.
For a longer snowshoe hike, you can also combine both trails!
7. Warm up in the hot tub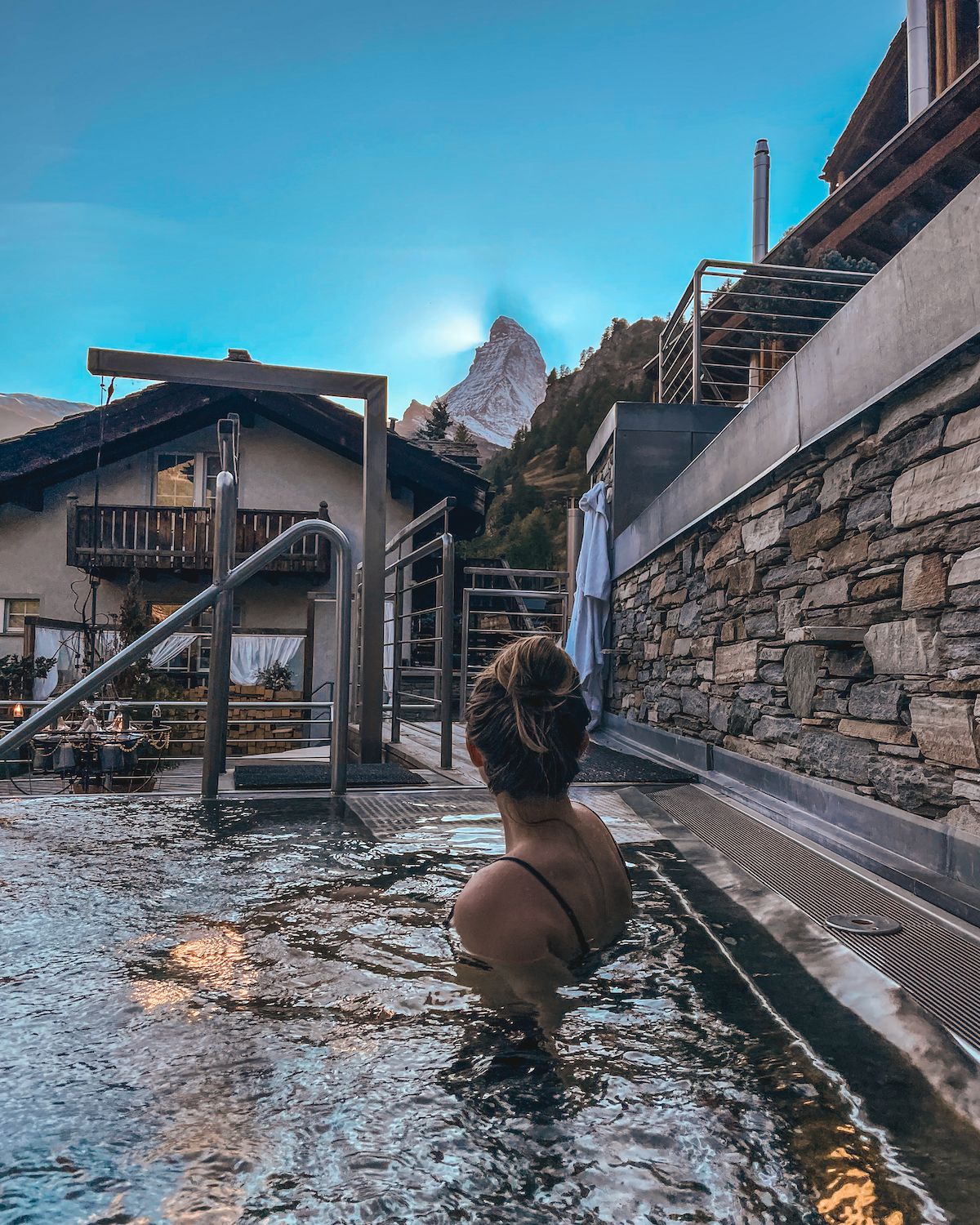 Get out of the cold and warm up your body in the hot tub back at your hotel. Or, if you have a spa tub in your room, draw yourself a bath and put on Radio Swiss Jazz.
8. Ski the longest ski run in Europe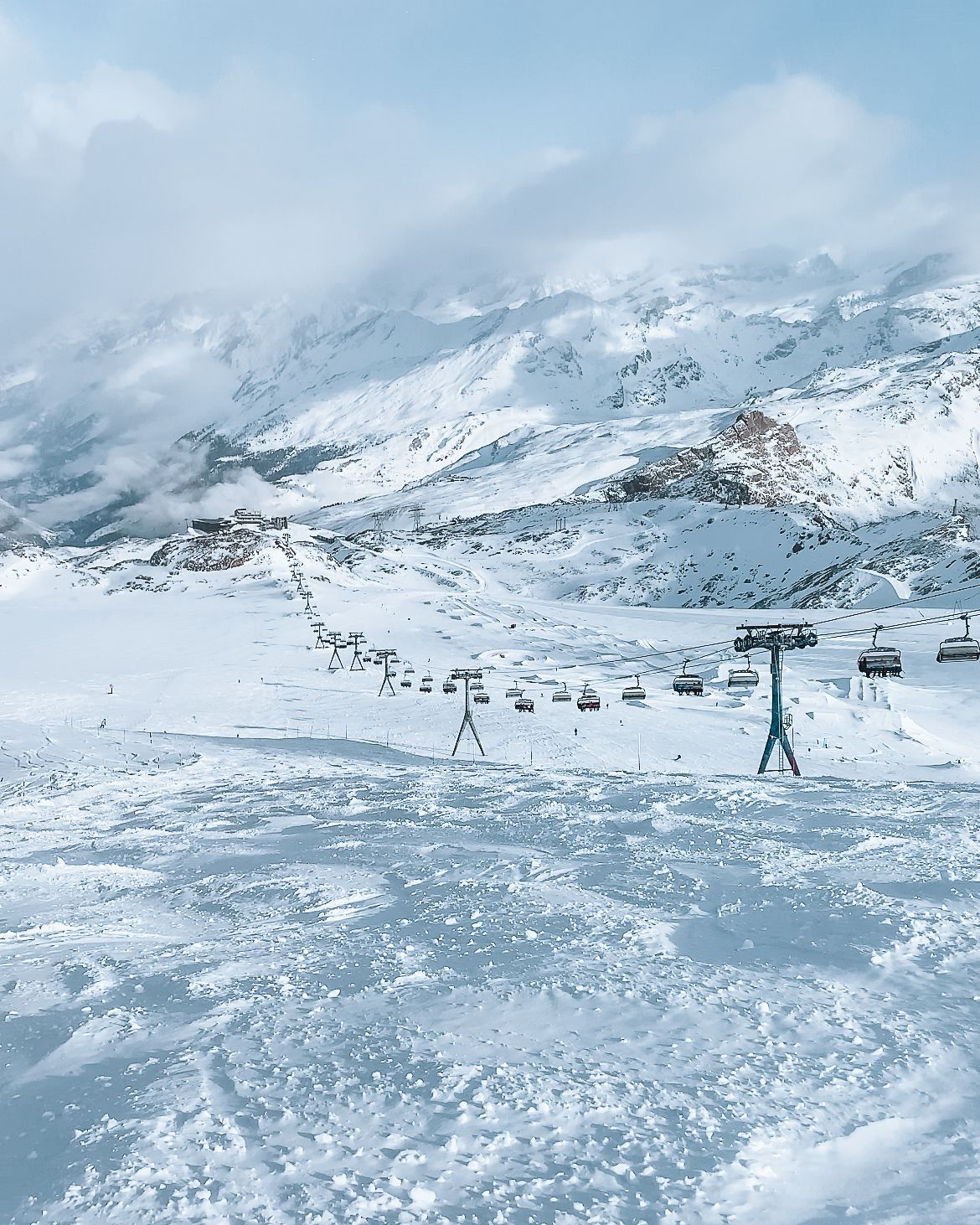 Take the gondola up to Matterhorn Glacier Paradise to ski the slopes. It's the highest cable car station in Europe at 3,883 m elevation! On the border of Italy and Switzerland, you will see the highest peaks in Italy and Switzerland as well as the Matterhorn from a completely different angle (you may not even recognize it).
This is where you will find the longest ski run in Europe. Starting from Klein Matterhorn and ending in Zermatt, it's 25 km long!
Top travel tip: when it's too windy, the ski lifts to Matterhorn Glacier Paradise close, so if it's a calm day, take the opportunity and go early.
9. Ski from Zermatt to Italy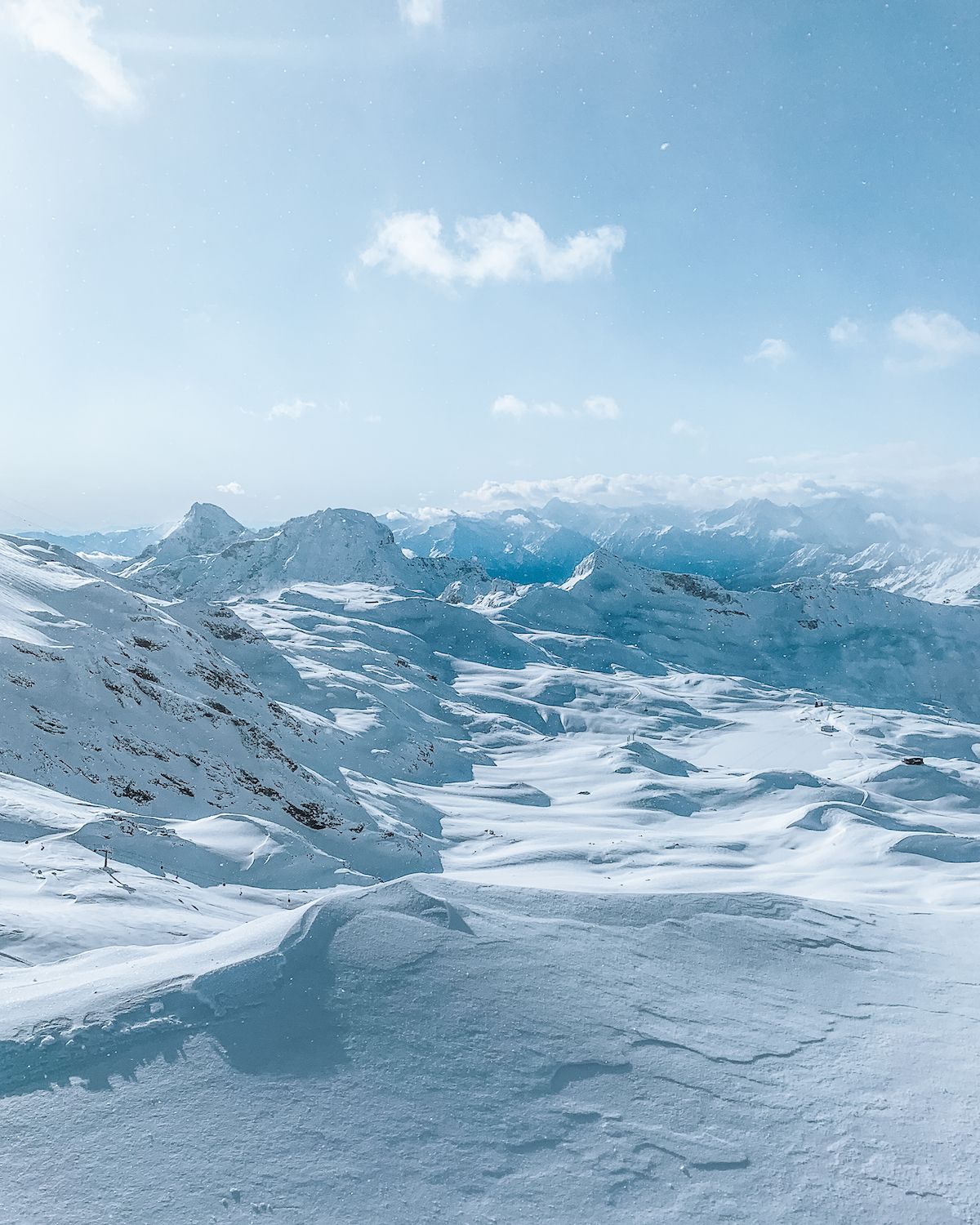 From Matterhorn Glacier Paradise, one of the coolest winter activities you can do is ski to the Italian side. This is recommended for good skiers only and will require a full day.
The route:
Take the gondola up to Matterhorn Glacier Paradise 🚡
Ski towards the Italian side and stop for an Italian espresso once you cross the border ☕🎿
Ski to the Italian towns of Breuil-Cervinia or Valtournenche and switch up the cuisine for a tasty Italian lunch. 🍝🎿
Make sure you don't miss the last lifts to get back up to the Switzerland side, or you'll have to spend the night in Italy! Give yourself lots of time.🚡
10. Eat heartwarming Swiss Cheese specialities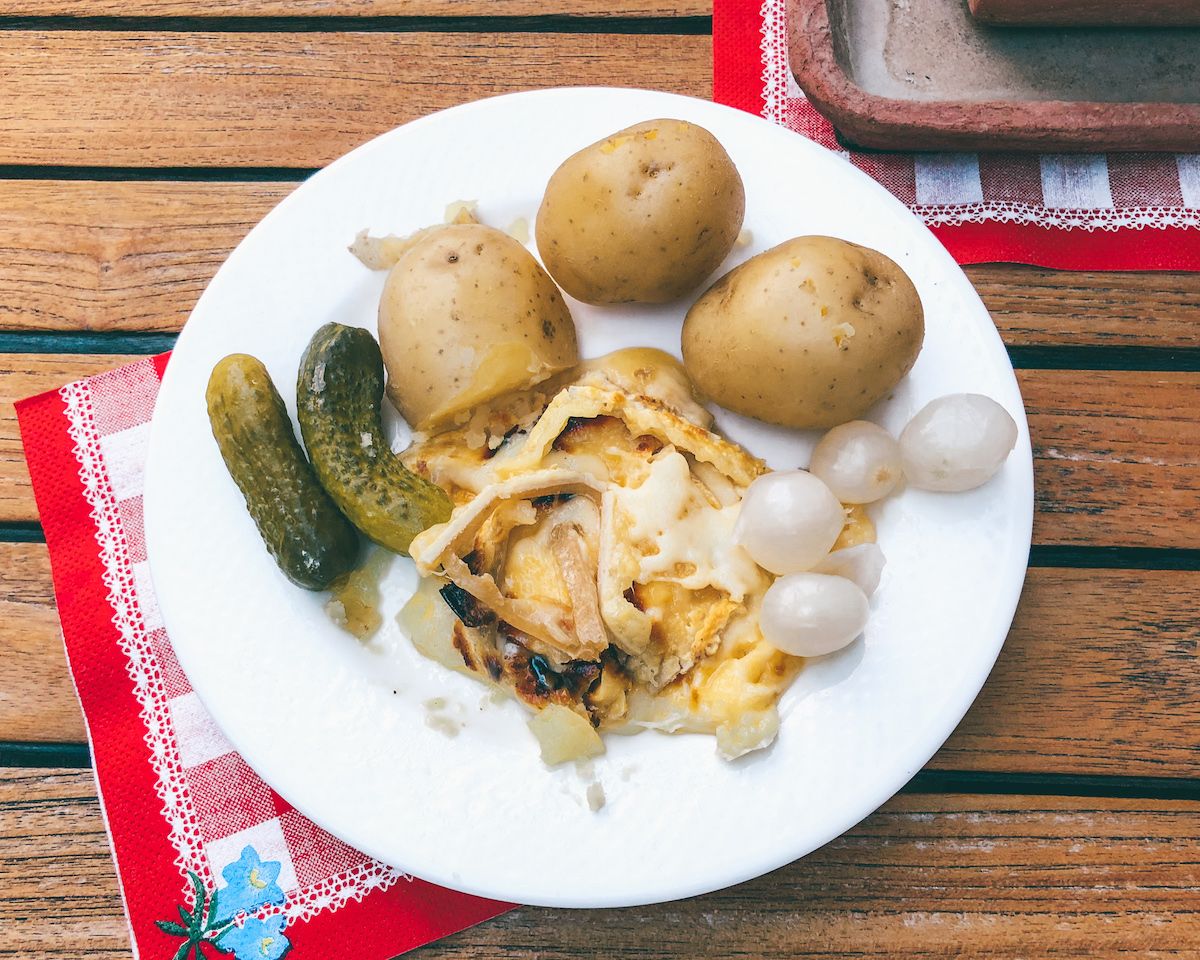 One of the best reasons to visit Zermatt is for its food alone. There are two must-try Swiss cheese specialities: cheese fondue and raclette.
Cheese Fondue
Bubbling cheese fondue pairs perfectly with a day out in the snow. Use your fondue fork and dip your bread or veggies into the pot filled with Swiss cheeses (typically gruyere and emmental). For classic wooden chalet vibes, make a reservation at Whymper Stube for dinner.
Raclette
Raclette is our favourite Swiss dish. It's prepared by heating a half wheel of cheese under a large heating element and scraping off the top layer that crisps up and bubbles. It's served with a couple baby potatoes, cornichons and pickled onions. For dinner, make a reservation at the cozy alpine restaurant, Schaferstube, for some of the best raclette in town.
11. Party après-ski style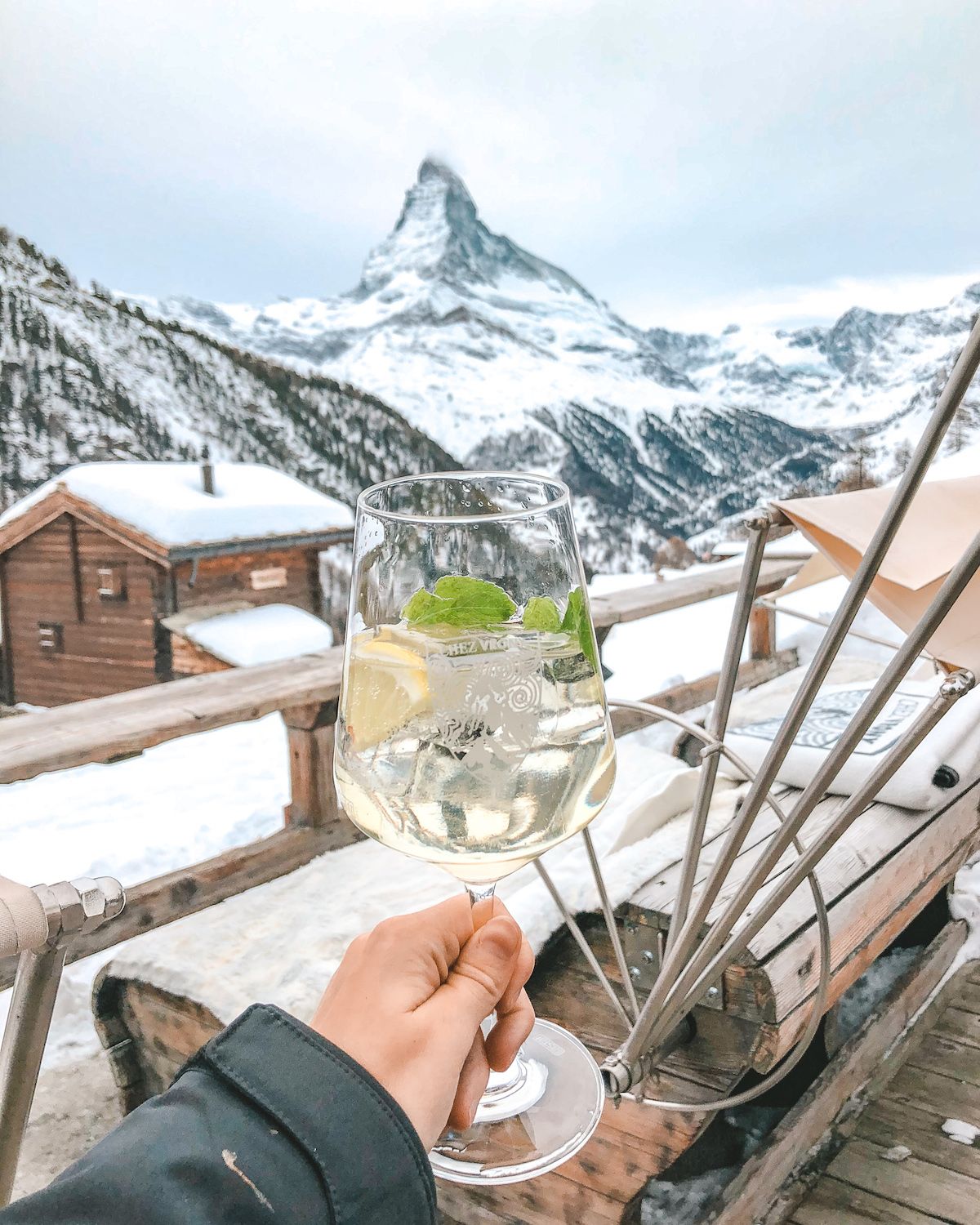 Zermatt is one of the best mountain towns for apres-ski, the partying that follows after a day of skiing. You don't have to be a skier to get in on the action. Many apres-ski joints are within walking distance.
Best apres-ski in Zermatt
Zermatt centre

Harry's Bar 🎉
Elsie's 🍷
Papperla Pub 🍺
Bar 55 🍸

Sunnegga

CERVO 🎉
Chez Vrony ✨ (ski-access only)

Furi
12. Cozy up by fireplace in your room and play cards or board games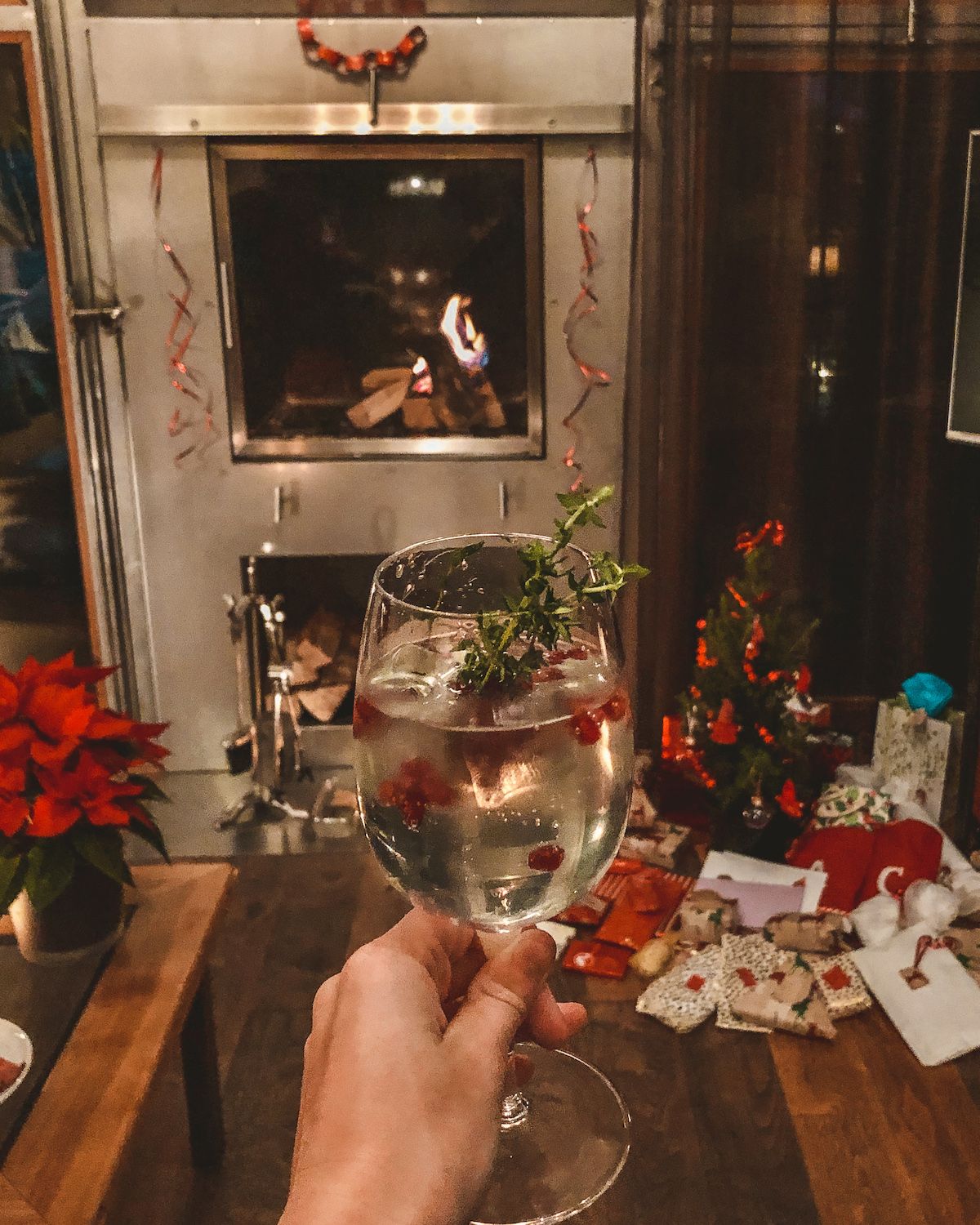 Listen to the crackle of the fire with some festive tunes as you cozy up in your hotel room. We love spending downtime in our room and always bring cards and board games to play. It was December when we visited, so we even brought presents to open!
13. Hike to a mountainside restaurant for lunch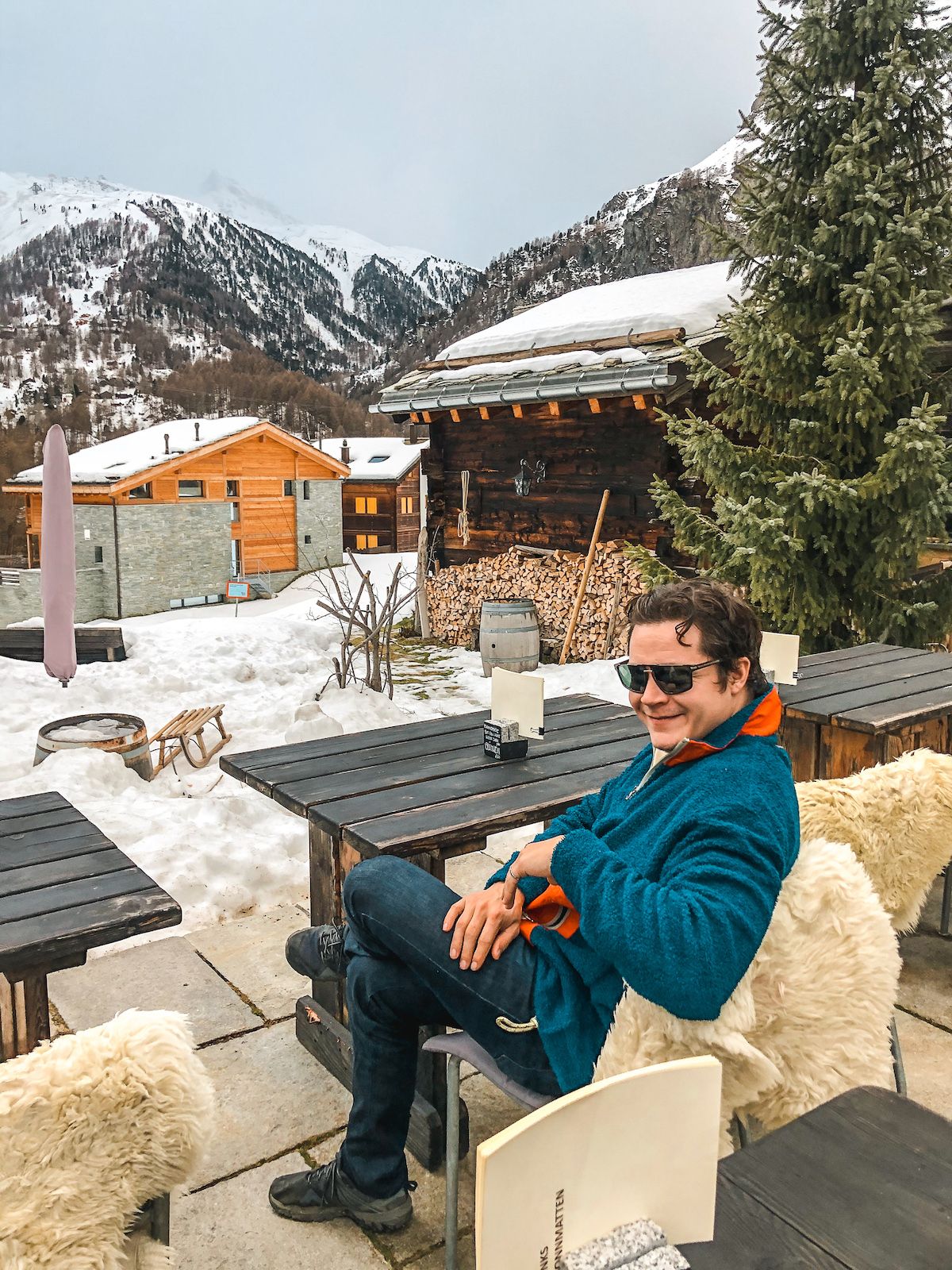 Pack a good pair of winter boots, because there is a nice winter trail that takes you to amazing restaurants tucked away in tiny mountainside hamlets.
The route:
4.7 km roundtrip  | 158 m ascent | 158 m descent
Take the Zermatt - Furi (Nr. 118) winter hiking trail towards the hamlets of Blatten and Zum See.
From the centre of Zermatt, it takes about 30 minutes and a 126m ascent to walk to Blatten. Stop at Restaurant Blatten for some coffee or drinks on their large outdoor terrace.
From Blatten, it's a 7 minute walk to Zum See. Grab a bite to eat at Restaurant Zum See, a traditional wooden-chalet listed in the Michelin Guide. Enjoy their rosti, homemade pastas or one of the Mediterranean specialties.
From Zum See it's a 37 minute walk back down the hill to Zermatt.
14. Try Swiss wines at Elsie's Wine & Champagne bar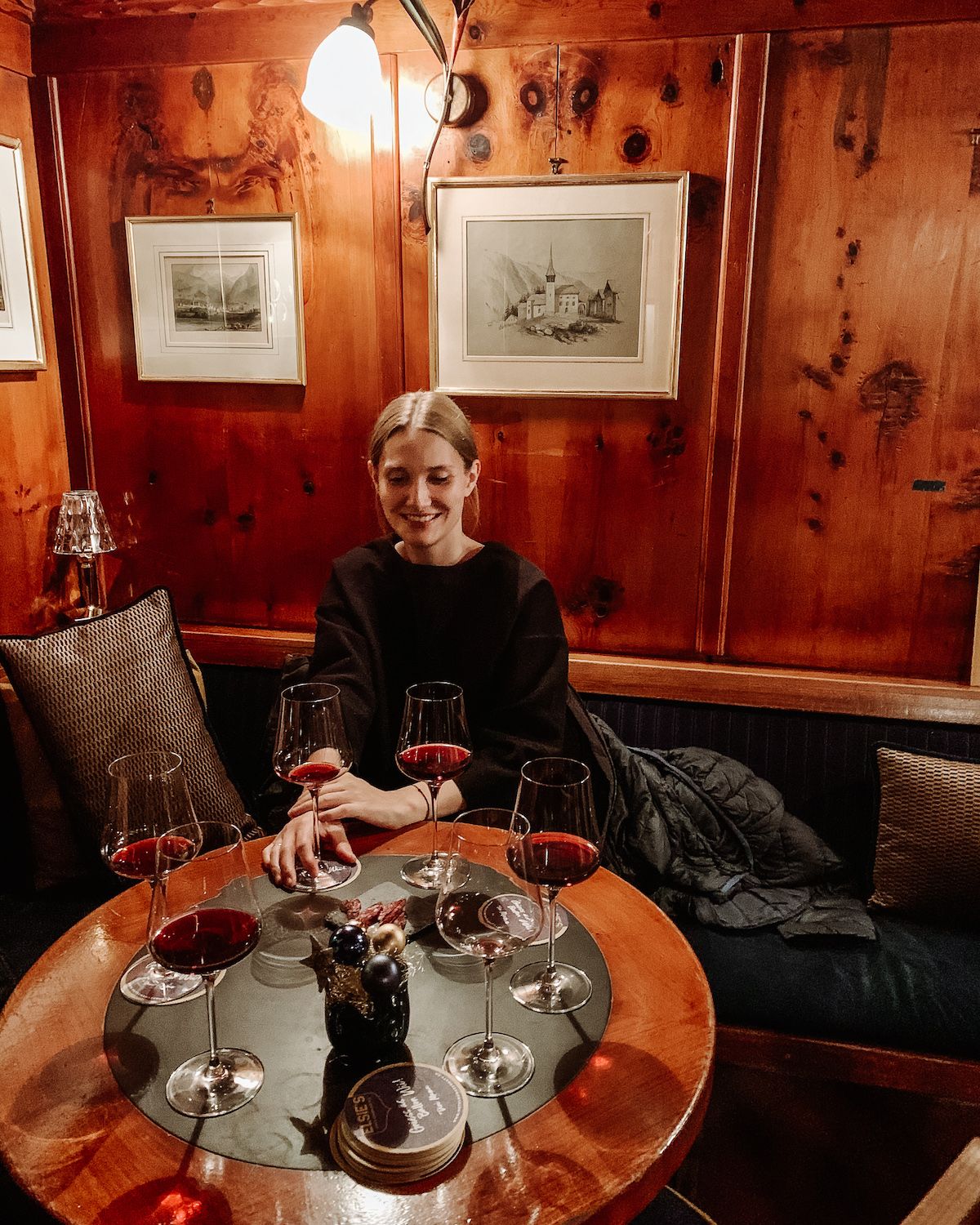 With over 200 grape varieties in Switzerland, there is a whole wine scene to explore. Swiss wines are difficult to find outside of the country since they only export 2% of them. Zermatt is located in the canton of Valais, which is the largest wine region of six.
Our favourite Valais wines are the Heida, which pairs perfectly with cheese fondue and raclette and the Cornalin, which is goes well with cured meats. Try them out at Elsie's Wine & Champagne Bar, a cozy spot with a good local's vibe.
15. Shop Zermatt's boutique stores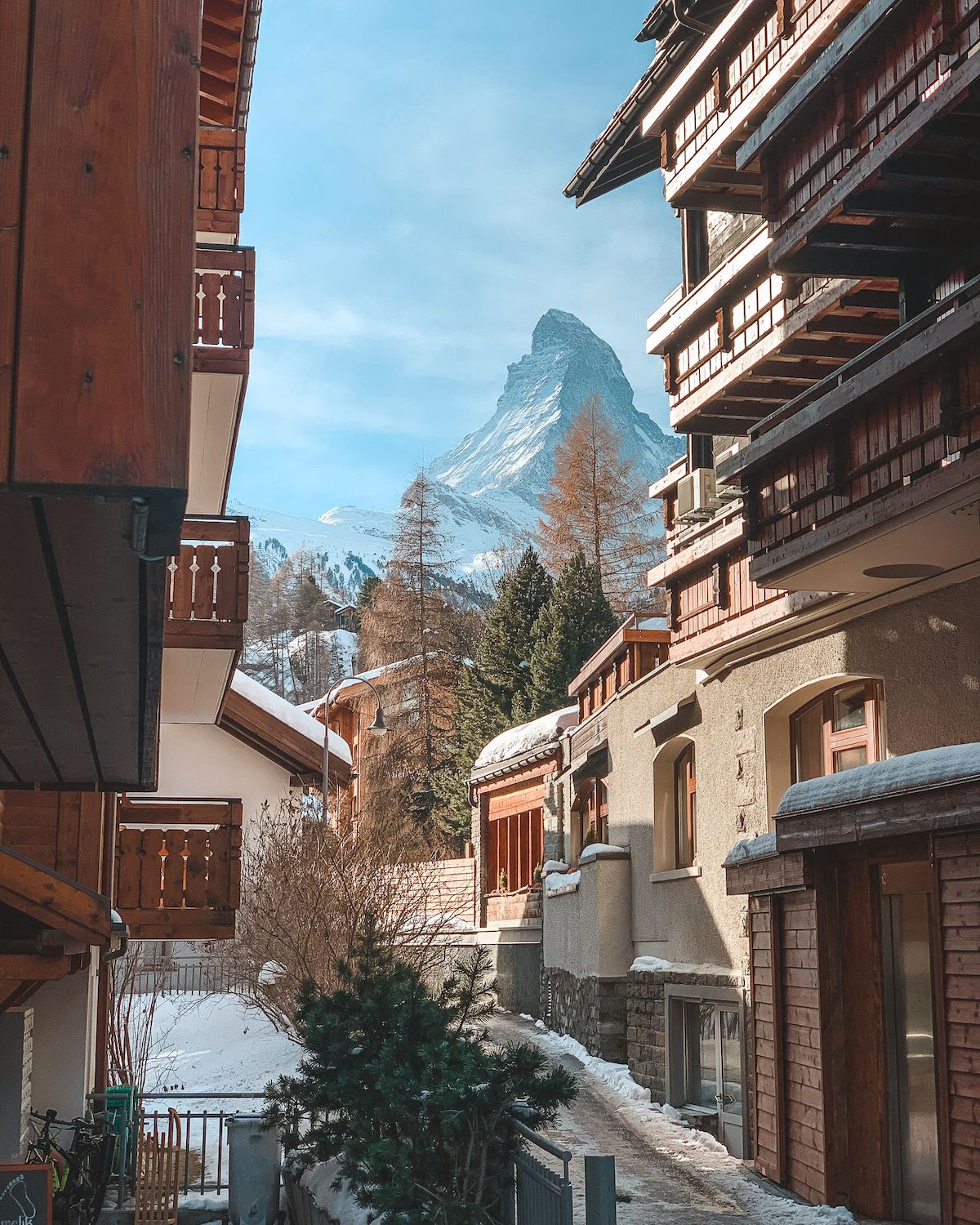 Walking through the village of Zermatt feels like a Christmas movie with its snow-topped wooden chalets and small streets lined with boutique stores and restaurants. Save some time to shop in the quaint mountain village. We bought ourselves a raclette machine and an orange Le Creuset fondue pot!
16. Discover Zermatt's gastronomic scene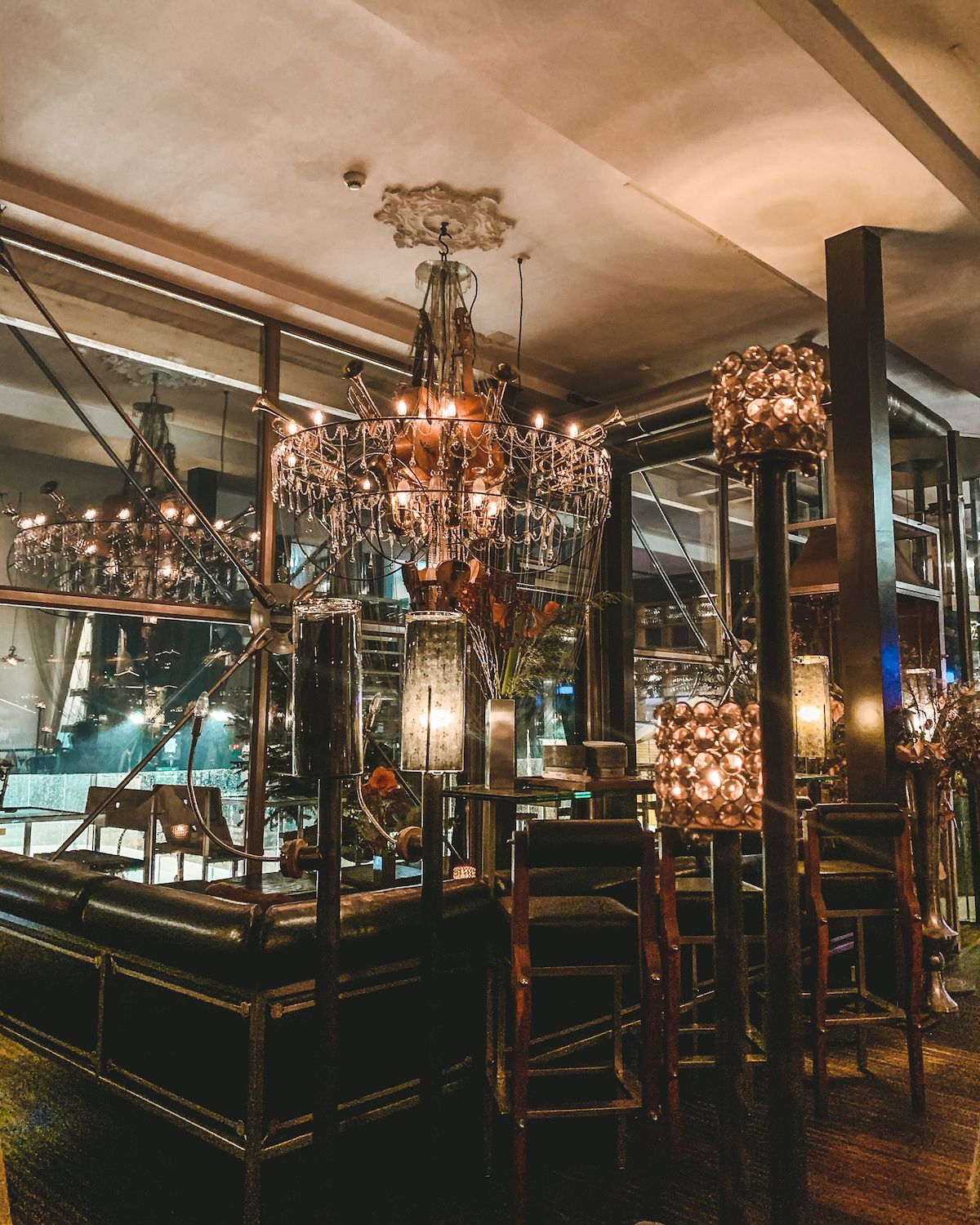 Zermatt is a culinary hot spot with 20 of its restaurants awarded Gault & Millau points and 6 of them listed in the Michelin Guide.
These are our favourite restaurants in Zermatt, each for a unique reason:
Best cafe: Manud. A trendy cafe serving coffee, kombucha, regional wines and tasty bites. Go for their Manud Hot Dog for lunch, or see which guest chef is featured for dinner. This winter 2022 it's Roberto Catra who specializes in Kaiseki cuisine.
Best for the view and atmosphere: Chez Vrony. The perfect lunch spot on the mountainside overlooking the Matterhorn.
Best for fine dining: After Seven. The impressively-designed restaurant has earned itself a Michelin star and takes you on a culinary adventure.
Best for innovative cuisine in a casual atmosphere: Brassiere Uno. New on the scene, the hip restaurant offers a changing 5-course pre-fixe menu focussing on high-quality and organic ingredients.
Best for meat fondue: Schäferstube. The rustic and woodsy restaurant is known for serving high-quality Swiss dishes made from local ingredients. They are one of the only restaurants that let you do a single portion of meat fondue, rather than requiring a 2 person minimum.
Best for cheese fondue: Whymper Stube. Your classic wooden Swiss chalet serving Swiss comfort food.
Best for raclette: Schäferstube. The cozy restaurant serves some of the best raclette in town.
Best for wiener schnitzel: Sonnmatten. The quaint restaurant serves authentic veal schnitzel during lunch time. It's delicious! If you want schnitzel for dinner, Pinte is also a great spot.
We highly recommend making your dinner reservations in advance since these places book up.
17. Fully-Loaded Experience 🥔✨: Fly over the Swiss Alps on a helicopter tour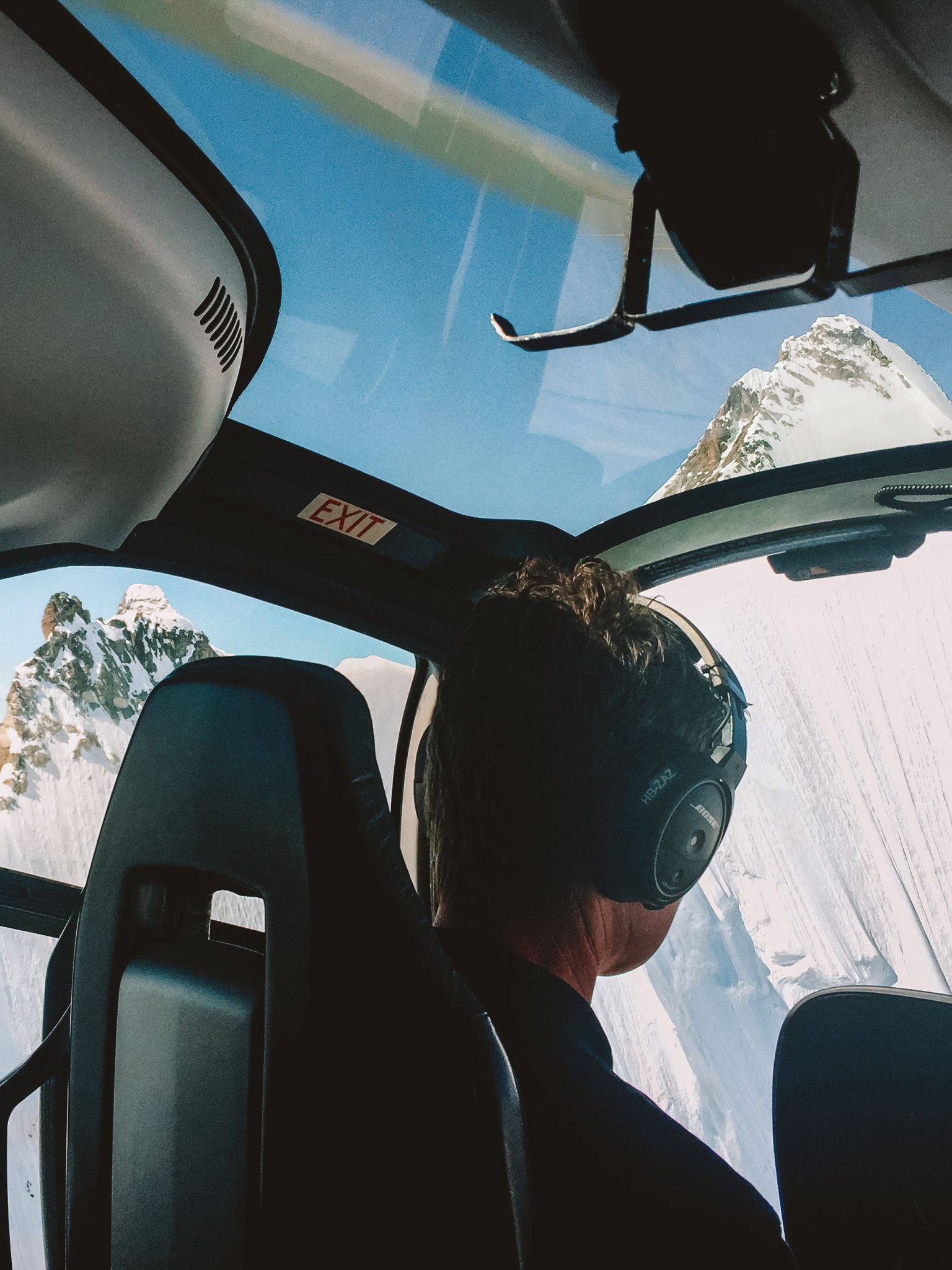 Get up close to the Alps on an extraordinary helicopter ride with Air Zermatt. Air Zermatt offers 20-min, 30-min and 40-min helicopter tours that take you around the Matterhorn and over gorgeous peaks. It was truly an awe-inspiring experience!
🏔 Browse more adventurous tours in Zermatt through Viator.
---
Start planning you trip to Zermatt
Summertime is also a wonderful time to visit Zermatt. Don't miss our list of fun things to do in Zermatt in summer.
---
Save and pin these top things to do in Zermatt in Winter for later: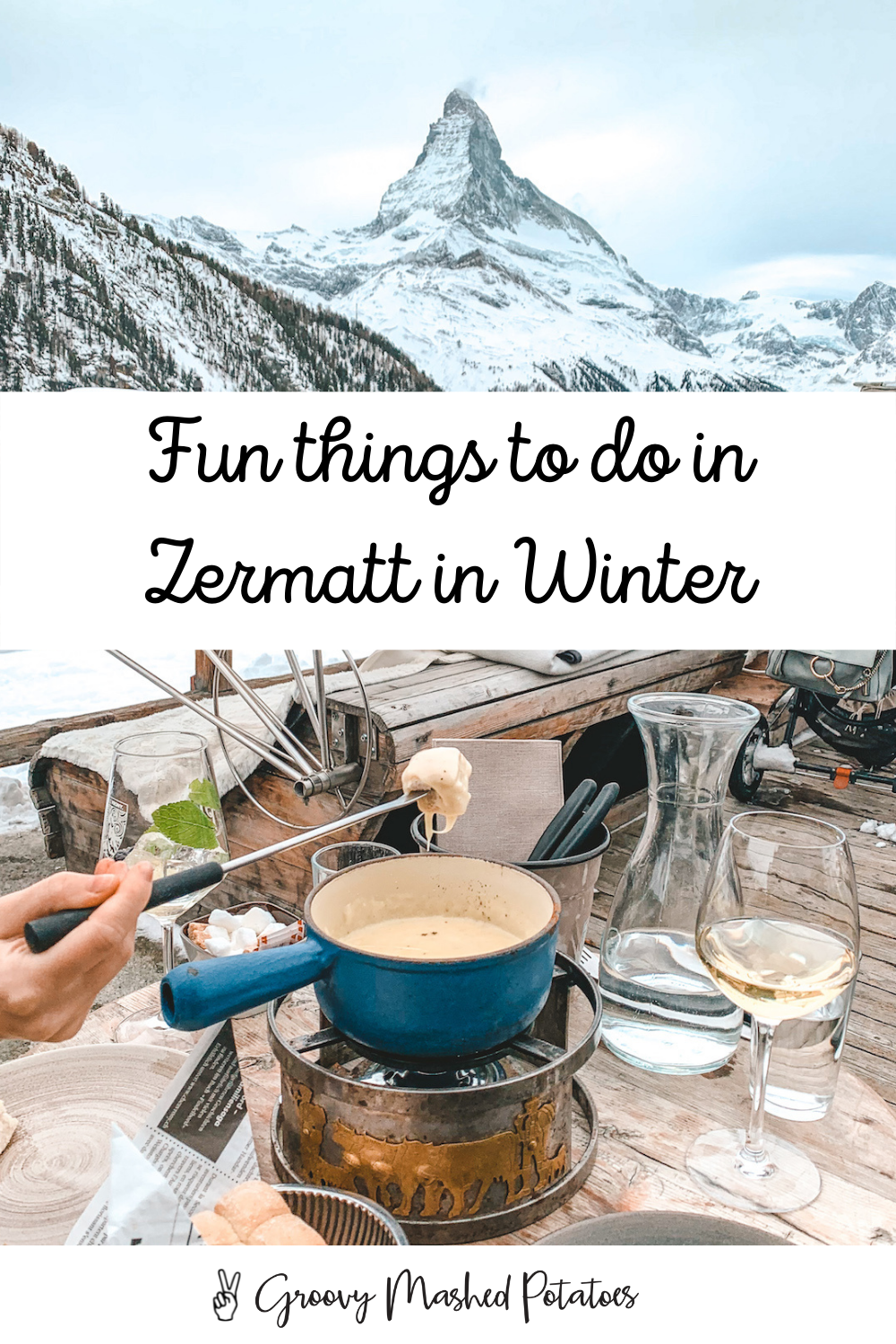 ---
Looking for more travel inspiration? Check out our list of 20 Dreamy Relaxation Trip Ideas and list of Unique Adventure Ideas for Your Next Trip.