What was our favourite country on our trip around the world? We have many favourites, but the biggest standout for us was Georgia. The creative culture, cuisine, wine, fashion and architecture blew us away so much so, that it was the first country we visited again after our world trip ended.
Our 1 week Georgia itinerary first takes you through unique experiences in the creative capital of Tbilisi. Next, you will visit the prominent wine region of Kakheti, where you'll stay in the romantic city of Signagi.
Georgia Itinerary 7 Days
Days 1-5: Tbilisi - explore a capital city that inspires creativity and offers an eclectic mix of experiences.
Days 6-7: Signagi - visit the charming city of the Kakheti wine region, perched on a hill overlooking the beautiful countryside and Caucasus mountains.
---
Best time to visit Georgia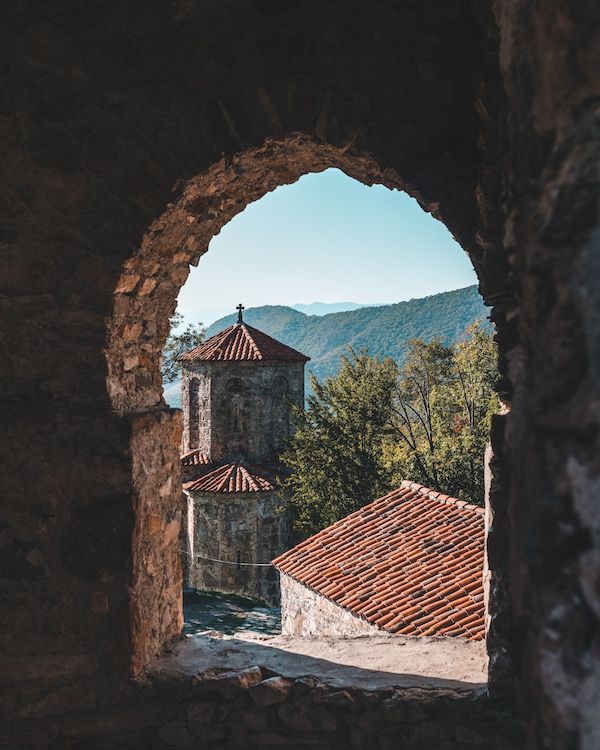 Georgia has a dynamic climate throughout the year. From December - February temperatures can reach below 0°C and from July-August it's uncomfortably hot and humid. The best time to visit Georgia is May, June and September, when it's a warm temperature. September has the least amount of rainy days out of the three months. The benefit of visiting after mid September is that it is grape harvest season and the temperature is more moderate.
1 Week Georgia Itinerary
Disclosure: Some of the links below are affiliate links, meaning at no additional cost to you, we will earn a commission if you click through and make a purchase. Regardless, we only recommend products or services we have used or that we believe will add value to our readers. Thank you for supporting us!
Days 1-5: Tbilisi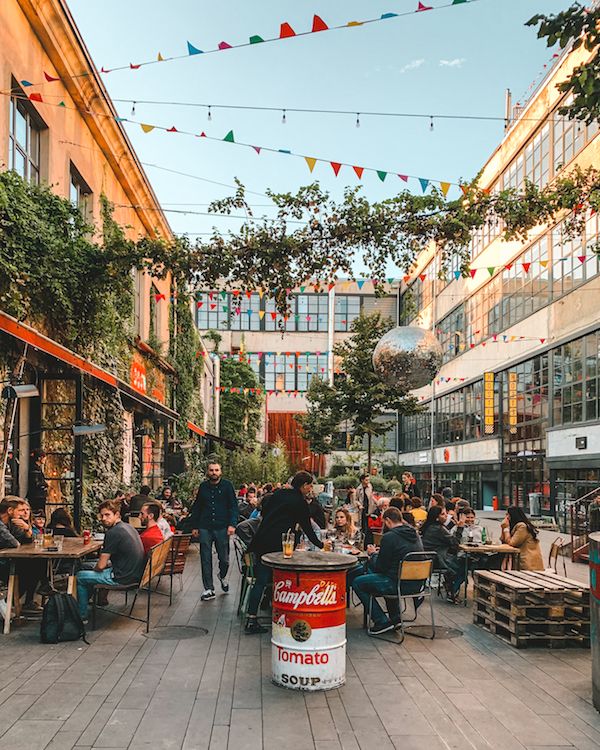 In Tbilisi, you are exposed to so many architectural styles, artistic designs and unique experiences that it is impossible not to leave inspired. Cafes, restaurants and art spaces we visited had their own special style and feeling. Unlike other capital cities that may be known for one thing or another, this city has an eclectic mix of experiences to offer the keen traveller.
Getting around Tbilisi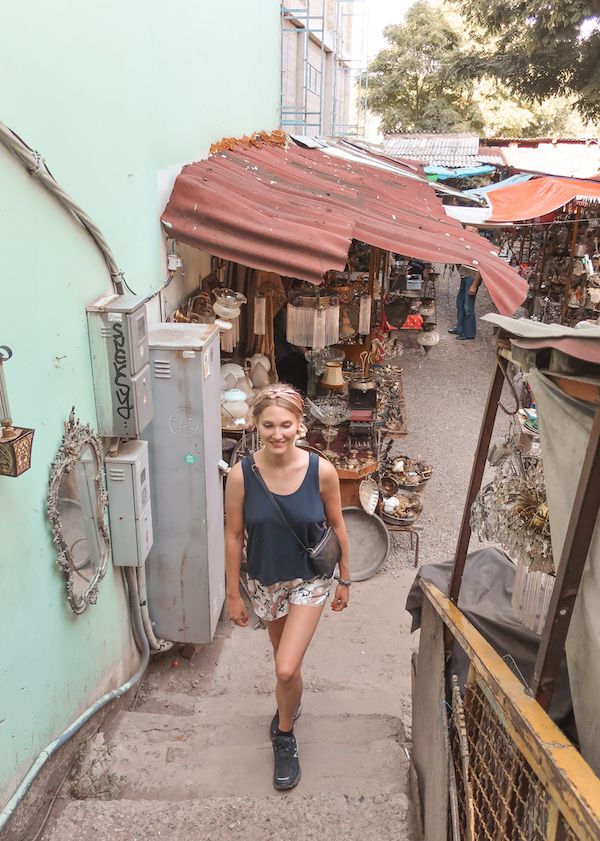 The easiest and best mode of transport is the Bolt taxi app (like uber). It is very inexpensive compared to other western countries. Most rides in town come out to around 4 GEL (~$1.25 USD). Recently, all the streets in Google Maps have been translated into the roman alphabet, so you'll find all your destinations with ease. The first time we visited in 2018 you had to look up the addresses in English then turn your phone's language to Georgian or Russian to then paste into a taxi app!
Where to stay in Tbilisi
At an Airbnb in the Marjanishvili Neighbourhood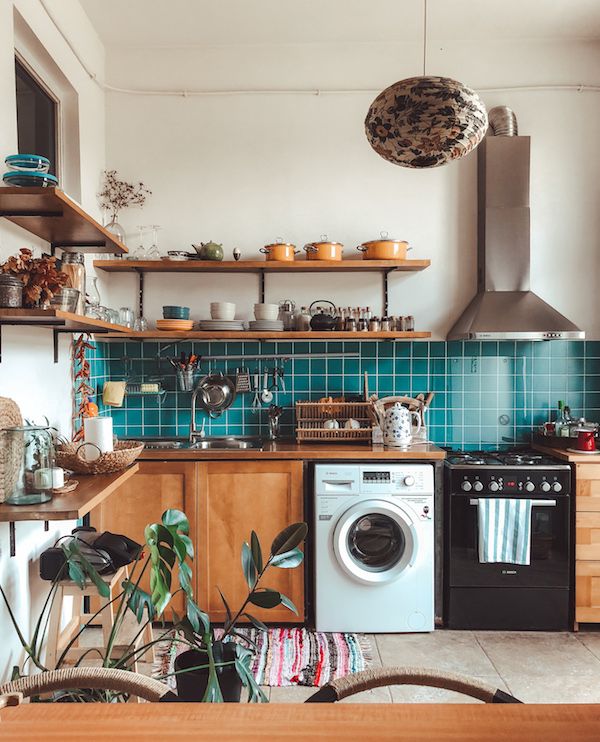 You should consider staying in an Airbnb to have an authentic local experience. Airbnbs in Tbilisi are unique, colourful and a great value.
We have twice stayed at an Airbnb in the hip neighbourhood of Marjanishvili, our favourite area of the city.
It is close to many happening cafes, restaurants, and art spaces and lies just a bit off the beaten path.
Our favourite
airbnb we stayed at
had a quirky style with a beautiful view of the city and river. The Soviet building was formally a house for actors and cinematographers. Our host who owns the apartment inherited it from her Grandma, who was a very famous Georgian actress! We loved making breakfast in the morning after shopping at the local bakery and produce stalls.
Fabrika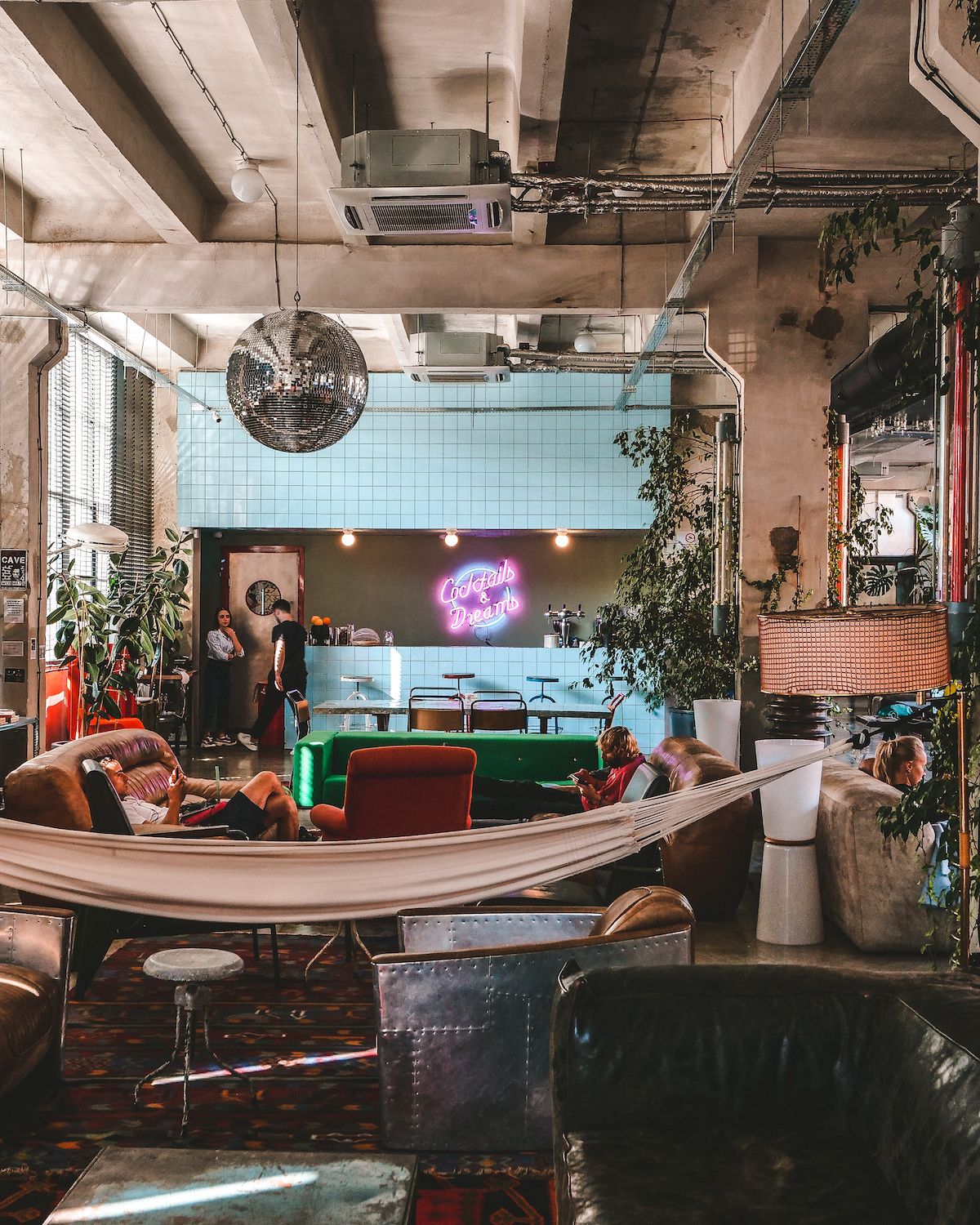 Another awesome spot to consider staying at is Fabrika.
The former Soviet sewing factory has been turned into a creative space
with hip restaurants, cafes, bars, boutiques and the
coolest hostel ever
. It is also located in the Marjanishvili area. Rooms start from $67 USD - $83 USD for two people depending on the time of year you travel.
STAMBA Hotel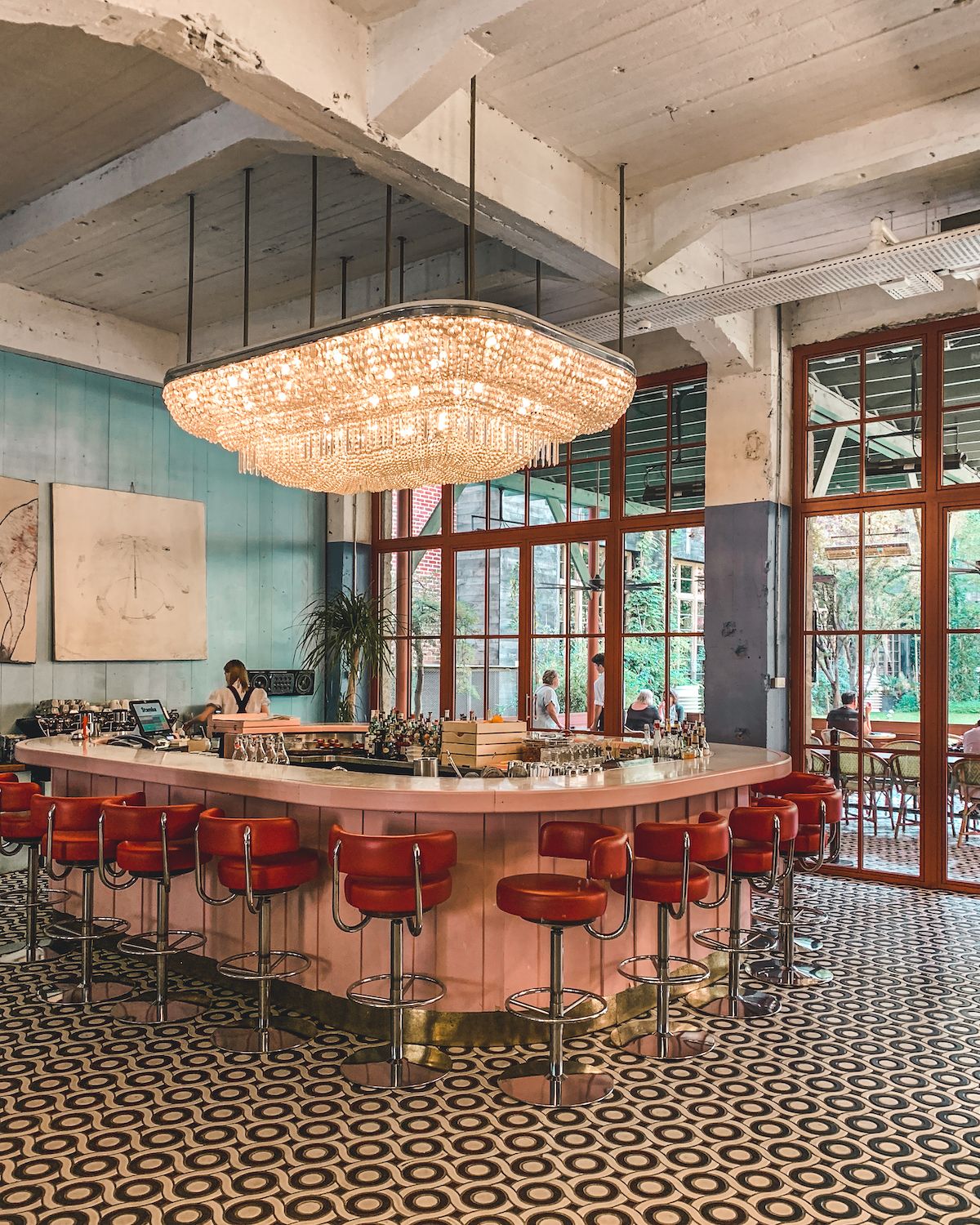 If you're looking to splurge on a higher-end hotel, consider the gorgeous STAMBA Hotel
. The chic boutique hotel is located in the historic quarter of Tbilisi and has a hip cafe and restaurant that is worth checking out alone. The hotel is walking distance from trendy cafes, restaurants and designer boutiques. Rooms start from $197 USD - $347 USD for two people depending on the time of year you travel.
If STAMBA is above your price-point, consider staying at their sister property, Rooms Hotel Tbilisi,
which also has a wonderful design and a vintage-chic feel. 🛏️
Browse more stays on Booking.com
What to do in Tbilisi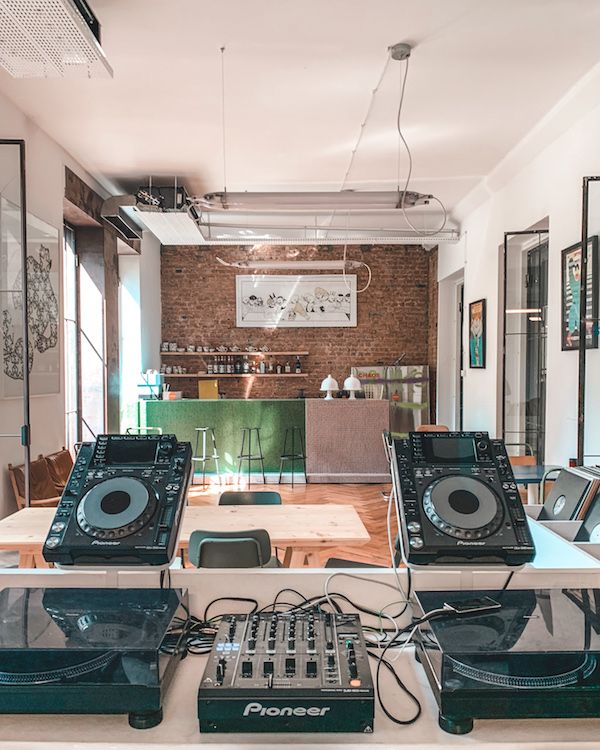 There are so many fun things to do in this creative city, such as dancing at art cafes or having a night out at the world-renowned club Bassiani, eating delicious Georgian cuisine, getting lost in the streets filled with beautiful architecture, shopping at designer boutiques, soaking in thermal baths or getting lost in the streets filled with beautiful architecture.
We list our Top 13 things to do in Tbilisi here.
Best Restaurants in Tbilisi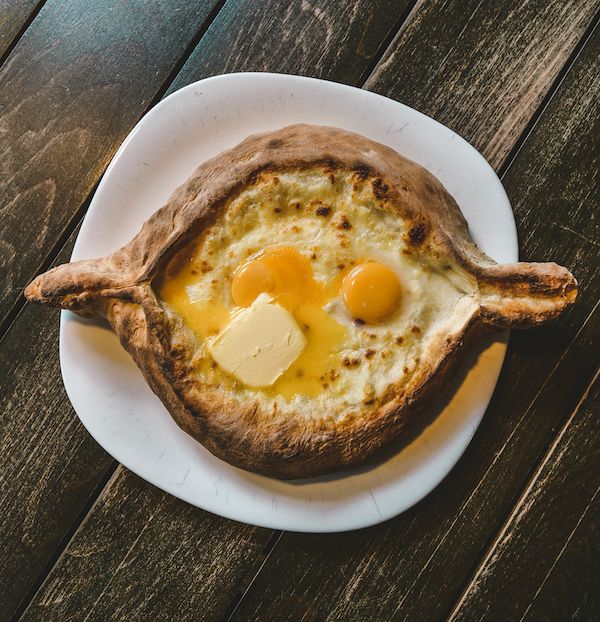 Georgian cuisine is very unique and a huge part of the country's culture and way of life. Georgians love their food and are passionate about sourcing local fresh ingredients. If you are a foodie, you're in for a treat. There are so many dishes and new flavours to try.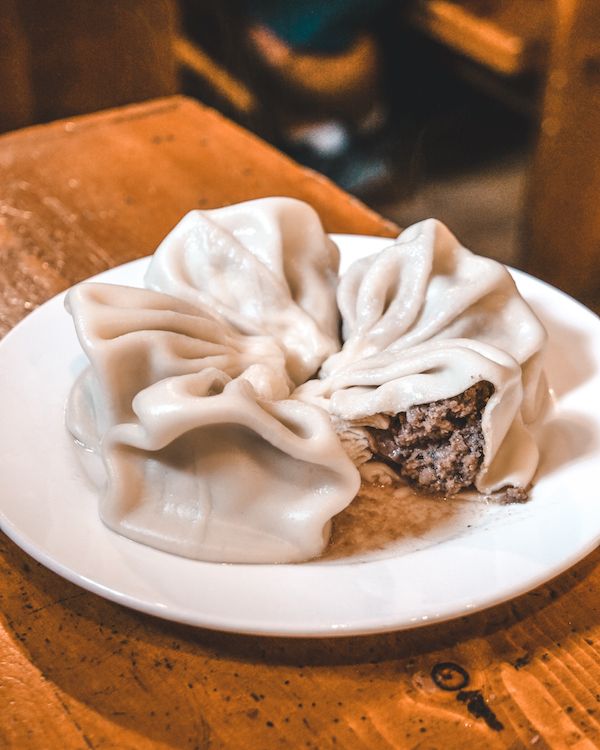 For comfort food, try Katchapuri Adjaruli, a cheese and bread boat, or Khinkali, a meat filled dumpling you eat with your hands. For a healthier dish, try Pkhali, a dish of vegetable pâtés with beans, beets and walnut sauce. Other dishes we love are skewered charcoal roasted meat called Shashlik, and Ajapsandali, a Georgian Ratatouille with unique spices.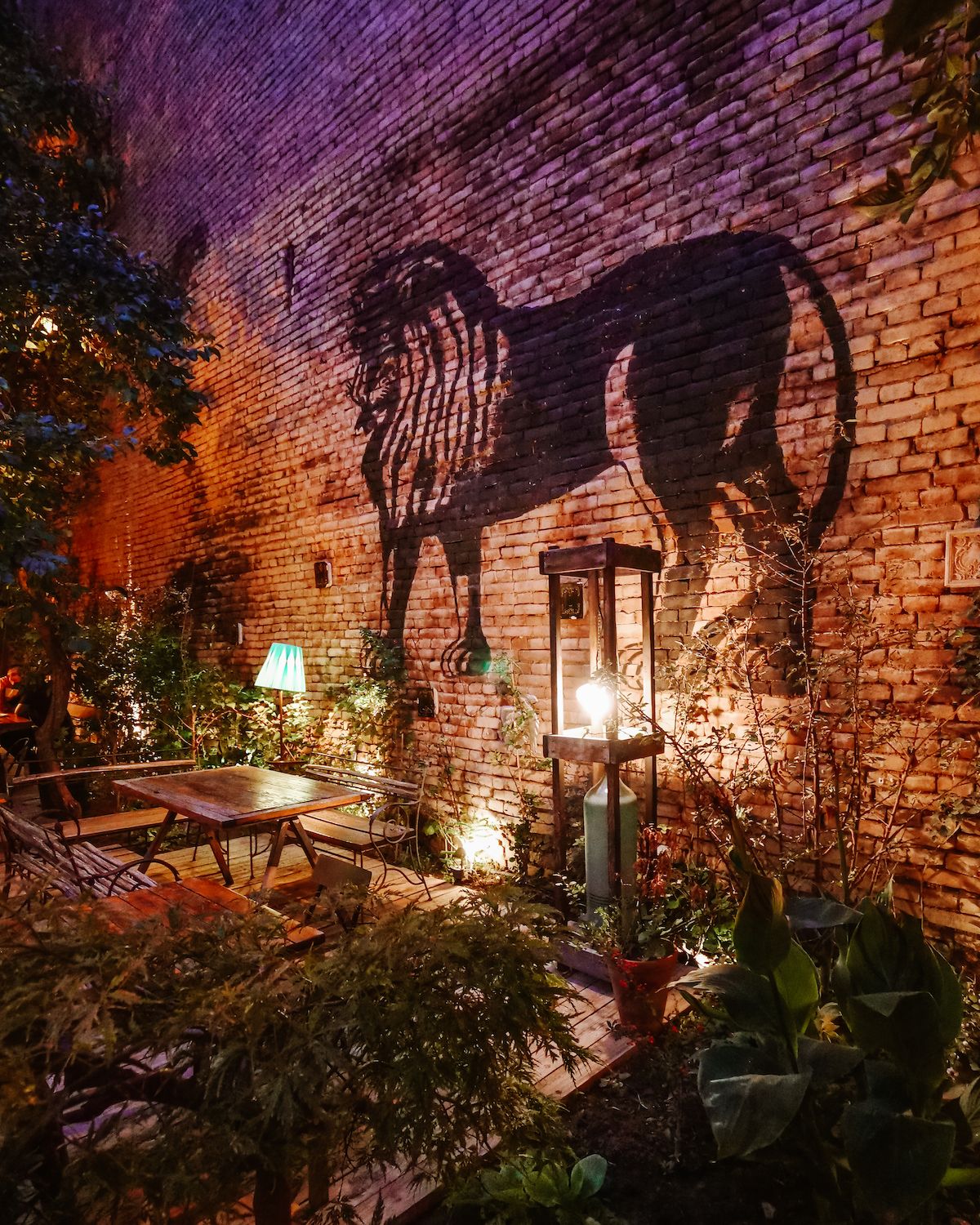 Our favourite restaurants in Tbilisi are listed below:
Best if you could only pick one: Shavi Lomi
Best for a locals experience: Mapshalia
Best for upscale Georgian cuisine: Barbarestan
Best for the view: Amodi
Best before a night out: Art-Cafe Home
Best after the Georgia sulphur baths: Culinarium Khasheria (get their Georgian/Vietnamese soups)
Best for eating all the Georgian dishes in one go: Passanuri
Best for Khachapuri (cheese boat): Retro
Tired of Georgian? Eat a mouth-watering American pizza at Ronny's
Best Cafes in Tbilisi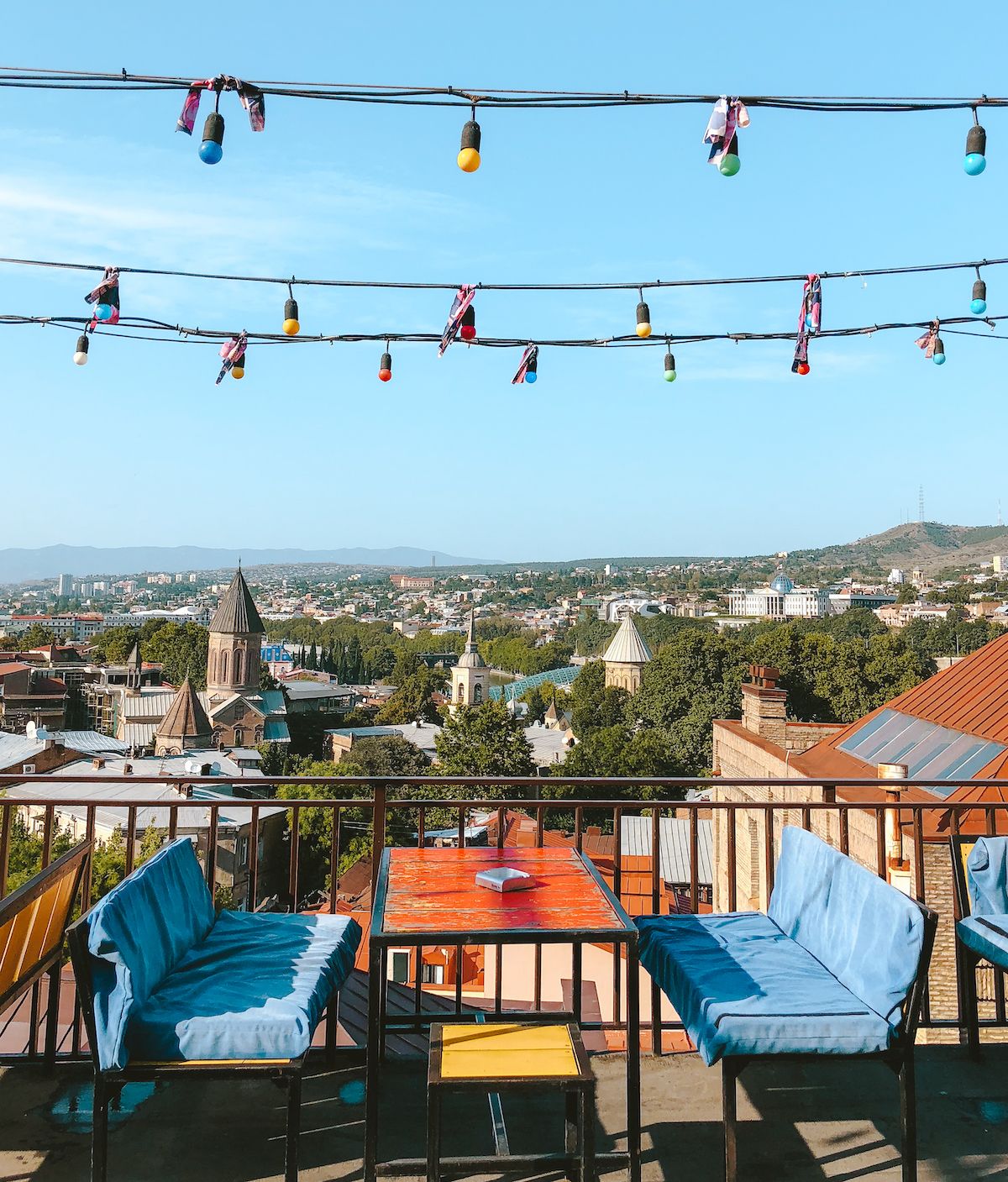 Tbilisi is home to beautiful and eccentric art-cafes.  Not only are they day time hangouts, but some of them turn into night time parties.
Best for a daytime hangout: Fabrika or Cafe Stamba
Best for the party: Art-Cafe Home or Cafe Gallery
Best for a nature escape: Tsiskari located at Turtle Lake
Best for the coffee and pastry: Entree
Best for dessert: Cafe Littera
Best for the discreet location: Linville (tucked away in the backstreets on the 2nd floor of a 19th century building).
Make sure to check out our updated list of uniquely designed cafes and restaurants in Tbilisi!
Days 6 & 7: Signagi in the Kakheti Wine Region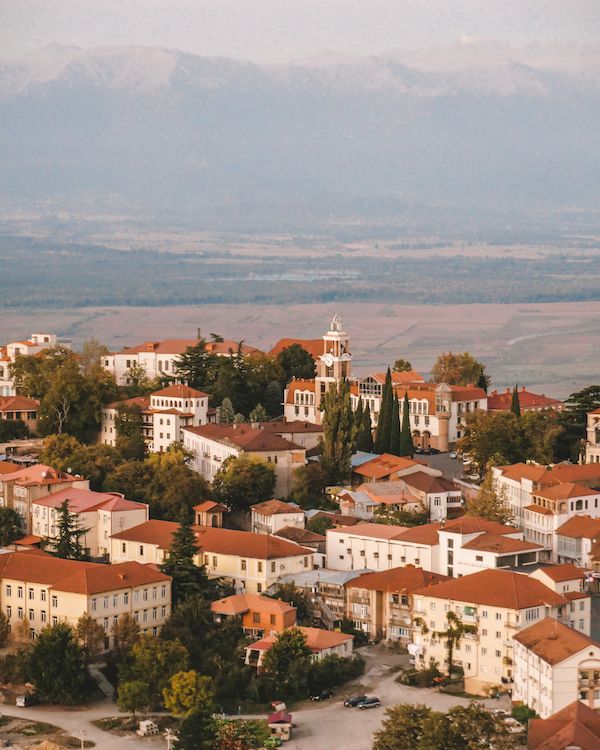 With only 2 nights, the best place to stay in the Kakheti wine region is the romantic town of Signagi (also known as Sighnaghi). The quaint city has beautiful old brick buildings with red roofs and tiny cobblestone streets. You will see why the Geogians call it the "city of love"!
How to get from Tbilisi to Kakheti wine region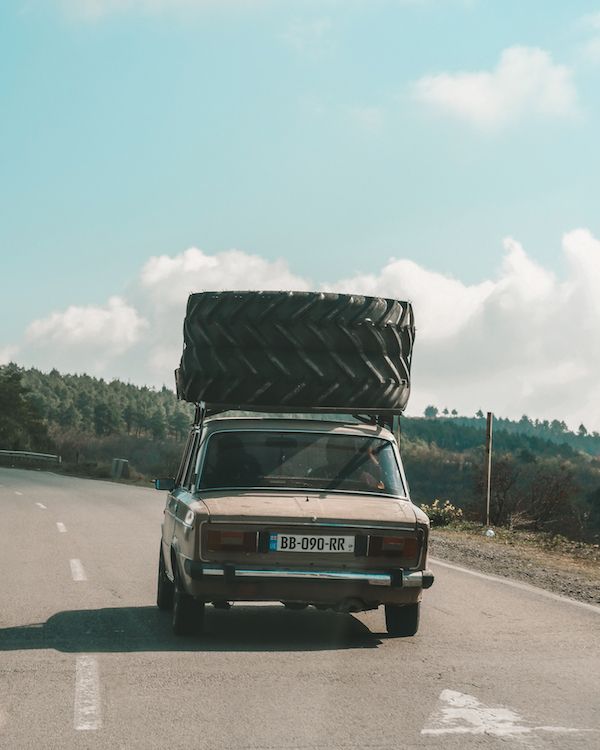 There are a few ways to get from Tbilisi to Signagi in the Kakheti wine region.
The cheapest way is by grabbing a Marshrutka (shared minivan). It leaves from Samgori station every two hours from 9:00 - 18:00 and costs 6 GEL (~1.85 USD) per person. The minivan won't leave until it fills up with people. It takes around 2 hours depending on how many stops the driver takes to pick or drop people off along the way. One time our driver even picked up groceries from a food stall on the side of the road. We were there during August, so it was also uncomfortably hot in the vehicle.
The more expensive, but convenient way is to get a shared taxi or private taxi from Isani station. It costs 10 GEL (~$3.10 USD) per person for the shared taxi. If you don't want to wait for it to fill up it will cost you 40 GEL (~$12.50 USD) for the car. The journey should take you about 1.5 hours. We recommend taking a taxi rather than the minivan!
Where to stay in Signagi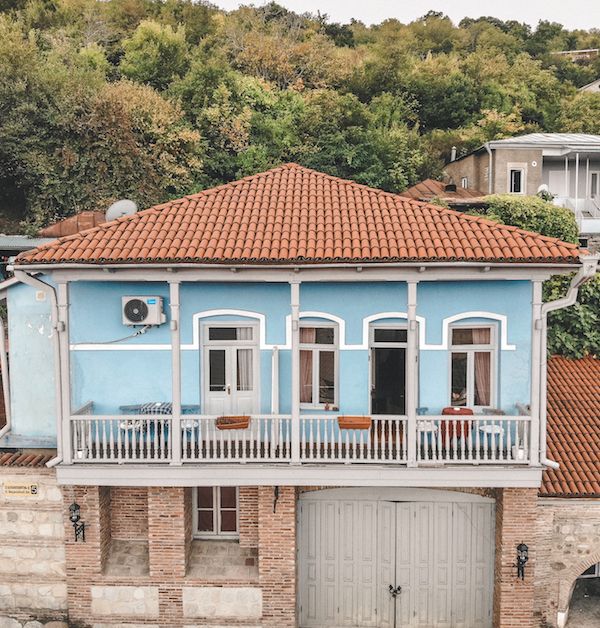 The best place to stay in Signagi is at a guesthouse. You will be able to soak in the local culture in one of the historic buildings. We loved staying at
Guesthouse Honeymoon
, since our spacious private room had a beautiful view of the city. It was also walking distance to the main strip, wineries, restaurants and cafes.
What to do in Signagi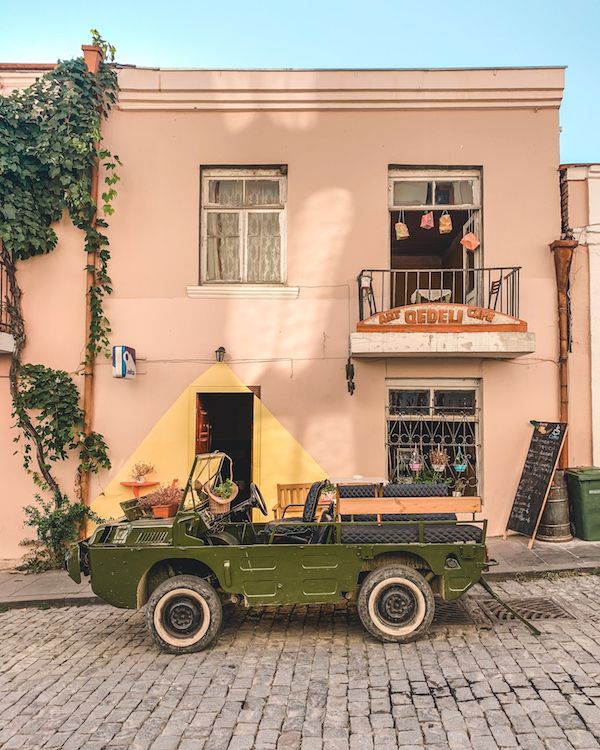 Signagi is a charming city to explore by foot. You'll discover wineries, markets and cute cafes and restaurants in the tiny streets.  
Check out our Top 9 things to do in Signagi here.
Best cafes and restaurants in Signagi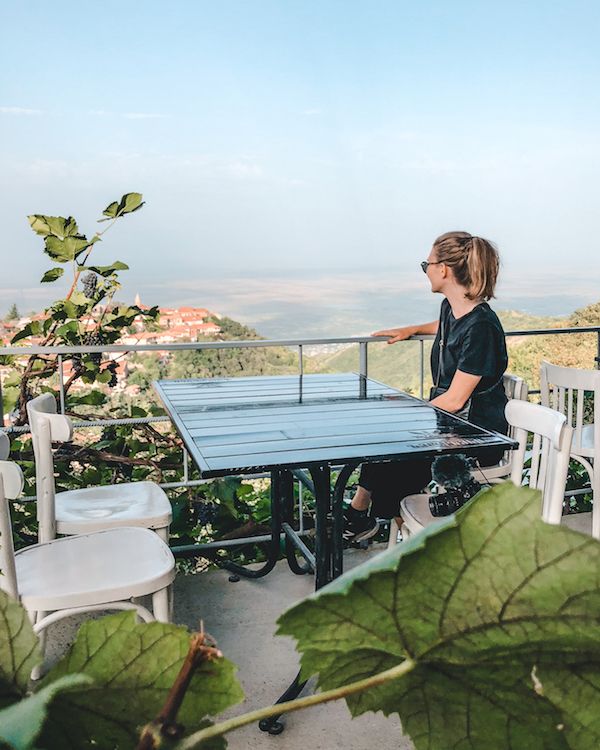 These three spots were our favourite places to hang out and eat. Make sure to make a reservation for Pheasant's Tears in advance.
Best for the food & wine: Pheasant's Tears
Best for the view and to watch the sunset: The Terrace
Best for the vibe: Qedeli Art Cafe
Best wineries to visit in Signagi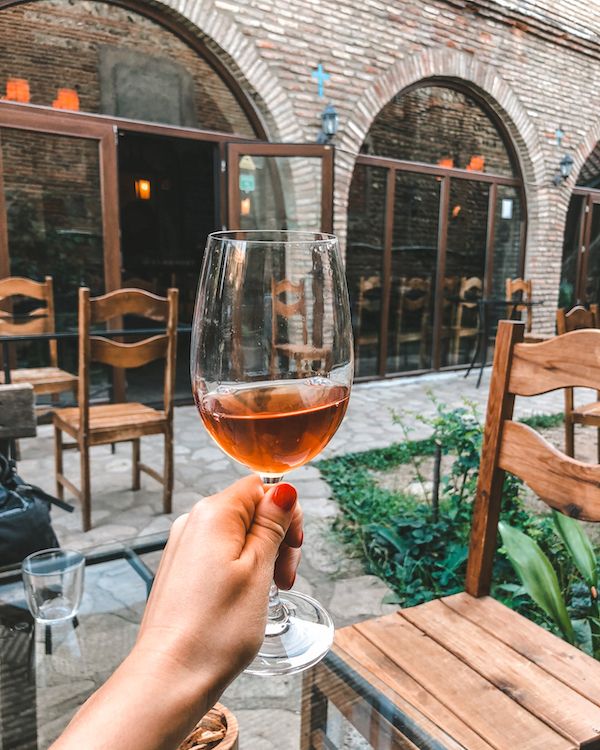 Have a wine tasting at one of these awesome spots located in the city:
Okros: a boutique winery that produces natural wines free of additives and sulphates
Pheasant's Tears: one of the most famous wineries in the Kakheti region.
Cradle of Wine: a lesser known winery with an eccentric owner who's passionate about Georgian culture
Itinerary Extension Options: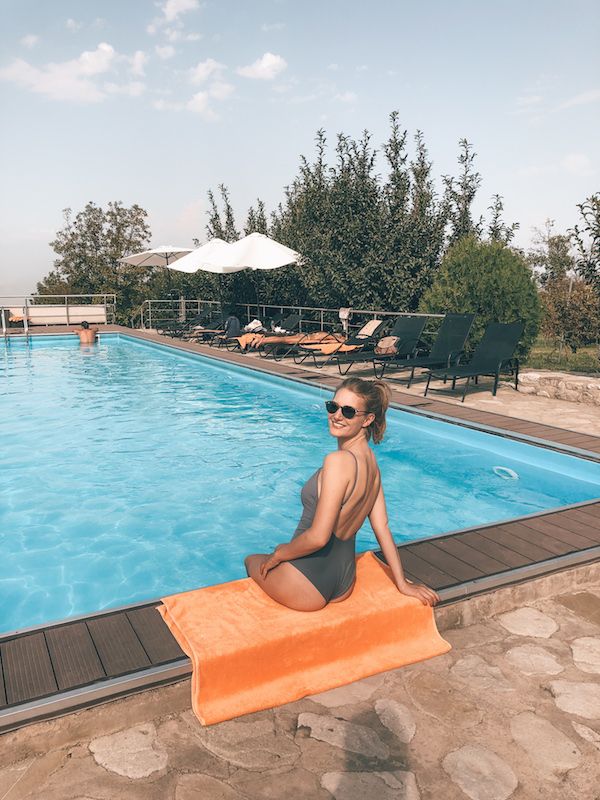 If you're able to spend a couple more nights in Georgia, consider exploring more of the Kakheti wine region and stay at
Schuchmann Wines Chateau & Spa
in the Telavi area. Telavi is a 1.25 hour drive from Signagi and is the larger central city of the Kakheti region.
The large chateau and winery is a beautiful place to stay and has awesome amenities such as a restaurant with outdoor seating, free wine tours, an outdoor pool and a spa with a sauna. Rooms start at ~$120 USD per night for two people.
You could also consider adding an additional night to your stay in Signagi and asking your guesthouse host to organize a wine tour of the Kakheti region as a day trip.
Enjoy your time in this beautiful country!
---
Start planning your trip to Georgia
---
Looking for more travel inspiration? Check out our list of Gastronomic Experiences Around the World to inspire your next trip.
---
Save and pin our 1 Week Georgia Itinerary for later: