Tbilisi has a tremendous amount to offer for the foodie and cafe goer. Beautiful restaurants and inspiring cafes litter the creative city that is known for its diverse architecture. Georgian food and wine is delicious and loaded with unique flavours that will keep you trying more at every stop. We list 12 restaurants and cafes in Tbilisi that stand out for their eclectic and unique design.
Planning a trip to Georgia? Make sure to also check out our list of 13 fun things to do in Tbilisi and our 1 Week Georgia Itinerary for the food & wine lover.
12 Uniquely Designed Tbilisi Cafes and Restaurants
1. Fabrika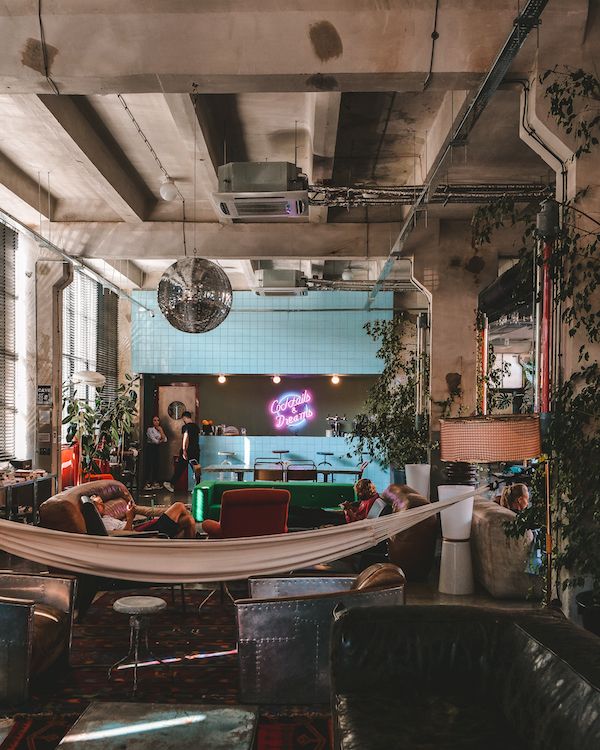 The second we walked into the doors of Fabrika we were inspired by the décor and all the groovy people hanging out. Fabrika is a former Soviet sewing factory turned urban space with restaurants, creative boutiques, art spaces, and a hostel.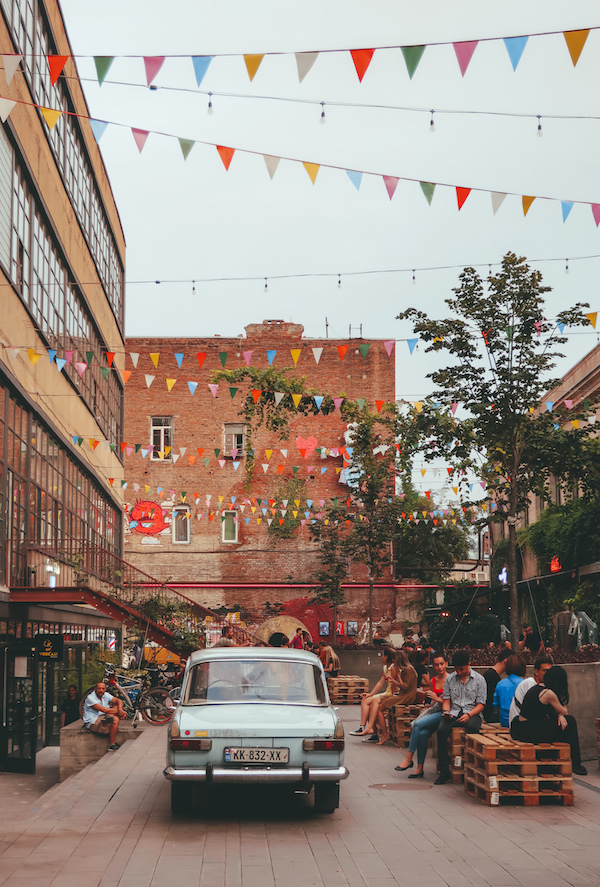 We loved the cafe in the main building and hung out in comfy chairs and hammocks with watermelon cocktails in hand. It's a great space to work on your laptop and the food service is excellent and healthy. We enjoyed the grilled chicken with a beet and goat cheese salad. Meals are served with a free pitcher of mint and lemon infused water, fresh bread and olive oil and balsamic. Fabrika was so great we visited and ate there twice!
Fabrika is also a great place to choose for accommodation.
Its shared rooms and private suites are stylish with an industrial design and its communal spaces offer a great atmosphere to meet people.
See rates
.
Address: 8 Egnate Ninoshvili St.
2. Cafe Linnville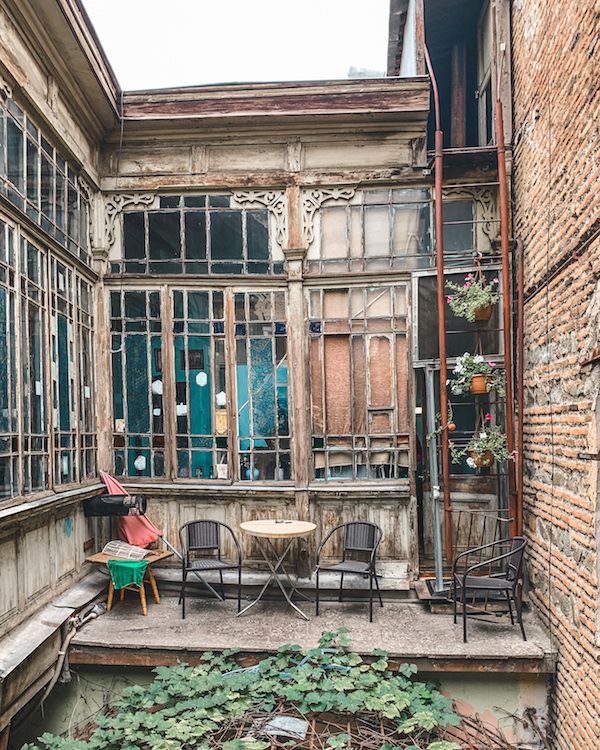 Cafe Linnville has to be the most eclectic looking of all the art cafes in Tbilisi. A whole melange of wall paper patterns, old furniture and funky lamps make the second floor cafe the most cozy spot in Tbilisi. It's the perfect place to slip away form the crowds in one of the many dining rooms. Just make sure not to fall down the slanted steps on your way out!
Address: 11 Kote Afkhazi St, Tbilisi
3. Stamba Cafe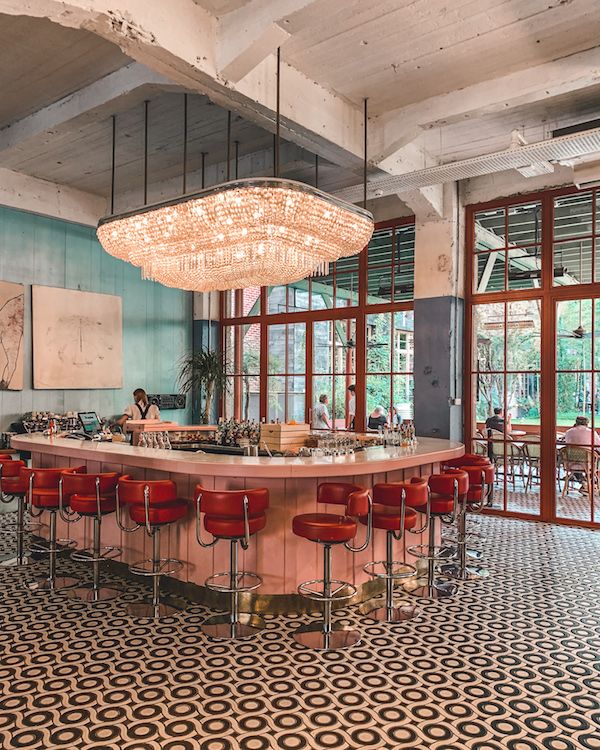 Stamba Cafe is located within a converted newspaper factory. The architecture with giant concrete columns, rusted machinery and clean modern decor is worth a walk through in itself. There is a relaxing courtyard patio and a stunning dining room to enjoy breakfast or a coffee.
Make sure to walk through the complex that includes the Stamba Hotel to check out the shops.
This Tbilisi cafe is the perfect starting point for a shopping day down Tamar Chovelidze Street where many Georgian fashion designers have boutiques.
Address: 14, 0108 Merab Kostava St.
4. Lolita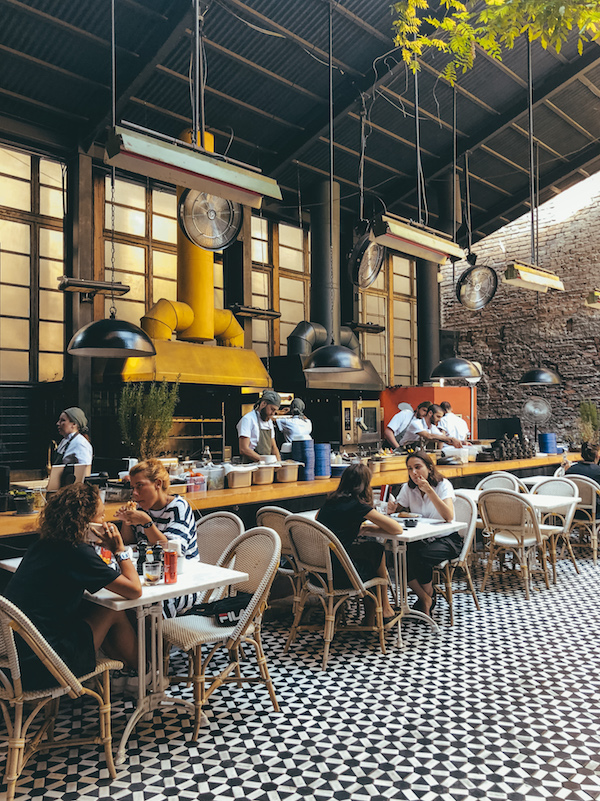 Lolita is an urban style bar and cafe in Tbilisi with an open-kitchen concept. We enjoyed hanging out at the outdoor communal picnic tables. We started off with strong ice coffees and finished with melon mule cocktails. The cocktail menu was diverse and full of fresh ingredients. Lolita has a lively and fun vibe that is great for an afternoon drinks retreat!
Address: 7 Tamar Chovelidze St.
5. Art-Cafe Home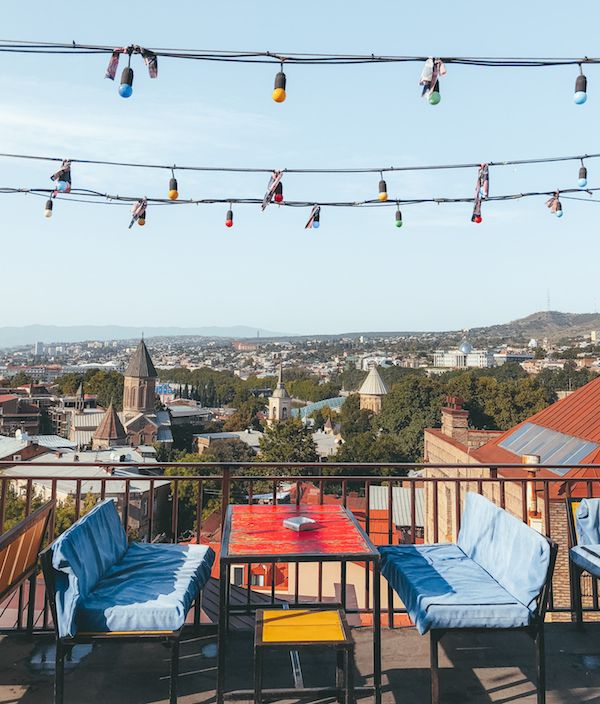 Once we entered Art-Cafe Home it felt like we walked inside an artist's mind. The creativity of this place blew us away. Art-Cafe Home is a multi-level creative space, bar and nightclub. You'll be astonished by the eclectic décor in every room you enter. Up top you'll find a large rooftop patio and a terrace with comfy couches. We arrived at 5pm before it got busy and listened to funky 70s R&B/soul/jazz tunes. On our next visit we decided to arrive later in the evening. We enjoyed listening to electronic house music while drinking cocktails and snacking on a late night chicken caesar and spaghetti bolognese.  
Address: 13 Betlemi St.
If you like this art cafe, you'll like our list of 13 unique things to do in Tbilisi.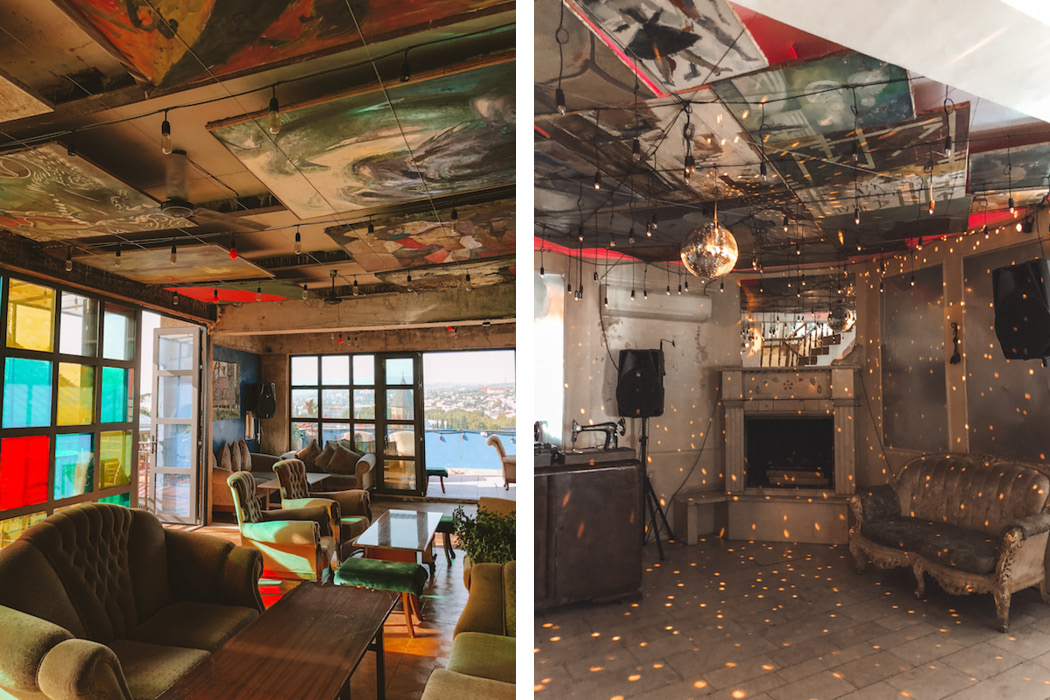 6. AluBali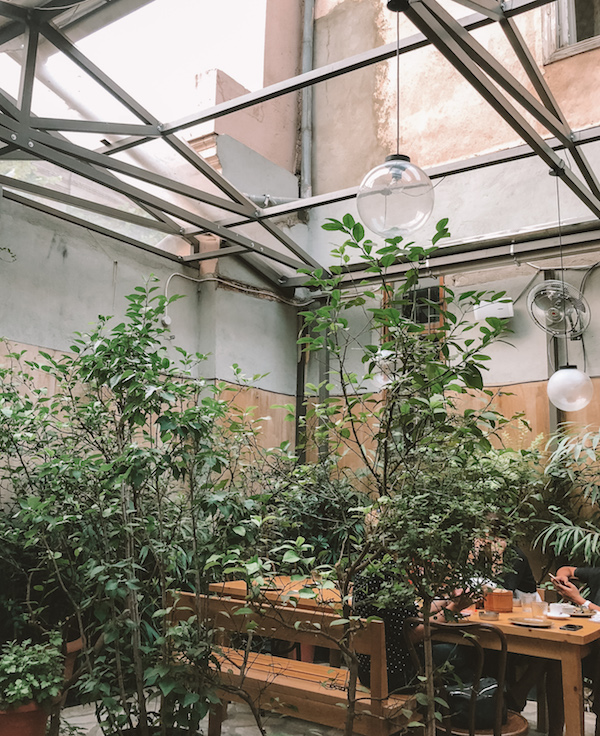 AluBali has a minimalistic design and is known for its very fresh Megrelian cuisine. We ordered eggplant stuffed with garlic, herbs and walnuts, and slightly baked Sulguni cheese with bread and heirloom tomatoes. More Georgian wine followed, it was fantastic! You eat in a greenhouse type setting with large airy skylights and foliage around you.
Address: 6 Giorgi Akhvlediani St.
7. Cafe Gallery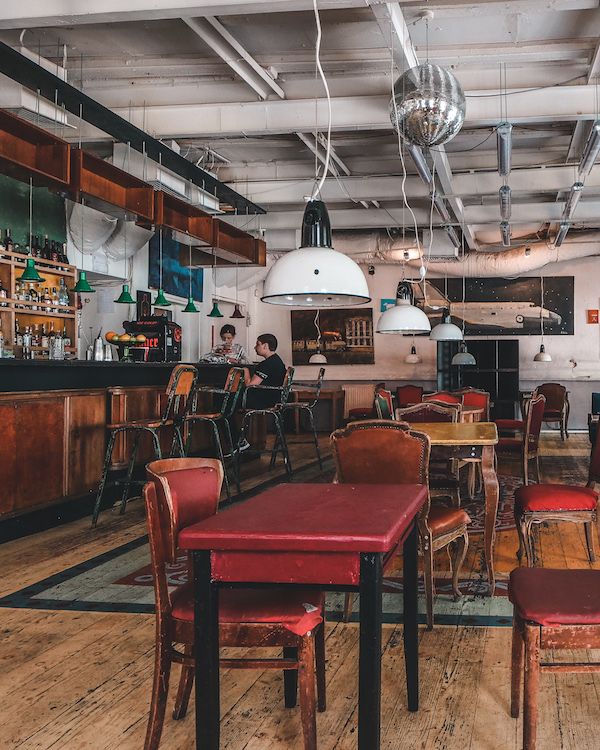 Cafe Gallery is like a lesser known Art Home Cafe. We were very pleased to find it because it has the perfect vibe. If you go in the afternoon it won't be busy, but as the evening sets in the party gets going. Friendly staff are chatty and will help you discover the music they play. The venue has one main room, which makes it more intimate than Art Home Cafe. If you get hungry, a bonus is that Passanuri (one of our favourite Georgian restaurants) is right across the street.
Address: 34 Alexander Griboedov St.
8. Ezo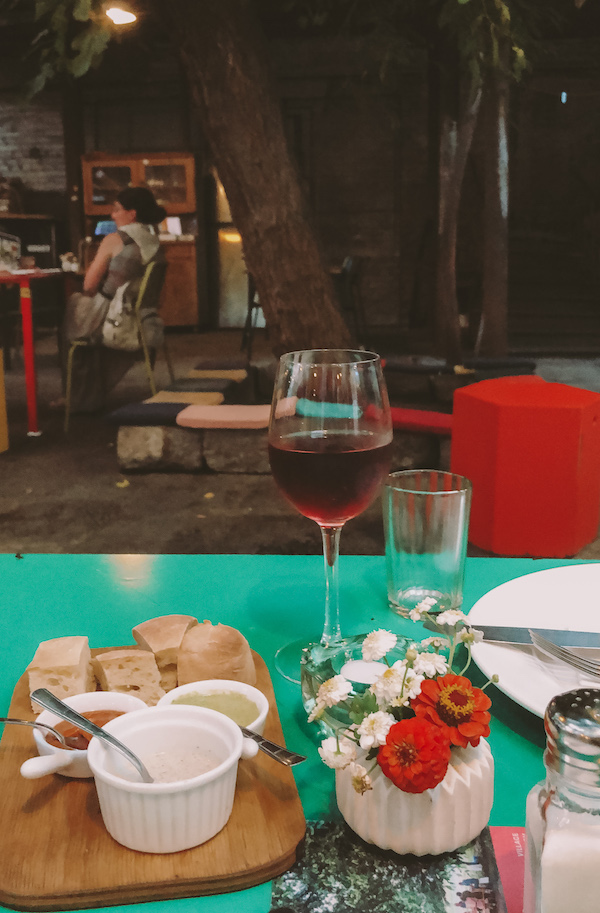 Ezo meaning "yard" in Georgian is situated in a beautiful courtyard in the old city. The restaurant focuses on using organic ingredients from local farms for their simple homestyle recipes. The juicy pork chop with apple sauce was a treat. Watch out for all the cute cats!
Address: 16 0105, Geronti Kikodze St.
9. Tsiskari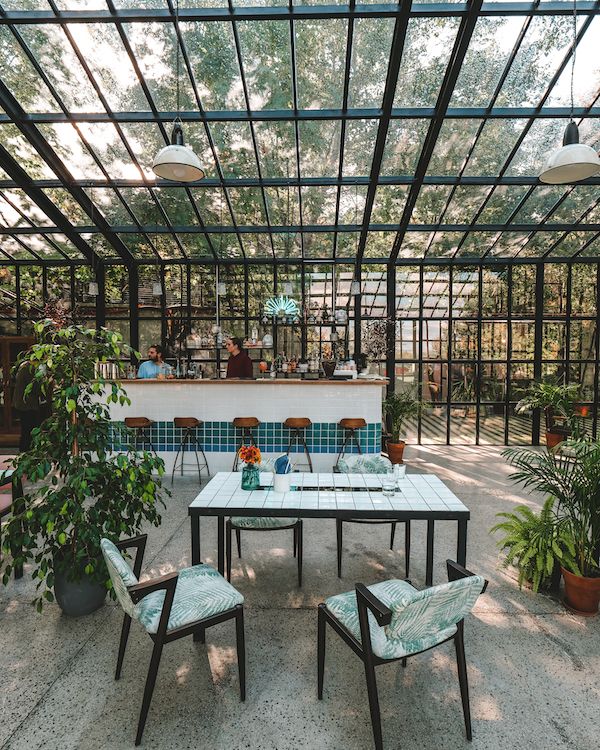 Tsiskari is a hidden gem located on Turtle Lake. If you are making the trip to Turtle lake (highly recommended) then make sure to skip all the main cafes and restaurants at the entrance and head straight to this lovely spot. Seating inside the greenhouse or outdoor patio is the perfect way to take in the nature and clean air. In summer time Tsiskari hosts outdoor dance parties so ask around or call to see if anything is going on that week.  
Address: west side of Turtle Lake
10. Shavi Lomi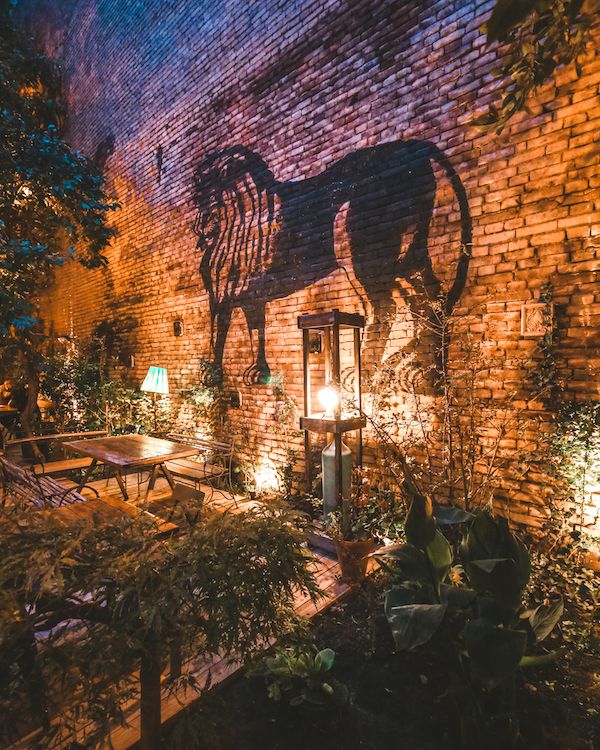 As we walked down a quiet backstreet to find Shavi Lomi, a Georgian fusion restaurant, we thought Google Maps must have led us astray. We ended up in front of a graffiti laden large steel door. We opened it thinking me must be in the wrong place, but to our surprise we were greeted by a large courtyard filled with greenery and dining tables. We were lucky to grab the last spot outside without a reservation.
There were lots of options on the menu and a good list of Georgian wines. We started with a variety of vegetable spreads including walnuts, garlic, chickpeas and herbs - ask your server for this as it's not on the menu. Next, we ordered mouthwatering pork and veal shashlik, which is grilled skewered meat. We paired our meal with Georgian Kisi amber wine from the Kakheti region that pairs superbly with grilled meats.
Address: 28 Zurab Kvlividze St.
If you love wine, check out our list of 7 unique things to do in the romantic city of Signagi located in Kakheti wine region.
11. Bauhaus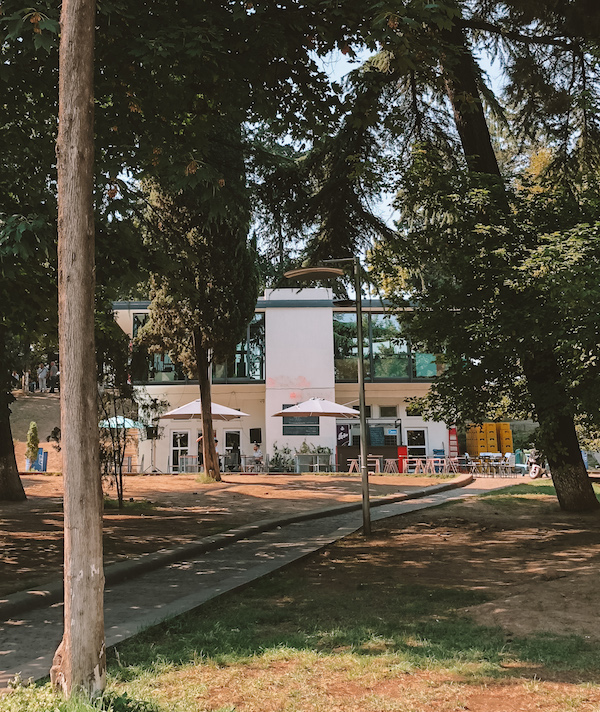 Bauhaus was the perfect spot to grab a drink and some light bites after bargain hunting at the Drybridge Flea Market, Tbilisi's most famous market. Bauhaus is situated inside Dedaena Park with outdoor seating and has a chill vibe where you'll find a younger crowd. We ordered Aperol Spritz, Georgian beer, and some deep fried munchies.
Address: Dedaena Park
12. Amodi
Amodi is located quite far up Narikala hill. Look for little arrows painted on the sidewalk to direct you up the steps to get to the restaurant. There are large tables that look out over top of the city. Young people gather here for the well priced and sumptuous Georgian food and drink. This is the perfect spot to eat and hang out before gearing up for your night out at Art Cafe Home.
Address: 6, 6 Gomi II Turn
Tbilisi is a city with so much creativity and culture that it's sure to keep you exploring for many days.
---
Start planning your trip to Georgia
---
Check out what Tbilisi's creative culture is like in our Tbilisi vlog!
Pin and save these restaurants and cafes in Tbilisi for later: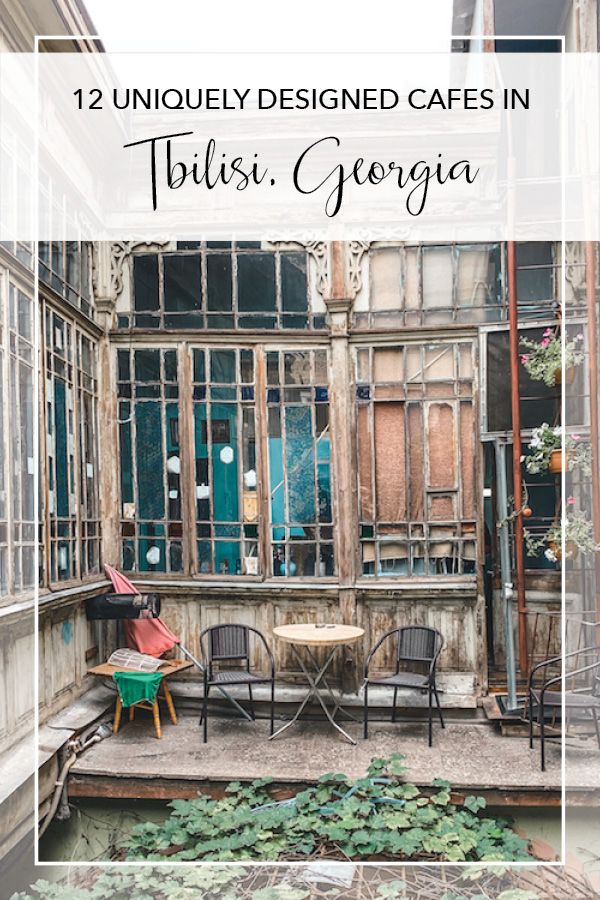 ---
You might also like