Did you know that the oldest wine making technique originated in Georgia? For over 8000 years, Georgians have used egg-shaped earthenware vessels (called a Qvevri) placed in the ground to make wine.
We toured the most prominent wine region in Georgia called Kakheti and fell in love with the charming city of Signagi (also known as Sighnaghi). Known as "the city of love" by Georgians, it has tiny cobblestone streets, beautiful old brick buildings with red roofs and a stunning view of the Caucasus mountains from its hilltop perch. It is the ultimate romantic getaway! We recommend staying at least two nights.
We spent a total of five days in this picturesque city and are excited to share our 9 favourite things to do in Signagi.
What to do in Signagi Georgia
Disclosure: Some of the links below are affiliate links, meaning at no additional cost to you, we will earn a commission if you click through and make a purchase. Regardless, we only recommend products or services we have used or that we believe will add value to our readers.
1. Have a wine tasting at three amazing wineries
There are three awesome wineries in Signagi you don't want to miss: Pheasant's Tears, Cradle of Wine, and OKRO'S.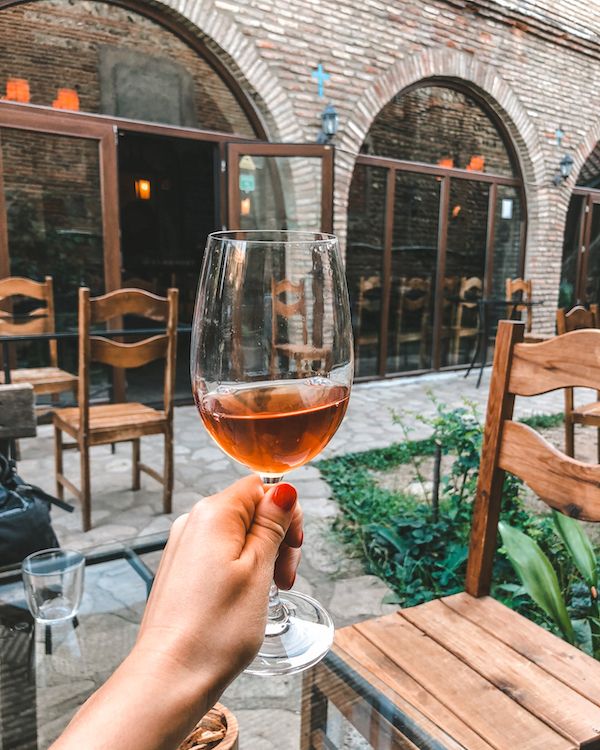 Pheasant's Tears is one of the most well known wineries in the region. Have a tasting of their artisanal wines in their courtyard and be sure to make a reservation for dinner there! They have delicious fresh food that is bought from the market each day.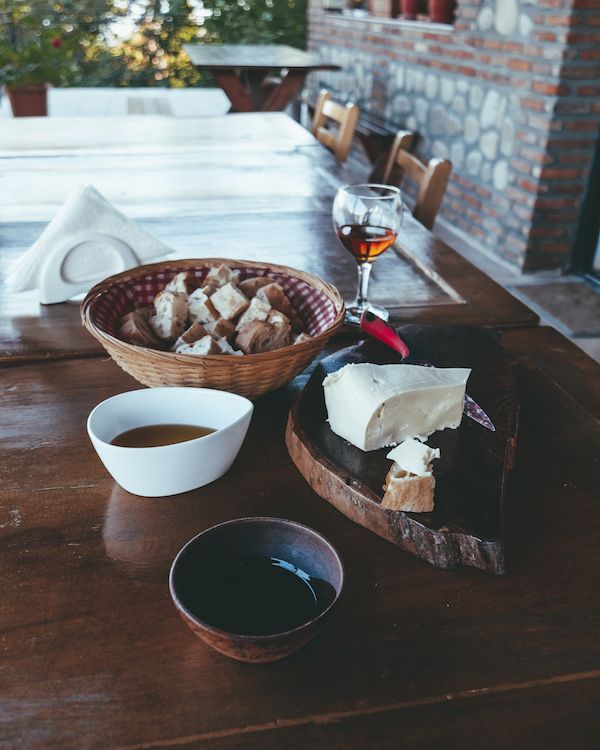 Cradle of Wine is the lesser known winery of the three. The eccentric owner is very passionate about Georgian culture and wine.  It's a great place to pop by and try some more Sapperavi wines.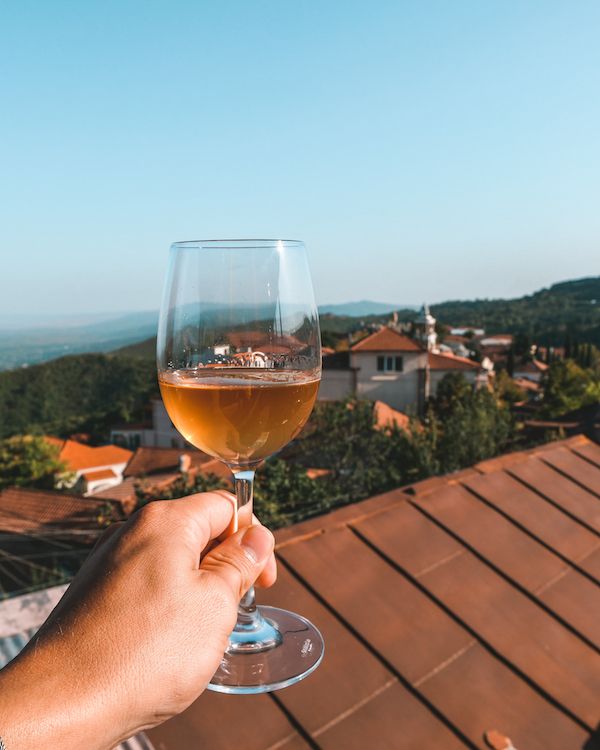 OKRO'S is a family owned boutique winery that focuses on producing natural wines free of sulphates and additives. We were lucky to meet the owner, John, who gave us a fantastic wine tasting. He also took us into the basement to see the Qvevris. Grab a spot on their rooftop patio for your tasting. It has a very nice view of the city.
2. Stay at a cute guesthouse with a view of the city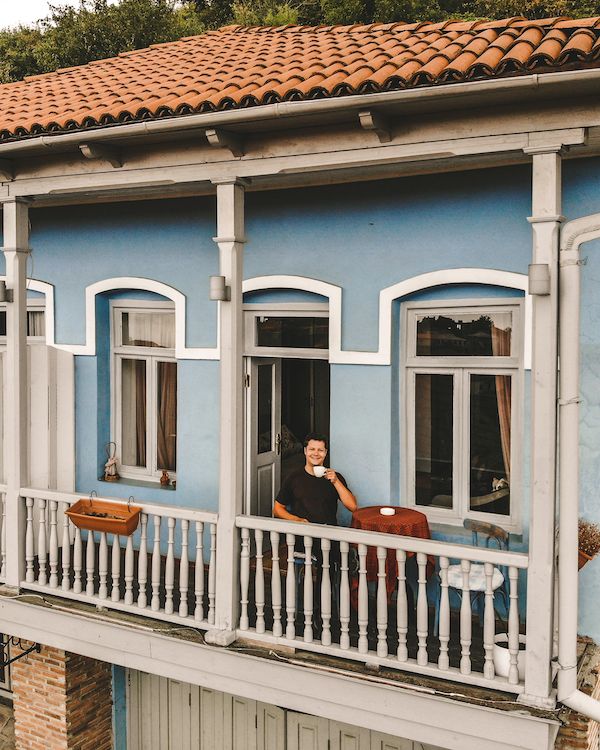 We loved staying at a private guesthouse called Guesthouse Honeymoon in the centre of the city
. Our room was spacious and our balcony had beautiful views of the city. It's also in a prime location, walking distance from wineries, restaurants, cafes and markets. The owner, Grigol, was very welcoming and helped us organize transportation and a wine tour.
See rates for Guesthouse Honeymoon
3. Explore the cobblestone streets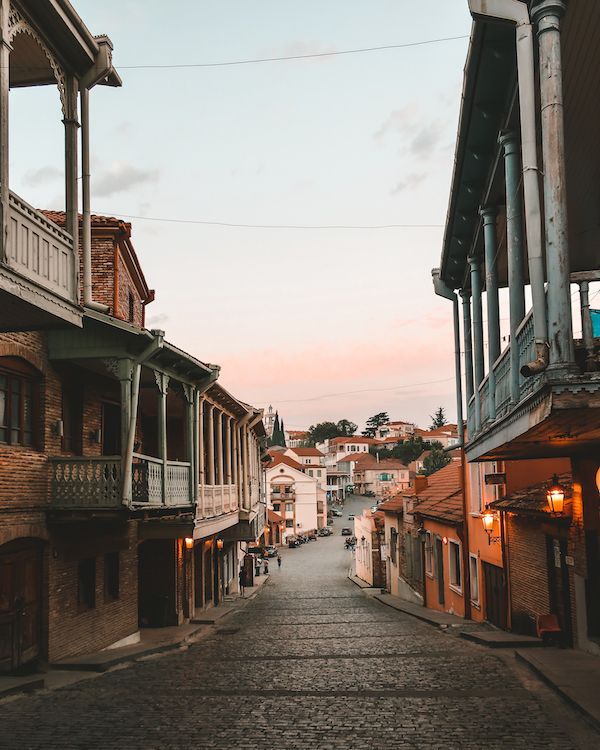 The maze-like streets of Signagi are beautiful and fun to get "lost" in. The city used to be a fortress, so you will see parts of a 5 km wall that King Erekle II made in the 1770s. Climb up the tower to see beautiful valley views or head along the streets to see all the different coloured ornate porches.
4. Browse the street market
In the centre of the city on the main strip, you will see vendors lined up with goodies like rugs, jewelry, trinkets, colourful socks, shoes and bags. The prices are also very fair! This is the perfect spot to pick up some gifts. Everyone is very friendly and when Ari needed a piece of fabric sewn together, one of the ladies that was selling felt ornaments did it for him for free!
5. Buy Georgian spices from the indoor market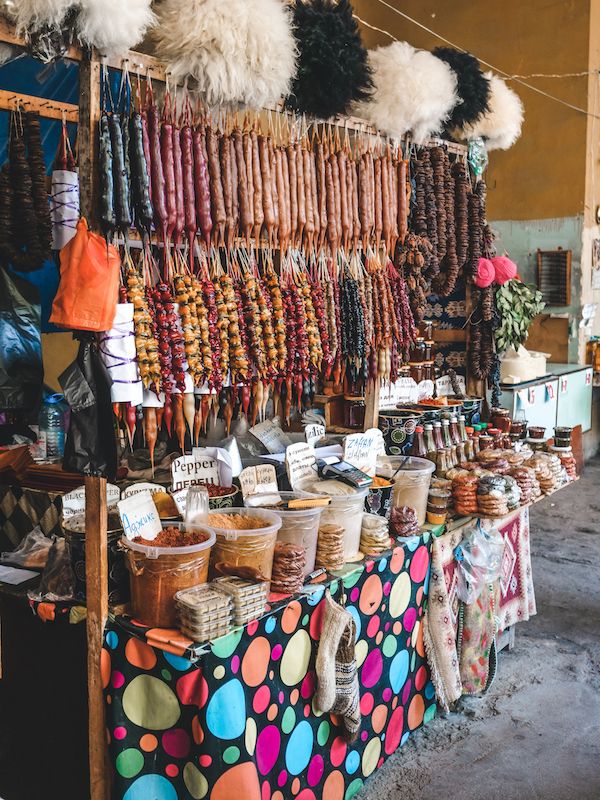 Walk inside a building located across the park here to find stalls of Georgian spices, vegetables, fruits and churchkhela, a sausage shape candy mixed with fruit and nuts. Georgian spices are unique, so it's worth grabbing a few bags to use in your cooking at home. We bought a spicy mix called Adjika and a savoury spice called khmeli suneli. The old man we bought spices from used an abacus to calculate the cost!
6. Hang out at Cafe Qedeli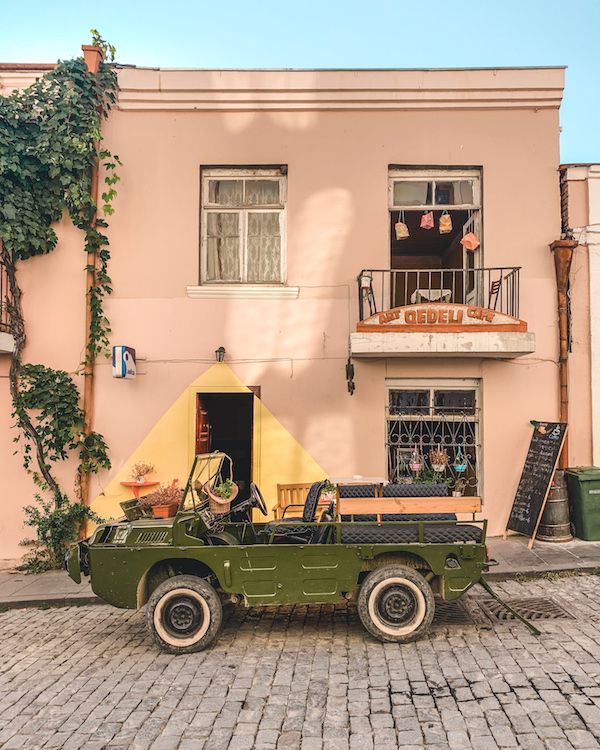 Art Cafe Qedeli is a cute art cafe that operates with a good cause. The cafe employs and sells art made by people with disabilities. Vintage decor, good music, and excellent coffee make for a great vibe. There is plenty of seating upstairs and everyone working is very welcoming.
Grigol, who was hosting us at the guesthouse said they have the best churchkhela in the city. It's made fresh and was so good we bought some to take home.
If you like the sound of this cafe, check out our list of uniquely designed cafes and restaurants in Tbilisi.
7. Eat dinner with a view at The Terrace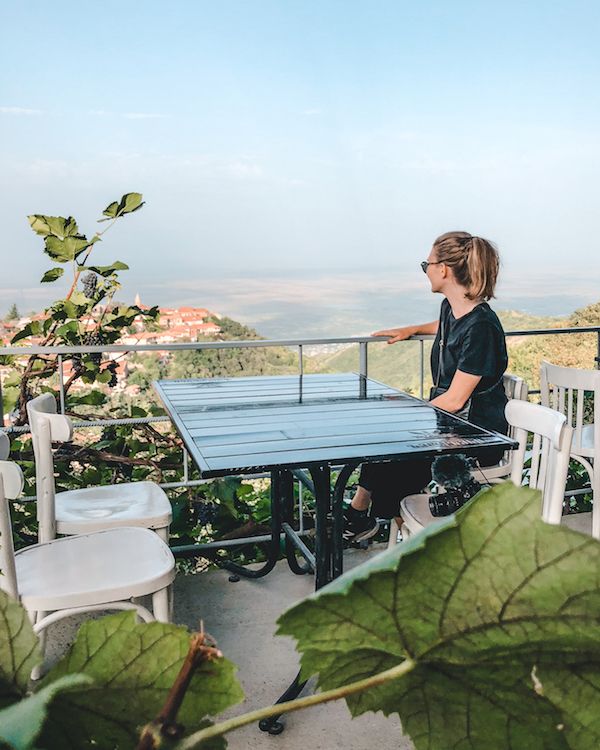 If you walk 12 minutes uphill from Guesthouse Honeymoon, you will be rewarded with stunning panoramic views from The Terrace restaurant. They serve Georgian dishes, fresh salads, and some western options like pasta. Make sure to go for sunset!
8. Organize a Kakheti wine tour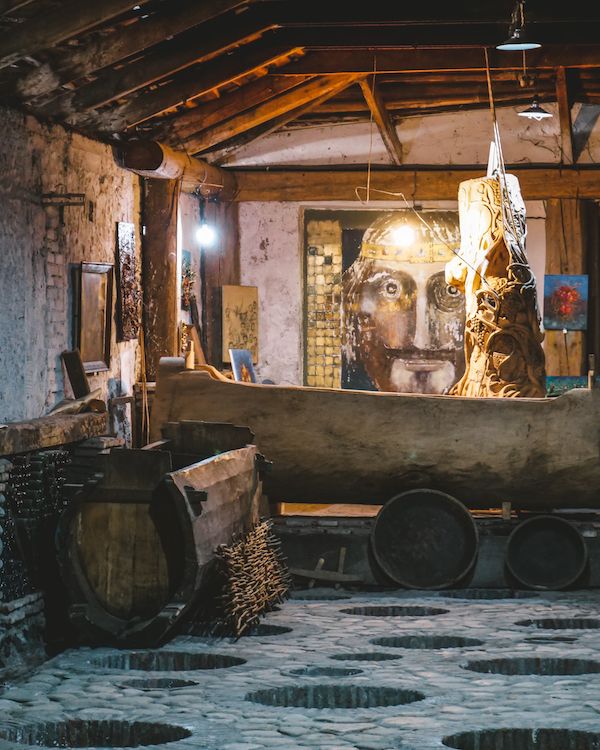 Ask your host to help you organize a wine tour in the Kakheti wine region. It was one of the top things we did. It was lovely driving through the countryside to see rural Georgian life.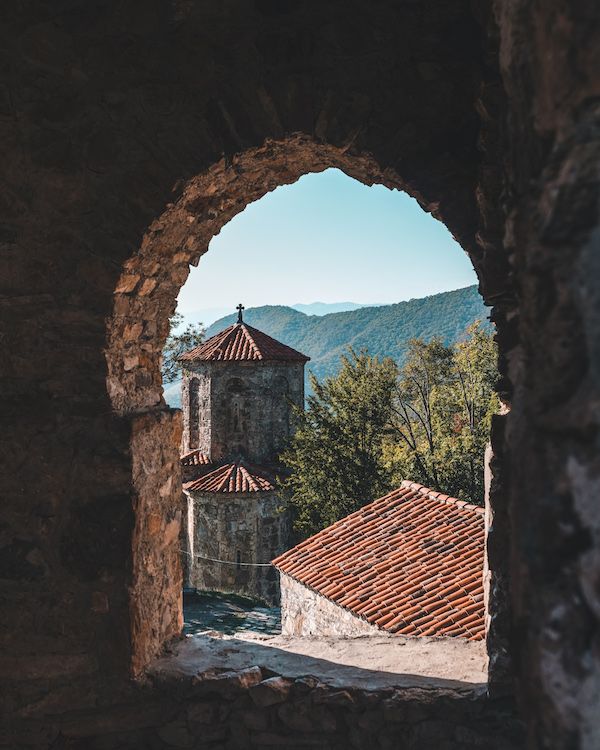 We visited three wineries plus had lunch. Our favourite spot to taste wine was the Khareba Winery where you get to taste in a huge underground cave cellar. Make sure to include it in your itinerary!
9. Visit the Sighnaghi National Museum
The museum is a good rainy day activity or if you want to take a break from the sun. On the first floor there are historic and ancient Georgian artifacts. Some of them are thousands of years old. On the second floor there are artworks by a famous Georgian painter named Niko Pirosmani, a primitivist artist.
---
Start planning your trip to Georgia
---
Looking for more travel inspiration? Check out our list of Unique Culinary Experiences to inspire your next trip.
Love food & wine? Don't miss our list of Unique Culinary Experiences to inspire your next trip.
---
Save and pin this Signagi Georgia guide for later: