Mexico City is the 5th largest city in the world, with over 21 million people and a whopping 350 neighbourhoods. With a city packed with so much culture and history, it can feel overwhelming deciding where to spend your time, what restaurants to eat at and what galleries and shops to visit.
Our mission was to find unique places and hidden gems that make the city so special. We spent almost 2 weeks exploring and have picked out what we think are the must-see spots for your 4 days in Mexico City.
We can easily say that Mexico City (also known as CDMX) is now one of our favourite cities in the world. The way the colourful city celebrates and preserves its indigenous roots is unlike many places we have visited. This shines through in their deep food culture with many cooking methods having a culinary heritage, and in their modern design, which takes inspiration from traditional textiles, colours and shapes.
If you love food and art and are looking to immerse yourself into the local culture, this 4 Day Mexico City itinerary is for you.
Outline: 4 Days in Mexico City
Day 1: Discover quirky eateries and unique boutiques in Roma, Mexico City's coolest neighborhood.

Day 2 : Spend time in the upscale Polanco neighborhood, see the beauty of LAGO ALGO, and indulge on exceptional street food.

Day 3: See the architecturally inspiring San Miguel Chapultepec neighborhood and hang out in the up-and-coming Juarez neighborhood.

Day 4: Visit the inspiring Frida Kahlo Museum and explore the charming San Angel neighborhood.
Disclosure: Some of the links below are affiliate links, meaning at no additional cost to you, we will earn a commission if you click through and make a purchase. We only recommend products or services we have used or that we believe will add value to our readers. Thank you for supporting us!
Best time to visit Mexico City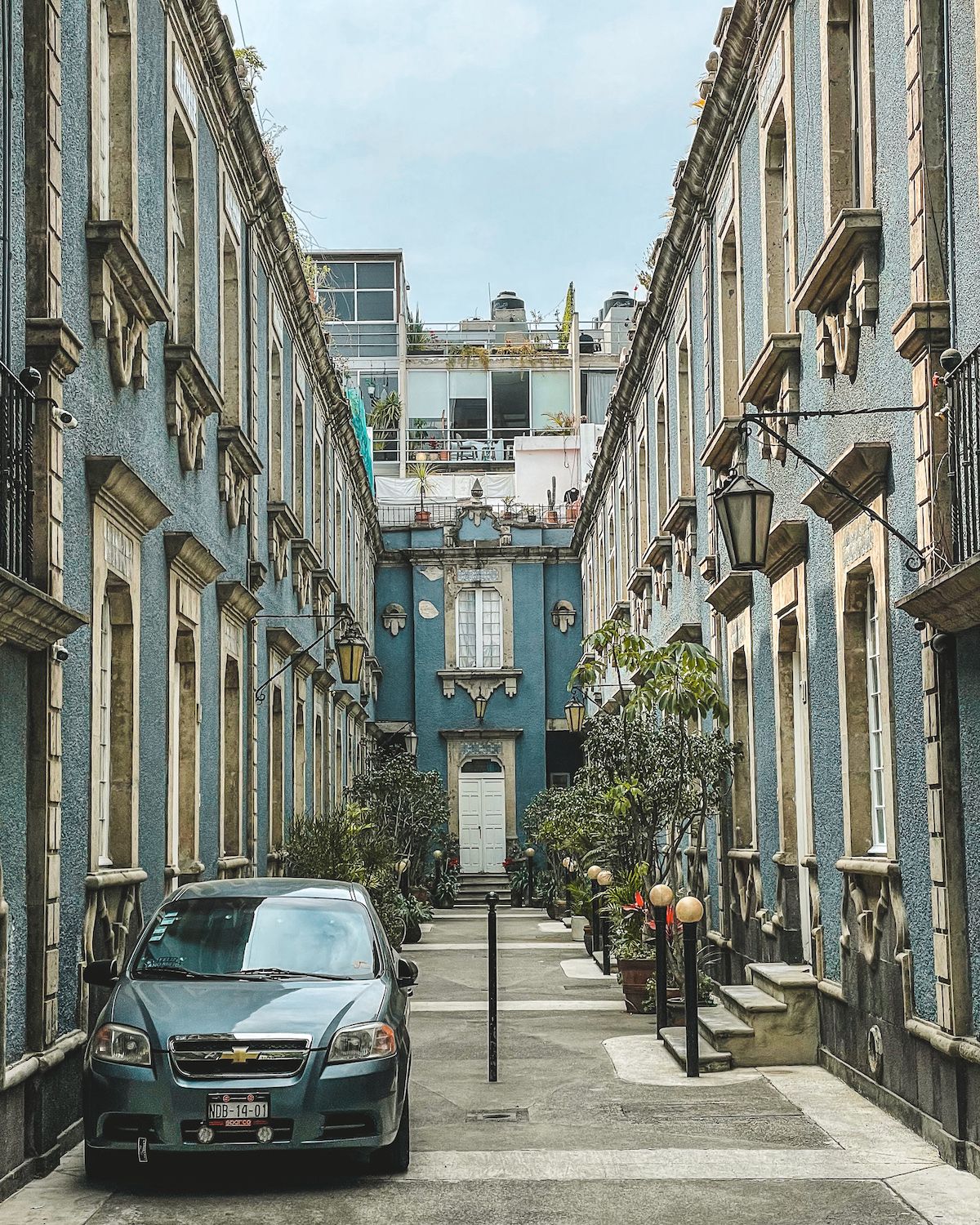 You may surprised to hear that Mexico City is located 2,400 m (7,350 ft) above sea level on an ancient lake bed surrounded by mountains. A crazy fact is that it used to be an Aztec city on an island on Lake Texcoco, however the lake was drained over time by the Spanish to develop land for Mexico City. This location makes for a drier climate with warm days and cool nights.
The best time to visit Mexico City is from February - May for a few reasons:
You will avoid the rainy season from June - October
February - May has the highest average sunlight hours
The temperature is pleasant with highs reaching 22 °C - 26 °C.
In January, some of the best contemporary galleries are closed because they are setting up exhibitions for art week in February
Top Tip: If you are visiting Mexico City primarily to see the art, we highly recommend visiting for art week in February!
Getting around Mexico City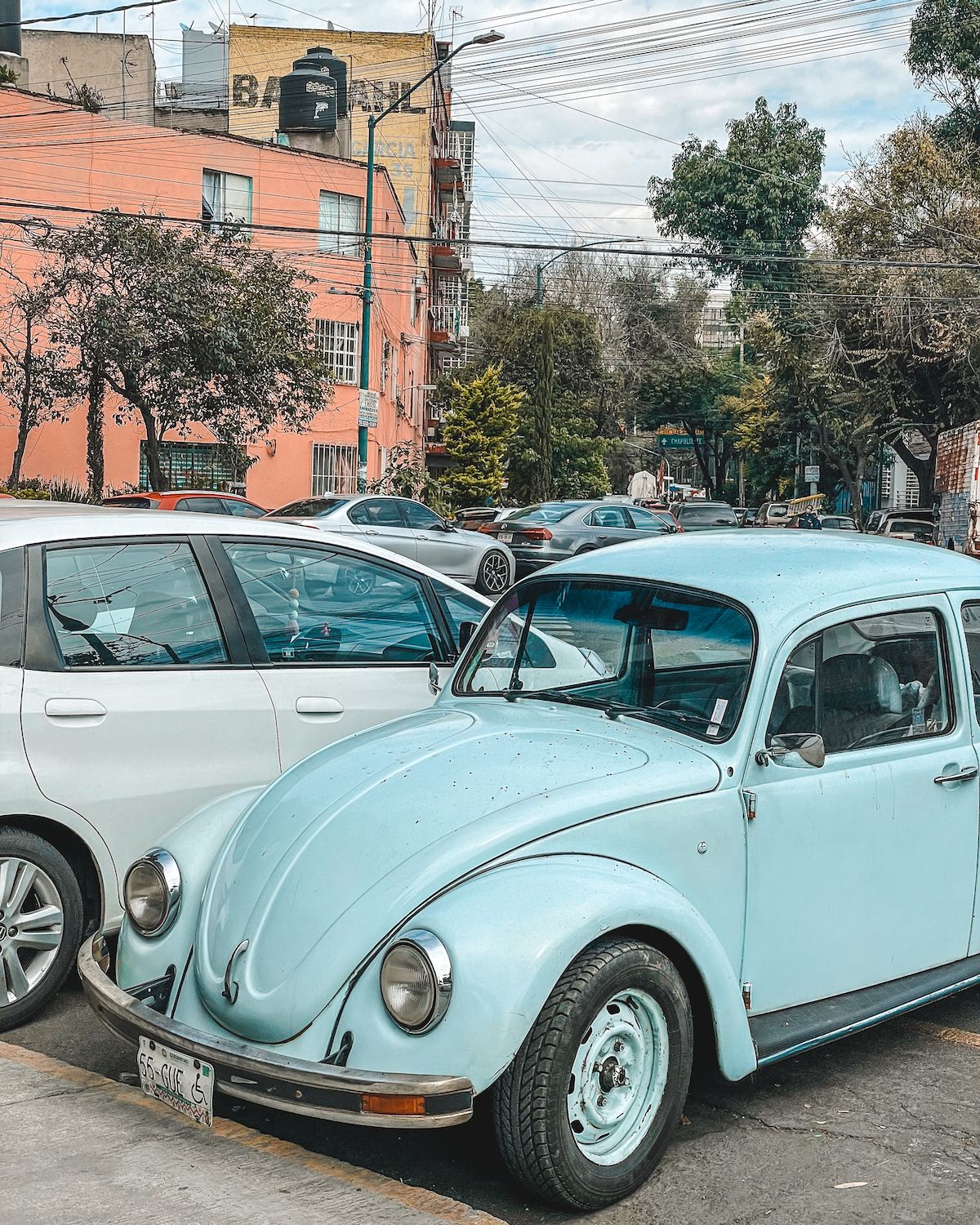 The cheapest way to get around Mexico City is by transit. The metro is 5 pesos per trip ($0.24 USD) and Metrobus 6 pesos per trip + 10 pesos for the rechargeable card. As a safety precaution, avoid taking the metro (especially alone) at nighttime, since crimes like muggings peak at night.
Uber is the most convenient way to get around the city and is great value. A 20 minute drive from the airport to Polanco cost us $5.68 USD and an 11 minute drive between Polanco and Roma cost us $2.75 USD.  
We tried out a taxi once and it was more expensive than what Uber quoted. With taxis you also have to pay in cash and worry about the driver not using the meter. They also don't have accountability or traceability through an app like Uber does.
Best area to stay in Mexico City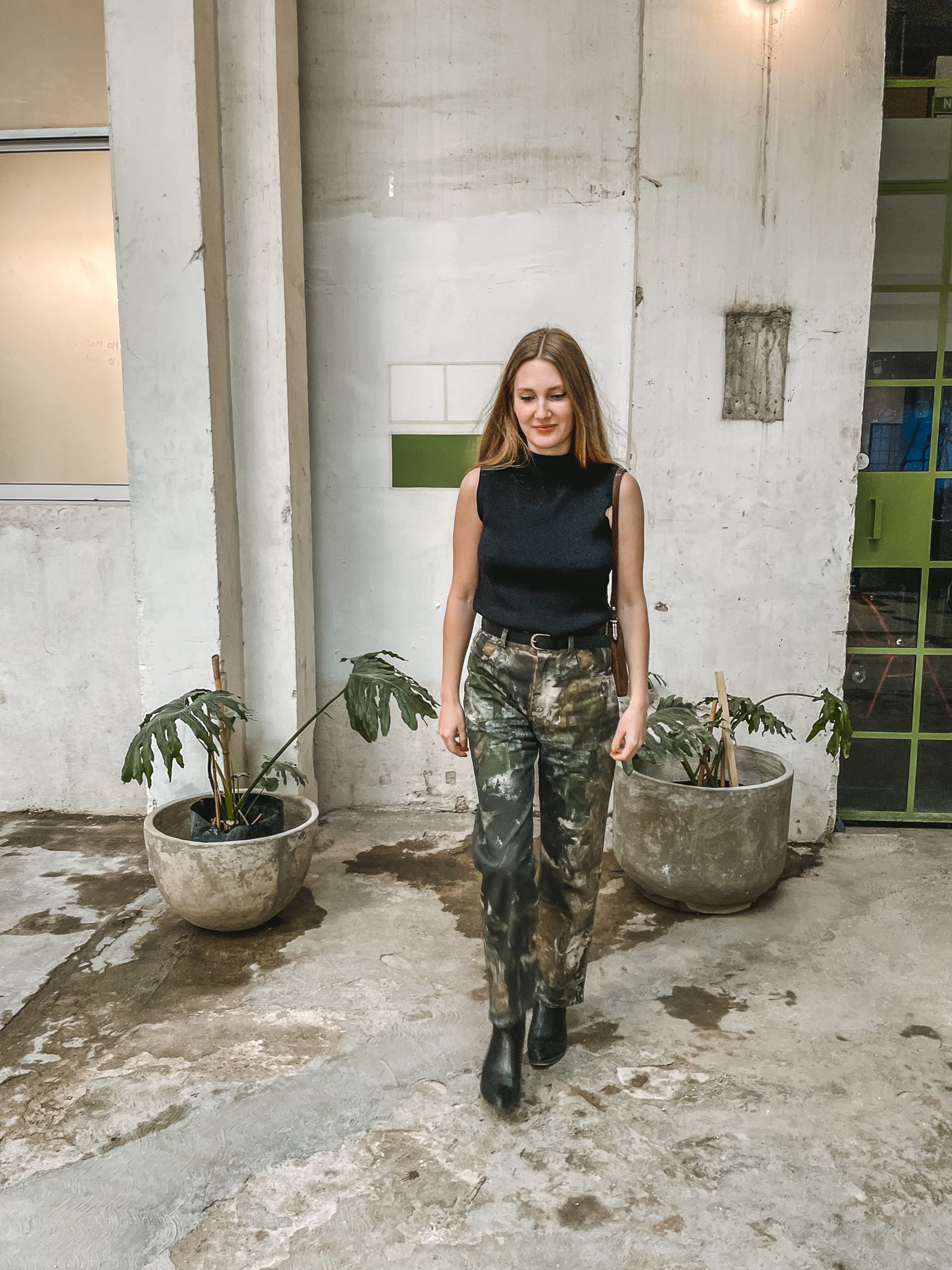 With 16 boroughs and more than 350 neighbourhoods, Mexico City is enormous. You will want to stay in a neighbourhood that is walking distance to happening spots, but also one that is easy to get around to other parts of the city.
We stayed in Polanco, Roma and Condesa, and felt that Roma and Condesa were by far the better areas to stay. In Roma and Condesa, we had better access to other neighbourhoods and we enjoyed their creative atmosphere. There were tons of eclectic eateries, galleries, boutiques and nightlife all within walking distance.
Where to stay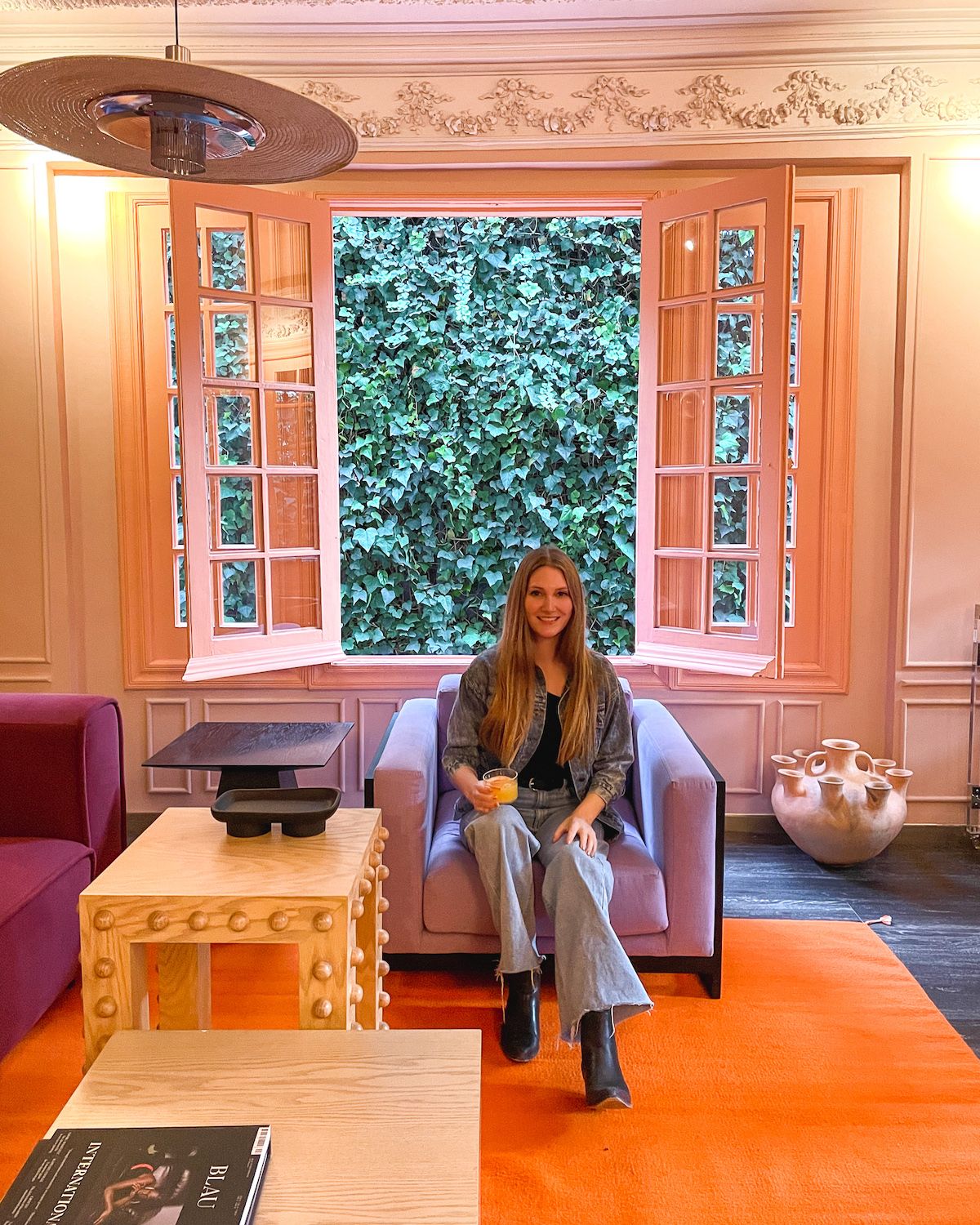 We stayed at these three places and loved them all! They were exceptionally designed and in a fabulous location.
Best for unique luxury: La Valise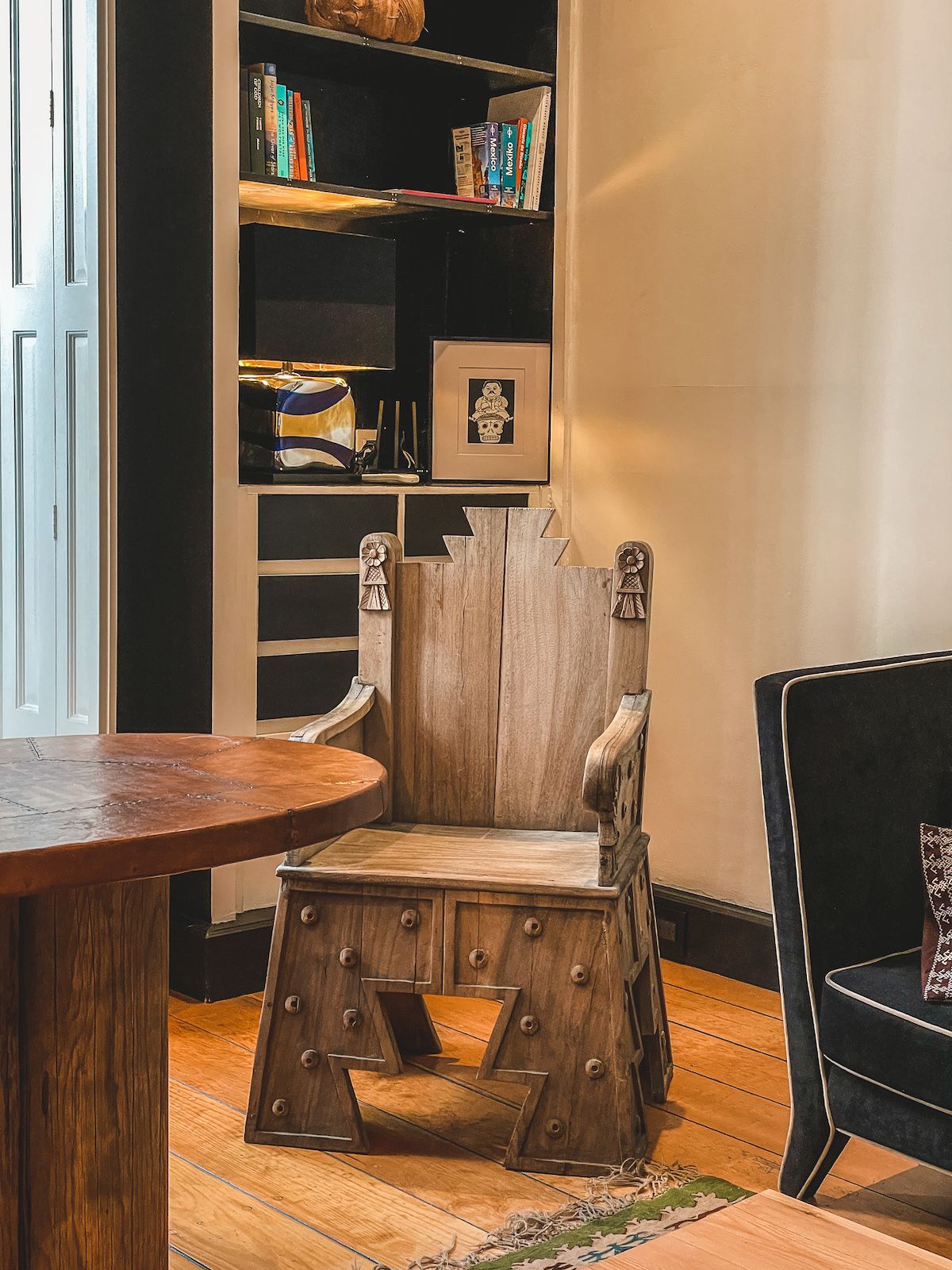 The
three-suite boutique hotel
is located in a mansion and designed with beautiful custom Mexican furnishings and art. If you book the La Terraza suite, you can roll your bed out onto the terrace and watch a movie on the outdoor screen. Rooms start at $278 USD per night.
See rates
.
After a big a day of exploring the bustling city, you will feel revived at this
chic boutique hotel
that feels like a home away from home. Five stylish rooms overlook the leafy garden with fruit trees and cacti. Each room has a colour theme: golden, rose, blue, green and black.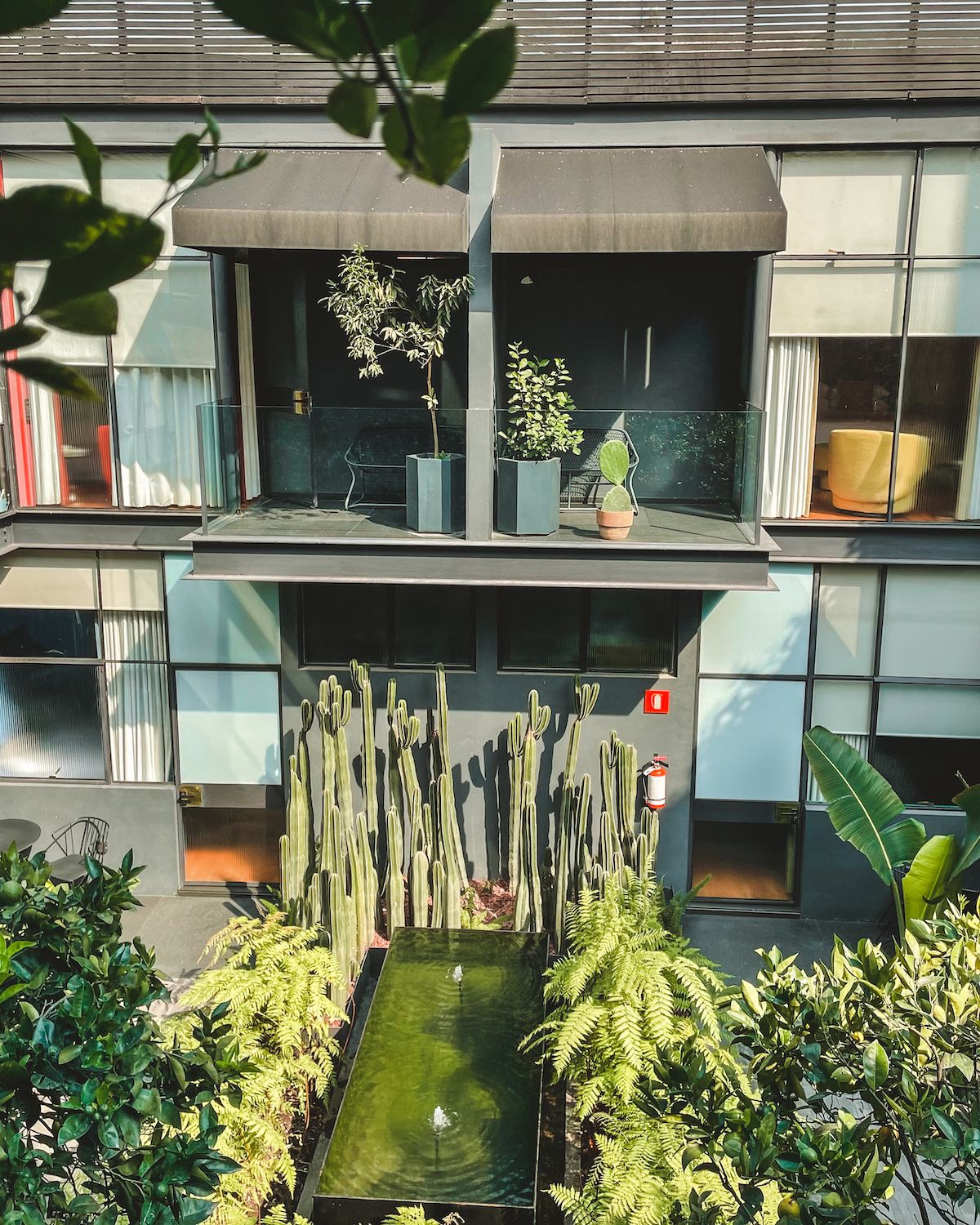 If you book the Negra room, you can choose to have their exceptional breakfast delivered right to your room. Every evening there is also a free cocktail hour, where you can sip a fruity cocktail in the garden. Rooms start at $248 USD per night.
See rates
.
Best for feeling like a local: Casa Dovela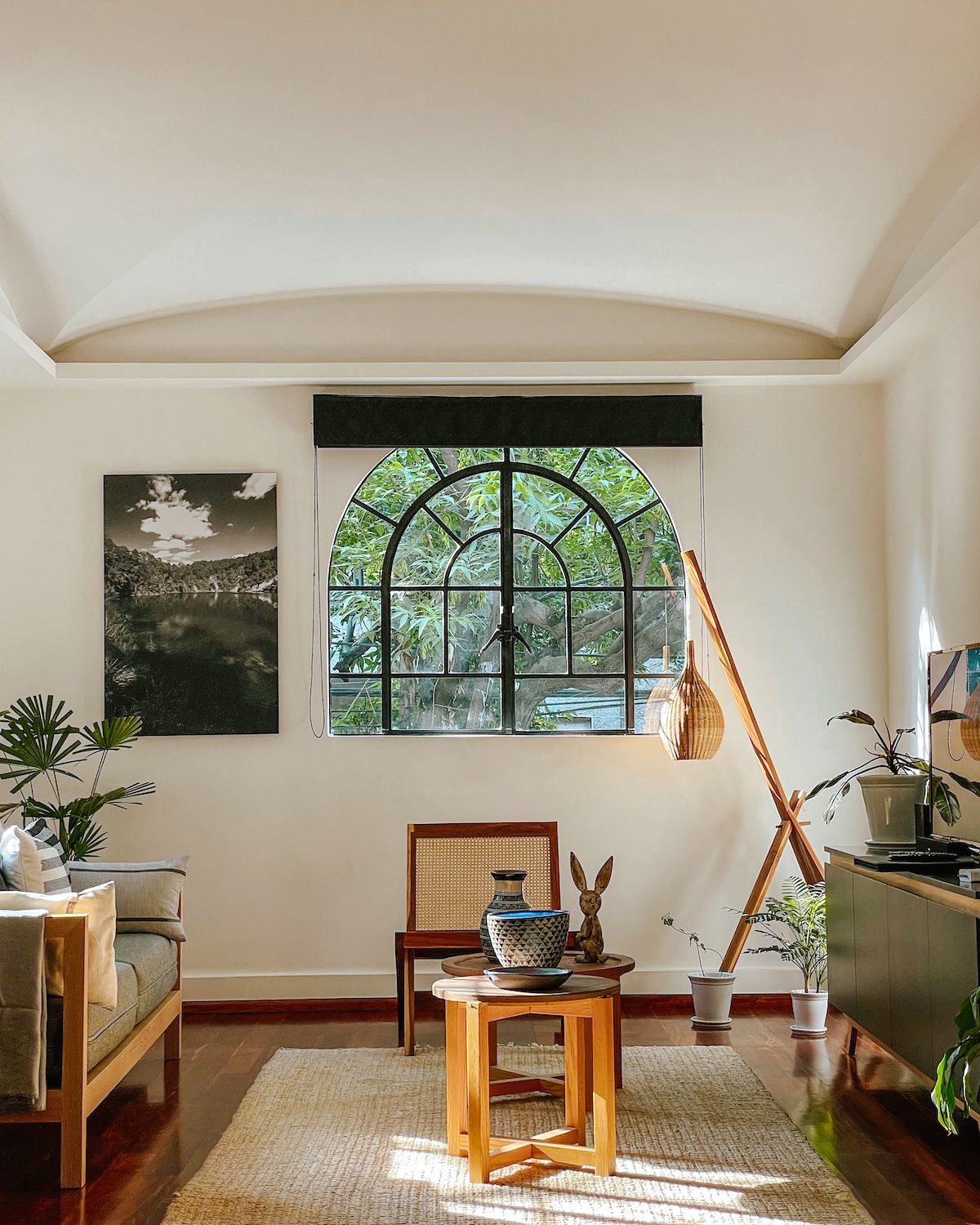 Located on a quiet street in the heart of Condesa,
Casa Dovela
beautifully blends traditional Mexican design with contemporary features in its three suites. The 1940s Californian-style house was restored and designed by Mexico based architect, Ludwig Godefroy, and the creators of Chic by Accident and Taller LU'UM. 🛏️
Browse more stays in Roma and Condesa
4 Day Mexico City Itinerary
Day 1: Roma
Explore Mexico City's coolest neighbourhood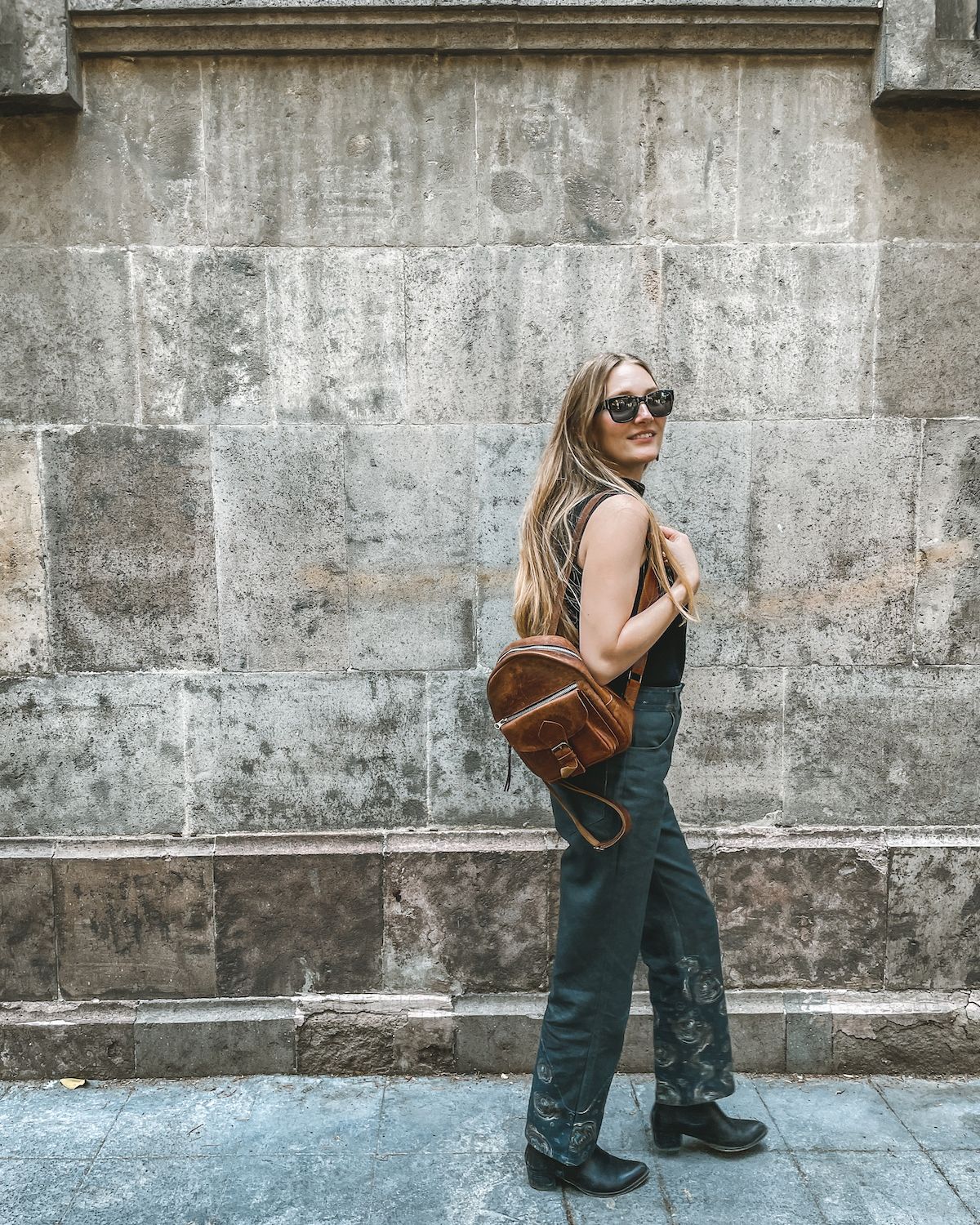 Roma is known as the "Williamsburg of Mexico City", where stylish and artistic types congregate. Walking along the softly-coloured streets you will see Art Deco mansions turned boutique hotels and quirky cafes, bars, vintage stores and artisanal shops just around every corner.
A string of events led Roma to the bohemian neighbourhood that it is today. In the late 19th/early 20th century it was an affluent area until wealthy residents moved out to newer neighbourhoods in the mid-20th century. Roma then became a middle-class neighbourhood until it was struck by a devastating 8.1 magnitude earthquake in 1985. It was one of the hardest hit neighborhoods and to this day you can still see remnants of the disaster in some of the roads and sidewalks.
A slow restoration of the area and cheap rents led to artists, poets and drifters moving in, creating a bohemian atmosphere. As with many artistic hubs in major cities, the alluring cultural atmosphere is gentrifying Roma over time.
Today you will be exploring this wonderful, colourful and spirited neighbourhood full of history and change.
Daytime
Sip coffee and people watch at Panaderia Rosetta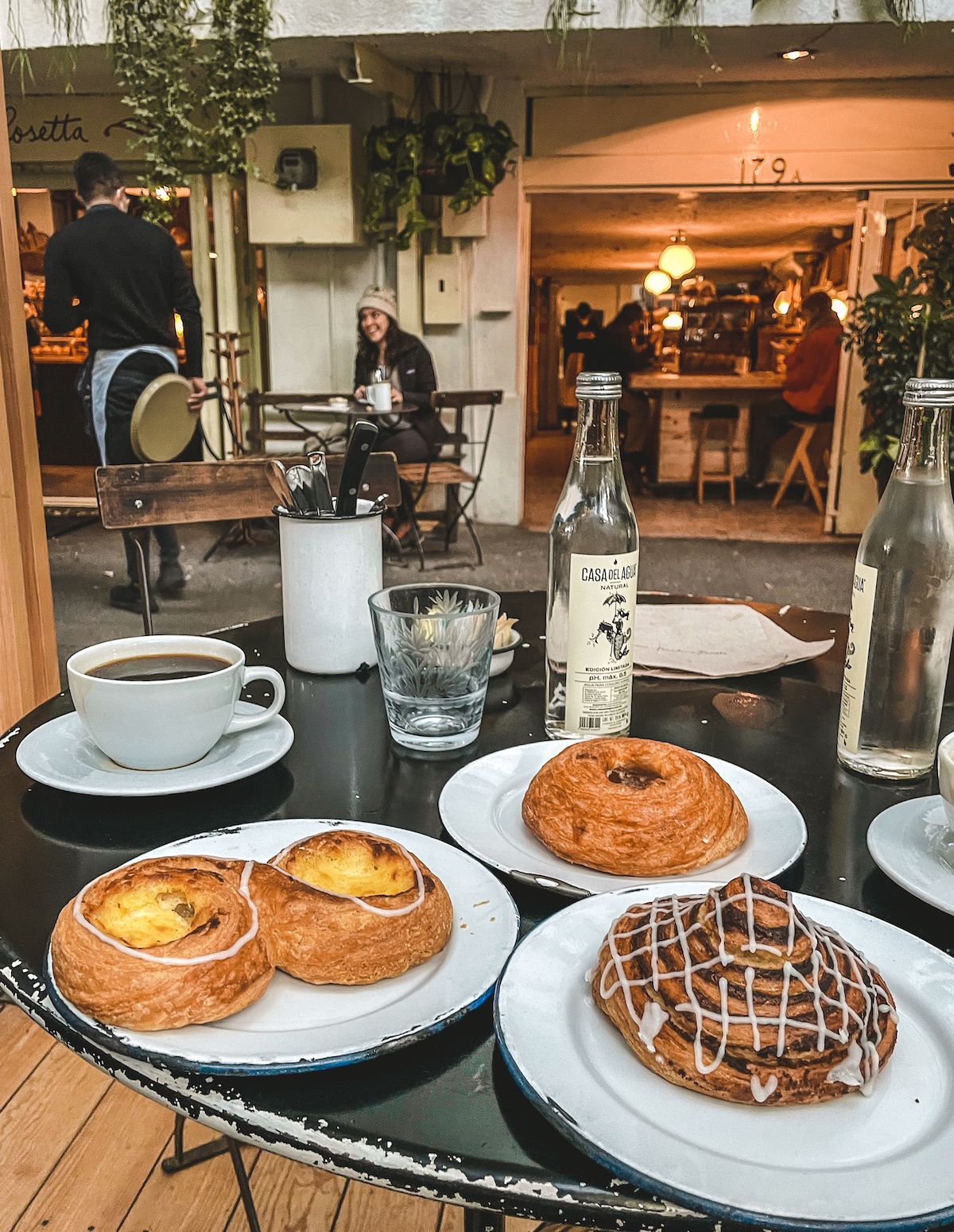 One of the best ways to get to know a neighbourhood is by sitting at an outdoor cafe and observing everything around you. Panaderia Rosetta is a chic European-style bakery by acclaimed chef Elena Reygadas and is well known for its pastries. It's a popular spot, so expect to wait for a spot outside. Try the Cardamomo, it's delicious!
Walk the pastel-coloured streets to discover unique boutiques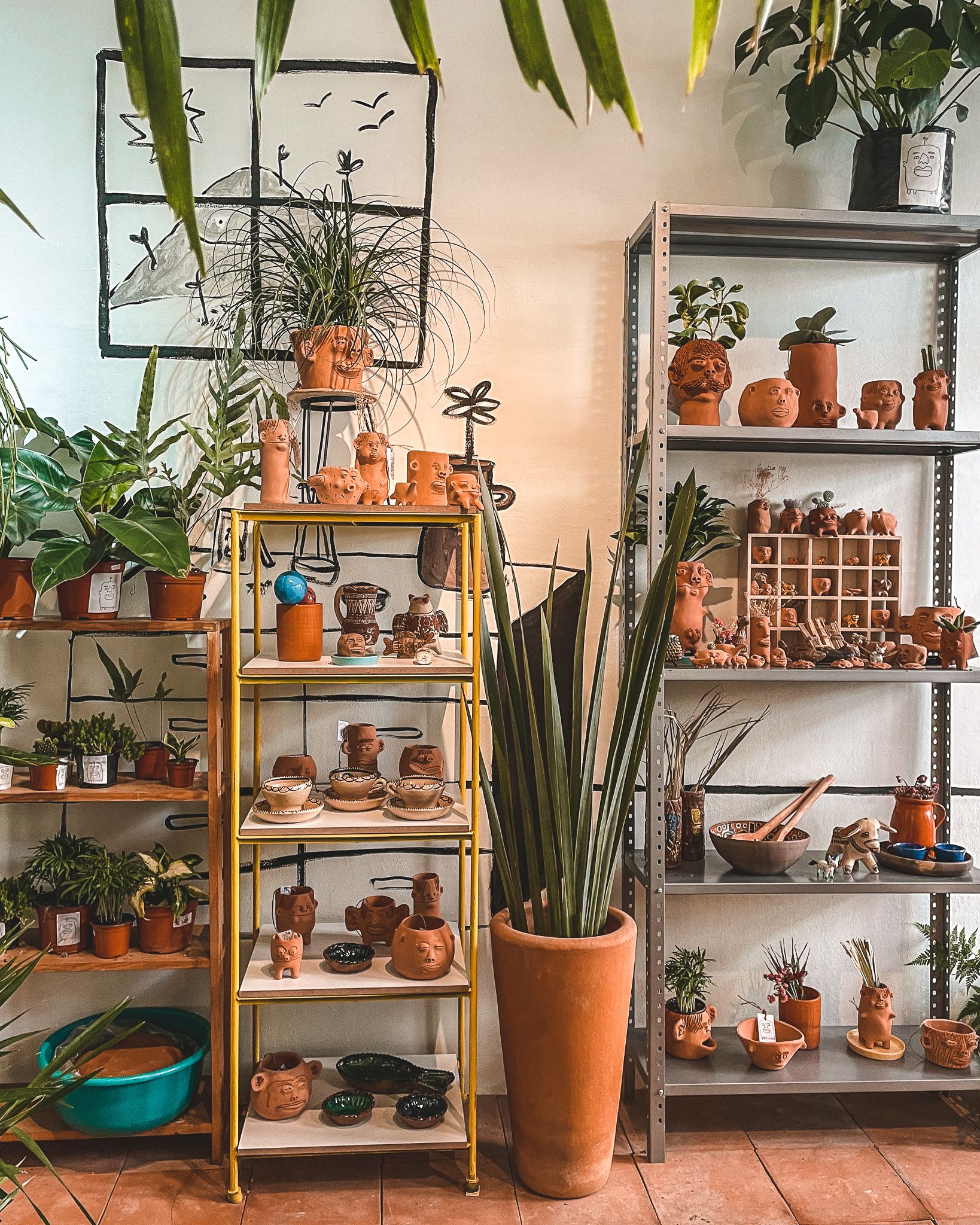 The shopping in Roma is excellent, so make sure you leave lots of room in your suitcase! We visited a ton of boutiques and these were our favourites:
Best boutique stores in Roma
Esculturas vivas - translated to "living sculptures", this artisanal shop sells funky vases and sculptures with carved faces that make it feel like you're bringing an amigo home. They were also featured in Elle Decor Mexico.
180 Degrees - sells amazing jewelry and clothes from up-and-coming local designers.
Mother vintage store - our favourite vintage store we visited in cdmx. They have a well-curated selection of leather jackets, cowboy boots, accessories, shoes and handbags from Mexican brands.
Metate - a concept store selling artisanal Mexican housewares, accessories and clothes. We bought an authentic Yucatan basket and handmade black clay plates from Oaxaca.
Tana Karei - designer furniture and home decor store with natural and timeless pieces.
Laguna (Calle Dr. Erazo 172) - this former textile factory from the 20s has transformed into a creative hub with artist studios and shops. Here, you will find two stores worth visiting if you're an interior design lover: Decada Vintage Store for midcentury pieces and Ballista for radical, "haute couture" furniture.
See our list of 17 unique things to do in Roma Norte.
Enjoy lunch in the gorgeous courtyard of Blanco Colima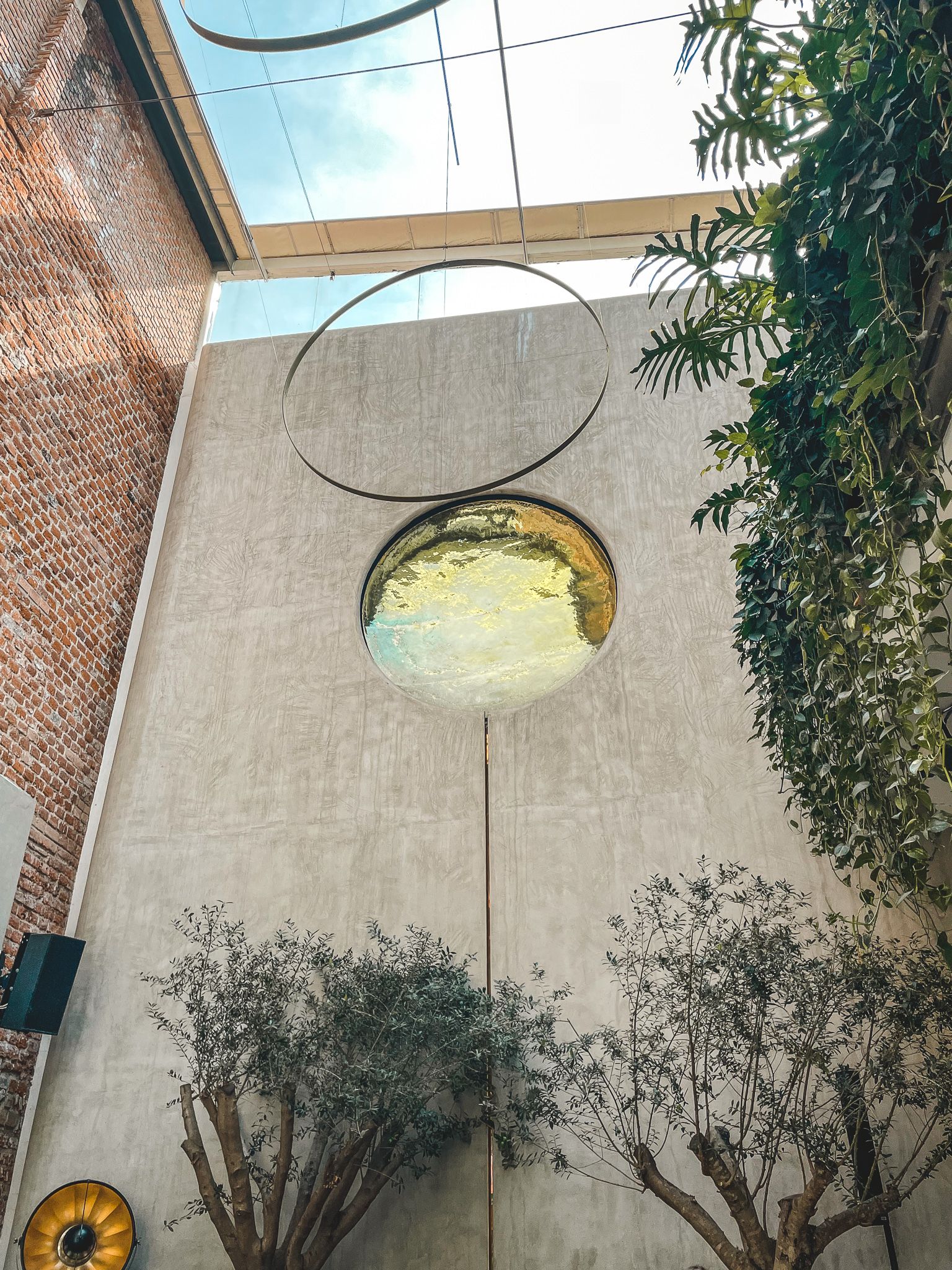 Time for a break from shopping. Find yourself a table in the courtyard of the architecturally stunning Blanco Colima. The Porfirian-era (late 19th/early 20th century) mansion is the perfect setting for a refreshing lunch and mezcal cocktail.
See the latest exhibition at Gallery OMR and MAIA Contemporary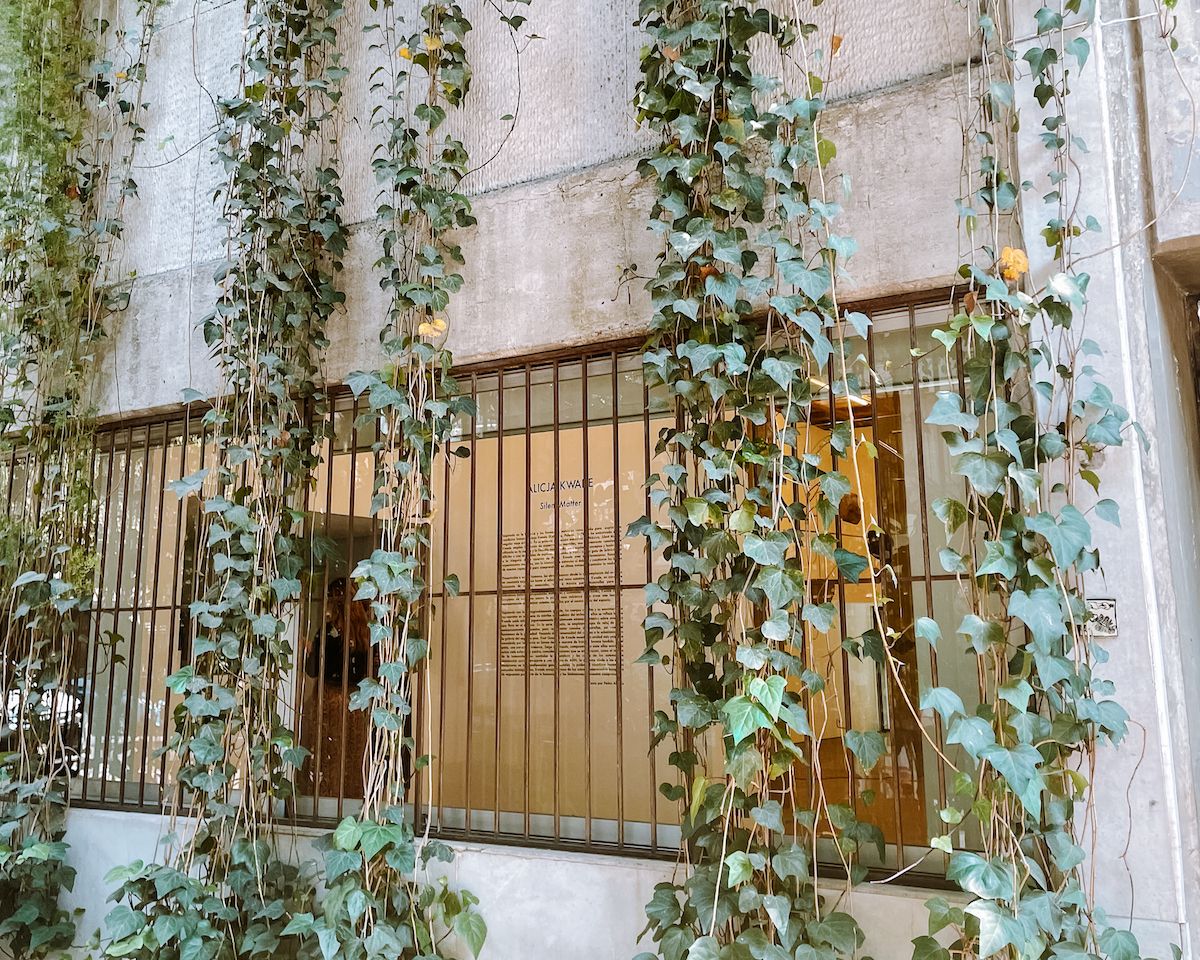 Gallery OMR is one of the most prominent contemporary art galleries in Mexico. Since its opening in 1983, it's paved the way for contemporary Mexican artists to gain international attention. The gallery has discovered some of the most well known Mexican artists today.
Just a 3 minute walk away from Gallery OMR is MAIA Contemporary, another notable gallery exhibiting work from contemporary Mexican and Latin American artists. We saw Pedro Friedeberg's solo show, Hipnerotomagia, when we were there.
See our list of 17 Mexico City art galleries you should visit.
Evening
Dine at Meroma, one of Mexico City's best farm-to-table restaurants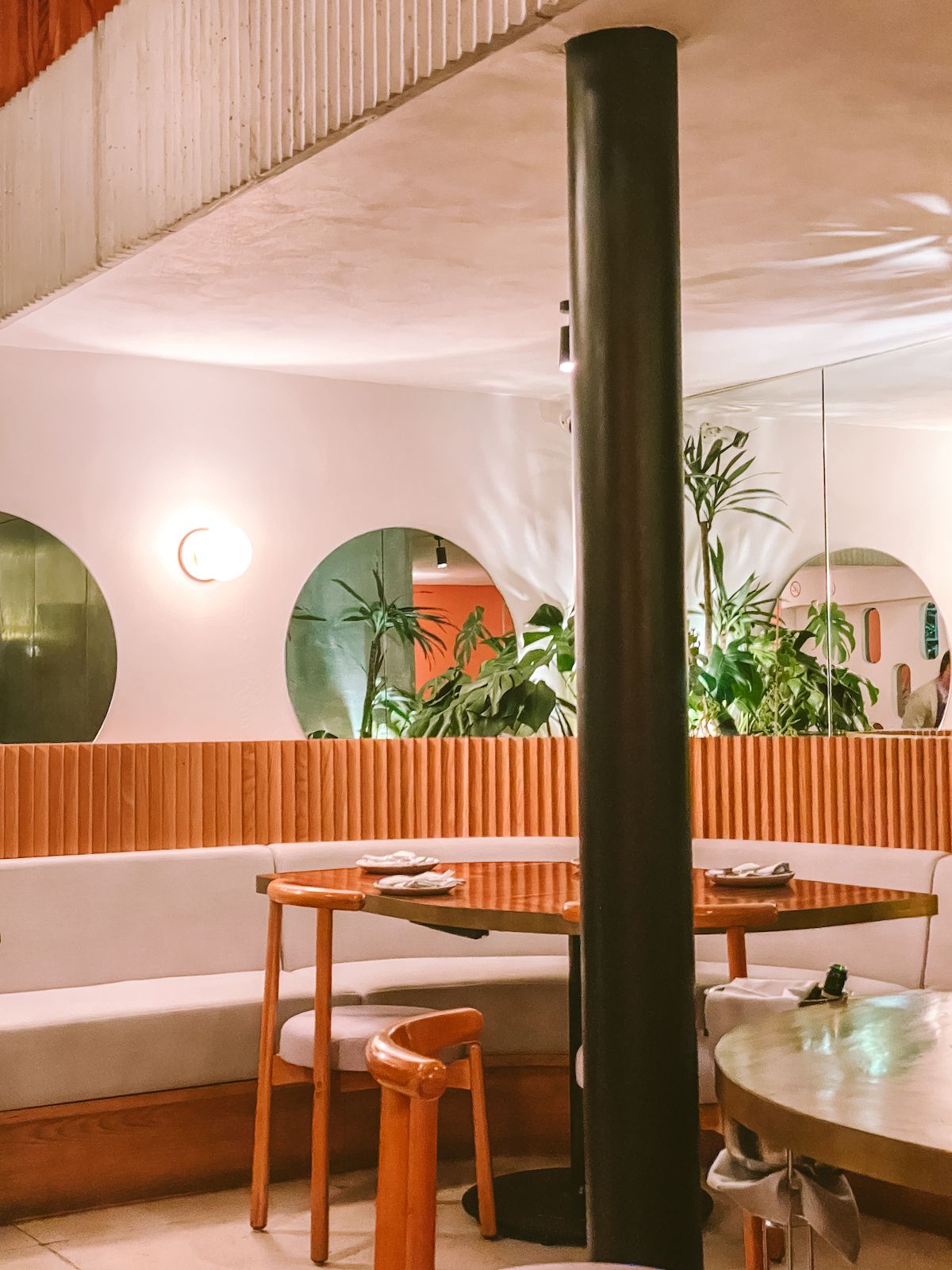 Mexico City has a burgeoning farm-to-table culinary scene, with three restaurants paving the way in Roma: Maximo, Rosetta and Meroma. We dined at all three, and Meroma topped the list for us.
Meroma is one of the top restaurants in Mexico City - for those in the know. Located up the stairs at the back of their sceney street-level bar, the husband and wife duo host you in their mid-century modern space. Every dish we had was standout. So much so, that we immediately made a reservation afterwards to try everything else on the menu. Your taste buds will thank you when you try their creative and seasonally-focussed dishes.
Must try: Merguez orecchiette and fish collar. Start your meal with a glass of their AUS Pét-Nat Rosé wine.
Drink cocktails at one of the world's best bars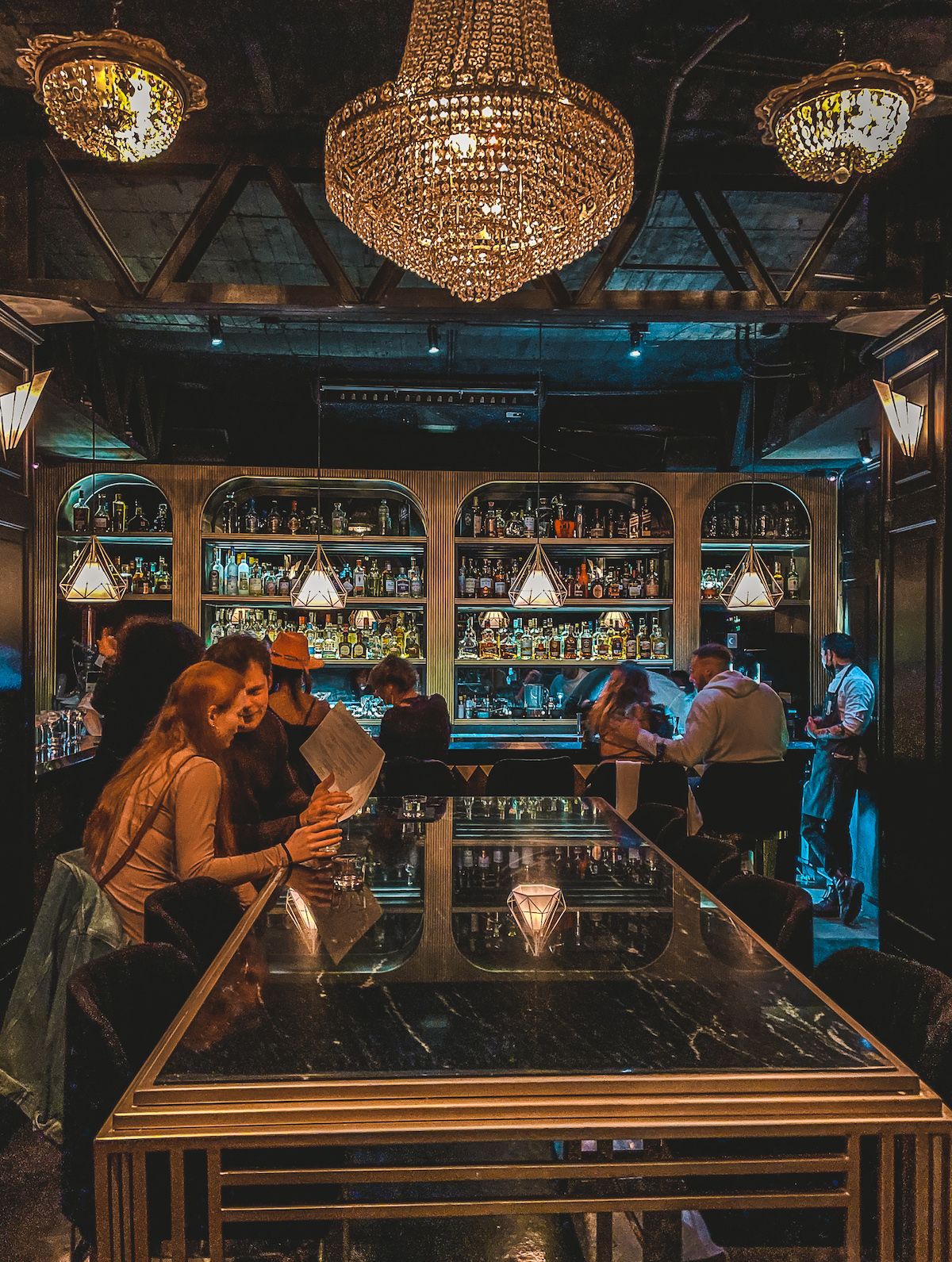 Mexico City is becoming internationally known for its cocktail scene. In fact, four bars in the city are listed in the 2021 World's 50 Best Bars list: Licorería Limantour, Hanky Panky, Handshake and Baltra Bar. Usually bars on this prestigious list will set you back about $20 USD for each cocktail, however in Mexico City, cocktails of the same calibre are half this price!
We went to all four of these bars and Handshake was by far our favourite. The dark and sexy Art Deco interior, glamorous atmosphere, exceptional cocktails made with exotic ingredients and attentive service is what set this prohibition-style bar apart from the others.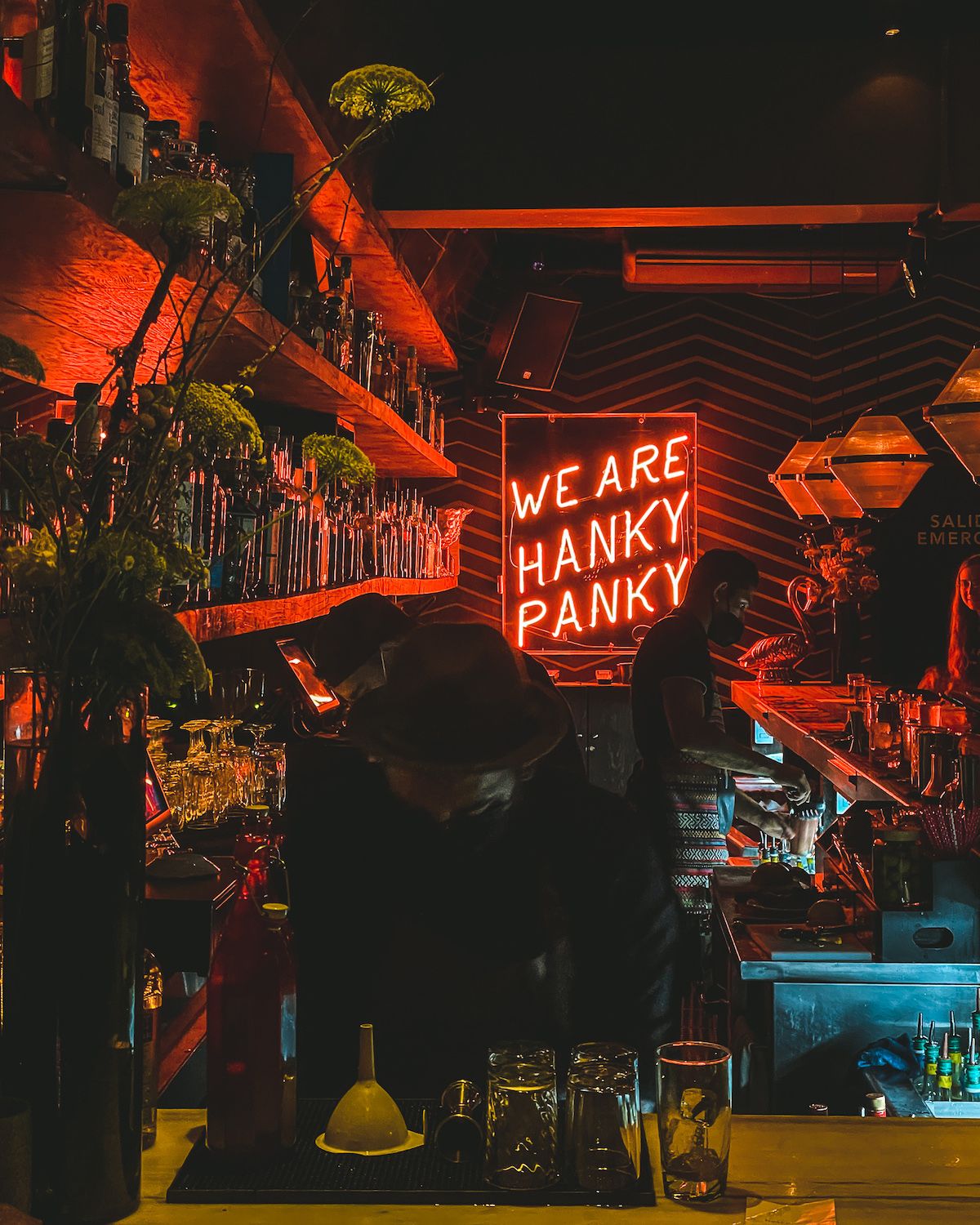 At Hanky Panky, the reservation system is frustrating. Even when you make an online reservation you need to message them in advance to confirm your spot and you can still expect to wait to get inside. Hanky Panky also had our least favourite cocktails of the four bars. The ambience here was funky and cool, but we were unfortunately sat at a long table down the stairs behind the speakers. It felt like we were outside of the action, since our server kept forgetting about us.
Licorería Limantour and Baltra Bar both have great cocktails, however they were missing the "wow factor" that Handshake had with its atmosphere.
See our list of the Mexico City's best cocktail bars
Day 2: Polanco
Explore Mexico City's upscale neighborhood & indulge on exceptional street food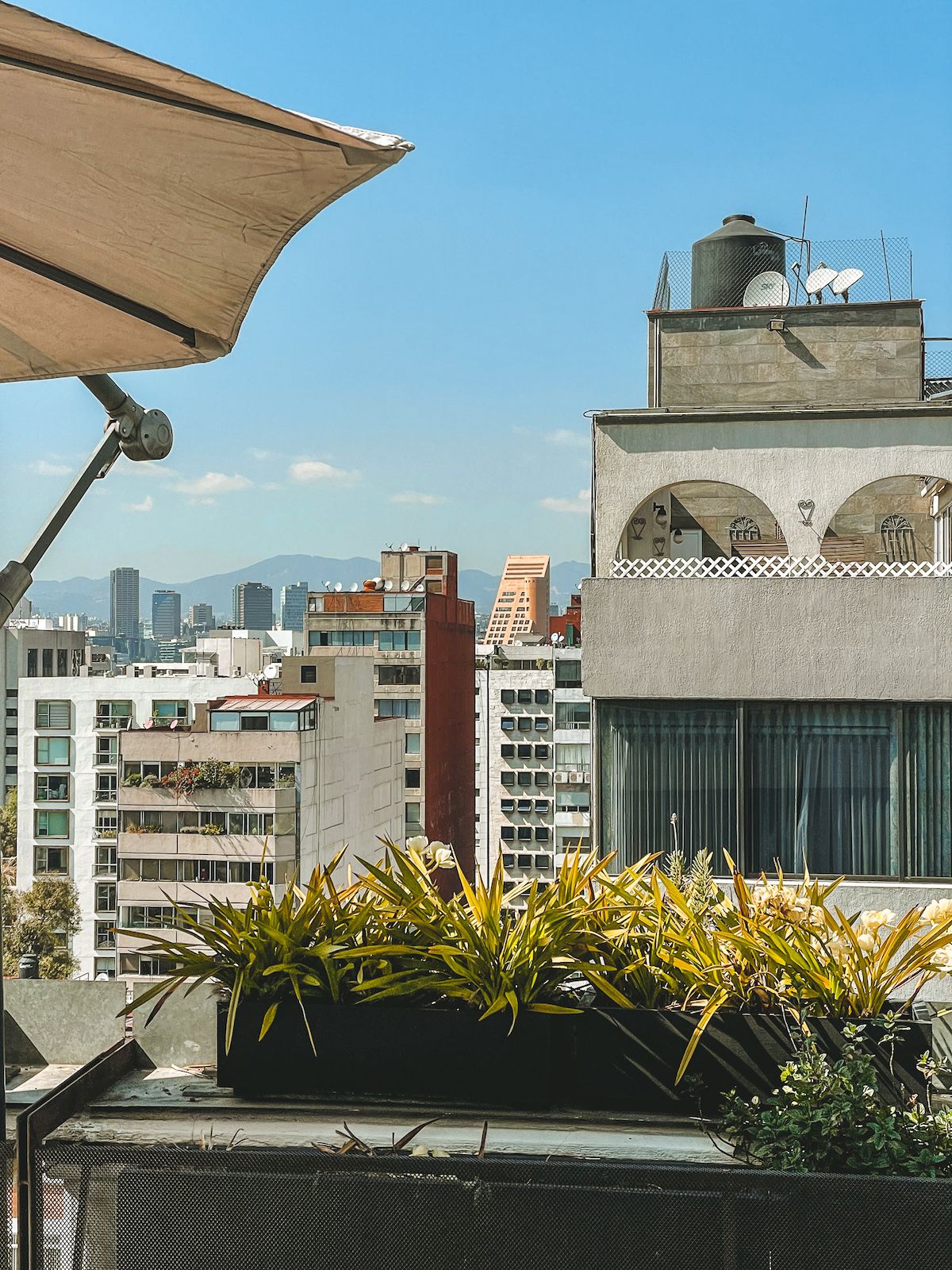 Polanco is an elegant neighborhood where you will find high-end shops, world renowned fine-dining restaurants and ritzy apartments along quiet side streets. Sometimes we find that posh neighborhoods in major cities can be boring, however there are gems throughout Polanco that make it stand out.
Today you will be eating as much flavourful street food as you can and visiting some of the neighborhood's must-see spots.
Daytime
Try authentic Mexican dishes on a street food crawl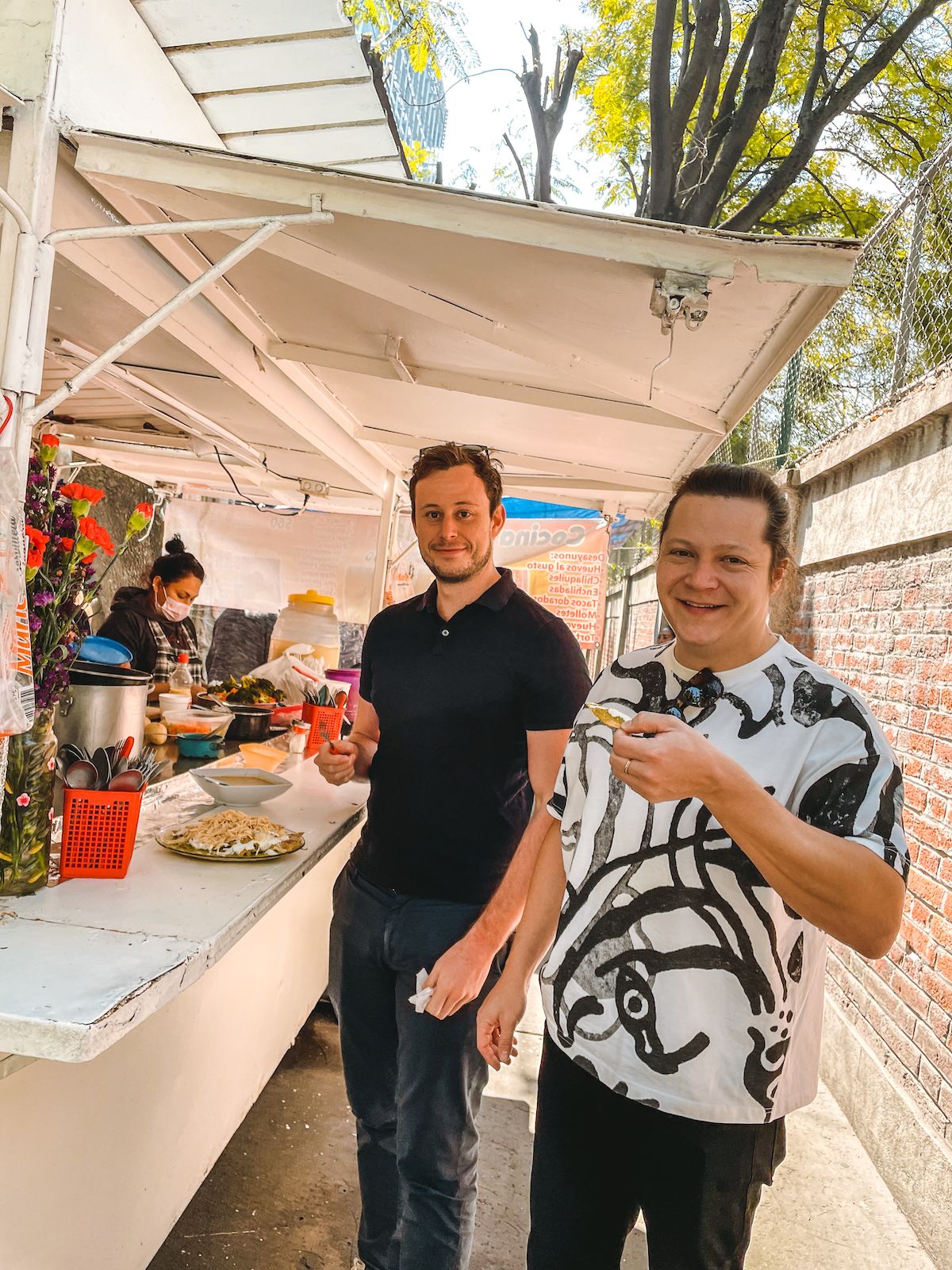 Some of the best food Mexico City has to offer is from street vendors. Really, you have to try it. The quality and value of the food is incredible. We found a quiet street in Polanco called Lago Victoria that had street vendor after street vendor. It's beside Hospital Español, so we figured it's where hospital workers (locals!) ate for lunch.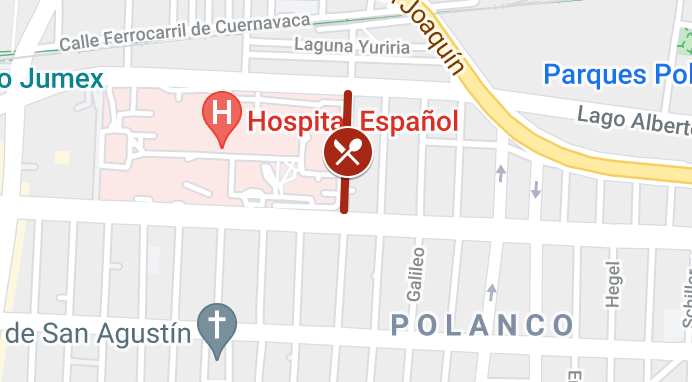 Go for a food crawl and tick off some of these delicious and authentic Mexican dishes:
Chilaquiles - this plate of corn tortilla chips simmered in green or red salsa and topped with crumbled cheese is so addictive, I craved it every morning. Order it with chicken if available.
Tacos de Canasta (basket tacos) - if you see a basket on a bicycle it's most likely Tacos de Canastra, a steamed taco typically served for breakfast. It's loaded with anything from potato and beans to chicken and lamb.  
Tamales - open the banana leaf or corn husk to find a savoury mixture of vegetables or meat with masa (a dough made from dried corn).
Gorditas - the thick corn tortilla made from masa is fried in a skillet and filled with ingredients like beans, chicken, carne asada, cheese and salsa.
Torta - translated to "sandwich", a torta is a bun topped with meat, sauce, and fresh veggies like tomatoes, avocado and onion.
Mole -  made with chili peppers and chocolate, mole is a rich sauce that comes from pre-hispanic times. There are many variations to try, such as black, green and red mole. We had mole served on top of enchiladas - a rolled corn tortilla with a savoury filling.
Quesadillas - a tasty snack of a corn tortillas folded in half with a small amount of melted Mexican cheese (Oaxaca, Manchego or Chihuahua). Dip it in salsa or guacamole.
Flautas - wonderfully deep-fried flute-shaped tortillas filled with meat, cheese or veggies of your choice. Top it with crema, cotija cheese and salsa.
Churros - finish off with a sweet treat of fried dough topped with cinnamon sugar
Overwhelmed by the street food options?
You could also consider booking an
authentic street food tour with a local guide
. Both
GetYourGuide
and
Viator
offer highly reviewed tours.
Shop Polanco's unique boutiques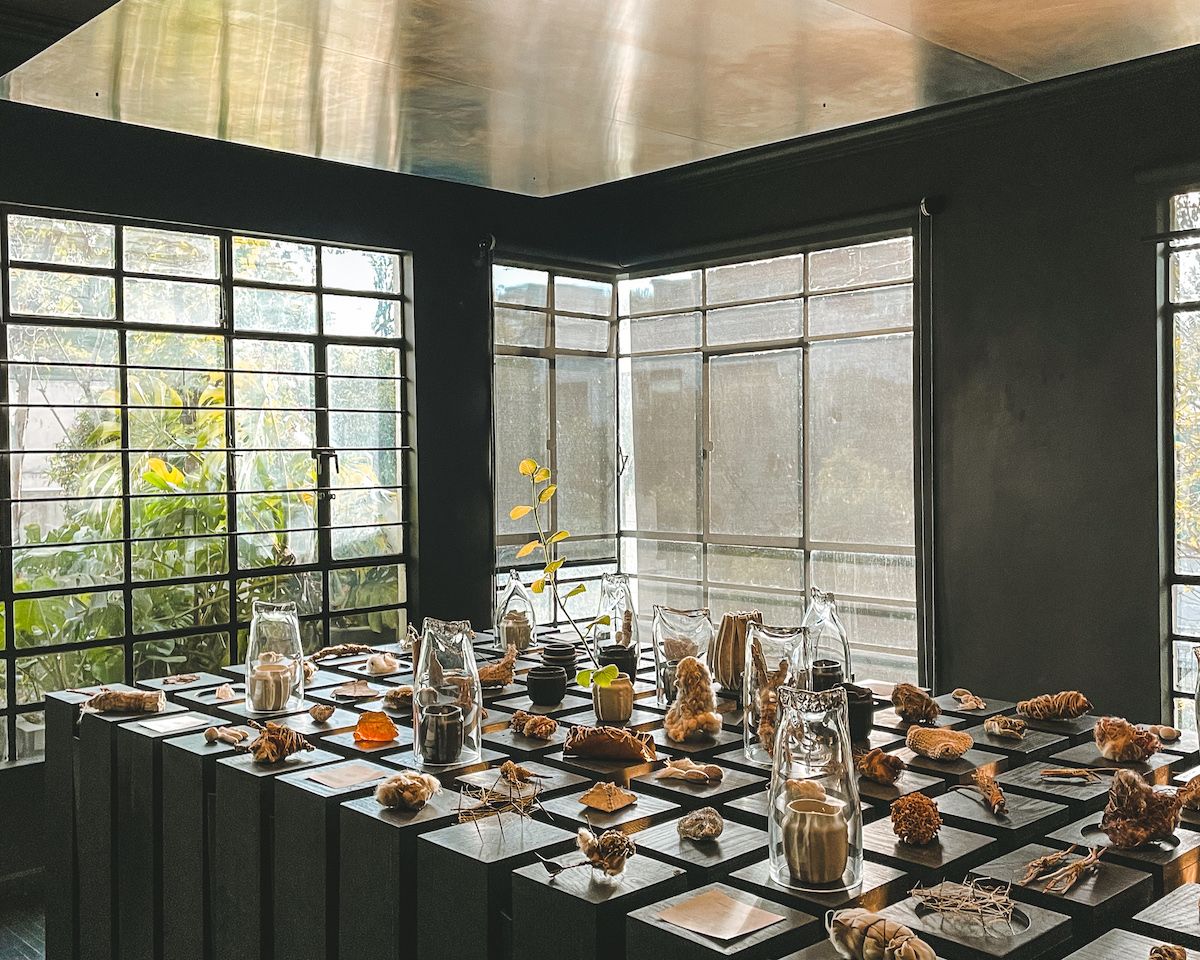 Polanco is known for its higher-end shopping with designer stores and commercial shops peppered throughout. Look past the commercial shops to discover some of the best boutiques in the city.
These stores are a must-visit in Polanco:
IKAL - a concept store with gorgeous housewares, jewelry and clothing from Mexico's best designers. We bought a volcanic stone bowl with a wooden lid that keeps your tortillas warm (called at Tortillero).
Lago - carries unique housewares and clothing from emerging Latin American designers. We bought a couple of gorgeous clay vases for our home.
Xinu perfume - it's an experience visiting this stunning ethnobotanical perfume store. Buzz to get inside and walk up the stairs find a beautiful lab-like table with six unisex perfumes to try. The artisanal perfumery uses high-quality raw ingredients from Latin American plants and flowers. The scents are sultry and complex yet subtle and chic. I chose Monstera (No. 4) and Ari the Aguamadera (No. 1).
Onora - Sells traditional Mexican handicrafts with a contemporary look for the home
See the beauty of LAGO ALGO, Mexico City's new cultural space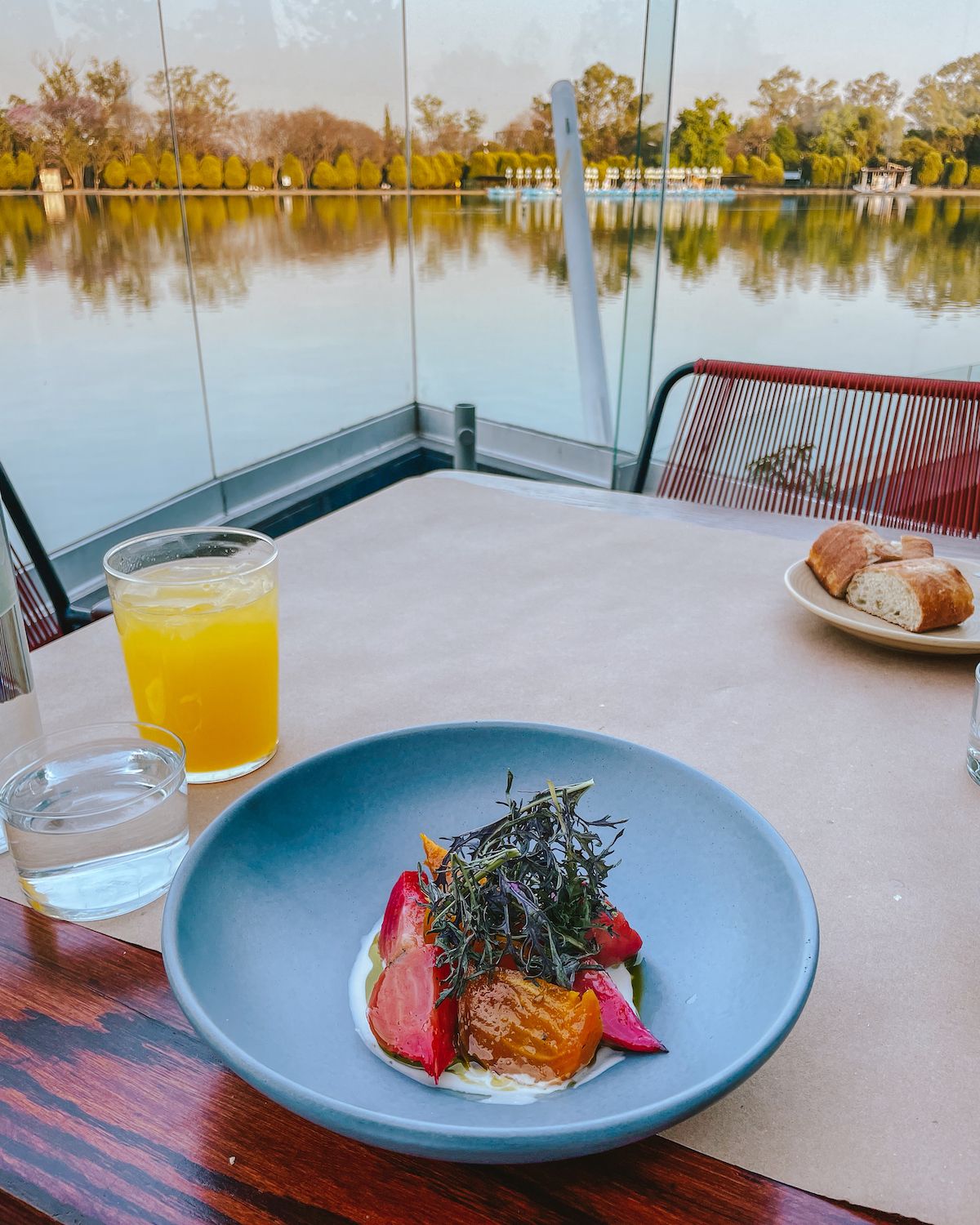 Have a lakeside lunch and see the latest art exhibition at LAGO ALGO, a gorgeous cultural space in Chapultepec Forest that is one part restaurant/working space (LAGO) and one part contemporary gallery space (ALGO). As OMR's newest opening, it's sure to impress.
Make your free art exhibition reservation online, and your lunch reservation 30 minutes later. Request to sit outside or by the window for a lake view.
Evening
Eat mouthwatering tacos and panuchos for dinner at El Turix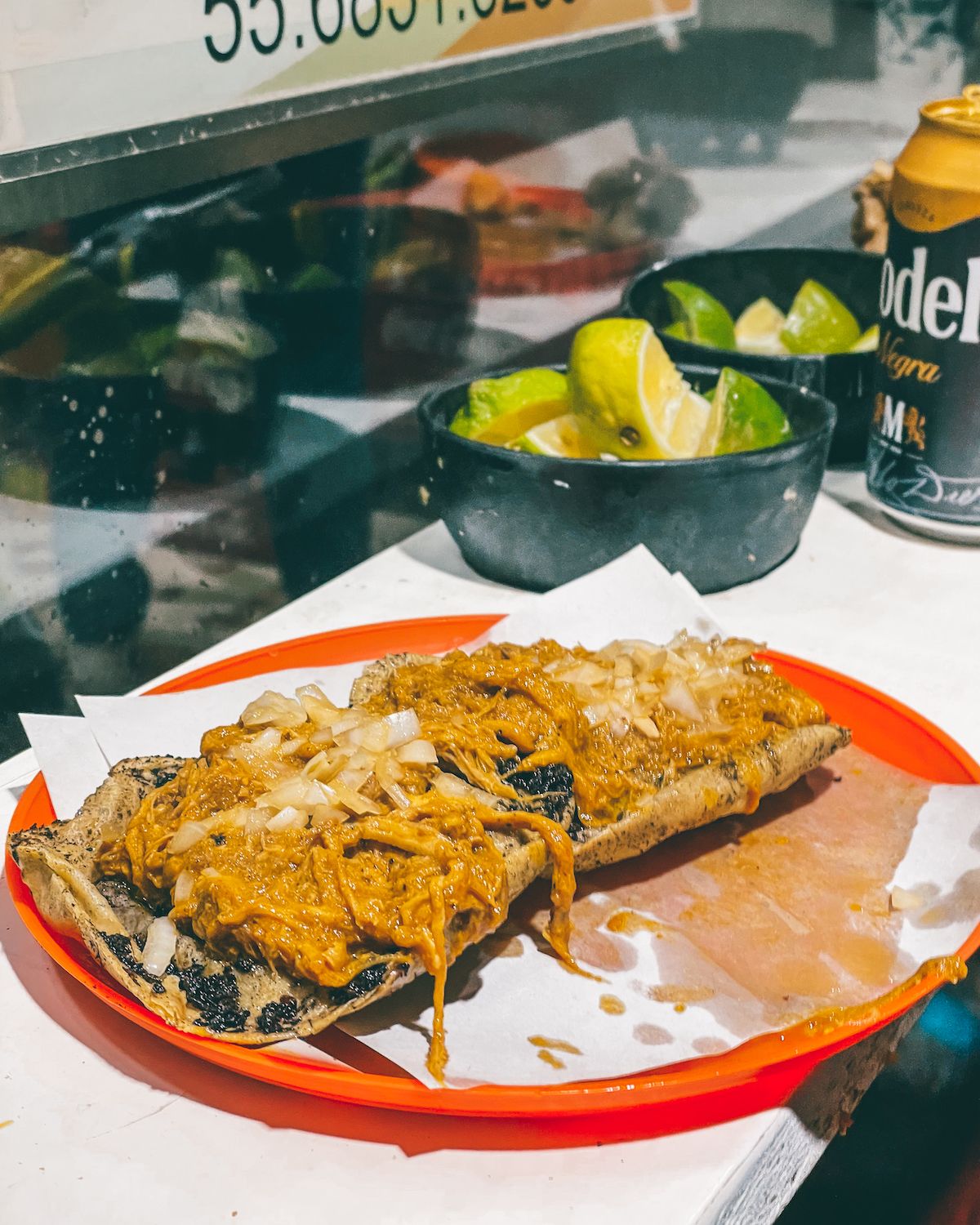 On the plane ride over to Mexico City, a sweet older man who grew up in the city recommended this hole-in-the-wall taqueria. It's famous for its cochinita pibil (Yucatan BBQ shredded pork) tacos and panuchos. A handful of juicy pulled pork is slapped onto the tortilla and topped with pickled onion. It's then up to you to add your desired condiments on top.
Make sure you try the panucho version which is like a taco, but the tortilla is fried and topped with beans. It was one of my favourite things I ate in the city.
Finish the night off with drinks at Ticuchi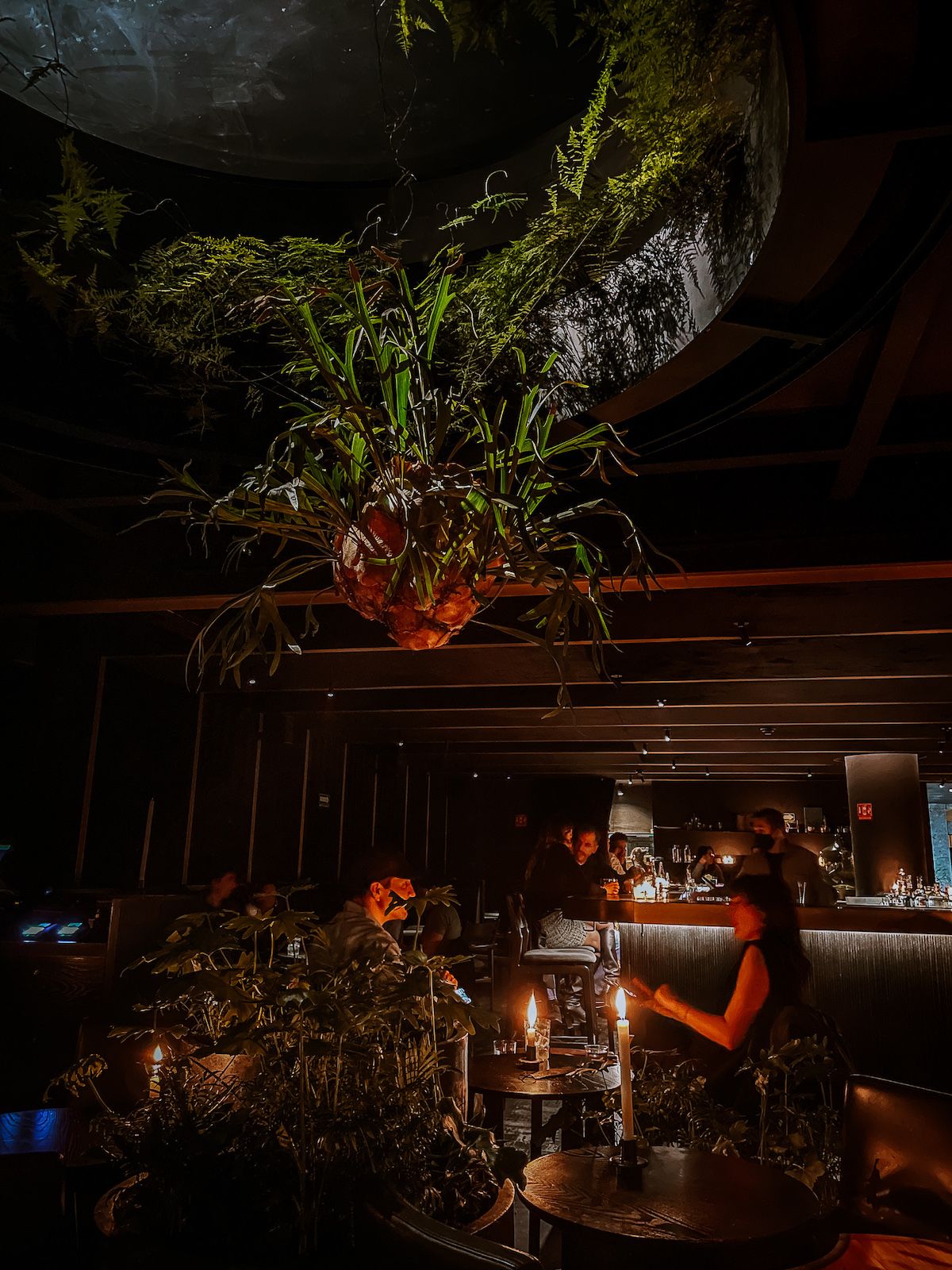 Switch it up from the casual street food joints and finish the night off at Ticuchi, a dimly lit bar with an impressive round skylight that gives it James Turrell vibes. Shining candlelight nicely contrasts the black walls and furniture and exciting music fills the space.
It feels like you're in an exclusive bar in the space station with moonlight shining through a porthole, but once you take a sip of strong artisanal Mezcal you're reminded that you've found a hidden gem in CDMX.
Top Tip: This is a great place to try out Mezcal, also ask for the unexpectedly delicious off-menu tamale.
See more unique things to do in Polanco
Day 3: San Miguel Chapultepec & Juarez
Visit architecturally inspiring San Miguel Chapultepec and hang out in up-and-coming Juarez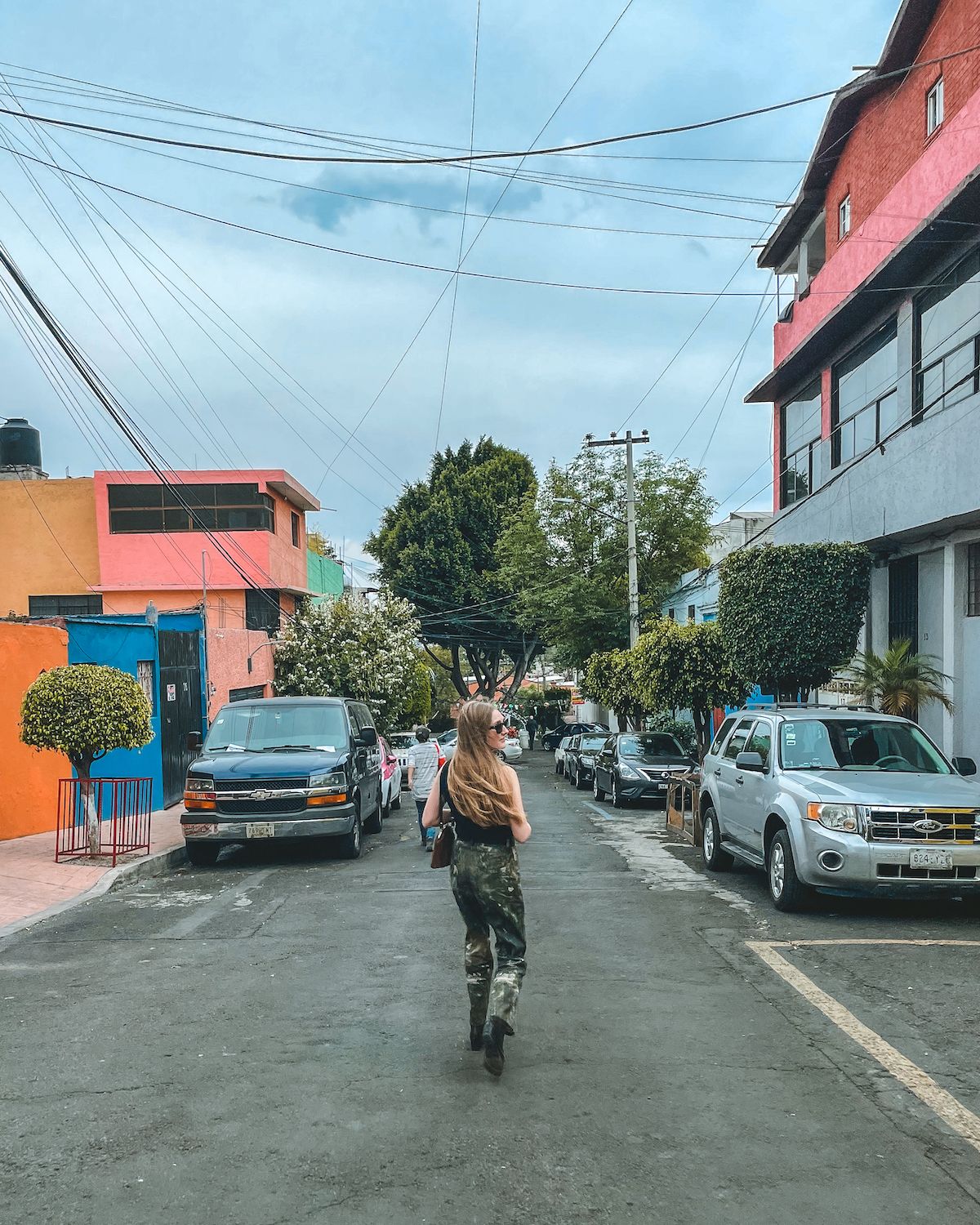 Start your day by walking through San Miguel Chapultepec, a bright neighborhood with an emerging art scene, and tour a home built by one of Mexico's most famous architects.
Daytime
Go on an architectural tour of one of Luis Barragan's homes
Luis Barrangan was a famous Mexican architect and modernist who heavily influenced contemporary architects with his use of vivid colours and light. He was awarded the most prestigious award in architecture, the Pritzker Architecture Prize, in 1980.  
You will be amazed with how his use of colours and transitionary spaces play with your senses. We went on two architectural tours of Luis Barrangan designed homes, Casa Luis Barragan and Casa Gilardi. See which one is right for you in our review below - or if you have time, go to both!
Casa Luis Barragan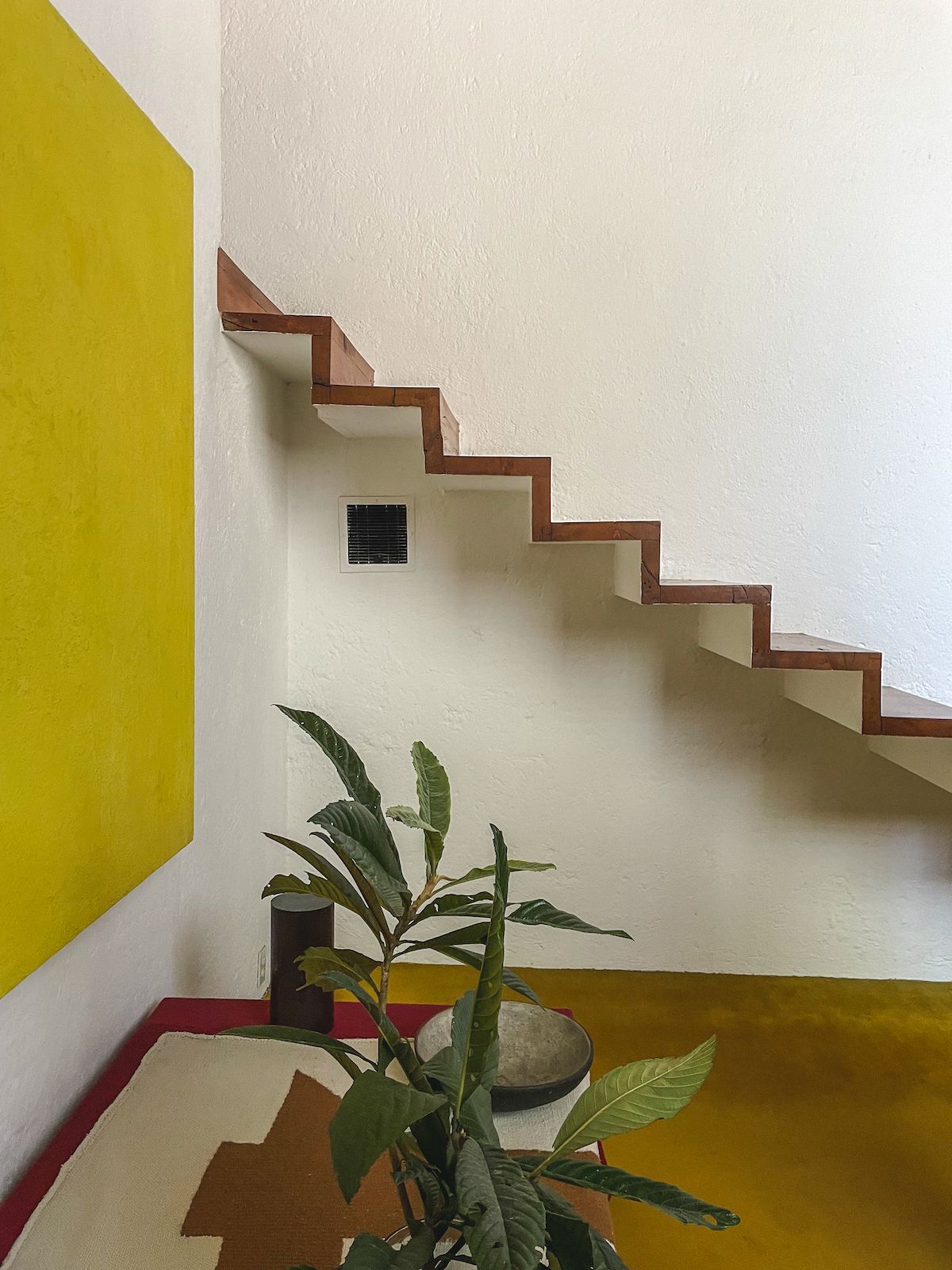 Casa Luis Barragan was the home and workshop of the renowned architect, which he built for himself in 1948. Listed as a UNESCO world heritage site, it's the only private residence in Latin America to achieve such distinction. You don't need to be an architecture buff to enjoy the one-hour tour. You will learn about his innovative and artistic use of colour, textures, shadows and light.
The only drawback of this tour is how difficult it is to get tickets, since there are limited spots. Tickets typically go on sale 2 weeks before the date and they go fast, so set a calendar reminder for your desired date! The price is $400 MXN per international guest (~$19.50 USD).
Casa Gilardi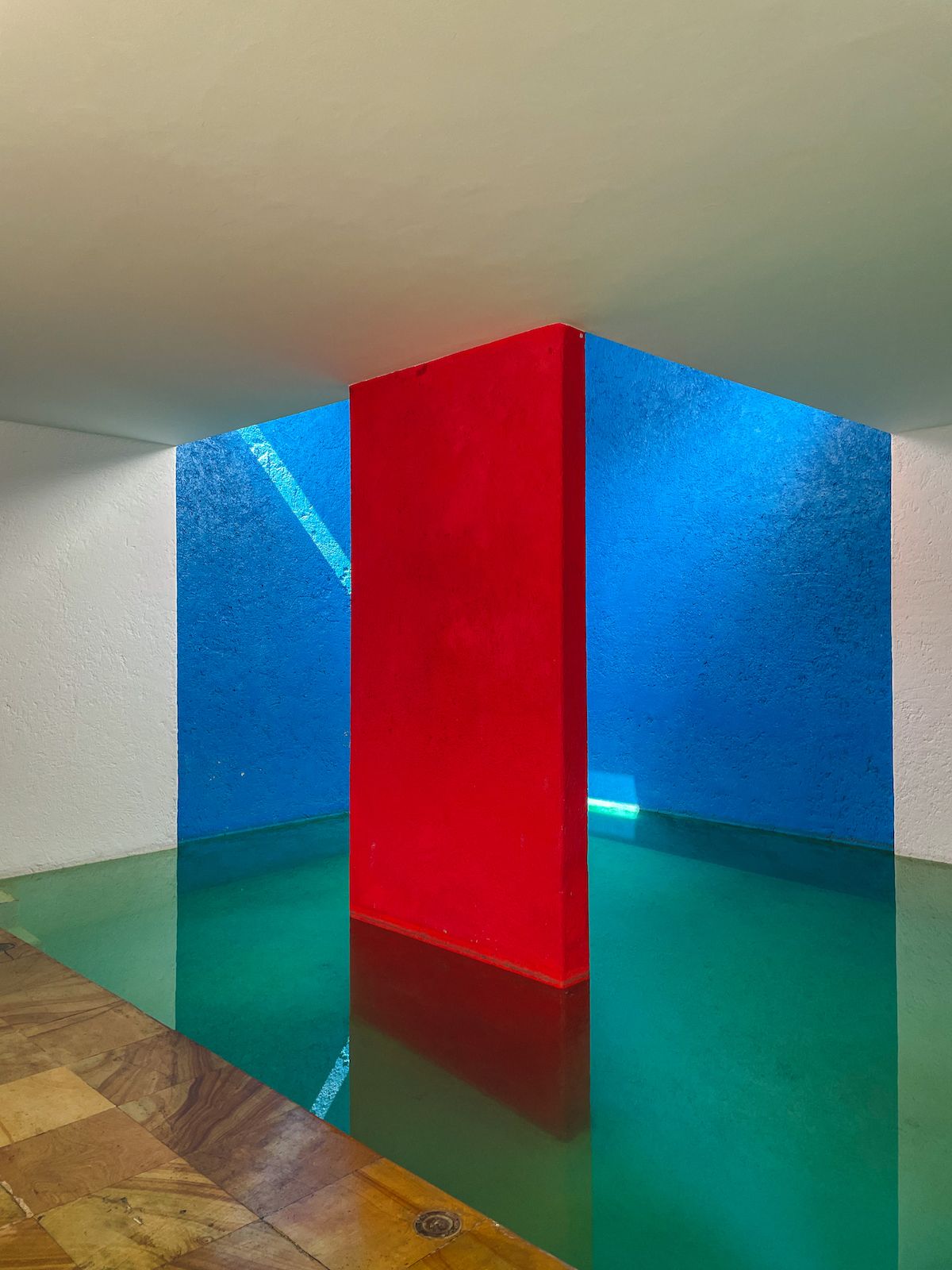 Built in 1976, Casa Gilardi was the last home Luis Barragan designed before his passing. He was commissioned by a family who, to this day, give tours of their house.
A highlight was transitioning through a deep yellow hallway into the indoor pool room that extraordinarily combined the use of colours, shapes, natural light and shadows. It's so impressive that internationally renowned artist James Turrell stayed here for a month to examine the use of light.
It's easier to get tickets for Casa Gilardi since it's not a comprehensive tour. Our tour guide talked about the house for about 5 minutes and then we were left to explore the upstairs of the house. About 15 minutes later he brought us down to the lower level for the last part of our tour. Our tour guide was available for questions, but it was more of a self-guided tour compared to the detailed format given at Casa Luis Barrangan.  
For tickets, email casagilardi@gmail.com directly. The price is $300 MXN per person (~$14.50 USD).
Visit a contemporary art gallery in San Miguel Chapultepec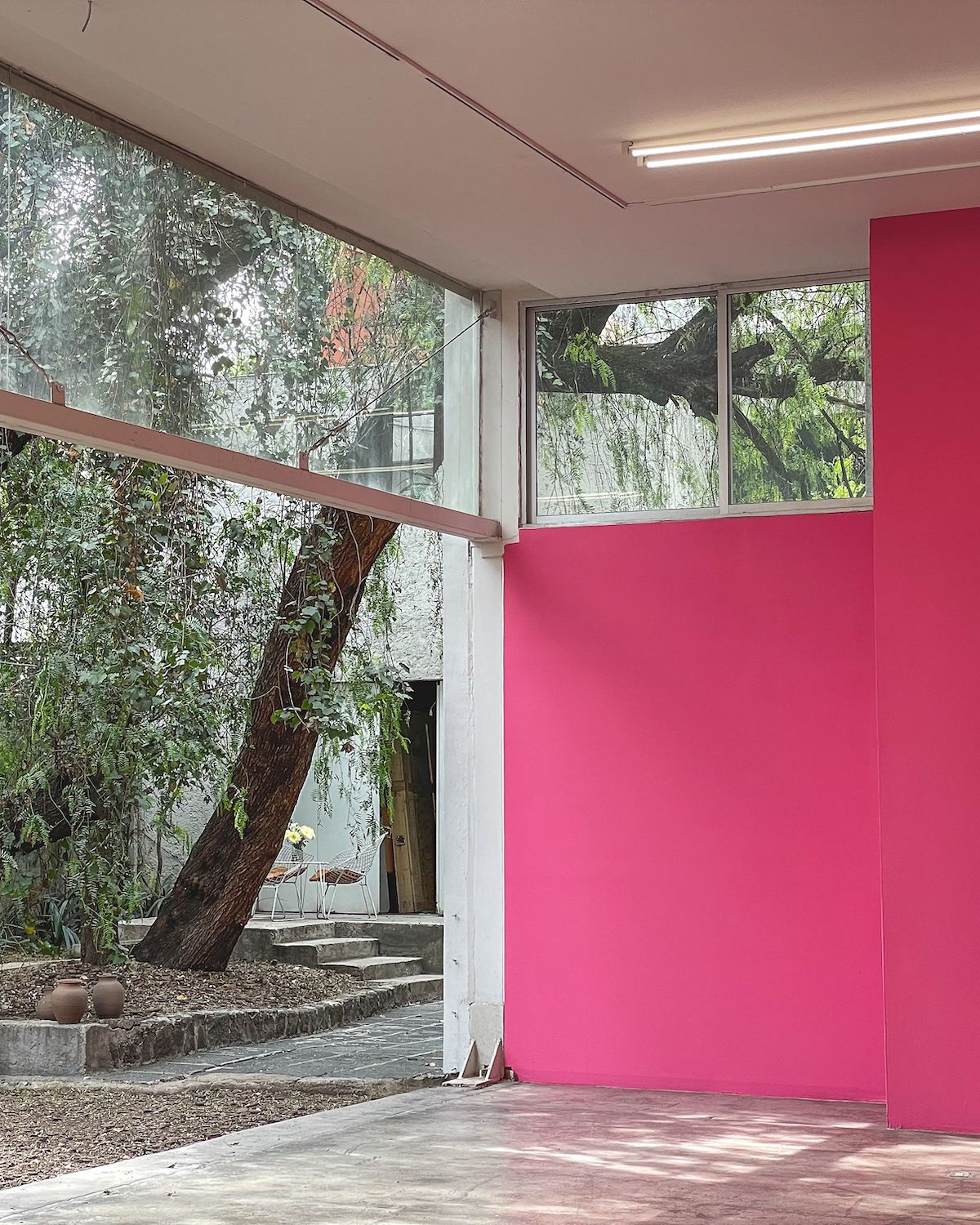 After your architectural tour, walk around multicoloured San Miguel Chapultepec to visit some of neighbourhood's eclectic galleries. Contemporary galleries worth checking out are LABOR,  Kurimanzutto, JO-HS, MASA Galeria, and Galeria RGR. See their website for current exhibitions.
We were there for Kurimanzutto's Art Book Fair, a happening event where we saw a glimpse into Mexico City's art scene. In the back of the space is a cute cafe.
Hang out in the up-and-coming Juarez neighborhood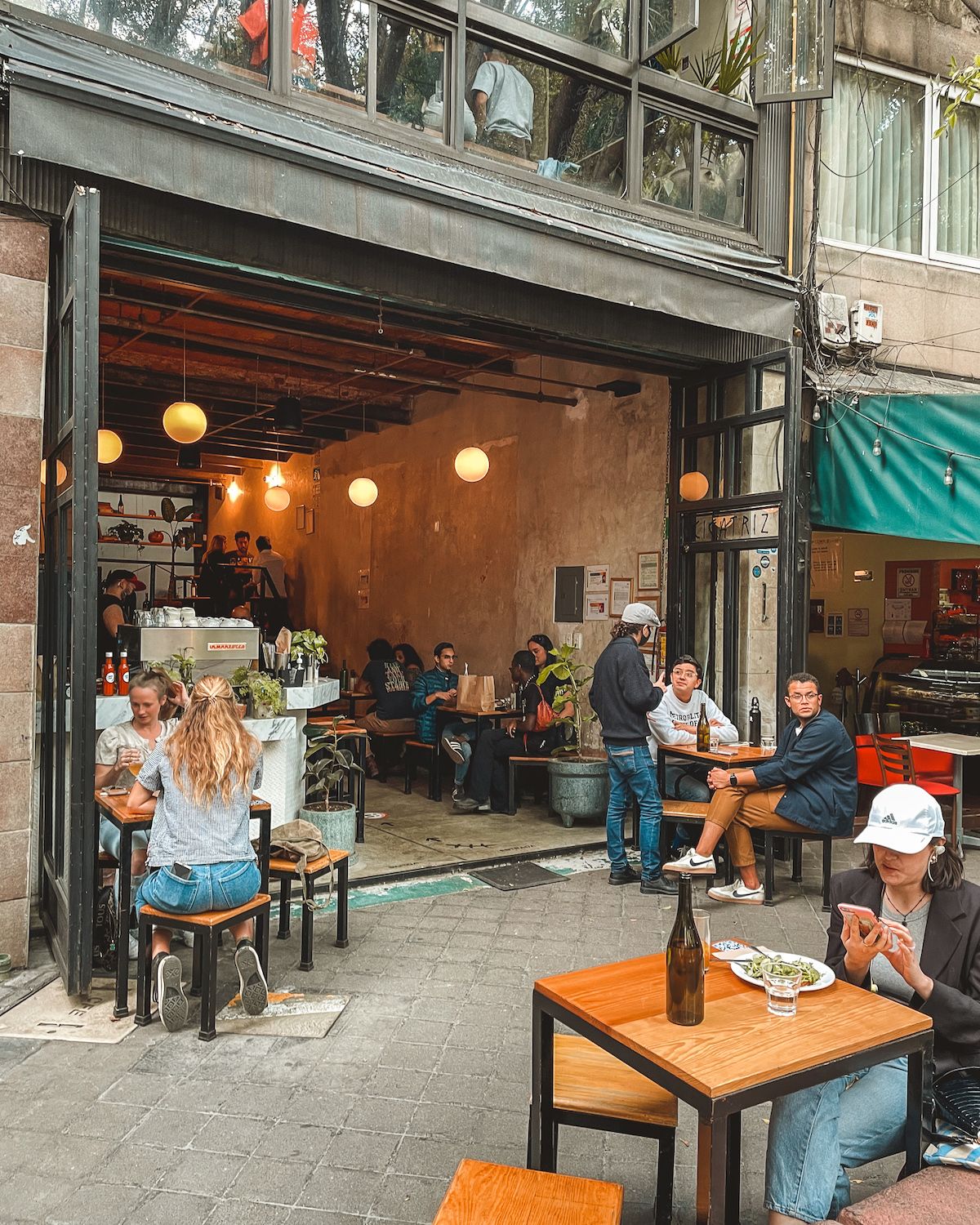 Time for lunch! Take an Uber to Cicatriz, a trendy industrial-style eatery in the Juarez neighborhood. Friends and expats like to meet up in this buzzing space that opens up onto a plaza. Refuel here with a few bites and a tasty cocktail before setting out to browse the trendy shops in Juarez.  
Juarez is becoming one of Mexico City's hottest in-the-know neighborhoods. Juarez has a similar story to Roma, where wealthy residents moved to newer, more desirable neighborhoods in the early 20th century, paving the way for artistic types to move in. Today the abandoned French-Colonial mansions have been transformed into design houses, local designer shops, quirky cafes and hip bars.
Best boutique stores in Colonia Juarez:
Marsella 68 - a concept store selling clothing, jewelry and housewares from independent designers. I bought a funky swimsuit here.
CIHUAH - sells structural modern pieces with a blend of traditional Mexican design. The designer was born in France, but has lived in Mexico for over a decade.  I bought a few pieces of clothing and a gorgeous rope art piece that hangs on the wall.
Cynthia Buttenklepper - located up the stairs from CIHUAH, this edgy womenswear brand isn't afraid to experiment with vibrant colours.
Casa Caballeria - men's concept store with fashionable clothing, jewelry and shoes.
Bazaar Fusion- a two floor-bazaar with a collection of local Mexican brands
Daniel Liebsohn - located in a strip mall of small galleries selling artwork and antiques, Daniel Liebsohn is the most impressive. Known as one of the top antique dealers in CDMX, each piece is fascinating and full of history.
Atlawa - sells durable, yet stylish homeware/kitchenware made from resin. Perfect for outdoor or poolside entertaining.
Evening
Devour authentic Al Pastor tacos at El Vilsito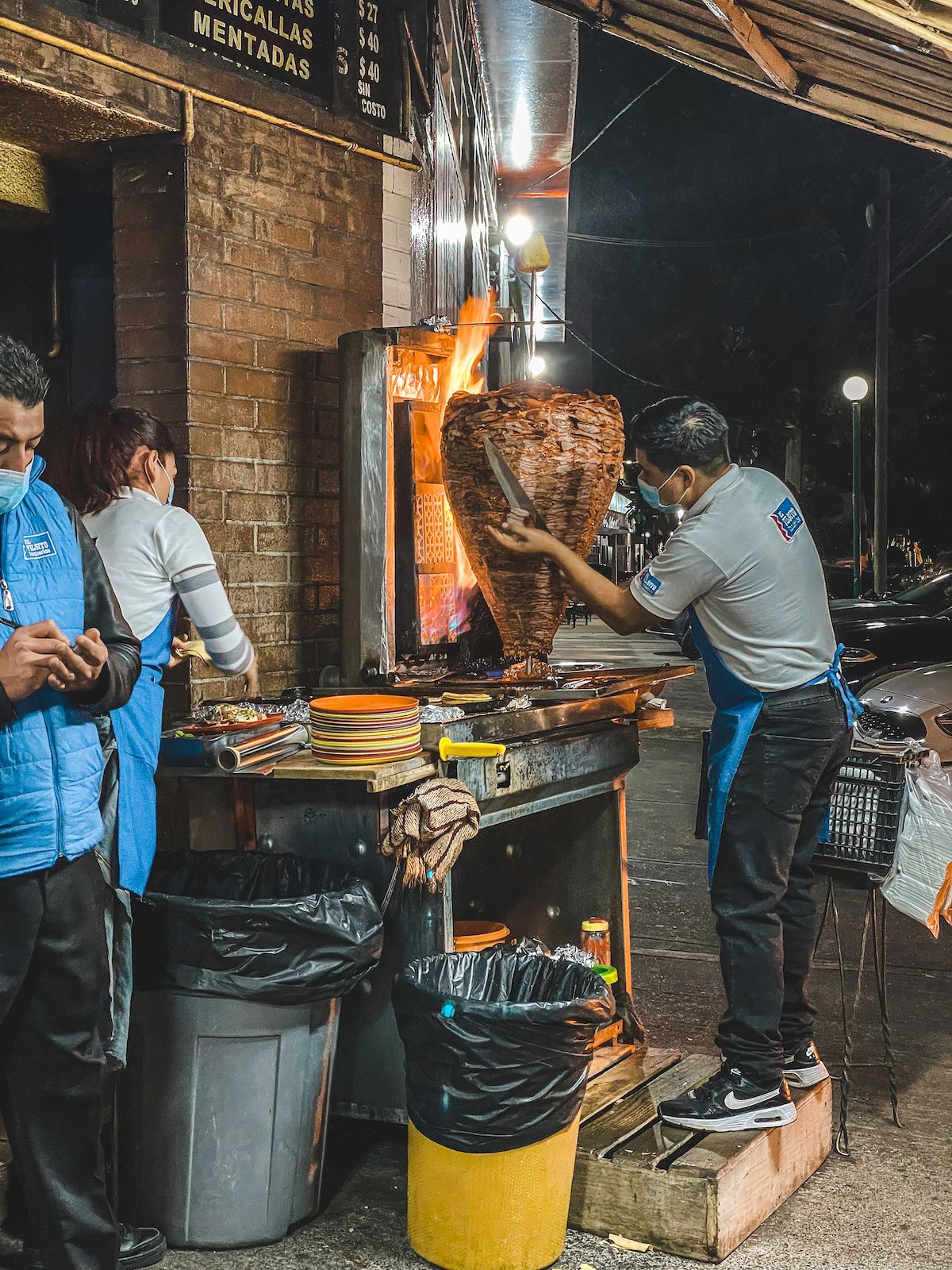 Out of all the street food joints I ate at in Mexico City, El Vilsito wins first place. The car mechanic shop by day turns into one of the most iconic al pastor taquerias in the city. Stepping up to the the open-air taqueria feels like a social affair. The happening spot is packed with locals and tourists standing at tables, chatting and devouring mouthwatering tacos. El Vilsito is located about a 20 minute drive south of the centre, but it's worth it.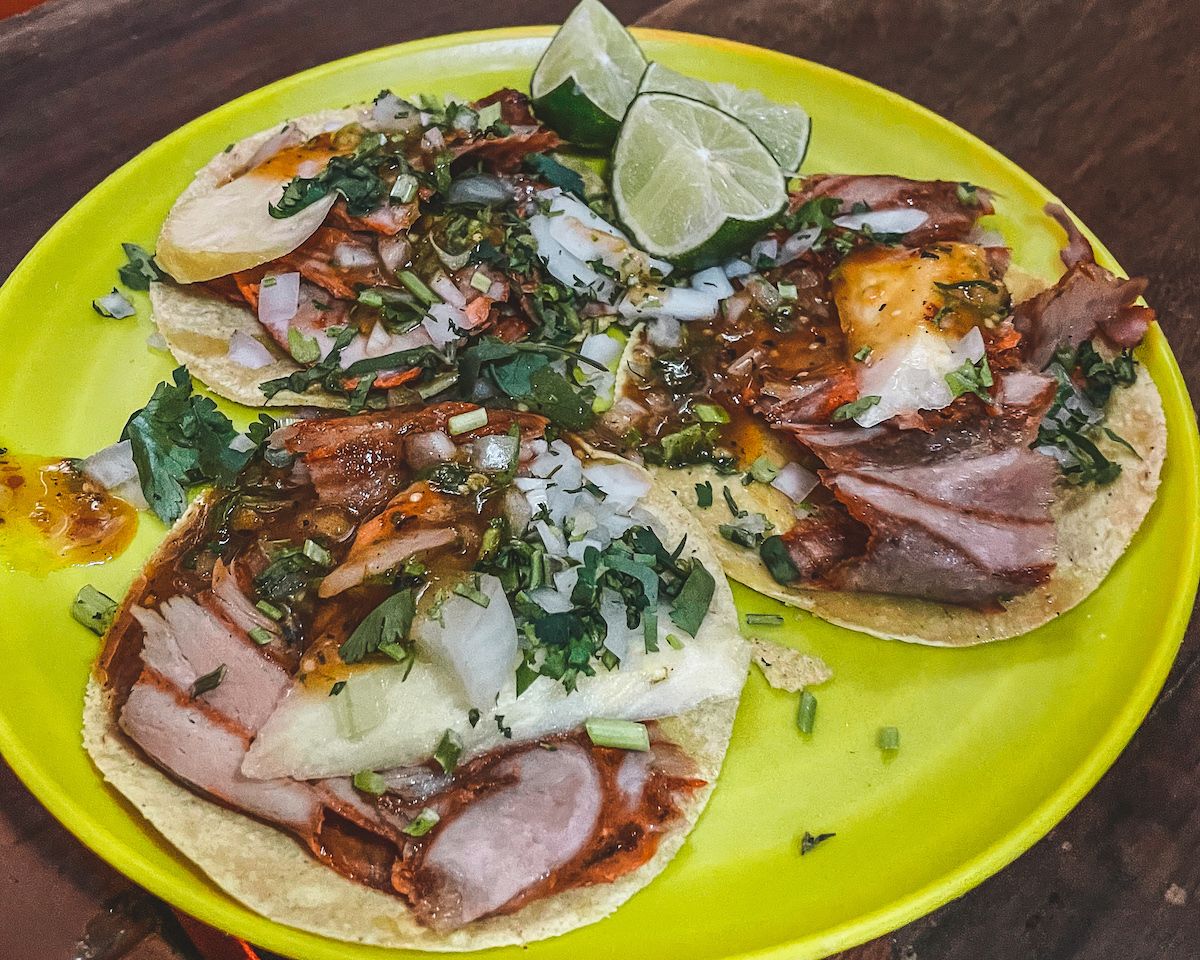 The concept of al pastor was introduced by Lebanese immigrants in the 1930s. Spit roasted pork (like the spits you see at shawarma shops) is shaved onto a corn tortilla with onion, cilantro and pineapple. Each shop has their own unique spice rub on the pork, so al pastor is different everywhere you go. But, we find it's the sweet hit of pineapple that really makes them so delicious.
After the first bite of our taco, everything became a euphoric blur. We ordered more and more al pastor tacos - three rounds in total. After finishing it off with a Gringa (al pastor with a flour tortilla and cheese), I rolled into an Uber and slipped into a food coma.
You can learn more about El Vilsito in the Netflix documentary, Taco Chronicles.
Finish the night off at Departamento or Paramo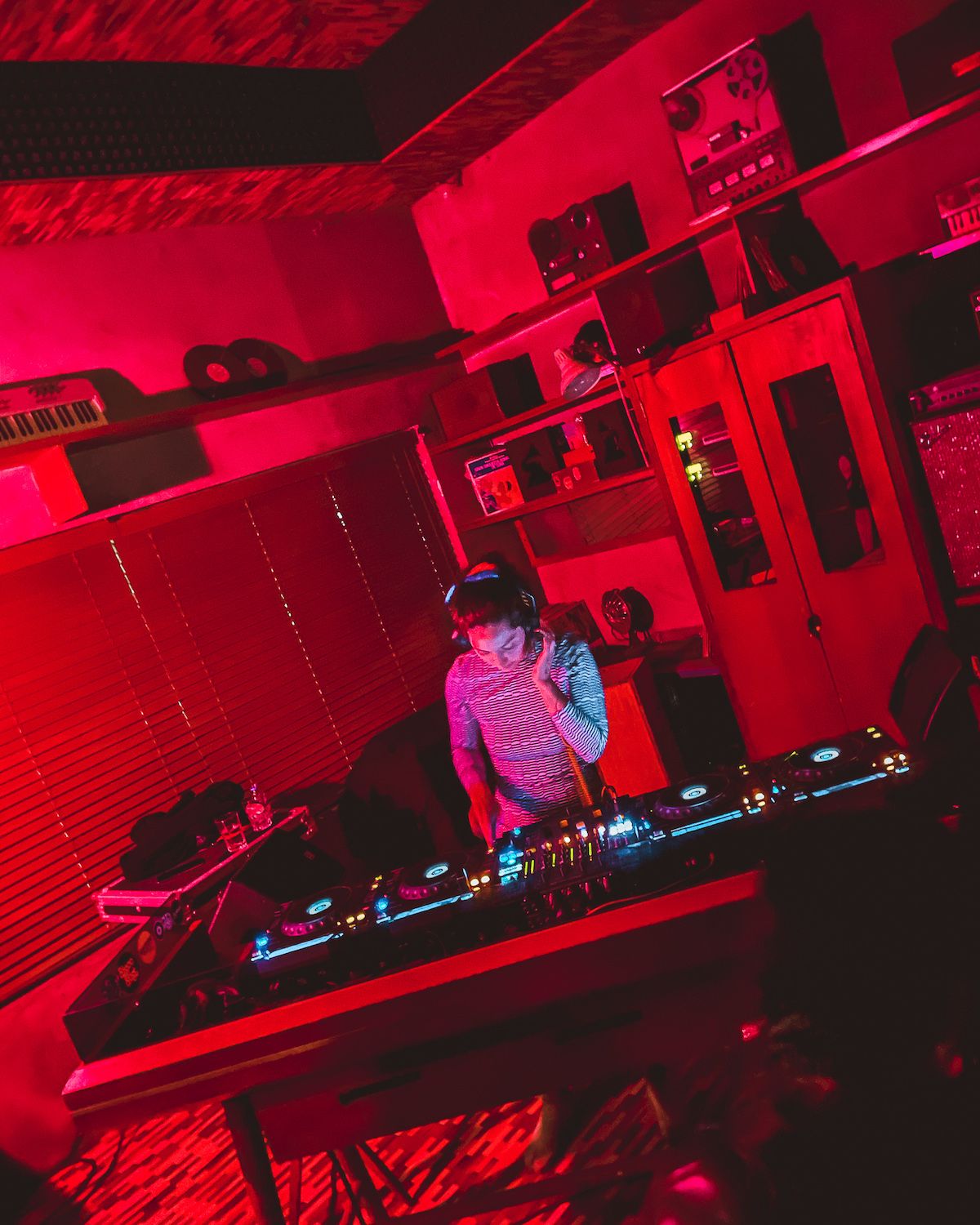 If you're not too stuffed from al pastor tacos, head over to one of Roma's lively nighttime joints. For dancing, check out Departamento. This two story venue has a proper nightclub on the main floor and a great rooftop patio/lounge. It's here where you can listen to the latest Mexican-inspired house music and dance with friendly locals.  
If you're looking to sit and have a drink in a fun atmosphere that isn't touristy, Paramo is the spot. They play great music at just the right volume to make the space lively even if it's not full. We visited a few times during our stay.
Day 4: Frida Kahlo Museum / San Angel
Visit the inspiring Frida Kahlo Museum and explore the charming San Angel neighborhood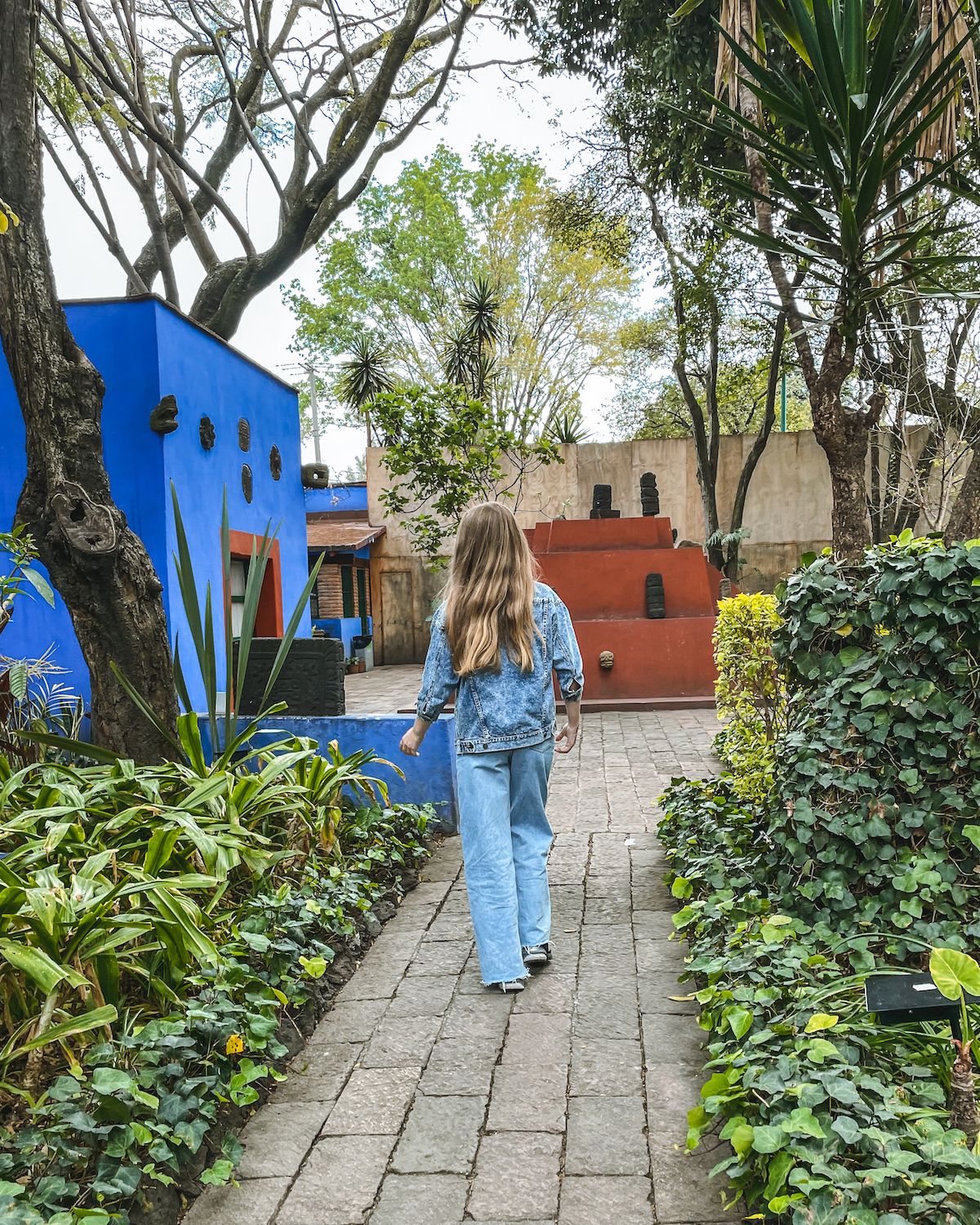 Your last day in Mexico City will take you to San Angel, a charming neighborhood located in the southwest outskirts of the city and to the Frida Kahlo Museum, the birthplace of one of Mexico's greatest artists. Plan to visit San Angel on a Saturday so you can shop the Saturday Bazaar.
Daytime
Walk through Frida's home at the Frida Kahlo Museum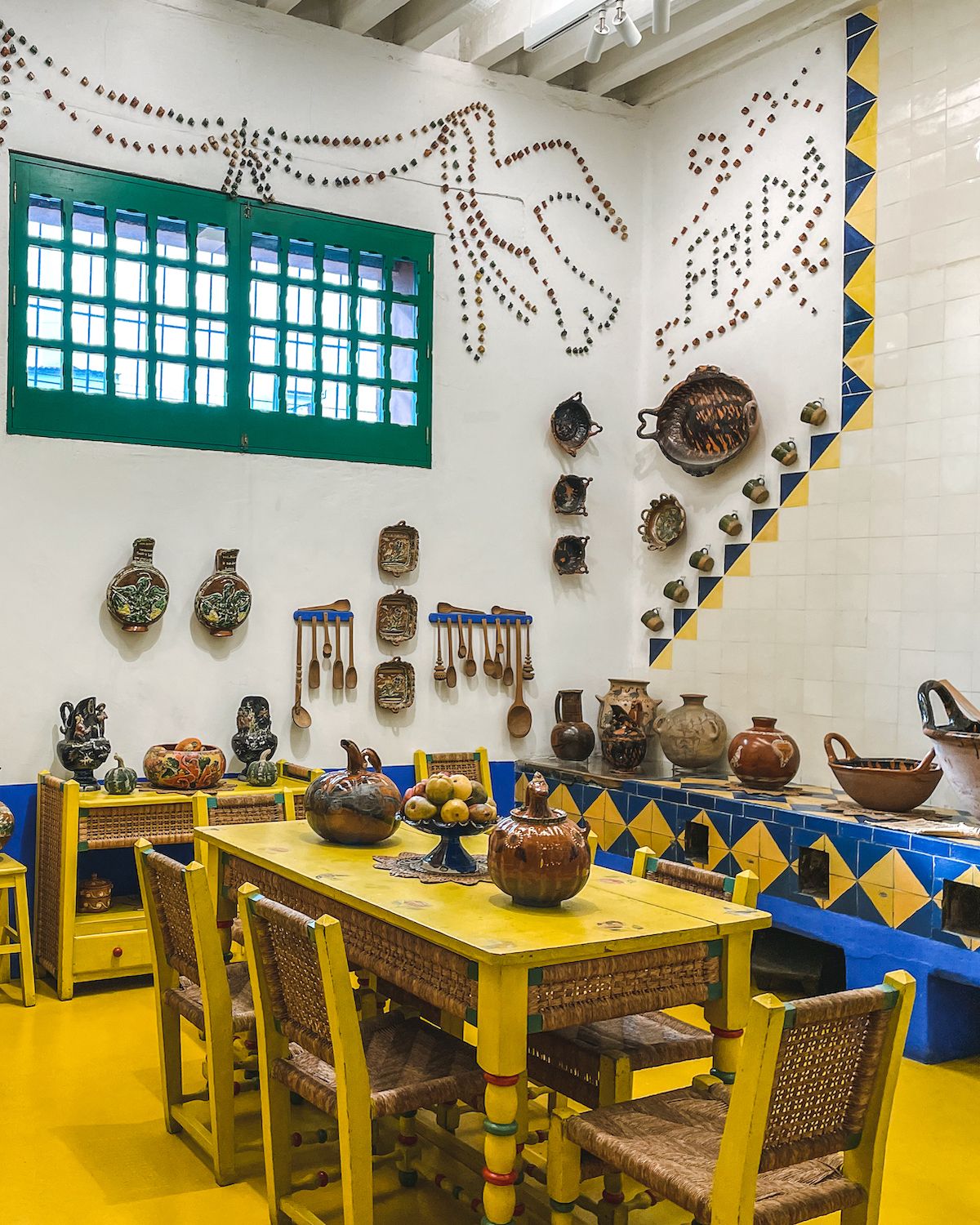 Frida Kahlo was a prominent painter from 1925-1954, who is now one of the most iconic figures of Mexican culture. Known for her self-portraits, one of her paintings recently sold for a record breaking $34.9 million dollars - the highest in Latin American history.
Frida Kahlo had a bold and fascinating life. After surviving a tragic bus accident that broke her pelvic bone, spine and legs, she was left bed-ridden for months. This is where she grew her passion for painting. Her influential art is a representation of her progressive political views and female sexuality, which has made her a feminist icon today.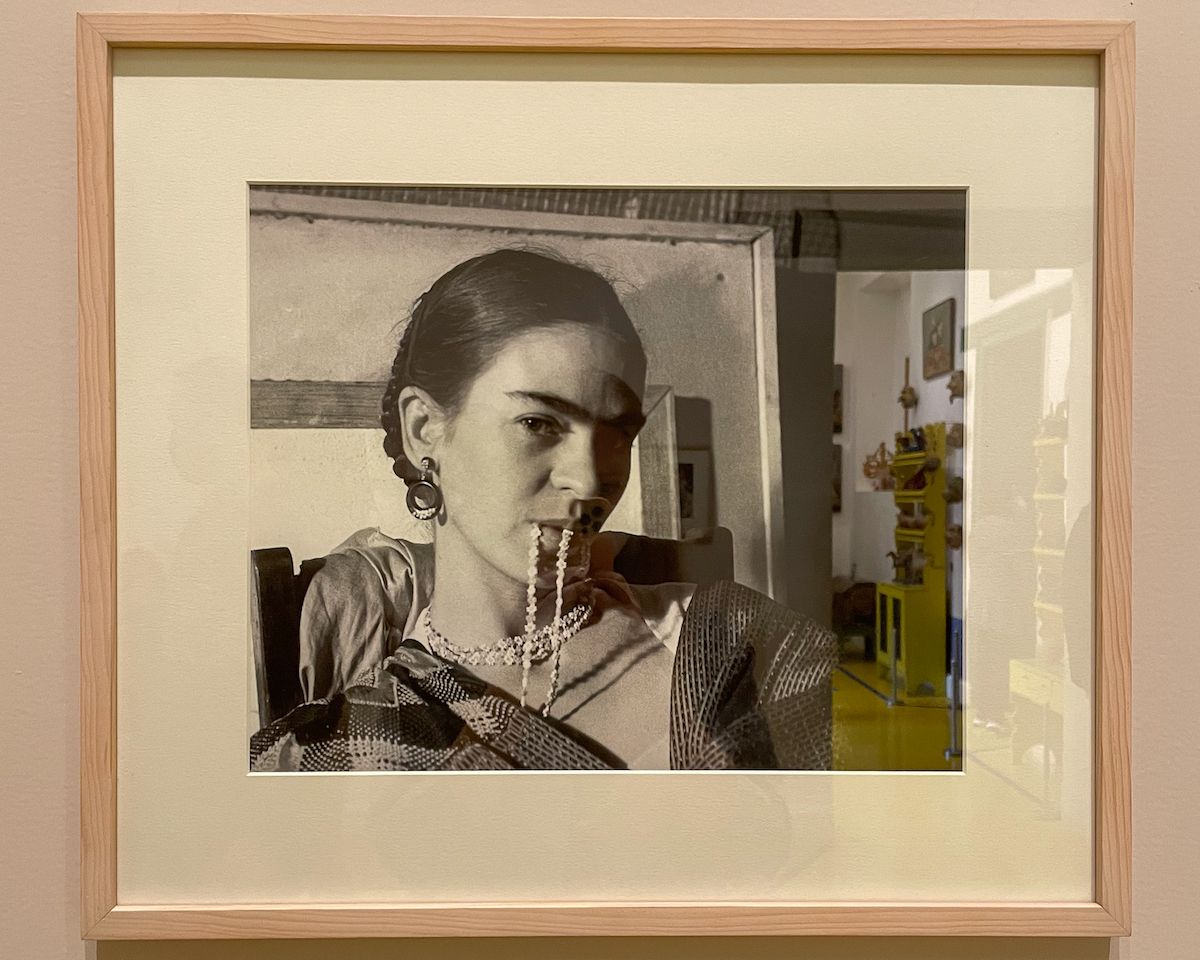 We highly recommend watching the movie Frida (2002) before coming to Mexico City. Not only will you learn about her controversial life, you will also get to see Mexico City in a unique lens.
At La Casa Azul (The Blue House) you will get to walk through the house and garden where Frida grew up and where she learned how to paint. Make sure you buy your tickets online in advance. For international visitors, they cost $250 MXN (~$15.50 USD) per person).
Top tip: go on this tour first before shopping, since you can only walk around with a bag as big as a small backpack.
Enjoy a relaxed lunch in the garden of San Angel Inn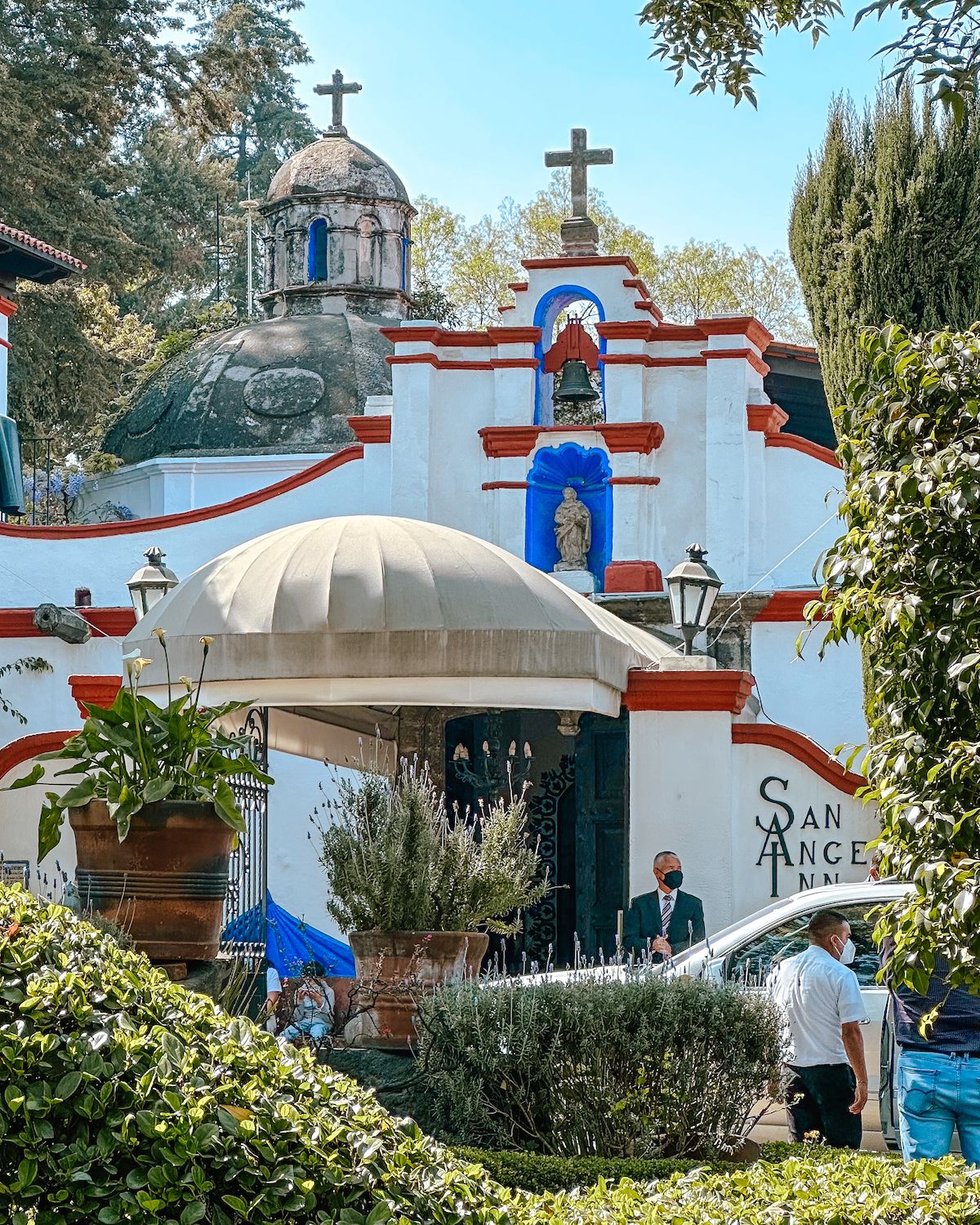 After your tour, it's a short drive over to San Angel, a lovely neighbourhood known for its cobblestone streets, cute shops and art markets.
Enjoy a leisurely lunch at San Angel Inn, a gorgeous 17th century hacienda and former monastery that has been transformed into a restaurant. Its calming garden with fountains, flowers and greenery create a romantic atmosphere. This is a very popular spot, so you will need to make a reservation far in advance, especially if you want a spot in the garden!
Can't get a table at San Angel Inn? Sit in the back garden of Bistro 83, an elegant restaurant close to the Saturday Market. If there is a wait for a garden table, pass the time at Mercado del Carmen, an open-air food hall with boutiques next door.
Have a Mezcal tasting at Mezcal El Bueno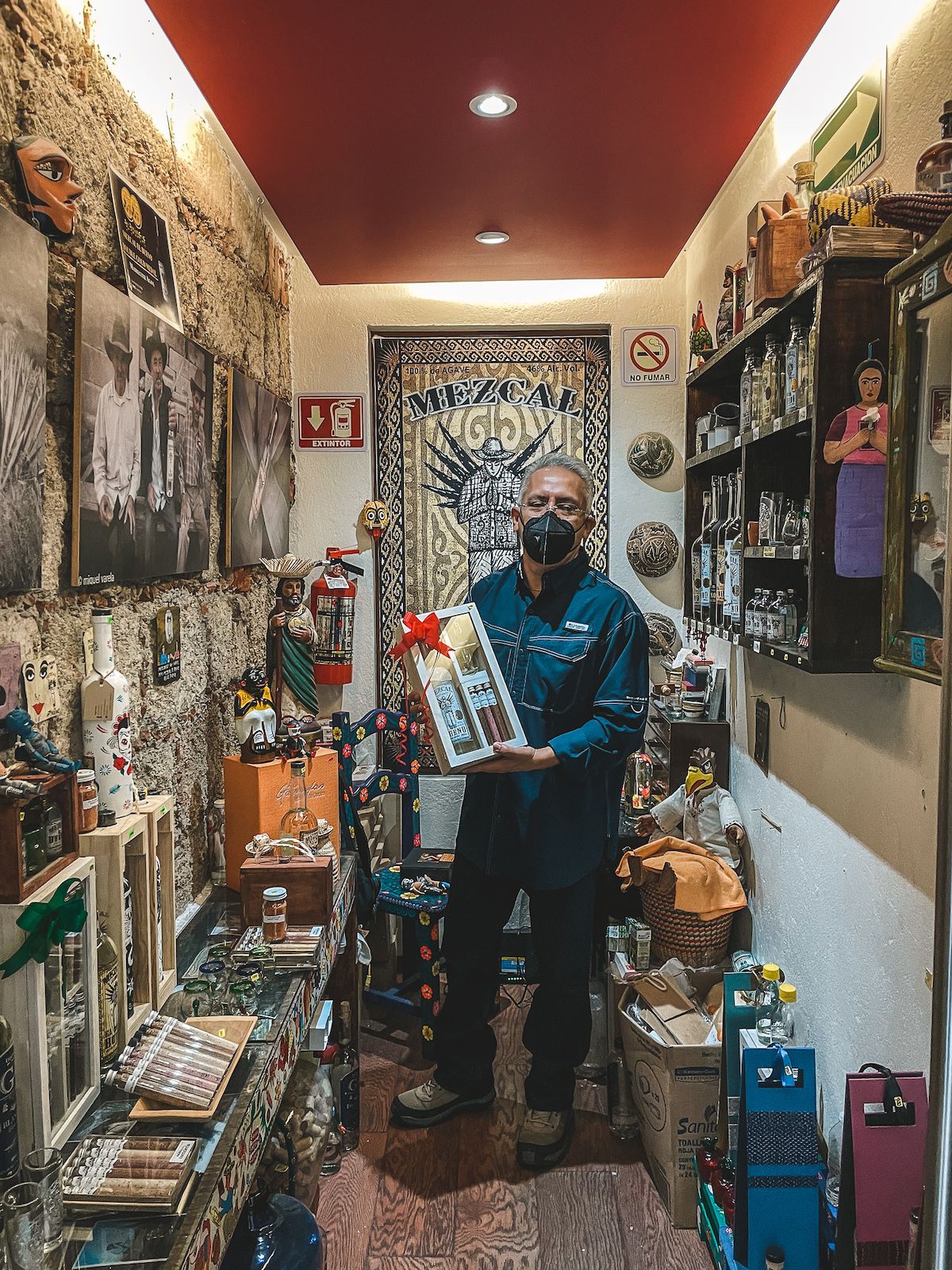 After lunch, don't miss this hole-in-the-wall Mezcal shop in the same building as Bistro 83. Mezcal El Bueno sells some of the best artisanal Mezcal in the city. You can have a great conversation and will learn about the process by which the wild agave plants (not farmed) are found and processed into the quintessential Mexican spirit.  
Shop the Saturday Bazaar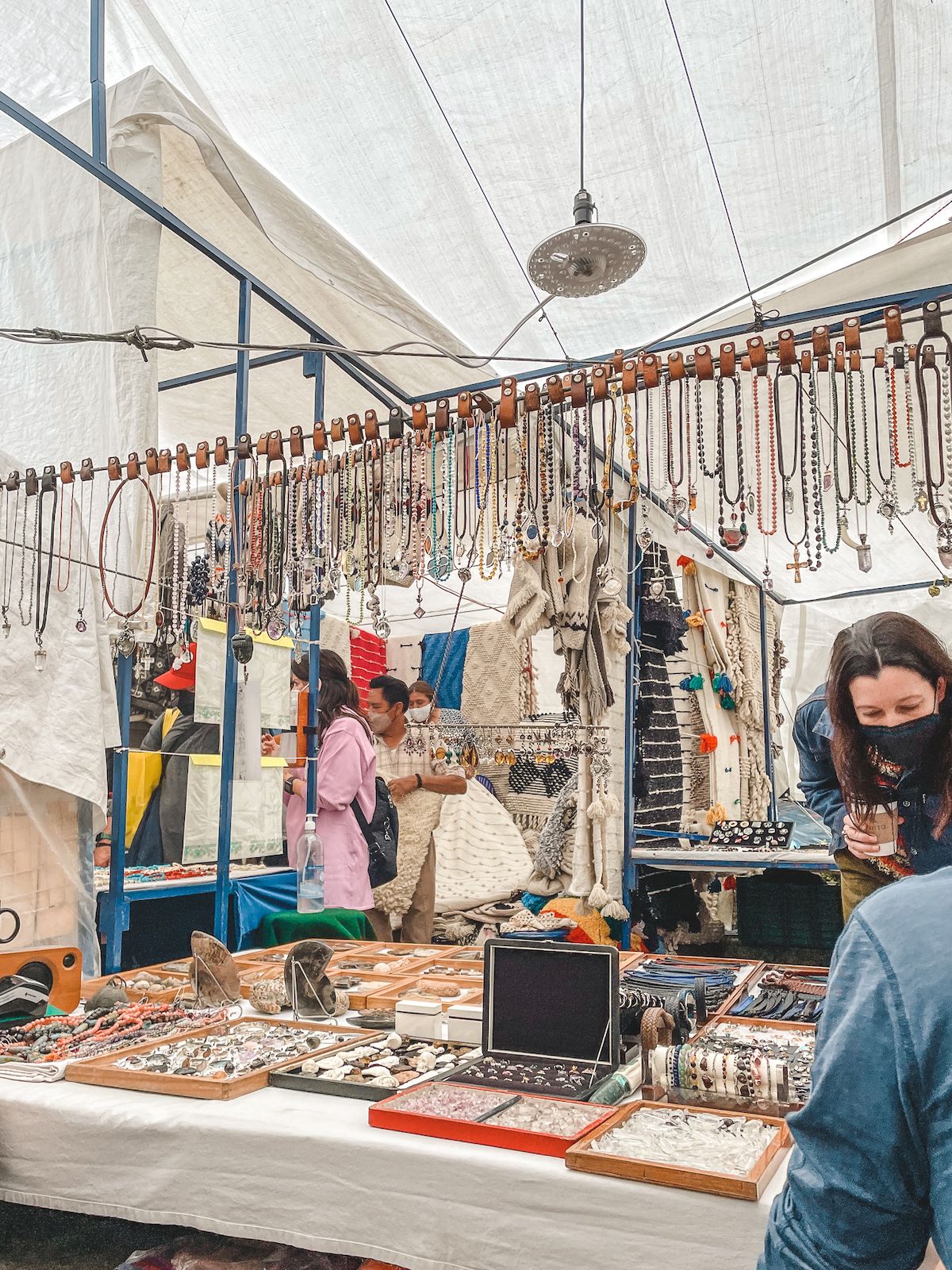 After your Mezcal tasting, walk the cobblestone streets over to Plaza San Jacinto and Plaza Tenanitla to shop the Saturday Bazaar. Over a hundred stalls are set up selling traditional handcrafts, art, jewelry, and housewares. It was the best market we went to in Mexico City. We bought a large hand-woven rug and some jewelry.
If you're unable to fit a Saturday into your itinerary, there are some cute shops around the area that you can visit instead.
Evening
Eat at one of the World's 50 Best Restaurants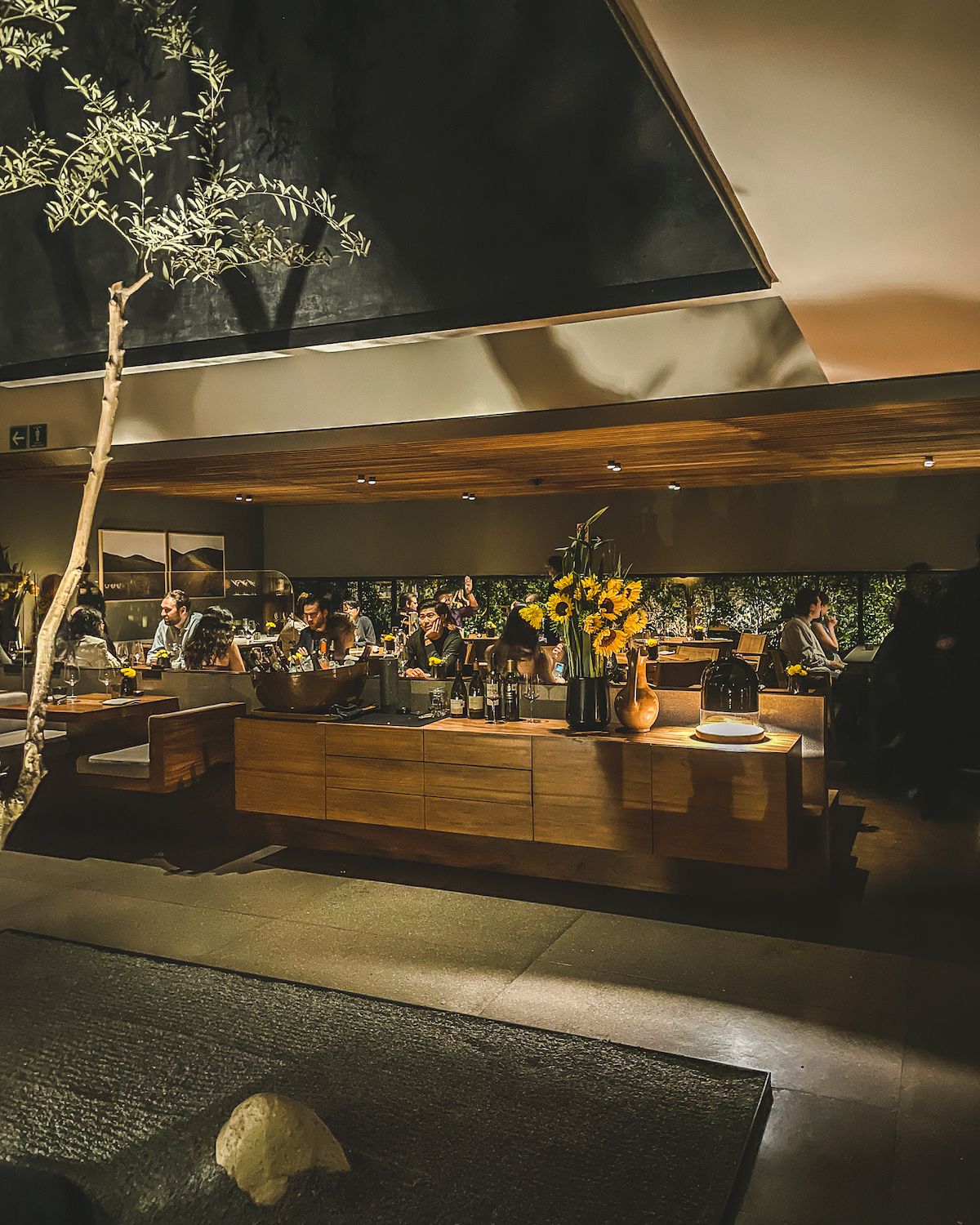 With Mexico's traditional cuisine listed on UNESCO's Intangible Cultural Heritage List, it's no wonder you will find some of the best restaurants in the world here. In Mexico City, two of its fine-dining restaurants have made the distinguished list of the World's 50 Best Restaurants: Pujol (#9) and Quintonil (#27). We tried both and they were outstanding for different reasons. For your last night, treat yourself to a culinary adventure of Mexican fine-dining.
Pujol: best for ambience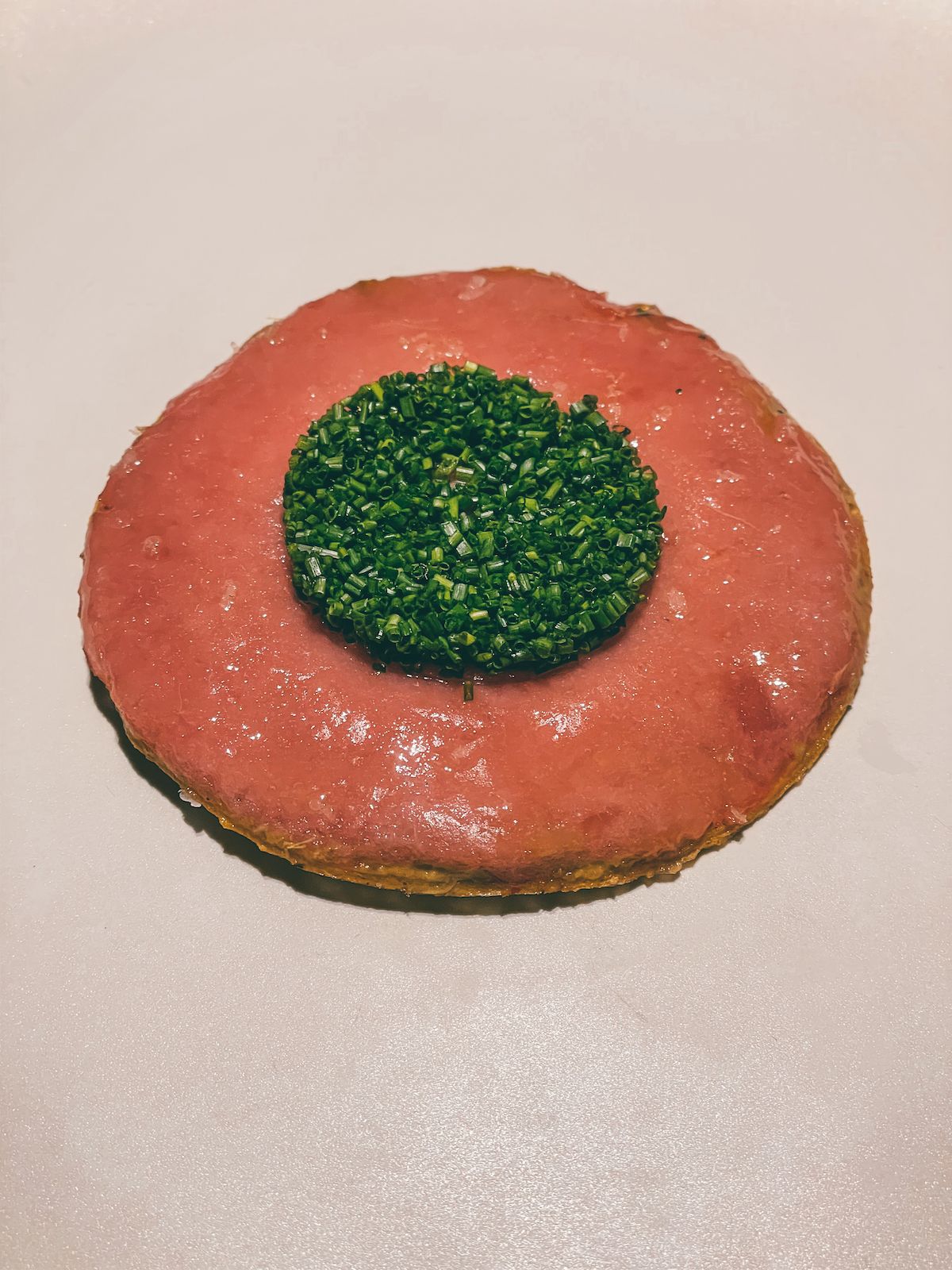 When you step inside Pujol you are immediately pulled into a remarkable glowing space that brings the outdoors into the indoors. The ambience makes you feel like you've been invited to one of the most exclusive and alluring restaurants in the city. The restaurant is famed for its mole madre that has been aged more than 1,000 days - a prime example of how they honour Mexico's indigenous culinary history.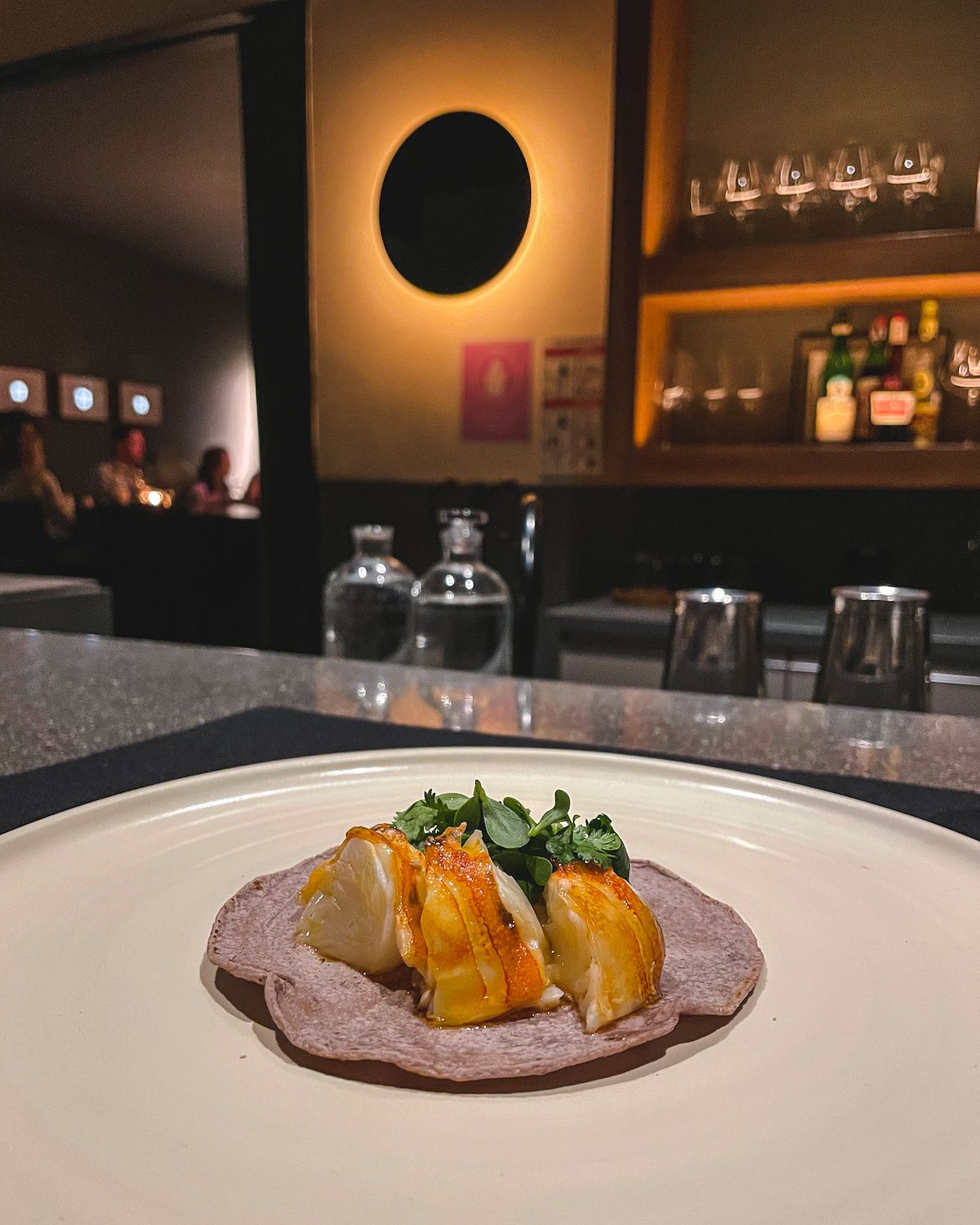 Pujol offers a tasting menu and taco omakase (tasting) menu. With their taco omakase menu you sit at the bar, whereas with the tasting menu you sit at a table in the dining room. We tried both and preferred the food and setting of the tasting menu more.
Quintonil: best for the culinary experience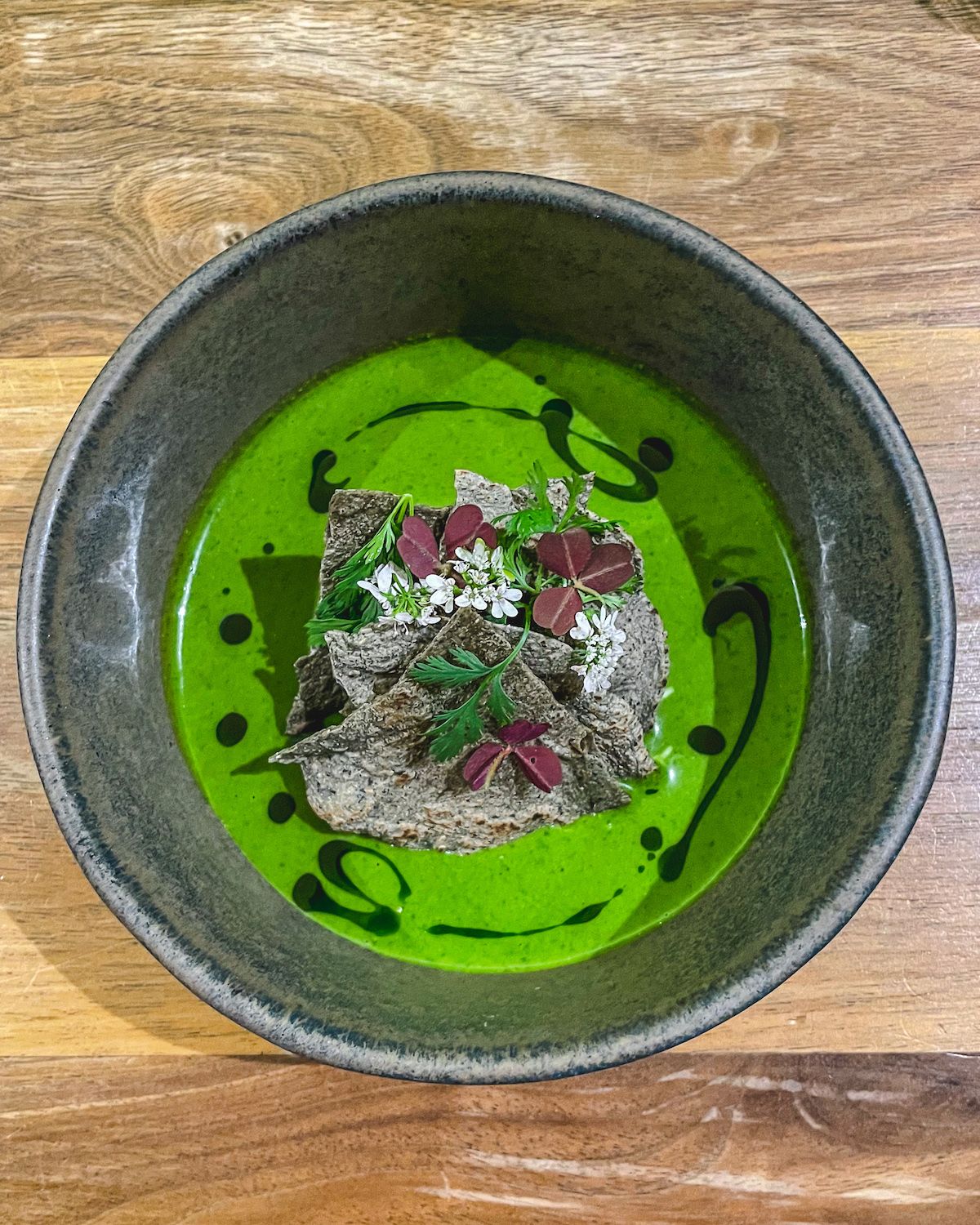 We ordered the 10-course tasting menu at Quintonil and it was the first time at a fine-dining restaurant that we loved every single dish and wine pairing! This was totally mind blowing, usually there are dishes that are a "miss" but not this time. Authentic flavours are presented through advanced culinary techniques making each dish delicate yet impactful. From the spider crab in green mole to the cactus sorbet, it was perfection.
Compared to Pujol, what Quintonil lacked was in its ambience and interior design. Inside Quintonil it was a bit too bright and the music too soft to stimulate more energetic conversation. But it was no matter, the food more than made up for it.
If you're on a budget, Quintonil is a great choice since they also have a a-la-carte menu where you can choose your items, a rarity for a restaurant of this calibre.
Our Top 12 travel tips for Mexico City
1. Watch the Taco Chronicles before your trip
Taco Chronicles is a TV series available on Netflix that explores different types of tacos, like al pastor, carnitas, asada, barbacoa and canasta (basket tacos). It's a great show to binge watch right before visiting Mexico City, so you're familiar with the different types of tacos. Your stomach will be rumbling!
2. Don't be afraid of street food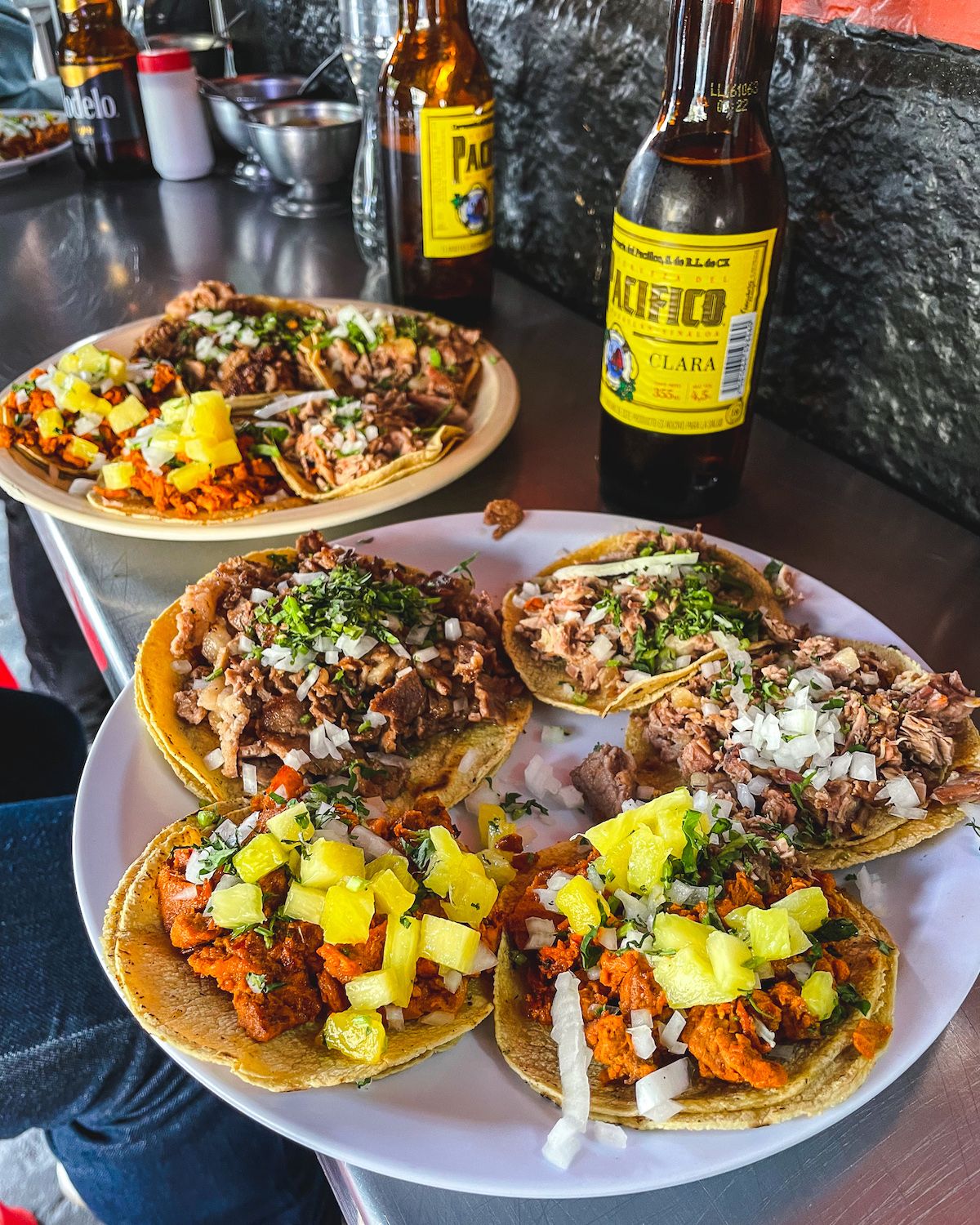 You can get some of the best and cheapest bites from food vendors on the street. Watch the stands to see where the locals are eating at and be wary of eating meat in the morning, since it's usually leftovers from the night before. Tacos are only around 20 Pesos so you're paying a fraction of what you will in a restaurant.
3. Include a Saturday in your stay
Saturdays are when some of the best markets are happening, like the Saturday Bazaar. Many places are closed on Sundays and Mondays.
4. Double check opening hours on the business' website or Facebook/Instagram Page
Google is unreliable especially due to the pandemic - we were led astray many times.
5. Carry Mexican Pesos with you
Most places accept credit card, however you will need Mexican Pesos for most markets and street food vendors. Using US dollars is not a thing like it is in popular tourist destinations like Cancun.
6. Taste different types of Mezcal, not just Tequila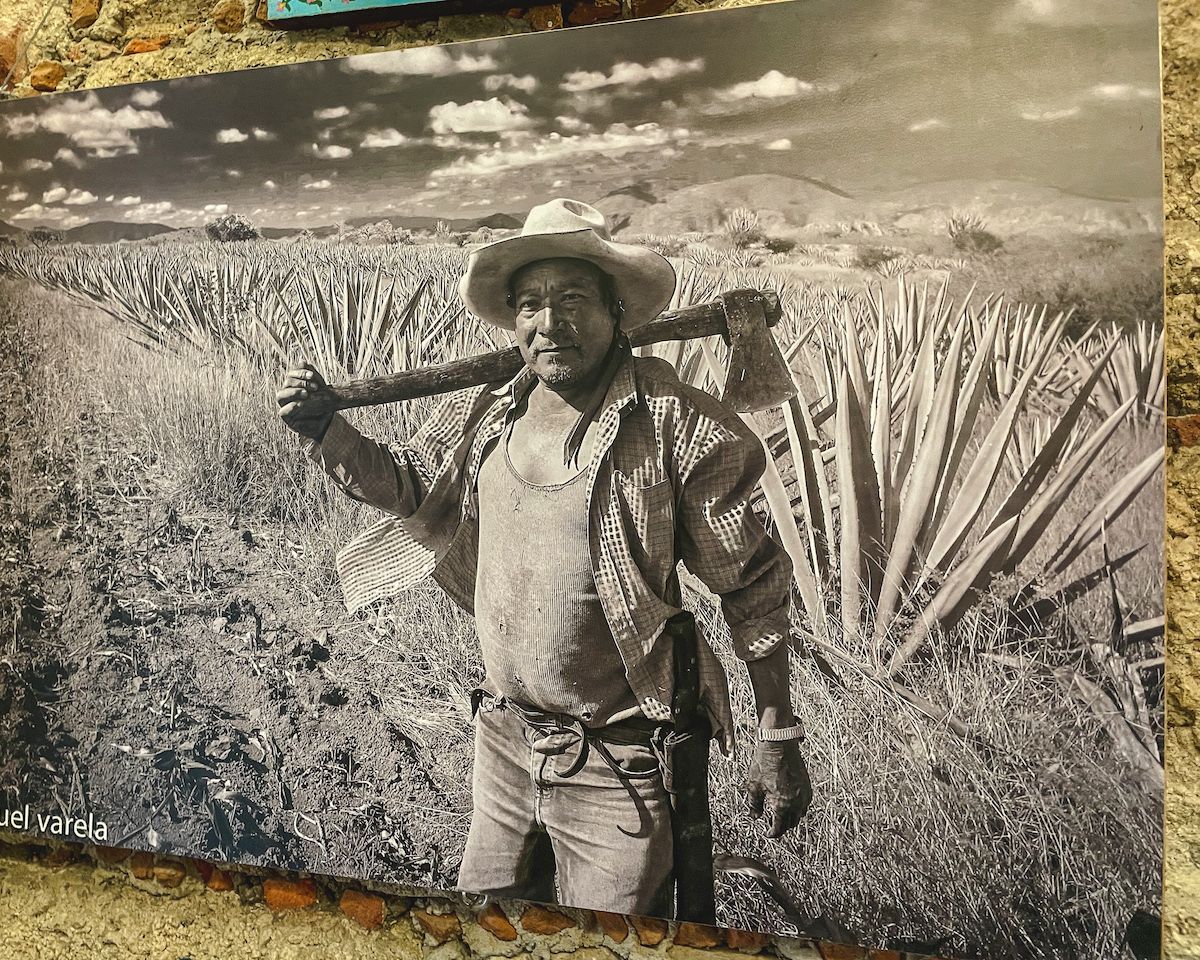 Did you know that Tequila is just one type of Mezcal made from one variety of agave? Agave is a desert plant that looks like a gigantic pineapple and there are a whopping 29 different varieties of it that can make Mezcal! What grapes are to wine is what agave is to Mezcal. We went Mezcal crazy and packed our wine suitcase full of it.
7. Some art galleries are by appointment only, email them in advance to avoid disapppointment.
Contacting the art galleries in advance will also confirm if they have current exhibitions.
8. Don't be deterred from visiting a shop if you only see a doorbell and address
Some of the galleries and shops we visited had no sign and just a doorbell and address. We would have missed out on some amazing places if we didn't buzz to get in! When they answer just say you are here to visit [name of place].
9. On your way to or from the airport, stop at El Pastorcito and Los Gueros for outstanding al pastor tacos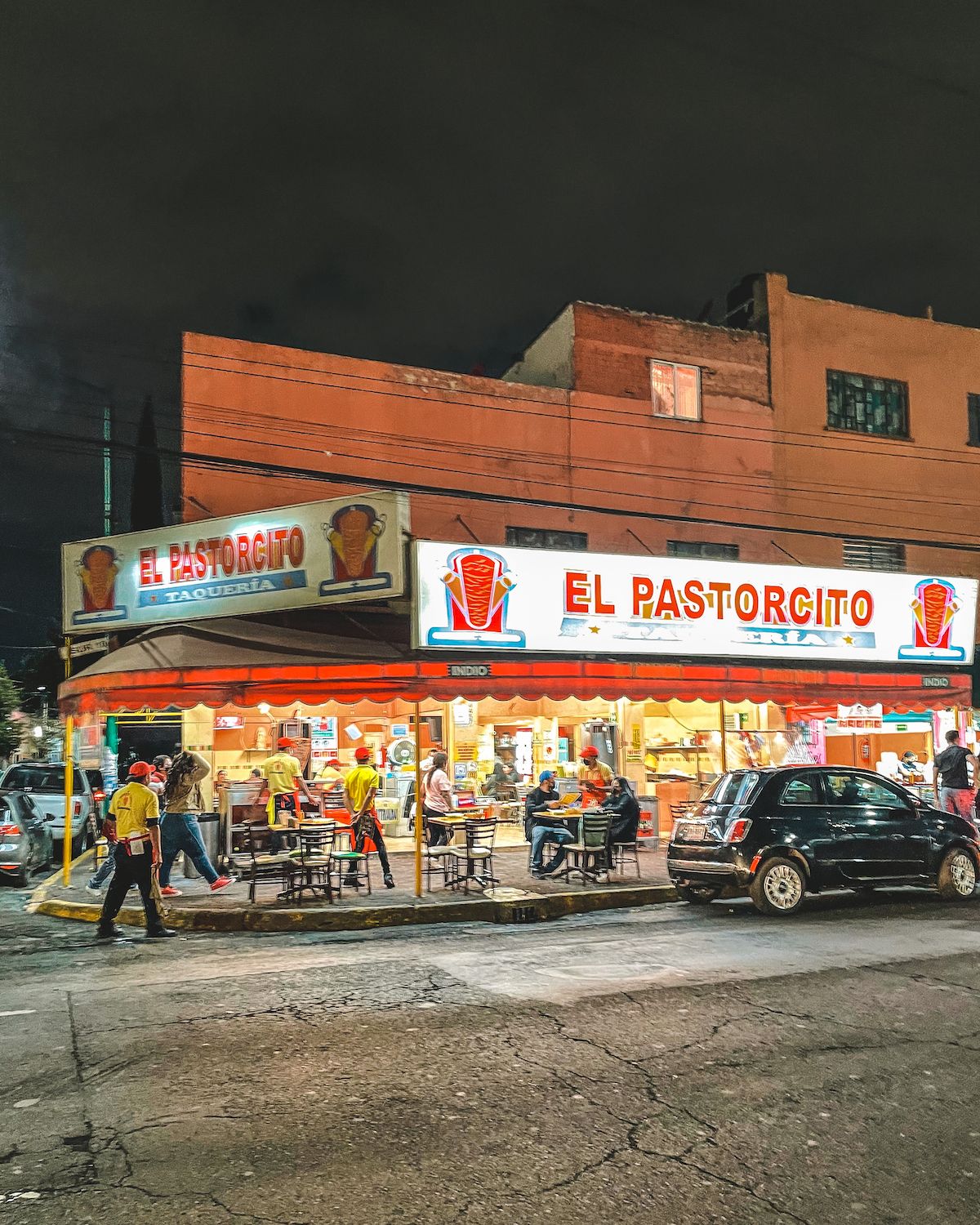 About 10 minutes away from the airport on Lorenzo Botuni Street you will find some of the most authentic taco joints in the city. We got the tip from the TV series, Taco Chronicles.
When you see the bright red and yellow buildings you will know you've arrived. My mouth is watering just thinking about it. We felt very welcome at El Pastorcito and Los Gueros and were excited to see we were the only tourists there!  At 18 pesos per al pastor taco, it's incredible value.
10. Tell your waiter the tip before taking the card machine
Card machines don't have an automatic option for tip. Just tell your waiter what percent or dollar amount to add beforehand. People generally tip 10%-20% at restaurants.
11. A little Spanish goes a long way
Most of the street food vendors do not speak English. So learning how to order in Spanish will make life a bit easier. Of course, just learning Hello (Hola) and Thank You (Gracias) combined with a mix of non-verbal pointing and hand gesturing will get you through!
12. If you only have one choice:
Best neighbourhood to stay in? Roma
Best time to visit? Art week in February
Art gallery or architecture tour? Tour Casa Luis Barragan
The one taco you must eat: Al Pastor from El Vilsito
The one breakfast item you should try? Chilaquiles
Pujol or Quintonil? Pujol tasting menu in dining room
Mexican drink you must try: Michelada (Beer with lime juice and a salt rim)
The best Mezcal & tasting? El bueno, try the Tepeztate
Best cocktail bar? Handshake
---
We hope you enjoyed this 4 day Mexico City itinerary! We know we will be back. After our trip, we flew back home into Vancouver and our winter looked greyer than ever - a complete contrast from the colourful city we just came from.
Have more time to spend in Mexico City? Check out our other Mexico City guides:
Have less time to spend in Mexico City? See how to spend 2 Days in Mexico City.
Start planning your trip to Mexico City
🧳 Book your accommodation: Booking.com is our go-to for finding places to stay. Sort by top reviewed.
🛫 Book your flight to Mexico City: use Skyscanner to compare flights across different airlines (we recommend booking direct with the airline however).
Save and pin this 4 Day Mexico City Itinerary for later: