After visiting Mexico City last year, we were ecstatic to visit again this year during Art Week. We discovered even more top-notch restaurants, bars, art galleries and boutiques, and are excited to share the best of the best in our 7 day Mexico City Itinerary.
Dive into the city's culinary, art and design scene during your 7 days in Mexico City. If you're a food, architecture or art enthusiast, you're in for a treat!
Overview: 7 Days in Mexico City
Day 1: Friday - explore, eat and shop in Mexico City's coolest neighborhood, Roma Norte.

Day 2: Saturday - visit the charming neighbourhoods of San Angel and Coyoacan, and devour the best al pastor tacos in the city.

Day 3: Sunday - search for vintage treasures at one of Mexico City's oldest markets, and explore the up-and-coming Juarez neighbourhood.

Day 4: Monday - visit two architectural masterpieces in the Jardines del Pedregal neighbourhood, and finish your evening off in Roma Norte.

Day 5: Tuesday - explore the fashionable Condesa neighbourhood.

Day 6: Wednesday - discover the best of Mexico City's upscale neighbourhood, Polanco.

Day 7: Thursday - experience the beauty of LAGO ALGO and see inspiring art & architecture in the San Miguel Chapultepec neighbourhood.
Disclosure: Some of the links below are affiliate links, meaning at no additional cost to you, we will earn a commission if you click through and make a purchase. We only recommend products or services we have used or that we believe will add value to our readers. Thank you for supporting us!
Best time of year to visit Mexico City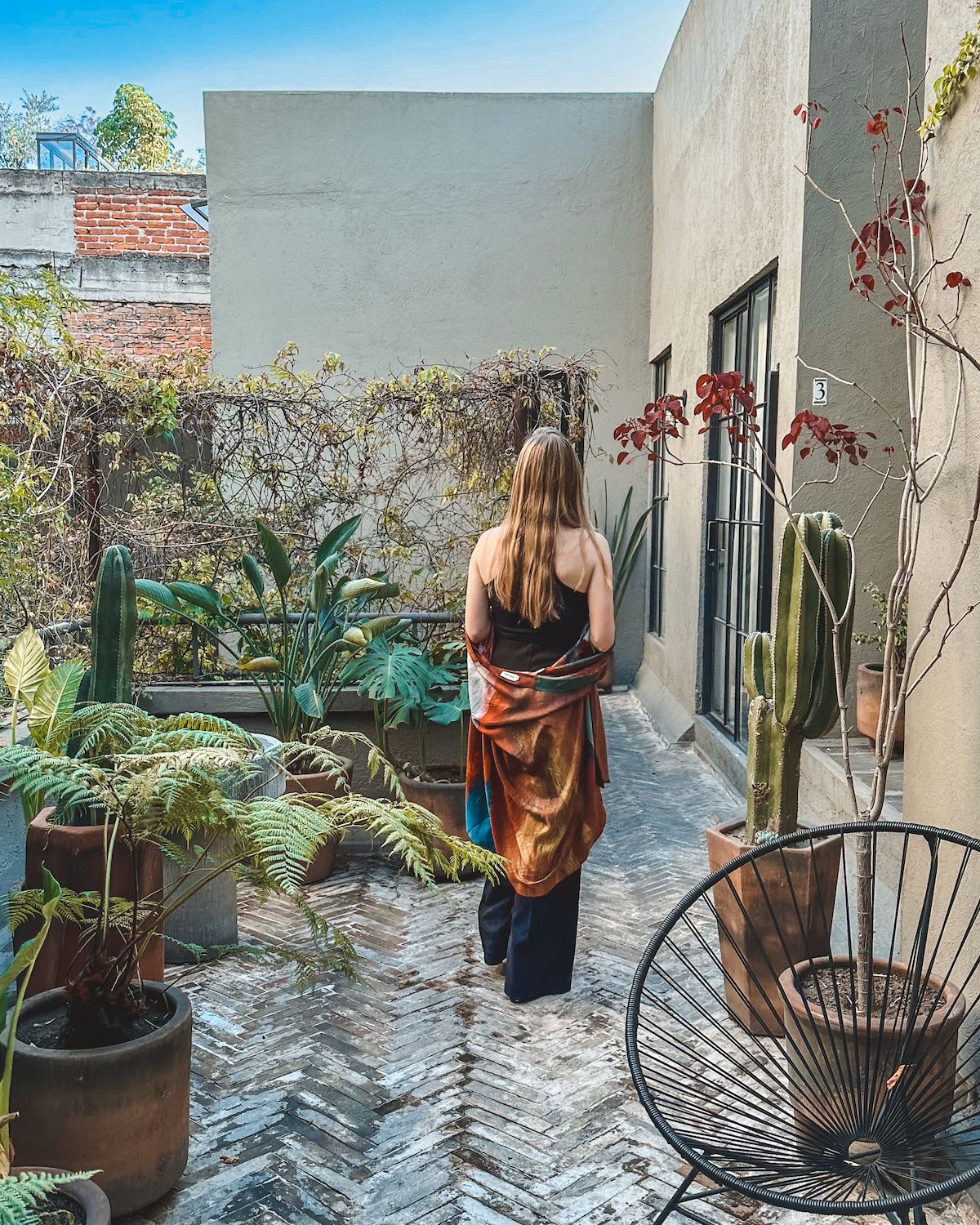 Since Mexico City is located at 2,400 m (7,350 ft) above sea level on an ancient lake bed surrounded by mountains, it has a dry climate with warm days and cool nights.
The best time to visit Mexico City is from February - May for a few reasons:
You will avoid the rainy season from June - October
These months have the highest average sunlight hours
The temperature is pleasant with highs reaching 22 °C - 26 °C.
In January, some of the best contemporary galleries are closed because they are setting up exhibitions for art week in February
If you're an art & design enthusiast, look no further than art week in February! However, be warned it's busy during this time - galleries are packed, and reservations are harder to get if you don't reserve well in advance.
Best neighbourhoods to stay in Mexico City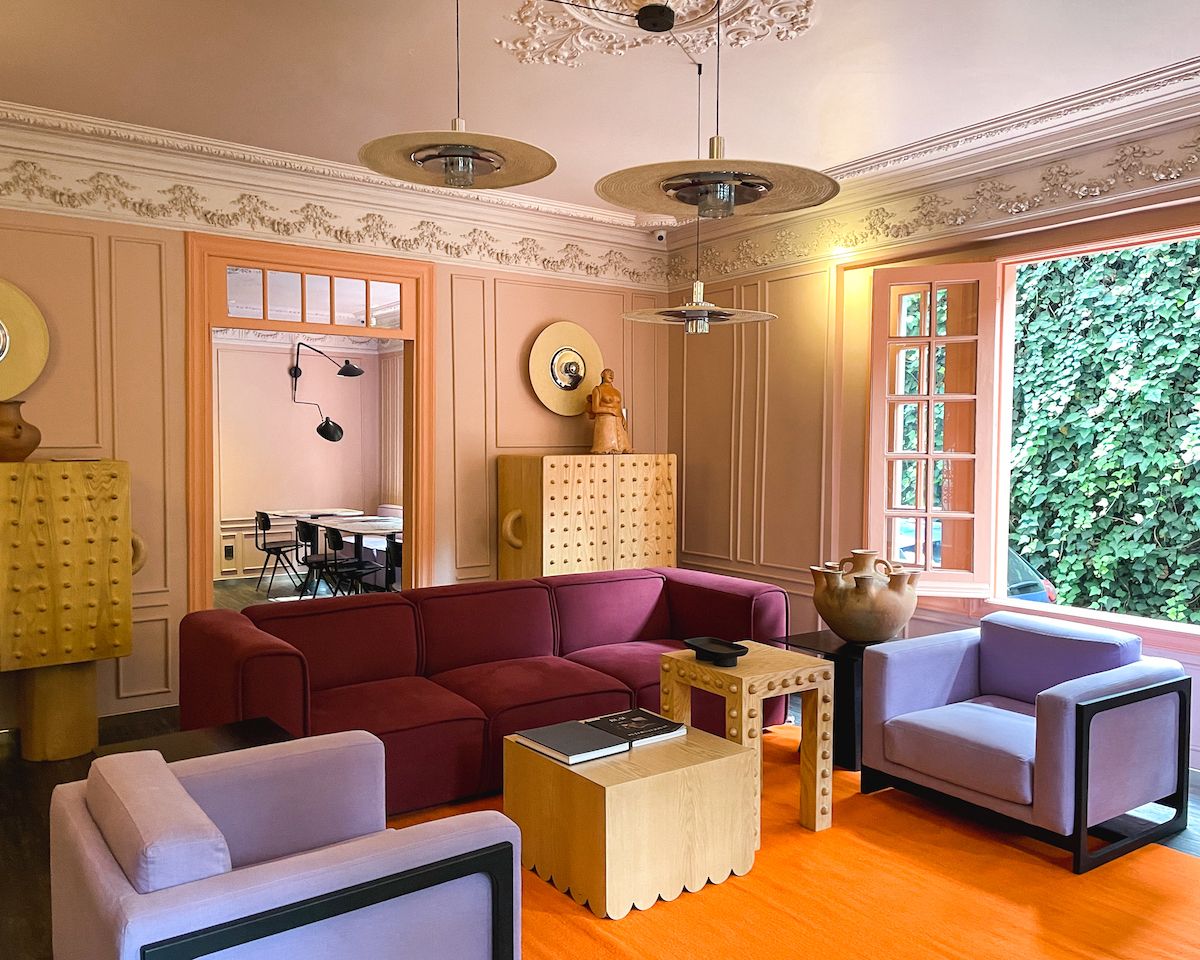 When choosing a neighbourhood to stay in, you will want one that is walking distance to happening spots, as well as one that has good access to other neighbourhoods. Both Roma and Condesa offer these advantages. They are filled with hip eateries, bars, galleries and boutiques and their central locations make it easy to get around to other neighbourhoods.
If you're looking for a quieter neighbourhood feel,
Condesa
is a great choice. If you want something more vibrant and lively,
Roma
is the spot!
Top tip: Uber is the most convenient way to travel around to different neighbourhoods - and they are cheap. A bonus is that you don't have to worry about being highballed by taxis. An 11 minute Uber from Polanco to Roma cost us $2.75 USD.
Our top hotel picks in Condesa and Roma:
All three of these places offer a boutique feel with exceptional design:
🛏️
Browse more stays in Roma and Condesa
7 Day Mexico City Itinerary
Day 1 - Friday
Explore, eat and shop in Mexico City's coolest neighborhood, Roma Norte.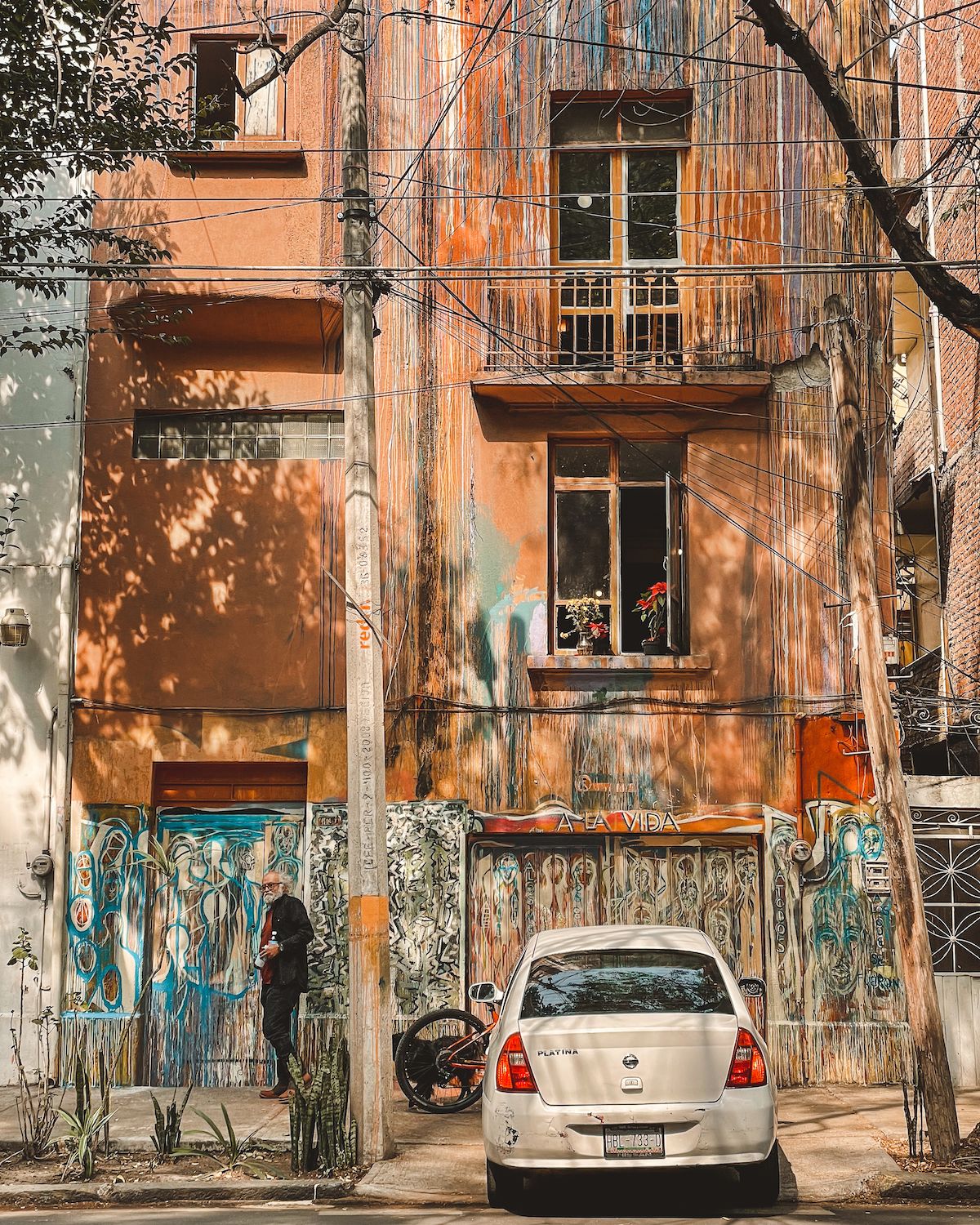 Once you've settled into your stay, venture outside and explore the streets of Mexico City's coolest neighbourhood, Roma Norte.
Known as the "Williamsburg of Mexico City", the bohemian neighbourhood is where stylish and artistic types congregate. Its vibrant atmosphere, art scene and thriving food culture attract an alternative crowd of expats and tourists.  
Daytime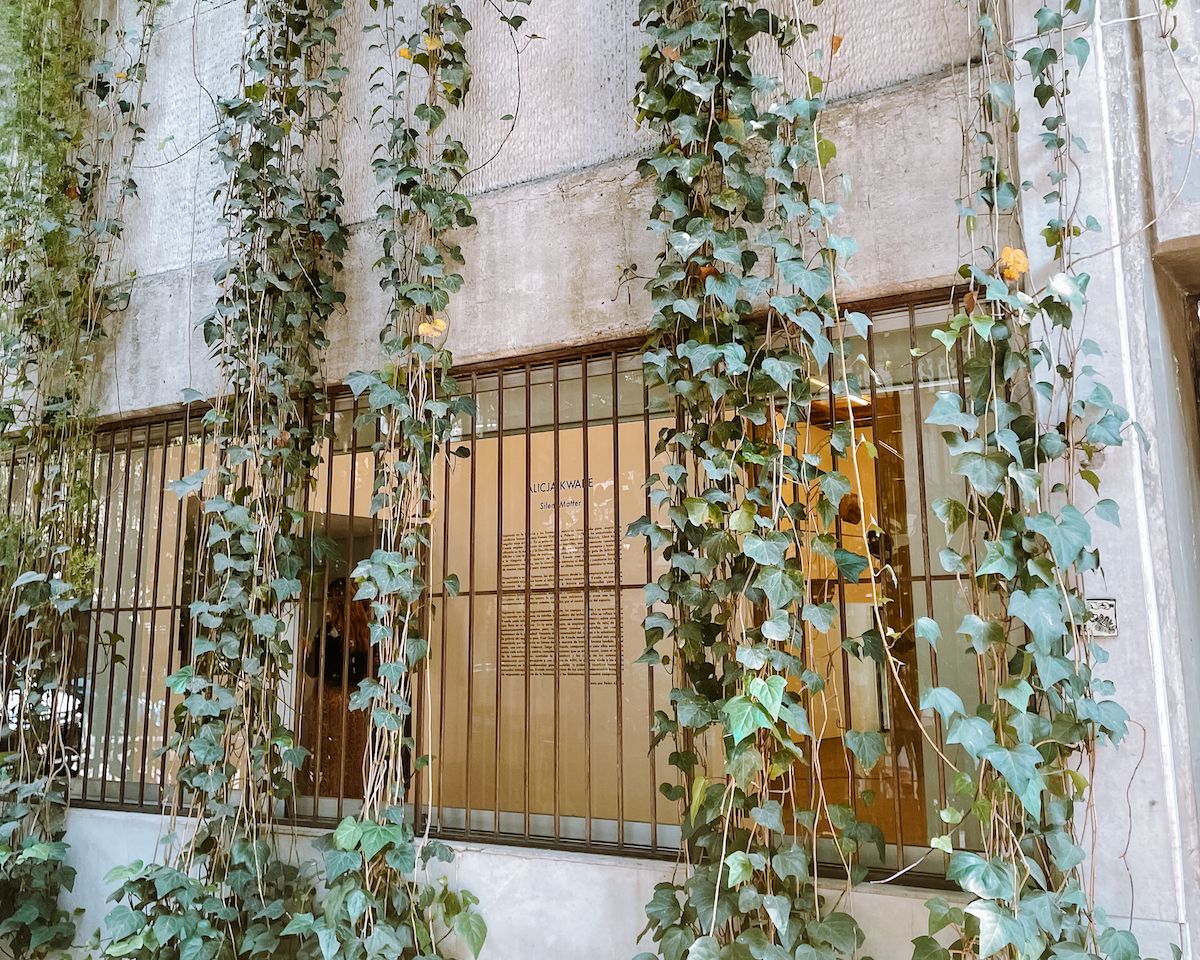 👀 Explore Roma Norte and shop around Colima Street
Walking along the softly-coloured streets in Roma Notre, you will see Art Deco mansions turned boutique hotels, trendy restaurants, mouthwatering street food, eclectic bars, boutique stores and vintage shops around every corner.
Start your walk down Colima Street and explore side streets branching off from there.
🛍️ Our favourite boutique shops in Roma Norte:
Esculturas vivas - sells funky vases and sculptures with carved faces that make it feel like you're bringing an amigo home.
Mother vintage store - our favourite vintage store we visited. They have an excellent selection of cowboy boots, leather jackets, shoes and handbags from Mexican brands.
Chic by Accident - a gallery of exquisite period pieces for the home. Even if you don't intend to buy, it's fun to look.
180 Degrees - sells jewelry and clothes from up-and-coming local designers.
Metate - a concept store selling artisanal Mexican housewares, accessories and clothes. We bought authentic handmade black clay plates from Oaxaca and a Yucatan basket.
Tana Karei - designer furniture and home decor store with natural contemporary pieces.
🥗 Each lunch in the courtyard of Colima Blanco
Take a lunch break in the chic courtyard of Colima Blanco. The architecturally impressive mansion from the Porfirian-era (late 19th/early 20th century) is perfect for a refreshing lunch and mezcal cocktail. Arrive when they open at 1 PM and ask to sit in their bright and airy courtyard. Once seated you will be served a grilled artichoke amuse-bouche!
🎨 See what exhibitions are on at Gallery OMR and MAIA Contemporary
After lunch, check out these two leading contemporary galleries in Roma Norte:
Gallery OMR- since its opening in 1983, this gallery has discovered some of the most well-known Mexican artists today.
MAIA Contemporary - across the street from Blanco Colima, this gallery exhibits work from contemporary artists from Mexico and Latin America. We saw Pedro Friedeberg's solo show, Hipnerotomagia, when we were there.
☕ Have an afternoon pick me up in a former textile factory turned creative hub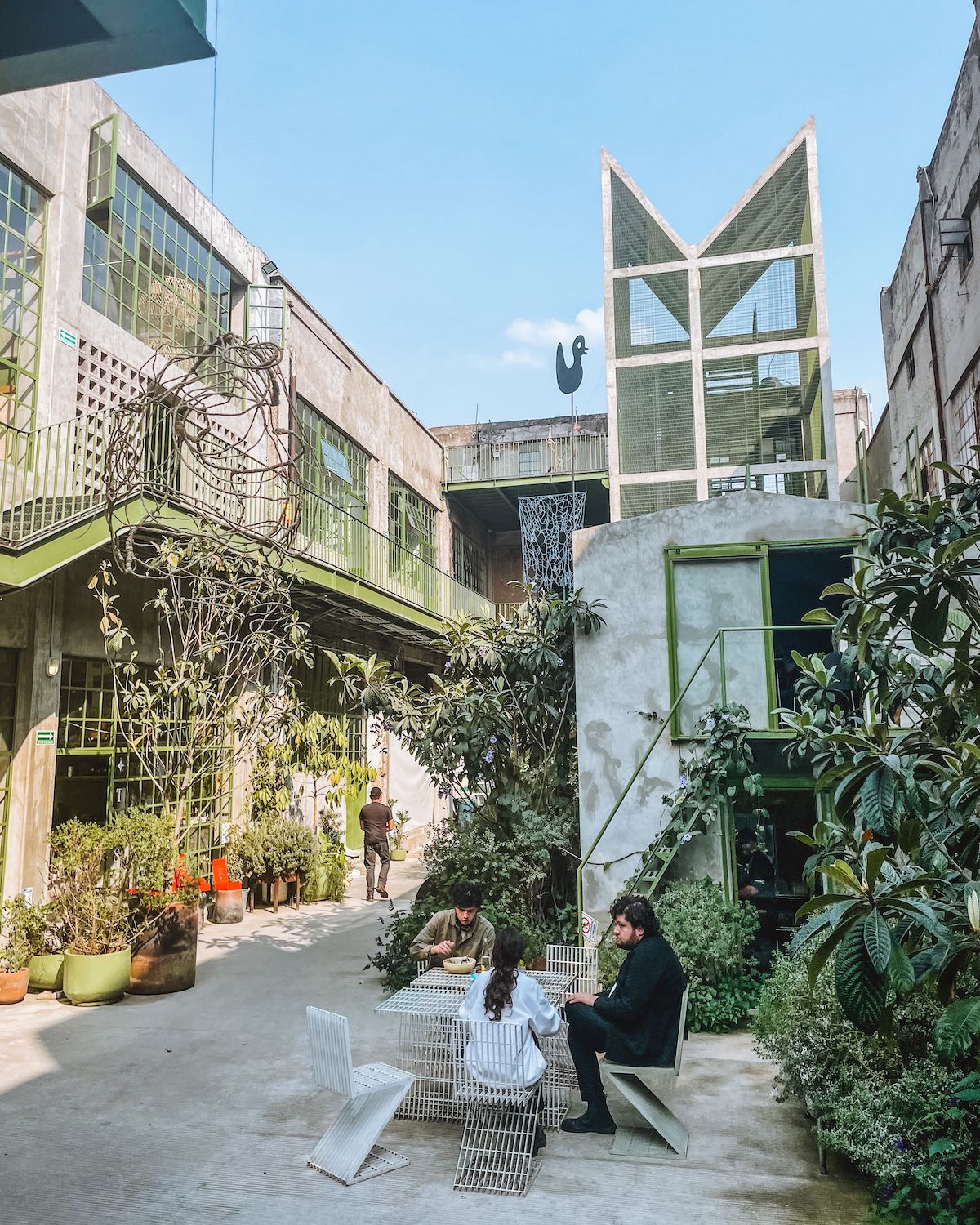 About a 10 minute walk from Gallery OMR in the outskirts of Doctores neighbourhood you'll find Laguna, a former textile factory from the 20s that has transformed into a creative hub where artists work and play. Located at Calle Dr. Erazo 172, ring the doorbell to be let into this hidden gem. Keep walking through the industrial space until you find the courtyard with shops, studio spaces and a cafe lining its perimeter.
Pick up a coffee from BUNA (we loved their Dalia roast so much we bought a bag), and don't miss Ballista for radical, "haute couture" furniture curated by Mario Ballesteros.
Evening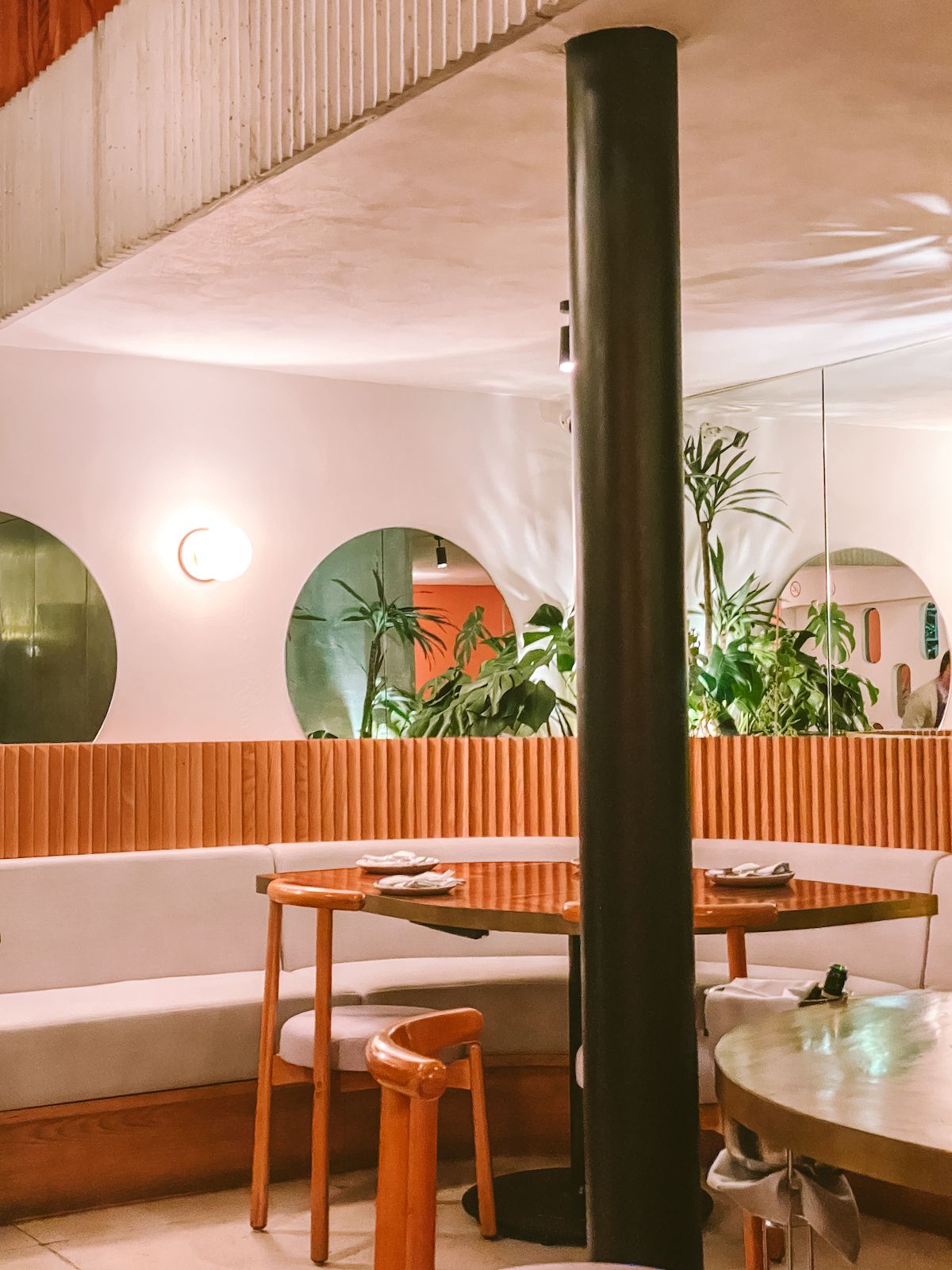 🍴Dine at Meroma, one of the city's top "under-the-radar" restaurants
After hearing that Meroma was one of the best restaurants in Mexico City (for those in the know), we had to check it out. And are we ever glad we did! Every dish we had was a standout. So much so, that we immediately made a reservation afterwards to try everything else on the menu. With its exceptional reviews from major publications like Conde Nast and Fortune, we don't expect it to stay under the radar for much longer.
Find your way to the back of Meroma's sceney bar on the street level and take the stairs up to their intimate restaurant. The husband and wife duo host you in their mid-century modern space and offer creative dishes that focus on seasonality and locality.
Must try: Merguez orecchiette and fish collar. Start your meal with a glass of their AUS Pét-Nat Rosé wine.
Top tip: make your reservation in advance and request to sit on the outside terrace upstairs.
🍸 Drink exceptional cocktails at Handshake Speakeasy
Mexico City has four bars in the World's 50 Best Bars list - with a bonus that their cocktails are half the price of what you'll find in other major cities on this prestigious list.
We've been to all four on the list, and our favourite of the bunch is Handshake. Its dark and sexy Art Deco interior, glamorous atmosphere, exotic cocktails and friendly service set it apart from the others. You can also easily make reservations on OpenTable - just make sure you do it far in advance!
See our list of the 9 best cocktail bars in Mexico City
🌮 Late night bite: Taqueria Orinoco
Feeling peckish after your night out? Try Taqueria Orinoco's three signature tacos (chicharron, al pastor, bistec) on a flour tortilla. The red & white restaurant chain is famous for their authentic northern-style tacos and you'll see locals and tourists devouring tacos there until the early hours of the morning.
Top Tip: Pick up a bottle or two of Electrolit - our Mexican equivalent to the Japanese hangover cure sold in 7-Eleven.
Don't miss our list of 17 fun things to do in Roma Norte, Mexico City
Day 2 - Saturday
Visit the charming neighbourhoods of San Angel and Coyoacan and binge on al pastor tacos so good they may make your mouth and eyes water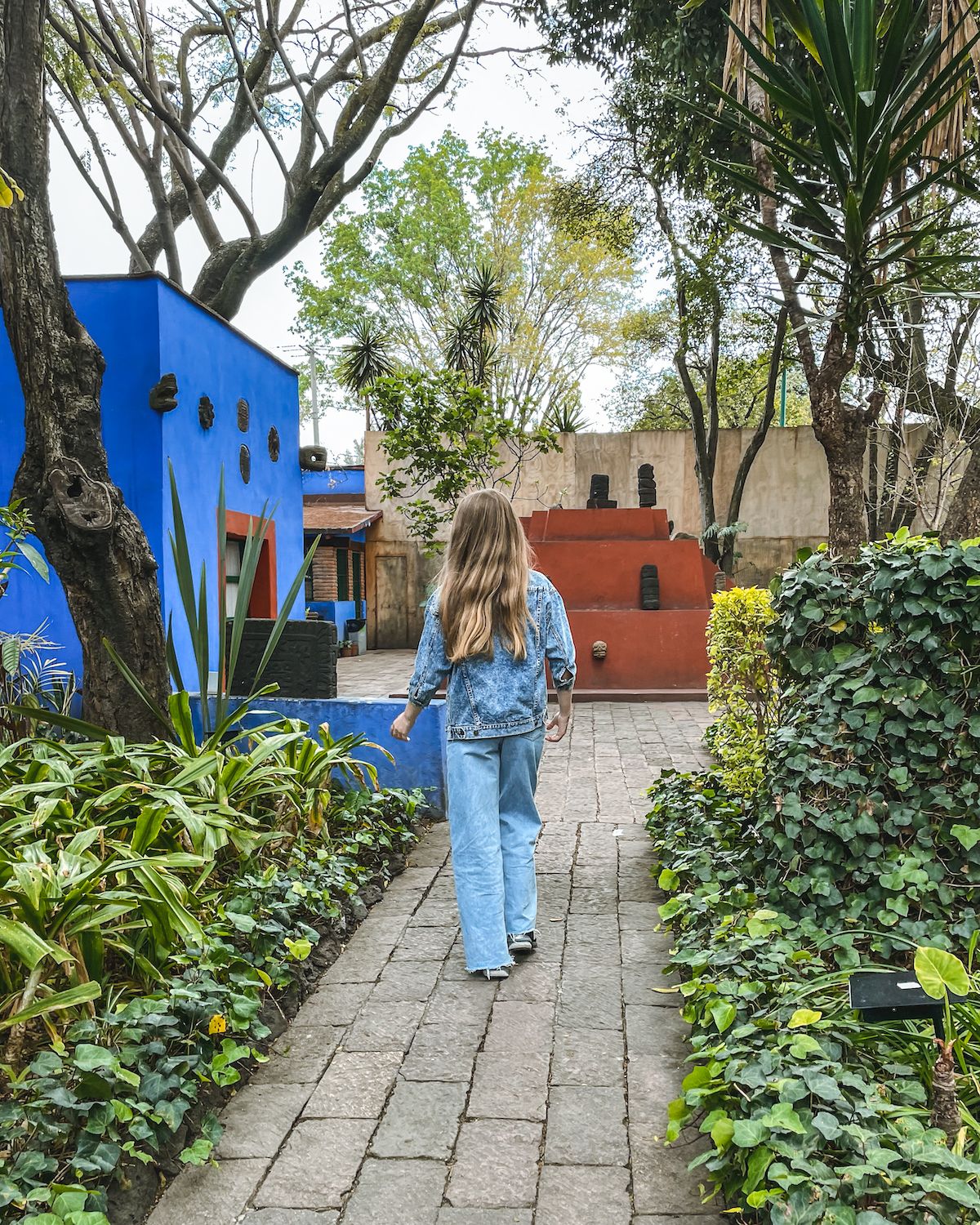 Today you will head to the south of the city to shop the Saturday Bazaar and visit the birthplace of Frida Kahlo, one of Mexico's greatest artists. Afterwards, you will head over to the best spot for al pastor tacos (in our opinion!).
Daytime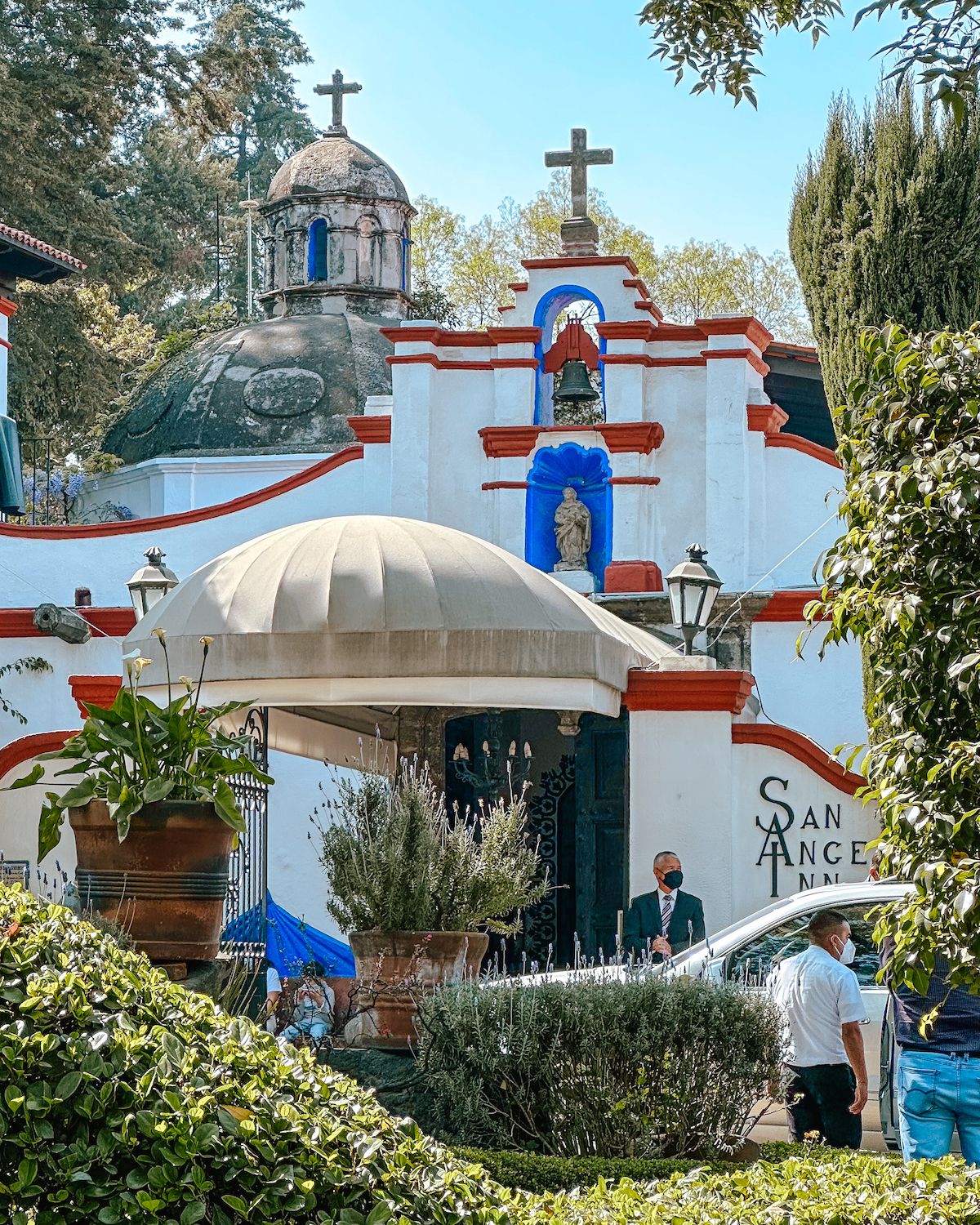 🎨 Visit La Casa Azul, the birthplace of Frida Kahlo
Frida Kahlo is a famous painter from 1925-1954 and one of the most iconic figures of Mexican culture today. Known for her self-portraits, one of her paintings recently sold for a record breaking $34.9 million dollars - the highest in Latin American history. Her influential art is a representation of her progressive political views and female sexuality, which has made her a feminist icon today.
We highly recommend watching the movie Frida (2002) before coming to Mexico City. Not only will you learn about her controversial life, you will also get to see Mexico City through a unique lens.
At La Casa Azul (The Blue House) you will get to walk through the house and garden where Frida grew up and where she learned how to paint. Make sure you buy your tickets online in advance. For international visitors, they cost $250 MXN (~$15.50 USD) per person).
Top tip: Go on this tour first before shopping, since you can only walk around with a bag as big as a small backpack.
🥗 Enjoy a leisurely lunch in the garden of San Angel Inn
Transport back in time at San Angel Inn, a gorgeous 17th century hacienda and former monastery that has been beautifully restored into a restaurant. Its tranquil garden with flowers, greenery and fountains create a romantic atmosphere. This spot is very popular so you will need to make a reservation far in advance, especially if you want a spot in the garden!
🛍️ Shop the Saturday Bazaar in San Angel
Every Saturday in Plaza San Jacinto and Plaza Tenanitla, hundreds of stalls set up on the cobblestone streets to sell traditional handicrafts, art, jewelry, and housewares. We bought a large hand-woven rug and some jewelry.
Also venture outside the market to find cute shops around the perimeter. Don't miss Mezcal El Bueno, our favourite hole-in-the-wall shop to buy the best artisanal Mezcal, and Mercado del Carmen, a open-air food hall with boutiques.
Evening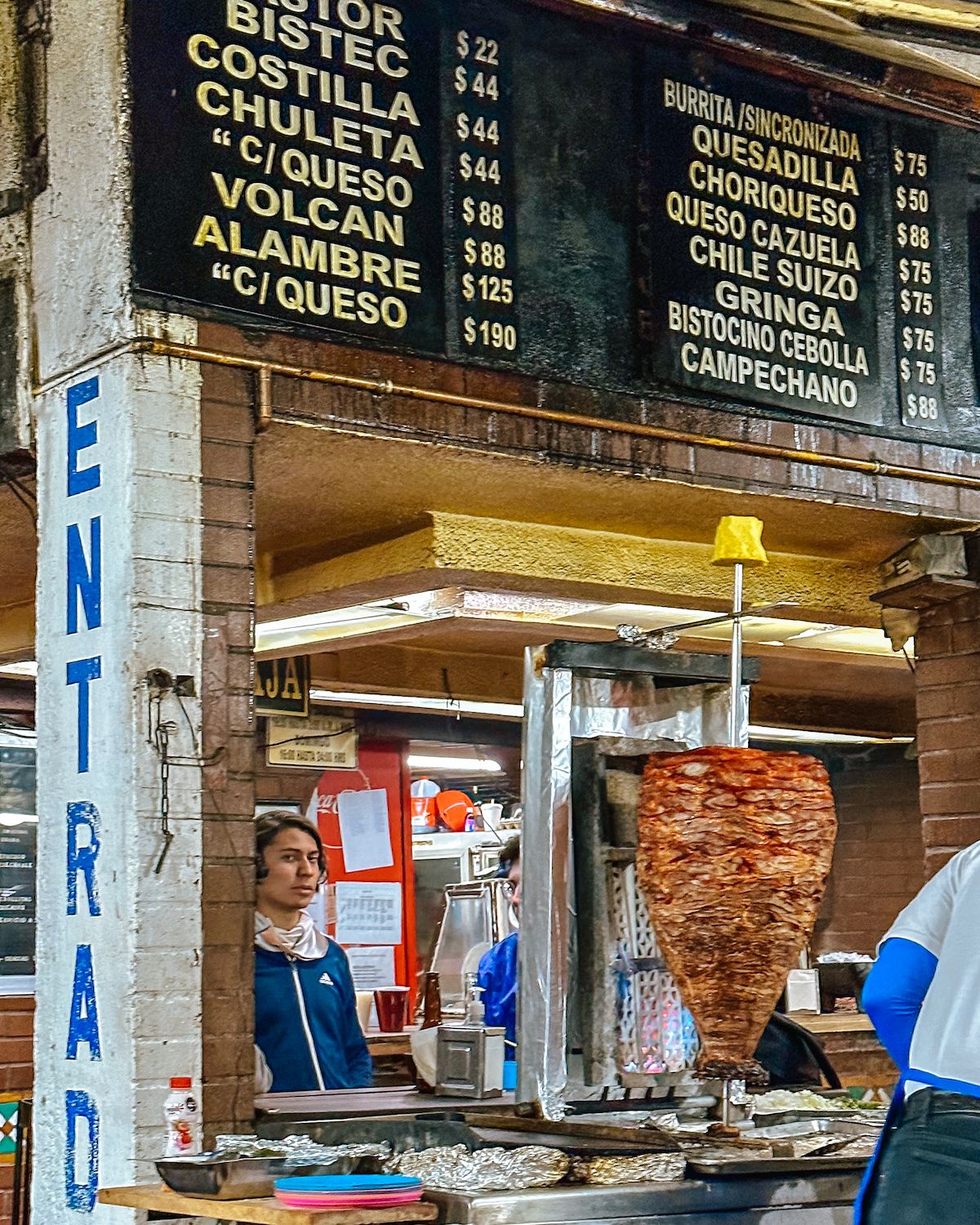 🌮 Indulge on al pastor tacos at El Vilsito
If we were in Mexico City for one night and could only pick one thing to eat, it would be these al pastor tacos. The car mechanic shop by day turns into one of the most iconic al pastor taquerias in the city. It's always packed with locals and tourists at standing tables chatting and eating away.
The concept of al pastor was introduced by Lebanese immigrants in the 1930s. Spit roasted pork (like the spits you see at shawarma shops) is shaved onto a corn tortilla with onion, cilantro and topped with a slice of pineapple. You can learn more about El Vilsito in the Netflix documentary, Taco Chronicles.
Must try: A few al pastor tacos in corn tortillas and finish it off with a gringa, a large al pastor taco made in a flour tortilla and topped with melted Mexican cheese.
🍸 Discover new music at Cafe de Nadie
After chowing down your tacos, let your food coma pass in your Uber ride on the way to to Cafe de Nadie. This cocktail bar located on a quiet side street in Roma Norte played some of the best tunes we heard in the city, thanks to the owners' collection of over 1500 vinyl records. The bar has a fun atmosphere, where people shift around tables to talk to others and where a spontaneous dance wouldn't be out of the ordinary. Trust us, you'll be shazamming songs all night!
If you're on a roll and want to check out another bar - sip absinthe cocktails at Maison Artemisia. Their dimly-lit, moody space feels like a seductive apartment bar in Berlin or Beijing.
Day 3 - Sunday
Search for vintage treasures at one of Mexico City's oldest markets, and explore the up-and-coming Juarez neighbourhood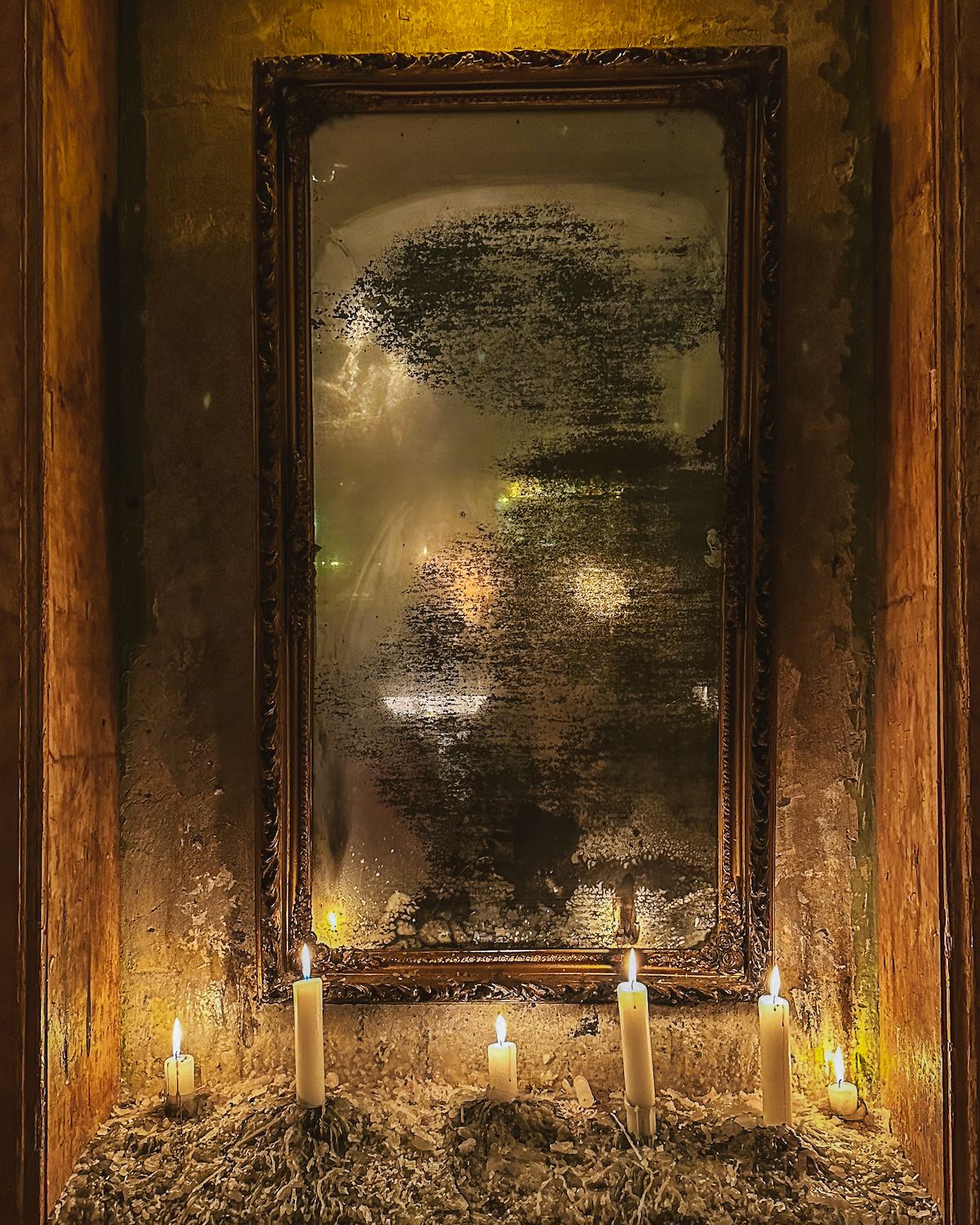 Start your day at the Lagunilla Sunday Market, one of the oldest and largest in the city. Afterwards, explore the up-and-coming Juarez neighbourhood known for its buzzing eateries, bars and boutiques.
Daytime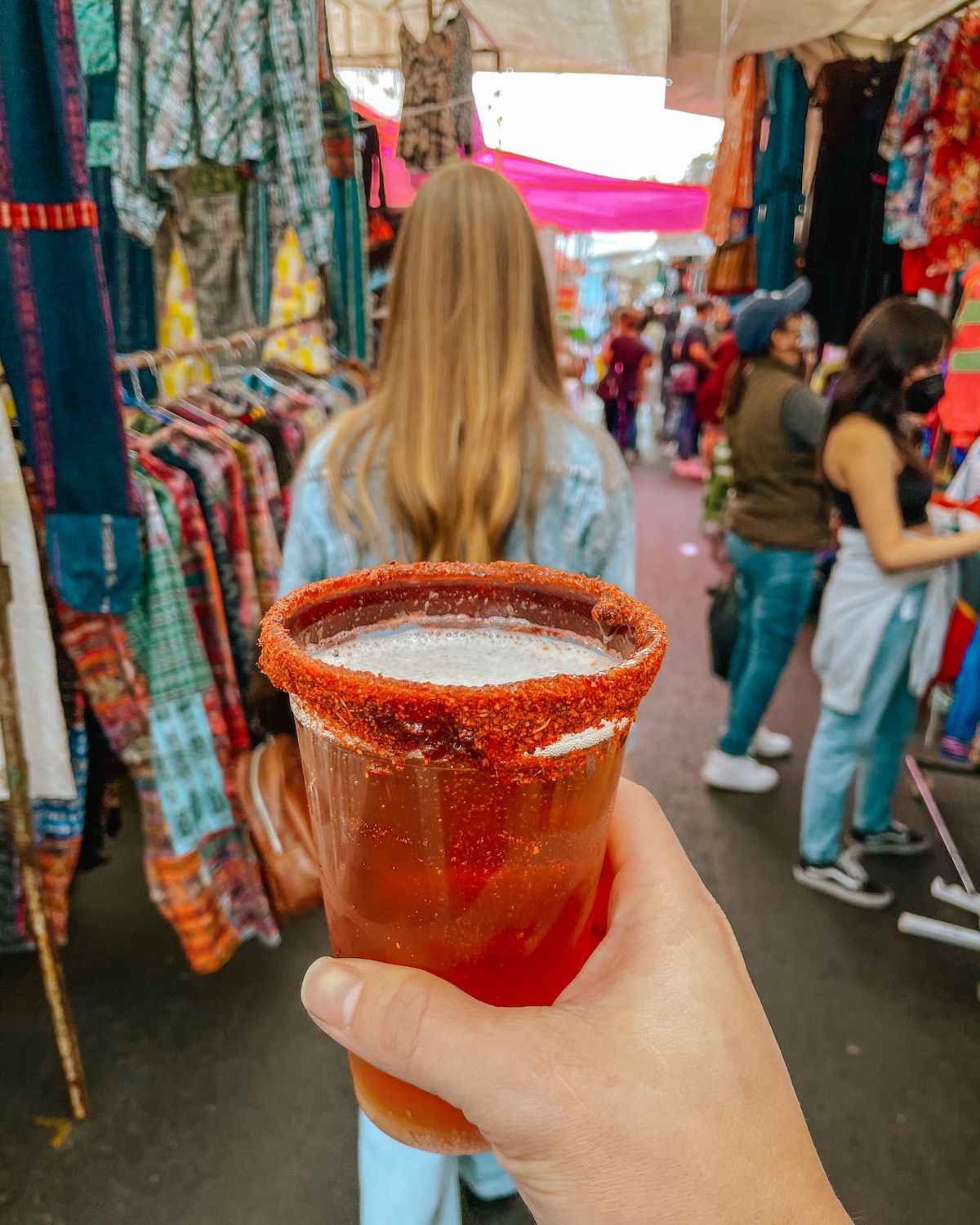 🧳 Search for treasures at the La Lagunilla Sunday Market
Every Sunday, vintage and antique items are on display at the La Lagunilla Market. From midcentury home pieces to leather jackets, find a gem to take home with you. I found my favourite leather jacket here! La Lagunilla is one of the oldest and largest markets in Mexico City, so be aware of pickpocketing.
After browsing, try some bites from a food vendor you see locals lining up for and don't forget to try a michelada - a classic Mexican drink made with beer, lime, chili based sauces and a salt rim.
👀 Explore the up-and-coming Juaraez neighborhoood
Juarez is a buzzing neighbourhood in Mexico City where French-Colonial mansions have been transformed into trendy restaurants, hip bars, design houses and local designer boutiques. We found some of our favourite boutique stores in this area. Walk down Calle Havre and Calle Marsella to find lots of cool shops.
🛍️ Our favourite boutique stores in Juarez:
Marsella 68 - concept store selling clothing, housewares and jewelry from independent designers. It's my favourite clothing boutique in the city.
CIHUAH - sells structural modern pieces with a blend of traditional Mexican design.
Cynthia Buttenklepper - an edgy womenswear brand that isn't afraid to experiment with pops of colour.
Casa Caballeria - men's concept store with unique clothing, jewerly and shoes.
Bazaar Fusion- a two floor-bazaar with a collection of local Mexican brands
Atlawa - sells stylish homeware and kitchenware made from resin. Their durable products are perfect for outdoor or poolside entertaining.
Daniel Liebsohn - located in a strip mall of small galleries selling artwork and antiques, Daniel Liebsohn is the most impressive. Known as one of the top antique dealers in the city, each piece is fascinating and full of history.
🥗 Refuel at Cicatriz
Hang out at the trendy industrial-style eatery that spills out onto the plaza with a few bites and a refreshing drink.
Evening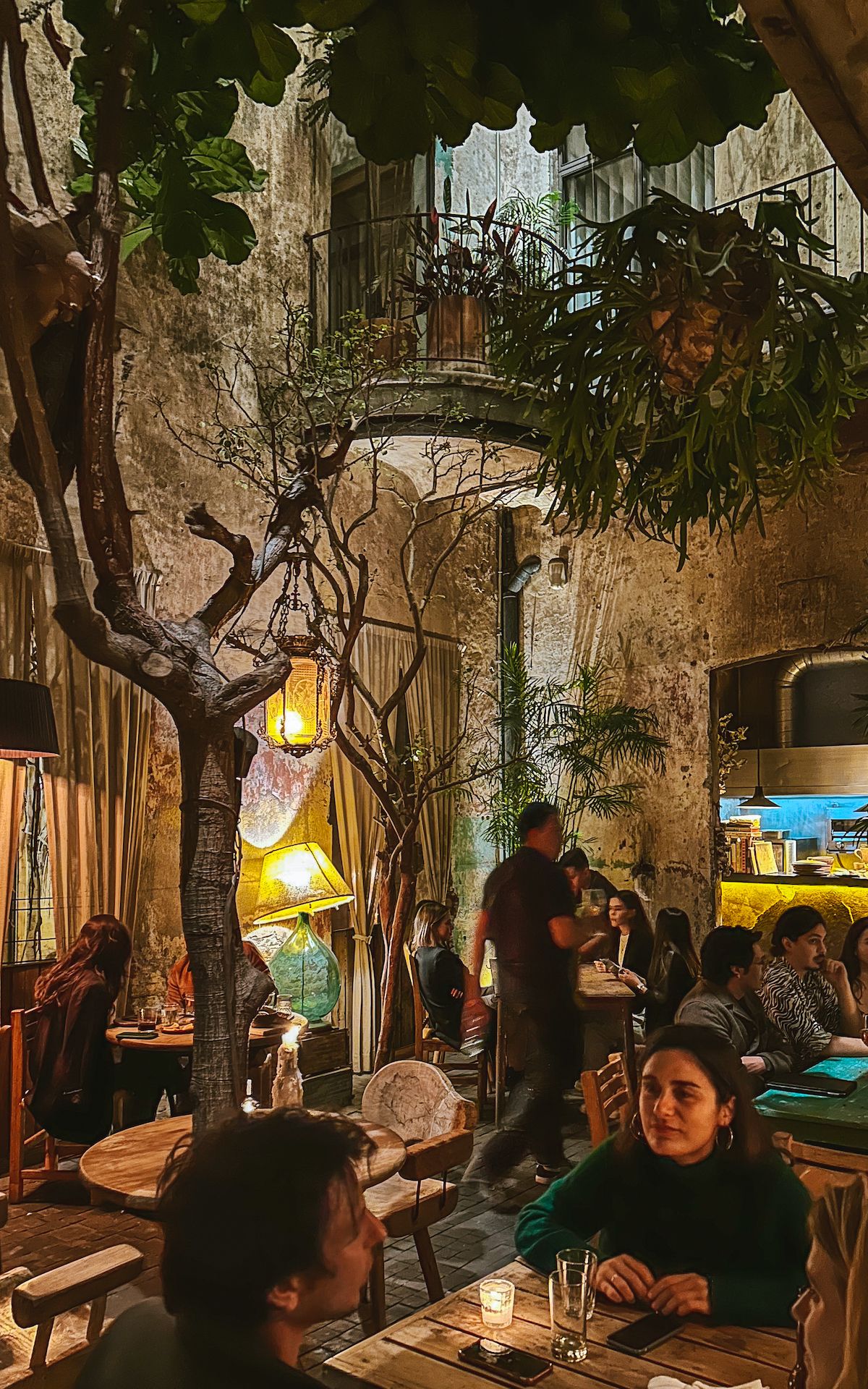 🌮 Eat El Califa's savoury steak tacos
Dine at Mexico City's big name taqueria chain, El Califa, for satisfyingly simple steak tacos made with high quality ingredients. We tried the ribeye and sirloin tacos, which came thinly sliced on a corn tortilla. Yum!
🍸 Have a couple drinks at these edgy spots in Juarez
Taverna
We discovered Taverna while attending the Salon Acme art fair in the same historic building, and were immediately blown away by its shabby-chic interior. It feels like an art cave with dried flowers, mirrors as "windows", melting candles sticks, and layers of paint and plaster on the walls. If the Cryptkeeper from the 90s TV show Tales from the Crypt had a favourite hangout, it would be this place.
Colonia
Just a 3 minute walk from Taverna is a newly opened mead bar called Colonia. Colonia is a great hangout for bigger groups and has a lively atmosphere with its energetic, funky tunes playing. The bar's barrel vaulted ceiling and warm candle lit lighting make it feel like a stylish cavern with a hip neighbourhood feel.
If you've never heard of mead, it's it's similar to wine or cider, but fermented with honey. Creative variations can be made with different spices and fruits. Their 'Ciser' was great and easy to drink.
Day 4 - Monday
Visit two architectural masterpieces in the Jardines del Pedregal neighbourhood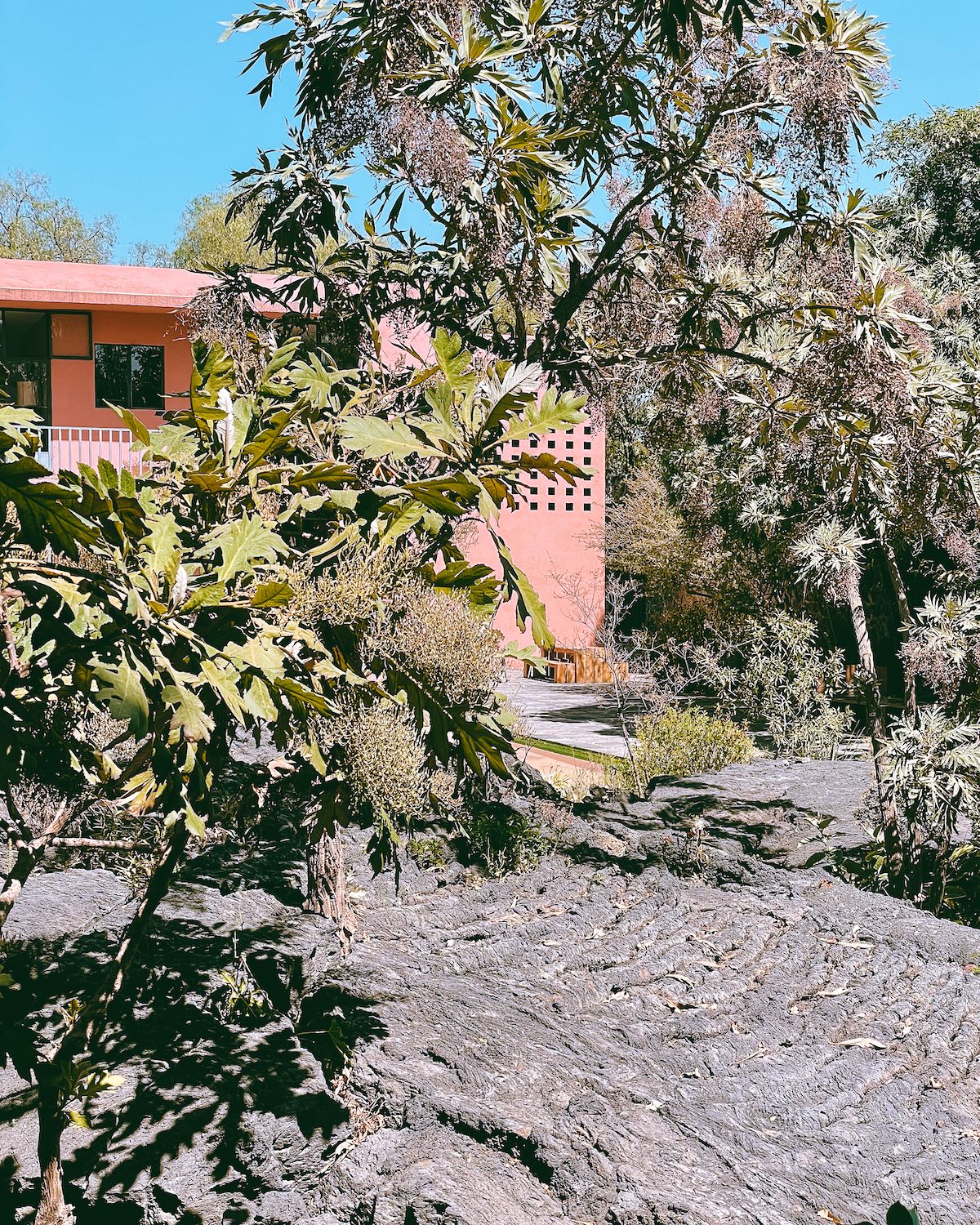 The drive to the far southwest of the city is worth it to see Casa Pedegral and Tetetlan, two architectural gems designed by Pritzker prize-winning architect, Luis Barragan. Afterwards, finish your day off in Roma Norte for more tasty eats!
Daytime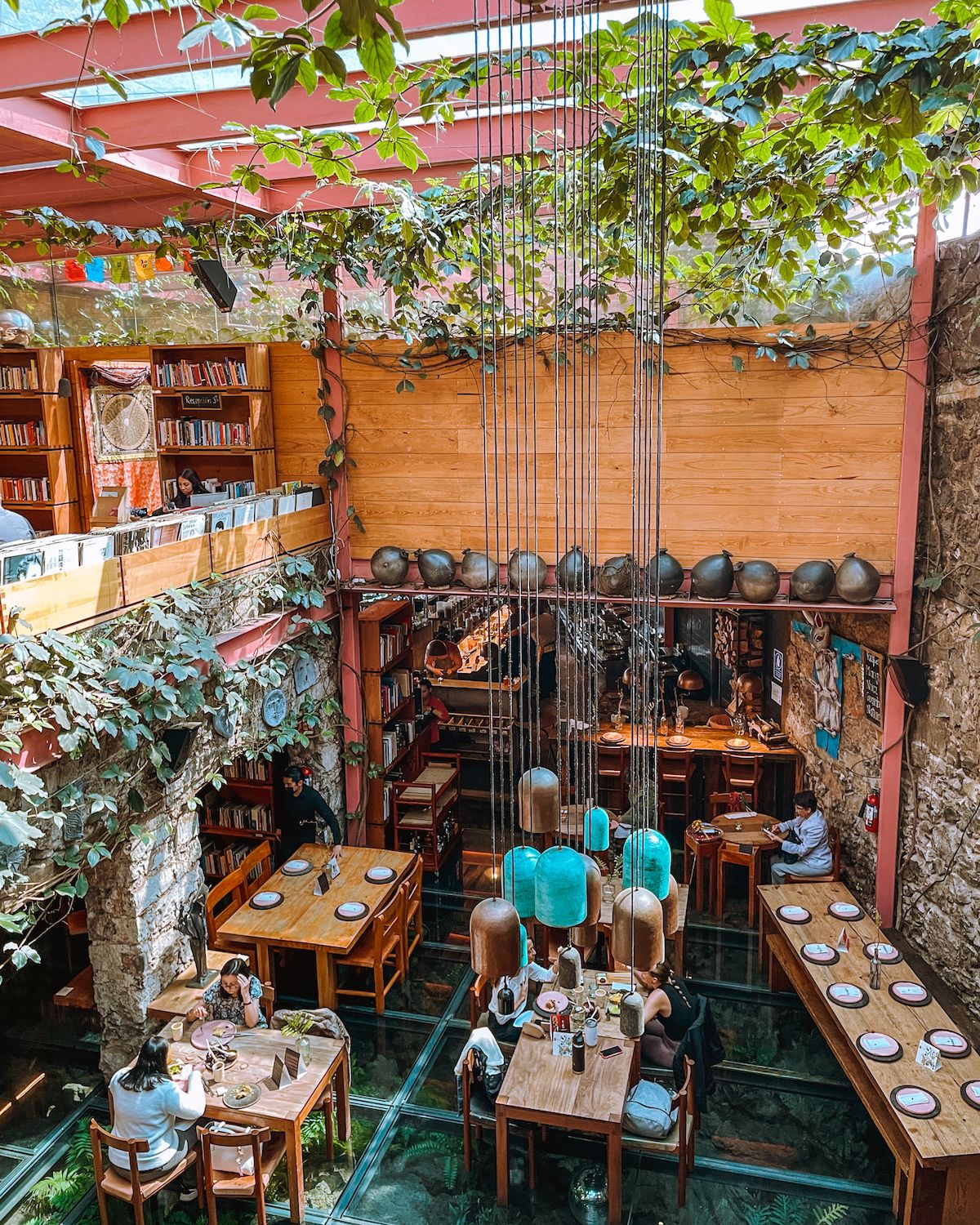 🎨 Tour Casa Pedegral
Visit this architectural landmark built in 1947 with volcanic rock from a volcano that erupted in the area. The recent owner underwent a meticulous restoration of the house to bring it back to its intended state by architect Luis Barragan. Most of the furniture is even original. Upon entry, we were told the natural lighting was designed to slow your heartbeat and to create different colours throughout the house.
To get a reservation, email visitas@casapedegral.com, and follow up if needed. We followed up after a couple weeks and got a response immediately after. The price is $800 MXN/40 USD per person and you have to pay by cash.
Top tip: Wear flat shoes so you can easily walk through the volcanic stone garden in the back.
🥗 Have a relaxed lunch at Tetetlan
Next door to Casa Pedegral is Tetetlan, a cultural hub with a restaurant, library, gallery, cafe and boutique store. Enjoy lunch in this unique space that beautifully blends into its natural surroundings, with glass floors showing the lava field underneath.
The restaurant at Tetetlan has Mexican and international classics. We particularly liked their smoothies.
Top tip: make your lunch reservation for 1.25 hours after your tour at Casa Pedegral. The tour at Casa Pedegral is 1 hour long.
Evening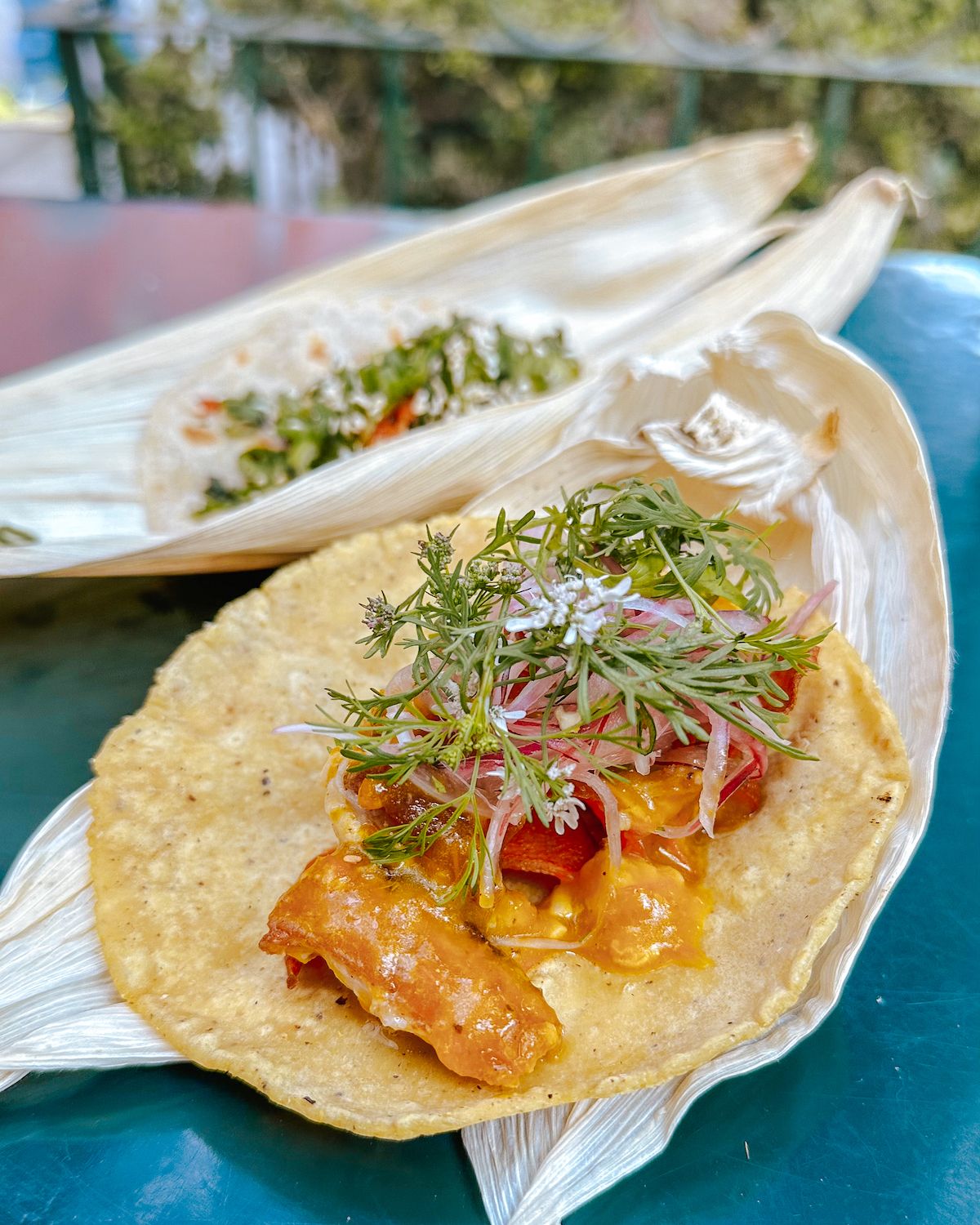 🌮 Try Asian inspired tacos at Carinito Tacos
For a nice twist on the taco, treat yourself to Carinito's unique pork belly tacos. There are four styles: Cantonese, Issan, Thai and Criollo. Try all four to see what your favourite is - ours was the Cantonese. We were lucky to get our order in before a food biking tour stopped by!
🍸 Drink exceptional cocktails at Licoreria Limantour
Ranked #4 by the World's 50 Best Bars list, you're in for a treat. The cocktails here are one-of-a-kind. Although the decor isn't as cool as some of the other bars in the city, the passion from the bartenders and energy from the patrons more than make up for it.
Top tip: make a reservation at the bar, so you can see these magician mixologists in action.
🍕 Eat a late night Neapolitan-style pizza at Felix
Switch it up from Mexican cuisine with a Neapolitan-style pizza at Felix. The restaurant is known to have the most authentic Italian pizza in the city. The edgy industrial interior with a living wall gives the space a hip appeal for late night drinks as well.
Day 5 - Tuesday
Explore the fashionable Condesa neighbourhood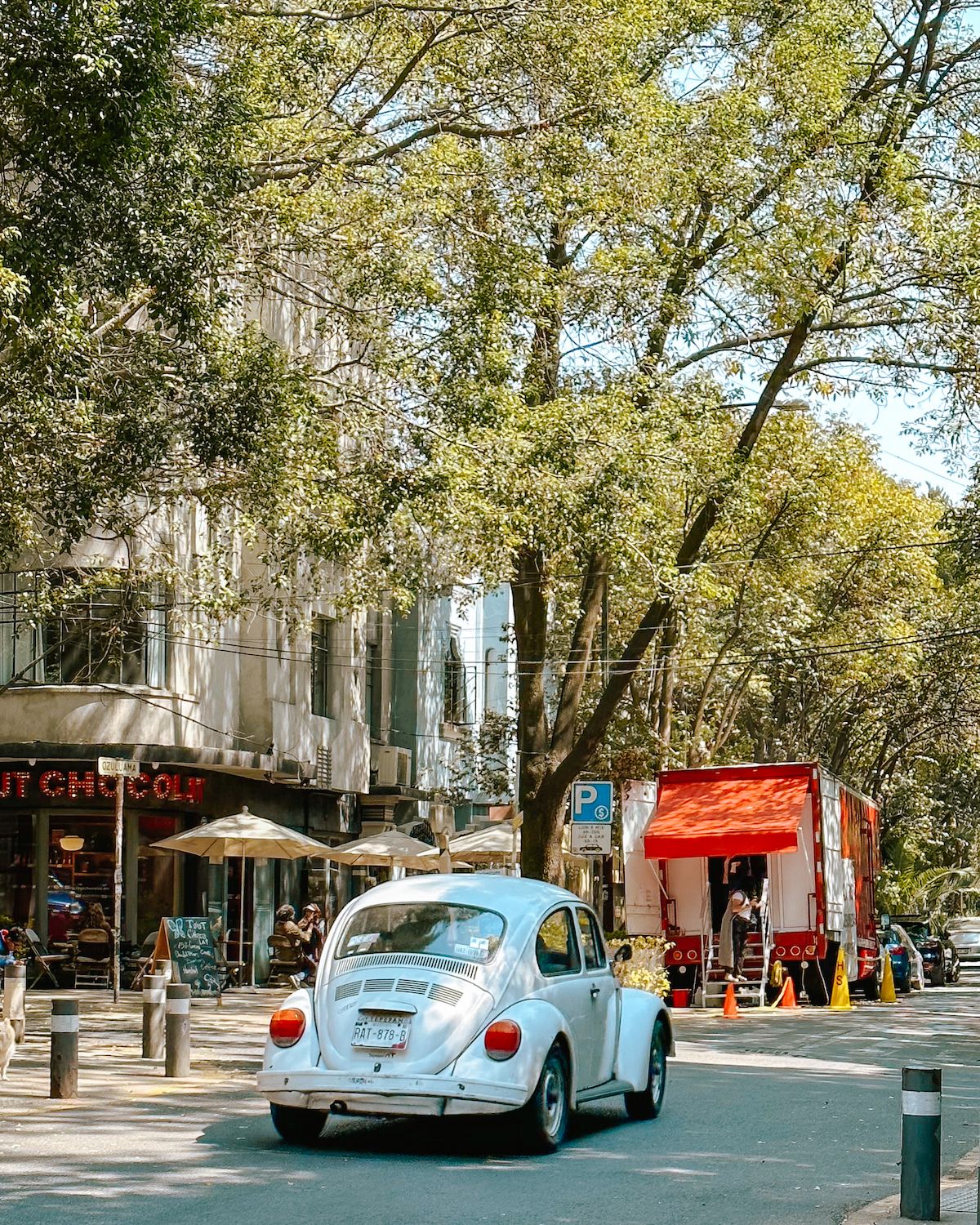 Condesa is a fashionable neighbourhood, known for its Art Deco architecture, green spaces, culinary scene and creative crowd. Although Condesa has some of the hottest restaurants and bars in the city, we found it to have a low key neighbourhood vibe, which was a nice change from its lively next door neighbour, Roma.
Daytime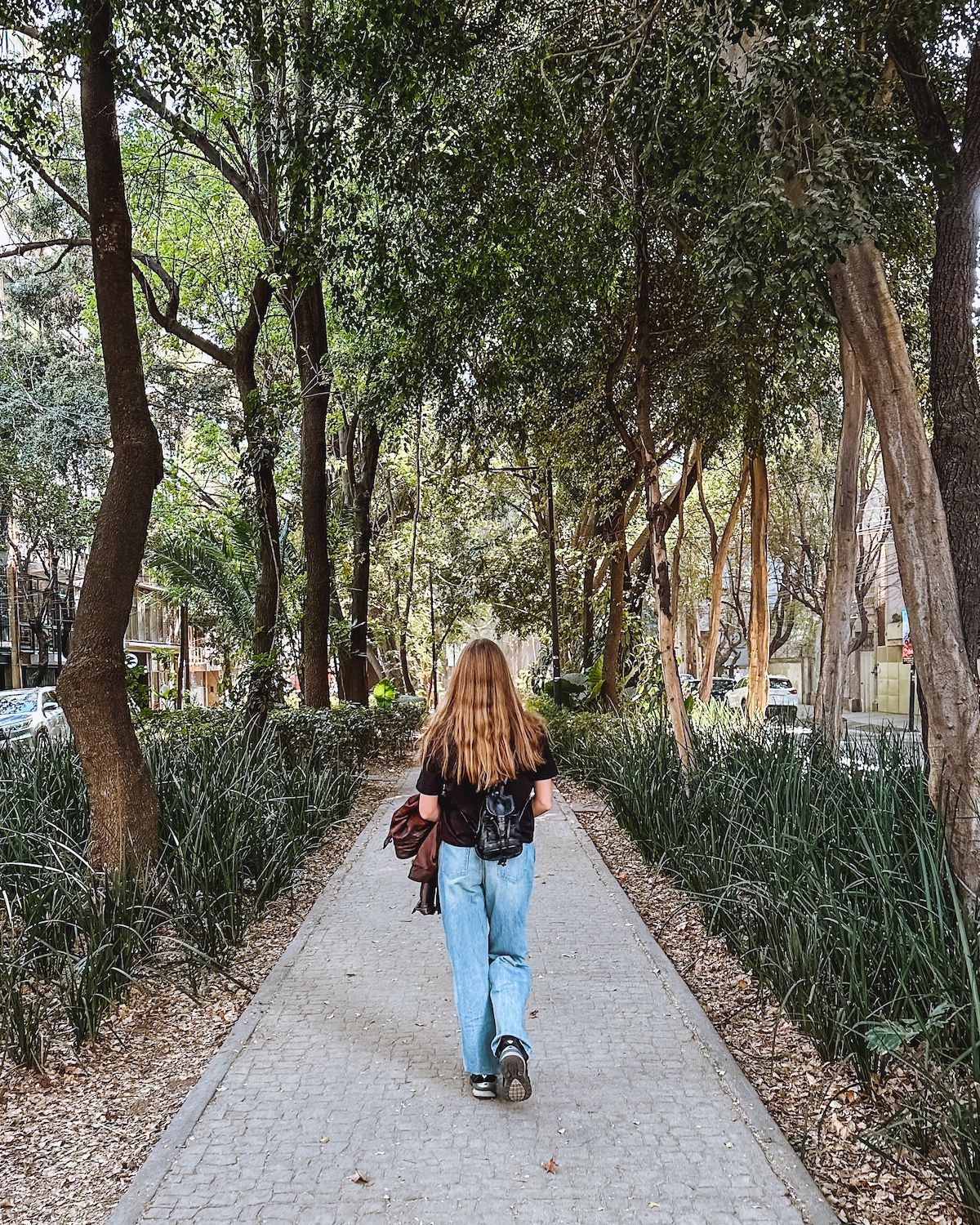 🥗 Allow yourself a leisurely brunch at CIENA
Ciena is a newer opening in Condesa with a nice neighbourhood vibe. Their baked goods and sandwiches are fresh like popular cafe, Panderia Rosetta in Roma, however, you don't have the crowds and waiting times. The Art Deco cafe serves farm-to-table cuisine and attracts fashionable types.
Top tip: make a reservation and ask for a sidewalk table
🌳 Admire the Art Deco architecture as you walk Amsterdam Ring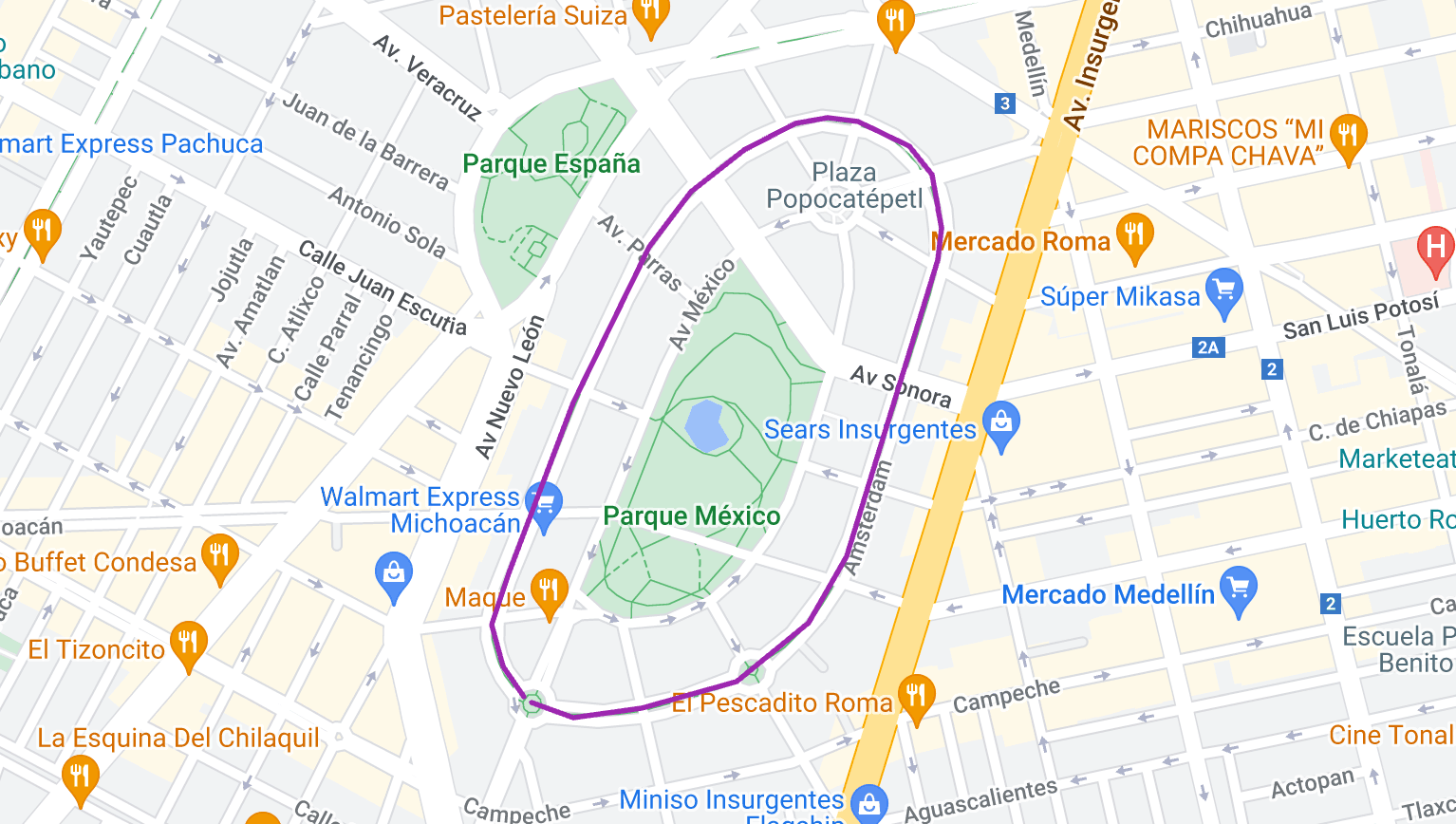 Walk the leafy Amsterdam ring that circles Parque Mexico in Condesa. The quiet and shady walkway gives you a great viewpoint of Art Deco buildings, quirky boutiques and sidewalk cafes on both sides. We call it "Art Deco ring" now, instead of Amsterdam ring.
🛍️ Shop unique boutiques in Condesa
These are our favourite shops in Condesa:
Aurelia Concept Store - amazingly curated selection of  handmade artisanal brands from Mexico. A must go!
Mooni - an art collage gallery, where all the art by emerging artists on the wall are for sale.
Cardon - the women's store to the left and men's store to the right sell unique clothing from emerging Mexican and Latin American designers.
Columpio - right beside Cardon, this boutique store sells creative clothing in vibrant colours and unique prints.
Tienda Cuchita vintage store - located at Amsterdam 275, this spot has a good selection of vintage clothing and leather jackets.
Casa Melibea - this coffee shop sells nice minimalist jewelry at great prices.
Ocelote - sells contemporary minimalist clothing.
🌮 Snack on seafood specialities at El Pescadito and Contramar
Pop into El Pescadito for the city's best shrimp tacos in town. Here, satisfyingly crispy little morsels of deep fried shrimp are covered in house made coleslaw and any other toppings of your choice. Dress it up to your liking with white onions, shallots, pico de gallo and sauces. Afterwards, try to snag a seat at Contramar for its famous tuna tostado.
Evening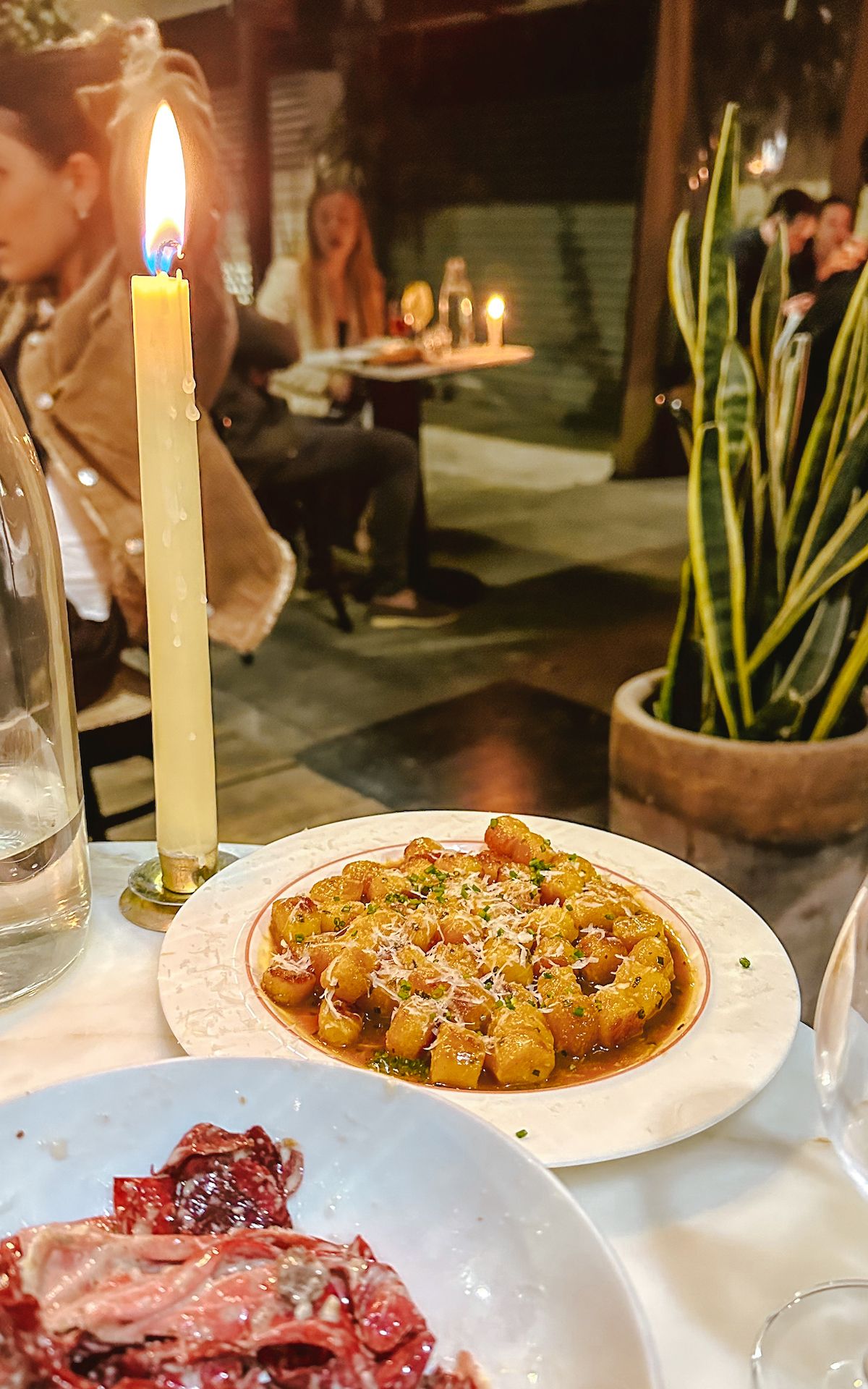 🍴Dine at the happening neighbourhood bistro, Hugo
Reserve a table on the sidewalk patio of this happening neighbourhood joint. After the success of Cafe Milou, the owners have opened Hugo, offering natural wines and small delectable sharing plates. As one of the most sought after spots to dine in Condesa at the moment, make your reservation far in advance.
Must try: Boqueron toast and Crudo de Esmedregal
🍸 Sip cockatils at the Darwin-inspired Baltra Bar
Located just off Amsterdam Ring, Baltra Bar is a chic cocktail bar in Condesa ranked #32 on the World's Best Bars list. Here, you'll find evolution-themed cocktails and stylish regulars sipping martinis on "Martini Tuesday". Make a reso, since Tuesday is a popular day with locals.
See our list of 11 fun things to do in Condesa, Mexico City
Day 6 - Wednesday
Discover the best of Mexico City's upscale neighbourhood, Polanco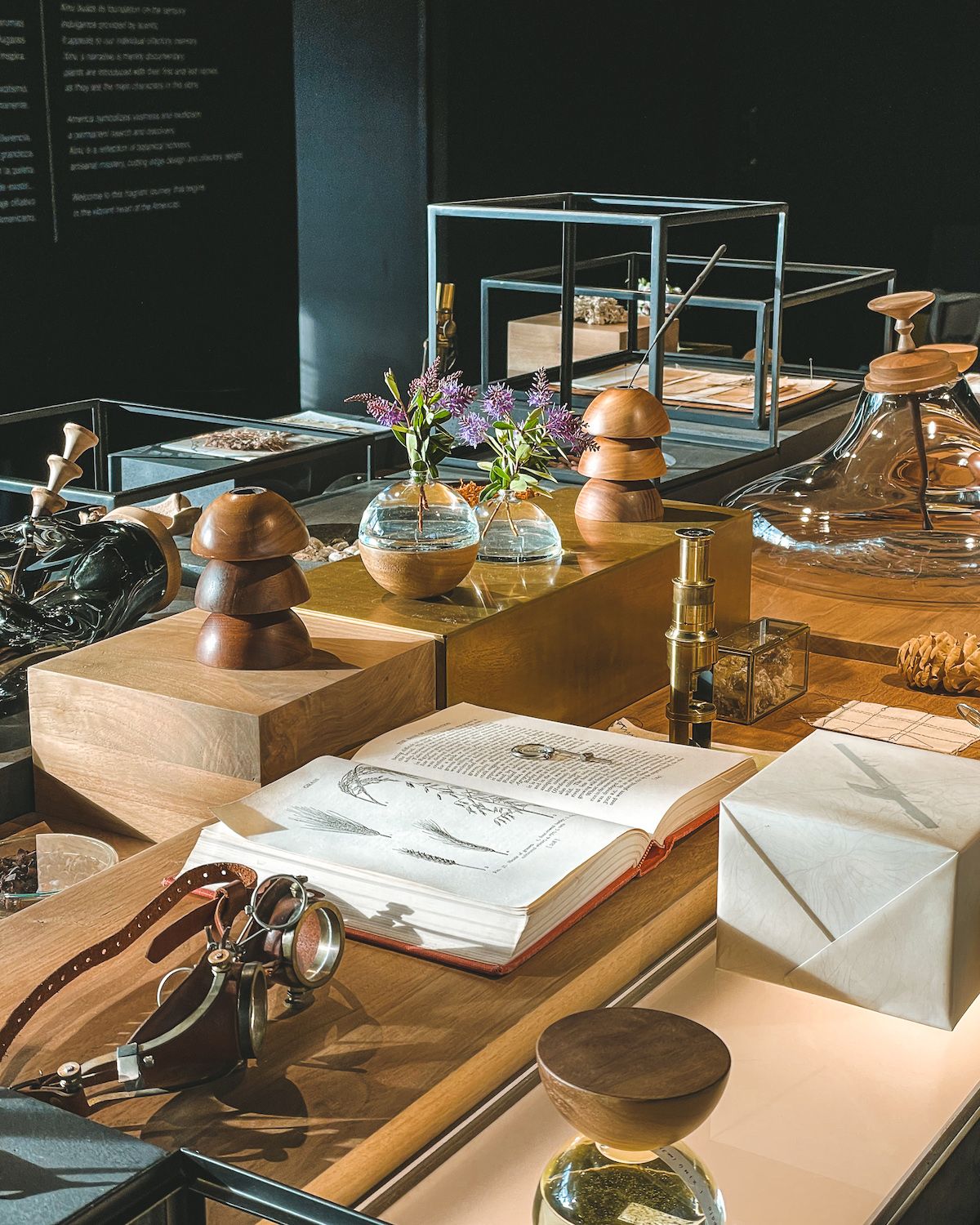 Polanco is a posh neighbourhood where you will find high-end shops, world renowned fine-dining restaurants and high-end apartments along quiet side streets. Typically we find upscale neighbourhoods to be boring in major cities, however there are special spots in Polanco that make it very much worth visiting!
Daytime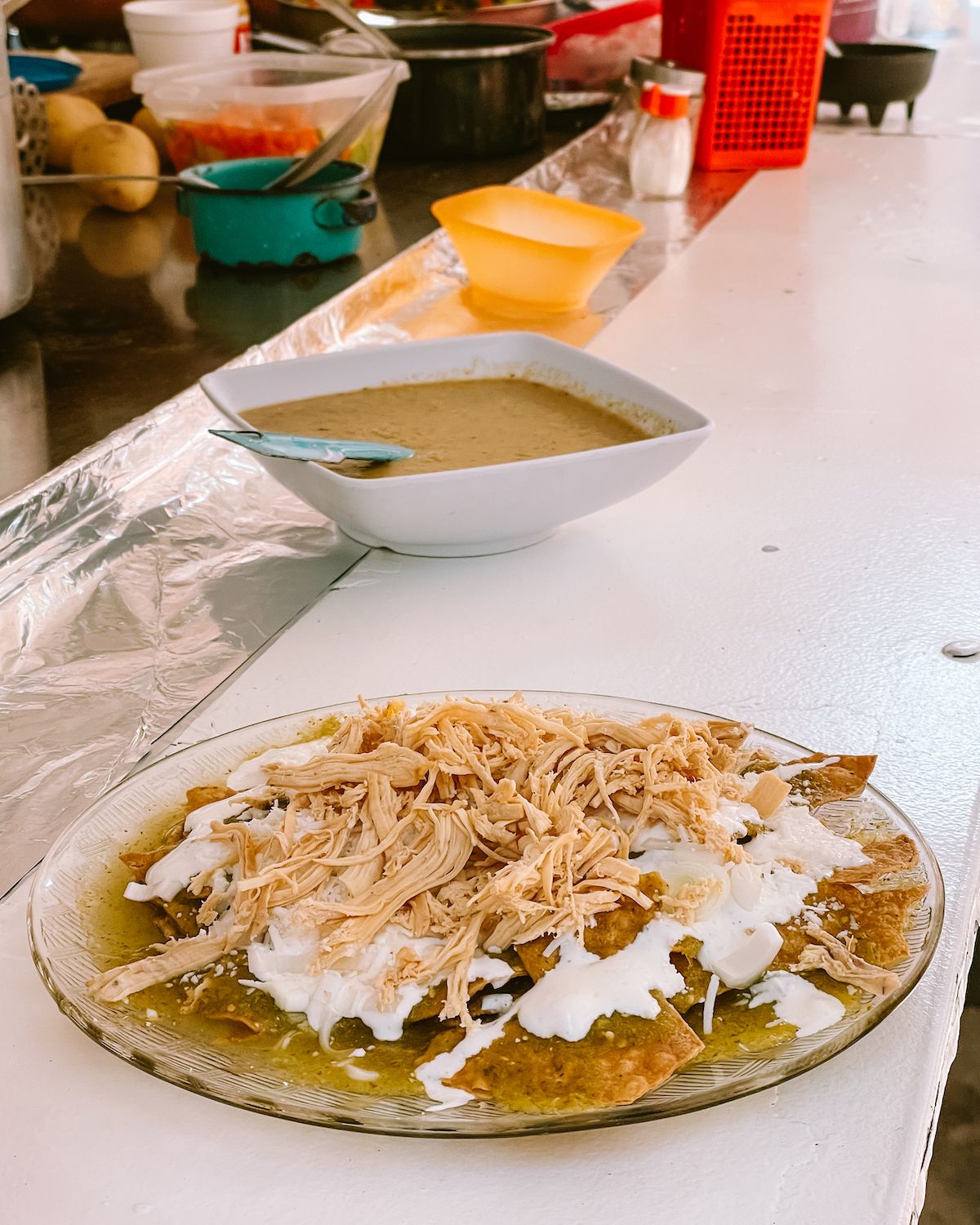 🍳 Eat Chilaquiles for breakfast from a street vendor on Lago Victoria
Some of the best food Mexico City has to offer is from street vendors. The quality and value of the food is incredible. We found a quiet street in Polanco called Lago Victoria that had street vendor after street vendor. It's beside Hospital Español, so we figured it's where hospital workers (locals!) ate for lunch.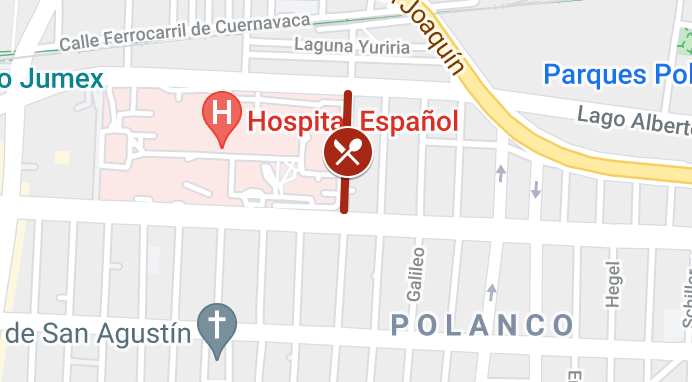 Order chilaquiles, a Mexican breakfast dish of crispy corn tortilla chips simmered in a green or red salsa or mole sauce and topped with crumbled cheese. Our favourite is the green salsa with chicken.
Overwhelmed by the street food options?
You could also consider booking an
authentic street food tour with a local guide
. Both
GetYourGuide
and
Viator
offer highly reviewed tours.
🎨 See art exhibitions by famous and emerging contemporary artists at Gallerie Philia and Museo Jumex
Galerie Philia
Take the elevator up to the 5th floor to see artworks at this sculptural design and art gallery. Their exhibition, Antipodes, was one of the coolest we saw during Art Week. You also get a nice view of the city from the window. See what exhibitions are on. It's free to visit.
Museo Jumex
Step inside the peculiar shaped concrete cube by architect David Chipperfield to discover contemporary art from notable artists like Damien Hurst and Andy Warhol. Museuo Jumex has changing exhibitions and best of all, it's free!
After visiting both of these galleries, take a coffee or smoothie break at Eno on the ground level of Jumex. It's not your typical gallery cafe, considering it was opened by the head chef of Pujol (one of the best restaurants in the world).
🛍️ Shop at Polanco's best boutiques
Look past the commercial shops to discover some of the best boutiques in the city.
For unique housewares and clothing from emerging Mexican and Latin American Designers visit Lago, IKAL and Onora. For contemporary jewelry, check out TANE, a Mexican luxury silver jewelry house.
You also don't want to miss Xinu Perfumes, a stunning ethnobotanical perfume store in a beautiful lab-like setting with six unisex perfumes to try. They use high quality raw ingredients from Latin American flowers and plants.
Evening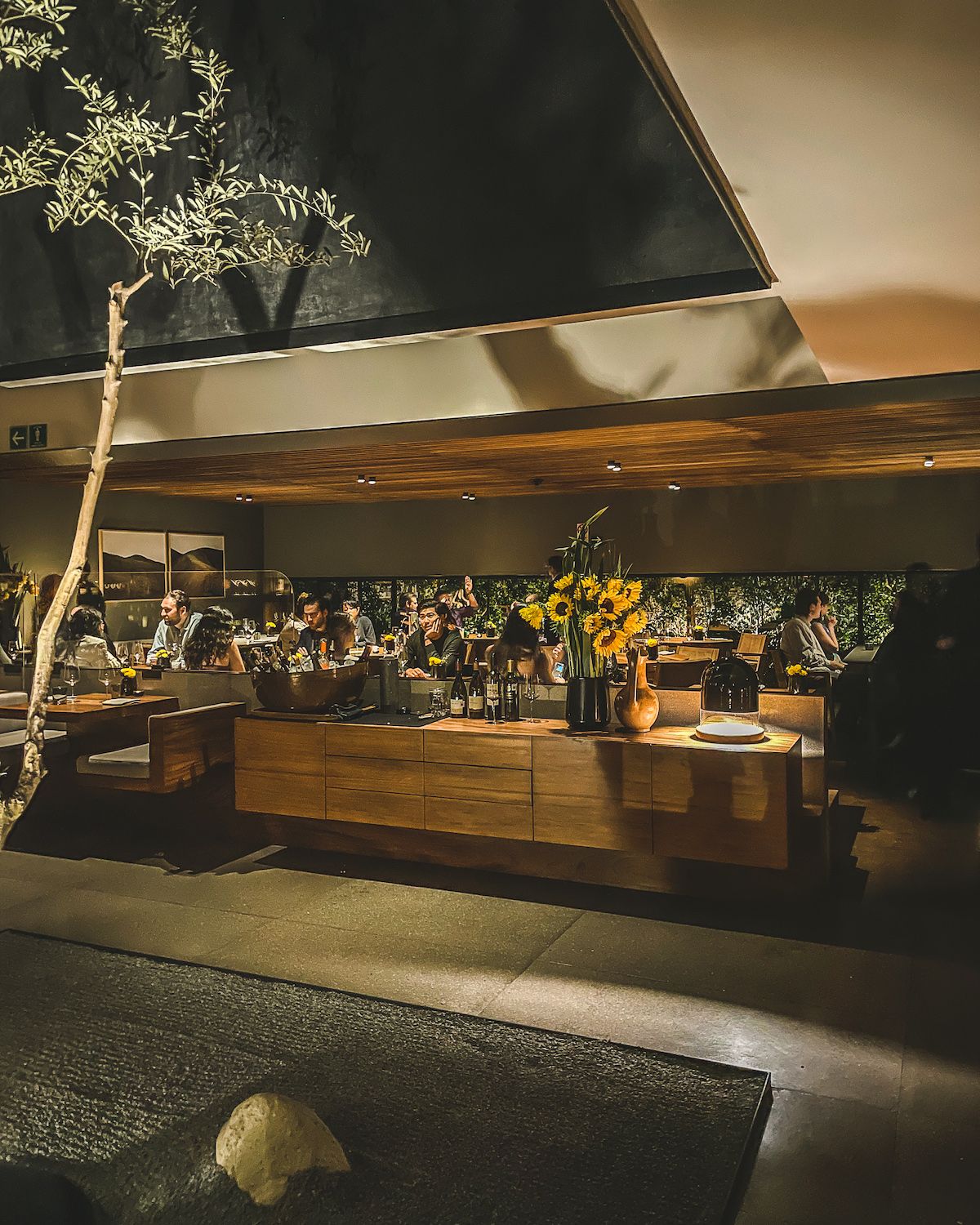 🍴Dine at one of the World's 50 Best Restaurants
With Mexico's traditional cuisine listed on UNESCO's Intangible Cultural Heritage List, it's no wonder you will find some of the best restaurants in the world here. Treat yourself to a culinary adventure at one of these two restaurants in the World's 50 Best Restaurants list:
Pujol (#5 on list)
Pujol's stylish, glowing space bringing the outdoors into the indoors, makes it feel like you've been invited to one of the most exclusive and alluring restaurants in the city. The restaurant is famed for its mole madre that has been aged more than 1,000 days - a prime example of how they honour Mexico's indigenous culinary history.
Go for their tasting menu in the dining room, rather than the taco omakase tasting menu at the bar. We tried both and preferred the food and setting of the tasting menu in the dining room more.
Quintonil (#9 on list)
We ordered the 10-course tasting menu at Quintonil and it was the first time at a fine-dining restaurant that we loved every single dish and wine pairing! Authentic flavours are presented through advanced culinary techniques making each dish delicate, yet impactful. From the spider crab in green mole to the cactus sorbet, it was perfection.
Quintonil's ambience may not be up to Pujol status, but the food more than makes up for it. They also offer an a-la-carte menu, where you can choose your items if you don't want prix-fixe.
Read more about Polanco: 9 amazing things to do in Polanco
Day 7 - Thursday
Experience the beauty of LAGO ALGO and see inspiring art & architecture in the San Miguel Chapultepec neighbourhood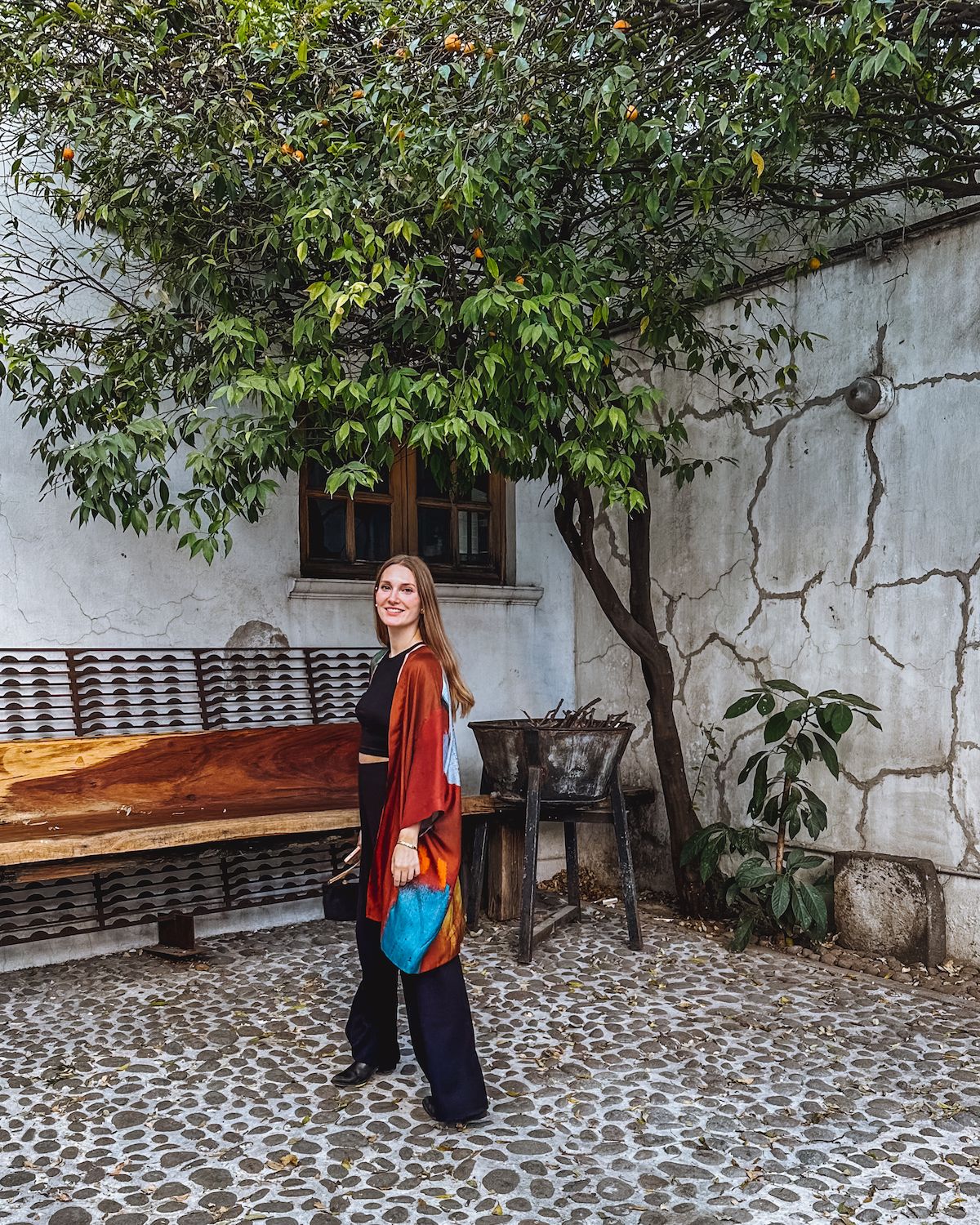 Today you will visit one of the most impressive cultural spaces in Mexico City for a lakeside brunch, and explore San Miguel Chapultepec, a colourful neighbourhood with an emerging art scene. Your last evening in the city will bring you to an outstanding hole-in-wall taqueria and mezcal bar in Polanco.
Daytime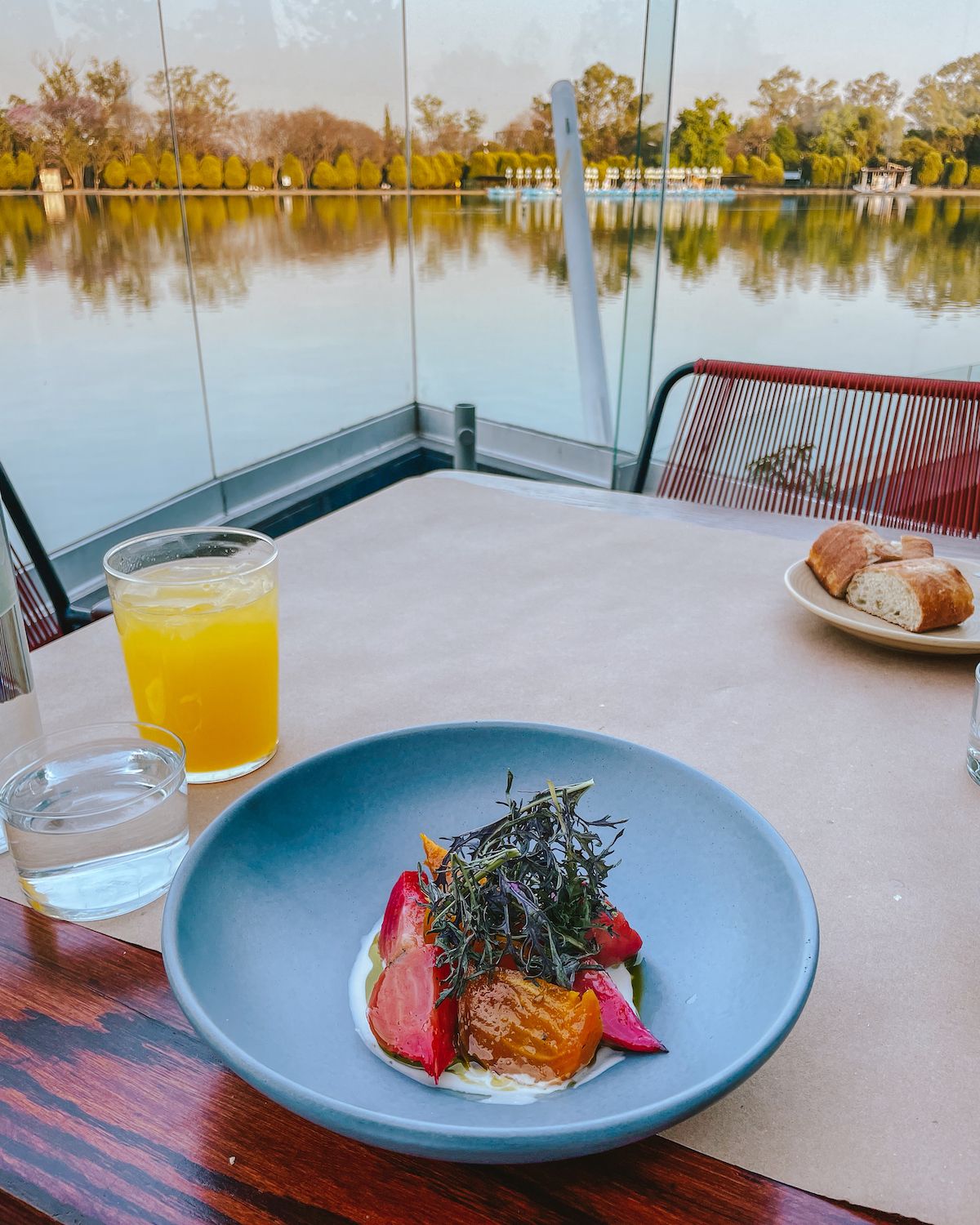 🥗 Have a lakeside brunch and see the latest art exhibition at LAGO ALGO
OMR's newest opening, LAGO ALGO, is a must see. The impressive cultural space in Chapultepec Forest is one part cafe, restaurant and working space (LAGO), and one part gallery space (ALGO), hosting contemporary art exhibitions. Check out their current exhibitions.
Make your art exhibition reservation online (it's free!) and make your brunch reservation 30 minutes later. Book in advance and request to sit outside or by the window for a lake view. The space is gorgeous!
🎨 Go on an architectural tour of one of Luis Barragan's homes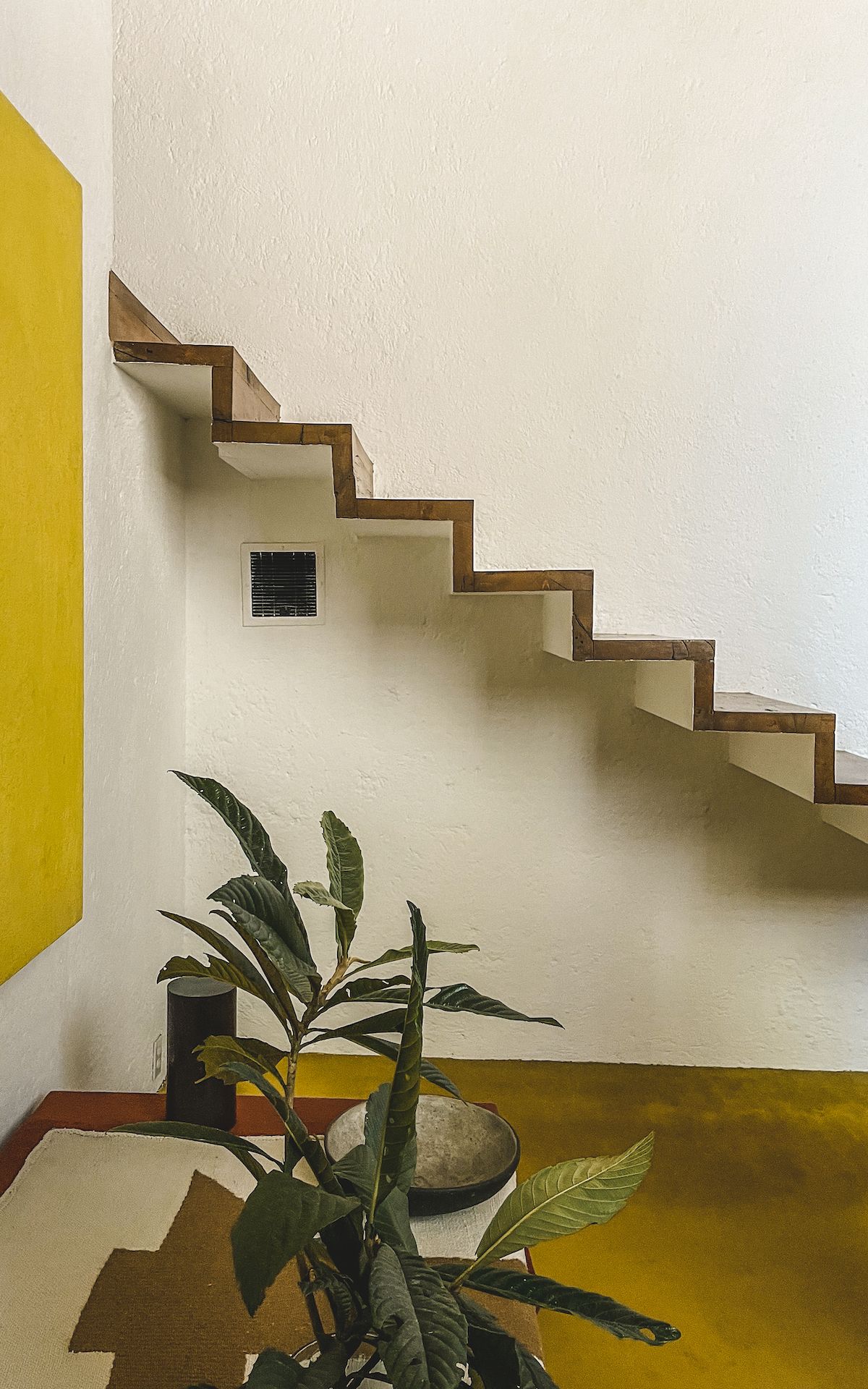 Luis Barrangan was a famous Mexican architect and modernist who heavily influenced contemporary architects with his use of light and vivid colours. See how his use of colours and transitionary spaces play with your senses at one of his two houses in San Miguel Chapultepec:
Casa Luis Barragan - was the home and workshop of the renowned architect, and is listed as a UNESCO world heritage site. If you want an in-depth tour about his innovative and artistic use of light, shadows, textures and colour, this is the one to pick. Tickets typically go on sale 2 weeks before the date and they go fast, so set a calendar reminder for your desired date! The price is $400 MXN per international guest (~$19.50 USD).
Casa Gilardi - Built in 1976, this was the last home Luis Barragan designed before his passing. He was commissioned by a family who, to this day, give tours of their house. Transitioning from a deep yellow hallway into the indoor pool room is the highlight - it's so extraordinary that renowned artist James Turrell stayed here for a month to examine the use of light. For tickets, email casagilardi@gmail.com directly ($300 MXN/~$14.50 USD per person).
🎨 See more contemporary art exhibitions in San Miguel Chapultepec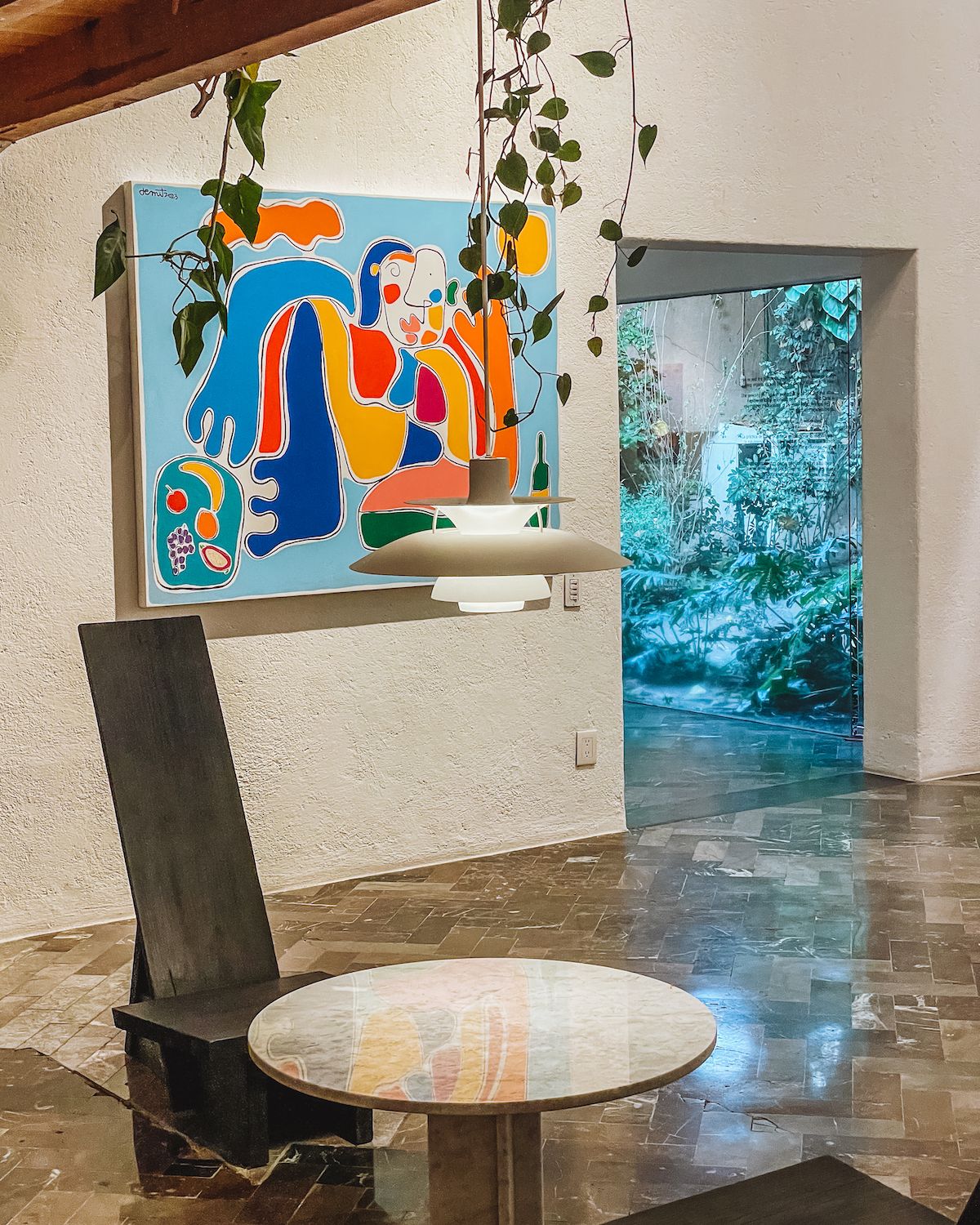 Check out what exhibitions are on at these notable galleries in the neighbourhood and choose one or a couple to visit. The spaces themselves are interesting to look at and they are all free.
See our list of 17 art galleries in Mexico City you should visit.
Evening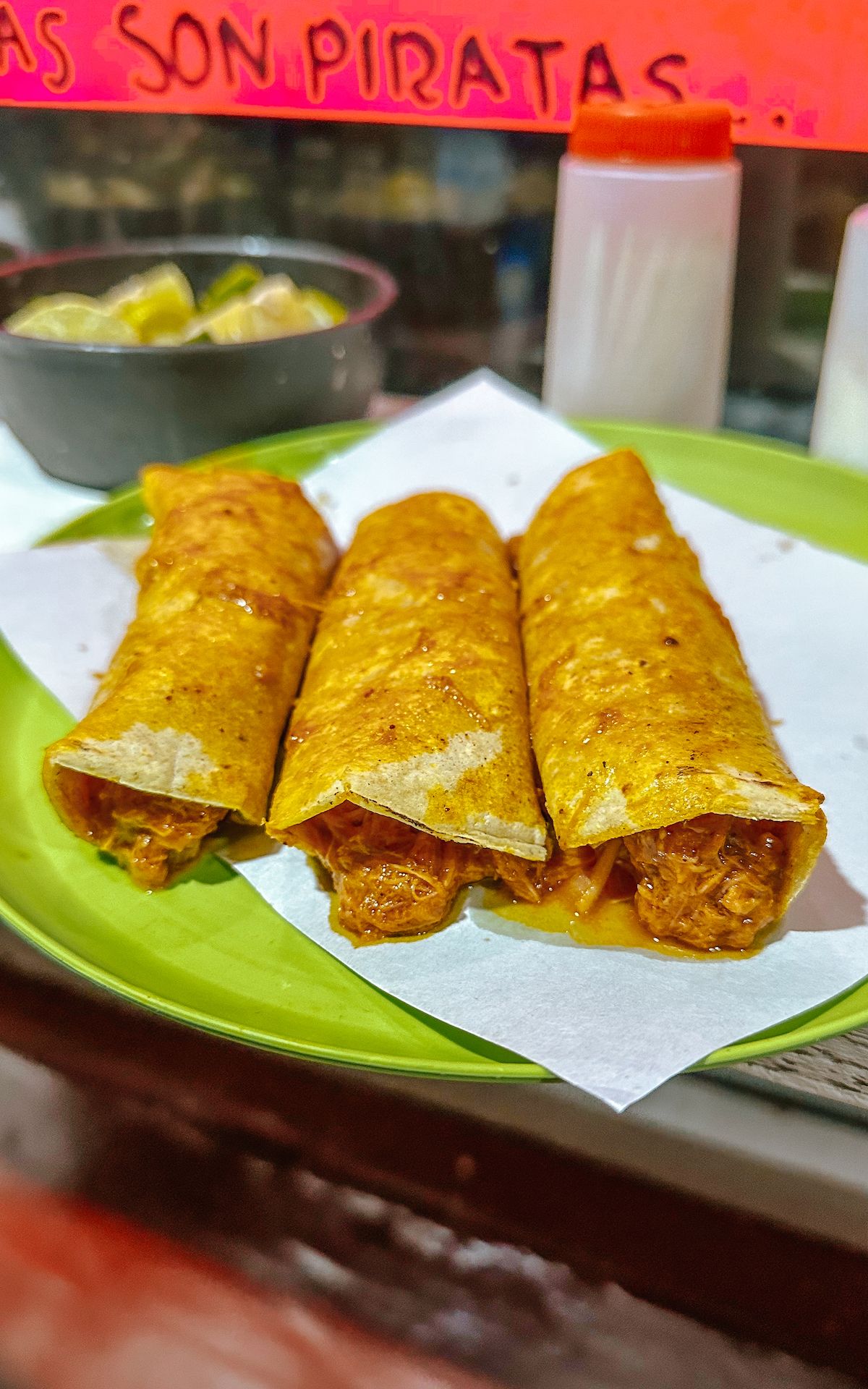 🌮 Eat mouthwatering cochinita pibil tacos at El Turix
This hole-in-the-wall taqueria is famous for its cochinita pibil (Yucatan BBQ shredded pork) tacos and panuchos. A handful of juicy pulled pork is slapped onto the tortilla and topped with pickled onion. It's then up to you to add your desired condiments on top. Also try their panucho version, which is like a taco, but the tortilla is fried and topped with beans.
🥃 Sip mezcal at Ticuchi
Finish the night off Ticuchi, a darkly lit bar with exciting music and an impressive round skylight that gives it James Turrell vibes. Shining candlelight contrasts nicely with the black walls and furniture. This is a great place to try Mezcal - ask for the unexpectedly delicious off-menu tamale.
We hope you enjoyed this 7 Day Mexico City itinerary!
If you're short on time, check out our 4 Day Mexico City itinerary or 2 Day Mexico City itinerary.
---
Our top hotel picks in Mexico City:
All three of these places offer a boutique feel with exceptional design:
🛏️
Browse more stays in Roma and Condesa
---
Get started on booking your trip to Mexico City
🌃 Book your accommodation: Booking.com is our go-to for finding places to stay. Sort by top reviewed.
🌮 Browse tours with local guides: through GetYourGuide or Viator
🛫 Book your flight: use Skyscanner to compare flights across different airlines (we recommend booking direct with the airline however).
---
Save and pin this 7 days in Mexico City itinerary for later: