Mexico City has become internationally known for its cocktail scene, with four of its bars listed in the prestigious World's 50 Best Bars list. Usually cocktails of this calibre will set you back about $20 USD each in major cities, however in Mexico City, they are around half the price.
One of my hobbies back home is creating new cocktails and making them for friends. It's the chemistry lab I wished I had in university, precisely putting together ingredients to make a harmonious concoction of taste and aroma.
I made it my mission to discover as many of Mexico City's innovative cocktail bars as I could. After visiting all of the bars on the World's 50 Best Bars list and hanging out at hidden spots recommended by talented mixologists, I created a list of the 9 best cocktail bars in Mexico City. I don't list anymore bars than this, since these are the spots I believe have something unique to offer that set them apart from the rest.
Overview: Best cocktail bars in Mexico City
---
Disclosure: Some of the links below are affiliate links, meaning at no additional cost to you, we will earn a commission if you click through and make a purchase. We only recommend products or services we have used or that we believe will add value to our readers. Thank you for supporting us!
9 Best Mexico City Cocktail Bars
1. Handshake
Best overall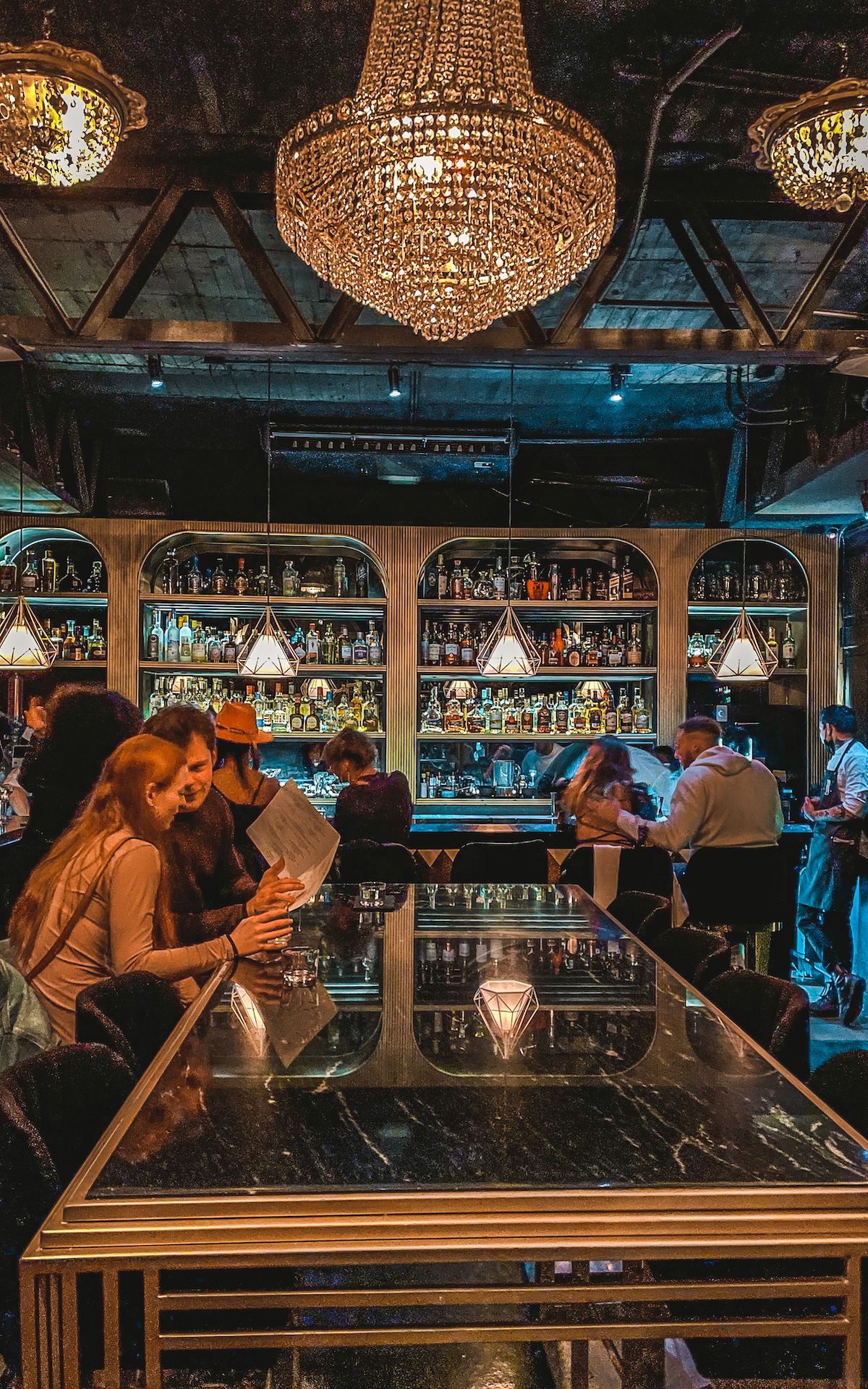 Out of the four bars on the World's 50 Best Bars list, Handshake is our top choice. Ranked #11 on the list, the speakeasy has it all with its glamorous Art Deco interior, dark and sexy ambience, exciting cocktails and friendly service. You can also easily make reservations on OpenTable - just make sure you do it far in advance.
We enjoyed sitting at the bar, watching talented mixologists create cocktails with a fun twist. For one of the cocktails Ari ordered, he had to catch a smoke-filled bubble from the air in his glass! It took him 4 tries 🙈.
Location: C. Amberes 65, Juárez
2. Licoreria Limantour
Best for state-of-the-art cocktails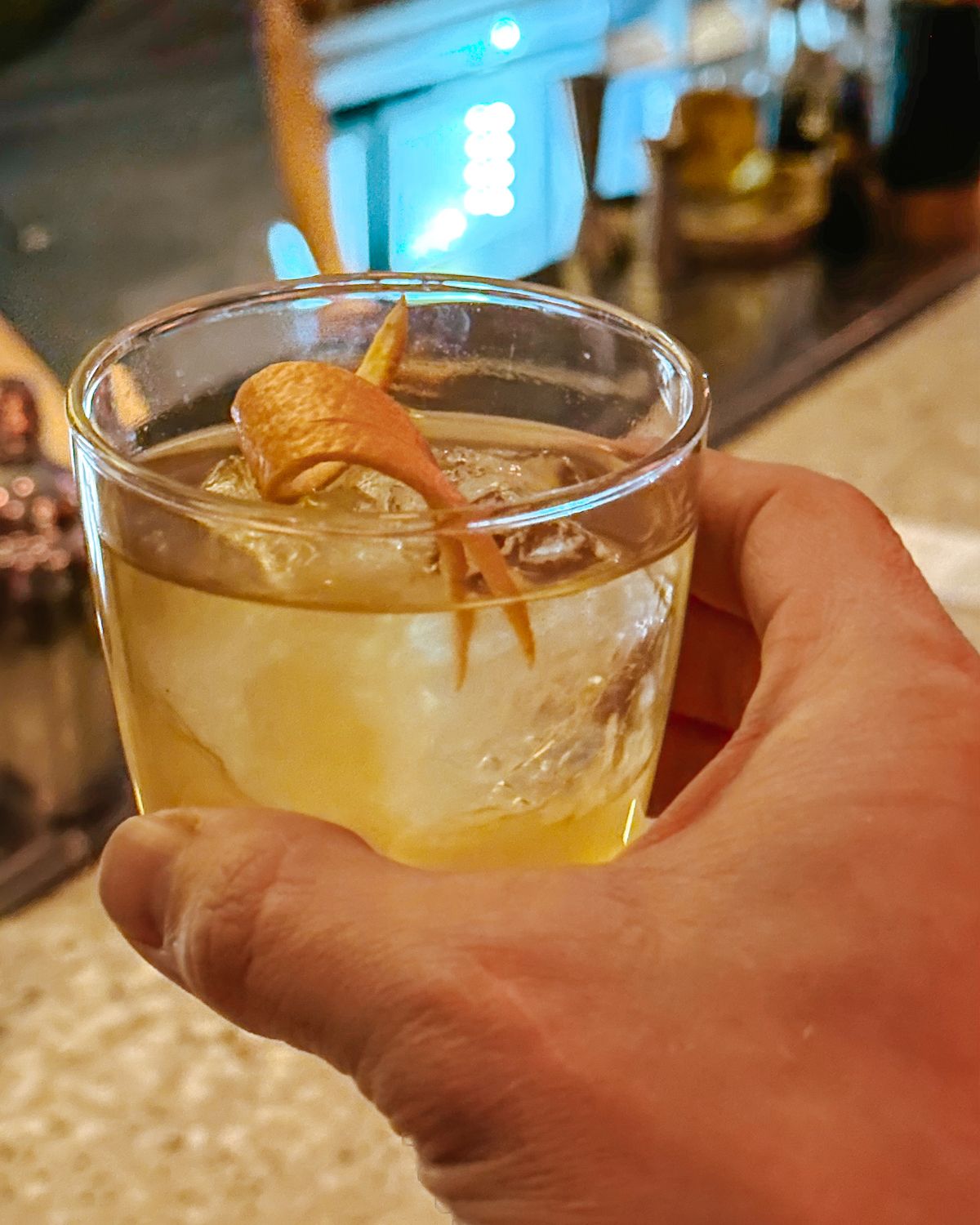 Once we took our first sip of our cocktail, we could immediately see why it was ranked #4 on the World's 50 Best Bars list. These cocktails may look simple, but their flavours are unbelievably complex, changing throughout each sip. We can't wait to go back to try more.
Although the decor isn't as cool as some of the other bars in the city, the passionate bartenders and energetic crowd more than make up for it. Reserve your table online far in advance.
Location: Av. Álvaro Obregón 106, Roma Norte
3. Cafe de Nadie
Best for a cool vibe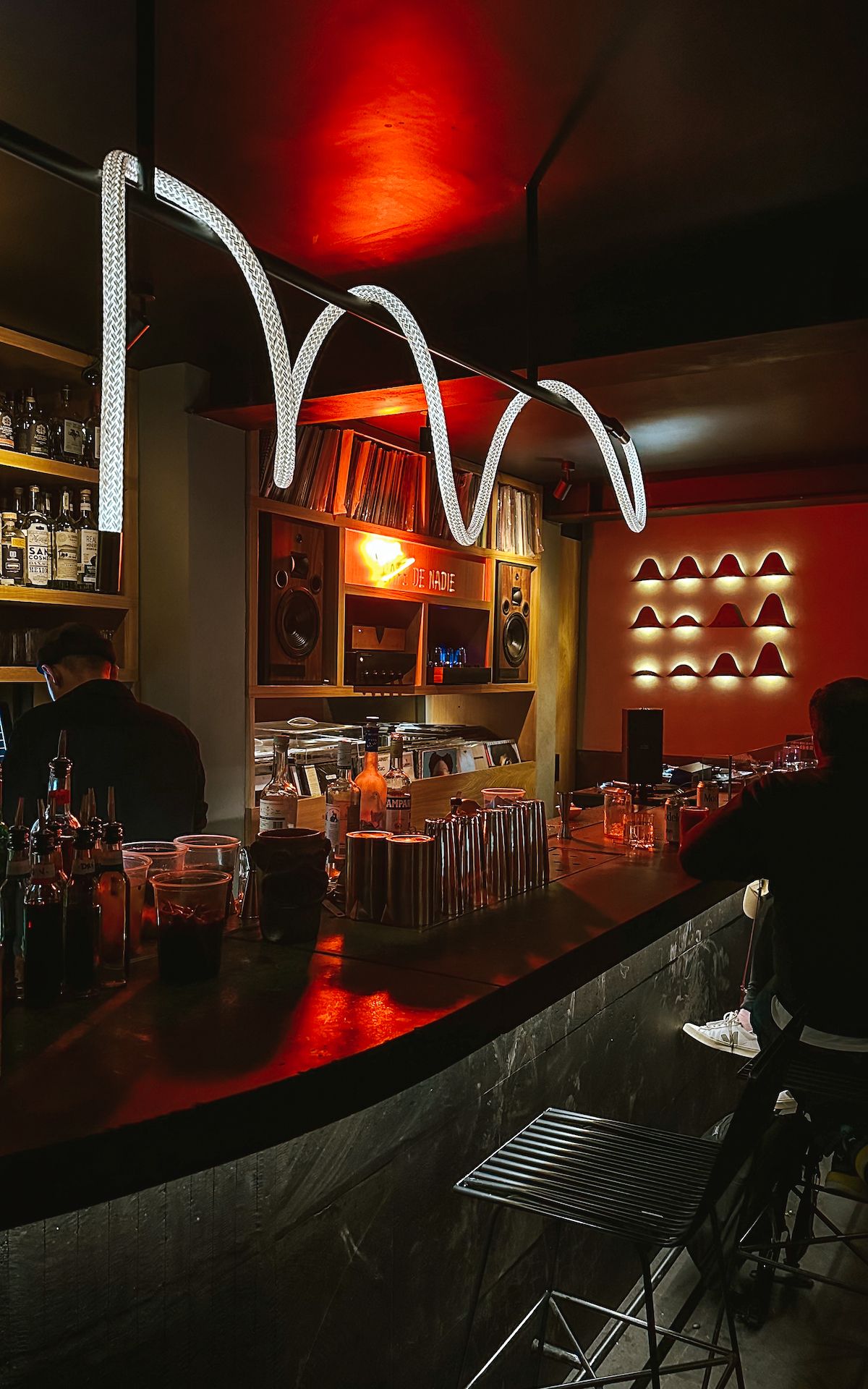 Located on a quiet side street in Roma, this cocktail bar has a fun atmosphere with groovy tunes playing from its owners' collection of over 1500 vinyl records. Cafe De Nadie has a welcoming vibe, attracting both sociable locals and tourists. It's a cool, yet casual hangout, where a spontaneous dance is not out of the ordinary.
Location: Chihuahua 135, Roma Norte
4. Baltra Bar
Best for martinis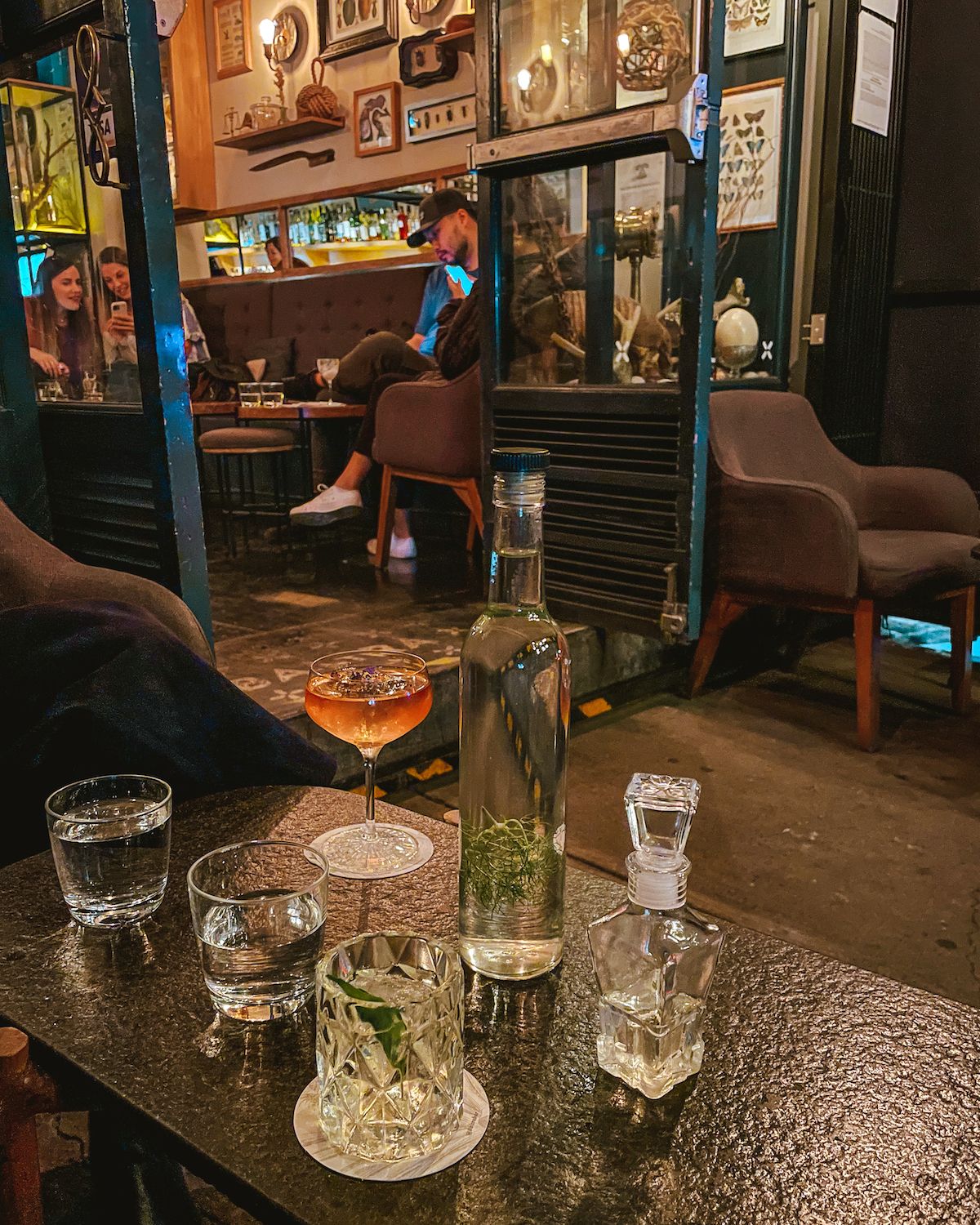 Ranked#32 on the World's 50 Best Bars List, Baltra Bar is known for its evolution-themed cocktails inspired by Darwin and the Galapagos Islands.
Regulars know to come on Martini Tuesday for their 100 MXN (~$5.30 USD) martinis. The chic bar is located just off Avenida Amsterdam, giving it a nice neighbourhood vibe. Make your reservation in advance online - especially if you visit on a Tuesday.
Location: Iztaccihuatl 36D, Colonia Condesa
See our list of 11 unique things to do in Condesa, Mexico City
5. Maison Artemisia
Best for an intimate atmosphere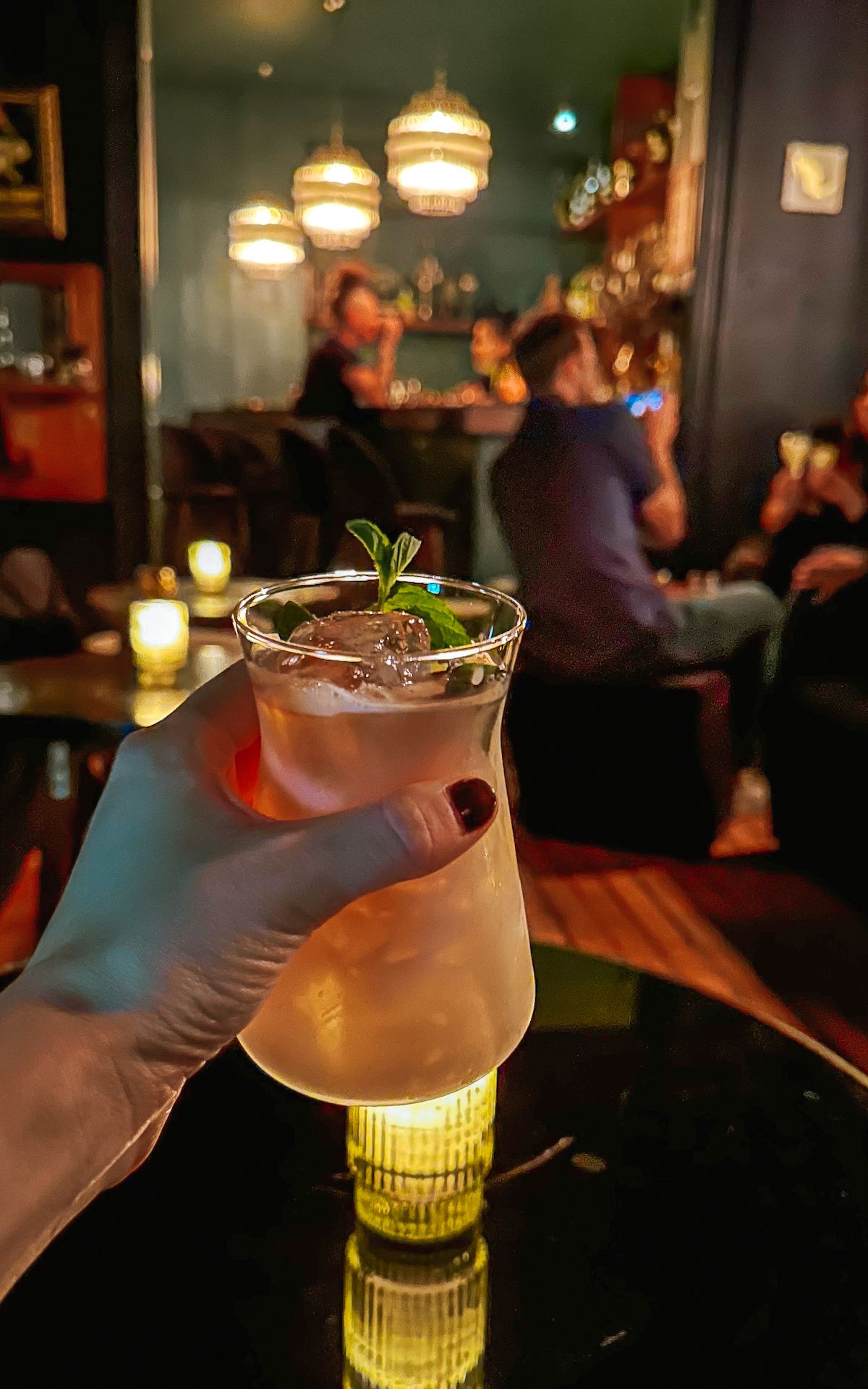 We got a recommendation to check out Maison Artemisia from a bartender at Brujas. The dimly-lit, moody space located up the stairs feels like a seductive apartment bar in Berlin or Beijing. We enjoyed drinking their absinthe cocktails and listening to the obscure music that played.
Location: Tonalá 23, Roma Norte
6. Cafe Tacobar
Best for personality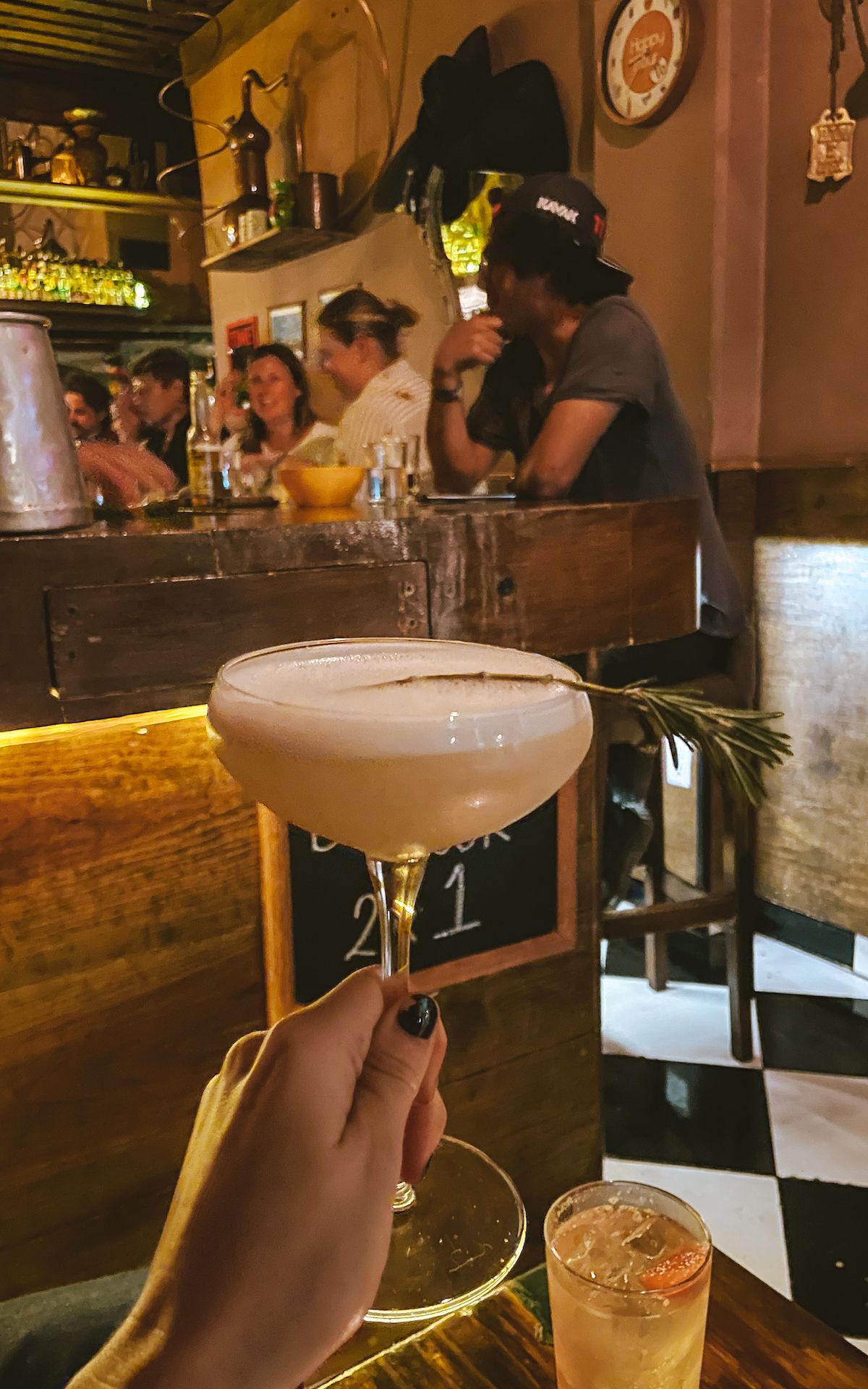 Get shipwrecked in Mexico City with captain Chris, the eccentric bartender of Cafe Tacobar. Off the tourist trail, this quirky spot attracts locals and travellers in the know. It's a chill neighbourhood spot, with well-crafted cocktails and some tasty tacos. The interior feels like a ship with its wood paneling, ship's bell, rope, globe, and eclectic memorabilia. Popular hits mixed into reggae first played, changing into old country classics later that evening.
Bartender Chris invited us to come sit at the bar and showed us hidden drawers in front of us stashed with gold chocolate coins and playing cards. Ask him to surprise you with a cocktail, he's an expert mixologist. Or, go for the clay pot distilled Cuishe mezcal. Our favourite touch was the free bar snack of pickled carrots and popcorn. Weird, but great at the same time.
Cafe Tacobar is walk-in only.
Location: Av Oaxaca 12, Roma Norte
See more amazing things to do in Roma Norte.
7. Tokyo Music Bar
Best for music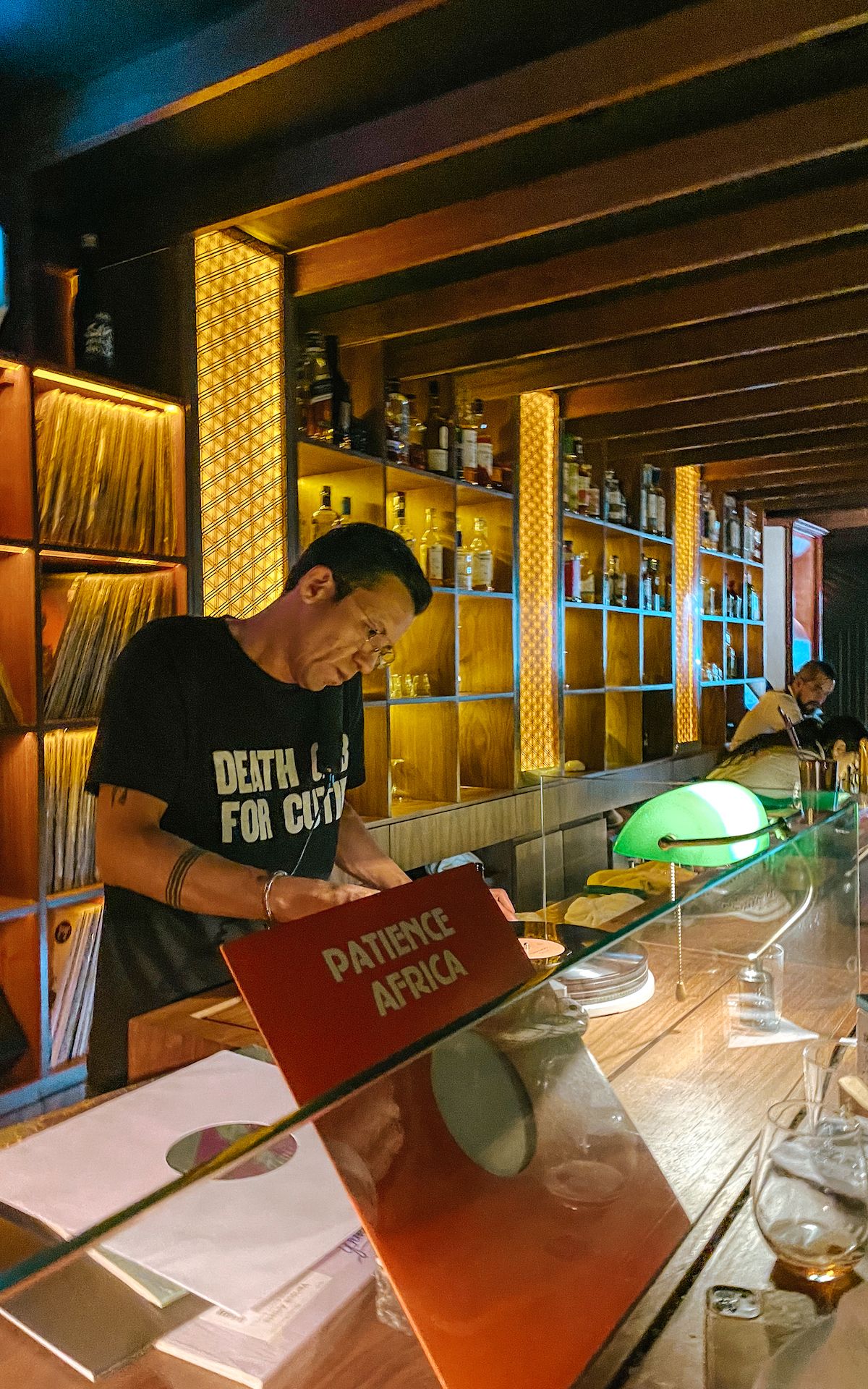 You're going to be shazamming all night at Tokyo Music bar, a speakeasy-style cocktail bar inspired by listening rooms in Japan. The cocktails here are the most expensive we saw in the city, so we recommend going only if listening to music is a priority. Vinyl is spun through their $100,000 Hi-Fi analog sound system, which makes the music sound so clear. Their music curation is excellent as well - we heard funky tunes play all night.
We recommend making a reservation in advance. Request to sit at the bar on the lefthand side, so you can see what record the DJ plays, in case you can't shazam it!
Location: Río Pánuco 132, Cuauhtémoc
8. Xaman Bar
Best for a night out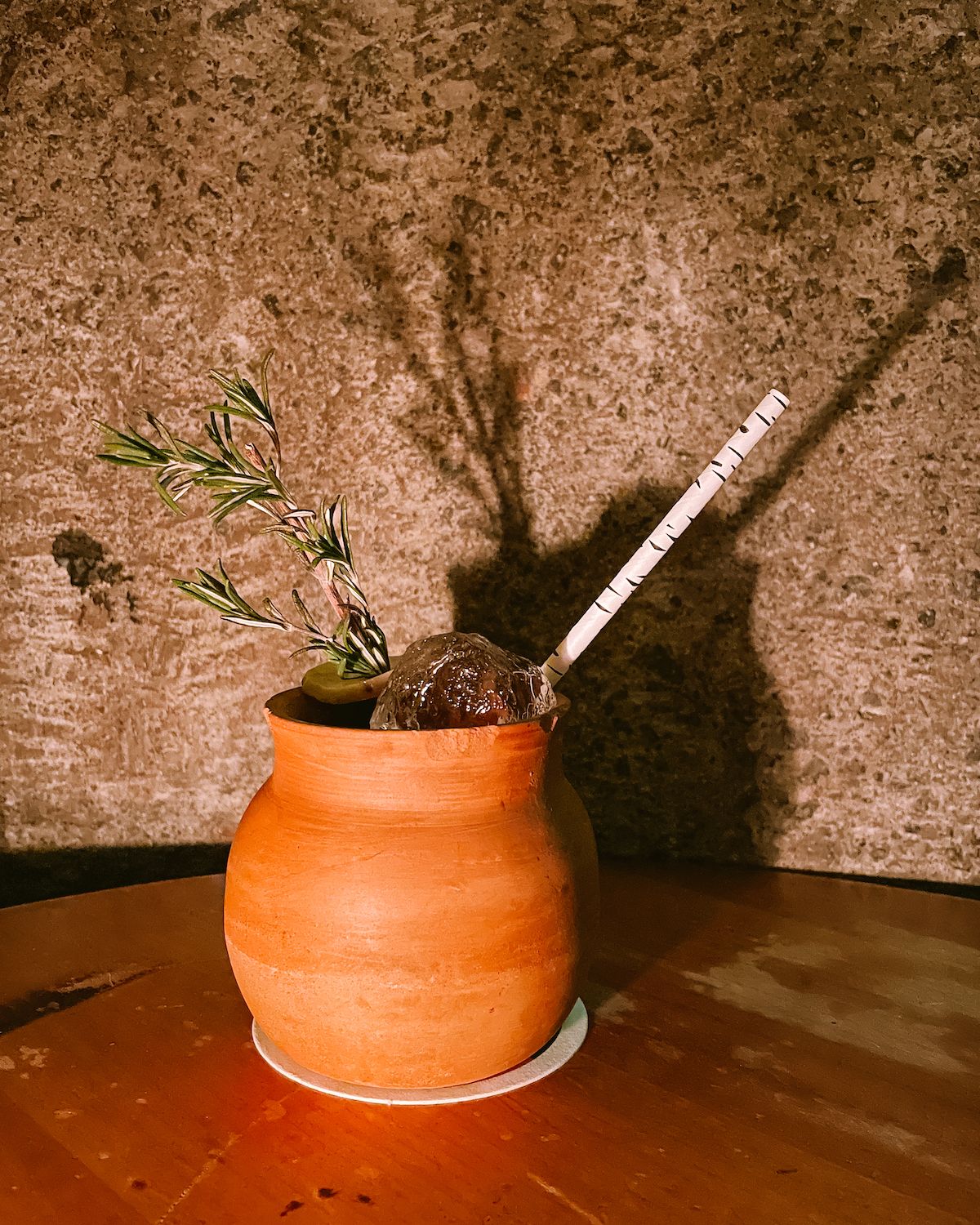 Step into this underground bar inspired by pre-hispanic Mexico, with cocktails made from indigenous plants, herbs and fresh fruits. The sophisticated space feels inviting with its warm tones and greenery, and is an excellent place to socialize and meet people. It gets bumpin' at night with its live DJs and intimate dance floor. Reserve a table online.
Location: Copenhague 6, Juárez
9. Bar Las Brujas
Best for the concept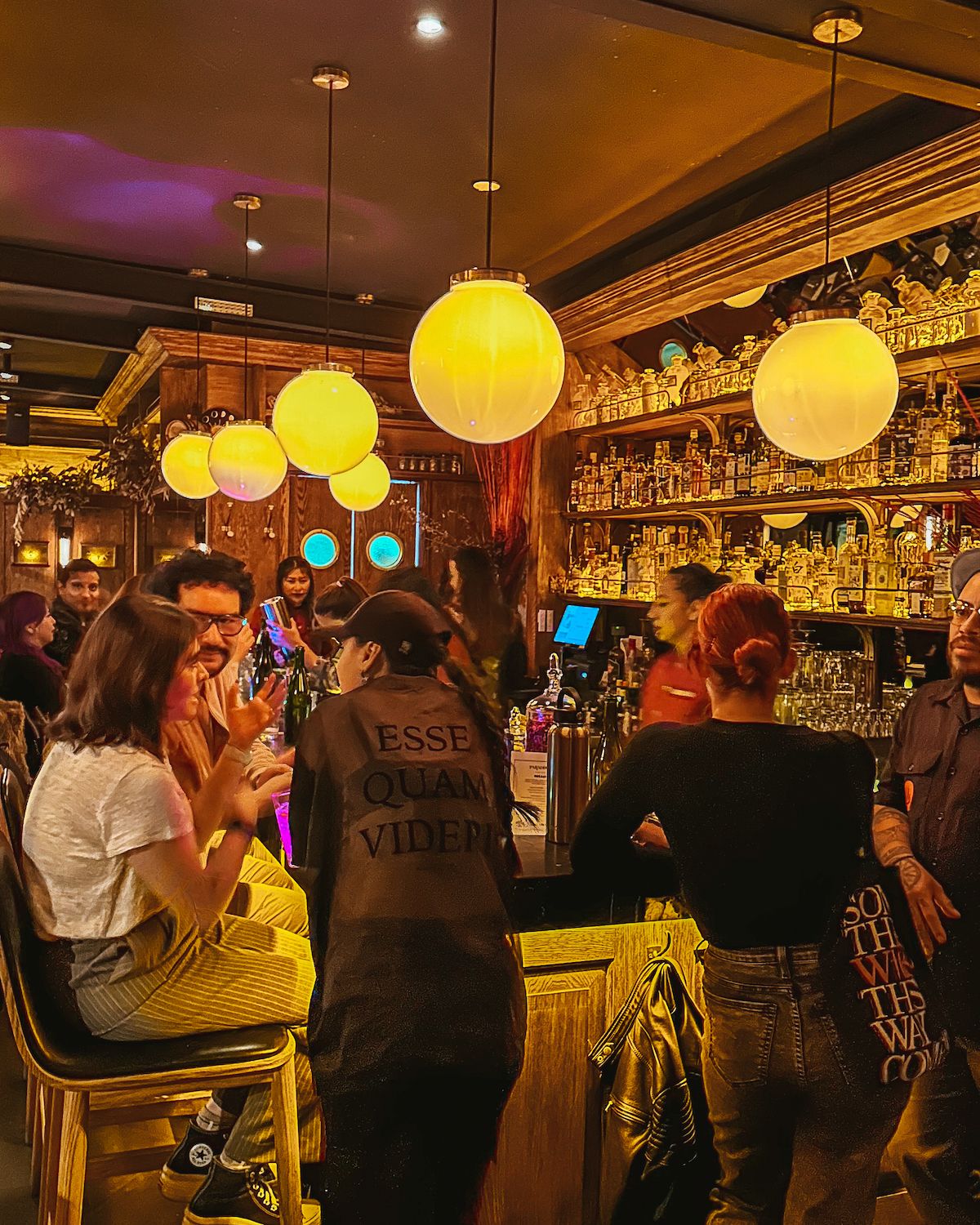 Located on the ground level of the historic and unusual building, Casa des las Brujas (aka House of Witches), the women-led cocktail bar plays on this concept with witchcraft/shamanism themes and unconventional herbal ingredients. They also name their unique concoctions after prominent Latin American women activists. Brujas is a hip space to hang out with its buzzing atmosphere and amber lighting. Reserve your table online.
Location: La Casa de Las Brujas, Roma Norte
We hope you enjoyed these 9 cocktail bars in Mexico City!
---
🥃 We also recommend discovering Mexico City's mezcal scene.
Did you know that Tequila is just one type of Mezcal made from one variety of agave? Agave is a desert plant that looks like a gigantic pineapple and there are a whopping 29 different varieties of it that can make Mezcal.
Learn about the quintessential Mexican spirit on a Mezcal tour with a local guide.
---
Bonus: Our top hotel picks in Mexico City
For location, we recommend staying in the Condesa or Roma neighbourhood. All three of these places offer a boutique feel with exceptional design:
---
Don't miss our other Mexico City guides:
---
Get started on booking your trip to Mexico City
🌃 Book your accommodation: Booking.com is our go-to for finding places to stay. Sort by top reviewed.
🌮 Browse tours with local guides: through GetYourGuide or Viator
🛫 Book your flight: use Skyscanner to compare flights across different airlines (we recommend booking direct with the airline however).
---
Save and pin these cocktail bars in Mexico City for later: