Polanco is an affluent neighbourhood in Mexico City, known for its luxury apartments and high-end shopping and dining. Typically we find that upscale neighbourhoods in major cities are boring, however this isn't the case with Polanco. There are special spots here that you don't want to miss!
We list 9 unique things to do in Polanco, from noteworthy places to shop and eat, to must-see sights in the neighbourhood.
Overview: Amazing things to do in Polanco
---
Disclosure: Some of the links below are affiliate links, meaning at no additional cost to you, we will earn a commission if you click through and make a purchase. We only recommend products or services we have used or that we believe will add value to our readers. Thank you for supporting us!
9 Unique things to do in Polanco, Mexico City
1. Shop emerging Mexican and Latin American designers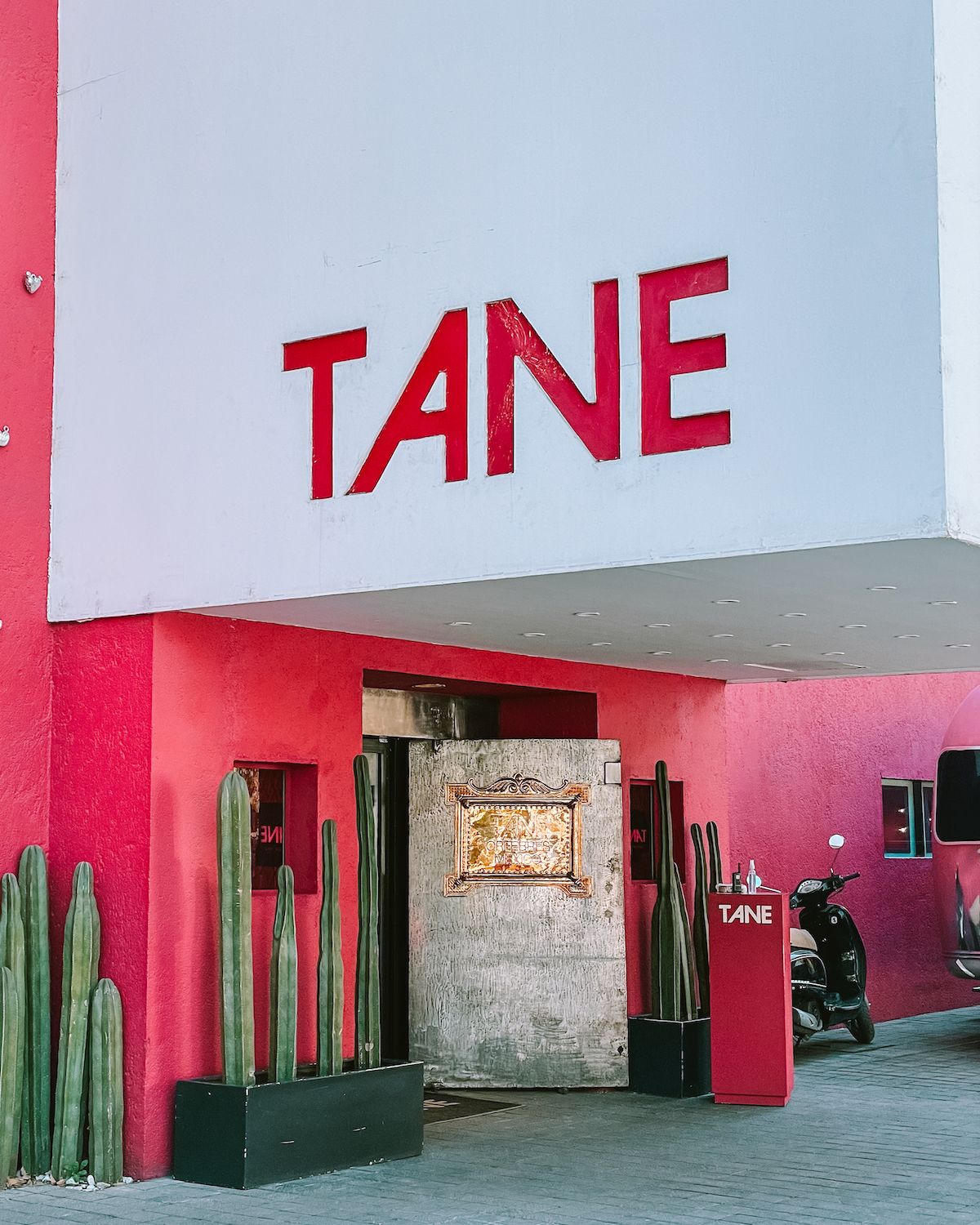 Look past Polanco's high-end commercial stores and instead shop at these unique boutiques selling items from Mexican and Latin American designers:
IKAL
A concept store with stylish housewares, accessories, clothing and jewelry from Mexico's best artisans and designers. I bought a volcanic stone bowl with a wooden lid that keeps your tortillas warm (called at Tortillero) and an edgy purse made of cactus leather.
Onora
Sells traditional Mexican handicrafts with a contemporary look for the home.
LAGO
Carries unique homeware and clothing from emerging Mexican and Latin American designers. We bought a couple clay vases for our home.
TANE
A Mexican luxury jewelry house selling silver contemporary jewelry.
2. Devour cochinita pibil tacos at El Turix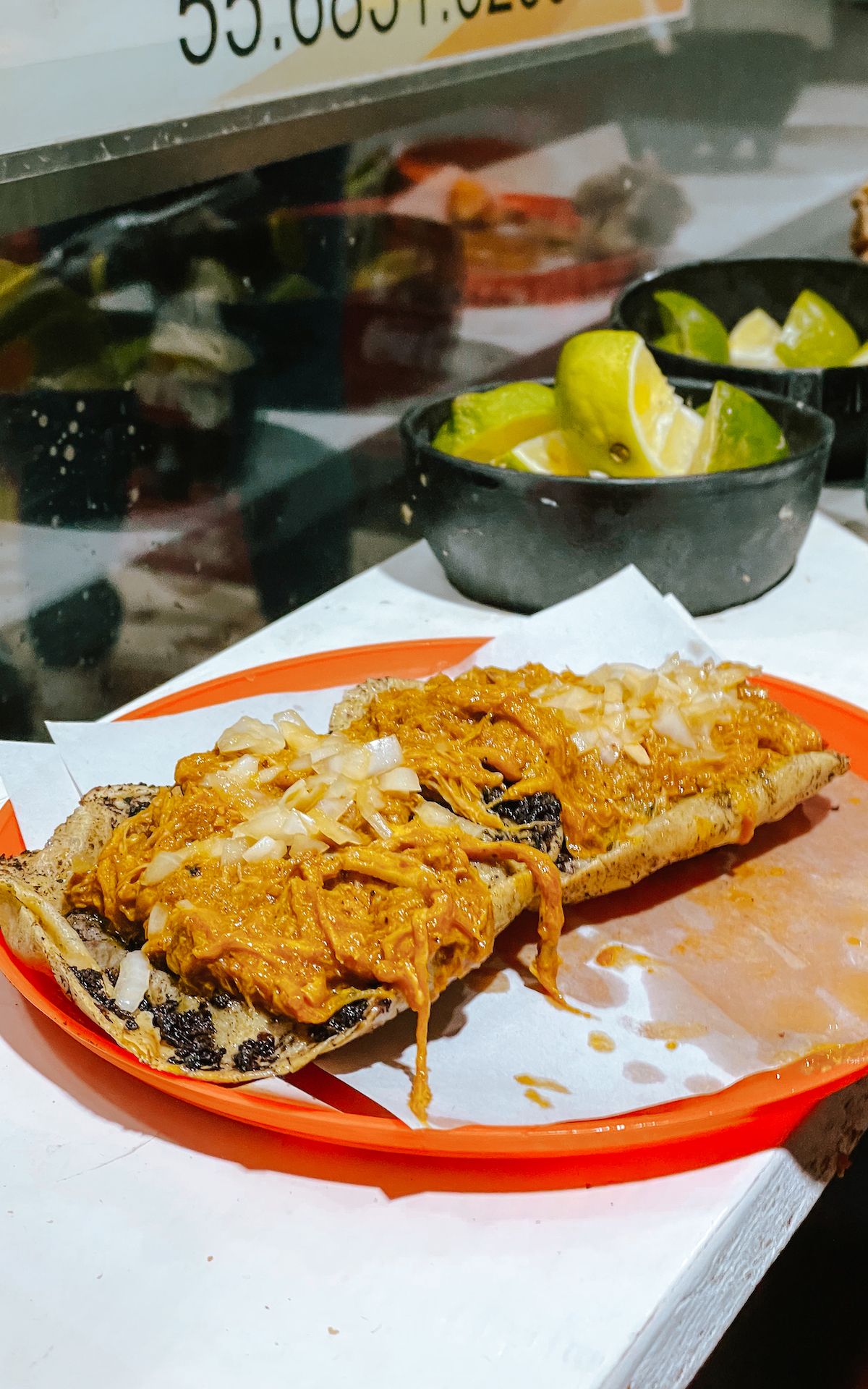 Get your hands on El Turix's famous cochinita pibil tacos. At this hole-in-the-wall taqueria in Polanco, a handful of juicy Yucatan-style slow-roasted pork is slapped onto a tortilla and topped with pickled onion. Also try their panucho version, which is like a taco but the tortilla is fried and topped with beans. My mouth is watering writing about it. We were lucky to get this recommendation from a sweet older man on our plane who grew up in the city.
3. See what exotic scent is your favourite at Xinu Perfumes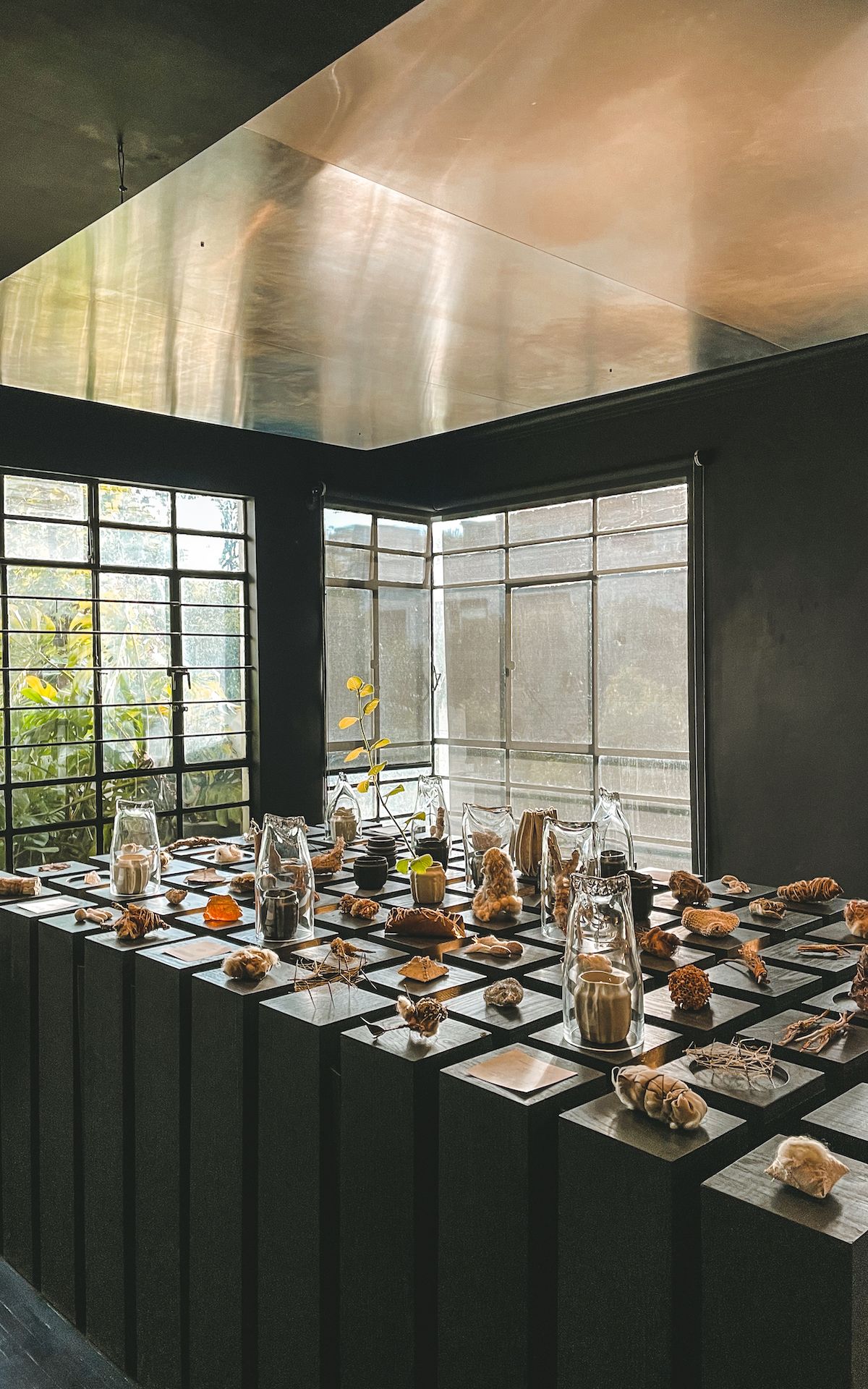 Buzz to get inside this ethnobotanical perfume store and walk up the stairs to find a beautiful lab-like table with six unisex perfumes to try. The artisanal perfumery uses high-quality raw ingredients from Latin American flowers and plants. The scents are sultry and complex, yet subtle and chic. I chose Monstera (No. 4) and Ari the Aguamadera (No. 1).
4. Dine at one of the World's 50 Best Restaurants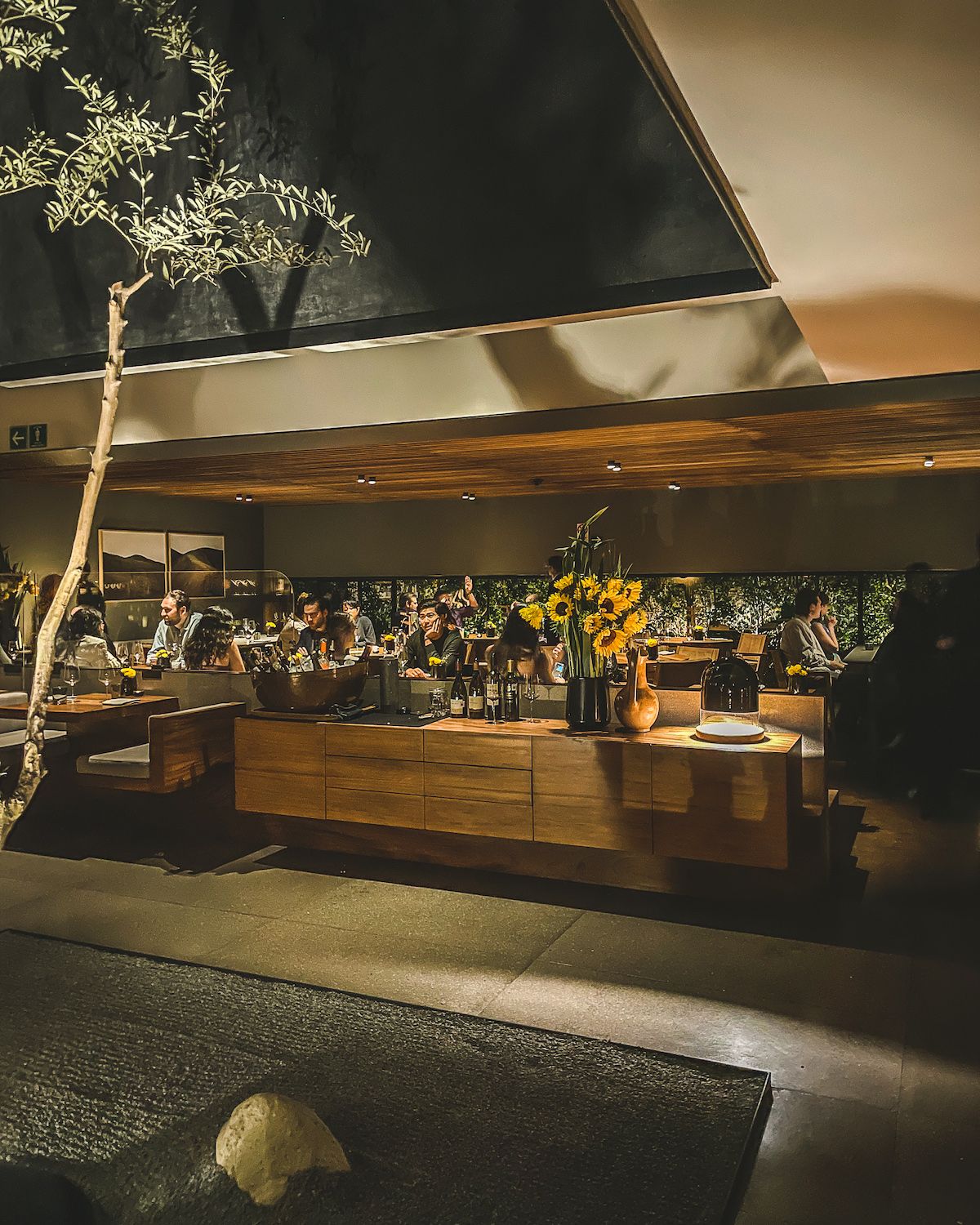 ‌With Mexico's traditional cuisine listed on UNESCO's Intangible Cultural Heritage List, it's no wonder you will find some of the best restaurants in the world here. Polanco is home to two restaurants on the prestigious World's 50 Best Restaurants list. Each restaurant is a culinary adventure, showing some of the best of Mexican cuisine. ‌
Pujol (#5 on list)
Once you step into Pujol's sophisticated space bringing the outdoors into the indoors, it feels like you've been invited to one of the most exclusive and captivating restaurants in the city. The restaurant is famed for its mole madre that has been aged more than 1,000 days - a prime example of how the restaurant honours Mexico's indigenous culinary history.
Pujol offers a tasting menu in the dining room and a taco omakase set menu at the bar. If you're able to choose one or the either, go for their tasting menu in the dining room. We tried both and preferred the food and setting in the dining room more. Make reservations far in advance.
Quintonil (#9 on list)
Quintonil offers a 10-course tasting menu with authentic Mexican flavours presented through advanced culinary techniques. It was the first time at a fine-dining restaurant we loved every single dish and wine pairing on the set menu. From the spider crab in green mole to the cactus sorbet, it was perfection.
Quintonil's ambiance may not match Pujol's, but the food more than makes up for it. They also offer an a-la-carte menu, where you can choose your items if you don't want pre-fixe. Make reservations far in advance.
5. Sip mezcal at Ticuhi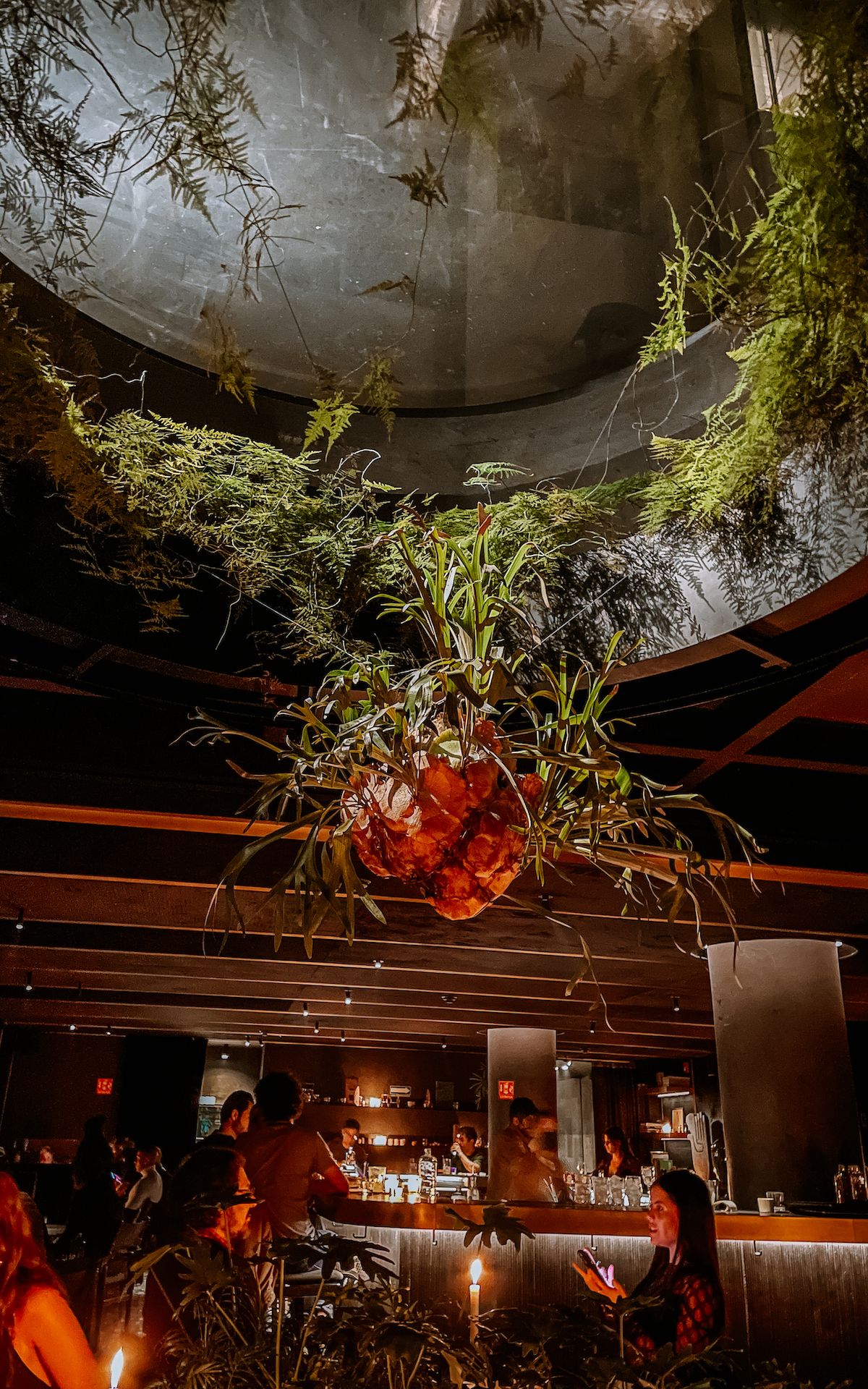 Ticuhi is one of our favourite bars in Mexico City. Located on a side street in Polanco, the dimly-lit space with high-quality mezcal and exciting music awaits you. The impressive round skylight makes it feel like you're at an exclusive bar in the space station with moonlight shining through a porthole. Try their artasinal mezcals, and ask for the unexpectedly delicious off-menu tamale.
See our list of the top cocktail bars in Mexico City
6. See contemporary art at Museuo Jumex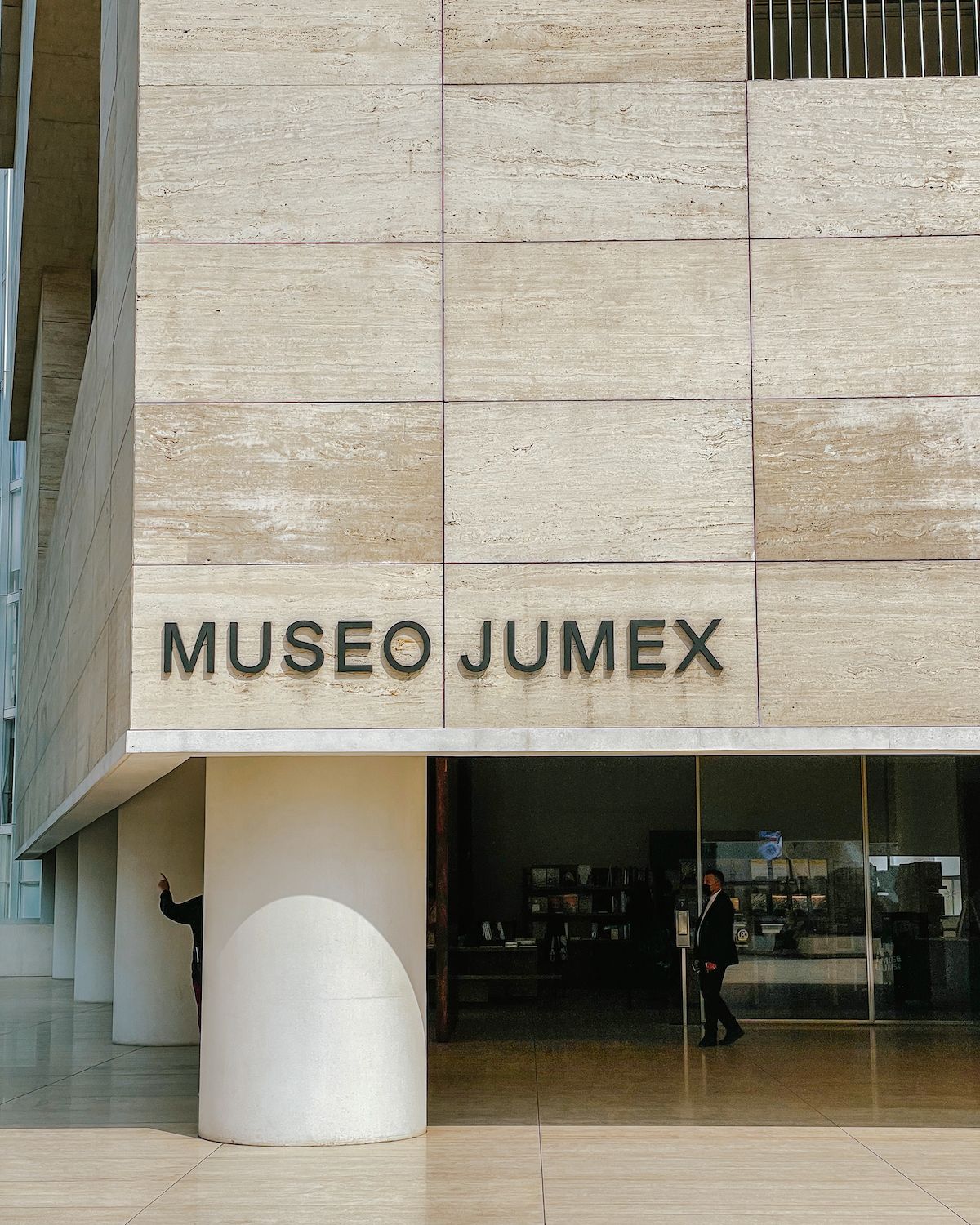 The peculiar shaped concrete cube by architect David Chipperfield hosts contemporary art exhibitions from emerging and famous artists like Damien Hurst and Andy Warhol.  See what exhibition is on - entry is free!
Afterwards take a lunch break at Eno, a gallery cafe on the ground level opened by the head chef of Pujol.
See our list of 17 contemporary art galleries in Mexico City you should visit.
7. See the architecturally-impressive Museo Soumaya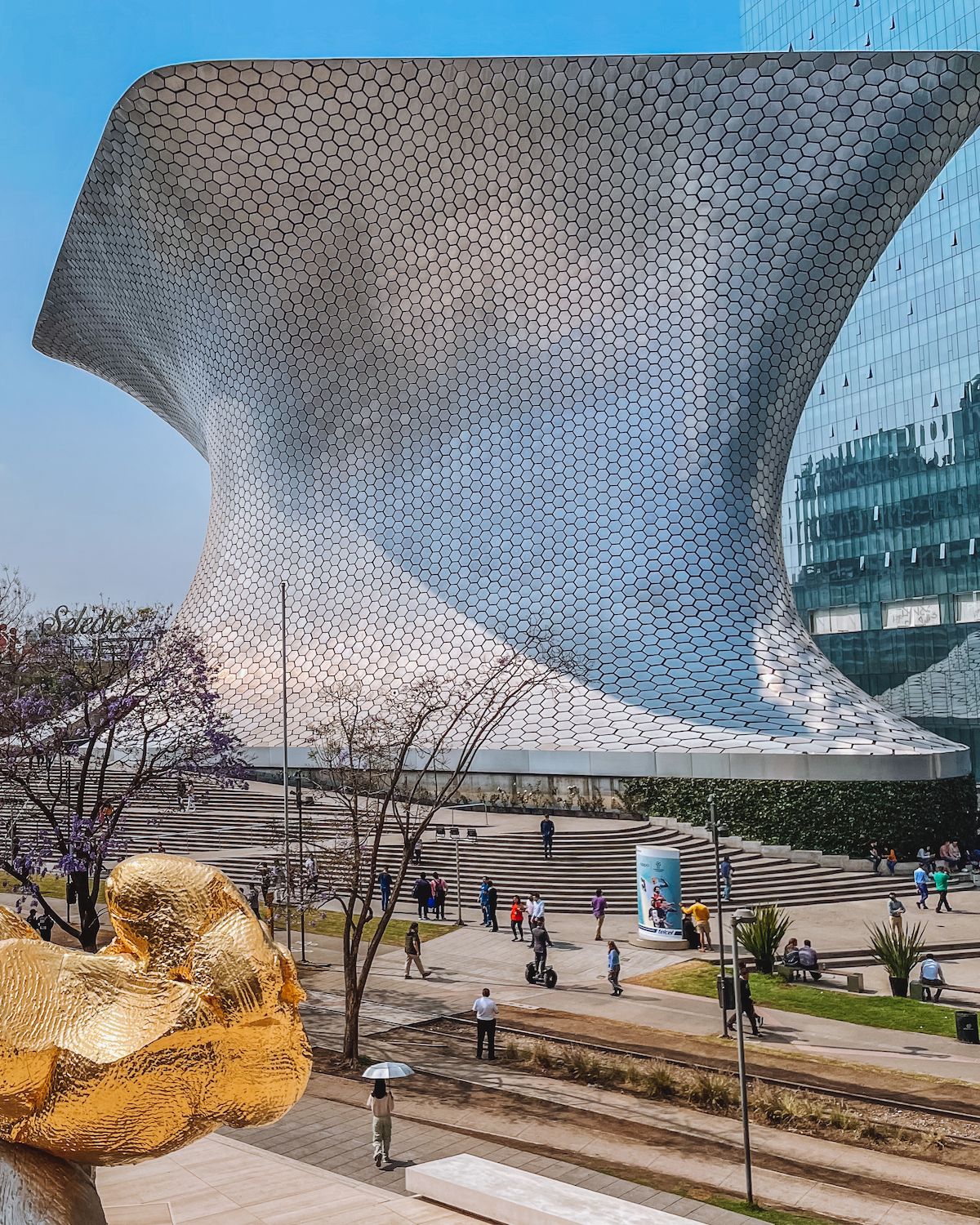 The futuristic and shapeless building of Museo Soumaya is a sight you don't want to miss. Designed by Mexican architect, Fernando Romera, the impressive structure is made of thousands of hexagonal aluminum tiles. Located just next door to Museo Jumex, it's easy to fit in both spots.
Note: we recommend skipping the gallery inside Museo Soumaya and spending your time doing other activities in the city.
8. Eat authentic street food down Lago Victoria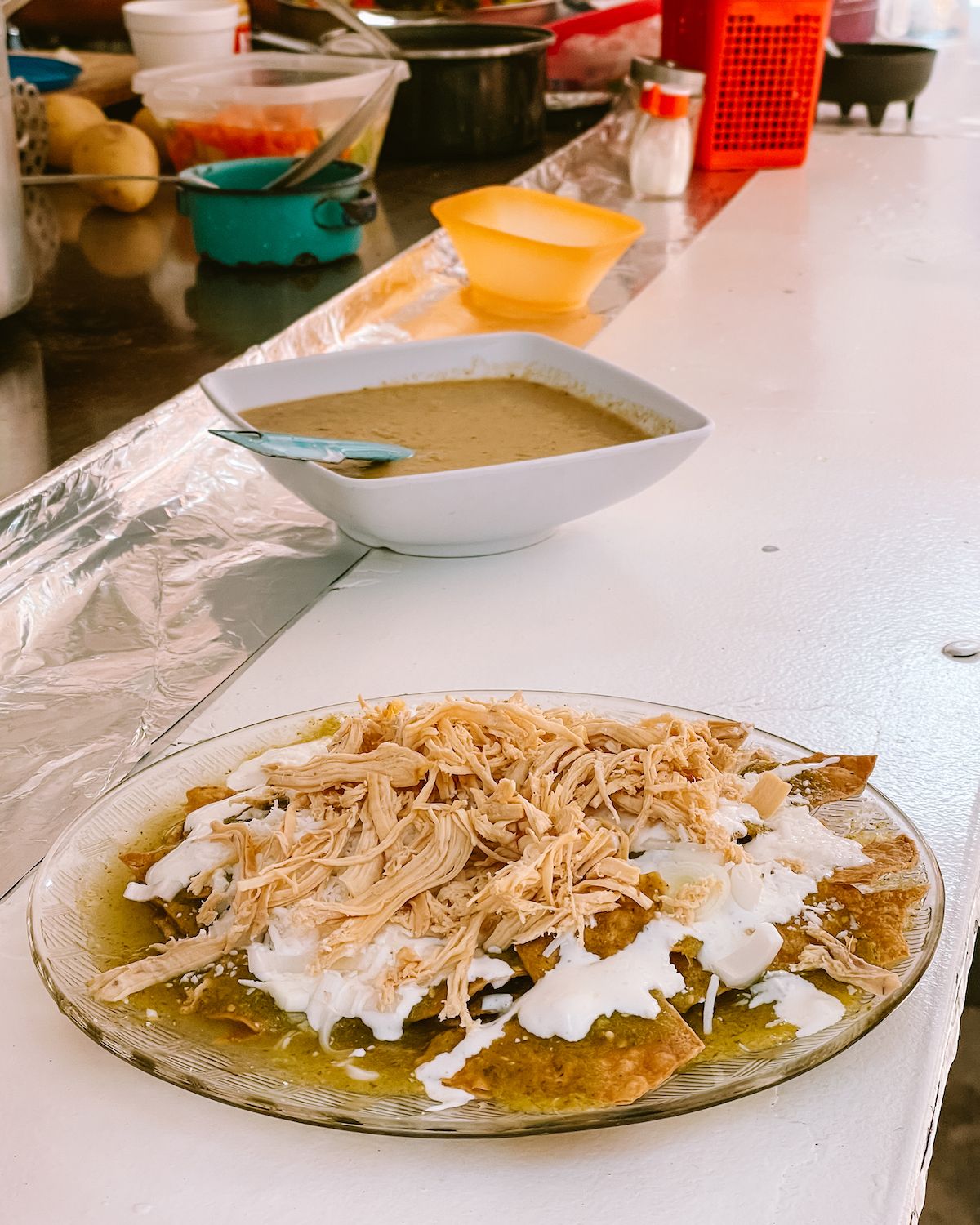 We found a quiet street to the east of Hospital Espanol in Polanco lined with street vendors, and figured it's where hospital workers (locals!) ate for lunch. This street is where we found our favourite chilaquiles - a breakfast dish with corn tortilla chips simmered in salsa or mole sauce and topped with crumbled cheese.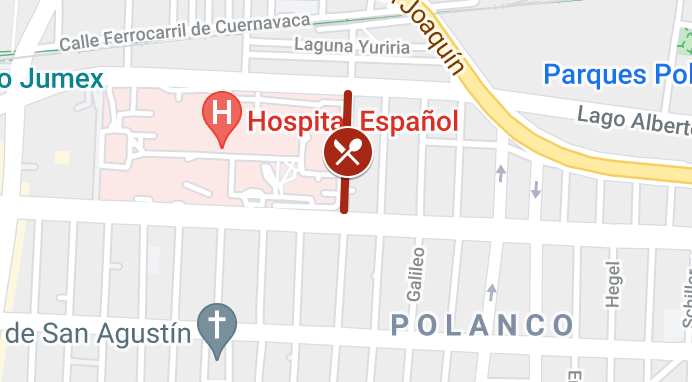 Go for a food crawl and tick off some of these delicious and authentic Mexican dishes:
Tamales - open the banana leaf or corn husk to find a savoury mixture of vegetables or meat with masa (a dough made from dried corn).
Gorditas - the thick corn tortilla made from masa is fried in a skillet and filled with ingredients like beans, carne asada, chicken, cheese and salsa.
Flautas - corn or flour tortillas are stuffed with ingredients like chicken, beef, cheese or veggies and rolled into long tubes before they are deep fried to become satisfyingly crispy. Remember those taquitos you would buy after a night out at the bar at 7-Eleven? This is the authentic version of that.
Torta - translated to "sandwich", a torta is a bun topped with meat, sauce, and fresh veggies like avocado, tomatoes and onion.
Mole -  made with chili peppers and chocolate, mole is a rich sauce that comes from pre-hispanic times. There are many variations to try, such as green and red mole. We had mole served on top of enchiladas - a rolled corn tortilla with a savoury filling.
Quesadillas - a tasty snack of corn tortillas folded in half with toppings of the day, like chicken or squash blossom. If you want melted Mexican cheese on it, you have to ask. Dip it in salsa or guacamole.
Churros - finish off with a sweet treat of fried dough topped with cinnamon sugar.
🌮
Overwhelmed by the street food options?
You could also consider booking an
authentic street food tour with a local guide
. Both
GetYourGuide
and
Viator
offer highly reviewed food tours.
9. See what art exhibitions are on at Galerie Philia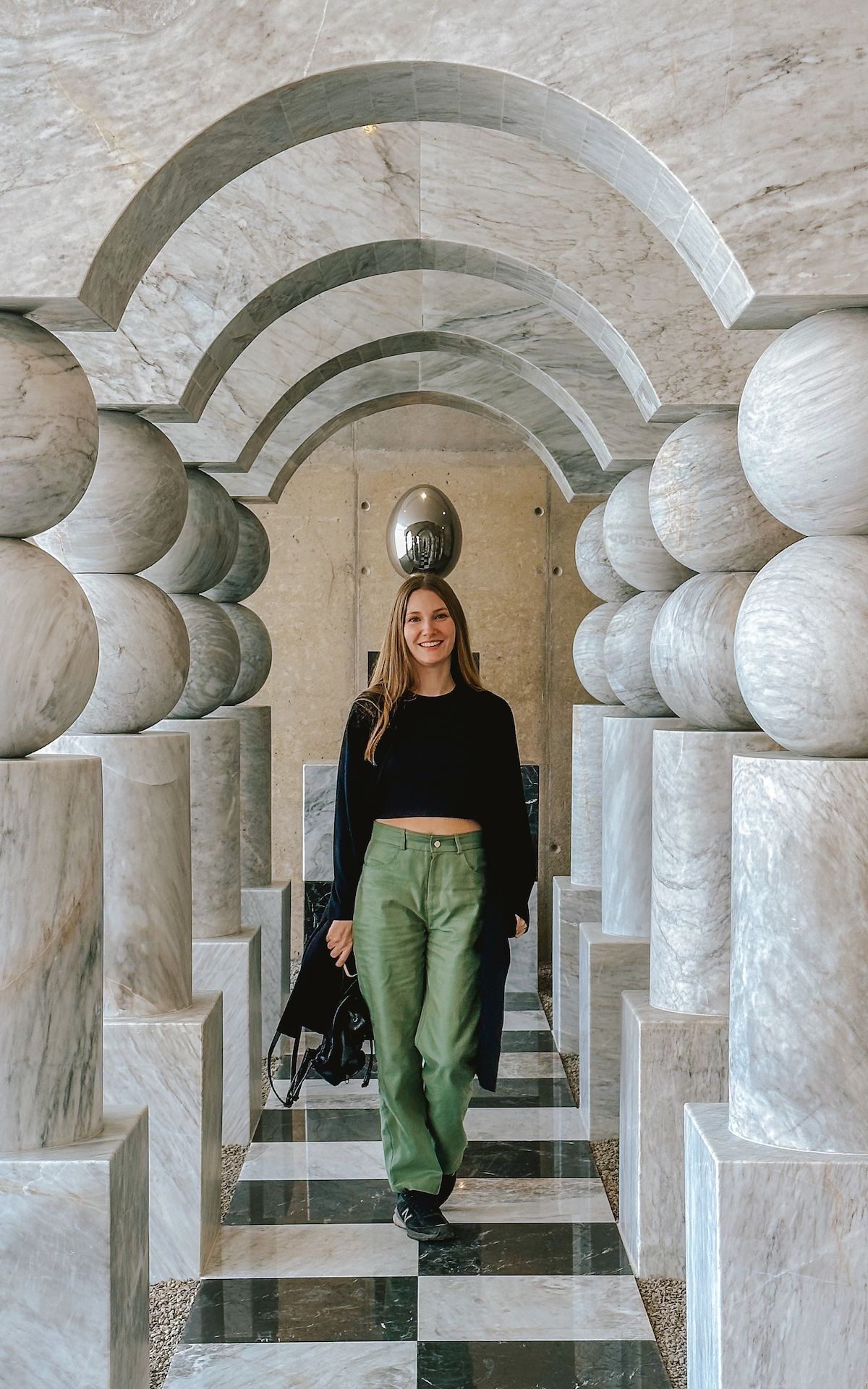 On the way to Jumex, stop by Galerie Philia, a sculptural design and art gallery. See what exhibitions are on here - it's free to visit. The gallery is located on the 5th floor of the modern building and offers nice views of the city.
We hope you enjoyed these 9 unique things to do in Polanco!
---
Bonus: Our top hotel picks in Mexico City
All three of these places are in an excellent location and offer a boutique feel with exceptional design:
---
Don't miss our other Mexico City guides:
---
Get started on booking your trip to Mexico City
🌃 Book your accommodation: Booking.com is our go-to for finding places to stay. Sort by top reviewed.
🌮 Browse tours with local guides: through GetYourGuide or Viator
🛫 Book your flight: use Skyscanner to compare flights across different airlines (we recommend booking direct with the airline however).
---
Save and pin these fun things to do in Polanco Mexico City for later: