Living just next door to Pender Island on Salt Spring Island, we wondered why it took us so long to make the trip over there. We thought it might feel the same as Salt Spring Island, but we couldn't be more wrong! The laidback island is a fifth in population size (about 2,250 residents) and has a unique charm all of its own.
Since the community is a lot smaller than Salt Spring, we found that its residents were even friendlier and chattier. Each person we talked to had an eccentric quality to them and usually a good story to tell. Just like author and Pender Island resident Ron Palmer said in his book, "they do say that if you haven't heard a rumour by 10 o'clock in the morning, then start one."
Within our first hour on the island, we noted the name of an eclectic CD being played by a charismatic cashier in the liquor store. It became our Pender Island mix and paired perfectly with the surroundings as we explored the island in our Delica camper van. There is an ease to Pender Island with its gentle farm land, forested mountains and ocean views that really puts you on "island time".
There are so many fun things to do on Pender Island with its creative community, artisanal producers, farm-to-table restaurants and incredible scenery. Its convenient location between Vancouver and Vancouver Island makes it the perfect place to spend a leisurely weekend away in nature.
Our travel guide includes the 23 best things to do on Pender Island, the best time to visit and how to get there.
Overview: What to do on Pender Island
Best time to visit Pender Island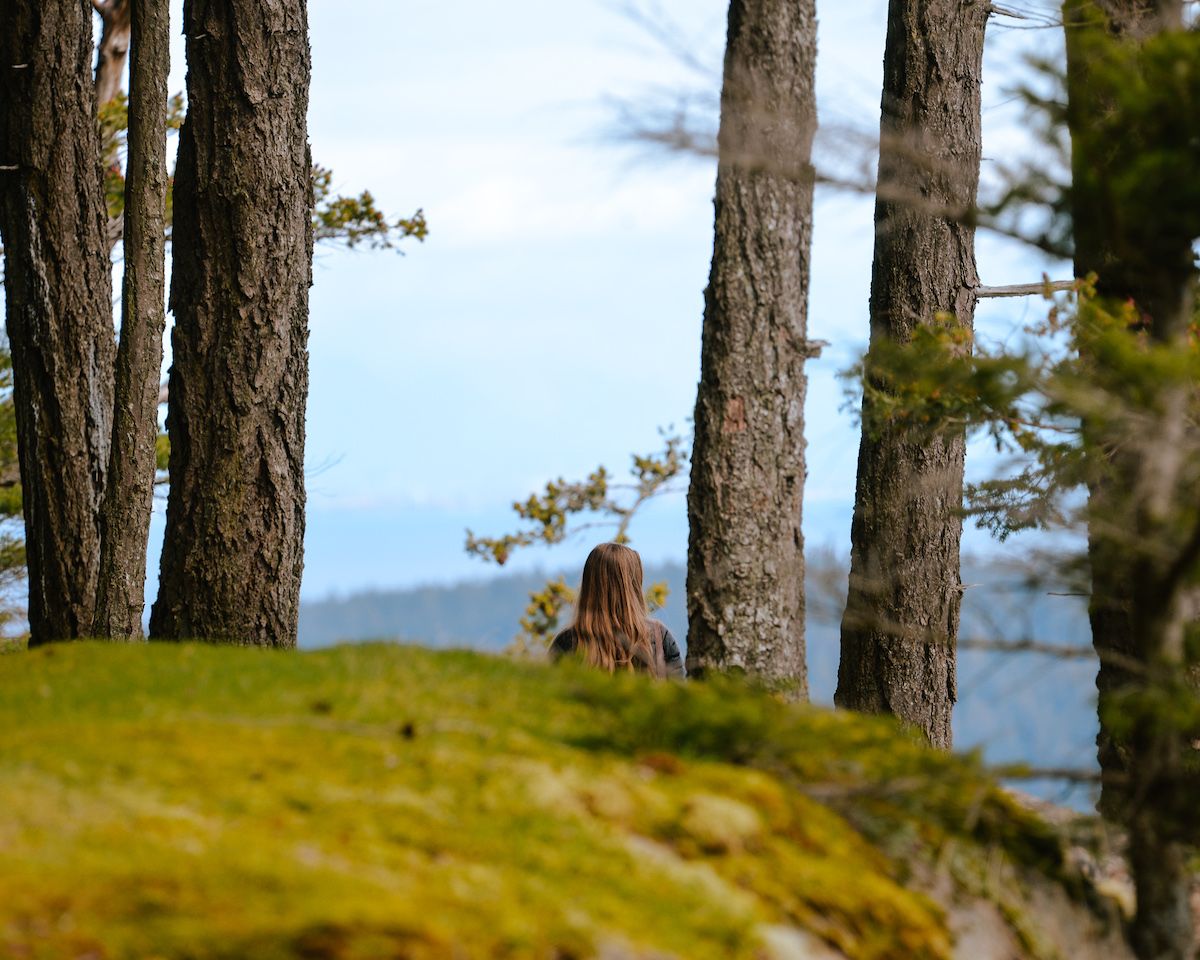 The best time of year to visit Pender Island is during the summer months of May - September. These are the warmest months of the year and they have the least rainfall. You will also have longer sunlight hours for exploring! During winter months, some of Pender Island's best activities are closed, like the cidery for tastings.
The best days to visit Pender Island are Thursdays-Sundays for a few reasons:
Some of the best restaurants on Pender Island are only open these days
The artisan and farmer's market is only open on Saturdays
The vintage thrift store is only open on Fridays.
The winery is closed for tastings on Monday and Tuesdays
How to get to Pender Island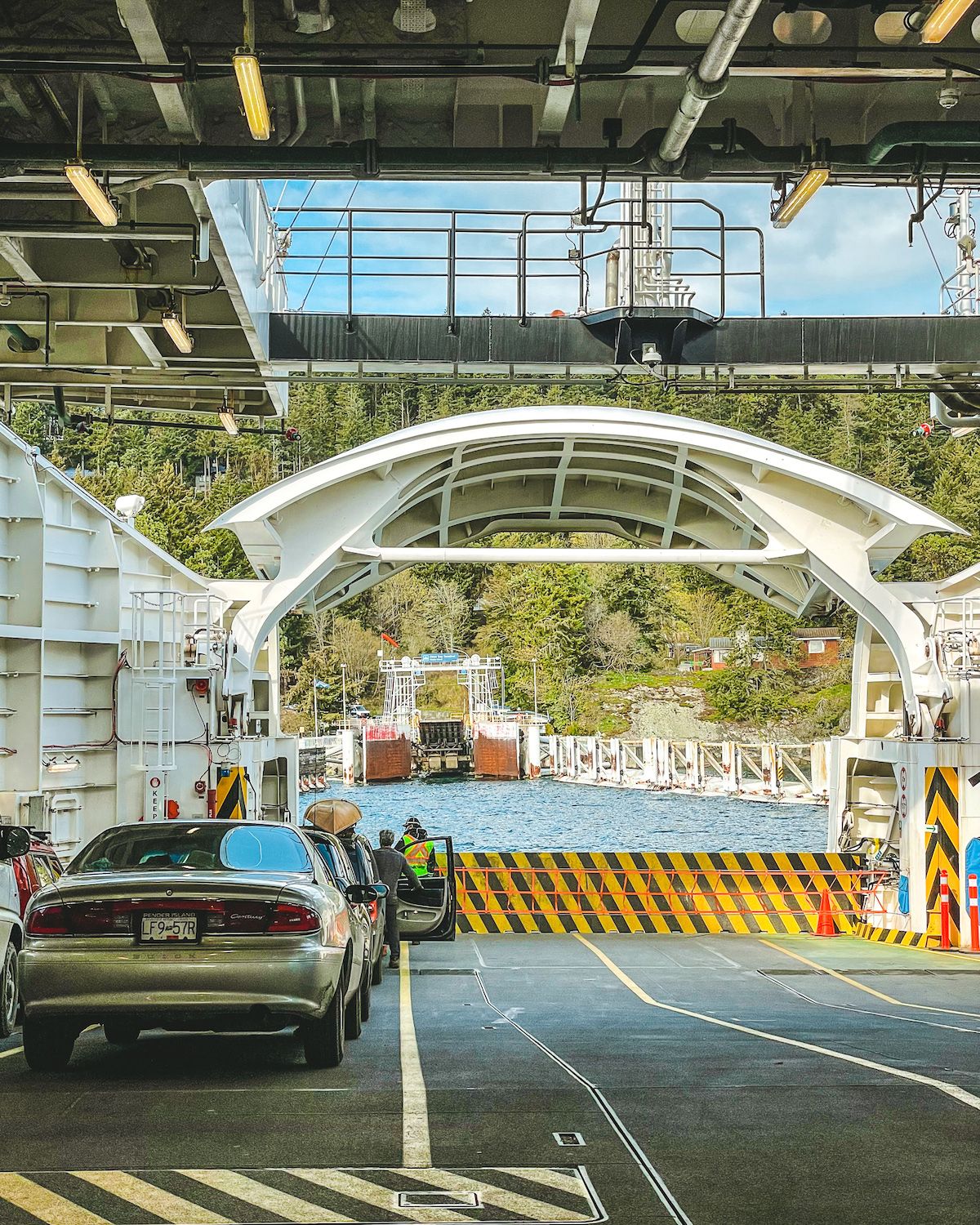 You can get to Pender Island either by ferry or float plane. We highly recommend taking the ferry, so you can explore the island by car.
How to get to Pender Island from Vancouver
By Ferry
Give yourself 45 minutes (60 minutes if rush hour) to drive from Vancouver to the Tsawwassen Ferry Terminal.
The ferry from Tsawwassen to Pender Island takes 2 hours and 10 minutes, first stopping at Galiano Island and Mayne Island. Reservations are highly recommended during peak summer times. Book with BC Ferries.
If you have a reservation, you need to be at the ferry terminal at least 30 minutes prior to your scheduled departure. If you don't have a reservation, ensure you arrive early enough to get a spot on the ferry.
By Floatplane: Seair Seaplanes flies from YVR South to Pender Island.
How to get to Pender Island from Victoria
Give yourself 30 minutes (50 minutes if rush hour) to get from Victoria to the Swartz Bay Ferry Terminal by car.
The ferry from Swartz Bay to Pender Island takes between 40 minutes - 2.5 hours depending on the day and time you leave. You cannot make reservations for this route in advance. We recommend arriving 40 minutes before departure time.
How to get to Pender Island from Nanaimo
There are two ways you can get to Pender Island from Nanaimo:
Option 1: from Crofton Ferry Terminal via Salt Spring Island
Drive 40 minutes to the Crofton Ferry Terminal, which takes you to Salt Spring Island (it's non-reservable and takes 25 minutes to cross). Once you arrive in Salt Spring, drive 15 minutes to the Long Harbour Ferry Terminal. The ferry from Long Harbour to Pender Island takes 40 minutes and is a non-reservable route. You will have to be careful aligning the two ferries, since there are limited ferries from Long Harbour to Pender Island.
Option 2: from Swartz Bay Ferry Terminal
Drive 2 hours to the Swartz Bay Ferry Terminal. The ferry from Swartz Bay to Pender Island takes between 40 minutes - 2.5 hours depending on the day and time you depart. It's a non-reservable route.
Getting around Pender Island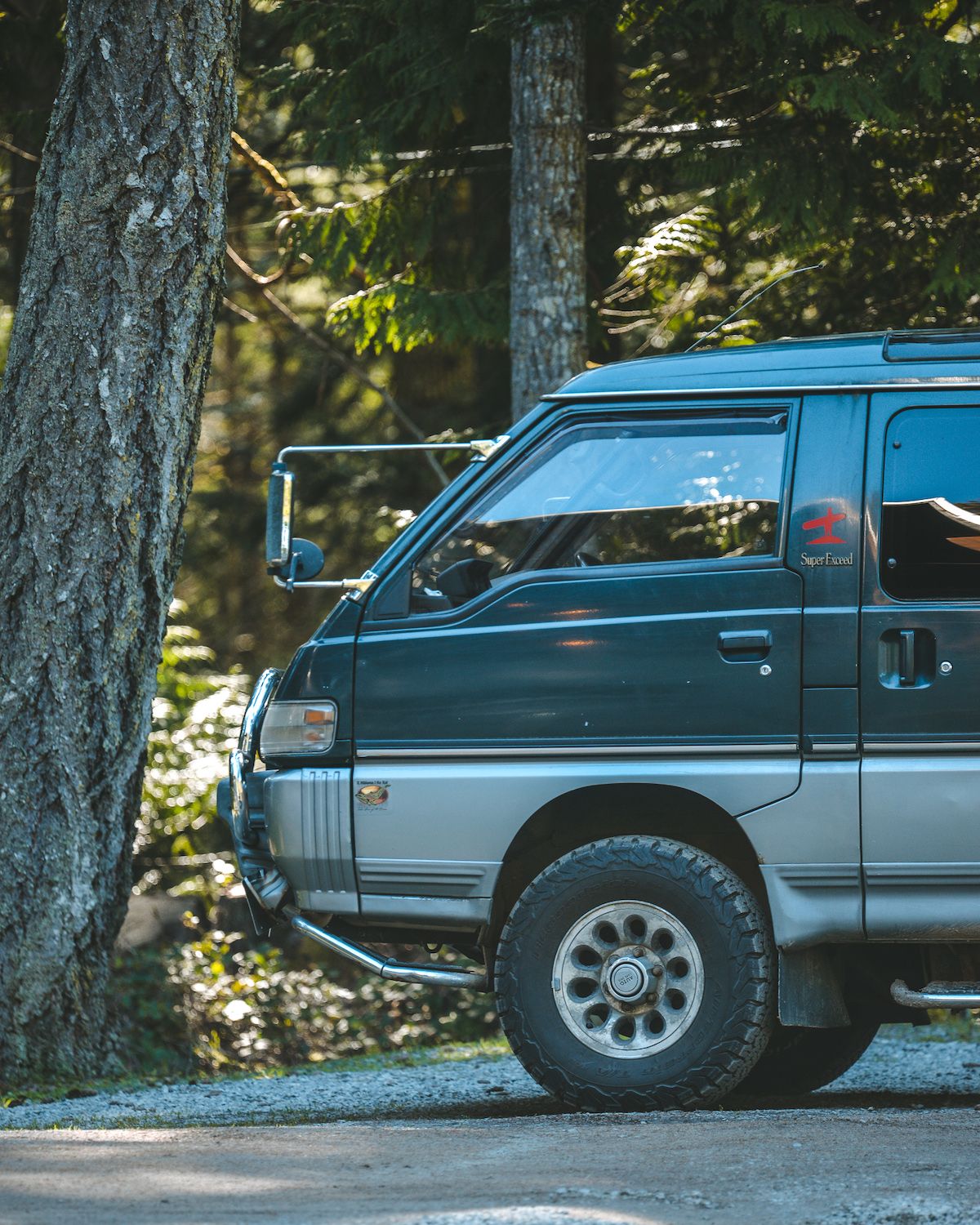 Since the community bus (called buss-a-nova) only runs 2-4 times a week and residents without a car rely on hitchhiking, biking or hiking around the island, you will definitely want to bring a car to explore. Half of the fun is driving around the tiny island roads and seeing what you can find!
Pender Island is divided by two areas, North Pender Island and South Pender Island, which are connected by a wooden one-lane bridge. North Pender Island is where you will find the restaurants, shops and markets. South Pender Island is quiet and visited mainly for its scenic spots. From the Otter Bay Ferry Terminal on North Pender Island, it takes about 27 minutes to drive to the very end of South Pender Island.
🚗 Don't have a car? Easily compare car rental rates with Rentalcars.com
Best things to do in Pender Island
Disclosure: Some of the links below are affiliate links, meaning at no additional cost to you, we will earn a commission if you click through and make a purchase. We only recommend products or services we have used or that we believe will add value to our readers. Thank you for supporting us!
1. Go glamping at WOODS on Pender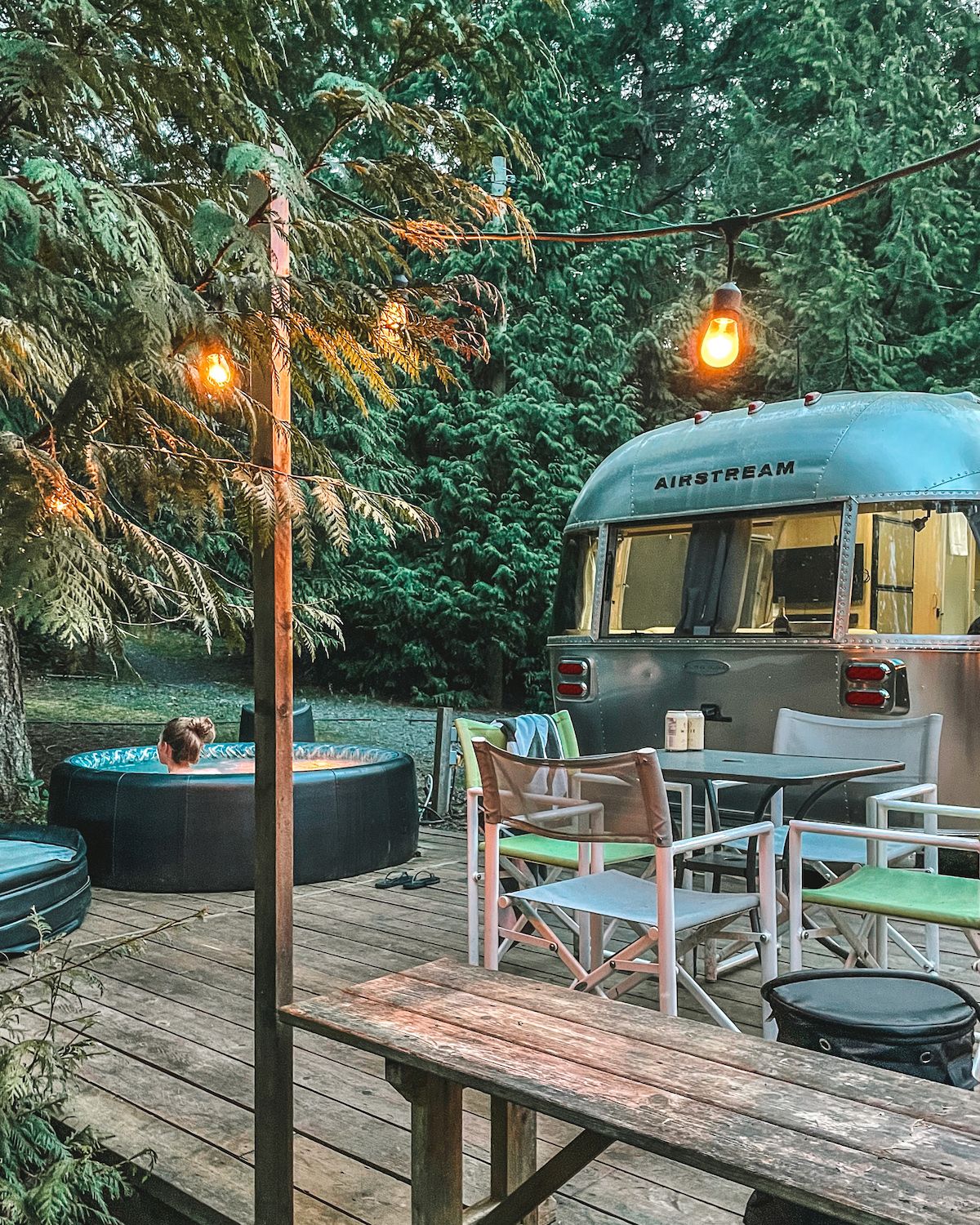 We were ecstatic for our glamping experience at the
WOODS on Pender
.
An Airstream all set up for us with our own private hot tub?!
Now that was the unique island stay we were looking for.
WOODS on Pender
is well run by its passionate owners with 8 Airstreams, 3 rustic cabins and a motel with 9 cozy rooms.
They also have one of the best restaurants on the island, called Coffee + Kitchen.
We were shown to Airstream #3 called the Flying Cloud, and given tips on how to use it. The Airstream felt private with its mossy forest views and was wrapped around by a deck with outdoor seating, a fire pit, hammock and hot tub. It also included modern amenities, like a Bose Speaker, two TVs, and reliable WIFI. We loved watching sci-fi movies in the bed each night - it felt like we were kids having a camping slumber party!
Each day we looked forward to seeing the deer graze and hearing the birds sing. Each night we enjoyed soaking in the satisfyingly steamy hot tub with a cold beverage from the local Medicine Beach Liquor Store.
Staying at WOODS is one of the best things to do on Pender Island in winter or summer. If you're traveling as a family, look out for the Airstreams with the detached bunkie cabin that give the right amount of privacy.
See rates for WOODS on Pender
If you love this type of stay, don't miss our review of oceanfront glamping on Hornby Island.
2. Start your morning with breakfast at a quirky cafe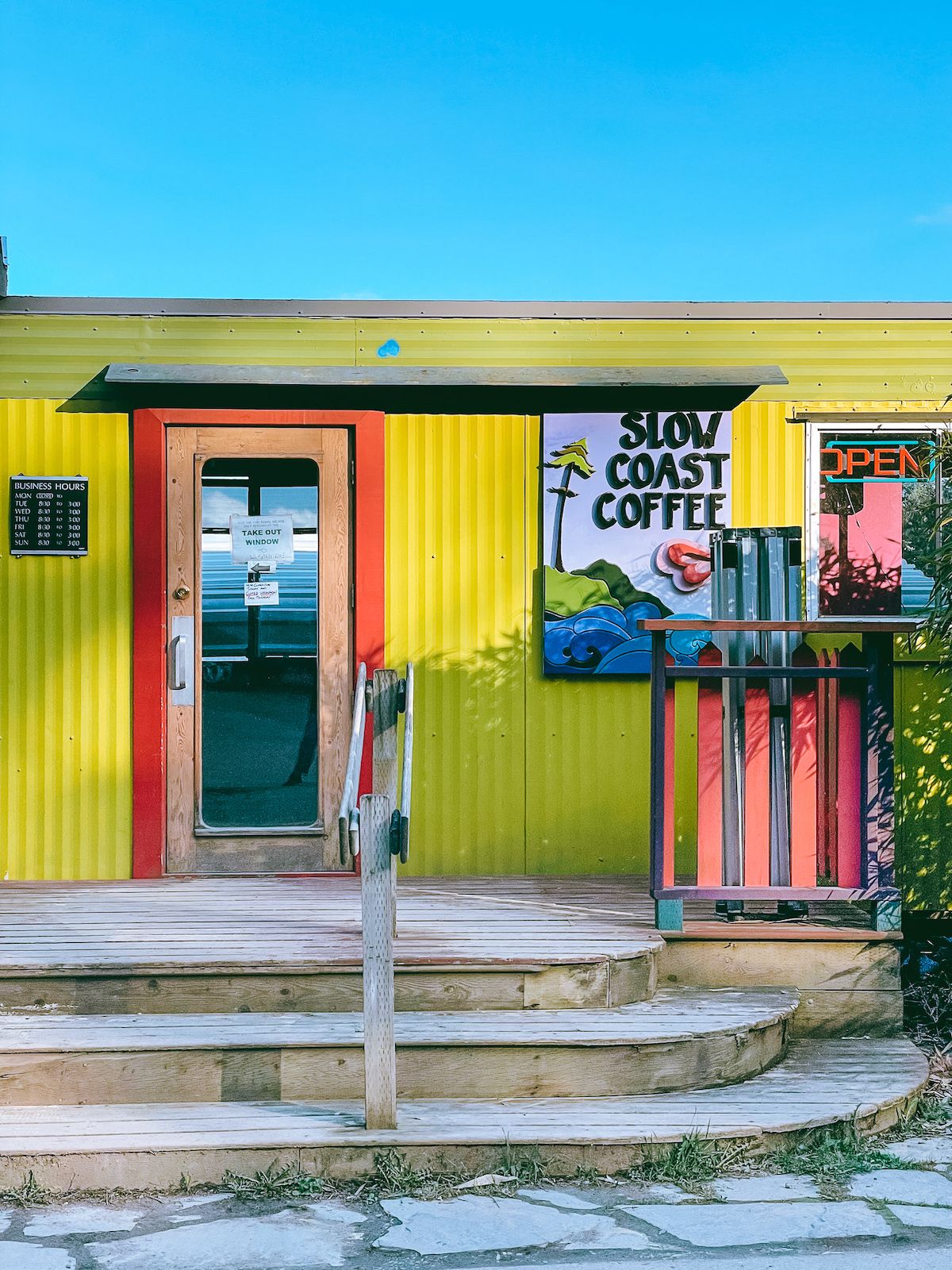 Start your day with breakfast at one of the island's quirky cafes. Our two favourite spots were Slow Coast Coffee and Coffee + Kitchen:
Slow Coast Coffee
Drive up to the funky neon-coloured cafe and choose from their savoury selection of crepes and dosas (South Indian flatbread). We ordered a couple lattes and dosas from the take-out window and friendly locals chatted us up as ZZ Top's blues-inspired rock played on the outside speaker. Don't miss looking at their wine bottle cork board with flyers of local events.
Coffee + Kitchen
Open for breakfast Thursdays-Mondays from 9am - 11am, Coffee + Kitchen serves delicious fresh-baked pastries and coffee from Fernwood Coffee Company. The large outdoor patio space with colourful chairs is idyllic on a sunny morning. We sat inside on a chilly morning and devoured their gooey cinnamon buns with rich icing as chilled-out music from Thievery Corporation played in the background.
3. Walk to Gowlland Point on the tip of South Pender Island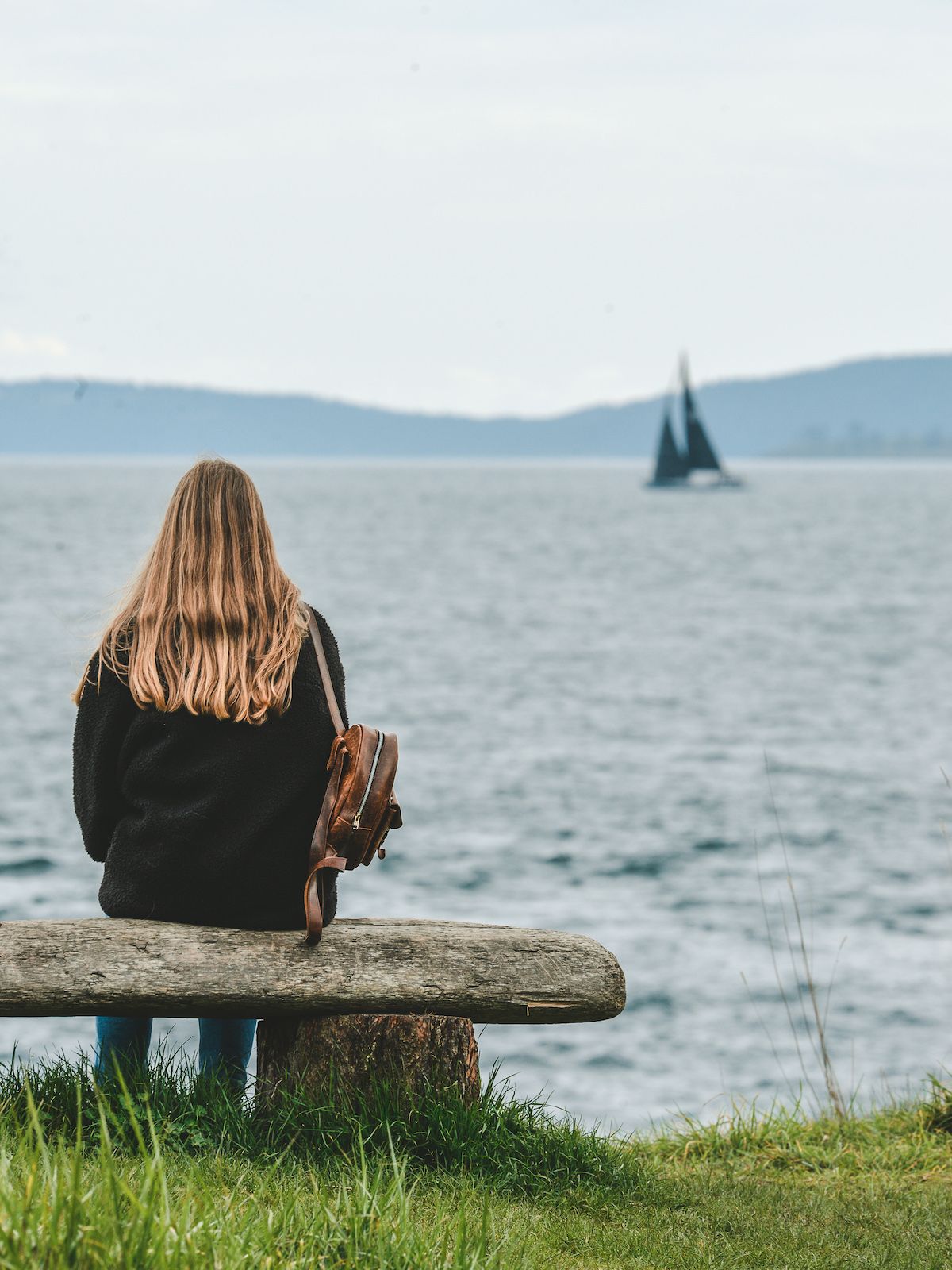 Drive to the southeastern tip of South Pender Island for a lovely walk along a coastal headland to Gowlland Point. The scenic loop offers views of the San Juan Islands, Mount Baker and Boundary Pass, a straight that runs between Canada and the US. Keep an eye out on the ocean for whales.
The walking route:
Park your car at the Brooks Point Regional Park parking lot (it's free) and walk to the end of Gowland Point Road. Follow the coastline in a clockwise direction to Gowlland Point and then take the boardwalk back to the parking lot.
4. Have a wine tasting at Sea Star Vineyards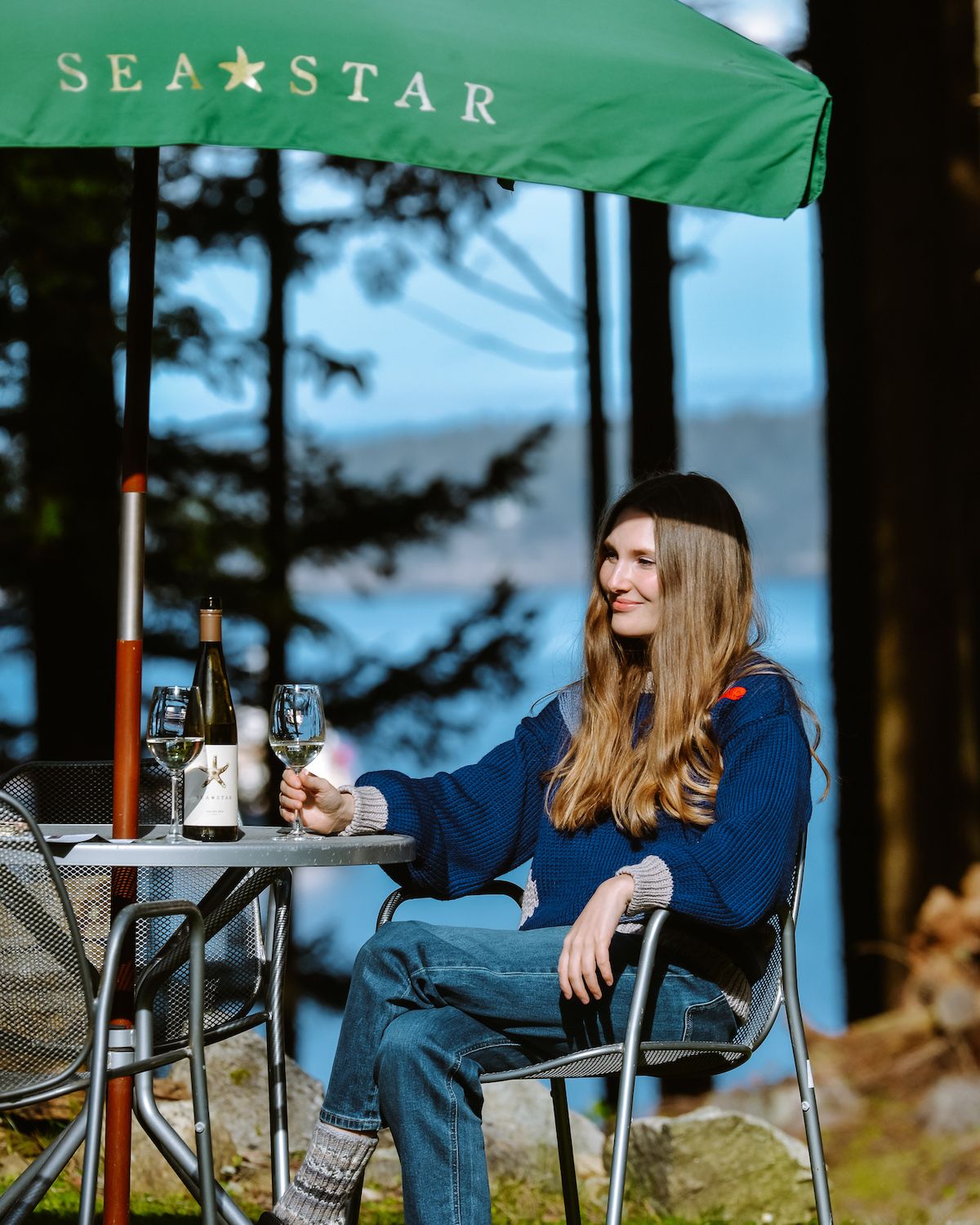 Drive the meandering road along Browning Harbour to Sea Star Vineyards, a boutique winery perched on the slope of Mount Menzies. Named one of the "9 Wineries to Visit Before You Die" by Sip Magazine, the winery offers wine tastings in an impressive West Coast-inspired building. It gets even better when you step outside onto the grassy outdoor patio with a view of the ocean and vineyards beaming in the sunlight on a hill.  
We made our $15 wine tasting reservation online for 4pm and they were ready for us. We tasted an Ortega, Ortega blend, Provence-style rose, Merlot-Cabernet Franc and a sweet riesling desert wine that tasted like apples. After our tasting, we bought a bottle of their Salish Sea and sipped a glass outside on the sunny patio.
During summertime, the Truss Food Truck parks here so you can enjoy lunch with your wine. It's one of the best things to do on Pender Island in summer. In off-season months, the winery sells charcuterie boxes from Truss in their tasting room.
Winery hours: Wednesday - Sunday from 12 pm - 6 pm.
5. Walk Hamilton Beach around sunset for a mesmerizing view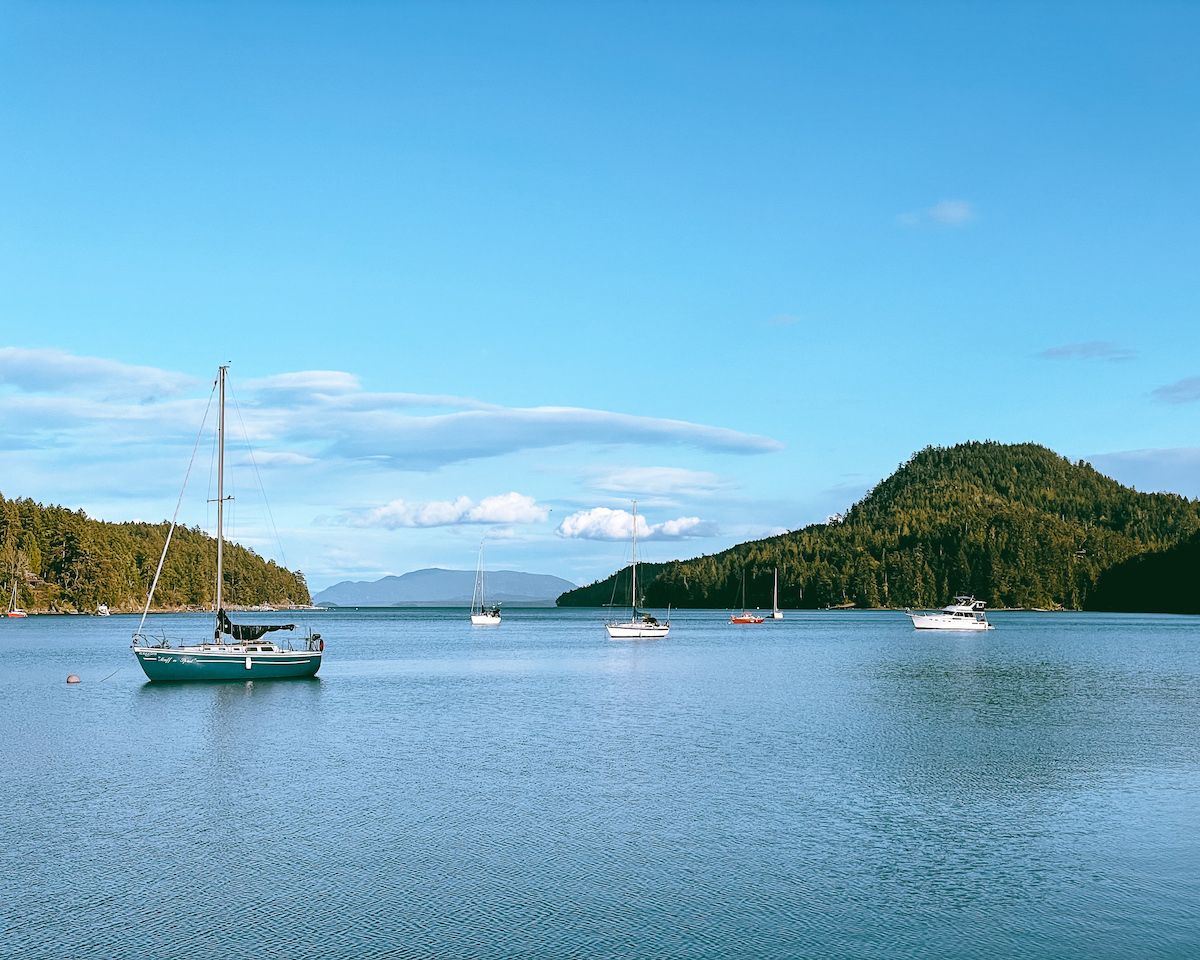 The view of Browning Harbour was one of the best we saw on the island. On a sunny day, drive down to Hamilton Beach about an hour before sunset to see the whole harbour and surrounding island peaks beautifully light up from the sunset at your back.
6. Eat farm-to-table cuisine at Coffee + Kitchen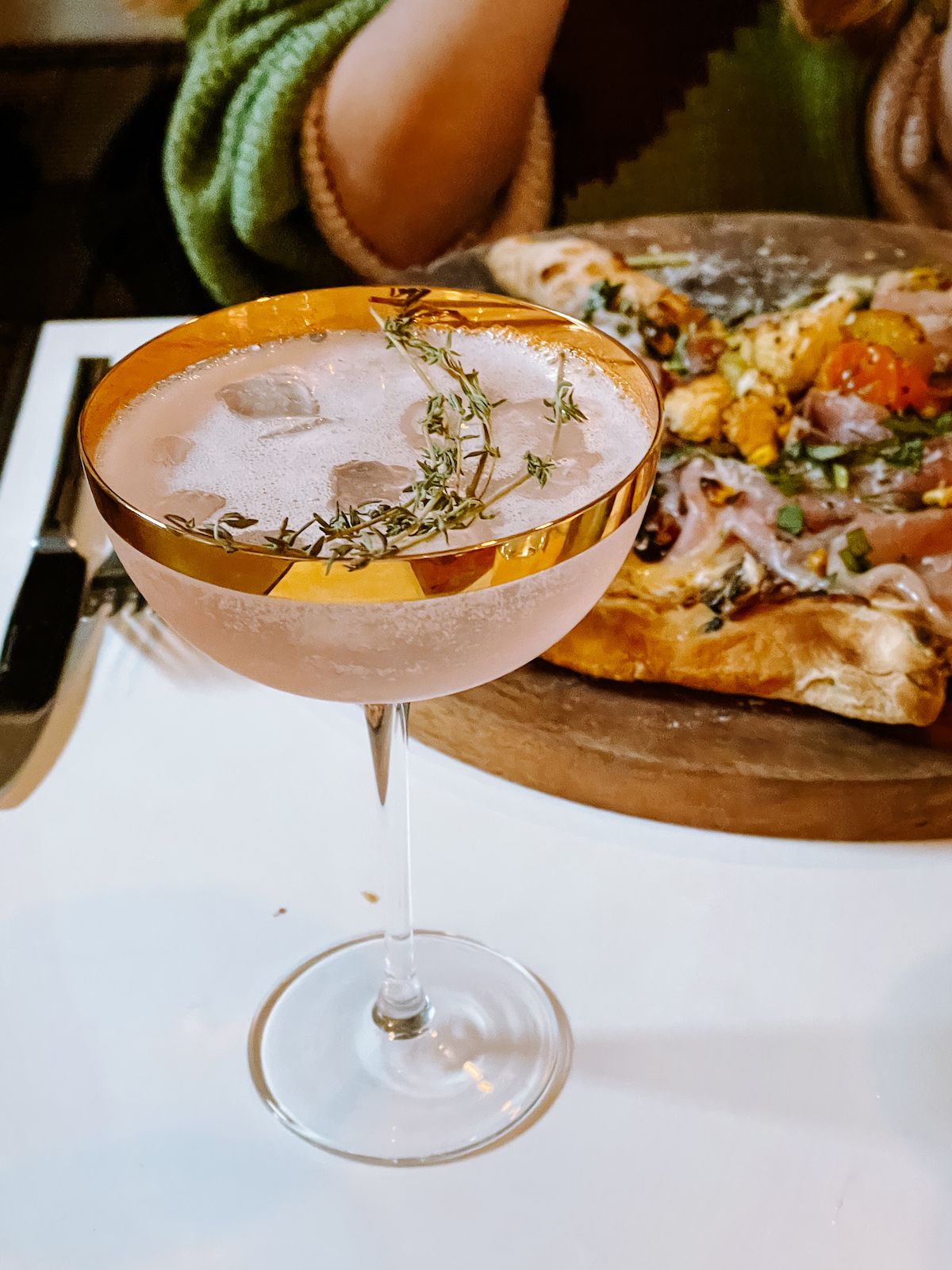 Dine at Coffee + Kitchen for fresh, farm-to-table cuisine made with ingredients sourced from their on-site greenhouse and local producers. We were impressed by the attention to detail that went into the creative dishes. It was the best meal we had on the island.
I ordered the aged prosciutto pizza topped with seasonal veggies, fior de latte, organic peas, fresh herbs and aged balsamic. Ari ordered the mouthwatering chuck steak burger with bacon jam, fried onions and smoked cheese on a brioche bun. They also offer gluten-free crust and bread options.
The hand-crafted cocktail list was a pleasant surprise. They were proper cocktails, beautifully garnished with fresh herbs or real maraschino cherries (the dark red ones).
The atmosphere was fun with lo-fi beats playing in the background. We enjoyed chatting to the owner Curtis about island life, as we sipped the last of our cocktail.
Reservations are highly recommended since it's one of the best places to eat on Pender Island. The place is small and they are only open Fridays and Saturdays from 5pm - 7pm.
7. Enjoy the view with a few drinks at Port Browning Pub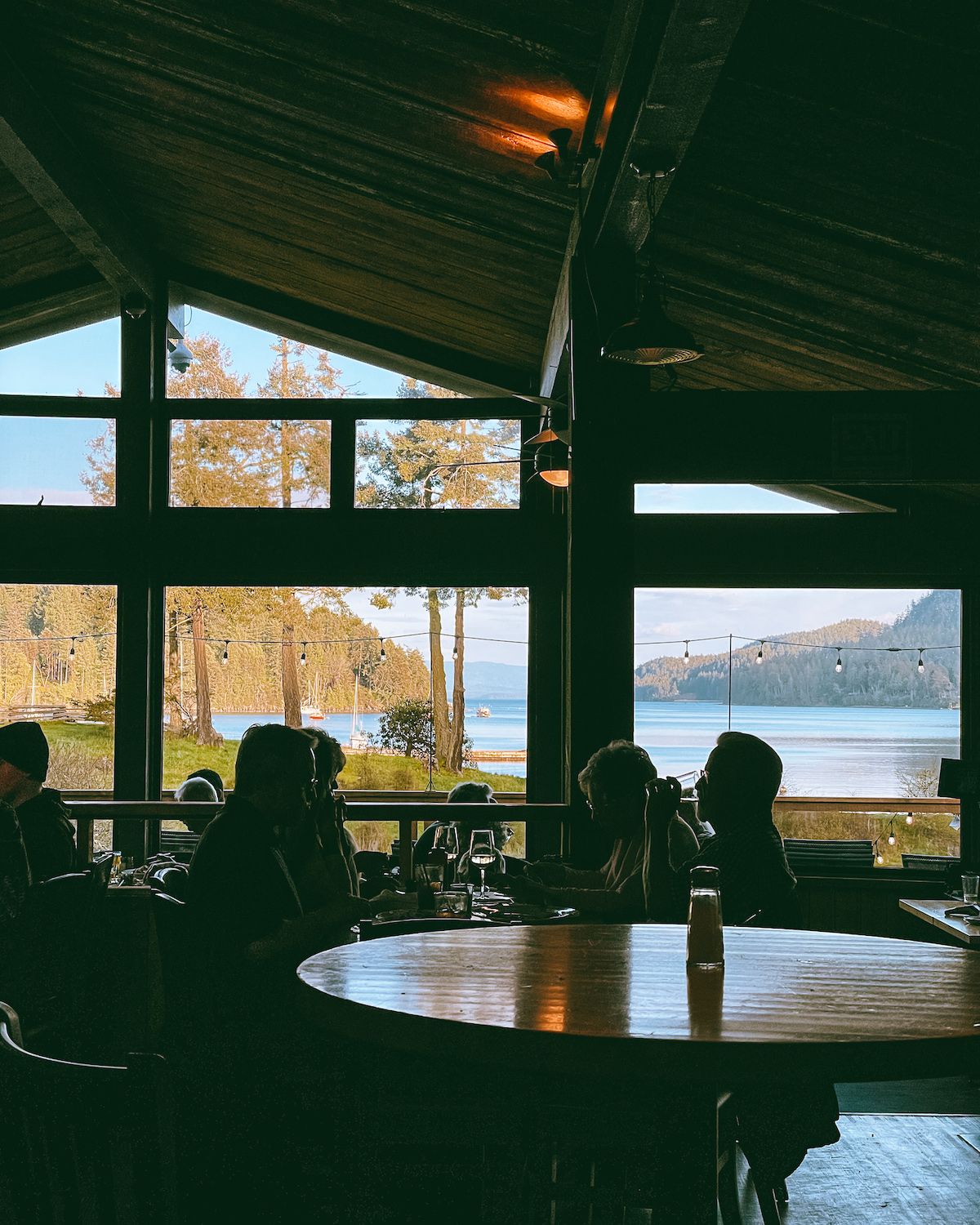 Stop in for a drink at Port Browning Pub, a lively place where casually dressed locals and tourists mingle under the timber-framed roof. The biggest draw is the bright view of Browning Harbour from your table. We recommend eating elsewhere since there are better options on the island, but it's a great spot to enjoy a cold beer with a view.
8. Shop for locally curated items at Isnd Grl Collective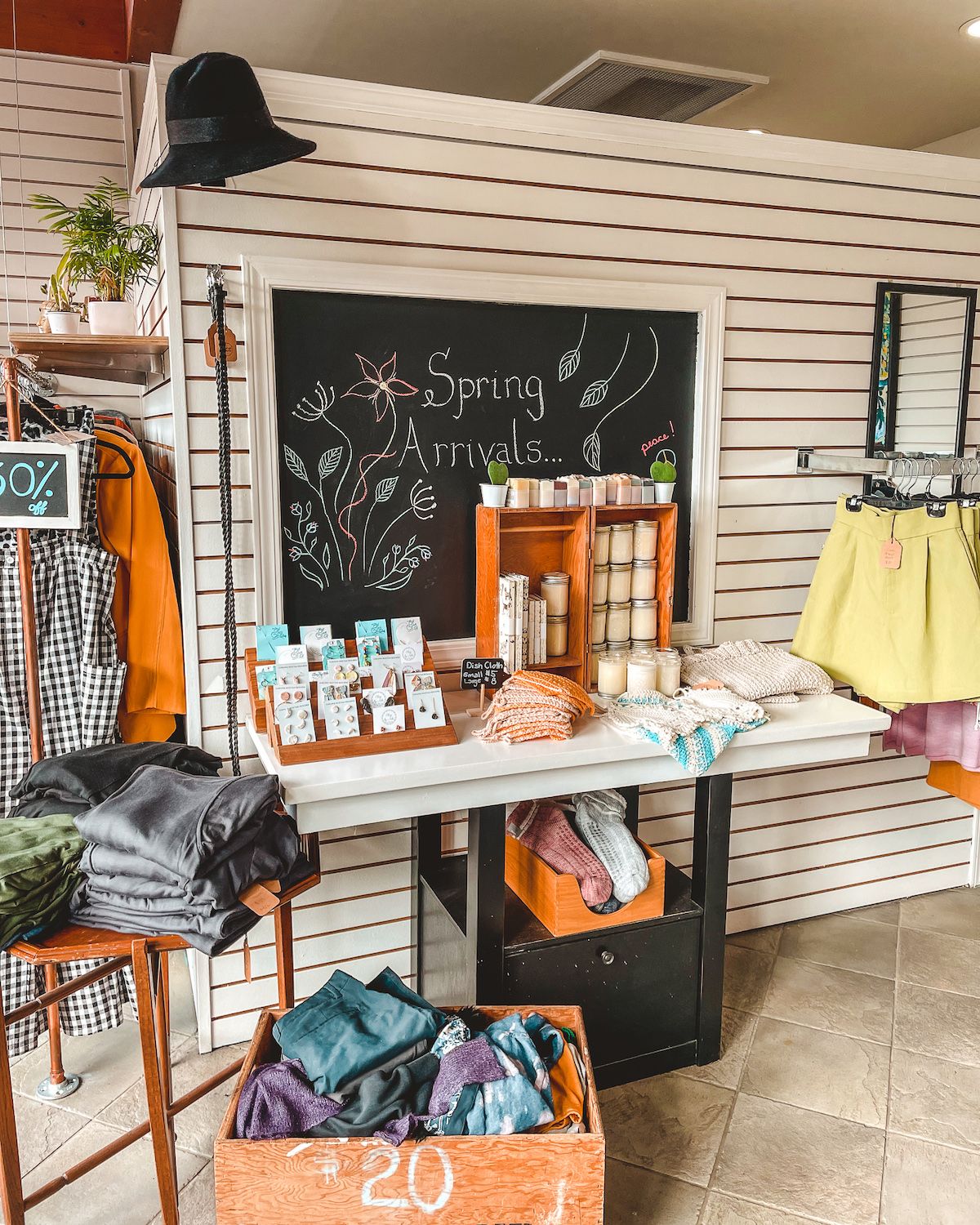 Usually I find that bohemian-type stores are a miss with tired or unstylish items seen many times before, but this wasn't the case at all here. Isnd Grl Collective has a unique selection of high quality clothing, jewelry and accessories from local and BC brands with an island flare. I purchased handcrafted gold and pastel coloured clay earrings from Chroma Nostaa Designs.
9. Hike to the scenic ridge of Mount Menzies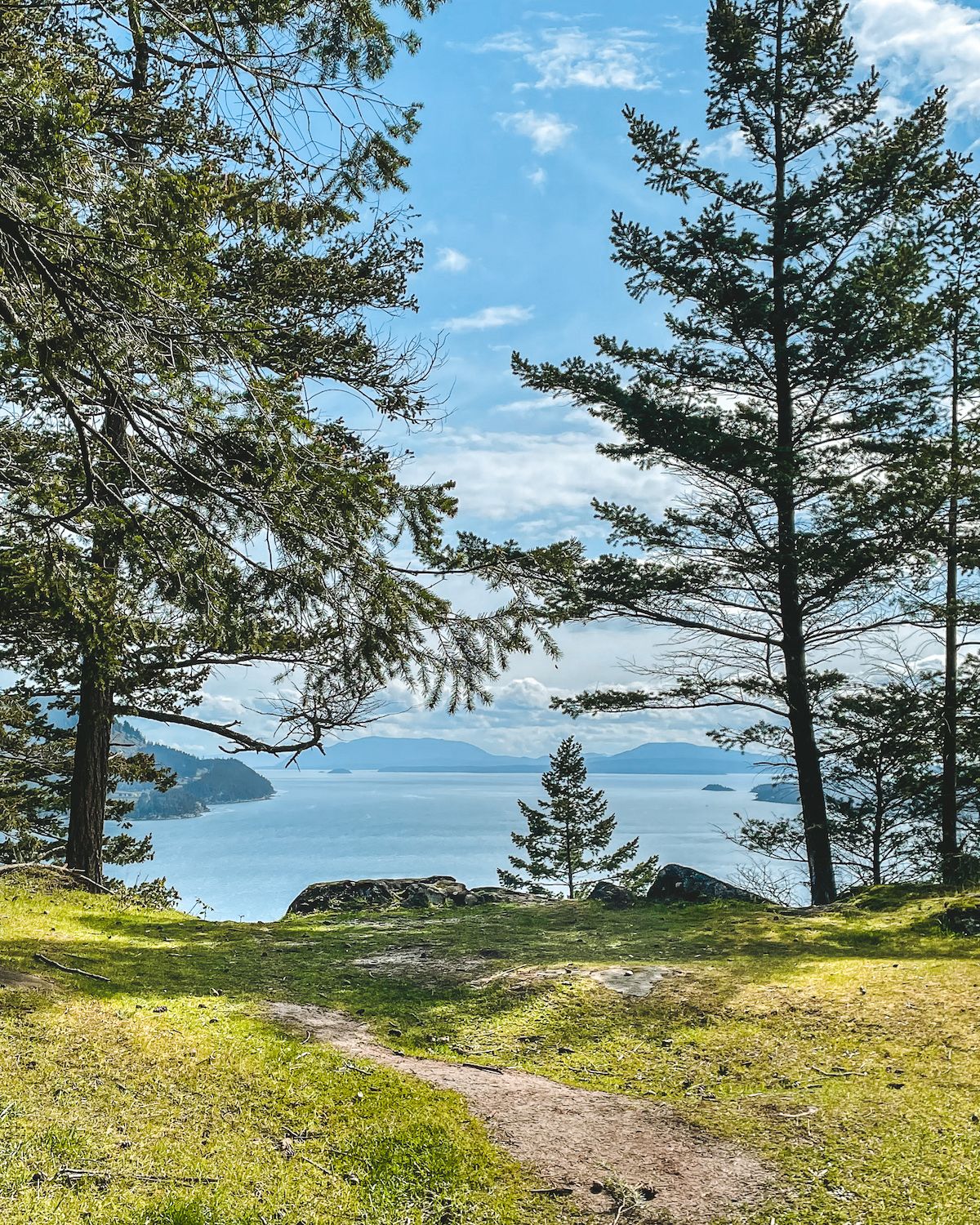 Pender Island is known as a hiker's island paradise. We heard from a local that at one time home owners were encouraged to make public trails from their property to the ocean in return for a break on their property taxes. So cool! This ended up creating a large system of trails on the island.
We were torn between doing the popular, steep hike up Mount Norman (the highest peak on the island), or an easier one to the Mount Menzies viewpoint. Lucky for us, our minds were made up when a local told us they preferred the hike to Mount Menzies. It's one of the best hikes on Pender Island.
The quiet trail is a hidden gem that takes you to gorgeous mountaintop views overlooking the ocean and surrounding Gulf Islands. You can even see all the way to Tsawwassen and Vancouver on a clear day.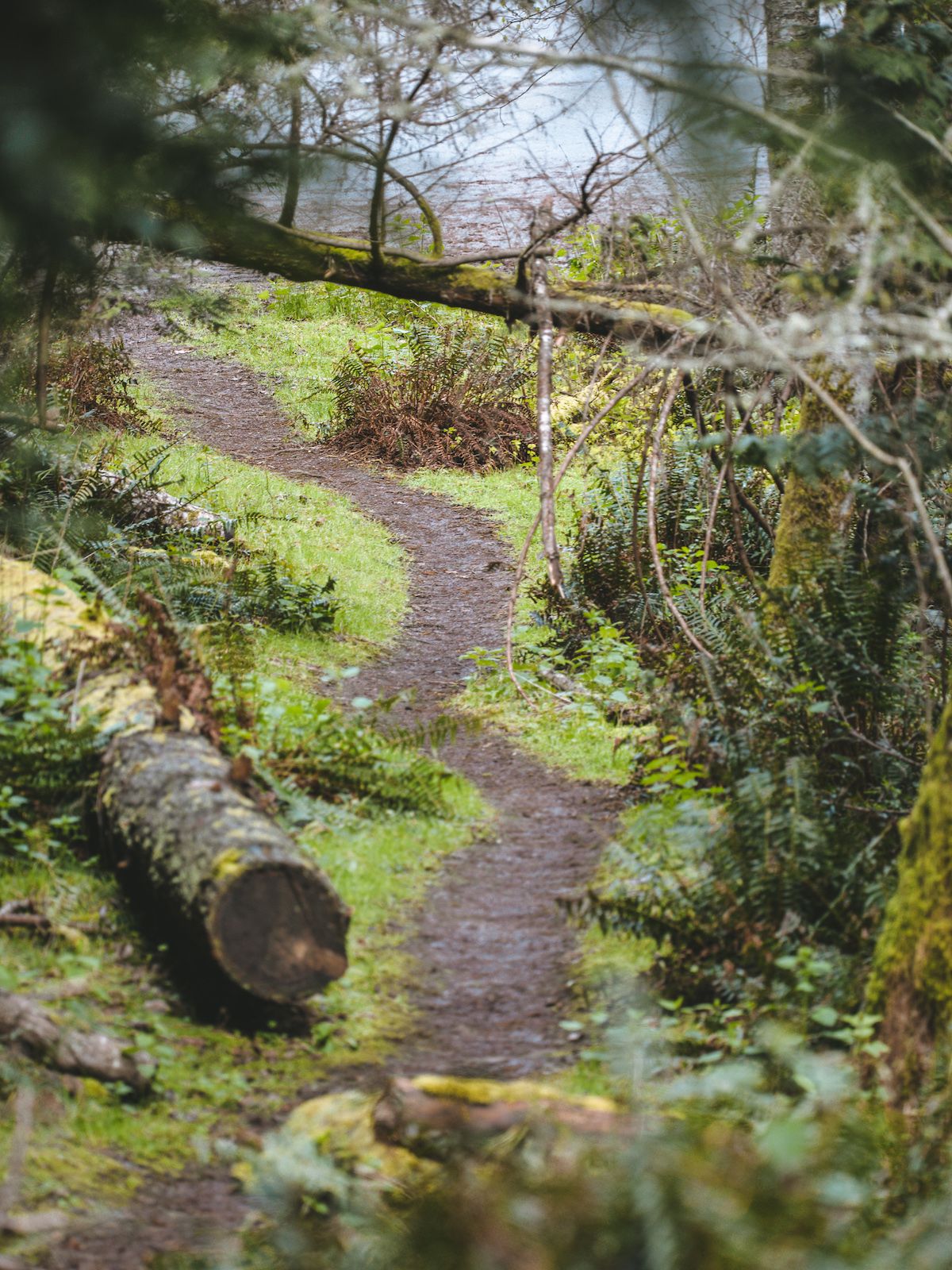 The out-and-back trail is 1.8km total with a 64 m ascent. It took us 16 minutes to get to the ridge from the parking lot.
The hiking route to Mount Menzies: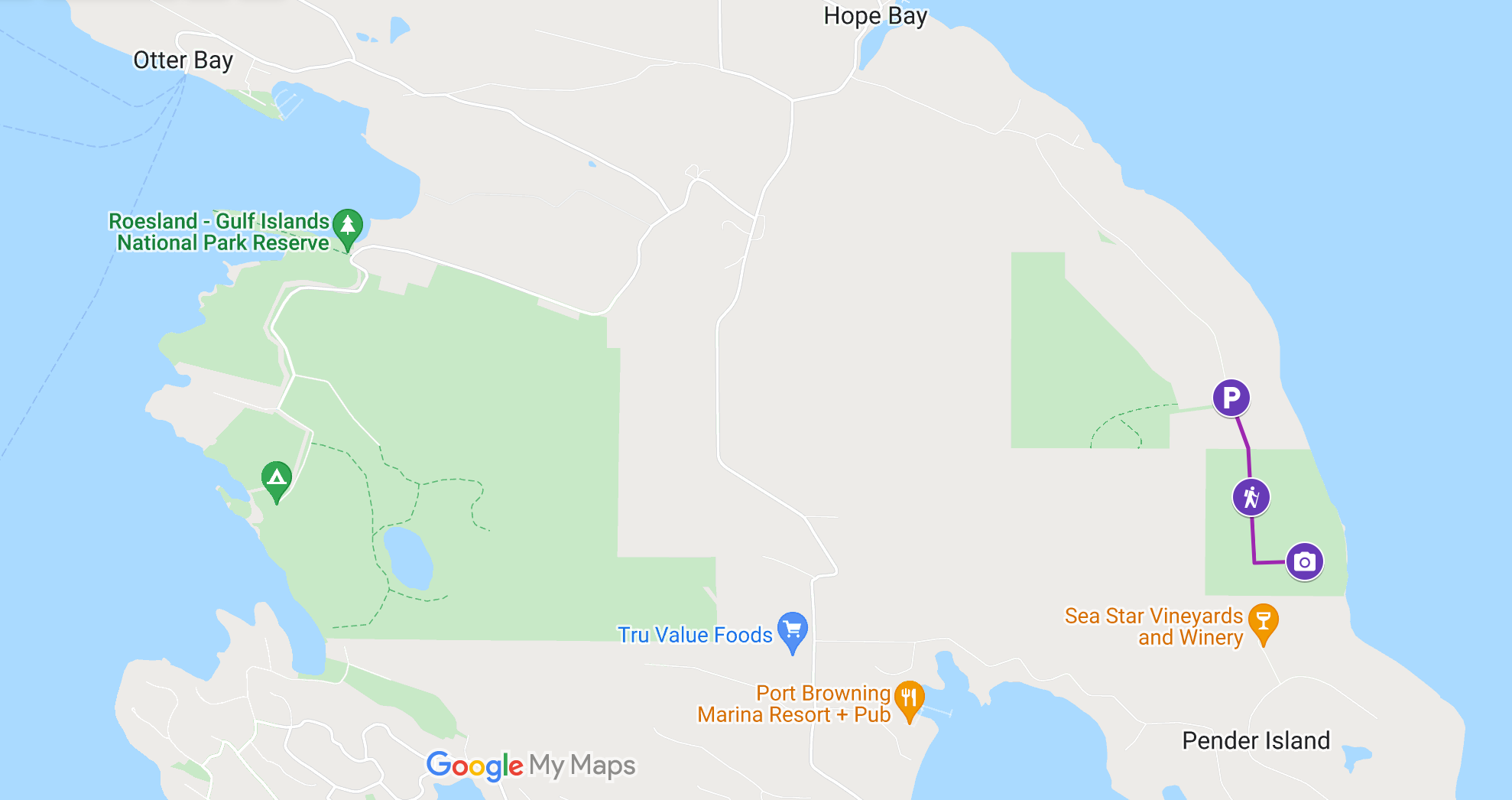 Park at the end of Hooson Road and take the unmarked trail at the end of the parking lot. You will see old growth firs and moss covered cedars as you hike through the forest. We ran into a couple friendly locals on the way up.
Once you reach a fork in the trail, stay left. Descend for just a few seconds and look out for a tree with a small sign that says "crooked tree trail" on your lefthand side. Follow the side trail to the ridge for a fabulous view.
10. Visit the studio of a local artisan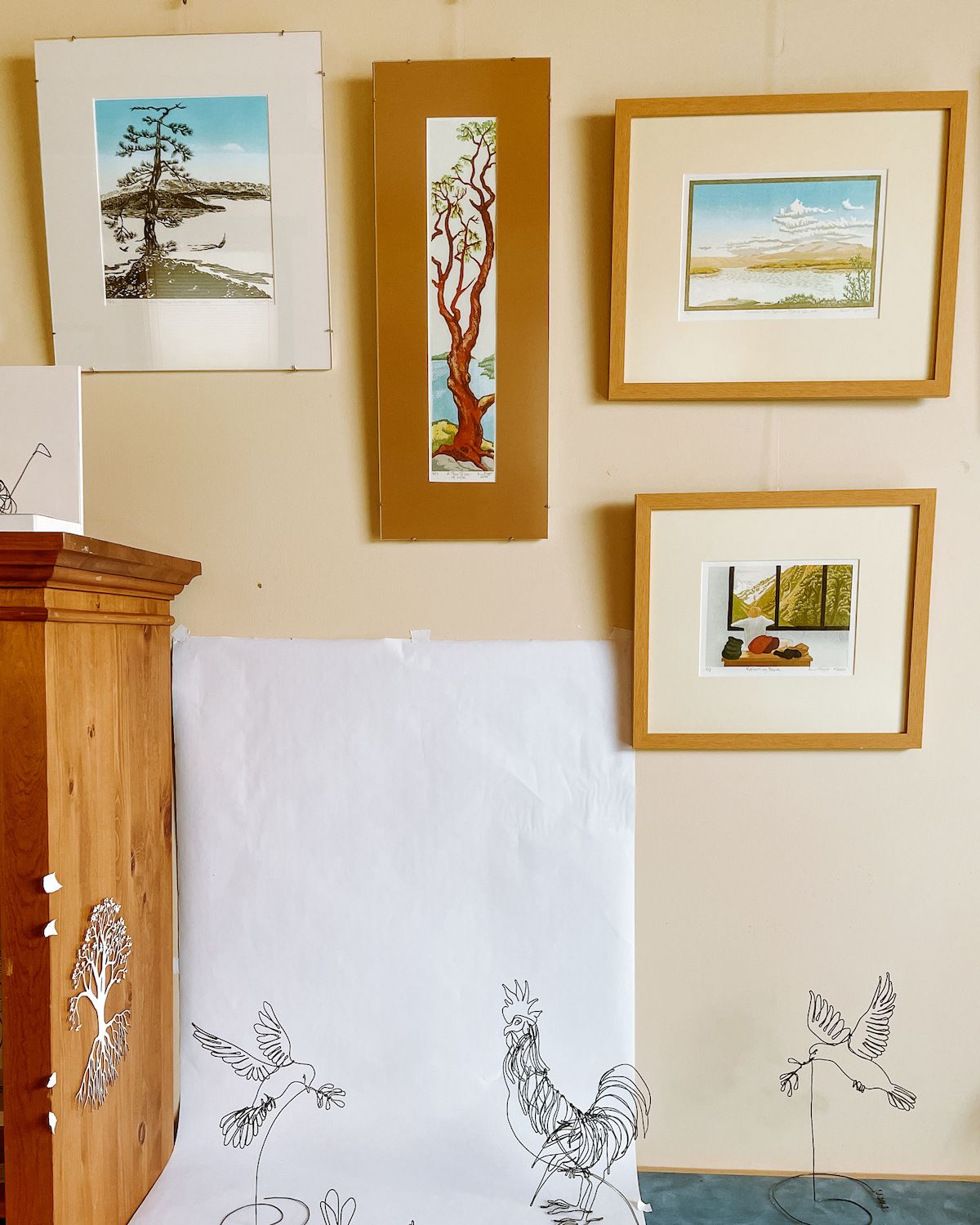 Pender Island is home to plenty of artisans and many of them have studios you can visit. There is an artist studio pamphlet you can find at many stores on the island - we got ours from Sea Star Vineyards.
On the pamphlet you will see a map of North and South Pender Island with a list of artisans, their studio hours, location, phone number, email and website.  Most of them are by appointment only, but don't let that deter you from setting up a visit! Visiting these artisan studios is one of the best ways to get insight into the local life of the island.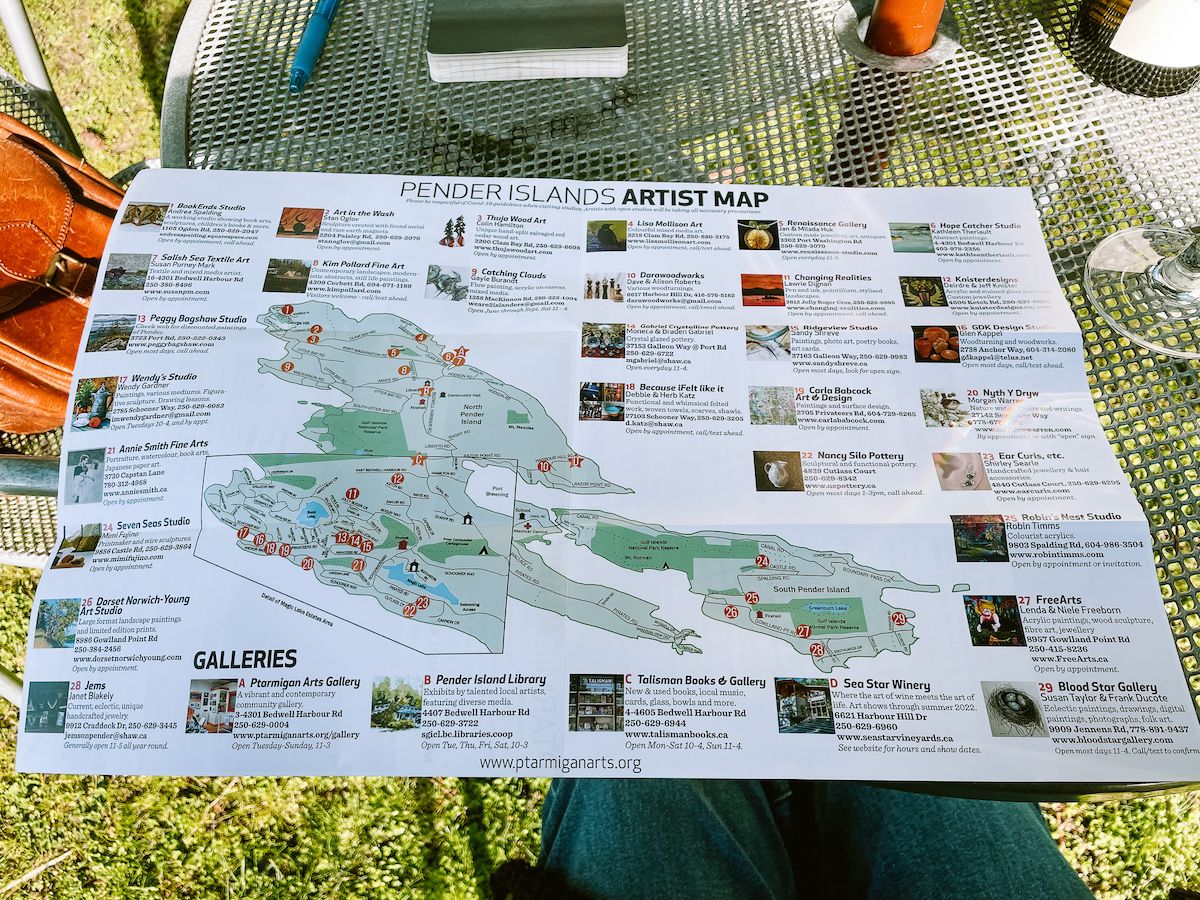 We looked up the websites of a few artisans and picked out a couple we were interested in seeing. We just gave them a call and were able to come by the day of.
The first studio we visited was Thuja Wood Art, by an artisan who salvages old growth cedar driftwood from beaches on the islands and makes them into beautiful sculptures and furniture. The animated and easy going artisan invited us into his workshop and then into his home to see an amazing mandala piece made with salvaged wood and coloured woven wire.
Stepping inside his home was like stepping into an artist's mind. We learned that he built the distinctive looking home himself with hay and clay. There was a curvature to the walls that fuelled creativity. Noticing the band equipment inside, we started talking about music and discovered there is a punk-folk scene on the island. He hosts concerts each year on his beautiful grassy acreage, which has a lovely pond for swimming.
The second studio we visited was Seven Seas Studio. We arrived at a timber-frame house where the quiet, yet amiable artisan showed us into her studio. She was happy to answer our questions about her art painstakingly created using a reduction linocut method. We excitedly bought a piece to take back home with us.
11. Stay at a B&B and experience the islander way of life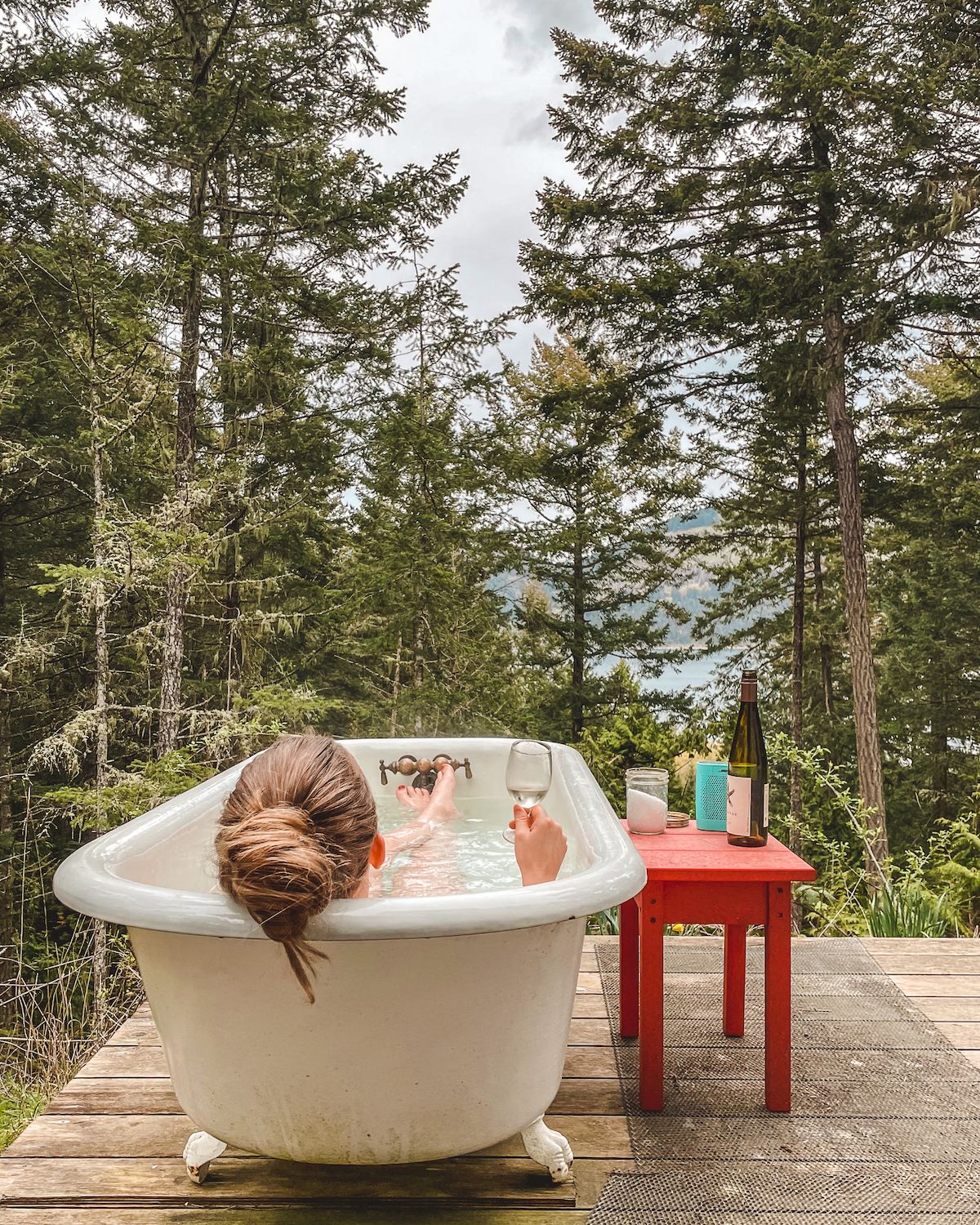 Experience the islander way of life by staying at a quirky cabin in nature.
We found a hidden gem through VRBO
- an
architect designed cabin
in the woods with a freestanding bathtub on the back deck. Located on South Pender Island it is completely private with forest and ocean views.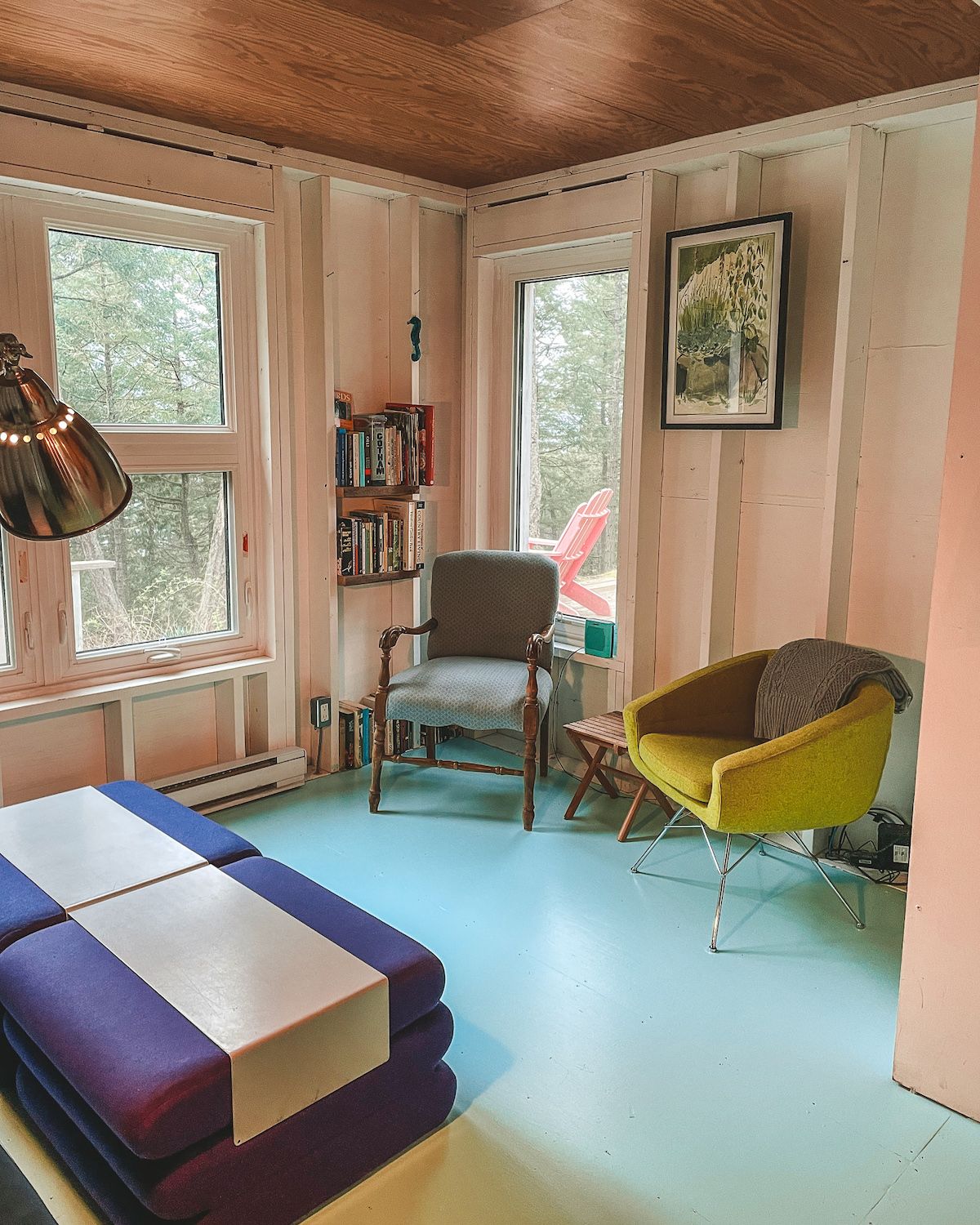 The two-story,
open-concept cabin
features a full kitchen, living area, bedroom and wood fireplace. The eclectic furniture and coloured cottage chairs on the deck give it an island charm.
Draw yourself a hot bath on the back deck with the provided bath salts and unwind with a glass of local wine. It's a magical experience!
See rates for the architect designed cabin in the woods
12. Discover farms stands on the tiny island roads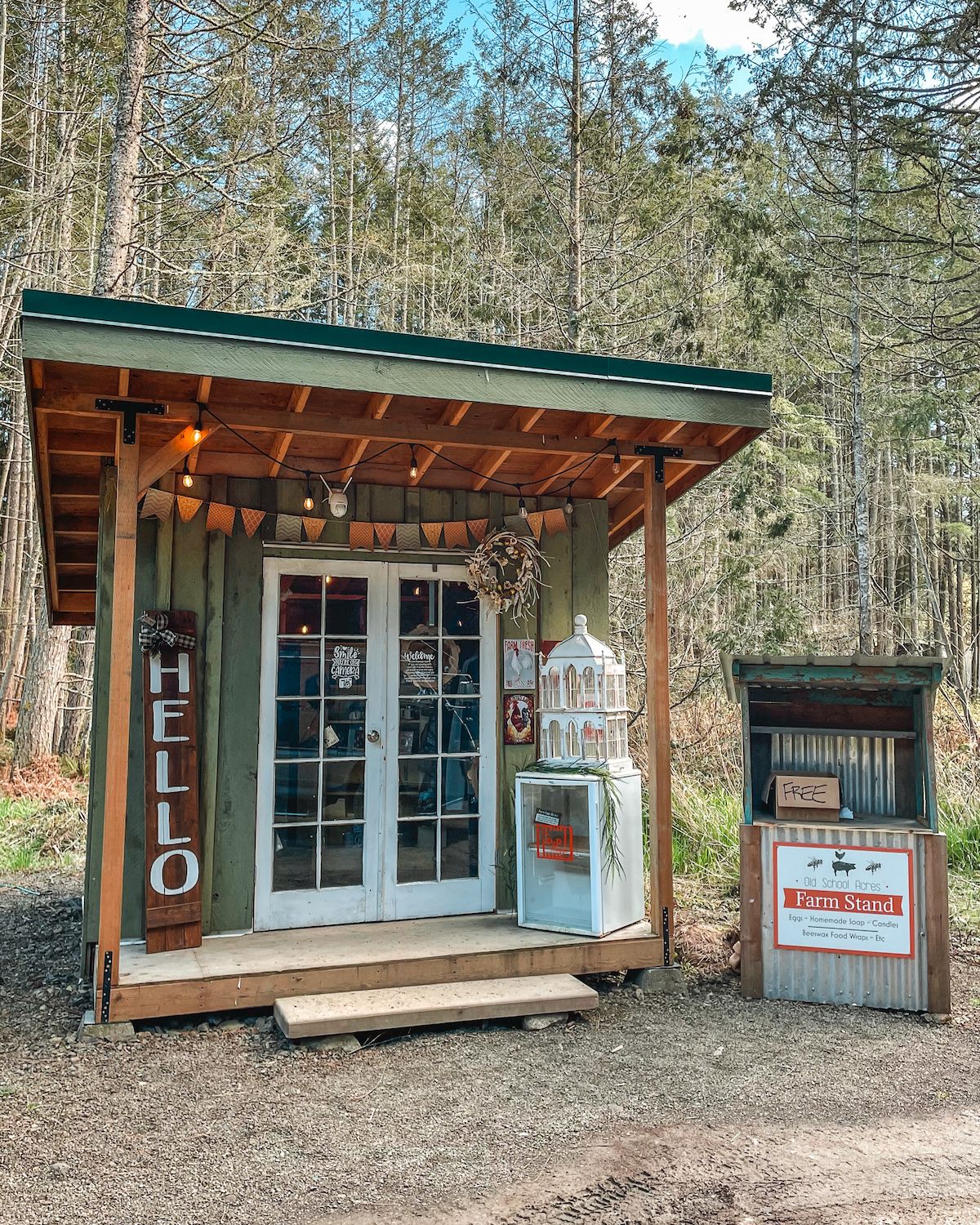 Farm stands are a unique part of Pender Island's culture. Peppered throughout the island, they work on an honour system. That means that once you choose what you like, you are trusted to place your cash in the money box or send an e-transfer. It's a great way to support local farmers.
To find farm stands, just drive around the island and explore! Look out for signs or small shacks on the side of the road.
Here are some farm stands to get you started:
Old School Acres Farm Stand - amusing farm shop with mugs, sweaters and signs like "MILF - mushrooms I'd like to forage".  
Gulf Islands Gourmet Preserves - handcrafted jellies and spreads using local, organic ingredients.
Amy's Bread Shed - fresh baked loaves, baguettes, pastries and croissants. Perfectly chewy!
The Crystal Cabin - Metis owned farm shop with crystals, hand-rolled incense and herbal remedies. Open on Thursdays and Saturdays.
13. Shop for local goodies at the Saturday Market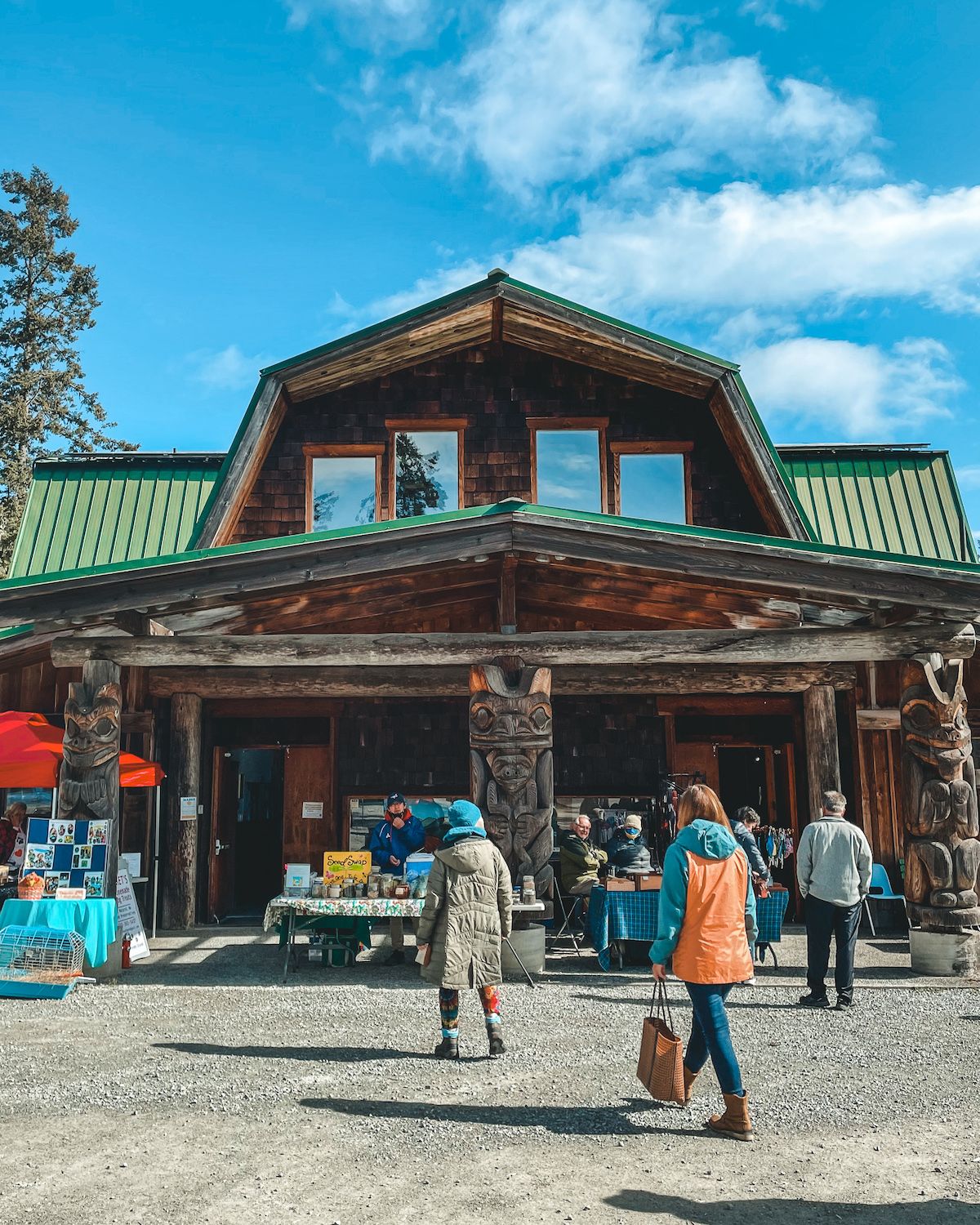 Each Saturday, artisans and farmers gather outside and inside the Pender Islands Community Hall to sell locally made products, like baked goods, fresh produce, jewelry, artisanal wood products and accessories. Ari bought a pen made from broom, an invasive plant on on the island. Get there early so you don't miss out!
14. Have a pretty picnic with your farm stand and market finds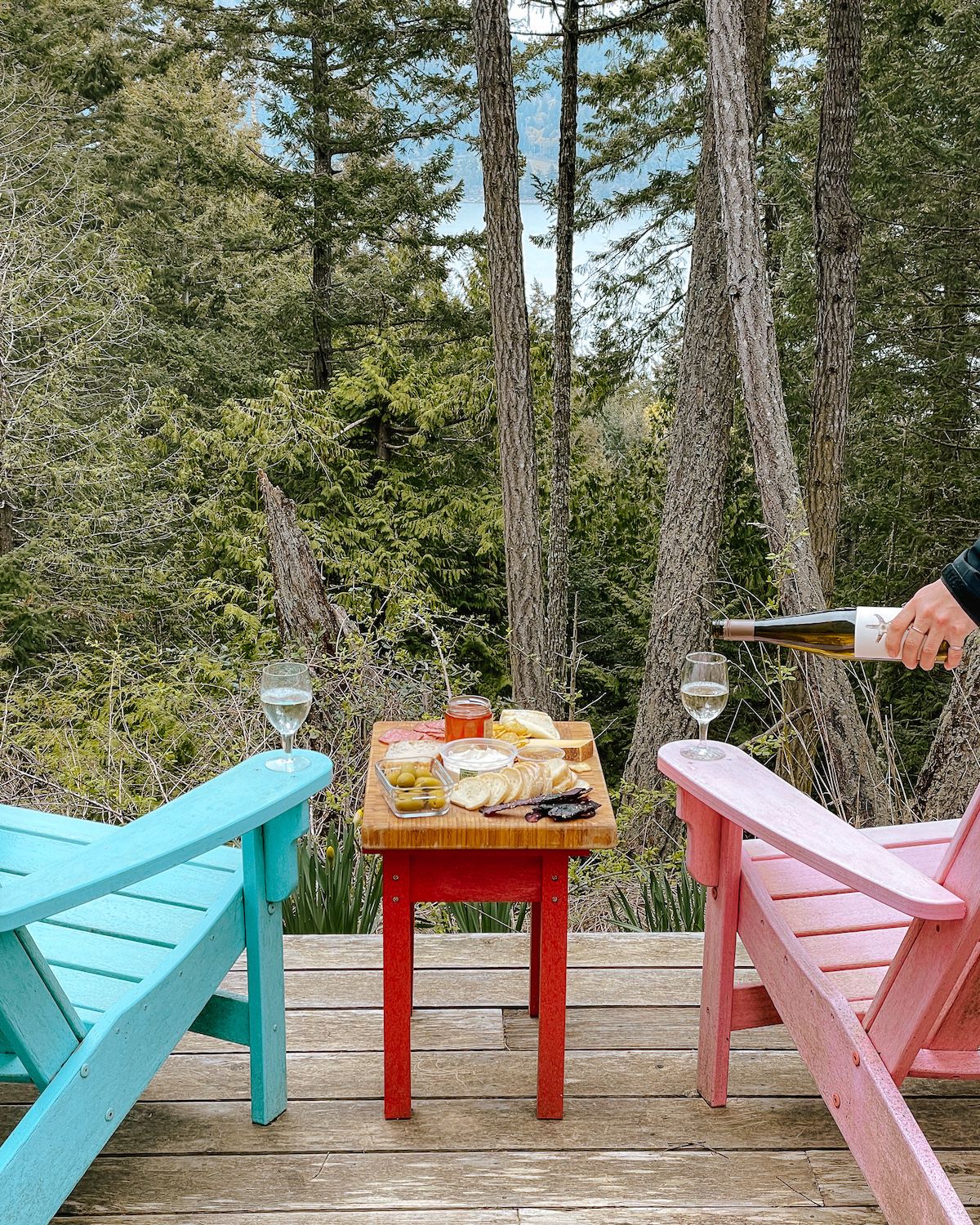 Gather your farm stand and market finds and set up a pretty picnic in nature. Don't miss these awesome spots to add to your charcuterie board:
Southridge Farms Country Store - pop into the family-owned local grocer and pick out a soft cheese, hard cheese and salami from the deli counter. In the fridge near the cashier, pick up some olives and their French Onion chip dip that should be famous. Don't forget a bag of Hardbite chips!
Amy's Bread Shed - pick up a fresh baguette
Gulf Islands Gourmet Preserves - get your hands on their red-pepper jelly. It goes perfectly with a soft cheese and baguette.
The best picnic spot is at the Mount Menzies viewpoint (don't forget to bring a blanket and a bag to pack out your garbage after). Or, enjoy your picnic outdoors at the place you're staying at with a glass of local wine or cider. We were going to initially have our picnic at Gowlland Point, but it was terribly windy.
15. Have a cider tasting at Twin Island Cider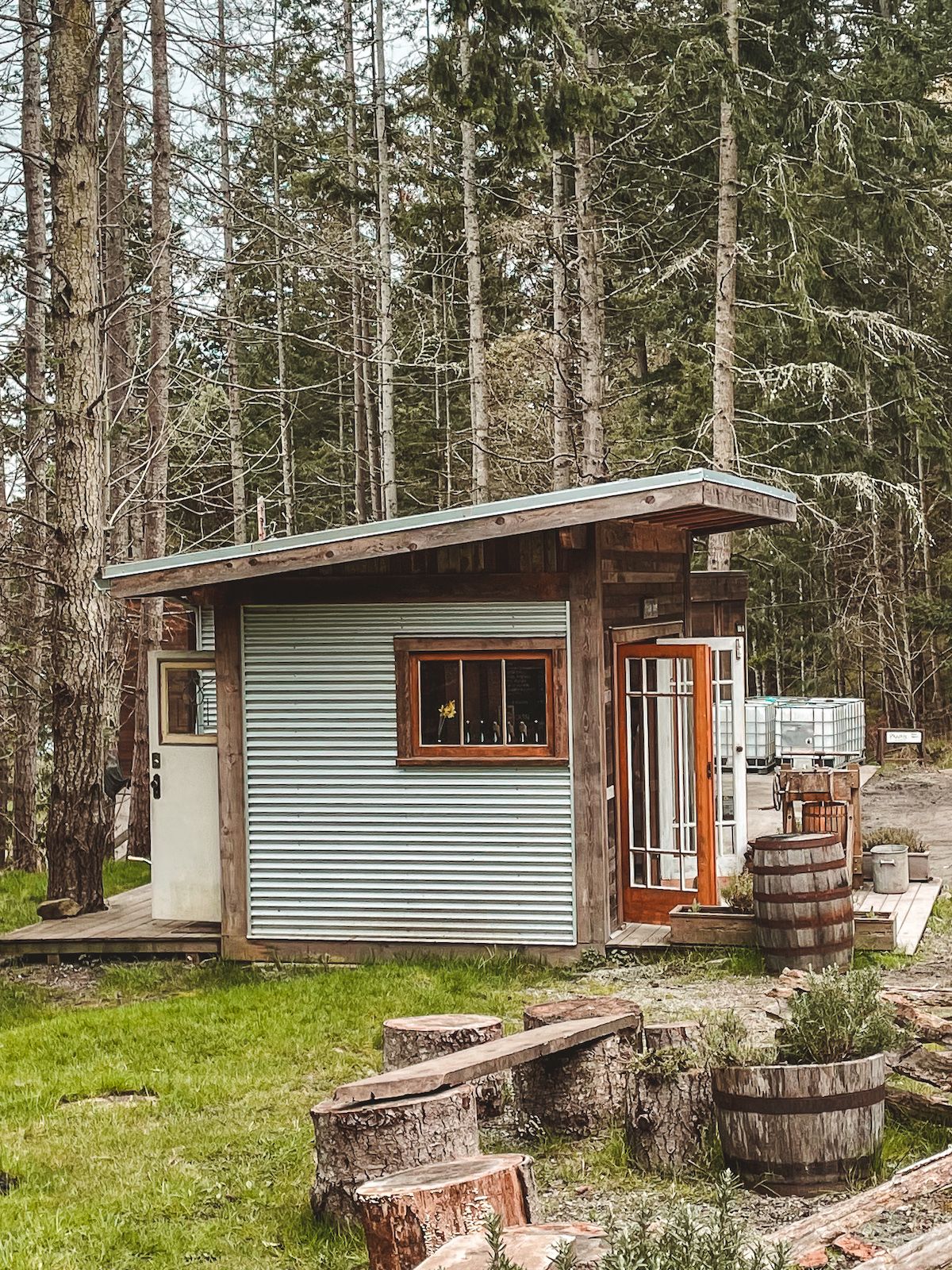 Twin Island Cider is located along the same meandering road that takes you to the winery. Stop into the cute cider shack for a tasting of their pet-nat ciders (fermented in bottle). Their low-intervention cider is made only with native yeasts. We noticed the lovely artwork on the bottles are were told they were designed by the cider maker's partner.
Tasting hours: Thurs-Sun from 12pm - 4pm
16. Get a relaxing massage in a vintage Airstream renovated like a spa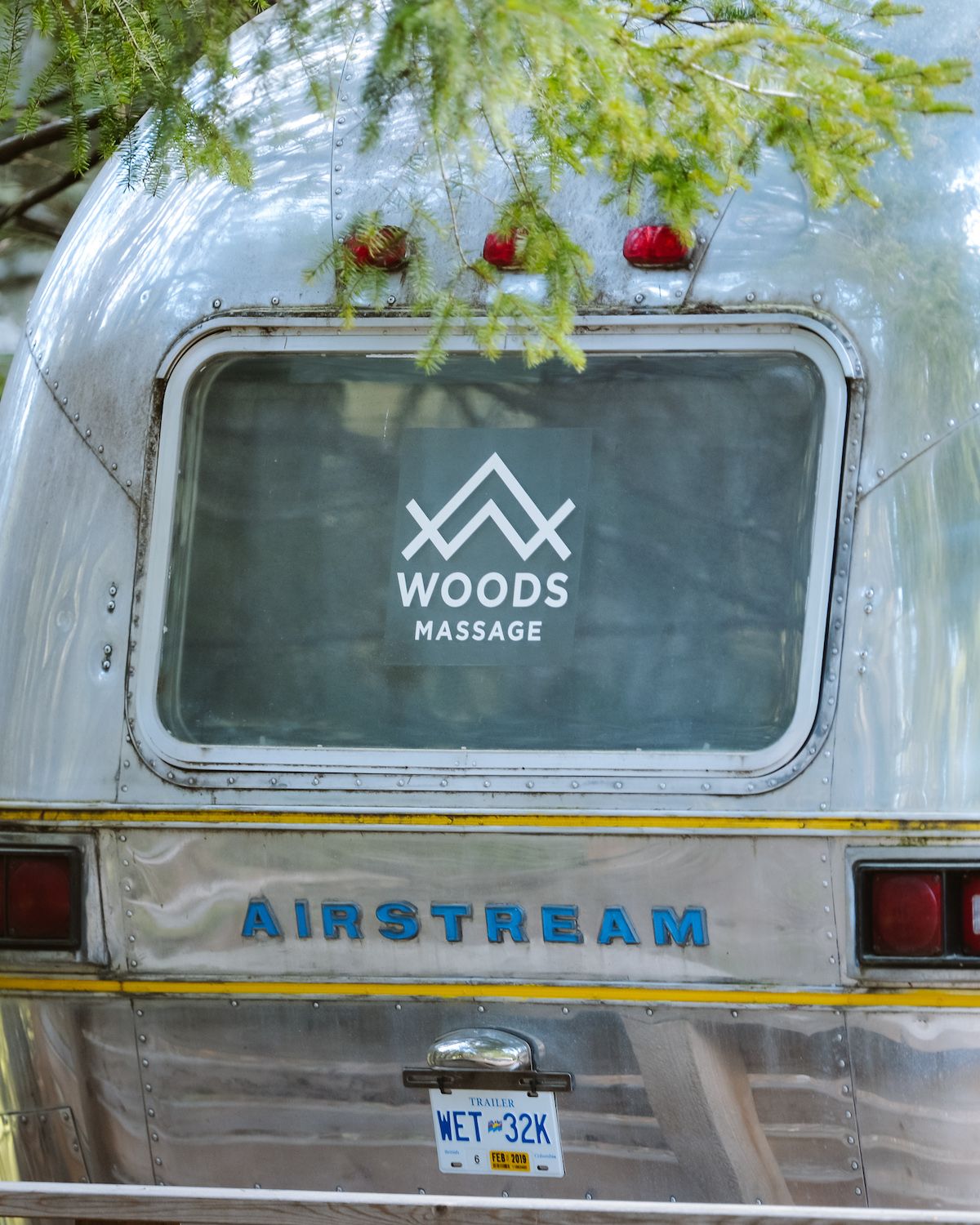 You don't have to stay at
WOODS on Pender
to book a massage in their Airstream transformed into a serene treatment room. You can easily
book your massage
online through their website.
Hours: Thurs - Sun from 8:30am - 2:00pm
17. Eat hand-crafted chocolates from Pender Chocolates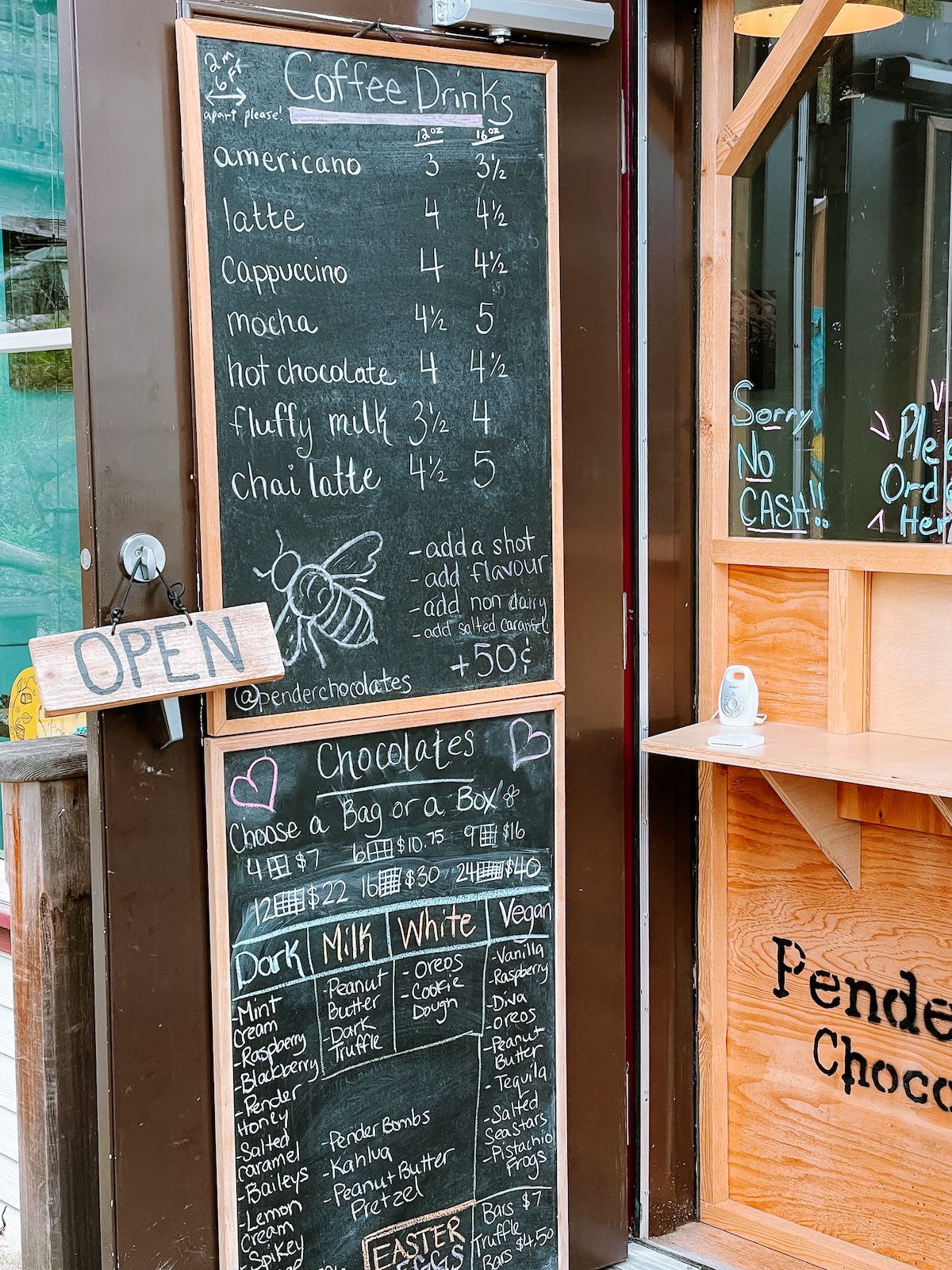 Satisfy your sweet tooth with some tasty handcrafted chocolates from Pender Chocolates. There are a variety of flavours to choose from. My favourite was the white chocolate covered Oreo and white chocolate covered cookie dough. The chocolates were delightful, but we recommend skipping the coffee.
Afterwards, walk along the charming Hope Bay waterfront and visit The Gallery at Ptarmigan Arts.
18. Enjoy dinner and live music at the HUB at Hope Bay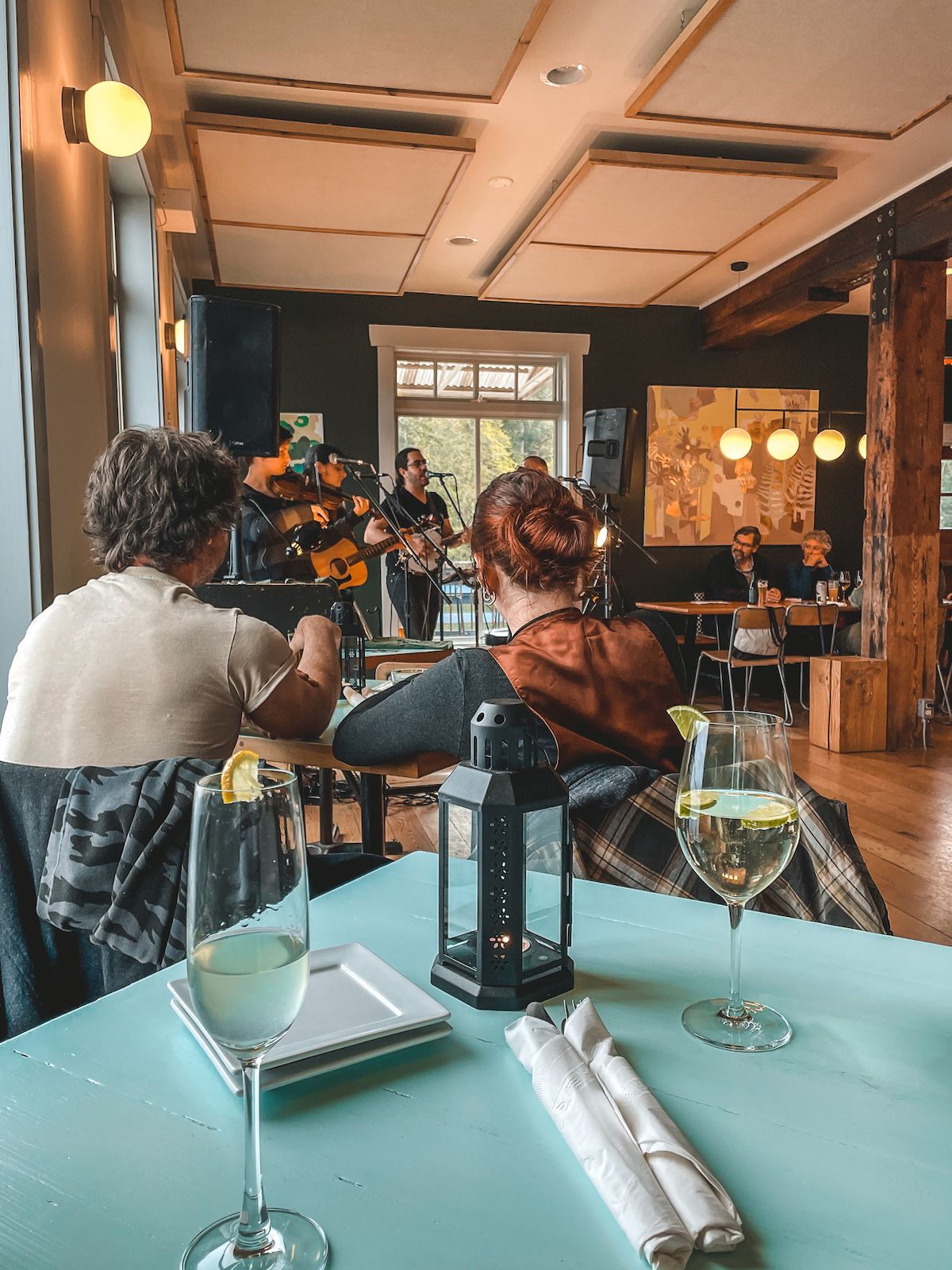 Reserve a table with a waterfront view at The HUB at Hope Bay for delicious vegetarian cuisine and a live show. We were luckily there in time to see Clanna Morna, a west coast traditional Celtic quartet.
We ordered the mushroom gnocchi, chef's salad, a couple of French 75 cocktails, and eagerly waited for the music to start. The musicians started with a fast-paced song with banjo, guitar, fiddle and Irish flute. Throughout the set, they changed out their instruments for a mandolin and accordion. We heard Irish songs, Scottish songs and a Bulgarian song with an insane time signature we couldn't figure out. It was upbeat and a lot of fun. You could feel the energy in the room and your back thoughts slip away, almost like a form of meditation.
Check out the HUB's website to see when their next event is - they happen sporadically. Cover costs $15 per person, which is added to your bill at the end and given directly to the musicians.
19. Walk the Roe Islet trail for gorgeous views and wildlife watching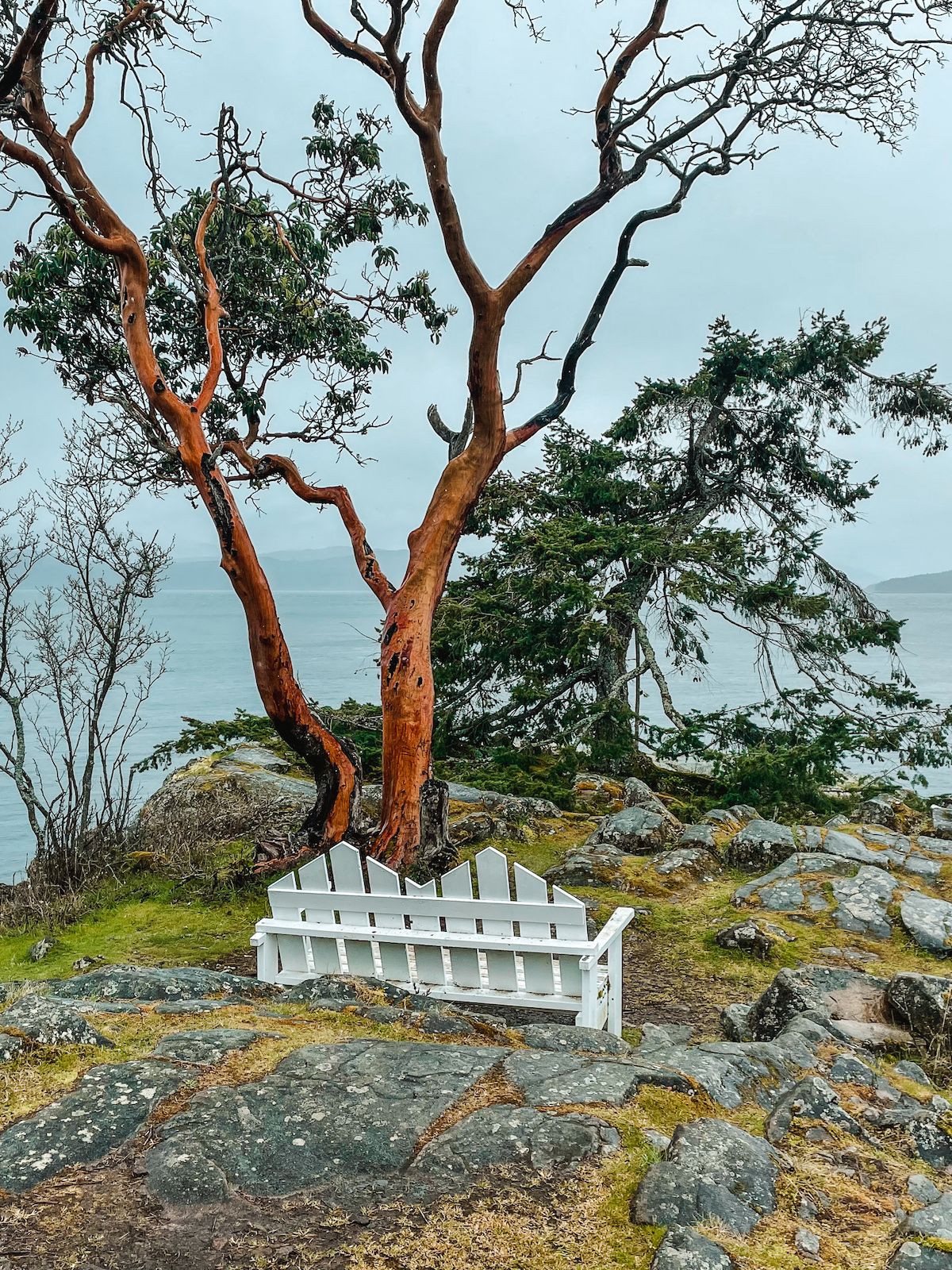 There is a pretty walk you can do in the Roesland Gulf Island National Park Reserve that takes you to a tiny island accessible during low tide. The walk only takes about 10 minutes and offers stunning views over the bay.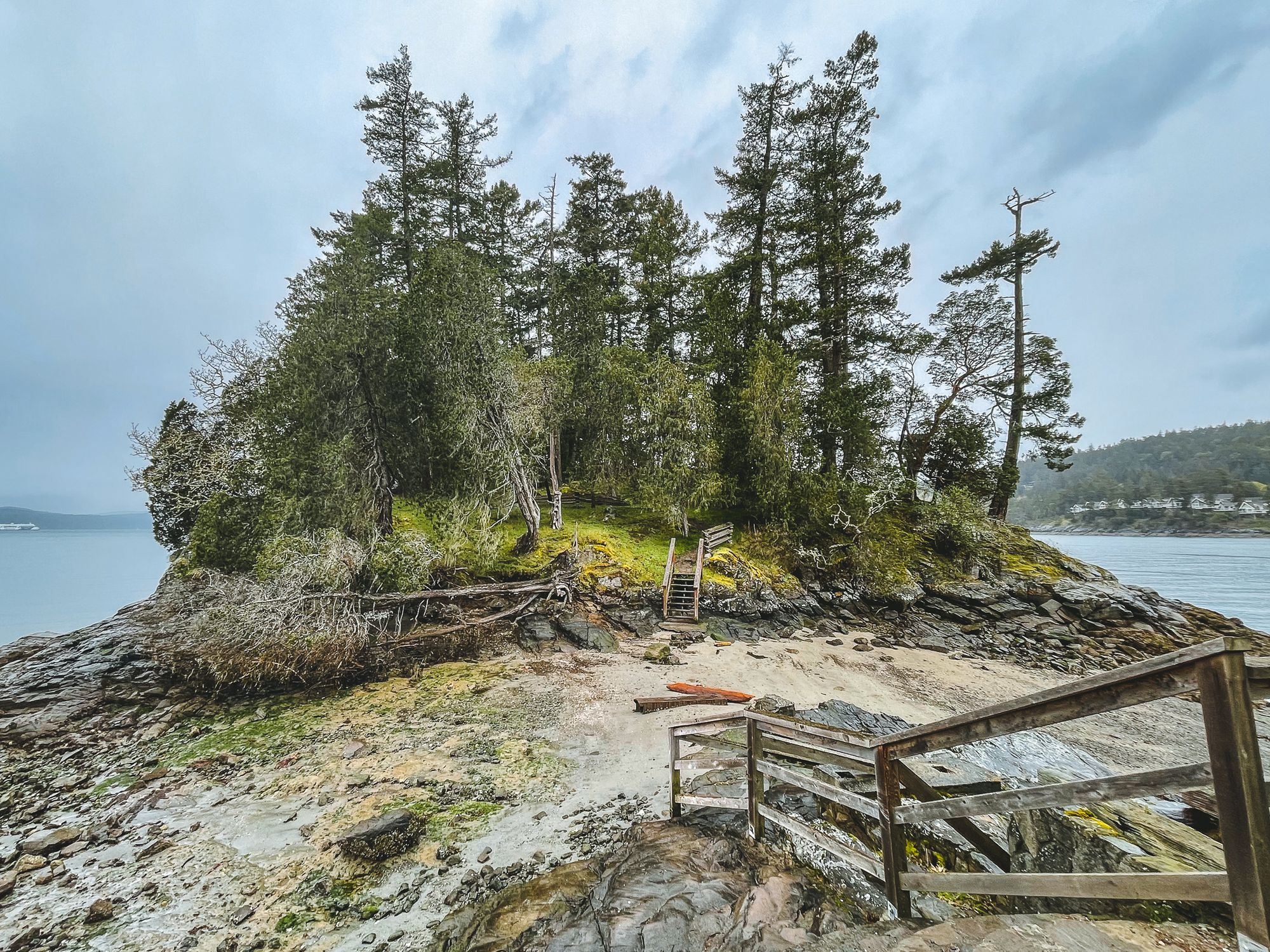 As you walk through the islet, you will see otherworldly looking arbutus trees, wildflowers and bright green moss. At the very end of the walk is a two-seat cottage chair you can sit on to take in the surroundings. Take a moment to watch the bay for any wildlife. We saw five seals hanging out in the water!
The walking route:
Park your car at the Pender Islands Museum and walk down towards the ocean until you see a wooden staircase. Take the stairs down to the beach to cross over to the islet and take the trail all the way to the end of the tiny island.
20. Eat Sunday brunch at Jo's  Place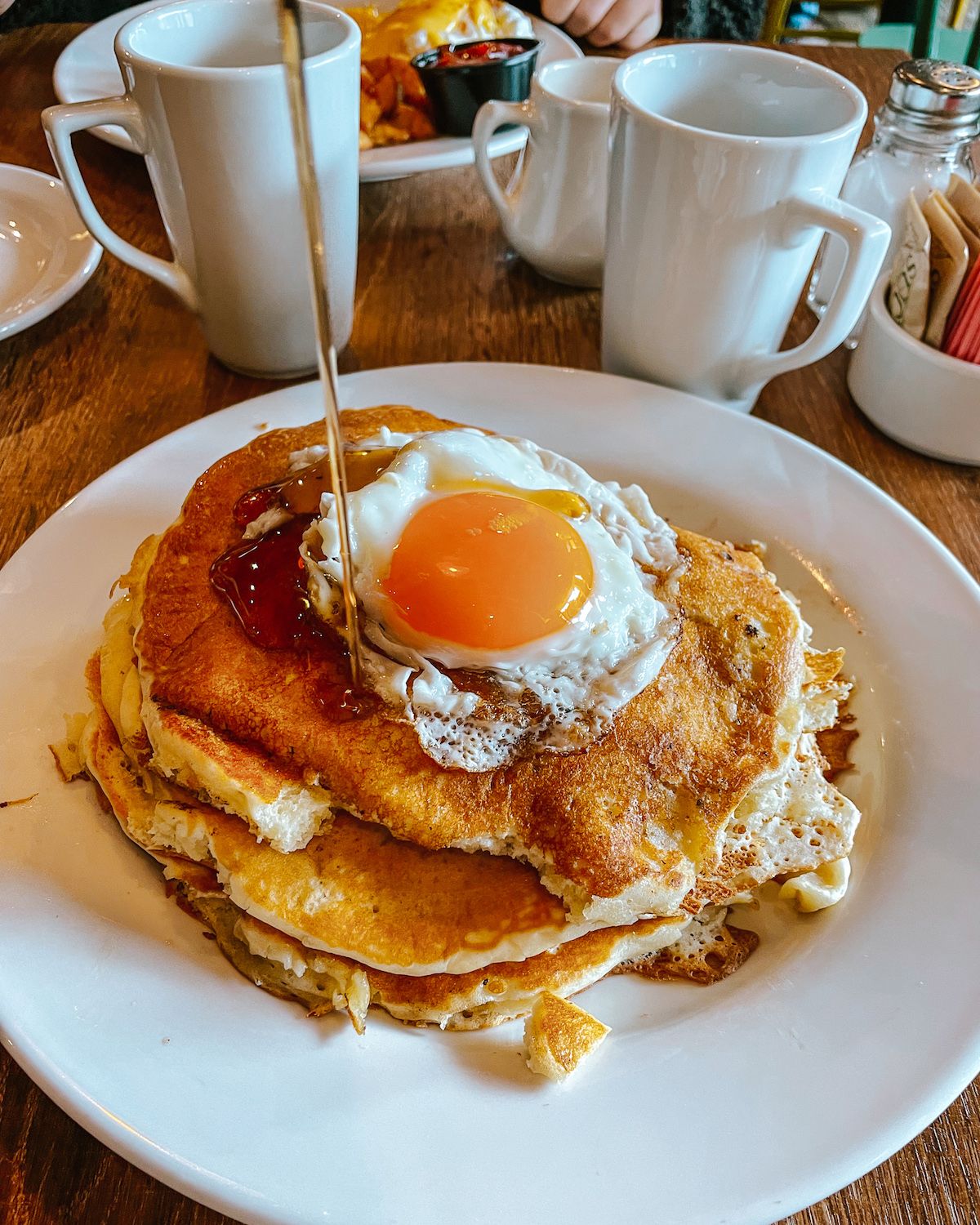 Jo's Place is a local favourite with its great value and ample portions. Inside the cozy restaurant, sports memorabilia sits among Pulp Fiction, Star Wars and Godzilla canvases on the wall.
Sunday for brunch is the time to go. This is when Jo's serves their unique selection of bennies. There are 7 different variations, like The Jo, with Chorizo sausage, banana peppers and sriracha hollandaise, and The Tom Green, with slices of duck breast, fresh arugula and pesto hollandaise. The hardest part is choosing which one to get!  
21. Play disc golf at Pender Island's premier disc park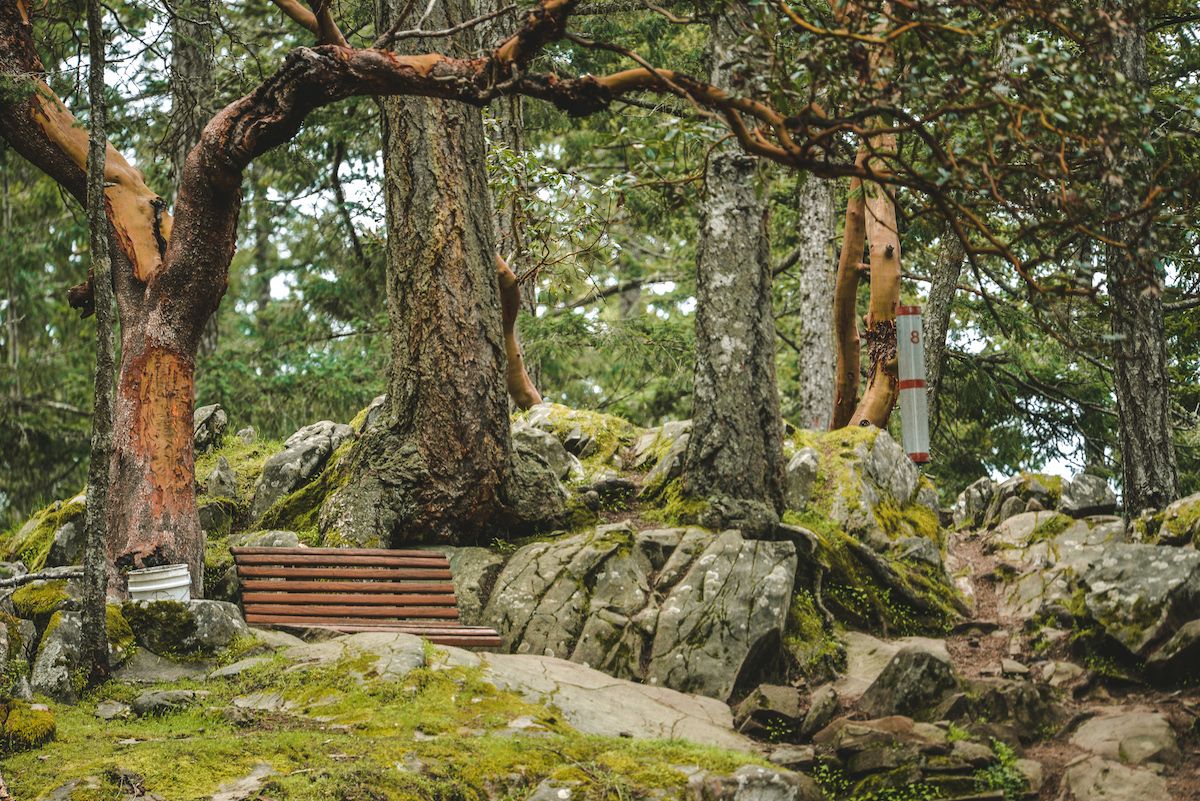 Have you ever heard of disc golf? Pender Island is home to one of Canada's premier disc golf courses. They even host a yearly tournament here. If you're unfamiliar with the sport, it's like playing golf, but you throw a frisbee (disk) instead of hitting a golfball. You typically carry three types of disks - a distance driver, mid-range and putter. It's tons of fun and anyone can play.
There are three courses with 9 holes (targets) each. It's free to play and we noticed a couple mid-range and distance drivers at the front you can borrow. Check with your hotel or B&B, because they may have some disks you can borrow as well.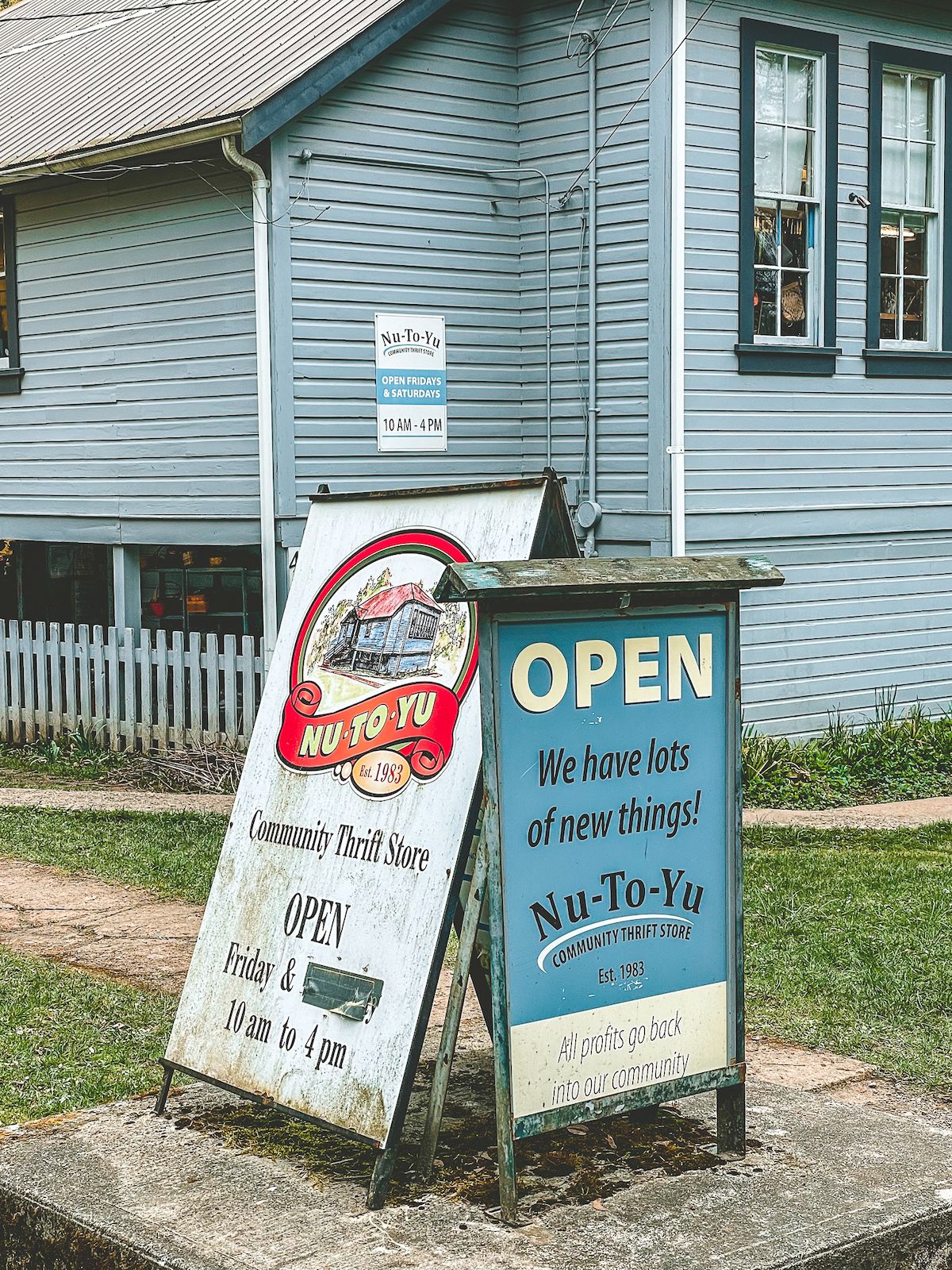 Every Friday from 10am - 4pm the Nu-To-Yu community thrift store opens its doors. If you're a bargain hunter or love to seek out gems, it's worth giving the store a browse. I found a cool jacket made in Nepal for only $3! We also found some funky coloured placemats, the complete DVD set of BBC Planet Earth and some unique Chinese artwork.
23. Go camping at Shingle Bay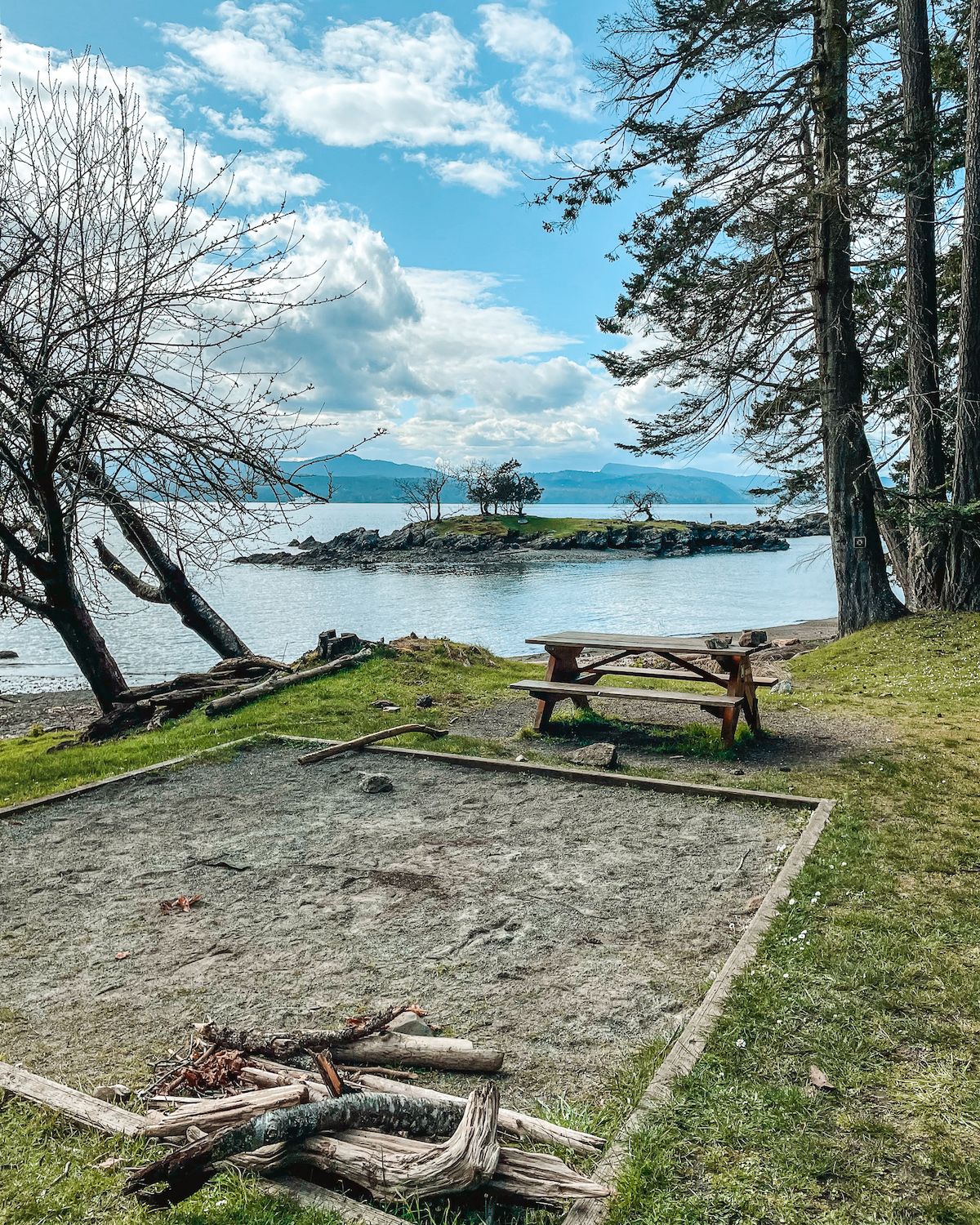 If you really want to get into the outdoors, camping on Pender Island is a great option. There is a beautiful walk-in campground at Shingle Bay that is open year round. From the parking lot, you descend 0.25 km down a steep hill to reach the campground on the ocean. There are only 10 camping spots, but you can make reservations online during high season from May 15-September 30. The price is $10 per person per night.
The waterfront campsites have enchanting views of a small islet and surrounding islands. There are food caches, picnic tables and an outhouse at the campground, but no potable water so bring your own.  
We hope you enjoyed these 23 fun things to do on Pender Island!
Don't miss our other post of 5 restaurants on Pender Island you must try.
---
Trip extension options:
Explore more of the Gulf Islands by island hopping to the bohemian island of Salt Spring, the artistic island of Galiano or colourful island of Hornby.
Or, take a road trip around Vancouver Island and make a stop in charming Gabriola Island.
Start planning your trip to the Southern Gulf Islands
---
Save and pin these fun things to do in Pender Island for later: