Gabriola is a charming island shaped by over 200 artists and artisans that call it home. The "Isle of the Arts" is a unique destination for those who appreciate art and craft and is just a short ferry ride away from Nanaimo.
Although its close location to Nanaimo makes it feel more commercial compared to other Gulf Islands, its art scene, impressive sights and fun activities make it worth visiting if you're traveling around Vancouver Island. With Gabriola's expanded ferry service, getting to the island is easier than ever and can be done as a day trip.
We list 13 fun things to do on Gabriola Island that make the island special.
Overview: What to do on Gabriola Island
Disclosure: Some of the links below are affiliate links, meaning at no additional cost to you, we will earn a commission if you click through and make a purchase. We only recommend products or services we have used or that we believe will add value to our readers. Thank you for supporting us!
Best time to visit Gabriola Island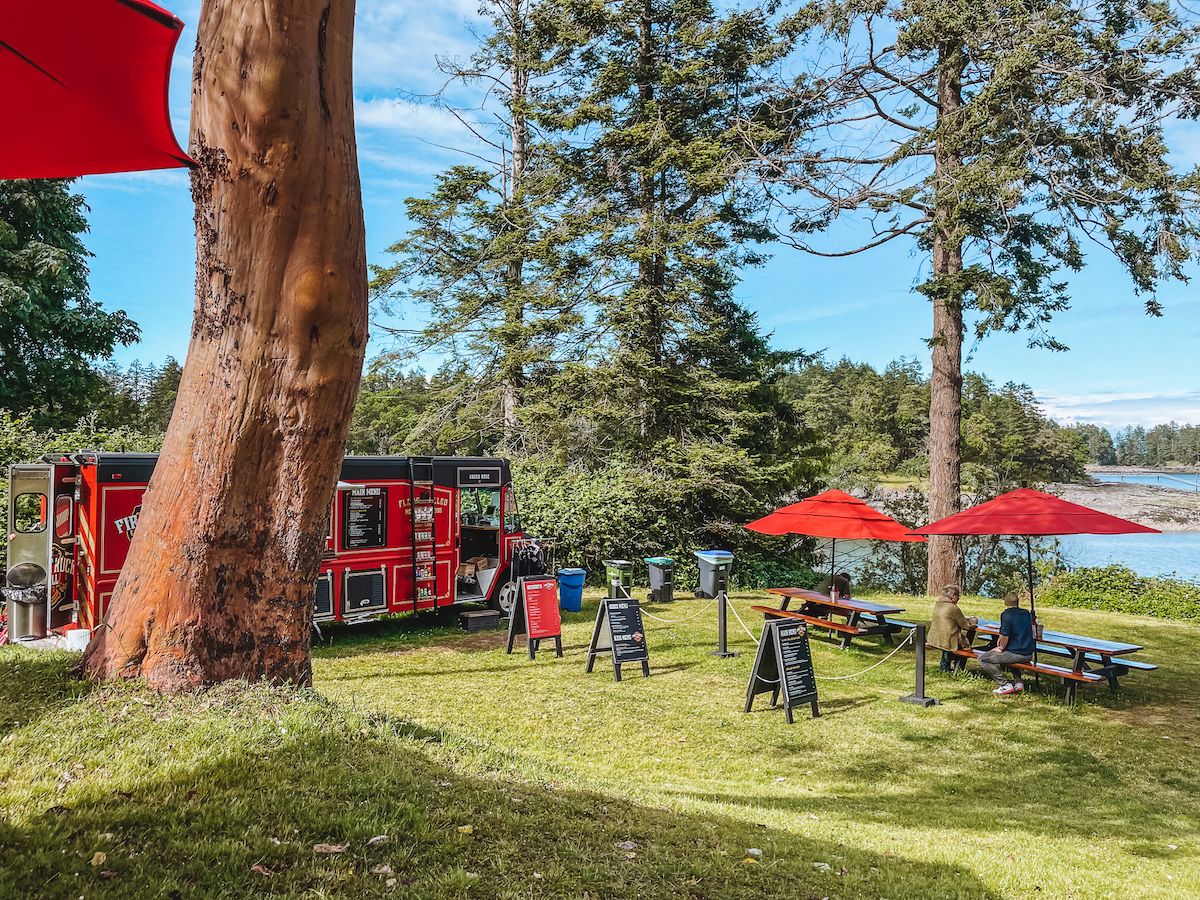 The best time to visit Gabriola Island is from May long weekend -September. This is the liveliest and warmest time of the year. If you are excited to visit markets, listen to live music, and attend events and art exhibitions, we highly recommend visiting on a weekend.
Avoid visiting on Mondays/Tuesdays, since many boutiques and activities like the cidery and alpaca farm are closed.
Getting to Gabriola Island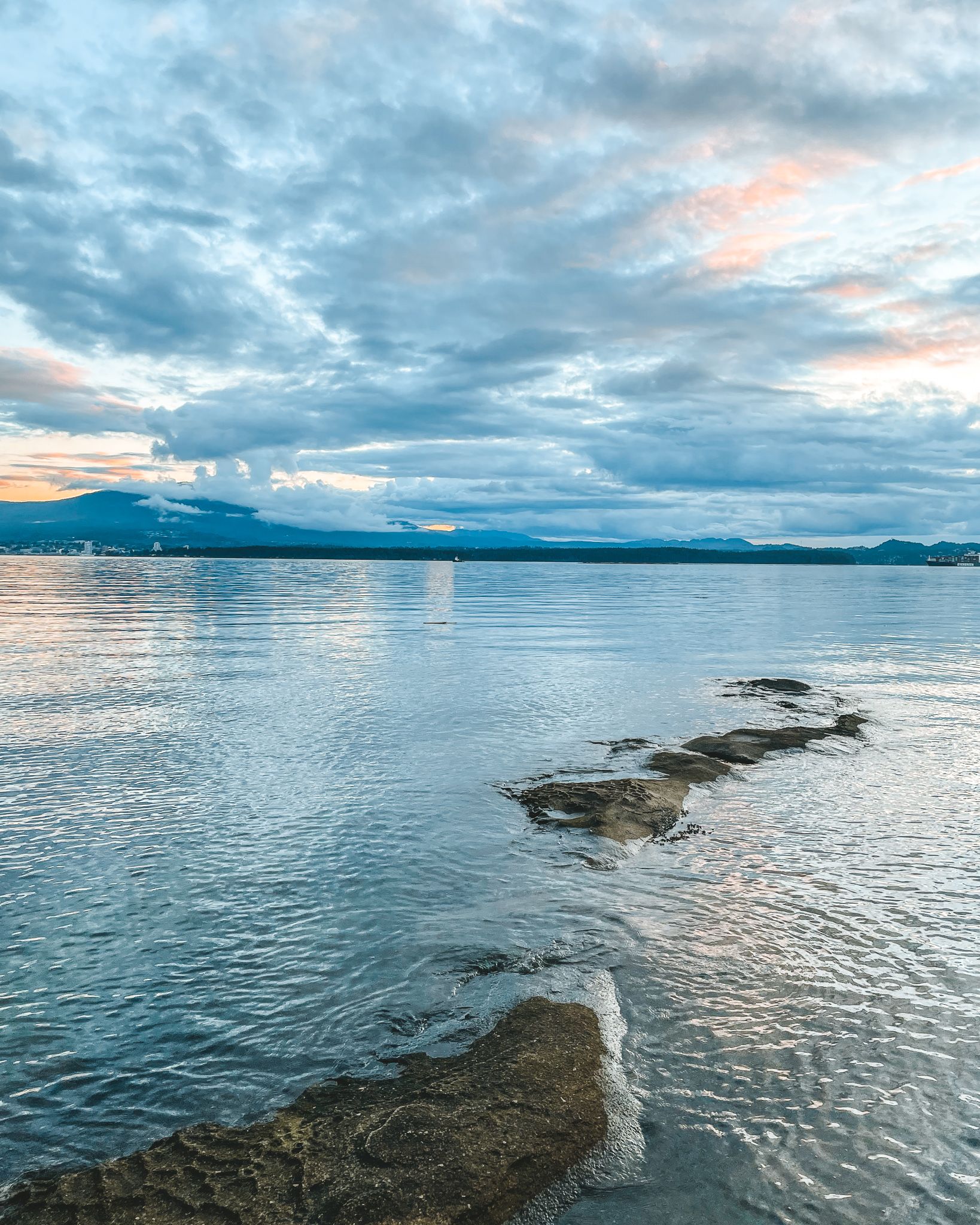 With Gabriola's expanded ferry service, getting to the island is easier than ever.  
How to get to Gabriola Island from Nanaimo
There are over 20 sailing times a day from Nanaimo Harbour to Descanso Bay on Gabriola Island. See the schedule here. The route is first-come first-served and takes 20 minutes to get across. The last ferry leaves Gabriola Island at 10:30pm.
How to get to Gabriola Island from Vancouver
You can either get to Gabriola Island from Vancouver by ferry or float plane.
By Ferry:
Take the 1 hour 40 minute ferry from Horseshoe Bay to Departure Bay in Nanaimo. Ferry reservations are highly recommended for this route, especially during summer months.
Once you arrive at Departure Bay in Nanaimo, it's a 10 minute drive to Nanaimo Harbour to catch your 20-minute ferry to Gabriola Island.
🚗 Don't have a car? Easily compare car rental rates with Rentalcars.com
By Floatplane:
Gulf Island Seaplanes offers short scenic flights to Silva Bay on Gabriola Island. The caveat to this however, is that you will need access to a car to explore the island once you arrive. Taking the float plane is great if you're meeting with friends who have a car.
13 Best Things to do in Gabriola Island
1. Start your morning with coffee from Mad Rona's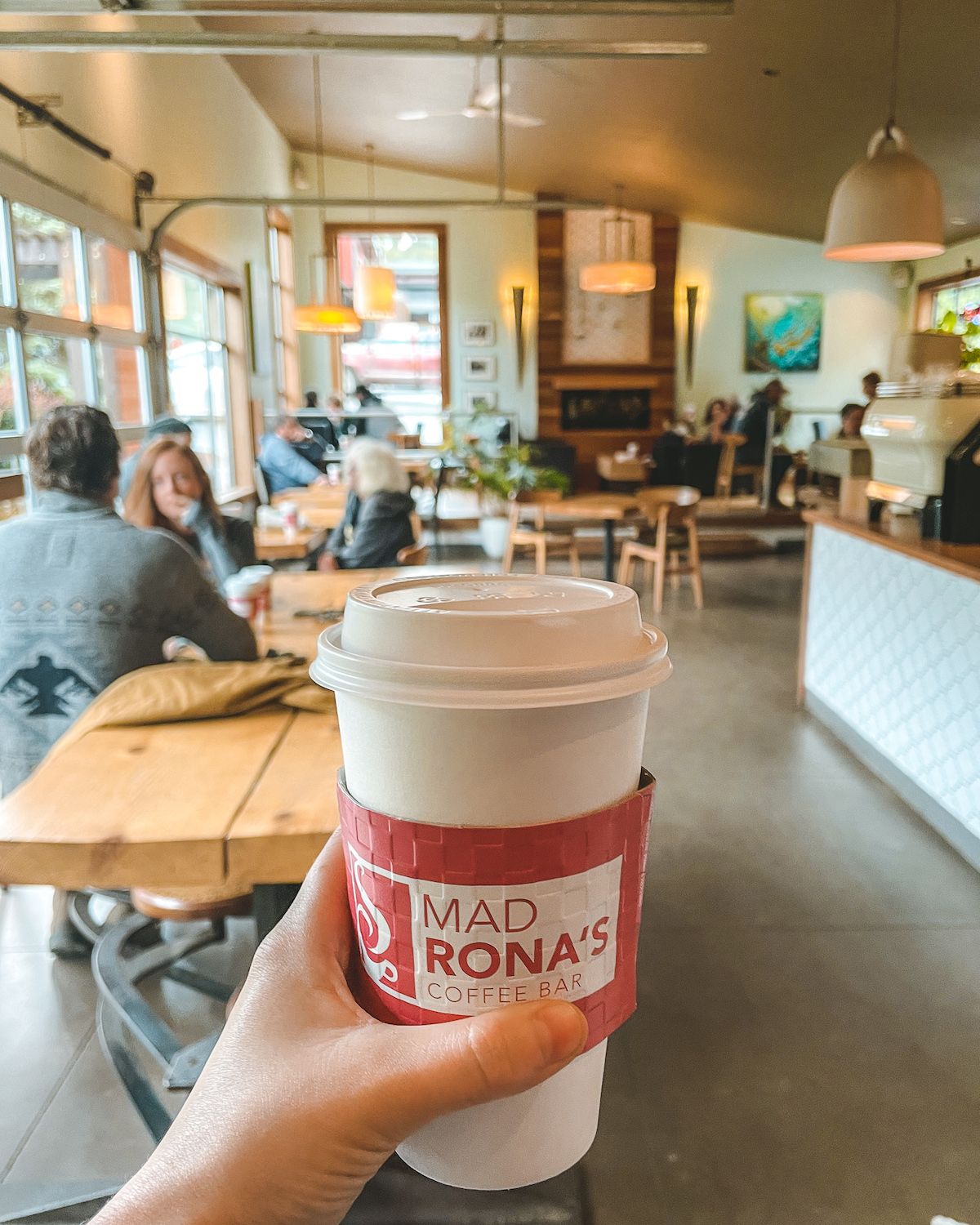 Mad Rona's is surprisingly the only coffee shop on Gabriola Island. The quirky cafe sources its beans from Drumroaster Coffee, a small-batch roaster on Vancouver Island. Grab an espresso or latte to go, and begin your day exploring the island. They also serve breakfast sandwiches and burritos if you've got the morning munchies.
2. Taste ciders and charcuterie bites at Ravenskill Orchards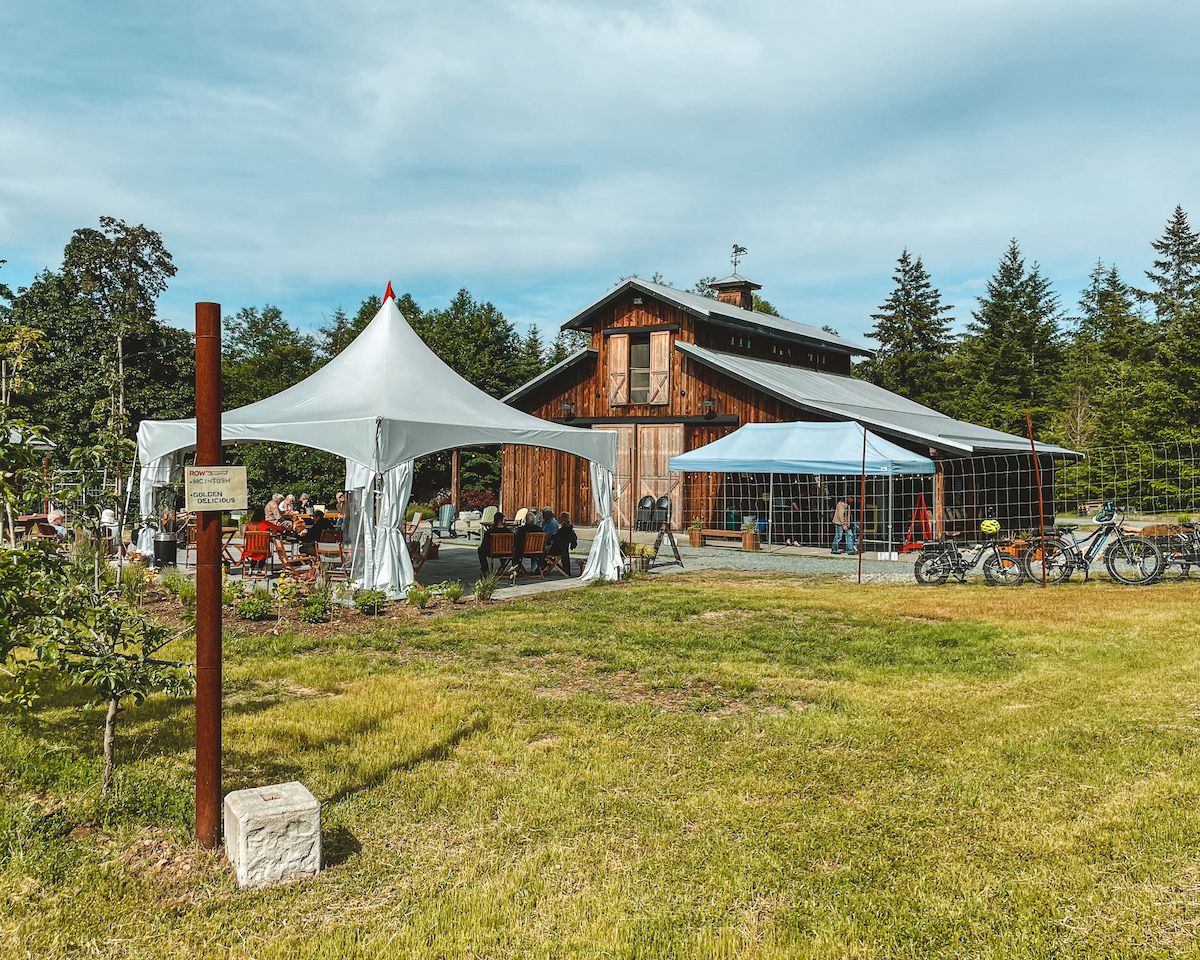 Tasting ciders at Ravenskill Orchards was one of our favourite things we did on the island. The setting is delightful with the farm-style cider house overlooking the orchard. The outdoor patio is a great place to relax with a cold glass of Gabbie's cider and pairs perfectly with the charcuterie boxes they have for sale.
The Citrus Hopped Cider is some of the best we have ever tasted and fast became a favourite. So much so, that we bought a whole case of it to take home. It's crisp and dry but not beer-y like you would think. Our second favourite was the Groovin' Granny.
During summer, Ravenskill Orchard also hosts live folk music on select Fridays from 5pm-7pm. They can only hold 30 people on their patio at the moment, so get there early to grab a table.
3. Walk through Malaspina Galleries - Gabriola's famous geological wonder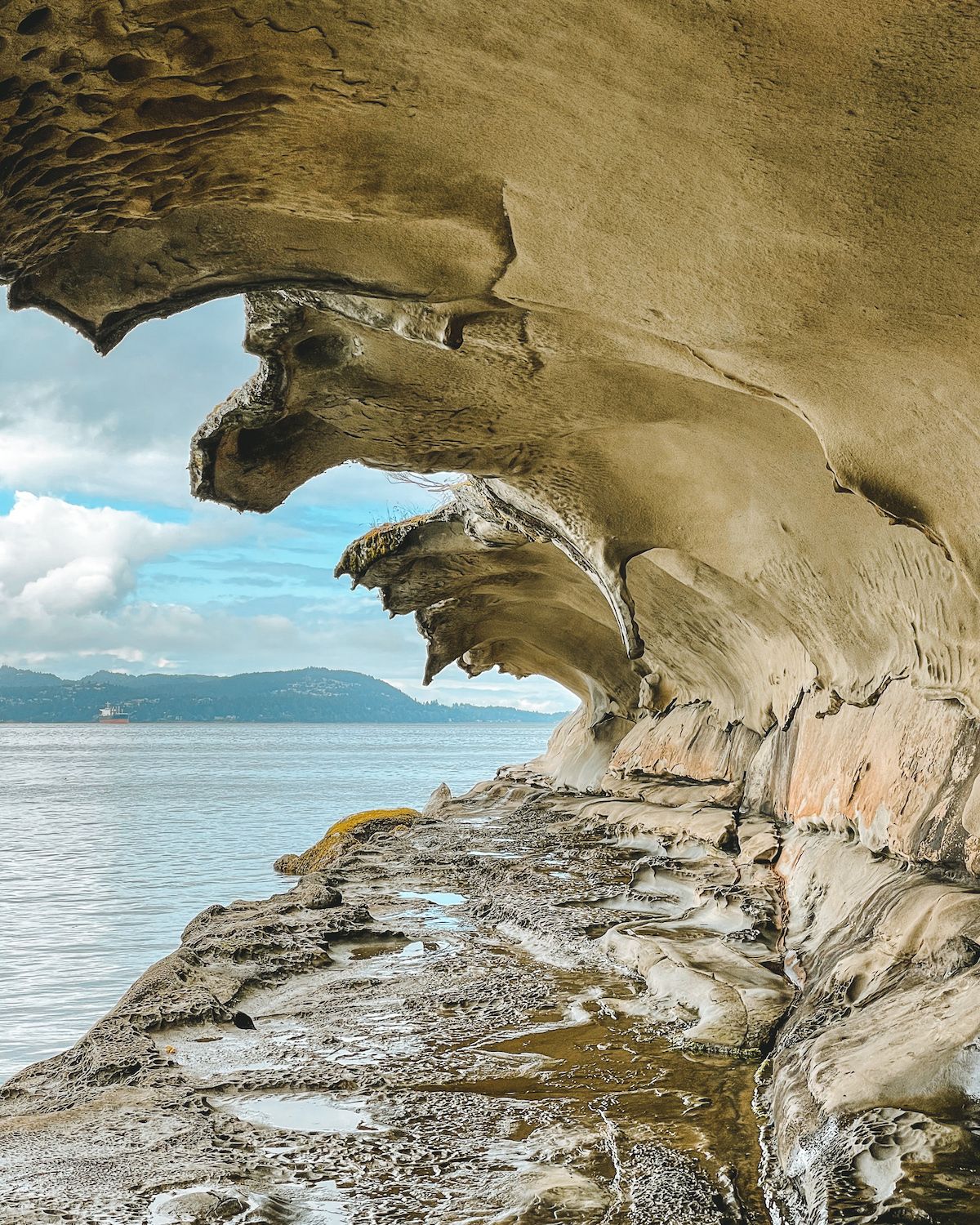 We had no idea this wondrous rock formation existed in British Columbia. The unique cavern was created by salty ocean water breaking down the sandstone over time. What makes it so rare is the size of its overhang. At 100 m long and 4 m high, it looks like a giant wave made out of rock.
Malaspina Galleries can be easily reached by foot. Park at the end of Malaspina Drive and take the trail to the coast. You will see the galleries around the point to the left.
4. Visit Paradise Island Alpaca Farm to feed alpacas, miniature horses and goats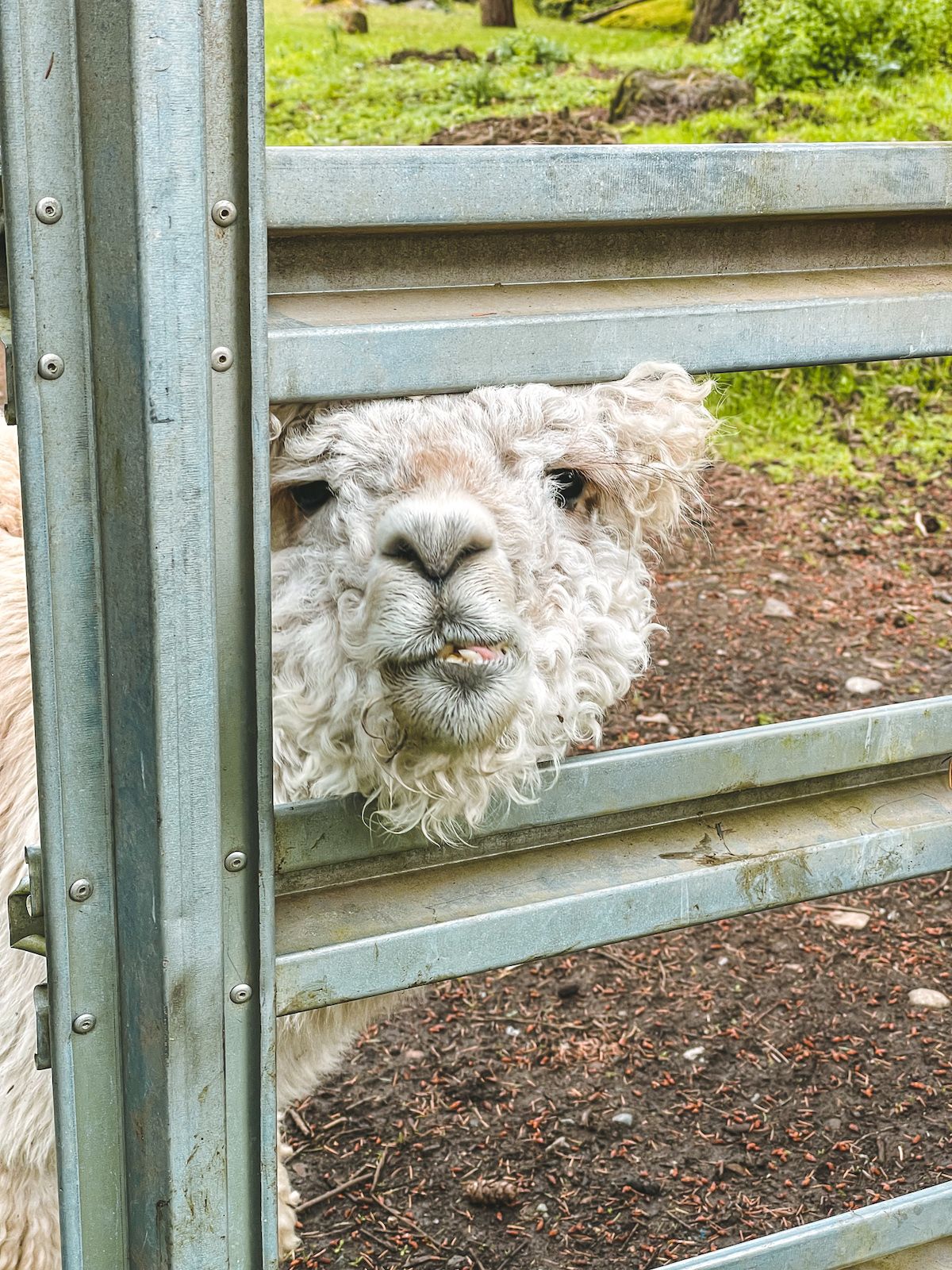 This is a fun spot you don't want to miss, especially if you have kids. We browsed the alpaca wool shop and were invited by the passionate owners to meet and feed their farm animals. We got a guided tour around to see the miniature horses, goats and learned a lot about alpaca farming.
This is a free activity and there was no pressure to buy anything in the shop after. There is a donation box outside if you wish to donate.
5. Browse the Saturday Market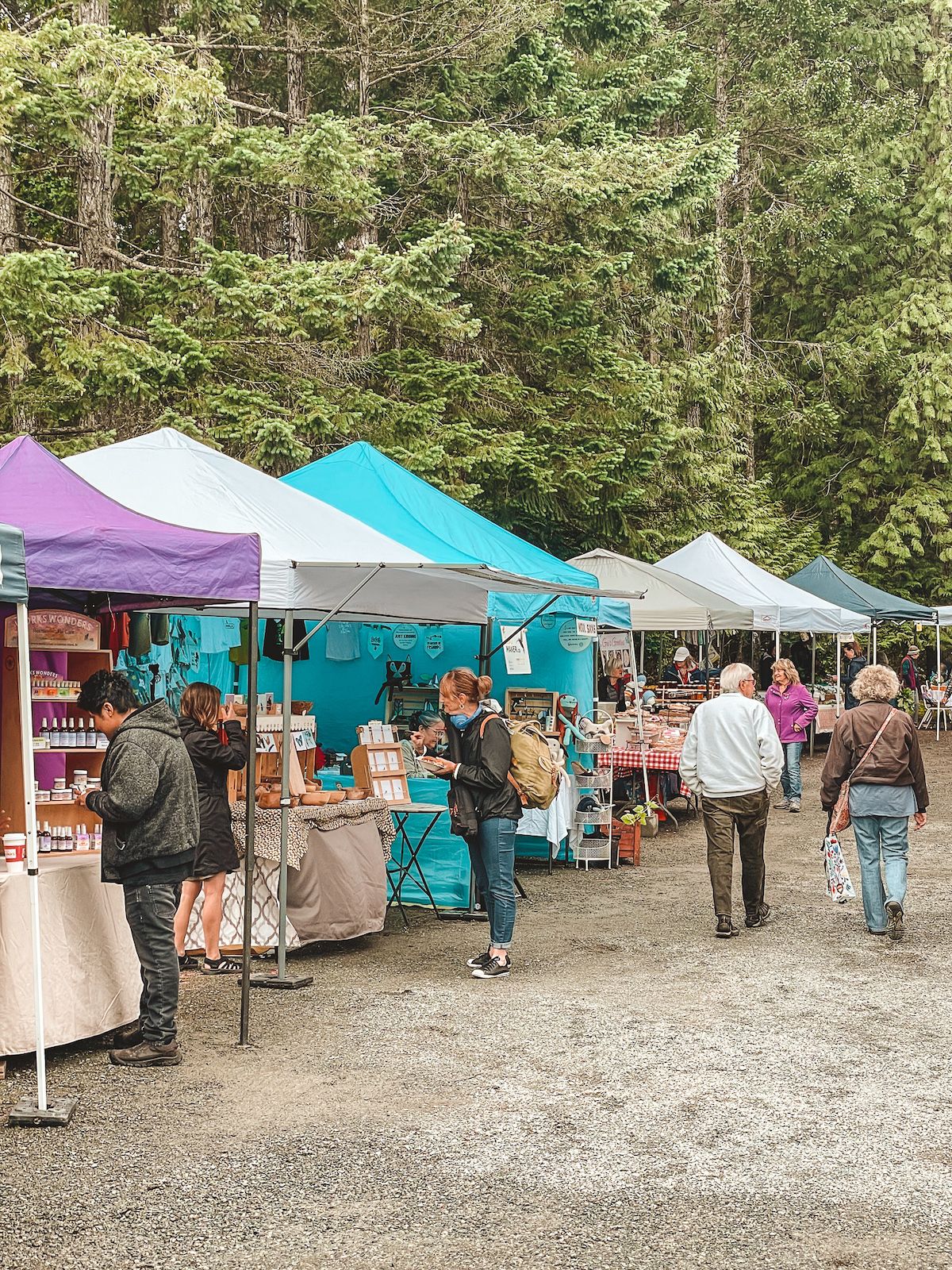 Every Saturday from May long weekend - Thanksgiving weekend, farmers and artisans gather to sell handcrafted products at 464 South Rd. Shop the stalls and see what treasures you can find! From May Long Weekend - September, the market is also open on Wednesdays.
6. Shop the tie-dye studio in the middle of the forest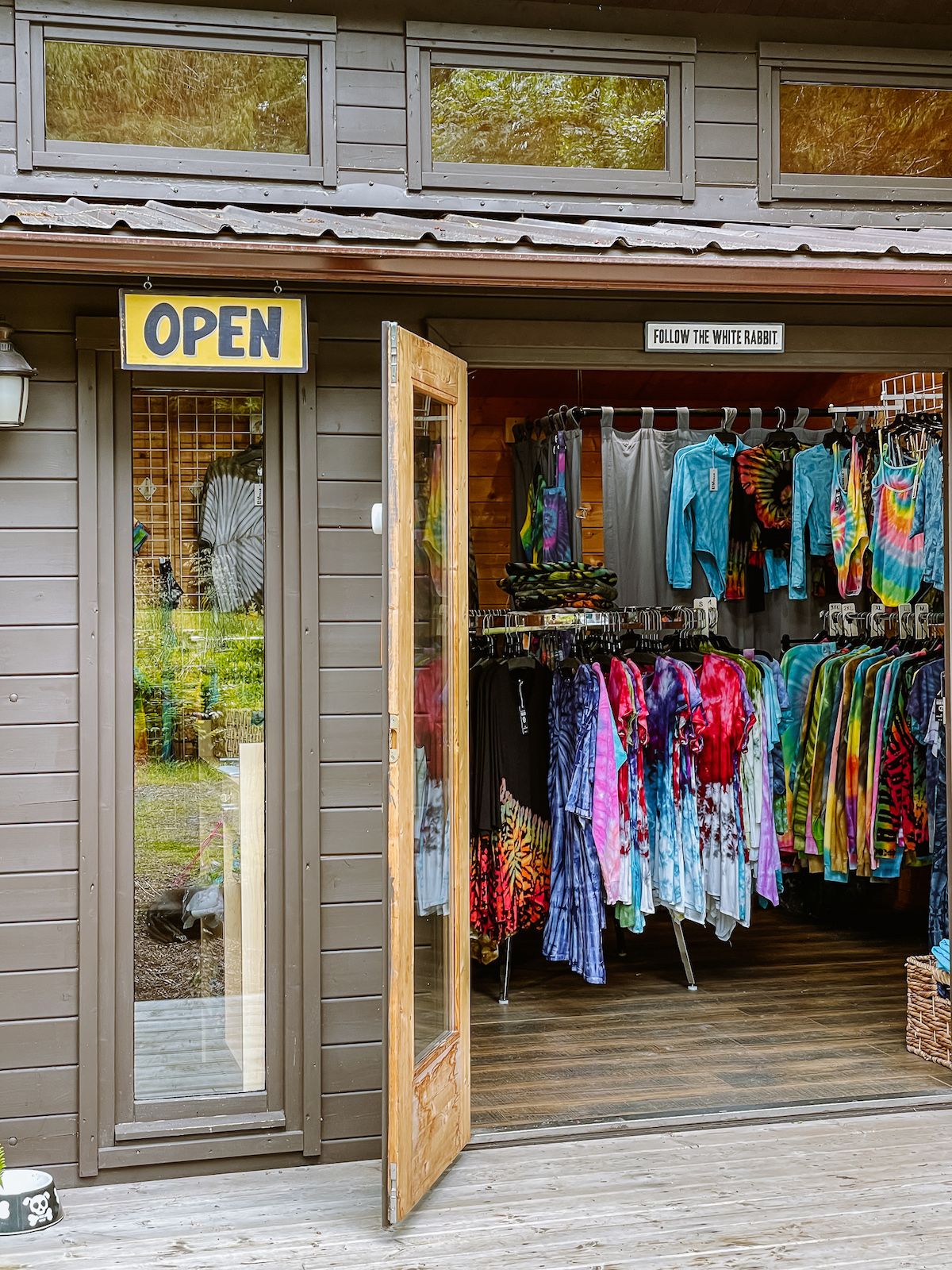 Tied-Up & Dyed is a magical little studio shop located in the forest. We were thrilled to find it, since we were looking for outfits for Shambhala Music Festival. The clothing is great quality and each piece is hand-dyed by the artist, who's spent decades honing his craft. He creates unique patterns and colour combinations you don't typically see.
The shop sells mens, womens and baby clothes. We bought a couple sweaters, t-shirts and the cutest pair of tie-dye baby socks as a gift.
7. Go camping on Gabriola Island at Descanso Bay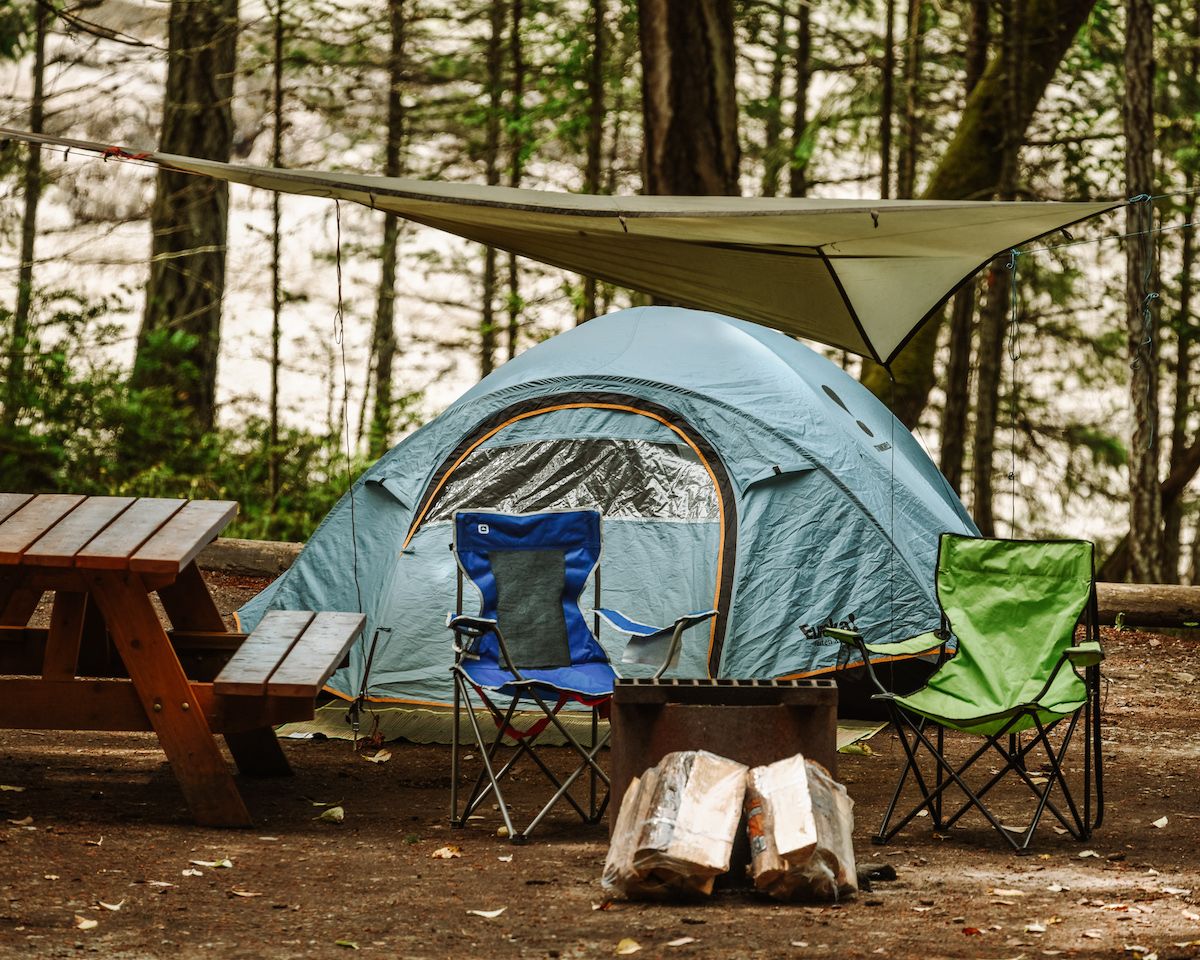 Rather than stay in a hotel, we decided to camp on Gabriola island at Descanso Bay Regional Park. Not only did we benefit from being out in nature, we saved a lot on accommodation compared to a night in a hotel. The campsite is well run and the bay is just a walk away from your tent. At golden hour the view is stunning from the coastline.
During summertime, the site fee is $23 per night and $6 per night for the reservation fee. For two nights with tax it cost us $60.80. Make your reservation online here.
Here are our best tips and things to know for camping at Descanso Bay:
Site 06a is the best site. It's the most private and closest to the water. We were lucky to snag this spot!
Where you check in at the office at the front, there is a little store that sells bundles of wood for $10, ice, propane and some generic camping supplies. They drop the wood off for you at your site by 5 pm each day.
You may be excited to get out and explore, but you should set up your tent and tarp first thing before unpredictable Pacific Northwest weather has a chance to dampen your day!
For yummy camping snacks, check out Island Meat & Deli. The Saturday Market is also a great spot for baked goods and fresh loaves of bread.
The main grocery store on the island is Nester's Food Market
Don't forget to bring a headlamp and board games/playing cards
8. Enjoy an oceanside lunch at the Surf Lodge & Pub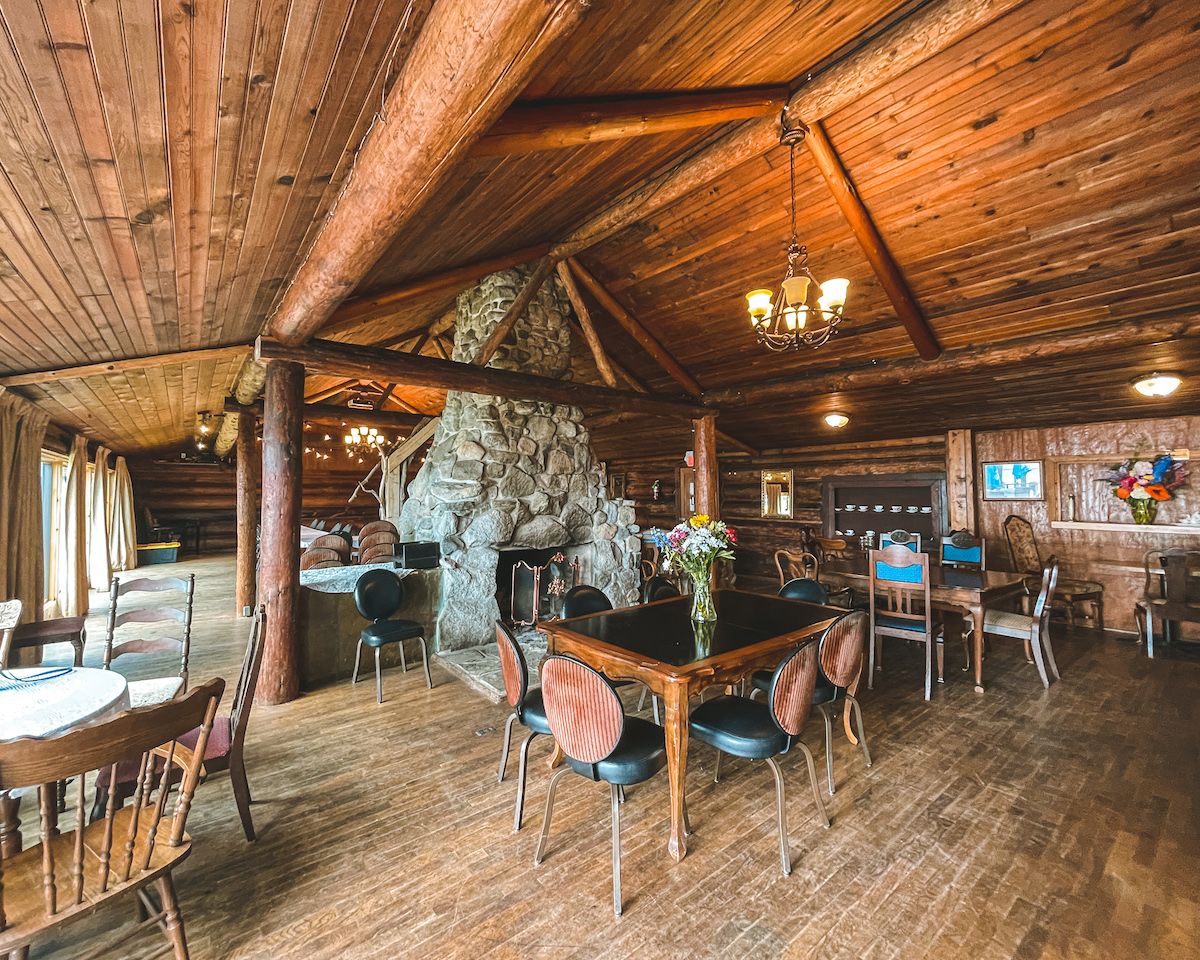 Enjoy lunch with an ocean view in the historic
Surf Lodge & Pub
.
The lodge has been serving guests since 1940 and is a fascinating structure to walk around in
with its eclectic furnishings and exposed beams milled from reclaimed beach logs. The dining room is in the main lodge and the pub in a small building next door.
9. Visit the studio of a local artisan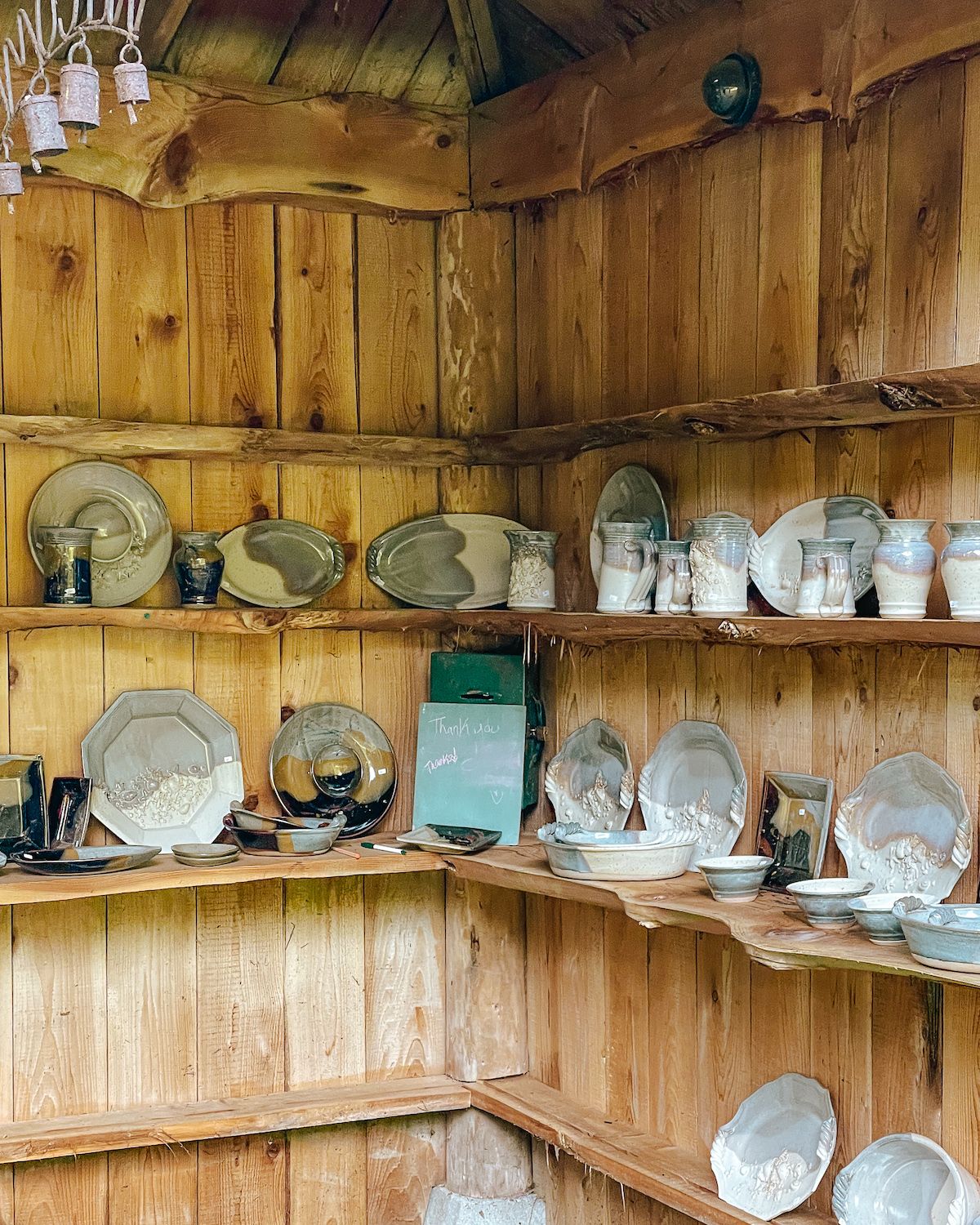 With over 200 artists and artisans living on the island, it's no wonder Gabriola Island is known as the "Isle of the Arts". One of the best ways to get insight into the local life on the island is by visiting their studios. Gabriola has a "yellow flag program", meaning that if you see a yellow flag flying, their studio is open to visitors. Some of these studio shops run on an honour system.
See the list of studios on Gabriola Island here.
10. See an art exhibition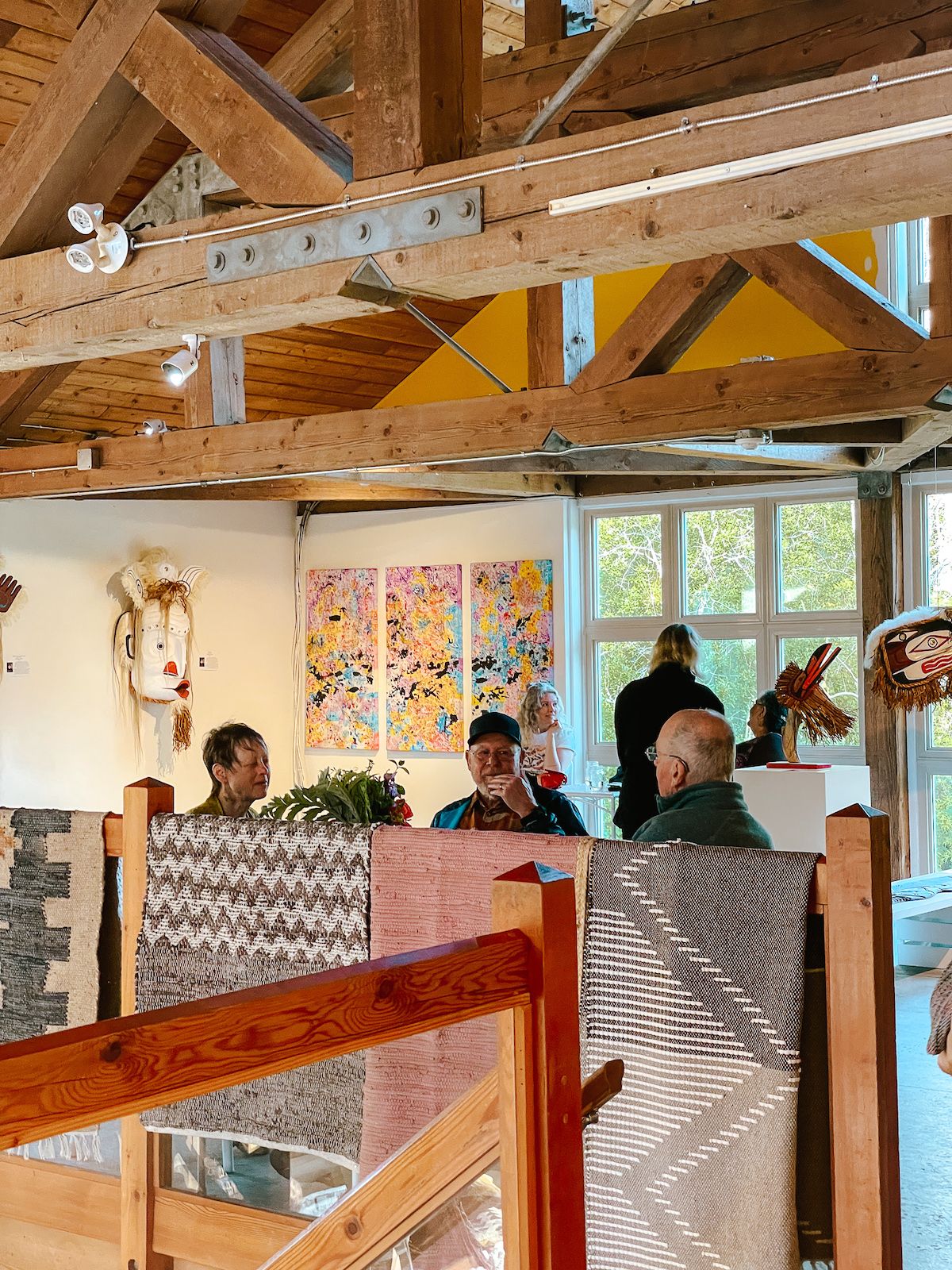 Attending art exhibitions is another great way to meet locals and get a glimpse into life on the island. Two spaces where we saw art shows were at Nova Art & Craft Boutique and the Gabriola Arts & Heritage Centre. Check their social media pages for updates on events. The art exhibitions usually offer complimentary finger food and drinks (wine/beer) to spectators.
We were fortunate enough to be on the island when the Nova boutique hosted a showing for indigenous artists around BC in their beautiful upstairs gallery. The curation was excellent with an inspiring mix of traditional and contemporary pieces.
11. Shop quirky boutiques for local art & craft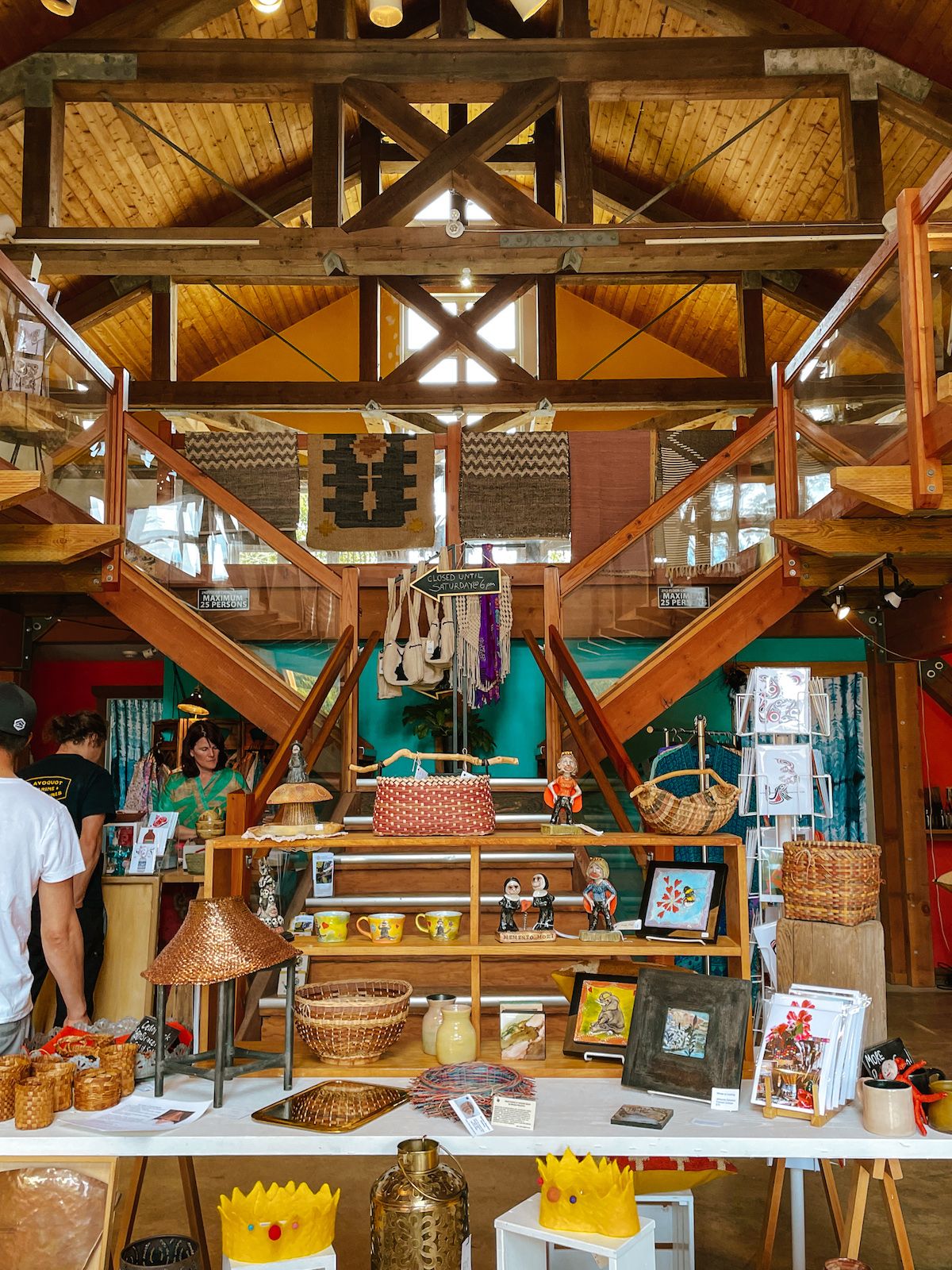 Browse Gabriola Island's quirky boutique stores offering handcrafted products from local artisans.
Best Gabriola Island shopping
These were our favourite boutique shops on the island:
Nova Art & Craft Boutique - the beautiful store sells products from local artisans on the ground floor and has a gallery space upstairs.
Paprika Jewellery studio and gallery -  sells elegant Scandinavian-inspired silver and gold jewelry with an earthy feel.
Free Spirit Gallery Studio & Shop - a curation of contemporary artwork and handicrafts from emerging and acclaimed artisans in Gabriola Island and BC.
Pier Gallery Artists Collection - a collection of handicrafts, ceramics, jewelry and artwork from artists and artisans who live on Gabriola Island. There is a lot to look at here, take your time!
12. Dine at Woodfire Restaurant for tasty comfort food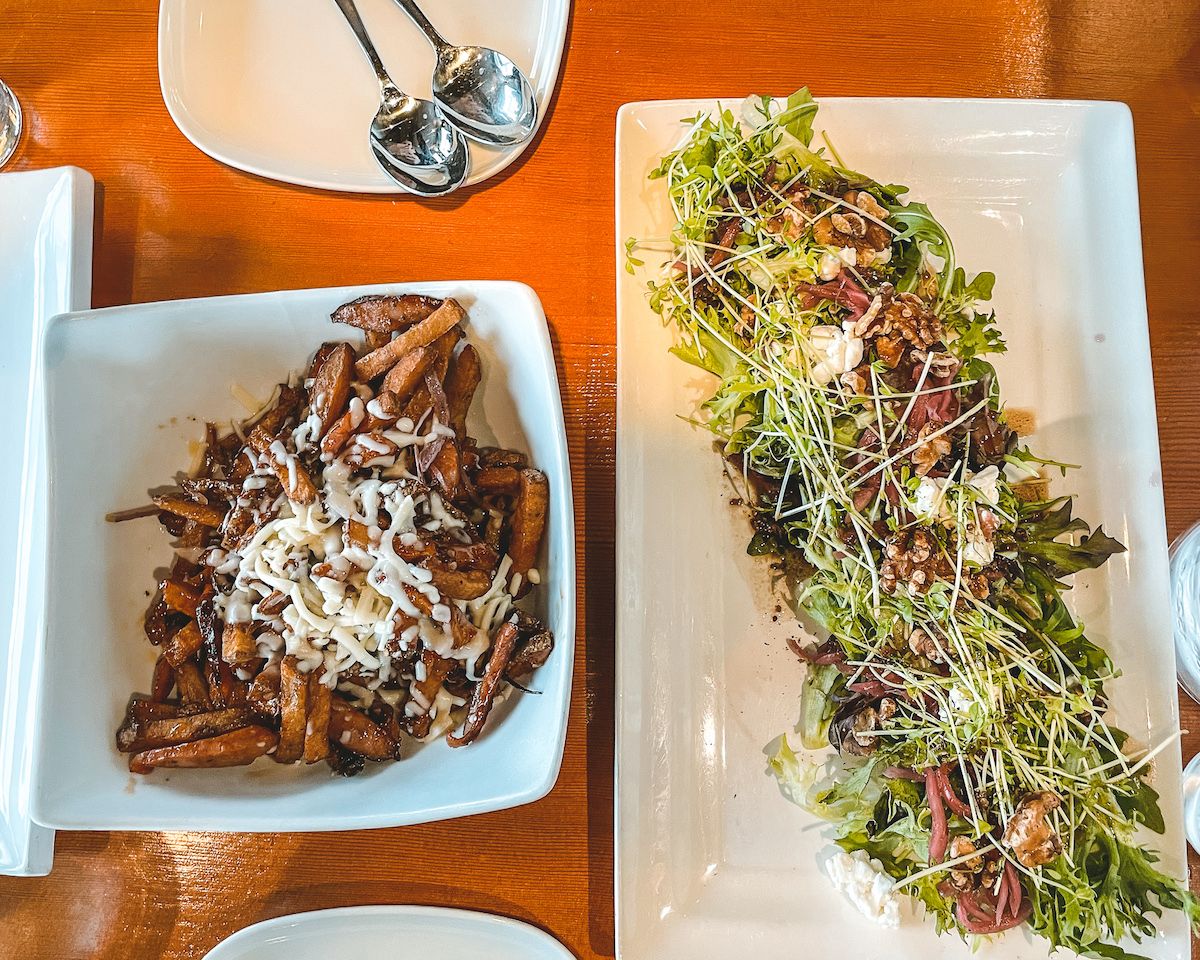 Gabriola Island may have a big art scene, however its food scene is quite small. We found that it lacked the culinary identity that other Gulf Islands have, like Salt Spring, Galiano, Pender and Hornby. The selection here is more "comfort-food" or pub like.
Our best meal was at Woodfire Restaurant. They serve satisfying favourites like wood-fired pizza, poutine and pastas.
13. Browse the Sunday Market at Silva Bay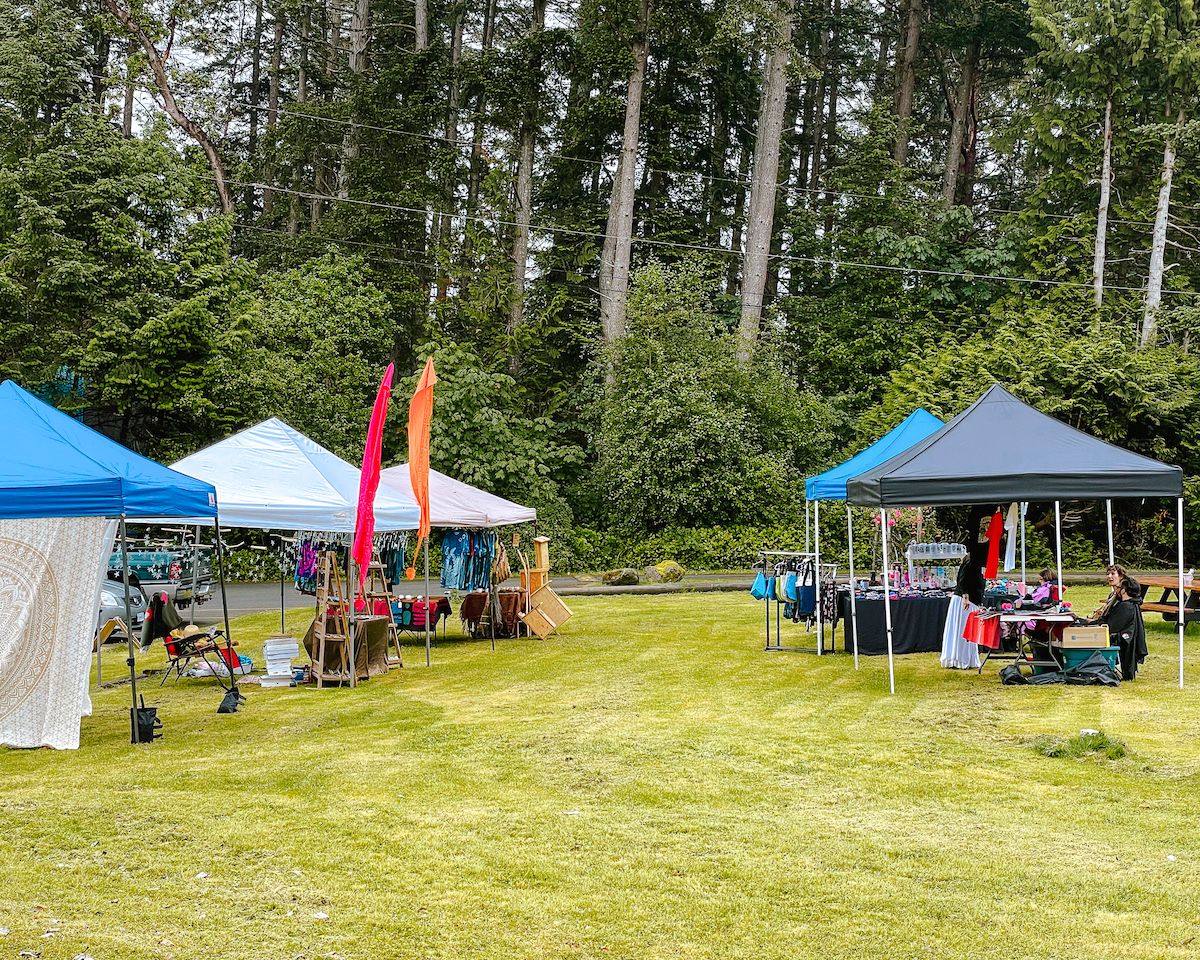 The Sunday Market may be smaller than the Saturday Market, but its focus on artisans and scenic location on Silva Bay make it stand out on its own. The Fireside Grill Truck (owned by Fireside Restaurant) is also parked on site, serving savoury menu items like flame-grilled breakfast burgers and wraps. Stopping here for brunch and browsing the stalls is a great way to start your Sunday.
We hope you enjoyed these unique things to do on Gabriola Island!
---
Start planning your trip to Gabriola Island
---
Combine Gabriola Island with a road trip through Vancouver Island. See our Vancouver Island itinerary.
Want to explore more of the Gulf Islands? Check out our other island travel guides:
Save and pin these fun things to do on Gabriola Island for later: