San Sebastian is one of the prettiest European cities we have ever visited. Located in the northern Basque Country of Spain, the city is surrounded by the ocean and luscious green mountains. Also known as Donostia-San Sebastian, it was a favourite destination among Spain's Royal Family and European high society in the late 19th century and today has become one of the most happening cities in Europe for a summer vacation.
San Sebastian's golden sandy beaches, Belle Époque architecture, buzzing culinary scene and unique Basque heritage make it a truly unique city.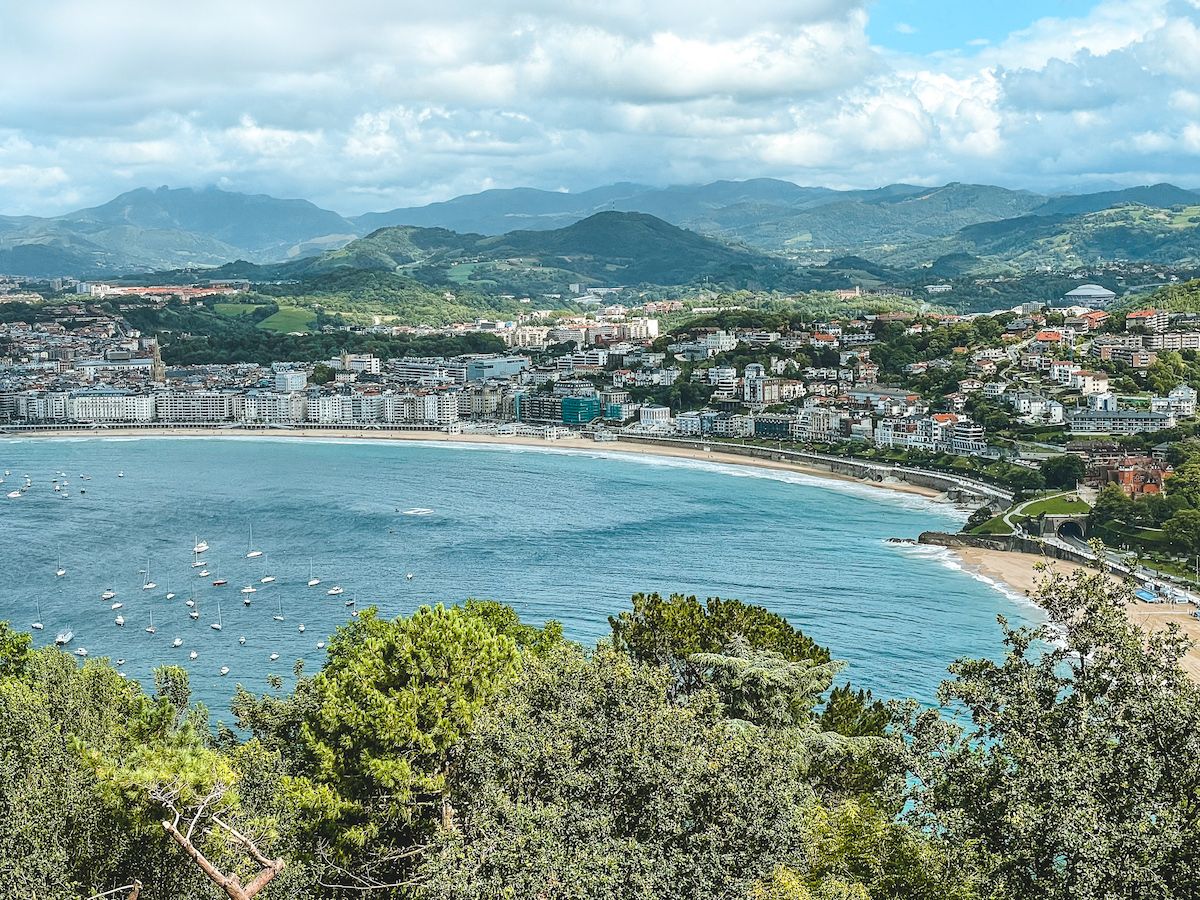 The Basques are one of the oldest ethnic groups in Europe and have a food culture like no other. This is reflected in almost anywhere you eat in the city. You'll find hundreds of pintxo bars serving cheap and delicious gourmet snacks and Michelin-starred restaurants around almost every corner. In fact, San Sebastian has the second most Michelin stars per capita in the world!
If you don't have much time to spare, but want to spend a day in San Sebastian, we have created the perfect one day itinerary for you. If you are a food lover, you won't regret visiting, even if it's just for one day in San Sebastian.
Outline: 1 Day in San Sebastian
Morning: enjoy a leisurely breakfast & shop unique boutiques for Spanish must-haves

Noon: Catch some sun at a dazzling city beach

Afternoon: Enjoy a late gourmet lunch and let loose at a vintage amusement park

Evening: Go on a pintxo bar crawl in Old Town for some seriously delicious tapas
Disclosure: Some of the links below are affiliate links, meaning at no additional cost to you, we will earn a commission if you click through and make a purchase. We only recommend products or services we have used or that we believe will add value to our readers. Thank you for supporting us!
Best time of year to visit San Sebastian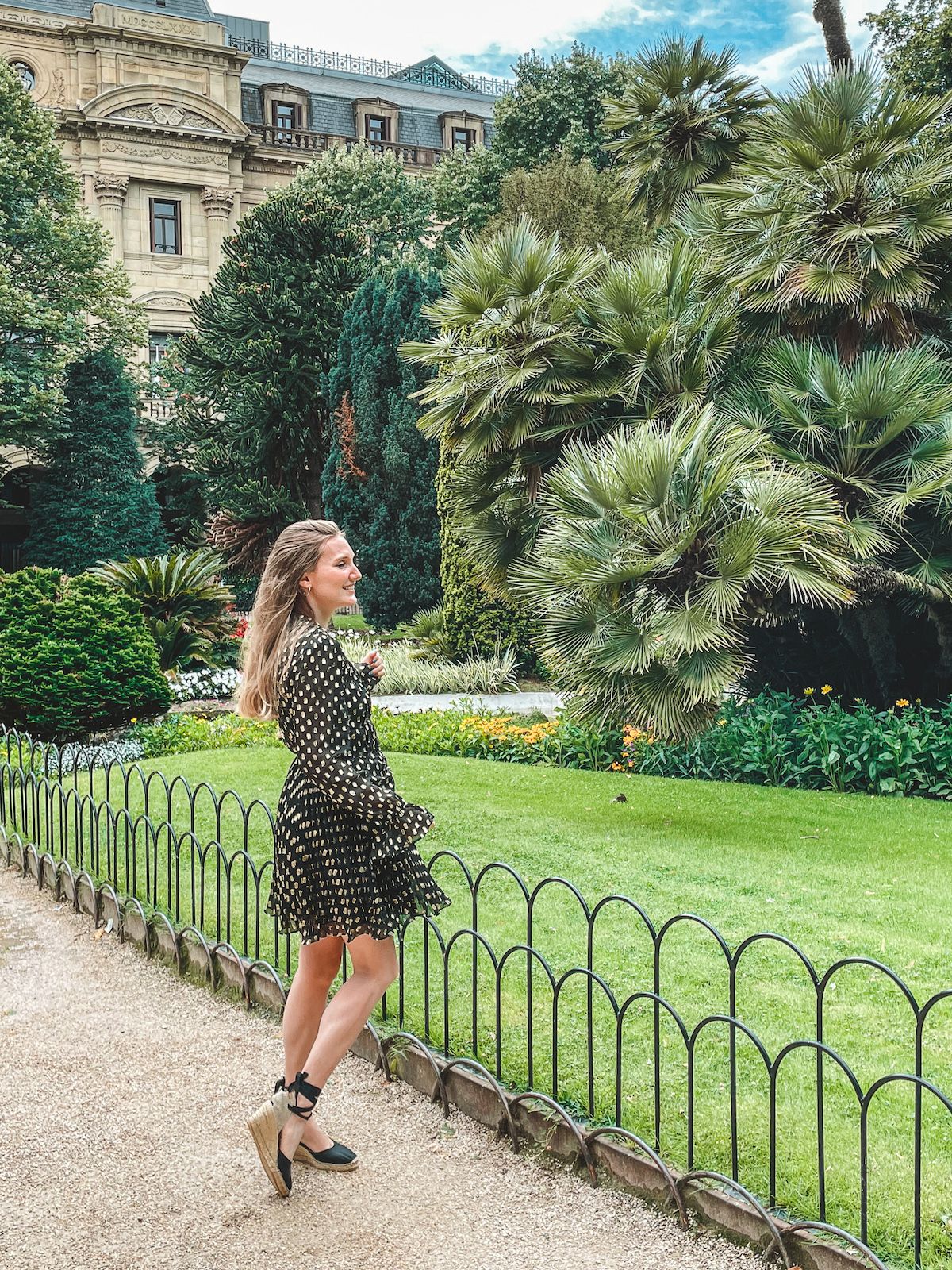 The best time of year to visit San Sebastian is during its warmest and driest months of June-September. Outside of these months, the weather will most likely be too cool to sunbathe at the beach.
Getting to San Sebastian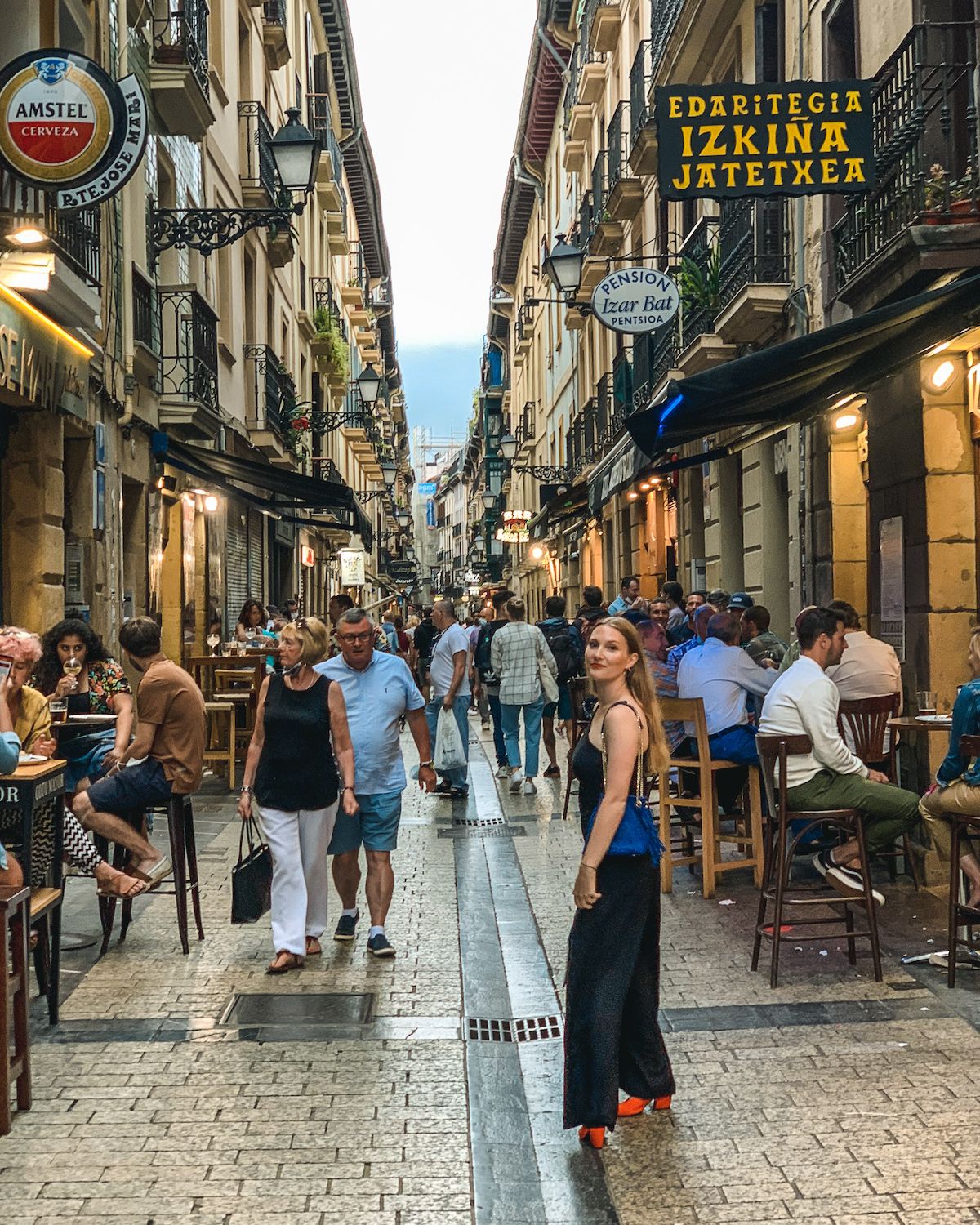 San Sebastian is located in the north of Basque Country, about a 30 minute drive away from the border of France. With two international airports nearby, it's easy to add this region of Spain to your itinerary. From Madrid, it's just a 1 hour 5 minute flight and from Barcelona it's a 1 hour 15 minute flight.
San Sebastian is also the perfect starting point for a road trip into the southwest of France.
The charming French Basque city of Bayonne is under an hour drive away, and the famous wine region of Bordeaux is about 3 hours. The possibilities are endless! Easily
compare car rental rates
across different companies with Rentalcars.com.
Where to stay in San Sebastian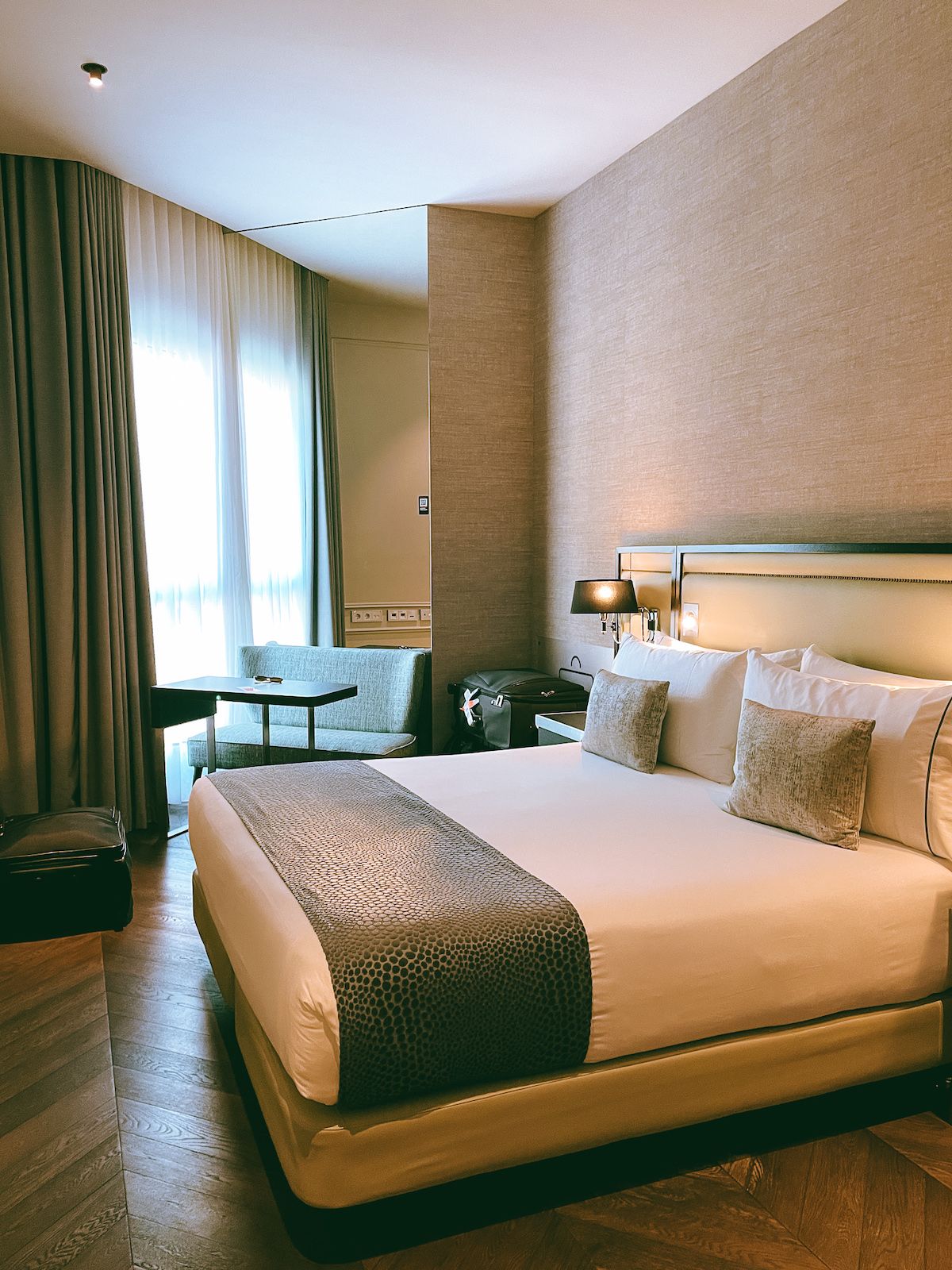 Since your time is short in the city, look for accommodation that is walking distance to Old Town. It will be easy to get around and explore the city from there.
Our top hotel picks in San Sebastian
Room Mate Gorka
We stayed at
Room Mate Gorka
, a contemporary boutique hotel overlooking the beautiful Plaza de Gipuzkoa. Its cafe-bar opens up onto the plaza and is a favourite among locals. Old Town is under a 5 minute walk away.
See rates
.
Hotel Lasala Plaza
Located in Old Town, this stylish hotel ticks off all of the boxes with its rooftop pool overlooking La Concha Bay.
See rates
.
Hotel Maria Cristina
For glamour, consider
Hotel Maria Cristina
, an elegant hotel situated along the Urumea River that has been serving guests since 1912. If you stay at the Belle Époque-inspired hotel during San Sebastian Film Festival, you may just run into some famous faces. Old Town is about a 5 minute walk away.
See rates
.
One Day in San Sebastian
Morning
Enjoy a leisurely breakfast & shop unique boutiques for Spanish must-haves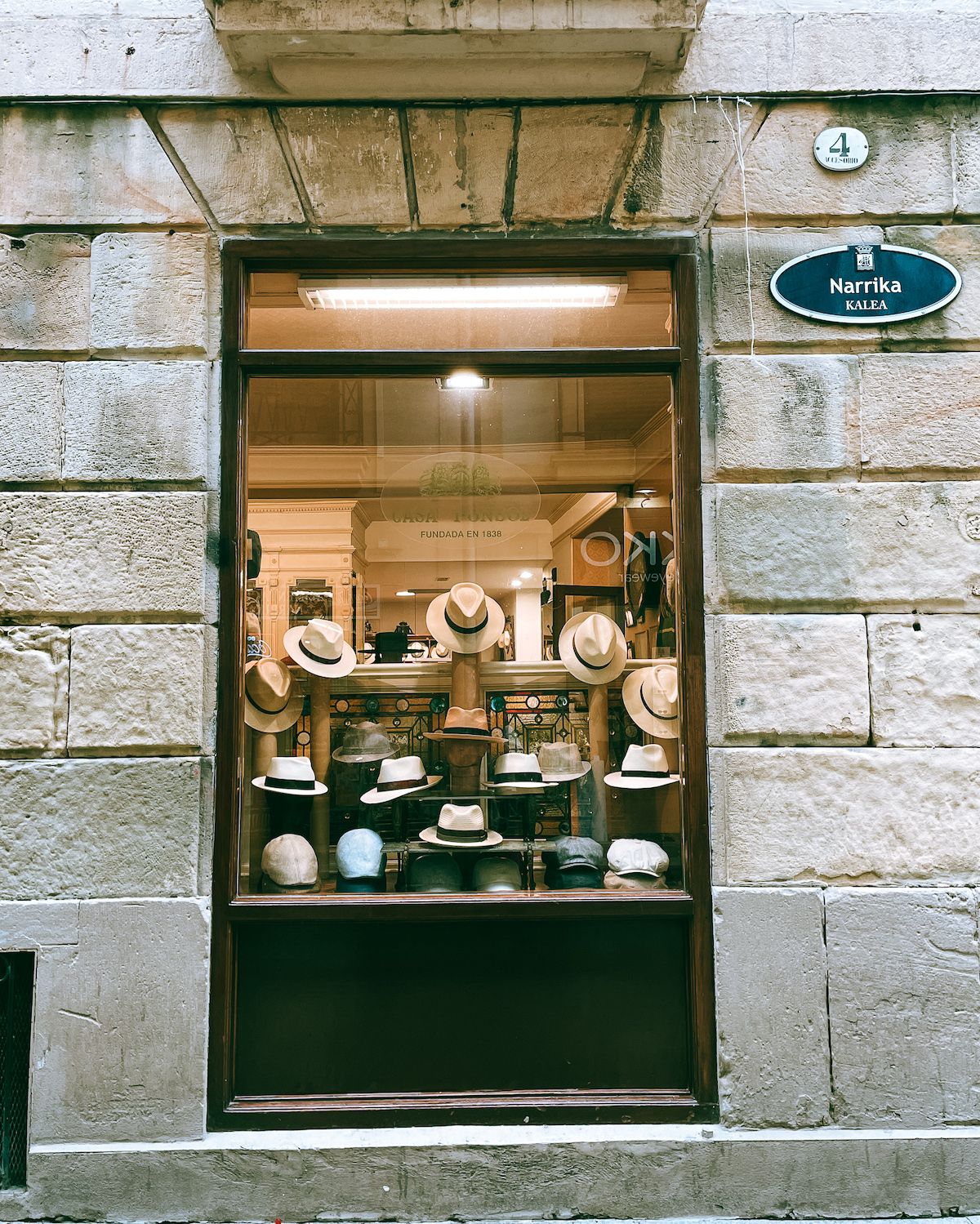 Enjoy a leisurely breakfast before heading out to explore for the day. Since the cafe at our hotel spilled out onto the plaza, it was great for observing the surroundings.
After sipping your café solo (espresso) or café con leche (espresso with milk), check out these two unique boutiques for amazing Spanish products:
Pop into Casa Ponsol, the oldest hat shop in Spain - it was founded in 1838! They sell both womens and mens hats. We picked out a sun hat to bring with us to the beach.  
Next, pick out some sandals at Alpargatas Toni Pons to wear later in the day for your fabulous lunch in the city. Toni Pons is a high-quality Spanish footwear brand that makes Espadrille-style shoes. They are comfortable, yet will jazz up your summer outfit.
Noon
Catch some sun at a dazzling city beach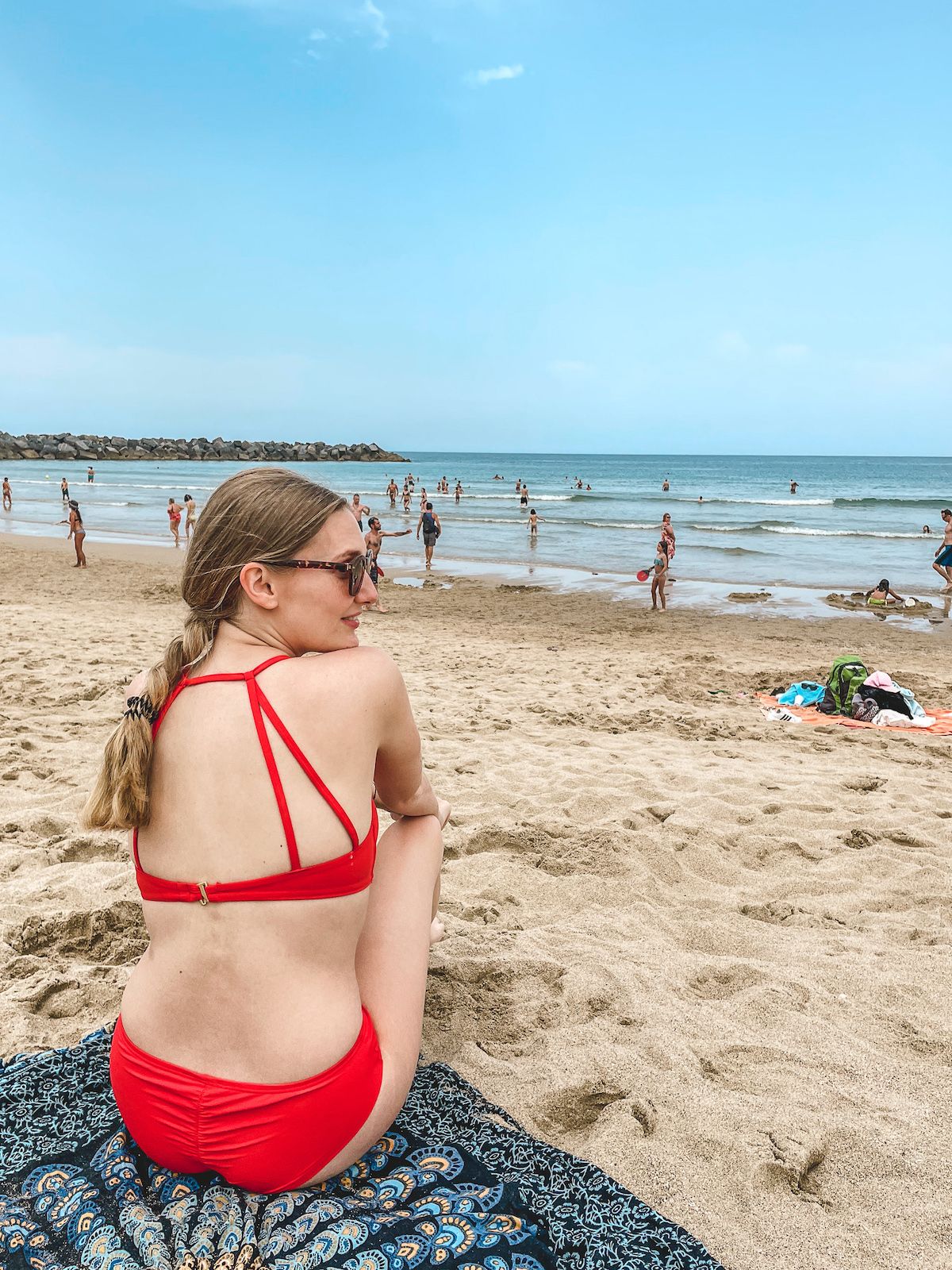 San Sebastian is known to have some of the nicest city beaches in the world. Put on your bathing suit and bring a beach towel to suntan and swim in the bright-blue ocean. Note that since you're in Europe, it's normal to see topless people at the beach.
There are three sandy beaches in the city to choose from:
Zurriola Beach - a lively surf beach in the trendy Gros neighbourhood, where a young, local crowd hangs out. The beach is a 10 minute walk from the centre and is where we went.
La Concha Beach - the famous beach next door to Old Town with beautiful views of Santa Clara Island.
Ondaretta Beach- a quiet beach at the foot of Igueldo mountain on the far side of Concha Bay. This beach has calmer waters, making it ideal for families, however it's over a 20 minute walk away from the centre.
Afternoon
Enjoy a late gourmet lunch and let loose at a vintage amusement park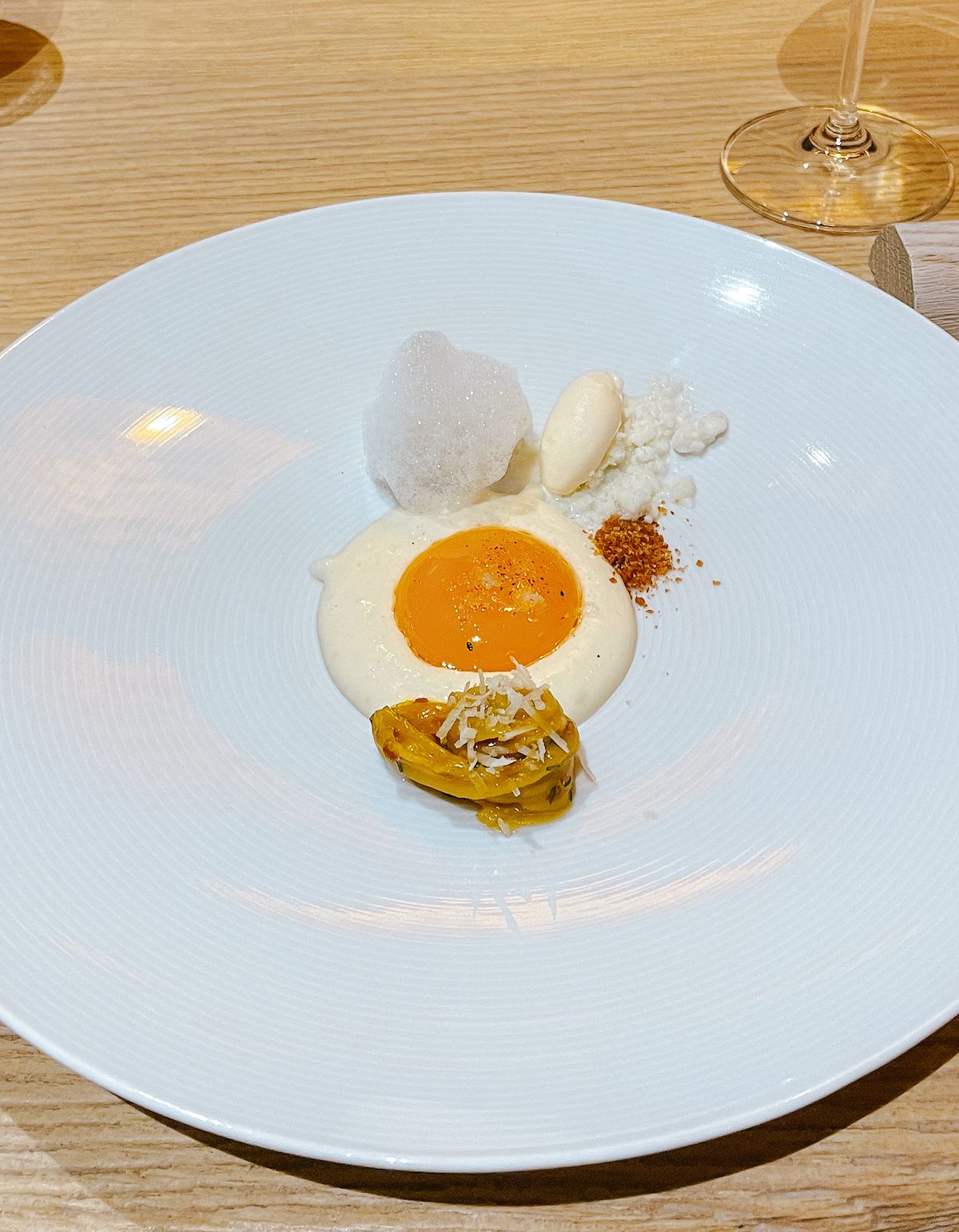 After catching some sun, it's time to experience what this fabulous city really has to offer - its food! Dress up for a late lunch and choose from one of the many outstanding restaurants listed in the Michelin Guide.
Just because a restaurant is listed in the Michelin Guide doesn't necessarily mean it's going to have steep prices. Outside of the one-star, two-star and three-star categories, Michelin also lists notable restaurants in its guide with high quality cooking. Look out for restaurants with the Bib Gourmand icon (the Michelin man licking his lips) - it means excellent food at a great value!
We dined at eMe Be Garrote, a one-Michelin-star restaurant serving contemporary Basque-inspired cuisine in a former cider house. It's the newest restaurant from Martin Berasategui, a famous Spanish chef. We liked how we could order al-la-carte rather than having to order the whole tasting menu, a rarity for a Michelin-starred restaurant. This was ideal for lunch.
After lunch, take the funicular to the top of Monte Igueldo to let loose at a vintage amusement park. You will want to change into a more casual outfit for this.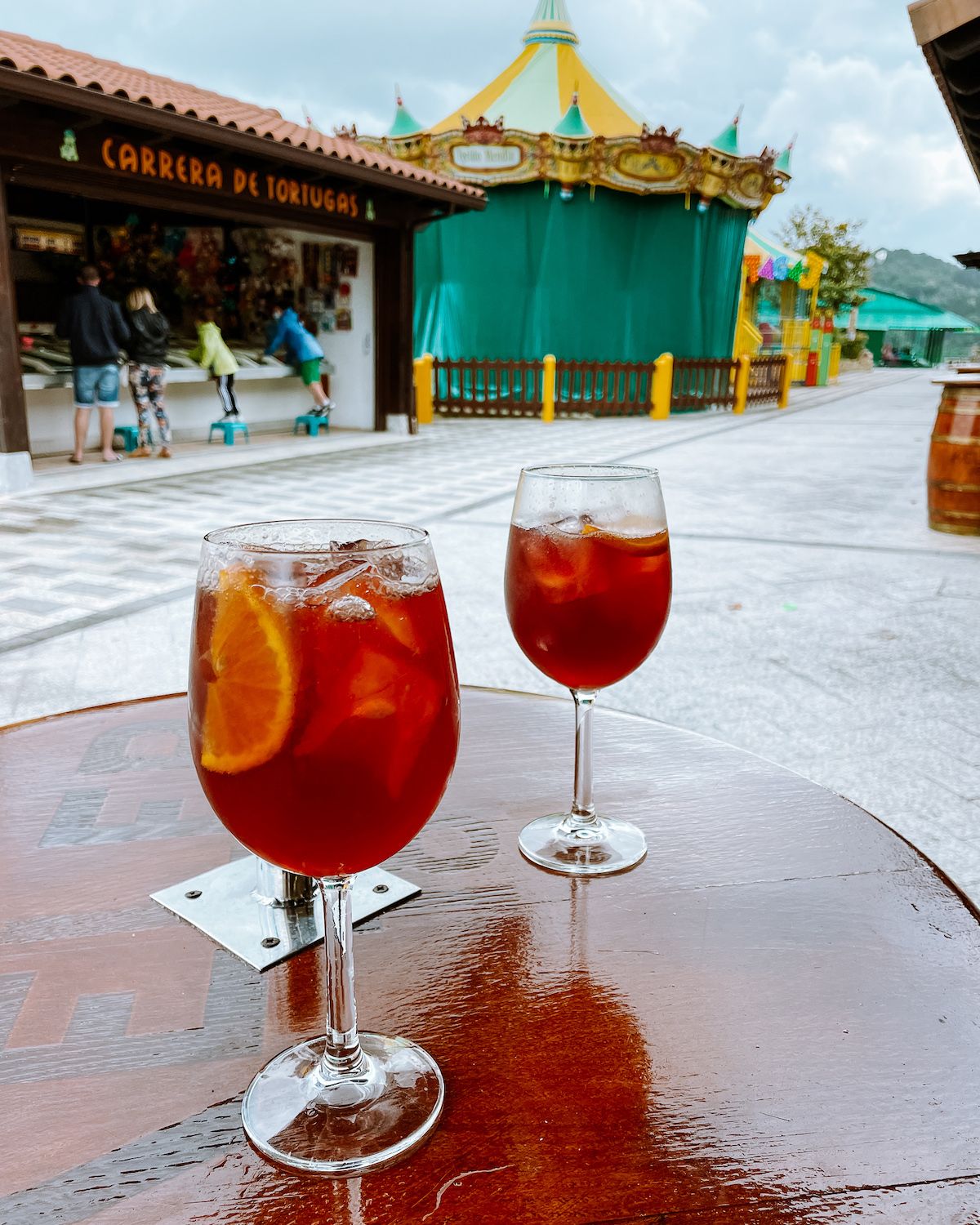 When we heard there was a retro amusement park atop Monte Igueldo, we had to check it out. Monte Igueldo Amusement Park opened in 1912 and has many wacky attractions. At the top you also get to see gorgeous panoramic views of the city, ocean and mountainous landscape.
We walked around the park, bought some vintage candies, played carnival games and tried out some of the rides. We loved the bumper cars, which were honestly kind of vicious. We dare you to go on the creepy looking wooden rollercoaster.  
After we were done exploring, we ordered some house sangria at the tiny bar on the grounds and people watched.
How to get to Monte Igueldo Amusement Park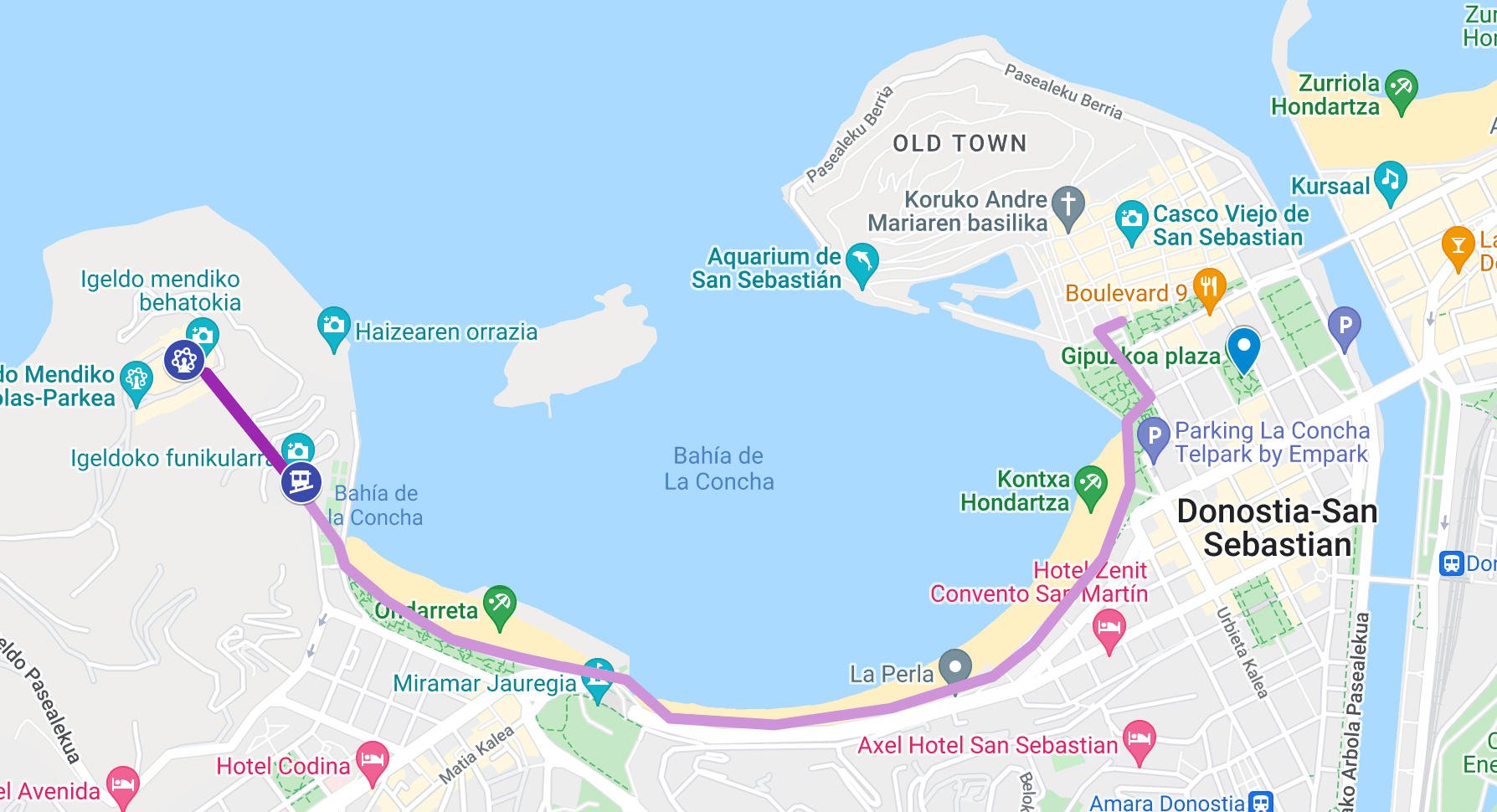 From the centre of the city, take a 10-minute taxi or a scenic 30-minute walk along La Concha Bay to the Igueldo Funicular. The funicular takes you to the base of Mount Igeldo Amusement Park located atop Monte Igueldo.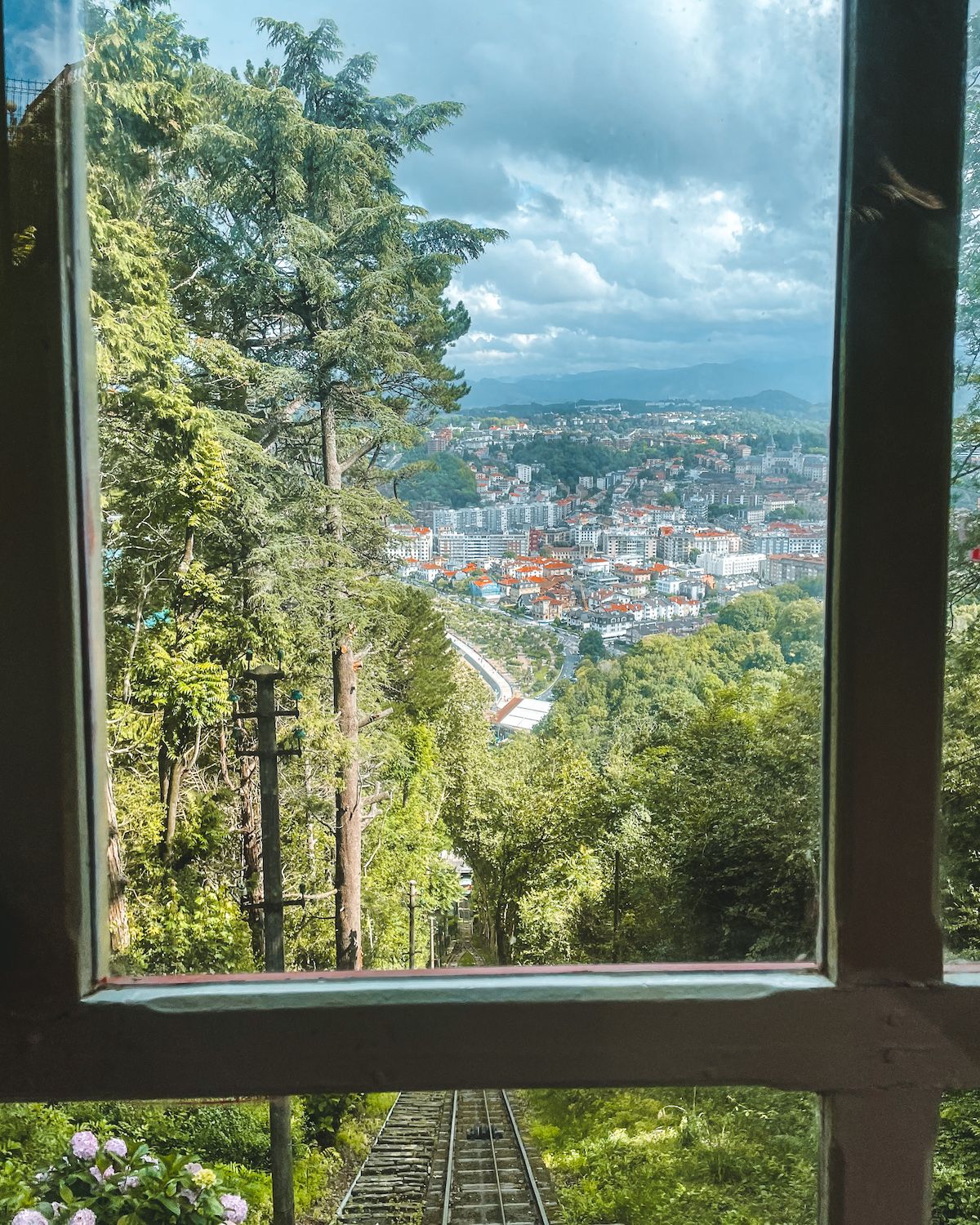 The roundtrip price for the funicular is 4 € for adults and 2.50 € for kids. See the official schedule for the funicular and amusement park opening times throughout the year.
Evening
Go on a pintxo bar crawl in Old Town for some seriously delicious tapas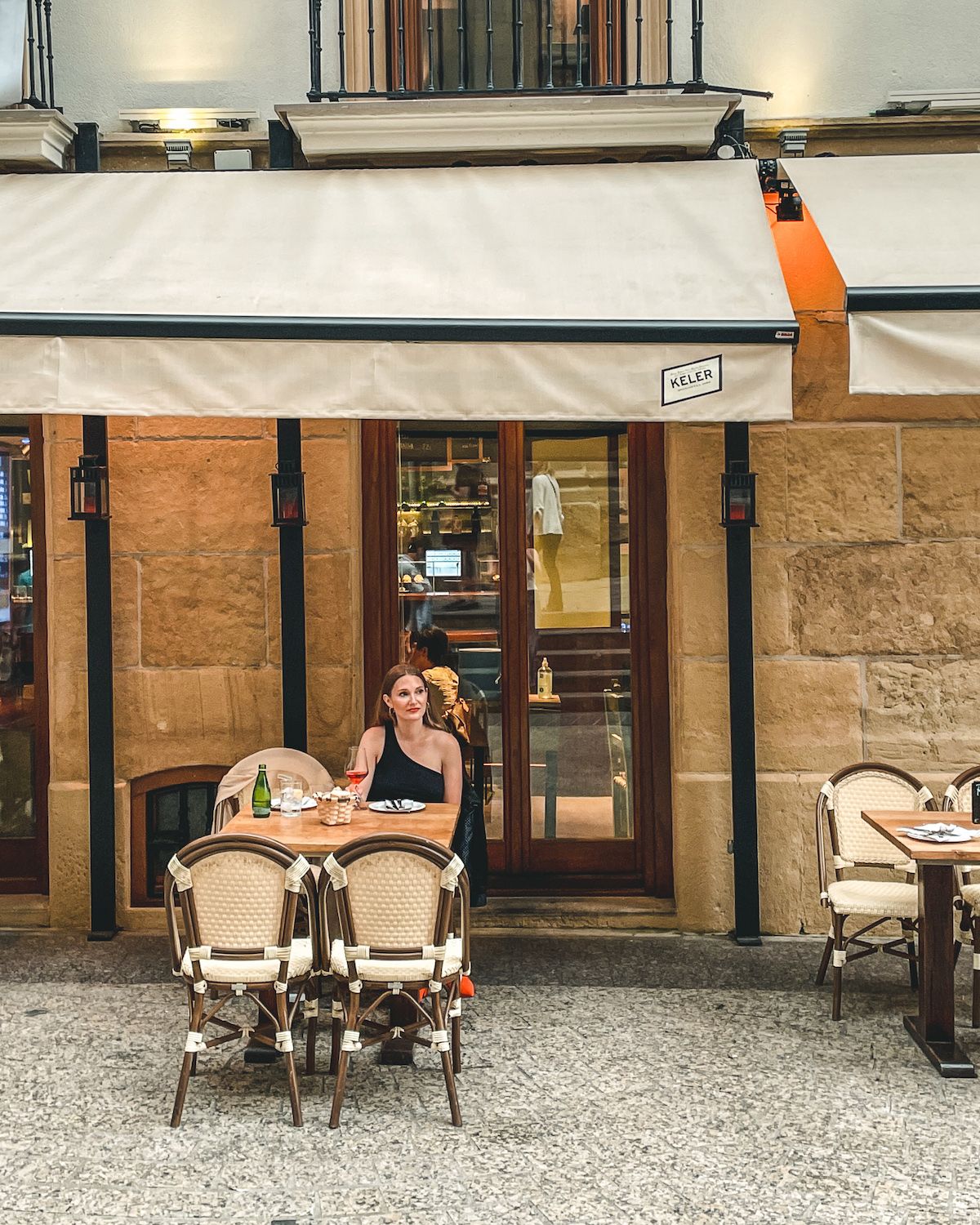 Ultimately, our favourite thing to do in San Sebastian was eat pintxos, drink rose and watch the lively neighbourhood of Old Town. Pintxos are a unique part of Basque food culture. They are small gourmet snacks, kind of like next level tapas.
We had a "can't believe it moment" when we made an outside reservation at the traditional Basque pintxo spot, Atari. Little did we know that the outdoor tables were facing the gorgeous 18th century baroque Basilica de Santa Maria del Coro. We were immediately sat down at an outdoor table and were in disbelief when we saw a long line of people waiting to snag a table outside! It sure pays to make a reservation in advance here. Did we find the next best kept secret?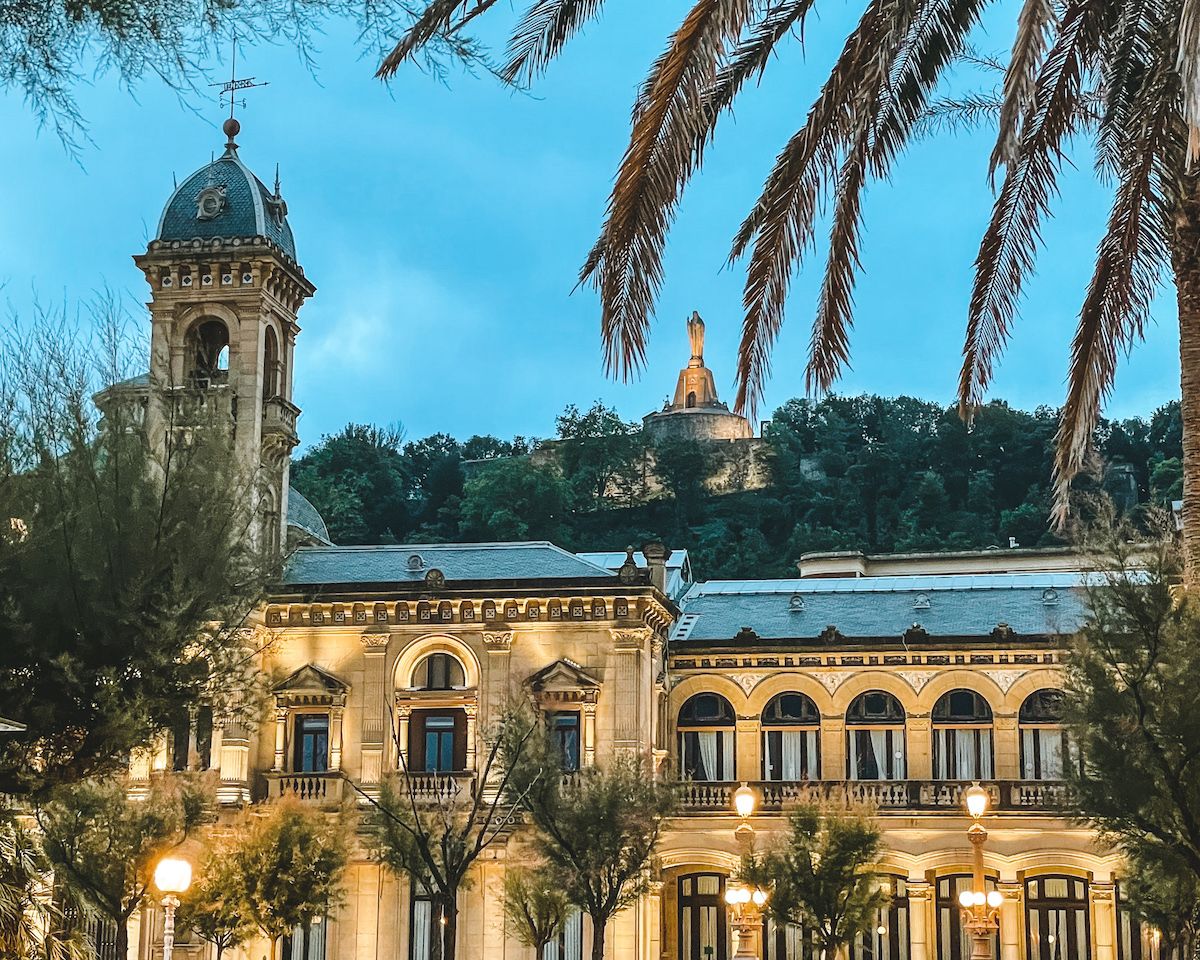 After you're finished, walk around Old Town and pick out the next pintxo bar that calls to you. The neighbourhood is filled with them. Ask the bartender to make you a Kalimotxo, a famous Spanish drink that is half red wine half Coca-Cola. It sounds weird but it's tasty! Another must-try is Txakoli, a lightly sparkling dry white wine made in the region.
Or, you could leave it in the hands of a knowledgeable guide that takes you to some of the best pintxo spots in Old Town and teaches you more about the city. The
Gourmet Pintxo Tour
includes four pintxos, each paired with a different wine. We like how you can cancel for free up to 24 hours in advance with GetYourGuide.
We hope you enjoyed our guide to San Sebastian in a day. Have a wonderful time in this one-of-a-kind city!
---
Start planning your trip to San Sebastian
Combine San Sebastian with a road trip into the southwest of France to the Bordeaux wine region and the chic beach town of Cap Ferret.
---
Save and pin this one day San Sebastian guide for later: