Located in the Luberon Valley of Provence, Roussillon is known for its striking ochre cliffs, historic buildings and bohemian atmosphere. Indulge in Provencal cuisine, discover artisanal boutiques and immerse yourself in the colourful streets of this charming hilltop village.
We list 9 unique things to do in Roussillon, from the best places to eat to viewpoints you don't want to miss.  
Planning a trip to Provence? Don't miss our 4-Day Provence itinerary.
Overview: What to do in Roussillon, France
---
Disclosure: Some of the links below are affiliate links, meaning at no additional cost to you, we will earn a commission if you click through and make a purchase. We only recommend products or services we have used or that we believe will add value to our readers. Thank you for supporting us!
9 Best Things to Do in Roussillon
1. Dine among the ochre cliffs at Restaurant David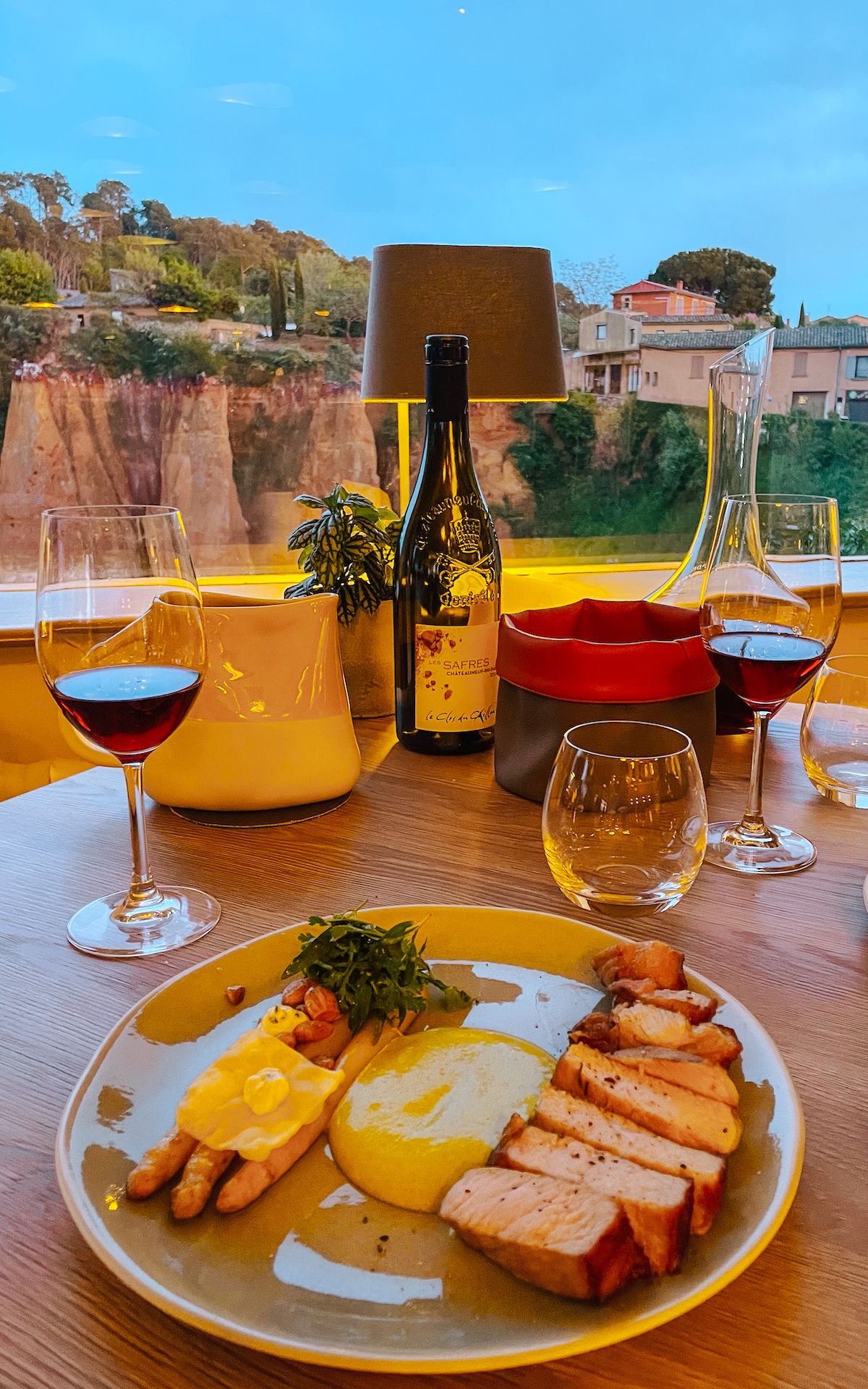 Restaurant David is not only our top restaurant pick in Roussillon but in the Luberon region. With its Michelin recognition and panoramic views of the ochre cliffs, this dining spot promises an unforgettable experience. Sunset dining is a must, as the cliffs emanate a radiant glow amidst the forest and valley. We enjoyed the magical ambience while savouring seasonal dishes and a bottle of Châteauneuf-du-Pape.
2. Stay in a charming terrace room at Le Clos de la Glycine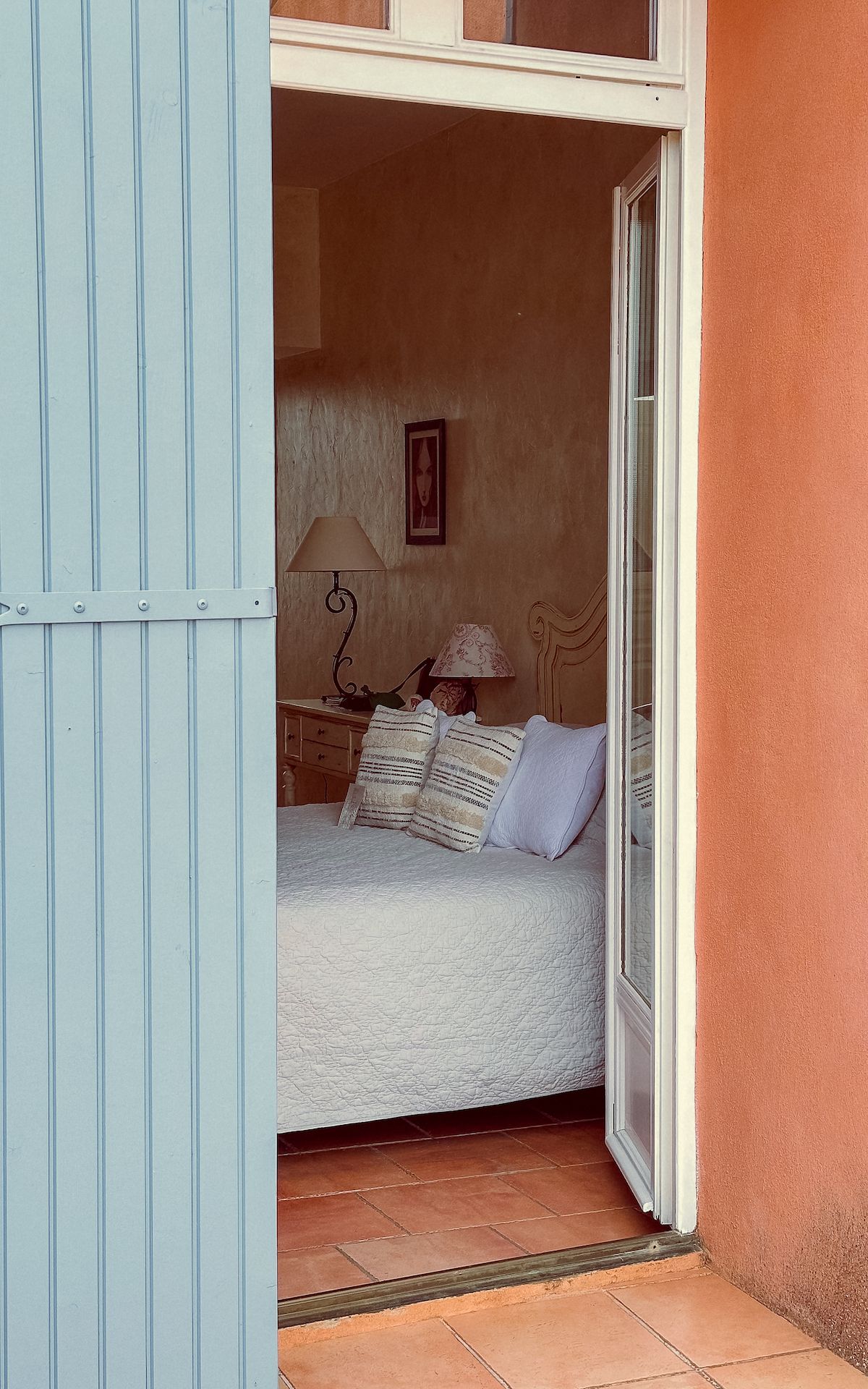 Le Clos de la Glycine was our favourite hotel in the Luberon Valley.
We stayed in their Deluxe Superior Room, which features a private terrace overlooking the valley and their garden adorned with ancient vines. We loved unwinding on the terrace after a day of exploring. We played Scrabble, uncorked a bottle of Provence wine, and watched the panorama unfold before our eyes. A bonus is that Restaurant David is just steps away from your room, making your terrace the perfect place for an aperitif.
Le Clos de la Glycine
is an excellent value with rooms starting at 125 € per night.
🧳
Browse stays in Roussillon
3. Walk the tiny streets to admire the ochre-coloured buildings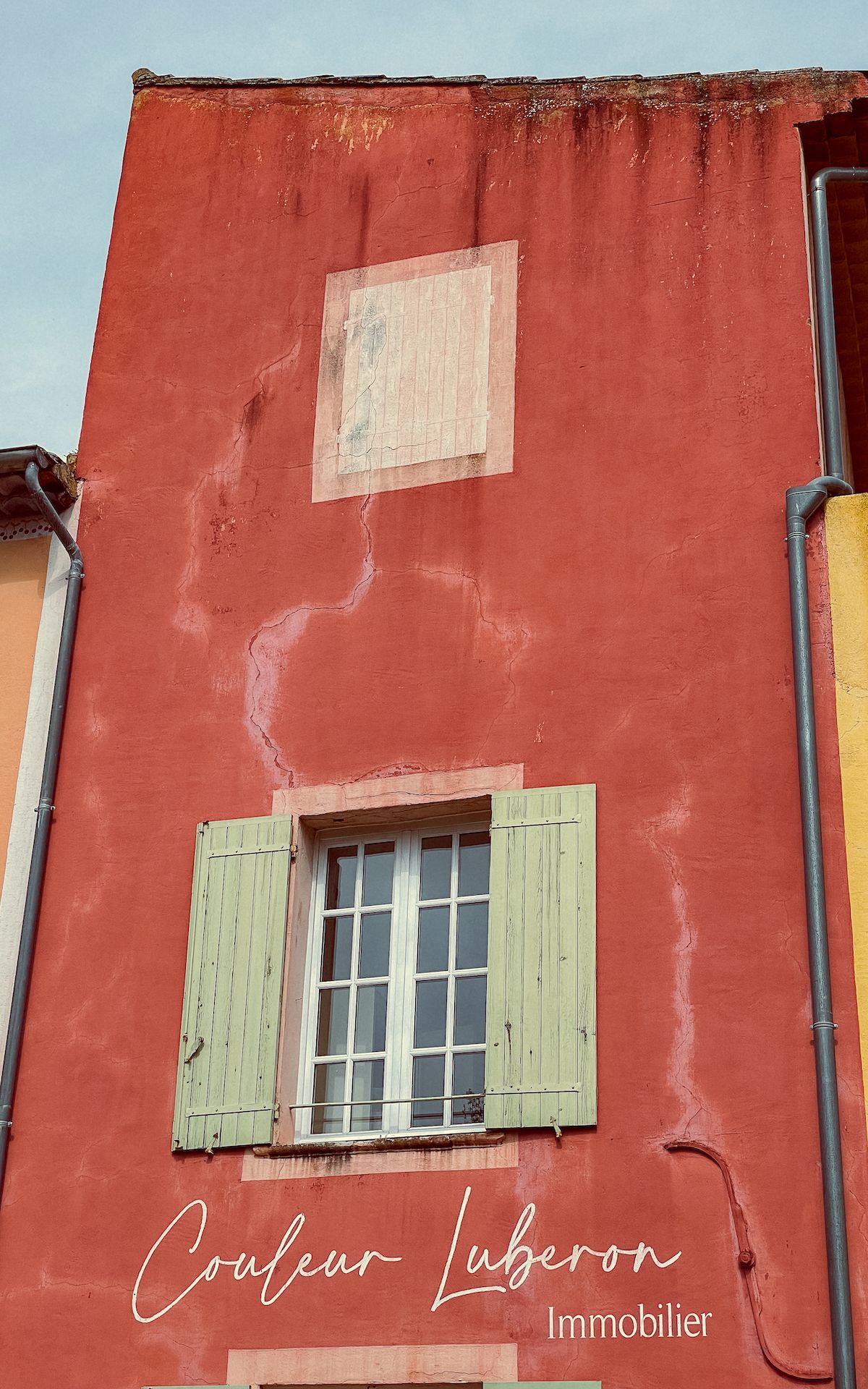 Meander through Roussillon's narrow streets and surround yourself by its warm historic buildings that match the natural surroundings. Exploring the village feels like stepping into a painting, as every corner reveals a new vista of ochre-coloured facades. Make sure you venture off the main strip into the side streets to discover charming houses adorned with colourful shutters and blooming flower pots.
4. Shop at unique artisanal boutiques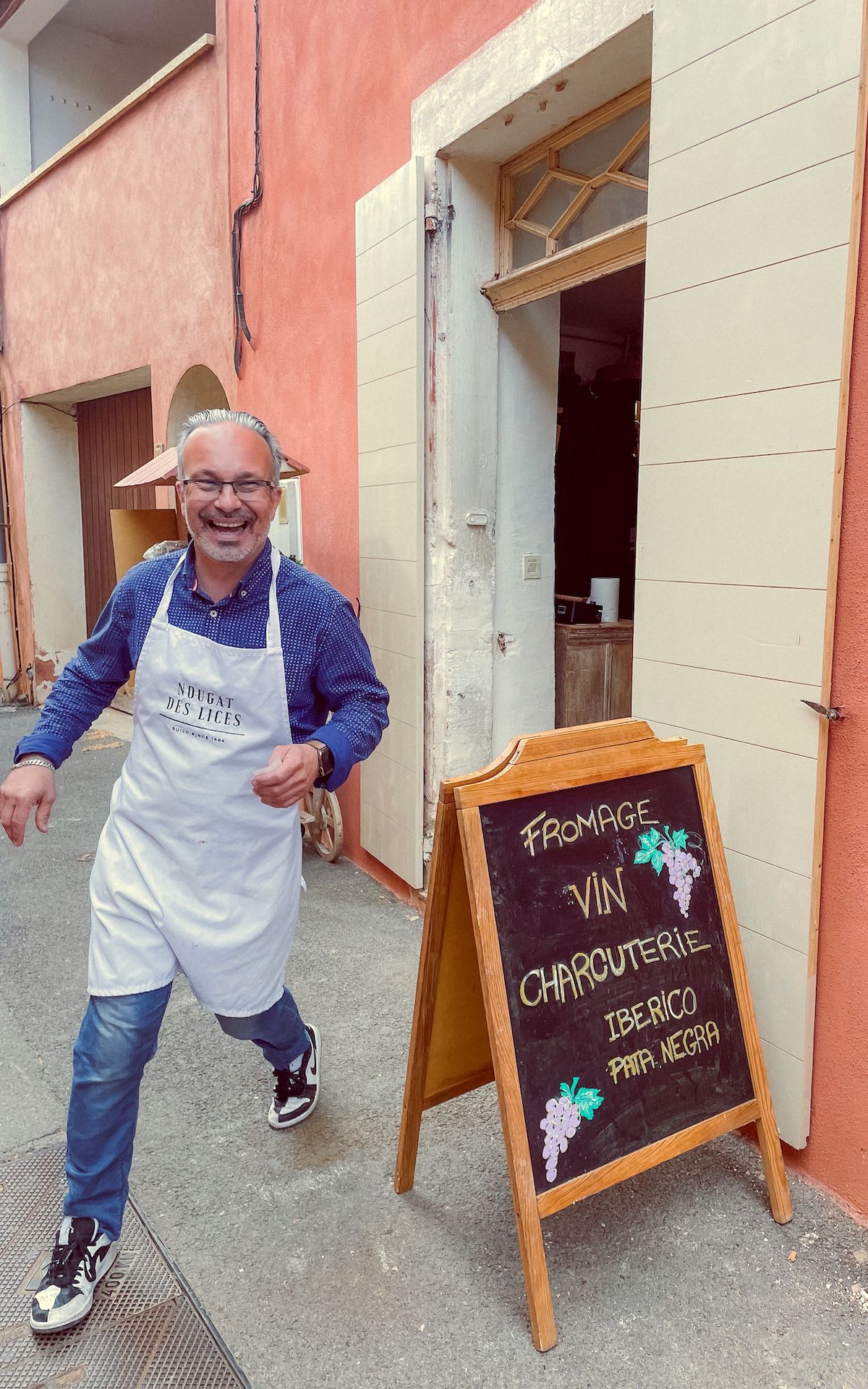 As you stroll through the charming streets, stop in at Roussillon's distinctive boutiques. Our favourite shops:
Bals'Art: where you can sample organic balsamic reductions and macerations.
Cricri: offers natural paints in ochre shades.
Maison Brémond 1830: a gourmet grocer selling local products from Provence that are perfect for bringing back as gifts.
5. Walk to the Roussillon Lookout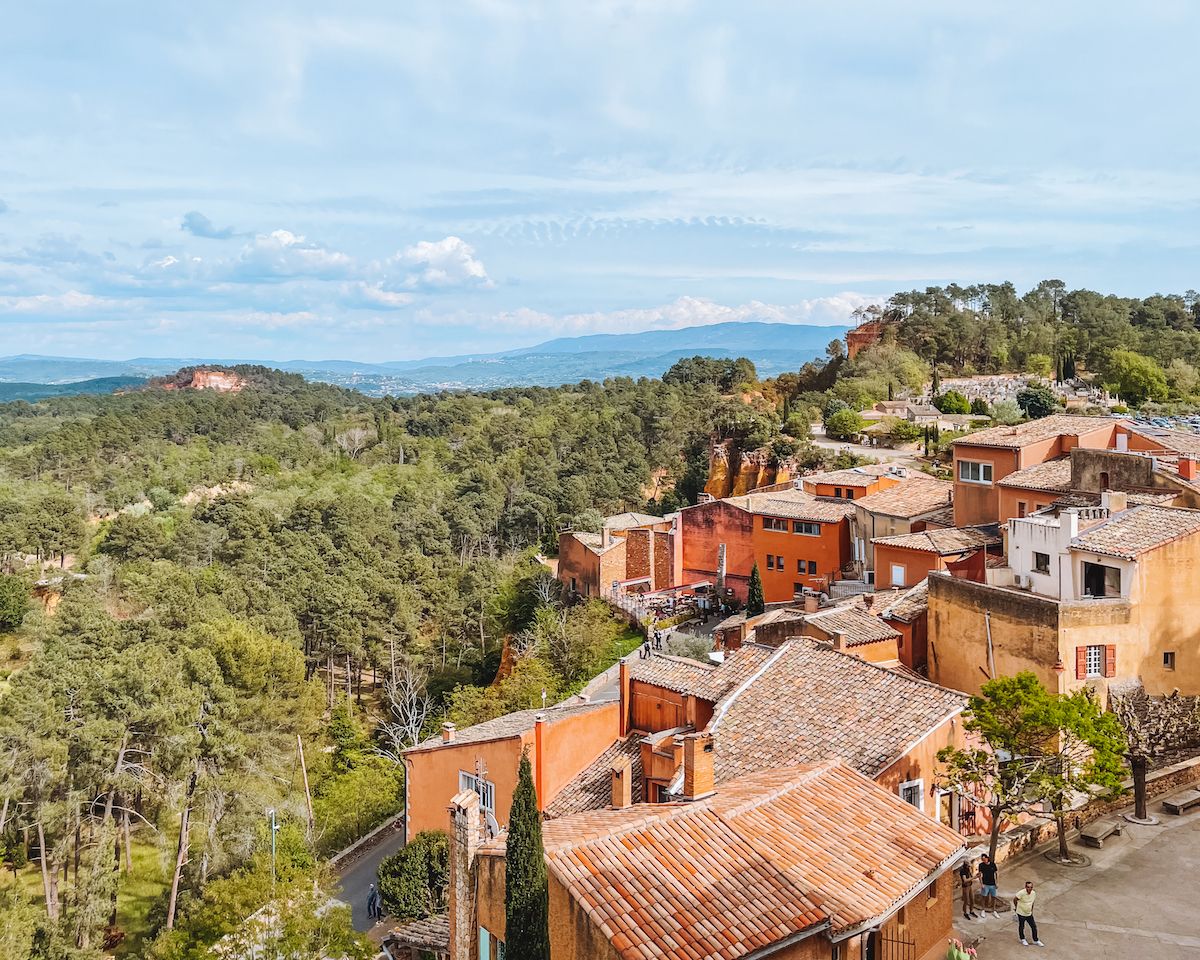 Walk up to the top of the village for sweeping views of the valley, village, ochre cliffs and mountains in the distance.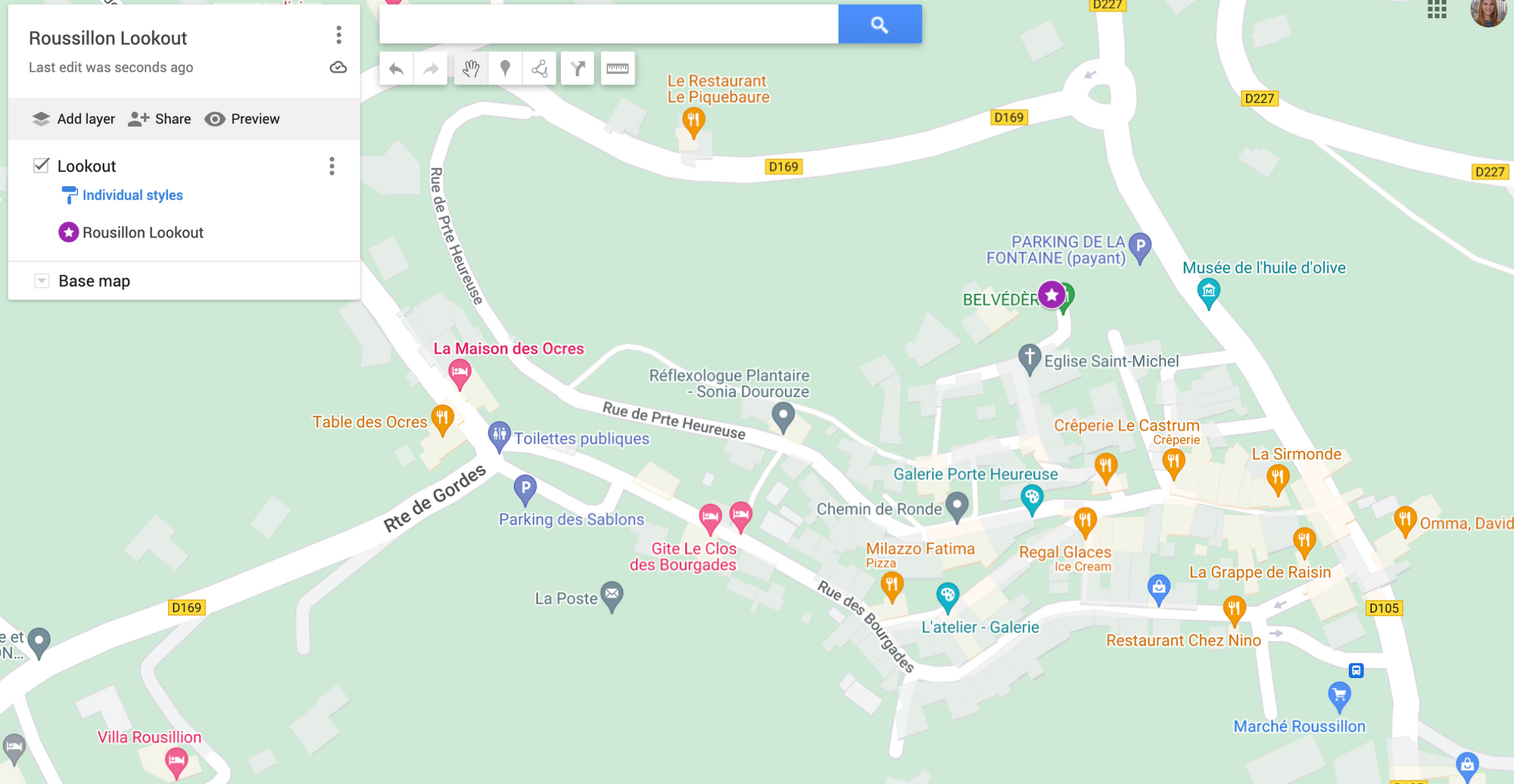 6. See a beautiful view of the village from Montee Du Belvedere Street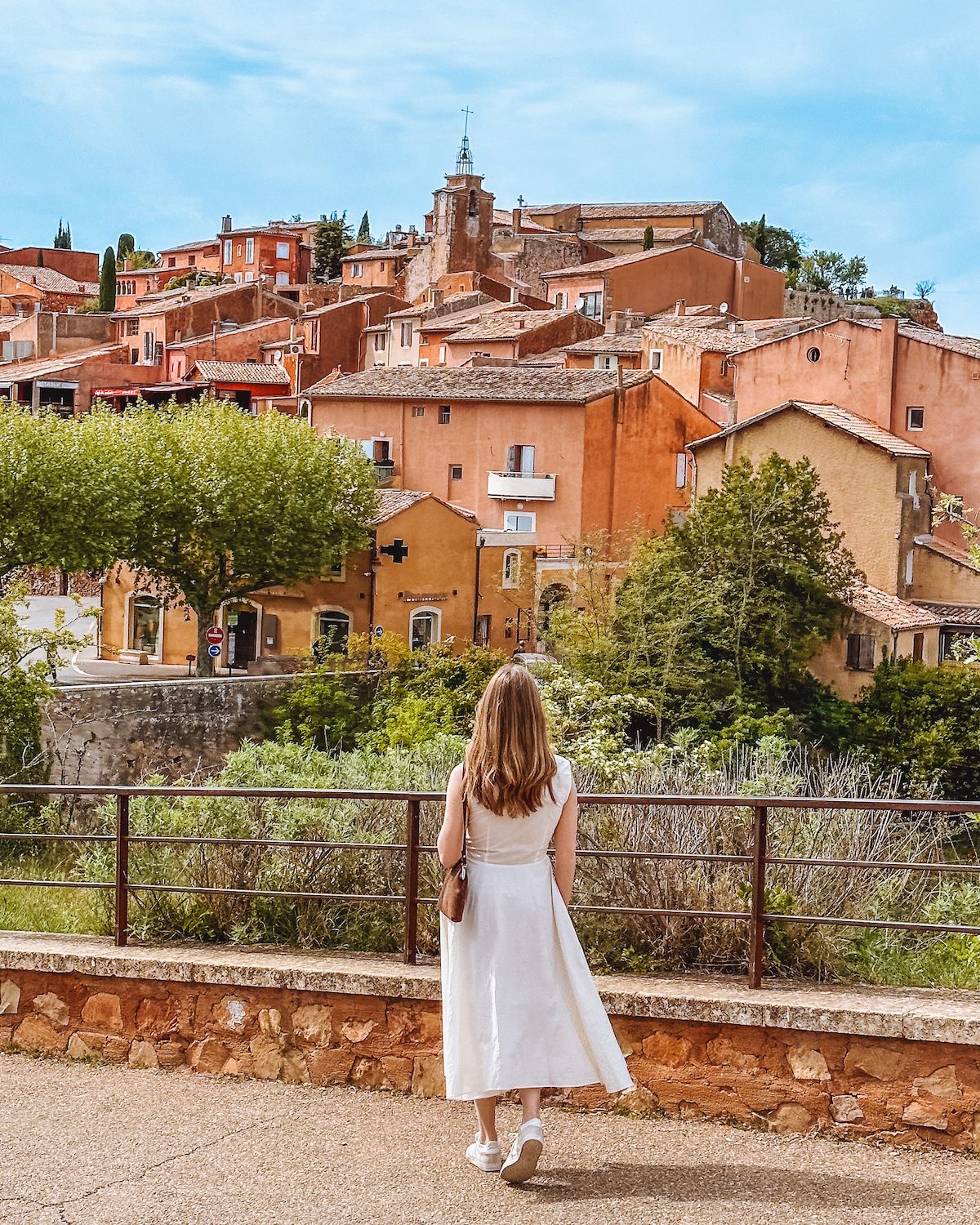 Another pretty vantage point of Roussillon Village and the ochre cliffs is from Montee Du Belvedere Street. This is the road that leads you to the Ochre Trail, next on our list!
7. Hike the Sentier des Ocres (Ochre Trail)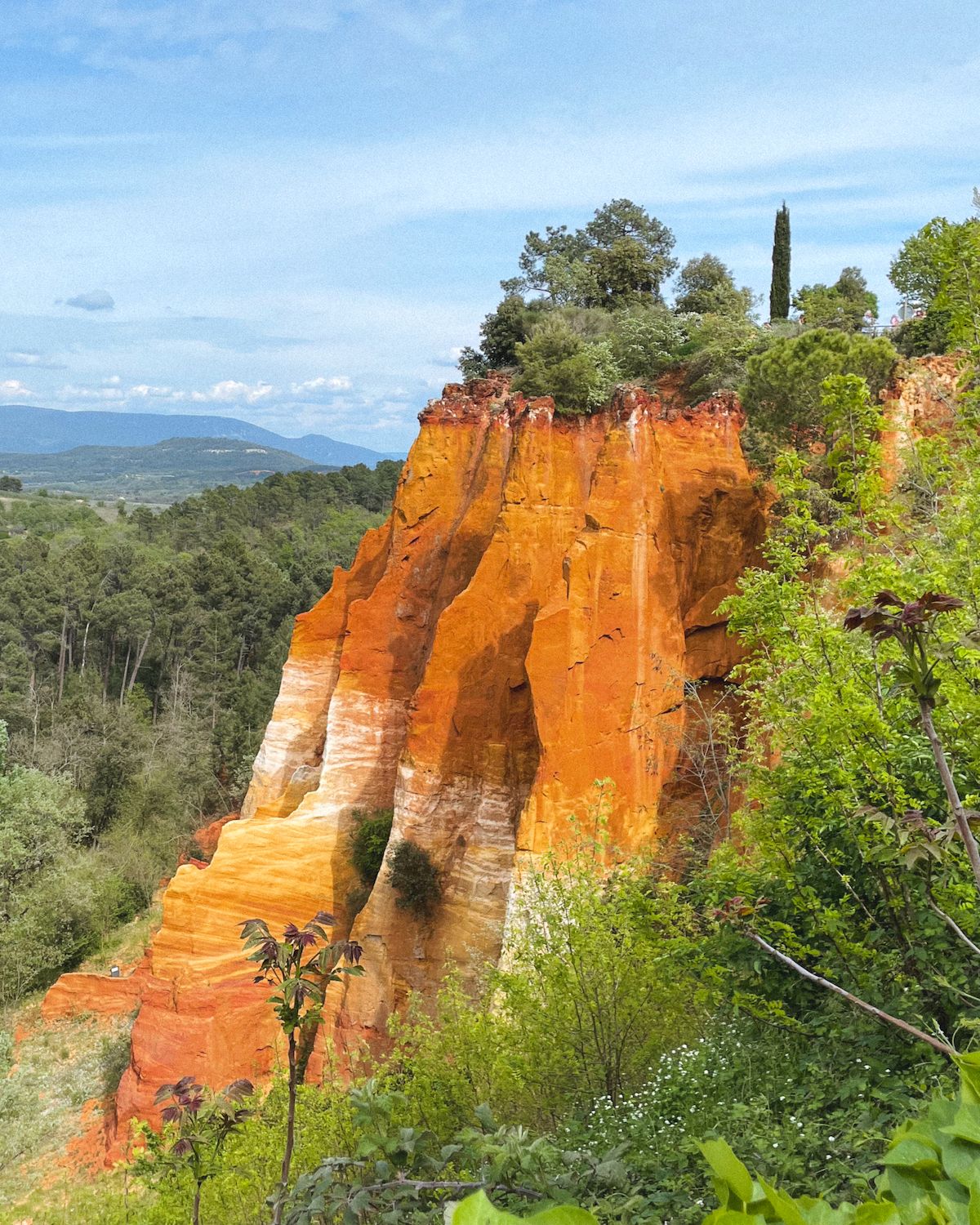 The Ochre Trail starts at the end of Montee Du Belvedere Street and takes you through a canyon that was once an ochre mine. As you set foot on the trail, you'll be surrounded by striking hues of red, orange and yellow adorning the rock formations.
The entrance fee is 3 € per person and the 1.4 km hike takes around 20 minutes.
8. Shop the local Thursday market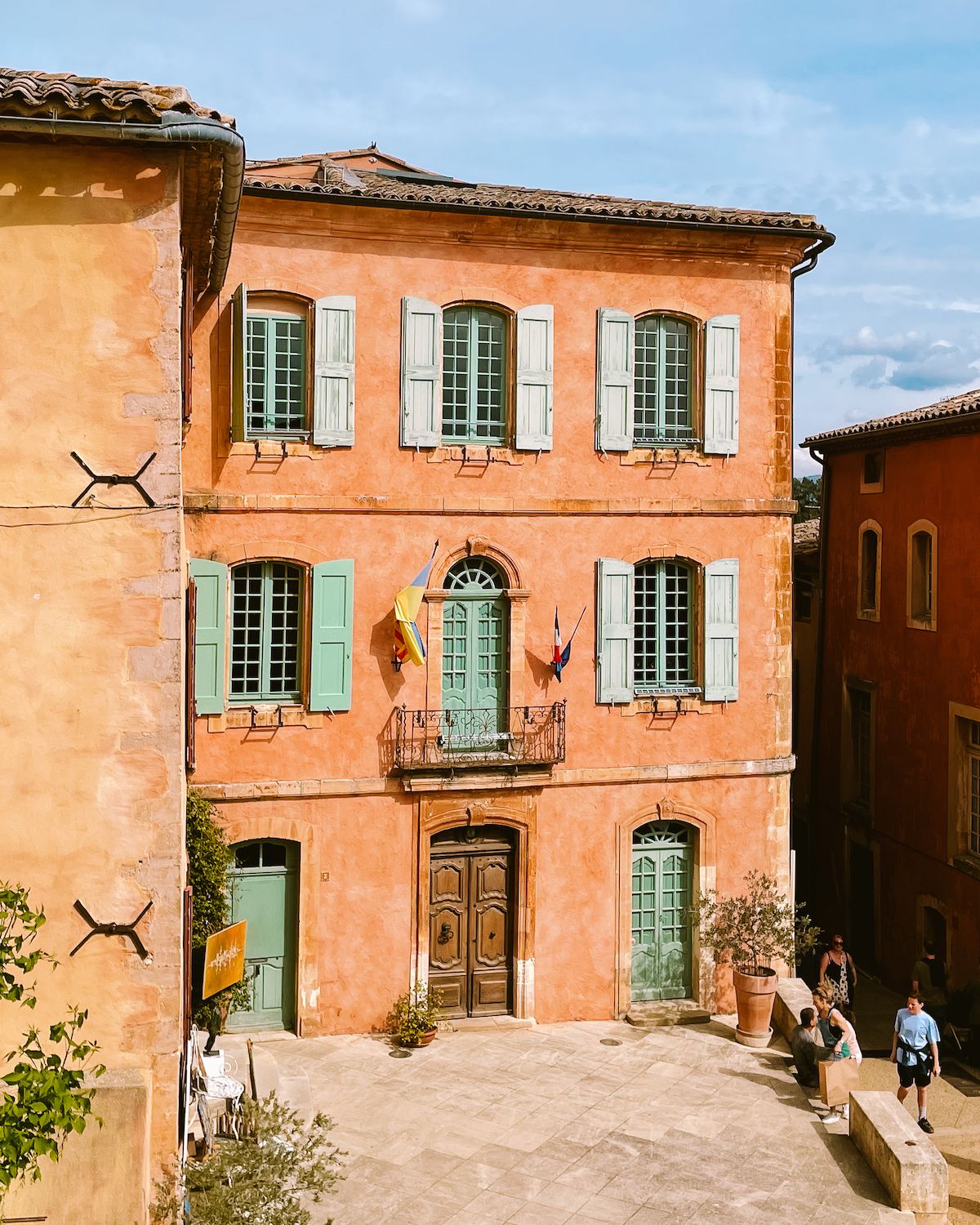 If you're visiting Roussillon on a Thursday, you're in luck. This is when its local market comes to life, from 9 AM to 12 PM. Located at Place du Pasquier, shop for local produce, picnic items, housewares and accessories.
9. Enjoy Provencal cuisine at Le Piquebaure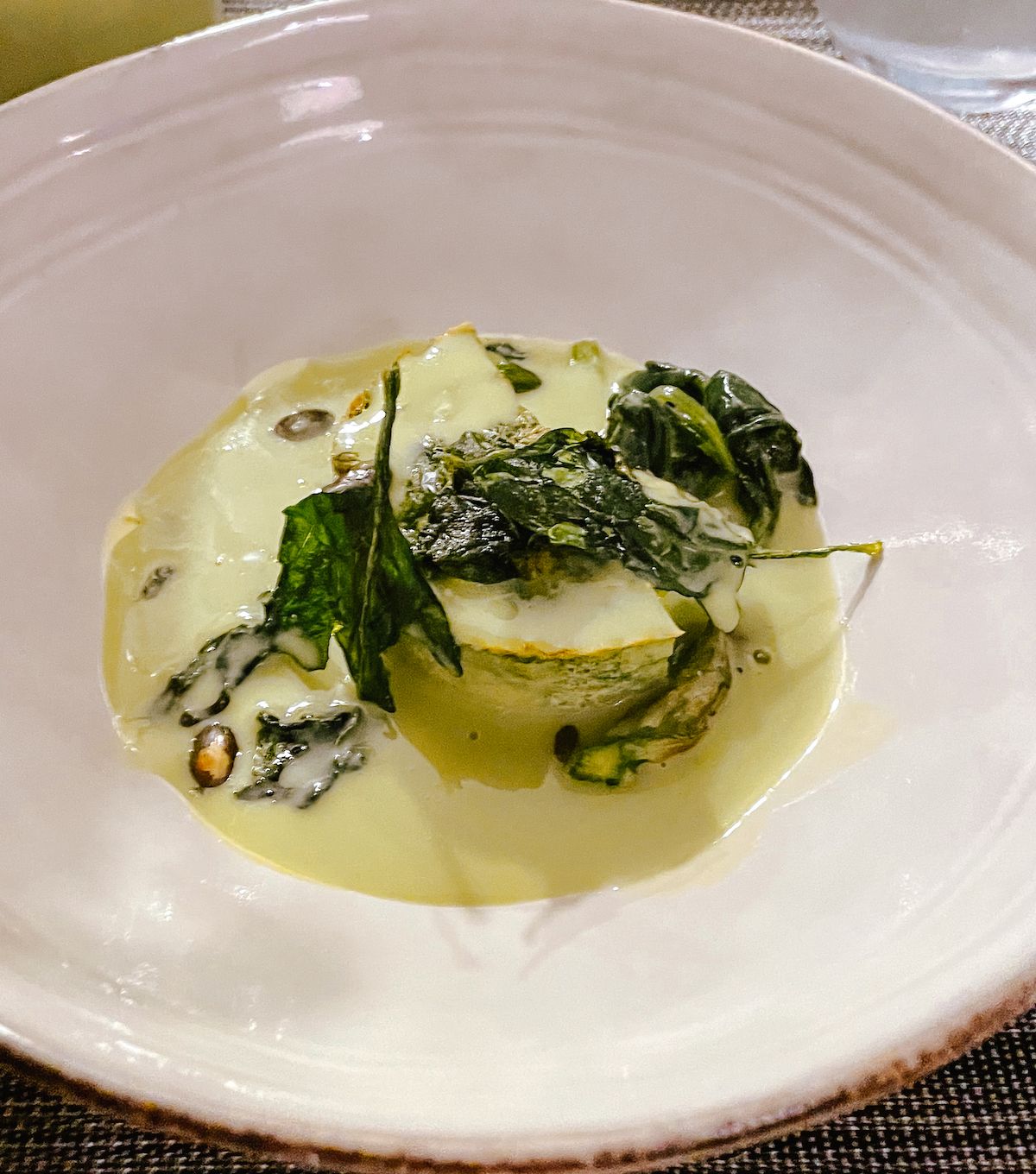 Le Piquebaure is another Michelin-recognized restaurant in Roussillon serving Provencal cuisine. Tucked away in the outskirts of the village, it's a gem for those in the know. Reserve a table on their terrace for views of the countryside, and choose from the seasonal dishes listed on their chalkboard.
We hope you enjoyed these 9 fun things to do in Roussillon!
Don't miss our list of the 7 Best Luberon Villages in Provence
---
Get started on booking your trip to Provence
---
Check out our other France travel guides:
---
Pin and save these unique things to do in Roussillon for later: