Growing up in a small town in the Rockies I often did road trips from Banff to Vancouver. In my opinion, it's one of the best drives in the world. Other than breathtaking sights, the ride offers many unique and fun experiences to enjoy along the way, like having a beach day on the West Coast, visiting BC's wine region, walking through a heritage ghost town and canoeing on a turquoise glacial lake.
Our Vancouver to Banff road trip itinerary includes spectacular sights and must-do road trip stops along the way. We recommend spending 8 days along this route to get the most out of each spot.
We also include our top hotel and restaurant picks that add a unique experience to each area.
Outline: Vancouver to Banff Road Trip
---
Disclosure: Some of the links below are affiliate links, meaning at no additional cost to you, we will earn a commission if you click through and make a purchase. Regardless, we only recommend products or services we have used or that we believe will add value to our readers. Thank you for supporting us!
Best time to drive from Vancouver to Banff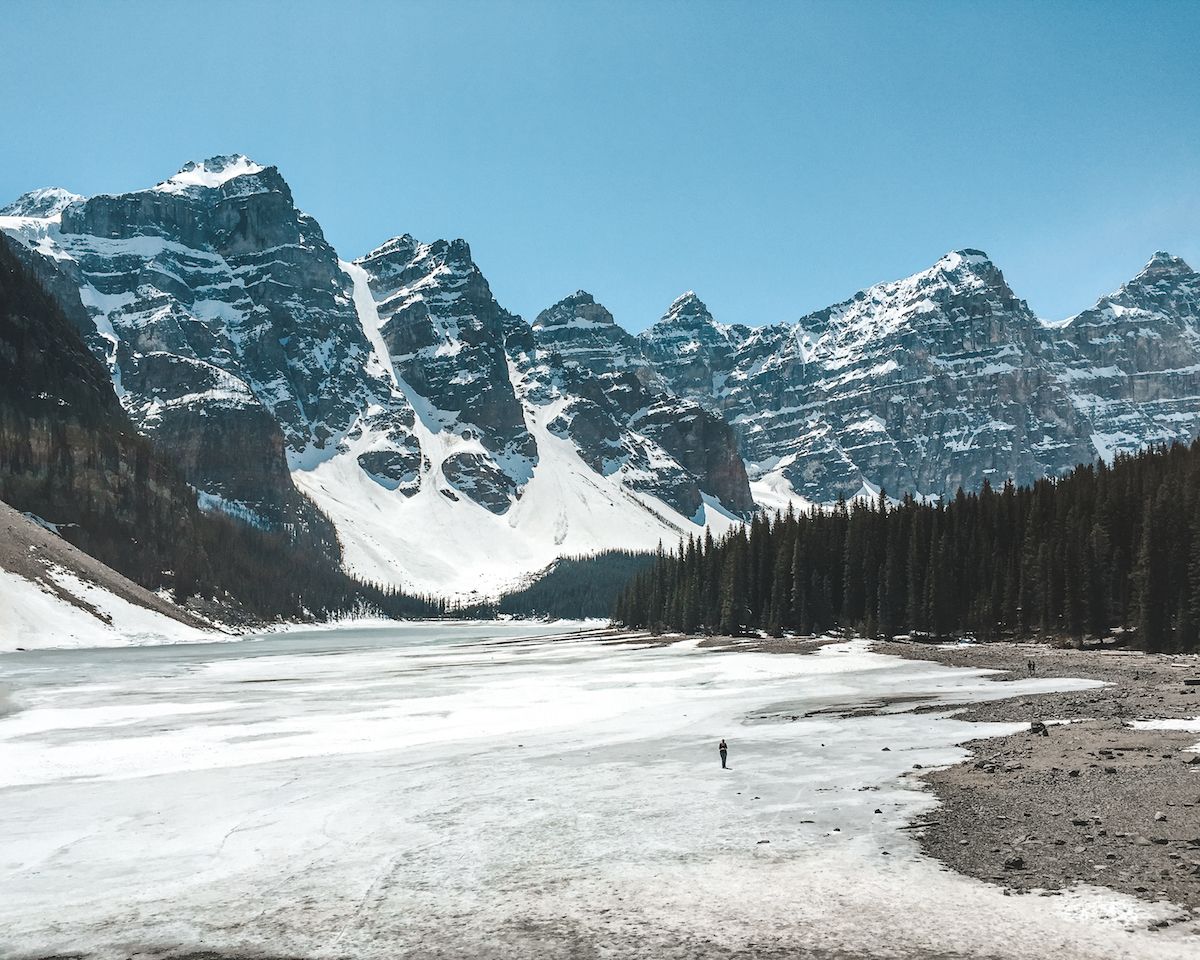 The best time to do the Vancouver to Banff road trip is during the summer months of late June to early September. There are three reasons for this:
You will avoid driving in the snow when conditions can be dangerous
It's the warmest time of year with the least rainfall
The famous glacial lakes in Banff National Park are their famous turquoise colour. If you go any earlier than late June, you may be surprised to see that the lakes are still frozen over!
It's highly recommended not to drive the mountain passes between November - April. You have a high chance of snowstorms, freezing rain, avalanches and detours from road closures. Most routes require winter tires from October - April.
Renting a Car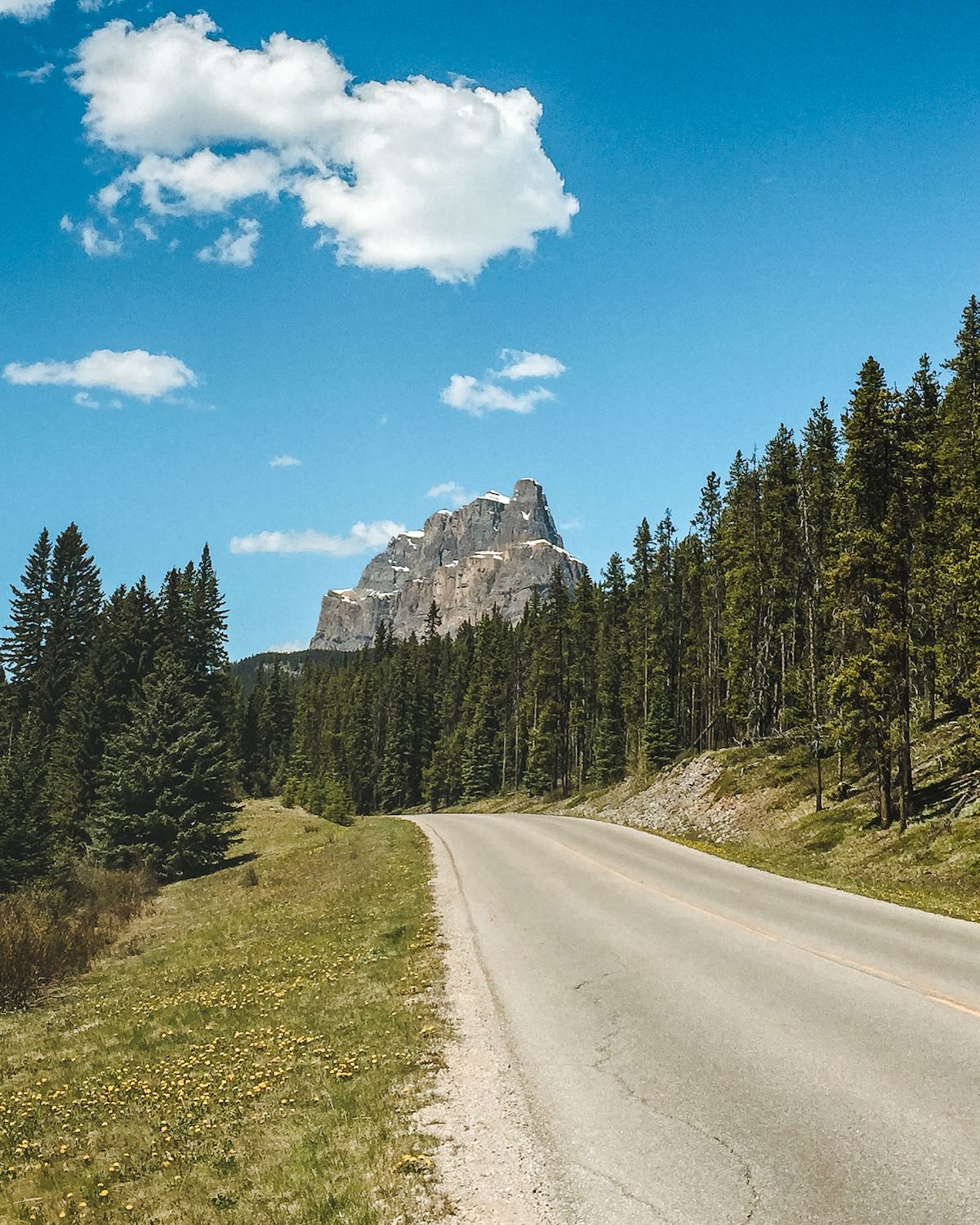 In Canada you can easily rent a car in one province and drop it off in another with major car rental companies, like Thrifty, Alamo, Dollar, Enterprise, National and Hertz.
For this itinerary, pick up your car in Vancouver and drop it off at the Calgary International Airport.
🚗 You can easily compare car rental rates across different companies with
Rentalcars.com
.
Do you need a 4x4?
If you don't plan on doing any off-road camping then no, you can easily drive the roads with a 2WD car. This route has all paved roads.
National Park Fees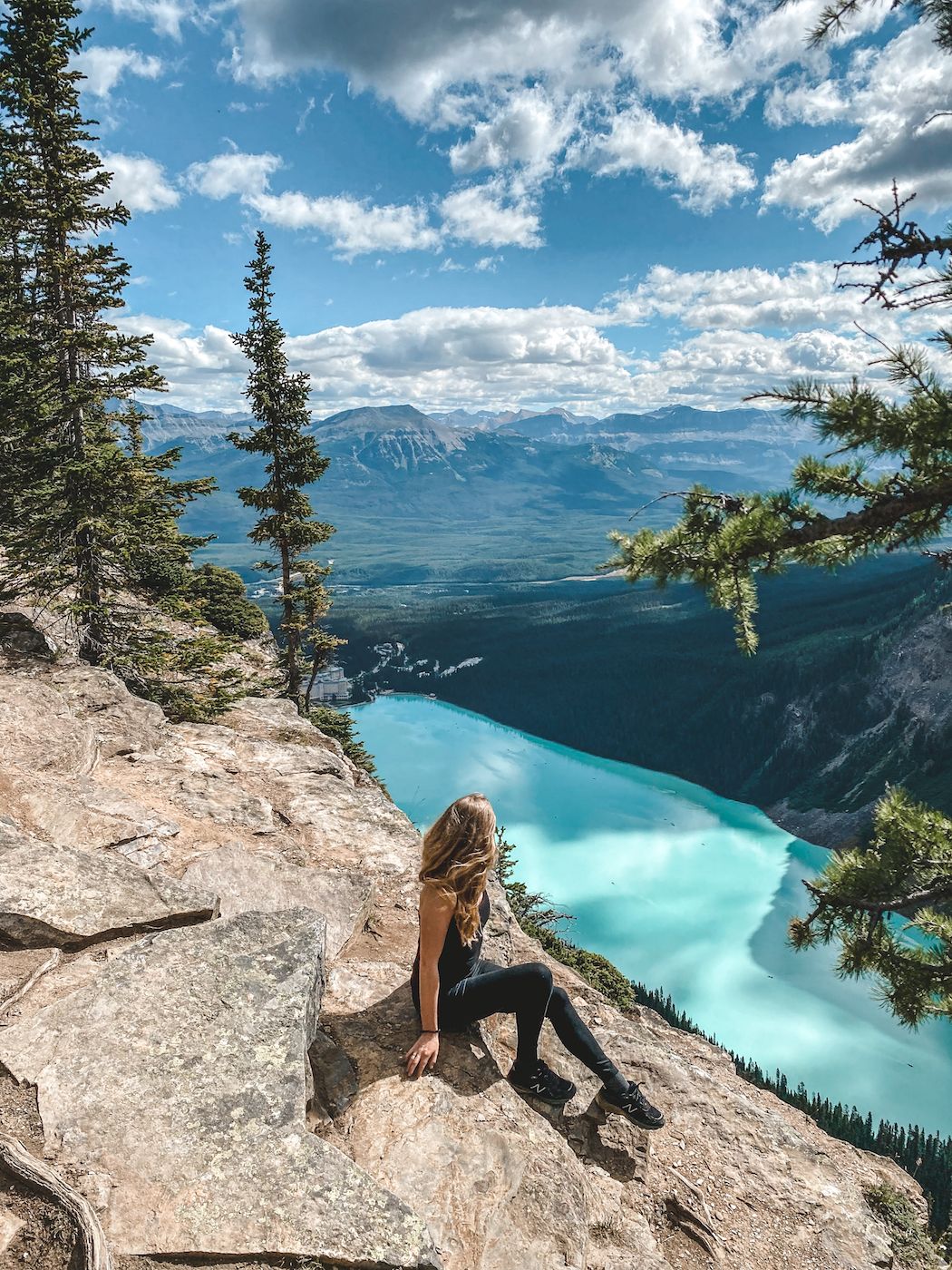 To visit national parks in the Canadian Rockies you will need to purchase a park pass. It costs $10 CAD per person per day, which includes all national parks in the Rocky Mountains, like Yoho, Banff, Mount Revelstoke, Kootenay, Jasper etc. A day pass lasts until 4 PM the next day.
For this itinerary you would need to purchase a park pass starting Day 5. For your four nights in the national parks, it will cost you $40 CAD per person.  You can purchase your pass online in advance.
Ultimate Vancouver to Banff Road Trip Itinerary
Map courtesy of
Wanderlog
, a road trip planner
Days 1-2: Vancouver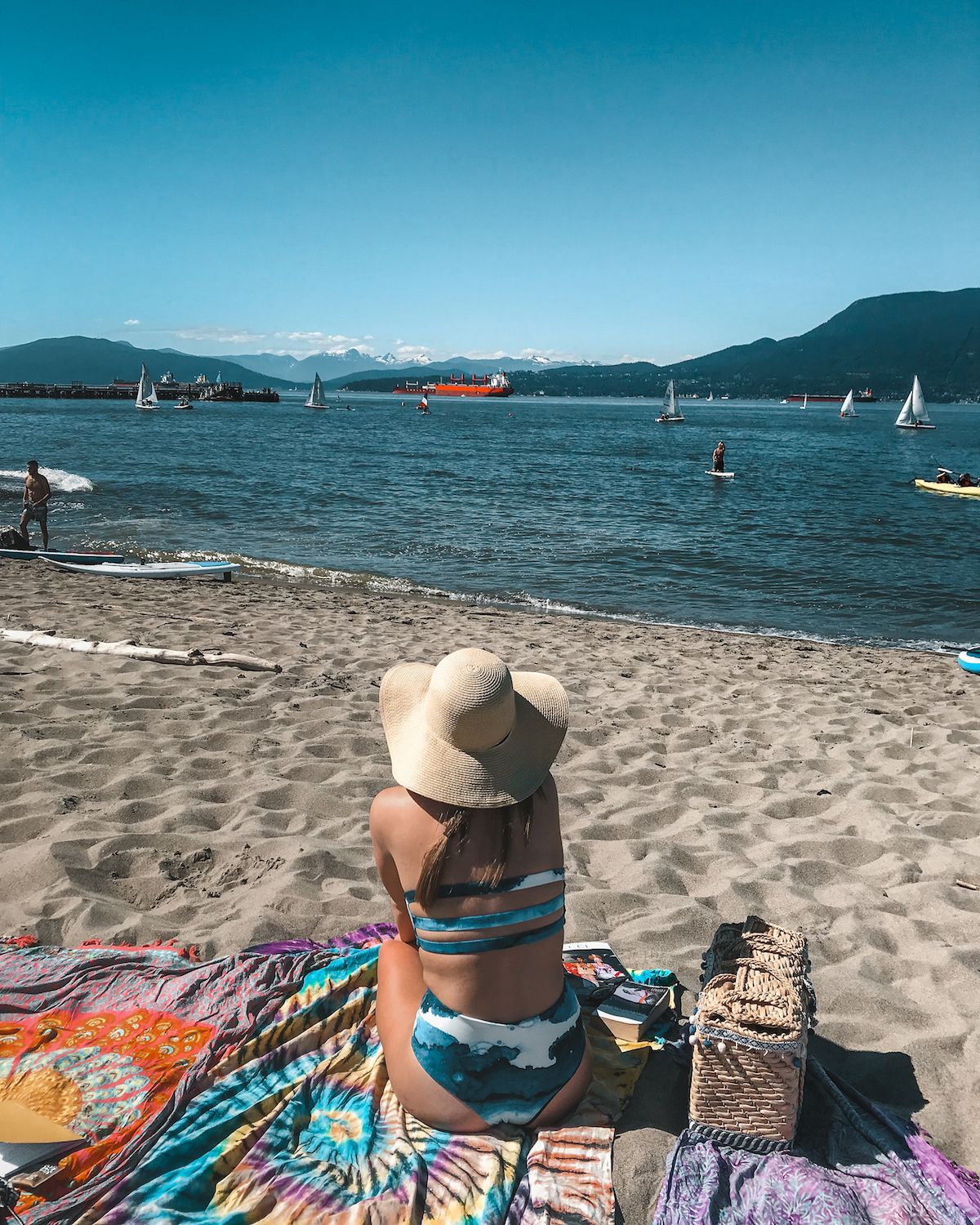 Experience the best of the city's food scene and West Coast culture
Vancouver is known as a foodie and nature lover's destination. Your first two days will be about exploring the city's most scenic spots and eating delicious food! From fun things to do in the city to the best places to eat and drink cocktails, we list our favourite spots below.
Fun things to do in Vancouver
Have a beach day at Third Beach, Kits, Locarno, Jericho or Wreck Beach. The last one is clothing optional.
Take a 10-km bike ride around Stanley Park, Canada's most famous city park. It's larger than Central Park in NYC!
Explore the markets, shops and brewery on Granville Island
Go boutique shopping in the historic neighbourhood of Gastown
See our comprehensive 2-day Vancouver Itinerary, which goes in depth on the best beaches and top things to do on a rainy or sunny day.
Best places to eat in Vancouver (our top 10 picks)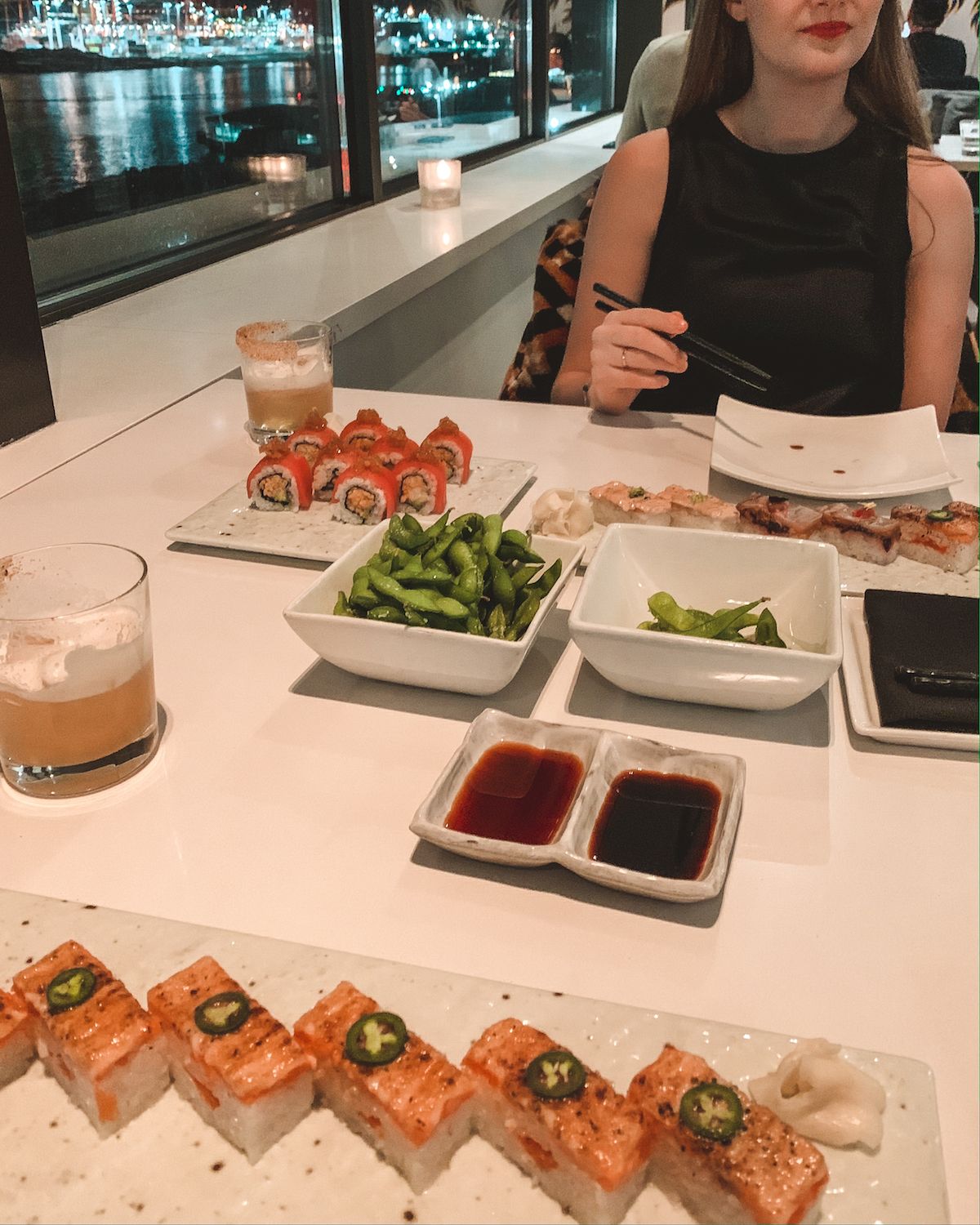 Miku - upscale sushi restaurant known for its mouthwatering aburi (flame-seared) sushi.
Kissa Tanto - hip Japanese-Italian restaurant with its sleek interior inspired by a 1960s jazz club.
Yuwa - intimate restaurant with delicious and authentic Japanese cuisine.
Say Mercy! - where Italian cuisine meets American BBQ.
Elisa - a new and stylish steakhouse with a feminine take that is currently one of the most happening spots in Vancouver.
Ancora - an upscale seafood restaurant with views of False Creek that serves Peruvian-Japanese cuisine.
Pidgin - Asian-French fusion restaurant serving innovative dishes and cocktails in an intimate space.
Ask for Luigi - cozy Italian restaurant with delicious handmade pasta.
Tacofino - Californian-Mexican fare with the best crispy fish taco in the world.
Kaide - casual spot with fresh and inexpensive sushi.
Best cocktail bars in Vancouver (our top 5 picks)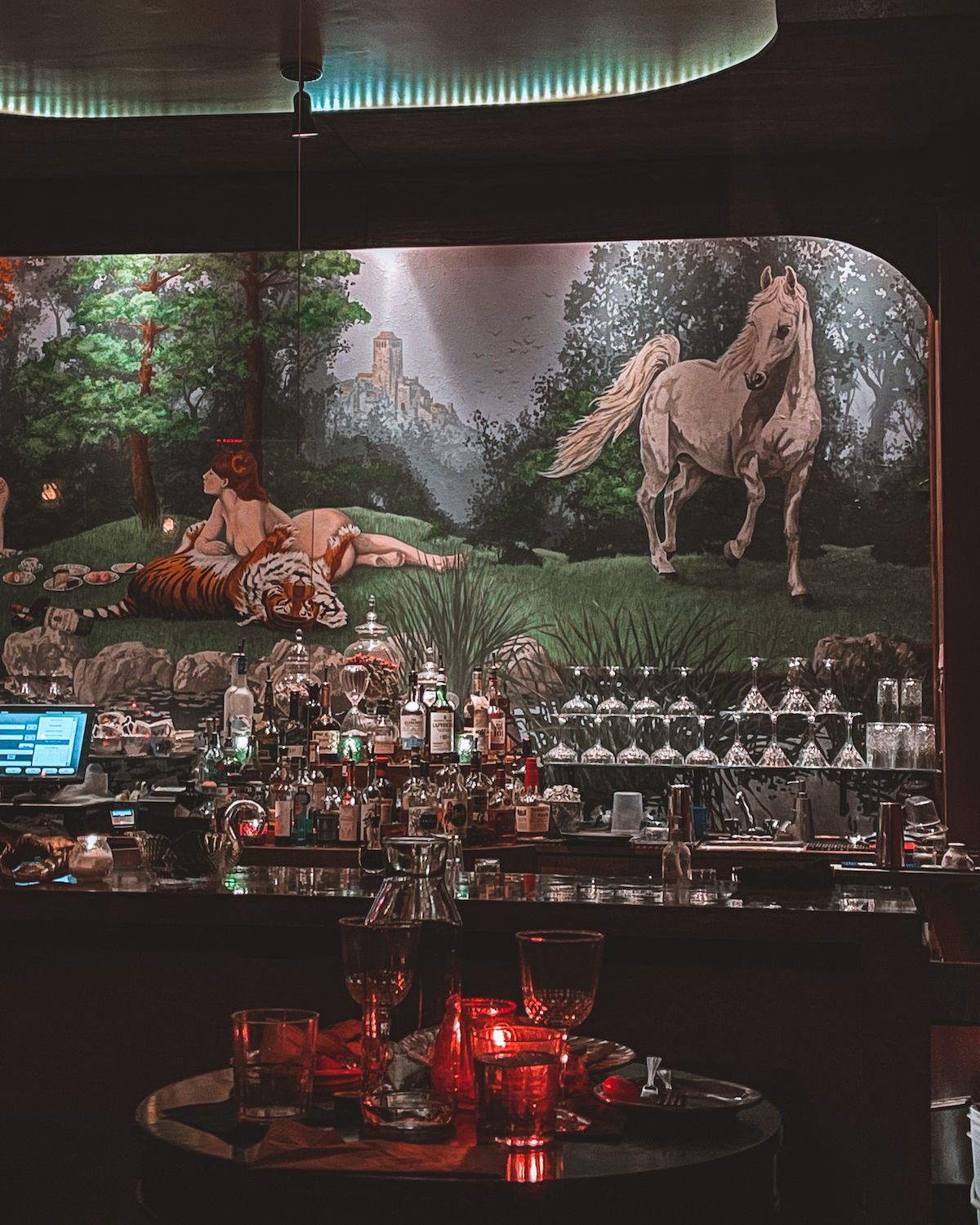 Keefer Bar - an apothecary themed bar ranked #2 on the Canada's 50 Best Bars list.
Key Party - a dimly-lit speakeasy with 1970s vibes.
Reflections - a rooftop garden terrace located in Hotel Georgia, an elegant hotel with a roaring 20s and contemporary design
Pidgin - where passionate bartenders serve excellent off-menu cocktails based on your preferences.
Lobby Bar - a lively lobby floor bar at the Fairmont Pacific Rim serving well-crafted cocktails.
Best places to stay in Vancouver
Check out our full list of the best areas and places to stay at in our Vancouver guide. Pressed for time? See our top picks below:
Best luxury hotel: Hotel Georgia. An iconic hotel from the roaring 20s and one of the top luxury hotels in Vancouver.
Best value hotel: Sonder at Revival. A condo hotel with bright and spacious rooms. Conveniently located in the West End of downtown and walking distance to English Bay and Stanley Park.
Days 3-4: Vancouver → Okanagan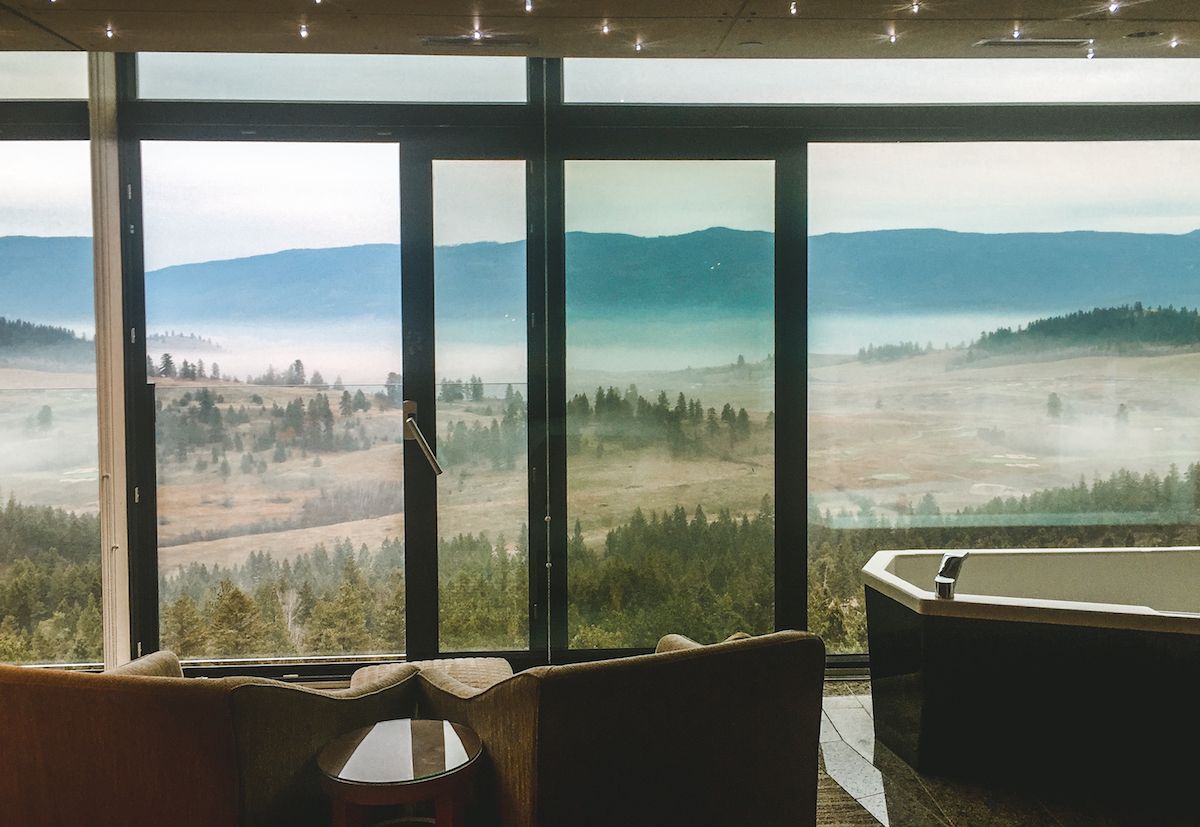 Spend time in BC's wine region and pamper yourself at Sparkling Hill
The Okanagan region of BC is known for its wineries, beautiful valleys and striking large lakes. Other than its award-winning vintages and scenic beauty, the Okanagan is home to one of the most spectacular spa resorts in Canada, Sparkling Hill.
Sparkling Hill is owned by the Swarovski family and has 3.5 million Swarovski crystals infused into the architecture of the hotel.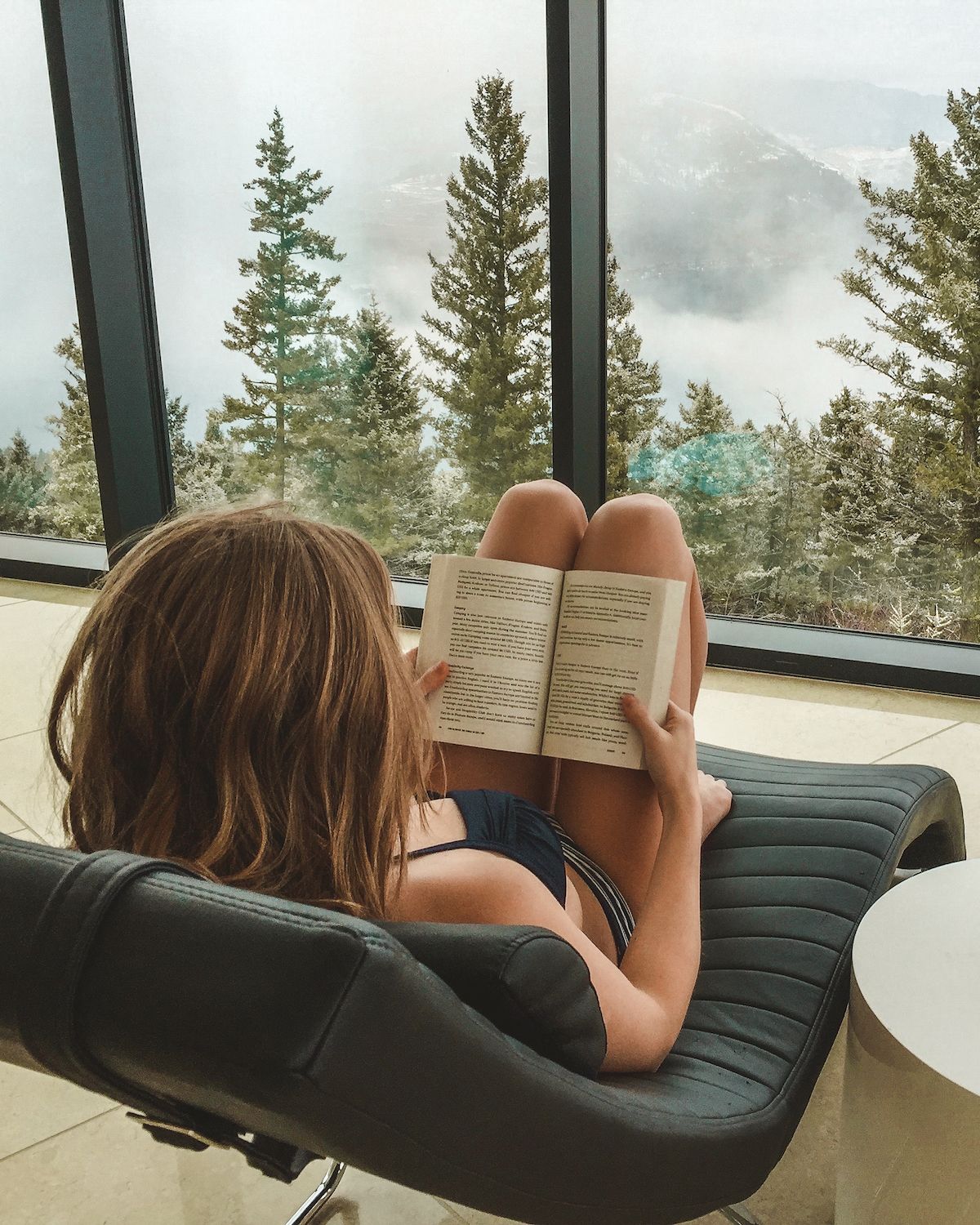 Even more impressive is the luxury hotel's 40,000 sq. ft. spa, the largest in Canada. There are four steam rooms, three saunas, an igloo room, reading room, tea room, hot tub, indoor pool and an outdoor infinity pool. Each steam room and sauna is unique with different scents or temperatures, such as the mint-scented crystal steam room and rose steam room.
It's worth it to spend a couple nights here and pamper yourself!
See rates for Sparkling Hill Resort & Spa
The drive from Vancouver to the Okanagan:
Total distance: 5 hours
Must-do road trip stop: Mission Hill Winery for lunch and a wine tasting
Last stop: Sparkling Hill Resort & Spa
Traffic will be heavier for the first 1.5 hours as you leave the Vancouver city core. After you pass the city of Hope you will be taking Highway 5 up to the Coquihalla summit, made famous by the reality show Highway Thru Hell for being one of the worst drives in winter. Don't worry though, it's fine during summertime!  
Driving up the pass of Coquihalla Mountain, an extinct stratovolano, is an exciting drive as you climb up to 1,244m (4,081ft) elevation and then back down into the town of Merritt. Afterwards it's an easy drive into the valley towards Kelowna. As you drive from Kelowna up to Sparkling Hill near Vernon, you will have stunning views of Okanagan Lake and Kalmalka Lake along the way.
Must-do road trip stop: Mission Hill Winery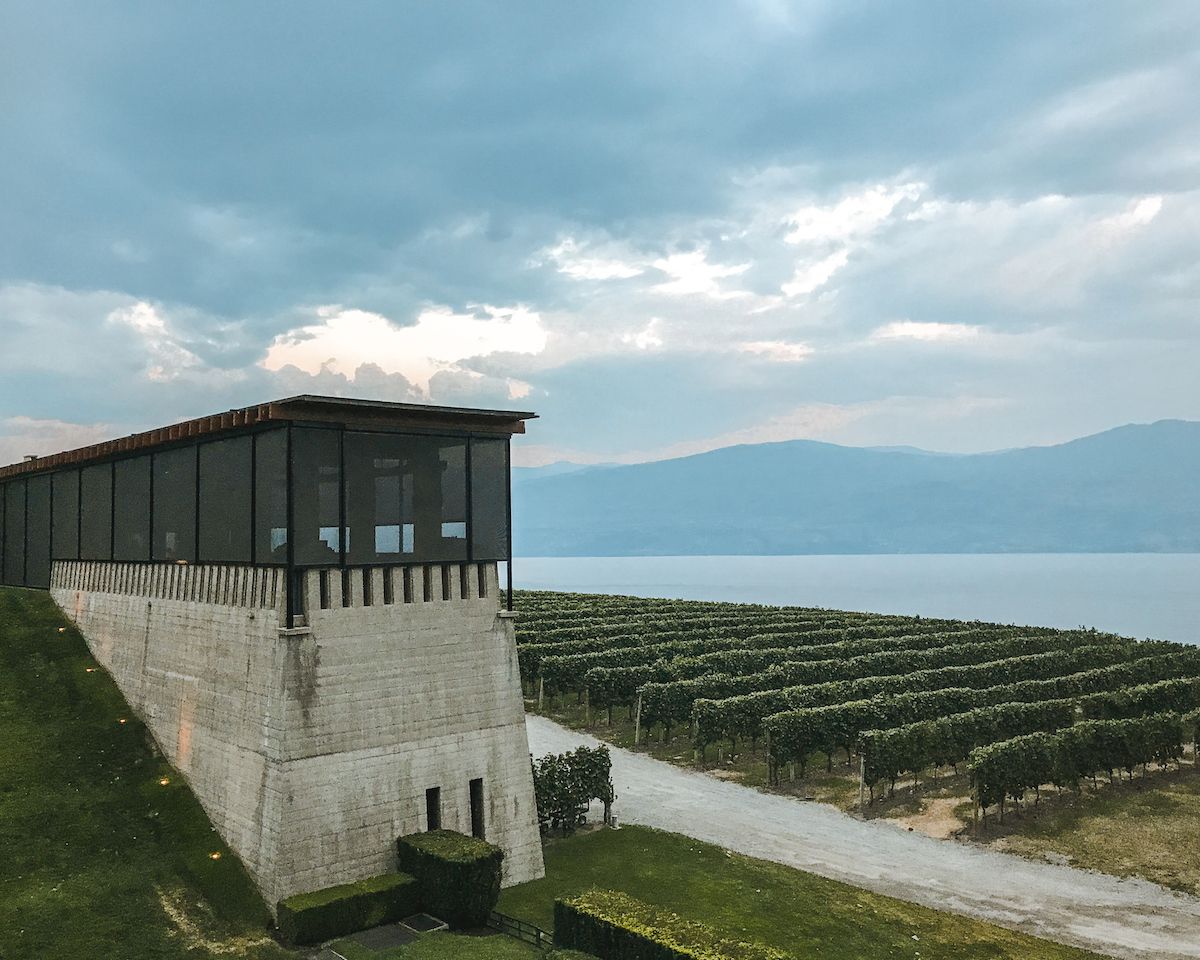 After your drive through the mountain pass, reward yourself with a seasonally inspired lunch and wine tasting at Mission Hill. The winery is breathtaking with its impressive architecture and lake views. The Terrace Restaurant is open from May - October and has spectacular views of the lake and vineyard. After your stop at Mission Hill you only have one hour left of your drive.
Days 5-6: Okanagan → Lake Louise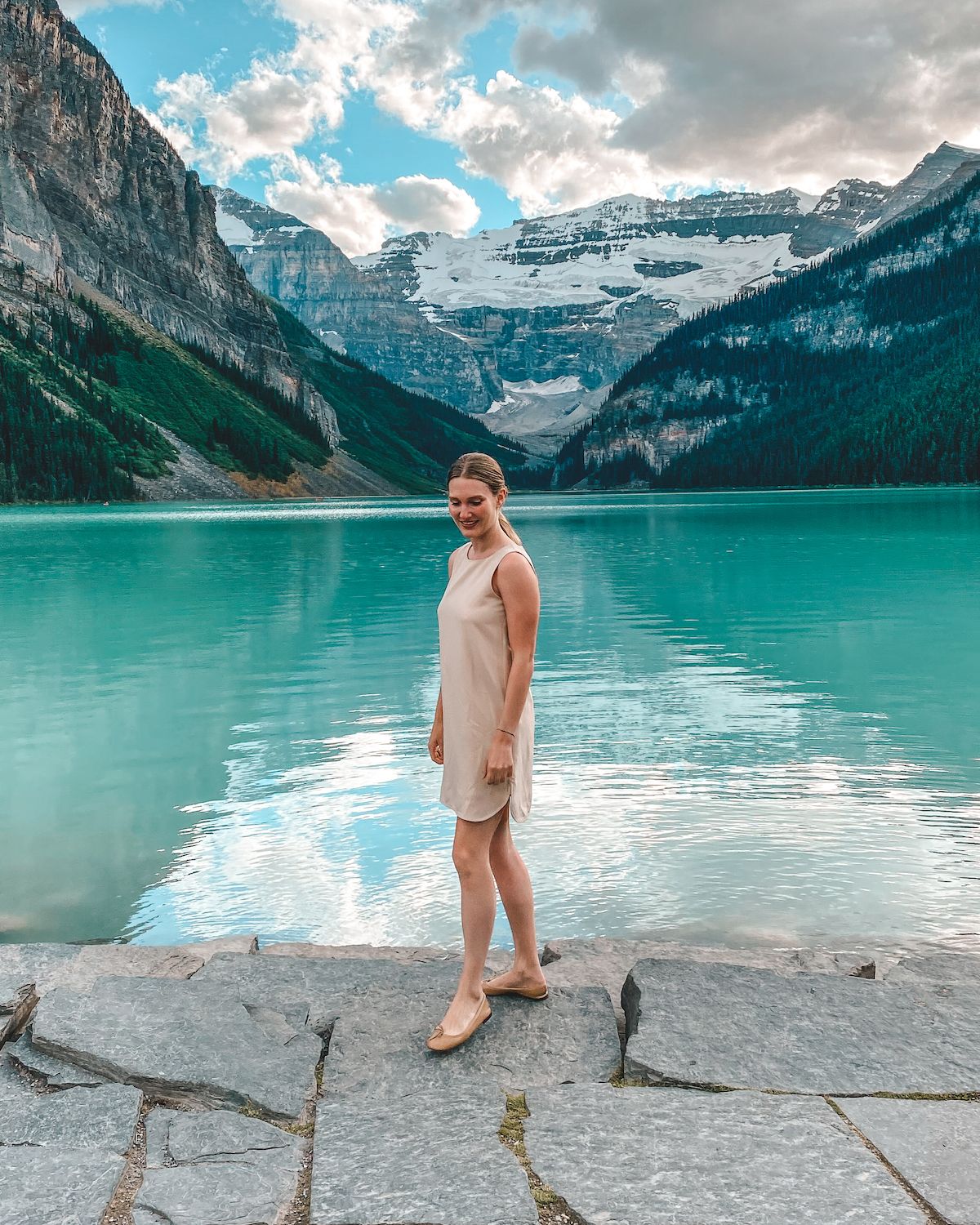 See the beauty of the Rocky Mountains and Canada's most famous glacial lakes
You are in for a treat. Highway 1 from Sicamous to Lake Louise is one of the most beautiful drives in Canada. As a kid, it was my favourite part of the route and it still is today. After your scenic drive you will end up in Lake Louise, one of Canada's most picturesque towns with its turquoise glacial lakes.
The drive from the Okanagan to Lake Louise
Total distance: 5 hours
Must-do road trip stops: 3 Valley Gap Ghost Town, The Enchanted Forest, Main Street Cafe, Takakkaw Falls.
Last stop: Lake Louise
Most of your drive you will be surrounded by majestic mountains covered in green trees as you pass through four national parks, Mount Revelstoke National Park, Glacier National Park, Yoho National Park and Banff National Park. The drive feels haunting through the mountain passes as you drive by some of the original railroads built in 1885 that cut through the mountains, connecting Canada from coast to coast.
Must-Do Road Trip Stops
This stretch of your journey offers fun activities to do that you don't want to miss. Start your drive early to ensure you have enough time to explore!
3 Valley Gap Ghost Town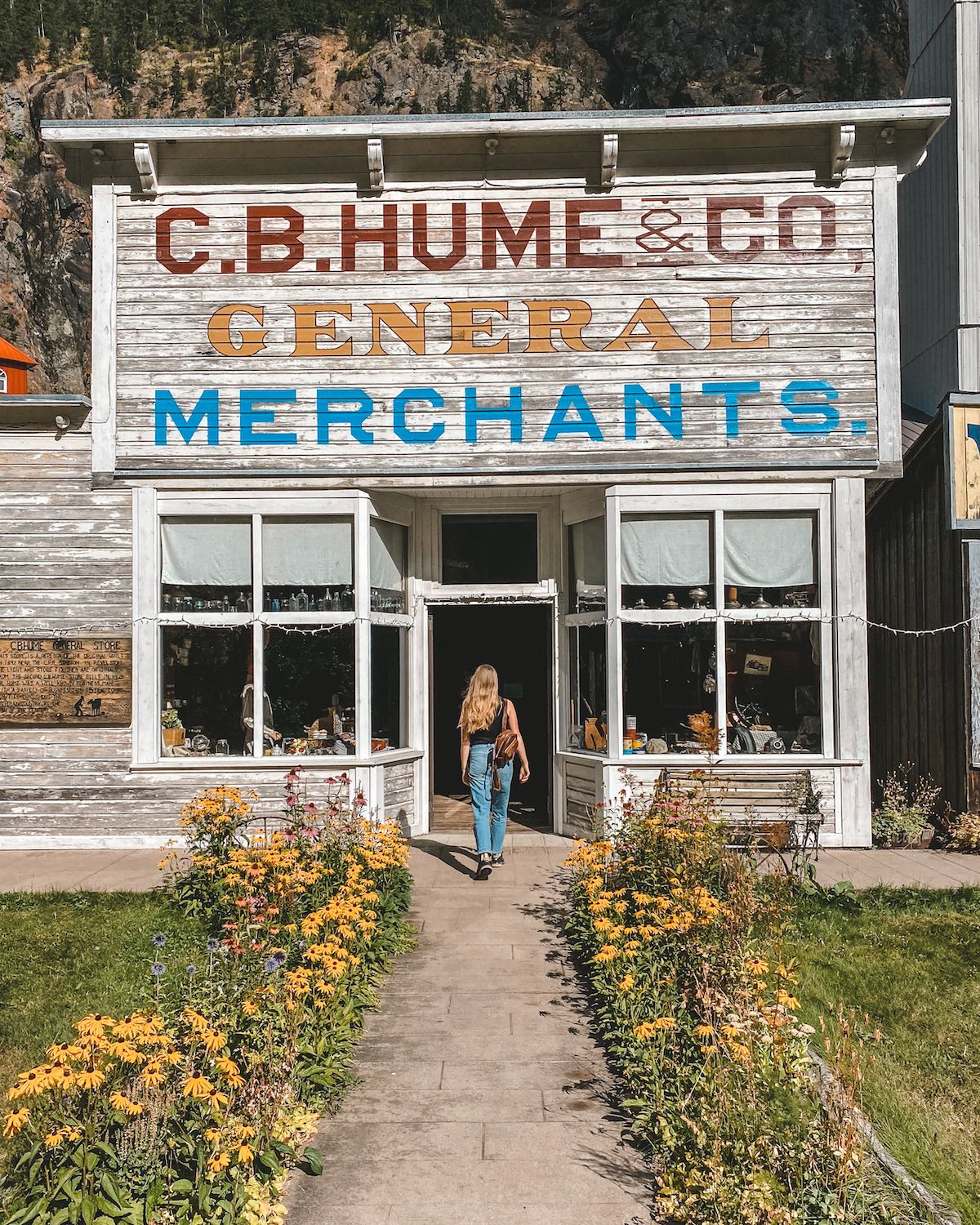 Relive the Pioneer days of the late 1800s and walk through the heritage ghost town at Three Valley Gap. The chateau and ghost town feel like they are located in the middle of nowhere, since they are enclosed by mountains and a lake. A ticket to walk through the ghost town costs $14 CAD per adult. You will see 25 historic buildings like a saloon and barbershop, an auto museum and a railway museum including a super creepy "haunted house" train you can walk through.
The Enchanted Forest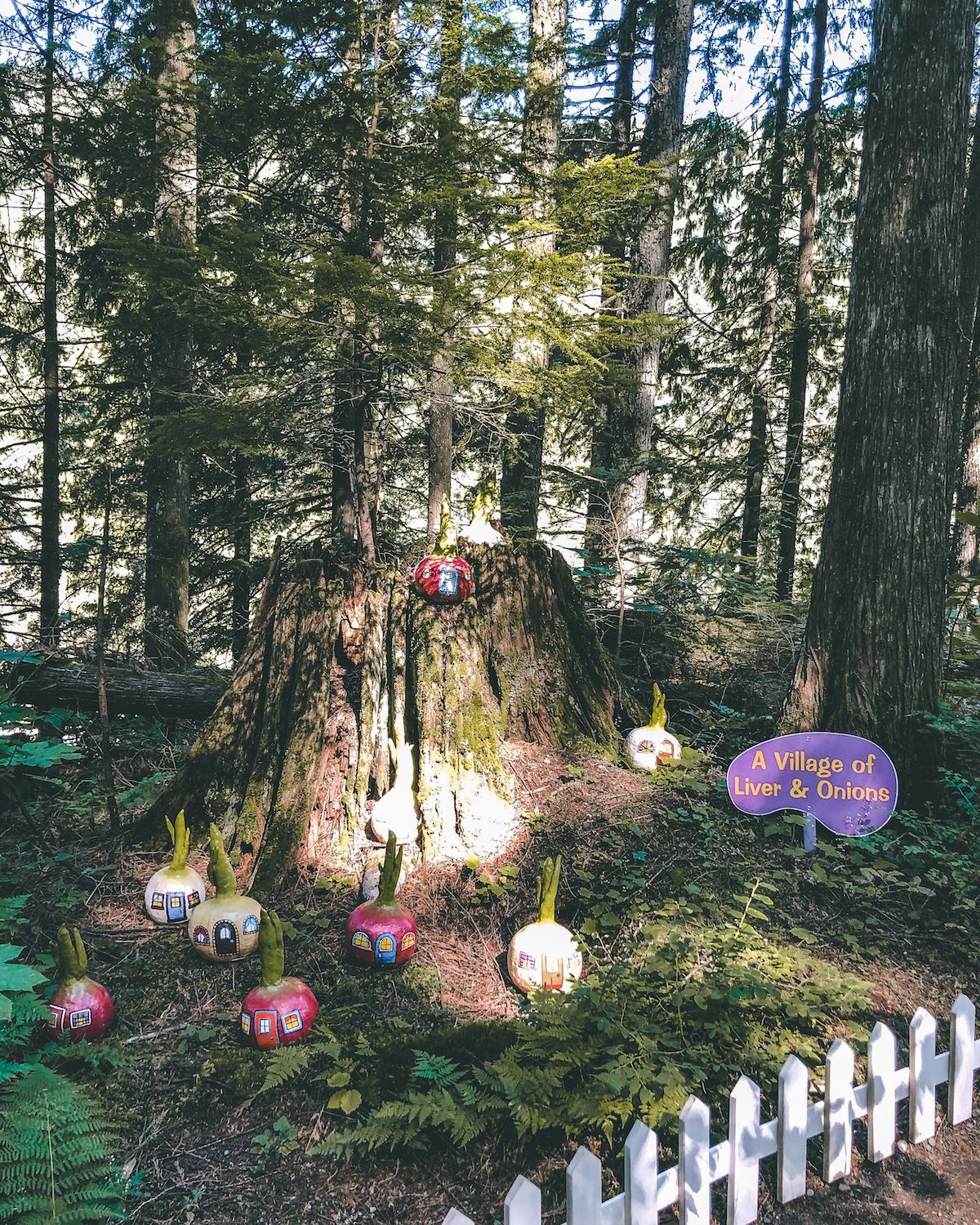 The Enchanted Forest is a fun spot to visit if you're with kids or a kid at heart. The forest is filled with fairytale figurines and is home to the tallest treehouse in BC. It's quite a wacky place and a nice place for a nature walk through the giant trees. Admissions costs $12 CAD per adult, $9 CAD for kids 3-15 years and free for kids under 3.
Main Street Cafe
Stop for brunch in the historic and cute centre of Revelstoke. Main Street Cafe is located in a converted heritage house and is known for its all day breakfast including different types of bennys and skillets.
Takakkaw Falls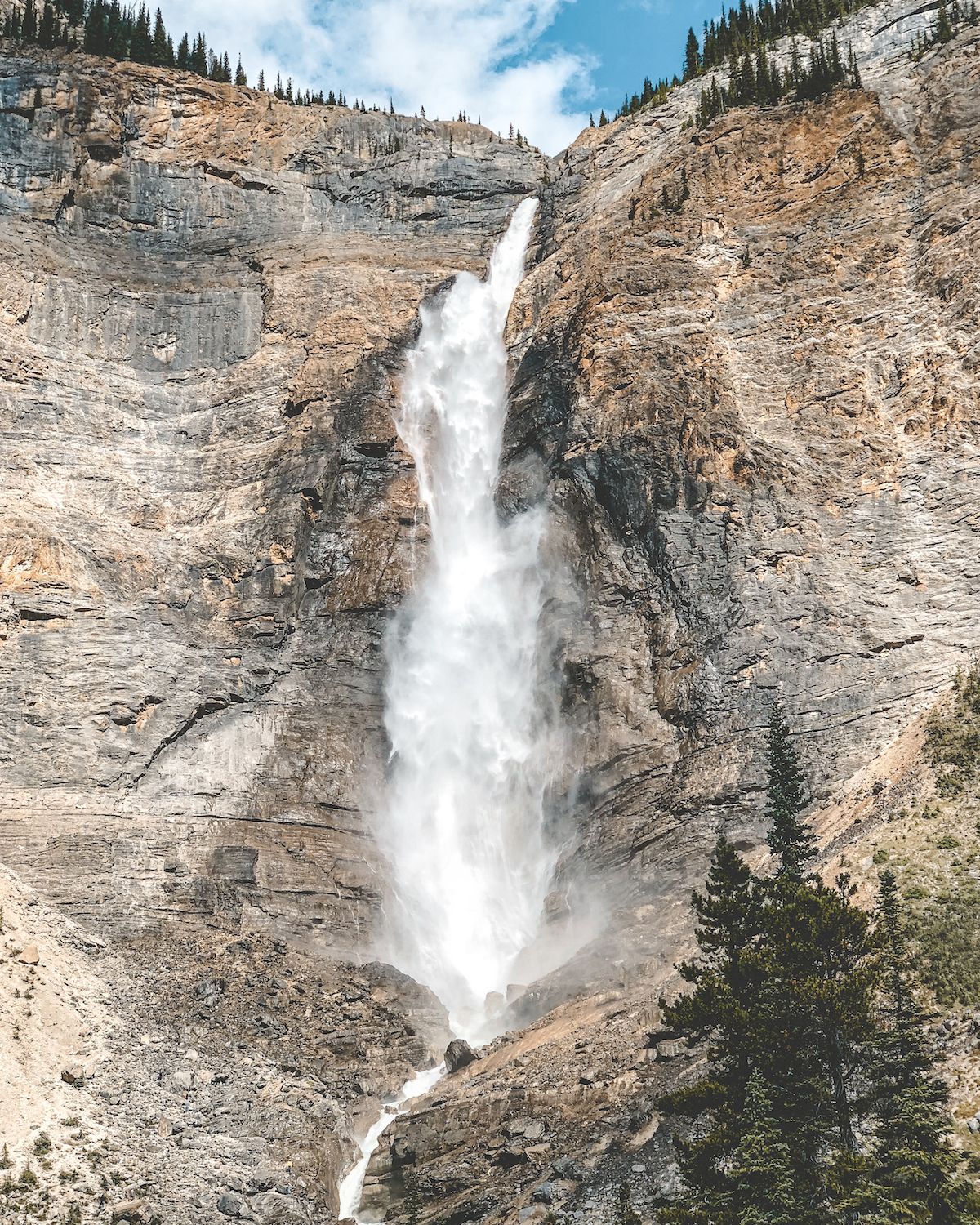 Takakkaw Falls is the second highest waterfall in Canada, created by meltwater from a glacier above. It's located in Yoho National Park and a 20 minute drive off of Highway 1. The stunning hike takes you to the base of the falls and is 1.3km roundtrip.
Fun things to do in Lake Louise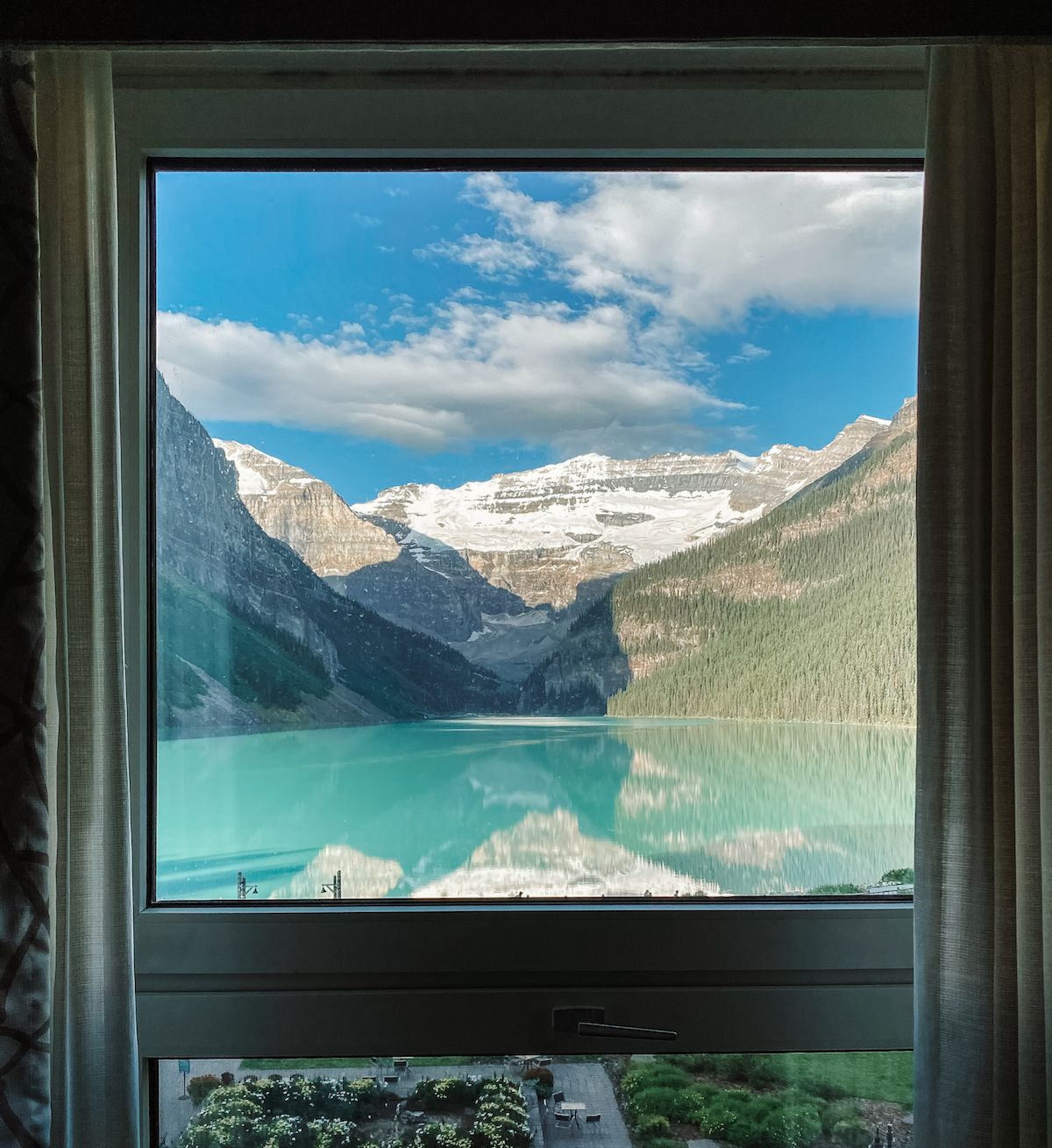 Once you've made it to Lake Louise take a rest at the
Fairmont Chateau Lake Louise
,
the only hotel that sits right on the glacial lake.
It's worth the splurge! If you book a lakeside room you will wake up to Lake Louise through your window.
Eat cheese fondue at Walliser Stube
, an alpine-style restaurant located in the hotel and sip cocktails afterwards at the
Art Deco-styled Fairview Bar.
See rates for Fairmont Chateau Lake Louise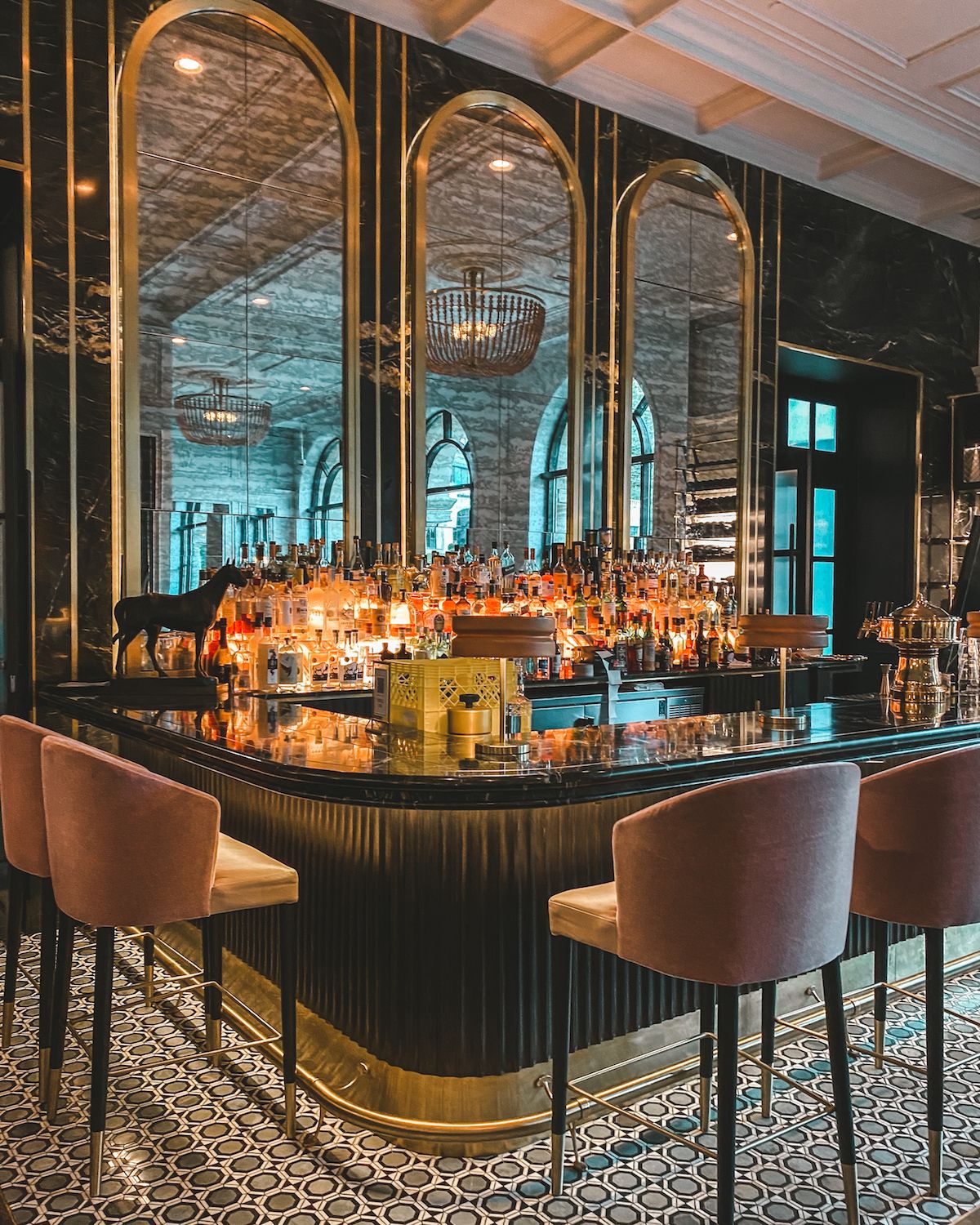 One of the best things to do in Lake Louise is to go hiking. If you stay at the
Fairmont Chateau Lake Louise
a benefit is that you won't have to find parking in the morning and can hike straight from the hotel.
For an amazing birds-eye view of Lake Louise, hike up to the Big Beehive lookout
, which also includes a stop at a teahouse along the way.
Check out our Big Beehive & Lake Agnes Teahouse hiking guide.
Days 7-8: Lake Louise → Banff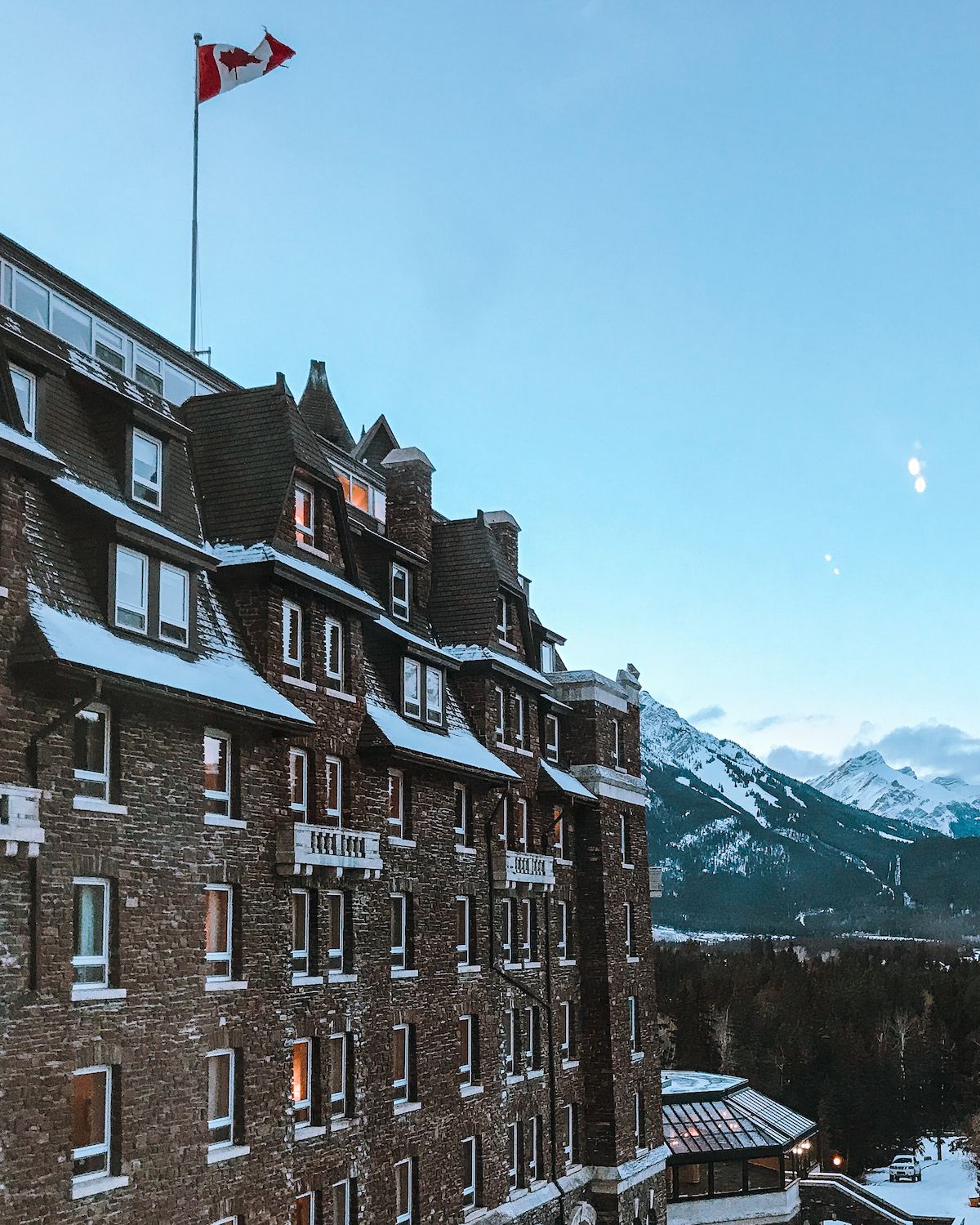 Explore the fun mountain town
Banff is a vibrant mountain town with plenty of boutique shops, restaurants and bars. It's also a great hub for exploring the mountainous area.
The drive from Lake Louise to Banff
Total distance: 45 minutes
Must-do road trip stops: Moraine Lake
Last stop: Banff
Must-do road trip stop: Moraine Lake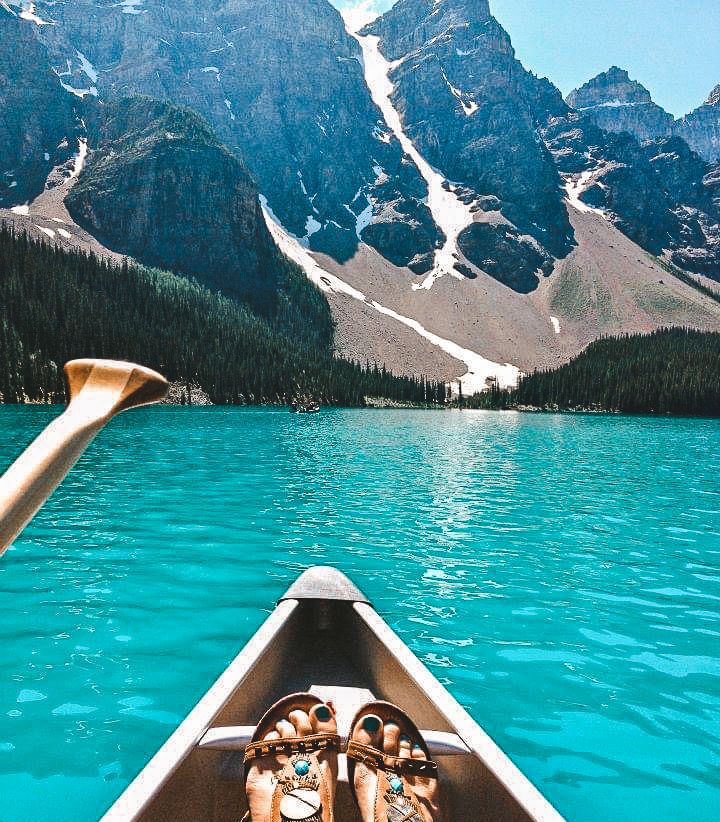 Today will be the shortest drive of your road trip. Wake up early and start your day at Moraine Lake, a picture perfect lake with the Valley of the Ten Peaks as its backdrop. It's an amazing place to go for a canoe ride, which you can rent right on the lake for $95 CAD per hour. Ensure you go super early since they close off the road until 5PM once the parking lot it fills up.
Fun things to do in Banff
There are a lot of fun things to do in Banff from shopping cute boutiques on Banff Avenue and Bear Street to taking a gondola up Sulphur Mountain to eat at Sky Bistro.
See our comprehensive 4 day Banff & Lake Louise itinerary to see the top things to do and where to eat.
Where to stay in Banff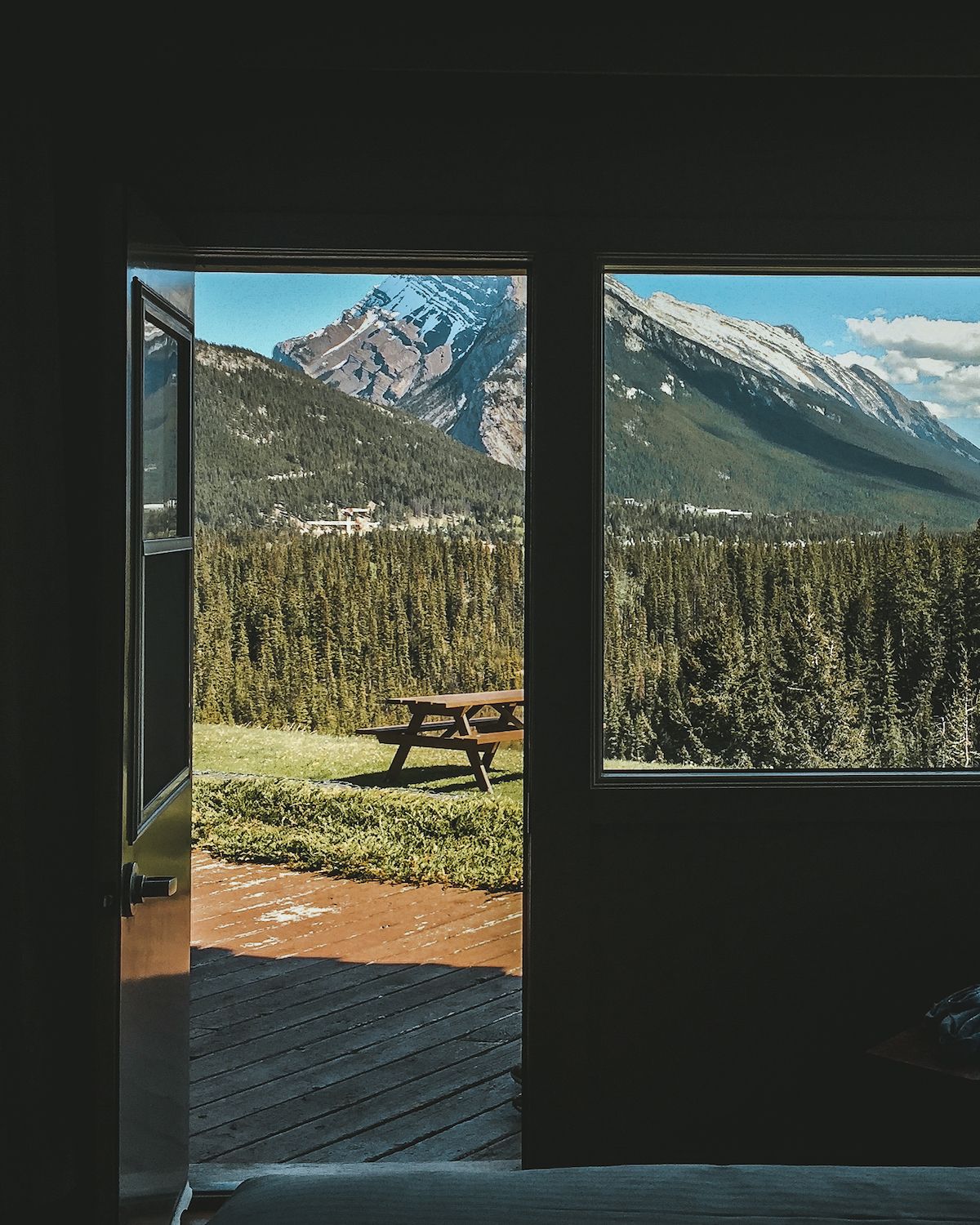 Best luxury hotel: Fairmont Banff Springs. A striking hotel built in 1888 that makes you feel like you are staying in a castle. The spa is like a sanctuary with its mineral pools and outdoor hot pool surrounded by the Rockies.
Best value hotel: Juniper Hotel. A peaceful spot located just outside of town with spectacular views of the mountains from your room.
Calgary International Airport
Calgary is only a 1.5 hour drive from Banff, making it easy to drop off your rental car at the Calgary International Airport before flying home.
Enjoy your road trip!
---
Start planning your road trip
🌃 Accommodation: Booking.com is our go-to for finding places to stay. Sort by top reviewed.
🚗 Car rental: see Rentalcars.com to compare car rental prices across different companies.
---
Planning to do your Vancouver to Banff road trip in July? You should consider stopping in Calgary for a couple days for the rowdy Calgary Stampede that takes place the first half of July.  It's an authentic country-western experience watching the best cowboys and cowgirls compete at the rodeo. See our list of the top things to do at the Calgary Stampede.
For other trip ideas from Vancouver, check out our list of 17 fun weekend getaways from Vancouver.
---
Looking for more travel inspiration? Check out our list of 30 fun adventure ideas for your next trip.