Marrakech has an abundance of tucked away spots waiting to be discovered outside of its main streets and souks. We list 13 hidden gems in Marrakech located down alleyways, side streets, behind inconspicuous doors, and in neighbourhoods outside of the Medina that you don't want to miss.  
Overview: Hidden Gems in Marrakech
---
Disclosure: Some of the links below are affiliate links, meaning at no additional cost to you, we will earn a commission if you click through and make a purchase. We only recommend products or services we have used or that we believe will add value to our readers. Thank you for supporting us!
1. Shop stylish Marrakech labels in the Industrial Quarter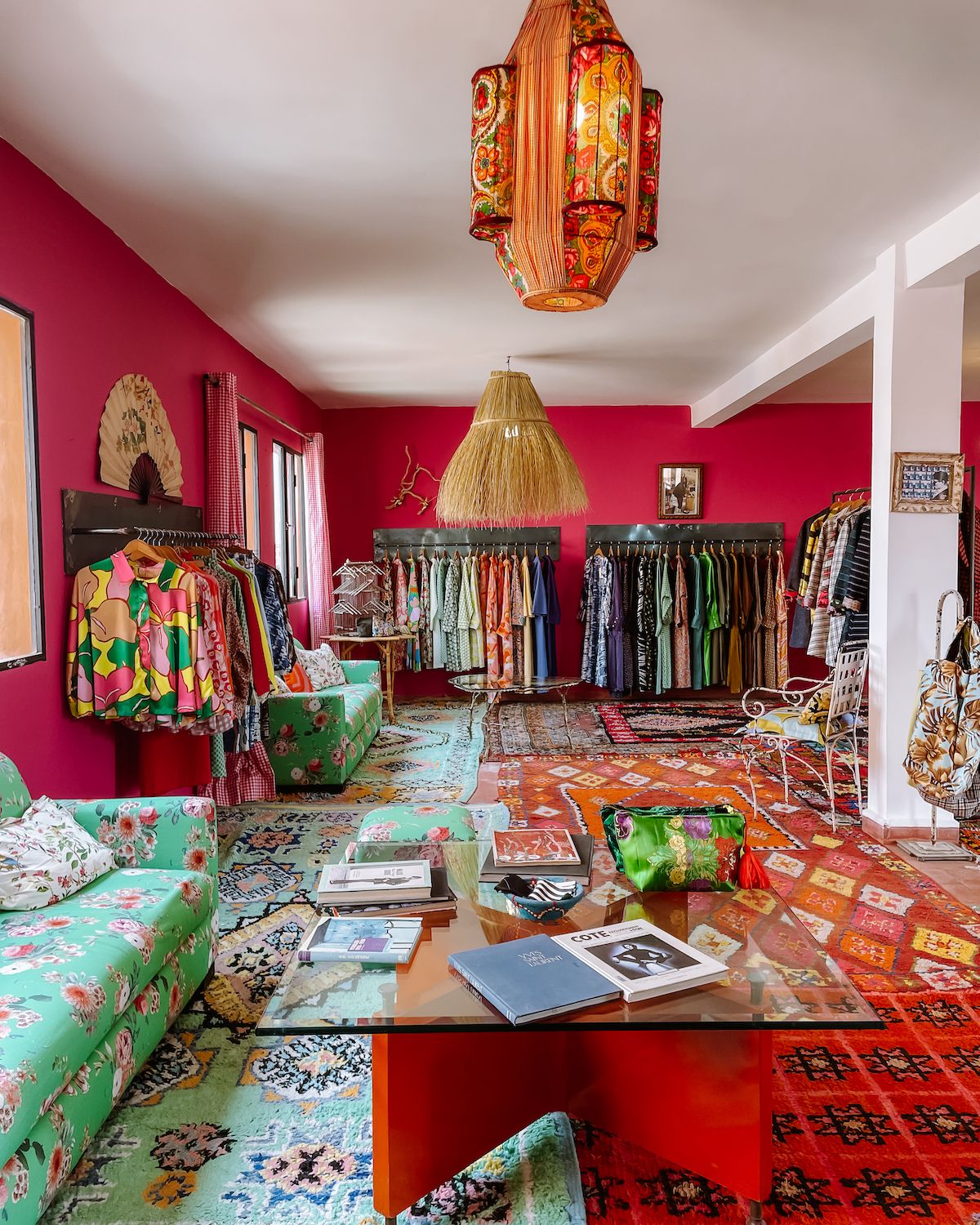 Quartier Industriel Sidi Ghanem is an up-and-coming district in the outskirts of Marrakech, where trendy artisan shops and showrooms are intertwined with warehouses and workshops. Completely off the beaten path, its a shopping hub visited by in-the-know travellers and expats.
The Industrial Quarter is about a 20 minute drive from the heart of the Medina. Get your taxi to drop you off at LRNCE Studio and walk south down the street to continue your shopping.
Our favourite shops in the Industrial Quarter:
To get a taxi back to the Medina, walk over to the N7 Highway and you will find tons.
2. Stay at the artist-led Riad Jardin Secret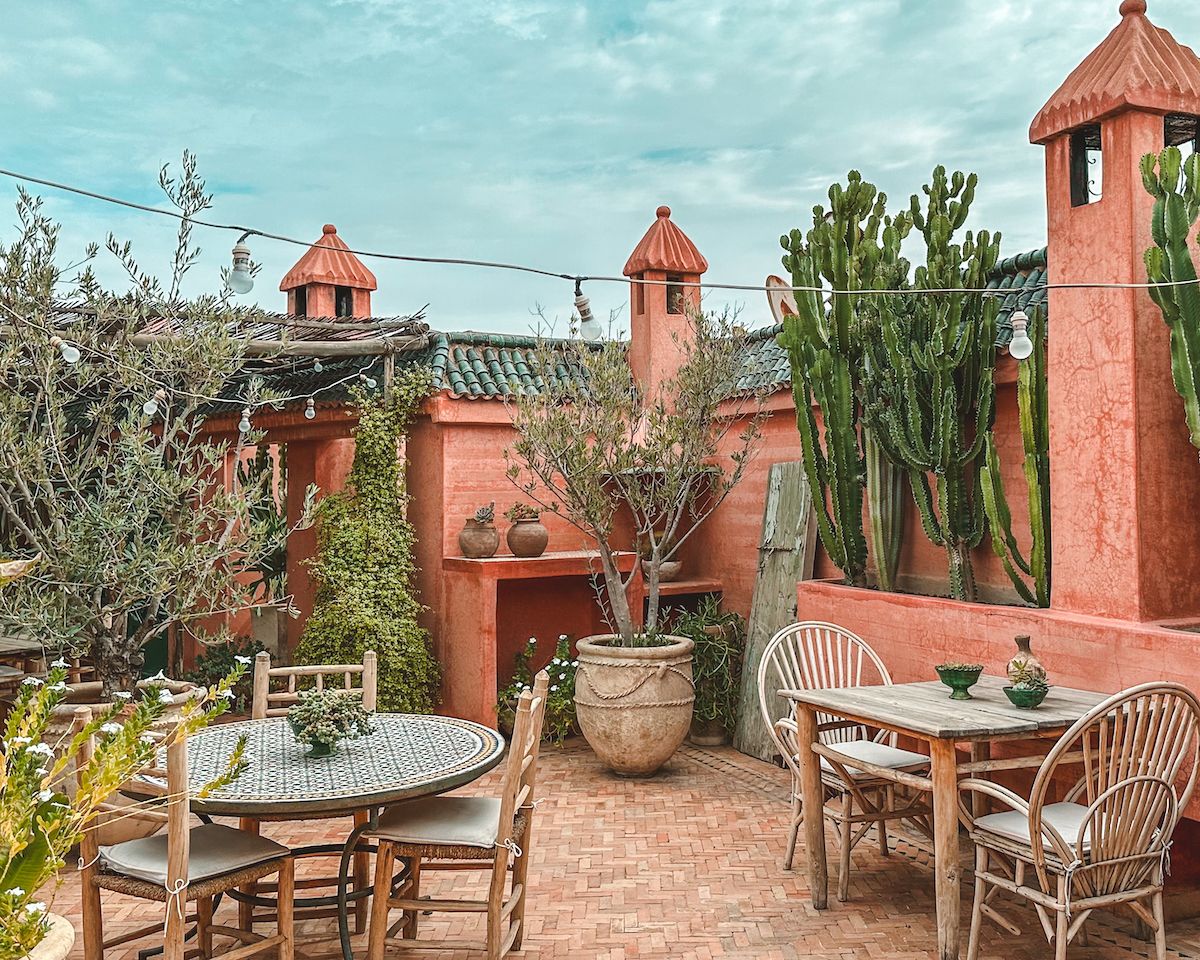 Located down an alleyway off a tiny side street in the Medina, you will find
Riad Jardin Secret
,
an artist-owned riad with an "anti-modern" spirit.
Offering artist residencies, the tranquil space is a meeting place for creatives with thoughtful details and furnishings shone throughout, though you don't have to be an artist to stay here.
Stays at Riad Jardin Secret can only be booked directly on their website, keeping it a hidden gem for those in the know.
Spending time in the authentic riad was delightful and eating breakfast on their beautifully decorated rooftop was a highlight. The only downside is that they don't have air conditioning, so we recommend only staying here during Marrakech's coldest months.
3. Hang out at El Fenn's funky rooftop bar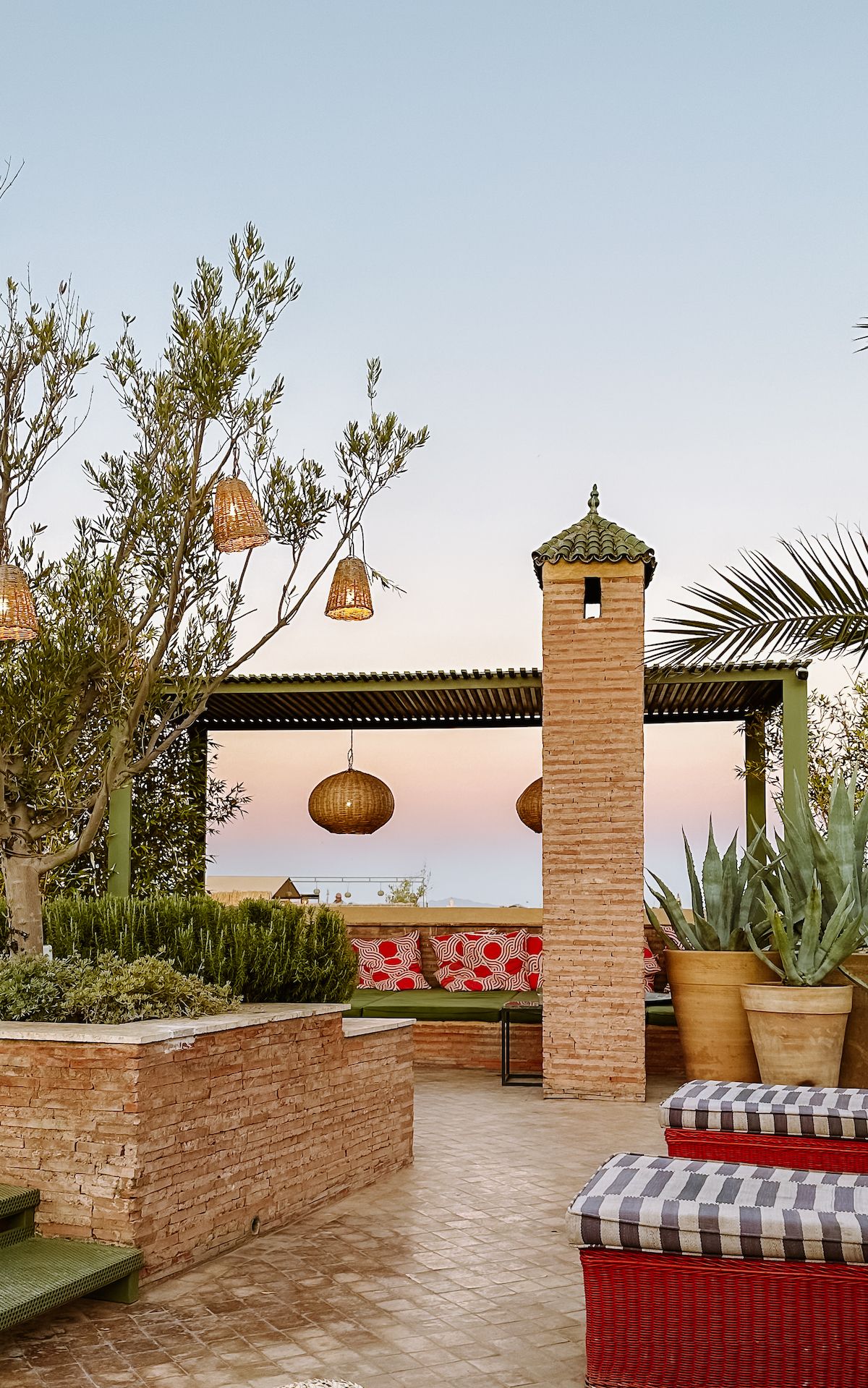 It's easy to find rooftop restaurants that don't serve alcohol in the Medina, but finding top-notch rooftop bars can be difficult.
After our disappointing visit at Kabana Rooftop Bar, which felt like a bachelorette party in LA, we were ecstatic to come across the rooftop bar at El Fenn.
The boho-chic riad owned by Vanessa Branson hits the mark with its fun and sophisticated energy.
We only found El Fenn's rooftop bar since we were staying at the hotel, and were happy to hear it's open to non-hotel guests. Their excellent curation of music, signature cocktails and funky furnishings perfectly complement Marrakech. Watching the sunset glow over the minaret tower in the distance and the sky turn different shades of purples, oranges and reds is magical.
Note: the pool/pool chairs are available to hotel-guests only, but the bar area is open to all guests.
4. Shop for unique African treasures behind a large wooden door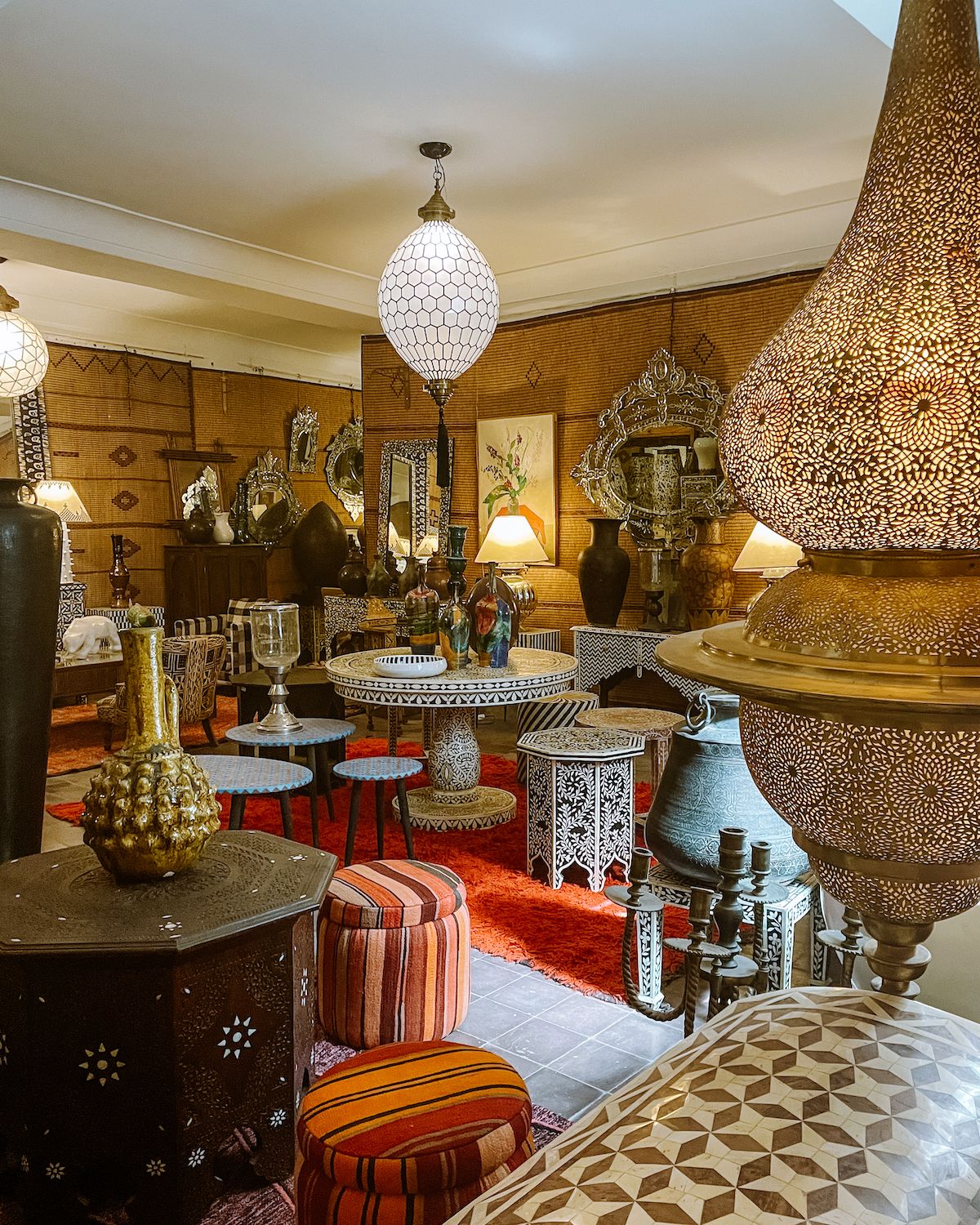 Opening the large wooden door of Mustapha Blaoui feels like stepping into Aladdin's Cave of Wonders. The three-story shop sells traditional furniture from all around Africa and the prices are fair. We loved a set of green and white striped side tables made from camel bone. They were quoted at 400 € each, compared to 2,000 € we saw at a shop on the main strip!
5. Have a glamorous brunch in the courtyard of Dar El Bacha Palace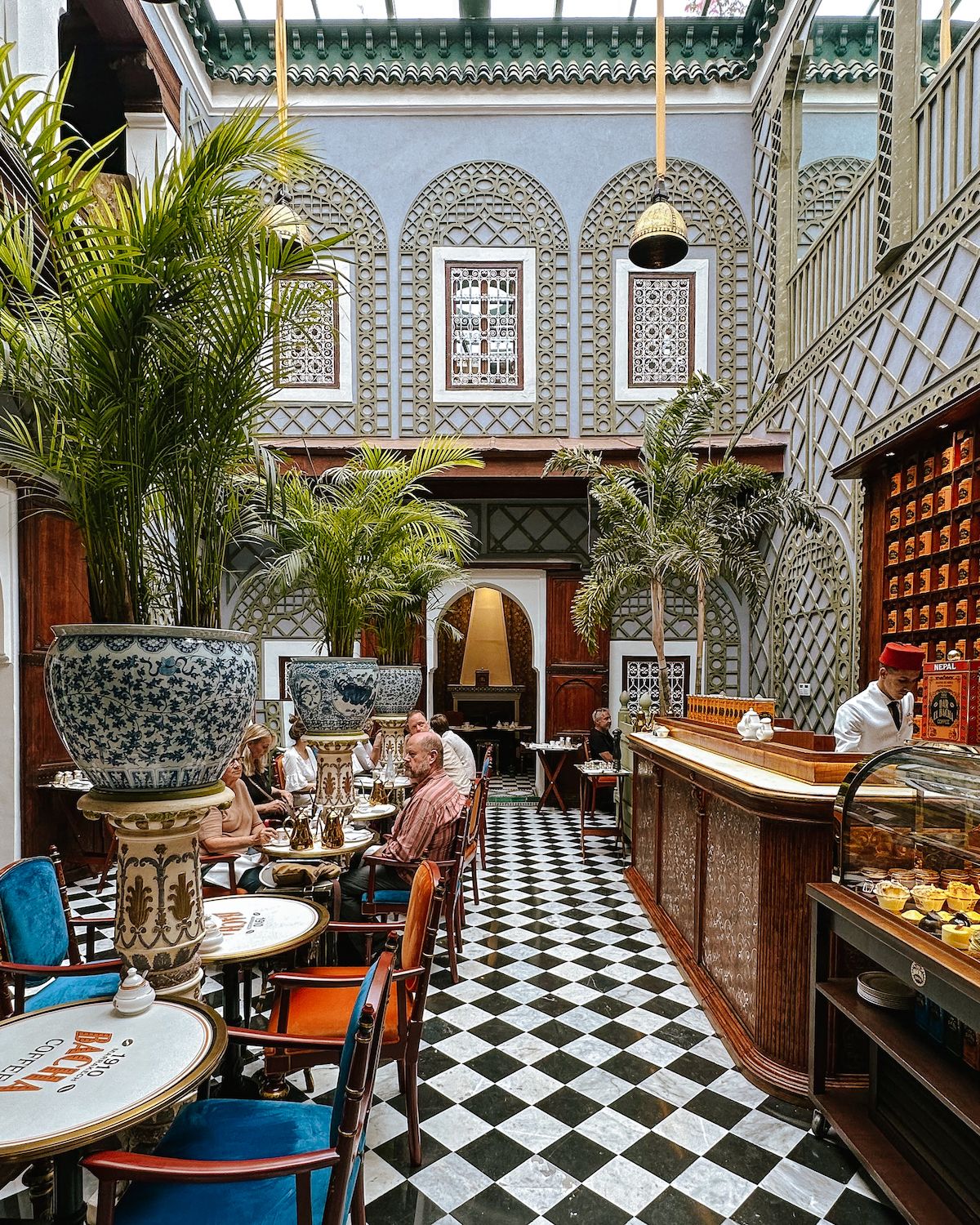 What we first thought was a government building from the outside, was actually one of the most glamorous places we've ever visited. Built in 1910, Dar El Bacha Palace, was once a meeting place for the 20th century's most famous creatives and politicians. Closed for decades because of WWII, it underwent an immense restoration to preserve its intricate architectural features.
Take a walk through the gorgeous palace, which is now a museum, and enjoy lunch in their fabulous coffee room in the courtyard. Once you're served coffee from the gold coffee pot, add Chantilly cream and fresh ground vanilla beans from the pepper mill.  
The coffee room does not take reservations, so make sure you get your name on the list to get a buzzer before touring the palace.
6. Enjoy the hammam at a tucked away spa in the Medina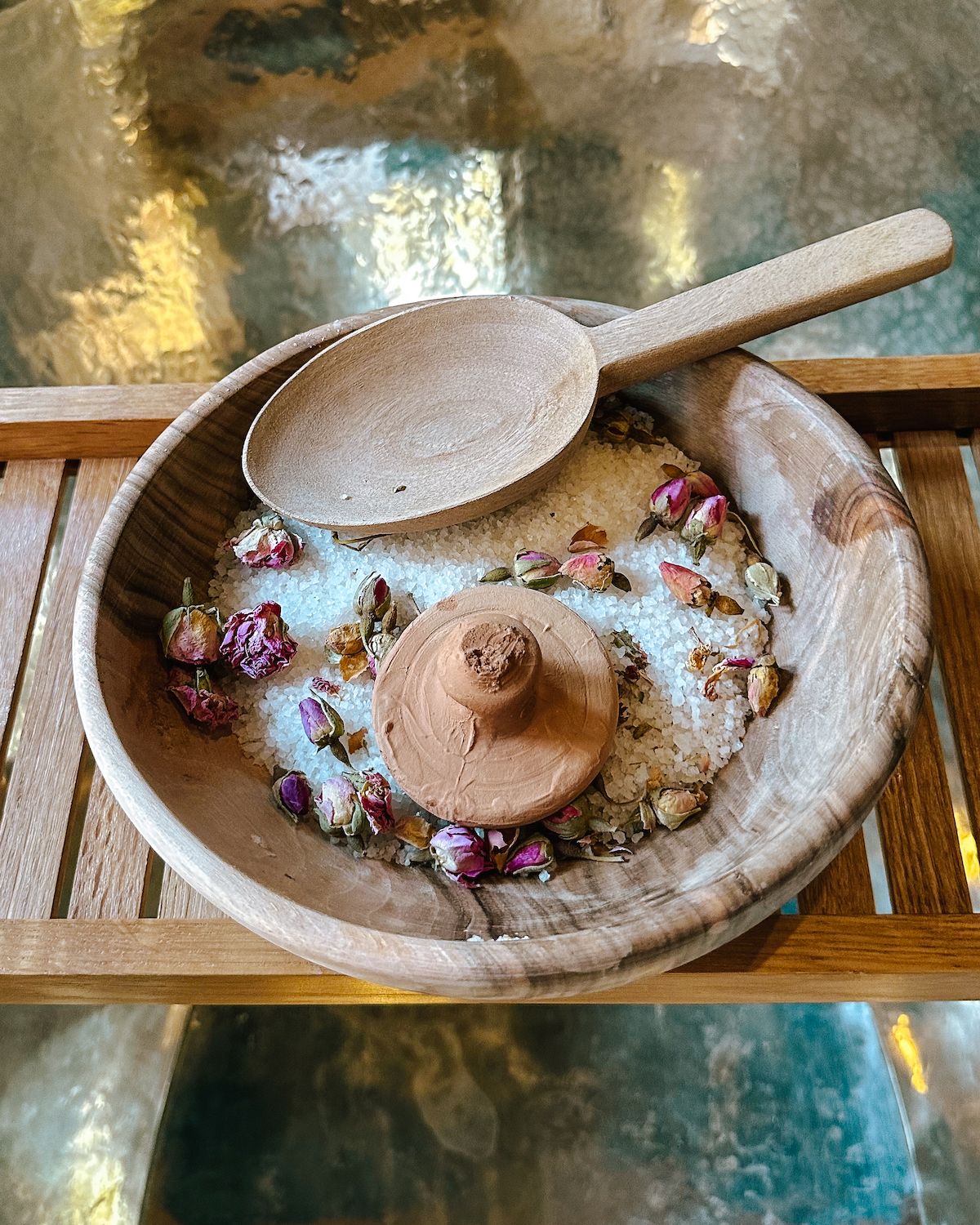 Down the alleyway beside Riad Jardin Secret is Heritage Spa, one of the best day spas in the Medina. Book one of their well-priced spa packages with a hammam and massage or facial for a relaxing retreat. The hammam is a Middle Eastern steam bath where you are exfoliated and cleansed on a warm stone with traditional black soap and a rhassoul clay mask.
7. Sip cocktails at La Mamounia's new rooftop bar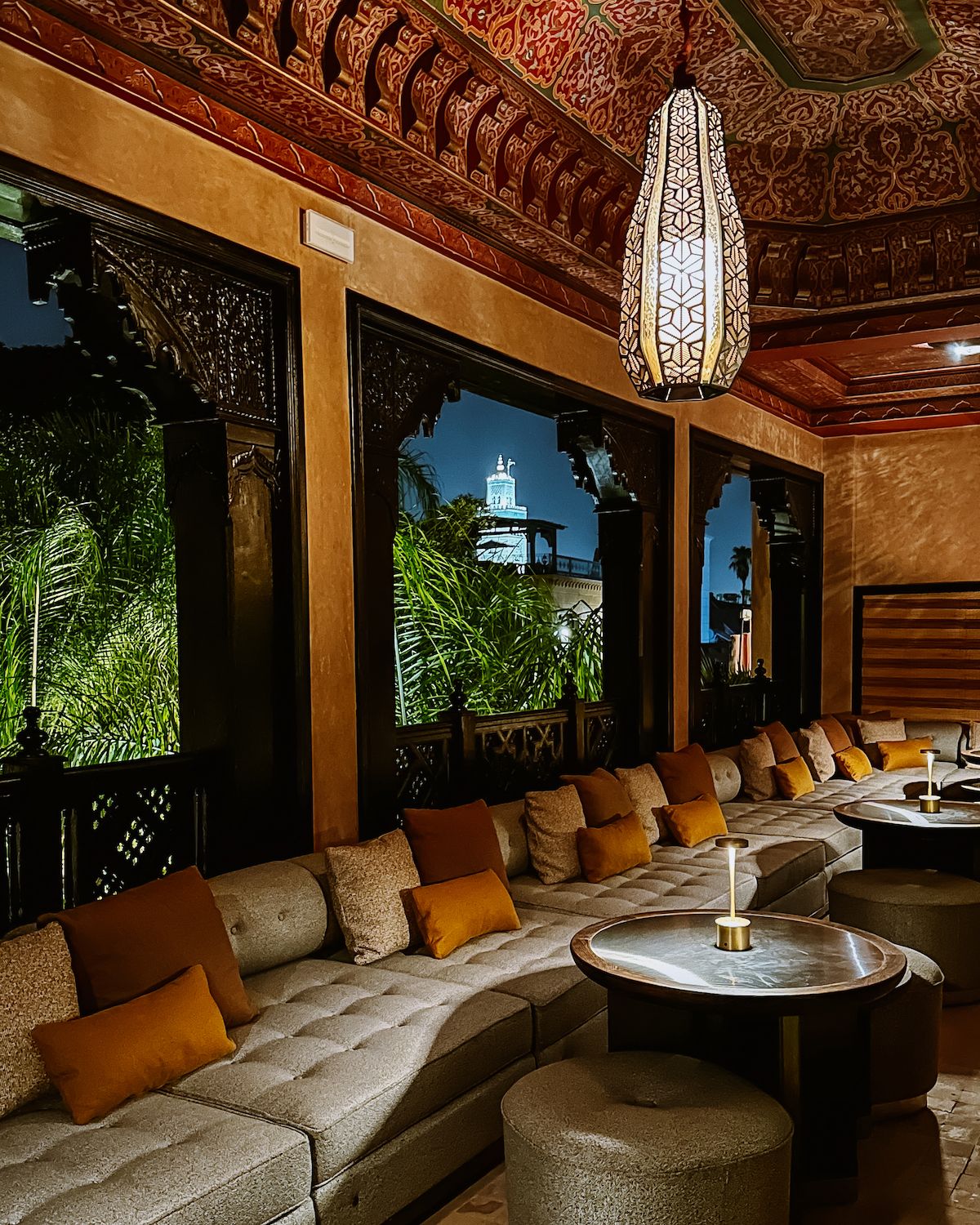 Although Marrakech's most famous hotel, La Mamounia, isn't a "hidden" gem, their new rooftop bar Le Club is.
Recently opened in October 2022, it's a snazzy place to drink well-crafted cocktails and listen to upbeat tunes by a dedicated resident DJ.
While most non-hotel guests stop by for an overpriced lunch in the garden (the food is nothing spectacular), we recommend partying at this stellar rooftop space instead!
8. Enjoy a poolside lunch at Dar Moha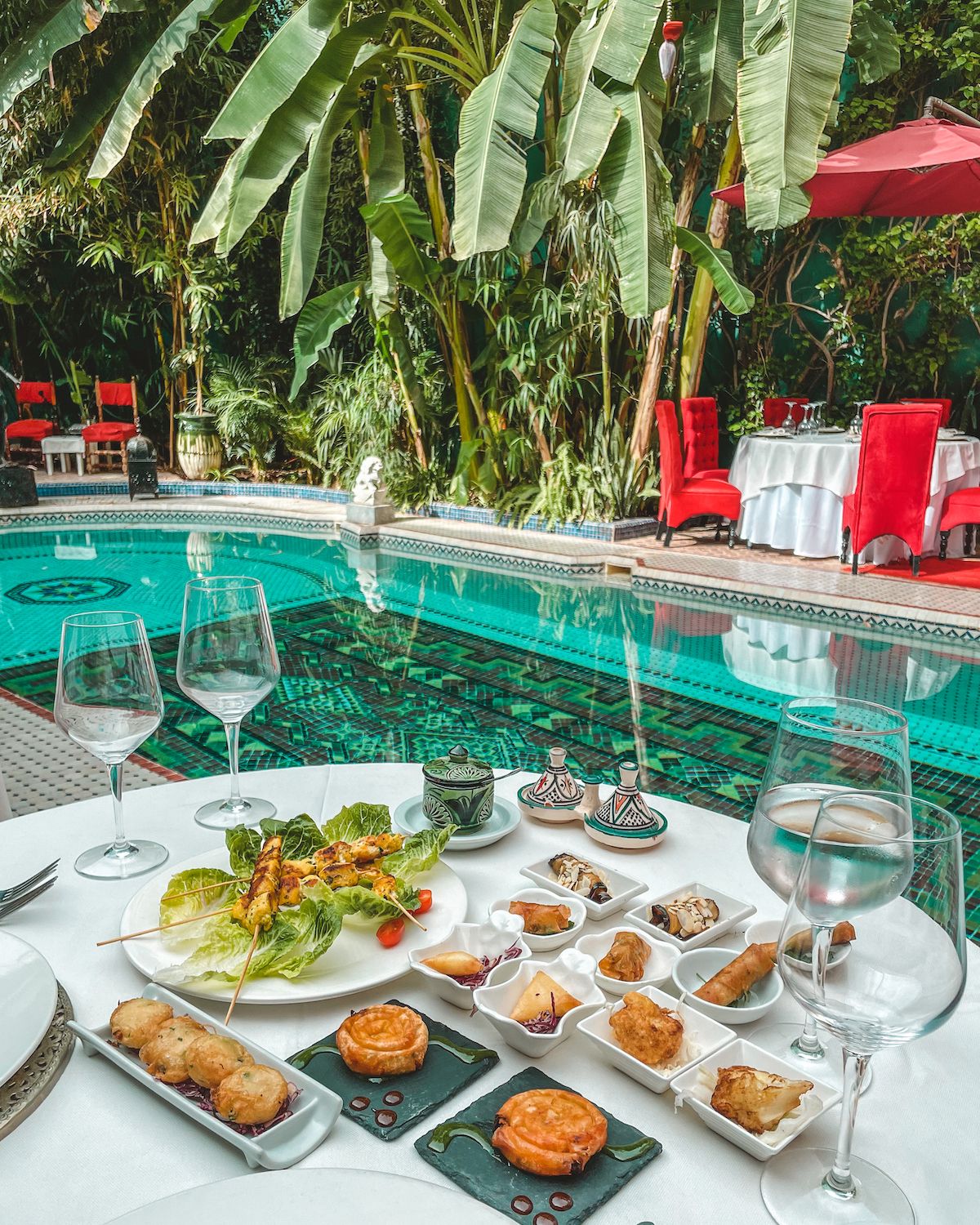 Inside an inconspicuous entrance on a main street in the Medina, you will find Dar Moha, a poolside restaurant in the former riad of French fashion designer Pierre Balmain. Eating Moroccan-style dim sum in the garden space while listening to a traditional lute play in the background is a welcome respite from the busy streets.
9. Listen to live jazz at Le Bistro Arabe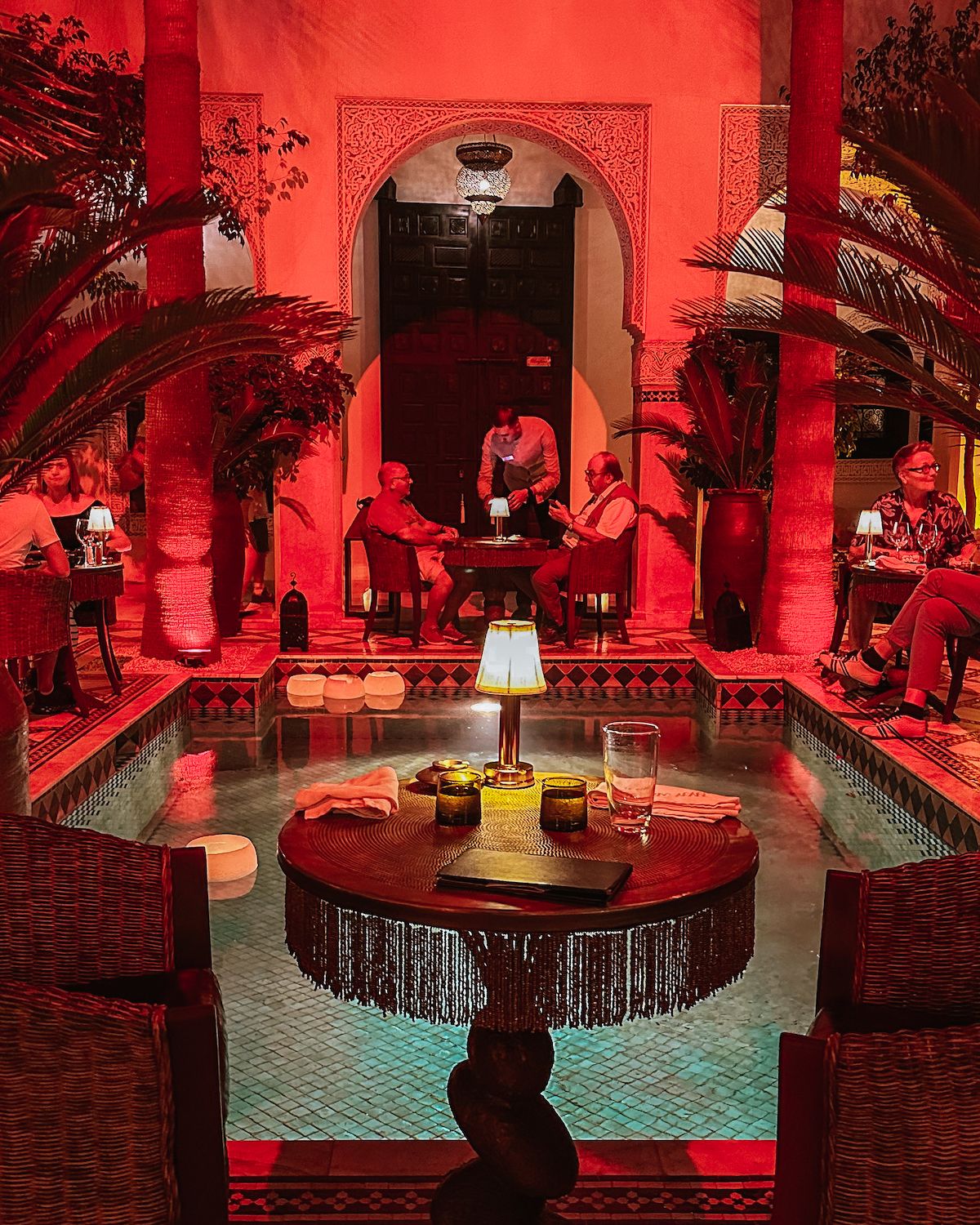 Located down a discreet side street in the Medina, Le Bistro Arabe is one of the city's hottest new restaurants to dine and listen to live jazz. Located on the ground floor of the same riad as La Pergola rooftop bar, this spot has a sexy vibe with its Orientalist-style interior, poolside seating and mood lighting. What also sets it apart are its innovative Moroccan dishes created by celebrity chef, Myriam Ettahri.
10. Admire handmade lighting pieces at Yayah Creation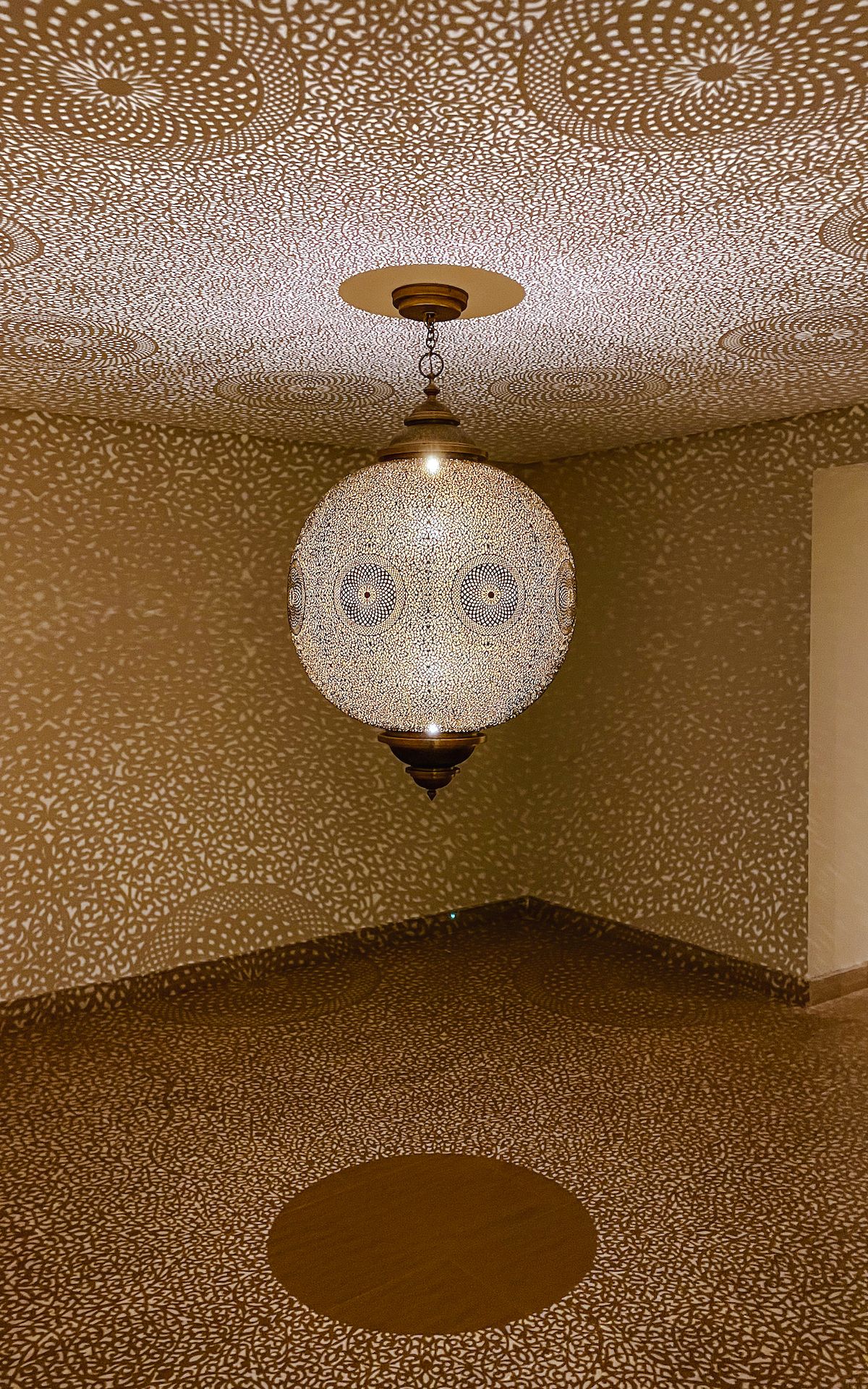 Fascinated by the lighting at La Mamounia, we asked the concierge where the best place is to buy high quality Moroccan lanterns. They recommended Yayah Creation, a company founded by a self-taught designer and artist who disrupted the traditional Moroccan lighting scene with his blend of contemporary and classic design.
Located in the modern Gueliz neighbourhood in a strip mall, we weren't prepared to be blown away like we were. The handmade lighting pieces are works of art and walking through their boutique gallery is like visiting an art exhibition.
As we were shown around the boutique by the founder's son, he passionately told us the incredible story of how the company came to be.
11. Discover Marrakech's mixology scene at Barometre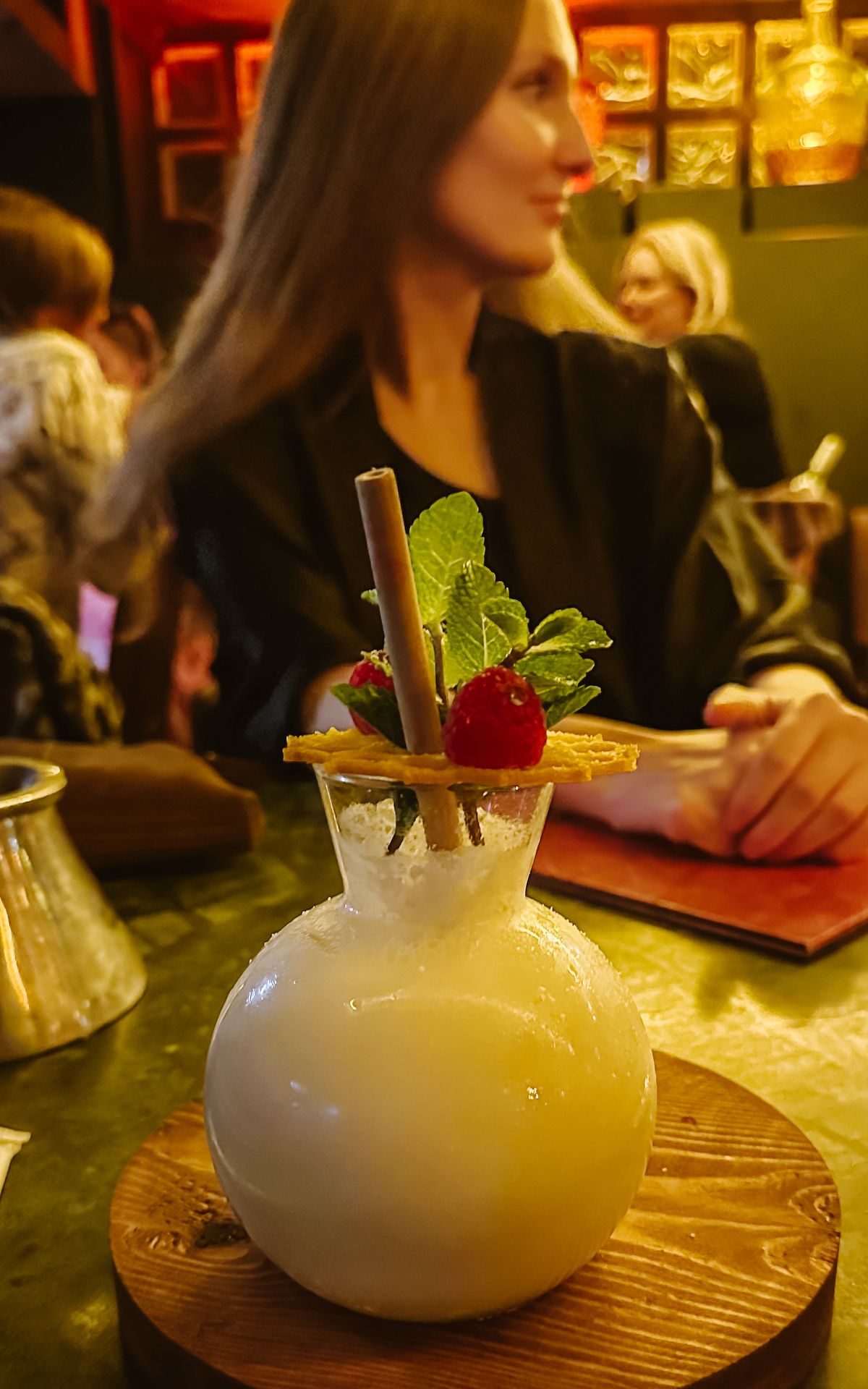 Since Morocco is a Muslim country and a vast majority of Moroccans do not drink, you maybe surprised to hear there is a mixology scene here. In Marrakech's "New Town" district, Gueliz, there is an underground lounge that has put the city on the map for its inventive cocktails. Barometre was not only the first mixology bar in Marrakech, but in all of Morocco. Its inventive concoctions are made with homemade infusions and bitters, and are served in some of the coolest vessels we've seen.
Note: if you don't like cigarette smoke, we recommend skipping this spot
12. Dine at L'mida, the highest rooftop restaurant in the Medina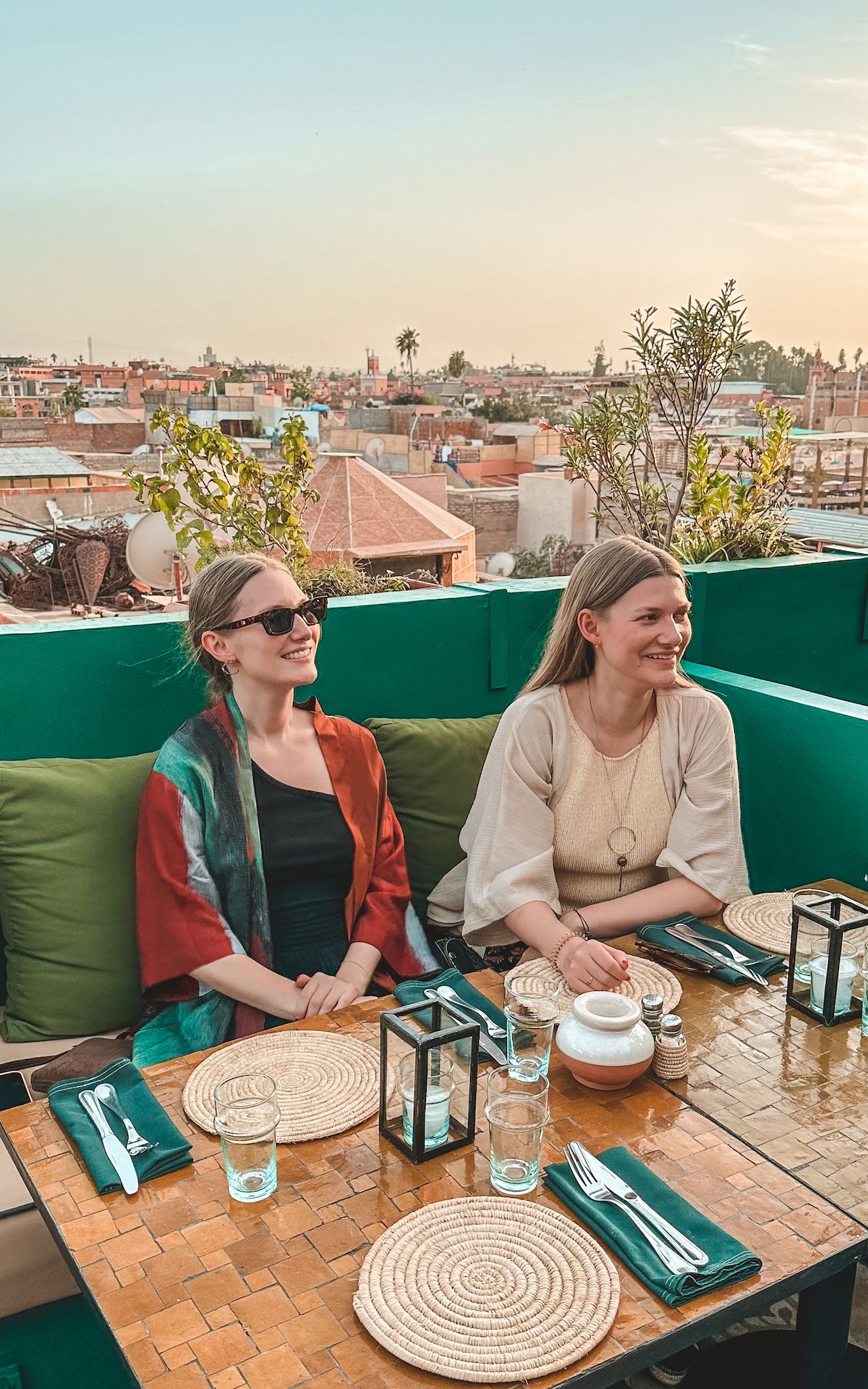 While most people traveling to Marrakech visit the popular Nomad and Café Des Épices rooftop restaurants in the Medina, L'mida is a newer offering with a better view and food in our opinion.
Not only is it the highest rooftop restaurant in the Medina, its Moroccan fusion dishes are a real treat, created by Moroccan chef, Nargisse Benkabbou, a best-selling food writer based in London. Dining here while watching the sunset over the Medina is dreamy.
13. Shop at Medina Experiences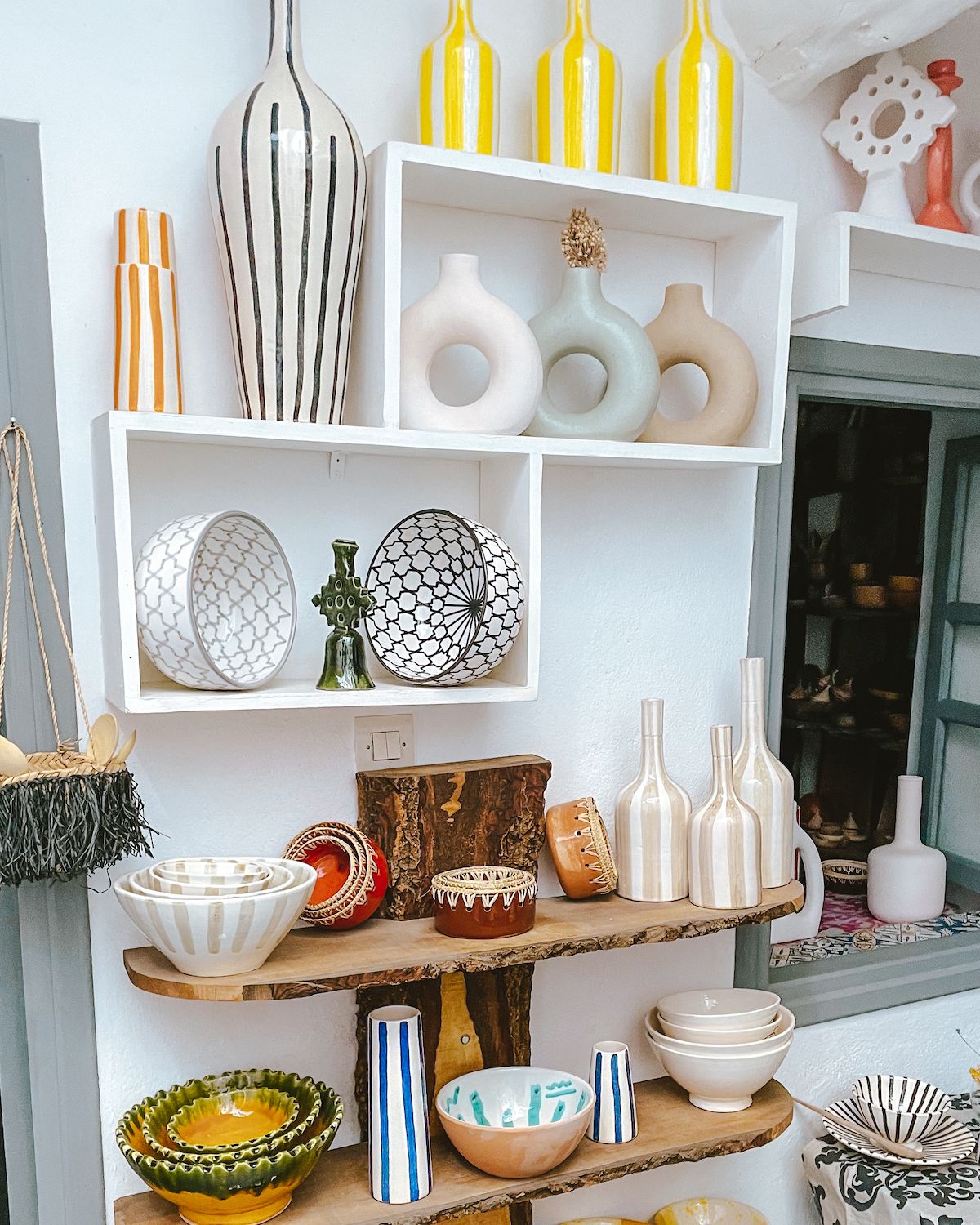 We happened to walk by this unassuming boutique on a quieter street in the Medina and it became one of our favourites. The three-story shop has an excellent variety of items like vases, tableware, glassware and wall carvings. The items had set prices on them, but were fair compared to similar products quoted to us in the Medina, and can be easily negotiated if you buy more than one item. Make sure you walk to the top of the stairs to see a lovely view from the rooftop!
We hope you enjoyed these hidden gems in Marrakech!
---
Our top riad picks in the Medina
Browse more stays in Marrakech
---
Start planning your trip to Morocco
---
Trip extension option: combine Marrakech with a trip to the Atlas Mountains, Essaouira, or both!
Don't miss our other Marrakech guides:
---
Save and pin these hidden gems in Marrakech for later: