Once the sun goes down and the city cools off from the heat, Marrakech takes on a new life of its own, with people filling the Medina to shop the souks and eat a late dinner, and vendors setting up oodles of food stalls in the main square.
Although Morocco is a Muslim country and a vast majority of Moroccans don't drink, Marrakech surprisingly has a great nightlife scene with exquisite cocktail lounges and buzzy rooftop bars playing groovy tunes.
We list 8 fun things to do in Marrakech at night, from discovering the Medina's night markets to sipping cocktails at a funky rooftop bar overlooking the ancient city.
Overview: Things to do in Marrakech at Night
---
Disclosure: Some of the links below are affiliate links, meaning at no additional cost to you, we will earn a commission if you click through and make a purchase. We only recommend products or services we have used or that we believe will add value to our readers. Thank you for supporting us!
8 Things to do in Marrakech at Night
1. Walk through the souks at golden hour in the Medina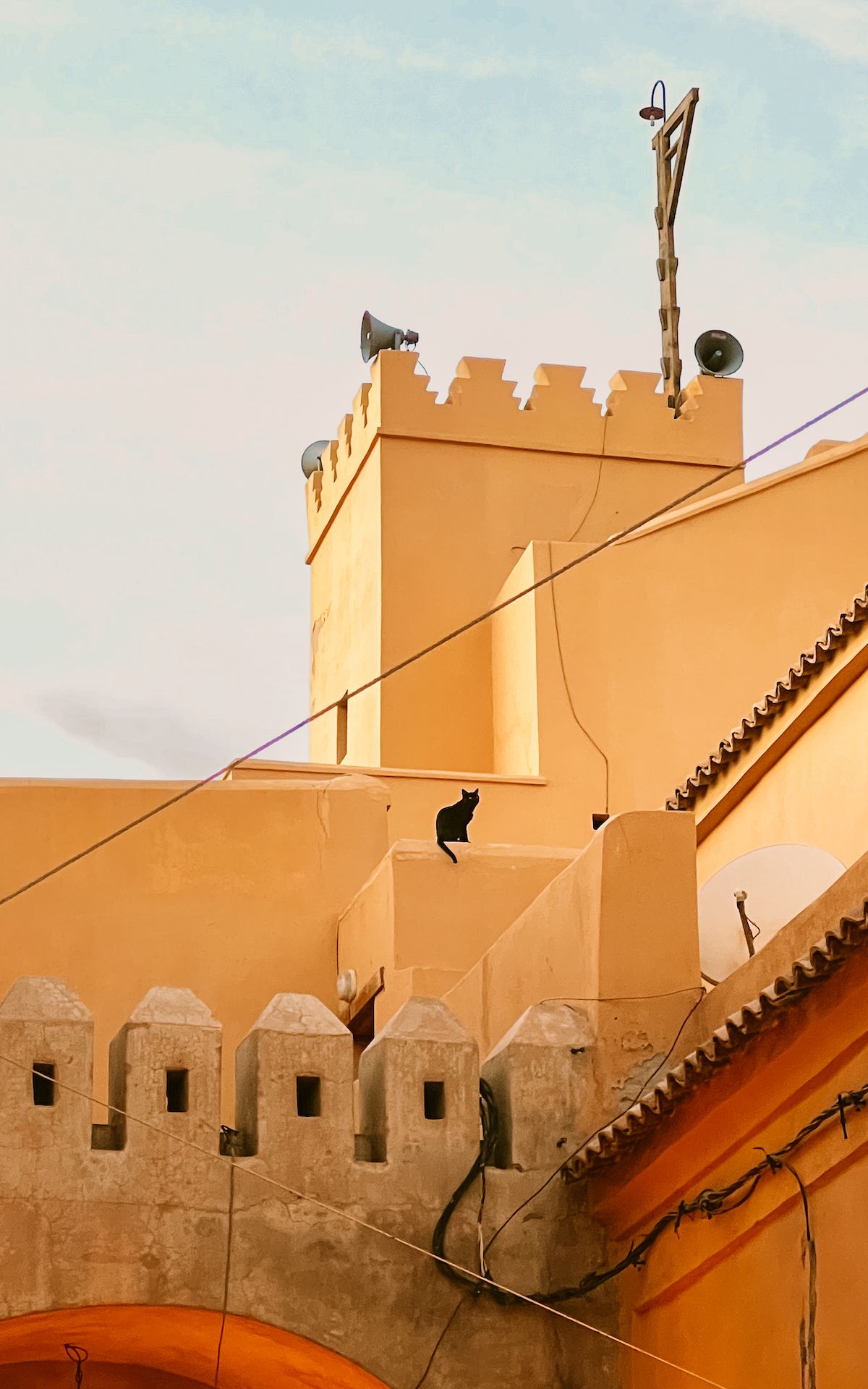 The souks in the Medina are open late until around 9 PM. Golden hour is a great time to walk through them since temperatures are cooler and the rose-coloured buildings cast a beautiful glow. As you wander through the souks, you will notice different sections like lighting, pottery, spices, woodworks, rugs and leather products.
2. Watch the sunset at a rooftop restaurant overlooking the Old City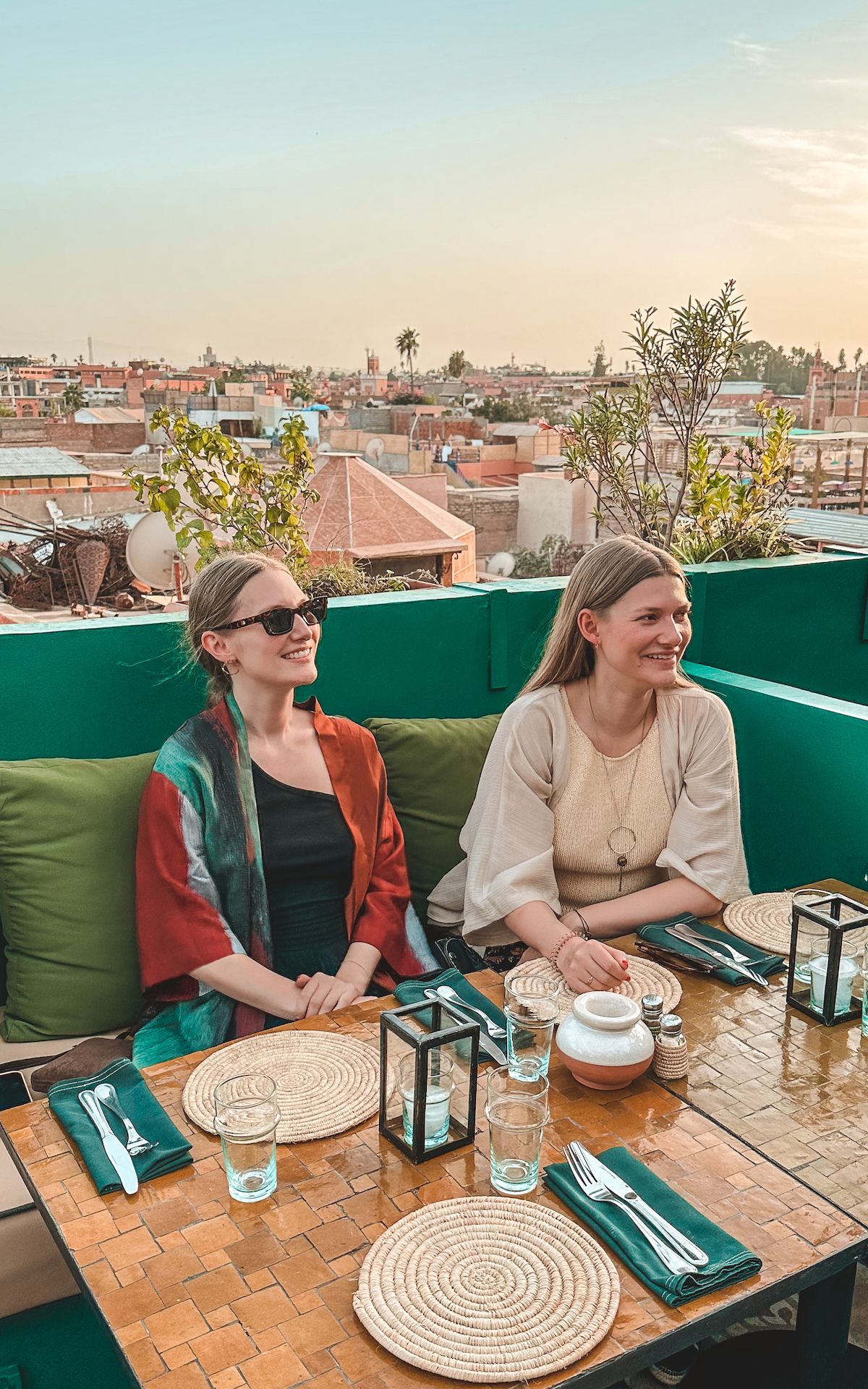 One of the best places to watch the sunset in Marrakech is from a rooftop restaurant in the Medina. It's hypnotizing when the call to prayer vibrates from the minaret towers and the city glows in pink and orange hues.
L'Mida was the best rooftop restaurant we ate at for both the food and sunset view. Its Moroccan-fusion dishes were created by Moroccan chef Nargisse Benkabbou, who is also a celebrated food writer based in London.
If you're looking for more rooftop restaurants overlooking the Medina, check out Nomad and Café Des Épices.
3. Experience the beautiful chaos that comes from  Jemaa el-Fna at night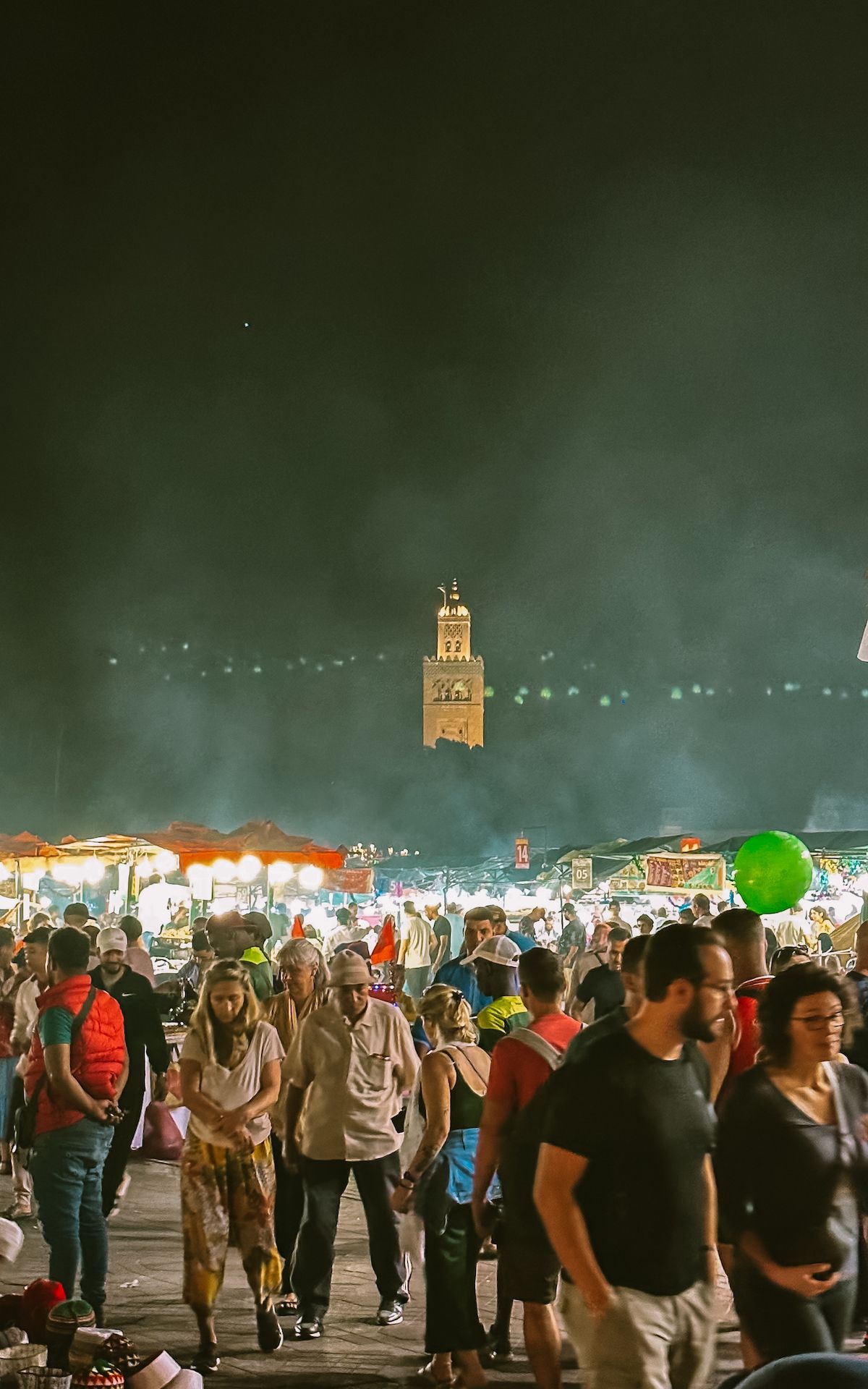 Walking through Jemaa el-Fna at night is one of the most entrancing cultural experiences you can have in Marrakech. Thousands of tourists and locals visit the 11th century market every day, and nighttime is when it comes alive with an energy beyond compare. Oodles of food carts set up and masses of people form circles around performers, music entertainers and storytellers.
Before exploring the square, be aware of these
scams and treatment of animals
before posing for a photo.
4. Listen to live jazz at Le Bistro Arabe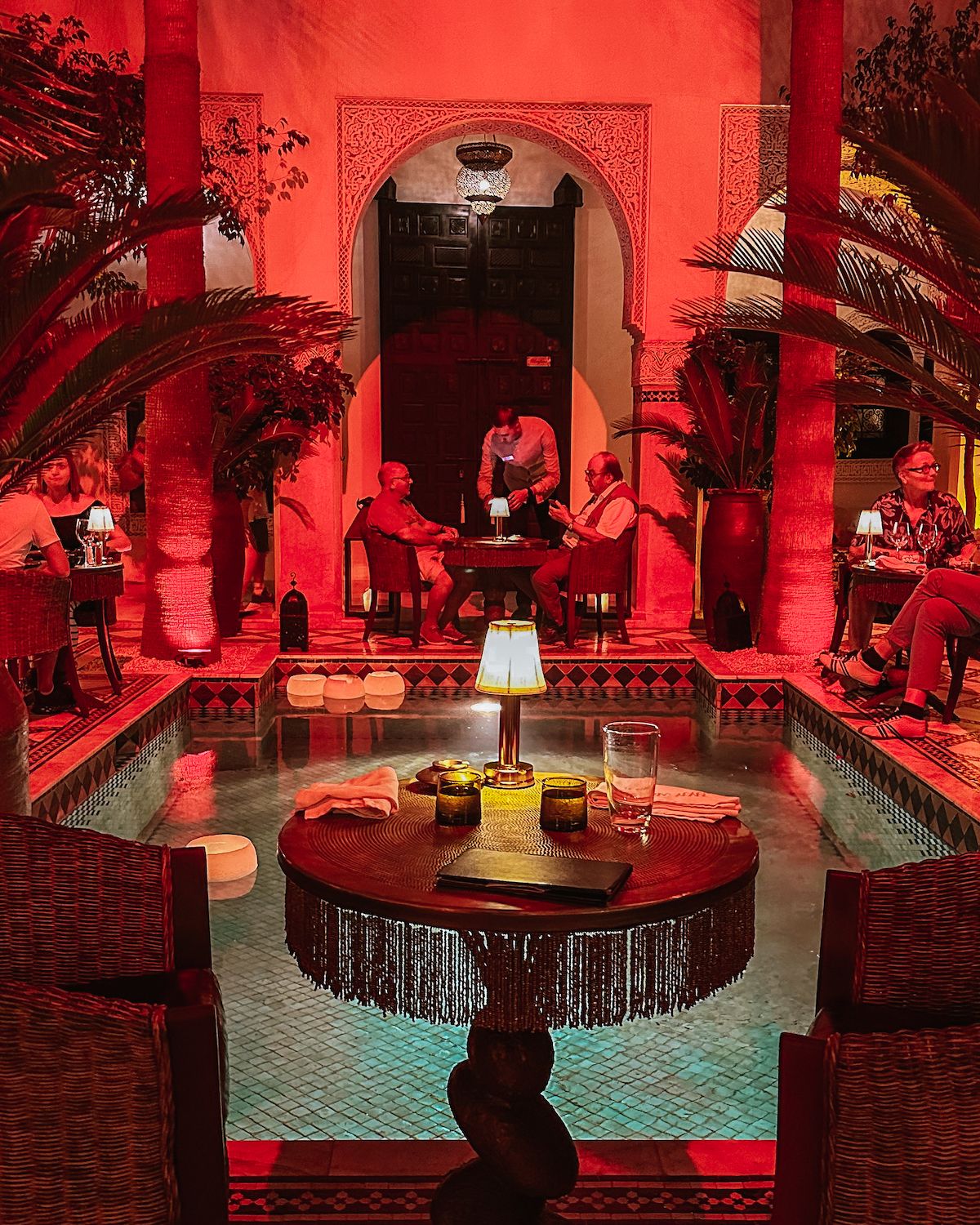 Tucked away on a side street in the Medina is one of the Marrakech's hottest new restaurants and places to listen to live jazz. Le Bistro Arabe has an exciting atmosphere with its chic Orientalist-style interior and mood lighting. Top this off with creative cocktails and innovative Moroccan dishes by celebrity Moroccan chef, Myriam Ettahri, you have the perfect setting to listen to live jazz.
5. Drink cocktails at a swanky bar in La Mamounia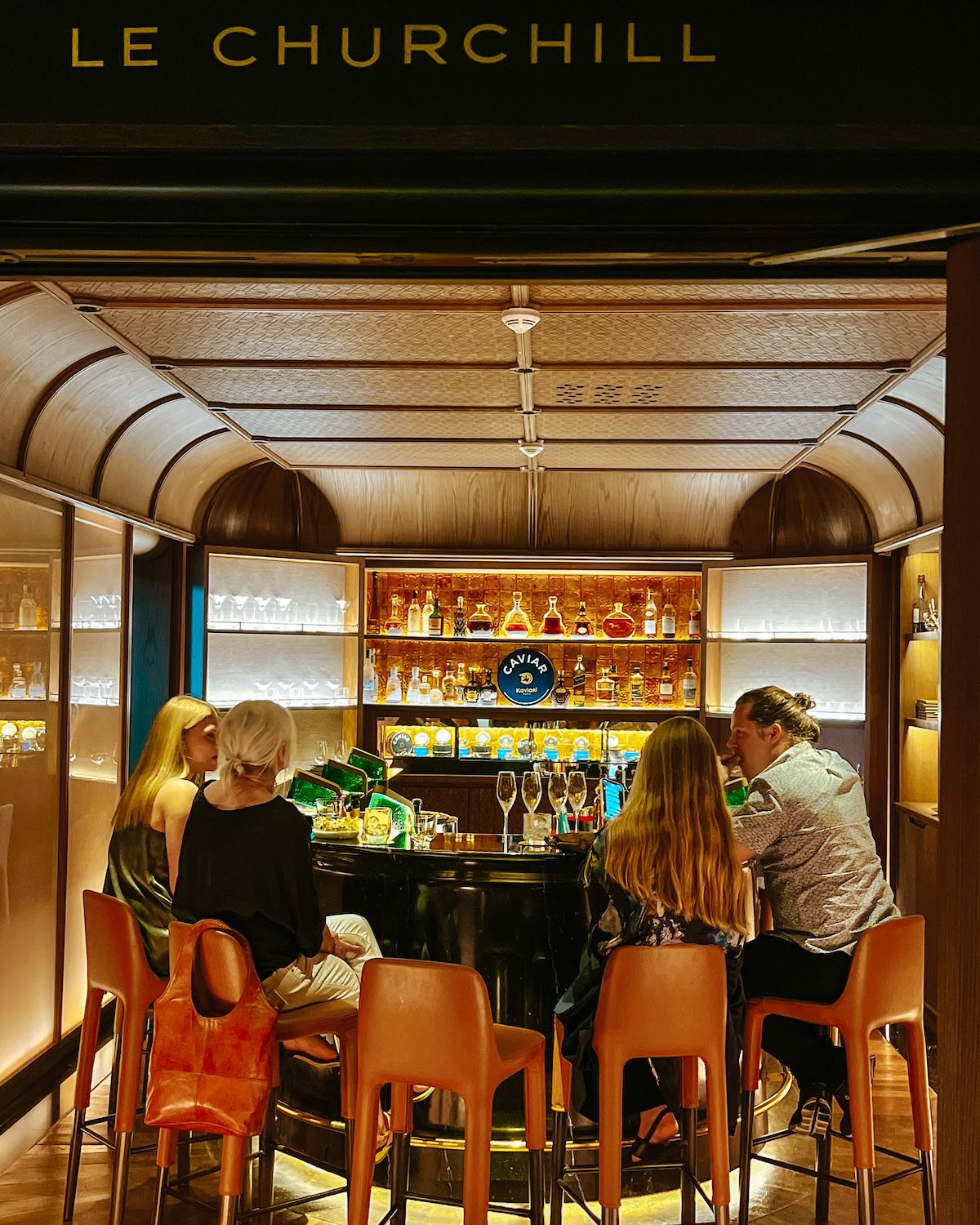 Put on a fabulous outfit and drink cocktails at one of
La Mamounia's
three exquisite lounges.
The hotel is easily the most famous in Marrakech for its string of world-famous guests that have stayed here
and from the recent series, Inventing Anna, that brought it even further into the limelight. The architecture and craftsmanship of the hotel is also a sight to see in itself.
Choose from one of these three swanky cocktail lounges in the hotel:
6. Discover Moroccan street food on a night tour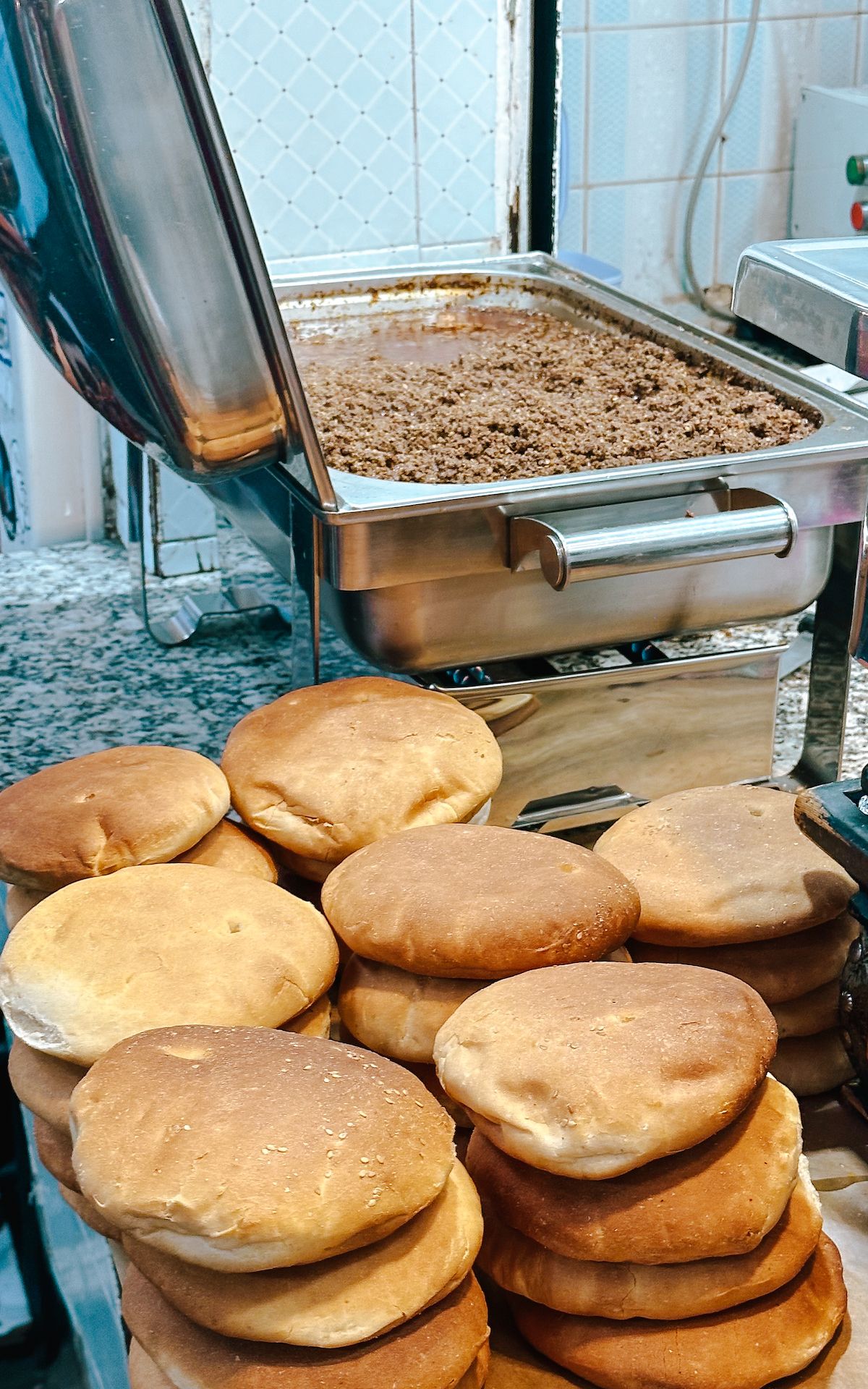 Rather than eating at restaurants, Moroccans typically eat meals at home or snack on street food. Tasting local specialties from street vendors is the secret to eating some of the best of Moroccan cuisine.
It can be overwhelming knowing what's safe to eat or what street vendors to go to. We recommend hiring a local guide to take you around the Medina on a street food tour. A local's knowledge is the best way to discovering tucked away food spots and streets off-the-beaten track you wouldn't find yourself.
Viator
and
GetYourGuide
both offer street food night tours. We like how you can cancel up to 24 hours in advance.
Check out these highly rated food tours:
7. Hang out at the buzzy El Fenn Rooftop Bar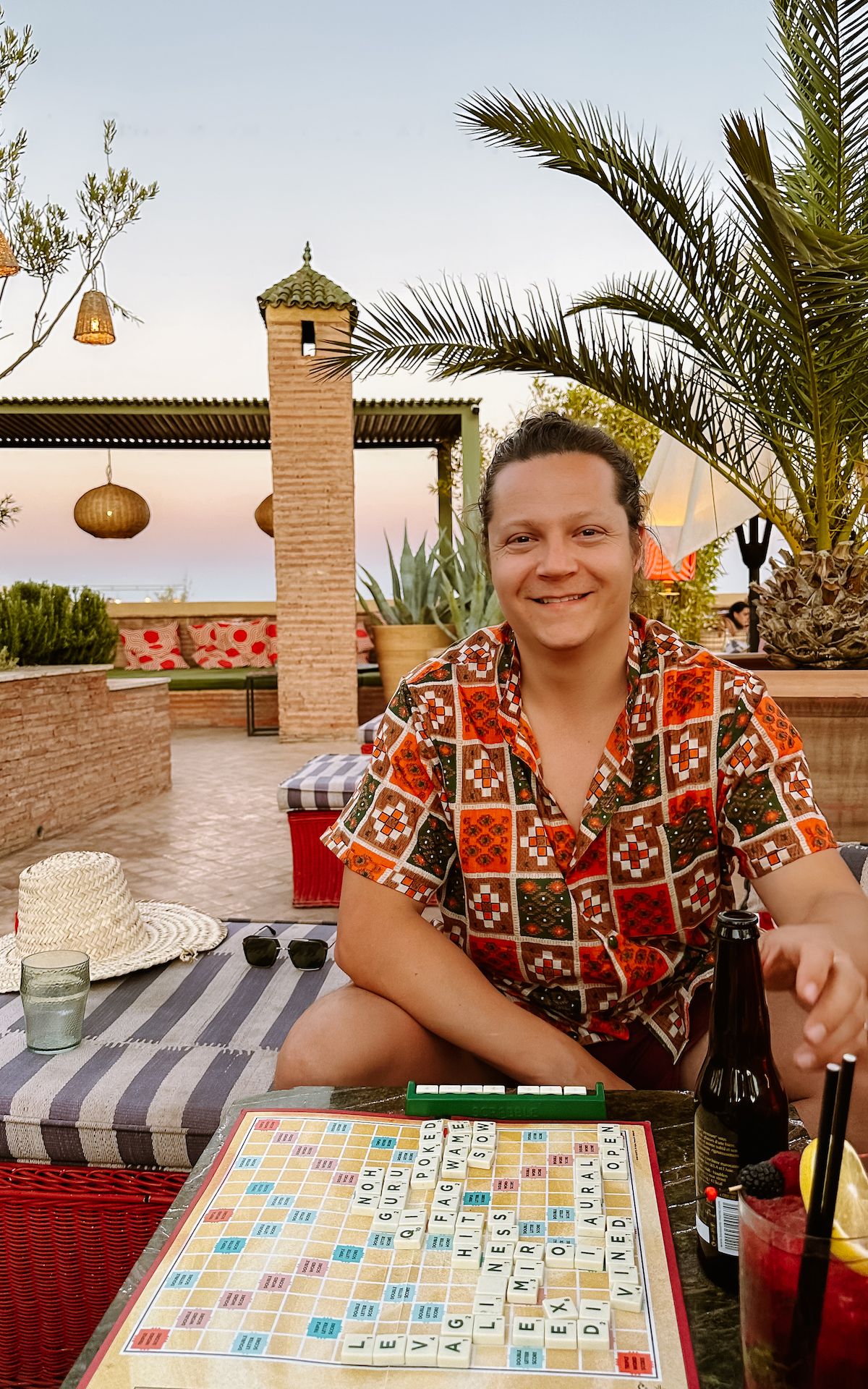 After being completely let down by the newly opened Kabana Bar, we went on a mission to find a top-notch rooftop bar in the Medina.
We finally found what we were looking for at El Fenn
, a boho-chic riad with a fun and sophisticated energy. Where Kabana Bar felt like a hen-party bar in LA, El Fenn's rooftop bar got it right with its excellent curation of music, signature cocktails and funky setting that complemented the city.
You don't need to be a hotel guest to hang out in the bar area, but the pool area is open to hotel guests only.
8. Discover Marrakech's nightlife scene in Gueliz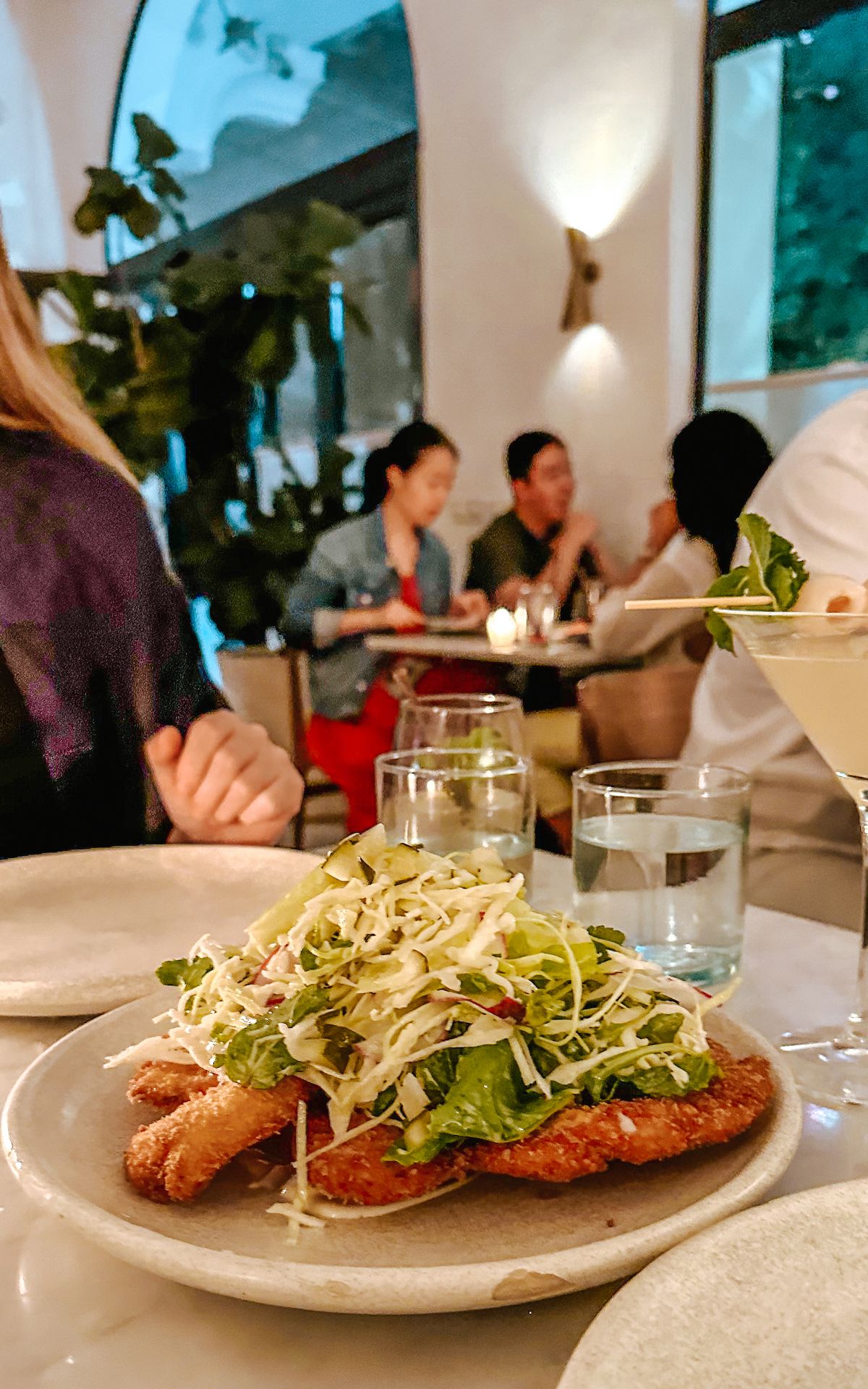 Known as the "New Town" of Marrakech, the district of Gueliz was created during French colonial rule in the early 1900s and has developed into a modern expat enclave with trendy restaurants, bars, fashionable boutiques and a contemporary art scene. It's fascinating to see this "new city" contrasted with the ancient feel of the "old city", and it's only a 5 minute drive away.
Dine at +61, a contemporary-Australian restaurant that has placed in the Middle East & North Africa's Best 50 Restaurants list. Afterwards, drink cocktails in unique vessels at Barometre. The steam-punk style bar has a hip scene, but skip this spot if you don't like cigarette smoke.
We hope you enjoyed these fun things to do in Marrakech at night!
See more of Morocco:
---
Our top riad picks in the Medina
Browse more stays in Marrakech
---
Don't miss our other other Marrakech guides:
---
Start planning your trip to Morocco
---
Save and pin these things to do in Marrakech at night for later: