Condesa is a beautiful neighbourhood with hip eateries, art galleries, green spaces, Art Deco treasures, artisan boutiques, and a fashionable crowd. We found Condesa to have an easy going neighbourhood vibe - a contrast from its lively next door neighbour, Roma.
Soak up the chic neighbourhood atmosphere in our list of 11 fun things to do in Condesa, Mexico City.
Overview: 11 Unique things to do in Condesa, Mexico City
---
Disclosure: Some of the links below are affiliate links, meaning at no additional cost to you, we will earn a commission if you click through and make a purchase. We only recommend products or services we have used or that we believe will add value to our readers. Thank you for supporting us!
What to do in Condesa, Mexico City
1. Walk Amsterdam Ring aka "Art Deco Ring"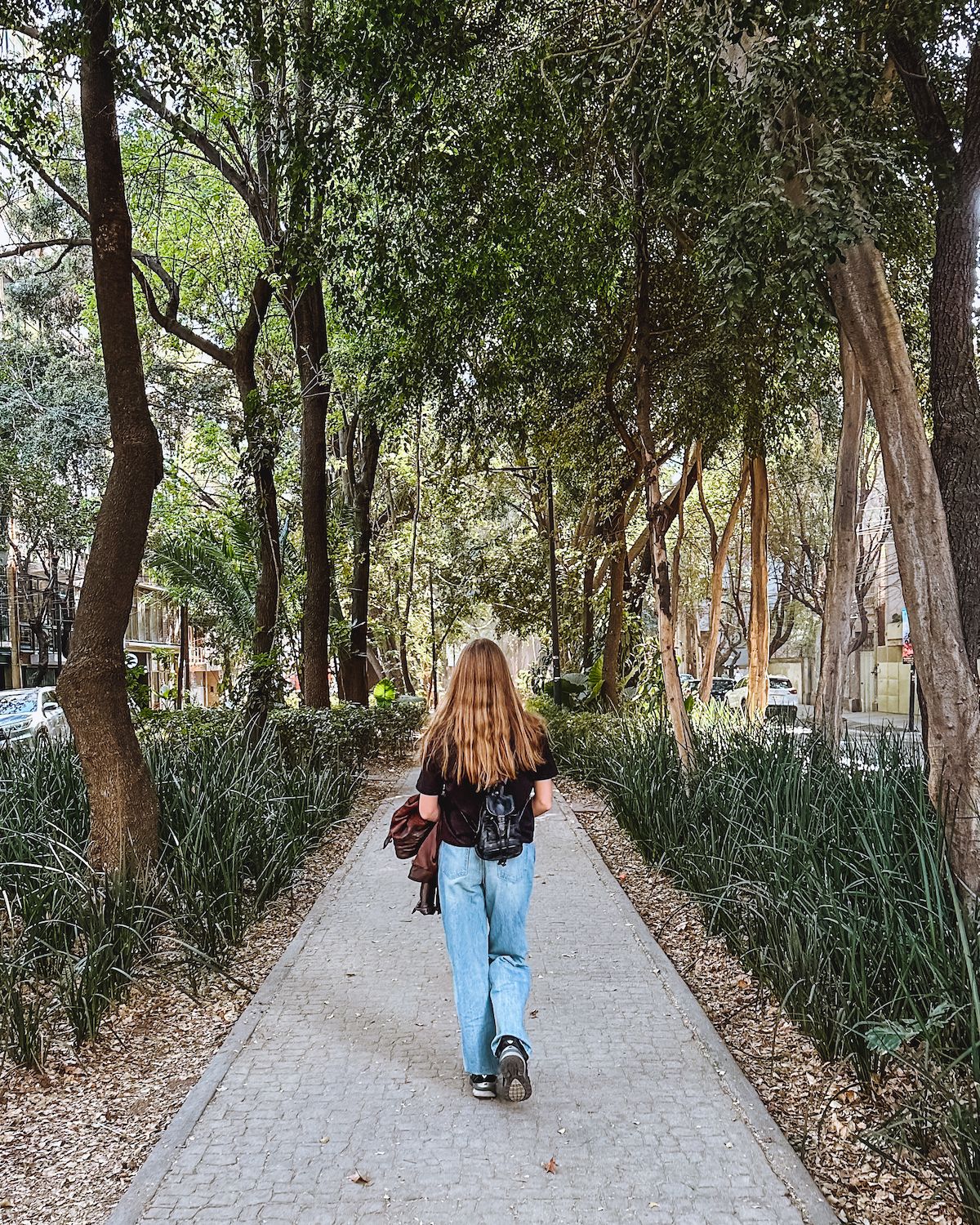 Walk along Avenida Amsterdam, a leafy pathway in the middle of a quiet street circling Parque Mexico. The shaded walkway gives a great viewpoint on both sides of Art Deco buildings built in the 20s/30s, sidewalk cafes and quirky boutiques. There are so many unique buildings to looking at, that we now call it the "Art Deco ring".
2. Enjoy a leisurely breakfast overlooking the park at Maque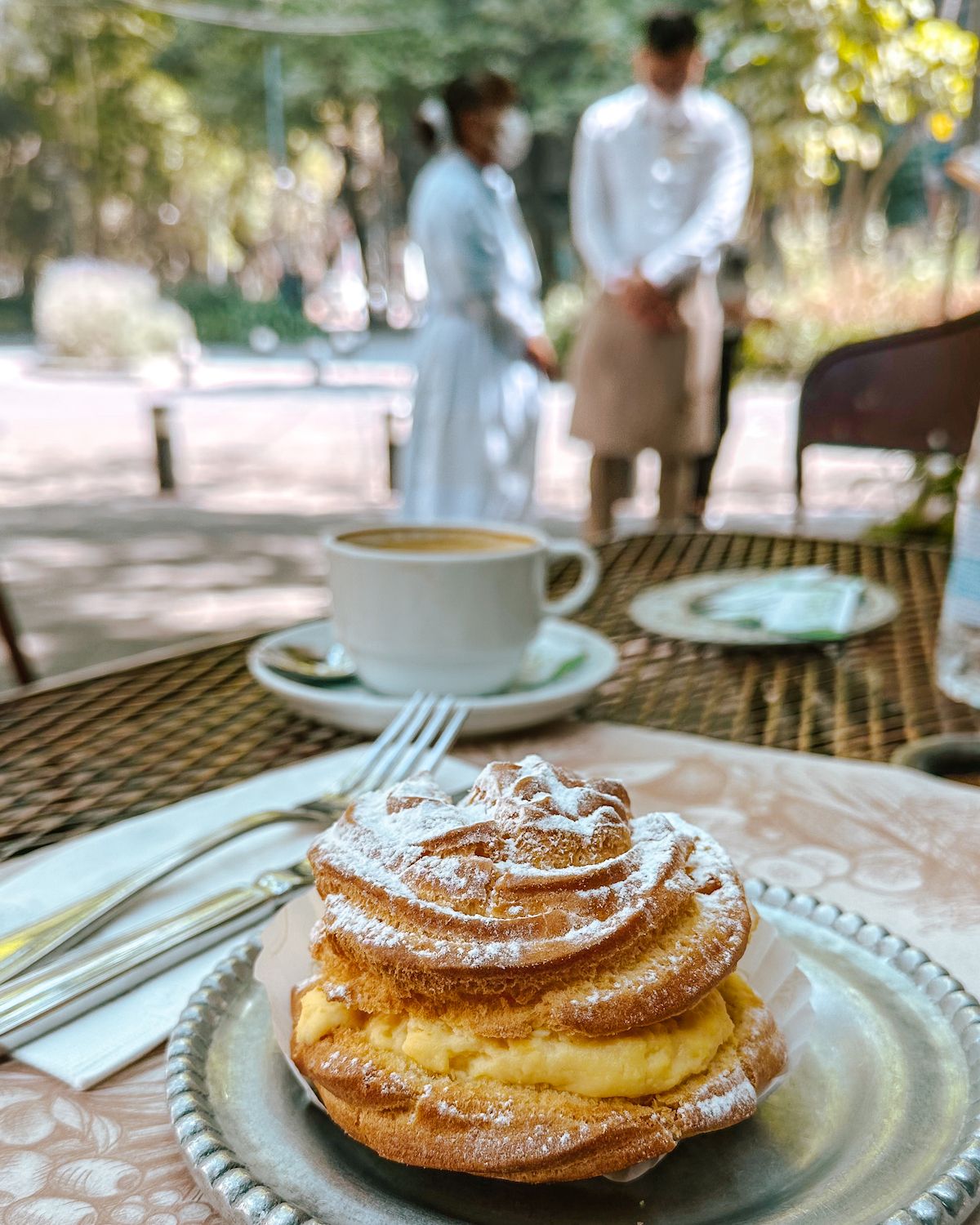 Snag a table outside of Maque overlooking Parque Mexico and order a traditional filled pastry and coffee. Live music played on the street as we enjoyed our breakfast.
3. Shop emerging Mexican and Latin American designers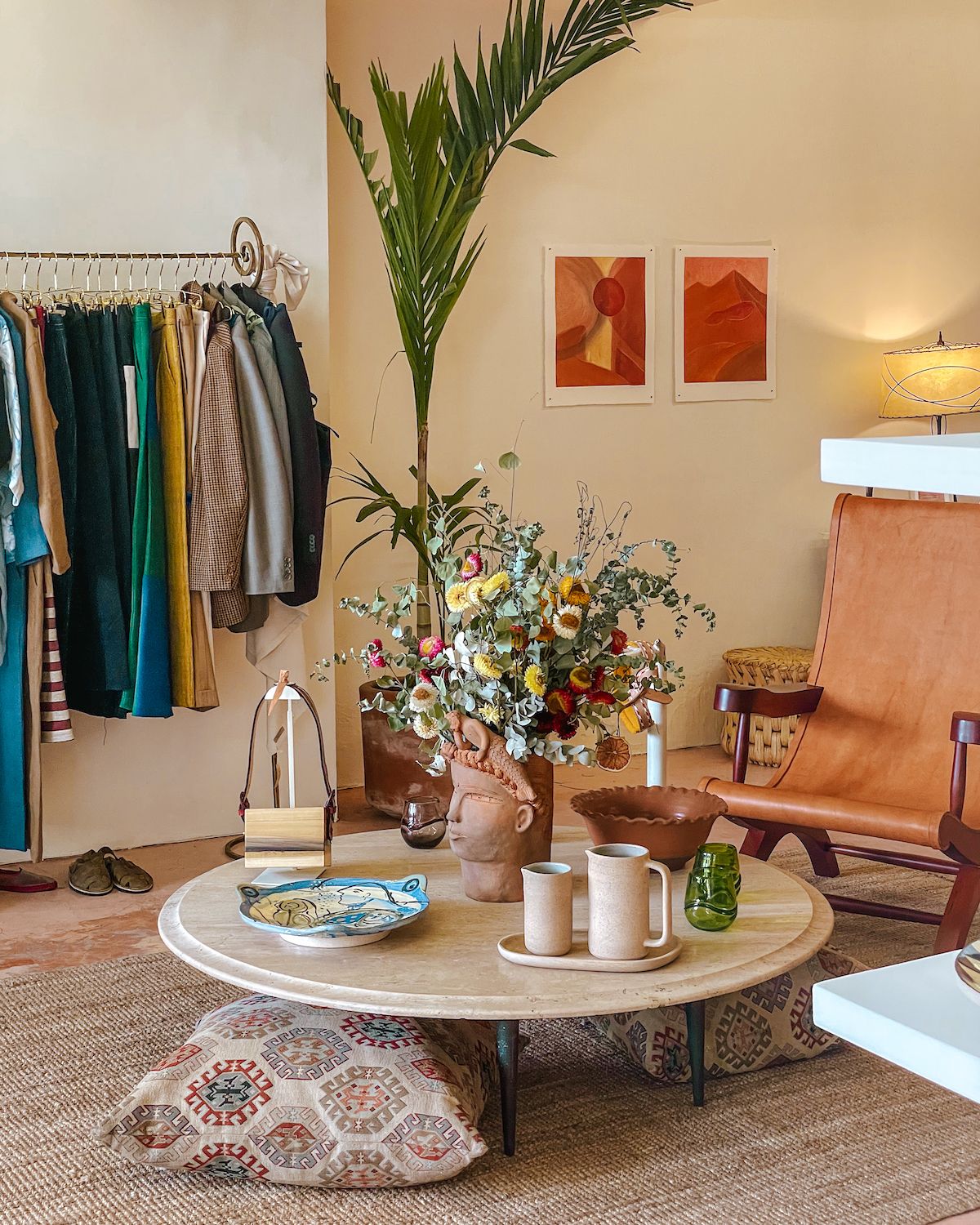 Condesa is home to many unique concept stores, artisan boutiques and showrooms. Don't miss our favourite boutiques in Condesa:
Aurelia Concept Store - amazingly curated selection of handmade artisanal brands from Mexico. A must go!
Cardon - shop unique clothing from emerging Mexican and Latin American designers. There is a women's and men's store beside each other.
Columpio - right beside Cardon, this boutique sells stylish clothing in vibrant colours and unique prints.
Ocelote - sells contemporary minimalist clothing.
Tienda Cuchita vintage store - located at Amsterdam 275, browse their selection of vintage clothing and leather jackets.
Casa Melibea - this coffee shop sells minimalist jewelry at great prices.
4. Eat satisfyingly crispy shrimp tacos at El Pescadito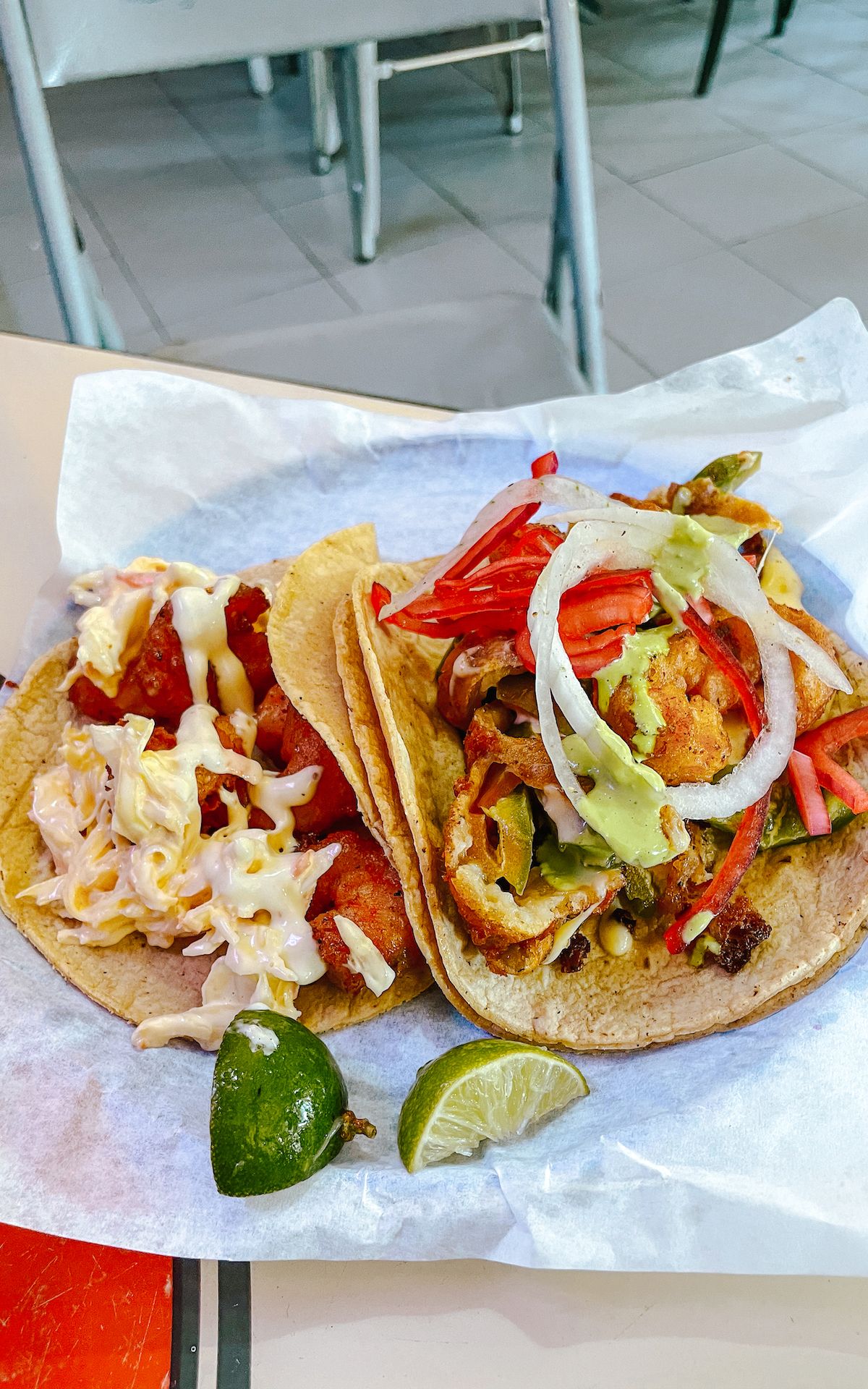 El Pescadito is known to have the best shrimp tacos in the city. Crispy little morsels of deep fried shrimp go perfectly with the house made coleslaw and corn tortilla. Dress it up to your liking, with white onions, shallots, pico de gallo and sauces, and take your first bite to see why they are so famous. The treasured institution opened their first location in 1997!
5. Sip cocktails at one of the World's 50 Best Bars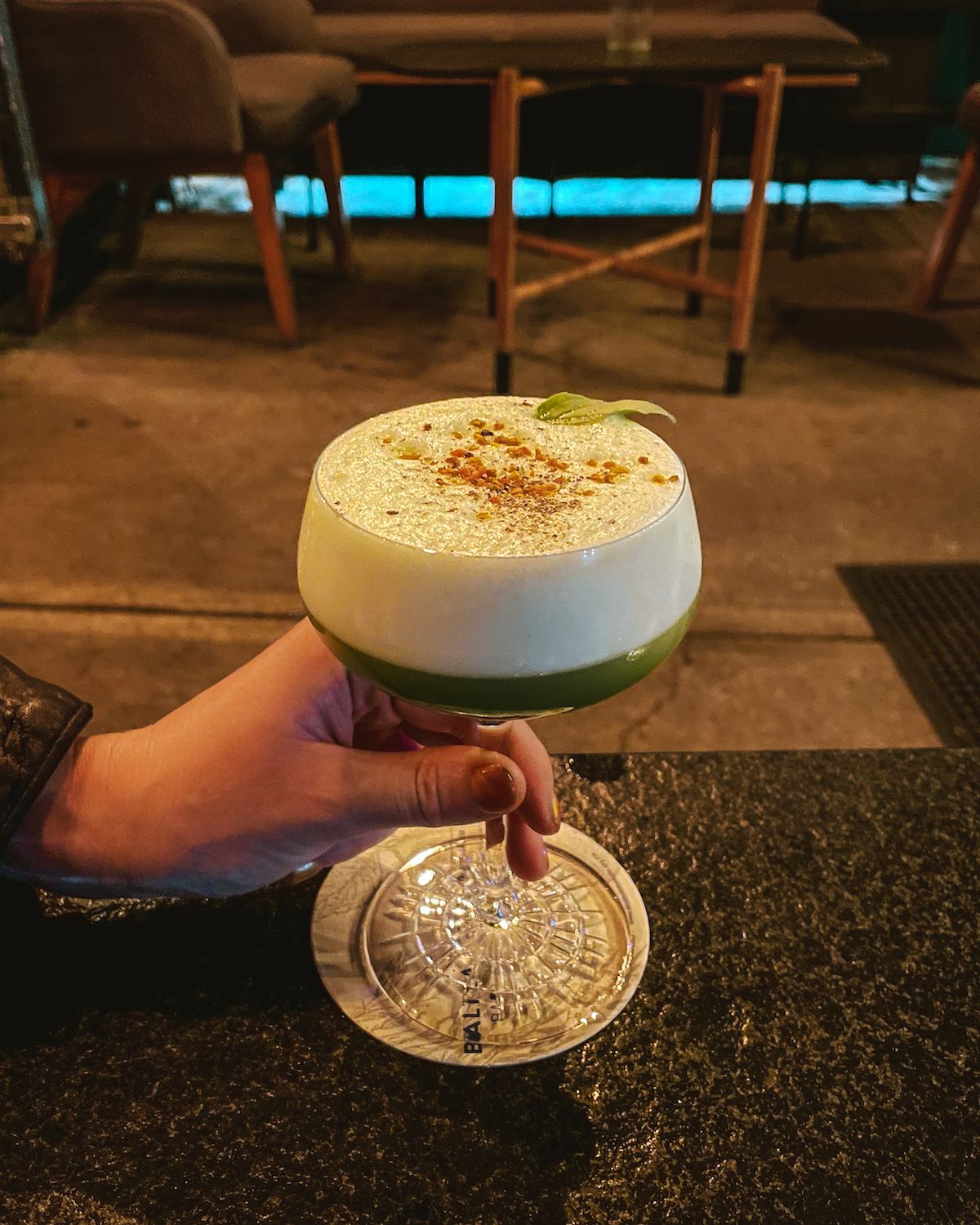 Ranked #32 on the World's 50 Best Bars list, Baltra Bar is a favourite with both tourists and locals. Here, you'll find evolution-themed cocktails inspired by Darwin and the Galapagos Island. The chic bar hosts "Martini Tuesdays", where regulars come to sip the perfect martini.
See our list of the best cocktail bars in Mexico City
6. Eat brunch outside at CIENA and people watch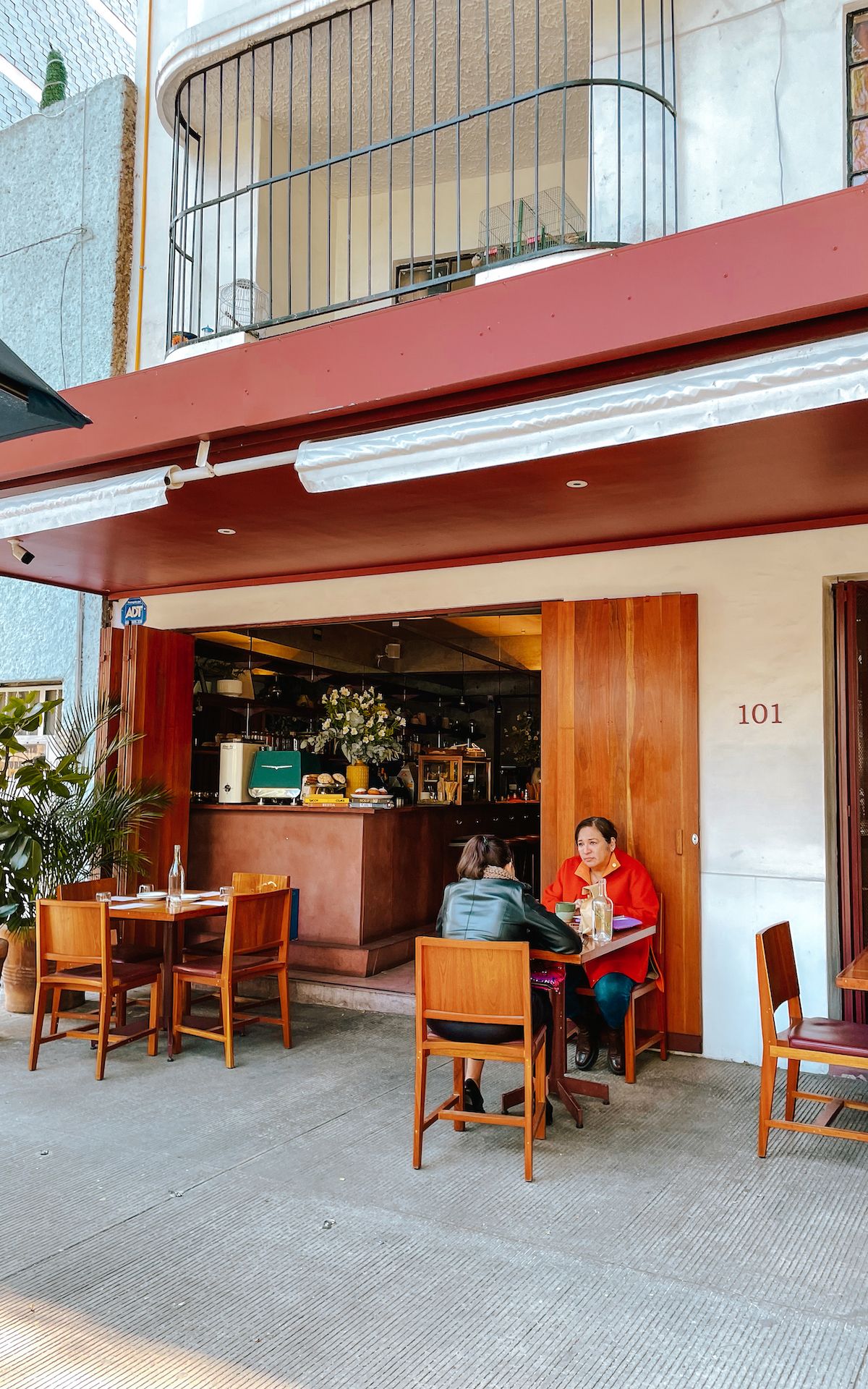 Ciena is a newer opening in Condesa with a chic neighbourhood feel. The Art Deco cafe and restaurant serves farm-to-table cuisine and attracts a fashionable crowd. Make a reservation for a sidewalk table, so you can people watch. We enjoyed their fresh and generously sized sandwiches.
7. Stay at Casa Dovela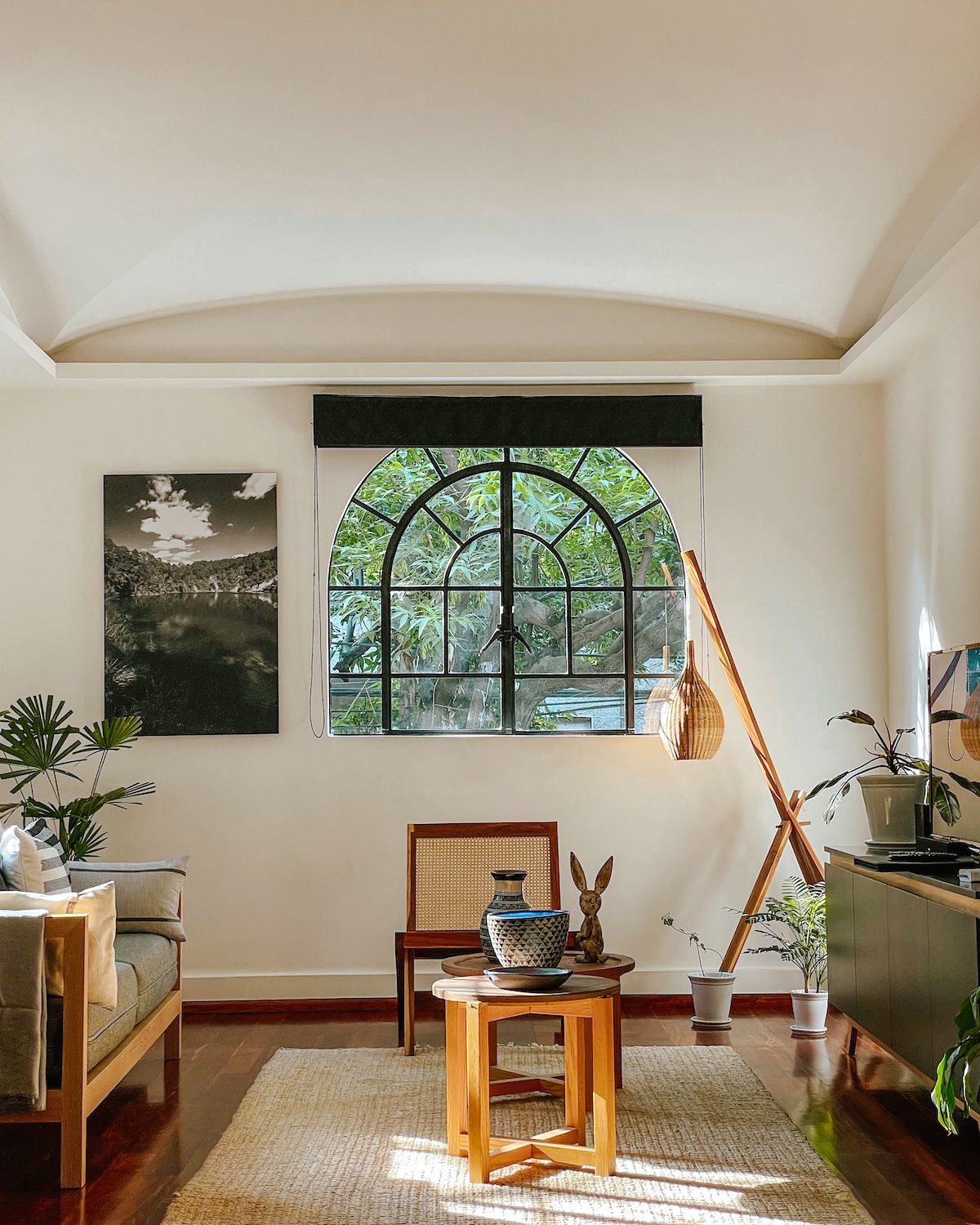 Stay in a 1940s Californian-style house that has been beautifully restored and designed
by Mexico based architect, Ludwig Godefroy, and the creators of Chic by Accident and Taller LU'UM.
Casa Dovela
beautifully blends traditional Mexican design with contemporary features in its three suites. Located on a quiet street in the heart of Condesa, the best of the neighbourhood is just a walk away.
8. Get messy with an extravagant torta from La Esquina del Chilaquil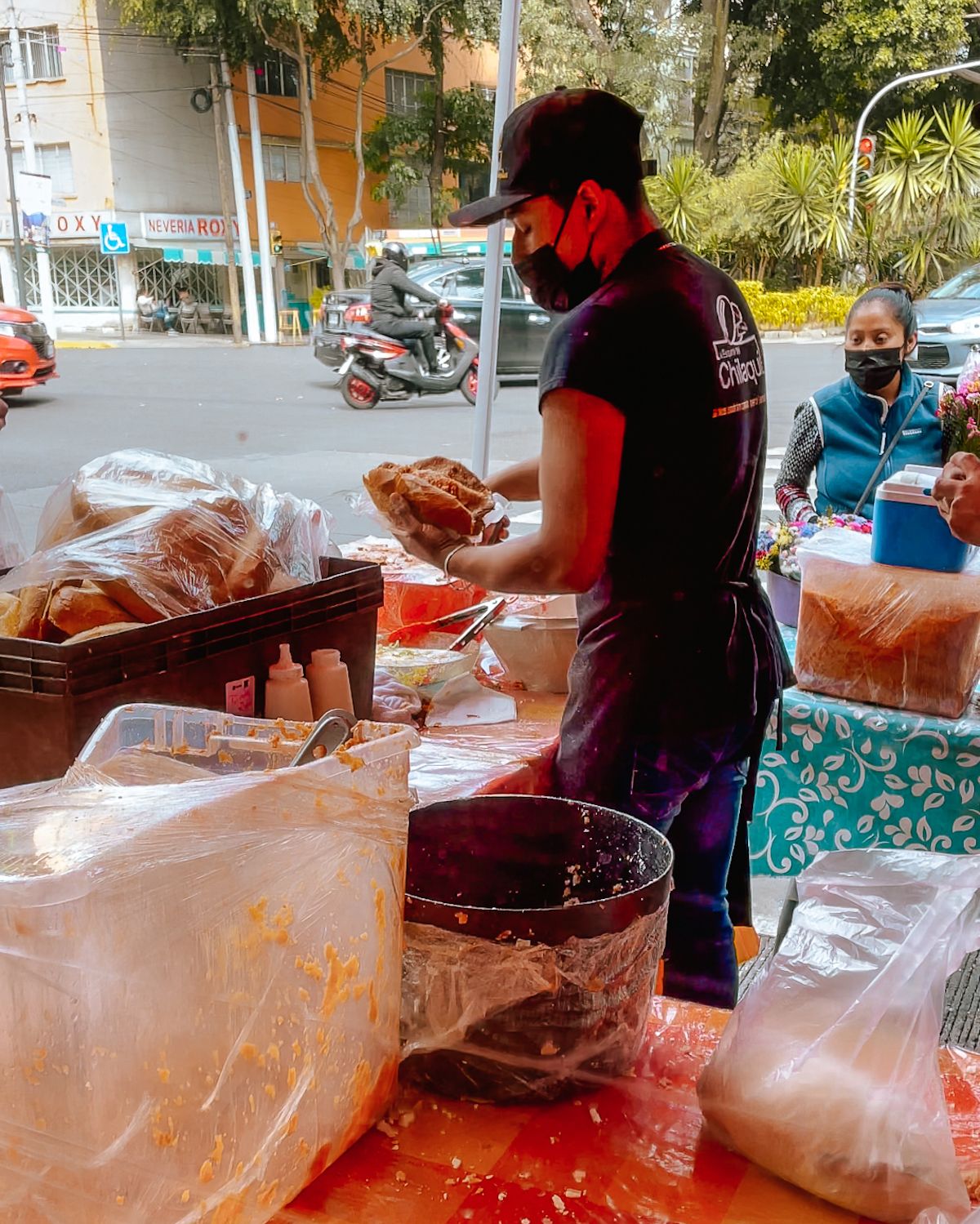 Passed down through generations, this former tamale street vendor became famous once they started selling tecolotas (tortas de chilaquiles) based on their grandmother's recipe.
Get your hands on one of their tecolatas - a bread roll spread with beans, a scoop of chilaquiles, crumbled cotja cheese, crema and your choice of flattened, breaded chicken milenasa, beef or pork. It's absolutely messy, so don't forget to grab some napkins!
This breakfast spot can have long lines. We walked past a couple times and the line varied significantly depending on the time and day of the week. Don't forget to bring cash - it's around 50 pesos (~$2.65 USD) for each torta, an outstanding value!
9. Dine at Hugo, one of Condesa's hottest new restaurants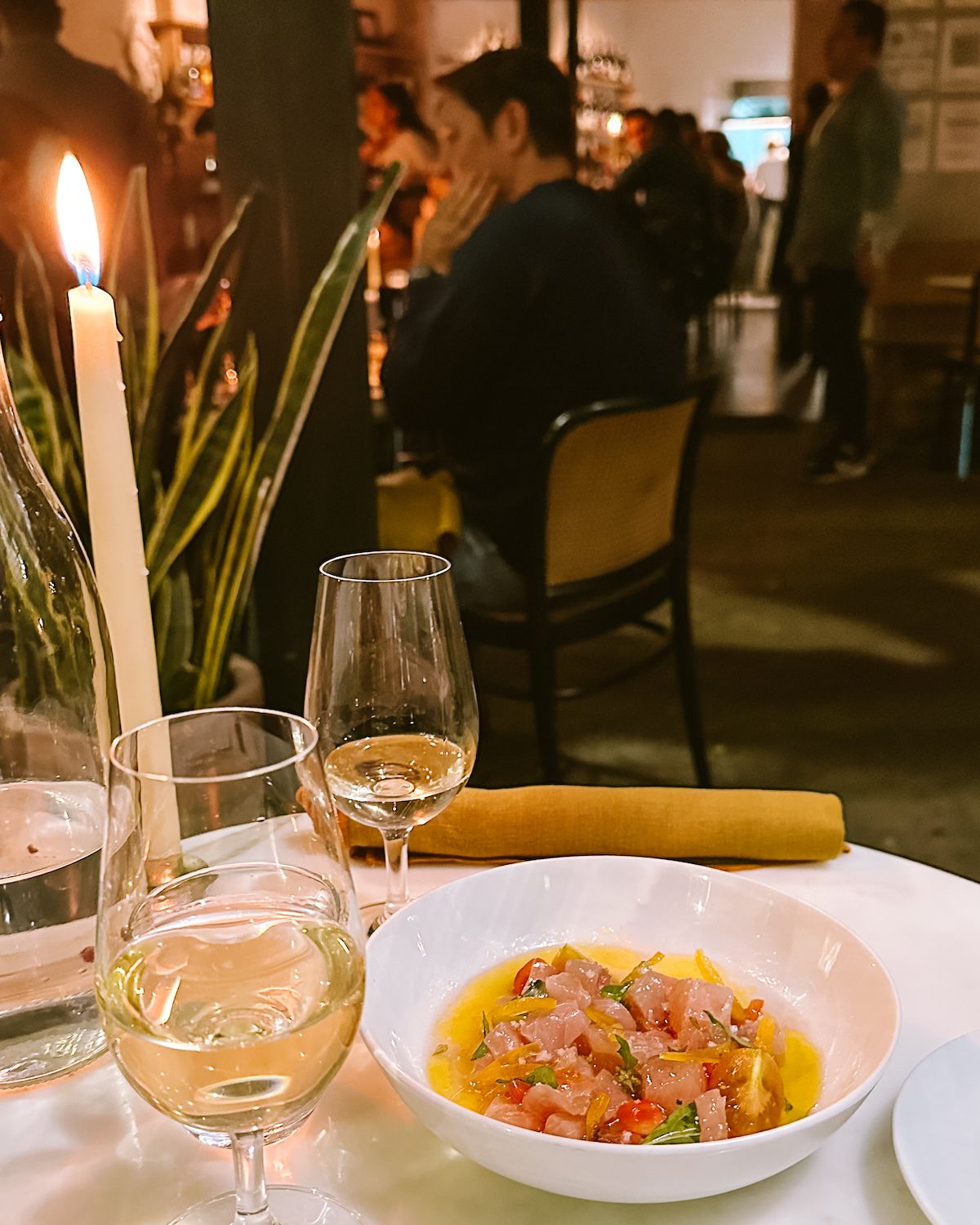 After the success of Cafe Milou, sister restaurant Hugo opened, offering natural wines and small delectable sharing plates. The buzzing bistro & wine bar has a hip locals' vibe and is one of the most sought after spots to dine in Condesa at the moment - so make your reservation far in advance!
Must try: Boqueron toast and Crudo de Esmedregal
10. Buy your favourite piece of art from MOONI's wall collage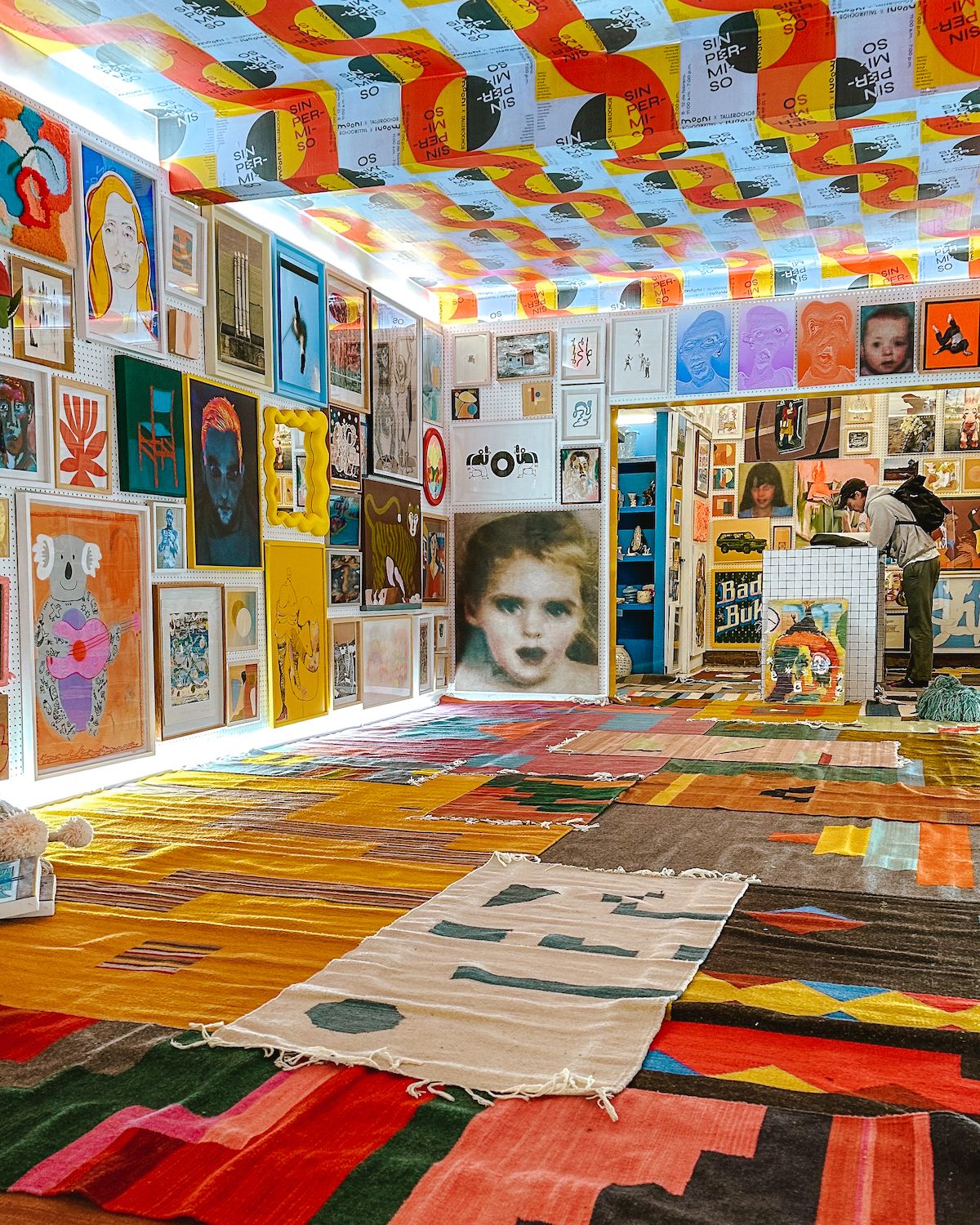 Browse MOONI's colourful art wall, where artworks by emerging artists are for sale. We bought a piece by Nicole Matta Santos.
See our list of the 17 best contemporary art galleries in Mexico City.
11. Taste authentic tacos at Taqueria Orinoco or El Califa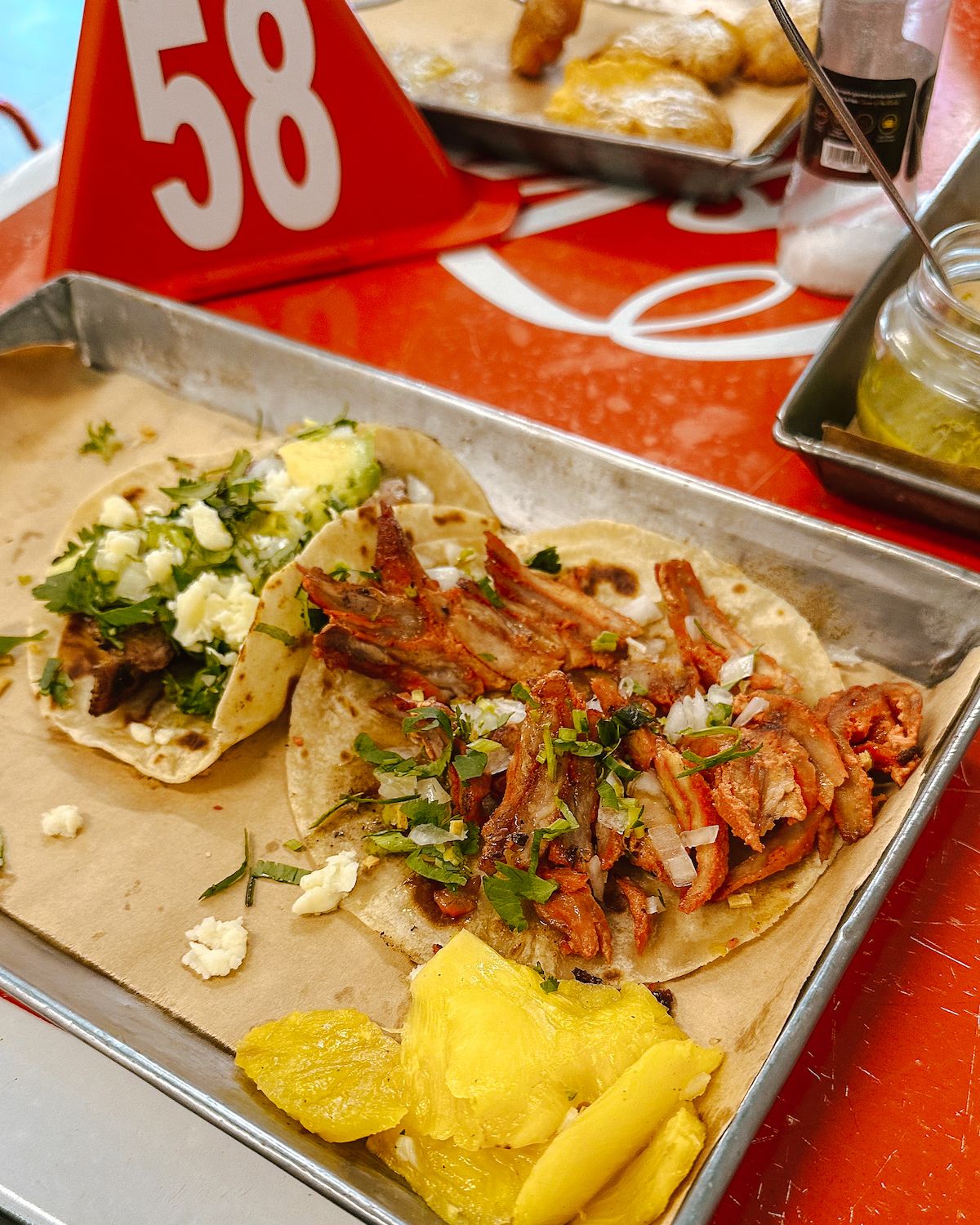 These famous taco joints are perfect for a midnight snack after going out to the bars:
Taqueria Orinoco
Try Taqueria Orinoco's three signature tacos (al pastor, chicharron, bistec) on a flour tortilla. The red & white restaurant chain is famous for their authentic northern-style tacos and you'll see locals and tourists wolfing down tacos until the wee hours of the morning.
El Califa
Try El Califa's satisfyingly simple and savoury steak tacos, made with high quality ingredients. We tried their sirloin and ribeye tacos, which came thinly sliced on a corn tortilla.
---
Bonus: Our top hotel picks in Mexico City
For location, we recommend staying in the Condesa or Roma neighbourhood. All three of these places offer a boutique feel with exceptional design:
---
Don't miss our other Mexico City guides:
---
Get started on booking your trip to Mexico City
🌃 Book your accommodation: Booking.com is our go-to for finding places to stay. Sort by top reviewed.
🌮 Browse tours with local guides: through GetYourGuide or Viator
🛫 Book your flight: use Skyscanner to compare flights across different airlines (we recommend booking direct with the airline however).
---
Save and pin these fun things to do in Condesa Mexico City for later: