Camping on Hornby Island is special. Not only do you get to spend time in nature along gorgeous beaches, you get to experience the island's bohemian charm developed since the late 1960s by artists and creatives. Located two short ferry rides away from Vancouver Island, Hornby Island's remote location and eclectic atmosphere make it one of the most unique places to camp in BC.
When we found Fossil Beach Farm, we knew it was a hidden gem we needed to check out. The 100 year-old working farm offers a serene camping environment with its oceanfront luxury tents and is an authentic place to stay that aligns with Hornby Island's spirit.  
If you're new to camping, this is a great way to get your feet wet. If you're an experienced camper, it's also a nice break from "roughin' it".  We've done both backcountry camping and glamping and can't recommend this experience enough. Our expectations were set high and we left as happy campers!
Our Fossil Beach Farm review covers what it's like to go glamping on Hornby Island and what to know before you go.
Note: Fossil Beach Farm did not sponsor us or pay for our stay, this is an independent review.
Overview: Hornby Island Glamping at Fossil Beach Farm
Disclosure: Some of the links below are affiliate links, meaning at no additional cost to you, we will earn a commission if you click through and make a purchase. We only recommend products or services we have used or that we believe will add value to our readers. Thank you for supporting us!
Best time for camping on Hornby Island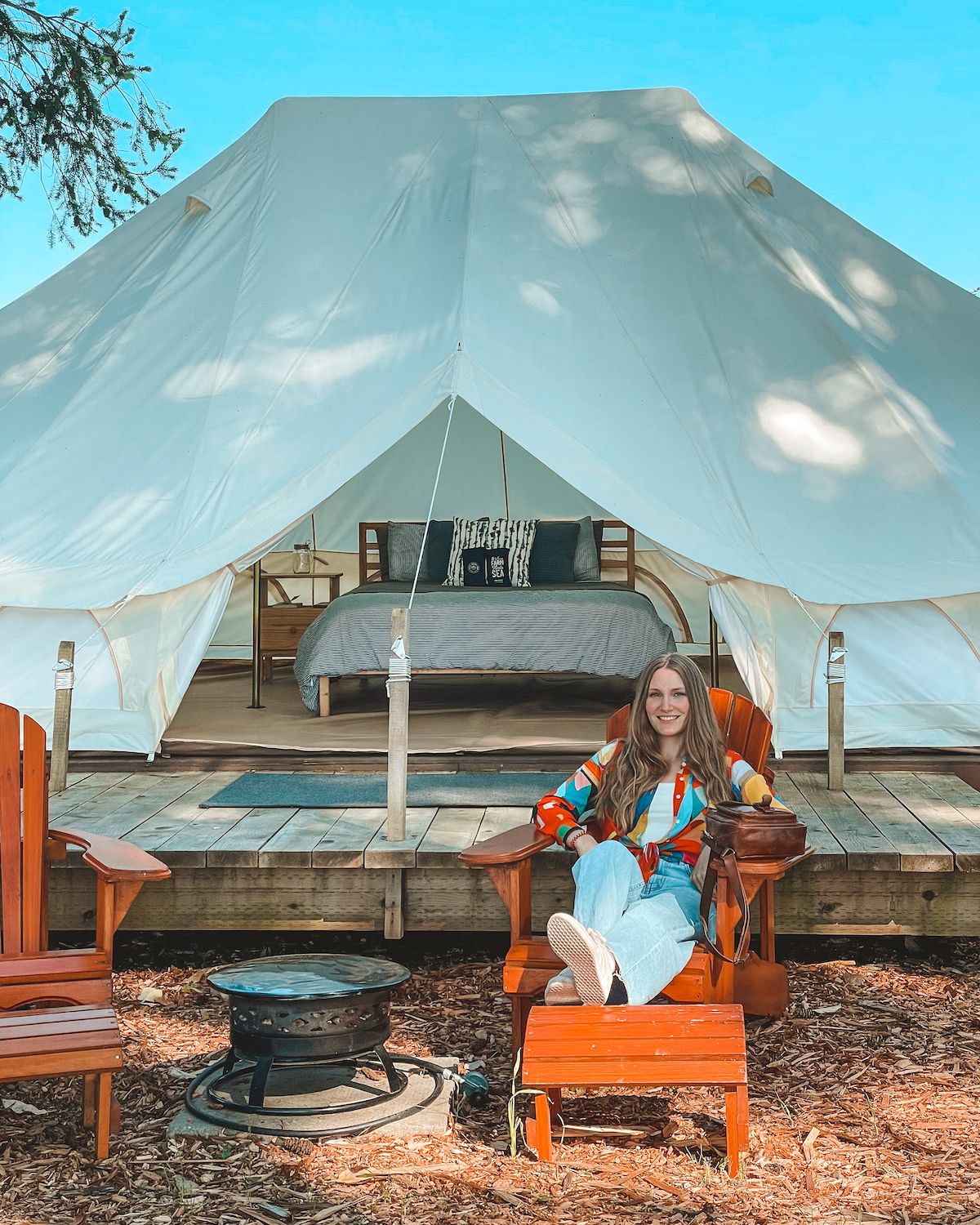 Planning which time to visit Hornby Island is important since the island doesn't officially "come alive" until the summer months. If you are excited to attend live music events, visit the artisan market, dine at restaurants and visit spots like wineries and studios, you will need to plan accordingly.
Best time to visit Hornby Island:
May Long Weekend to end of June - on weekends
July/August - Wednesdays-Sundays
September - on weekends
These months see the warmest weather and least amount of rain, which you will want for camping. July/August is when the island really opens up with the Artisan Market running on both Saturdays and Wednesdays.
We visited in June and learned that most studios aren't set up for visits until July, however you can catch these artisans at the market on Saturday. Some restaurants and wineries are also only open during weekends during this "shoulder season".
Getting to Hornby Island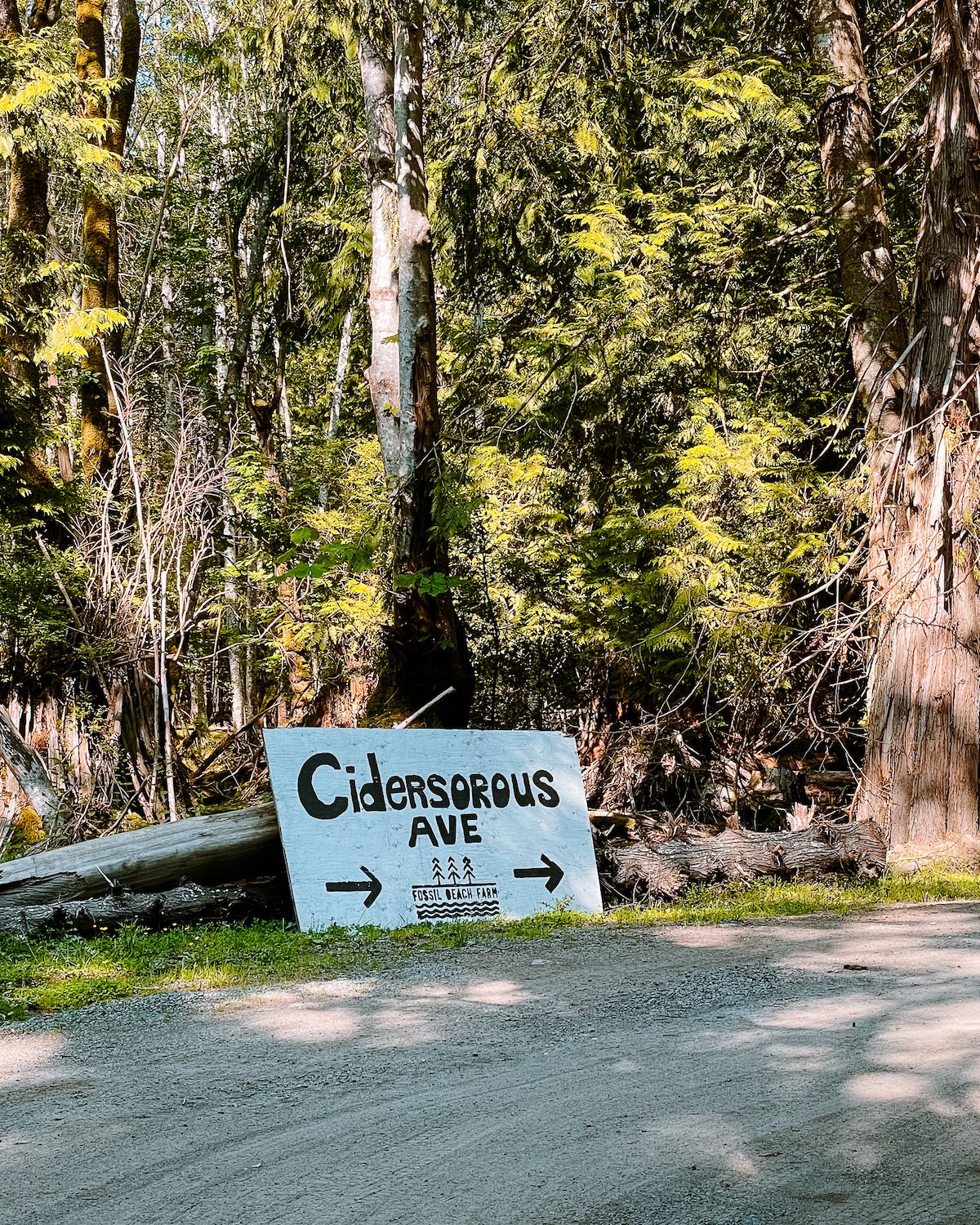 Although you need to take a few ferries, getting to Hornby Island is an enjoyable journey with luscious forests, towering blue mountains and the ocean as your backdrop.
How to get to Hornby Island from Nanaimo
From Nanaimo, take Highway 19 north to Buckley Bay. The drive will take about an hour.
From Buckley Bay, take the 10-minute ferry to Denman Island.  The route is first-come first-served.
Once you arrive on Denman Island, it's a 15 minute drive to Gravelly Bay to take your last ferry to Hornby Island. The ferry time is about 10 minutes and is first come-first served. The times posted on the schedule aren't accurate as the ferry makes as many trips as possible to get people across.
How to get to Hornby Island from Vancouver
From Vancouver, you will need to take the 1 hour 40 minute ferry from Horseshoe Bay to Departure Bay in Nanaimo. Ferry reservations are highly recommended for this route, especially during summer months.
Once you arrive at Departure Bay in Nanaimo, follow steps #1-3 above!
🚗 Don't have a car? Easily compare car rental rates with Rentalcars.com
Hornby Island glamping at Fossil Beach Farm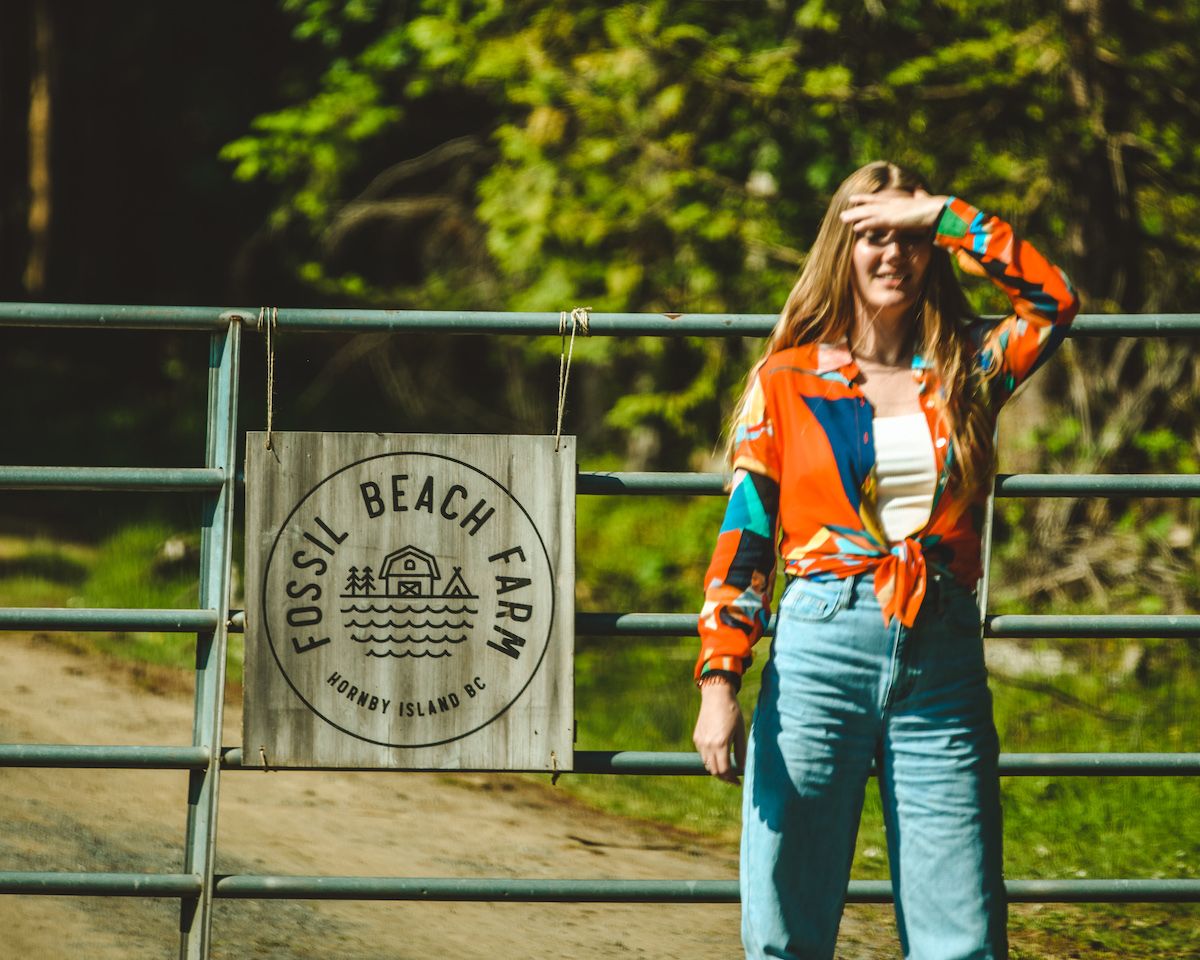 Located past two cattle gates and some grazing cows, this
100-year old oceanfront farm
and cidery is a gem of a place to stay with its glamping tents overlooking Fossil Beach.
We cover what it's like to stay in the luxurious tents, what amenities you will find, fun things not to miss on the farm and what to know before you go!
The glamping tents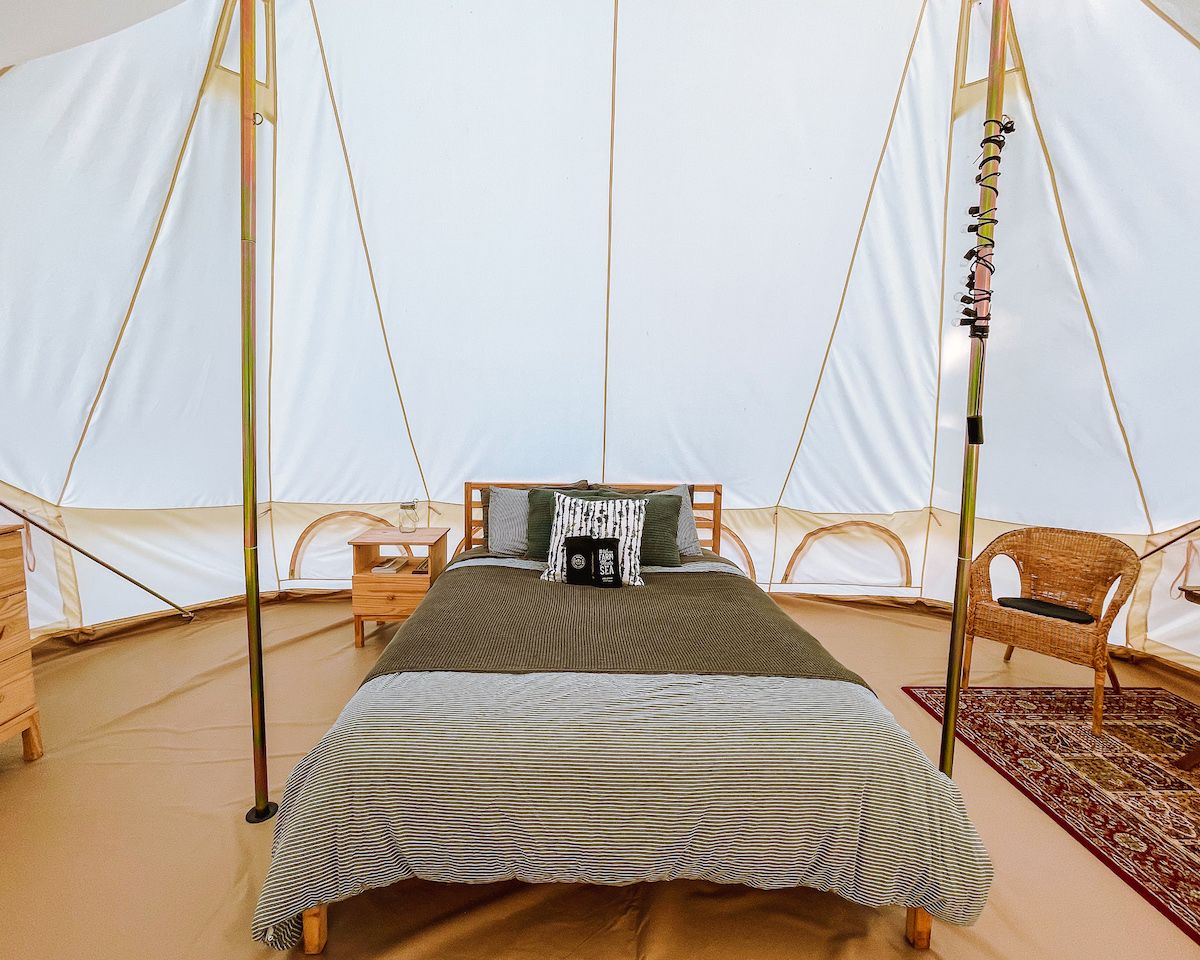 This is no ordinary camping. Each one of the spacious white tents is outfitted with a comfy queen sized bed, dresser and seating area. A couple glamping tents are suited for families as well. Keep in mind that there are no outlets in the tent (they are located in the communal cooking area) and the tents are not heated. You're camping after all!
Outside of the tent is where the magic happens with your private seating area and propane fire pit overlooking the ocean. It's a fantastic place to sit to watch the sunset with a glass of farm-crafted cider. A wooden divider is placed on both sides of each site, offering some privacy from other campers.
We were delighted to find a goodie bag with a sleeping mask and ear plugs. Although, we loved being woken up by chirping birds each morning and welcoming the sunlight.
Top tip: If you're a light sleeper, stay in the Kowloon, San Juan or Discovery tent. They are farther away from the toilets/communal area and family tents.
See reviews for Fossil Beach Farm
The amenities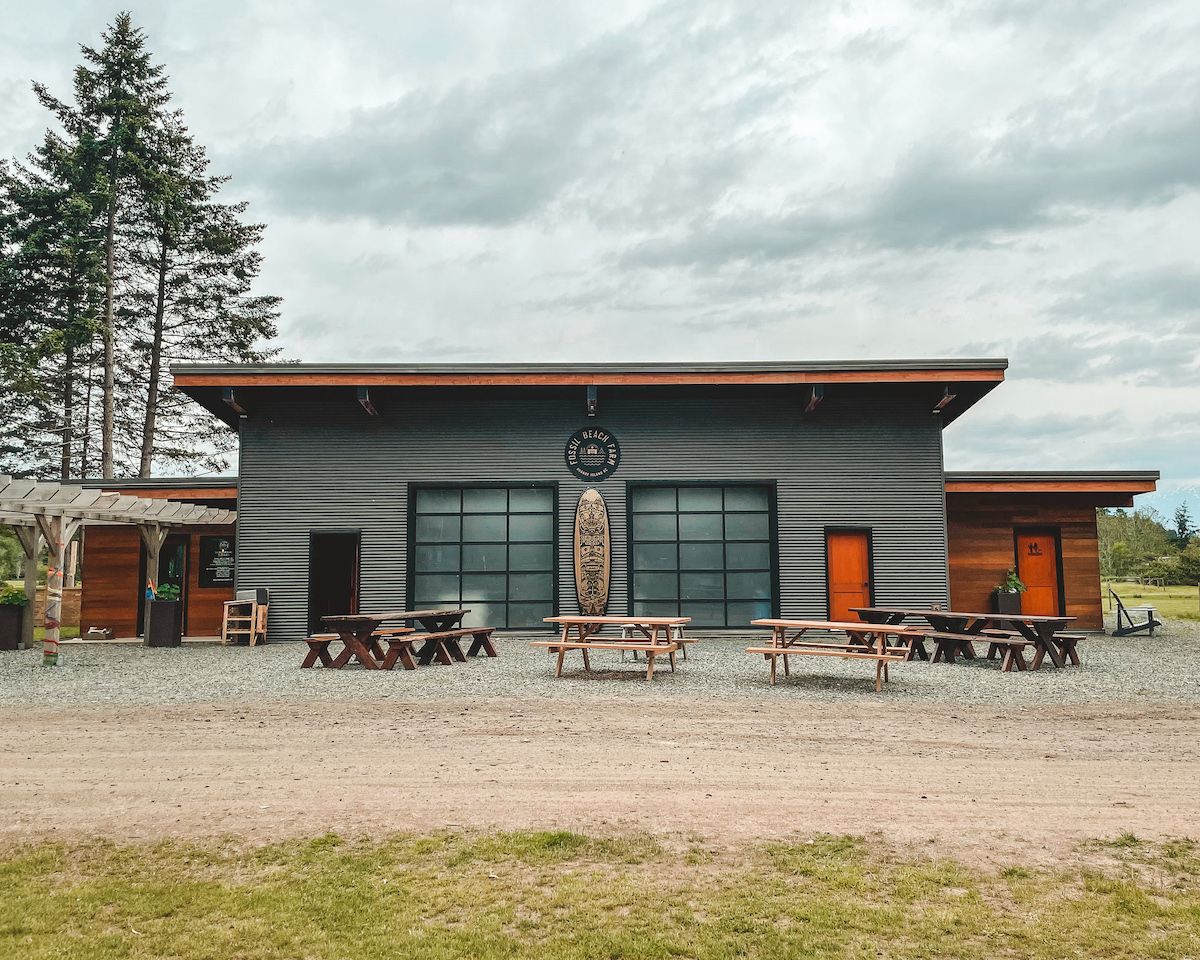 Fossil Beach Farm provides private showers and bathrooms in its cider house as well as an outhouse closer to the tents.
The communal cooking area is top of the line with all the appliances and kitchenware you need to cook a nice meal. For seating, you will find plenty of picnic tables around the area.
At your tent, one canister of propane is included with your stay for the fire pit. Stand up paddle boards are also free to use and there are hammocks for lounging.
6 fun things to do on Fossil Beach Farm
1. Taste farm-crafted ciders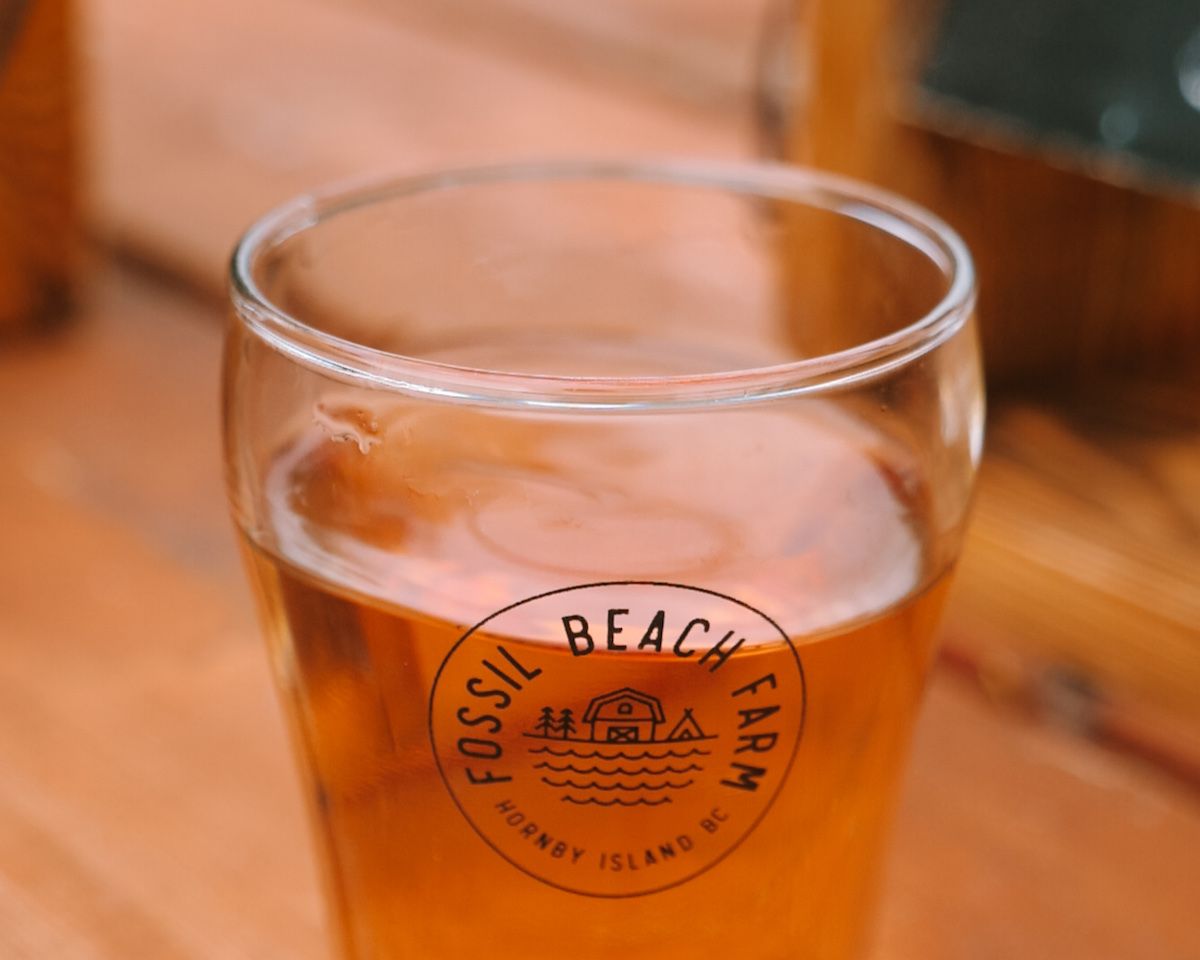 Visit Fossil Beach Farm's tasting room and try a flight of their handcrafted ciders.
They are made from a blend of apples from their own orchard and other orchards in BC.
We brought our flight outside to a picnic table and tasted each one as we referenced the tasting notes they gave us. Some ciders were unique, like their cider infused with blackberries from the farm and their carbonated margarita-style cider with a wonderful lime flavour.
Cidery hours: May - June: Sat & Sun 1-5pm | July-Sept: Wed - Sun 1-5pm
2.  Pick up pizza from Hornby Island Bakery & Pizzeria to eat by the fire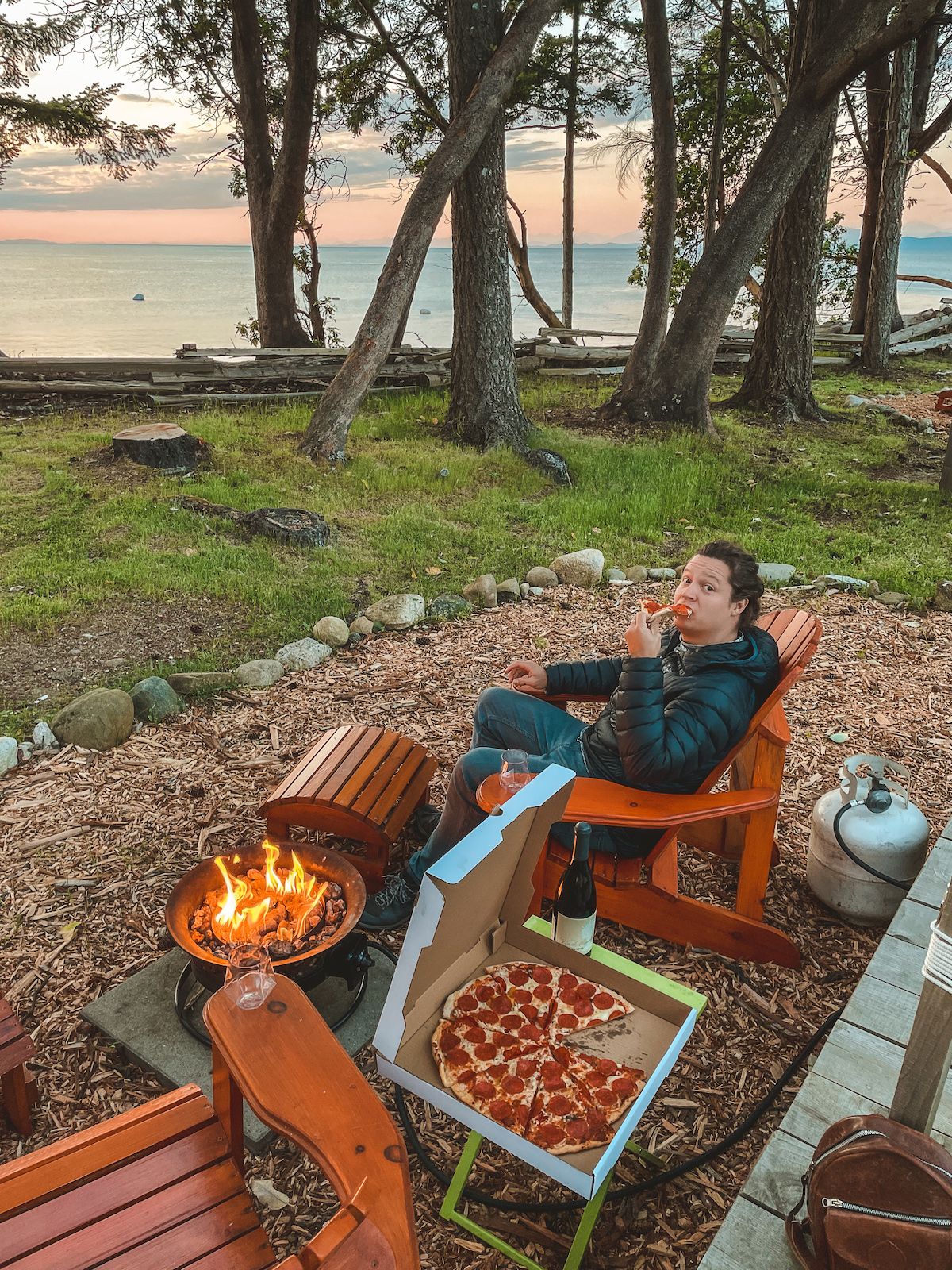 The pizza from Hornby Island Bakery & Pizzeria is top notch, and chatting with owner Jon, makes the experience even better with his infectious laugh. The family-owned joint is a Hornby Island staple and has been around since the 1970s. The pizzas are a family recipe and the dough and sauce are made-from-scratch.
We ordered the Betty Special with thinly sliced Pepperoni, mushrooms, onions and banana peppers. The banana peppers are cleverly placed underneath the cheese, giving the perfect "zing" on your tongue. It pairs perfectly with a fire by the ocean.
3. Stand-up paddle board at golden hour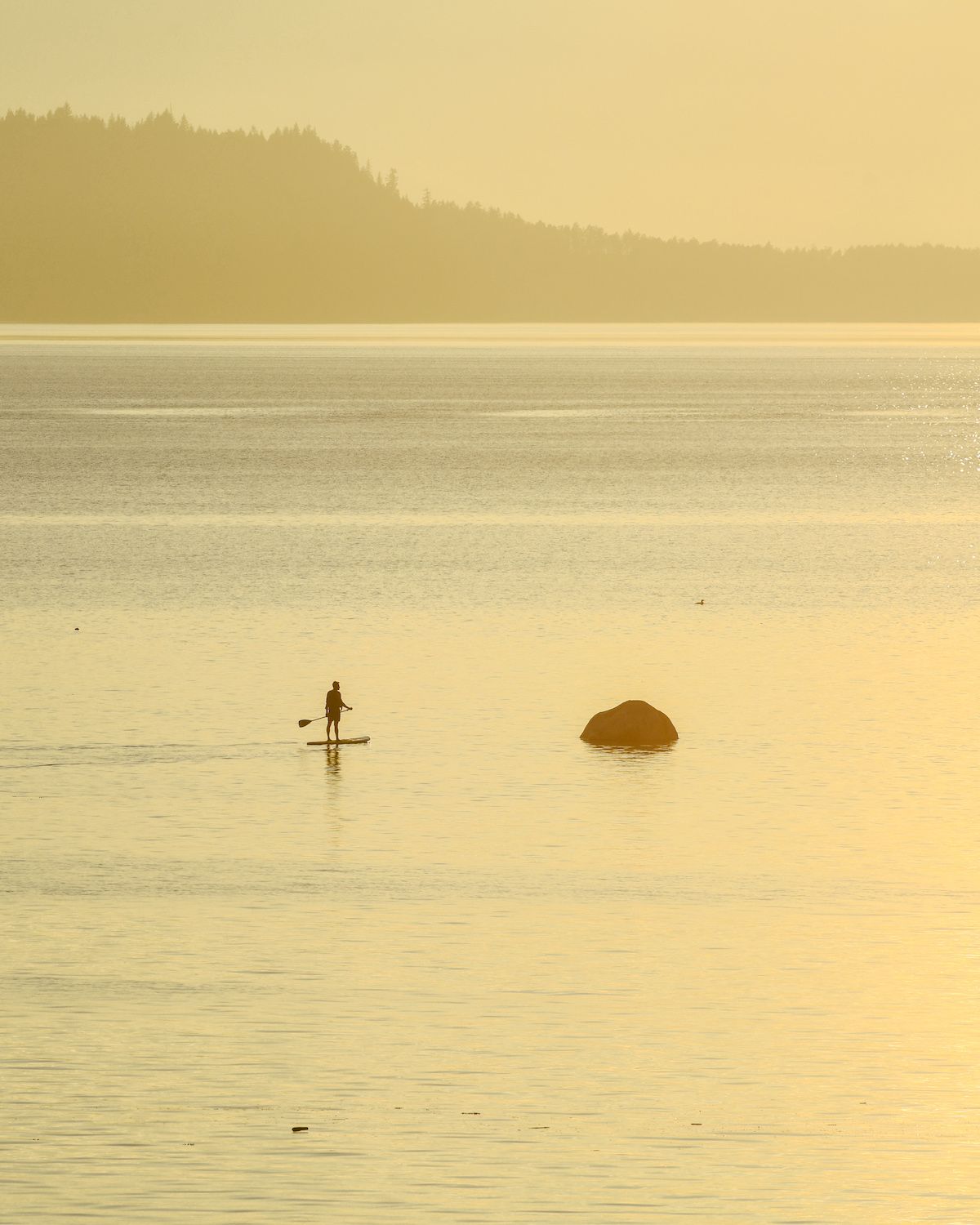 With stand up paddle boards included in your stay, don't miss taking them out at golden hour to watch the seals play. They make these funny fart noises, which we seriously thought was our next door neighbour 'letting them rip' next to our tent for a while.
4. Eat BBQ bites and listen to live music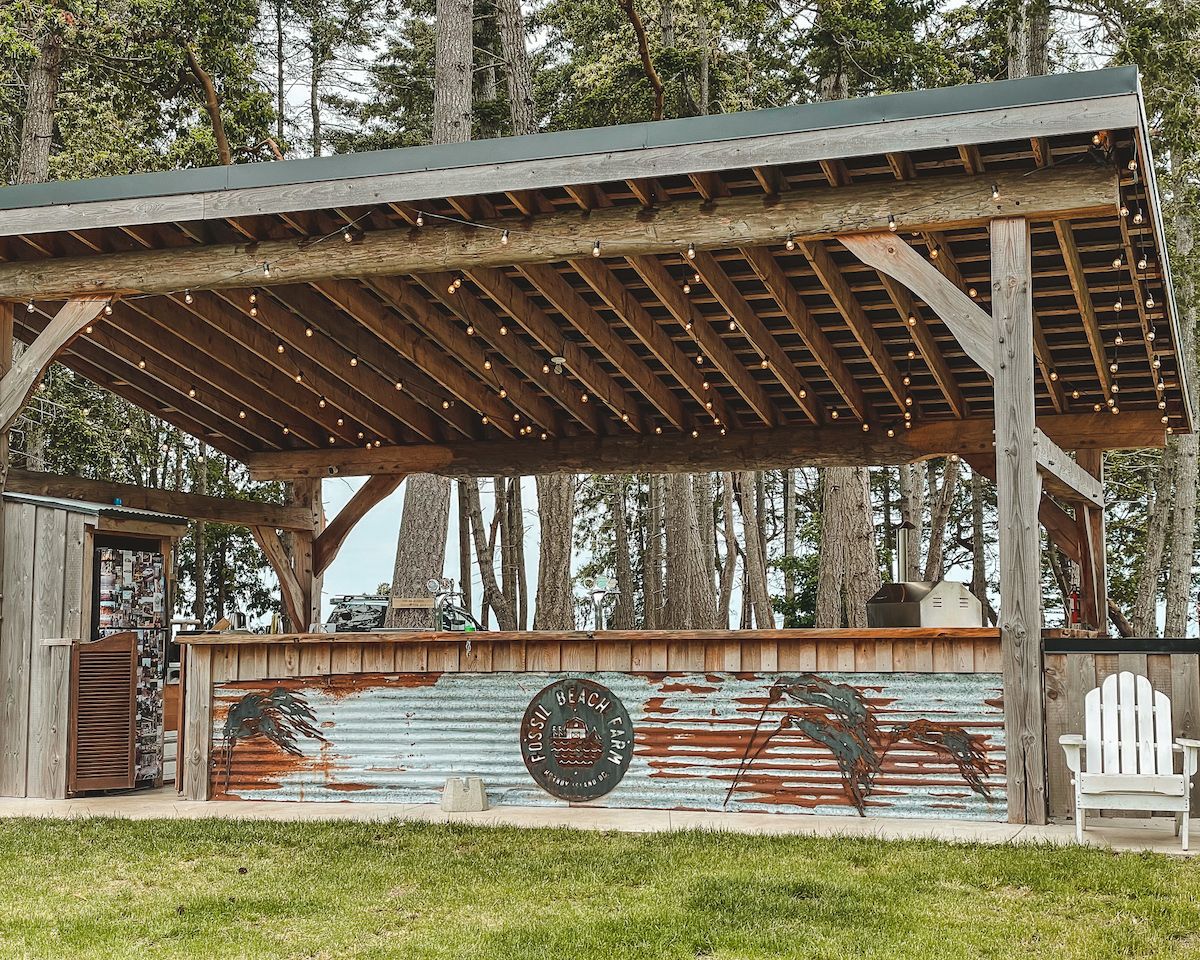 On Sundays,
Fossil Beach Farm
hosts their "Sunday Sessions" with live music and juicy BBQ bites, like their farm beef and pork chargrilled burger and grilled wild west coast salmon.
See their event page to see who's playing.
5. Search for fossils on Fossil Beach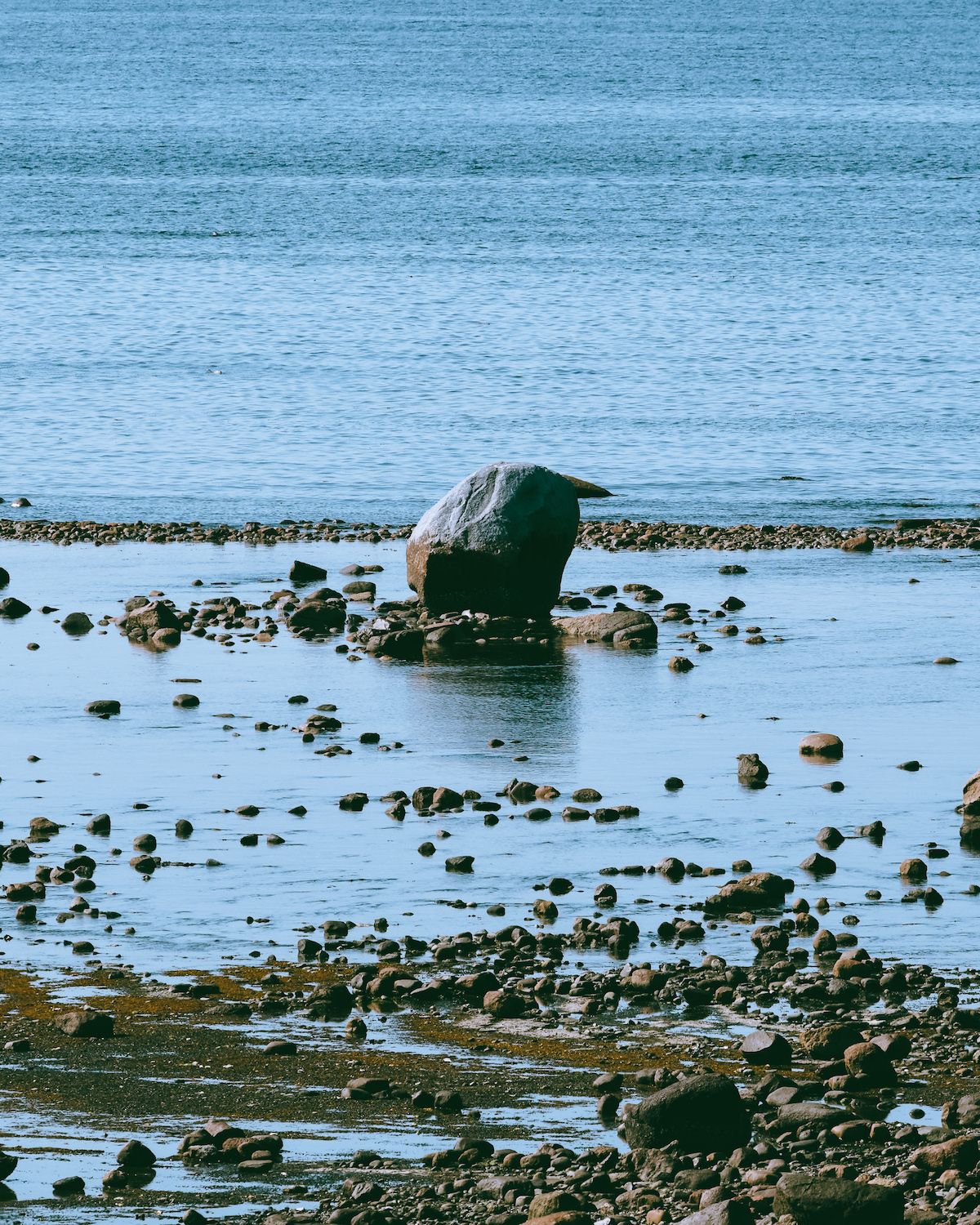 We got a local tip that a favourite activity among islanders is hunting for fossils at Fossil Beach during low tide. They find them by breaking rocks open with a hammer. With easy beach access from our tent, went went to to search for some... with no luck.
Note: Fossil Beach Farm recommends keeping anything you find, including fossils, on the beach for others to enjoy as well.
6. Watch the sunset with a glass of local Hornby Island wine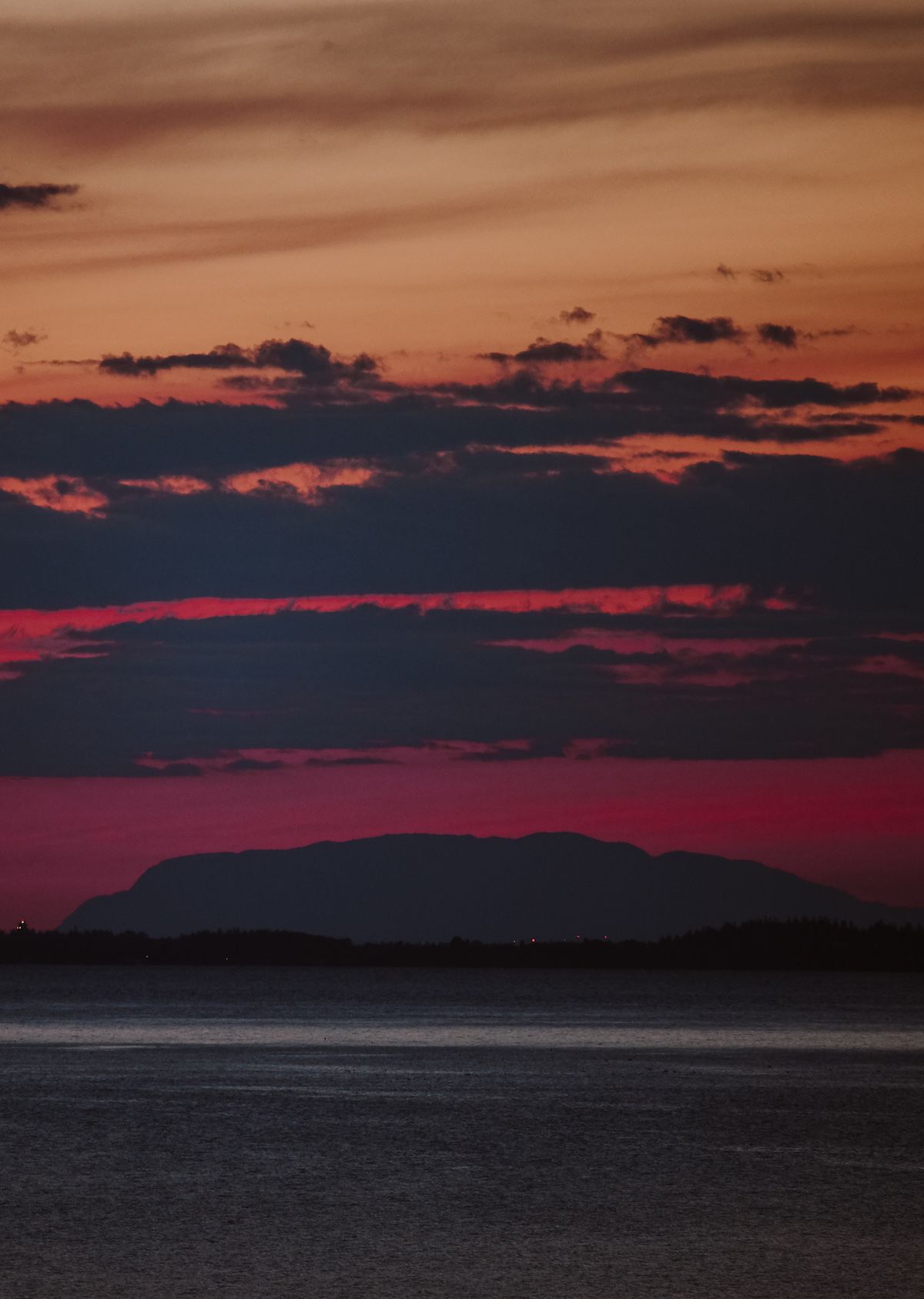 We couldn't believe how vibrant the sunsets were from our tent. Deep purples and reds filled the sky as the mountains and surrounding islands turned into blue shapes. Sip a glass of local wine by the fire and let the peaceful surroundings wash over you.
5 things to know before you go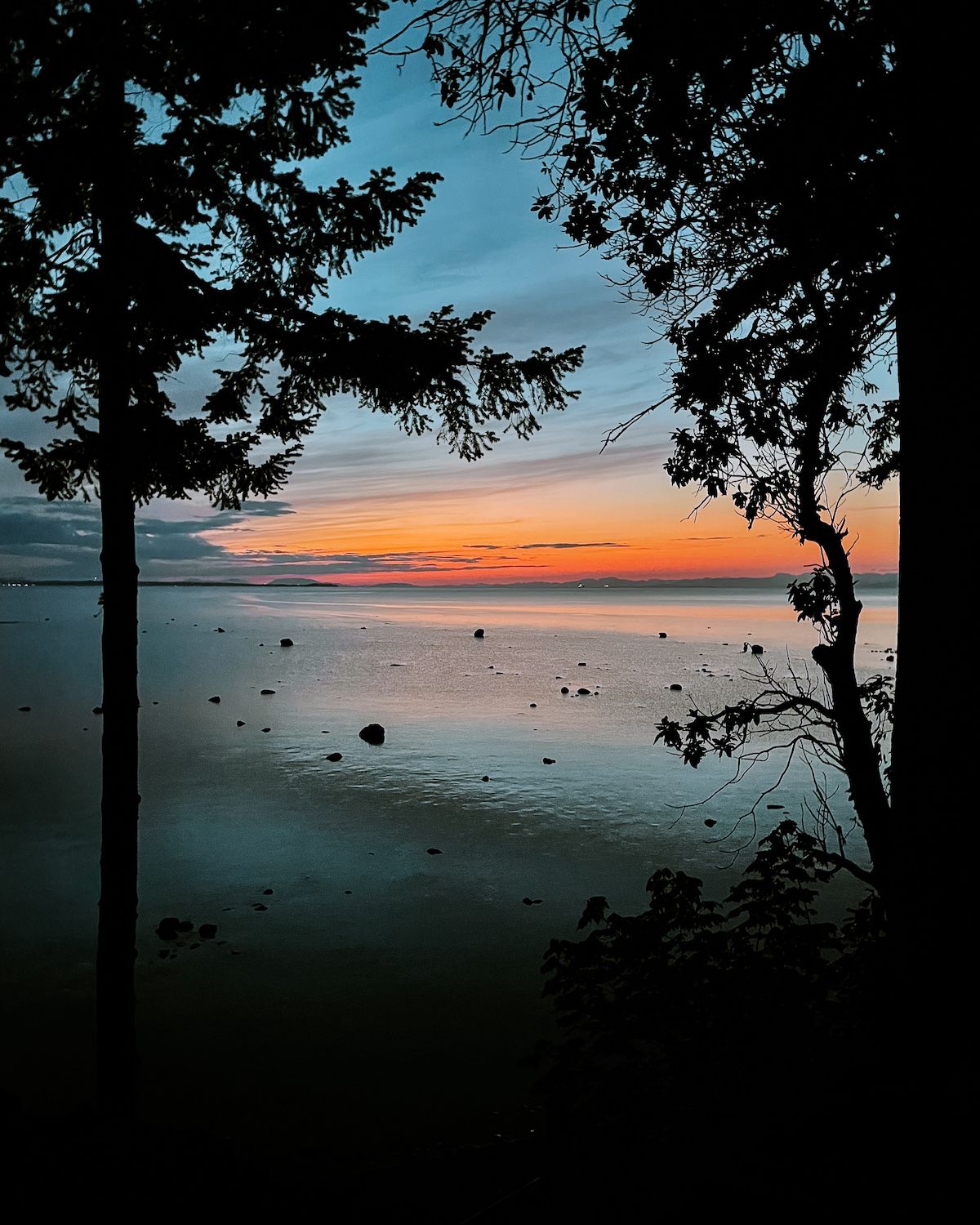 1. There are no power outlets in the room
Although you can charge your devices in the communal kitchen, a portable charger comes in handy!
2. The glamping tents are not heated
Bring warm clothes like you would for regular camping. Bring merino wool base layer (long sleeved shirt and pants) for sleeping, toque, gloves, warm socks, down jacket or fleece jacket, and a waterproof shell jacket.
3. There is only one small solar light in the tent
We brought a battery powered lantern for some extra light at night.
4. It gets dark at night, so bring a head lamp for late night bathroom trips
Depending on which tent you're in, you may have to walk down the path to get to the washroom. Those headlamps come in handy!
5. Towels are not supplied
If you plan to shower or take a dip in the ocean, make sure to bring your own towel!
We hope you enjoy your time camping on Hornby Island!
Don't miss our other Hornby Island guides:
---
Start planning your trip to Hornby Island
---
Combine Hornby Island with a road trip through Vancouver Island. See our Vancouver Island itinerary.
Want to explore more of the Gulf Islands? Check out our other island travel guides:
---
Save and pin this Hornby Island glamping guide for later: