Our two week trip through Israel and Jordan was exciting and packed with wonderful surprises. We found our new favourite cocktail bar, swam in the dead sea and saw Petra to name only a few of the unique experiences we had on this trip.
---
---
Days 1 - 4: Tel Aviv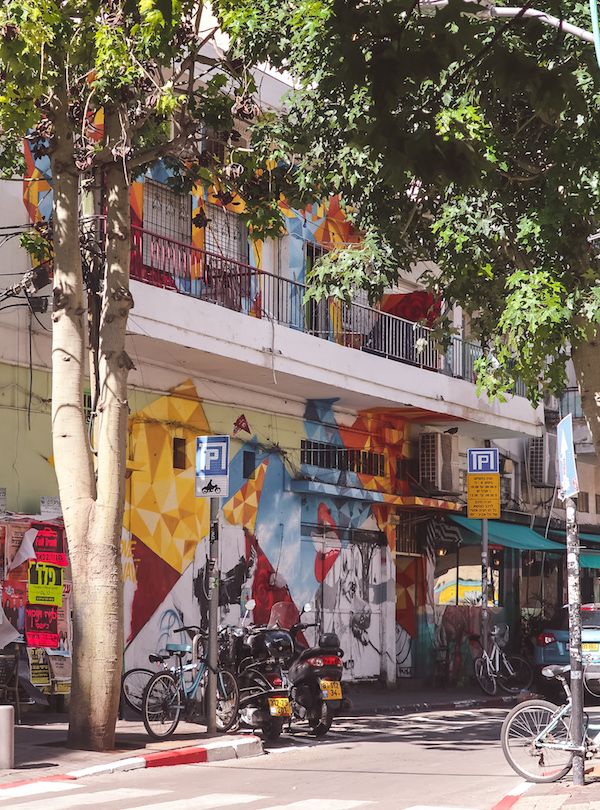 Tel Aviv is a fun and quirky city on Israel's Mediterranean coast. The culture, cuisine, music, and nightlife are all reasons you should visit.  The people were also the most considerate we've met on our trip and always willing to help us out. We spent a week in the area exploring and have some favourite spots that shouldn't be missed!
Our favourite district was the Florentin neighbourhood known as the "hippest area" due to its graffiti lined walls, bohemian cafes, bars, and young creative crowd. We stayed at Florentin House, which offers modern rooms and is surprisingly very quiet even though it's on the main strip of the district. We loved that our stay included a breakfast voucher that we could use at two cafes across the street.
Cafes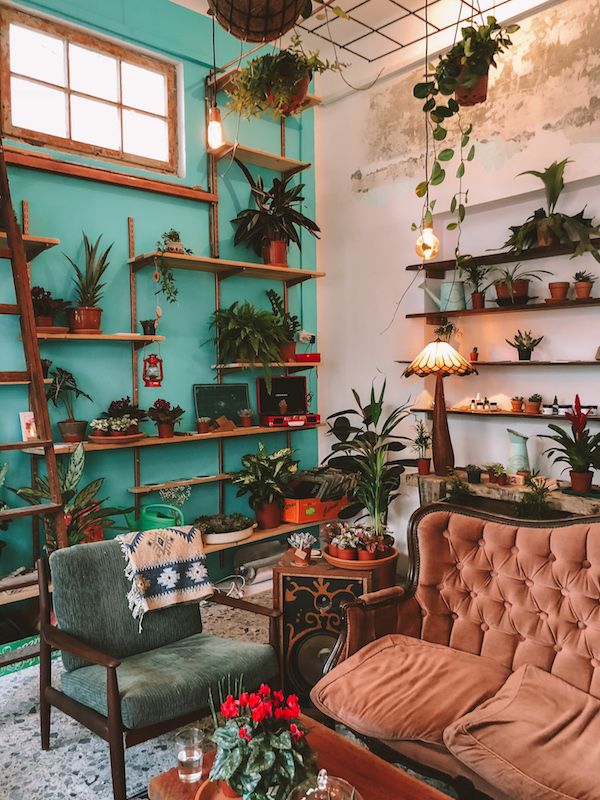 Most beautiful cafe: TLV Makers
TLV Makers recently opened in Fall 2018 and is beautifully decorated with a plethora of plants. They serve coffee and host workshops, such as a Japanese shibori (fabric dyeing technique) workshop.
Best laptop friendly cafe: Cafelix
Cafelix is an artisan small batch coffee roaster with outdoor seating where working on your laptop is accepted.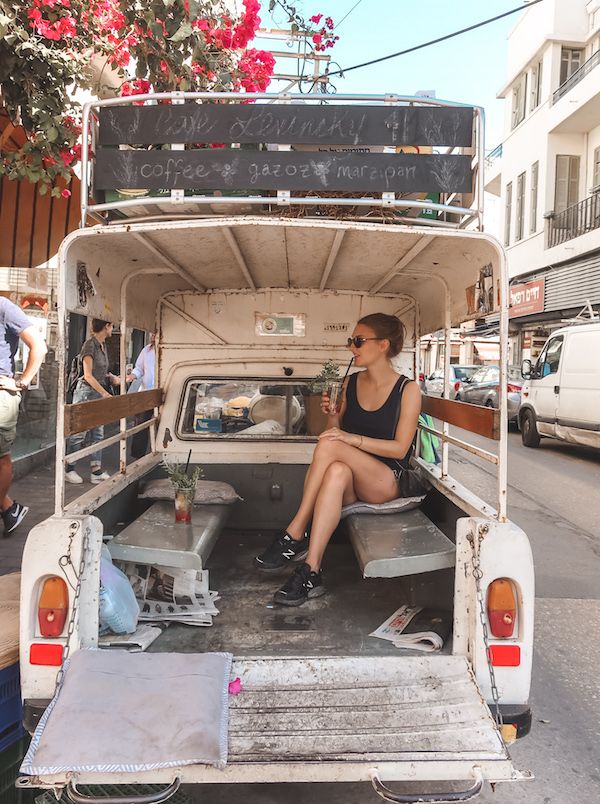 Most quirky cafe: Cafe Levinsky
Cafe Levinsky is a magical place in the Florentin neighbourhood known for their gazoz. Gazoz is soda water infused with fermented fruits, fresh herbs, and flowers. We were lucky to grab a spot in the vintage truck outside!
Restaurants: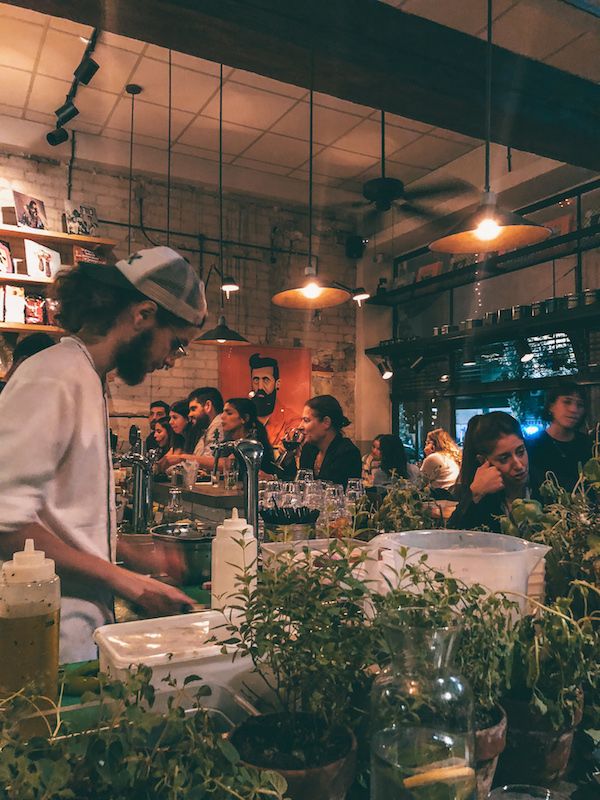 Best for contemporary Israeli cuisine: Ha'achim
Ha'achim is run by two brothers and has a cool ambiance with its own music playlist. The menu is designed for sharing so you can try a variety of dishes. The ribeye steak cooked on a charcoal grill was a highlight!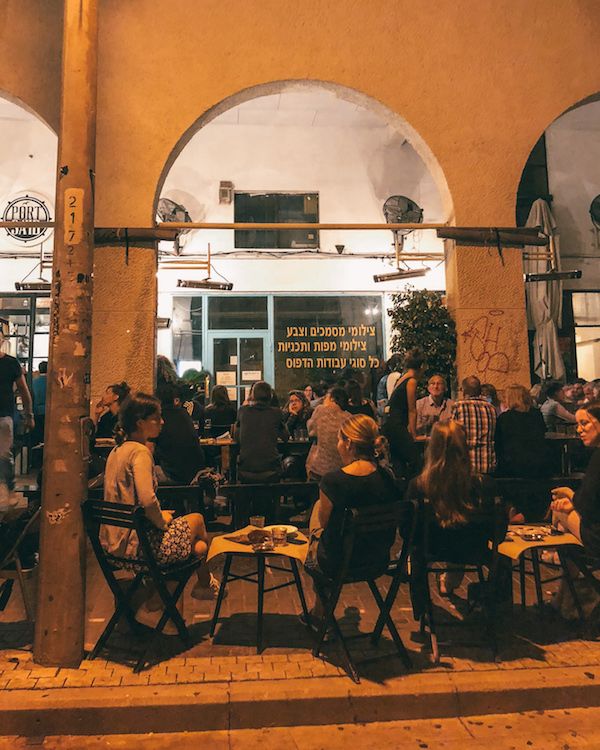 Restaurant with all the hype: Port Sa'id
Does Port Sa'id live up to the hype? We think so! Port Sa'id has a lively ambiance and features innovative Israeli cuisine from celebrity chef, Eyal Shani. The catch is that Port Sa'id doesn't take reservations, so you'll see locals and tourists waiting in line for up to two hours. We tried going on the weekend and didn't have a chance of getting in so came back on Monday at 6pm. The restaurant was packed, but we luckily got a table right away!
Nightlife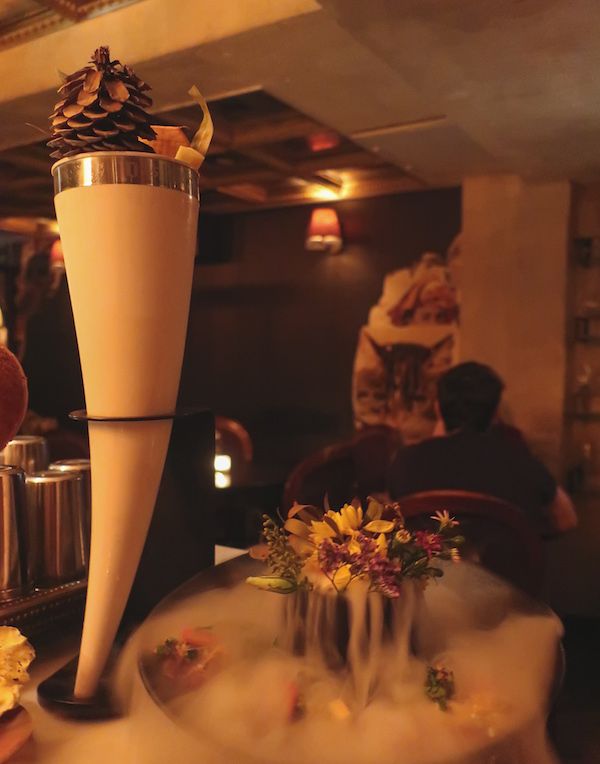 Best cocktail bar: Bellboy
Now our favourite cocktail bar in the world, Bellboy creates the most unique cocktails we've ever seen. We ordered delicious cocktails in a viking horn, a conch shell, a camera lens, mini bathtub with rubber ducky.. and there's even more to discover! It's done in a classy way with fitting swing music playing in the background. The food is also exquisite and the presentation all around is excellent. Go at happy hour (6-8pm) for 50% off of all their cocktails! You'll need to make a reservation in advance.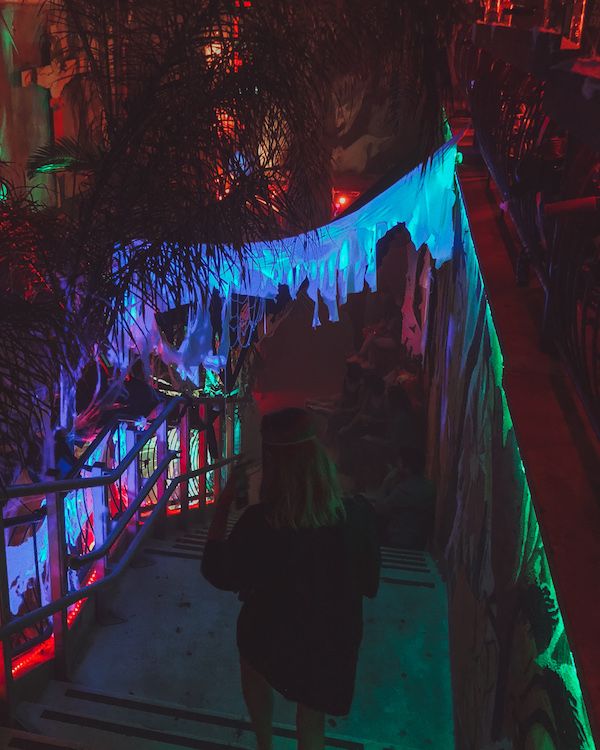 Best for the party: Kuli Alma
Kuli Alma is an underground nightclub that focusses on music and art. We were there for their Halloween party and they went all out with the decor! Check out their events page to see what's going on.
Markets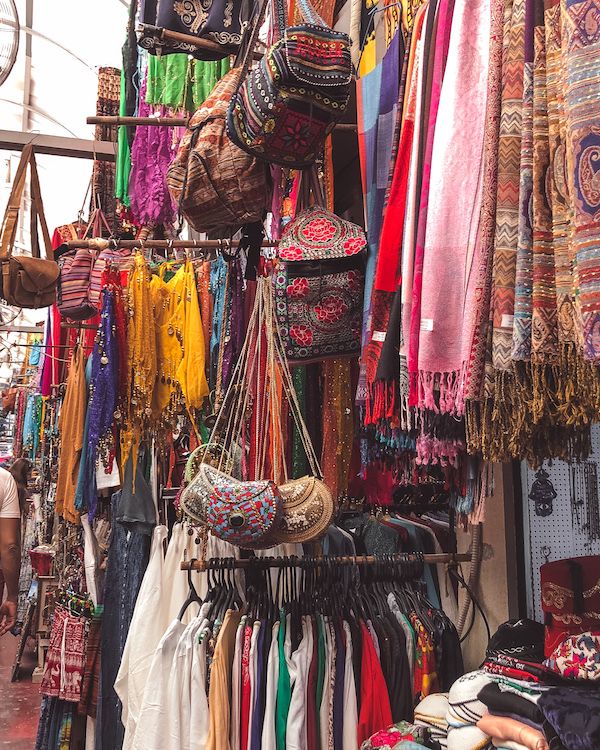 Cheapest market for trinkets: Jaffa Flea Market
Best market for unique local products: Nahalat Binyamin
Best market for food: Carmel Market - you must check out Panda Pita! It was one of the best meals on our trip.
Days 5-6: Ein Karem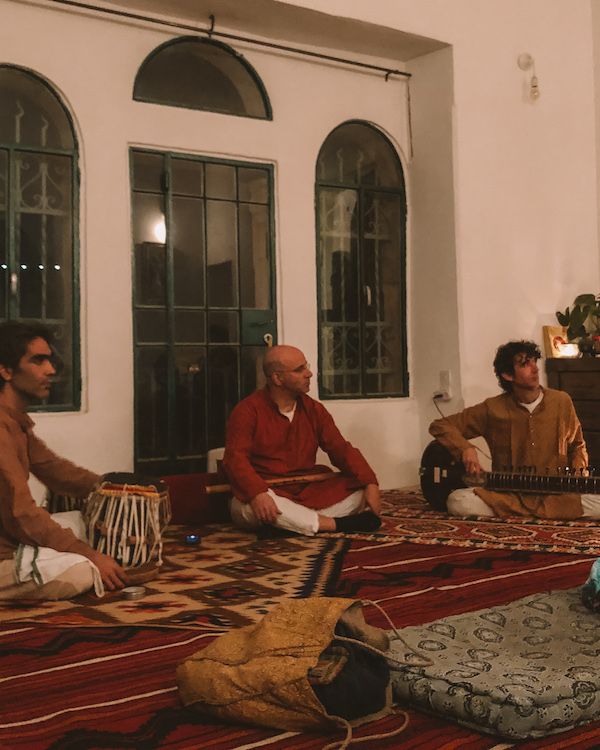 After all of the going out in Tel Aviv we were looking for a quiet escape. The ancient village of Ein Karem was just that. Unfortunately for us, we partied too hard at Kuli Alma on Halloween and our bus trip to Jerusalem was a nauseating experience. When you're not hungover, the trip from Tel Aviv to Jerusalem is quite easy. There are non-stop busses that go all day from Tel Aviv Central Bus Station or Arlozoroff Terminal to the Jerusalem Central Bus Station and take under one hour. From there it's a 20 minute taxi or 30 minute transit to Ein Karem.
The charming area is known as one of the most beautiful neighbourhoods of Jerusalem and has historical sites, hiking, good restaurants, and even a luxurious boutique hotel called Alegra. We opted for an airbnb on the side of the hill which was the perfect nature escape.
We found a poster for a music event completely written in Hebrew when we were exploring. We decided to go although we didn't know what we were getting ourselves into. The venue was at the top of a hill in someone's home and luckily a nice woman showed us the way and even took the bus with us there.
The risk paid off! We had homemade chai tea, sat on pillows, and listened to incredible Indian classical music! If you find a poster for a music event on it like we did, go for it! ;)
Days 7-10: Jerusalem & The Dead Sea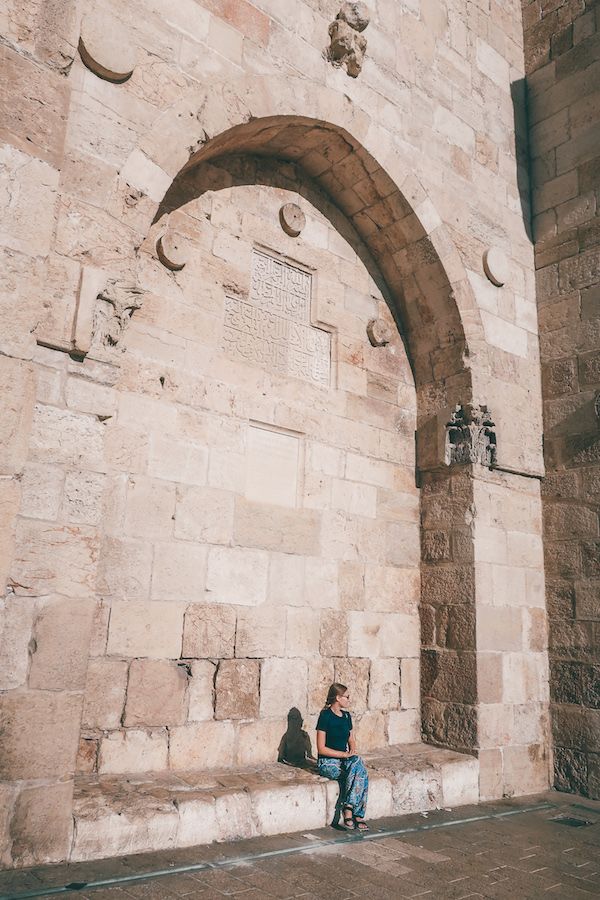 The atmosphere in Jerusalem was very different from Tel Aviv. Where Tel Aviv is a modern city, Jerusalem is one of the oldest cities in the world. The walls of the old city in Jerusalem were made in the 1500s and inside them sit some of the world's holiest monuments today. The space is shared by Christians, Jews, and Muslims all having an array of beliefs that you can't imagine to take in with just a single visit. Take time to walk around and explore the Old City both during the day and night when the cobblestone streets are deserted.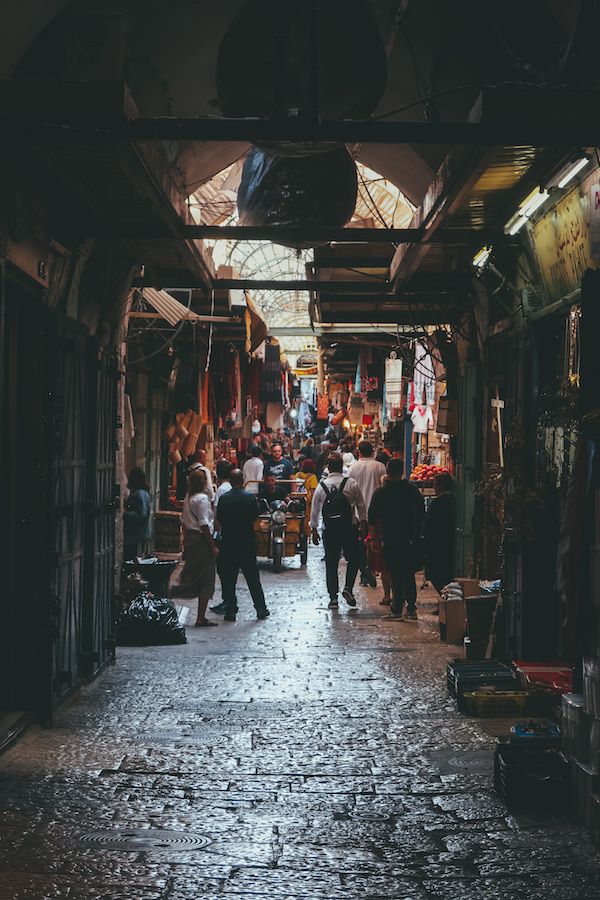 One of our best experiences was having a home cooked dinner in Jerusalem with great conversation to match! Betzavta is the airbnb of finding Israeli locals to host you for dinner. The company is great because they match you up based on your interests. Their mission to bring travellers and locals together and to enjoy Israeli home cooking and good conversation. Later on, our new friends even gave us a little tour of the food market, bonus!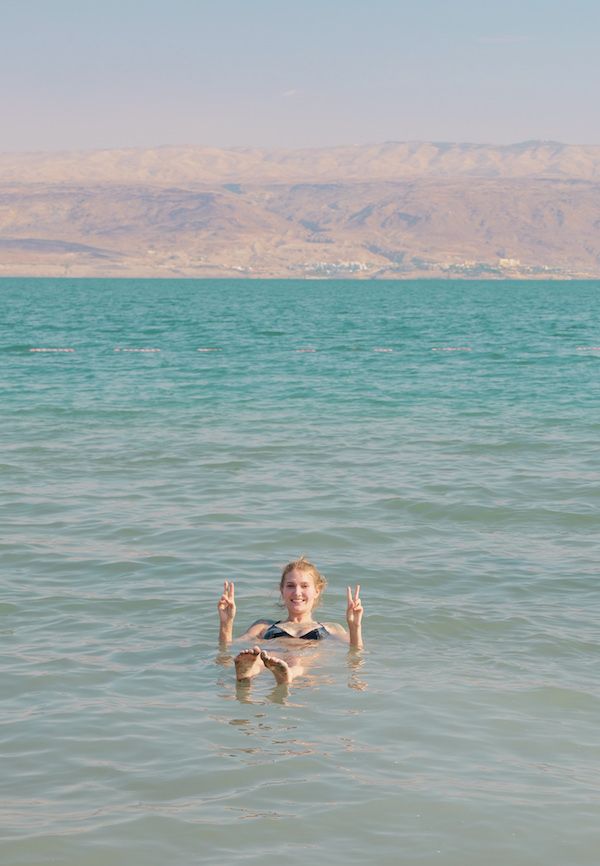 You will also want to save a day to float in the Dead Sea. It lived up to its hype and turned out to be one of our favourite activities in Israel. It felt like floating in outer space! The natural mud at Kalia Beach contains minerals and removes skin impurities. Our skin was silky smooth after. You don't have to purchase packs of the mud like at other beaches along the sea so get dirty and have fun. Also, considering the dead sea is the lowest place on earth, 420m below sea level, the oxygen level there is very high and it is said all things combined make for an amazing health experience.
Food & Cocktails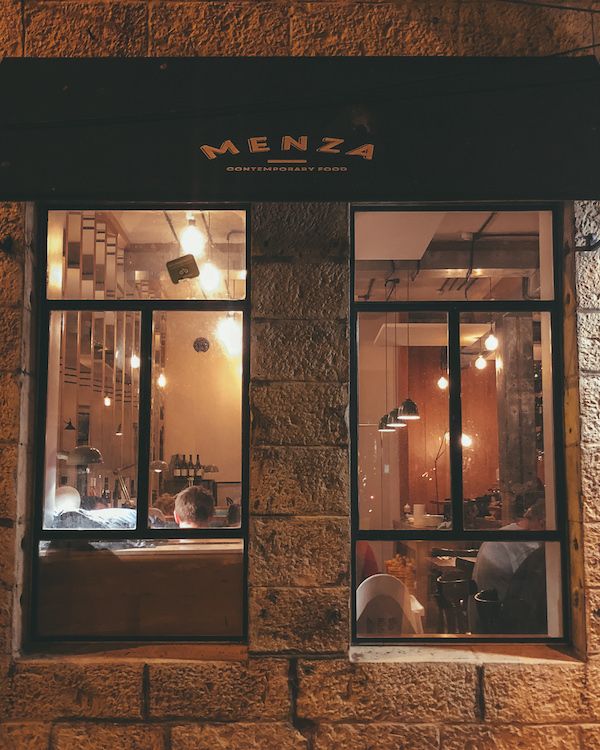 Best restaurant: Menza
We were walking around Friday evening in Jerusalem on Shabbat, Judaism's day of rest, and were having a hard time finding a place to eat. From sunset on Friday to sunset on Saturday, most businesses close. Luckily, we found bistro Menza which is open 7 days a week and serves fresh food and cocktails. We ordered a burger on a homemade bun and ribs, delicious! We also liked sitting on their outside patio and people watching.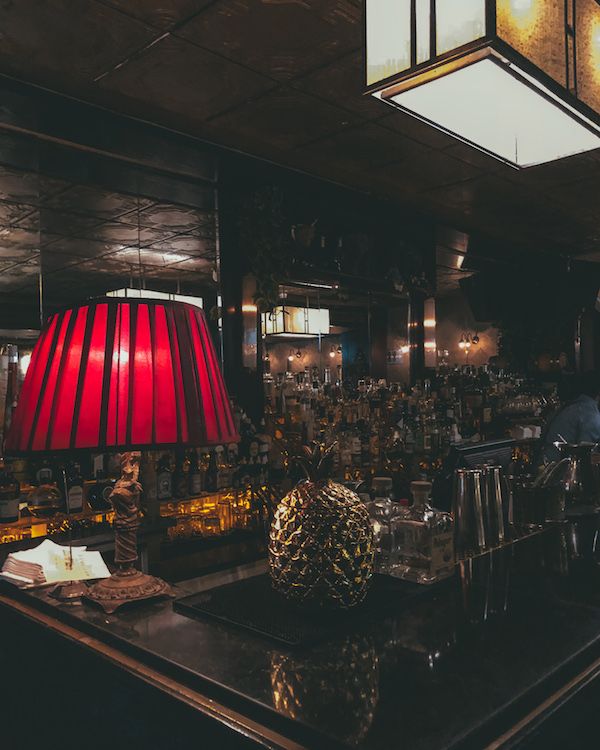 Best place for cocktails: Gatsby
Gatsby is a 1920s style prohibition bar with an Art Deco interior for cocktail lovers. In Jerusalem, it's hard to find cocktail bars like in Tel Aviv, so we were in for a treat! Since it's a prohibition bar there's no sign, so look for a fake green grassed covered door by a coffeeshop and you'll know you've found it.
Best market: Machane Yehuda
Machane Yehuda is a market with a tons of food stalls. There are over 250 vendors with fresh produce, spices, and culinary delights. You can also book a food tour to introduce you to the best of the market.
Don't forget to grab a cup of fresh squeezed pomegranate juice!
Views of the city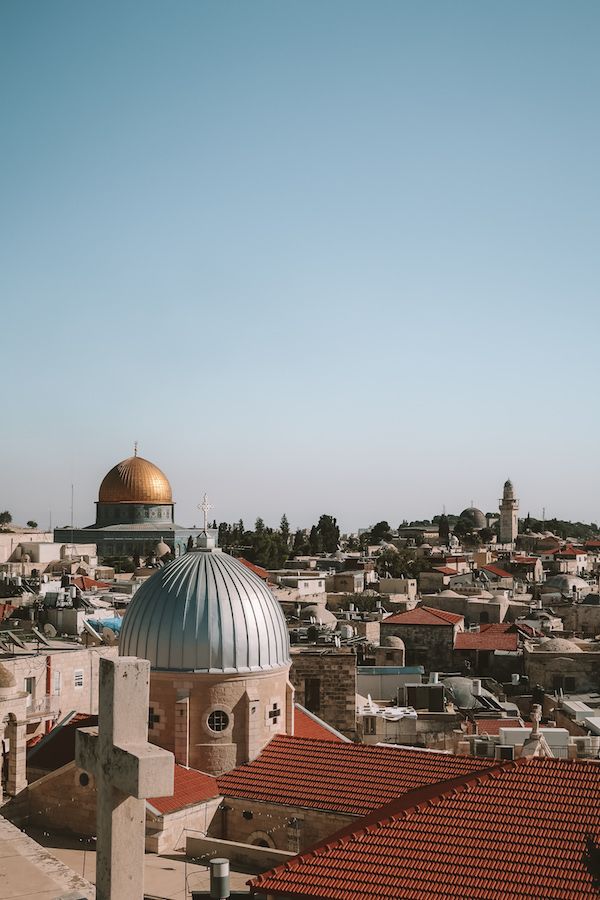 Best view of the Old City: The Austrian Hospice
In the hustle and bustle of the Old City, there's a tranquil and quiet sanctuary known as The Austrian Hospice. It was created in 1863 as a pilgrims' guesthouse for primarily Austrian pilgrims. Go up the steps and ring the doorbell for them to buzz you in. Once in, you'll walk up some stairs to a Viennese ringstrasse palace styled hospice and cafe. We ordered coffees and schnitzel and sat outside on the beautiful patio! You can pay a small fee to go to the very top of the hospice and see a birds eye view of the Old City.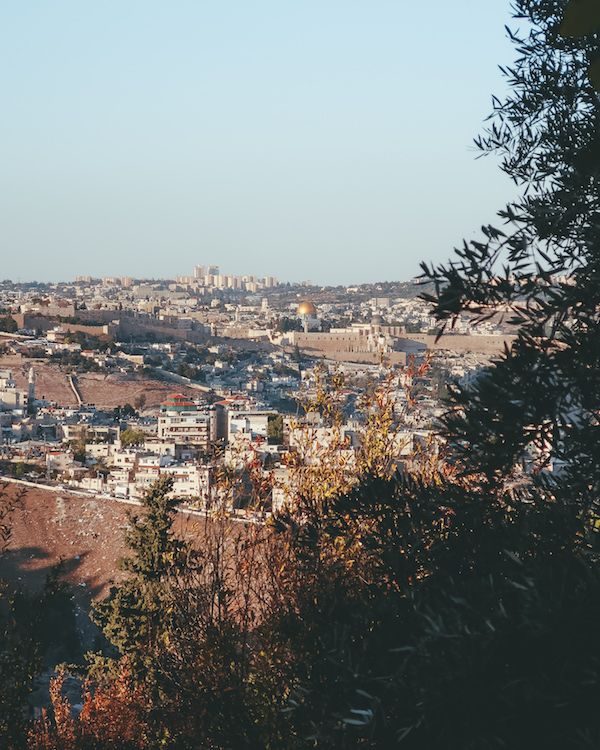 Best view panoramic view of Jerusalem: Tayelet Haas Promenade
The Tayelet Haas Promenade has the best panoramic view of Jeruslaem where you can stroll on paved walkways or sit on green grass and enjoy a picnic. To get there by transit take the bus south to Hebron Road/Daniel Yanovski Road. From there walk east on Daniel Yanovski Road and the promenade will be on the lefthand side at Trotner Park.
Days 11-13: Jordan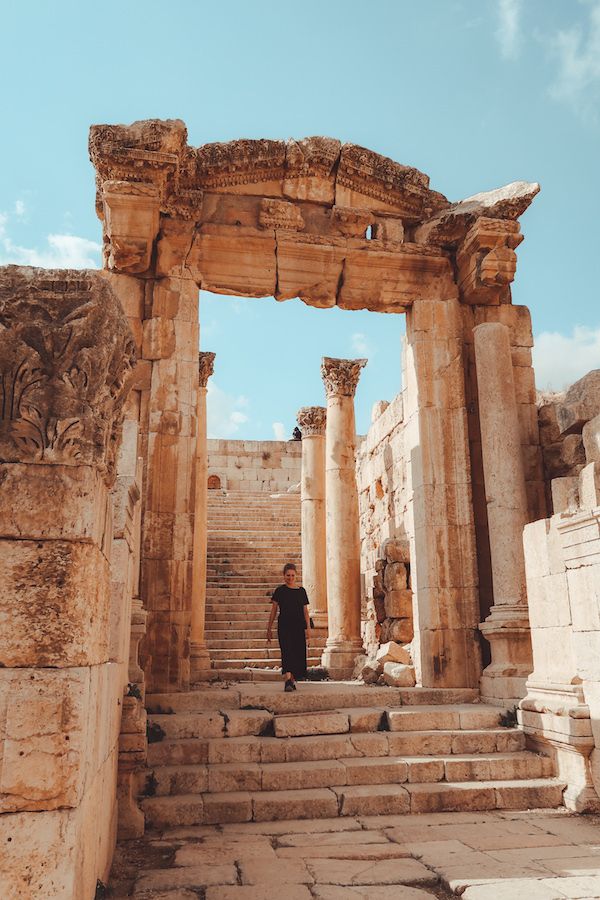 Taking a trip to Jordan is made easy when done with a tour because they sort out all of the works with the visas. We chose Abraham Tours which which was well organized and the perfect itinerary for 3 days. Our first day we explored Jerash, a city we've never heard of that literally made our jaws Jerop. As we walked through the ancient Roman ruins, it was easy to imagine what life would have been like 2000 years ago. Streets for chariots, sidewalks, fountains, and a large amphitheatre. It was one of the 10 great Roman cities of the Decapolis and was hidden for centuries until a traveller found it buried in the sand.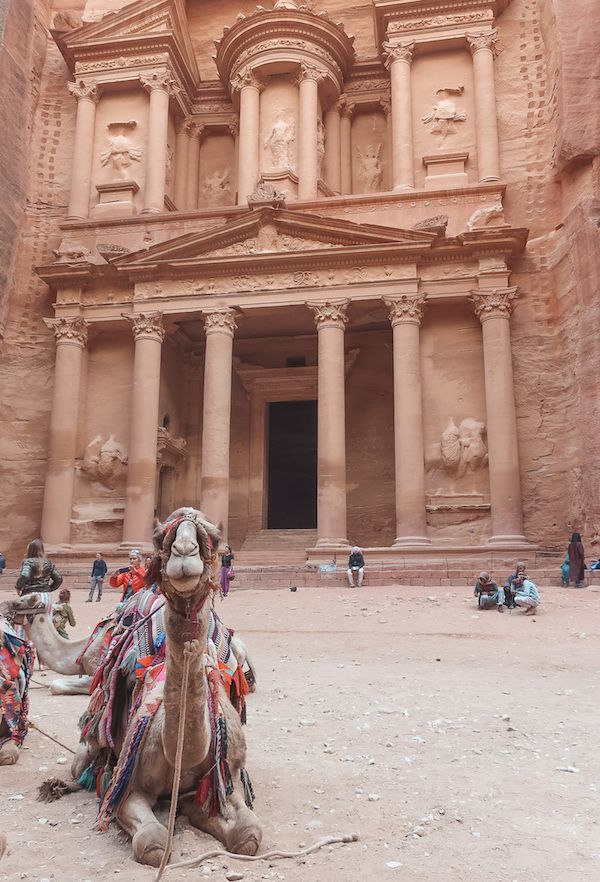 The second day we experienced one of the New 7 Wonders of the World, Petra. It felt incredible seeing it in real life! On our third day we rode in the back of a 4x4 truck through the magnificent Wadi rum desert. We saw in the distance the set of Star Wars filming here and heard they hired 400 Jordanian soldiers as storm troopers. How cool is that!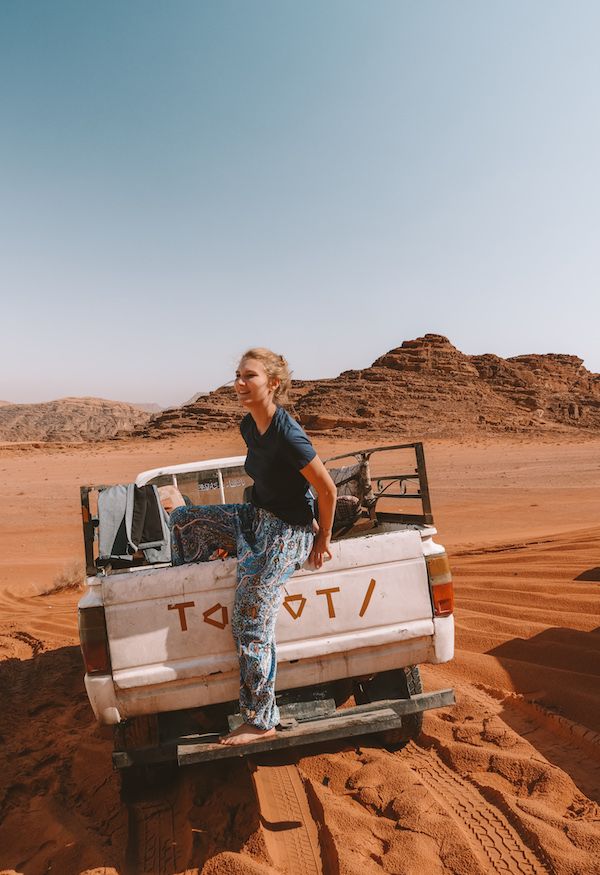 Jordan is a progressive middle eastern country and we always felt safe and welcome. A fun fact, King Abdullah II of Jordan went to high school school in the US, was enrolled in the UK's Royal Military Academy, and gets around by flying his own Black Hawk helicopter. He's a badass!
Read: 12 things to know about your 3-day Jordan tour with Abraham Tours
Your  drop off point can be in Jerusalem or Tel Aviv on Day 3 of the tour. We grabbed a cheap hotel in Jerusalem called the Kaplan Hotel for the last night before our flight the next day. The nice man running Kaplan ordered us a taxi from Jerusalem to Tel Aviv Ben Gurion airport for a good rate.
Day 14: Travel day
With the tour in Jordan ending back in Israel, it makes it easy to add Jordan as an extension to your trip and then fly back out of Israel.
The whole duration of our trip in Israel and Jordan we felt safe. We never felt threatened and were comfortable wandering about at night saving on cab fares and having our cameras with us.
Check out our videos of Israel and Jordan!