In the heart of the Tuscan wine region you'll find Siena, an unspoiled medieval city known for its Italian Gothic architecture, Renaissance-style landmarks, small cobblestone streets and horserace that takes place in its famous square. The UNESCO historic city centre lies within a 11th century fortified wall and fortunately escaped damage from WWII.  
Siena is a great base for exploring the famous Montalcino, Montepulciano and Chianti wine regions, however it merits a day of exploration itself. The romantic city is best explored by wandering the streets and taking time to soak in the sights with an aperitivo or cappuccino.
Your one day in Siena will be filled with wonderful experiences. Our 1 day Siena itinerary includes hidden gems like where to buy inexpensive cashmere, a hidden spot for apertivo hour overlooking the main square, and the best place to park that also has a surprising viewpoint of the city.
Outline: One day in Siena
Morning: enjoy a leisurely breakfast in Siena's medieval square.

Daytime: Wander and shop the small historic streets, eat lunch at an off-the-beaten-path sidewalk cafe, and visit an architecturally stunning gothic cathedral.

Evening: Have an aperitivo at a hidden spot overlooking the square and eat authentic Tuscan cuisine at one of Siena's hottest restaurants.
Disclosure: Some of the links below are affiliate links, meaning at no additional cost to you, we will earn a commission if you click through and make a purchase. We only recommend products or services we have used or that we believe will add value to our readers. Thank you for supporting us!
Best time to visit Siena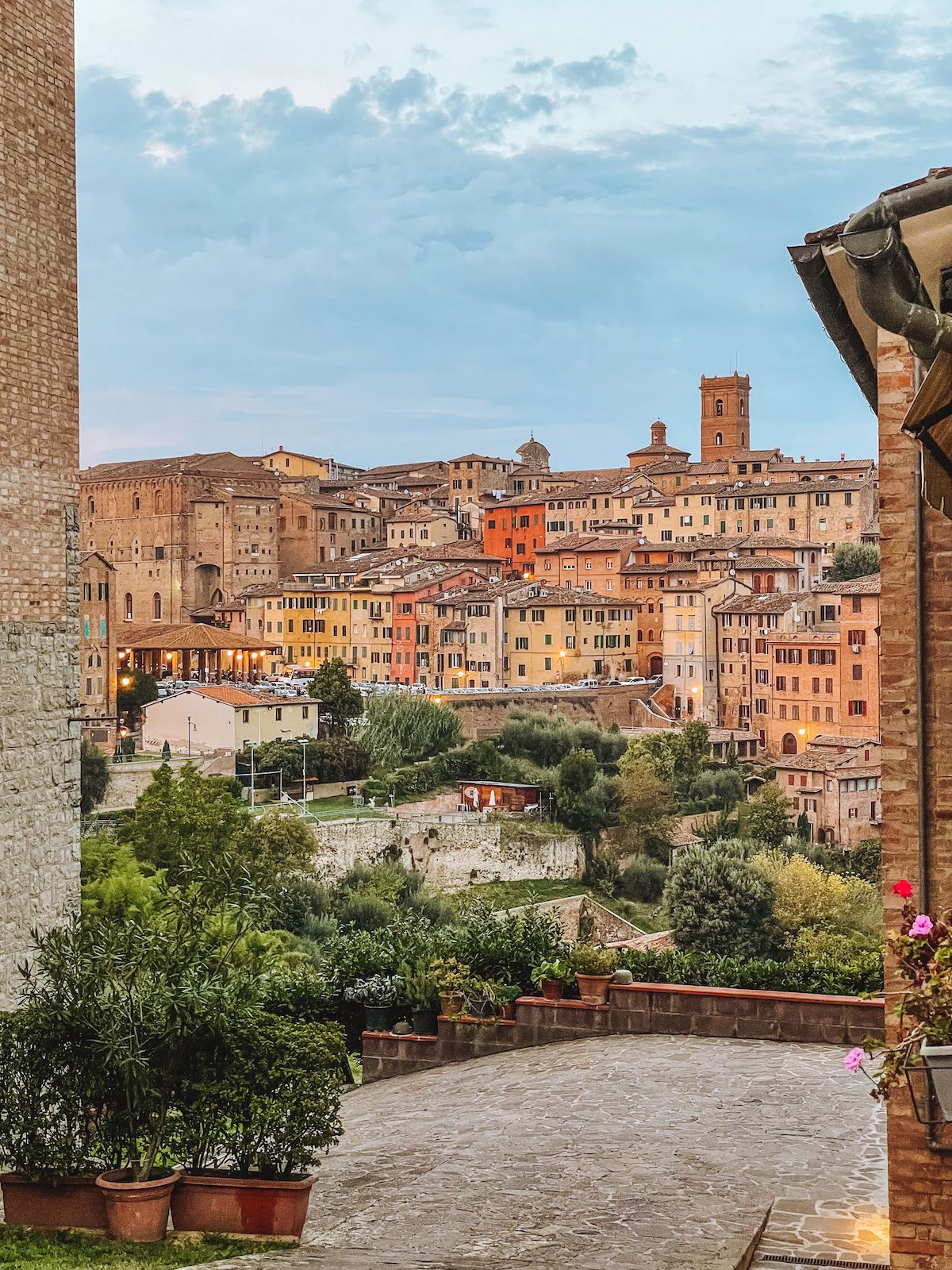 The best months to visit Siena are April-June and October. The weather is pleasant during these months and you will avoid peak tourist season (July-September), which sees larger crowds and higher prices. December - February is cold with highs only reaching 10 C.  
We highly recommend visiting on a Wednesday so you can shop Siena's weekly market, Mercato delle Merci. It was one of the highlights of our stay. If buying cashmere at insanely good prices is on your radar, don't miss out!
Getting to Siena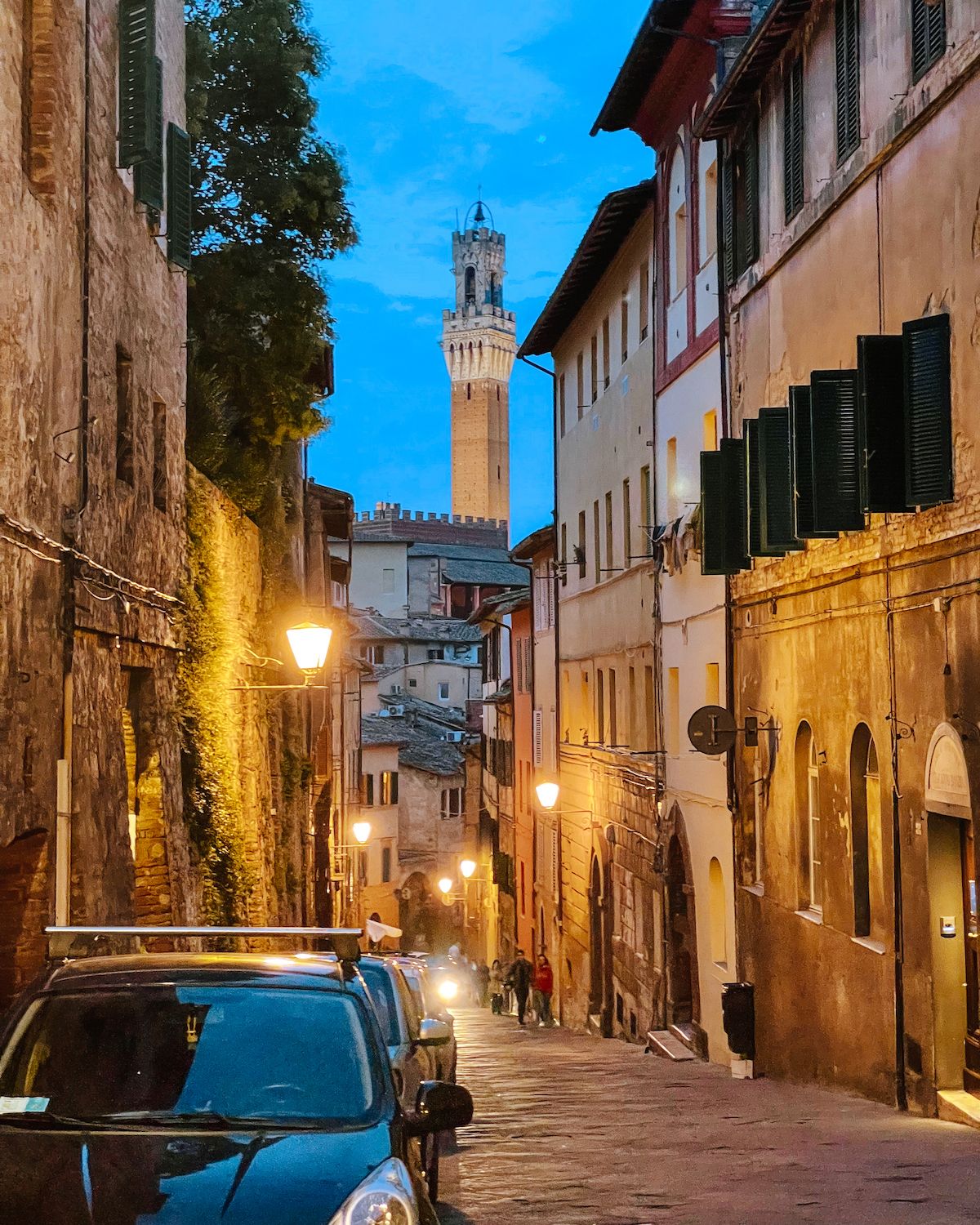 Siena can easily be reached by train from Florence or Pisa. If you're planning to spend time in the Tuscan region however, we recommend renting a car. It's gorgeous driving through the Tuscan hills. You could either rent a car from the airport you fly into, or take the train to Siena and rent a car from there.  
Where to park in Siena
The city is small, so you can walk almost everywhere. Don't make the mistake of driving into the centre of the city through its steep and narrow roads to find parking. Instead park on the outskirts of the city at the Parking II Campo entrance. It's a breeze driving in and out of the city from there.
Map Legend: A = Highway exit points; B = Parking
At the top of the parking garage you are greeted with stunning views overlooking Siena. We didn't expect the view from atop the parking garage to be one of the best of the city! During sunset the whole city glows from this viewpoint.
The price is 2 euros per hour and there is a cash machine at the top floor where you can pay by card. You pay once you leave.
Where to stay in Siena
If you're not visiting Siena as a day trip, there are many charming hotels to choose from in the heart of the city.
Our top hotel picks in the historic centre of Siena:
Browse more hotels in the Siena city centre.
We like to sort by top reviewed.
Siena in One Day
Morning
Enjoy a leisurely breakfast in Siena's medieval square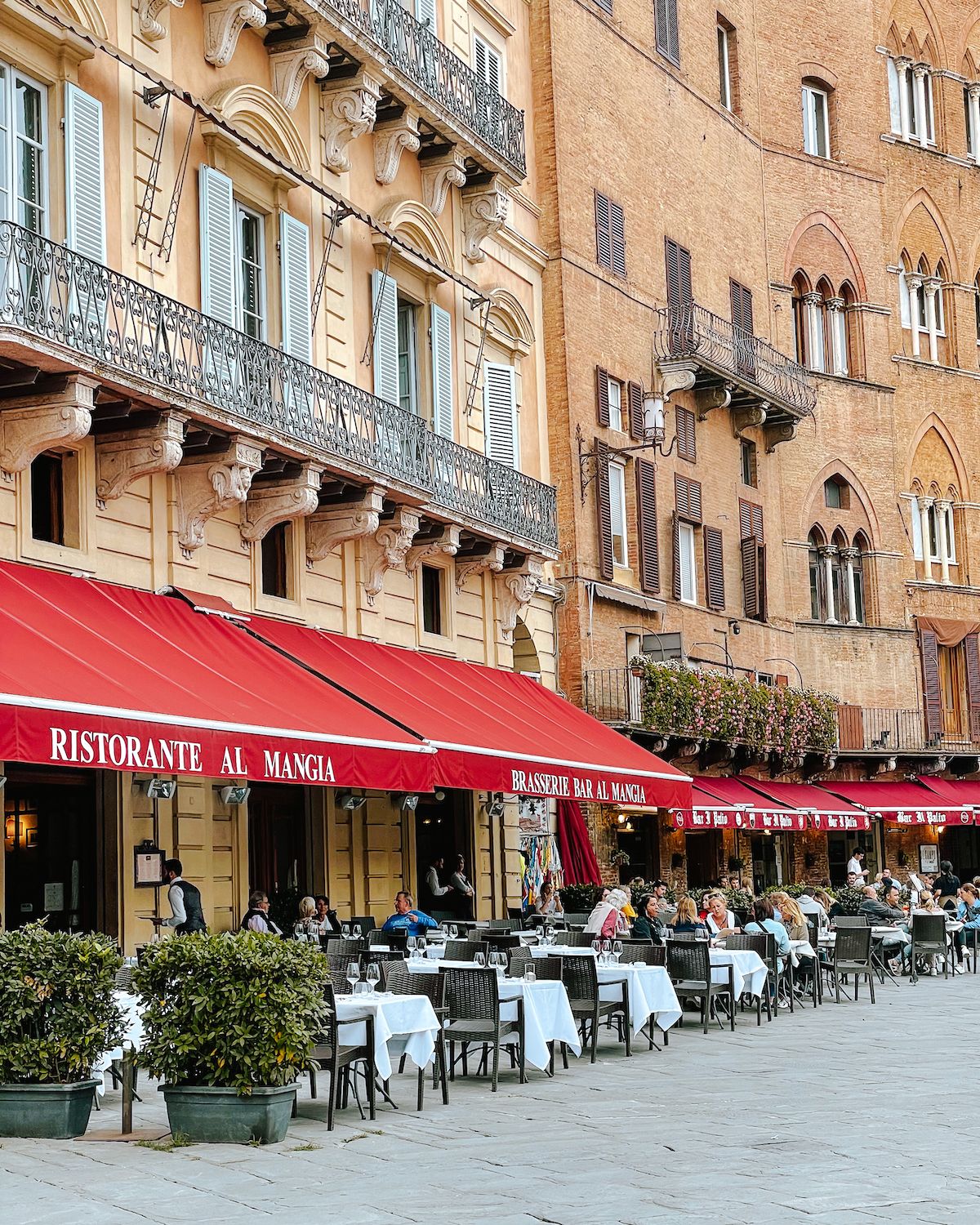 Start your morning with breakfast in Piazza del Campo, a shell-shaped public space known as one of the most significant squares in Europe. Since medieval times this square has held semi-annual horse racing competitions called Palio di Siena. During this wild event, jockeys race horses bareback at incredibly high speeds around the square three times. The turns are tight and some jockeys even fall off!
Lining the square are cafes and restaurants where you can take a leisurely bite while admiring the historic buildings. We chose Bar Il Palio since it had a great view of Piazza Piccolomini, a Renaissance-style palace that was once the summer home of Pope Pio II in the 1400s. The restaurant also has light coloured chairs and white tablecloths, giving it more of a charm than some of the other spots.
As expected, prices are more expensive in the main square (cappuccino 5 €/Aperol Spritz 8 €), but it's worth it to take in the sights.
Daytime
Wander and shop the small streets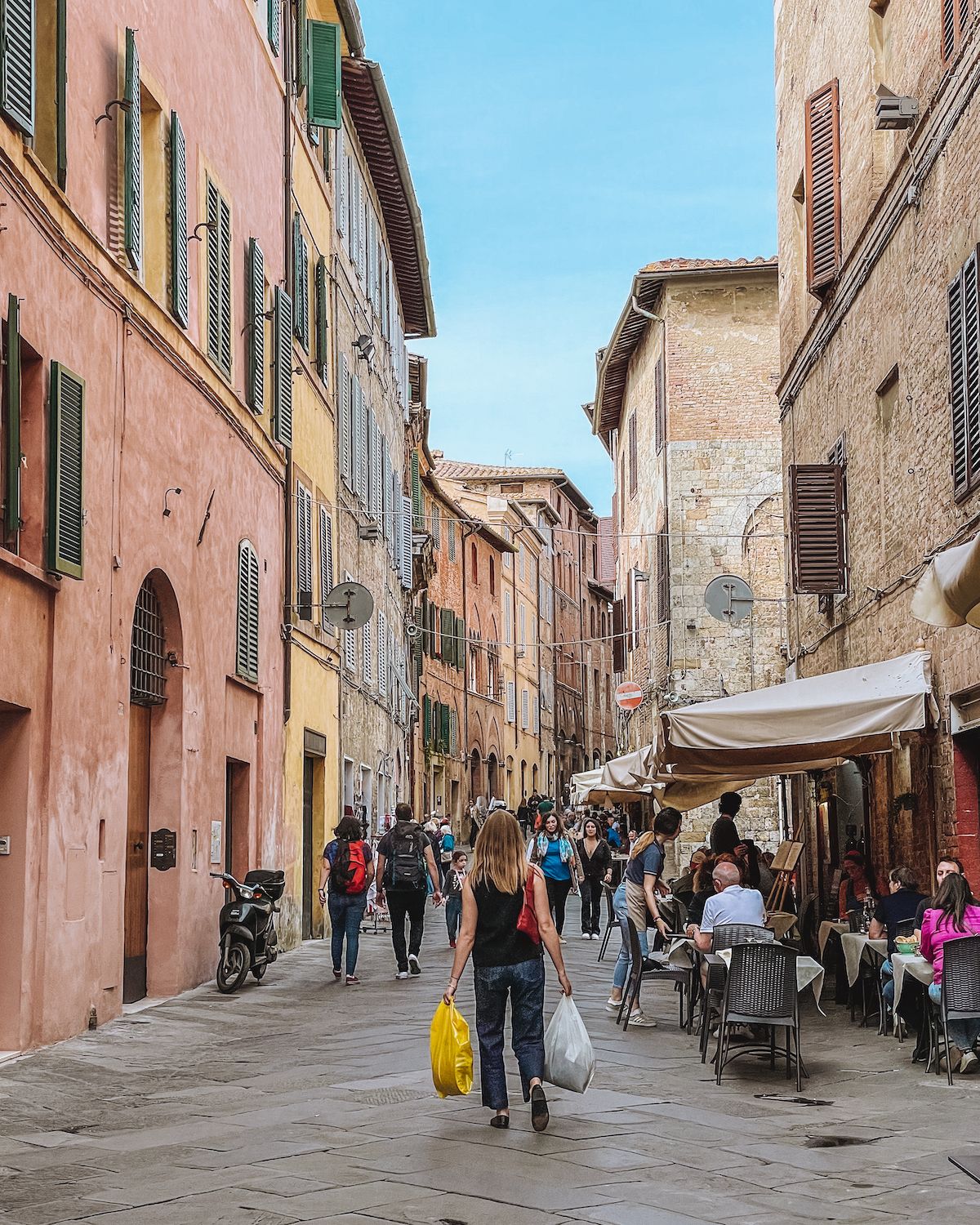 After breakfast, head into the the maze-like cobblestone streets. We found the shopping in Siena to be rather drab, however there are a few gems to discover as you get lost wandering the streets.
We highly recommend visiting on a Wednesday so you can shop the weekly market, Mercato delle Merci. It may look unassuming when you arrive, but it's one of the best market's we've ever been to. Tons of vendors sell products like clothing, accessories and housewares in Giardina La Lizza park. The quality and style of the clothing is excellent at some of the stalls. I bought 100% cashmere sweaters for 39 €, a super soft matching sweater set and a chic turtle neck dress. The value was outstanding.
Don't miss the row of vendors down the stairs in the park. There is an awesome jewelry stall with unique pieces priced at 5-10 € for earrings. The friendly shopkeeper has been there for 7 years!
To get to the market search Via La Lizza on Google Maps and start from there.
Eat lunch at a sidewalk cafe down a quaint street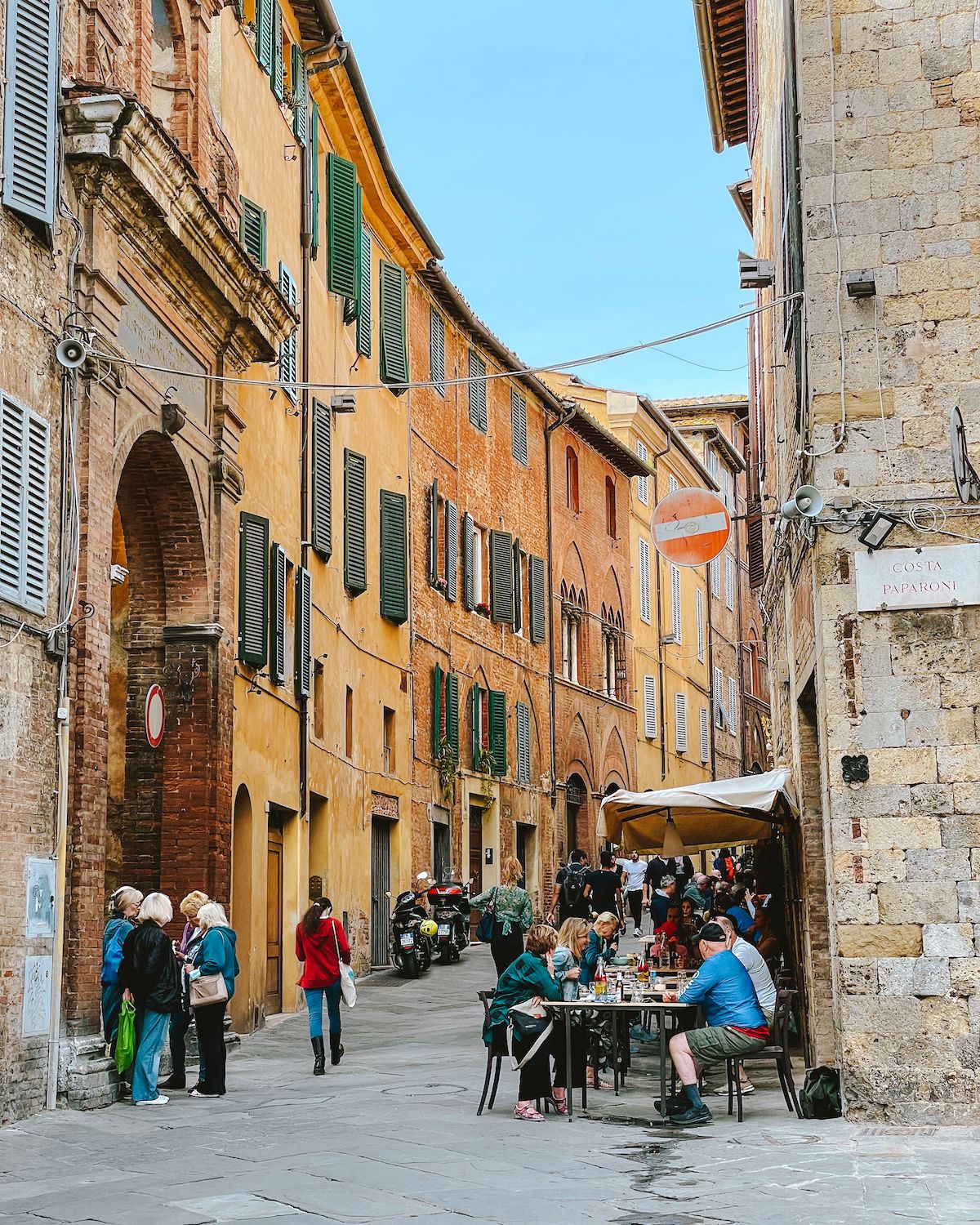 If you walk just 10 minutes from Piazza del Campo, you'll be surprised how much quieter and local the streets start to feel. We found a hidden gem of a street called Via Camollia that is lined with restaurants and aperitivo bars. Prices are cheaper on this charming street, since you'e off the beaten path from the main square.
Browse restaurants for lunch starting at the Via Camollia/Via dei Gazzani intersection and head north on Via Camollia. We ate at Osteria Il Vinaio, a cute Tuscan restaurant/deli run by two brothers.
Visit the architecturally stunning Duomo di Siena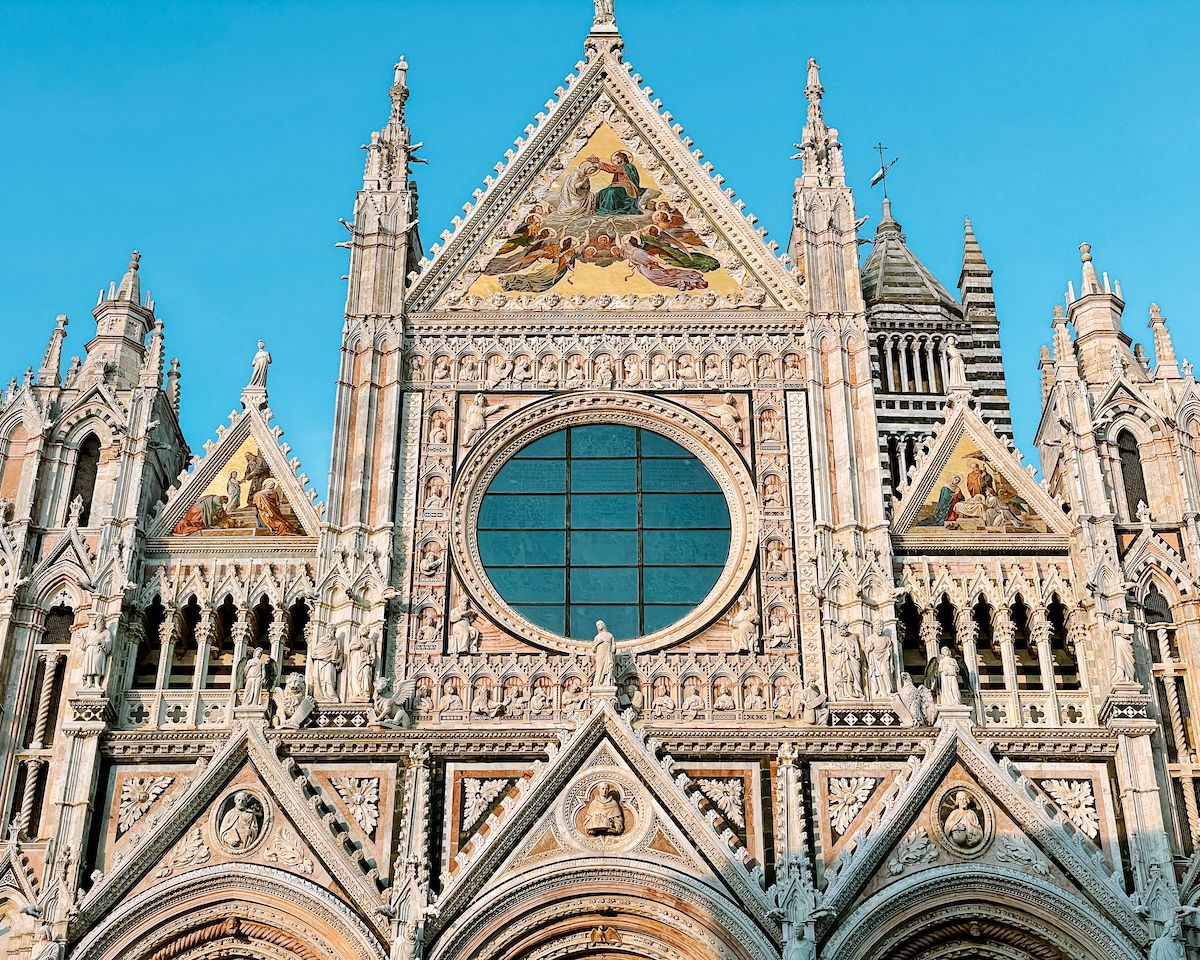 After filling up on pici (hand rolled Tuscan pasta), walk back towards the main square and up to the architecturally impressive Duomo di Siena. The gothic cathedral from medieval times has astonishing beauty. You can choose to see the outside of the cathedral for free, or pay an entrance fee to visit inside. Inside you will see colourful mosaics and works from famous artists like Michelangelo and Donatello.
⛪
Purchase your entrance ticket to the Siena Cathedral & Piccolomini Library
with GetYourGuide. We like how there is free cancelation up to 24 hours in advance.
Evening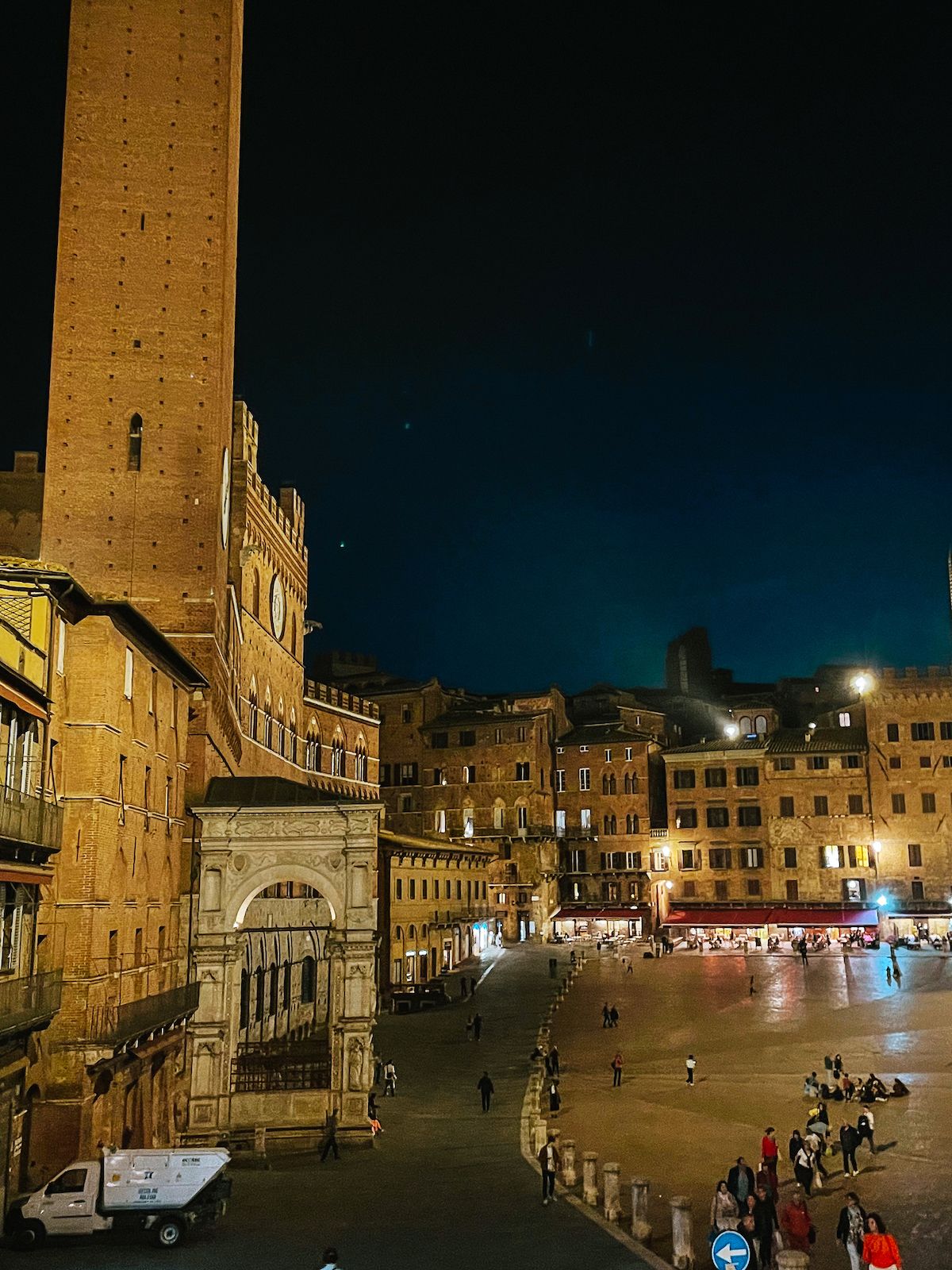 Have an aperitivo at a hidden spot overlooking the square
One of the best kept secrets is having drinks up along the railing at Key Largo Bar. It may look like a modest cafe on a side street from Piazza del Campo, but walk up the stairs and you'll find a small patio overlooking the historic square. They serve proper cocktails and play good tunes at the bar. Sipping Mai Thais on the bench along the railing was a highlight of our trip!
Note: you can only sit upstairs if you order alcoholic drinks. If you're just buying coffee you have to sit downstairs.
Eat authentic Tuscan cuisine at one of Siena's hottest restaurants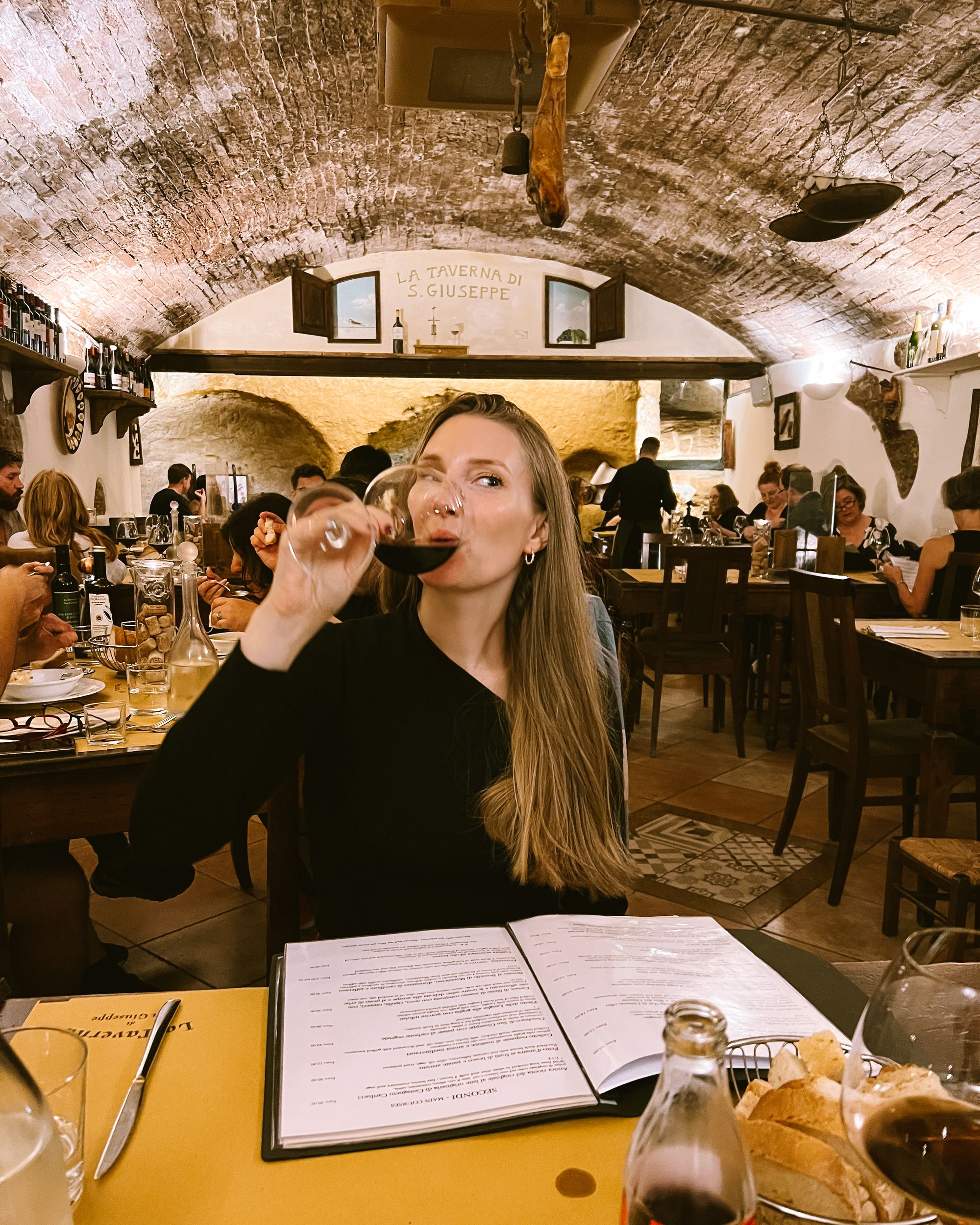 Inside a cavernous tavern with Roman brick walls is one of Siena's hottest restaurants, La Taverna di San Giuseppe. The cozy restaurant serves traditional Tuscan cuisine and is a spot you'll need to snag a reservation for far in advance. They are recognized by the Michelin guide and their dishes are a great value.
Order a bottle of Sangiovese wine from the cellar in an original Etruscan house from 200 BC and pair it with one of their boar specialities.
Have a lovely day in Siena!
Planning to see more of Tuscany? Don't miss our 5 day Tuscany itinerary and Florence and Tuscany 3 day itinerary or 4 Day Tuscany and Florence itinerary.
---
Start planning your trip to Siena
---
Planning a trip to Italy? Add Siena to our 2 week Italy itinerary including Venice, Tuscany, Capri, the Amalfi Coast and Matera.
You make also like:
---
Save and pin this One Day Siena Itinerary for later: